There are so many things to consider when building a website, and it all begins with the platform you want to use. With many options to choose from, it can be a daunting task, but WordPress is one of the most popular choices, and for good reason. We are going to take a peek at what makes WordPress such a great choice to build a website, so you can make an informed decision about yours. We would recommend a more thorough tutorial after reading this blog post, you can read Alan's WordPress tutorial here.
What is WordPress?
When you want a new website or blog, there is no need to start from the bottom and work your way up to a fully functioning, well-designed page. WordPress is a very popular platform that does all the backend work for you, so you can have the right look and features for your website. It is essentially a content management system that can manage your website information for you without the need for any coding or programming.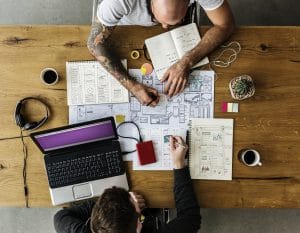 Why WordPress?
There is no wonder why WordPress is such a popular tool for building a website or blog page. First off, it is free to use. There is no charge for creating a customized website designed specifically for you based on your style choices.
With so many options to choose from, you can create a website for just about anything, including:
Business websites
E-commerce stores
Blogs
Portfolios
Resumes
Forums
Social networks
Membership sites
So as you can see, WordPress is ideal for anyone from private individuals to corporate website creation and more.
WordPress Features
With WordPress, you don't just have a workable content management system, but an all-in-one solution that you can use to include almost anything you want on your website.
WordPress gives you style choices. All you have to do is think about what you want your website to be about and then make the selection that best suits your topic, business, idea, or preference. This is where your website theme comes in. You can make your website look exactly how you want it to present the right image or mood to your visitors.
There are also numerous plugins to choose from so you can take advantage of everything your website can offer, making it a growing and functional space. From wiring better content to contact forms to statistical information, and email programs, you can add any plugin you find useful to your website's purpose. These are designed to make your website building easy and fast as you include all the features you need on your website.
With all that WordPress offers to build a website, it's not a shock that it has become a very popular choice among the crowd of options available. It's not every day you can find something for free that had all the themes and plugin features you can handle to build your website. And it's simple to use, so you don't need to understand any computer tech language to get the job done quickly and beautifully.
The post Why WordPress is a Great Choice to Build a Website appeared first on Promark Business Solutions.
Article Source :
promarksolutions.ca/why-wor...