Good food is everything, but cooking sometimes sucks...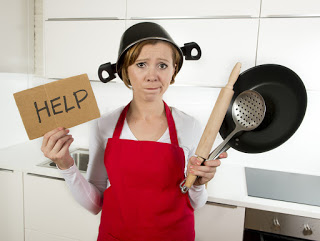 Another long day, followed by an exhausting cooking session. Instead of singing along to carols, I've been listening to the little Miss and Master whinge. I think I'll pass (out), wouldn't you? There are one hundred other ways I'd rather spend my night. Cooking is definitely
not
one of them.
Don't get me wrong, I enjoy cooking when I'm feeling relaxed, but not when I'm tired and grouchy (though I still do it
without complaining
).
Let's face it, I'm no Nigella Lawson (sadly my husband would agree, she's his number one celebrity crush). But even if I was a culinary goddess, I never look forward to entering the kitchen after a tiring day, unless it's to get a glass of wine or block of chocolate.
Frankly there's nothing better than coming home and putting your feet up, without worrying about cooking. As a family, we aim to eat out once a week, though this doesn't always transpire.
When in Sydney, do as the Sydney-ians do and head to this restaurant in Crows Nest
Occasionally J and I get to
escape from the kids
enjoy alone time on a date night, but not as often as we'd like. There's a
restaurant in Crows Nest
that we love to visit, even though it's a bit of a trek from home! We usually only do this when we're spending the weekend with family. But it will no doubt become our regular watering hole, if we move closer to Sydney in the future (we're seriously discussing this...but eh, who knows).
The Monte Alto cafe transforms into a restaurant and bar at night. If you enjoy modern Aussie cuisine, their menu is a perfect fit. Their food is pretty damn good and their drinks menu never fails to give me a buzz. They're actually known for having one of the largest gin and whisky selections on the North Shore (I can attest to that).
I've taken the little Master and Miss to Monte Alto for lunch during the day, on a number of weekends. Surprisingly they sit down long enough to finish a good portion of their meals.
They're major fans of the french toast, which they beg me to make at least once a week. They seem pretty happy with my efforts, but Master usually asks why it tastes so different at the Crows Nest cafe. I think by "different" he means "better", but he's too sweet to say. Thanks for sparing my feelings, little man! I raised you well.
As far as other restaurants in Crows Nest go, I haven't been to many. But if they're all like Monte Alto, I'm willing to step out of my comfort zone and experiment a more. If there's one thing I hate about dining in Sydney, it's that so many restaurants feature that expensive "art on a plate" nonsense that barely scrapes the surface of my hunger.
You shouldn't have that problem at Monte Alto though. I'm pretty impressed by their variety of reasonably priced dishes, which are made from fresh ingredients.
They also have a great selection of indulgent desserts, which is a must for chocoholics like me. My usual go-to meal is the Atlantic salmon - which is filled with flavour yet healthy at the same time. Although I confess, when I'm feeling extra hungry, I'll go for a bowl of the chicken and mushroom fettuccine.The Belgian chocolate mousse cake is amazing by the way, I'm salivating at the thought of it right now.
Do you have any favourite restaurants that you recommend?
Particularly in Sydney? My troops and I will be spending the Christmas and New Year period with family in Redfern, and we want to try some new places!
via Blogger
www.corelmag.com/2017/12/go...
December 21, 2017 at 11:20PM