5 Best Practices for Client Communication with Nimbus Portals
Communication with clients can get messy while using different channels. Creating Google Docs, sending thousands of emails and constantly switching to other tool is a headache. Don't forget about scrolling around your inbox to find PDFs with offers. ""shivers""
Doing the actions above is neither efficient, nor cost-worthy for you and your clients. Getting quick and secure solutions is what your clients really need. To cover these needs, use Nimbus Portals!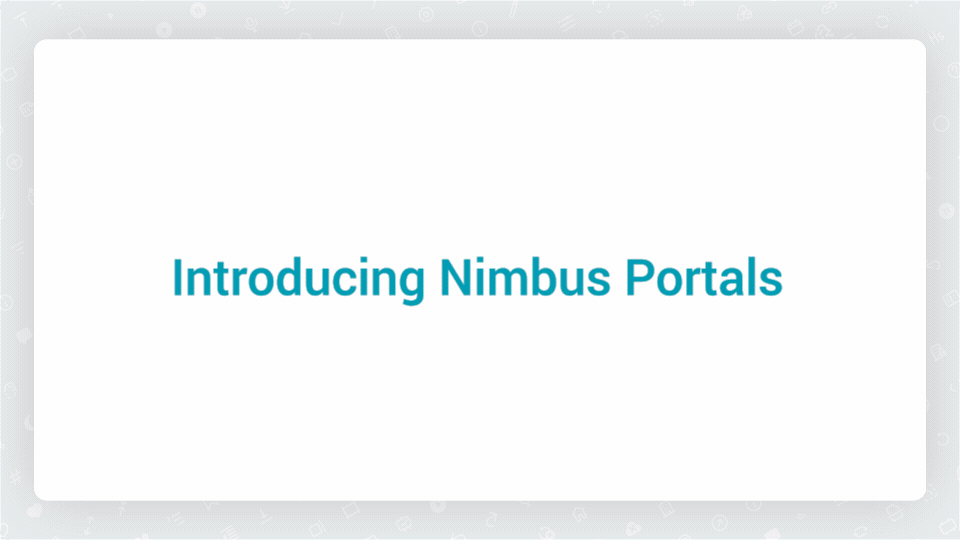 ? What Are Nimbus Portals?
? How to Build Nimbus Portals?
? Why do I need Nimbus Portals?
? Wrap up
What Are Nimbus Portals?
To get to know Nimbus Portals, let's first figure out what a Client Portal is. The Client Portal is a tool that gives clients secure access to information about the project and company's services. It allows tracking project progress and the ability to keep all meeting notes and project history with invoices, deals and requests in one place.
Nimbus Portals are the Client Portals powered by Nimbus Platform. They will work for you if you want to concentrate your communication with clients in one place and offer your services, creating better user experience. What's even better about Nimbus Portals — you can avoid juggling multiple tools.
Often, companies buy two or more different solutions for setting up team's collaboration, and communication with clients. That's obvious, as usual tools don't cover two requests at once. However, using Nimbus Platform, you can do both. Collaborate with your team and manage tasks in Nimbus Note, then show the results of your teamwork to clients in Nimbus Portals.
How to Build Nimbus Portals?
Before you build your first Nimbus portal, make sure you've discussed everything with your team. Think of which information you want to show on your portal and what content needs improvements. Create a Nimbus page for discussions or express your ideas in Nimbus chats. Once you and your team agreed upon everything, start building your portal.
Read a detailed instruction on building Nimbus Portals in our guide >>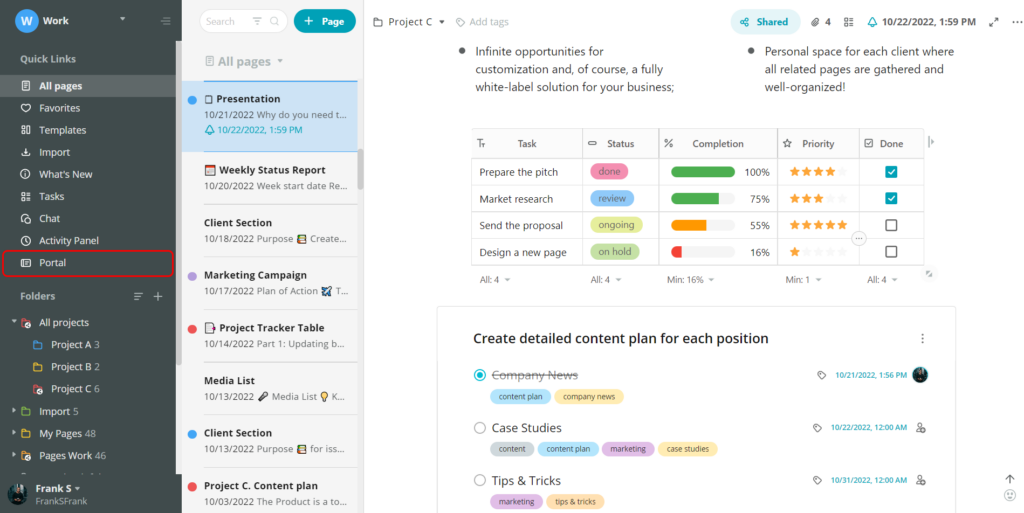 Make a first step to your portal in the Nimbus workspace. Go to the left sidebar and click the Portal icon there
Why Do I Need Nimbus Portals?
Nimbus Portals are a great use for small and medium businesses. If you want to promote your brand and have a flexible and customizable tool for client collaboration, that should be your choice. Once you try Nimbus Portals, you'll see how helpful they are for seamless collaboration and communication with clients. To make sure of it, read best practices with Nimbus Portals ?
1. Work internally, show externally
Let's talk about a common situation — you work with your team on a project. For this, you probably use multiple tools: one — for brainstorming and idea organization, another one — for collaborating with your team, one more — for project execution and another one for communicating with clients. To set a workflow for a successful project, you can keep using a plethora of tools, or use just one solution — Nimbus Platform.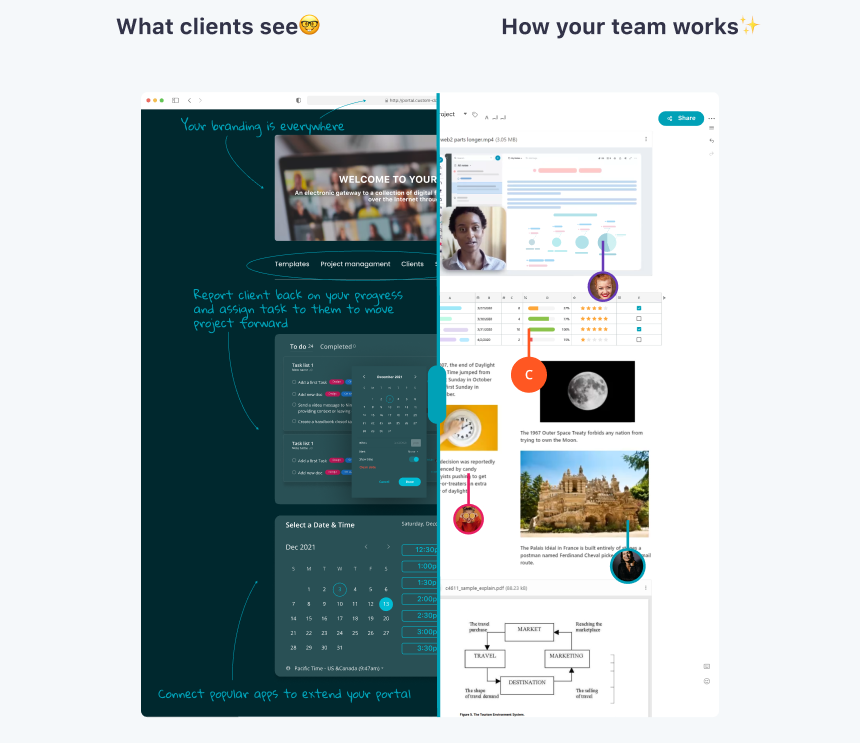 Start ordering your teamwork inside the Nimbus organization. There you can create workspaces for each project and organize information within folders & subfolders. In addition, place new content on Nimbus pages and turn them into super documents with text, files, images, embeds on them!
What's next? Collaborate with your team using these pages. You can divide your projects into tasks and add them to the task list, tracking their statuses, deadlines and assignees. On top of this, check all actions happening in your workspaces with the Activity Panel and quickly react to changes in Nimbus Chats or by leaving comments.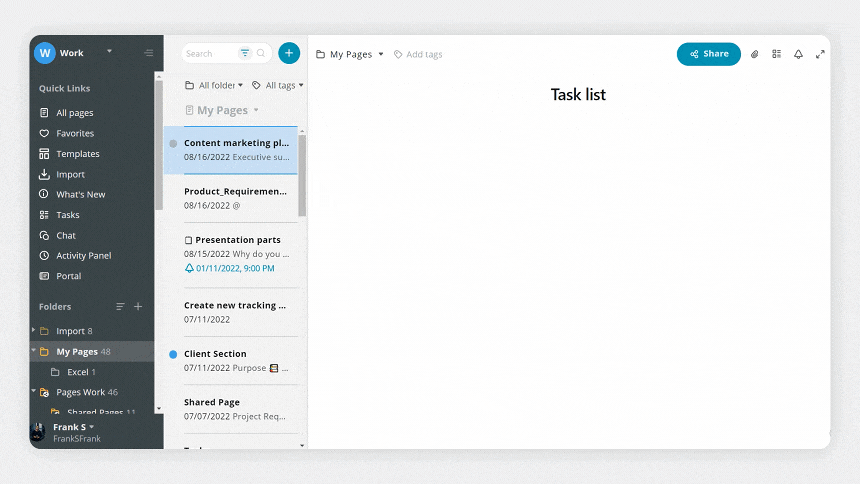 In the meantime, you can show your clients updates & results of this work via Nimbus Portal. Organize meeting notes, invoices, project history, and knowledge base within the portal so your clients won't need to deal with all your inner processes. Apart from better user experience, the information shown in the portal will be secure and confidential. You can set access permissions in a way only you and your client will see everything, including invoices, sensitive project details and so on.
Read more about permissions in Nimbus Portals
here >>
2. Offer your services under your name and brand only
Using third-party tools may lead to their brand promotion, not yours. We bet, you don't want to see how your clients get confused by other logos and names on your portal. Not to mention, how showing your brand and name influences your professionalism and build trust in your services.
Nimbus Portals are fully customizable. You can add your custom domain (CNAME), install your company logo, and erase any mention of Nimbus Platform from your portal. Your clients will no longer ask about the tool you've chosen for collaboration. They will see your services under your name which will inspire more trust in you.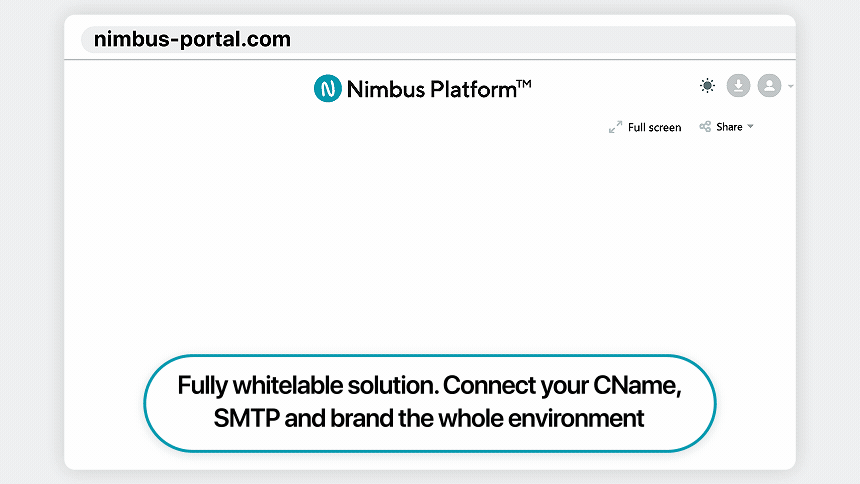 3. Organize information for easy access
Now let's put ourselves into clients' shoes. They want to get more information about you, your services and check the updates on their project. Where do they go? Your website — where there is general information about your company, email inbox — where they need to scroll a chain of hundreds of letter threads in order to find the proper report, Google Docs — where you might or might not write meeting notes, YouTube — where they may watch your tutorials.
Each tool requires log in, password and permission rights. Attached files in Slack, email letters or Skype make everything even worse. Isn't it terrifying for your clients?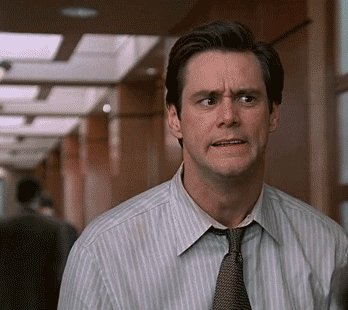 However, in Nimbus Portal, you can avoid this complicated net of channels and make your work with clients smoother and way more personalized. You can sort information on your portal the way your clients easily find out about your company, check frequently asked questions and access their own project with all details in one place.
Everything is simple, just choose the pages from Nimbus Note which you want to show your client or embed additional information from other sources. What's more, your clients can come back to meeting notes anytime to recall your latest deals, securely view reports and fresh invoices and even track how your team copes with tasks. For the last, just add the task list to the page you show to your clients. They will see who is responsible for the task, which status it has and when the deadline is.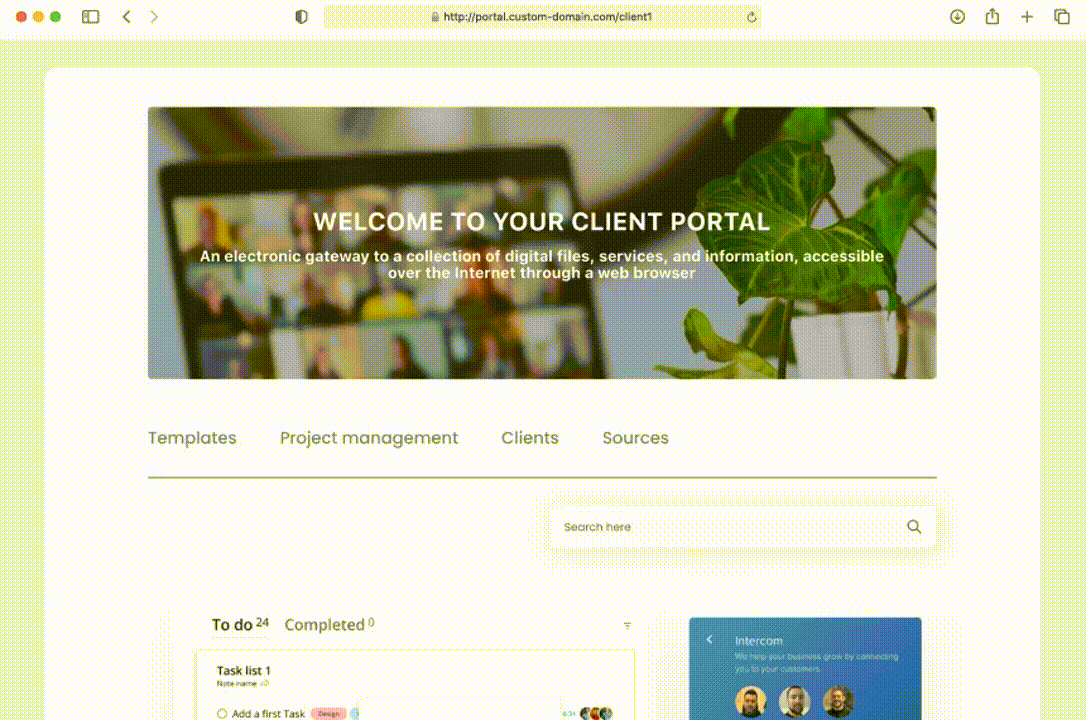 4. Inform your clients on progress
Clients can get worried if you don't communicate with them during the project. They want to make sure you don't put their project on the back burner. With Nimbus Portals, it's not a problem. Show your work to clients in real time there.
Select folders and pages from Nimbus Note that you want to add to your portal and decide whether to make them automatically updated. If you want so, your clients will see the freshest changes on pages and folders on the portal. On top of this, when you create a new page in the automatically updated folder, this page will appear there as well without any extra actions from your side.
This way, your clients will always stay in the loop of progress on their projects. Read more about adding pages and folders to your portals in
our guide >>
5. Get to know what your clients need better
To give your clients top-notch services and work on projects more effectively, you should understand their needs. For this, in Nimbus Portals there is a special option Search Analytics. In the top menu, you can find analytics on your clients' queries. With it, track your clients' preferences and check which pages were opened more often. This will help you see what your clients are interested in and what information needs improvements.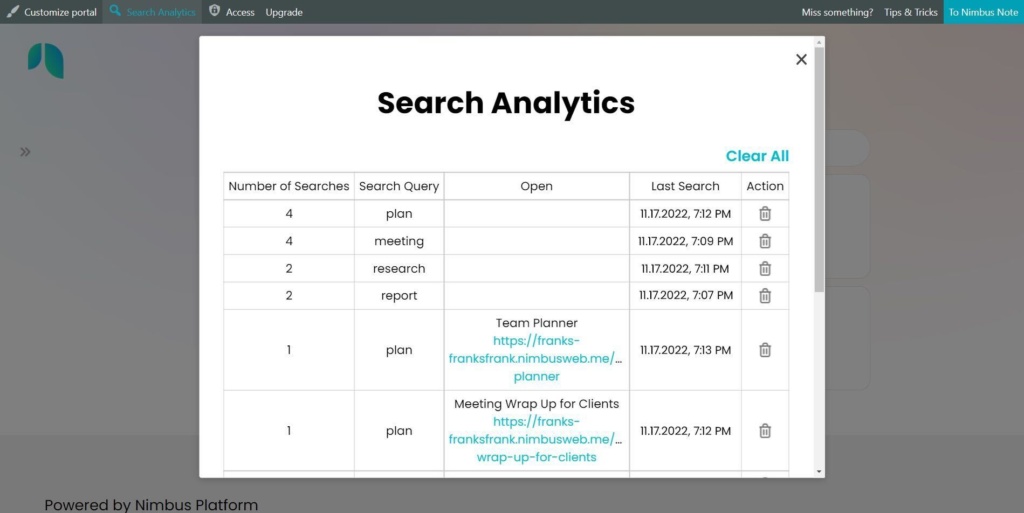 Wrap Up
In this article, we showed you how using Nimbus Portals can help concentrate your work with clients in one place. From now on, you can use these 5 practices to build your client communication & collaboration and strengthen business relationships.
In the future, we also plan to add more abilities for Nimbus Portals. Let's see what you will be able to do next:
✅ Install portals even easier. Set up Nimbus Portals in a couple of clicks and get more templates for portal customization.
✅ Monetize your content. Give partial or full access to your content in Nimbus Portals by creating a system of subscription.
✅ Collect data from your clients. Gather information about your clients' needs to create successful projects.
✅ Chat with your clients. Add Nimbus Chats to your portal pages and communicate with your clients right from Nimbus Note.
Subscribe to our LinkedIn account and learn about these and other updates firsthand!
Previous post
How Better Client Communication Will Benefit Your Business
Next post
Almanac Alternatives to Better Organize Your Workflows