Choose an all-in-one choice for a startup - choose Nimbus
Make it happen
As technology continues to advance, new tools emerge to help startups operate their businesses efficiently. Are you looking for the best tools for startups in 2023? Do you want to learn how to operate your business without spending thousands of dollars?
There are many great online resources available for entrepreneurs who want to run their businesses efficiently. Many of these resources are free. However, not every tool will work well for every startup. Some startup tools may even cost hundreds of dollars.
This article covers the best startup tools in 2023. These startup tools are proven to help small businesses succeed. They also save entrepreneurs from wasting hours trying to figure out how to do something themselves.
If you're looking for the best startup tools to run your business, then this guide will provide more information about the apps you can use.
What is Startup Tool?
Benefits of Startup Tools
14 Best Tools for Startups in 2023
1. Content Management Tools
2. Accounting Tools
3. Business Analytics Tools
4. Design and Graphic Development Tools
5. Marketing Tools
6. Project Management Tools
7. Communication Tools
8. Data Protection Tools
What is Startup Tool?
A startup tool is an application that helps entrepreneurs manage their business. It's often used by small businesses to manage or automate tasks, or make it easier to complete certain activities.
Startup software tools help entrepreneurs to create business plans, track progress, manage finances, and communicate with investors.
These tools are a great way for startups to keep track of their daily activities, stay organized, and save money. Startup tools also help businesses grow because they make it easier for entrepreneurs to find funding, connect with customers, and collaborate with each other.
A startup tool helps entrepreneurs plan out their ideas, develop them, and launch them. Startup tools give entrepreneurs access to financial information, customer feedback, and more. Entrepreneurs can easily share their progress with potential investors, partners, and customers.
The best startup tools provide easy-to-use interfaces and powerful features. These startup tools let entrepreneurs quickly set up projects, add tasks, and organize data.
Startup tools are designed to be simple and easy to use. Most startup tools are created using drag-and-drop interfaces.
Benefits of Startup Tools
Here are the benefits business owners can receive from using startup tools.
1. Easy way to attract potential customers
Many startups struggle to get enough traffic to their websites. A startup tool can help you build a strong brand and increase your website traffic.
2. Save time and money
Startup tools allow you to spend less time creating spreadsheets and documents. Instead, you can focus on growing your business.
3. Easier collaboration
You can easily share files and collaborate with team members using startup software tools.
4. Track progress
Startup tools enable you to monitor your progress and see where you stand compared to your goals. This means you can measure your success and improve your performance.
5. Improve productivity
Some startup productivity tools offer features like task lists, reminders, and notifications. These startup tools can help you streamline your workflow, so you can focus on what matters most: running your business.
6. Manage finances
Most startup tools have built-in accounting capabilities. These accounting apps can help you track your startup expenses, generate reports, and pay bills.
7. Stay organized
Startup tools can help you organize all of your important documents into one place. You can store any startup data in one location, so you won't lose anything.
8. Increase sales
Startup tools can improve your conversion rates by helping you collect leads and convert prospects into paying customers.
9. Build relationships
Startup tools, such as CRM (customer relationship management) platforms, can help you manage your contacts and communicate with them effectively.
10. Grow your business
Startup tools can boost your company's growth by allowing you to automate processes and scale your operations. These startup tools can also boost your company's growth by allowing you to manage your marketing efforts.
11. Provide information about your competitors
Startup tools can show you which companies are similar to yours and which ones are different. This helps you stay ahead of your competition. That way you can figure out where you can improve and what features you can add to differentiate yourself.
12. Find new clients
Startup tools can connect you with potential clients through social media channels or email campaigns. By leveraging this feature, you can find new clients and grow your business quickly.
13. Create an effective content strategy
Content is king when it comes to digital marketing. If you're going to succeed online, you'll need to produce high-quality content regularly using the most effective startup tools.
14. Boost employee efficiency
Startup tools can make your employees more efficient by automating repetitive tasks. For example, certain startup apps can automatically send emails and schedule meetings. This means that your employees can use their time wisely instead of wasting it on mundane tasks.
15. Make data analysis easier
If you're interested in analyzing big data sets, startup tools can be useful. Startup tools can help you analyze customer behavior, identify trends, and predict future outcomes. Also, startup tools can provide analytics that allow you to measure the return on investment (ROI).
Startup tools are usually designed with simplicity in mind. That means any startup app you choose should be easy to use and understand. This way, you'll get the most value out of your investment.
Categories of Startup Tools
The categories of startup tools include:
Content Management
Accounting and Business Finance
Business Analytics
Design and Graphic Development
Marketing
Project Management
Communication
14 Best Tools for Startups in 2023
Here are 14 startup tools from seven categories any business owner can use to build or grow a startup.
1. Content Management Tools
The content management tools startups use play a key role in creating a professional brand image for your startup. A good content management system gives you the ability to easily update your site whenever you need to make changes.
It provides the option for managing accounts in one dashboard. Content management systems allow you to edit text, images, videos, audio files, and more. They provide a lot of flexibility for startups.
1.1 Nimbus Platform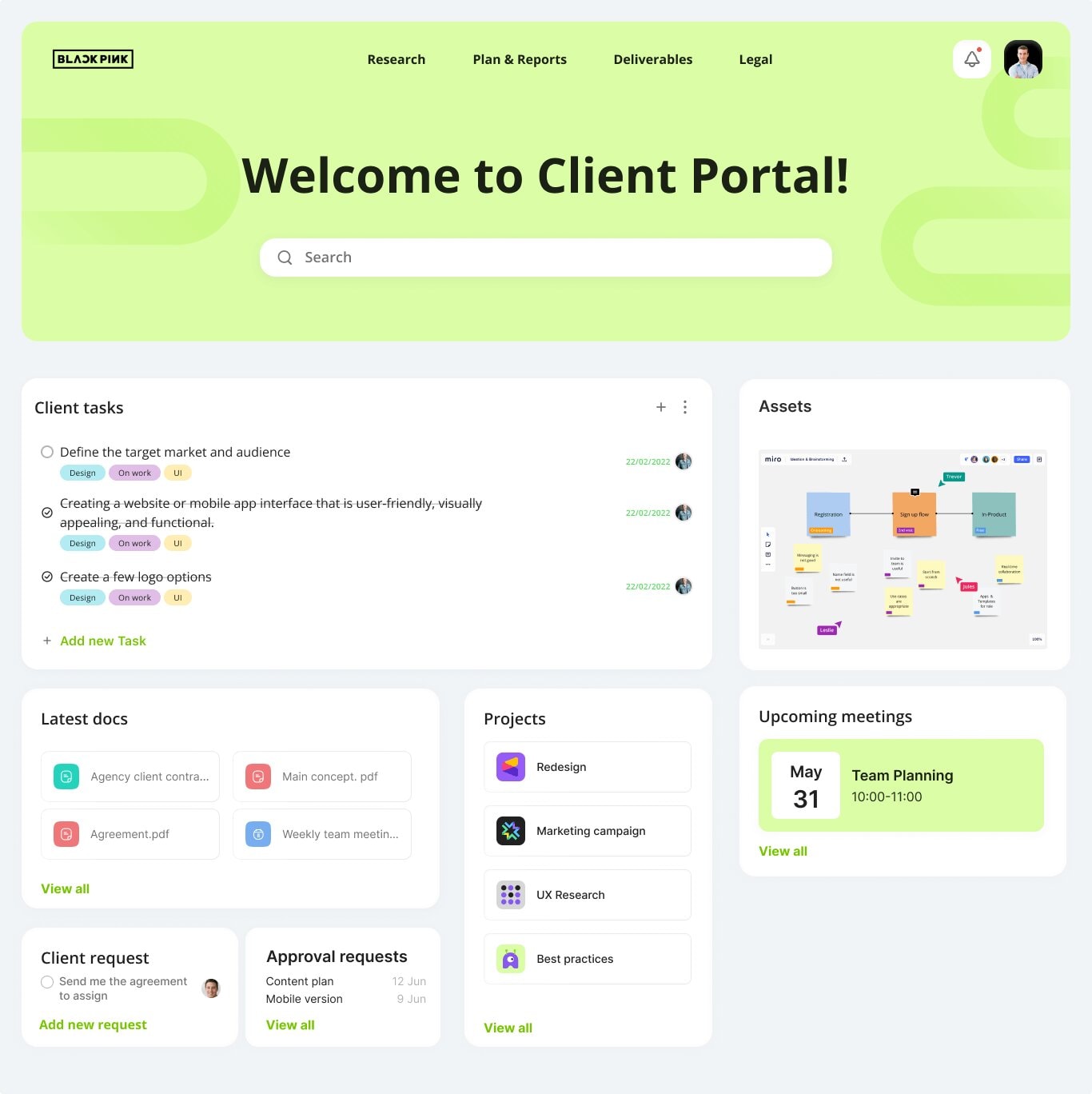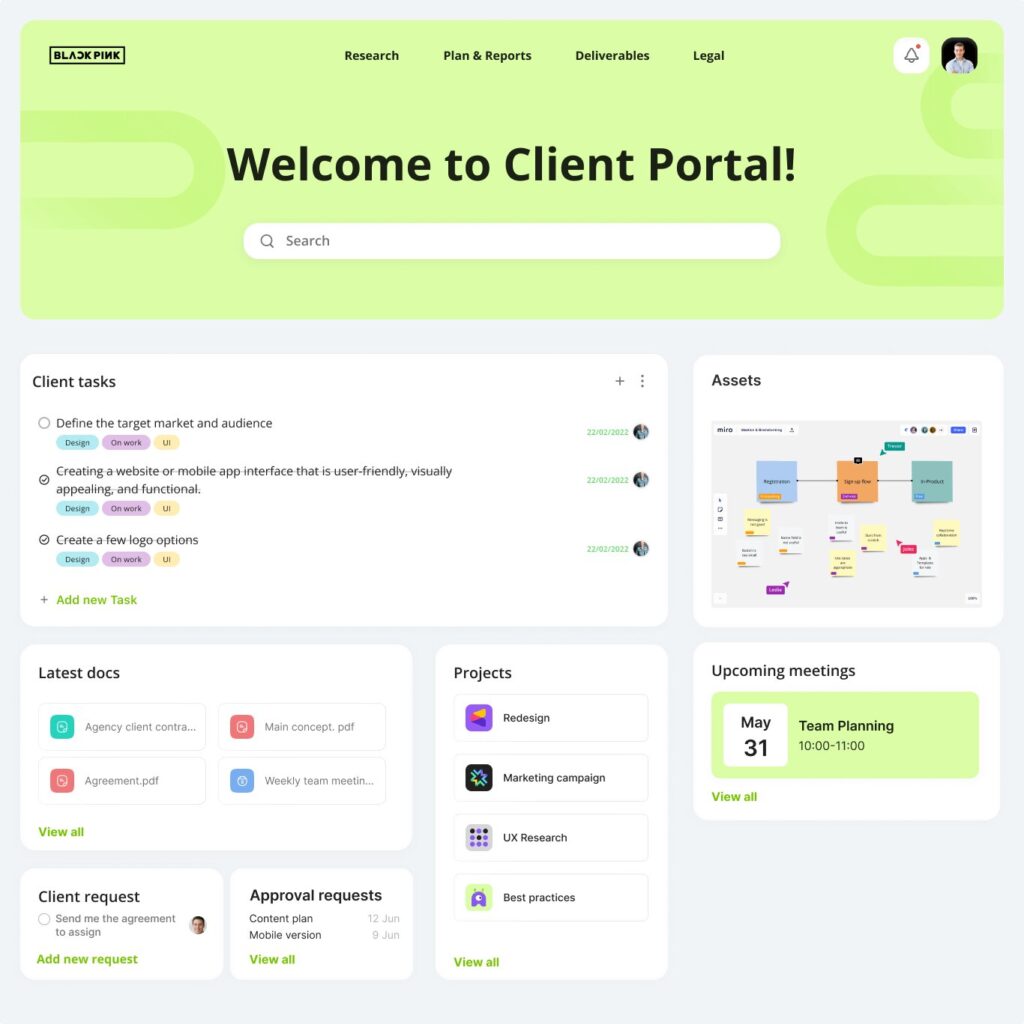 An ideal all-in-one tool, with Nimbus Platform, you have access to a suite of tools to support any startup. With Nimbus Platform, you get more than a business document and content management tool.
Pros
Manage all your content needs using a clear structure of nested folders and sub-folders for your documents.
Create notes with information in multiple formats using Nimbus Note. You can add text, videos, voice notes, images, links, attachments, and other documents.
Integrate with other startup tools, which can include Google Analytics and YouTube.
Create video screencasts using Nimbus Capture. You can record your screen to do a quick video review or to provide feedback to team members.
Use Nimbus Chat and Nimbus Portal as your CRM tools to communicate with clients and team members.
Manage your projects and tasks. Keep track of all your tasks using to-do lists, adding tags, and assigning due dates.
Use Nimbus Clipper to save content in any format from the internet. You can clip emails, articles, and PDF files, and also annotate them.
Control permission levels at the workspace and folder levels. You can also password-protect any document.
Cons
More than a note-taking and content management tool, which may be excessive for some startups.
Cannot arrange pages in a folder. They are sorted either by creation or editing date.
Can only search within one workspace at a time.
Script integrations are only available to those on the Business plan.
Pricing
Free on unlimited devices.
Pro from $6 per user / month.
Business from $8 per user / month.
To find out more about Nimbus Platform and to start a 14-day free trial, visit this website.
1.2 WordPress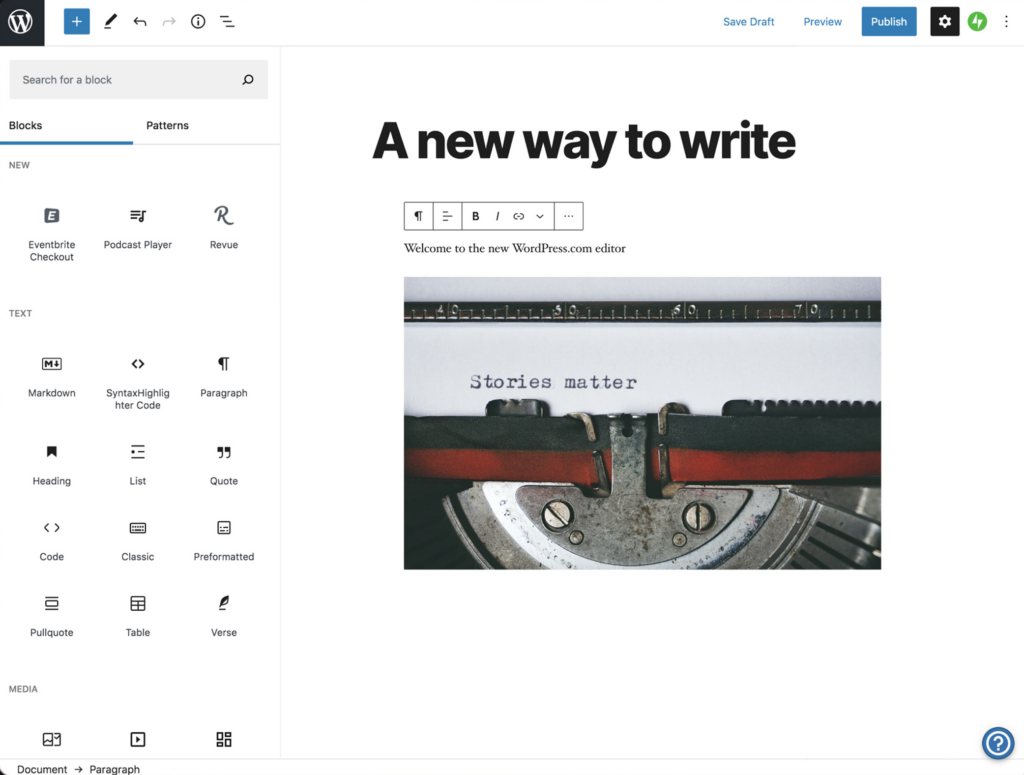 An open source and well-recognized tool, WordPress is a popular CMS hosting platform for content creators and for any startup who wants to establish a presence online quickly. With WordPress, you can create websites in various formats, including an online store, blog, or portfolio. It offers a wide range of plugins that let you customize your site according to your needs.
Pros
Open source, which means it's free to download and install.
Access to thousands of plugins to suit the needs of your startup.
Easy to get started.
Can be used for personal websites, blogs, portfolios, and more.
Lots of customization options.
Cons
Requires technical skills to set up yourself, otherwise you need to hire a web developer.
Plugins are not all free, which means to get the most out of WordPress, you need to pay for plugins.
You're in charge, which means you're responsible for your site's backups, security, and keep it updated.
Takes time to learn the basics and how it all works.
Need to have basic coding skills if you want to do simple customizations.
Pricing
Free to get started, however, you need to pay for hosting if you have a self-hosted site.
2. Accounting Tools
Accounting apps help you keep track of your financial information. You can use it to record transactions, generate invoices, pay bills, file taxes, prepare budgets, etc. Some accounting software even allows you to automate tasks, such as sending out invoices automatically. They can be used as startup funding financial tools, which makes them one of the most important tools business owners need to use.
2.1 FreshBooks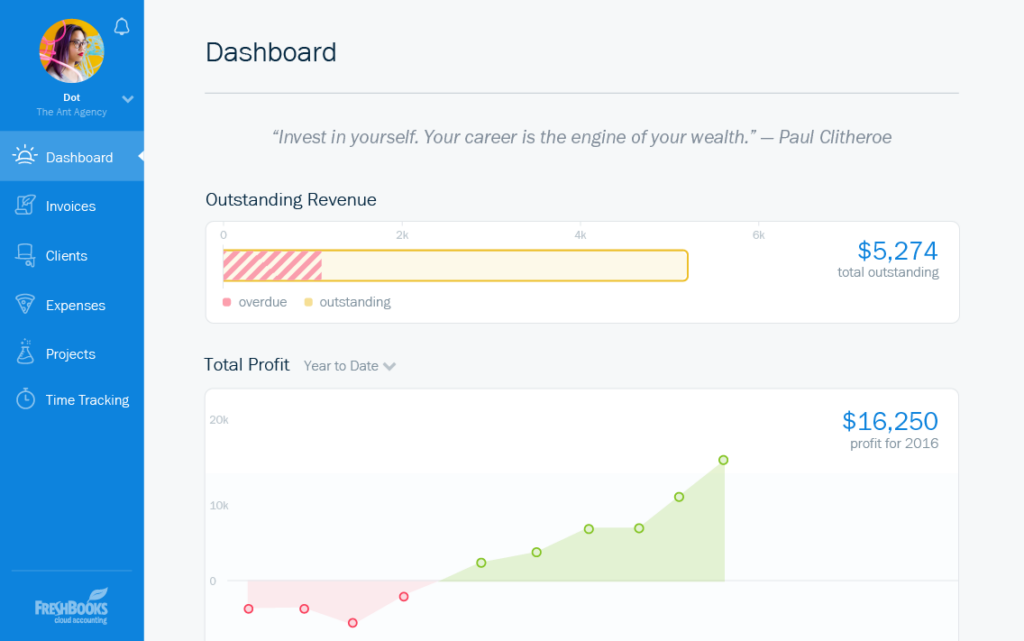 A financial tool that's easy to use, FreshBooks is a bookkeeping and accounting payroll software. It's simple to set up and has a mobile version, so you can access all your accounts anywhere, which gives your startup a lot of flexibility.
Pros
Track unlimited expenses.
Send unlimited estimates and proposals.
Set up recurring billing and client retainers.
Get paid with credit cards and bank transfers.
30-day free trial.
Cons
Limitations on the number of users and/or customers.
No bank reconciliation or accountant support in the lowest tier.
Does not provide quarterly tax projections.
Pricing
Lite: $7.50 per month or $132 billed annually.
Plus: $15.00 per month or $264 billed annually.
Premium: $27.50 per month or $484 billed annually.
Select: Custom pricing.
The pricing varies based on the features provided, so if your startup needs additional features, you will need to choose a higher plan.
2.2 Xero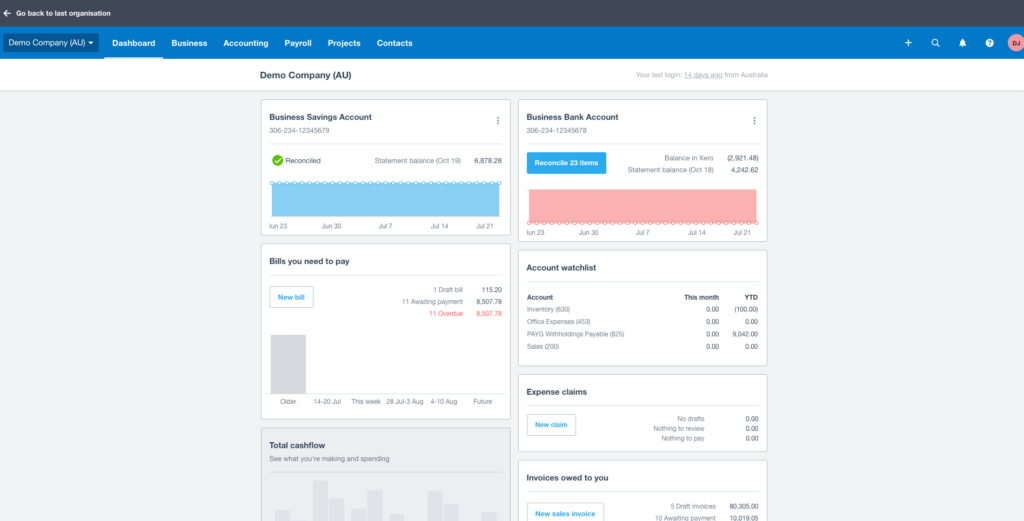 An increasingly popular option for small businesses, Xero is one of the best accounting software solutions. With Xero, you can manage your startup books online, automate bookkeeping tasks, generate reports, track sales and expenses, and much more. It's a popular option because it offers small businesses pricing options that's affordable, but still provides advanced functionality.
Pros
Create and send invoices and quotes.
Enter bills.
Reconcile bank transactions.
Use multiple currencies.
Track projects.
Claim expenses.
View in-depth analytics.
30-day free trial.
Cons
Takes time to learn how to use it.
Does not include built-in payroll with its plans.
Requisition / purchase / inventory management features are basic.
Limited expense claims, projects, and multi-currency support is only on the most expensive plan.
Poor customer service.
Pricing
Early Plan: $12.00 per month.
Growing Plan: $34.00 per month.
Establish: $65 per month.
Xero is a good accounting software solution for any small business, startup, registered agent, accountant, or bookkeeper.
3. Business Analytics Tools
Any business owner needs to monitor analytics to grow a startup. The right analytics tools allow you to analyze data, identify trends, predict future outcomes, and make better decisions.
With proper analytics, a startup can review and improve their business plan, predict future trends, increase their business credit, change their product offers, and adjust their business insurance coverage as needed.
Analytics tools are valuable startup incorporation tools because they help you understand what's happening within your business. These tools also give you insight into the performance of your products and services, and how your startup can improve.
3.1 Google Analytics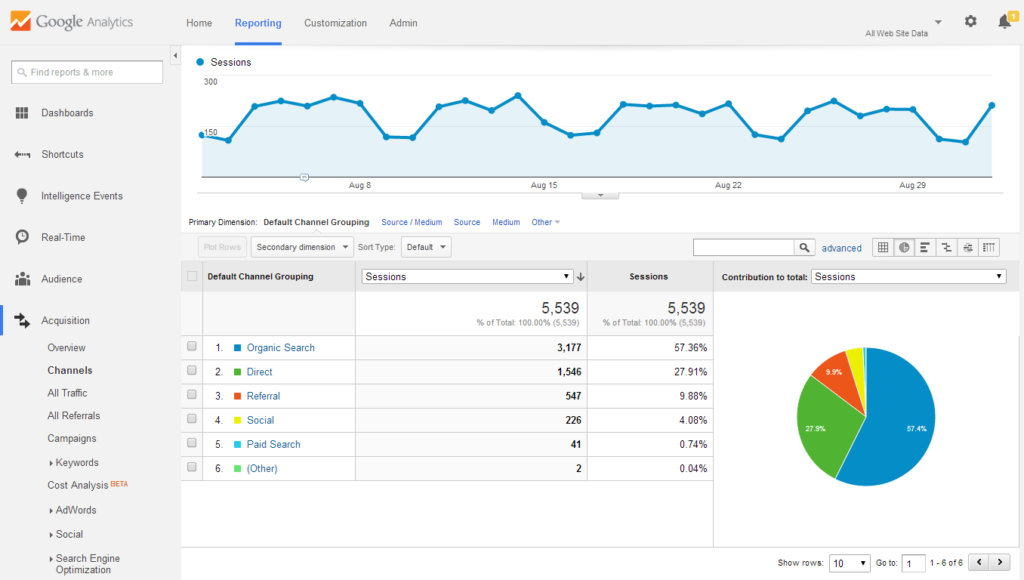 This is a powerful web analytics platform that helps you measure traffic, conversions, and other metrics. With Google Analytics, you can see which pages get the most visits, where visitors come from, and how often people return to your website.
Pros
Free for personal use.
Accessible via desktop, tablet, and mobile devices.
Accessible via desktop, tablet, and mobile devices.
Easy to get started.
Cons
Data volume capacity limit of 10 million hits per month.
Maximum of 50,000 data rows.
Not suitable for offline marketing campaigns.
All the features and options can be difficult to understand and get maximum value.
Pricing
Free for personal use.
Google Analytics 360: Custom pricing, which is beyond what most startups can afford.
3.2 Tableau Software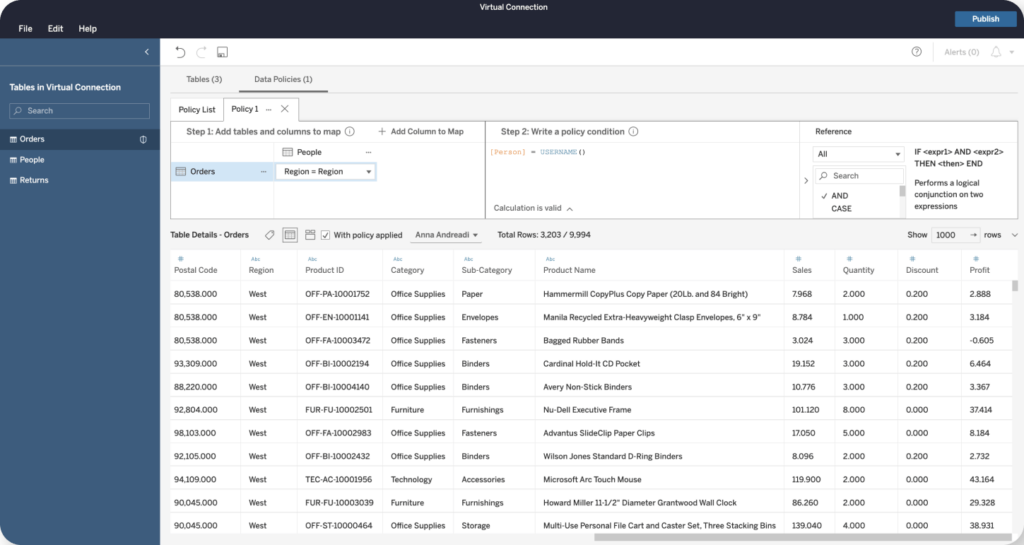 A visual analytics platform, Tableau lets you create data dashboards and interactive maps. You can also share your dashboard with others, which gives them insight into what's happening in your startup.
Pros
Allows you to visualize data.
Provides real-time updates.
Offers a free trial.
Allows you to collaborate with other people.
Cons
Requires technical skills to use.
Expensive to use if you're a startup.
Requires a subscription.
Pricing
Tableau Creator: $70 per user per month when billed annually.
Tableau Explorer: $42 per user per month when billed annually.
Tableau Viewer: $15 per user per month when billed annually.
Tableau provides options to fit people and businesses with different data needs.
4. Design and Graphic Development Tools
Design development tools are essential for startups. These tools can include a logo maker for all your logo design needs. When using these tools startups can design websites, logos, brochures, flyers, and more. They also let you edit images, add text, and format documents. Some graphic design tools require subscriptions.
4.1 Canva
An easy-to-use graphic design tool, Canva allows you to create professional designs for your startup quickly. Any Canva review will reveal it has over 1 billion downloads worldwide, making it one of the most popular graphic design apps. Canva is a popular option for managing social media posts, creating infographics, designing posters, or even a simple business card.
Pros
No upfront fees as you can start with a free account.
Simple interface.
Many free templates.
Allows you to create graphics for social media profiles.
Can store designs in your account.
Cons
Canva is an online graphic design tool, which means if you don't have internet access, you can create designs.
No efficient way to back up your projects.
Lack of phone support.
The free version does not let you export images with transparent backgrounds.
The range of integrations is limited.
Pricing
Canva Free: No cost.
Canva Pro: $12.99 per month, for one person.
Canva for Teams: $14.99 per month, for the first five team members.
4.2 Adobe Creative Cloud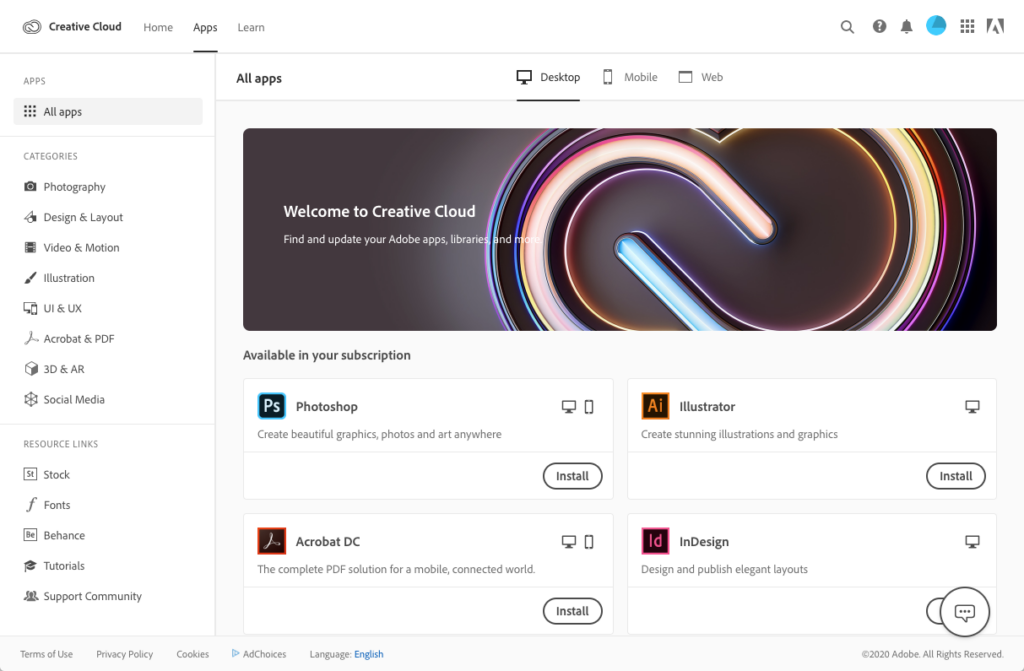 This is a suite of software tools used for graphic design, video editing, website development, and optional cloud services. Adobe Creative Cloud includes Photoshop, Illustrator, Acrobat Pro, InDesign, Premier Pro, and Adobe Express.
Pros
Industry-recognized and recommended by creative professionals.
Get access to over 20 creative tools via the Creative Cloud All Apps plan or you can sign up for individual apps.
Free trial available.
Cons
Need to have a monthly or annual subscription.
Not suitable for beginners who don't have much design experience.
High subscription costs.
Pricing
Creative Cloud All Apps plan: $54.99 per month.
Creative Cloud Photography plan: $9.99 per month.
Individual app plans starting at $9.99 per month.
Even though you get a great suite of tools with Adobe Creative Cloud, it's an expensive option for any startup.
5. Marketing Tools
When considering startup marketing tools, there are two main types of tools to consider. The first type includes those that help you manage your email list. The second type includes tools that help you build your brand or startup.
5.1 Yespo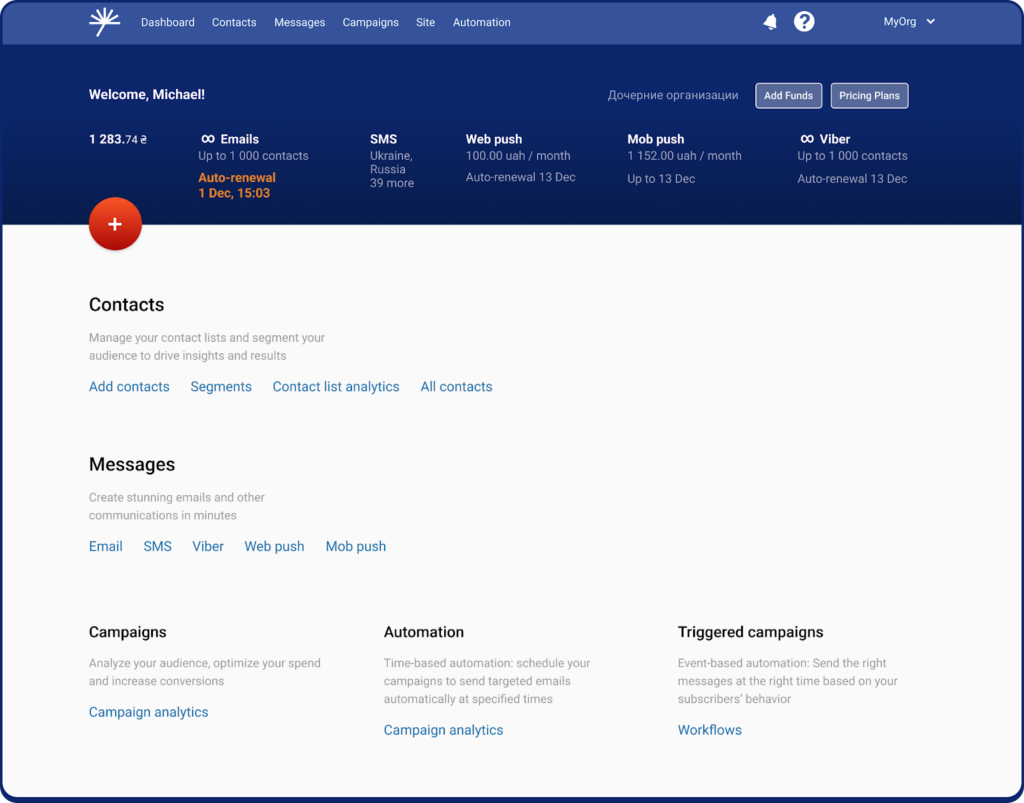 Yespo is an omnichannel customer data platform that offers ready-made tools and campaigns for medium-sized e-commerce. The system provides opportunities to increase the profit from communications with customers on the website and in the mobile app through email, SMS, Viber, web and mobile push, app inbox, in-app, and pop-up.
Pros
Data collection – gathering data from diverse sources and combining it in a single customer profile;
Segmentation – building advanced segments based on any user data for the right offers;
Product recommendations based on AI algorithms are available for the website, mobile application, and mailing list;
53 ready-made campaigns and the opportunity to set up custom workflows;
External data sources (PostgreSQL, Big Query, Google Sheets);
Data is safe – Yespo is GDPR, CCPA, and CASL compliant;
Simple email campaigns – the system has 1200+ templates and access to the email code;
AMP – subscribers can place orders, leave feedback, and play directly in the email;
Multilanguage – creating several language versions for one message;
Detailed reports – profitability, contact base dynamics, cohort, and RFM analysis.
Cons
Strict moderation, but thanks to it, the letters will be in the inbox and not in spam.
Pricing for email
Trial period – 2,500 emails and 10 SMS to test the service. Yespo can also create one free email template designed in the corporate style of your website.
Pay as you go (unlimited contacts) – 1.73 EUR / per 1,000 emails.
Optimal (unlimited messages):

free emails – maximum of 500 contacts,
34 EUR/month up to 10,000 contacts,
229 EUR/month up to 100,000 contacts,
449 EUR/month up to 250,000 contacts.

Enterprise – if you have more than 500,000 contacts, you will receive a personal offer.
Pricing for CDP
Advanced – 99 EUR/month for up to 50,000 contacts and 250,000 website visitors.
Professional – 299 EUR/month for up to 100,000 contacts and 500,000 website visitors.
Enterprise – unlimited users, customized offer.
5.2 Hootsuite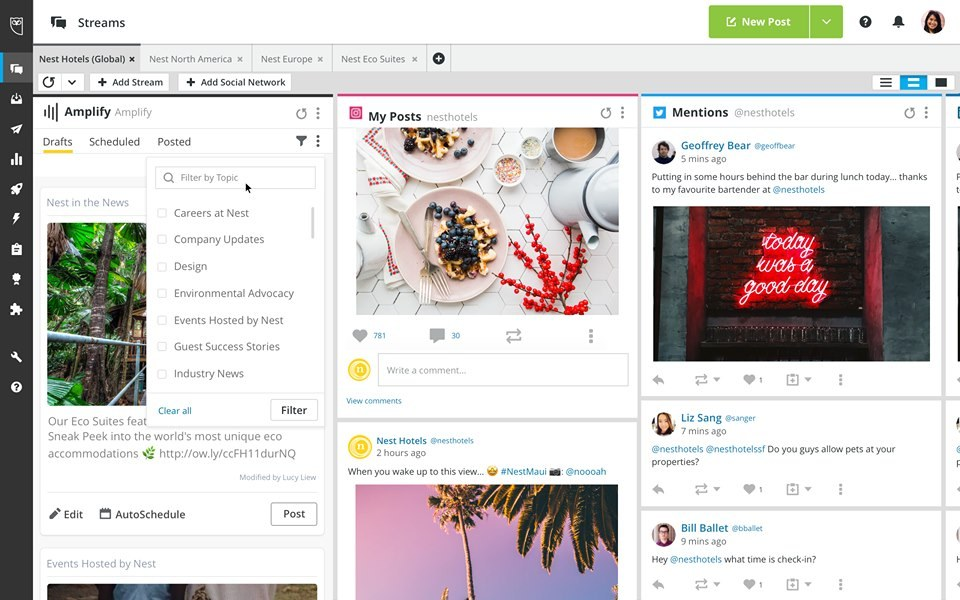 Being able to manage social media profiles is essential to building any startup. Hootsuite helps you manage multiple social media accounts from one place. This allows you to post content across different platforms simultaneously.
Hootsuite is ideal for startups because it integrates with many other tools and social media networks.
Pros
Simple interface.
Works well for teams.
Allows you to schedule posts.
Many social network integrations.
Add multiple social networks into one dashboard.
Cons
Best features unavailable in smaller plans.
Basic analytics.
Pricing on plans increases often.
Add-ons can become expensive.
Pricing
Professional: $49 per month, for up to 10 social profiles.
Team: $179 per month, for up to 20 social profiles and 3 users.
Business: $739 per month, for up to 35 social profiles, 5 users, and unlimited add-ons.
Enterprise: Custom per month premium pricing.
6. Project Management Tools
There are many startup productivity tools and project management software available today. Some can even be used as startup networking tools for more collaboration with team members and potential clients, investors, or partners.
With many productivity suites, you can easily track tasks, projects, and milestones. There are also some tools that allow you to collaborate with others on any startup project.
6.1 Trello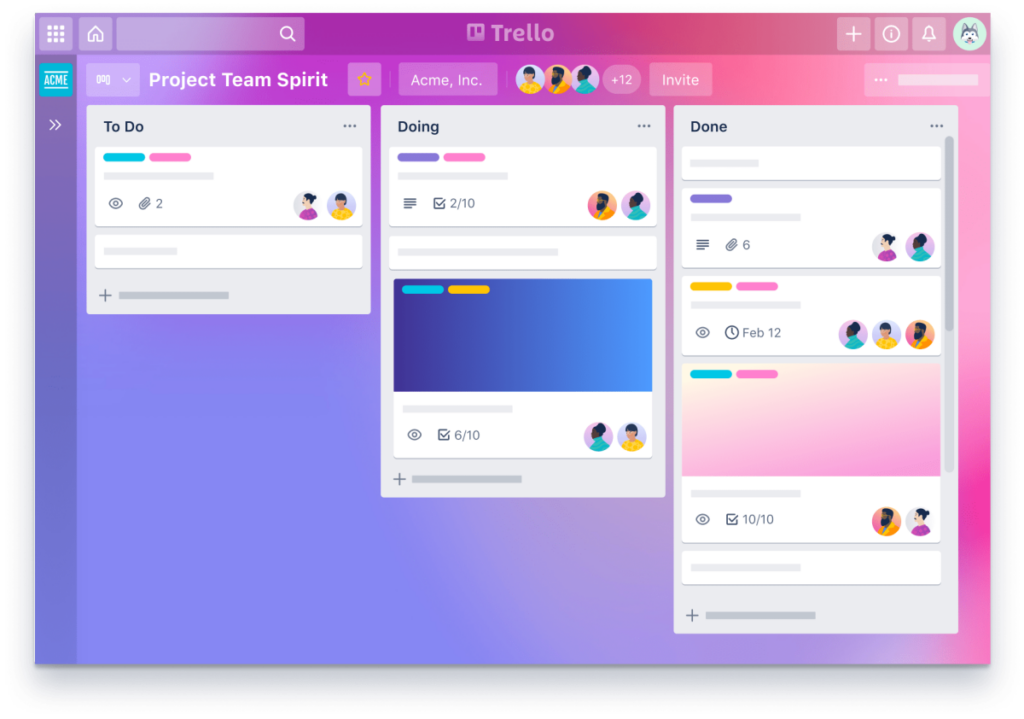 A simple, yet powerful project management tool, Trello is easy to set up and use. With Trello, you can organize your projects by boards. Boards can contain cards, which represent individual tasks. Cards can be assigned to specific people.
With Trello, you can also assign due dates to each card. It also lets you create checklists, so you can keep track of things like steps in a process.
Pros
Ability to customize the look of the board and cards.
Can move cards around.
Plugins available for additional features, such as calendar, voting, and views.
Can be used for personal and professional purposes.
Real-time collaboration features.
The free version does not have ads.
Cons
Limited customization or styling options.
Advanced features available only on subscription plans.
Limited note-taking capabilities.
Basic task management features.
Cannot aggregate boards.
Pricing
Free: 10 boards per workspace.
Standard: $5 per month, offering unlimited boards and storage.
Premium: $10 per month, offering additional views and admin/security features.
Enterprise: $17.50 per month, offering unlimited workspaces and organization-wide permissions.
6.2 Asana
An all-in-one project management tool, with Asana, you can plan projects, manage tasks, and share files.
You can create projects, assign them to individuals, and then break down those projects into subtasks. Tasks can be assigned due dates, and you can also attach notes and comments to them. You can also view progress on tasks and see when they were last updated.
Pros
Easy to learn and get started quickly.
Integrates with many tools, including Google Drive, Dropbox, and OneDrive.
Can attach files directly to tasks.
Provides real-time updates.
Allows you to manage different projects, including personal, client, and company.
Cons
Need to have a subscription to get access to advanced features.
More expensive than many project management software.
Poor customer service reputation.
Can't assign tasks to multiple users.
Limited mobile app functionality.
Pricing
Basic: Free, with limited features.
Premium: $13.49 per user per month.
Business: $30.49 billed monthly.
Enterprise: Custom pricing based on your specific requirements.
7. Communication Tools
Having tools to communicate with team members and customers is essential for any startup. You need to stay connected with everyone involved in your business. This includes keeping in touch with your current customers, potential customers, and other stakeholders.
Communication tools include video conferencing and messaging.
7.1 Zoom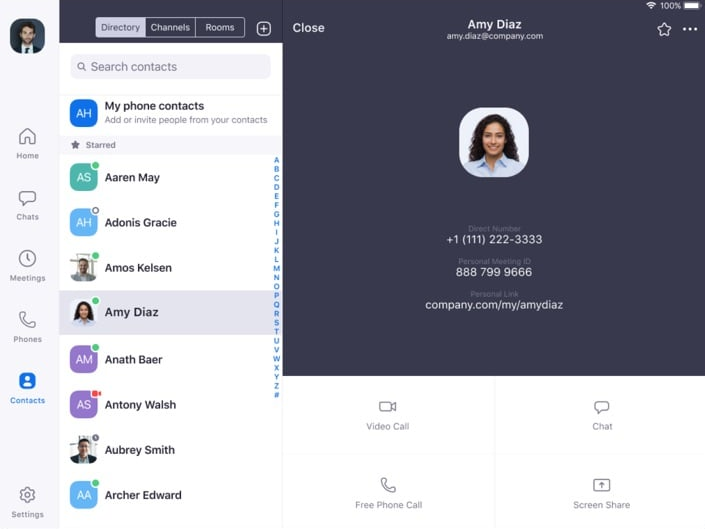 As one of the leading tools in virtual communication, Zoom is a popular option as a collaboration tool. It allows you to connect with others via webcams, voice calls, and text chats.
Zoom has an extensive list of integrations that allow you to easily integrate it with other applications. For example, you can link your Zoom account to Gmail, Google Calendar, Slack, Microsoft Teams, and more.
Pros
Works across platforms, including Windows, MacOS, iOS, Android, and web browsers.
Extensive list of integrations.
Record your meetings via the cloud or locally.
Can use features in their productivity suites, such as virtual backgrounds, screen sharing, annotations, polls, chats, and breakout rooms.
Easy to set up and manage video conferencing meetings.
Can stream meetings to social media platforms, such as Facebook and YouTube.
Cons
Need to have a subscription and pay for add-ons to get access to advanced features.
Time limit on how long a meeting can run on the free plan.
Need to install the Zoom software application on your computer.
Lack of comment control.
Not a cheap option if you have many users.
Pricing
Basic: Free for up to 100 attendees and a 40-minute time limit.
Pro: $149.90 per year per user.
Business: $199.90 per year per user.
Business Plus: $250.00 per year per user.
Enterprise: Custom pricing for meetings up to 1000 attendees.
7.2 WhatsApp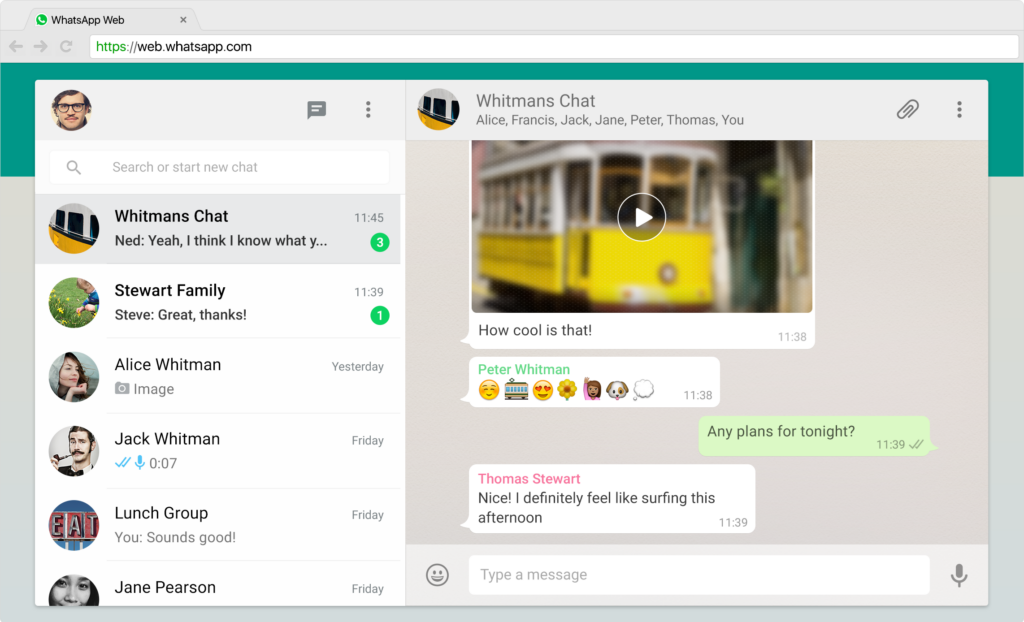 Another popular option for communicating with people around the world, WhatsApp is easy to use and works on all major operating systems, including Windows, macOS, iOS, and Android.
WhatsApp offers two-way audio calling and group chat capabilities. You can share photos, videos, documents, and links through WhatsApp.
Pros
Free to download and use.
Works on most devices, including smartphones, tablets, PCs, and laptops.
Messages can be sent from anywhere in the world.
Group chat feature lets you send messages to large groups.
High security and privacy, with end-to-end encryption.
Can make voice and video calls using your phone's internet connection.
Cons
Only supports sending messages to contacts on your phonebook.
Doesn't support file transfers.
Sending images takes longer.
To take full advantage of WhatsApp's capabilities, you need to use a WhatsApp Business API.
Pricing
Free if you have a regular WhatsApp account.
WhatsApp Business: Varies based on your location and usage.
8. Data Protection Tools
Data protection tools are essential in today's business environment, where data breaches, ransomware attacks, natural disasters, and hardware failures can have catastrophic consequences. Such apps are designed to safeguard your information against various forms of loss or corruption. Backup and disaster recovery software can help startups maintain business continuity by quickly restoring data and systems in case of a disaster.
When startups must comply with various regulations and industry standards that require them to keep their records safe, data protection tools can help them meet these compliance requirements by ensuring information is stored, handled, and protected according to these standards.
8.1 NAKIVO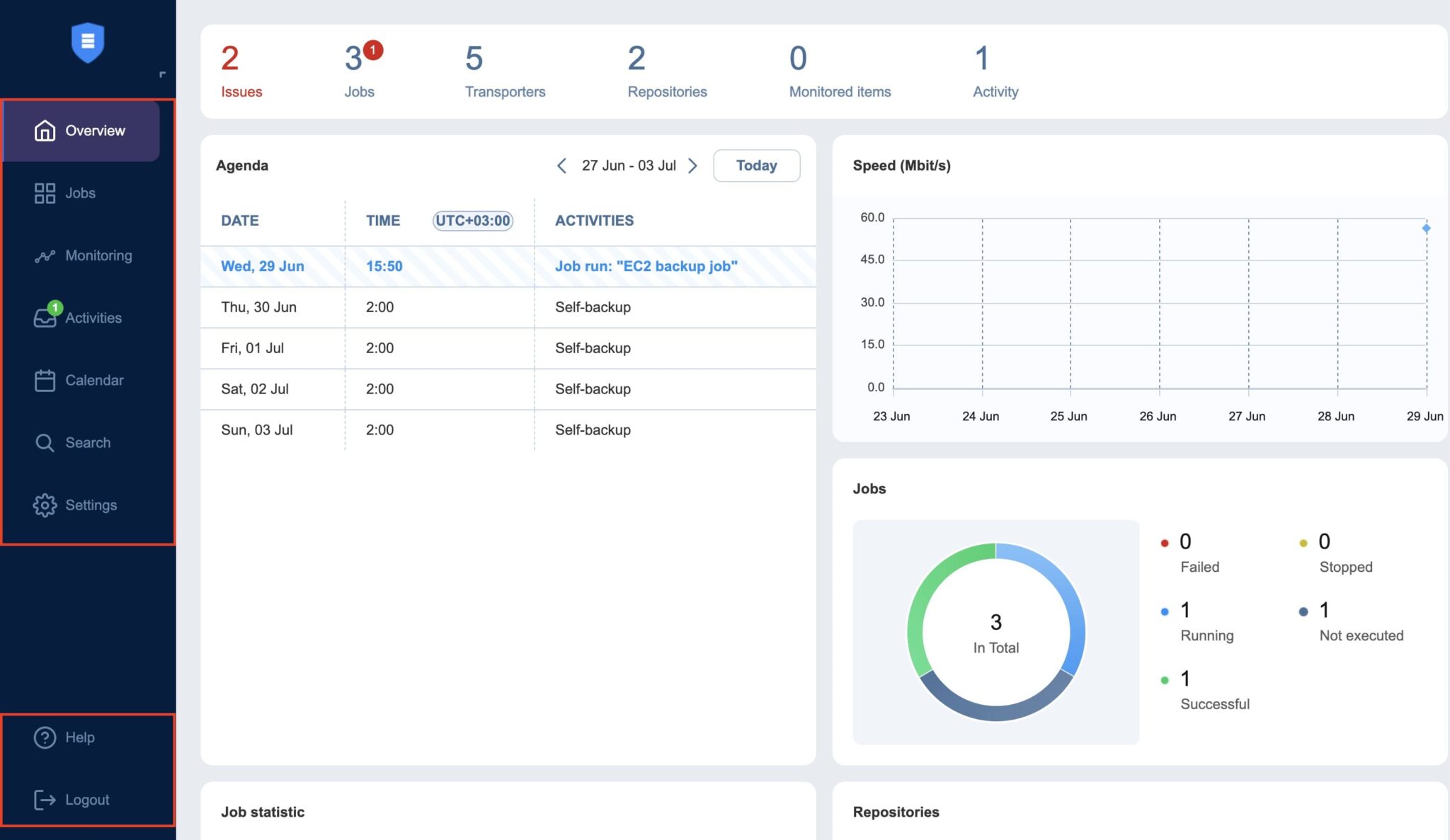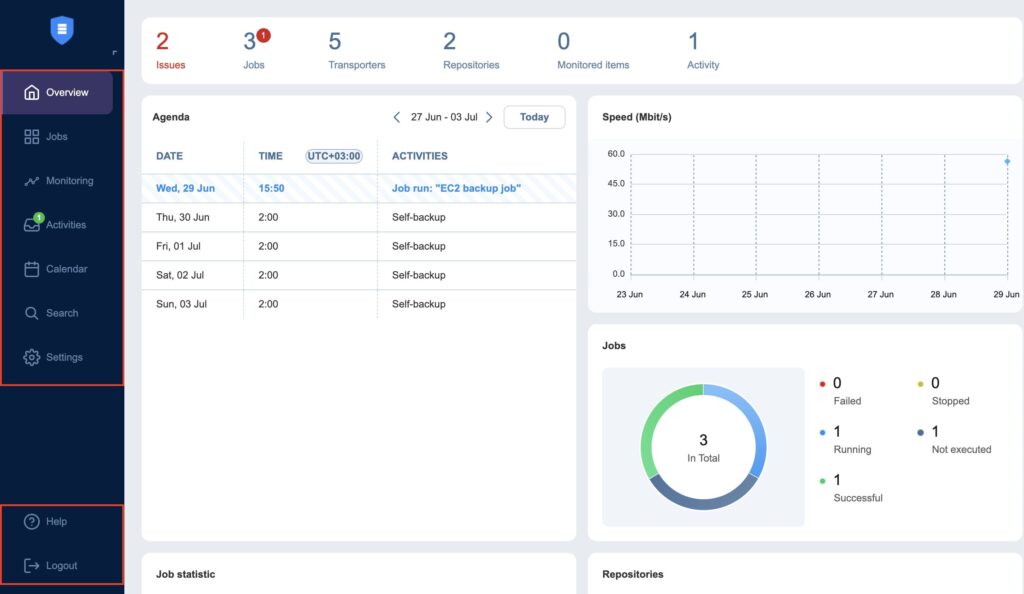 NAKIVO Backup and Replication offers a reliable and affordable data protection solution for virtual, physical, cloud, and SaaS environments. With its comprehensive backup features, businesses of any size can easily protect their crucial data and applications. This software supports multiple virtualization platforms such as VMware vSphere, Microsoft Hyper-V, Nutanix AHV, and Oracle VM, making it an inclusive backup solution.
Pros
Cost-effective option for backup and recovery solutions.
The company provides top-notch, around-the-clock customer support.
The software uses fast, incremental backup methods for quick data protection.
Onsite data storage is provided with additional control over SaaS data.
Supports cloud backup to popular cloud platforms such as Amazon S3, Microsoft Azure, and Google Cloud.
Advanced security features help keep data secure.
Cons
The web-based interface may not be ideal in certain circumstances.
Supports only onsite backups, with no cloud storage option.
Pricing
Essentials: $99/socket/year (minimum of 2 sockets required)
Pro: $199/socket/year (minimum of 2 sockets required)
Enterprise: $399/socket/year (minimum of 2 sockets required)
The company also offers a free trial and a quote-based custom plan for larger enterprises.
In conclusion, if you're looking for ways to improve your startup, these tools will help you operate your business better than ever before. The best part is you can get started with most of them today!
For any startup, maximizing efficiencies will always be a key business driver. One way to do that is by adopting asynchronous work. Find out what it is and how you can take advantage of it in our new blog post.
Knowing how to leverage institutional knowledge management can make a difference to how you operate your business. In one of our atricles, learn the importance of institutional knowledge and how you can build an institutional knowledge base.
Find out how Nimbus can help you with building up your perfect knowledge base here.
If you found this article helpful, please share it so others can benefit too.
Get expert advice on choosing the best tool!
Check out Nimbus' Twitter page for the latest articles and updates!
Read more posts on this topic:
Disclaimer
Parties other than Nimbus Platform may provide products, services, recommendations, or views on the Nimbus Platform site ("Third Party Materials"). Nimbus Platform is not responsible for examining or evaluating such Third Party Materials, and does not provide any warranties relating to the Third Party Materials. Links to such Third Party Materials are for your convenience and do not constitute an endorsement of such Third Party Materials.
Previous post
Top 6 Loom Alternatives and Competitors to Consider in 2023
Next post
7 Best Free Screen Recorders in 2023 and How They Compare