Top 10 Customer Success Software Tools in 2023
Explore the best option for boosting your customer success
Try it now
When a consumer buys your product or uses your service, how do you know they are happy with the purchase and that they get what they expected? How can you predict which clients will leave your service before they actually do so? With customer success tools, you can do exactly all those things and so much more. That's why a lot of high-performing customer success teams, account managers and sales executives use customer success software.
What is customer success software?
Customer success management (CSM) software is highly specialized software that studies your current customer data to give you a complete picture of your customers and their experiences. Simply put, customer success software provides a comprehensive analysis of the customer experience, from which your team can identify trends and, based on that, improve customer success strategy.
These methods are crucial in the modern world. North Highland surveyed seven hundred top executives and 87% indicated improving the customer experience was their ultimate growth objective. However, just 31% claimed they were confident in their ability to implement these plans. Obtaining CMS software is the first step in implementing customer experience expansion plans and guaranteeing they are consistent with your brand, business and marketing objectives.
CMS software can seem redundant if your organization already uses customer service software. However, customer success software has a much higher level of specialization and is designed to focus on your most important areas for improvement in customer service.
Why do businesses need customer success software?
Customer success is a key growth driver as more businesses rely on recurring revenue models and the competition increases.
Keeping your customers happy is essential to running a successful business. According to the Gartner research, two-thirds of companies prioritize customer satisfaction when considering how to stay ahead of the competition. If your product exceeds customer needs and clients interact positively with it, then more people will interact with it. This can lead to a faster expansion of market share. The more value your product offers its customers, the quicker it will gain a foothold in the market.
Let's take a look at the best reasons to use customer success software to see how it can revolutionize your company:
Manage customer interactions – keep tabs on where time is spent, on which account and with which people.
Recognize and prevent customer churn – find points of client defection and take necessary measures to avert them.
Optimize the client onboarding processes – ensure customers understand your product or service before abandoning them.
Make customer feedback quantifiable – turn observations into actionable insights.
Get your teams in sync – streamline your customer success process so all of your employees are on the same page no matter which deals they are working on.
Key features to look for in a customer success tool
Although the core use cases of customer success tools may vary vastly, there are a number of features each customer success tool in your stack has to have.
These include:
Customer dashboards or profiles: Each of your customers should have their own personalized dashboard or profile page from which you can observe the big picture of your connection with them and dive into the details as needed.
Communication management tools: Most customer success tools must include instruments for handling customer communications via email, social media, live chat, etc. You might also need a platform that allows you to develop email or text message campaigns or one that supports proactive messaging, depending on your plan.
Feedback collection: Surveys are a powerful tool to collect feedback and gather data regarding customer satisfaction. These forms will provide insights into customer effort, what they like and dislike and what can be improved.
Customer segmentation tools: Segmenting your customers into different groups based on criteria such as product usage or behavior trends can allow for more targeted Customer Success strategies.
Self-Service Knowledge Base: Customer education plays a big part in delivering excellent customer experience. So, it may be helpful to create educational blog posts or add self-service tools like a knowledge base.
Automation Capabilities: Workflow automation can significantly increase the efficiency of your customer success team by automating manual and repetitive tasks.
Analytics: Reporting tools and dashboards provide an easily understandable summary of your most important CS metrics — whether that's health scores, implementation, churn risk and so on.
Integration support: Integrations allow a variety of your software to connect and
share data between one another. It improves efficiency and reduces the risk of error or disparate data. If a customer success platform doesn't integrate with your CRM, how can you have confidence that your customer data will always be up-to-date and relevant?
Besides the mentioned features, it's nice to choose software with intuitive interfaces so it would be easy to start with. Your program should also be able to collect and share customer data throughout your organization's various communication channels. Alignment is essential for the success of any corporate strategy. The organization will struggle to function if employees cannot freely exchange ideas and information.
Read more posts on this topic:
Top 10 Best Customer Success Software Solutions in 2023
It can be not easy to find the right customer success software for your business among the hundreds of products on the market. In order to strengthen customer interactions, here are the ten best customer success software options.
FuseBase (formerly Nimbus)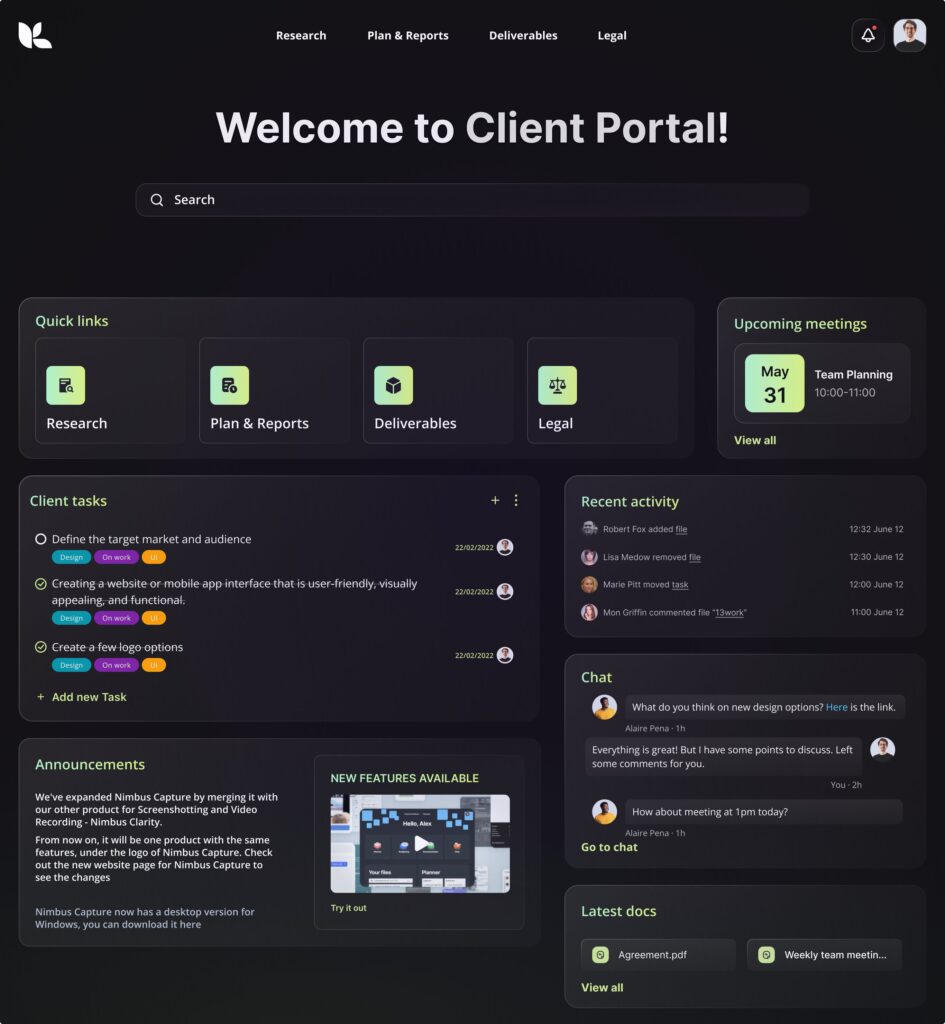 FuseBase (formerly Nimbus) is a client collaboration solution that encompasses all the best features of customer success software. It works as a service hub that facilitates internal team collaboration and external client work. The powerful collaboration and sharing features include collecting text files, images and tables onto one page and sharing them with colleagues and clients who do not own FuseBase accounts.
FuseBase (formerly Nimbus) is unique in its adaptability. It allows you to create client portal quickly and provide excellent customer service. You can also customize branding by adding a logo and subdomain, manage email communications professionally, gather information from different formats into Super Documents and organize it using tables. It ensures a clear user experience with structured content and robust permission management, including block-level permissions.
Best features:
Client Portals: Provide your clients with quick access to always updated information and results of your work with just one link and let them control the whole working process without additional effort.
Super Documents: Consolidate various file types like text, graphics, media and PDFs into one document and connect it to a FuseBase Portal in a few clicks.
Knowledge Management: Set up a system of user-friendly workspaces, folders, tags and labels. Create a knowledge base with multi-format Super Documents.
Information Structure: Organize your customer data with nested folders, tags, separate workspaces and @-mentions for linking notes. Use customizable background colors, headings and blocks to lay out your pages quickly.
Collaboration: Document and share customer feedback with your customer success team. Use a chat, @-mentions and comments to discuss feedback among the entire group readily.
White-labeling: Customize workspaces and branding to promote your organization's identity.
Permission Management: Control who may access what and when to keep private data safe with granular permissions management.
FuseBase AI: Streamline your customer communication procedures by automatically summarizing team chats, identifying individual customer needs, responding accordingly due to natural language processing and much more.
Pricing:
Free plan is available
Standard – $9/user/month
Contact sales for a customized pricing quote
Gainsight CS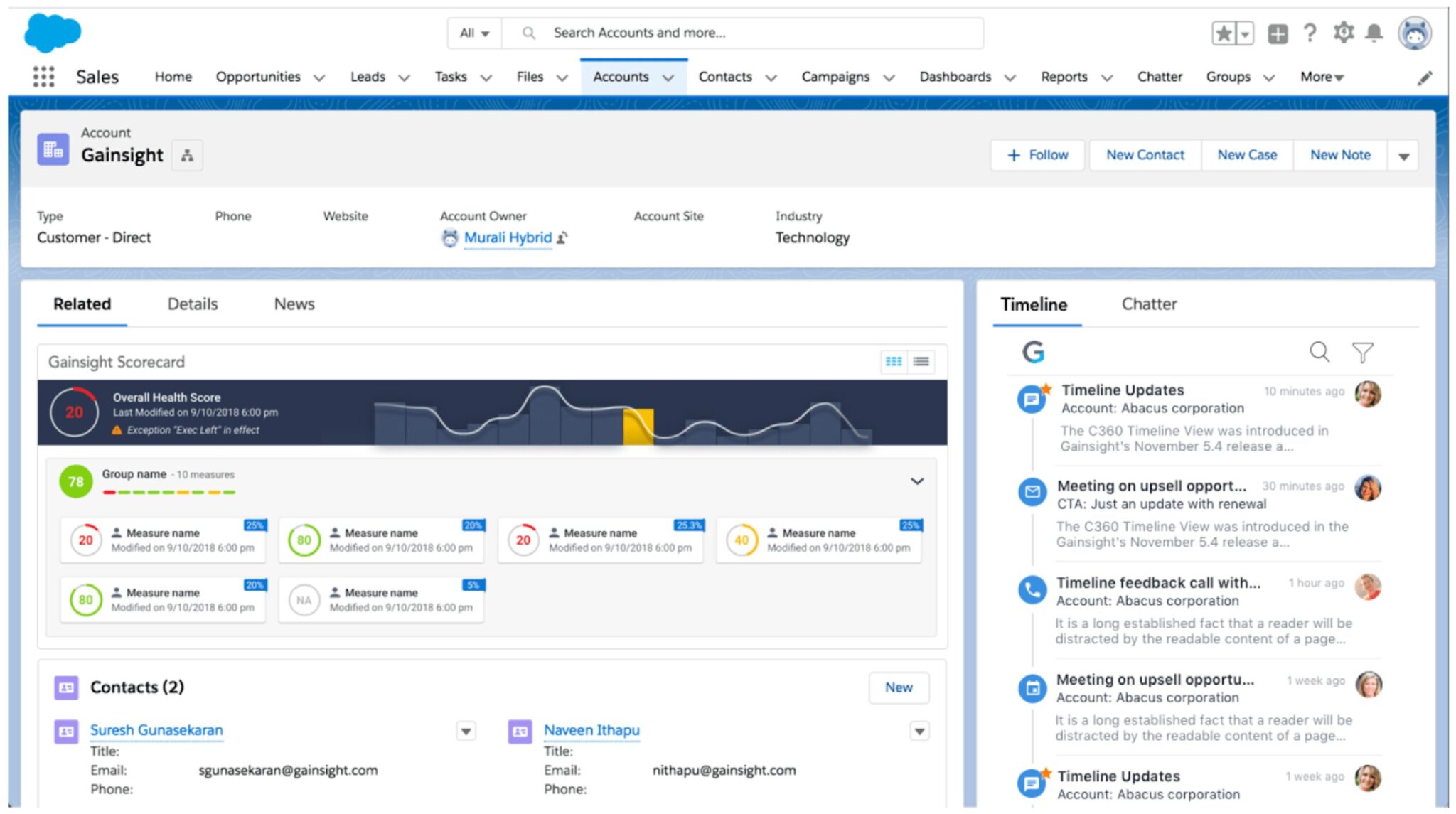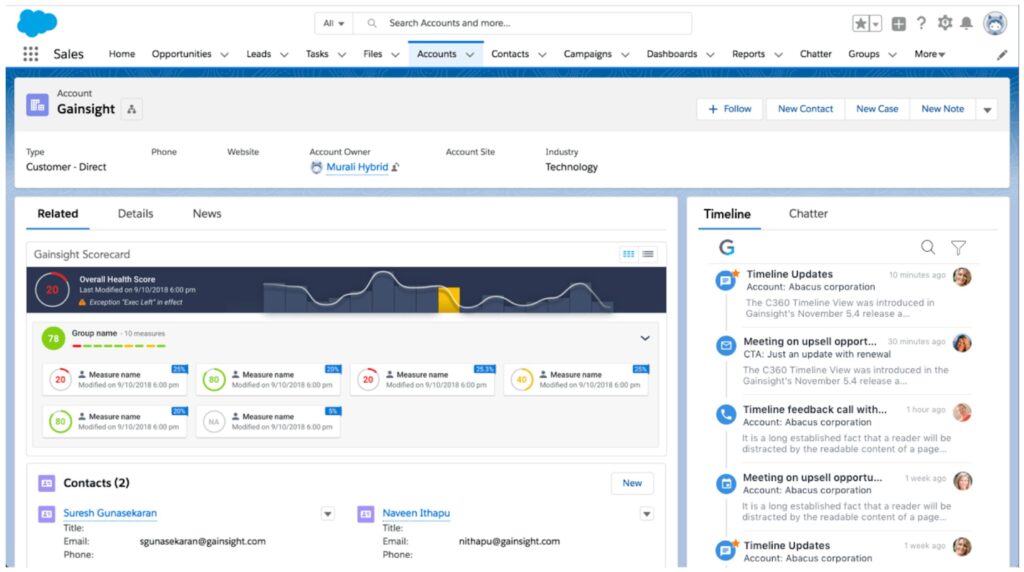 Gainsight is one of the best customer success software tools on the market and it's designed specifically for businesses with 50 to 5000 employees. Their customer success platform suite combines data from different sources into a single view and offers 360-degree layouts that show various views based on the customer's attributes or the user's role. You can also analyze your company's activity with a customer and view a customer's experience in chronological history.
Best features:
Customer 360 & Health Score: Get more granular and accurate customer retention and expansion forecasts with robust health scores and a 360-degree view of every customer.
Dashboards: Provide your leadership with a single view of everything with powerful dashboards that leverage all of your customer data.
Playbooks: Identify the best actions for every customer risk or opportunity with AI-powered playbooks and best practices
Customer feedback: Precisely measure and understand customer health scores with a multi-dimensional feedback loop tracking sentiment, risk signals, NPS, engagement and feature usage.
Pricing:
CS Essentials – Contact sales for pricing
CS Essentials Plus – Contact sales for pricing
Enterprise – Contact sales for pricing
Totango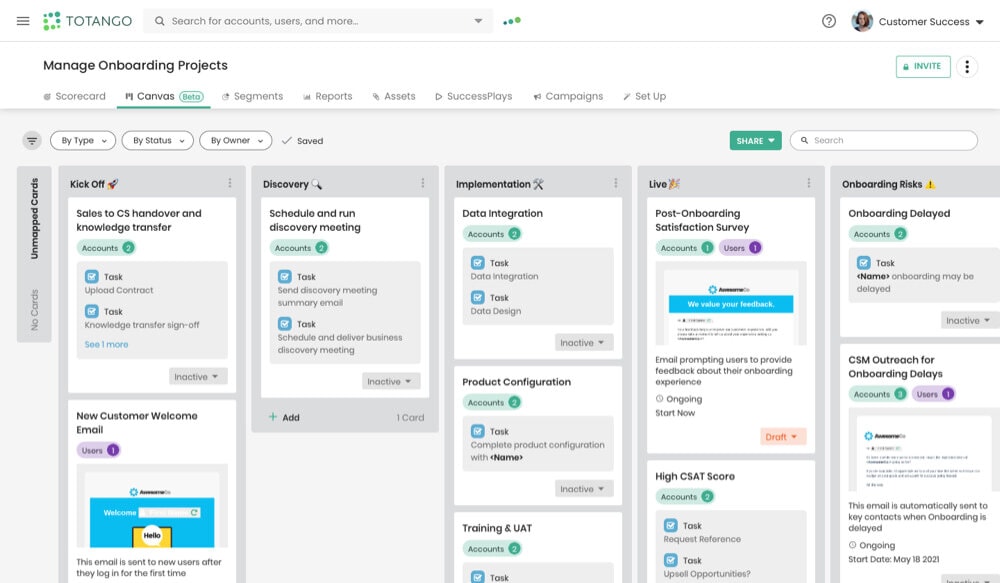 Totango is an enterprise-grade customer success platform that can scale with your company without limits, empowering your cross-functional teams to increase output, customer loyalty and revenue growth. With prebuilt customer success tools that incorporate industry best practices, you can quickly get started, tailor the program to your company's needs and accomplish crucial business results at every point in the customer journey. The biggest enterprise companies in the world use Totango to integrate customer data for a 360-degree view of customer health scores, collaboratively manage their portfolio and engage proactively and intelligently with their customers.
Best features:
Success plans & customer portal: Use a customer portal to keep tabs on progress toward goals and learn from one another's experiences in order to better serve your clientele.
Custom Metrics: Create, define and track metrics to understand business results your customers are getting with your product.
Scorecards: Define and track goals visually using one or more KPIs to ensure you are on track to achieve your customer relationship goals.
Tasks & Touchpoints: Accelerate CRM productivity with flexible and customizable tasks and touchpoints that can be automated to help your team plan their day.
Pricing:
Starter – $2,988/year
Enterprise – $18,000/year
Premier – Contact sales for pricing
Churn Zero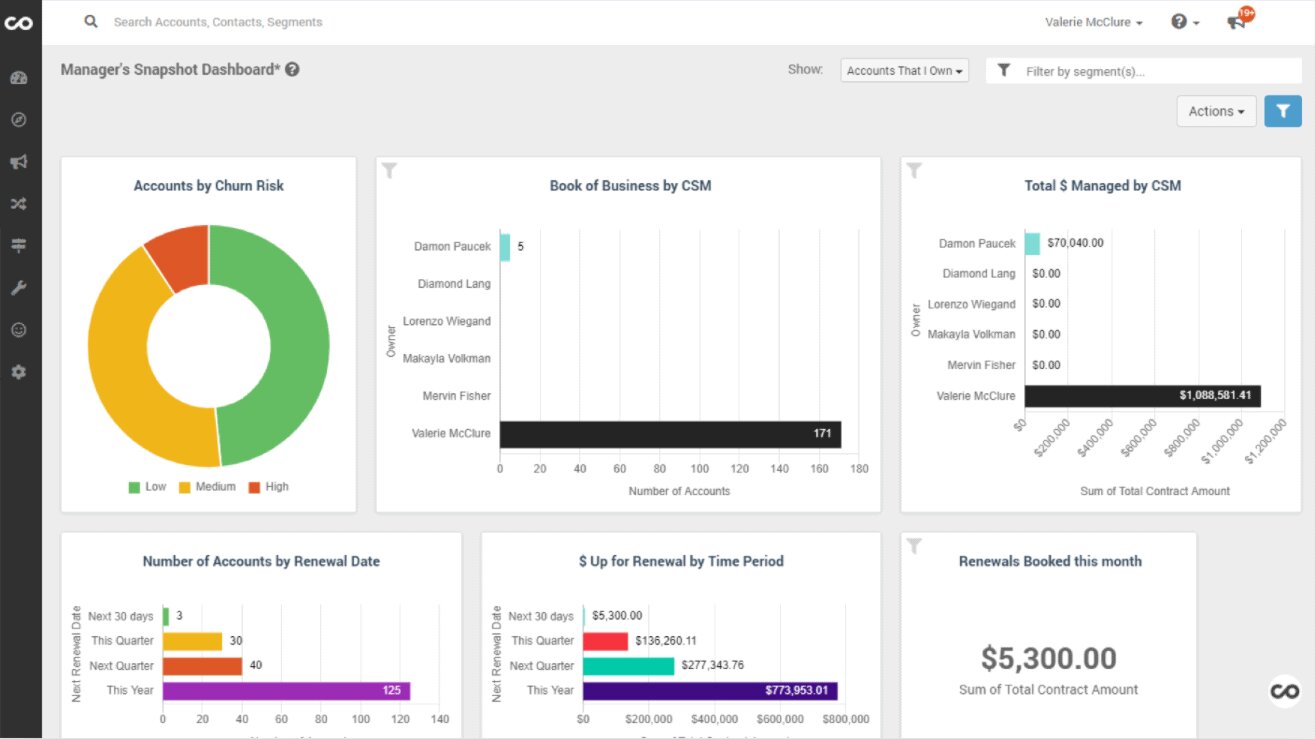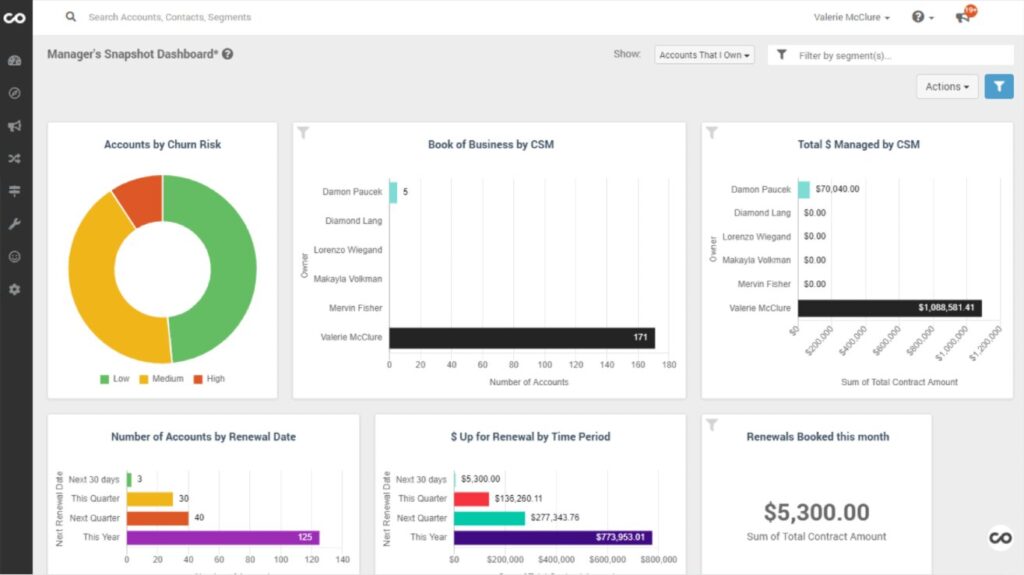 ChurnZero is a real-time customer success software designed for SaaS businesses struggling to improve customer retention. The key feature of the platform is the flexibility to integrate with CRMs to streamline the CS workflow.
The software features customer's lifecycle management, account management, usage tracking, customer sentiment and revenue management. ChurnZero is the best choice if you need SaaS customer success software that works with your existing customer relationship management system.
Best features:
Customer Profiles: Get a perfect view of all customer information and a centralized location to track, analyze, plan and execute strategic initiatives.
Customer journey: Plan, manage and track customers' progress through essential processes to achieve key goals and milestones.
Success Insights: Proactively identify at-risk customers for churn and understand the contributing factors with ChurnZero's detailed analytics.
Pricing:
Contact sales for a demo and pricing.
ClientSuccess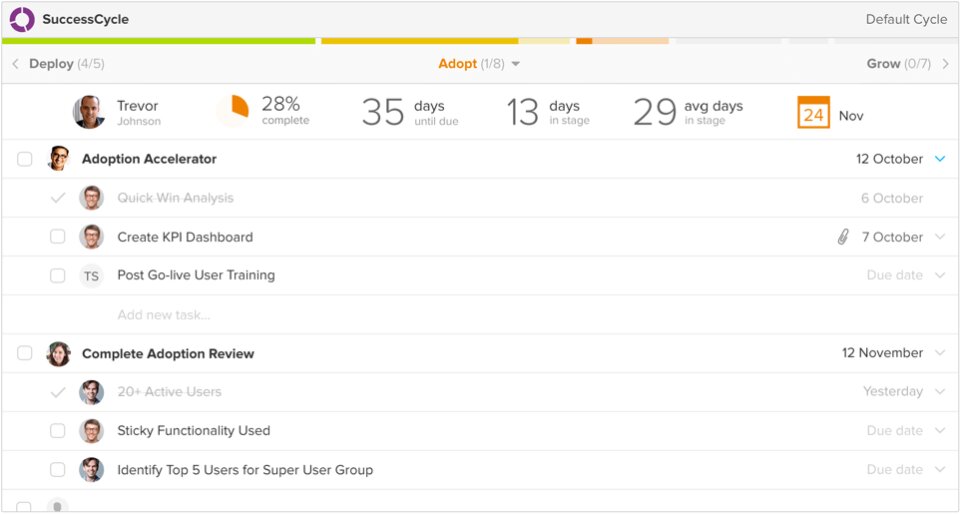 ClientSuccess is a customer success platform designed to help you keep and expand your current customer base. The platform's users greatly appreciate its straightforward design. Like Gainsight, its trademarked ClientSuccess Success Score gives each customer a score based on their general health, how they use the product, how they feel about it, how much they promote it, how engaged they are and more. With this program, you may monitor the well-being of each customer at any stage of their lifecycle. It also has functions allowing you to instantly update your customer success team on any developments. However, its reporting feature could be stronger and third-party application integrations may be better.
Best features:
Tailored customer success solutions: Choose a solution based on your customer success role or where in the customer journey you are currently operating.
ClientSuccess scores: Acquire and monitor granular data on client wellness, product utilization, engagement and advocacy.
ClientSuccess Goals: Use SMART goal formulation to meet critical customer requests.
Integration: Works seamlessly with other popular apps like Zoho, Pipedrive, HubSpot, Uservoice, Slack and others.
Pricing:
Contact sales for pricing.
Planhat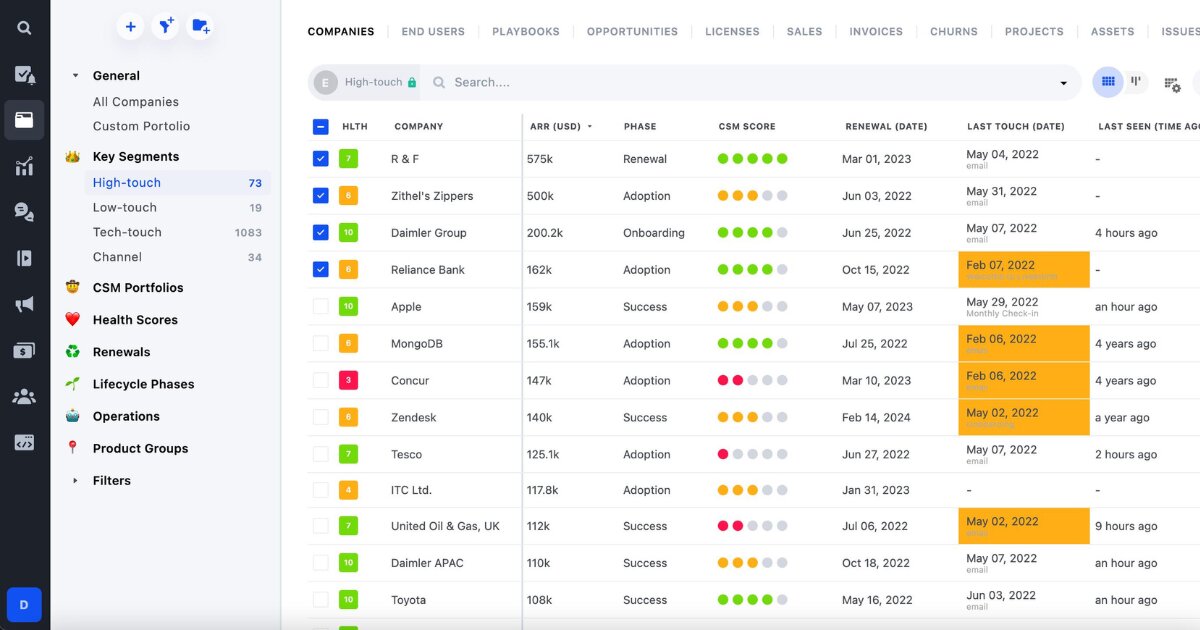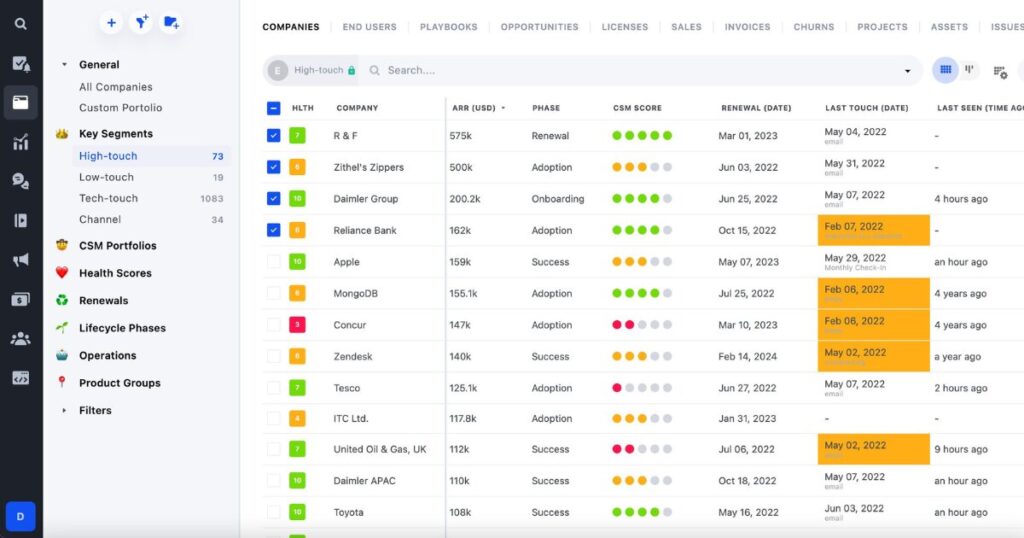 PlanHat is an easy-to-use customer success software with an intuitive user interface. Like other similar platforms, it consolidates information about your clients and their interactions with your business and provides metrics like customer satisfaction and engagement. It does, however, offer a strong onboarding product that lets you create playbooks and workflow, as well as revenue management for subscription companies and a virtual workspace for the customer success team to work together. PlanHat is also known in the industry for its ease of use and fast customer onboarding process.
Best features:
Product analytics: Identify customer insights, engagements, actions and other behavior data to personalize the product experience for each account.
Opportunities: Use customer expansion signals to trigger automated tasks and notifications, allowing for more accurate revenue forecasting.
Customer surveys: Get instantaneous responses to your brand and product ideas when you send them via email or app.
Customer Success Inbox: Keep track of all your customer conversations in one convenient place.
Churn management: Prevent customers from leaving by identifying those most likely to leave based on their health scores.
Pricing:
Basic – Contact sales for pricing
Professional – Contact sales for pricing
Enterprise – Contact sales for pricing
Custify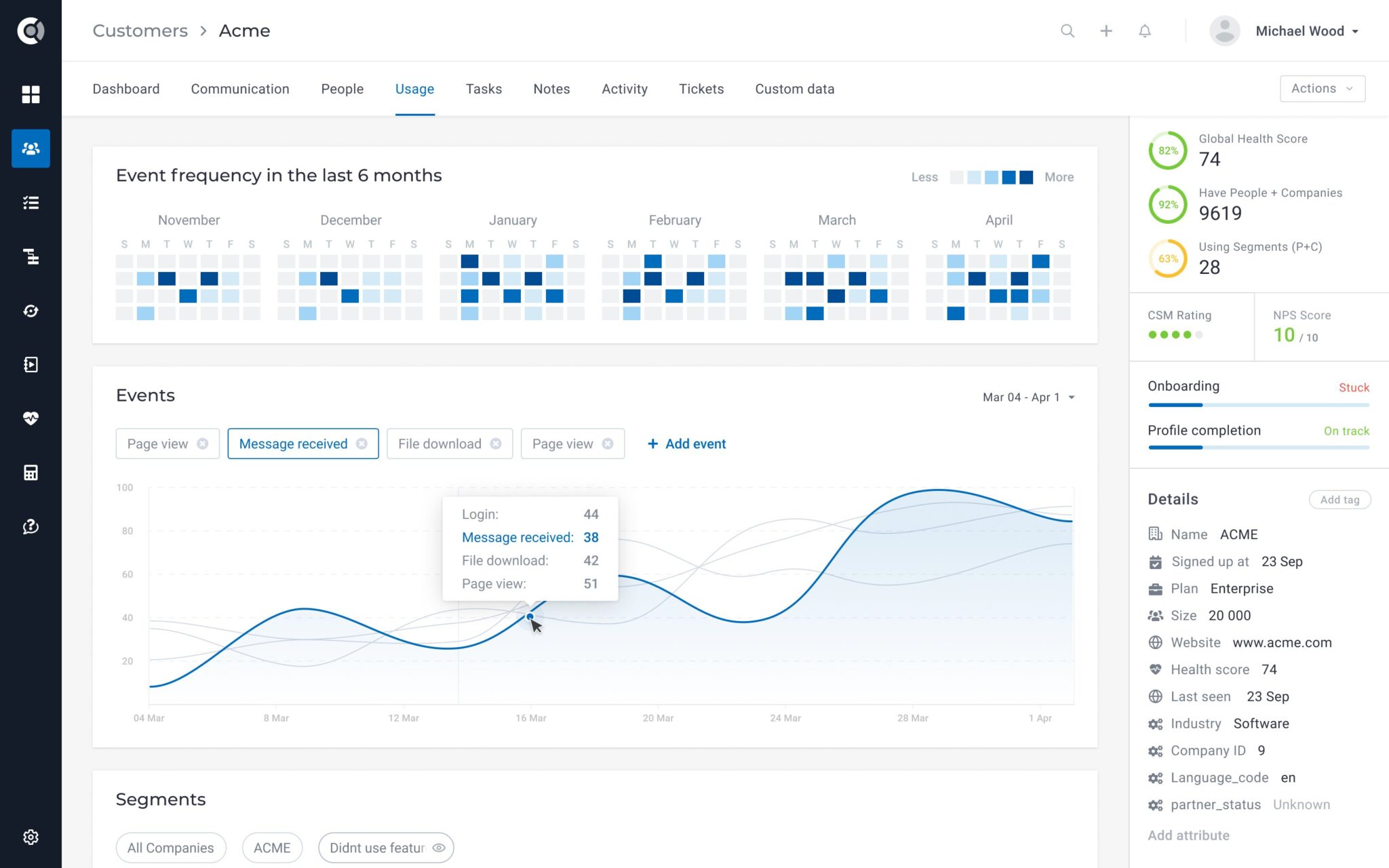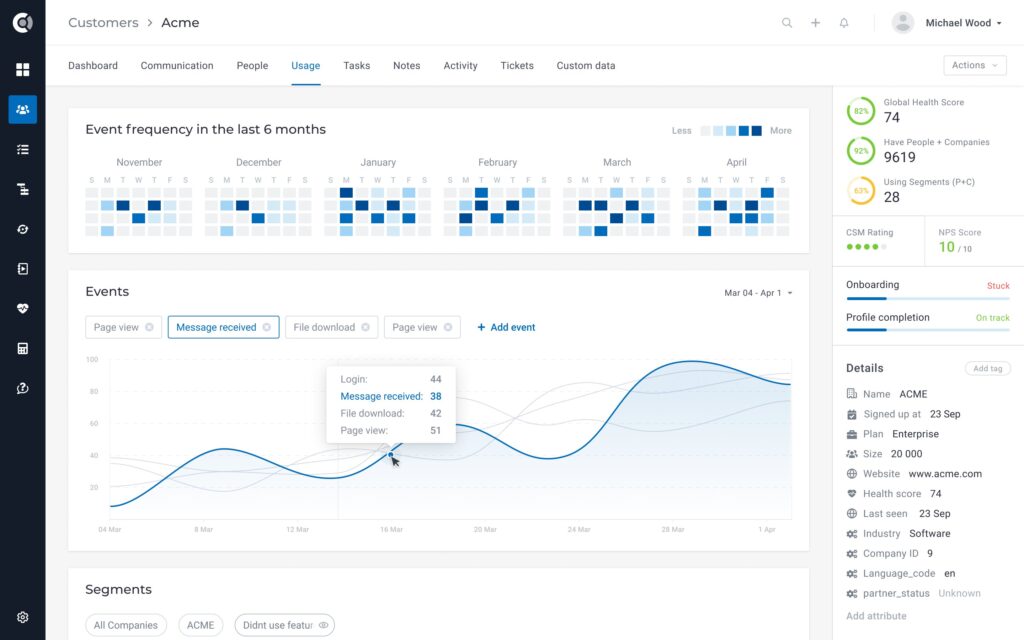 Custify offers service cloud customer success software to help organizations improve customer satisfaction, identify risks and increase brand loyalty. It does so by gathering all customer data in one place, implementing alerts and notifications, as well as automating low-touch customer success workflows. Custify provides teams with the relevant information they need to better understand your customer behavior. One of the most popular tools is Customer 360°, which gives an instantaneous overview of product adoption and customer relationships.
Best features:
Customer Monitoring: Keep an eye on what your customers are doing and how they communicate with other departments, including the support staff.
Surveys: Stay ahead of customer inquiries and problems by sending targeted surveys and measuring user satisfaction. Use customer feedback to reduce churn and improve your customer sentiment.
Workflow Capability: Automate tasks like sending welcome and onboarding emails, assigning accounts to team members and much more.
Churn Risk: Use customer health information to calculate the likelihood that they will stop using or renewing your product or service.
Pricing:
Contact sales for pricing.
Catalyst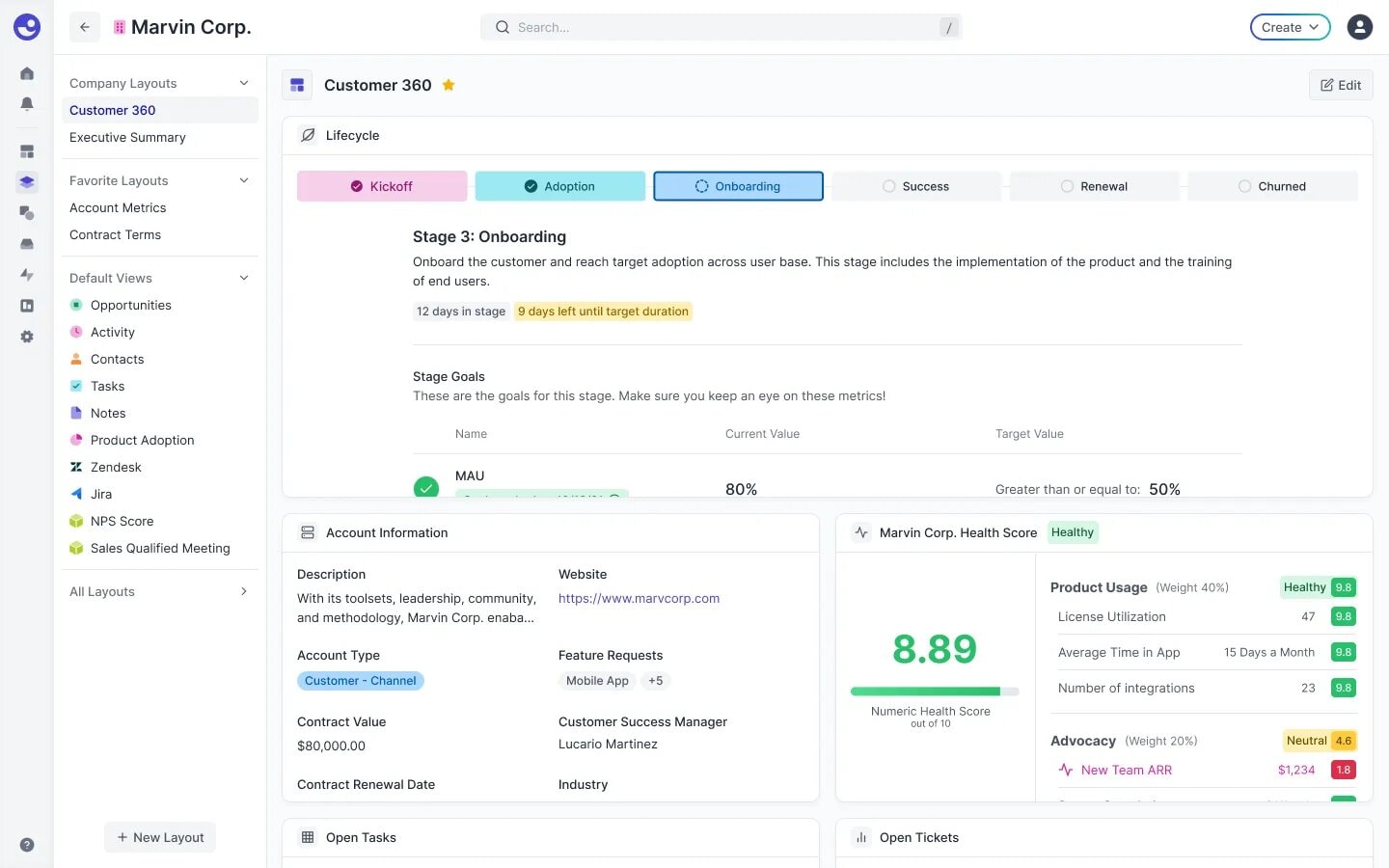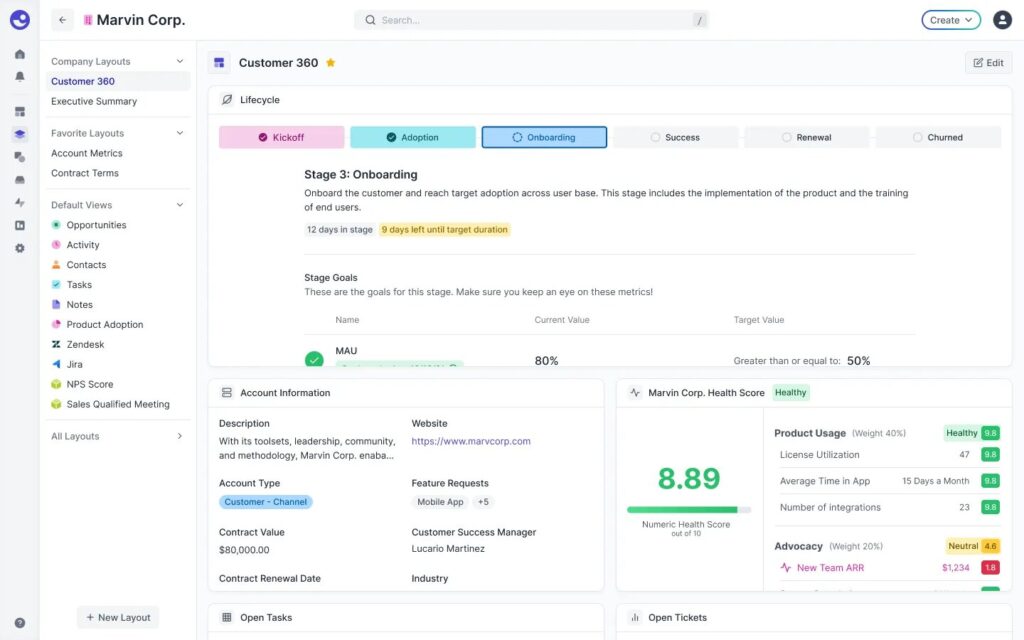 Catalyst is a customer success platform that helps businesses increase revenue per customer by automating routine tasks and gaining valuable data about their clientele. You can make detailed profiles of all of your customers, keep track of how they use your products, organize your work with a task planner, create playbooks and campaigns and divide your customers into groups. Its campaign feature allows you to automate drip campaigns with customization and targeted templates, which helps reduce customer churn and improve customer success.
Best features:
Contact management: Identify customers using information gathered from many resources, such as customer relationship management and service desk software, marketing automation platforms and accounting and payroll programs.
Playbooks: Scale and amplify your customer success function processes effortlessly with Playbooks that automate alerts, assign tasks and deliver personalized engagements at critical moments.
Journey Builder: Define your ideal customer journey per segment, track progression based on clear outcomes and use personalized playbooks that build efficiency and repeatability into your processes.
Reporting and analytics: Merge reports from several sources, such as Salesforce, Mixpanel and Zendesk.
Emails: Automate routine email correspondence to free up customer support personnel to provide individualized attention to customer issues.
Pricing:
Contact sales for pricing.
Churn 360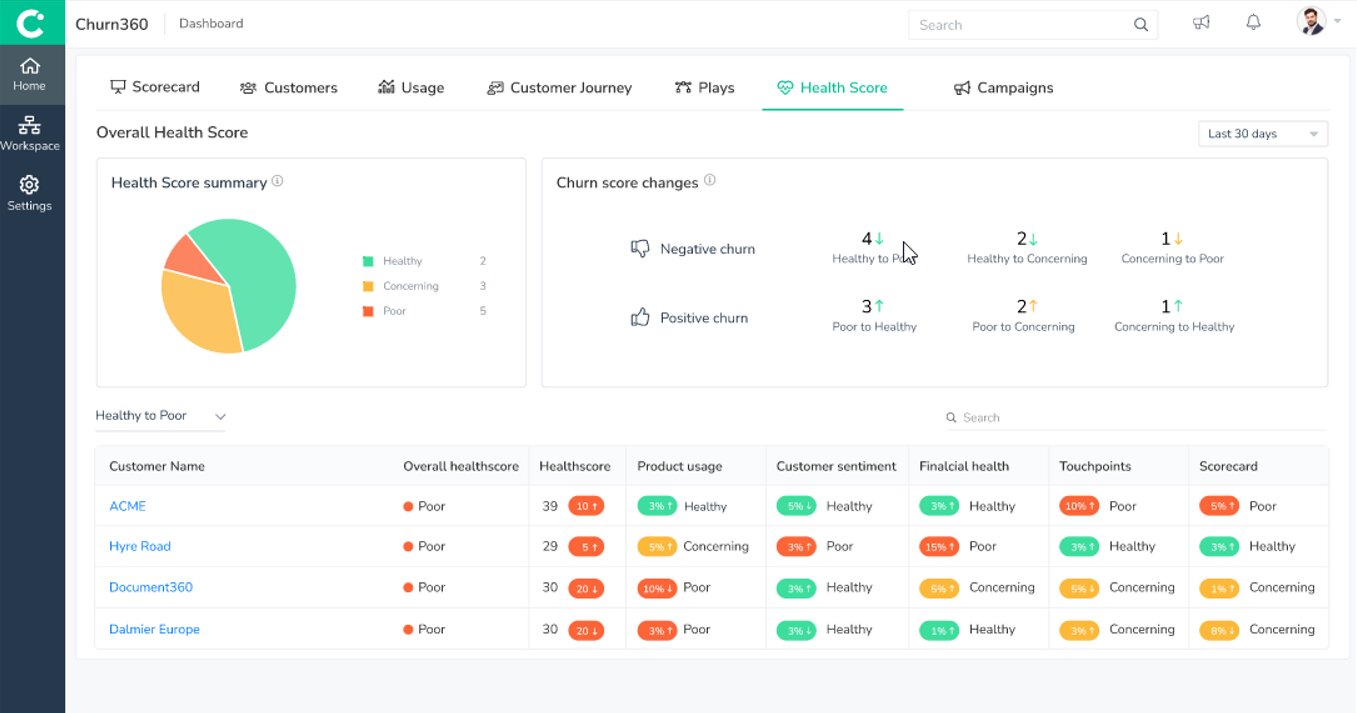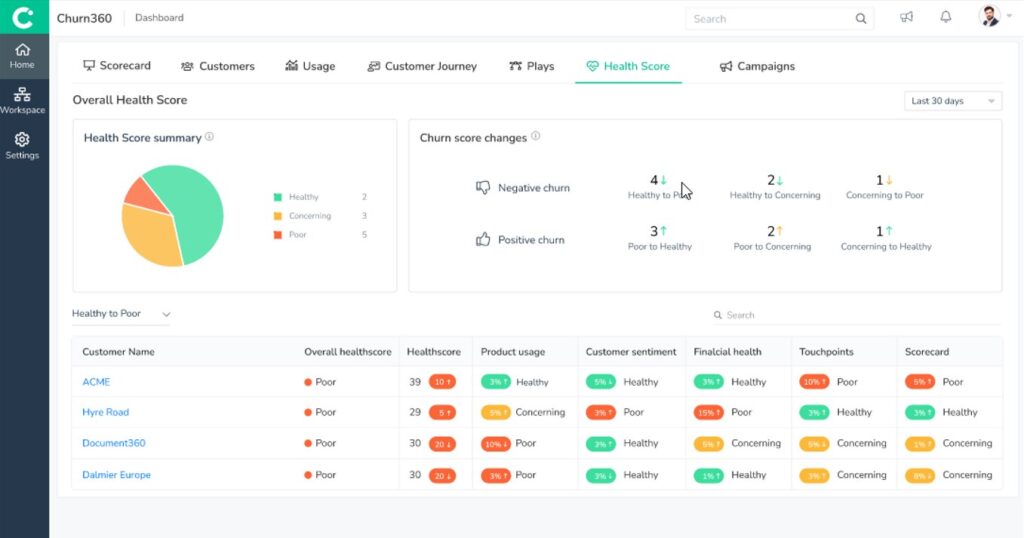 to provide you with a complete picture of your customer relationship with each one. Staff members can better recognize unfamiliar website visitors and give superior contextual support as a result.
The software also allows you to automate several components of your customer experience procedures. You can divide your client base into subsets and send them tailored messages, run campaigns that are sure to succeed and automate responses to certain user actions. Each customer is also assigned a "health score" that reflects how engaged they are and how likely they are to leave.
Best features:
360 view of customers: Consolidate information from multiple sources and receive a complete image of your clients.
Plays & automation: Empower customer success managers to handle more clients individually.
Push notifications: Send specific, time-sensitive messages to your audience directly through the app using our built-in messaging system.
Customer's journey: To lessen customer attrition, track your client's progress through the onboarding, adoption, renewal and upselling phases of the customer journey. Customers who are unable to go forward are at risk of leaving. Therefore, it's important to take preventative measures before it's too late.
Workspace: Give customer success managers access to everything they need to know to carry out their regular duties. Their forthcoming assignments are published on their website. Their upcoming emails are posted on their website.
Pricing:
Startup – $399/month
Professional – $799/month
Enterprise – Contact sales for pricing
Vitally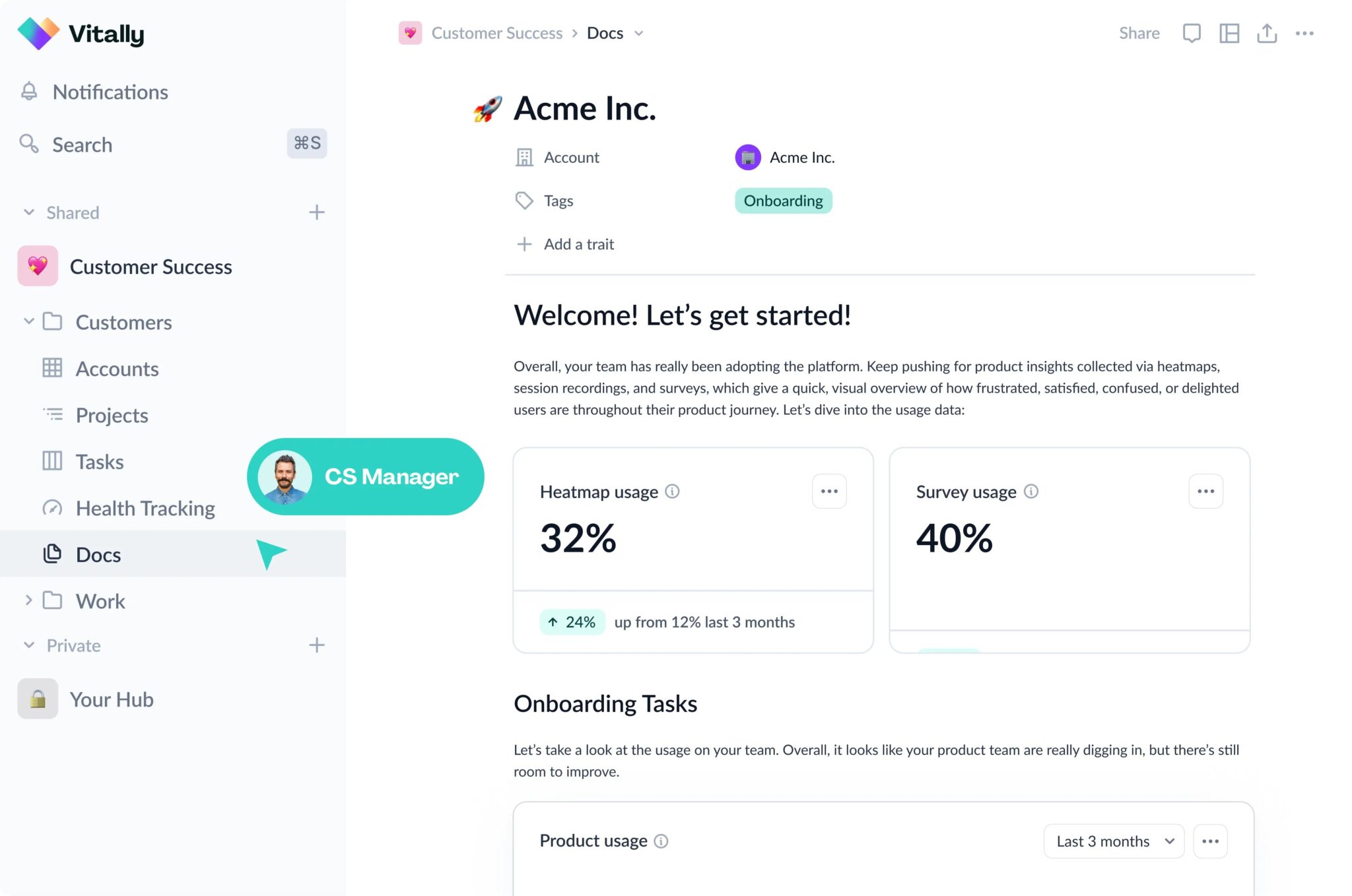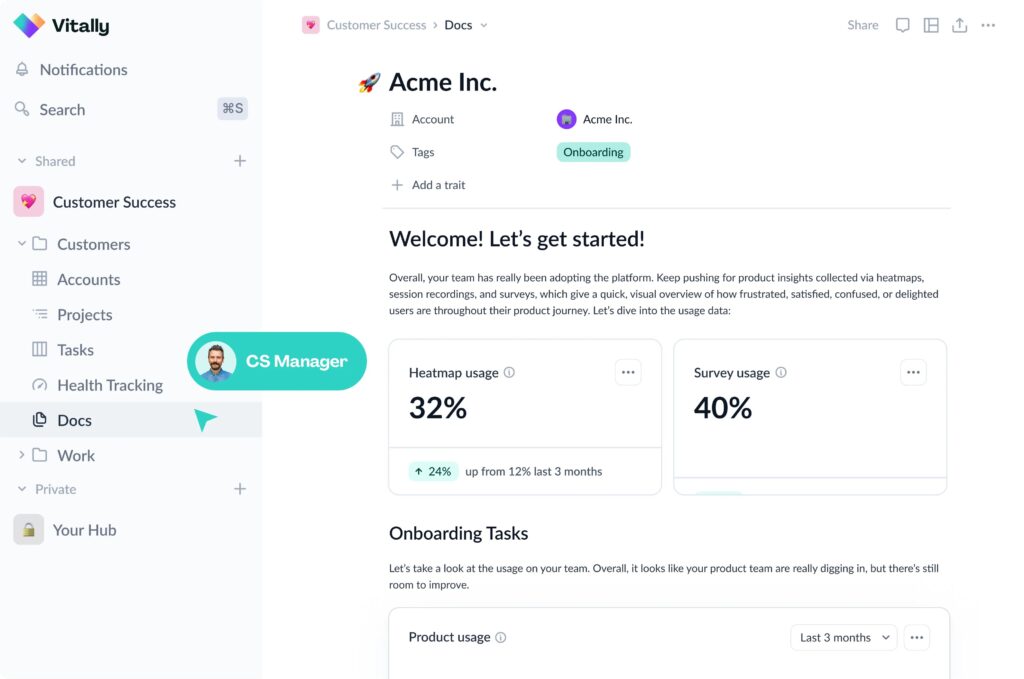 Vitally helps Customer Success teams of every size deliver world-class customer experiences, meet unexpected challenges,, operate customer onboarding more efficiently and grow their business's bottom line.
The platform enables CX professionals to build their success KPIs that can track and measure success over time. Users can also integrate the program with other popular tools like HubSpot Service Hub, Slack, Outlook, Gmail, Salesforce and Zapier.
Best features:
Project management: Tailor and implement agile practices like a ticketing system for your customer success group.
Surveys & analytics: Use this feature to give your team the information they need to focus on customer insights.
Customer health score: Get alerted when a customer is at risk or becomes an opportunity while proactively setting your customers up for continued success.
Automated Customer Journeys: Move clients onto the next customer relationships stage automatically creating, tracking and marking tasks.
Internal Notes: Plan how your team will guide conversations while tracking important updates and logging customer interactions.
Portal: Give your clients and other users an online meeting place where they can work together and share files.
Pricing:
Tech-Touch – Contact sales for pricing
Hybrid-Touch – Contact sales for pricing
High-Touch – Contact sales for pricing
Start Your Success Story with FuseBase
In today's business world, customer success must be delivered every time. To achieve this, you need the right customer success software. We've delved into various customer success tools, each with its strengths. FuseBase (formerly Nimbus) stands out as an all-inclusive solution that meets many business requirements at once with its intuitive interface, robust features and strong tools to support CRM excellence.
Raise your customer success game today with FuseBase (formerly Nimbus) and see it transform your company!
Gain all the expert insights on how to choose the best customer success software
Visit our Linkedin page for more articles and updates!
Disclaimer
Parties other than FuseBase may provide products, services, recommendations, or views on FuseBase site ("Third Party Materials"). FuseBase is not responsible for examining or evaluating such Third Party Materials, and does not provide any warranties relating to the Third Party Materials. Links to such Third Party Materials are for your convenience and do not constitute an endorsement of such Third Party Materials.
Previous post
Unveiling Consumer Thoughts: Top 10 Customer Insight Tools
Next post
Harnessing Customer Loyalty: Top 7 Retention Software Solutions