Learn from a Nimbus expert how to establish the best workspace and optimize productivity!
Book a demo
In today's fast-paced, interconnected corporate environment, finding superior productivity and teamwork tools is paramount. While Google Workspace (formerly G Suite) has been a popular option for quite some time, newer, more innovative alternatives are in high demand.
These other platforms offer unique features, improved capabilities and custom-tailored solutions to meet the different needs of organizations and individuals.
There is a large market for project management software, and people are looking for user-friendly programs that include essential functions like notifications, file sharing, document collaboration and more.
In this article, we'll look closer at the 7 best G Suite alternatives that have become popular because of their cutting-edge features, intuitive interfaces and ability to help teams work smarter and faster.
Why do You Need G-Suite Alternatives?
Being Google Workspace legacy users has its advantages, as it has many valuable tools and features. But sometimes Google Apps just don't fit your unique needs. That's the first reason to look for Google Workspace alternatives. Among the other reasons are:
Cost-effectiveness: Google Workspace offers several pricing tiers but isn't always the most cost-effective choice.
Feature requirements: Google Workspace is powerful but may not have the project management tools or specific features you need. When you look at other G Suite alternatives, they might have more features or more advanced capabilities that fit better with your workflows and goals.
User interface (UI) and user experience (UX) significantly impact productivity and satisfaction. Suppose you're not a fan of the Google Workspace interface or looking for a more user-friendly and streamlined workflow. In that case, consider looking into other platforms that offer similar, but potentially more suitable, UI/UX designs and features.
Integration: Tools and apps must work together smoothly for efficient workflows. Alternatives can help you find platforms that provide better word processing, interoperability and connectivity than Google Apps, leading to a more unified and efficient work environment if you rely heavily on specific software ecosystems or need close integration with other tools.
Read more posts on this topic:
7 Best Alternatives to Google Workspace
It's time to review some of the best Google Workspace competitors and what they offer. Whether you need a better email service, a more collaborative document editor or a more secure cloud storage, there's a solution for you.
Nimbus Platform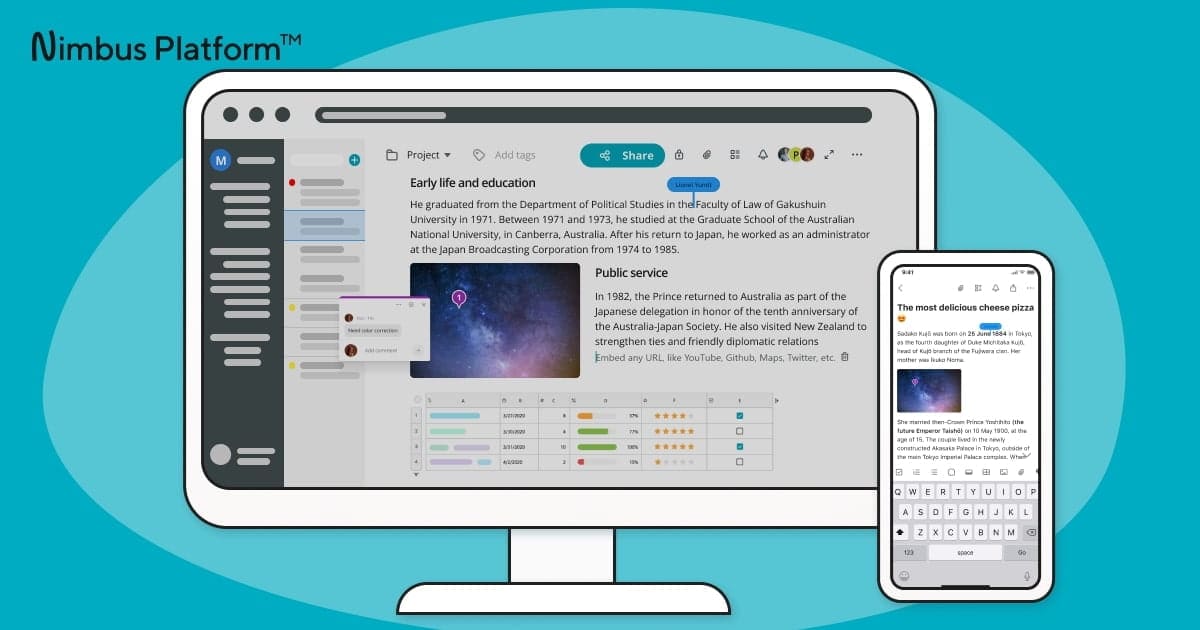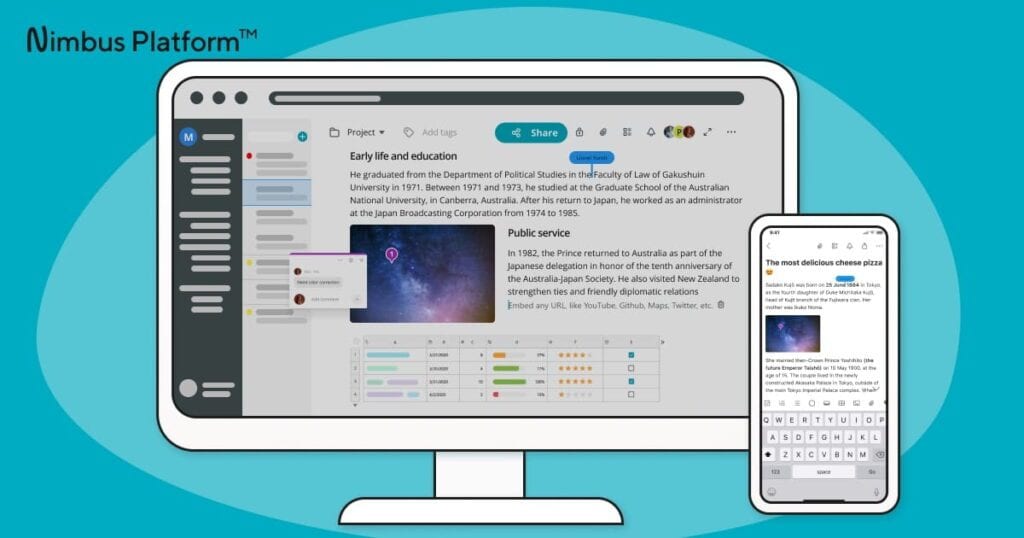 Nimbus is one of the best Google Workspace alternatives on the market. It started as a note-taking app (like Evernote and Notion) and has become an easy-to-use app where people can store their notes, ideas and important documents.
Nimbus Platform's hierarchical structure (organizations, workspaces, folders, subfolders and pages) makes it easy to separate and organize different kinds of information.
As it continues to develop, the app expands beyond its original purpose as a PIM. You can create a business-wide knowledge management system and organize your team's projects and tasks using its structure.
Nimbus Platform offers powerful sharing and collaboration features. Nimbus isn't just about document management. Its all-in-one approach sets it apart, catering to various work purposes. Nimbus offers multiple useful features, including client portals that facilitate seamless collaboration with clients, task lists and Kanban boards for efficient team collaboration and project management. Users can leave comments directly within documents and utilize chat functionality for easy communication. The Nimbus Capture extension allows for convenient screenshots and video recording. Of course, document creation and management capabilities are also integral parts of the platform. These features make Nimbus even more flexible and useful as an all-in-one solution.
Main advantages:
Super documents. You can compile data from multiple sources onto a single sheet. Text, pictures, videos, audio files, PDFs and any other files you choose to attach.
Tables. Nimbus Note allows you to turn any page into a database by simply adding a table to it. File uploads, task monitoring, status updates and link tracking are just some of the features available when you select from the available column types. You can easily import your tables from Coda, Notion or any other office app into Nimbus without losing data.
Client portals. Easy collaborations with your clients.
Rich embedding features and integrations. Integrate data from services like Excel, Google, Google Analytics, Google Calendar and YouTube without any hassle. Nimbus' total number of supported integrations exceeds 2,000.
Kanban boards. Help teams work together and manage projects effectively.
Simple sharing. Customers who don't have Nimbus accounts can still view shared pages. You don't need to be tech-savvy; just give them a link.
Pricing:
Nimbus has a number of different pricing plans to meet different needs.
Free plan provides basic features and limited storage space.
Nimbus Pro: $7/ month per user.
Nimbus Business plan: $10/ month per user.
Zoho Workspace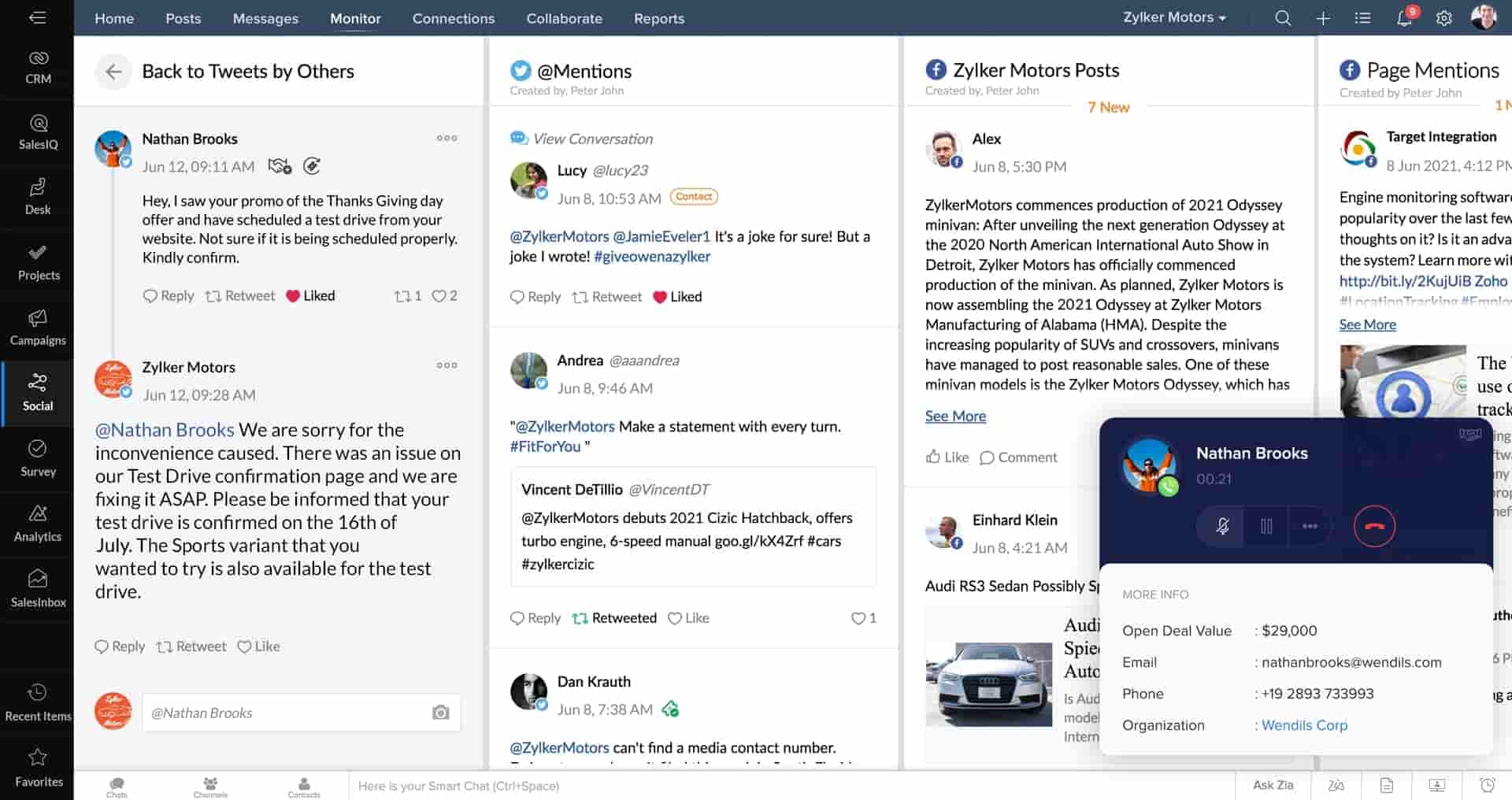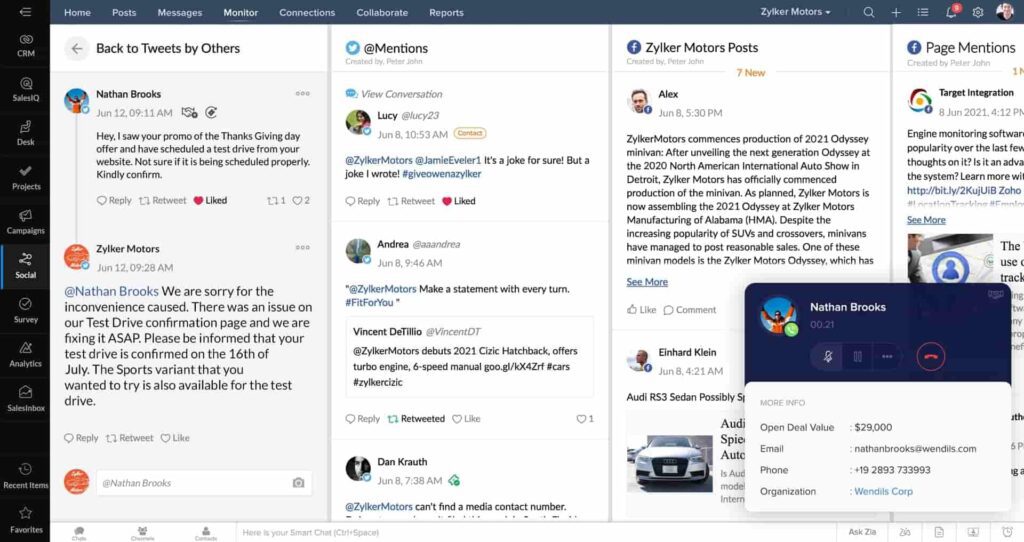 Zoho Workplace is a cloud-based office productivity suite andone of the best options when it comes to G Suite alternatives. It offers email hosting for custom domains, its responsive interface is manageable and customer service is always ready to help you. In addition, since it has a pre-installed suite of programs designed to boost your team's efficiency, it is ideally suited for use by medium-sized to small businesses. 
If you run a business, you can set up a custom business email account with Zoho Mail and use that account for all of your company's correspondences. Their native apps have great contact management and document collaboration tools, spreadsheets and large-scale projects.
Main advantages:
Easy cooperation
Custom domain email
Numerous integration options
Zoho email service
Advanced threat protection, and more
Pricing:
Zoho Workplace offers a free tier with only a few features to get started.
When the time comes to grow your business, you won't break the bank with Zoho's plans, which start at just $1, $3 or $6 per user per month.
But they also have advanced paid plans, which you can learn more about by contacting their sales department.
Slack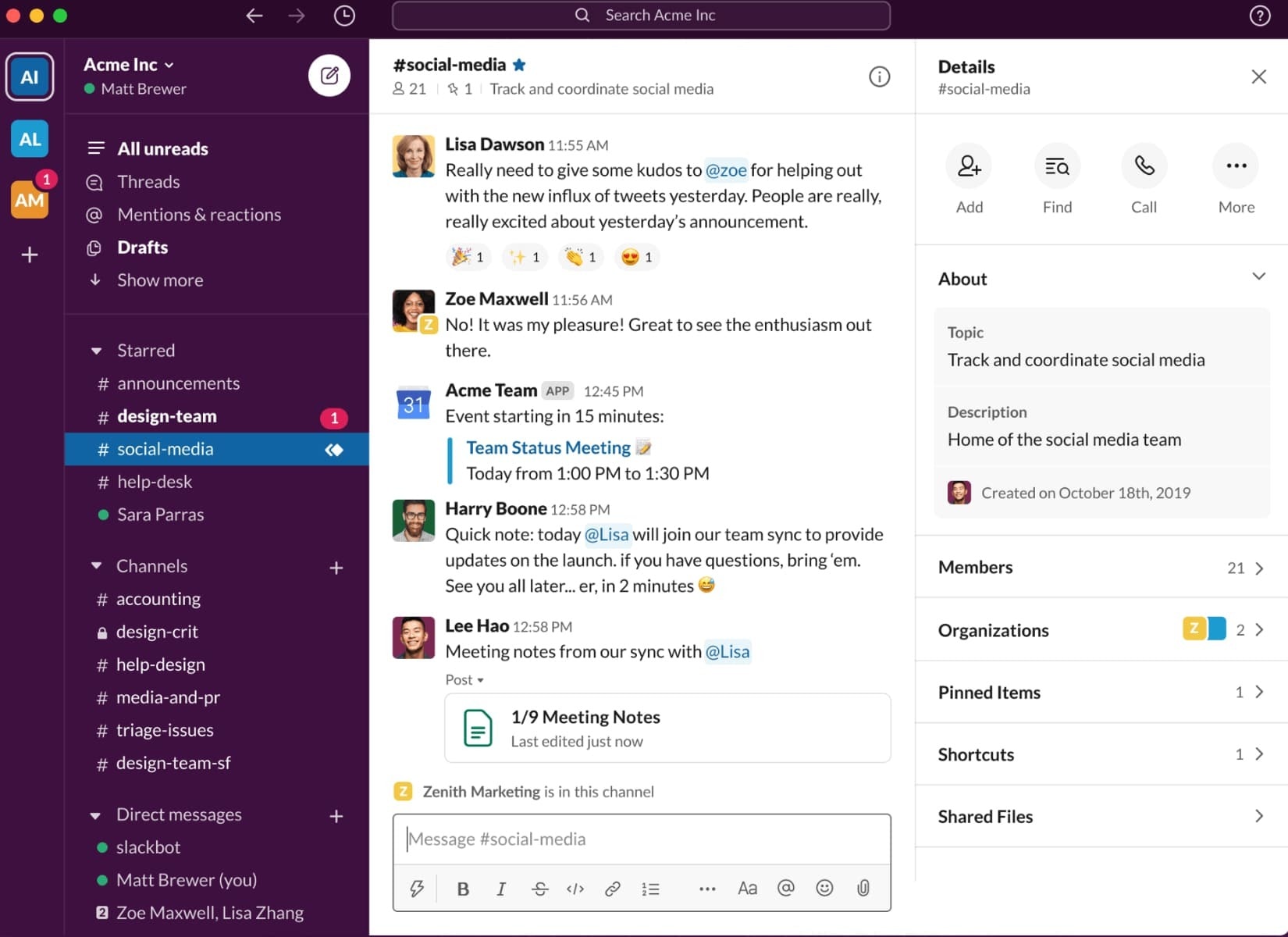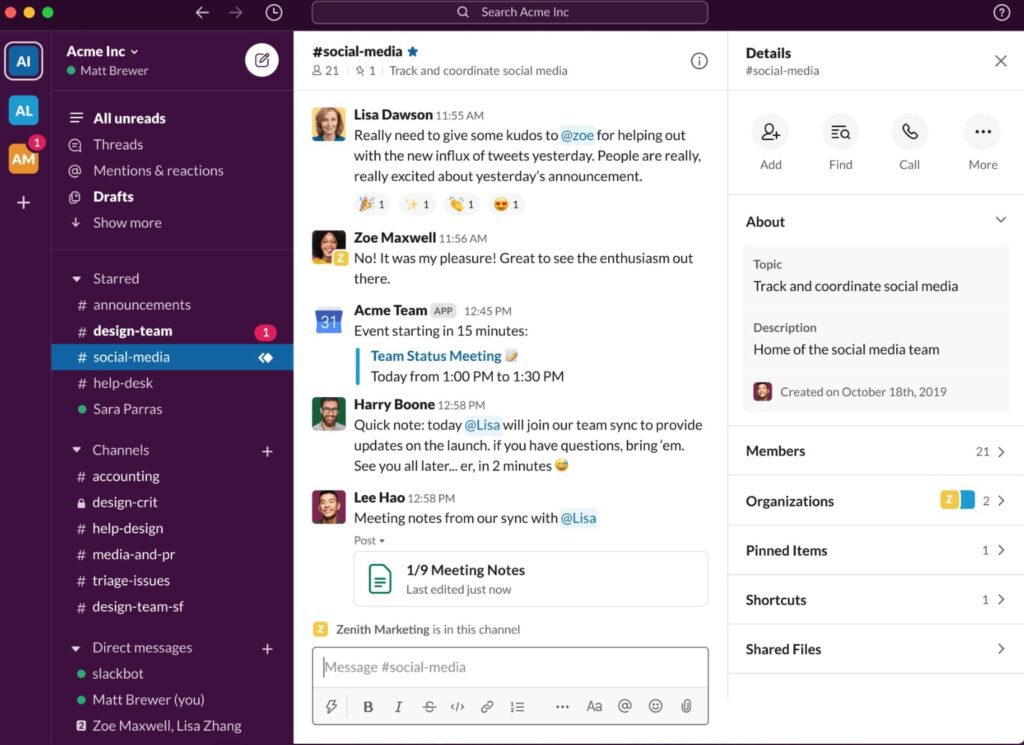 Slack is the third option in our list of Google Workspace alternatives. Slack has rapidly gained popularity and is now one of the most popular team collaboration software tools available. The goal was to create a system that would facilitate the task management process, improve interaction between members of different teams, streamline communication and boost output. 
Slack allows teams to stay in constant contact regardless of where they may be, as it has web versions, downloadable desktop apps and mobile apps. 
While Slack can't match Workspace's functionality feature-for-feature, it provides strong competition to Google's Hangouts Chat and Hangouts Meet. And if you don't end up switching to a Workspace alternative, you can still enjoy Slack's benefits with Workspace's recently added Slack integration.
Main advantages:
Channels and Direct Messages
Real-time collaboration
Great Search and Archiving features, etc
Price:
Free plan available (perfect for small teams)
Standard package starts at $6.67/per user per month
Bitrix24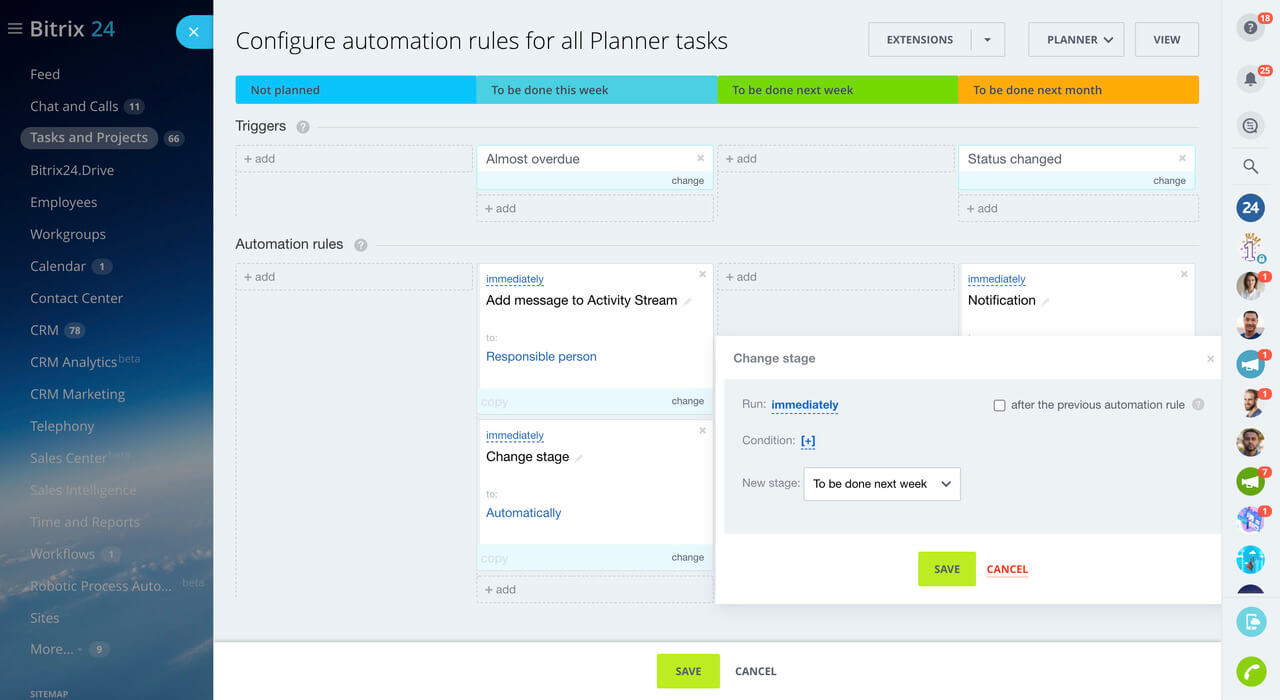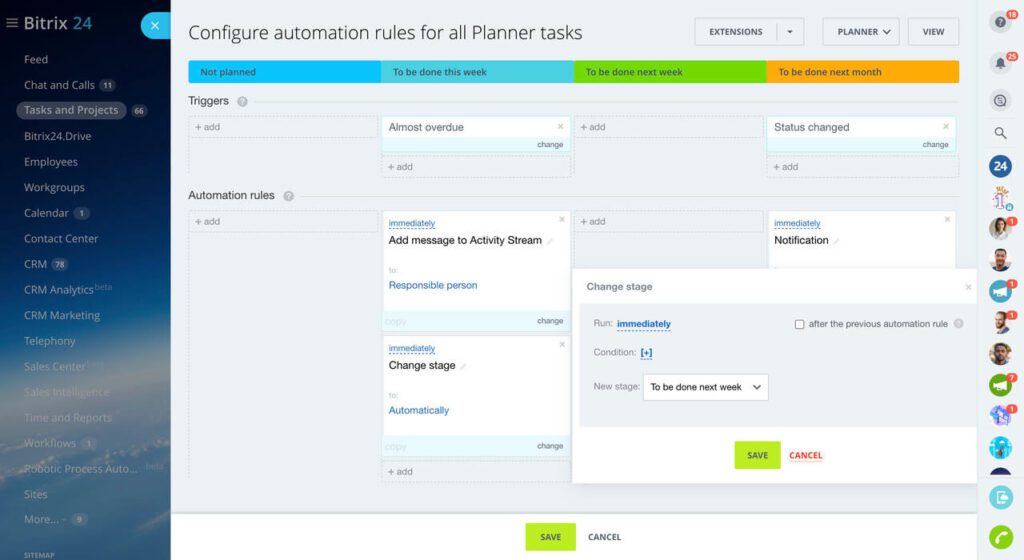 Bitrix24 is another one of Google Workspace alternatives that you should consider.
Since it is compatible with Google Docs and Microsoft 365, you can use whichever office suite you prefer, even though it lacks its own productivity apps.
It gets high marks for both cloud-based and on-premises implementations. Bitrix24 offers email hosting, so creating a custom business email is not a problem. Also, it has advanced features that you can't find in Workspace, like project management and a CRM system, making it a great choice for organizations that want all of Workspace's features plus a few more.
The fact that Bitrix24's free plan supports an unlimited number of users is a major perk, and it basically makes it one of the best free alternatives to Google Workspace. This is ideal for those who collaborate with others or want to temporarily share a workspace with clients. There's also a website creator integrated, so you can make your own website without spending a dime.
Main advantages:
Email hosting
Social networking
Web domain hosting
Group chat, and more
Pricing
Free plan
Basic $61/month (5 users)
Standard $124/month (50 users)
Professional $249/month (100 users)
Trello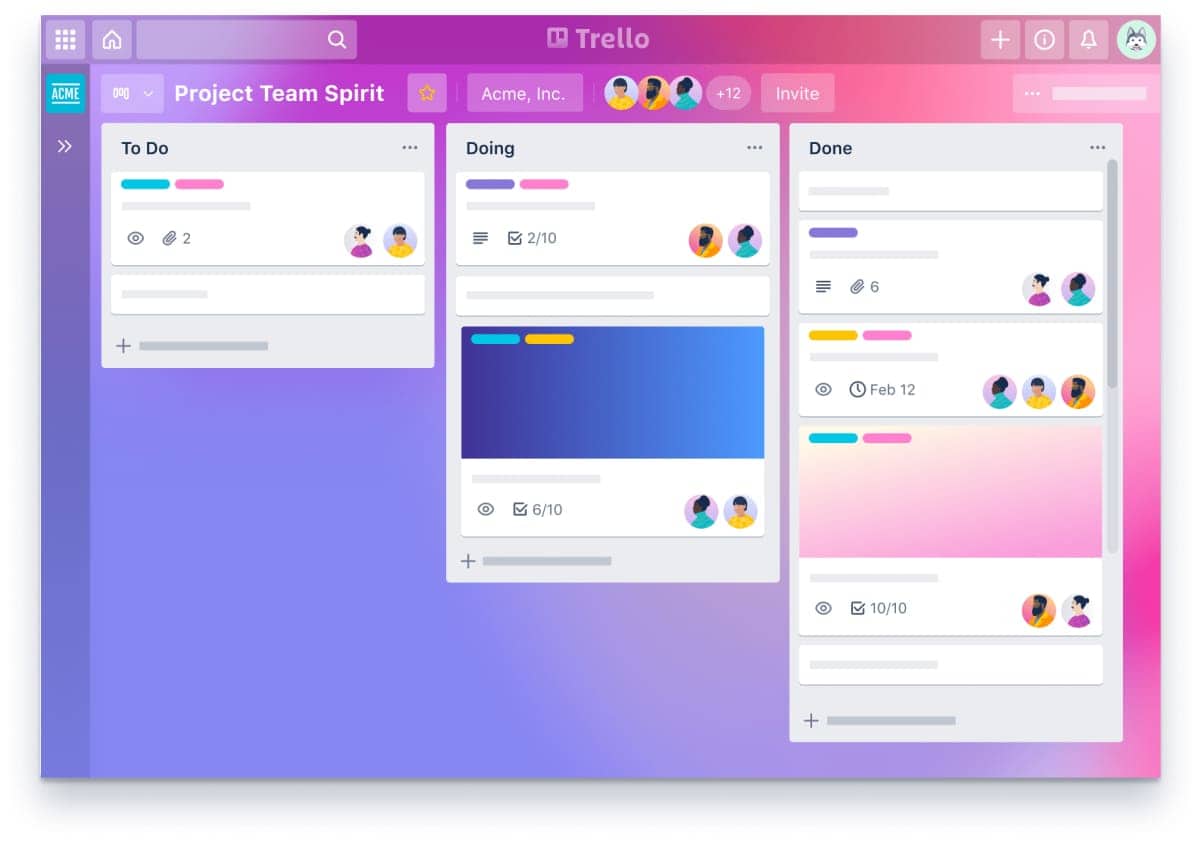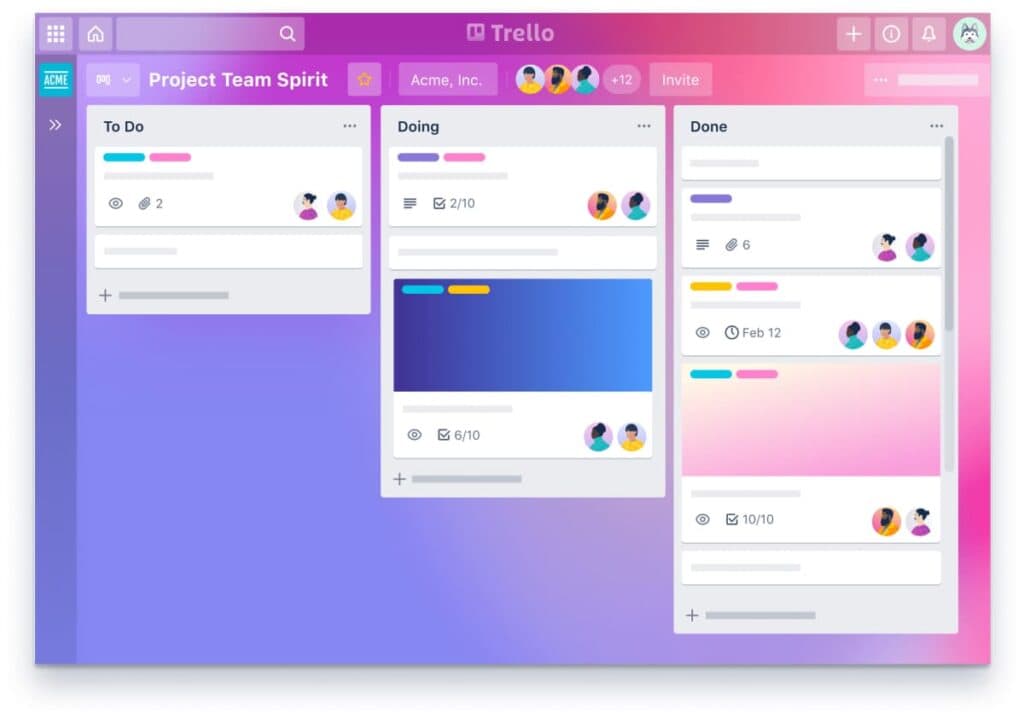 Trello is a popular project management application that can become one of your Google Workspace alternatives. It's an excellent place to start when looking for project management software, with a visually appealing Kanban-style design and cards that are easy for all team members to read.
While there are many options for project management software, Trello's focus on simplicity and hybrid team coordination makes it stand out. It makes it easier for teams to stay organized, track progress of recurring tasks and work together on projects. Trello has a lot of tools for managing projects, like boards, labels and lists, and as it keeps developing, it creates new features. It also has a nice-looking, easy-to-use platform for people of all skill levels who want to manage tasks efficiently. Trello stands out for its versatility and efficiency compared to other office apps.
Its free plan can become a free alternative for many productivity tools. Trello's flexibility in handling multiple projects with many people working from different locations and multiple devices is one of its many strengths. Because it is web-based and compatible with various devices and operating systems, including Windows, Mac, iOS and Android. It's simple to use, so even inexperienced users can manage their teams' tasks and to-do lists effectively.
Advantages:
Butler Automation
Keyboard Shortcuts
Advanced Checklist
Pricing:
Free plan
Standard plan $5/user per month
Premium plan $10/ per user per month
Enterprise plan $17.50/per user per month
Dropbox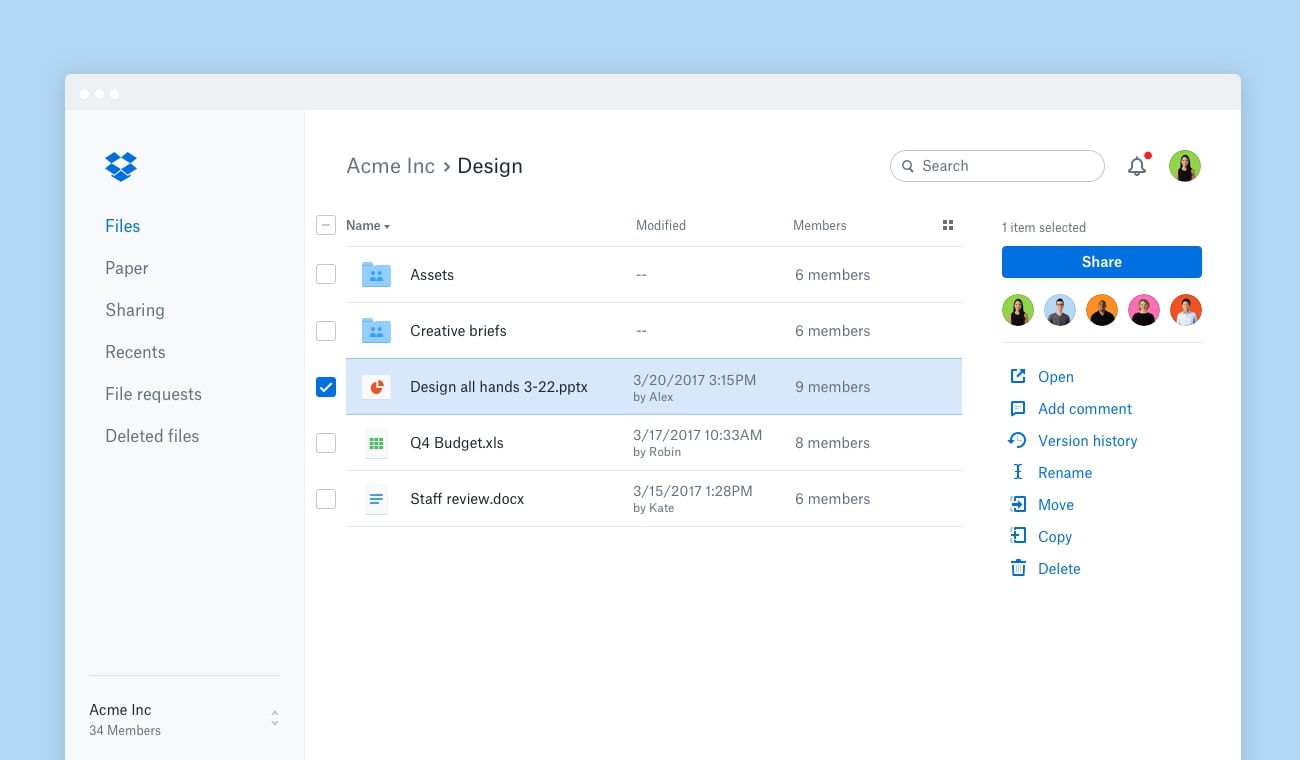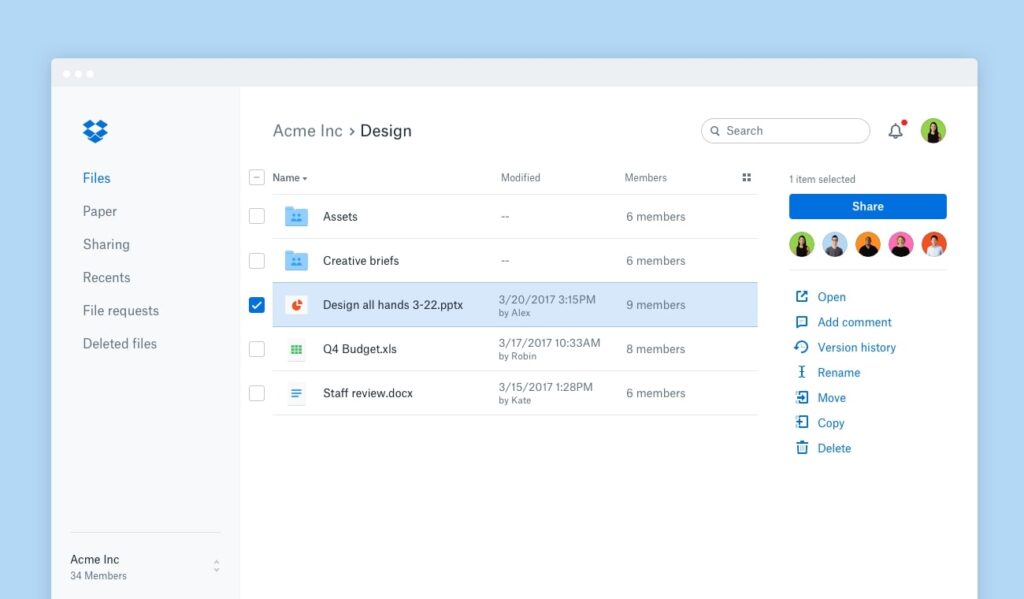 Dropbox is one of those cloud storage office apps where you can keep your files safe and secure, back up your computer, share documents with your team and more. 
With this alternative to G Suite, you can make sure your teams have everything they need to move forward on their projects. All necessary documents are kept in one place, making it easier to work together and increase productivity. Manage your data, document sharing, access and controls with one tool.
Dropbox has features that are good for both personal and business use. In addition, there's a Dropbox Business tool specifically designed for organizations and teams. It includes all the features of Dropbox and adds additional functionalities and administrative controls tailored to meet the needs of businesses.
Dropbox also has a great file management system and allows you to store large files from other tools, such as Google Workspace, making it easier for your teams to collaborate.
Main advantages:
Features: It's a file storage tool with lots of benefits, including history, availability, synchronization and other services.
Integration: Use Dropbox with Google or Microsoft Office.
Usability: The interface is simple to understand.
Pricing
Dropbox offers lots of paid plans suitable for everyone.
Plus: $9.99/month
Family: $16.99/month
Professional: $16.58/month
Standard: $15/user per month
Advanced: $24/user per month
Enterprise: Contact the company for pricing details
Microsoft 365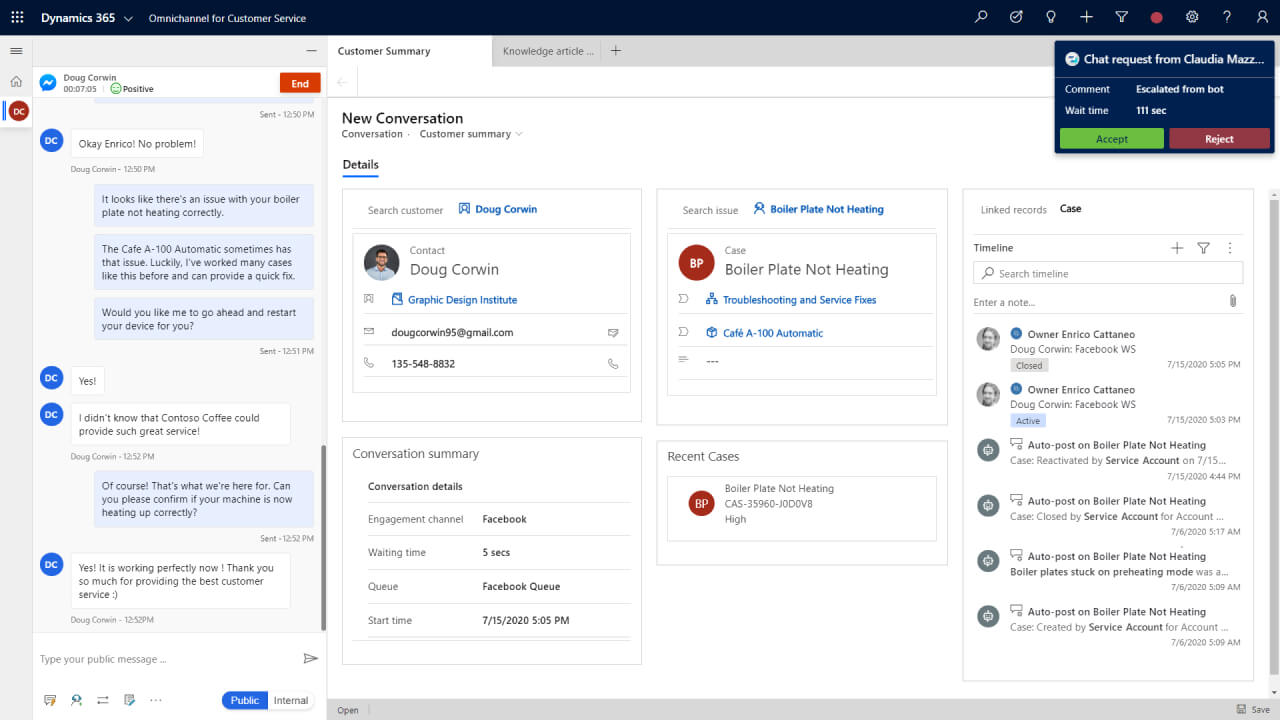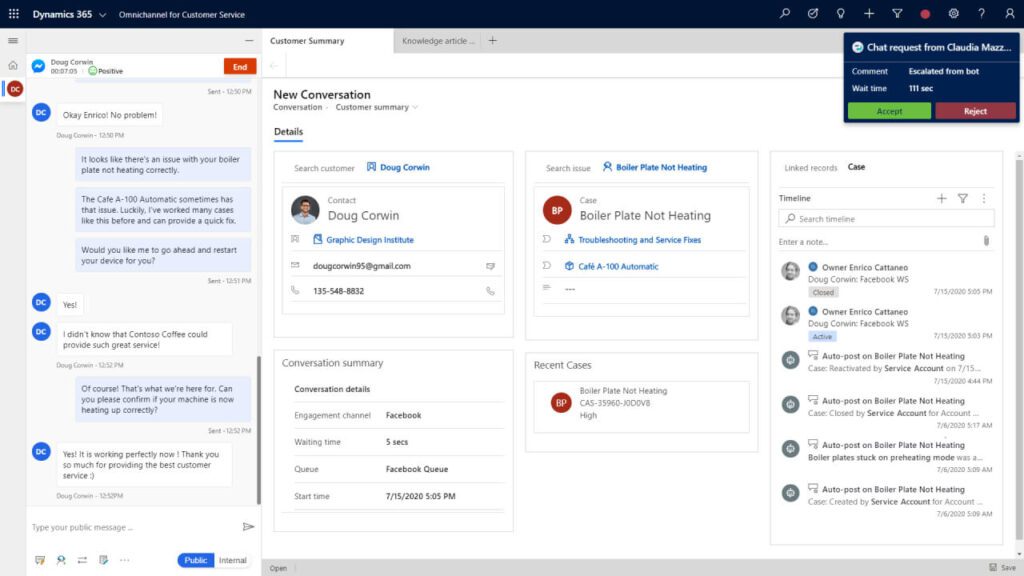 One of a few most obvious Google Workspace alternatives, Microsoft provides a complete package for document editing with its well-known Microsoft Office apps like Word, Excel and PowerPoint. For businesses, there are also forms, calendars, cloud storage on OneDrive, video calls on Skype and Teams, automation tools and more.
Microsoft 365 is designed for companies that regularly create and use documents like text files, spreadsheets and presentations. Since it integrates seamlessly with a widely used productivity suite, Microsoft Office is a strong alternative to G Suite. In addition, the subscription price lets you use desktop Office apps to edit documents. You can also create a business email account.
All business plans include features like 1 terabyte of storage space for files and email, a 50 terabyte mailbox and a custom domain name for video conferencing with up to 300 people. All your data is protected by a cloud-based solution called Azure Information Protection (AIP). Forms make it easy to get information from clients; OneNote is good for taking notes; and Outlook makes it easy to manage business emails. Also, in Microsoft 365, you can create product roadmaps and Gantt charts, and keep generating reports.
Microsoft 365 is a complete digital office with apps for managing files, editing documents and communicating in real-time.
Main advantages:
Native document editing
Product roadmaps and Gantt charts creation
Spacious cloud storage
Video conferencing
Pricing:
Basic: $5,00/month per user
Standard: $12.50/month per user
Premium: $20.00/month per user
Office apps & OneDrive: $8.25/month per user
Conclusion
Even though Google Workspace has been a reliable option for a lot of people for a long time, other G Suite alternatives have opened up a whole new world of possibilities for anyone who is looking for tailored experiences, enhanced features and solutions that are more cost-effective. 
Whether it's the integration capabilities of Microsoft 365, the unique features of Nimbus, the collaborative environment of Zoho Workplace or the simplicity of Dropbox, these alternatives offer compelling options for multiple team members to optimize their productivity and collaboration workflows.
Even if you're one of Google Workspace's legacy users, by taking a look at these platforms, you can replace Google Workspace and locate a service that best meets your requirements in terms of functionality, price, level of privacy and security, and compatibility with their current set of programs.
It is important to keep in mind that the selection of productivity and collaboration tools is highly subjective, and the tool that is most successful for one company may not be appropriate for another. Therefore, before making a decision, you should take advantage of free trials, demos and user reviews to learn more and get hands-on experience.
Optimize team efficiency with Nimbus Platform™!
Visit our Twitter page for more news and updates!
Disclaimer
Parties other than Nimbus Platform™ may provide products, services, recommendations, or views on the Nimbus Platform™ site ("Third Party Materials"). Nimbus Platform™ is not responsible for examining or evaluating such Third Party Materials, and does not provide any warranties relating to the Third Party Materials. Links to such Third Party Materials are for your convenience and do not constitute an endorsement of such Third Party Materials.
Next post
10 Google Docs Alternatives for Creating Better Documents