Every remote business has a use for remote team collaboration tools. Having colleagues from completely different parts of the world working together on projects at the same time is vital for increasing work quality and output. Even if you aren't using it for a business, having team collaboration tools can help with planning social events or casual projects, or even just hanging out when it's not physically possible to do so. Which team collaboration tools would best serve your situation? What are the best options to pick from and why? We have prepared a list for your convenience in browsing some of the best collaboration tools in 2023, so read on to find out the answers to these questions.
The Criteria for Making the List
The collaboration tools in this list were chosen by analyzing the unique qualities and features that each tool provides to the new norm of remote or hybrid workspaces, and by looking into which companies have employees that already trust and use them. Rather than take the word of a small group of individuals who reviewed these tools, we took the word of massive brand name companies whose continued success can be partially attributed to their use of these collaboration tools. If major businesses like Amazon, Disney and 21st Century Fox use and trust these tools, then that means their good reputation and place on this list is probably well-earned.
Here is our list of the top 7 team collaboration tools that are in the 2023 market.
1: Nimbus Platform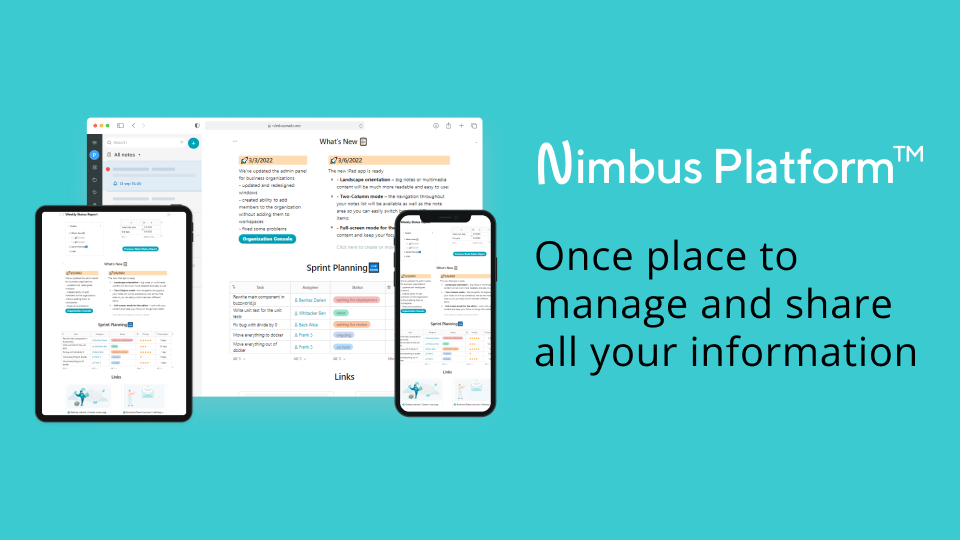 Nimbus Platform is a comprehensive knowledge management app used in workspaces like Amazon, Netflix, Spotify and Sony. Nimbus Note, one of the tools within Nimbus Platform, is used for making white label documents, wikis, tasks and other lists, databases, spreadsheets, tables, and of course, notes! Nimbus Note provides easy organizing, clipping, annotating and screen capturing features as well. Nimbus Platform and Nimbus Note both come with a free plan that doesn't require a credit card to access, and can be used on an unlimited number of devices even while offline. Nimbus Platform has thousands of third-party integrations that can all be used within the same smart document. The paid version provides unlimited workspaces and video recording, and weekly server backups for $5-7 per user per month.
Pros:
Extremely flexible with integrating third-party apps
Offline access
White label branding
Cons:
Some features haven't been released yet, such as client accounts, workflow management and automation
2: Zoho Cliq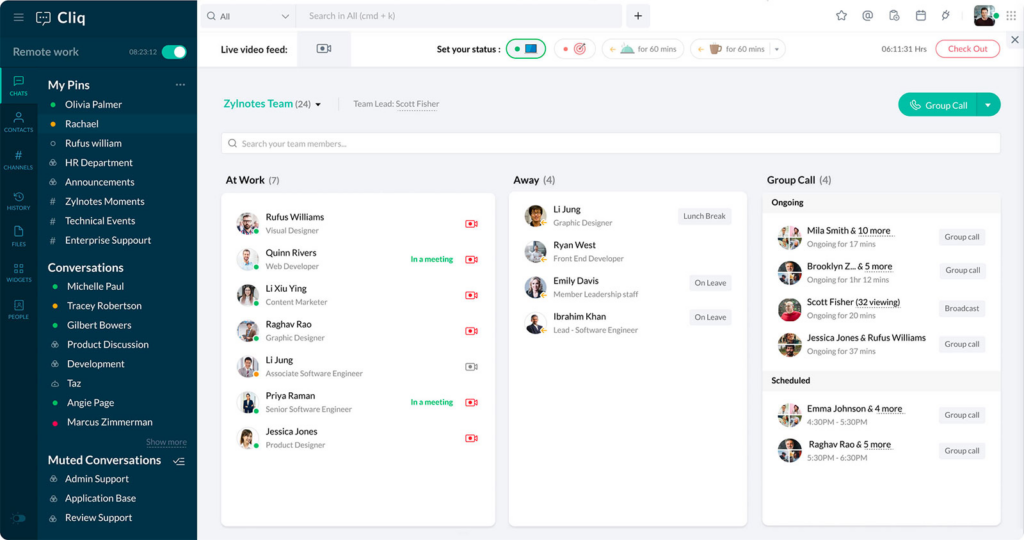 Zoho Cliq is a coding collaboration app with an emphasis on data privacy that is used in workspaces like Qnary, Team Everest, Urban Element and Kingsgate Logistics. Zoho Cliq has handy features like automated workflows, "fork from here" breakout video chat rooms, and searchable messages. Cliq also allows users to view multiple conversations simultaneously on separate columns, and has a free plan providing unlimited messages, channels, and video calls for up to 100 users. Cliq can integrate with ten different third-party apps for easier communication as well. Cliq comes with many free features for unlimited users, but also has other features available for only $1 per user per month, including 100 GB storage per user and the searchable messages feature.
Pros:
Cheapest option
Excellent data privacy
Cons:
Limited third-party collaboration options
3: Teamwork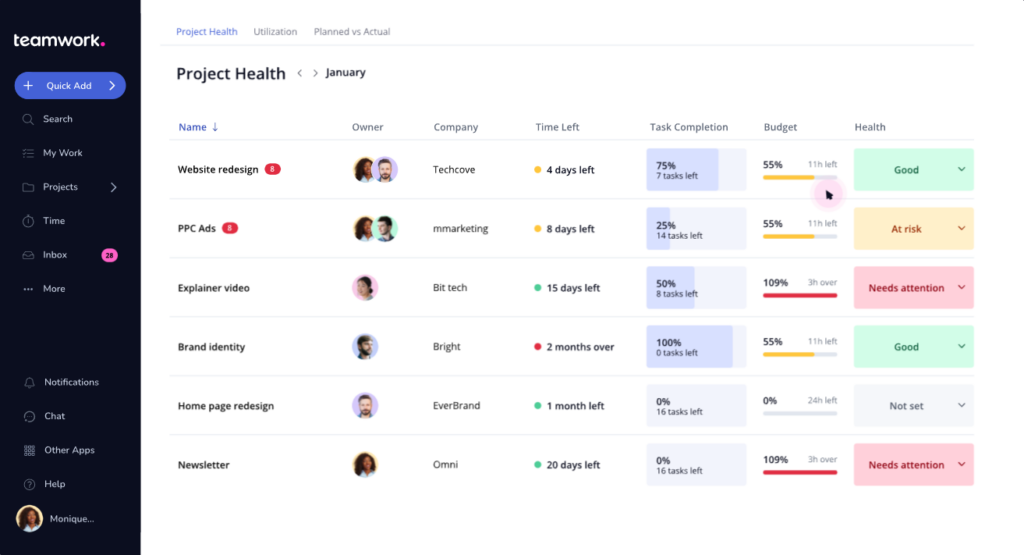 Teamwork is a team and client project management app used in workspaces like Disney, Paypal, HP and Panasonic. Teamwork has access to advanced features like workload view to see how many assignments each team member has, setting time budgets, and utilization reports for $10-18 per user per month. The free version of Teamwork doesn't require a credit card and offers task management and messaging ideal for smaller teams.
Pros:
Excellent data monitoring features
Cons:
4: Atlassian Jira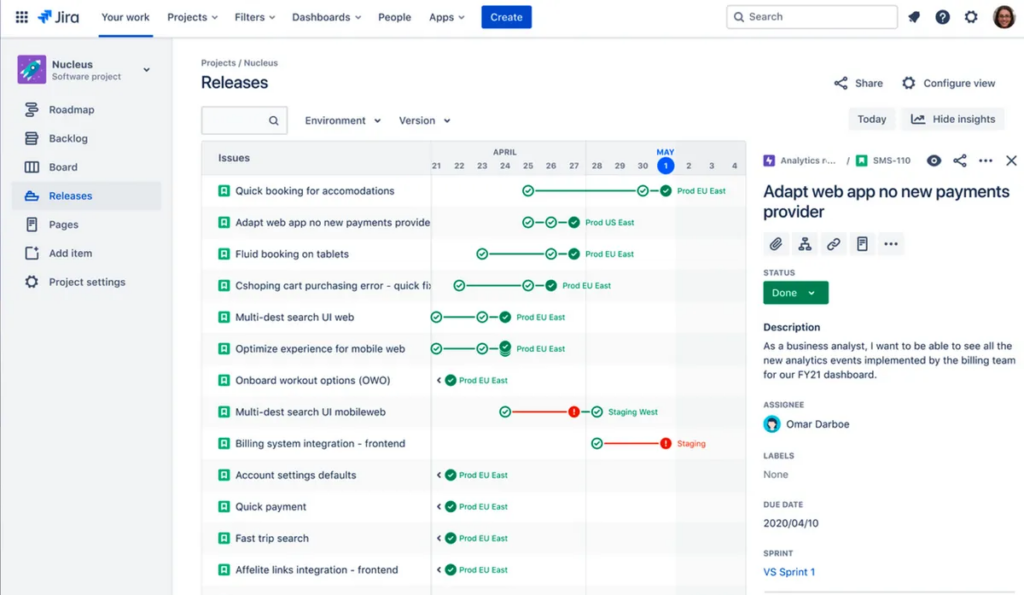 Atlassian Jira Software is a software development app that is especially good at bug tracking and reporting real-time data. Jira Software is used in workspaces like FEMA, Domino's, Cancer Research UK and Blend. The free version of Jira supports up to ten users with backlogging, unlimited project boards and 2 GB of storage. Paid versions include project archiving, unlimited storage and audit logs for teams with up to 20,000 users for $7.50-14.50 per user per month.
Pros:
Unlimited storage
The best at squashing digital bugs
Cons:
Primarily oriented towards programming
No video conferencing
5: Microsoft Teams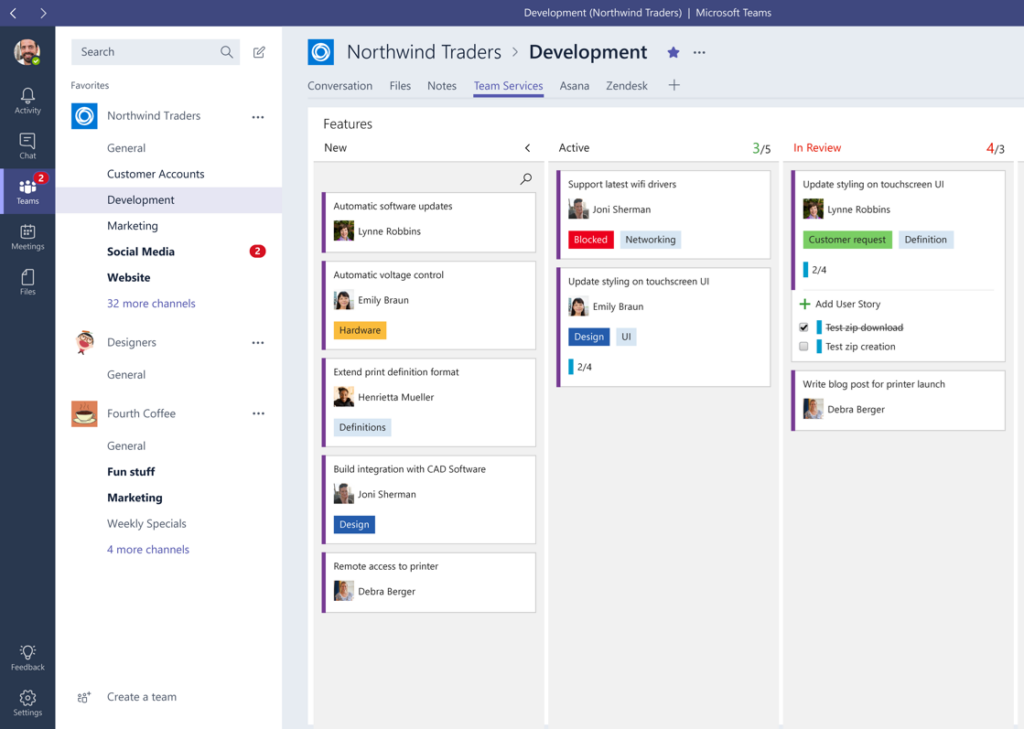 Microsoft Teams is a collaboration app designed to work well with other Microsoft apps and is used in workspaces like Air France, BP, Goodyear and Zoom.ai. The free plan of Microsoft Teams offers unlimited encrypted chat and video meetings, though each meeting has a one hour time limit. Paid versions can increase the number of participants from 100 to 300, recorded meetings with transcripts, and a terabyte of storage per user for a price range between $4-12.50 per user per month.
Pros:
Video transcripts
Large storage capacity
Cons:
Limited video duration unless paid
Not ideal without other Microsoft apps
6: Twist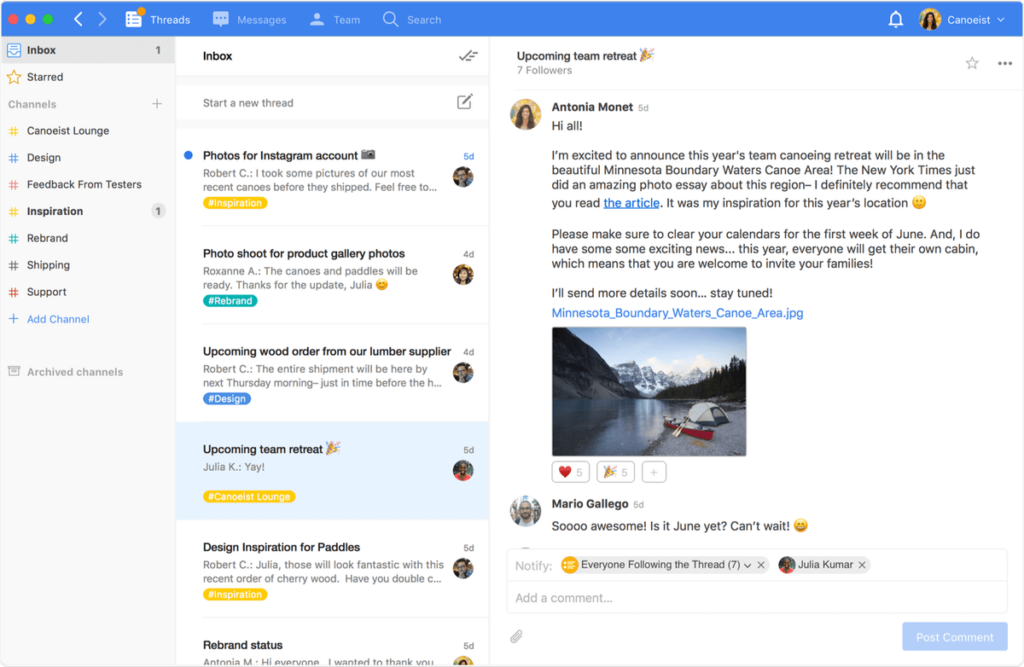 Twist is a work communication app that specializes in async collaboration to maximize productivity and minimize wasted time and work anxiety. Twist is used in workspaces like Hoyos Labs, Microverse, Edgelab, and Muna, and can integrate with five different third-party apps. The free version of Twist supports up to 500 team members and up to one month's worth of communication. The paid version removes all limitations for $6 per user per month.
Pros:
Passive time management
Least stressful
Cons:
Limited third-party collaboration options
Few features available in free version
7: Zoom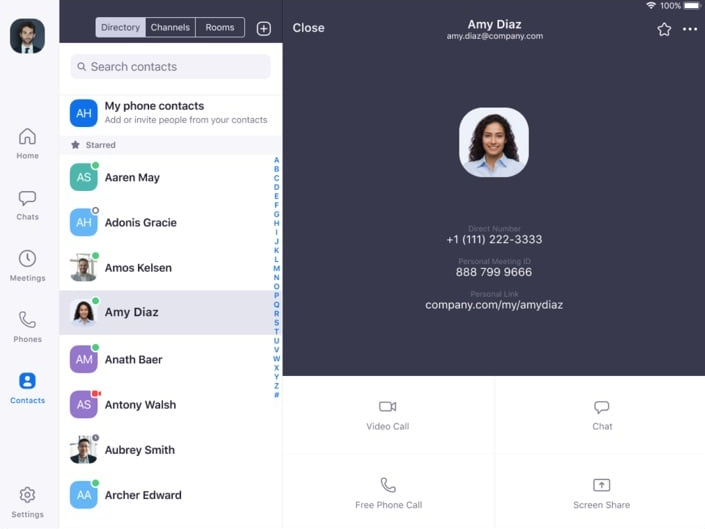 Zoom is a video communication app that is used for video conferencing in workspaces like 21st Century Fox, Dropbox, Forbes, and Lucidchart. Zoom provides text chat within video conferences so users don't have to switch their attention away from the video to read messages. The free plan allows up to one hundred users to be on the same video call, but has a time limit of 40 minutes. The paid plans range from $15-25 per user per month and provide 5-10 GB of storage, no time limit for video calls, and up to three hundred attendees. Additionally, users can apply video filters before entering a video call to have that filter applied throughout the duration of the call.
Pros:
Easiest to use
You can use a filter to make yourself look like a potato
Cons:
Limited video duration unless paid
Most expensive option
Limited features overall
Why it is Vital to Have Collaboration Tools
Collaboration tools help remote workers within the same company to communicate and work together effectively despite being physically separate. Having effective collaboration tools make working remotely just about as natural as working in-person. Just like any type of work, there can be some potential hazards to working remotely, even with good collaboration apps. But working remotely without tools like these would severely limit the quality of the workspace, like being isolated in a box. A lot of time could be wasted if multiple colleagues don't realize they are working on the same part of the same project while ignoring the other parts. Likewise there could be an imbalance of workload if most of the projects are only being given to the workers that are on-site instead of spreading them out evenly among remote workers as well. The "out of sight, out of mind" aspect could be avoided entirely by having the right collaboration tools.
Which of These Tools is the Best Option For Me?
Each app is completely different, despite having expected similarities for being collaboration apps. In determining the best app for you, consider what exactly it is you are looking for.
Nimbus Platform is the best option for third-party integrations, white label branding and offline access.
Cliq is the best option for cheap pricing and data privacy (although all of these apps have a free version, Cliq has the cheapest paid version).
Teamwork is the best option for monitoring profitability and workloads.
Jira is the best option for storage capacity and bug tracking.
Microsoft Teams is the best option for people already using other Microsoft apps daily at work.
Twist is the best option for people with less time to be actively present at work.
Zoom is the best option for casual, non-business collaboration.
You can figure out which of these tools works best for you by trying them all. Since each comes with a free version, there's no financial burden to testing each and every one of them if you so desire. Let Nimbus Platform be your starting point!
Collaborate on documents in real time, create tasks and integrate other tools to work in one place. Keep in touch with your team through comments, chat or video screen recording. And much more!
The Best Tools for Getting Your Customer to Collaborate With You
The next step you can take after finding the right collaboration tool is to start implementing customer communication tools and tactics. The goal of a customer communication tool is to help your customer collaborate with you.
One tool for customer communication is product placement. Including your company's name or products in the background of your social media pictures is an easy way to do product placement outside of work, with minimal effort. Another possible tool is setting up social media sweepstakes where anyone can enter to win by sharing the link to the sweepstakes, which would also be sharing the link to your company's website. This could result in your brand being shared online very quickly, as everyone will want to share the link for their chance to win. This makes collaborating with your customer very easy as they are willingly, passively collaborating with you by sharing the link to your event and leaving it on their own social media page for all of their followers to see.
Automated messaging is another helpful tool that allows you to schedule emails and text messages to be sent at a later, automated date. With just a bit of personal input, an automated messaging system can regularly remind customers of your company's existence.
Don't forget to include the option for your customers to make scheduled appointments! Zoom is an example of a team collaboration app that allows your customer to schedule a video appointment with you. By adding you to their schedule, your customer will be making a reminder for themselves that they want to collaborate with you and your business.
Utilize these tools and tactics for customer communication, and you'll be using the collaboration tool that works best for you and your team in no time. Collaboration and communication go hand-in-hand, so try out these tools and Nimbus Platform today!
Subscribe to our Facebook page for updates and more new articles!
Disclaimer
Parties other than Nimbus Platform™ may provide products, services, recommendations, or views on the Nimbus Platform™ site ("Third Party Materials"). Nimbus Platform™ is not responsible for examining or evaluating such Third Party Materials, and does not provide any warranties relating to the Third Party Materials. Links to such Third Party Materials are for your convenience and do not constitute an endorsement of such Third Party Materials.
Next post
5 Best Free Project Management Templates to Use in 2023