5 Ways You Can Manage Your End-to-End Client Collaboration
If you want a strong relationship with your clients, it's critical to understand their expectations and deliver exactly what they want.
When working with clients, you may need to coordinate across departments, teams and even companies. This can make collaboration challenging because everyone has different goals and priorities. If it's not done well, you could end up wasting time and resources.
Collaborating effectively requires a lot more than just having people on board. It also involves creating an environment of trust where everyone feels safe and supported.
According to a recent survey, 48% of businesses report the pandemic has caused them to raise their customer service standards, which means client collaboration needs to be a focus.
What is Client Collaboration?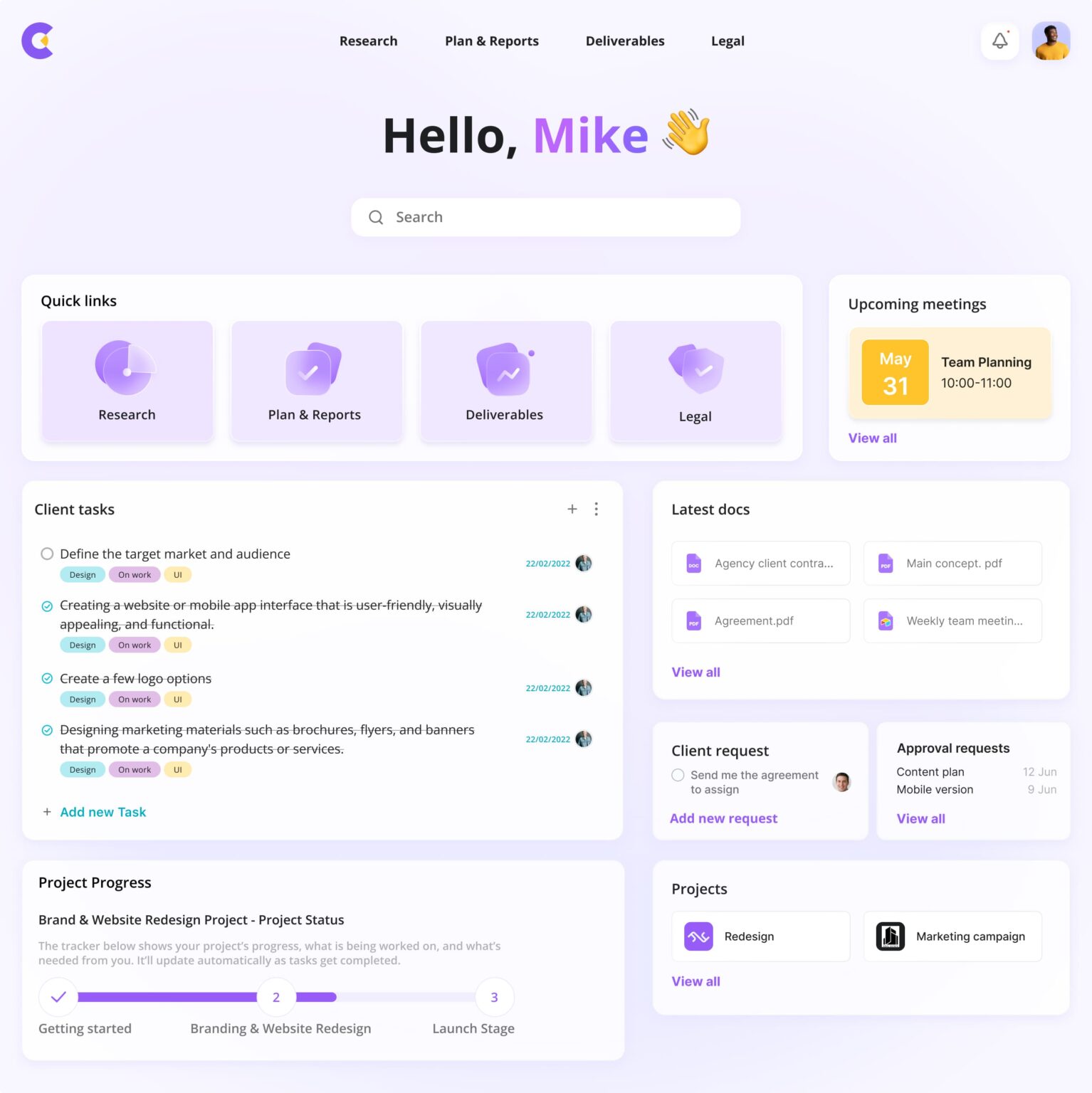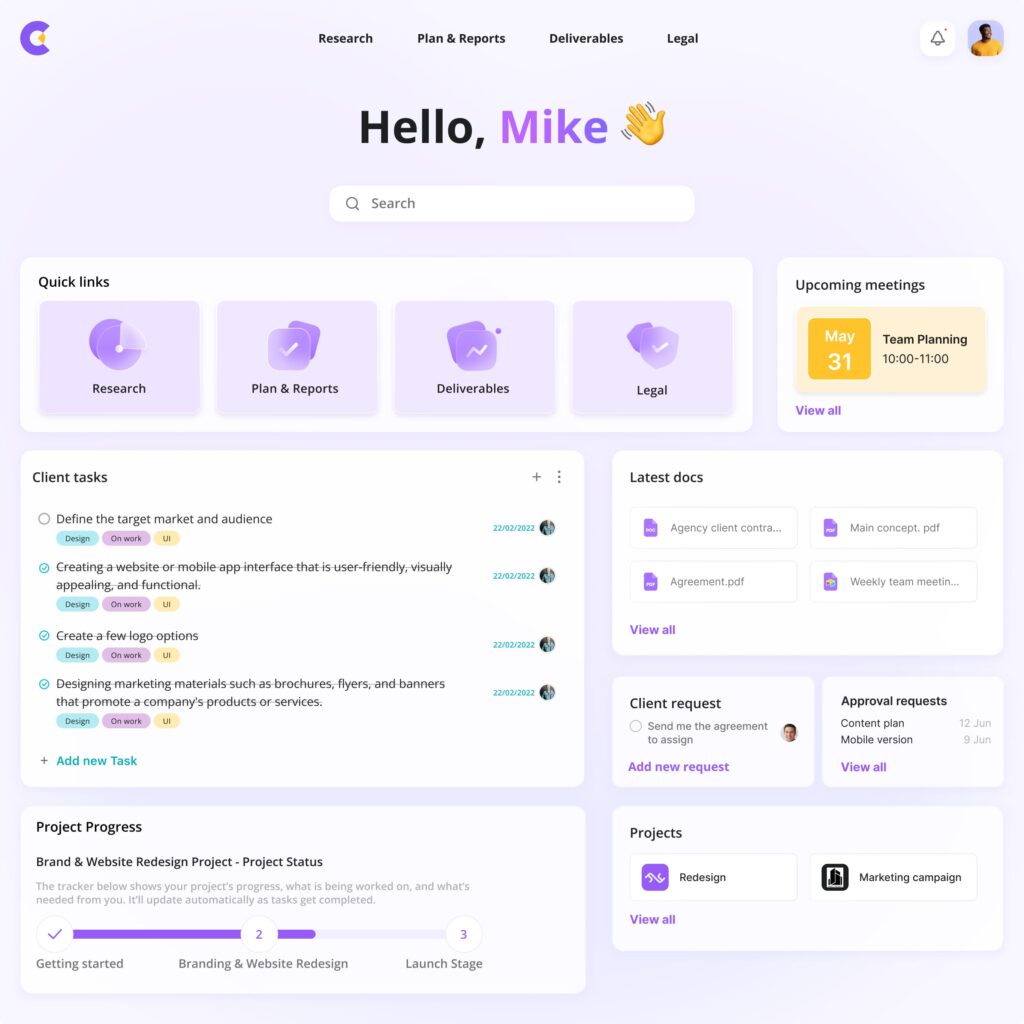 Client collaboration is working together with clients to complete a project or task successfully.
End-to-end collaboration involves working closely with clients from beginning to end to ensure a business project runs as planned. It involves sharing ideas, resources and best practices to achieve success.
The goal is to provide a seamless experience for everyone involved.
Sometimes, other departments can be internal clients. To make every employee experience a good one, the same approach when working with external customers needs to be taken.
Examples of Client Collaboration
End-to-end collaboration examples can include:
Having face-to-face or virtual meetings to discuss ideas and progress.
Sharing resources, which can include people, money, equipment and time.
Providing feedback and addressing issues.
Communicating regularly through emails, phone calls and other forms of communication.
Maintaining compliance by documenting processes and procedures to follow.
Setting analytics, deadlines and milestones.
Creating budgets and tracking costs.
Deciding based on consensus.
Ensuring everyone is kept up-to-date with the status of a project.
Managing expectations and addressing issues faster.
The Benefits of Better Client Collaboration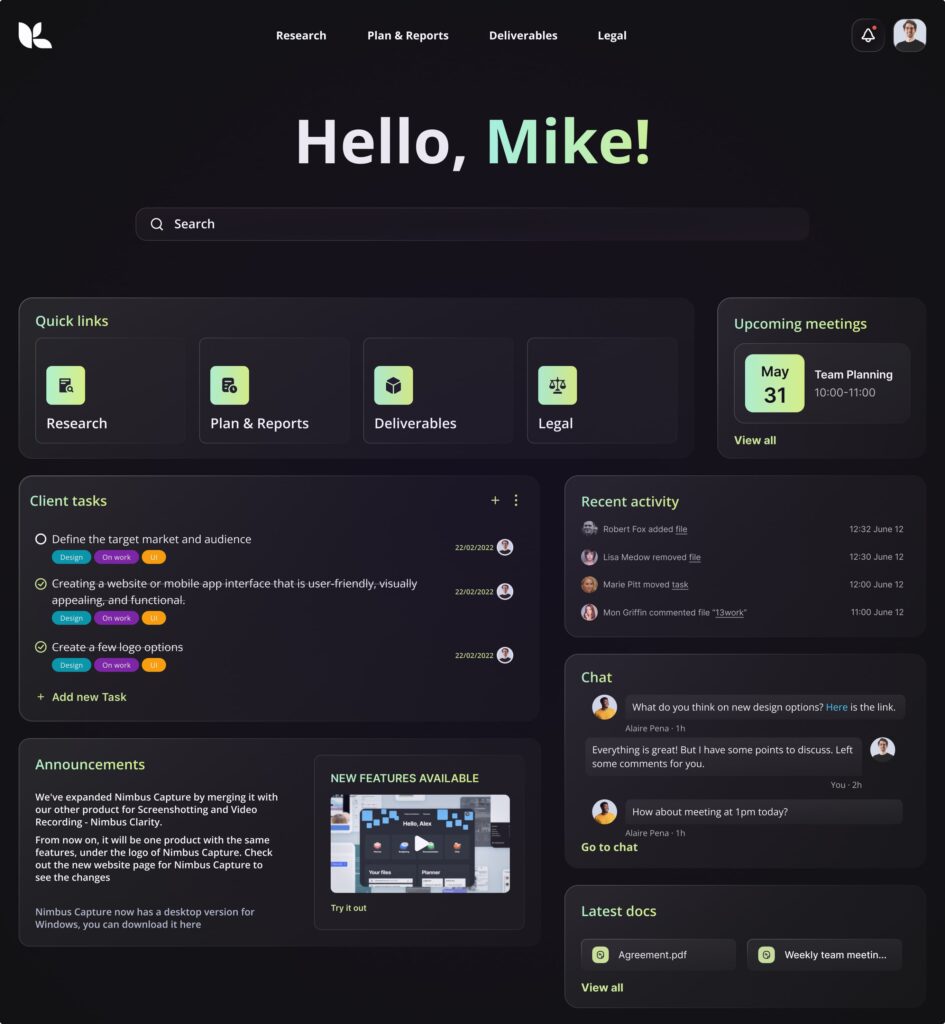 When you make this a business priority, the benefits you will experience include:
Exceptional relationships – When you focus on end-to-end collaboration with your customers, you will strengthen your relationships. When they know you're looking out for their interests and want success as much as they do, they will trust you more.
More efficient projects – It will help move projects forward fluently. When you establish clear expectations at the start of a project, you can manage or avoid delays and missed deadlines.
Reduced stress levels – Working with clients is not always easy and can generate stress. When there is communication during collaboration, you will reduce the chance of conflict arising. This will prevent you from being in a reactive mode and decrease your stress levels.
Lower risk of making critical errors – Bad communication can lead to problems and wrong decisions being made, which can affect the quality of a project and increase costs. Using proper collaboration tools, you can avoid making costly mistakes.
5 Ways to Have Excellent End-to-end Client Collaboration
Here are five ways you can improve your end-to-end client collaboration, provide excellent service and create better experiences.
1. Establish success parameters and expectations
Define what success will look like for your customers and your teams. If you set clear expectations upfront, you will avoid problems and be more proactive.
Decide what's in scope and what's not. Agree on deliverables and how you will track progress.
This also includes agreeing on which communication channels and tools will be used.
2. Choose the right communication and collaboration tools
With many collaboration applications available today, knowing what will work best for your customers is essential for success.
Will offering digital workplace services, like client portals, make things easier? Do you need a central hub to track progress, like a data center? Once a project reaches a certain milestone, what back-end activities need to be completed?
If you focus on end-to-end collaboration experiences, the right tools will make it easier for you and your clients.
3. Offer training to set everyone up for success
When the users involved want to make the best use of the tools being used in real-time, companies understand they have to invest in training.
Training should cover everything from using tools effectively to setting expectations and managing conflicts. It's important all team members are trained, so they know how to work well together.
4. Communicate regularly
Have regular meetings with everyone involved to stay up to date. Meetings can be formal or informal, in-person or virtual. The purpose is to provide updates, share ideas and feedback, and resolve issues.
Ever since the pandemic started, virtual meetings are more common now. These can be held via phone calls, video conferencing, and chat or messaging channels.
When you focus on communication collaboration, you will create a productive team culture and provide improved workplace services.
With this approach, employees will experience satisfaction in what they do, which means you will have more engaged people in your business.
Read more posts on this topic:
5. Enjoy the experience and celebrate wins along the way
Some projects may take a long time to complete, therefore acknowledging your wins will maintain motivation and ensure people continue doing their best.
Celebrate milestones such as when a target has been reached, when a new feature is launched or when an issue has been resolved.
When you acknowledge achievements with positive reinforcement and rewards, it encourages others to perform well.
Tips to Improve Client Collaboration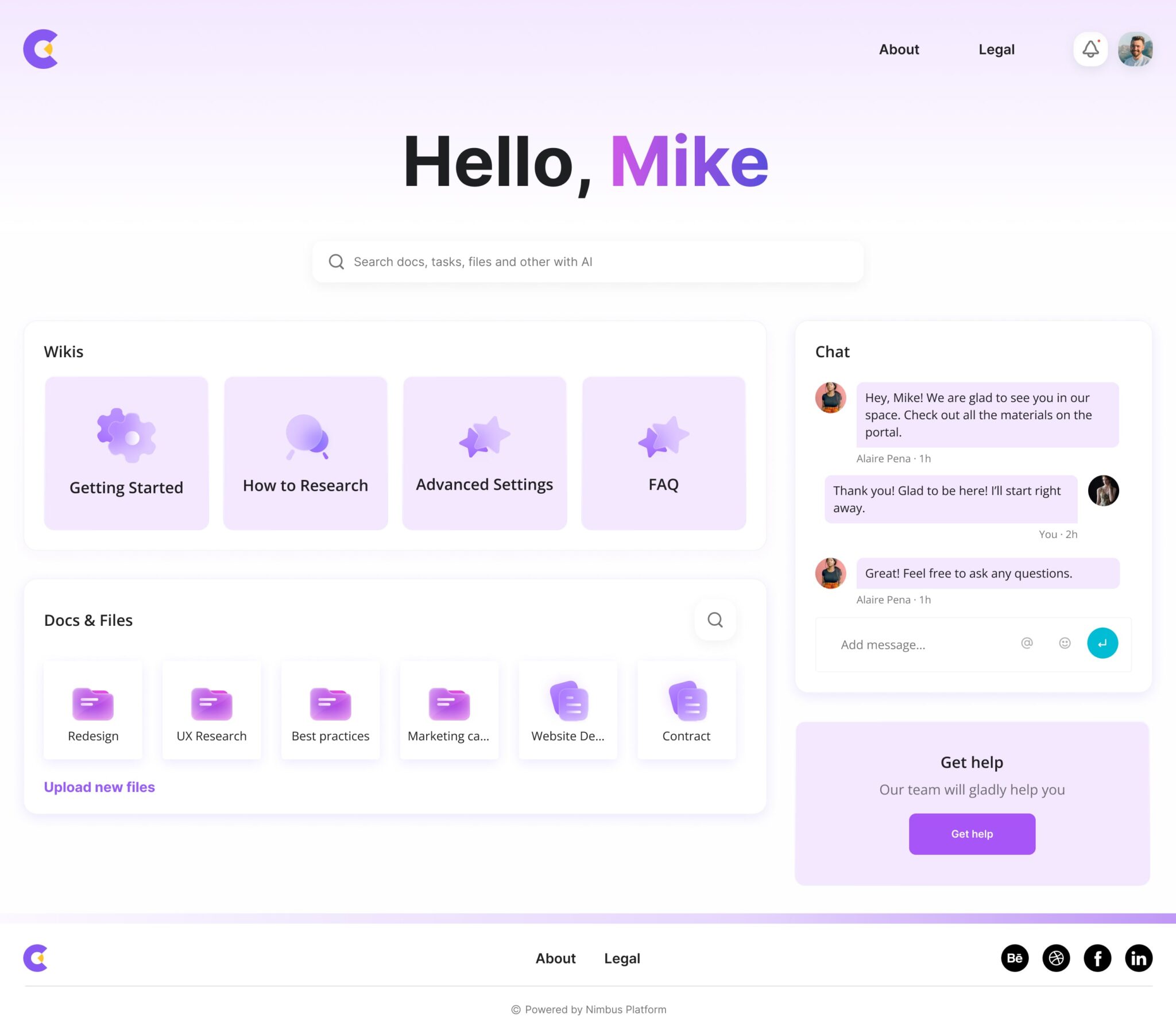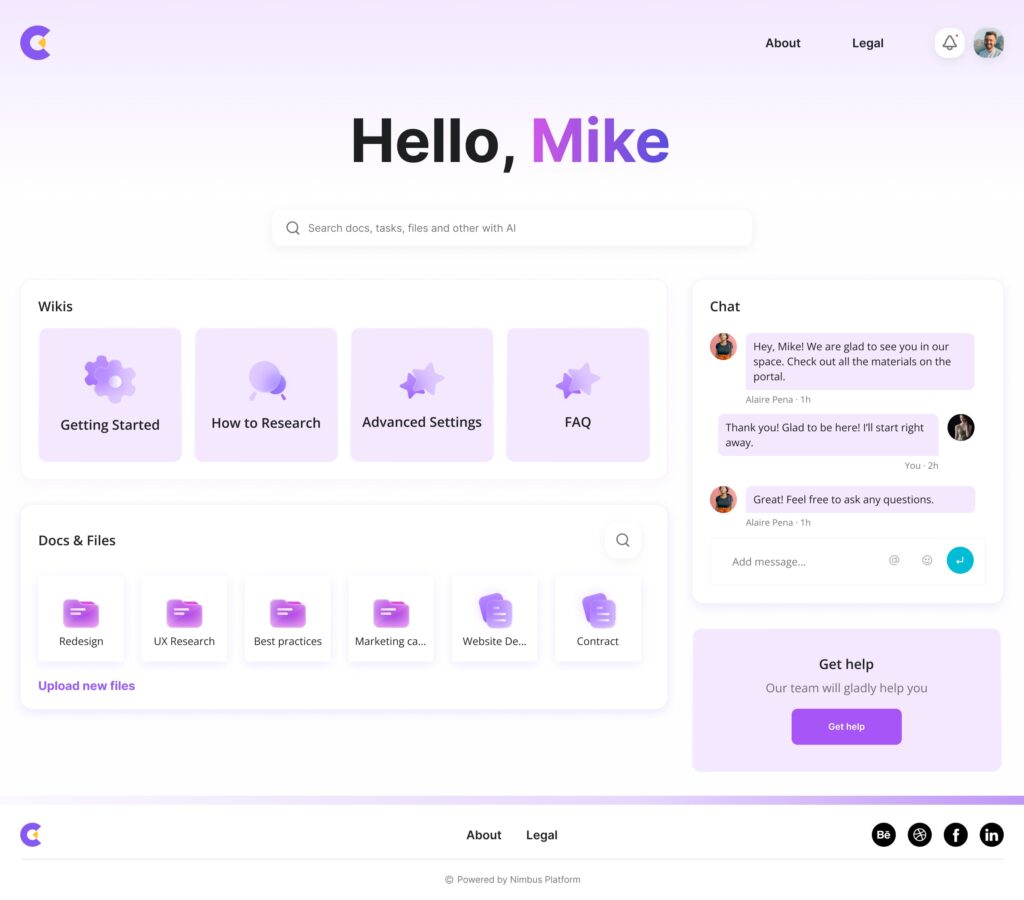 To get the most out of working with your customers, these ideas will help.
Practice inclusion and make everyone feel they're important to the success of the project.
Encourage everyone to come prepared for all meetings.
Maintain positivity.
Take notes during meetings and share best practices and insights.
Thank everyone for the work they're doing and showcase those who have gone above and beyond what's expected.
You can streamline your client collaboration services using the Nimbus Platform and the different suites of products available. Use a digital workplace or a client portal to create better experiences, capture and store all important information while displaying them in a variety of ways and also integrate with your favorite tools for a more streamlined workflow.
Go here to find out more and get started today.
Does your business have a knowledge sharing culture? In this blog post, find out how creating a knowledge sharing culture can bring your startup or established business more success.
Learn how Nimbus can help you build a perfect knowledge base here.
Next post
How to Get Work Done Before Leaving for Vacation and Not Stress Out