A Deep Dive into Top 2023's Client Collaboration Software
Elevate your client relationships to the next echelon using Nimbus Platform!
Make it happen
When running any company, business owners can't survive without their clients. The success or failure of a business depends on the quality of the communication between customers and the company's management, designers, web developers, etc.
Systematizing client collaboration processes is a typical method used to increase productivity in an organization. The perfect approach for facilitating communication, collaboration, file sharing and the rapid resolution of numerous difficulties between clients and online firms is client collaboration software.
Why Use Client Collaboration Software?
The manual management of multiple client statuses is a huge hassle. Do we have signed contracts? Has all the necessary background information been received? If your company's workflow is chaotic, you, your team members and clients will be frustrated.
Having complete, centralized visibility into the status of all of your clients is a huge time saver, and that's exactly what you get with client collaboration software.
First, you won't have to pay IT professionals to create and maintain an intranet or extranet system with this software. Second, several client collaboration platforms provide bank-grade security, guaranteeing your sensitive data's safety.
Also, good client collaboration software should be compatible with a wide variety of other business software and offer features like client approval. Because of this, it will be easier to avoid tool fatigue and reduce the time spent switching between applications. Lastly, the correct collaboration tool improves productivity, maintains customer satisfaction and grows mutually beneficial partnerships.
To cut a long story short, let's jump right into the list of the top 10 client collaboration software you should definitely try out.
1. Nimbus Platform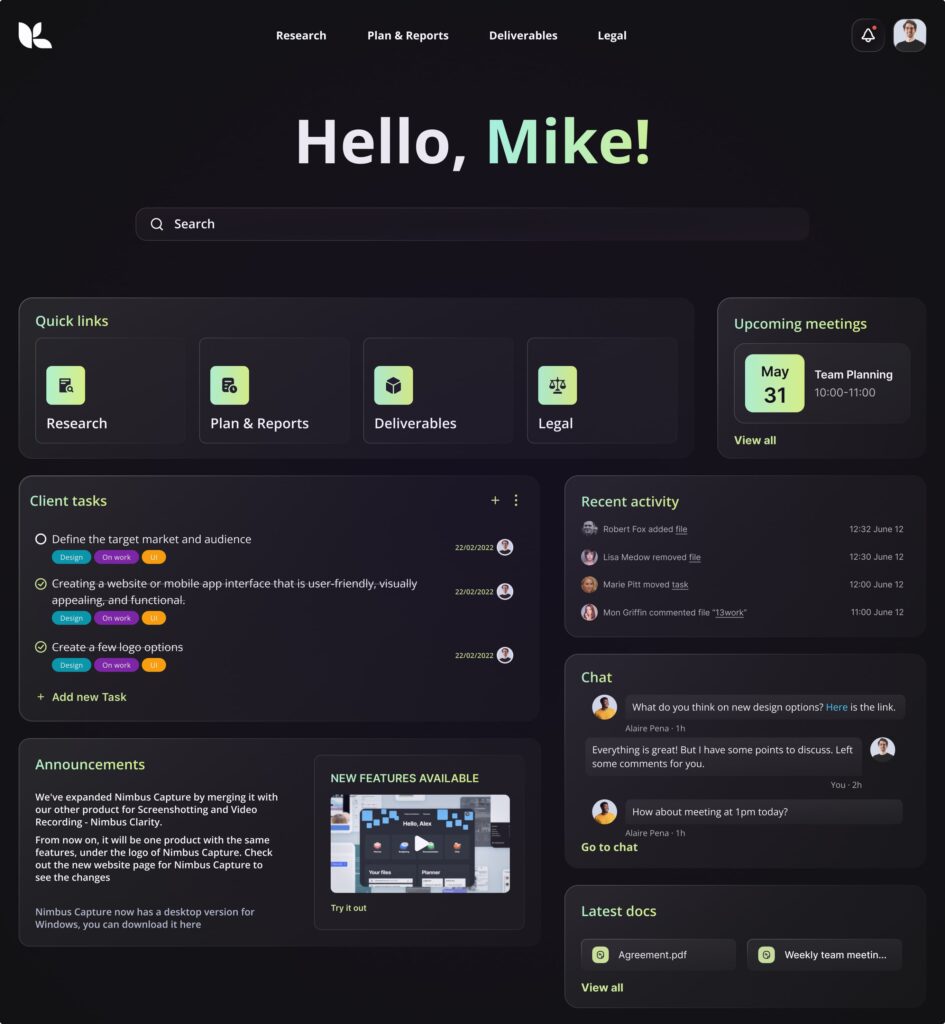 Nimbus Platform stands out amongst other tools in this article as an undisputed leader.
Nimbus Platform is a robust collaboration software designed for team collaboration as well as external client collaboration, all within an organized folder structure. Offering powerful sharing and collaboration features, it enables seamless work relationships among team members as well as clients.
Nimbus Portals can take your collaboration process to the next level. Our no-code websites serve as an ideal platform to showcase your services and deliver an exceptional user experience for clients. With Nimbus Pages as their foundation, Nimbus portals ensure smooth and seamless interactions.
Additionally, you have the power to remove any references to Nimbus branding and personalize the platform with your own logo – this helps increase brand recognition among clients and boost brand awareness.
Who should use Nimbus Platform?
Nimbus Platform is a versatile tool that caters to a wide range of industries and companies, including creative agencies, law firms, consultants, financial advisors and more.
Key features
Super documents – Consolidate information in multiple forms on one page – text, photos, audio/video files, PDF attachments and any additional forms that might exist.
Powerful editor – Use background colors, headings, outlines and more to easily alter your content. Each Nimbus Note block may be moved around to rearrange content and create columns using drag and drop.
Clear UX for your clients – Nimbus pages can generate client portals. They can help with long-term customer projects.
Permission management – Nimbus's straightforward hierarchy lets you manage access and permissions.
White Label – Fully customized organizations and workspaces. Promote your brand and win customer trust with this solution.
2. Smartsheet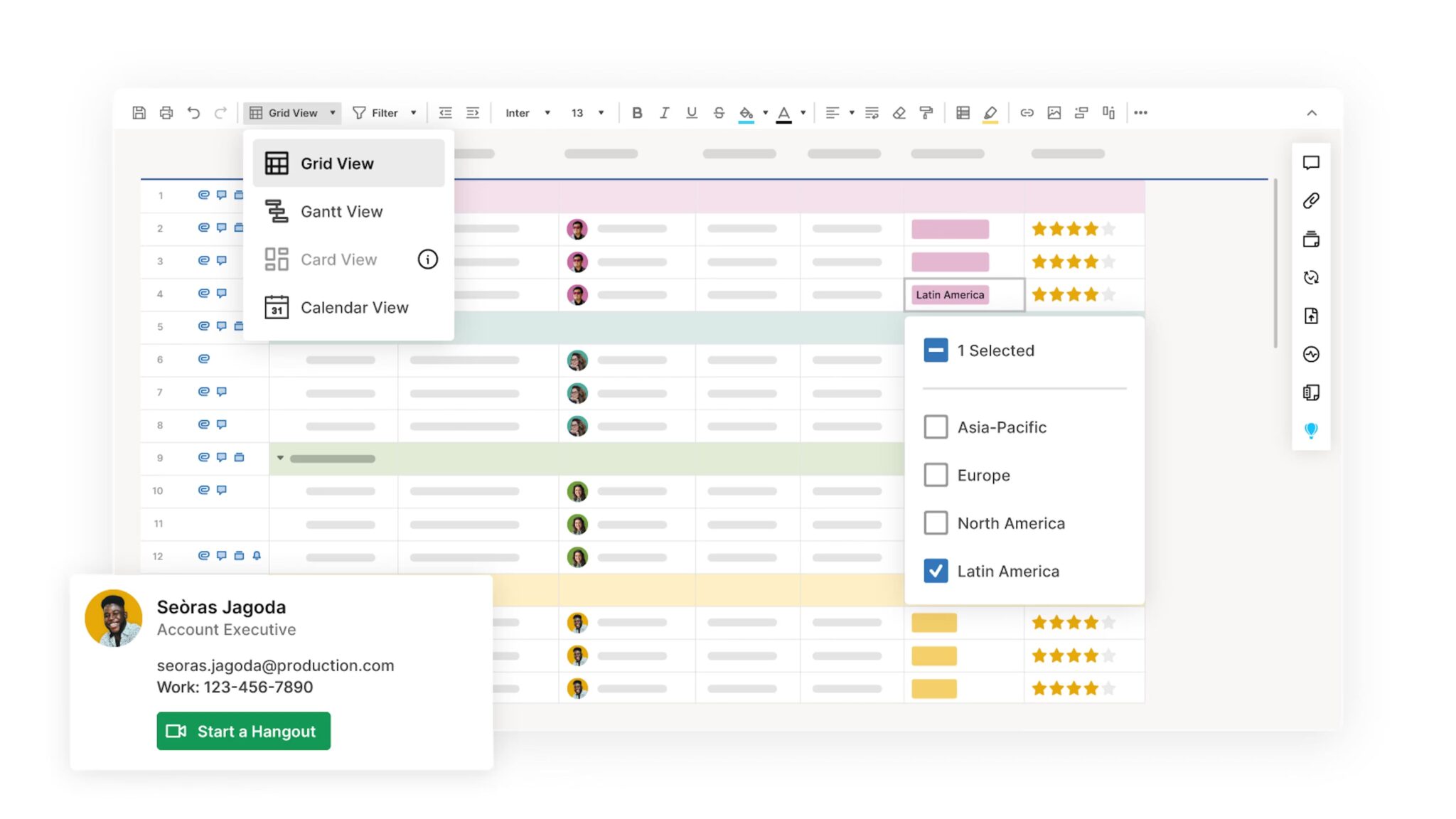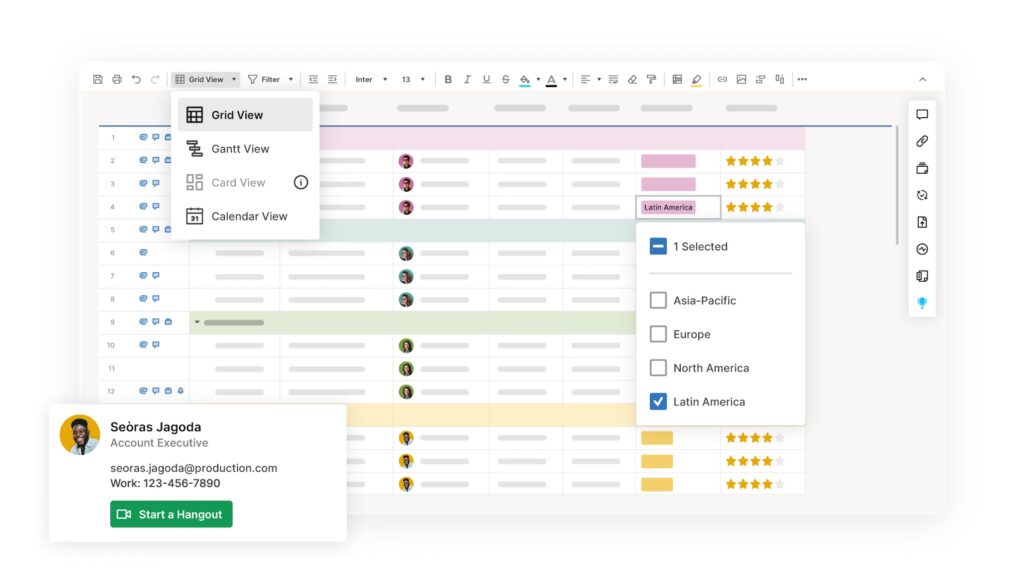 Smartsheet is the only client collaboration software that can grow from managing a single project to managing an entire organization's work from start to finish. It connects businesses on a no-code, cloud-based platform where anyone can create tasks and make the necessary solution, with the control and bank-grade security that IT requires, including features like private channels.
An intuitive point-and-click interface makes it simple for even inexperienced users to automate common tasks like asking for real-time feedback, adding timestamps and monitoring for changes. Also, project planning with Gantt charts or automating simple business procedures is a breeze. Due to the project management tool's adaptability, it's simple to alter the sheets' look so they can record new information. Most users find it useful for keeping tabs on things like project delivery, resource allocation and benefits. The Smartsheet collaboration tool can greatly simplify reporting and enhance team productivity.
Who should use Smartsheet?
Smartsheet client collaboration software is used by teams of all sizes, from enterprise companies to small and medium-sized businesses (SMBs), to track and organize their work.
Key features
Team collaboration – Bring everyone together on one shared platform.
Intelligent workflows – Streamline operations across systems.
Integrations – Improve your productivity and work smarter by exchanging data between platforms.
Resource management – Identify the most suitable project team and anticipate resource requirements.
Digital asset management – Handling and distributing assets as well as monitoring their performance.
Governance & administration – Setting up and handling global settings and controls.
3. Monday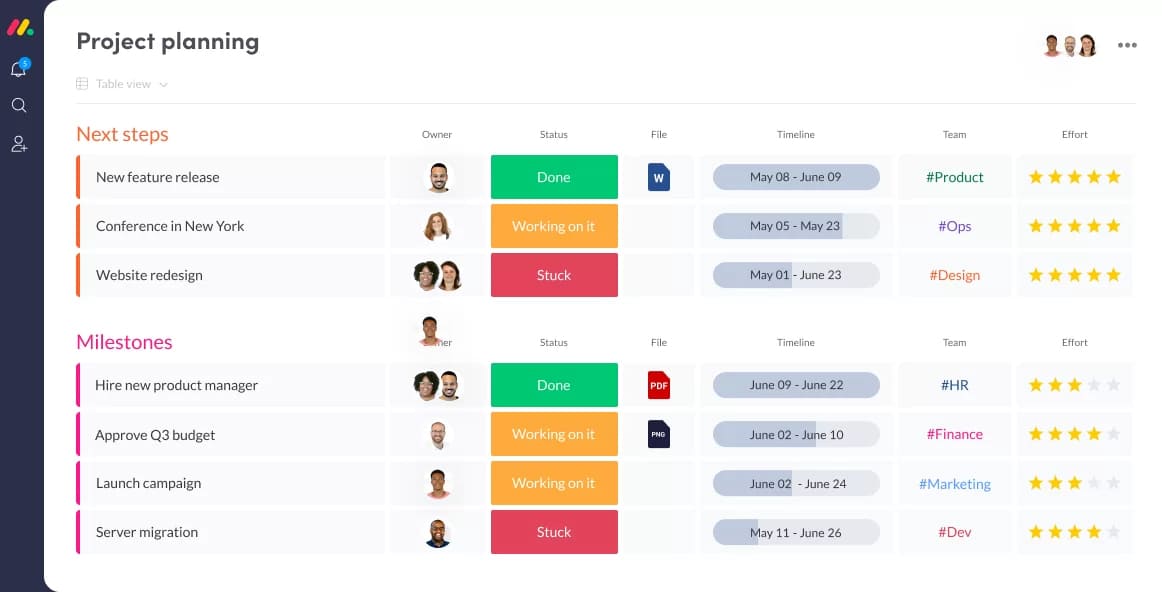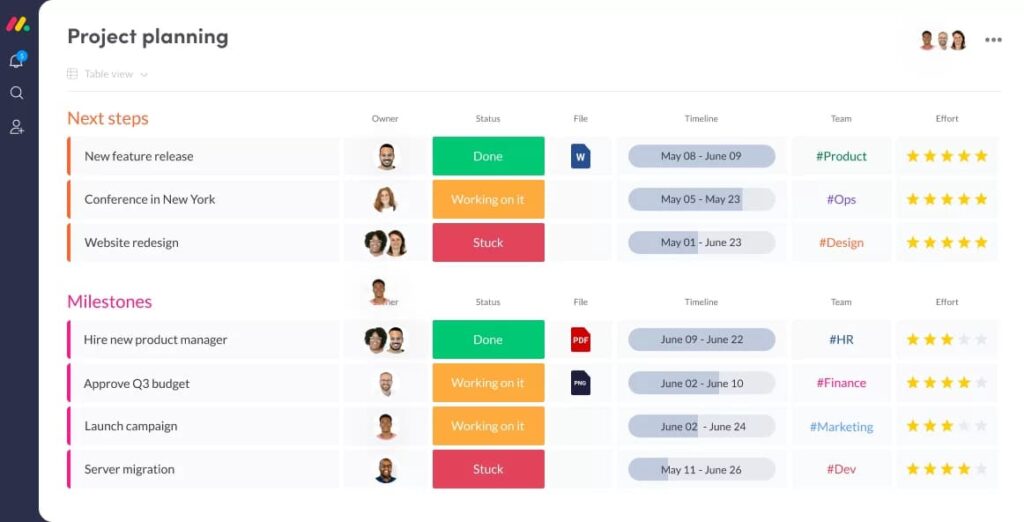 Monday Work OS is a flexible collaboration tool where team members can develop and implement the systems they need to manage their operations, including crucial collaborative features like seamless video conference and screen sharing that will let your entire team communicate easily.
With an easy-to-use interface, team members can create their ideal custom workflows with the help of simple building blocks like dashboards, automation and integrations, all within a single, user-friendly platform. The client collaboration software is designed to be versatile and flexible, so it can be tailored to meet the specific requirements of any business and expanded as needed.
Companies of any size and in any field can quickly and easily create solutions that fit their unique needs with the help of Monday's suite of industry-specific products, including Monday Work Management, Monday Sales CRM, and Monday Development.
Who should use Monday?
Thanks to its user-friendly interface, it can be tailored to fit the needs of any project or business.
Monday has helped over 180,000 businesses improve their operations, speed up their workflow, and foster cross-departmental and client collaboration.
Key features
Gantt charts – Learn the current state of the project tasks and their specifics in an instant. Task lists, milestones and dependencies can all be seen in the context of the project's overall duration.
Dependencies Quickly – Identify tasks behind schedule to prevent project delays.
Baseline – Set a baseline to compare planned and actual project schedules to meet deadlines or adapt as needed.
Critical path – Use Gantt charts to identify tasks for on-time project completion and realistic deadlines.
Project intake & approvals – Enhance the project intake process so anyone can submit detailed requests and stakeholders can manage approvals and prioritize properly.
Dashboards & reporting – Learn about your portfolio and projects' budgets and workloads to make data-driven decisions.
4. Assembla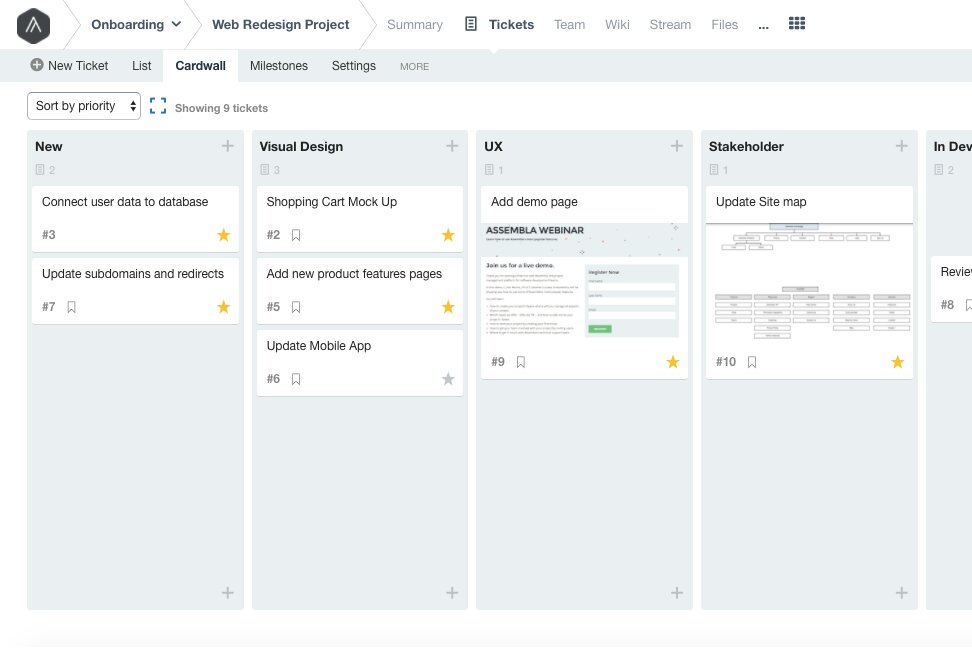 Assembla is a client collaboration tool for big companies with many clients. It's common knowledge that big web development projects are disorganized, bureaucratic and a hot mess. Assembla is perfect for task management since it organizes chaos into a system that team members and clients can use to work together in a variety of ways.
When it comes to working together with customers, the system of user permissions, instant access and abilities is quite complex. You can invite clients or investors as "Watchers," and they can then submit tickets for enhancements or bug fixes (if you give them edit permissions).
It's important to note that Assembla's approach to security is one of its top priorities. The company states that they go above and beyond controls, compliance and security standards to guarantee a completely secure software development process for their clients. With their commitment to bank-grade security, you can have peace of mind knowing clients and vendors can now access files securely, and your sensitive data is well-protected.
Who should use Assembla?
Assembla is perfect for large companies and businesses.
Key Features
Team Collaboration – With wikis, message boards and file sharing, you can keep all your communication in one place.
Project Management – Users can create tasks, collaborate with clients, track time using the integrated time-tracking feature and record earnings in Assembla.
Subversion and Git Hosting – The software lets you browse files online, compare revisions and merge code.
Dependable Hosting – With expert service and easy migrations, Assembla provides cloud-based Perforce, Subversion, Git management and hosting.
5. ClickUp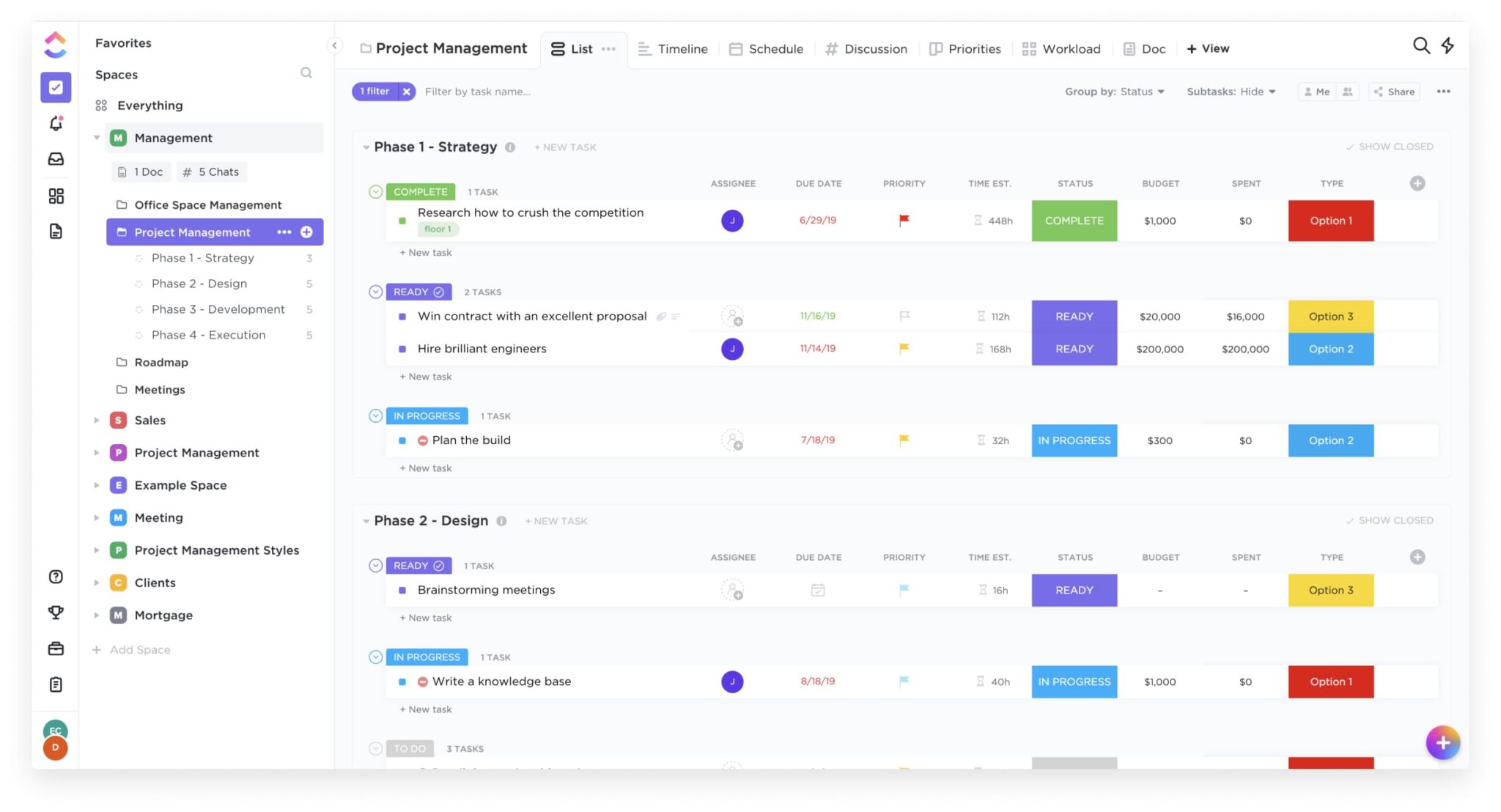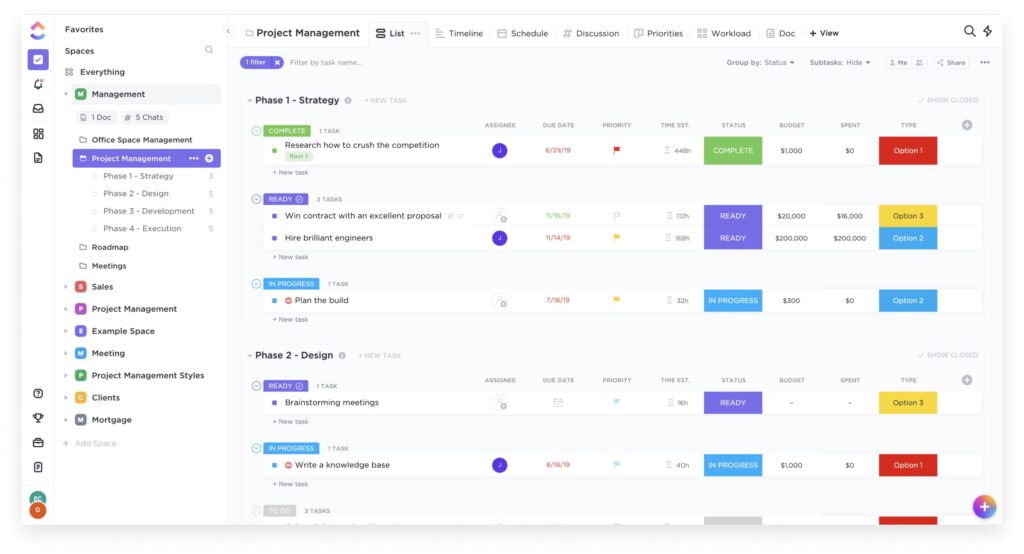 ClickUp is an all-in-one project management platform that eliminates work silos. It's a collaboration tool where team members come together to streamline communication, plan, organize and collaborate on work using collaboration tools like Docs, Chat, Goals, Whiteboards, video meetings and more. Easily customized with just a few clicks, ClickUp is perfect to increase employee engagement, as it helps teams of all types and sizes deliver work more effectively. By replacing inflexible and overlapping tools, ClickUp helps teams save one day each week!
With hundreds of features packaged into a sleek and intuitive UI, ClickUp is one of the best collaboration tools to manage tasks, share documents and easily communicate with clients, allowing you to work on the same document seamlessly. By using this single platform, you can optimize your task management and feedback processes with automatic, instantaneous updates on status changes, new comments and activity on any task. Even invite clients into the editing process with live-editing and collaborative detection in ClickUp's Docs and Whiteboards, with links that can be shared easily via URL. Whether you're viewing your workload as a List, Calendar, Gantt chart or Board, all teammates and clients with user permissions will have full transparency into who's viewing a task, adding a comment or editing a description without worrying about overlap.
Who should use ClickUp?
Teams that want to work smarter and more efficiently on masterfully intuitive collaboration software.
Key features
Customize ClickUp for any need; no code is required. Everything in ClickUp can be easily customized to manage any type of project, with no code or add-ons required.
Collaborate on anything with your team. Streamline teamwork with powerful collaboration features (like video meetings) that make it easy to work together on any type of project.
Document and share anything with your team. ClickUp Docs lets you work on the same page seamlessly, as well as share product ideas and issues. You can also add rich editing, modify in real time and update everyone using a visual knowledge base.
Stay on track with real-time reporting. Strong reporting features help set goals, assign tasks, track progress on multiple projects and manage resources.
Time management made easy. Make the most of your time with global time tracking from any device, time estimates and time reports.
6. Asana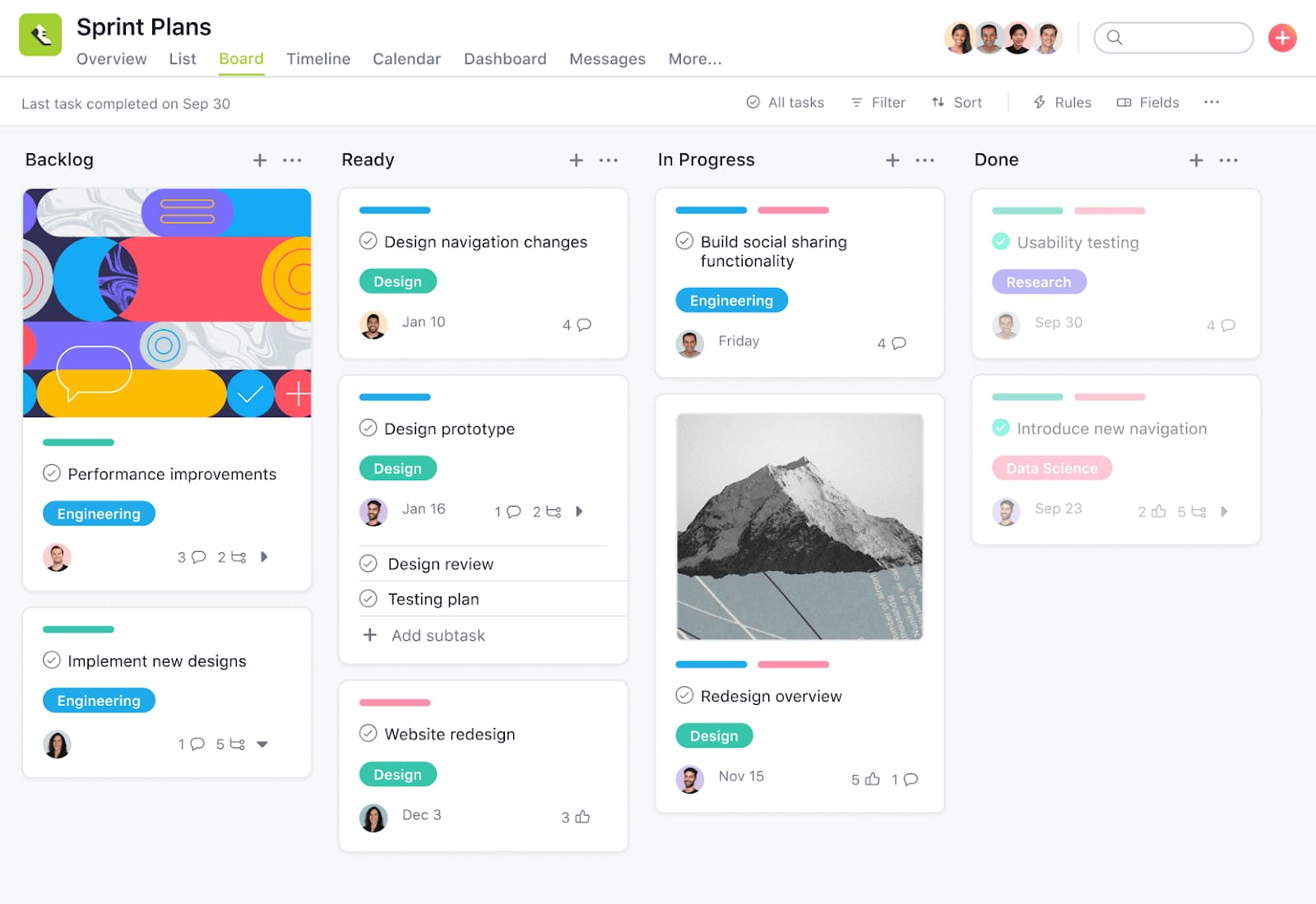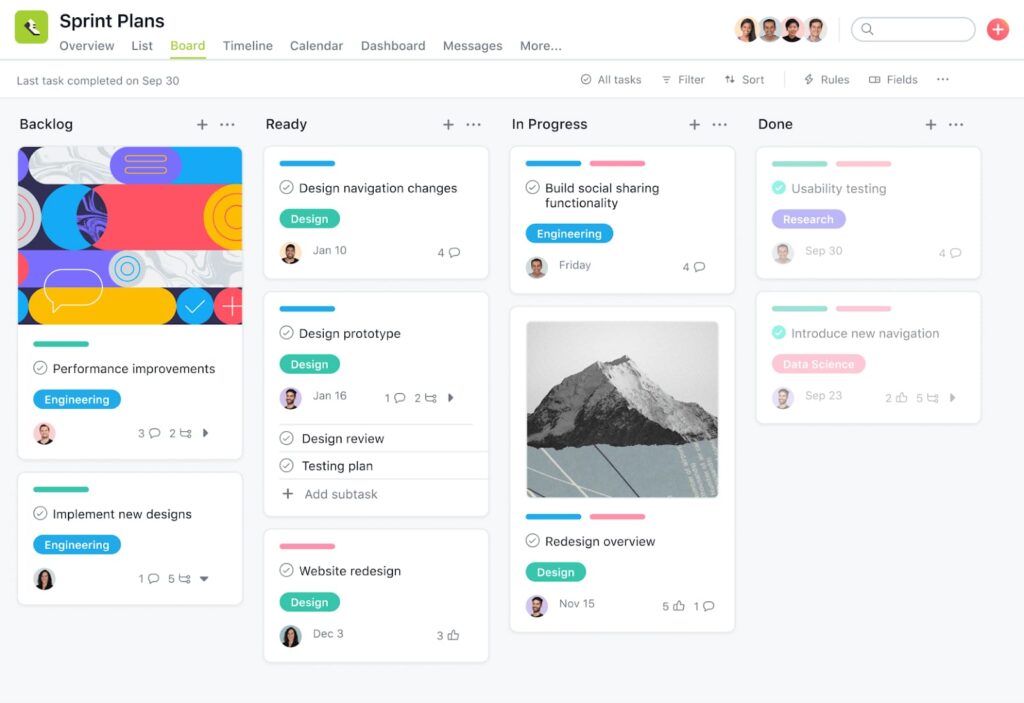 Asana is a project management tool for organizing projects of any scale, from routine tasks to long-term goals. It facilitates collaboration with clients and team collaboration. You can take care of project management however you like, with lists, boards, calendars and Gantt charts.
Asana's many features—project progress reports, boards for task management, file sharing and the ability to sync to Google Calendar or iCal—make it easy to keep tabs on your projects. Also, with direct messages, video calls and audio messaging available, you can stay in touch with your team regarding project-specific details.
Using Guest Accounts, you can grant user permissions to specific Tasks or Projects without giving them full access to your Workspace.
Who should use Asana?
Asana is one of the best online collaboration tools available for small projects. Additionally, Asana helps teams manage large-scale projects, processes and tasks more easily.
Key features
Drive cross-team efficiency – Timeline, Board and List views ease project management, while Workload views identify bottlenecks and assign work.
Automate processes – Workflow Builder, Forms and custom Rules like task assignment and status updates systematize intakes and reduce manual work.
Get real-time insights – Build customized visualizations with Custom Fields and Charts to track project progress without manual work.
Manage permissions and settings – Admin console controls who can access documents, share files and control permissions.
7. Quickbase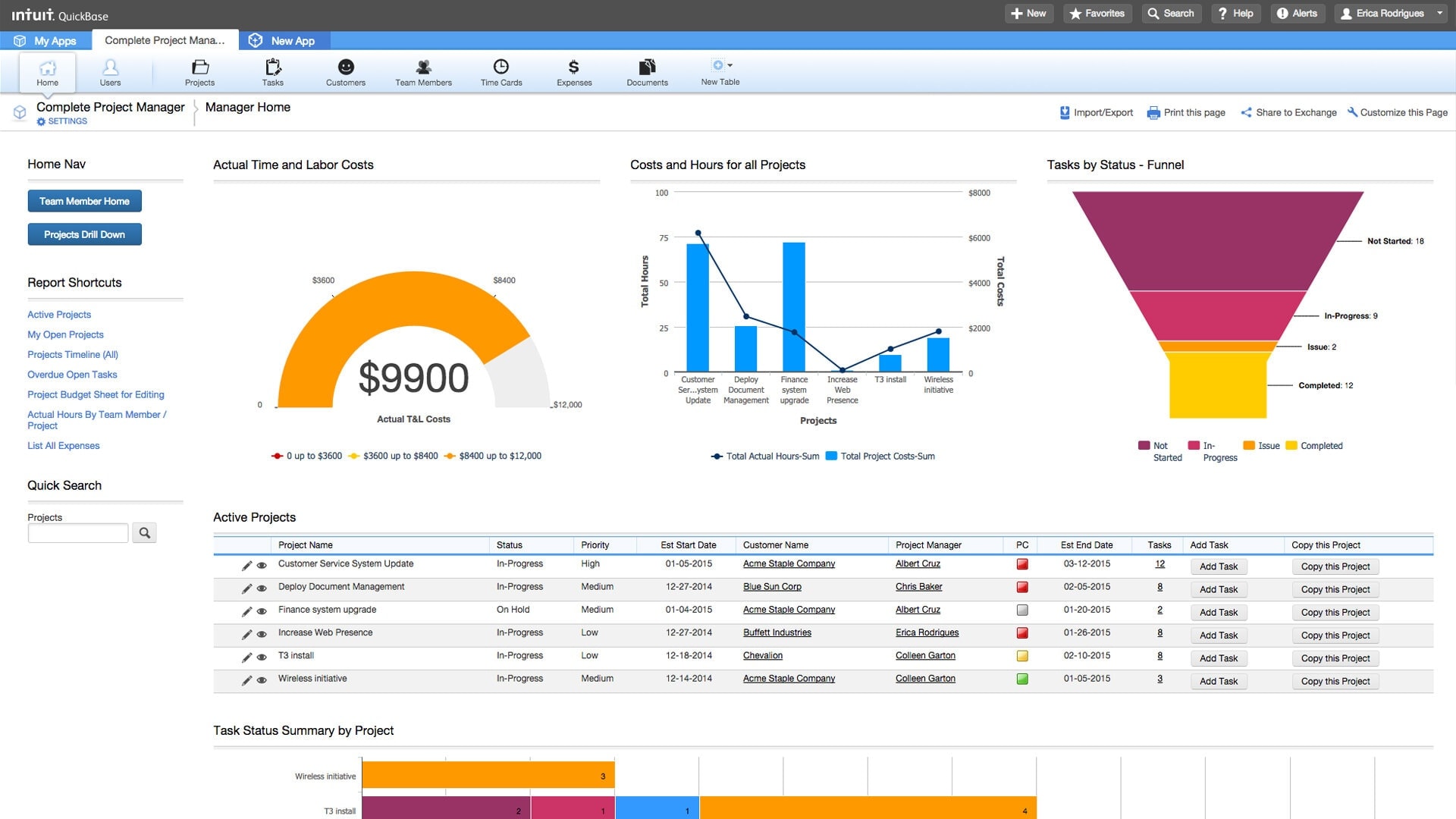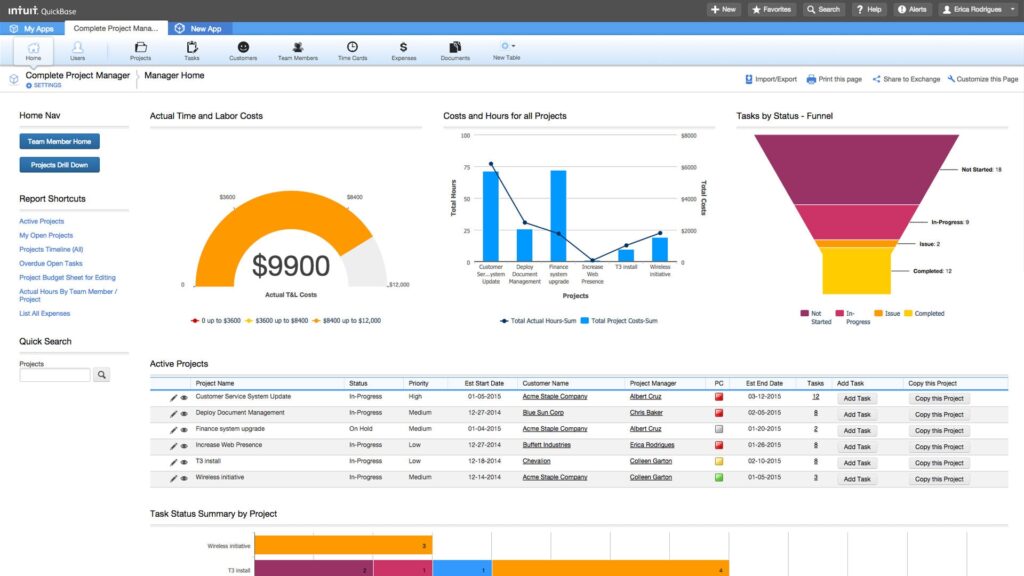 Quickbase allows people to see, connect and manage projects easily. As no-code collaboration software, Quickbase gives business users the power to customize solutions to fit their specific needs—from building skyscrapers or web development—without needing technical expertise. Users can leverage existing system data to effortlessly create files, reports, dashboards and forms that align perfectly with their workflow with no complex coding necessary. Businesses using Quickbase as their collaboration tool can streamline operations while quickly adapting to changing requirements without technical hassles getting in their way.
Quickbase project management tool facilitates collaboration across existing systems with key contributors so that you can mitigate risk, improve team collaboration, manage projects more effectively and reduce unexpected costs. Automated workflows ensure all team members always have access to pertinent information at any time with granular permission settings for individual team members.
Who should use Quickbase?
Quickbase project management tool is ideal for professionals ranging from business problem solvers, IT leaders and Heads of Real Estate.
Key features
No-code Development – When it comes to app development, no-code development allows your team to quickly and effortlessly manage projects while cutting the costs associated with traditional deployment, maintenance and development processes.
Automated Workflows – Quickbase integrates existing systems through Pipelines to easily connect data between teams and avoid duplication of effort.
Drag & Drop – Users can move tasks around, update dependencies and change priorities using this technique.
Due Dates – Project managers can set either manual or automatic project timelines using custom templates.
8. Runrun.it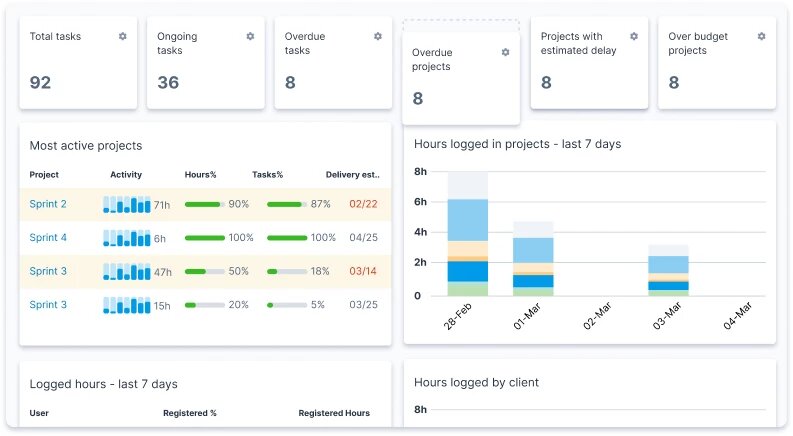 Runrun.it is a Cloud-Based Work Management Solution. Any organization, agency or even marketing team can use this great tool to monitor employee time usage. It's a novel and easy solution to a common problem. Think of Runrun.it as a playlist of jobs, projects and workflows. To begin, the user presses either Play or Run. Time and money are tracked in real-time and assigned to specific customers, projects and tasks. A powerful set of data lets you control and understand project and client profitability.
Who should use Runrun.it?
Сompanies of all sizes will benefit from using Runrun.it.
Key features
Whether they prefer Kanban or Gantt, your team can work at their own pace with the world's easiest tool.
Real-time task and project tracking. Create bespoke dashboards to report on your team's KPIs to upper management and clients.
From project requests to delivery approvals, centralize data and optimize workflows.
Equalization and continued progress toward your goals can be ensured by using project and task templates.
An AI tool will let you know in advance if there will be any kind of delay, so you can make informed decisions.
9. Workzone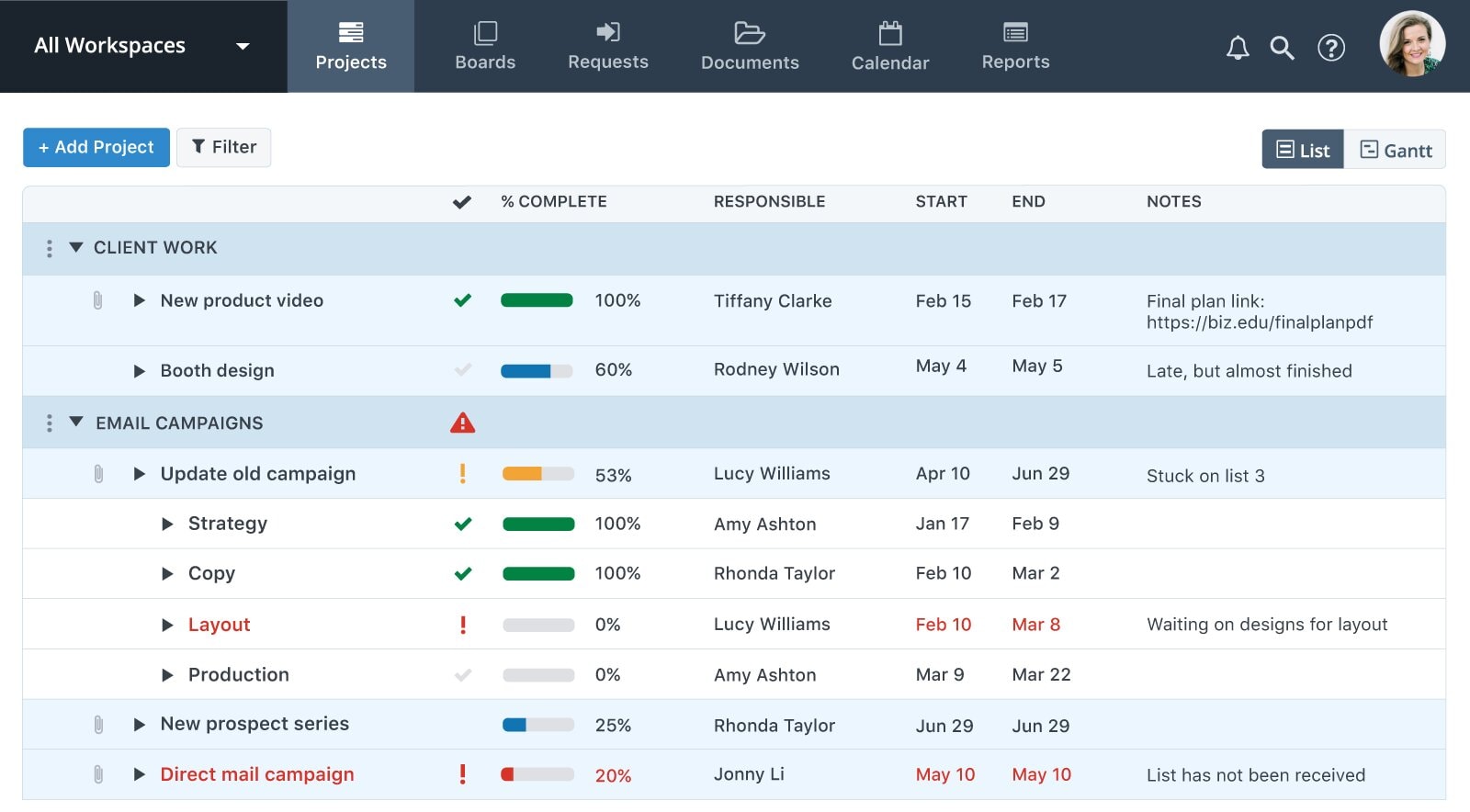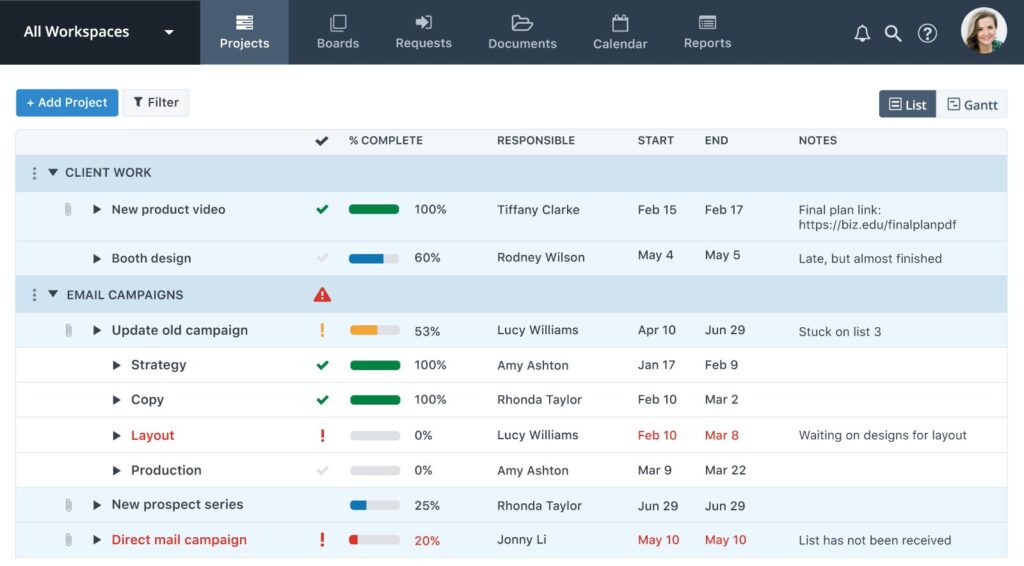 Unlike more simplistic project management tools like Trello, this program gives you more control over how your clients, business partners and team members access your projects and data.
Workzone's project management features to aid in maintaining workflow consistency and efficiency. Also, project-related file sharing is possible. Simply restrict each user's access to only the appropriate folders or documents. Coworkers, customers and suppliers can start document sharing without compromising security.
Who should use Workzone?
Marketing departments, ad agencies, colleges, and any organization that manages many projects and needs to share them with technical/non-technical users.
Key features
Creation & Assignment – Create user-specific tasks with details and deadlines.
Recurring Tasks – Automatically schedule recurring tasks at predefined intervals.
Views – Customize internal and external project views (especially for customers).
Resource Definition – Create and categorize human and material resources by skills and other criteria.
Customize survey questions and report layouts to fit your brand's image.
Use Gantt charts to visualize your finances and resources.
Sendmeeting and deadline remindersusing the shared calendar.
Workzone allows PDF and image markup comments.
10. Wrike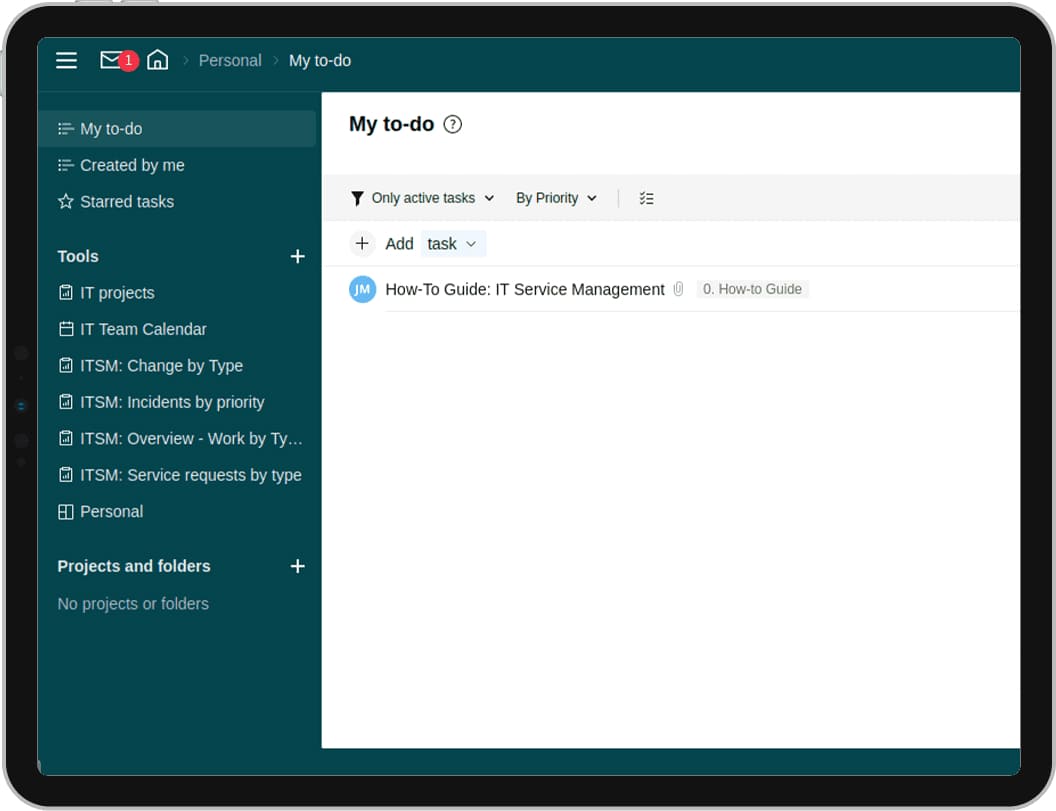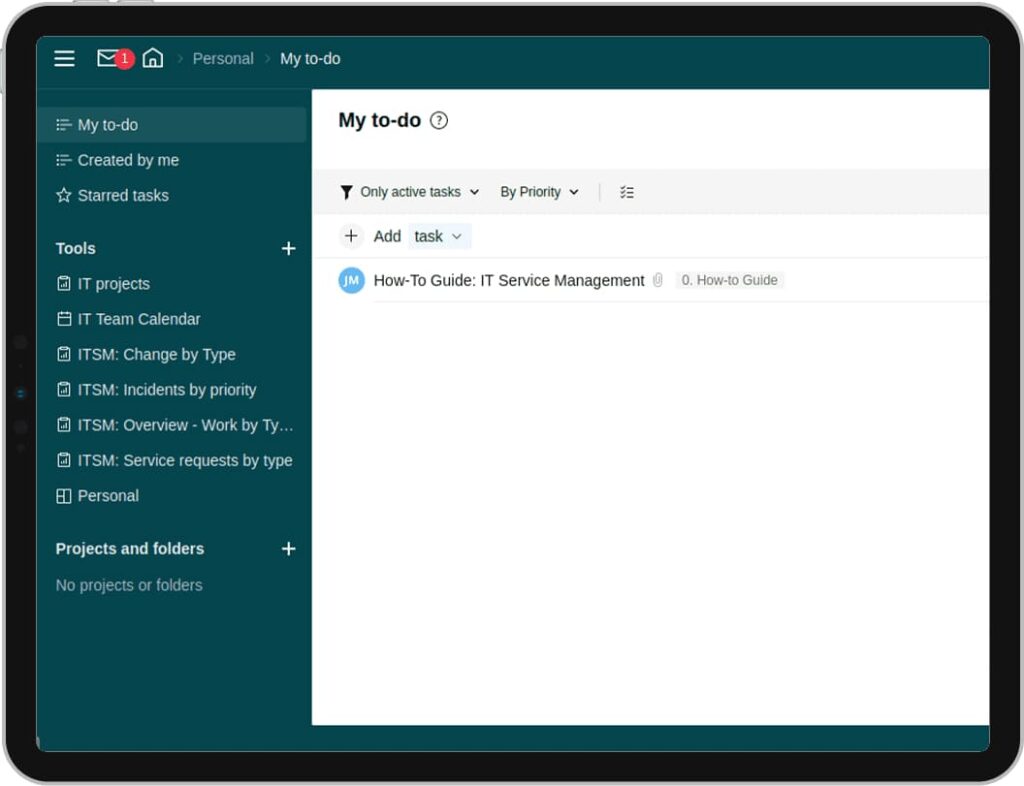 Wrike is a great client collaboration platform. It is a project management and collaboration platform designed for businesses and teams that want to streamline their operations, foster innovation and achieve more together. One of its benefits is that it's super convenient to access its features on the go through native mobile apps.
With its unparalleled strength, adaptability and user-friendliness, Wrike is one of the project management software your business will ever need to grow, optimize and respond quickly in a highly competitive market.
Who should use Wrike?
Mid-size and enterprise firms that value teamwork, work on various projects and need to ensure great real-time collaboration with clients.
Key features
By automating actions with rules, Automation Engine reduces manual labor.
Share files, calendars and folders in customizable workspaces.
There are a number of ways to get in touch in Wrike, such as the inbox, dashboards, @mentions, group chat, private messaging, alerts and notifications.
Monitoring both the overall and individual task progress.
Wrapping up
Keeping clients satisfied is essential for business success. Prioritizing customer happiness allows businesses to foster customer loyalty while garnering positive word-of-mouth referrals that attract new customers.
Maintaining relationships with customers can be challenging due to frequent emailing and Dropbox file management. Finding client collaboration tools to simplify your workflow has never been more essential in today's era of widespread digitization and increasing project complexity. We have put together a list of 10 client collaboration tools that can help keep clients updated, easily share files, facilitate idea exchange and ensure deadlines are met. So, why would you wait any longer? Give yourself the gift of seeing how these can transform the client relationship today – get to work with client collaboration software and experience the effects yourself!
Get personalized tips on enchasing your client relationships
Visit our Twitter page for more articles and updates!
Disclaimer
Parties other than Nimbus Platform™ may provide products, services, recommendations, or views on the Nimbus Platform™ site ("Third Party Materials"). Nimbus Platform™ is not responsible for examining or evaluating such Third Party Materials, and does not provide any warranties relating to the Third Party Materials. Links to such Third Party Materials are for your convenience and do not constitute an endorsement of such Third Party Materials.
Previous post
Explore Best Alternatives for Bubble.io Dynamic Web Design
Next post
Best 9 Client Reporting Software Tools to Use in 2023