Do you struggle to manage all the tasks you need to do in your business? Are you overwhelmed by the amount of paperwork involved in running your business? Do you wish you had an online system that would help you manage everything from sales to customer service to invoicing?
To streamline your business, you need to stay organized by using online apps. But how do you organize your business without spending hours every day without the proper online tools?
As technology evolves, so too must your methods of organizing yourself. Whether you're running a small business or just managing your personal schedule, these online organization apps will help you stay organized and productive in 2023 and beyond.
If you're looking for a way to streamline and simplify your business, then you need to know about these online organization apps.
What are Organization Apps?
How Can Apps Help Your Business?
The Benefits of Organization Apps
How to Choose the Best Organization App?
7 Best Organization Apps to Consider in 2023 (Pros, Cons, Pricing)
1. Nimbus Platform
2. Google Calendar App
3. Dropbox
4. LastPass
5. Zapier
What are Organization Apps?
An organization app is an online application designed to make it easier for you to keep track of your time, money, contacts, and organize other important information.
These online organization apps allow you to create to-do lists, set reminders, and even send automated emails. These apps also have features like calendar integration, which allow you to organize and sync your online appointments with your phone's calendar.
Organization apps can include features such as task tracking, project management, and online scheduling tools. These organization tools are designed to help teams organize their online collaboration efforts. They provide a central location online where everyone can access important documents, files, and data. Some organization apps even offer features like time tracking, expense reporting, and document storage.
Organization apps are usually cloud-based, which means they store everything online rather than on local servers. The best organization apps sync across multiple devices and online operating systems.
How Can Apps Help Your Business?
Organization apps can help you organize your business in the following ways.
1. Improve productivity
Whether you work as an entrepreneur or employee, your productivity and how you organize yourself matters. Organization apps can help you increase productivity and give you a centralized location or a command center where you can organize and access all your important information.
This can include contact details, financial records, and other information you need to complete your tasks. With organization apps, it's easy to organize your contacts by adding new ones, updating existing ones, and sharing relevant information with other users.
2. Stay organized
When you're busy juggling several tasks at once, it's easy to forget something. That's why it's vital to organize yourself using project and task management apps.
When you use organizing apps, you will know what you need to organize to stay on top of things. You can quickly add notes, create checklists, and set reminders. All of this, which can be done using online apps, will help you remember what needs to be done next.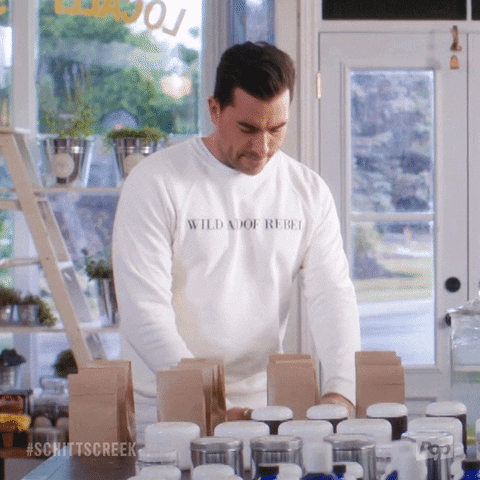 3. Manage projects
Any project requires time and energy. If you don't plan and organize yourself well, you may end up wasting both. With organization apps, you can have a central location online, where you can view all your ongoing projects.
You can see when each project started, review your to-do list, and assess whether things are progressing to your plan. You can view time-day productive requirements, and for longer projects, see the weeks left to complete all tasks.
4. Keep track of time
It's essential to track time if you want to boost productivity. Without it, you'll never know how much time you spend on certain activities.
Organization apps boost productivity by automatically recording the time you spend on various tasks by using built-in online time tracking.
You can also set alerts to remind you when you need to start or finish a project.
5. Collaborate more effectively
Collaboration is key to growing your business. However, not everyone is comfortable sharing their ideas with others, especially if communicating using online apps with colleagues they don't know well.
When you're collaborating with colleagues online, you need to communicate clearly. Good online organization apps let you send messages, share files, provide feedback, and hold video conferences.
6. Save money
Running a business isn't cheap, especially with all the online apps you need to use, so saving money wherever possible is one of your highest priorities.
One way to do this is by automating repetitive tasks. For example, you can use an online organization app to automate sending emails. This means you won't have to pay someone else to do it.
Another option is to outsource some of your administrative tasks. When you outsource them, you can have free time to focus on your core competencies. If you want to outsource tasks, you will need to use online apps to keep track of tasks, so that things get done on time.
If you want tools to better organize how you manage your business, then you need to look for online organization apps that will make your life easy.
The Benefits of Organization Apps
The great thing about organization apps is that they offer a variety of benefits.
1. Puts more emphasis on how you organize your workflows
An effective workflow is crucial to boosting productivity. When you use online organization apps, you can easily organize your workflows and define which processes should happen automatically.
For example, you could set up a rule that sends an email whenever a task is overdue. Or you could set up a reminder to call a client after two days.
2. Makes managing contacts easier
Managing contacts is one of the most important aspects of any business. However, many businesses still rely on manual processes to manage their contacts rather than using online organization apps. This makes it much harder to find information about clients and leads.
By using online organization apps, you can organize and manage all your contacts in one place. This means you can access their details at any time.
3. Helps you prioritize your workload
Many people find themselves overwhelmed by the number of tasks they need to complete if they do not organize themselves well. This is why prioritizing is important if you want to better organize your workload.
Online organization apps let you break down your workload into smaller chunks, which is then easier to organize your tasks. Then, you can assign priorities to each chunk. When you organize your priorities efficiently, it's easier to see what you need to put focus on.
4. Keeps you focused on the right projects
Sometimes, you may not realize you've been working on something that doesn't really matter if you're not using proper online organization apps.
To avoid this problem, you need to focus on the right projects. Online organization apps help you manage and organize your tasks or events well. This means you can identify which projects you need to work on and when.
When you use organization apps to manage your workflow, you can avoid being distracted. You can simply log off from online social media sites, close your browser, and focus on completing your tasks.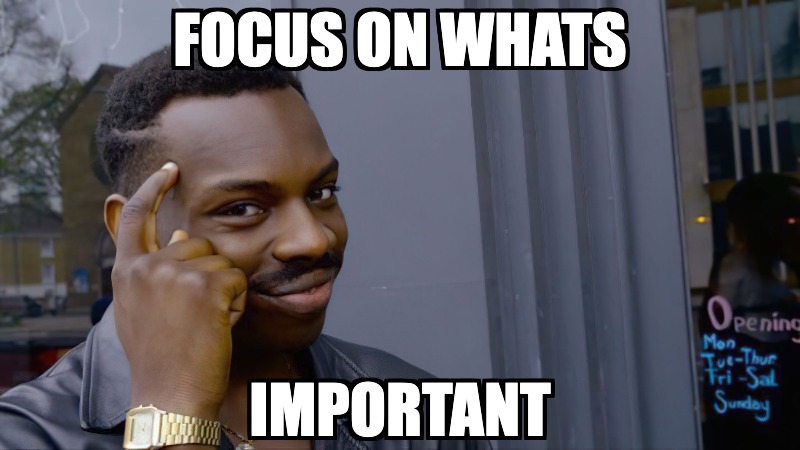 5. Boosts your team's collaboration
A lot of companies today are made up of multiple teams. Each team has its own responsibilities. If you don't organize your teams and train them to collaborate properly using online apps, you risk losing valuable time.
Using online organization apps allows you to create different groups within your company. These groups can have different roles, such as marketing, finance, accounting, etc.
You can also use these organization apps to share files online with other members of your team. This way, everyone knows exactly where to go when they need to access certain documents.
6. Manages your finances efficiently
Running a business is costly. As a result, you need to save money wherever possible.
One way to save money is to use apps to organize and automate your processes. With online organization apps, you can quickly and accurately record expenses, as an example.
This way, you won't spend time manually entering data. Instead, you can use apps to scan receipts and enter details directly into your accounts.
7. Improves your efficiency
Organization apps make it easy for you to track your progress. This means you can easily measure your productivity levels. If you want to improve your work habits and better organize your activities, you should always monitor your performance.
With organization apps, you can monitor your daily activities. This will allow you to better understand your strengths and weaknesses so you can identify ways to improve.
This is important if you're a manager responsible for the performance of your team. How you organize activities and manage your team will affect the results you achieve, which makes it critical to use the right apps.
How to Choose the Best Organization App?
If you're searching for organizational tools or apps, there are many options available. However, not all apps are similar. Here are some things to consider before choosing organization apps.
1. How much do they cost?
You can get organization apps on free premium plans. However, their pricing basic free plans usually offer limited features. The pricing structure will depend on the features available. Some organization apps offer basic functions, while others offer advanced features.
2. What kind of user interface (UI) does it have?
Some organization apps have simple UIs, while others are more complex. The complexity of the UI affects how easy it is to navigate through apps. Having a simple interface that's easy to use will make a difference.
3. Do they integrate with other apps?
Integration between organization apps is another factor to consider. For example, if you use the Google Calendar app or if you use Google Tasks, then you'll need to choose an organization app that integrates with it.
4. Are they available on different devices?
You'll need to choose organization apps that are available on Mac desktop, Android mobile, and other iOS and Android devices. Having the flexibility to use mobile apps is critical for occasions when you don't have access to a website via a desktop device.
5. Is they compatible with your devices?
The operating system you use may affect whether you can install an organization app. Some organization apps require online iOS devices, while others only support Android phones.
6. Can I customize the apps?
Many organization apps give you the option to customize their appearance. This makes it easier for you to find what you're looking for.
7. Do they have adequate security measures?
Security is one of the most important factors to consider when selecting organization apps. Make sure the organization apps you select offer strong encryption and password protection.
8. Have they got privacy policies?
It's important to know how apps handle your information. Many organizations collect data about users.
For example, some organization apps ask permission to access your location. Others may request access to your contacts list. You should know this before downloading any organization app.
9. Which alternatives are better?
There are plenty of organization apps available. It's important to compare apps against their alternatives. Do plans start at a high price or do they have pricing-free plans?
10. How many reviews have they received?
Reviews are very helpful when deciding which apps to download. Read as many reviews of the apps you're considering before deciding.
11. What are the pros and cons?
Find out what the pros and cons of the organization apps you want to use. Ask yourself:
Will these apps save me time?
Will these apps help me accomplish my goals?
7 Best Organization Apps to Consider in 2023 (Pros, Cons, Pricing)
Here are seven of the best organization apps dedicated to helping you organize your business and your life. Some of these apps are great and totally worth the year premium pricing.
1. Nimbus Platform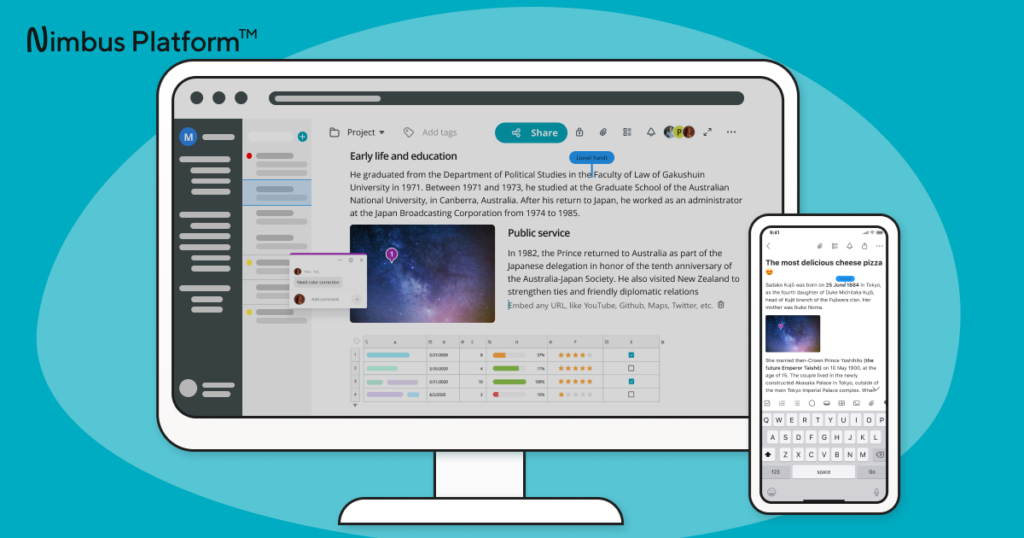 One of the best all-in-one apps, Nimbus Platform, provides several apps to streamline your business workflows. Some features of Nimbus Platform include:
Integration with many commonly used apps. You can better organize and automate your processes and workflows using integrations with apps such as Google Docs, Google Sheets and Google Calendar.
Create notes in any format online. Using Nimbus Note, you can add multi-format information, such as text, videos, voice notes, images, links, attachments, and other documents.
Use Nimbus Clipper to save content from the internet. This web clipper allows you to clip your emails, articles, and PDF files, and also annotate them.
Create video screencasts. Use the Nimbus Capture browser extension to capture your screen, which can be your entire desktop or a selected browser tab.
Collaborate with team members using Nimbus Chat. You can have conversations using private or public channels.
Upload and share your video recordings and screenshots via a private or public shareable link. With generous cloud storage limits, you don't have to worry about running out of storage space.
Manage your projects and tasks. Track all your tasks by creating to-do lists, adding tags, and assigning due dates.
Access your information on mobile devices, tablets, laptops, and desktop computers. You can use Nimbus apps on iOS, Android, Mac, and Windows devices.
Pricing plans offered include:
Free on unlimited devices.
Pro from $6 per user / month.
Business from $8 per user / month.
The Pro plan offers more features than the Free plan, and the Business plan offers more features than the Pro plan.
To find out more about Nimbus Platform and to start a 14-day free trial, visit this website.
2. Google Calendar App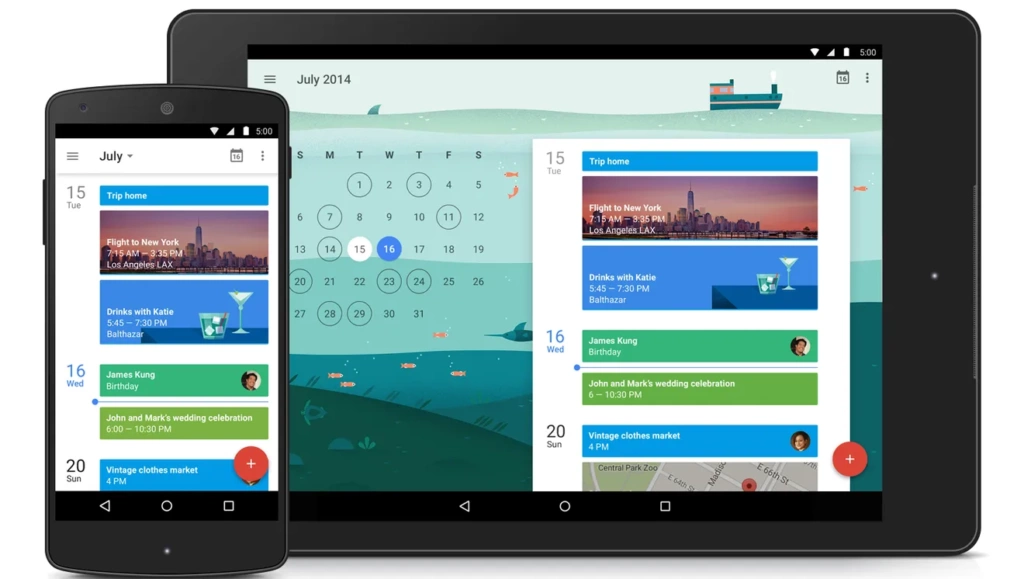 One of the most popular free premium calendar apps, Google Calendar is widely used because of its many features.
Pros
Free to use.
Quickly organize and schedule meetings and events.
Integrates with Google Meet.
Get reminders about upcoming meetings.
Create multiple calendars, which are ideal when working with teams.
Better organize your calendar using color coding.
Cons
Can only access if you have an internet connection.Need to have a Google account before you can use.Basic interface without many customization options.Appointments can be difficult to read if you have many of them.Not always easy to connect to other apps.
3. Dropbox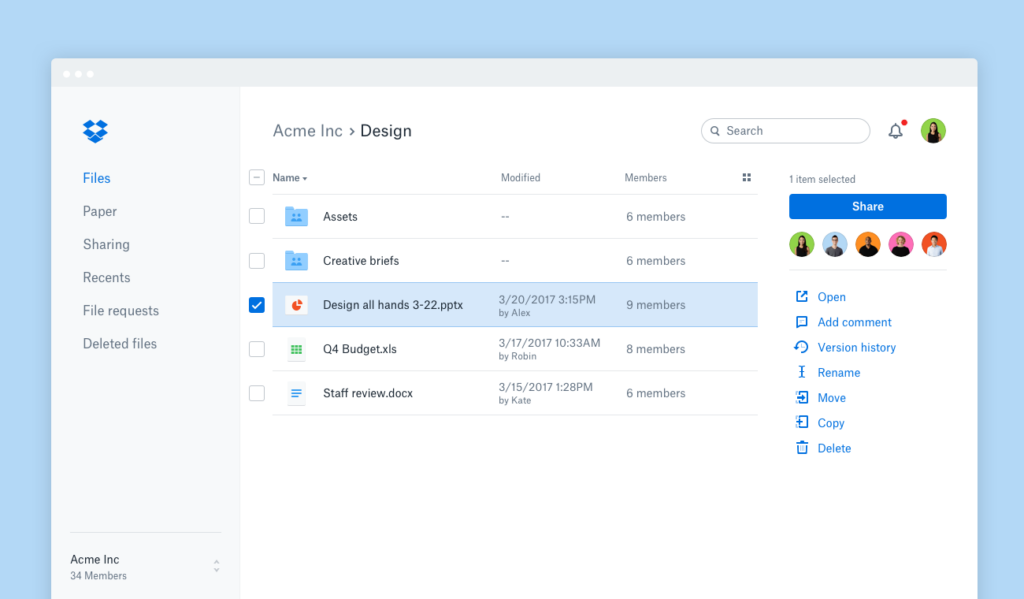 One of the leaders in cloud storage, Dropbox, takes care of all your storage needs.
Pros
Easy integration between computers, mobile devices, and online accounts.
Drag-and-drop functionality, which allows you to organize and move files between folders.
File versioning, which allows you to revert to previous versions of documents, photos, videos, presentations, and spreadsheets.
Share folders via clean email, text messages, social networks, and instant messaging services.
Unlimited syncing between accounts without worrying about bandwidth limitations.
API (application programming interface, which allows you to integrate Dropbox with other apps.
Cons
Only 2GB storage offered on the free plan.
Cannot access files stored in the cloud without internet access.
Poor folder management structure.
Need an internet connection to synchronize your files.
Difficult to share files with people who don't have Dropbox accounts.
Pricing options include:
Basic plan, offering 2GB of free storage.
Plus plan at $9.99 per month (if billed annually) offering 1TB of storage.
Professional plan at $19.99 per month (if billed annually) offering 2TB of storage.
4. LastPass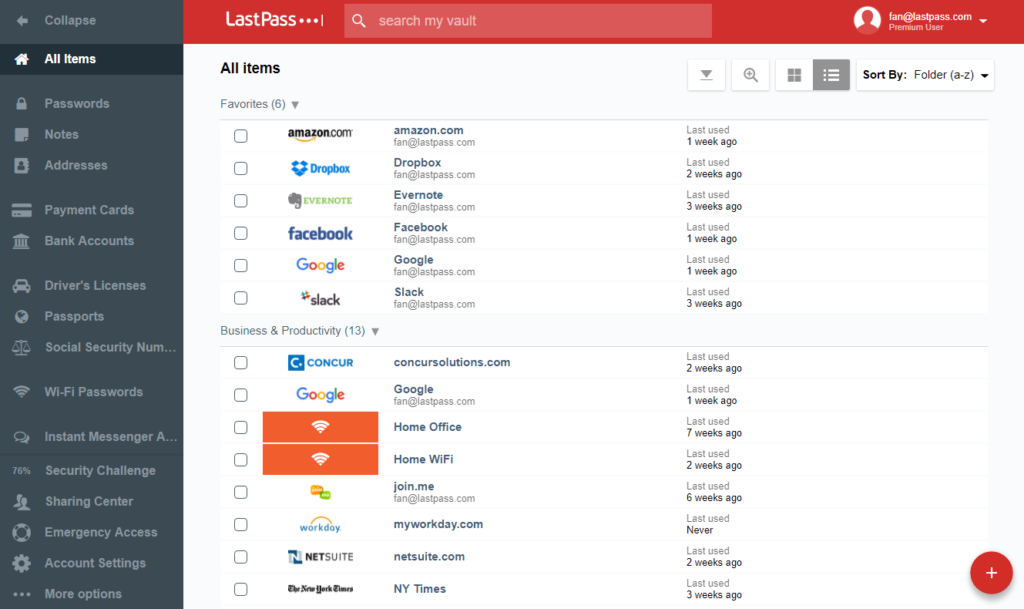 If working with remote teams who use many apps, you will need a password manager. LastPass is a password management app that allows you to securely share login details with team members.
Pros
Create a master password and never worry about trying to remember all your passwords.
Save sites that you visit frequently as favorites and use the autofill option to sign in.
Access all your passwords on multiple devices because everything you save is synced automatically.
Set customized permission levels, which allow you to share accounts without sharing passwords.
Create a shared teams folder instead of sharing passwords individually and customize each user's permissions, so they only access what they need.
Cons
No desktop app. The only way to use it is with a browser plugin.
Free plan limited to one device only, which means you cannot sync your passwords across multiple devices unless you have a subscription plan.
Poor customer support. Only a chat bot is available on their website.
Emergency access is only available to paying subscribers.
Higher price compared to other alternatives.
5. Zapier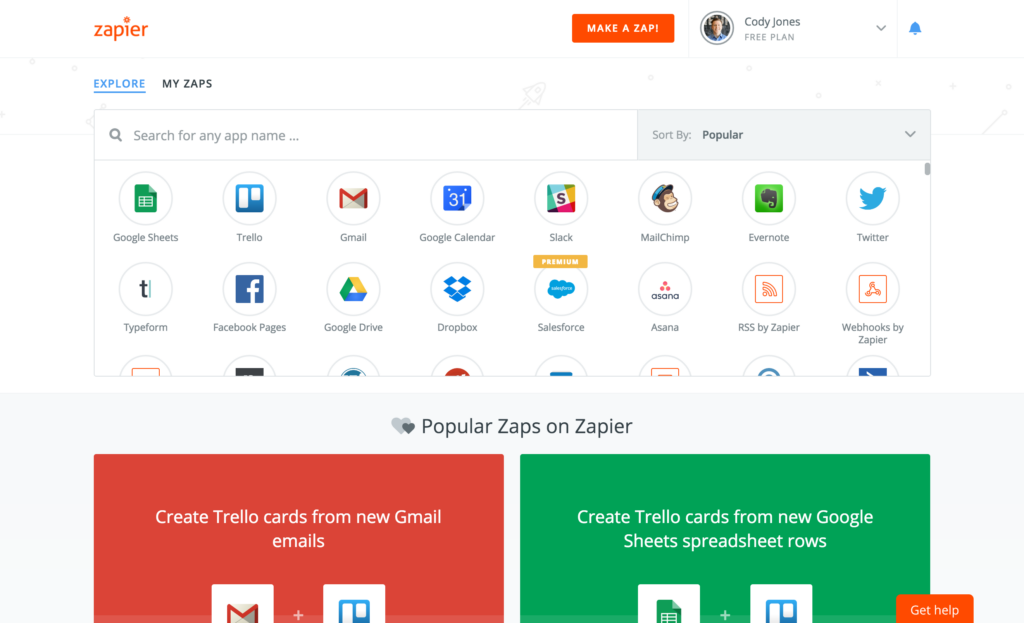 Setting up automations is essential if you want to maximize efficiencies. Zapier is an automation tool that allows you to connect two or more apps together without needing programming knowledge.
Pros
Automate tasks using integrations between thousands of apps.
Improve your daily workflow using reminders, sending emails, or updating records in your CRM.
Automate tasks using if/then logic.
Reduce manual process and minimize human error.
Cons
More expensive as you increase the number of automations.
Difficult to figure things out initially, especially if you don't understand automations.
Hard to use for complex workflows.
Difficult to integrate with other apps at times.
Pricing options are:
Free plan, which gives you 5 automations.
Starter plan at $19.99 / month, billed yearly, which gives you 20 automations.
Professional plan at $49.99 / month, billed yearly, which gives you unlimited automations and more advanced features.
Team plan at $299.99 / month, billed yearly, which gives you unlimited automations and more options suited for team automations.
In conclusion, if you're looking to streamline your business in 2023 and beyond, the organization apps reviewed will allow you to collaborate across teams, share files, track tasks, and automate repetitive processes. They also provide a lot of flexibility for customizing workflows, which means you can tailor each app to fit your specific needs.
Every business needs a document management system to manage the flow of information. Find out how you can use a document management system to improve your business efficiencies in our latest blog post.
Being able to capture screenshots or create screen recordings is helpful when you want to share ideas or provide feedback. In one of our blog posts, review seven of the best free screen recorders available today.
If you found this article helpful, please share it so others can benefit too.
Visit the Nimbus Twitter page for the latest news and updates!
Disclaimer
Parties other than Nimbus Platform™ may provide products, services, recommendations, or views on the Nimbus Platform™ site ("Third Party Materials"). Nimbus Platform™ is not responsible for examining or evaluating such Third Party Materials, and does not provide any warranties relating to the Third Party Materials. Links to such Third Party Materials are for your convenience and do not constitute an endorsement of such Third Party Materials.
Previous post
Top 7 Benefits of Knowledge Sharing for Your Business
Next post
Best OneNote Alternatives You Must Know About