25 Best Trello Alternatives for 2023
Remote work has never been so popular as nowadays and yet so challenging. Teams' success depends entirely on high-quality collaboration and project management tools like Trello and its alternatives.
What is Trello?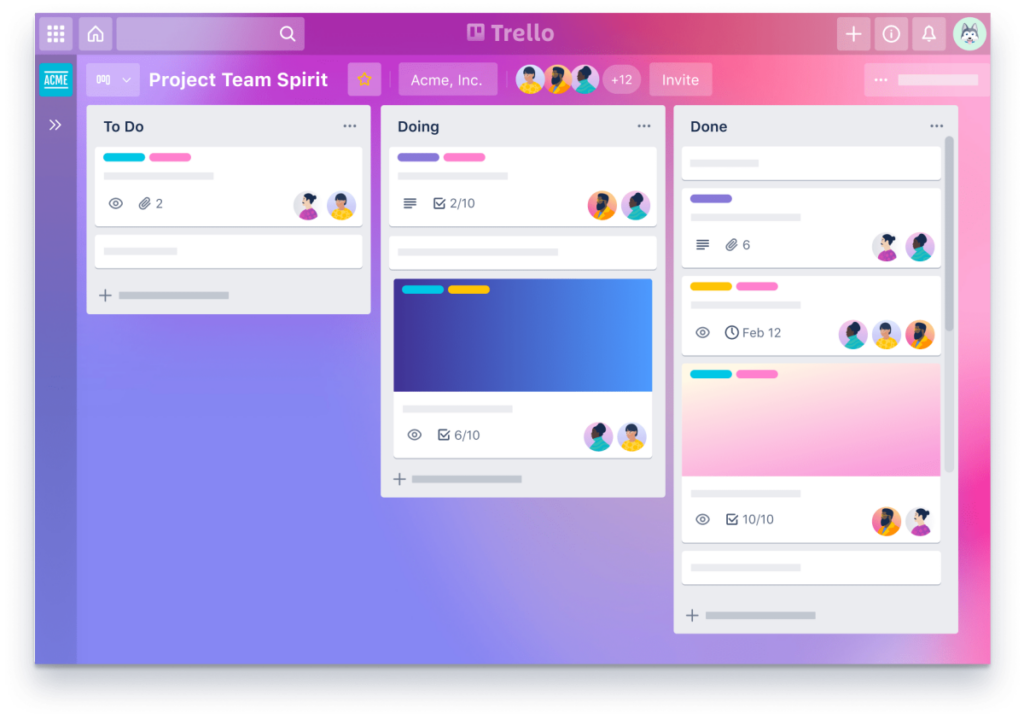 Sharing ideas and working together is crucial to the success of any endeavor. Trello, its alternatives, and other similar collaborative project management systems help teams improve their work quality, generate new ideas, and operate more efficiently.
Trello is a Kanban board app that helps teams organize their work visually and straightforwardly. The good news is that several Trelloalternatives are available today that you may test if you're searching for a tool that may work better for your company or field.
Why Do People Use Trello?
Trello helps you organize your projects and communicate with your team. Trello's interface is reminiscent of a whiteboard with post-it notes: cards representing projects and tasks may be arranged in columns and rearranged to reflect changes in the project's workflow, ownership, and status.
The accessibility of Trello is a significant factor in its success. Most people can pick up the basics of Trello in a matter of minutes and be productive using it on their own or as part of a team within a day. In contrast, traditional project management tools are tailored toward professional project managers and employ complex techniques like Gantt charts that are not easy to use or understand.
What Are the Main Trello Drawbacks?
There is much room for customization in tasks, from the description to the deadlines and the files attached. Notes may be added to tasks so everyone on the team can keep tabs on progress. In any case, Trello is very effective.
In addition to hundreds of other applications and services, Trello can have integrations with services like Google Drive, OneDrive, GitHub, Slack, Jira, and many more. Additionally, Trello is compatible with a wide variety of add-ons explicitly developed for the platform, such as a plug-in that generates a burndown chart from your Trello board and another that "snoozes" cards until a later date.
The Essentials of Trello
Every Trello account may have many boards. A board may be seen as the total of the efforts of one or more team members working together on a common goal.
Trello is a board containing lists and cards.
The board is the workplace and may hold as many lists and cards as necessary.
Card columns are organized into lists in Trello. The board might be used to keep tabs on everyone's progress on their assigned responsibilities; each list could represent a team member. Alternatively, you might set up the list as a workflow whereby cards would be transferred from one list to another. It is up to you and the specifics of your project.
The smallest element of Trello is called a "card," and it's generally used to label activities that need to be completed. The card has a name, and when opened, it may reveal further information in files, photographs, and notes. If you require your cards to have standard information, such as a team to-do list, you may develop a template for them. New users need minimal training to get started since cards can be accessed and altered with a single click, and cards can be moved across lists with a simple drag and drop.
What Should You Expect From a Competitor to Trello?
Making a list and highlighting where Trello falls short is a good idea, so you know what to search for in an alternative.
One of Trello's main selling points is the simplicity of its Kanban interface, which is particularly useful for agile teams due to the adaptability of Kanban boards. The software goes beyond a Kanban view, although it still significantly utilizes the principles of that project management method.
Trello's interface may be seen in one of six formats: calendar, timeline, dashboard, map, table, and board. Sadly, this also implies that your data is restricted.
It's common knowledge that teams make allowances for individuals with varying preferences — for example, some people like using alternative desk configurations. The absence of a List view severely constrains the functionality of the project management tool.
Another pitfall of Trello is its regional strategy. The free plan isn't available with the Calendar, Timeline, Map, Table, and Dashboard Views. The free plan only includes the Kanban board for project management, a significant drawback.
The Calendar View in Trello is not available in the program's free version. The difficulty with this is that various departments in your firm will want different layouts. Management tasks may be done in multiple ways, with specific departments, like marketing, preferring visual aids like Kanban boards. In contrast, others, like software development, may find themselves more comfortable using Gantt Charts.
What to Look for in An Trello Alternative?
You should be able to quickly assess everyone's current workload and make adjustments with the help of your project management software. Your project managers may delegate and keep tabs on tasks with ease thanks to management tools like project overviews and numerous assignees.
If you're looking for a tool to help you with task management and productivity increase but are unsatisfied with Trello, you can try out its alternatives.
The goal of a project management system is to aid enterprises in planning, tracking, and carrying out projects. The following factors should be taken into account while deciding on a project management system:
Having the capacity to plan out projects, delegate work, and monitor development
Project management software should be easy to learn and use, allowing team members to get in.
The Trello alternative technology should include numerous perspectives, such as a Kanban view, so that team members may take a more holistic perspective on their work.
The system should provide reporting and visualization options so that team members can easily monitor progress and spot problems.
Connectivity to Third-Party Services: check whether the project management software you're considering is compatible with your company's other software, such as Microsoft Office.
Is spending all day on Trello boards helping your productivity? We have compiled a comprehensive list of the 25 best Trelloalternatives to assist your team in choosing the best solution for your needs.
25 Best Alternatives to Trello
1. Nimbus Platform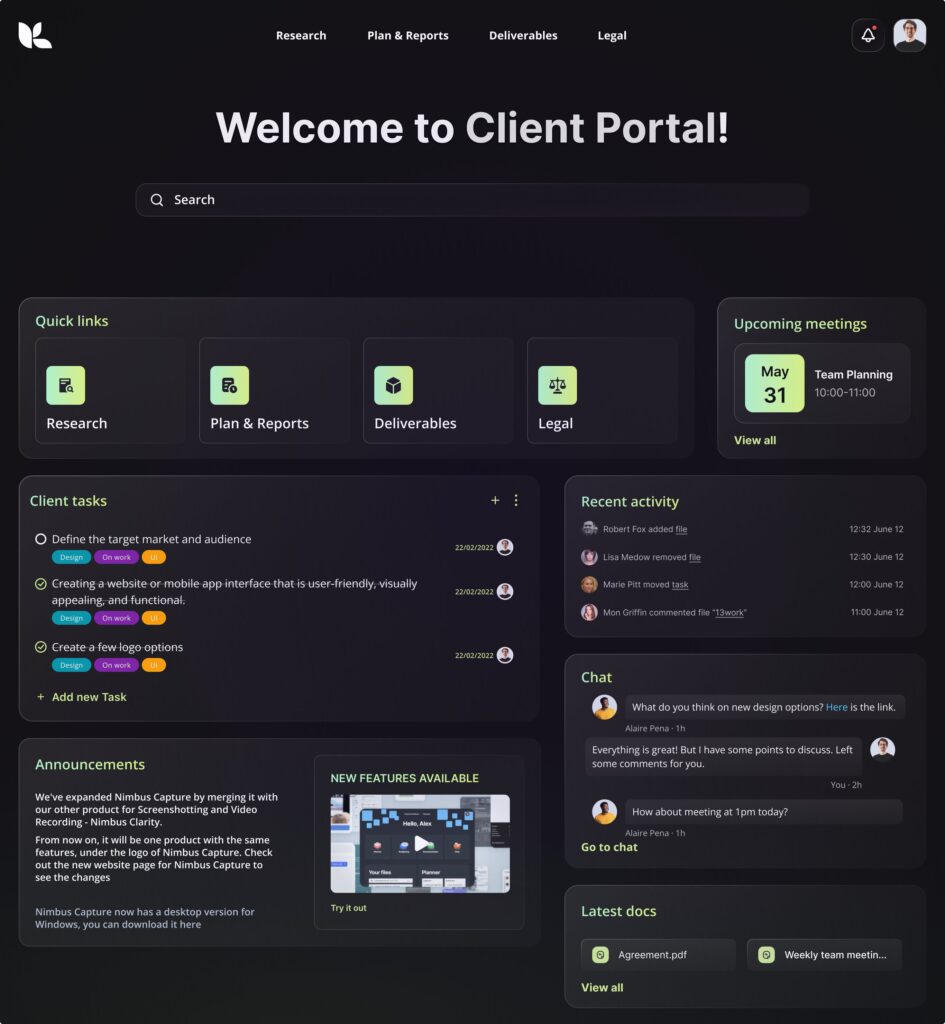 Nimbus Platform is a platform for managing data and collaborating with others. It offers three project management tools:
Nimbus Note is an excellent Trello alternative as it is a digital hub that centralizes teams' work and helps keep track of their documents. This service can be used to work with others on a project online. Nimbus Note allows you to create super documents and organize them in a clear folder structure. You can complete team tasks and exchange chat messages and comments for better teamwork. The first time team members connect to the internet, the changes they make to their team's notes will be reflected in the app.
It is easy to take screenshots and record the screen with the Nimbus Capture tool. It's available as a standalone Windows program and a Chrome plugin, and both may be used for facilitating communication and cooperation among virtual teams. The asynchronous nature of this collaborative platform allows for more transparent, concise explanations.
It's a web-based service that serves several purposes, including teamwork. Team members can bookmark websites, articles, emails, and PDFs with the Nimbus Clipper add-on. Users need not download advertising or extraneous graphics, only the required content.
2. Asana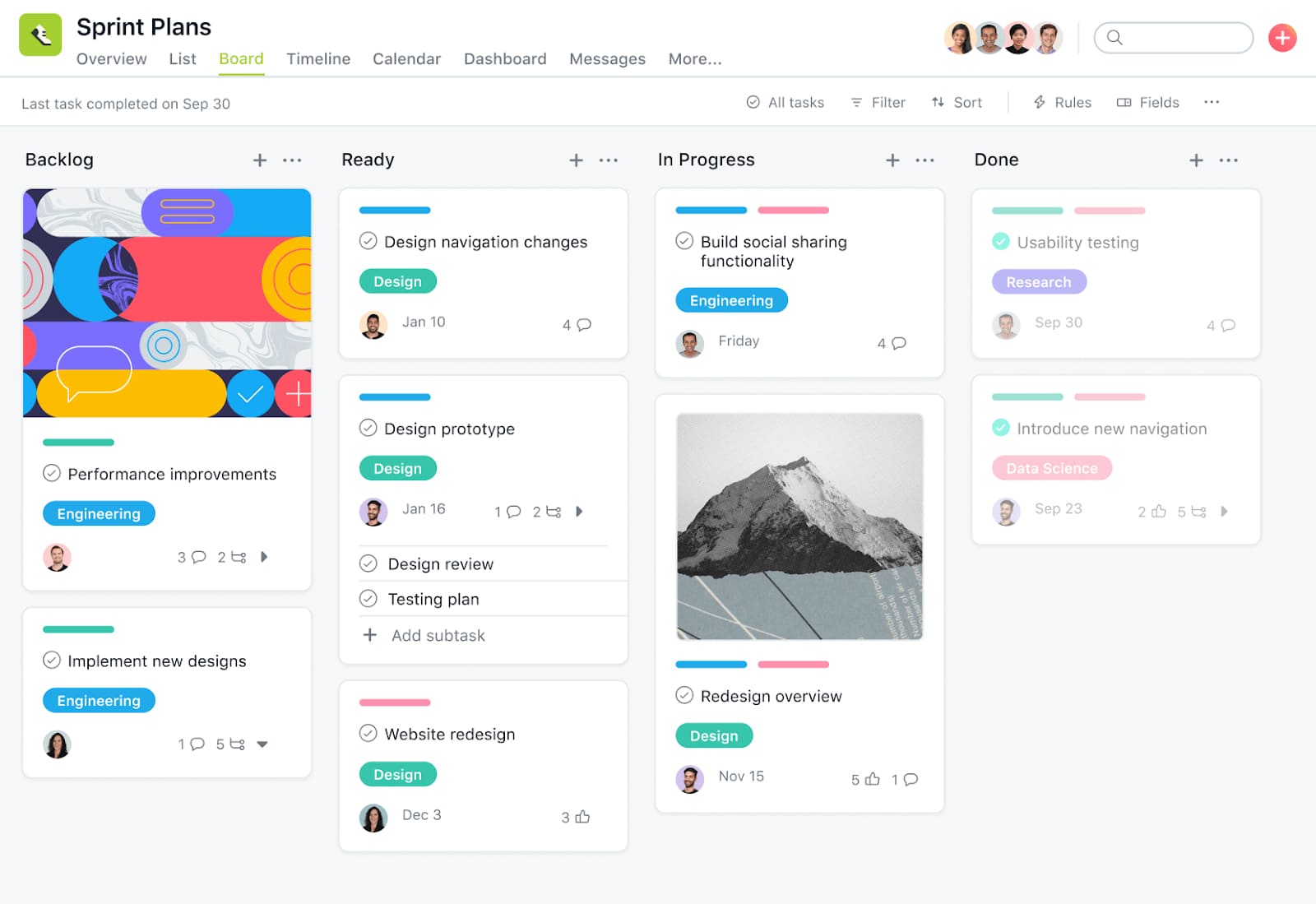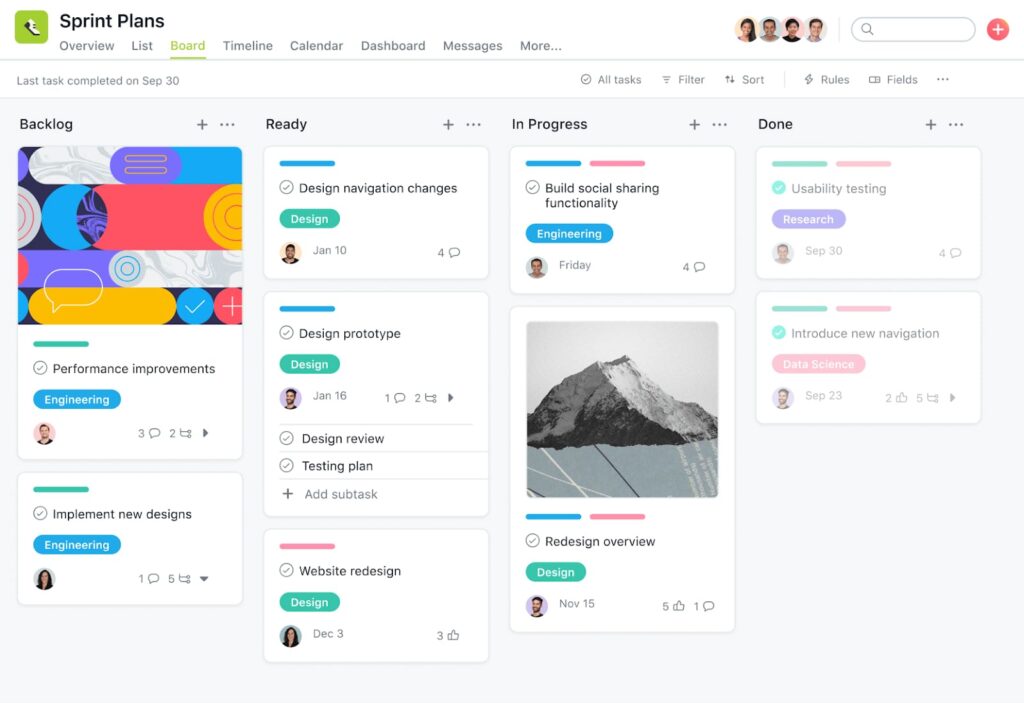 Over 50,000 companies use Asana, a worldwide comprehensive and aesthetically attractive project management solution. These companies include National Geographic, Airbnb, Lyft, and Spotify. According to the Linkedin article, you can automate multiple repetitive tasks in simple steps. The application tasks' framework may be organized into more significant projects and delegated to specific team members. With "Workload," a more recent tool, you can plot out the time commitments of each team member as the company moves forward with its many projects.
Asana has much more room for personalization than Trello, with features like custom fields, charts, and reporting. If you want to examine the efficiency of a project over time, Asana's reporting and monitoring features will be invaluable.
3. ProofHub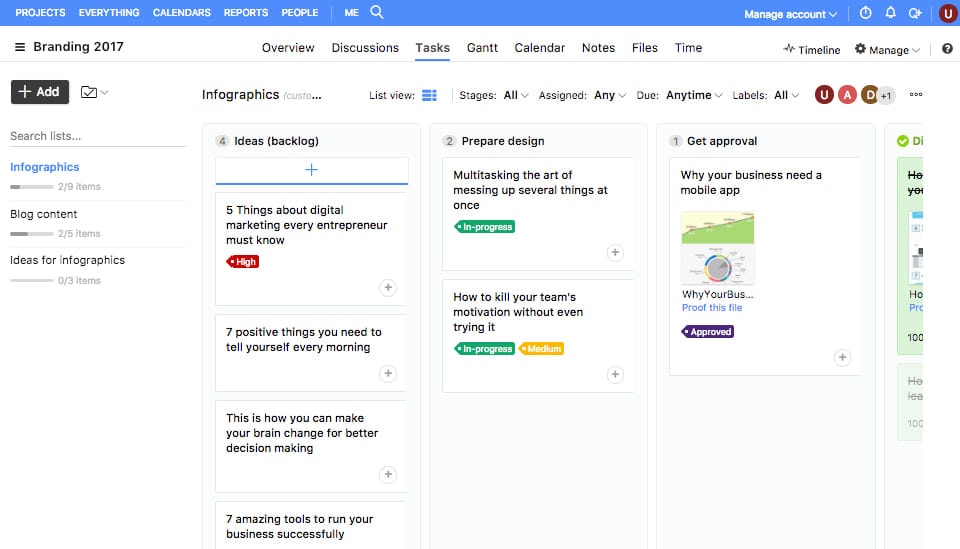 ProofHub is an excellent replacement for Trello since it centralizes all of your development resources in one place. Tasks, chat, unique roles, and custom workflows are the foundation of ProofHub, making it ideal for organizing complex projects across several teams. For teams who need a different method to visualize their work beyond the traditional Kanban boards, Trello now offers a table view and a Gantt chart.
When managing large-scale projects with several members, ProofHub is head and shoulders above Trello. ProofHub's time and resource tracking features, for instance, are helpful for big teams' managementcollaboration who charge by the hour.
4. Workzone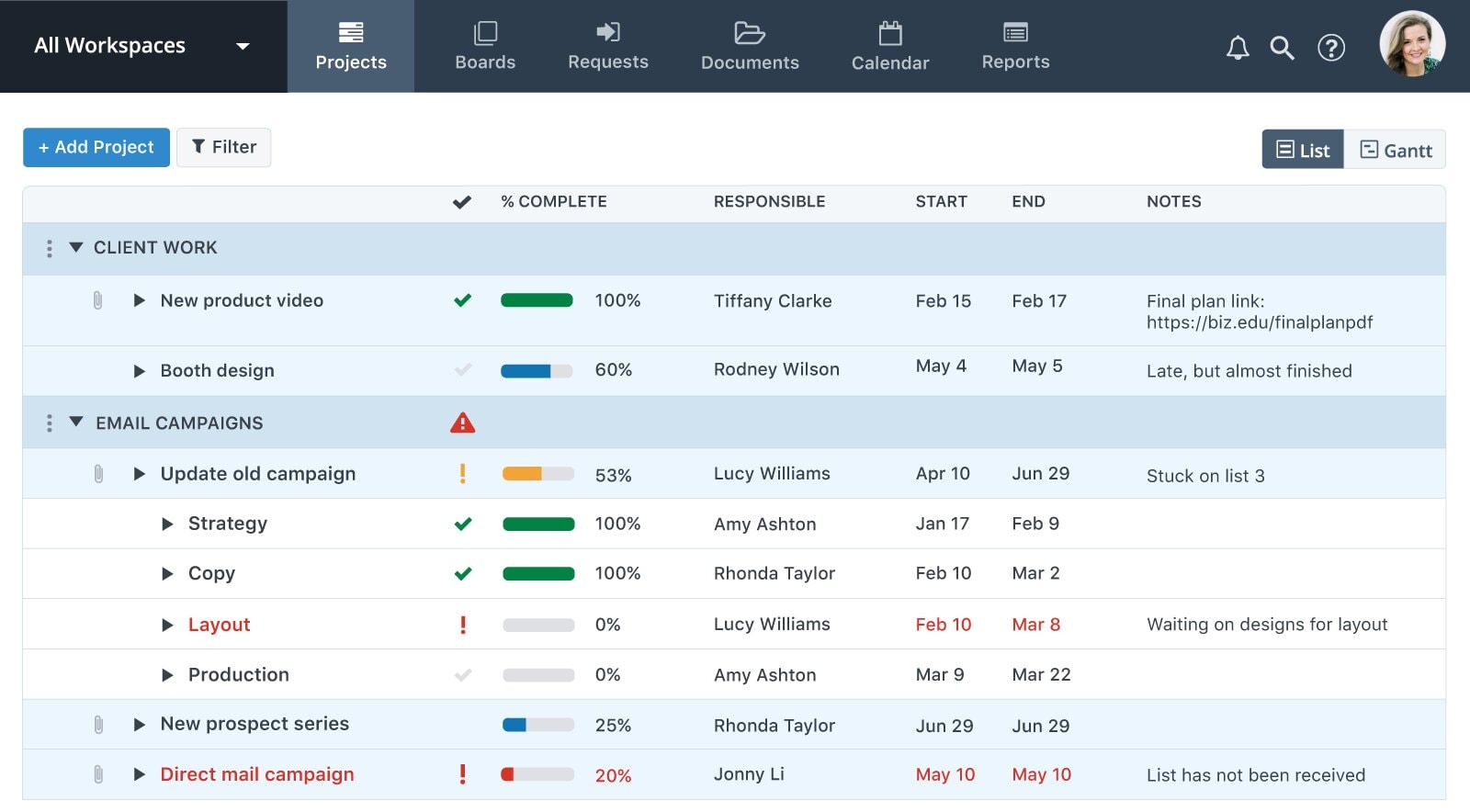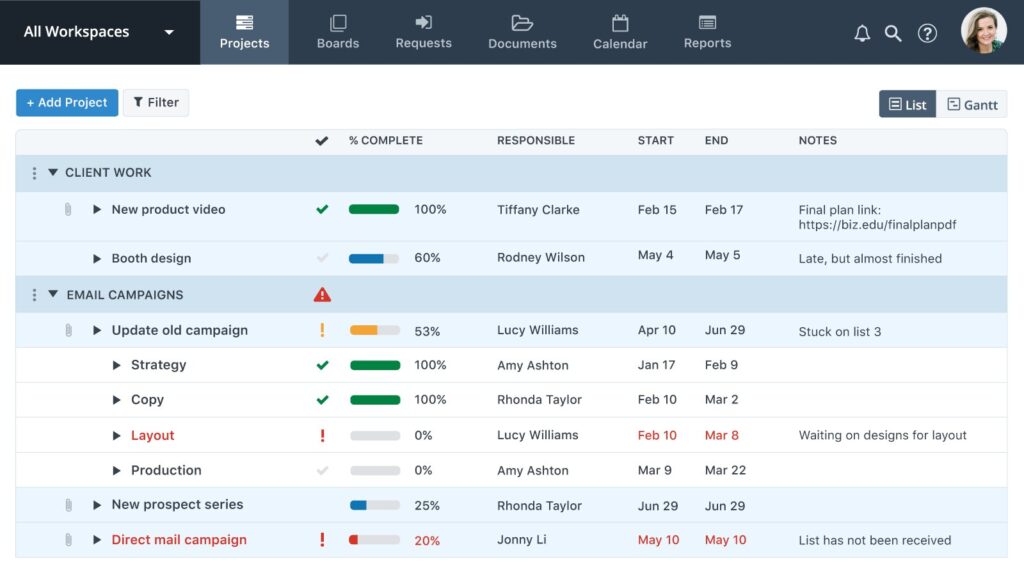 Designed to be a more accessible alternative to Trello, Workzone has a straightforward set of tools for projectmanagement and a clear UI. It is an excellent real-time collaboration solution that will improve your team's productivity.
Since there is no free trial option, this software is out of reach for new and small enterprises.
5. Podio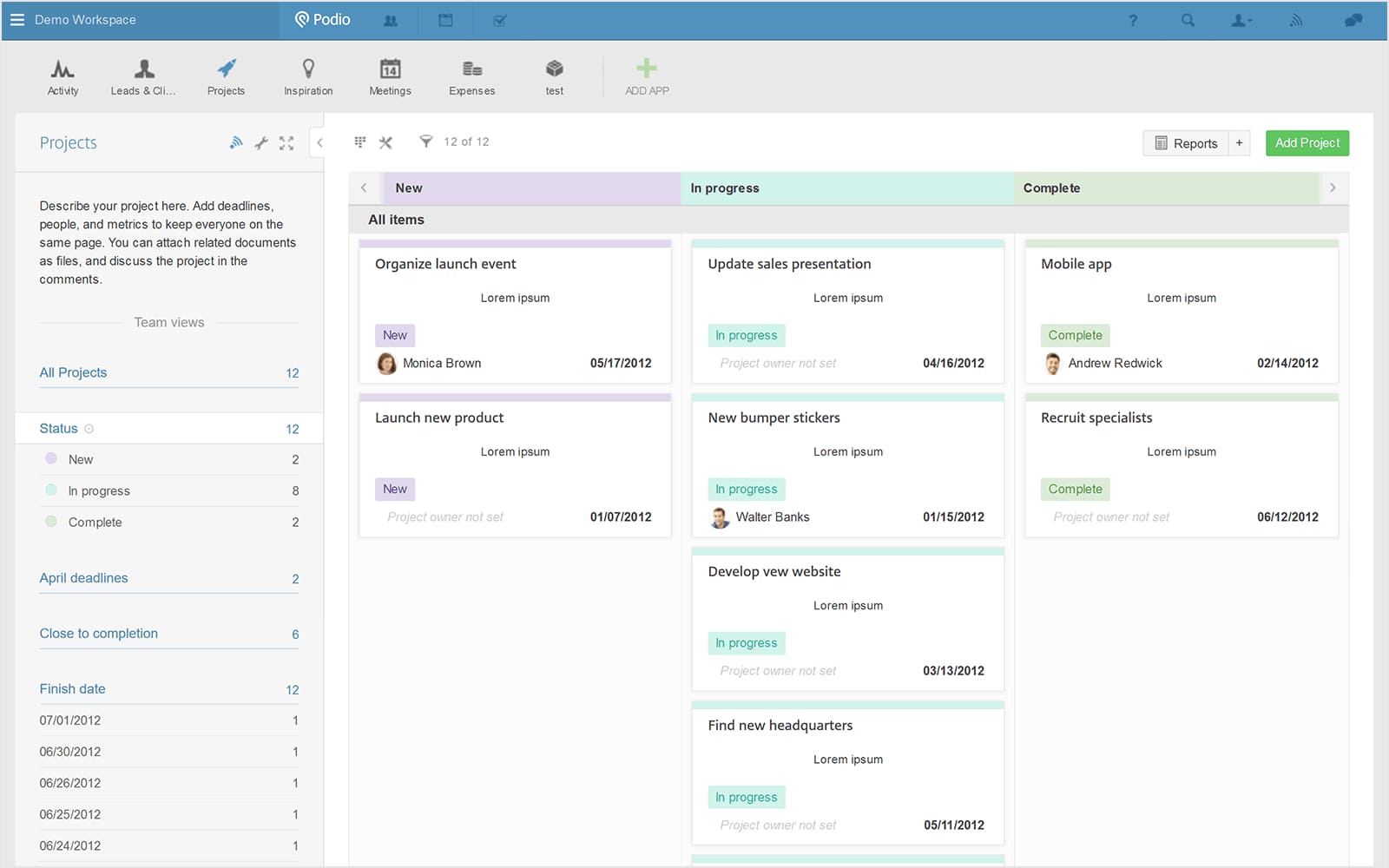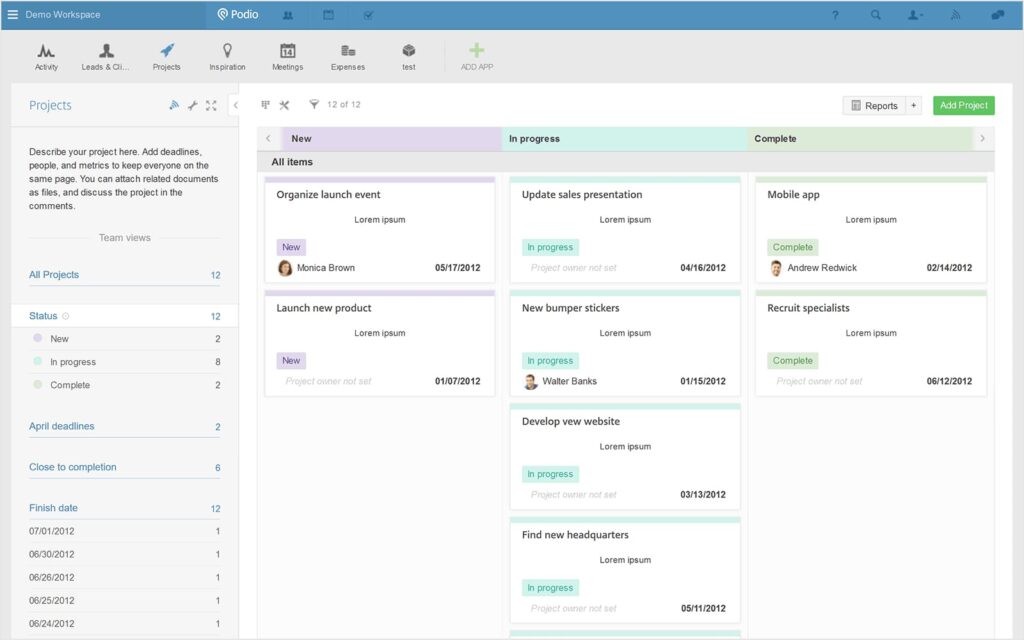 If you're looking for a straightforward alternative to Trello with access to a wide variety of valuable extensions, go no further than Podio. Because of its robust application programming interface (API), it may have new features integrated in the same way as any other open source software.
Unfortunately, the software's premium subscription is the only place to get capabilities like reports, dashboards, and sophisticated automation of workflows. The upgraded package is required.
6. Wrike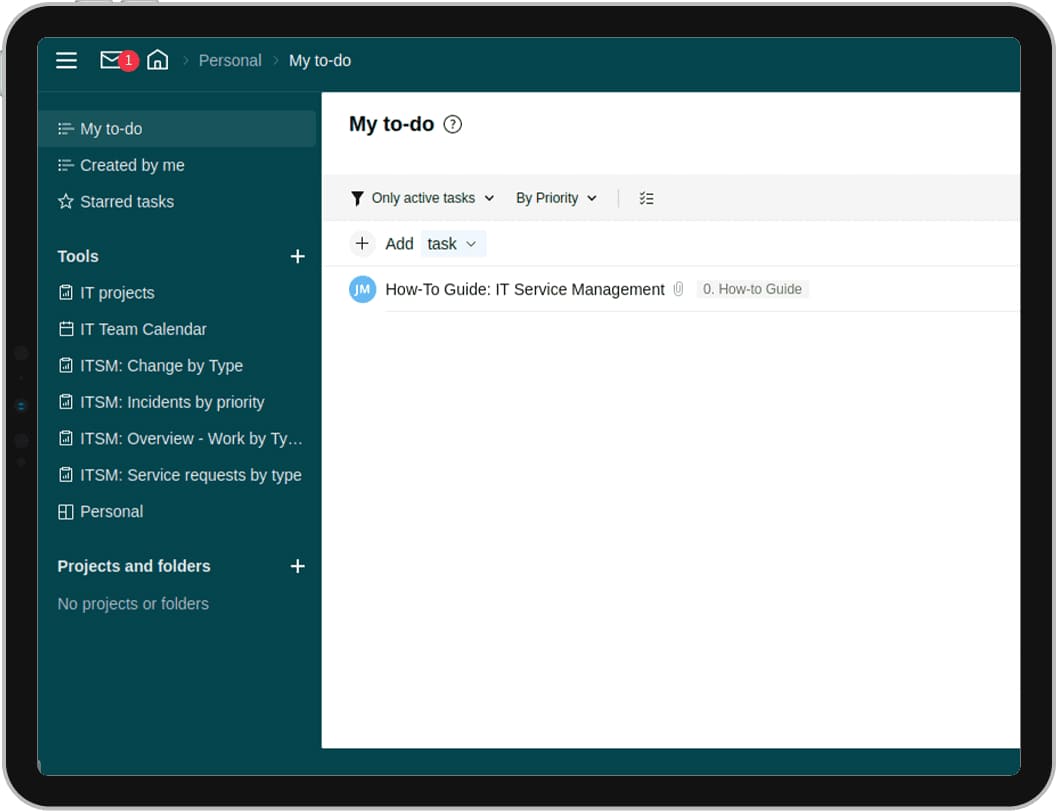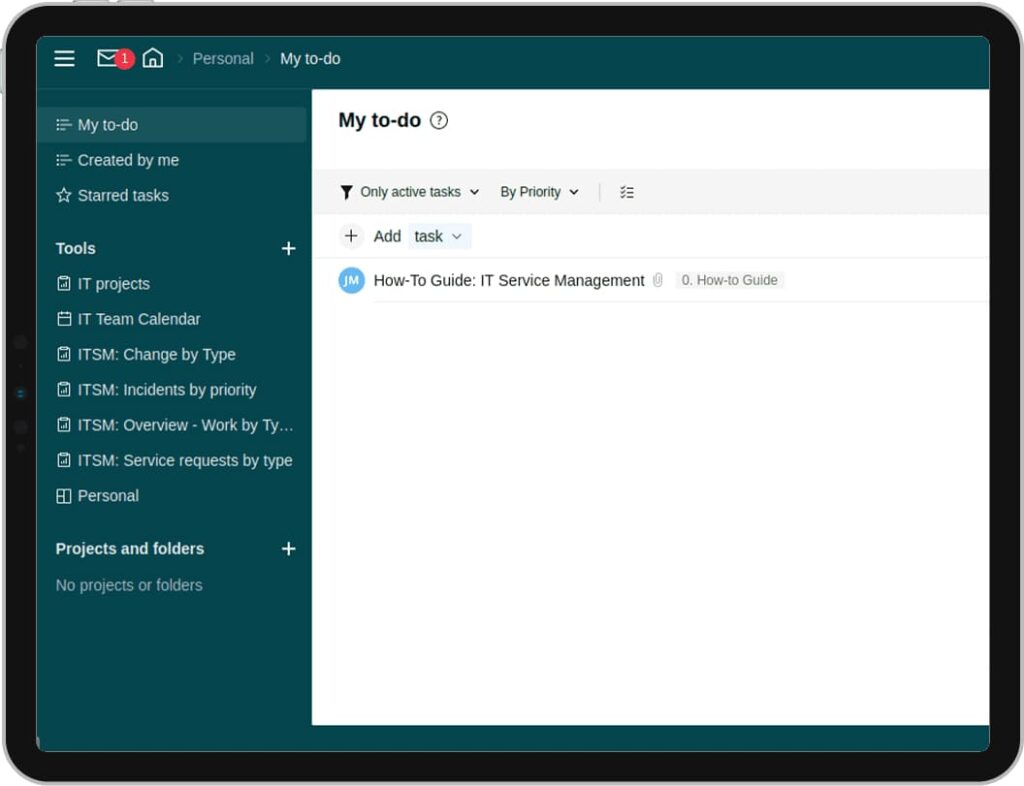 Wrike is a fantastic choice if you have a variety of projects that call for cross-functional cooperation. The basic boards and lists Trello gives won't do if you're on a larger team. The benefits of Wrike include resource management, dashboards, interactive Gantt charts, and cross-project visibility.
Wrike is a fantastic alternative to Trello since you can completely tailor it to your business requirements. With a few clicks, everything may be made simple and simplified thanks to customized dashboards and distinctive automation. We are simply hesitant to convert from Trello to Wrike since it is a much more complicated application. Hive could be a better compromise as an alternative to Trello.
7. MeisterTask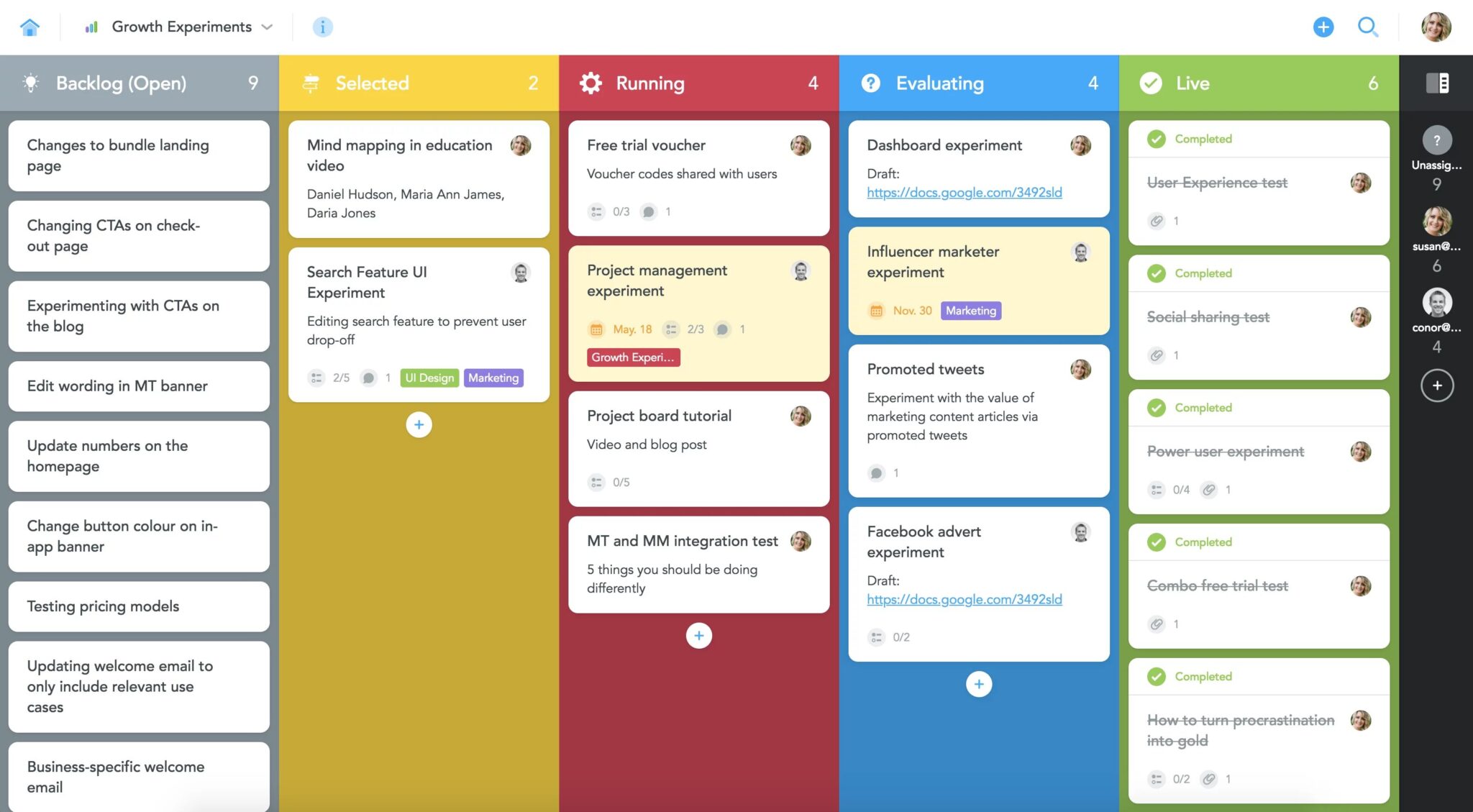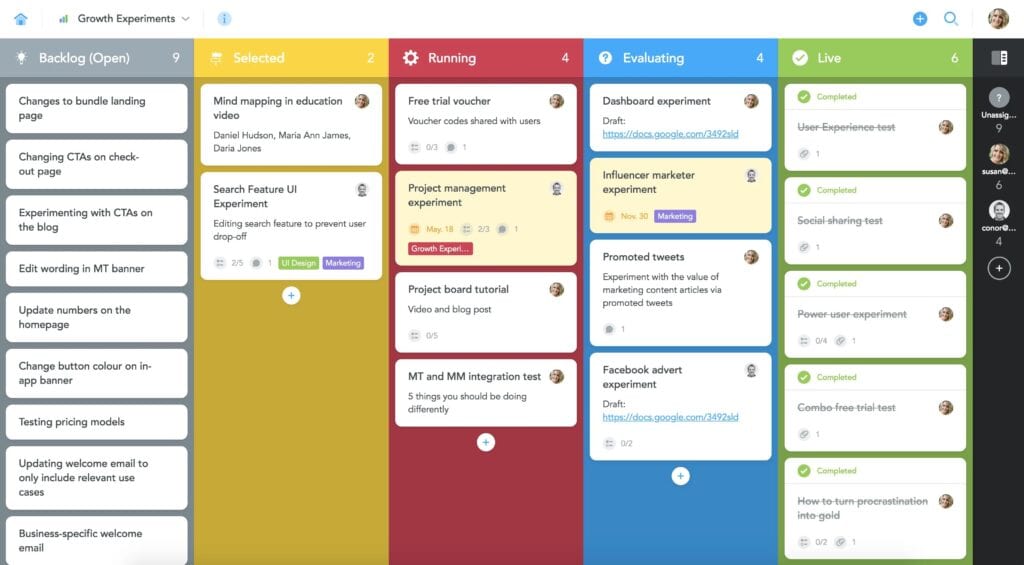 MeisterTask is a free alternative to Trello that has full Kanban boards. Great for agile project management because of a drag-and-drop interface that can be adapted to each board's specific needs.
The platform only allows a single assignee per task because having many assignees might lead to confusion and ineffective teamwork. But it doesn't fit the teams with several simultaneous active members.
8. Airtable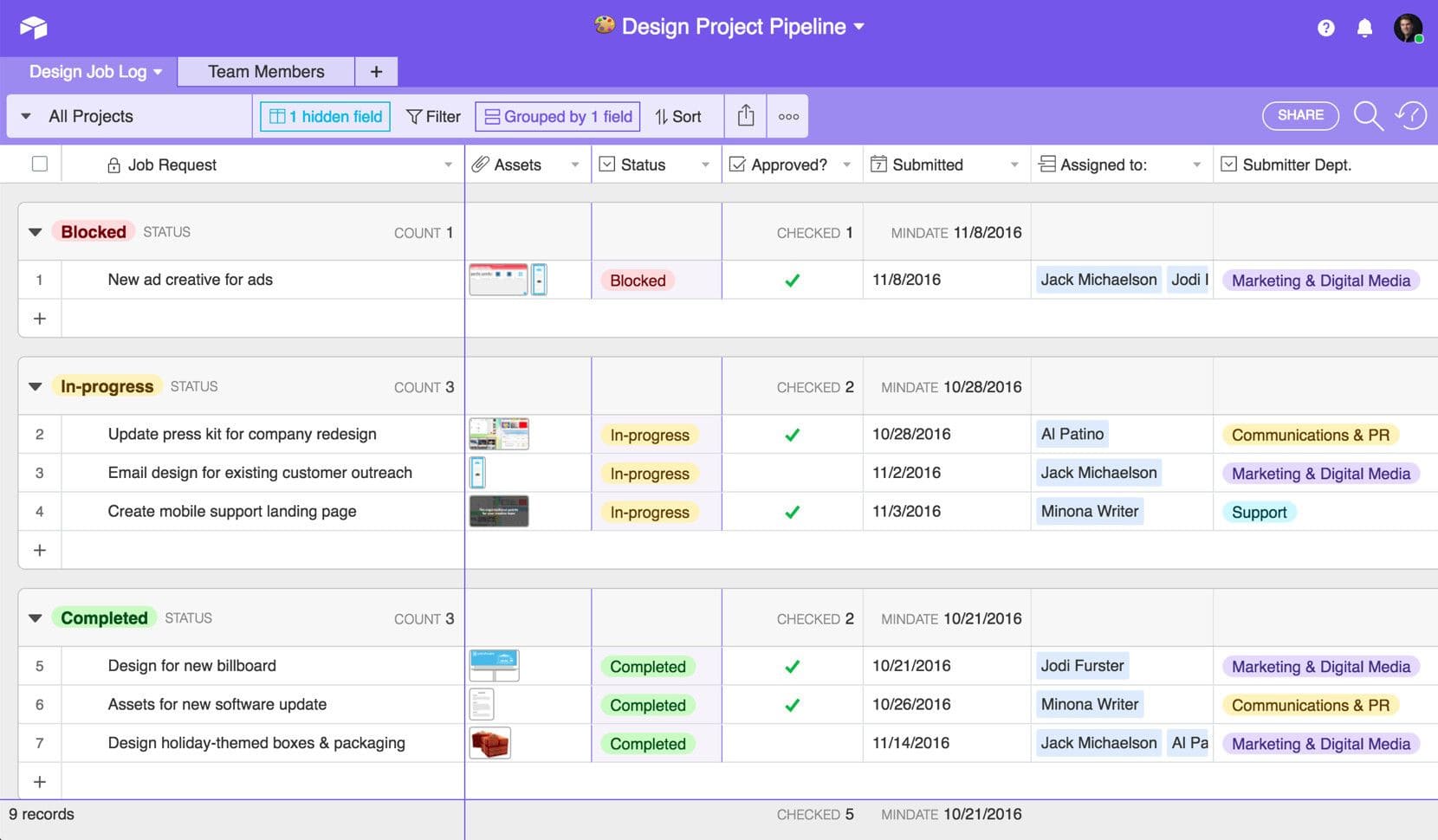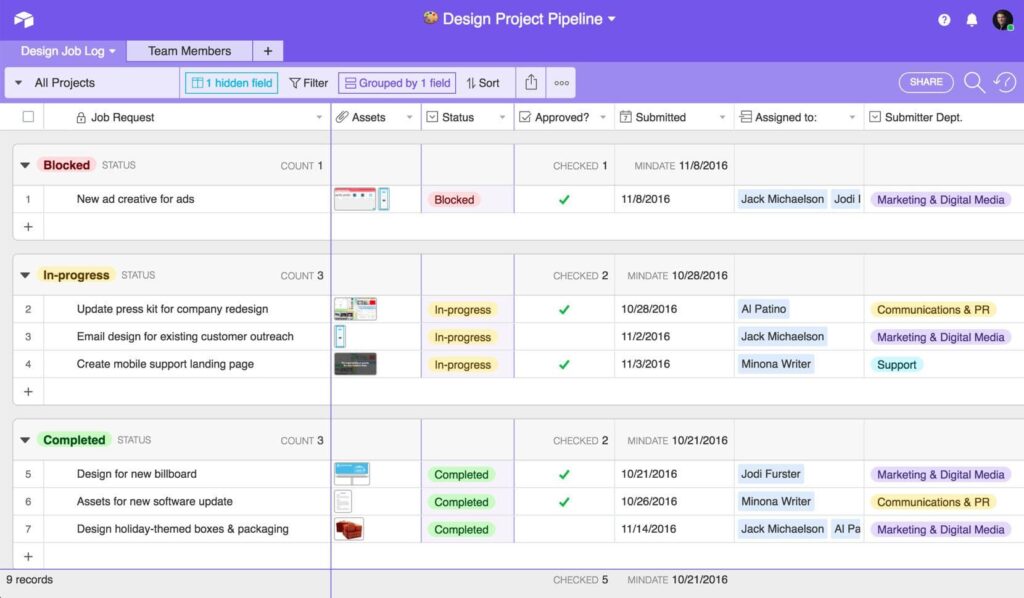 If you want to freshen up your project and task views, Airtable is a powerful spreadsheet that can list tasks and projects and store files; it's a great alternative to Trello. Images, connections to related jobs, and assigned individuals may all be included in the spreadsheet. Kanban may be a little finicky when trying to lay out data or charges across time, and the primary spreadsheet format in Airtable may be more suitable.
If you spend most of your time in Excel or Google Sheets, this is one of the finest project management software. Airtable's default view is a spreadsheet or table, but you can also get a calendar view, a Kanban board view, and a gallery view if you keep an eye out. Airtable also has a fantastic mobile app that can be downloaded from the iOS and Android app stores as a portable project management tool.
9. Basecamp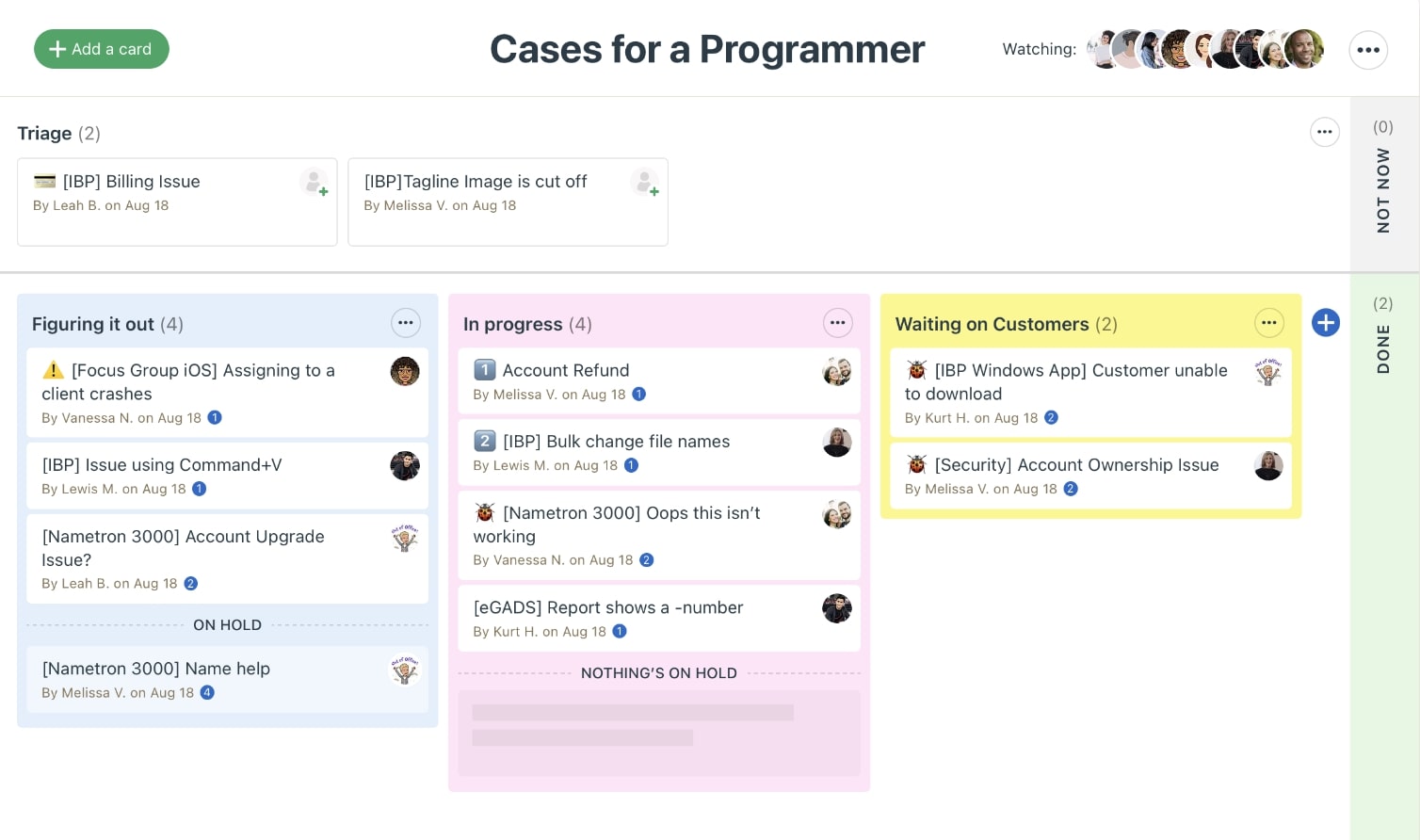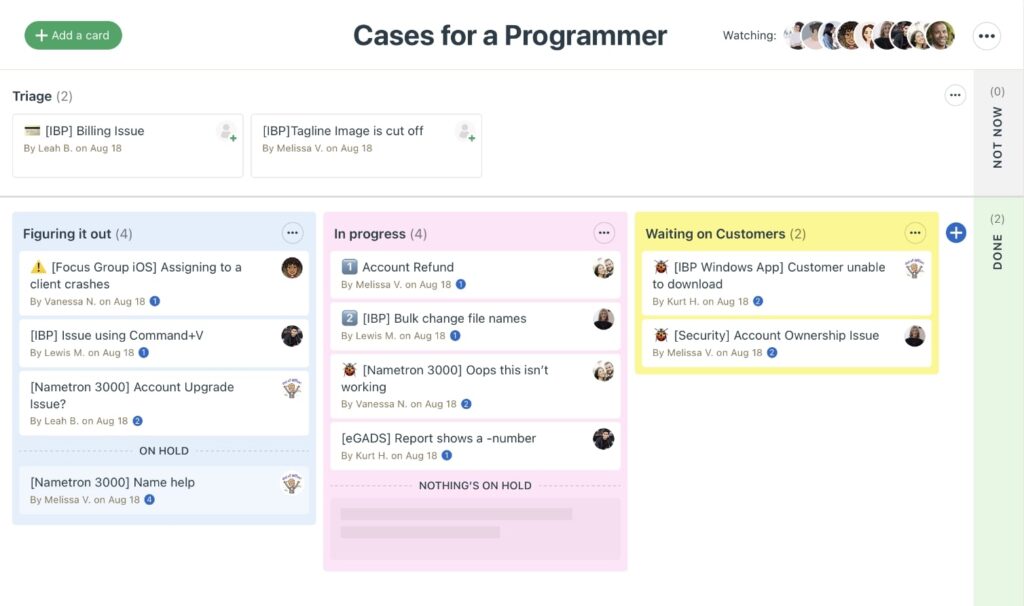 Like Trello, Basecamp is a project management tool. However, unlike Trello, it uses a unique technique called Hill Charts. The uphill and downhill stages of a project's visual depiction provide context for managers to identify issues ahead of deadlines and see whether activities are progressing as planned.
Basecamp also allows users to create their templates, have group conversations, get email notifications, set task priorities, monitor their time, and produce reports based on their collected information.
10. Jira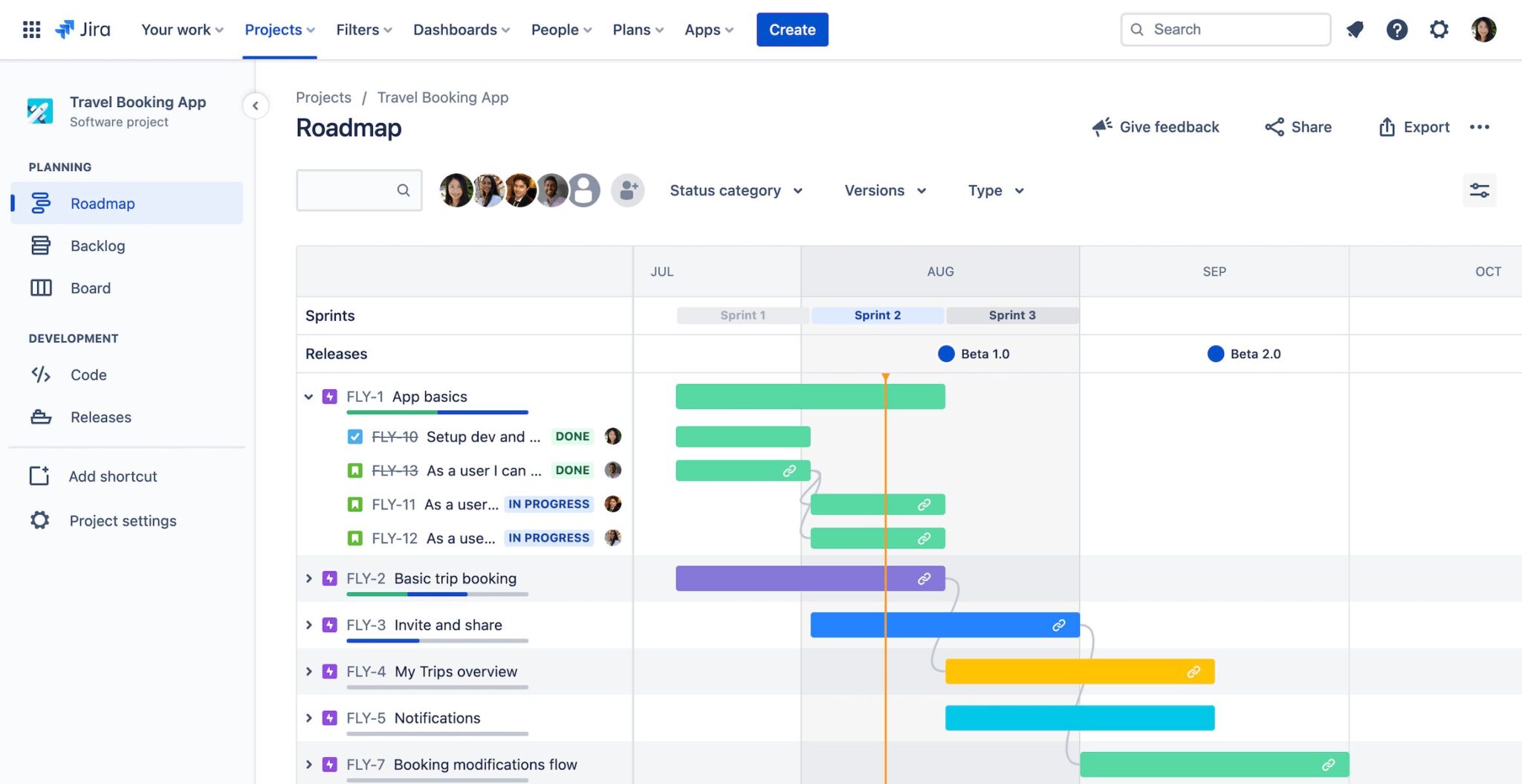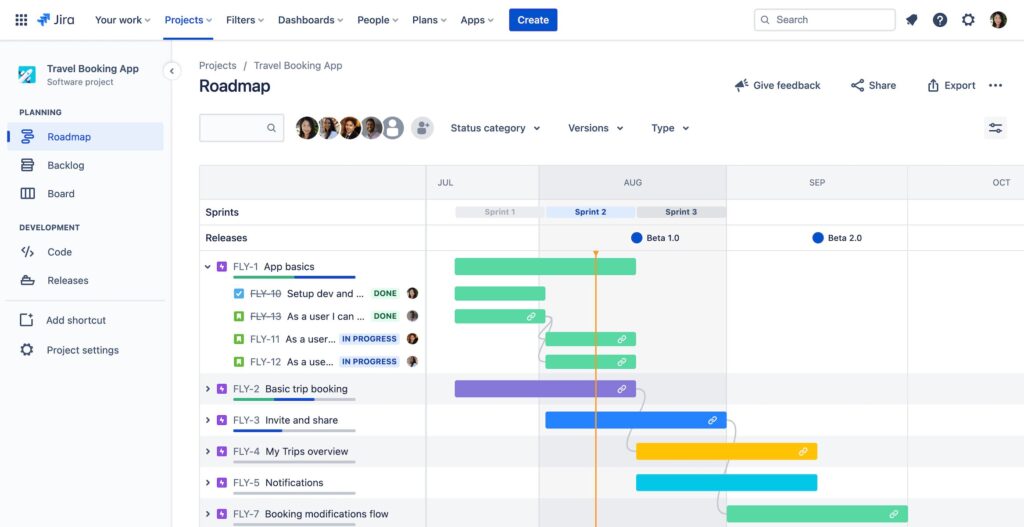 Jira is an agile project management and development platform that facilitates project preparation, progress monitoring, and software testing and deployment. Software development teams often use Jira as an alternative to Trello for problem tracking and project management. Users have the option of using pre-built processes or building their own. A team may create reports to analyze performance.
Atlassian produces both Jira and Trello, yet each has a distinct user base. Jira is the best choice for those requiring a bug tracking tool that supports Scrum, Kanban, and other sprint methodologies. It includes agile reporting, interaction with a code repository, automation, security capabilities, and Scrum and Kanban boards.
11. Monday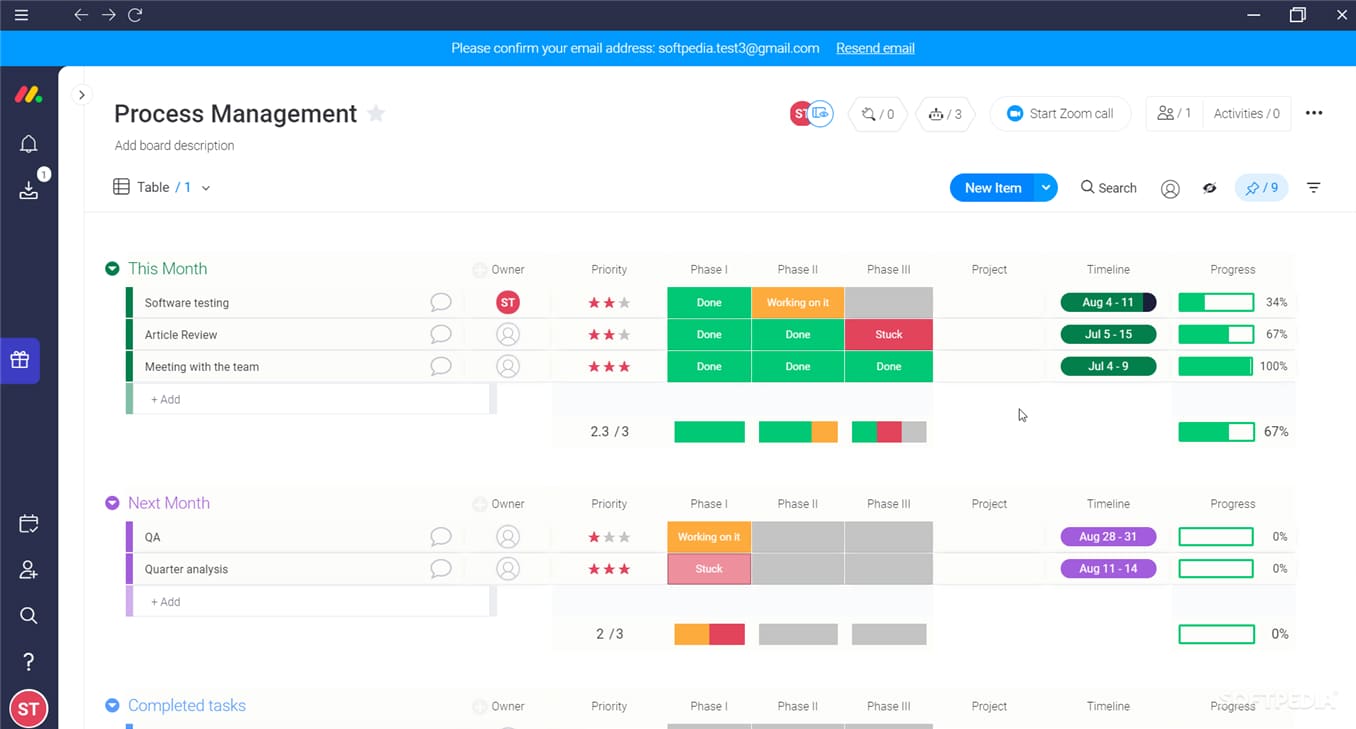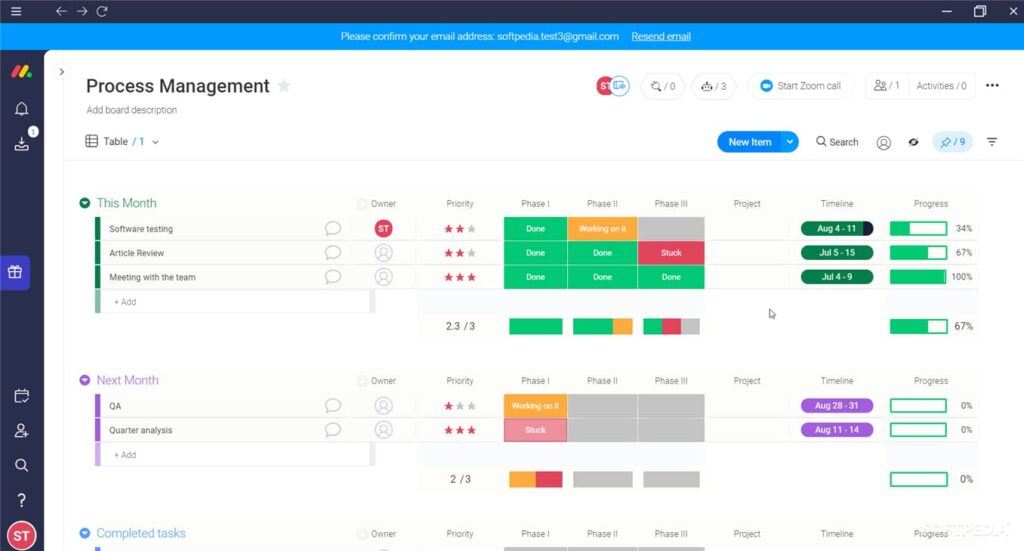 Monday, initially known as Dapulse, is a straightforward platform for managing projects. It's ideal for groups needing just basic project management capabilities. The upside is that, like Trello, Monday is simple to use. The Forbes Advisor claims Monday to be the best Trello alternative for teams. The drawback is, obviously, reduced capabilities. Monday could be a decent choice if you're looking for a Trello alternative.
Monday's strengths include its drag-and-drop interface for rearranging rows and columns to suit your needs better, its comprehensive dashboards that show the status of your projects, and its compatibility with other popular programs like Microsoft Teams, Google Calendar, and Excel.
12. Microsoft Project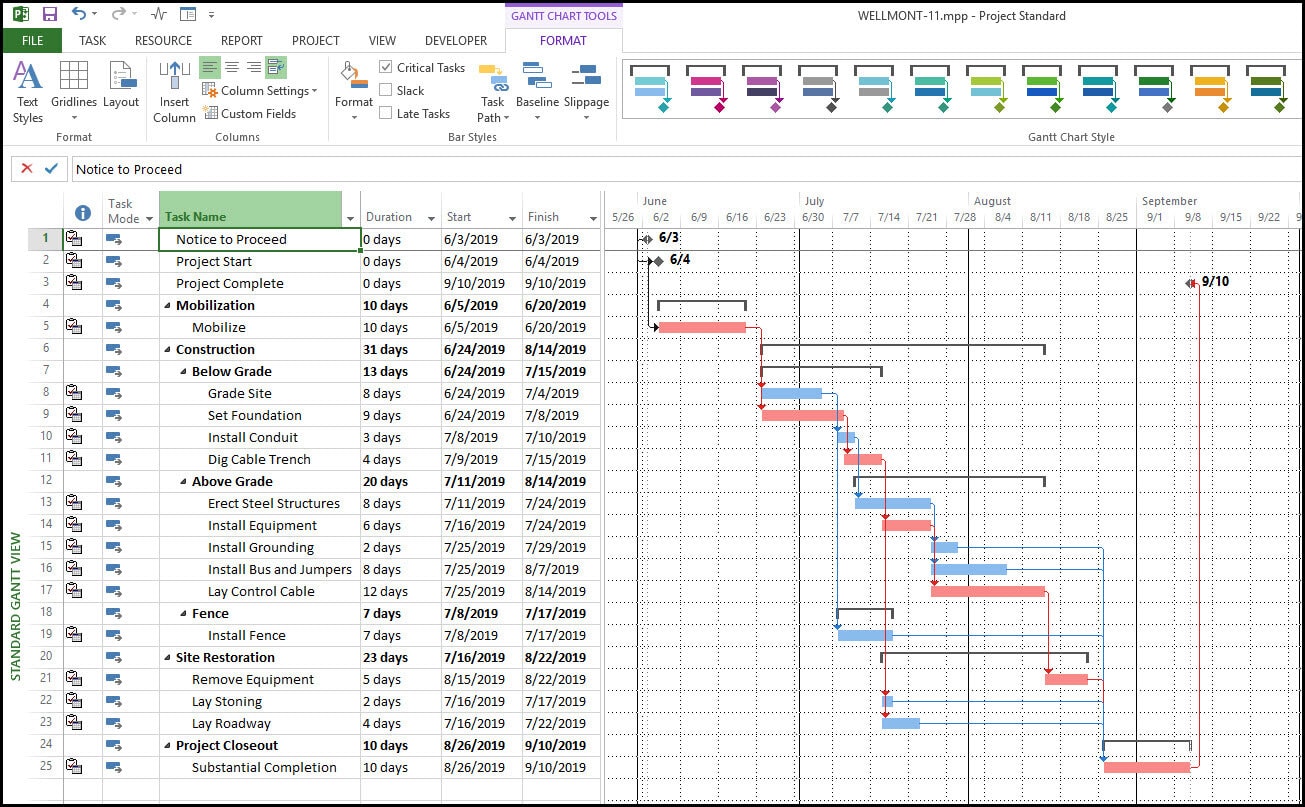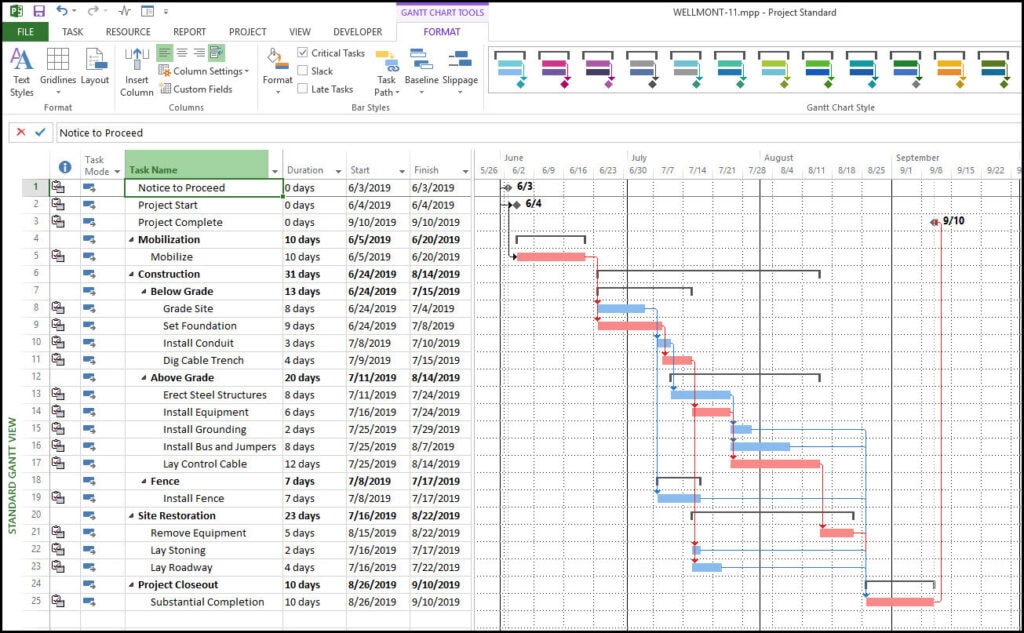 You may see the timeline in Microsoft Project by clicking on the timeline button.
Microsoft Project may be a suitable Trello alternative if you need a program that helps teams maintain control over their tasks. It's a fantastic management tool that can adapt to any project thanks to its many valuable features.
Microsoft Project is dependable and has an intuitive interface that helps teams easily navigate between different views (boards and grids) and monitor the project's development.
13. Microsoft Planner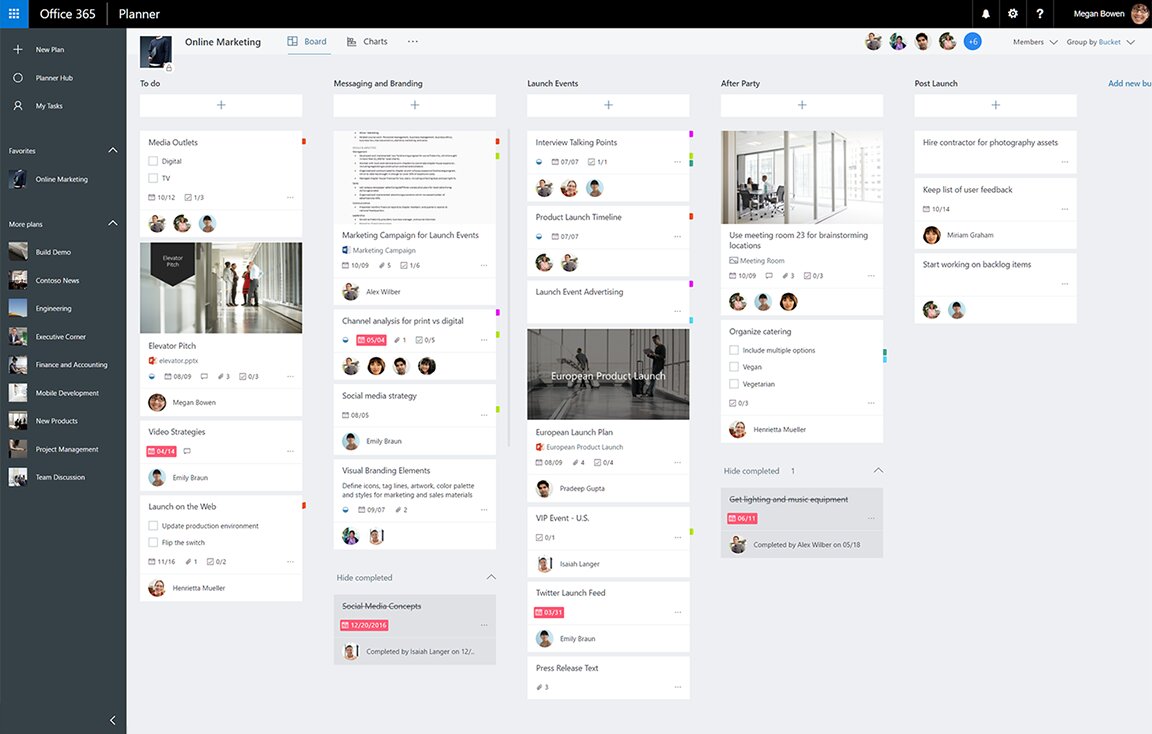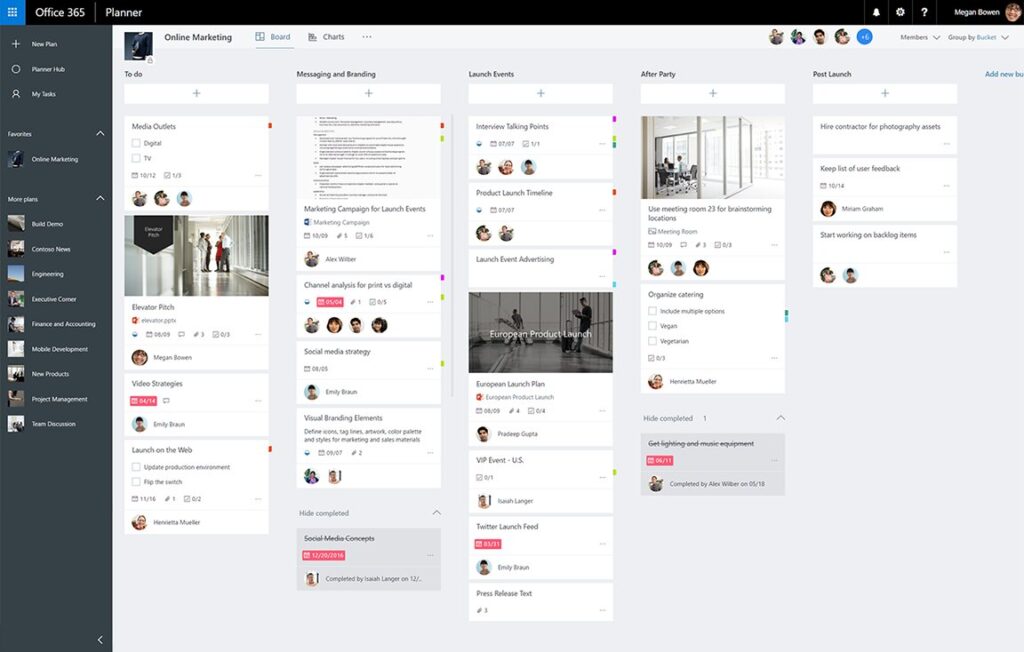 For straightforward group tasks, Microsoft Planner is the perfect Kanban planning solution. Users with a subscription to Microsoft 365 may access it online or on their mobile devices. Users may make plans, delegate work, discuss projects in real-time, and track their progress using graphs and charts. Whether it's event planning, customer service ticket monitoring, content distribution, or process tracking, a small team may benefit from this program.
As well as board and card views, the project management software provides other visual layouts for teams to use to manage their workloads better, such as the Hub view, My tasks view, and Charts view. Using Microsoft Planner, you can keep track of your tasks and to-do lists in one place while still maintaining your app-to-app connections. The Teams' Tasks app may also access the software's tasks.
14. Flow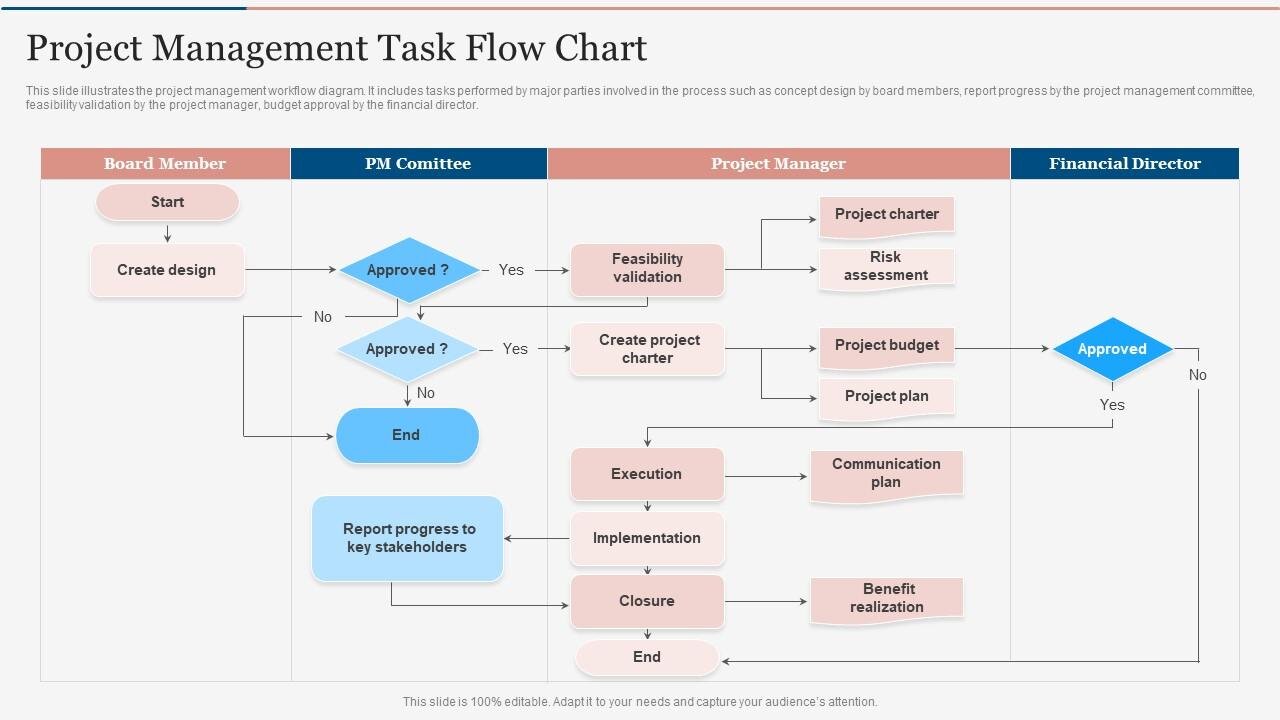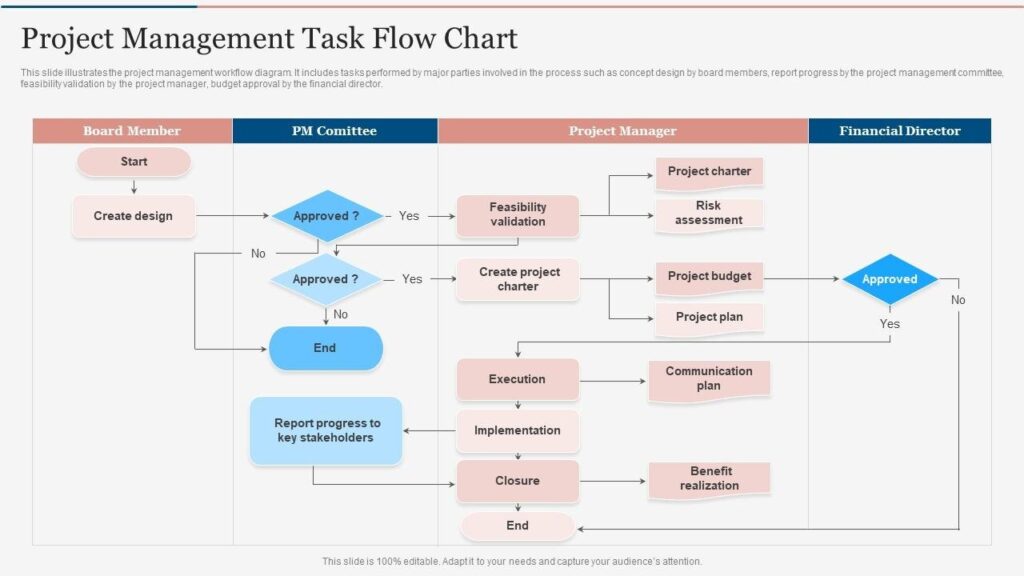 Flow is a project management tool that facilitates efficient communication on teams of all sizes through real-time alerts, notes, and the capacity to comment on assignments. As an alternative to Trello, the program may be used for cross-team project planning, prioritization, and tracking. Flow's project and task management features include various display options, such as calendars, Kanban boards, and straightforward checklists. Tags may be assigned to tasks in Flow to simplify filtering and monitor a project's progress. One of Flow's best features is the Gantt chart timeline view, allowing users to see their projects visually. The platform also has project-level privacy settings, making it possible to create both open and closed initiatives.
15. Sortd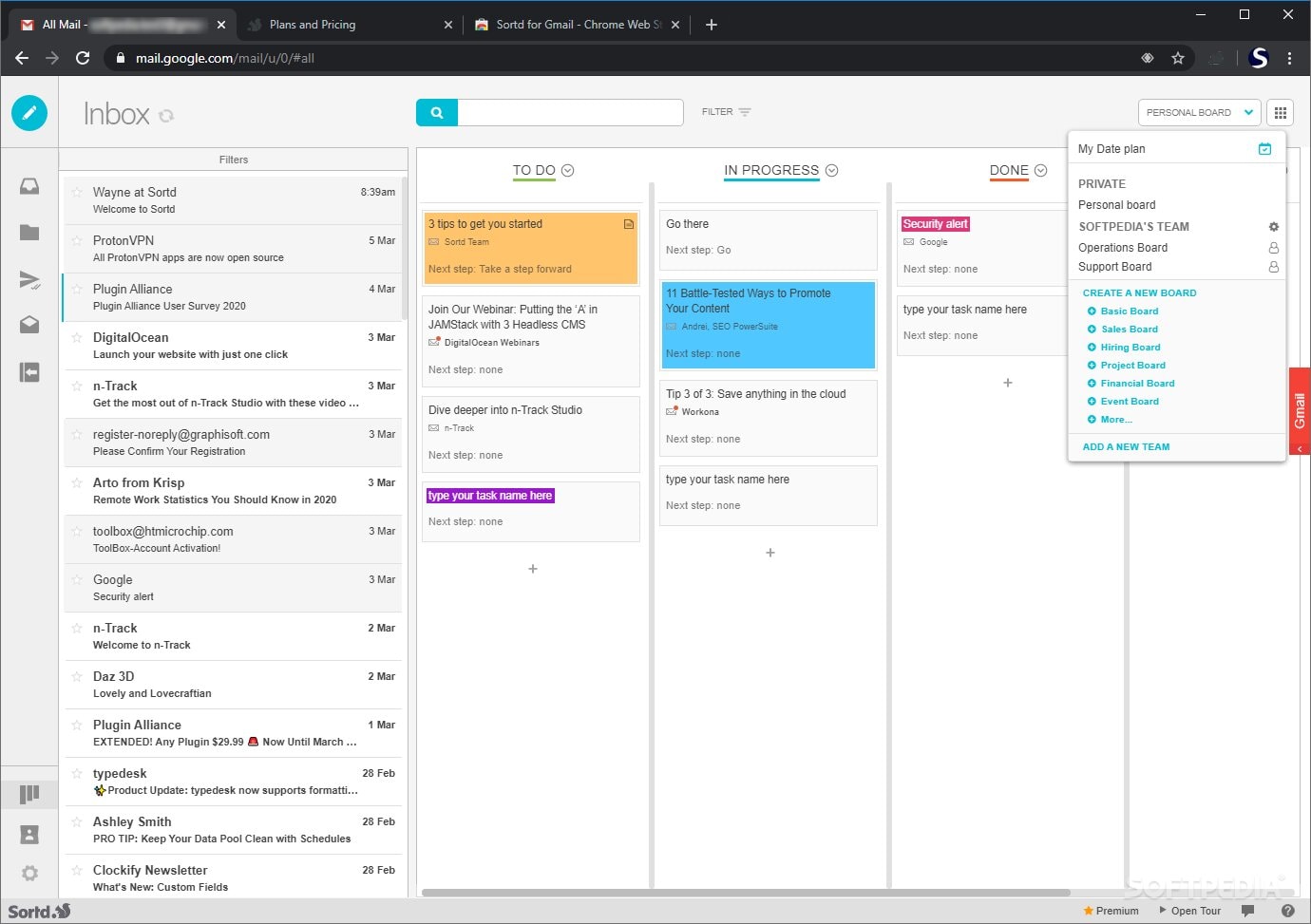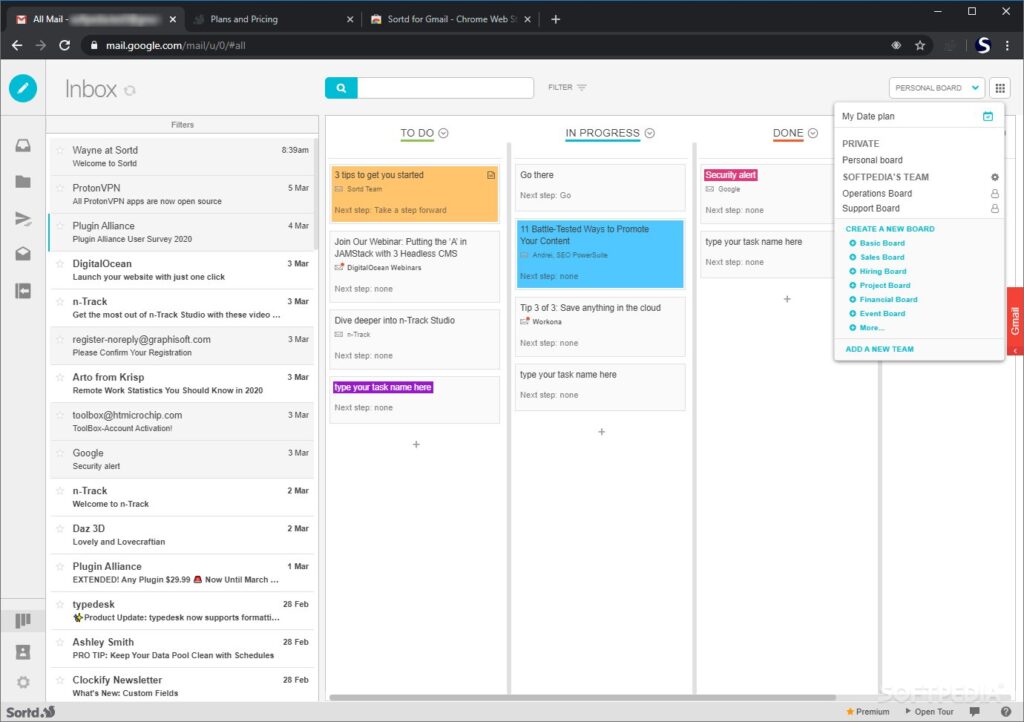 Consider Sortd if you're looking for a Trello alternative that goes above and beyond to satisfy your clients' needs. It's an integrated solution that can be used by the support staff, the Gmail group, and the Task Manager.
Users may boost their efficiency and productivity by simply dragging and dropping emails into the sales funnel to create a neatly arranged list.
16. Pipefy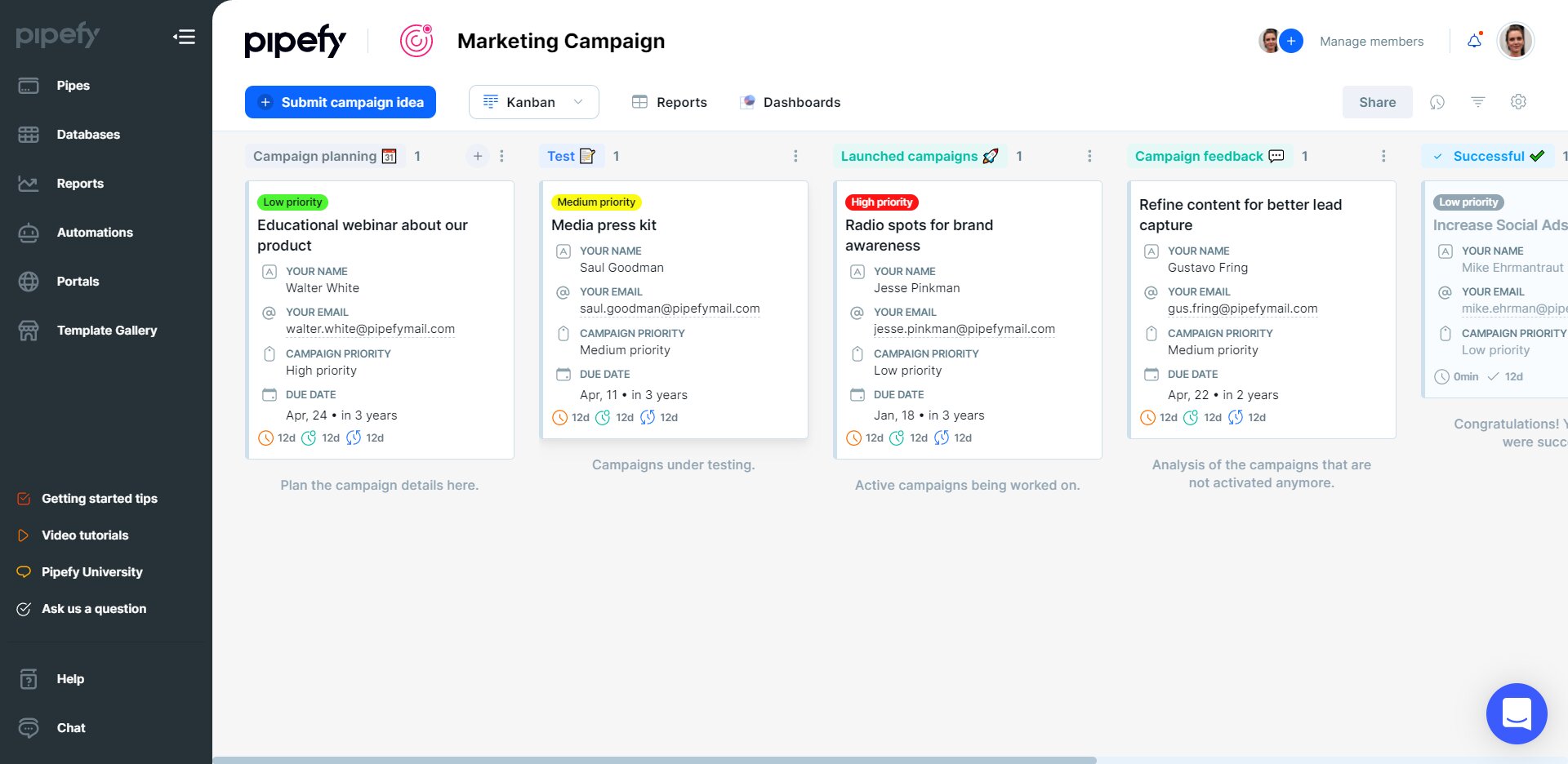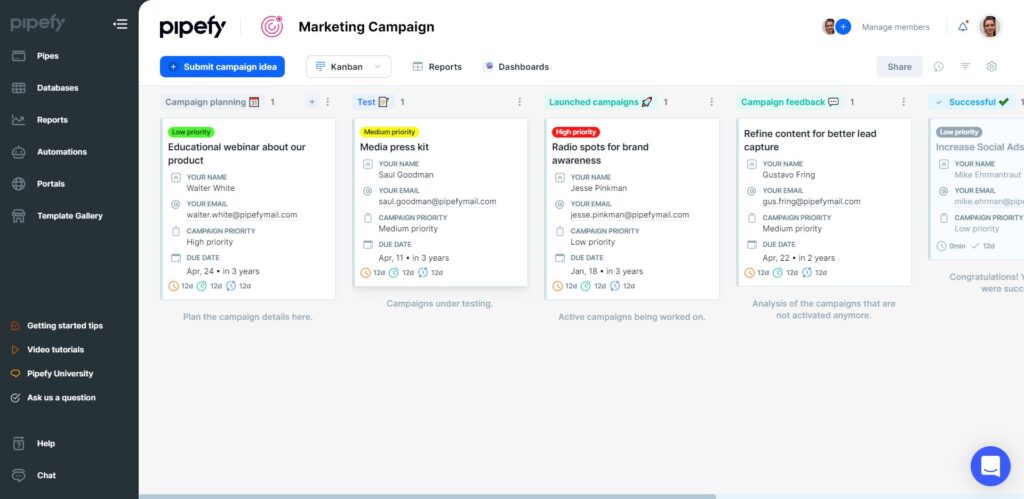 There's also Pipefy to think about if you're looking for alternatives. By eliminating mundane routines, intelligent automation helps teams remain productive and on schedule. It improves efficiency in the workplace and allows teams to zero in on the most critical tasks.
Any team member may automate operations and management procedures regardless of their technical expertise. Using this software, groups may keep track of their tasks in one convenient location. It improves efficiency, agility, and productivity.
17. ClickUp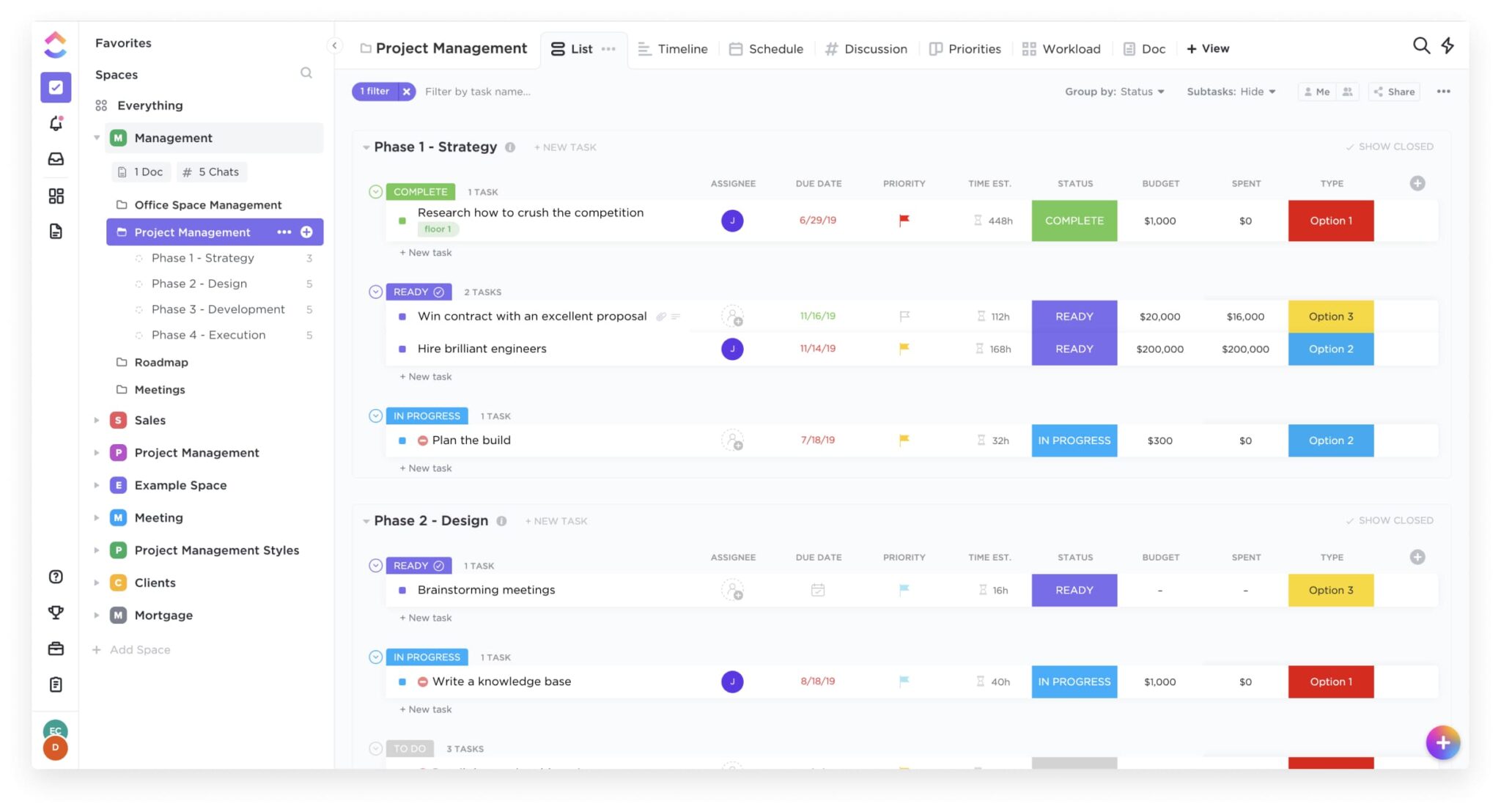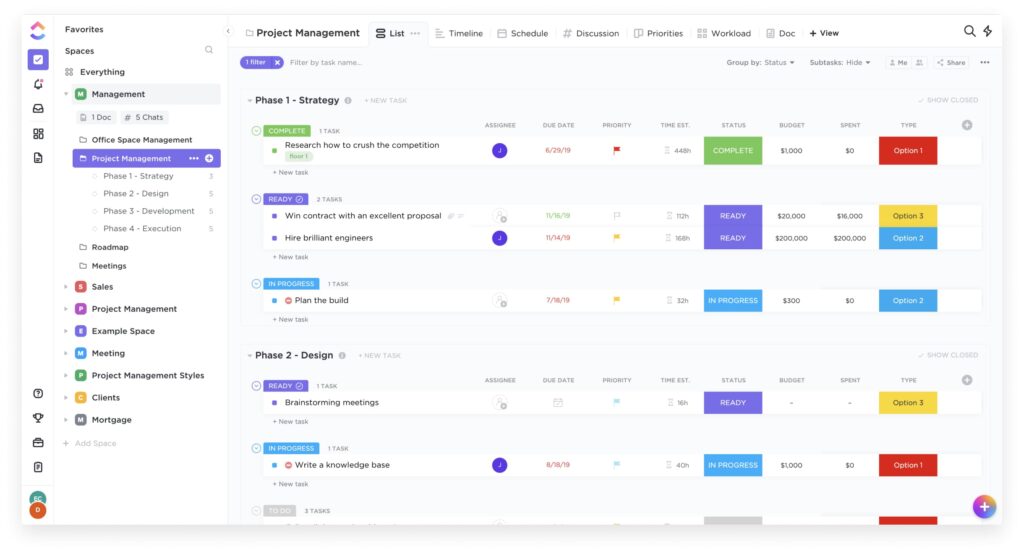 ClickUp is a choice worth considering if you're looking for a Trello replacement that simplifies team management and provides high-level data analysis. ClickUp makes it easy to communicate with coworkers as you can "tag" them in the comments to let them know who to help you. ClickUp's integration with Slack makes for even smoother communication.
18. Backlog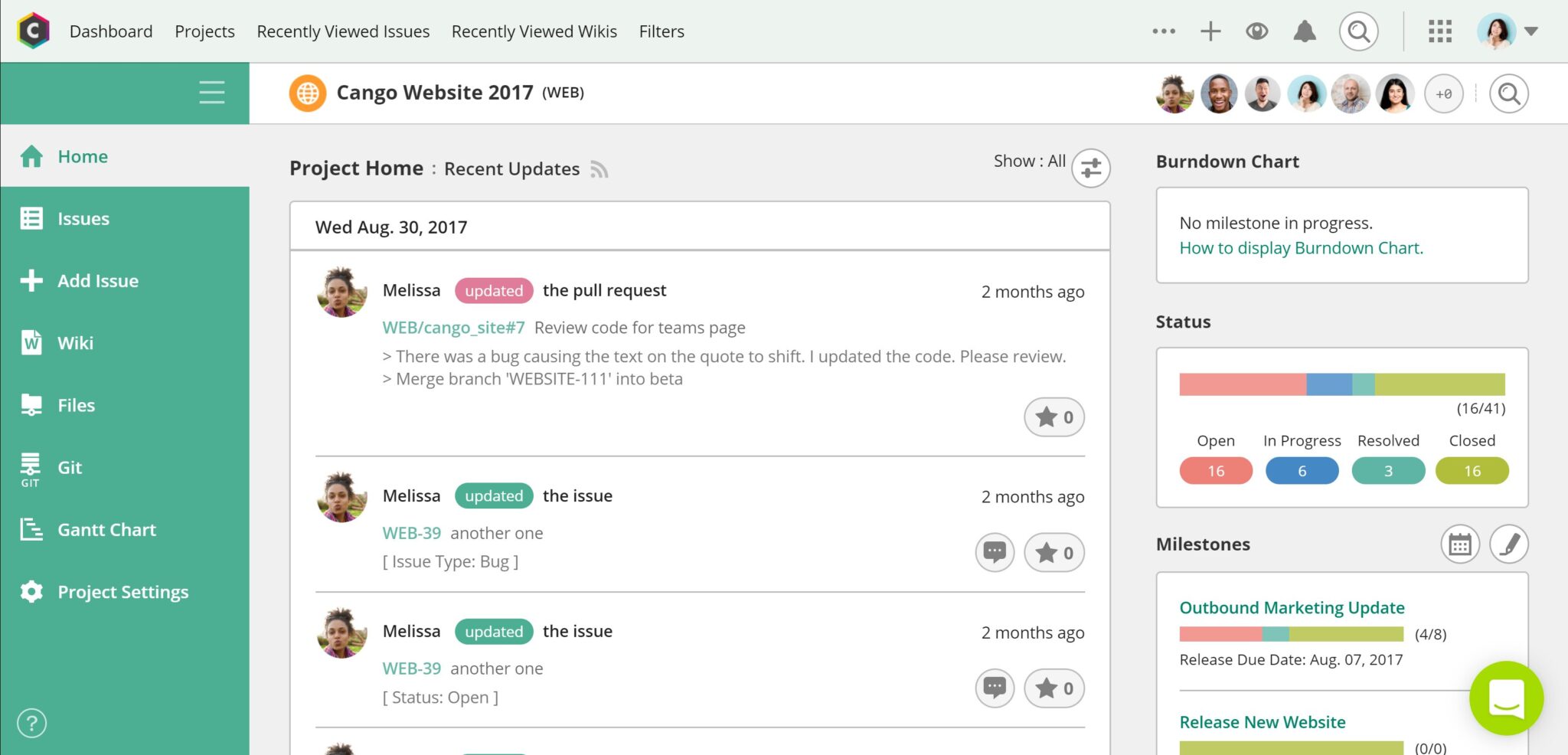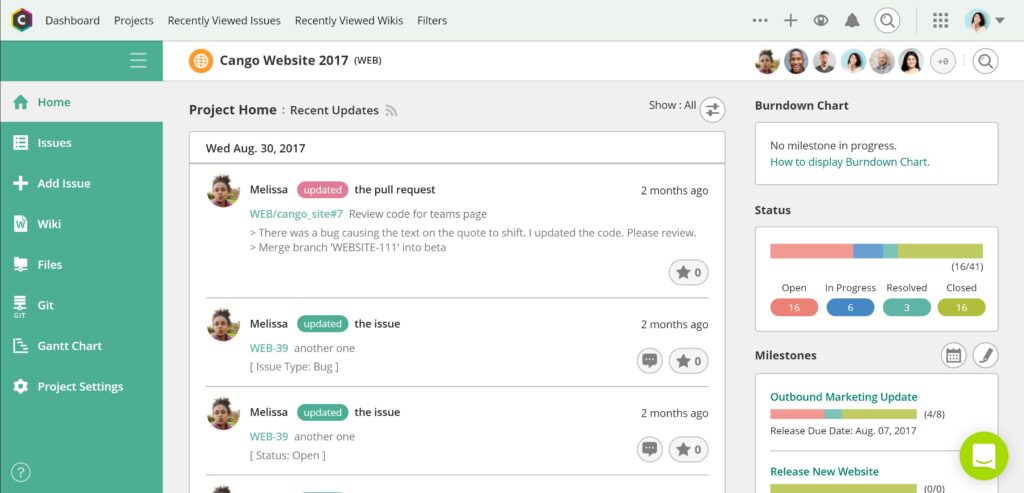 Trello's alternative, Backlog, has a simple but effective user interface. Whether utilizing Gantt charts, burndown charts, or boards in the Kanban style, Backlog gives you an overview of your project and tasks. With a WiFi connection, developers, customers, designers, and other teams may effortlessly connect to the platform from any location.
The answer makes it apparent who is working on which branch, lets you assess other people's work, and keeps track of management changes. With the help of private repositories, Backlog also enables you to host your code safely in the cloud. In contrast to Trello, accessible in ten languages, Backlog is exclusively available in English and Japanese. The fact that Backlog has fewer third-party connectors than Trello should be taken into account when migrating from Trello to Backlog.
19. Notion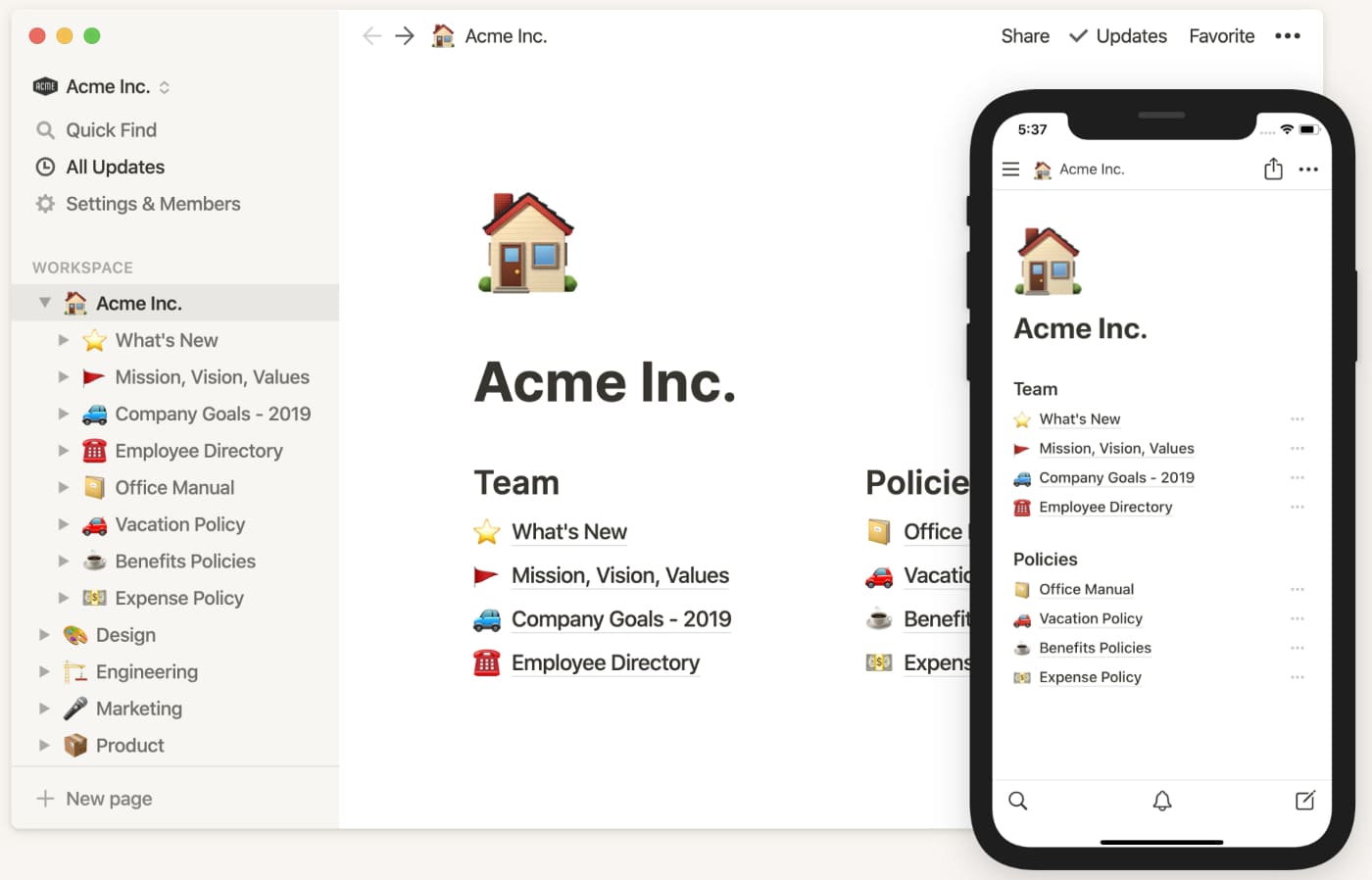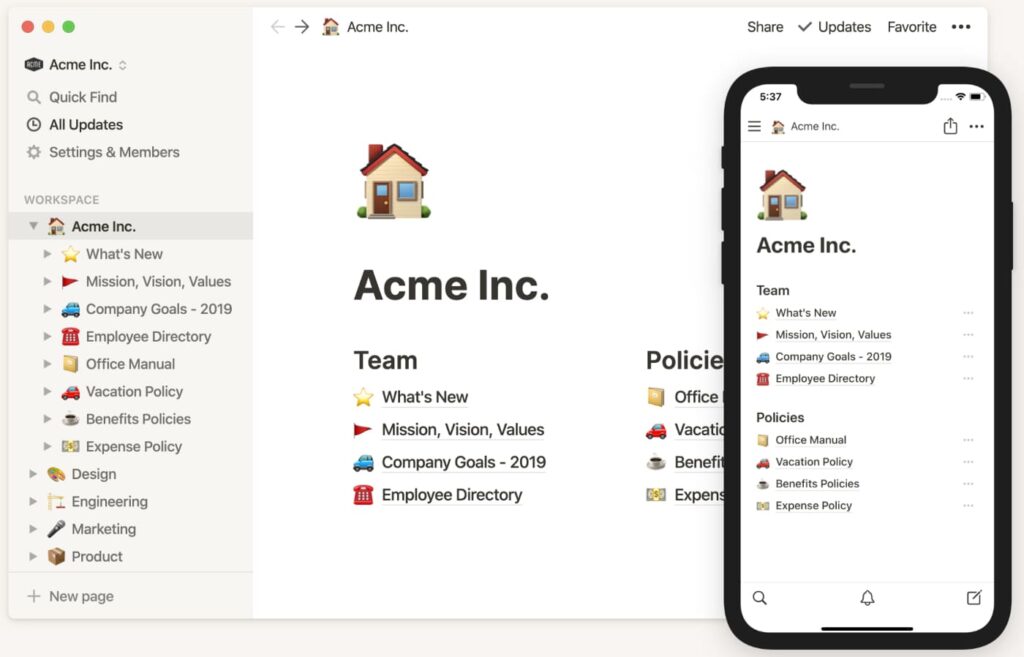 Notion is a fantastic alternative to Trello for fostering teamwork, future planning, and ongoing organization. Notion is divided into three sections: projects and tasks, where colleagues may record individual tasks or assign to teammates; notes and docs, where teams can exchange meeting notes or pertinent documents. The team Wiki is where information can be kept and documented.
After you've put them up, you may arrange your projects and tasks into a Kanban board view, similar to Trello. If you want a more robust project managementsoftware, this is a fantastic Trello alternative.
20. LiquidPlanner
Our collection of Trello alternatives includes the powerful application LiquidPlanner for several reasons. First, LiquidPlanner offers incredible Kanban boards that do planning projects and comprehend the project lifecycle simply. Additionally, they are capable of automated scheduling. Additionally, LiquidPlanner contains predictive project planning elements that may assist you in determining how to spend resources over the long term. This tool's "smart prioritizing" feature aids in coordinating individuals, priorities, and projects.
21. Proprofs Project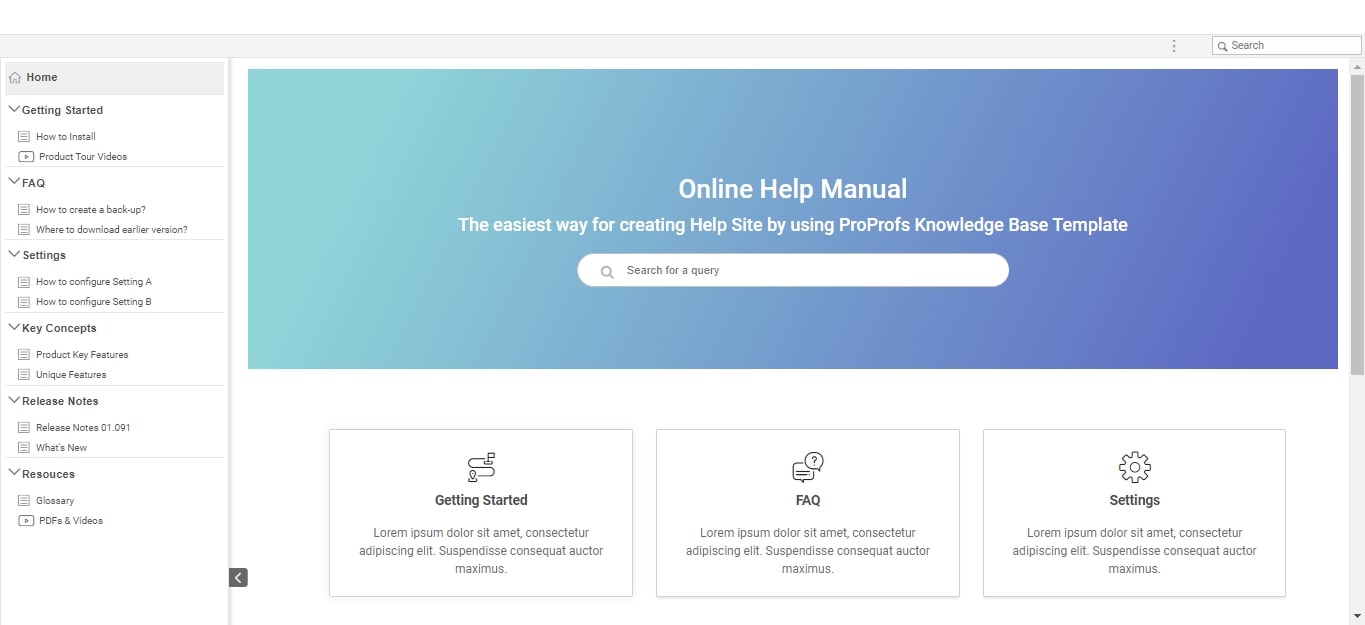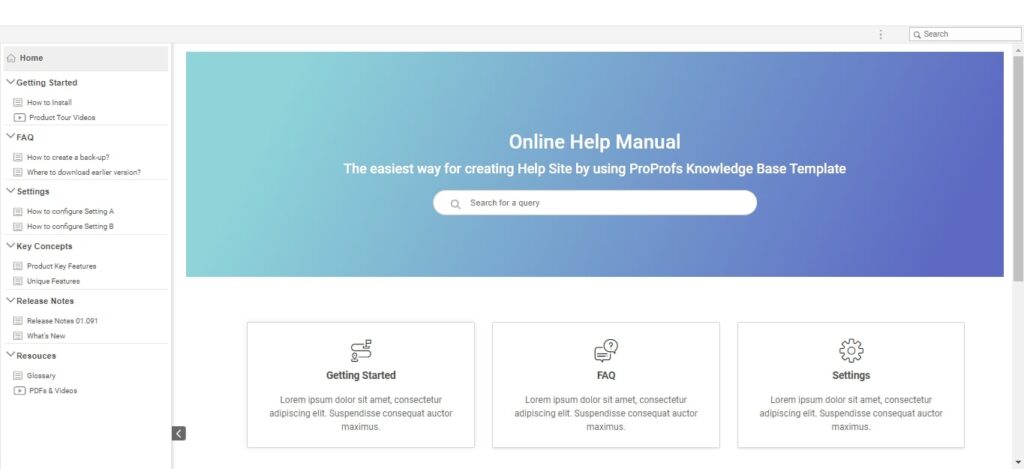 ProProfs Project, one of our best Trello alternatives, has all the management tools you need to complete your tasks effectively.
Trello is a project management tool that only supports the Kanban method, which restricts your ability to see projects in various formats. ProProfs Project fills this need by providing strong project views, including Gantt charts, Kanban boards, Calendar views, and List views. Just switch to the Gantt chart to follow your project from beginning to end. Alternatively, return to the Kanban view for improved task visibility. Additionally, you may quickly summarize your planned tasks using the Calendar and List views.
Trello cannot show task dependencies, which is a crucial feature. ProProfs fills the void and enables you to easily plan, coordinate, and manage various projects by providing an overview of all task dependencies. However, unlike Trello, ProProfs Project does not have a mobile-friendly application, making it challenging to manage projects on the road.
Choosing a Trello alternative for your team is easy as long as you know which Trello features you need.
22. nTasks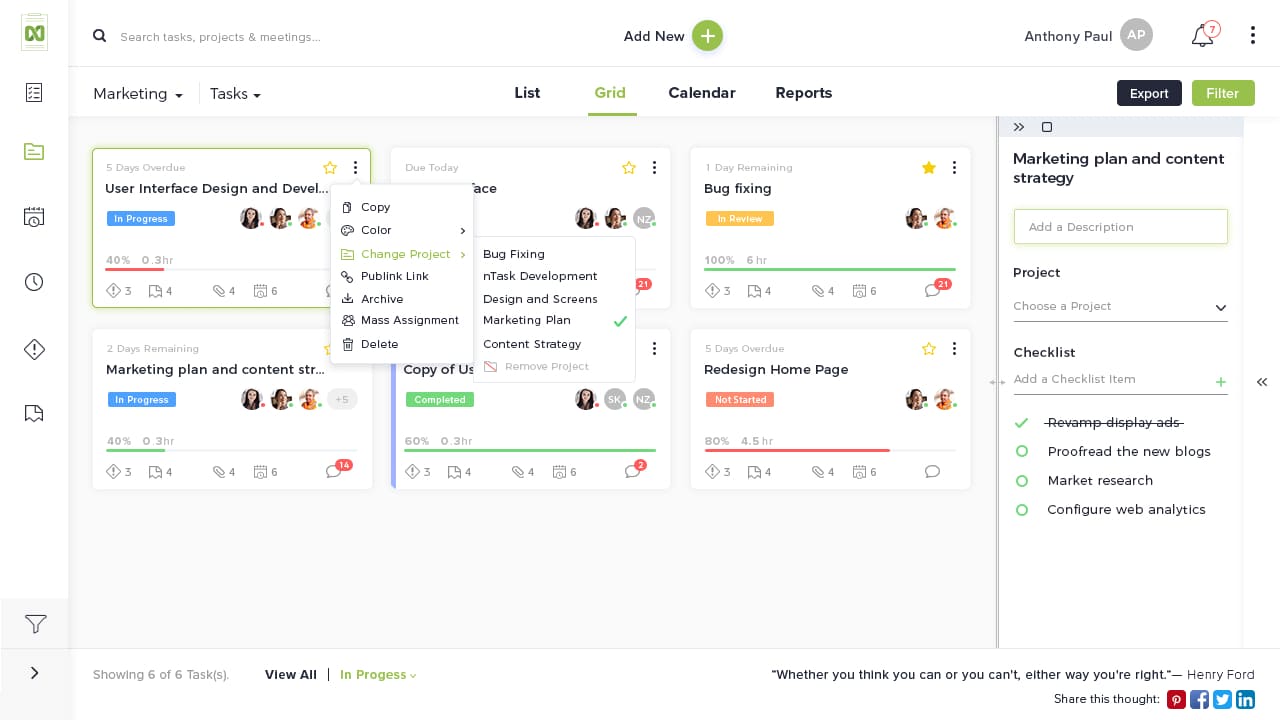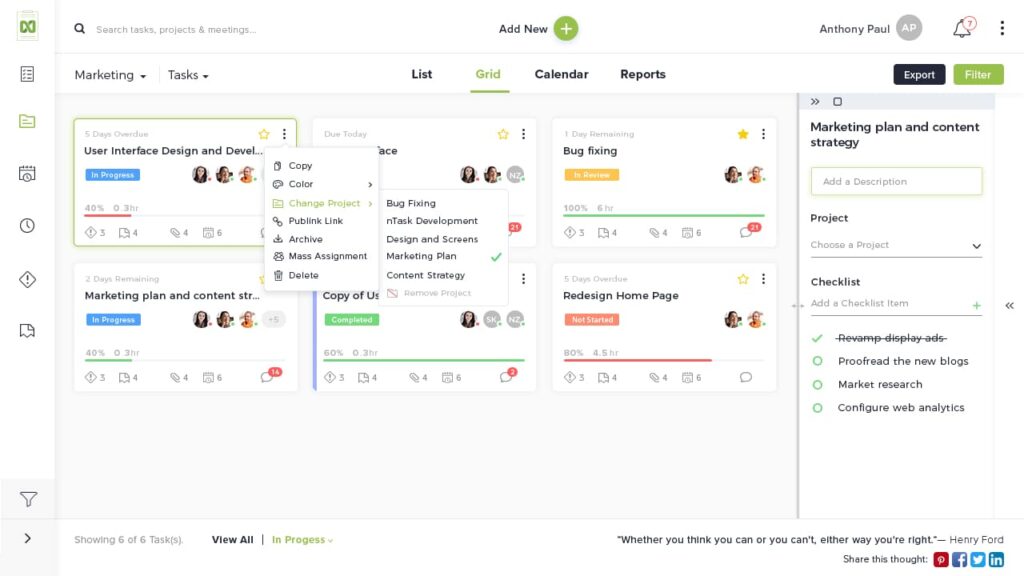 nTask is an excellent alternative to Trello. The program lets you see the project data on several interfaces, such as Kanban boards and Gantt charts.
Features like charting, time monitoring, and reporting may all be customized. Task management, projectmanagement, team management, meeting management, risk management, problem management, and bug tracking are just a few services offered by nTask.
23. Kanbanize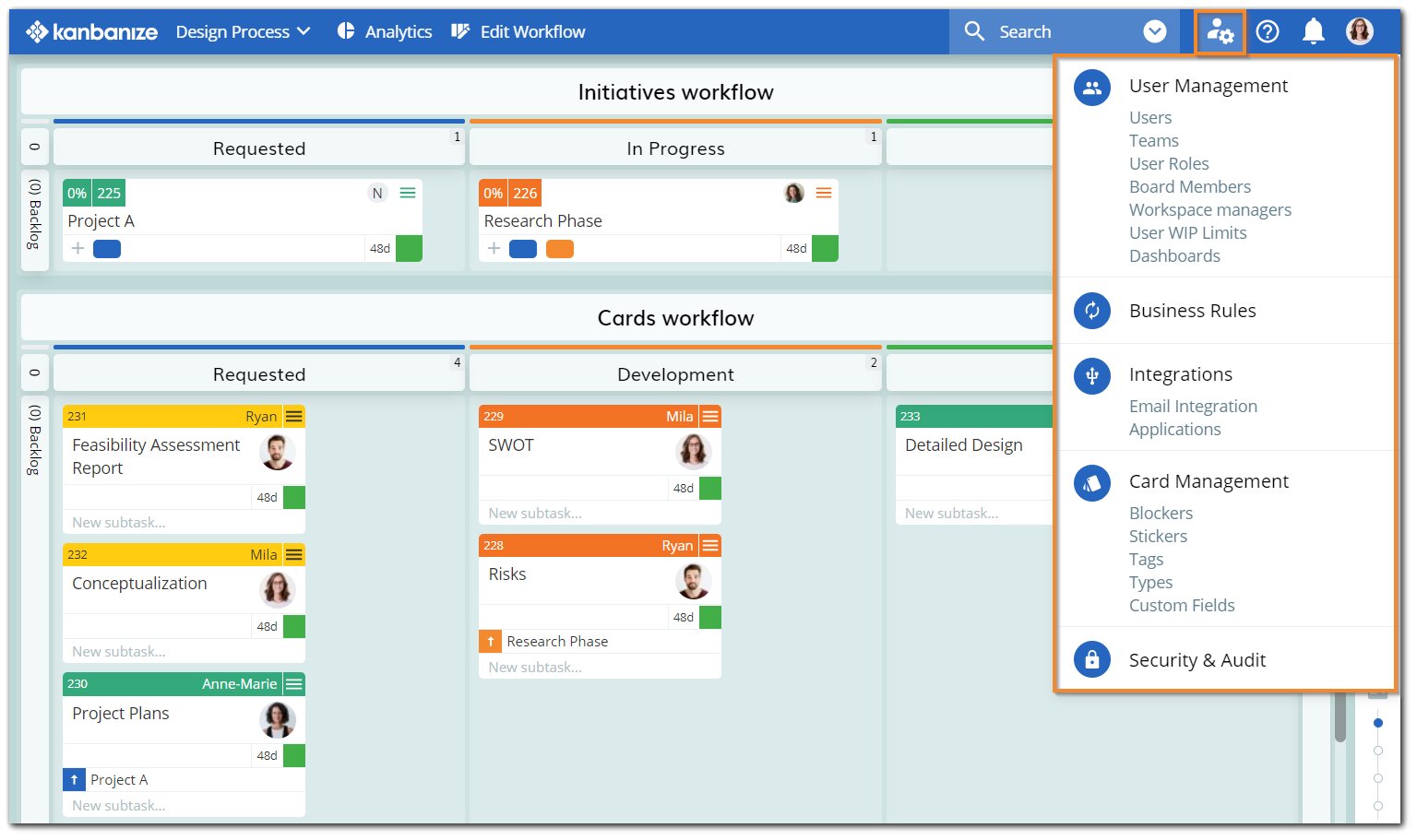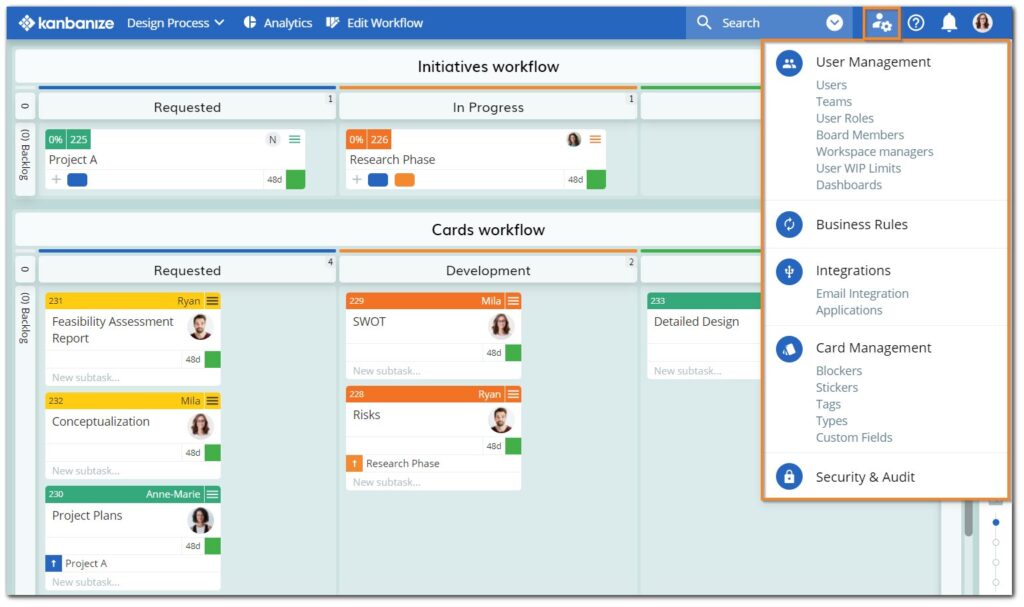 If your team is used to using Kanban boards but requires more flexibility, Kanbanize is a perfect alternative to Trello. The system provides visibility across all teams and automates dependencies using strong business rules. Analytics in the Kanbanize flow engine makes processes dependable and predictable. Power Bi, Google Data Studio, Tableau, Google Drive, Box, and more programs are simple to link with the platform. The ability to build an interconnected network of Kanban boards at the team and management levels is one of the standout features of Kanbanize.
24. Taiga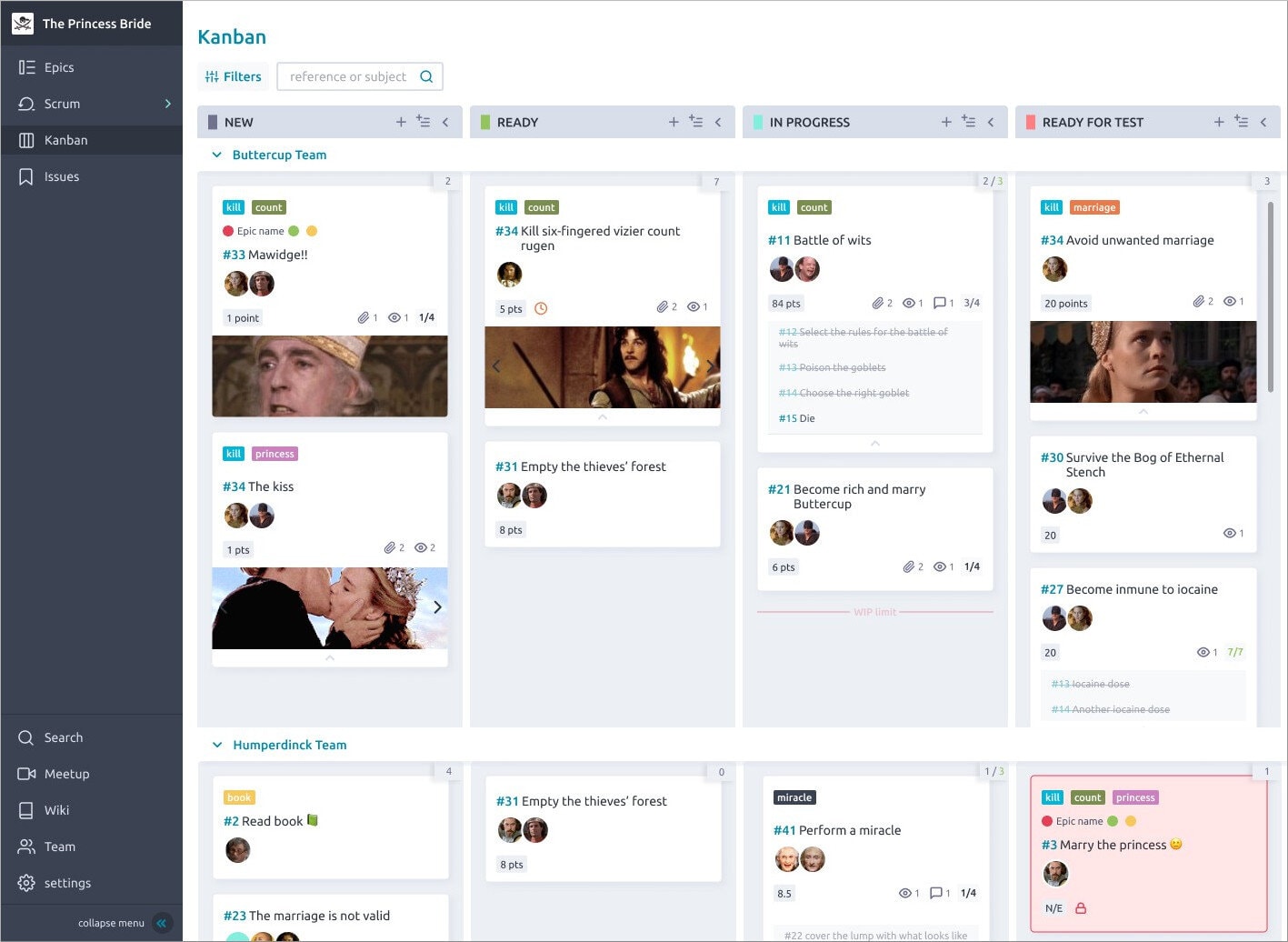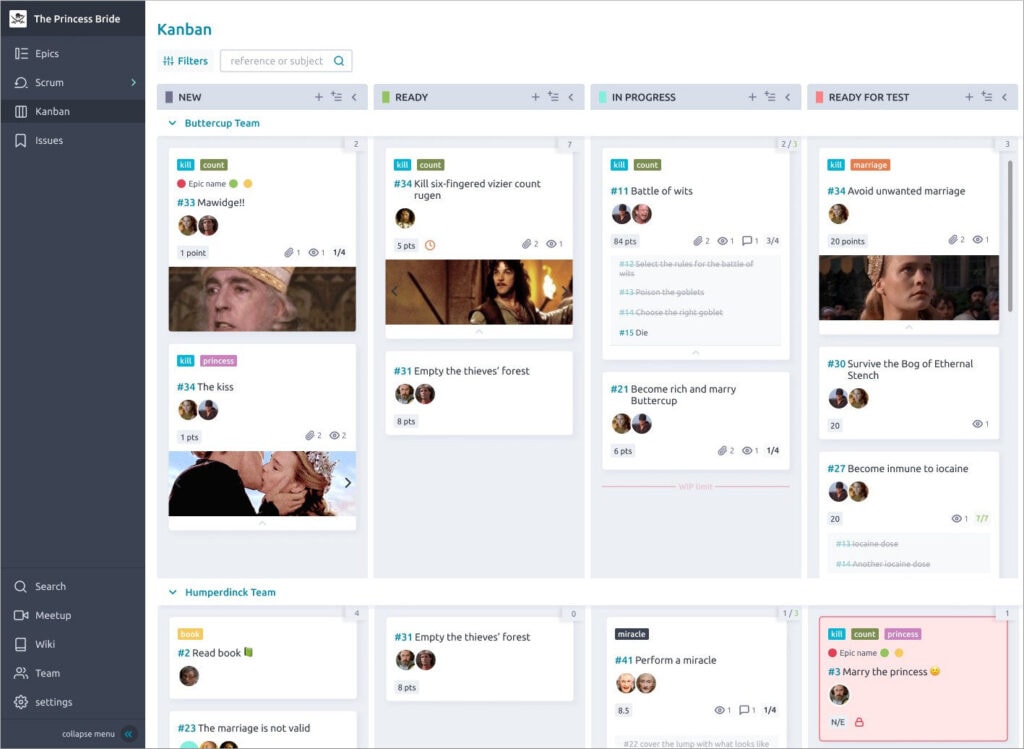 Project managers, developers, and agile designers may all benefit from using Taiga. It's loaded with valuable tools that streamline productivity and boost teamwork in the office. Taiga is a free, self-hosted Trello alternative that makes all projects accessible to the public, while the premium plan restricts access to paying customers. It's a web-based and on-premises application that helps teams using Scrum and Kanban.
25. Karbon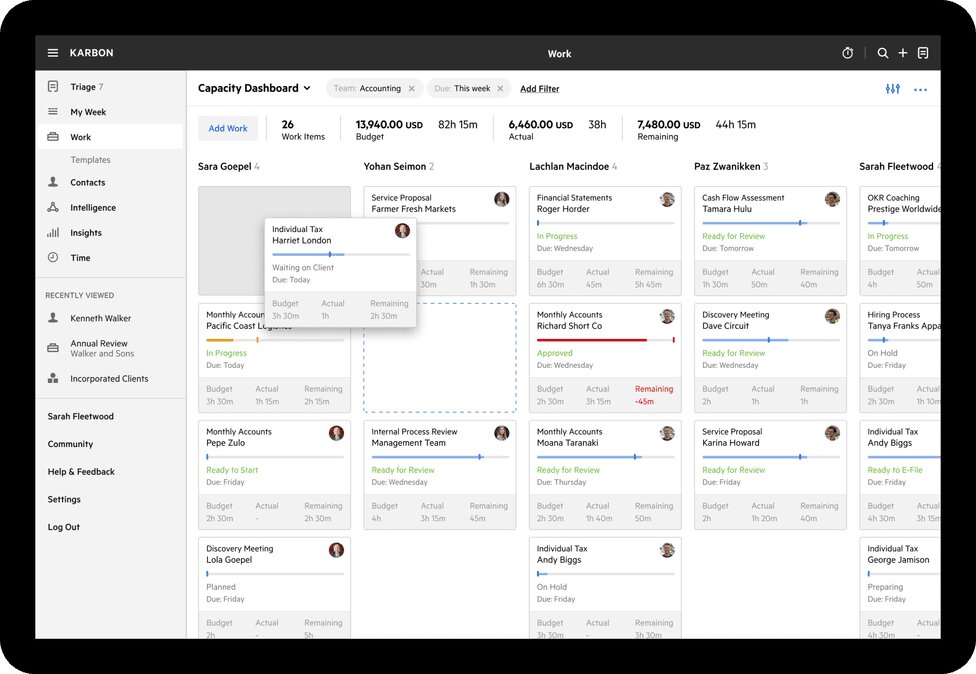 Accounting businesses might benefit from Karbon Karbon's work management and collaboration features. A practice management solution, it facilitates in-office and remote administration of processes, project management collaboration, and client service. Email, customers, jobs, and projects can all be managed centrally, fostering teamwork inside businesses.
Minor- to medium-size companies make up Karbon's user base. In addition to facilitating onboarding at scale, the program also enables automation of activities, process standardization through templates, and scheduled data collection. Job-related attachments are automatically archived and filed. A Kanban board allows everyone to see the status of a task at once, making it easier to find problems. Other features include work filters, checklists, time and cost estimations, activity timelines, and performance analytics.
Conclusion
Team communication software that now includes project management capabilities is becoming more popular among businesses of all sizes and sectors since it facilitates more efficient and reliable output.
Since more and more businesses are adopting remote and hybrid work models, it is more important than ever to ensure you and your team are using the best possible project management software. Most of us have been working remotely for some time, but the tools used to be effective for your team may no longer be. That is why picking a project management solution requires careful consideration.
Trello is a fantastic choice if you're searching for a Kanban-based application to manage several projects. Perhaps, however, you've outgrown Trello and are now on the lookout for something more suitable. Trello's flexibility and ease of use in fitting your own or your team's particular process are only two of its many advantages. In addition to its usefulness as a virtual whiteboard, Trello also functions as a task manager, allowing you to assign and monitor individual jobs and assign them different colors for easy identification.
However, Trello's functionality is limited if you wish to manage a significant number of projects and examine each in a unique style. If that's the case for your team, you may look at project management tools other than Trello.
Users with any background may now look for alternatives to Trello that better meet their requirements. If your team is looking for a solution, you may start with the options we've provided above.
Stay in the loop with Nimbus new articles and updates on Twitter!
Disclaimer
Parties other than Nimbus Platform™ may provide products, services, recommendations, or views on Nimbus Platform™ site ("Third Party Materials"). Nimbus Platform™ is not responsible for examining or evaluating such Third Party Materials, and does not provide any warranties relating to the Third Party Materials. Links to such Third Party Materials are for your convenience and do not constitute an endorsement of such Third Party Materials.
Previous post
8 Top Alternatives to Basecamp for Project Work in 2023
Next post
Top Seven Tools For Team Collaboration in 2023