How to Build a Human Resources Management System with Nimbus: Use Сase of Robbie Forsyth
How to Build a Human Resources Management System with Nimbus: Use Сase of Robbie Forsyth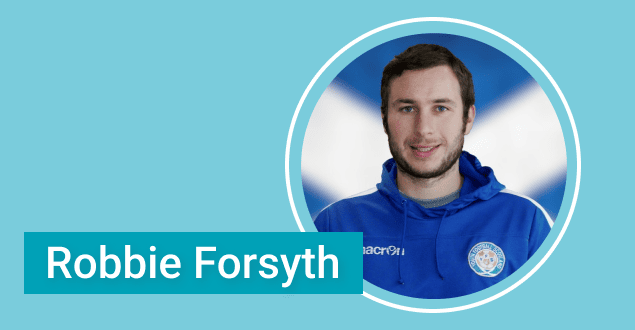 "Now we can easily present the updated HR information and make it custom to each person."
Robbie Forsyth, Director at Youth Football Scotland & YFS Media.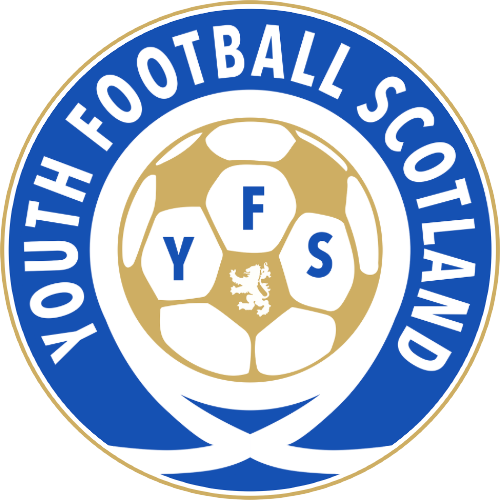 YFS is a not-for-profit social enterprise providing one-stop interactive information, communication, and service resources for players, coaches, teams, clubs and referees involved in Scottish youth football.
What problems did Robbie Forsyth have?
Robbie Forsyth has been a director at Youth Football Scotland for eleven years and a Media director for five years. He has tons of responsibilities from coaching to fundraising and event planning. Part of his work is also in HR management.
Keeping track of expenses, vacations and other human resource management can be time-consuming. Robbie Forsyth was seeking affordable and flexible software to organize a smooth HR workflow. That's why he chose Nimbus Note for his six-member team.
How did he solve his problems with Nimbus?
General idea
Robbie Forsyth has created a system of workspaces: one workspace for each team member (six in total). Each employee has their own workspace as an HR center, which is only viewable to them and HR managers. HR managers create workspaces and have the right to modify them (add additional forms or agreements to sign). They have administrator rights in the Nimbus ecosystem.
To keep information organized, the YFS team has created several crucial folders: Contracts & Agreements, Expenses, Hours, Holidays and Payslips. HR managers add notes with the needed textual information (e.g. holiday guidances) and embeds (Excel tables, Google forms, PDF files). Team members fill in the tables and track their work hours and vacation dates.
Here is how everybody can find general HR information and track all data. Meanwhile, HR managers have access to an overall image. With this human resources management system, it has become much easier to manage the team and keep documents, guides and trackers in one place.
Watch source YouTube video recorded by Robbie Forsyth>>
More details
The HR management system unites several Nimbus workspaces. Each team member has their own workspace (HR center), where they can see general guidelines and add information (hours, vacation dates, expenses and so on). Certainly, each employee's confidential information is available only to the employee and HR managers.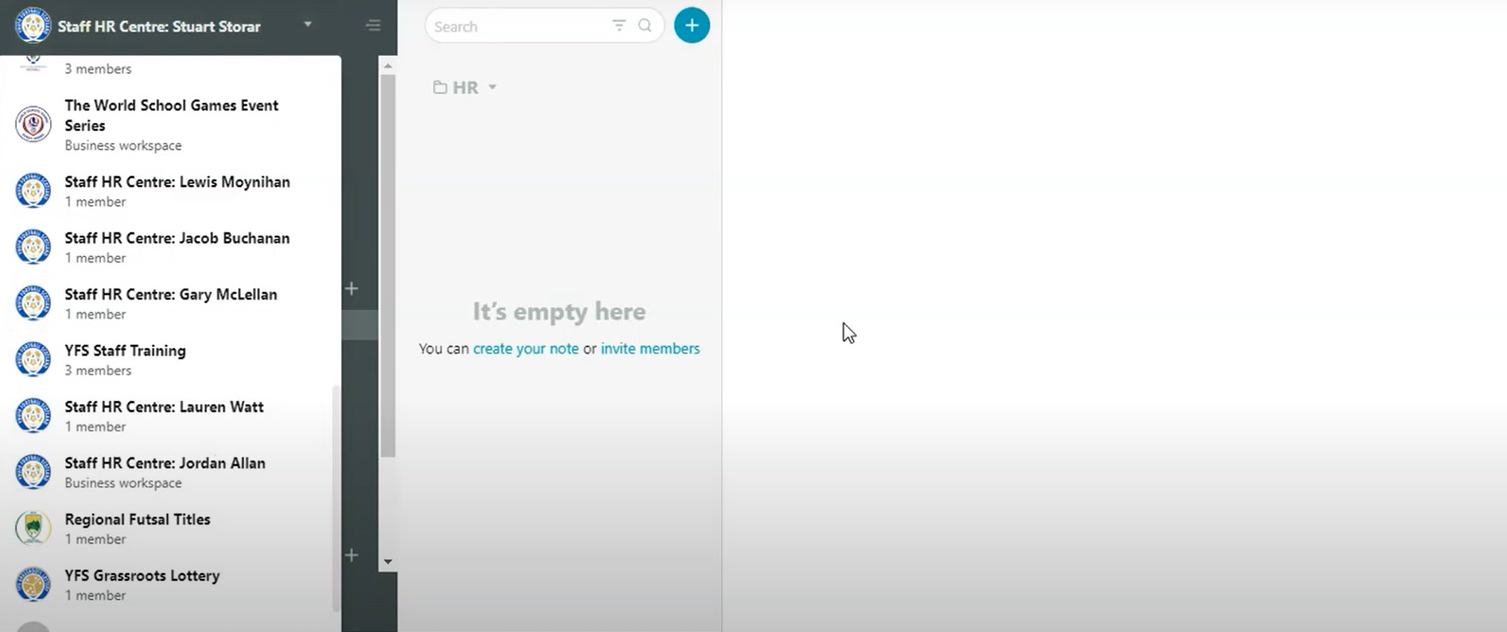 To keep everything organized and sorted by topic, the YFS team sets several folders.
The Contract and Agreements folder is for storing current contracts and historic ones.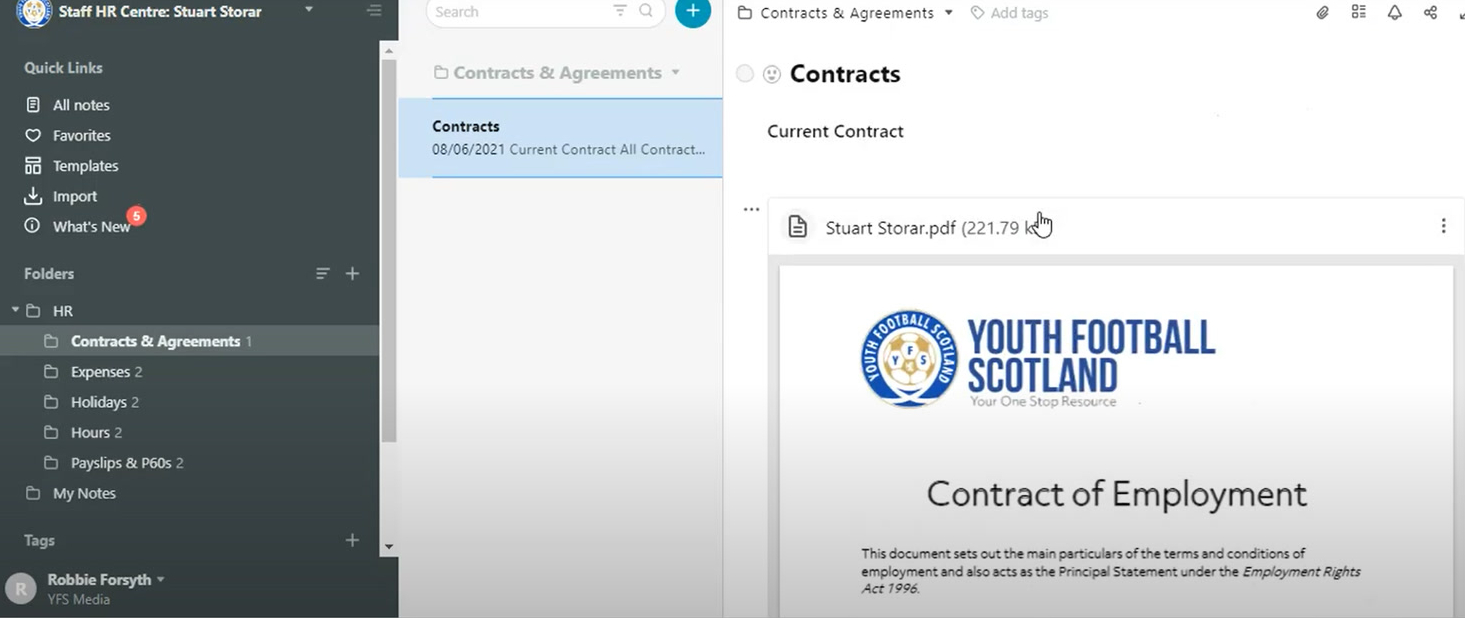 In the Expenses folder, the administrators embedded an Excel table to track travel expenses. They also created a Google form for claiming expenses and added it as a link. This way, all staff members know where to find the link and don't have to scroll through an entire mailbox for it.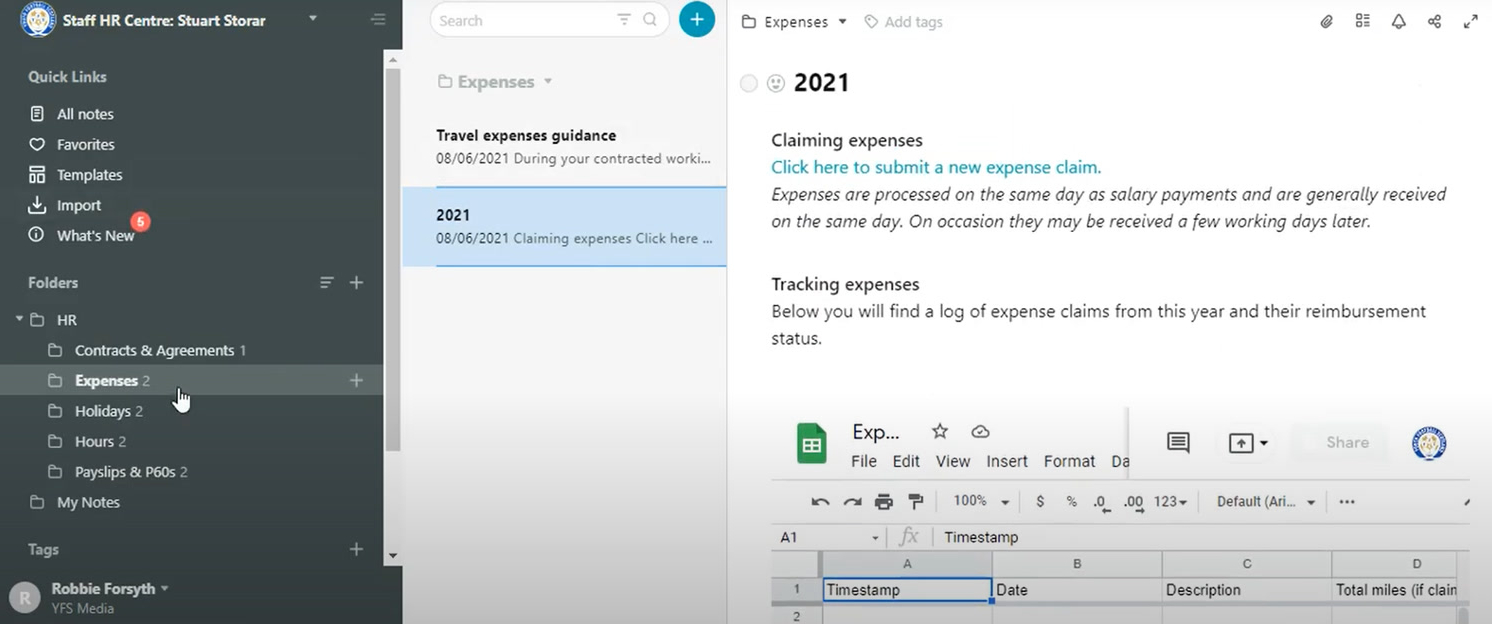 A similar solution was applied to the Holidays folder. Here, employees can find text guidelines, a form to fill out for vacations and a holiday tracker.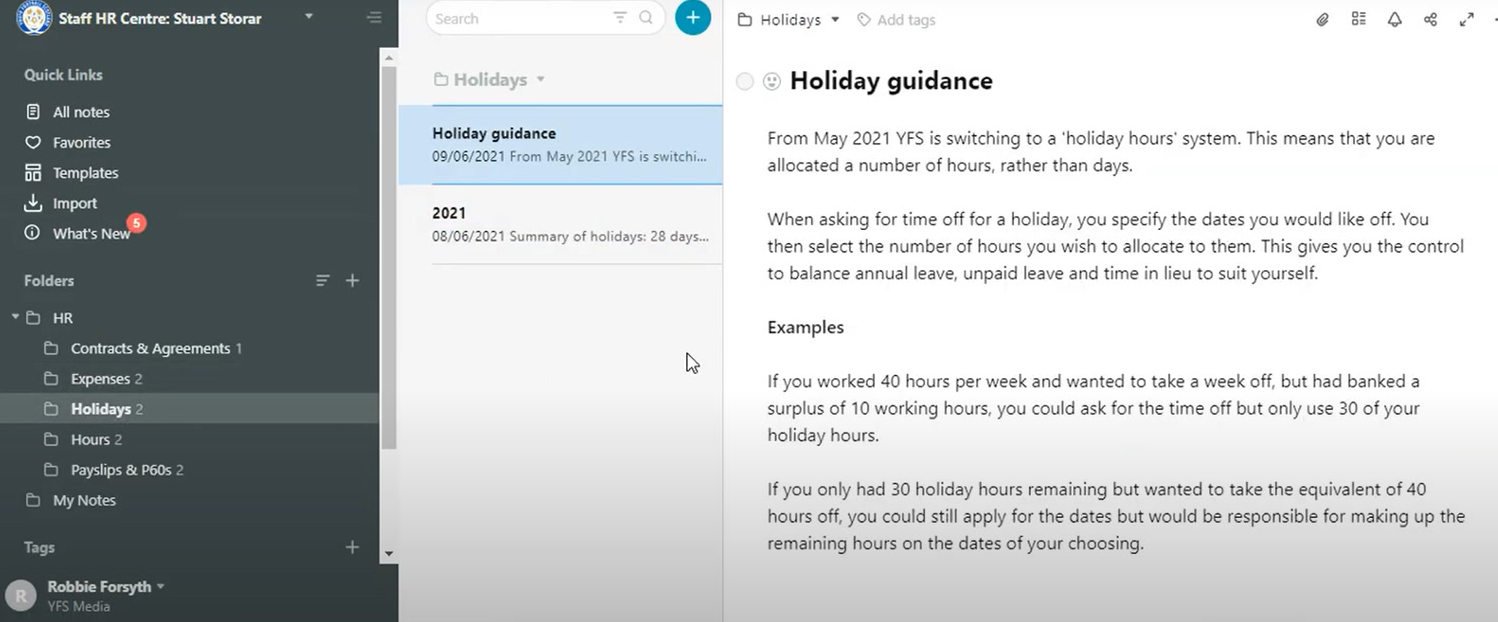 In the Payslips and p60 forms folder, all employee personnel files on staff historic payslips and p60 forms are gathered. A simple table with two columns helps keep the documentation organized. The first column is for payslips months, the second – for the payslips themselves added as files.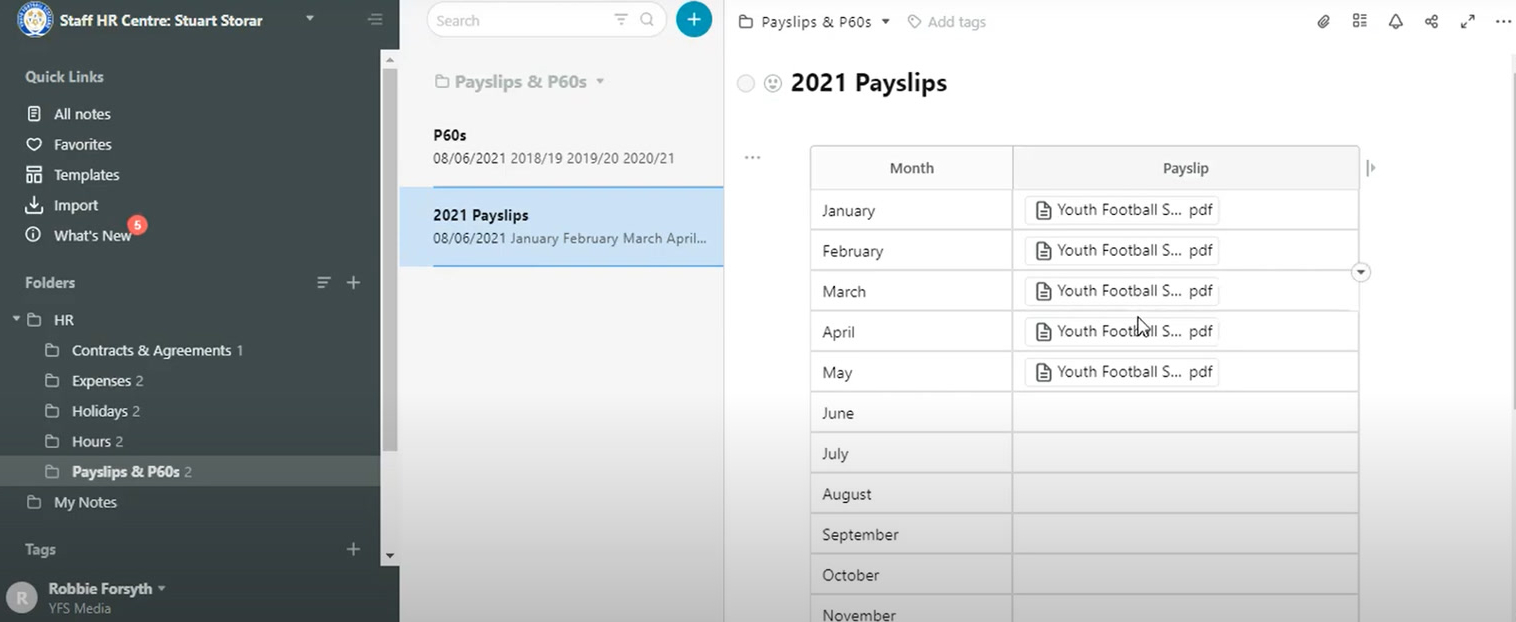 For some junior members of staff, there is also an Hours folder. There, employees can read the guidelines about working hours and track theirs. The team estimates the hours and then fills in the tables. This tracking is used for employee performance reviews.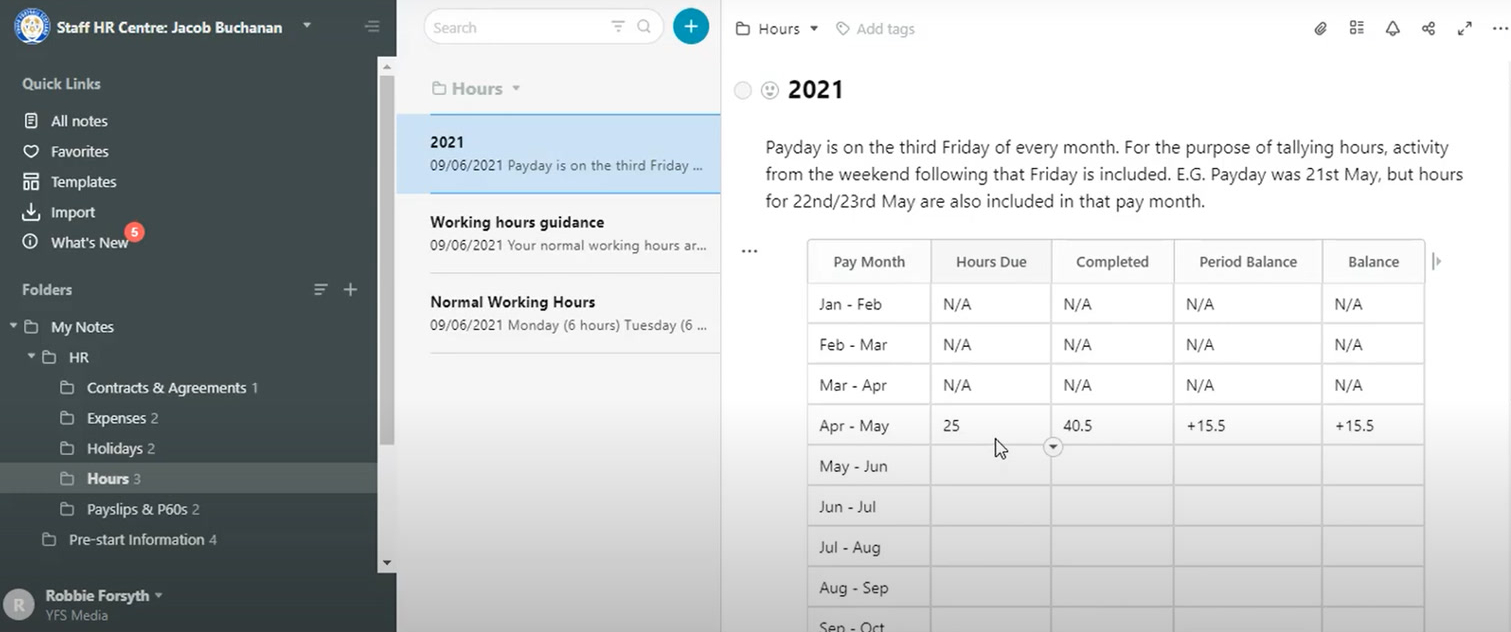 With Nimbus, Robbie Forsyth:
has built a convenient tracker for each staff member and an efficient HRM system for administrators;
keeps all information on HR processes in one place: each employee knows where to look for a needed links or information;
controls information flow. Team members see only their personal information and general rules established for the company. Administrators see an overall picture through embeds, tables, forms;
provides flexibility to the team.
Credits to Robbie Forsyth for his ideas on using Nimbus Note.
You can try Nimbus too and open the world of multiple solutions! Build a human resources management system like the YFS team or create your own use case.
Tailor Nimbus to your needs and achieve your goals!