How to Save Hours on Creating and Translating Content with Nimbus AI
How to Save Hours on Creating and Translating Content with Nimbus AI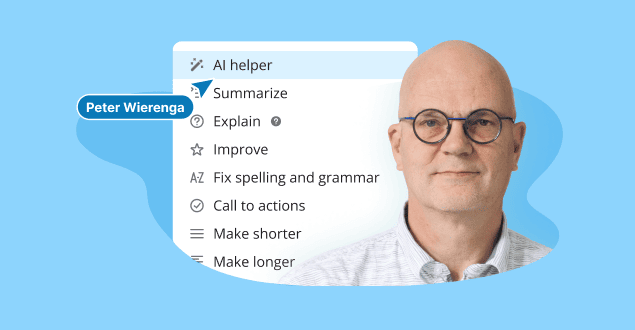 Let Nimbus AI aid you in your tasks and make your life easier!
Make it happen
Meet Peter Wierenga, the Director of European Christian Mission Netherlands and a cherished member of our Nimbus Community. ECM's operations extend across 34 European countries, continually welcoming new members from all corners of the continent.
One of the mission's significant challenges has been delivering uniform training for people who speak different languages. Peter wanted every member to receive the same high-quality training and understanding regardless of origin.
After integrating Nimbus AI into the workflow, Peter Wierenga and his team built an effective onboarding process. Now, they can prepare well-polished content in multiple languages to properly instruct newcomers.
Watch Peter's detailed video review of Nimbus AI, highlighting the game-changing features that helped EMC NL overcome the language barriers once and for all.
If you can't watch the video right now, the following article thoroughly summarizes Peter's take on Nimbus AI. Dive in!
Nimbus AI Replaces Human Translators
Peter's quest for a solution led him to Nimbus AI, which he decided to integrate into the training and communication protocols within EMC NL a year and a half ago. It made creating content easier and impressively sped up translations into different languages. As a result, the team now operates with enhanced efficiency, and the training process has been standardized.
Based on Peter's example, let's see how you can utilize Nimbus AI within your workflow.
Craft content and edit it on the spot
Using Nimbus AI, Peter ensured that every piece of generated content, be it a simple memo or a detailed training module, was of the highest quality and maintained consistency across various languages. What's also important is that the time needed to create training guides from scratch decreased significantly.
It takes me 50% less time to have the well-written text and the grammar and spelling checked.
To prepare a Zoom guide for newcomers, Peter simply had to highlight the text he wanted to work with, click "Use AI", and choose "Explain" from the pop-up menu.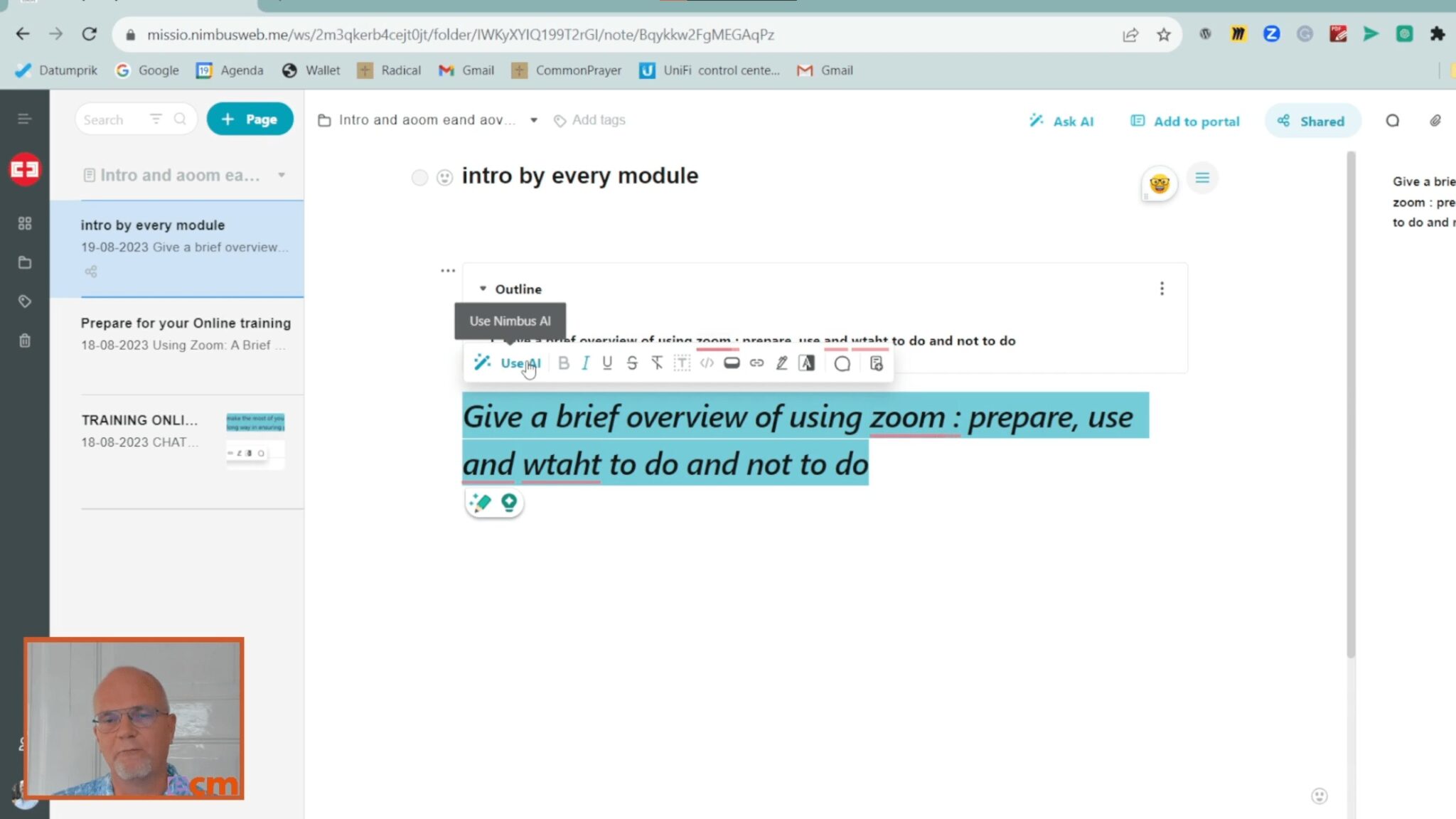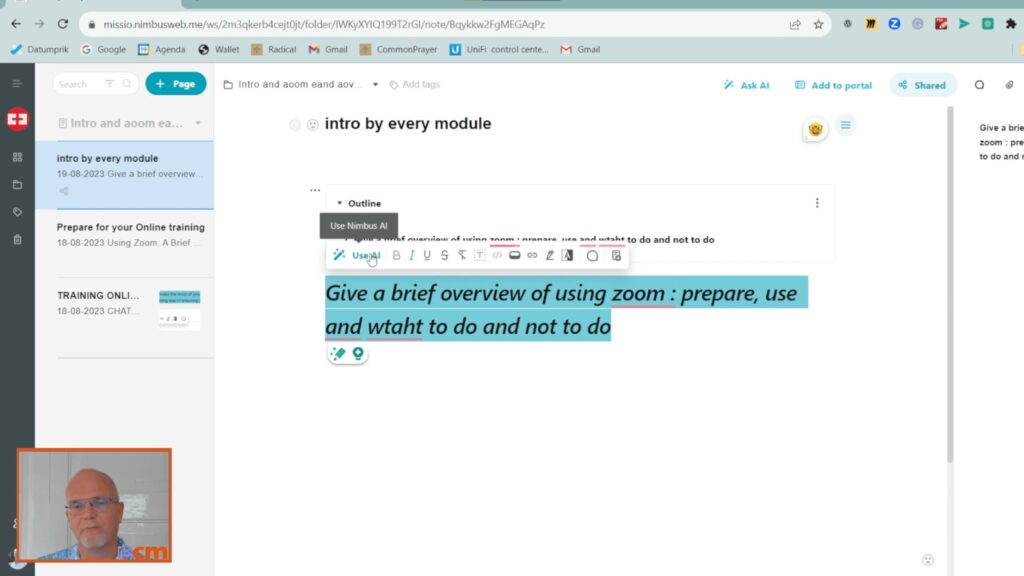 Within seconds, Nimbus AI generated a brief guide for using Zoom. It spanned key points from "Download and Install" to "Dos and Don'ts", which covers basic online meeting etiquette. It is so convenient to have your document ready in such a short time, sparing the hassle of piecing together information from numerous sources.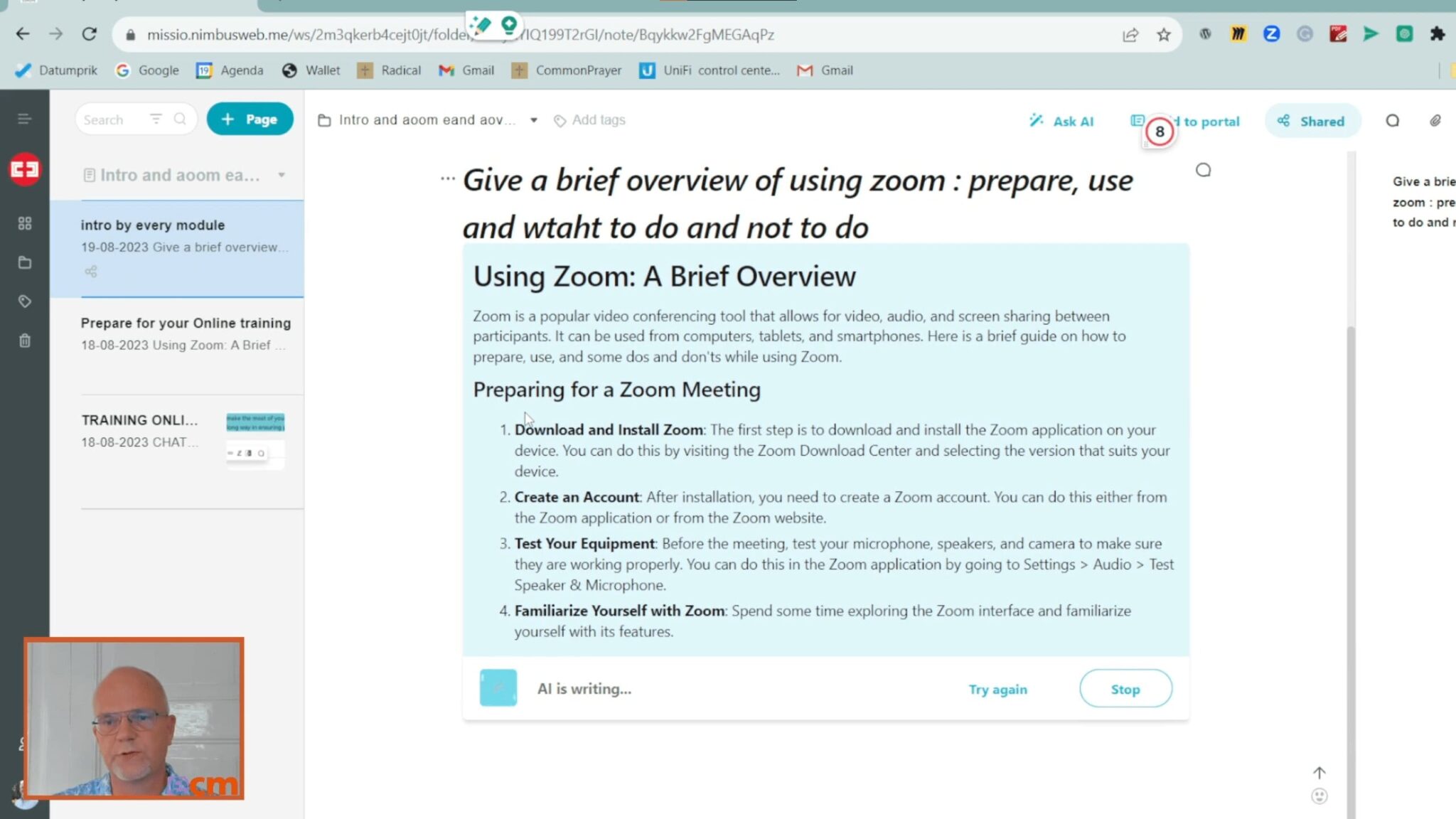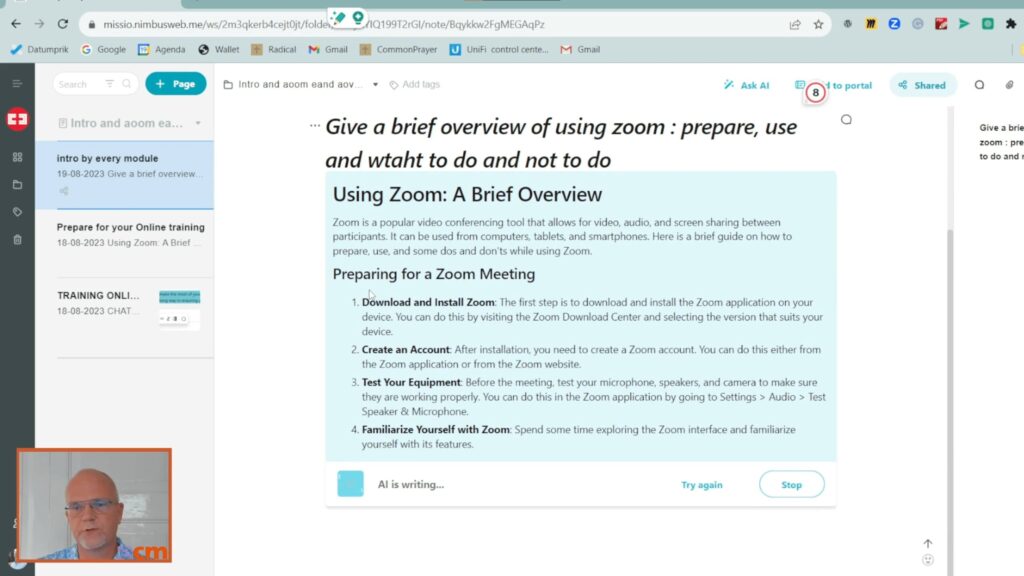 Translate content to 100+ languages
One of the standout features that Peter highlighted was the software's seamless text editing and translation capabilities. Working with members from various linguistic backgrounds, the need for accurate and quick translations was vital. Nimbus delivered on this front, making multilingual communication effortless.
The integrated AI supports more than one hundred languages spoken around the world, so you can rest assured your messages will be accurately conveyed. To translate any text in your Nimbus pages, ask AI with a prompt, as Peter did in his demonstration. He purposefully misspelled a few words in his prompt, and our AI helper still understood the assignment.


Once your prompt is ready, hit "Enter" to witness the AI translating your content in real time. Not only does this save precious hours, but it also ensures consistent and accurate translations, eliminating potential human errors and maintaining the integrity of the original message.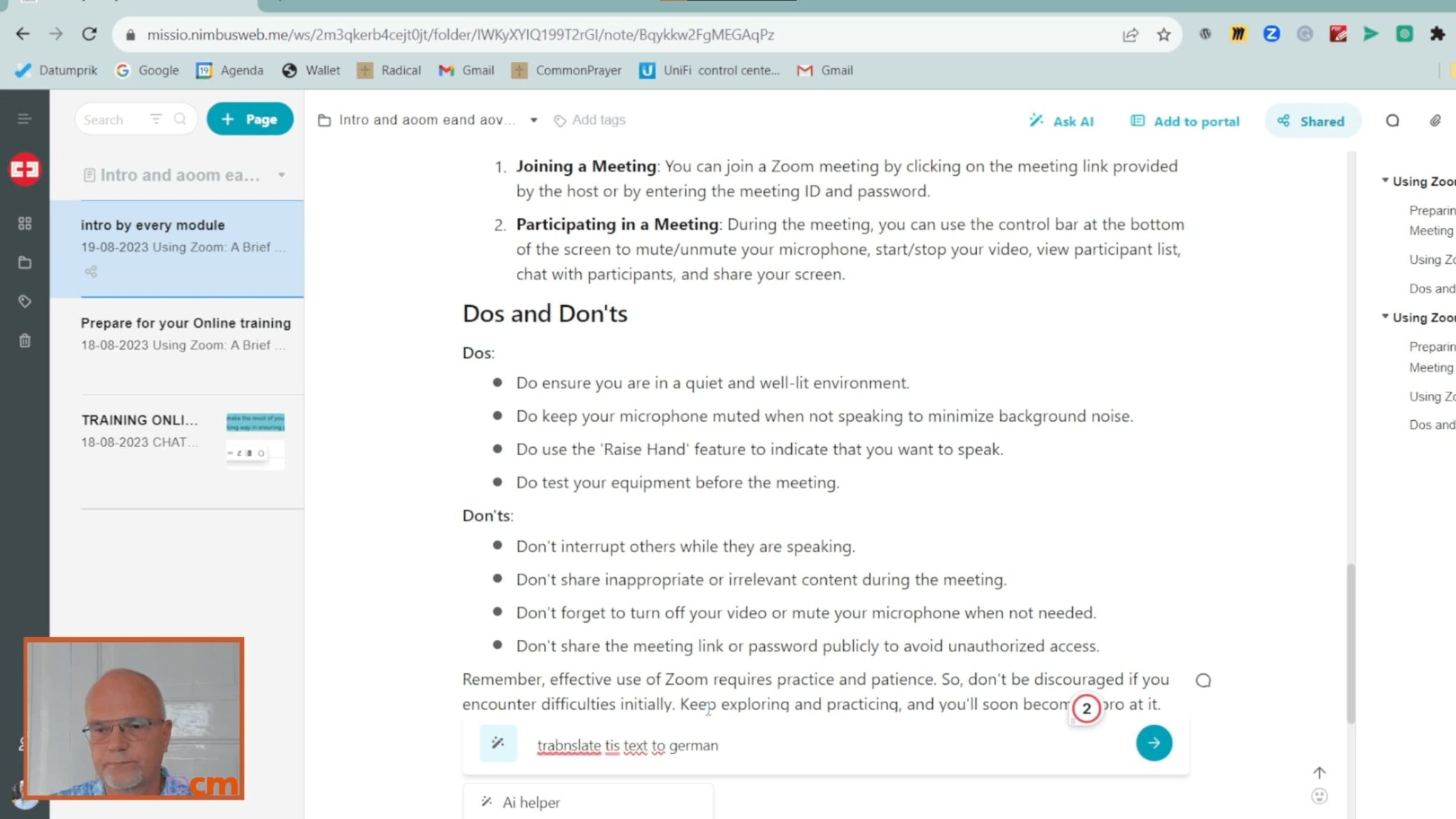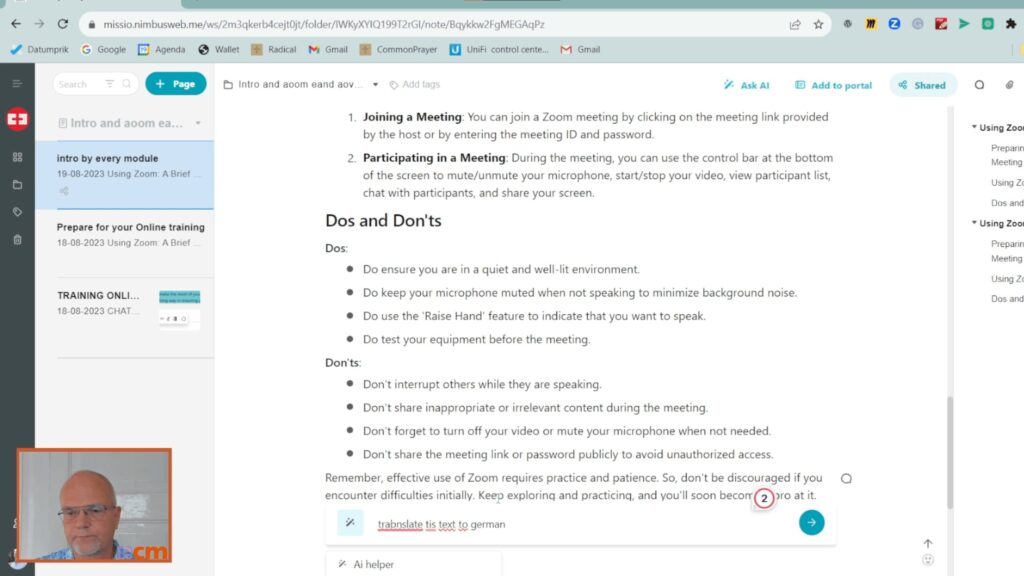 Nimbus AI is also great at translating texts from and to languages that use the Cyrillic script. Peter tried translating the initial Zoom guide into Bulgarian with a prompt. The AI took slightly longer to process because of the language's complexity, but it retained the original layout, eliminating the need for further formatting.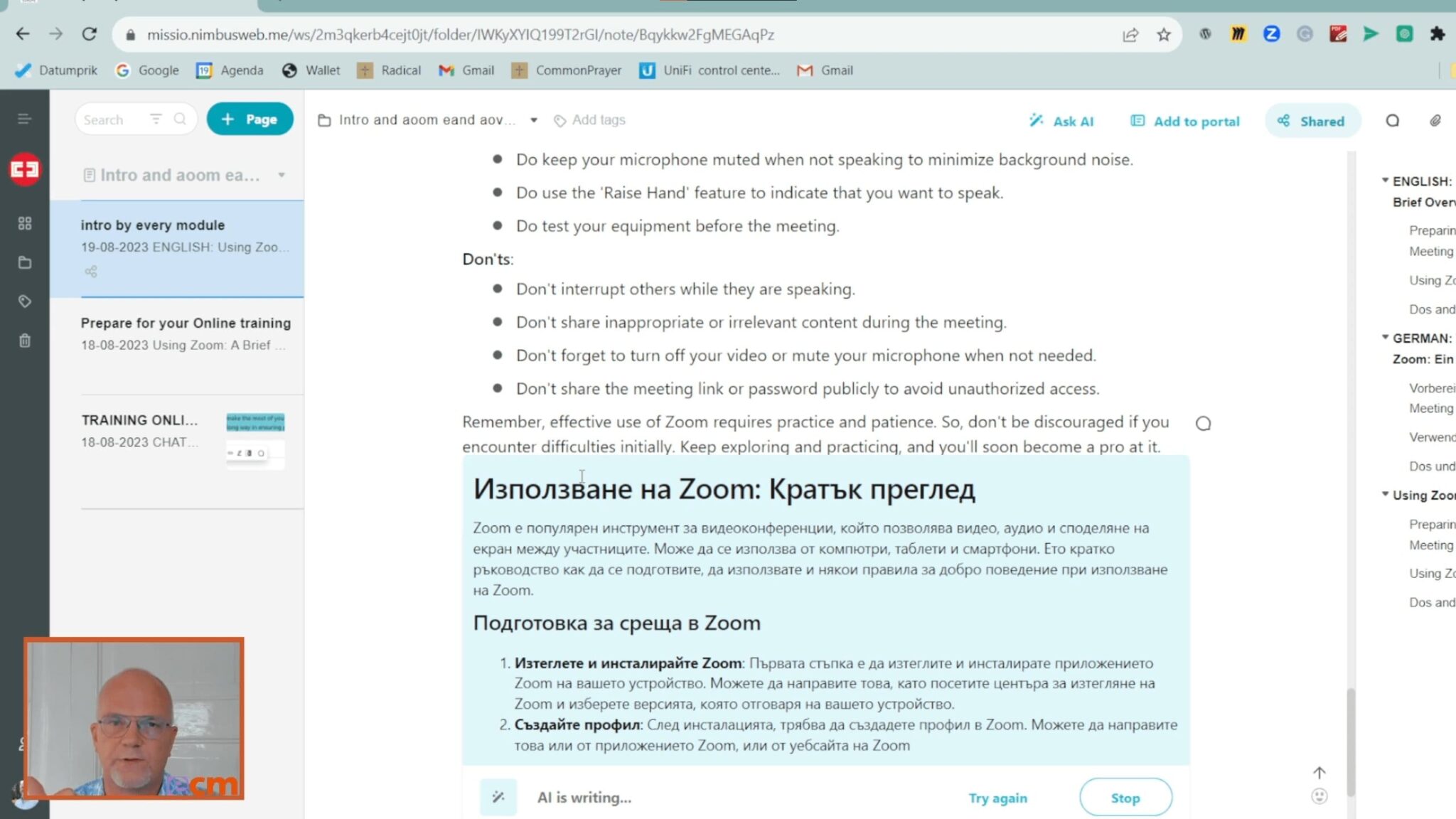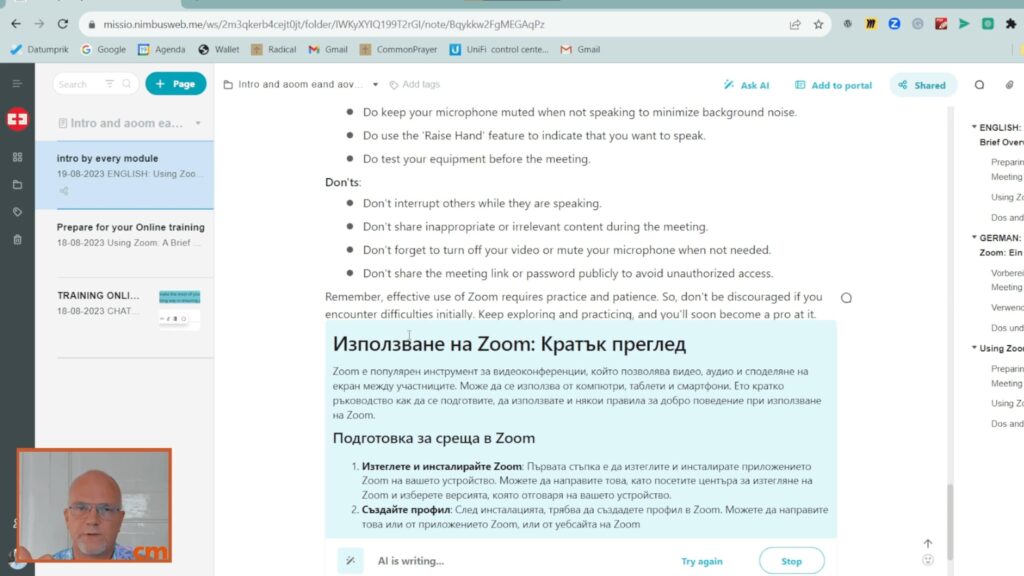 Moreover, Nimbus AI comes equipped with a grammar and spelling checker. Using it ensures that every piece of content, whether manually typed by you or produced using AI, maintains the highest quality standards. Try it out when drafting your next report or creating onboarding materials to experience the boost in content quality and consistency it delivers.


As Peter mentioned, he uses Nimbus AI as his go-to tool for drafting and polishing all types of content, from email letters to detailed project management documents. This way, his writing is always at its best, and his colleagues are always presented with accurate and well-structured information.
Generate ideas with AI Brainstorming
Language differences once posed significant challenges to effective brainstorming sessions within Peter's team, but that changed upon integrating Nimbus into their workflow. According to the EMC Netherlands Director, his team uses AI-driven features on Nimbus to both generate ideas based on the prompt and draw inspiration from generated content.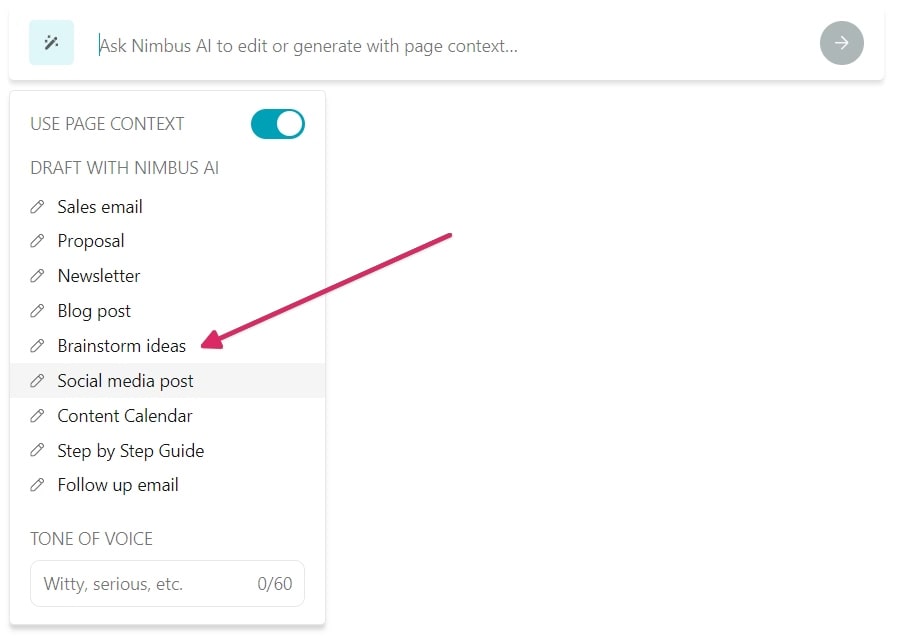 Generate hundreds of creative ideas with Nimbus AI
Share content with ease
Peter's team also makes use of the tool's checklist feature. This helps them collaboratively agree on modules before they're finalized, enhancing teamwork and ensuring a shared understanding of the content. Everyone in EMC NL is on the same page now, literally and figuratively.
To share notes with team and trainees, Peter uses the public sharing feature in Nimbus. This allows team members to view the content without needing to create a Nimbus account, as it's accessible with just a single link.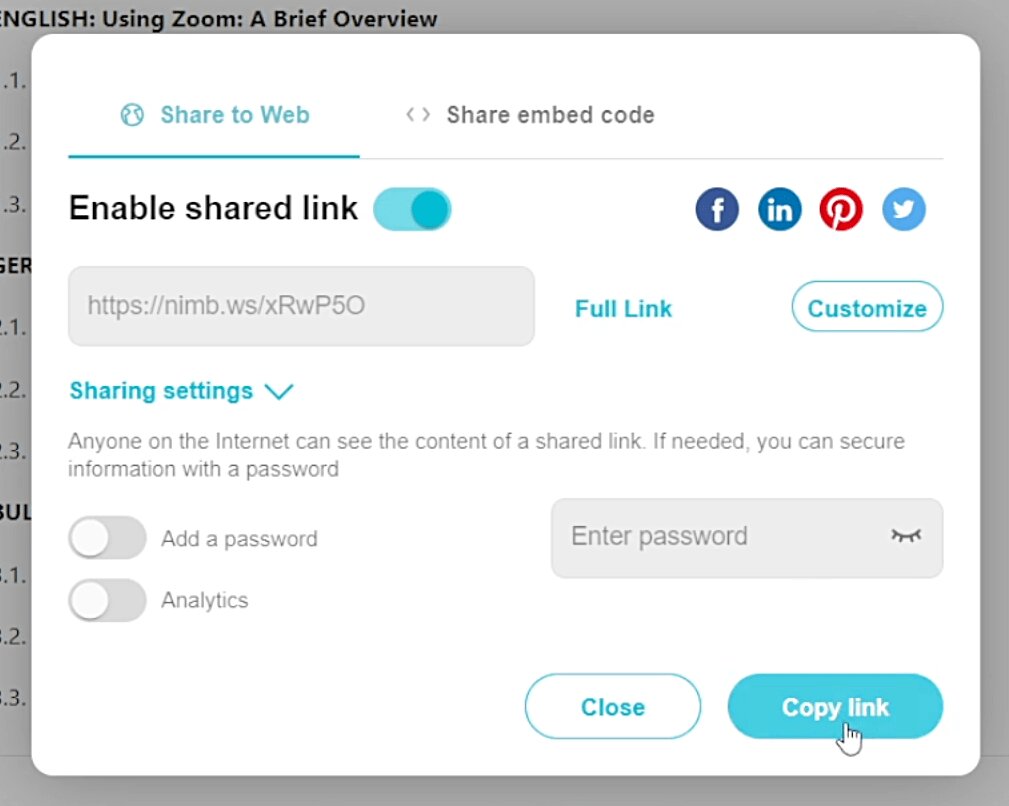 Make your content more appealing
While the AI translation tool within Nimbus is a game-changer, Peter particularly highlights its precision in retaining the layout and structure of the original content. This consistency aids in ensuring that translated modules match the quality and formatting of the original version.
The software's ability to generate a page outline provides a snapshot of the content, aiding in quick navigation. Peter can easily locate and jump to specific sections of interest within the page using the table of contents.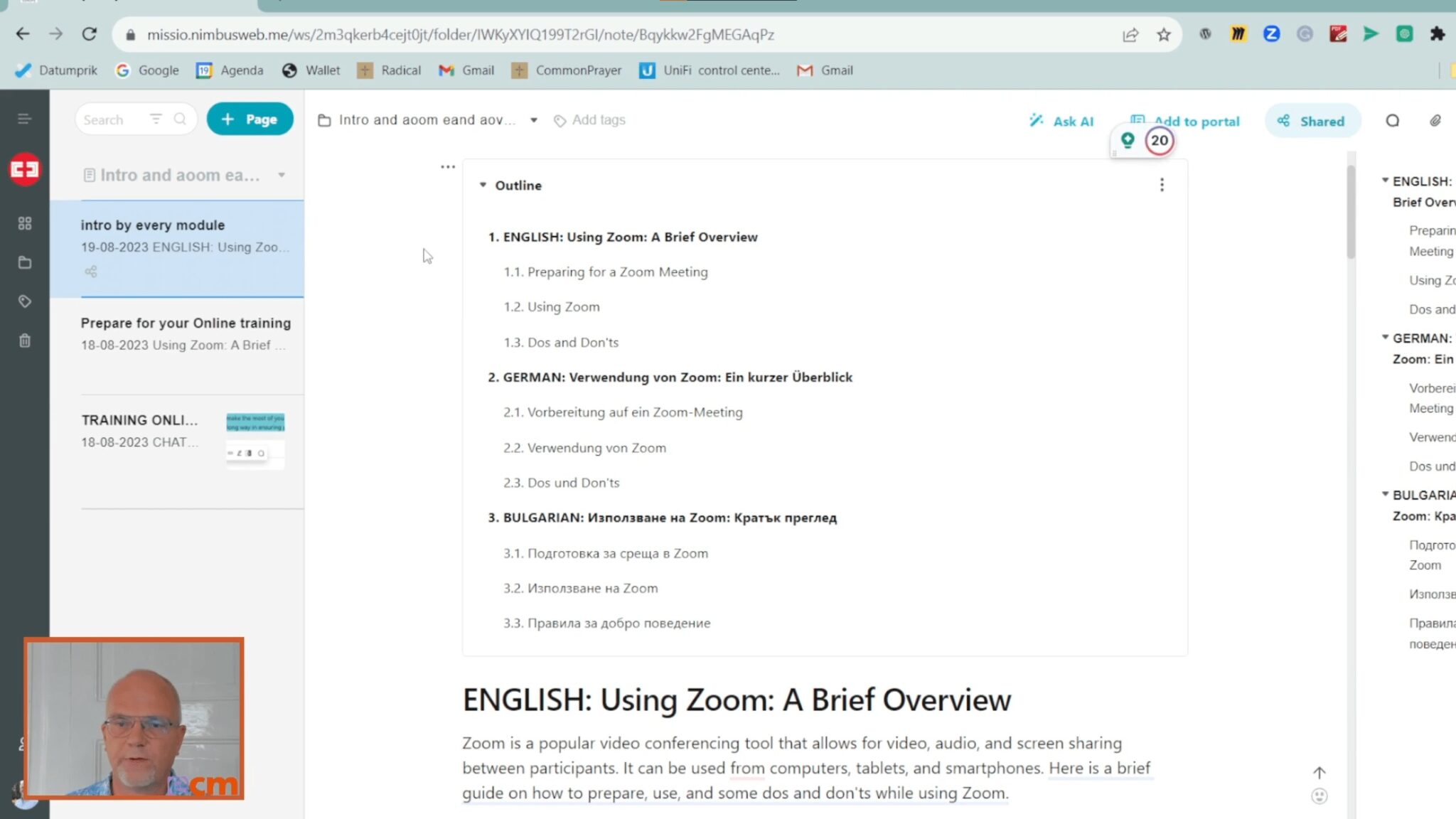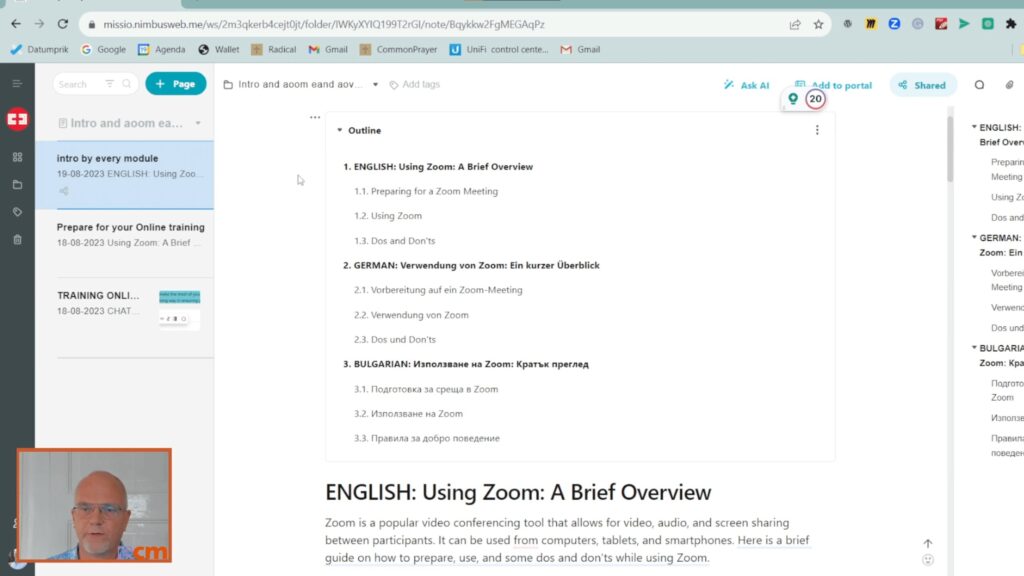 Such a feature is invaluable, especially when dealing with extensive content. Entrepreneurs and business professionals can benefit from the outline feature when preparing detailed business plans to let stakeholders swiftly navigate to sections of interest, such as financial projections or market analysis.
For trainers and HR professionals, having an organized outline for their training materials ensures that modules are sequenced logically. Trainees or employees can easily follow along or skip to specific sections, enhancing the efficiency of the training process.
Wrapping Up: Using Nimbus AI For NGO
In reflection, Peter shared that, as a 61-year-old, he was initially skeptical about navigating a new digital platform. However, Nimbus exceeded his expectations and proved him wrong in a good way. It wasn't just user-friendly -it was transformative. Today, with Nimbus AI by his side, Peter confidently tackles tasks he previously considered too complex.
The integration of Nimbus AI into the EMC NL workflow has significantly reduced the effort and time typically required for multilingual content creation, layout adjustments, translations, and grammar checks.
Online collaboration tools revolutionized the day-to-day operations of businesses, individuals, and NGOs around the globe. At Nimbus, we lead the way in shaping the future landscape of digital collaboration.
Book a demo with our experts and learn how to create content effortlessly today!
Previous post
Crafting a Self-Service Strategy for Customer Satisfaction
Next post
Top 5 Client and Customer Onboarding Software in 2023