B2B Customer Service: Insights, Practices and Expert Tips
Elevate Your B2B Customer Service with Nimbus Platform!
Make it happen
In today's business world, where customers have nearly unlimited choices, staying competitive is becoming increasingly complex. It's no longer just about the product itself but about the lasting impression left after the purchase. This feeling is what makes customers return over and over again and thus keeps your business rolling. This turns your clients into the advocates for your brand that may persuade other potential customers to make a purchase decision. And all this is making customer service a real game changer.
According to a Microsoft study, an astonishing 95% of respondents have indicated that customer service significantly influences their brand choices and further loyalty to them. Whether we like it or not, we must acknowledge the reality that modern-day customers are accustomed to an abundance of choices and high service standards. And to maintain a competitive advantage, businesses must match the rapid pace of customer demands and expectations.
In this article, we will delve into the concept of B2B customer service, examine its differences from B2C customer service, outline best practices for B2B service and strive to compile an ultimate toolkit for organizing the best possible customer service in your company. So fasten your seatbelts and let our journey begin.
What is B2B Customer Service?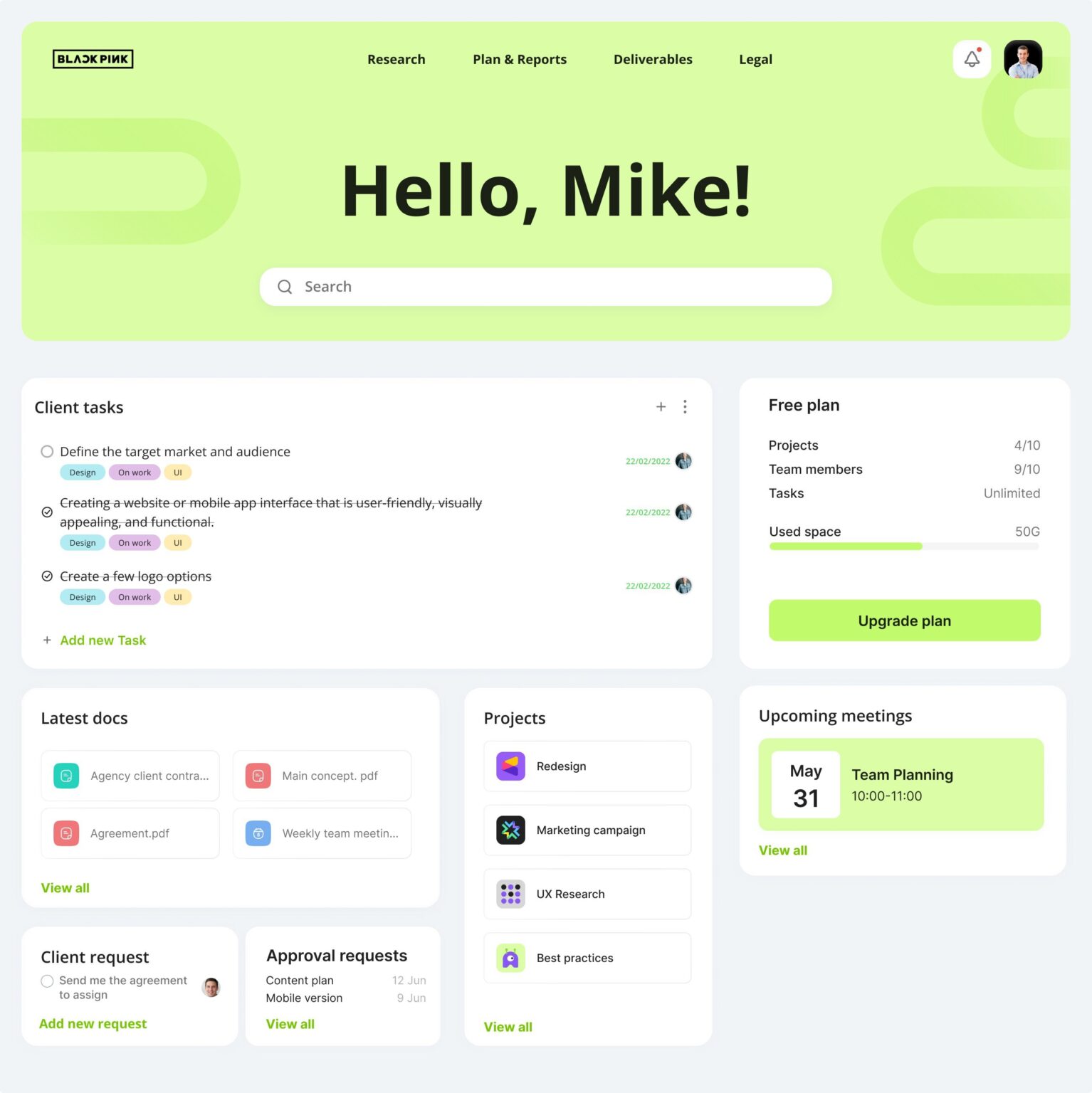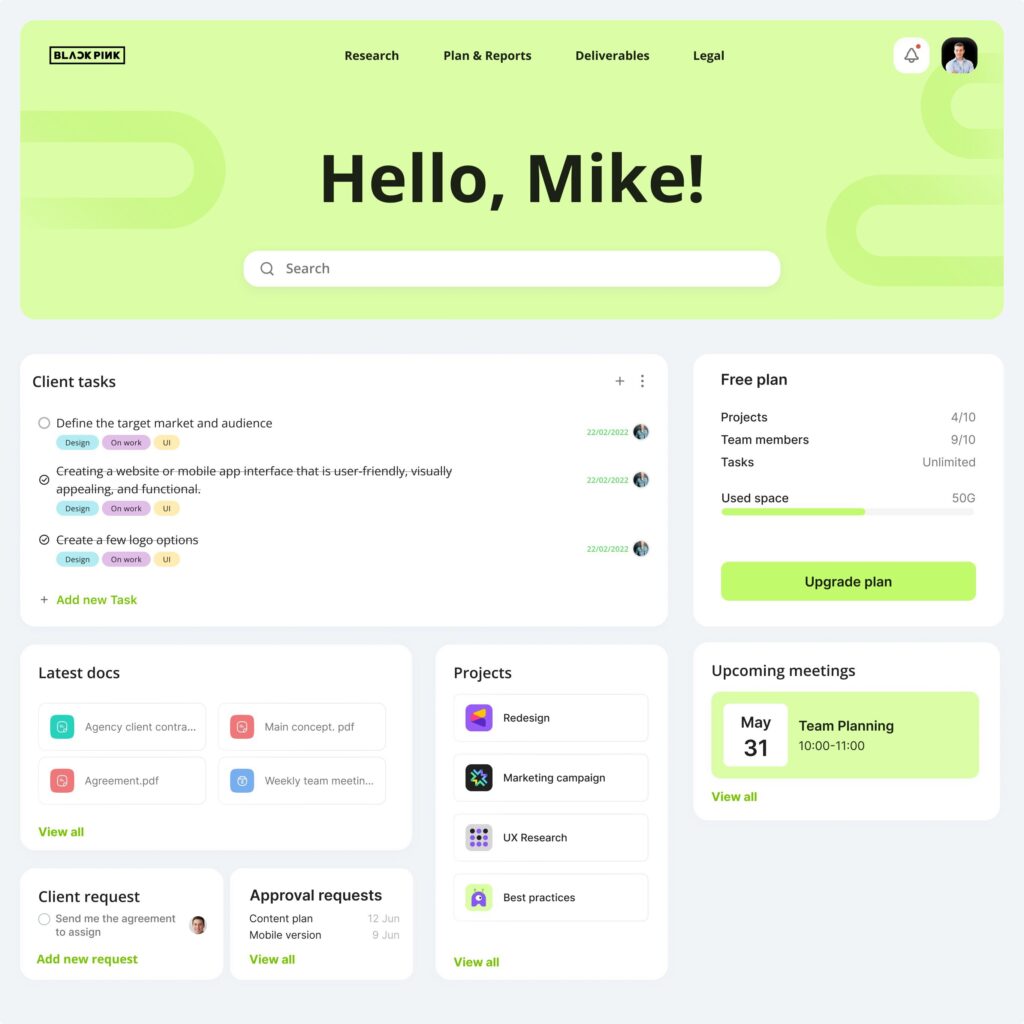 A B2B (business-to-business) company delivers products or services to other businesses. Therefore B2B customer service refers to support and assistance provided by a business to the businesses that are using its product or services.
B2B customer service often involves communicating with client companies in order to address their inquiries, answer their questions, resolve their issues and provide technical guidance and support. This can be done through a live customer service team, AI-powered chatbots, help center, knowledge bases and other self-service options.
In B2B customer service, the purchased product is often the backbone of the customer's business operations. That is why when something goes wrong, customer issues should have a quick and effective resolution. Not only does your product or service need to be of high quality, but your customer care does as well. It is not something merely recommended but rather a necessity.
Differences Between B2B and B2C Customer Service
While the ultimate goal of both B2C (business-to-consumer) and B2B (business-to-business) customer service is pretty much the same and lies in satisfying customers in order to build strong customer relationships, there are some significant differences in how they are conducted because of the entirely disparate customer segments they cater to. So in fact, B2C and B2B customer service are two distinct approaches to achieve the same goal – please a customer and make them return.
Although B2B and B2C customers are quite similar in that they both pay you for your product or service, the customer service structure between the two differs much. Let us look at those differences in more detail.
Depth and duration of customer relationships: Business relationships in the B2B context often involve longer-term partnerships while B2C interactions are typically transactional and usually rely on a larger customer base. This relationship is more individual-focused and may be shorter in duration. Besides that, B2B companies typically have fewer customers than their B2C counterparts, which also influences the strategy of B2B customer service as well as the delivery of a smooth customer experience.
Complexity of transactions: B2B transactions are often complex and involve negotiations, contracts and custom solutions. B2C transactions in their turn are generally simpler and involve individual purchases. First contact resolution for B2B customers is usually lower than for B2C namely because of the complexity of issues.
Furthermore, the complexity of B2B requests often requires joint efforts from multiple teams to resolve, primarily due to higher price ranges associated with B2B transactions compared to B2C. The B2B sales process is much more complicated too – multiple teams are engaged including a sales rep, finance and legal teams, IT department, etc. Sometimes companies establish specialized cross-functional teams to manage the purchase process and organize post-purchase support.
Decision-making process: B2B purchases involve numerous decision-makers within a company and customer service often needs to be channeled to multiple stakeholders. B2C purchase decisions are primarily influenced by individual preferences and sometimes a spontaneous impulse. The B2B customer service structure requires more effort to convince the customer to make a purchase.
Communication channels: Communication in the context of B2B customer service is usually highly personalized and involves not so many communication channels: including emails, phone calls, face-to-face meetings and enterprise-level support. B2C customer service typically includes a broader range of channels, including social media, chat and various digital self-service options.
Response time: B2B customers usually have complex requests and understand their resolution may take time. On the other hand, B2C customers expect quicker response times, often within hours. According to Emplifi, 52% of consumers expect a response from a brand within one hour.
Best Practices for B2B Customer Service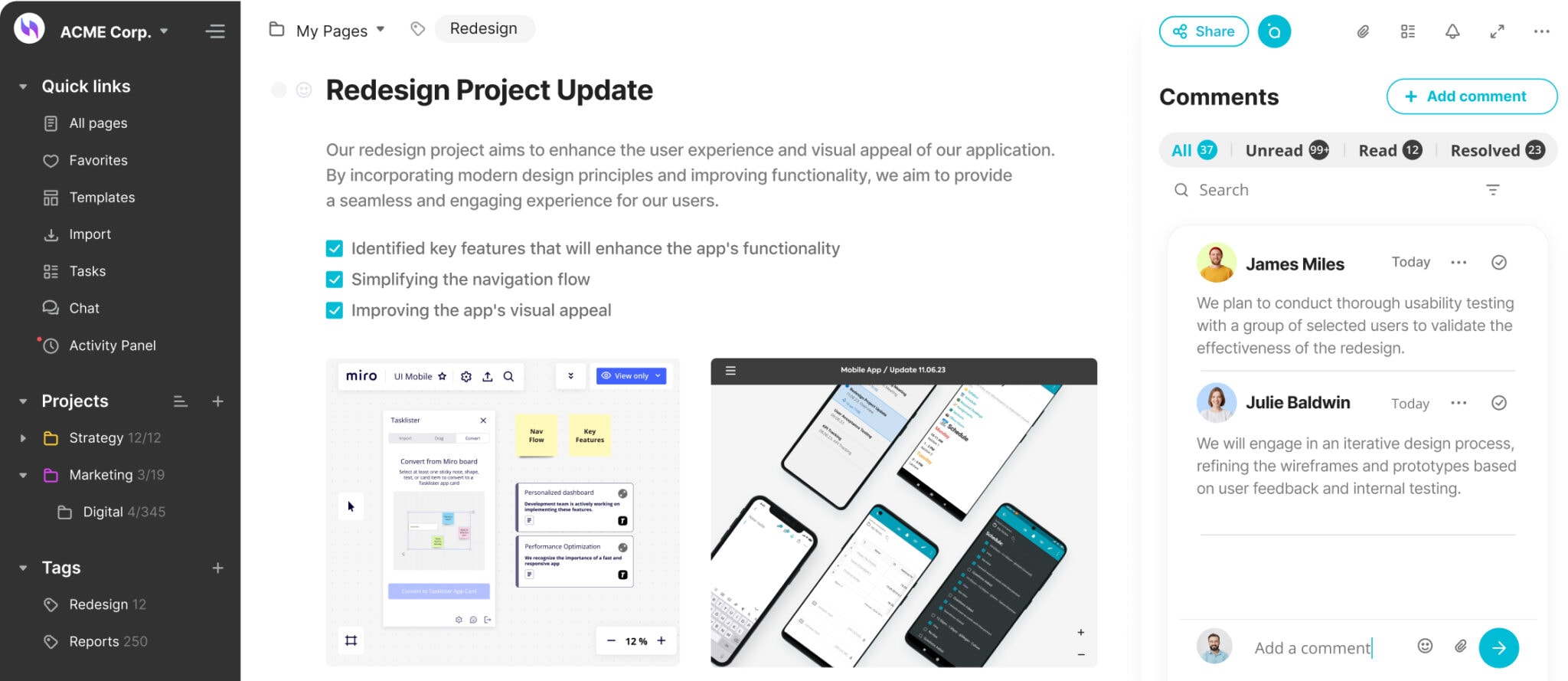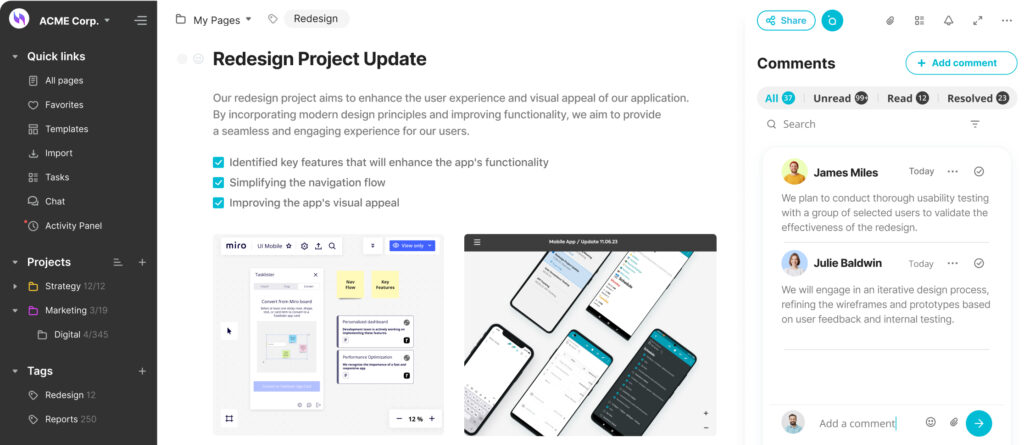 Clear communication
This is perhaps the most important element of excellent customer service nowadays. Having open and transparent communication channels is a top priority for a modern B2B business. However, possessing communication channels is not enough. Businesses should provide proactive customer service through them, including anticipating customer needs, offering educational and troubleshooting resources, resolving customer issues quickly, collecting feedback, providing product updates and patches, etc.
Multi-channel technical support
Today, when everyone has several devices in possession and stay online almost 24/7, to accommodate diverse client preferences, businesses should provide customer service through a variety of communication channels – emails, phone calls, online chats, etc.
Proactive issue resolution
Exceptional customer service means that customers' needs are not only met but exceeded and all issues are resolved quickly and efficiently, leaving customers satisfied and loyal. Make your customer service proactive – if you identify potential problems that could affect a customer, reaching out to them before they report the issue demonstrates your dedication to their satisfaction.
Personalization
Were you aware that more than half of customers worldwide anticipate personalized experiences when they interact with businesses? This is why personalization plays a crucial role – it allows businesses to customize their services for every individual customer and make them feel appreciated.
Client training and onboarding
Invest time and effort into organizing thorough training and onboarding for your clients to get acquainted with your products or services and then guide them along an effortless customer journey. Helping your customers navigate your B2B products and services paired with really good customer service can significantly reduce the likelihood of customer churn.
Constant education for a customer service team
Train not only your customers but customer service representatives too – educate them to handle complex issues that cannot be resolved using self-service options. To thrive in B2B customer service, it's crucial to empower your support team to become true customer success managers. Motivate them to review customer feedback and participate in meaningful conversations to better understand clients' needs and expectations.
Customer service technology
In the here and now it would be unwise not to use technological advances that are booming today. There are plenty of incredibly useful tools (communication and collaboration tools, help desk software, etc.) that can make your life easier, especially in the field of customer service, which requires a personalized approach and a high level of empathy. We will try to compile an ultimate toolkit for outstanding customer service later in this article.
Gathering customer feedback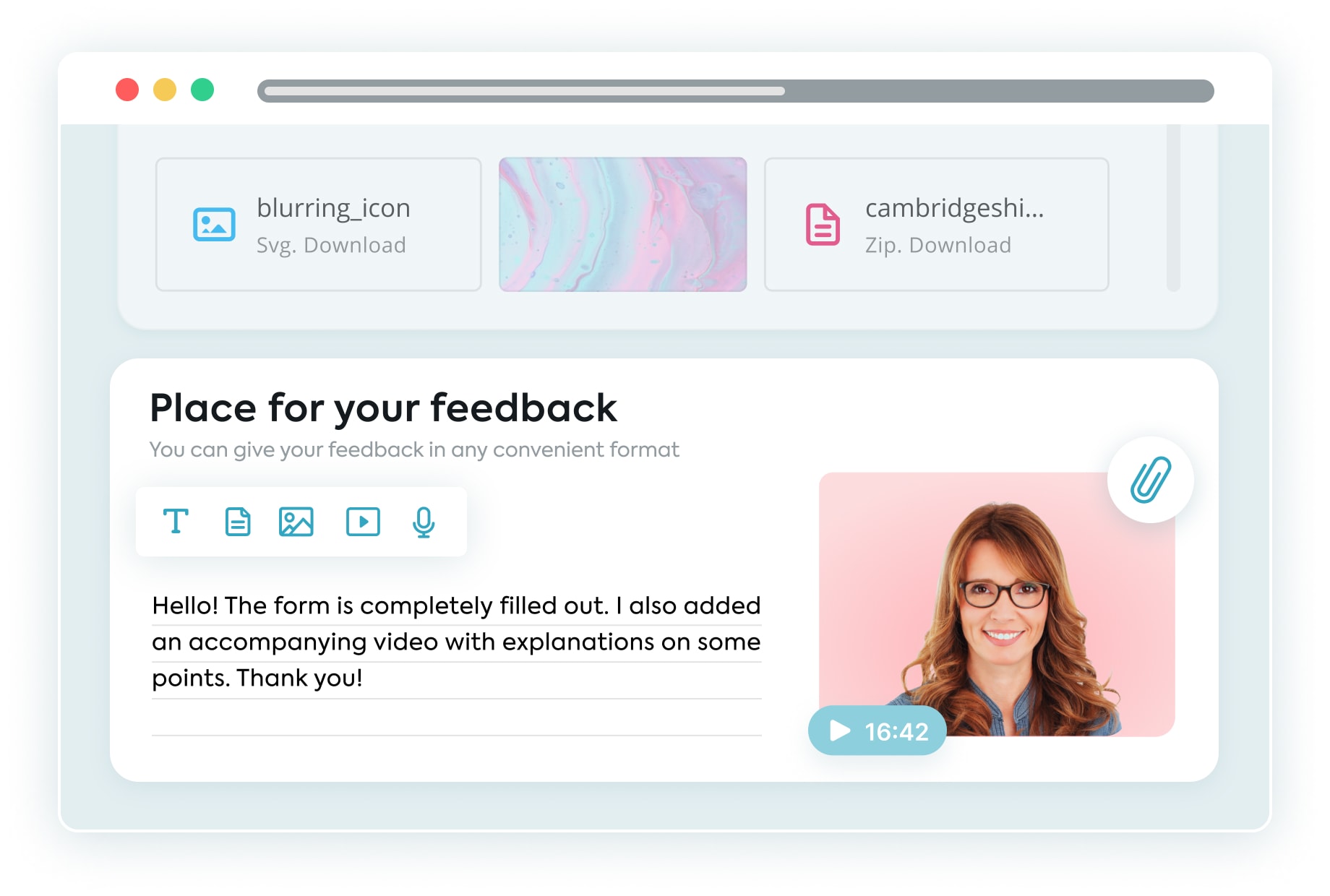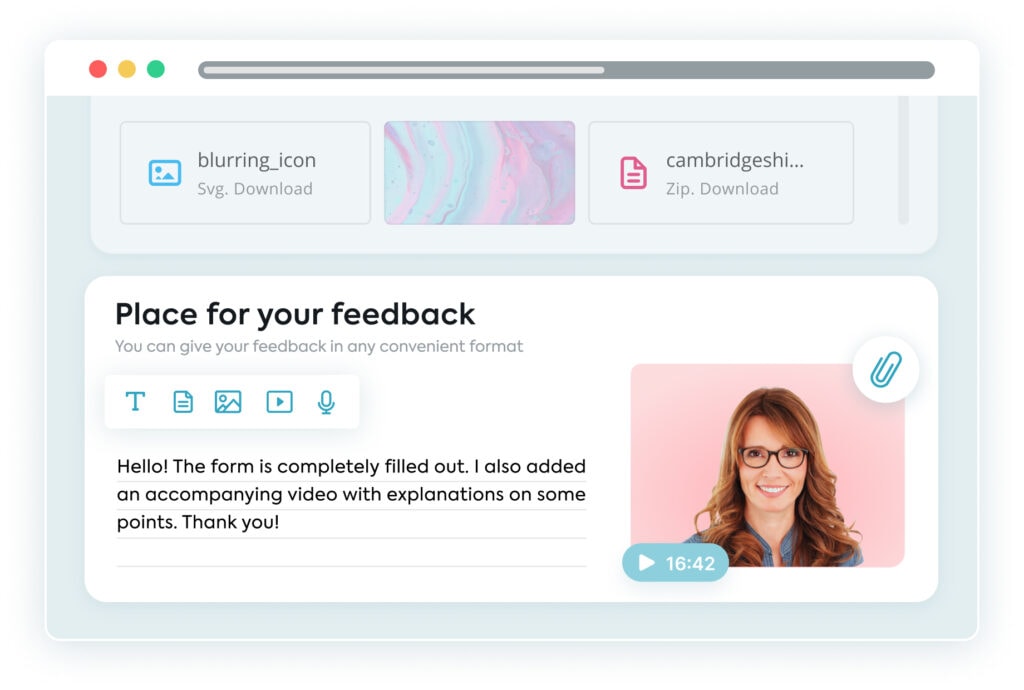 By actively collecting customer feedback, you not only identify potential pitfalls and areas for improvement but also show your customers that you value their opinion. Nothing builds customer loyalty better than making customers feel valued and heard.
Regular product updates
Regular product updates, patches and custom builds demonstrate your commitment to making the customer journey as smooth as possible. Updates introduce new features and improvements keeping your product or service up-to-date and attractive to customers, while patches and custom builds allow you to personalize customer service and address the specific needs of a specific customer.
Read more posts on this topic:
The Best Toolkit for B2B Customer Service
As we have already mentioned, technology plays a crucial role in keeping your business afloat in today's highly dynamic market. Let us look at the set of tools that may help you in the sphere of B2B customer service.
Nimbus Platform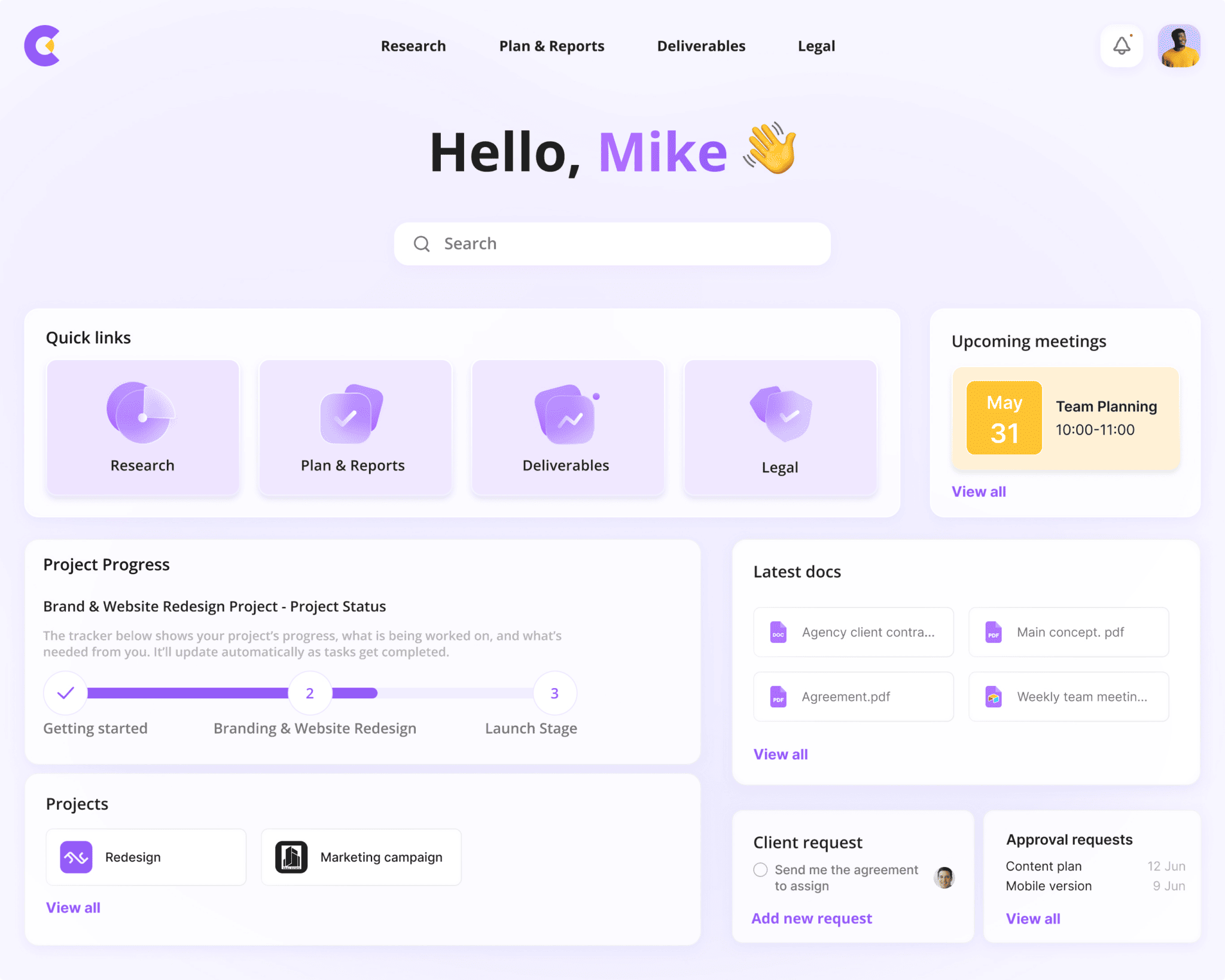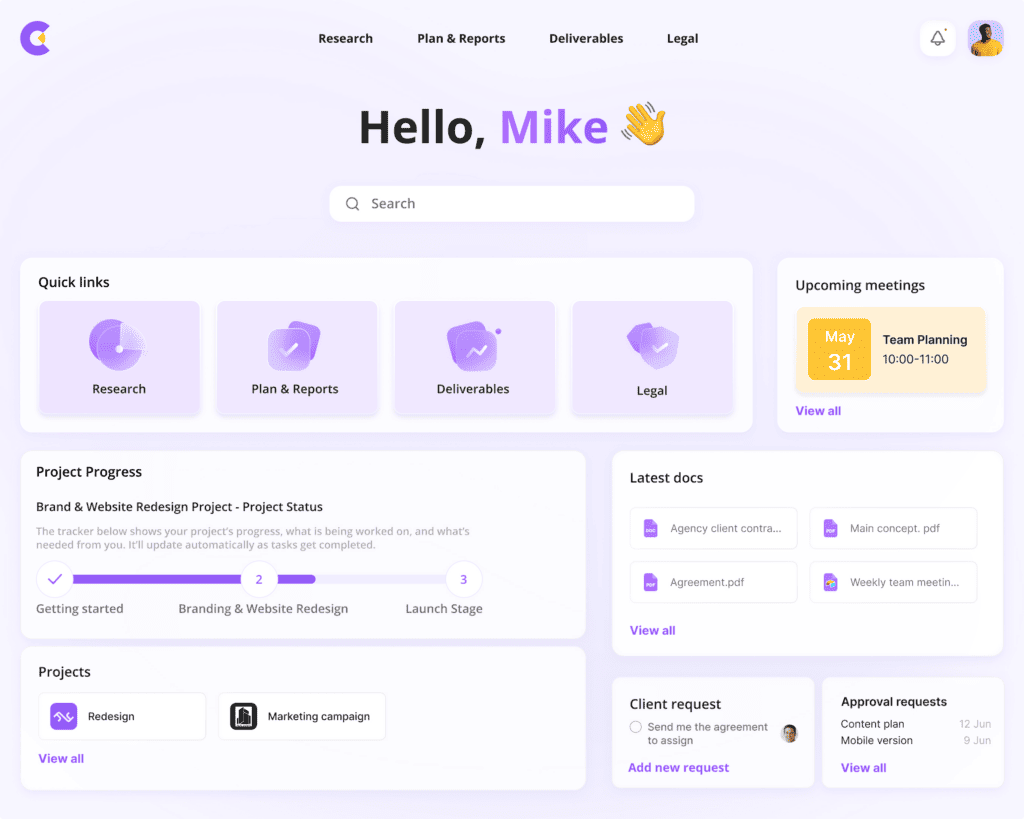 Let's kick things off with the most significant tool. Nimbus Platform is like a Swiss Army knife instrument kit. It is versatile, multifunctional and capable of performing a variety of tasks or functions. Nimbus Platform offers an all-in-one solution for establishing and delivering the best customer service possible. Its powerful collaboration and knowledge management functionality allows for streamlining both internal team collaboration and external customer interactions.
Robust sharing and collaboration features
Teams can effectively collaborate with clients on different projects by creating super documents that consolidate diverse content types such as text, files, images and more. These super documents can then be shared with clients via simple links, accessible even for those without Nimbus accounts. A customer support team can also use this functionality for educational and troubleshooting purposes.
Incredible client portal functionality
These no-code websites serve as a specialized space for promoting services and ensuring the best customer experience for clients. Nimbus allows you to build client portals, create content for them, engage in real-time chats with customers, quickly address their support inquiries, explain complex issues with screenshots and screen recordings using Nimbus Capture and efficiently save and manage web content using Nimbus Clipper.
Nimbus allows you to create knowledge bases of any complexity not only for clients but for customer support teams too. To handle requests quickly, a support agent needs to have all the necessary information at hand – and this is where Nimbus Platform with its capability to organize knowledge bases hits the stage.
It is a proven fact that having a comprehensive knowledge base significantly decreases the amount of customer calls and inquiries because customers today first opt for customer self-service. Many customers interact with support agents only if they can not resolve their issues on their own. A well-established self-service knowledge base can reduce customer churn, keep existing customers and attract new ones.
Nimbus Platform empowers businesses to establish a strong brand presence. Its rich white-label customization options allow businesses to remove Nimbus branding and replace it with their own logo, which aids in strengthening brand recognition and establishing a more personalized connection with clients.
Customization of email communication
Through the integration of an SMTP server, client notifications can be configured to be sent directly from your professional email address, adding to the credibility of your brand and improving the customer service experience even further.
Pricing
Starts at $9/month.
Zoho Desk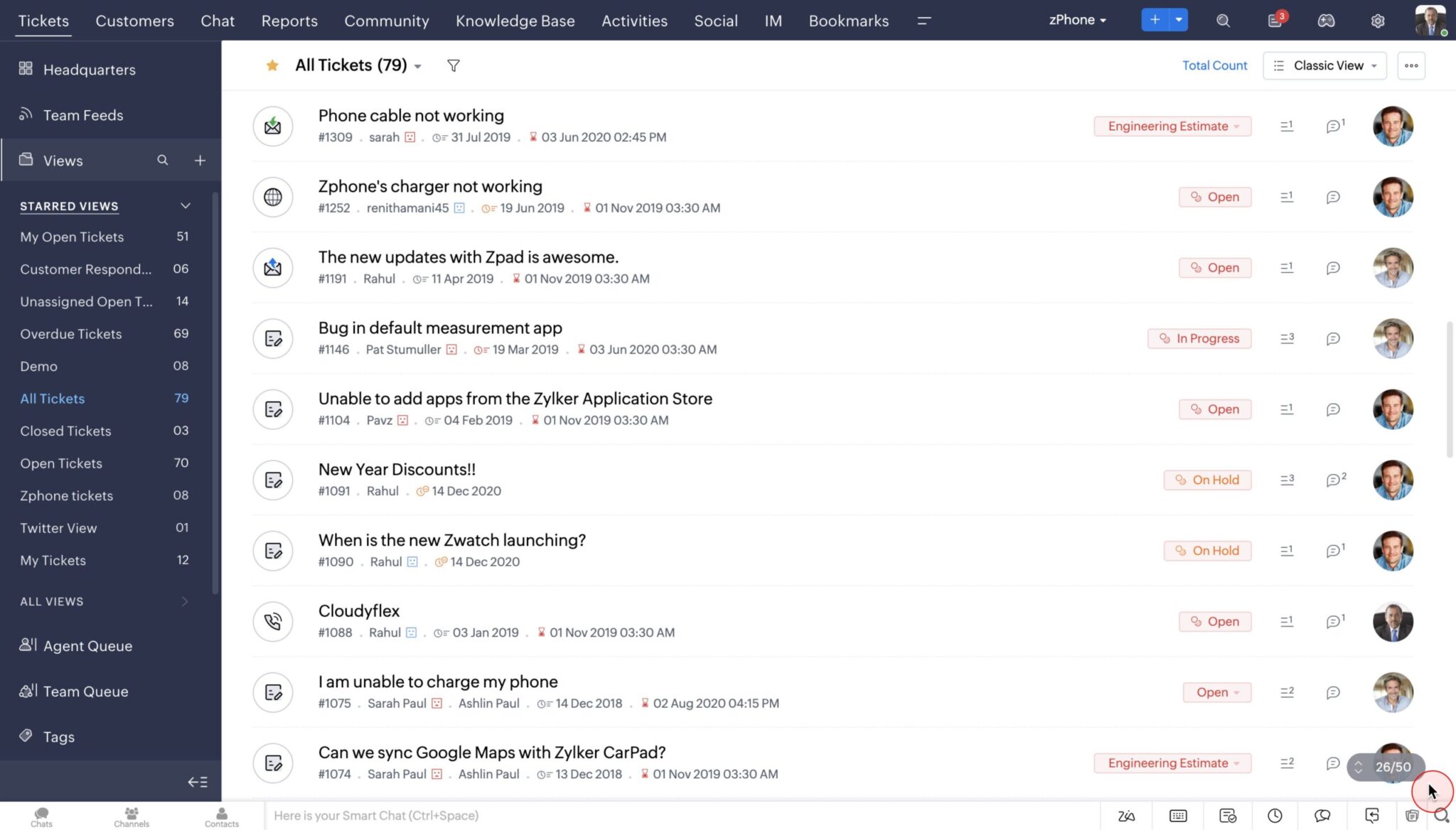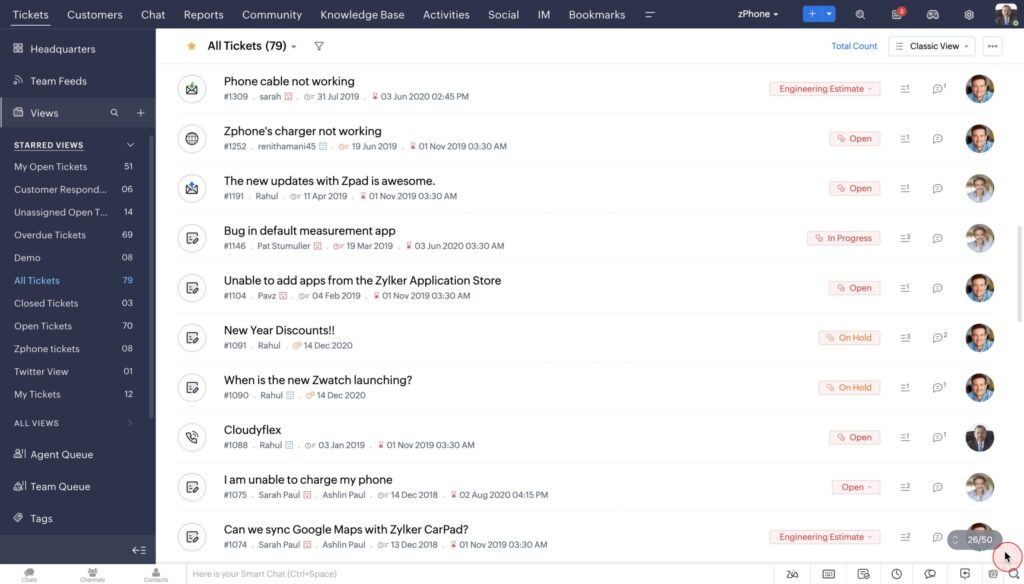 Our B2B customer service tool pack obviously needs a helpdesk software tool. And Zoho Desk strikes the optimal balance between cost and value. It is packed with powerful features that streamline business-to-business interactions, speed up issue resolution and help build long-term relationships with clients.
B2B customer service often involves complex requirements. Zoho Desk allows businesses to segment and categorize clients based on various factors, enabling personalized support that addresses their unique needs efficiently.
Multi-channel communication
Zoho Desk supports multiple communication channels, including email, live chat, phone, social media and web forms. This allows for establishing seamless communication with a B2B client across their preferred channel.
Zoho Desk has reporting and analytics tools that can help businesses understand trends in client inquiries, evaluate response times and assess the effectiveness of issue resolution. This data-driven approach enables continuous improvement in customer service strategies.
Pricing
Starts at $14/month per user if billed annually.
RingCentral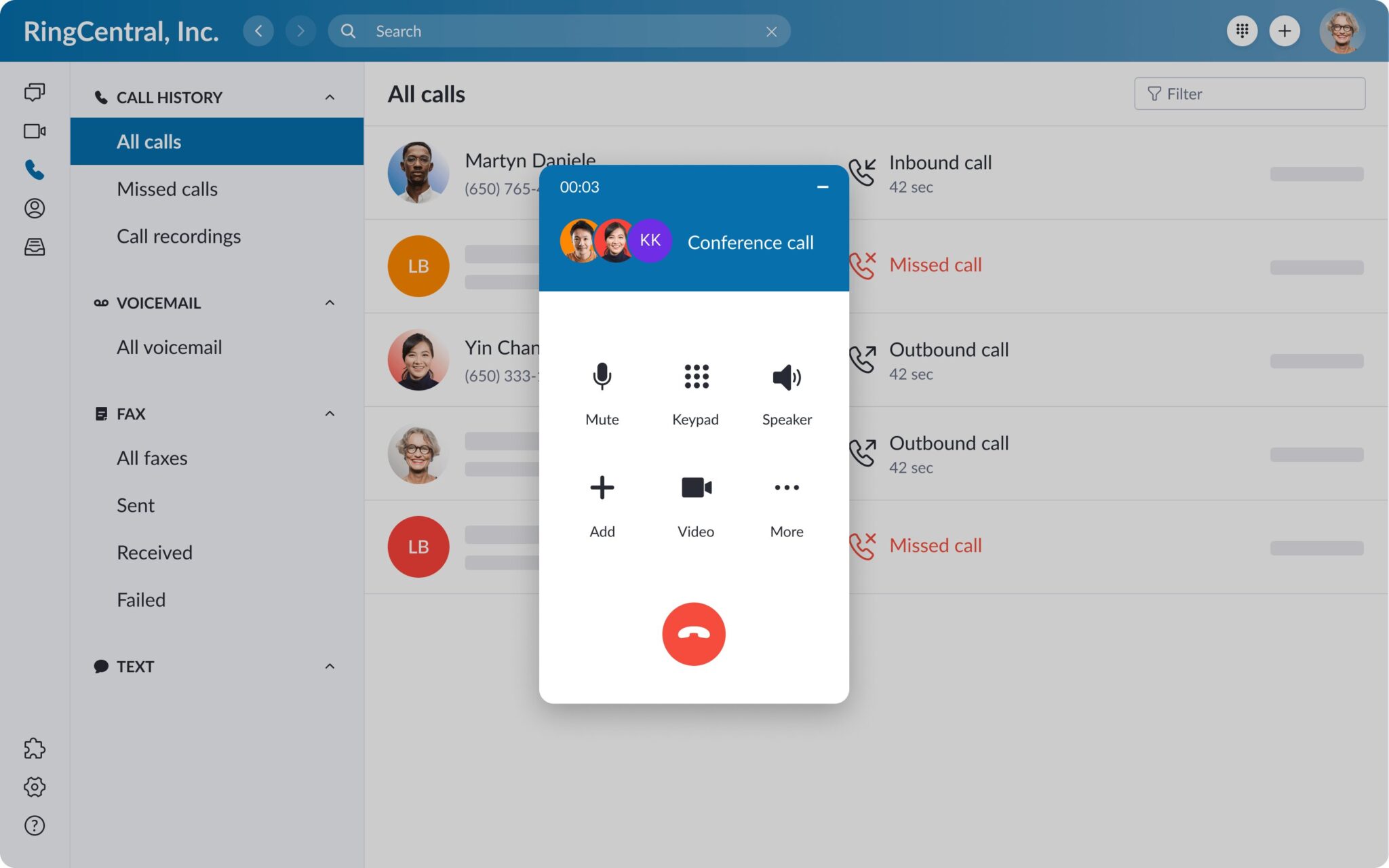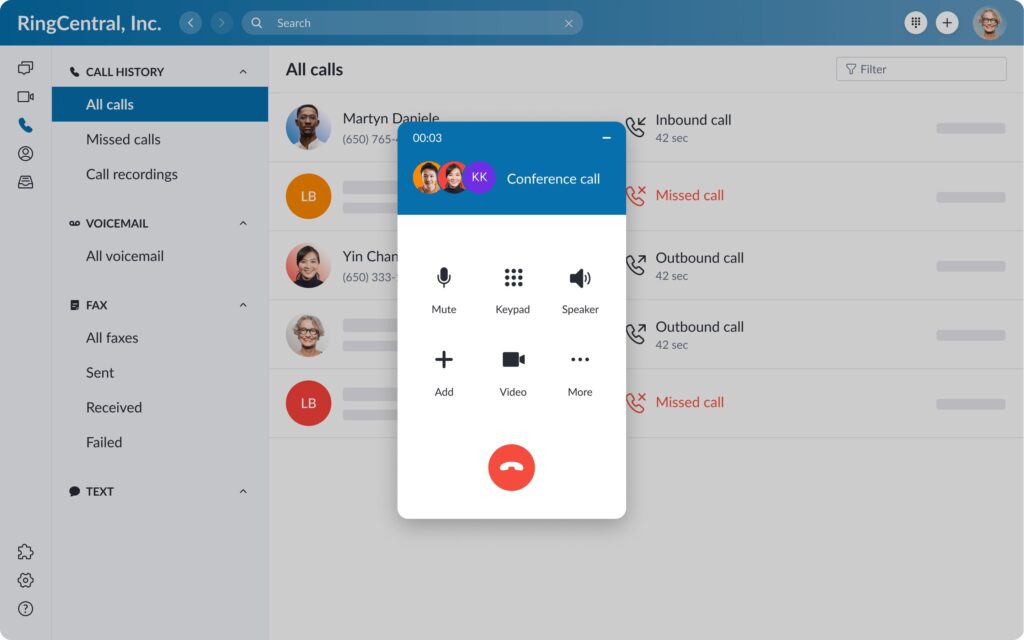 The ultimate tool pack for establishing effective customer service operations of course needs live chat software. RingCentral is a cloud-based communication and client collaboration software designed to simplify business communication across multiple channels. It offers a range of tools and features that empower organizations to connect with their teams, clients and customers efficiently.
RingCentral boasts extensive video conferencing features, allowing teams to easily conduct virtual meetings. It provides such functionality as screen sharing, file sharing and recording.
RingCentral's team messaging feature facilitates instant communication among team members. Users can exchange messages, share files and collaborate on projects in real-time.
RingCentral provides help center solutions for customer support and engagement. This includes features like call routing, call analytics and integration with customer relationship management (CRM) systems.
Pricing
Starts at $20/month per user.
Conclusion
The success of your entire company depends on the customer success you deliver. That is absolutely true. There are tons of statistical information that prove excellent customer service is a must in the contemporary business world. The reward you gain for providing excellent customer service is customer retention. More than that, your customers not only return, but they start providing free word-of-mouth advertising convincing others to buy from you.
In this article, we delved into the realm of B2B customer service, examined its nature and explored the distinctions between B2B and B2C customer service approaches. Additionally, we have taken the initiative to assemble an ultimate toolkit for effectively organizing stellar customer service within an organization and increasing customer loyalty by providing a seamless customer experience.
Upgrade your customer service with experts from Nimbus!
The cornerstone of the tool pack that we have prepared for you is Nimbus Platform. We invite you to empower your customer service teams with a robust solution and start a free trial of Nimbus Business right now. Test-drive Nimbus Platform and see for yourself that customer service does not have to be a constant struggle.
Disclaimer
Parties other than Nimbus Platform™ may provide products, services, recommendations, or views on Nimbus Platform™ site ("Third Party Materials"). Nimbus Platform™ is not responsible for examining or evaluating such Third Party Materials, and does not provide any warranties relating to the Third Party Materials. Links to such Third Party Materials are for your convenience and do not constitute an endorsement of such Third Party Materials.
Previous post
Unleash Your Creativity with 11 Best Alternatives for Zoho Creator
Next post
Crafting a Self-Service Strategy for Customer Satisfaction