More and more companies are setting up remote work and trying to make it as effective as physical offices. 72% of technology companies have employees working from their homes, according to the Velocity Global Special Report for 2022.
As teams learn how to work remotely, companies realize the need for a platform that would assist in organizing online work and boosting collaboration between team members. Now, some companies practice a mix of in-office and remote work. So, a new challenge emerges, namely, to find a solution for organizing the collaboration between 'home' and 'office' employees.
In this article, we will take a closer look at the best Atlassian Confluence alternatives and explore the benefits and disadvantages of each competitor. Read on to find your solution!
What is Confluence?
Why do People Use Confluence?
What Confluence Can't Do for You
6 Best Confluence Alternatives To Improve Team Collaboration
1. Nimbus Platform
2. Zoho Wiki
3. SharePoint
4. Quip
5. ClickUp
6. Wrike
Find the Right Confluence Alternative for Your Team
What is Confluence?
Confluence is an online team workspace and a corporate wiki that assists users with improving effective collaboration and productivity. The Confluence platform serves as a unified space for sharing knowledge, organizing content, collaborating and communicating simultaneously. Confluence consolidates this information and knowledge on one platform available to every member of the team.
Why do People Use Confluence?
If your team works online, it may be hard to spread all the information across different platforms, for example, Google Drive, emails, PDFs, chats and various applications. Atlassian Confluence is one of the possible solutions to this problem. Let's see why users opt for Confluence!
Salient Features Of Confluence
Organized workspaces for collaboration. Confluence offers an opportunity to customize working space by creating an unlimited amount of pages. It features templates that are designed for different functions and has a user-friendly interface. Within Confluence, users can also create shared pages for all team or project members. It makes work more conducive to productive collaboration. Pages are linked together so users can view them on the same screen.
Opportunity to work from anywhere. Users can synchronize Confluence with their devices and stay connected with their team from anywhere around the world.
Possibility to manage access. Confluence allows users to restrict access to particular pages and give them permission to read or comment on certain pages.
What Confluence Can't Do for You
Like any other alternative platform, Confluence also has its drawbacks.
Weak editing function. Confluence Users can encounter a problem while trying to edit a particular document while someone else is editing it. Confluence also doesn't allow you to see changes happening in real-time until the other user refreshes their page. Also, there is a steep learning curve, and it may take time to learn how Confluence works.
No real-time chat. This is one of the biggest challenges for Confluence users. Communicating on the platform is impossible unless they integrate an app like Chat for Confluence or Slack.
The search feature in Confluence doesn't always function according to expectations. In addition, it can be confusing for users to create pages properly without duplicating them.
As you see, Confluence may not be suitable for all users. Different teams have different needs. So choosing the most appropriate and fitting alternative for facilitating your team's collaboration can turn into a real challenge. If you are struggling with selecting what platform will work best for you or if you want to switch from Confluence to other alternatives, keep reading.
6 Best Confluence Alternatives to Improve Team Collaboration
Team collaboration is about meeting your goals faster, so let's look at the top 6 alternatives you must know about!
1. Nimbus Platform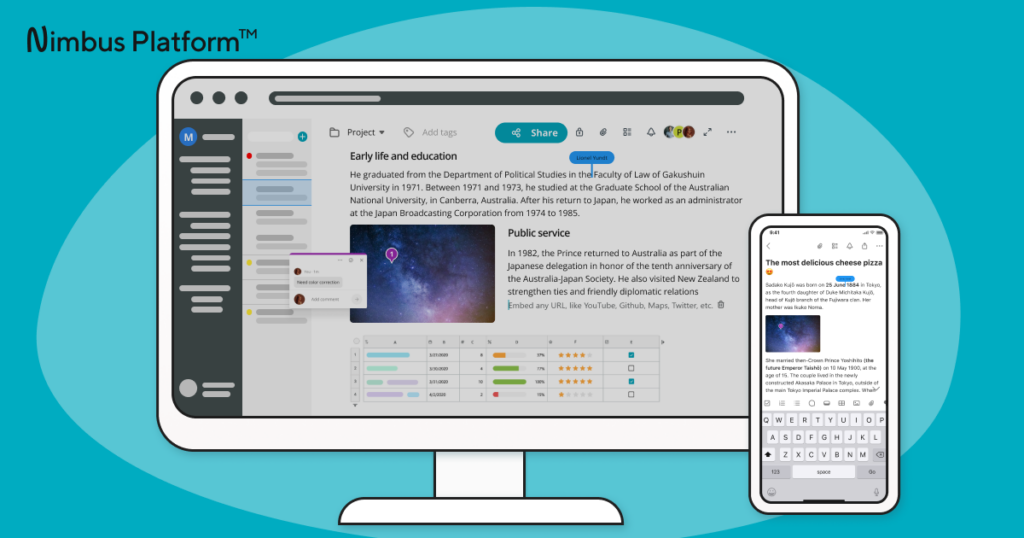 Nimbus Platform is an excellent alternative to Confluence. It is an online collaboration tool for teams that thrive on innovation and creating ideas.
Main features
Nimbus Platform offers a large set of features that help users work more effectively and productively. For example, it allows you to collect different types of content, like documents, images, video & audio files or any other attached files, on a single all-in-one page. Users can easily change the appearance of pages, move each piece of information and transform pages into different types of content like articles or guides.
One of the richest tools of Nimbus Platform helps you set up your own brand logo and remove all the mentions of Nimbus. It will help your team to level up brand awareness and increase loyalty to your company. Furthermore, there is an opportunity to personalize the system of sending emails by adding an SMTP server. You can send emails from your company email address without any Nimbus branding.
Pricing
As for prices, you can use a free account. Alternatively, you can upgrade it to a Pro or a Business account. They are best fit for teamwork and collaboration. The prices are $7 and $10 per user per month, respectively. You can check the plans here. 
Pros
Fully customized and familiar workspace. Users understand it without looking at the instructions. It's easy to set up and manage the platform for newbies. At the same time, it has all the critically important tools for advanced users who need to improve team collaboration;
Tables for storing databases. By adding tables to the pages and creating different column types, users can design databases and collect all documentation in one place;
Possibility to share pages even with users who don't have Nimbus accounts;
You can work offline on any device. You only need to download it to your phone or laptop;
Advanced embedding features and integrations, so users can add Excel tables, Google Analytics, Calendly, YouTube and more apps;
Nimbus Clipper helps users save and annotate content.
Cons
Richer functionality than a simple note-taking app. Nimbus is loaded with powerful features for team collaboration. So if you are looking for a note-taking app, Nimbus Note can be too much for you;
The search tool only operates within one workspace. The system separates different projects or information, so a general search option is not available;
The pages in the folder are arranged by the creation or editing date, and you can't place them yourself. However, you can use the tag system, which makes your search easier.
Nimbus Platform can become a powerful alternative to Confluence. It is a suitable platform for both personal use and collaboration with your team. If you need more information, you can find additional comparisons with other products here.
2. Zoho Wiki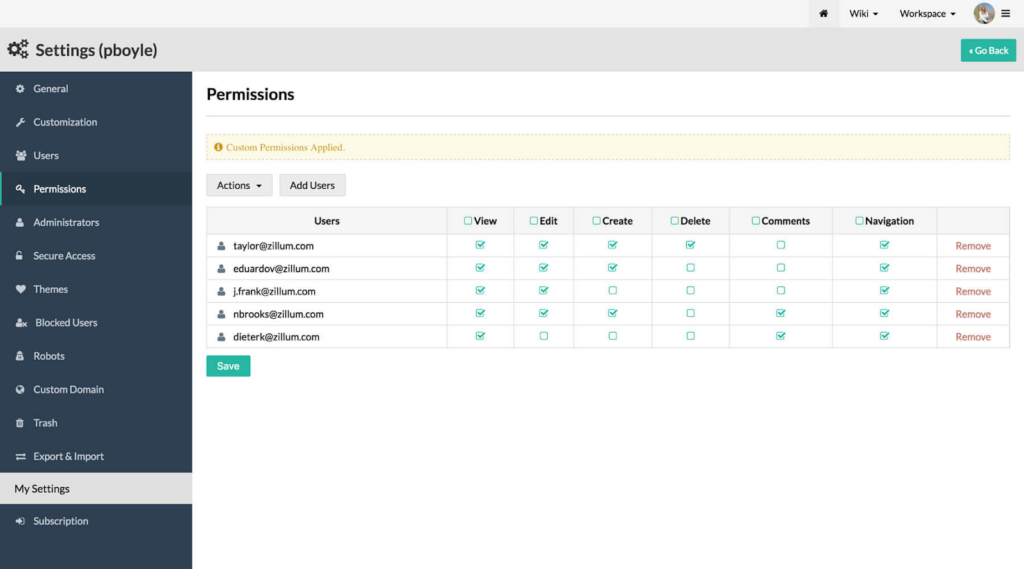 Zoho Wiki is also a renowned Confluence alternative. It is a web-based wiki software that is functional both for individual and team usage. Zoho Wiki integrates with all productivity applications of Zoho.
Main features
It offers an opportunity to create a centralized information repository, which helps teams to benefit from collaboration experience and increase their productivity. Zoho Wiki provides users with a hassle-free editor and helps to secure sensitive data. If you are looking for a tool where you can set permissions for every page and assign a couple of administrators to share their responsibilities, Zoho Wiki can be a good alternative choice.
Pricing
The Business payment plan goes for €2.70 per month per member. As an alternative, there is also a free version for up to 3 users. So what are the advantages and disadvantages of Zoho Wiki?
Pros
Customizing the workspace. Users can set logos on web pages so the workspace fits company branding;
Tools for securing information by setting the permission levels;
Opportunity to embed photos, videos or other widgets. This helps users make the website more engaging and interesting.
Cons
Compared to Confluence and other alternatives, Zoho Wiki is suitable only for small businesses. So if you have a big team, this platform is not for you;
Limited devices are available. Users can set up Zoho Wiki only on Windows and Mac devices, or use it in the web software.
Compared to Confluence, Zoho Wiki is a better solution for personal use or small teams. It's easy to navigate and doesn't offer complicated tools, which makes it an easier, more convenient alternative to Confluence.
3. SharePoint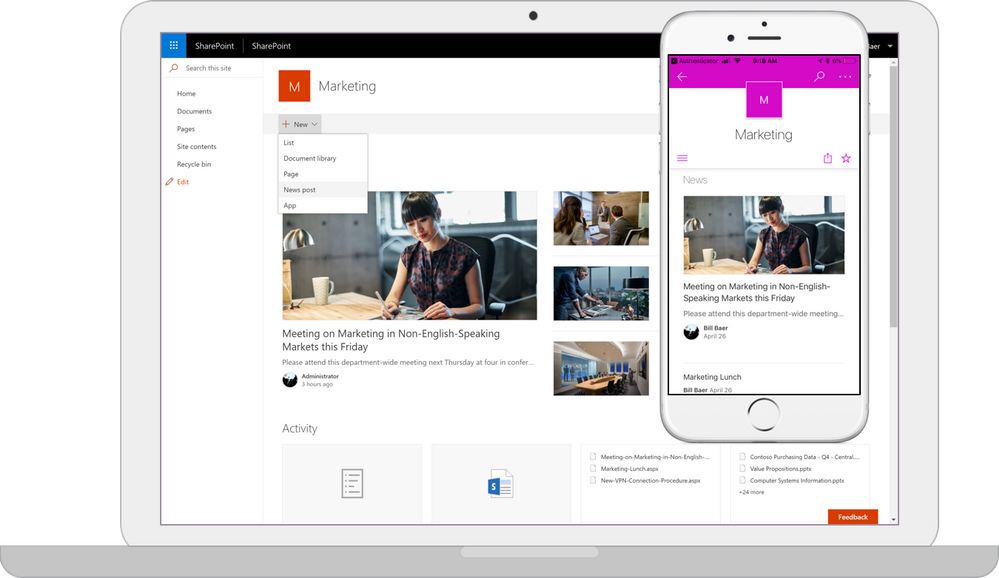 Microsoft SharePoint is also one of the most recognized Confluence alternatives.
Main features
It comes with the MS business office package, so it fully integrates with other office products. You can use this alternative tool as a database for saving, managing and controlling access to different types of files. It is a great tool for performing collaborative content management processes and building an intranet portal.
Pricing
The platform offers three packages: SharePoint Online Plan 1, Plan 2, and Office 365 E3. Prices start from $5 per user per month, so it is a competitive Confluence alternative.
Let's look at some of the advantages and disadvantages of Microsoft SharePoint.
Pros
Office 365 Integrations. Users can operate all the tools that are offered;
The ability to create private holders so specific people have access to a particular folder;
Unlimited cloud storage, which helps save memory on your gadget;
Different levels of access, for instance, read-only or edit;
Possibility to store files of any type and size.
Cons
It might be too complicated to maintain;
Quite limited design functions;
Such a wide variety of features can create confusion, so it may take time to prioritize the relevant features for your team;
It could be time-consuming for users to consider and understand how all the integrations with Office 365 work.
Although SharePoint has some pros, this platform is hard to understand and is not as developed as competitors like Nimbus. You will likely have to spend a lot of time trying to figure out how it works. Still, it is a robust Confluence alternative for advanced power users who understand how to develop and manage the platform.
4. Quip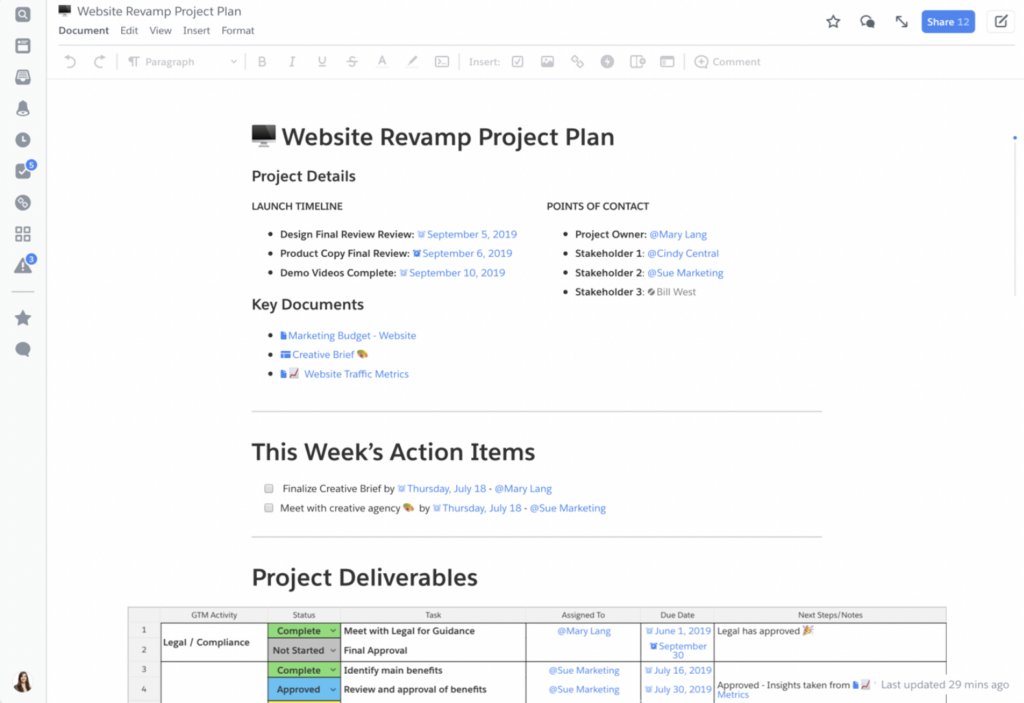 As a Confluence alternative platform, Quip focuses on effective communication and collaboration between team members.
Main features
It's perfect for project management and connecting remote workers. This app is a great multifunctional tool to combine real-time communication, manage multiple projects and simplify project management. Quip also provides tight integration with Salesforce. For example, it allows inserting documents or spreadsheets inside Salesforce while opening Salesforce reports inside this alternative solution.
Pricing
The pricing plans include Quip Starter, Plus and Advanced. They cost $10, $25, and $100 per user per month. Let's have a look at the advantages and disadvantages of Quip as a Confluence alternative.
Pros
Works both for mobile or desktop usage;
Handles multiple types of files and apps. For example, you can use spreadsheets as well as Jira or Dropbox;
Real-time communication: users stay connected every step of the way;
Possibility to track changes so users can see or find every comment and edit in the document.
Cons
Software can sometimes be laggy, especially with the extension of the team members;
Complicated search function: sometimes, it's hard to find a document if you don't label it in the title;
Interface feels cluttered.
Quip provides various useful features, so it can serve as a Confluence alternative. However, it doesn't fit perfectly with big teams. Moreover, Quip's strengths are in its integration with Salesforce data, so it's the most useful for Salesforce-powered companies.
5. ClickUp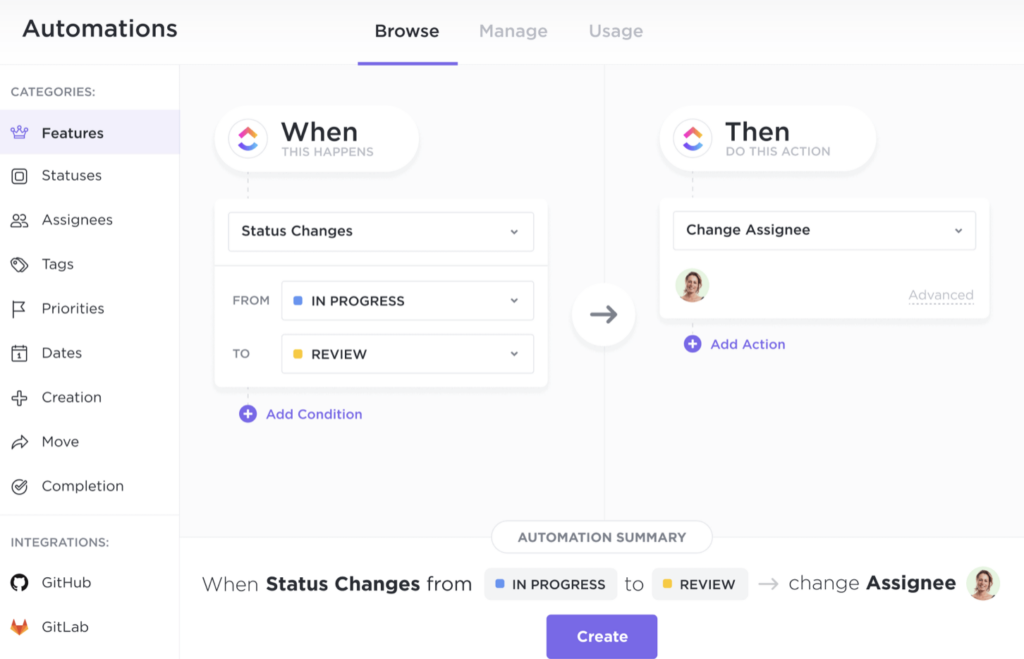 This is one of the most likable Confluence alternatives for users who like a vast variety of features in one app. Tools for collaboration make it easy for teams to work together and stay connected with real-time editing.
Main features
ClickUp, as a Confluence alternative, works on phones, desktops, Chrome, Alexa, Google Assistant and Gmail. Users can even create tasks via an email account and attach emails to tasks without leaving their Gmail account.
One of the most significant advantages of this Confluence alternative is the possibility to use shortcuts and slash commands, boosting your productivity. ClickUp also allows users to create a visual hierarchy by adding nested pages and provides various tools to categorize their working space. It also provides an opportunity to build a knowledge base for customers in ClickUp.
Pricing
ClickUp offers a free plan for personal use and four more plans for teams depending on the team size. The prices start from $5 per user per month if you pay yearly and $9 per user monthly.
What are the advantages and disadvantages of this Confluence alternative?
Pros
Easy-to-navigate website;
Convenient calendar, where users can schedule tasks and synchronize them in real-time with Google, Apple and Outlook;
Simplistic search function: you can use filters to find a specific workspace;
Customizable view of the workspace.
Cons
Poor integration to reporting tools;
It could be time-consuming to customize your workspace and enjoy the benefits of the platform;
The software slows down while creating a lot of tasks.
As you see, ClickUp has unique benefits as an alternative collaboration tool. However, users often find it challenging while starting off. Also, some of the tools, like the whiteboard, seem sound. Still, they are overcomplicated, making it uneasy to collaborate with the whole team.
6. Wrike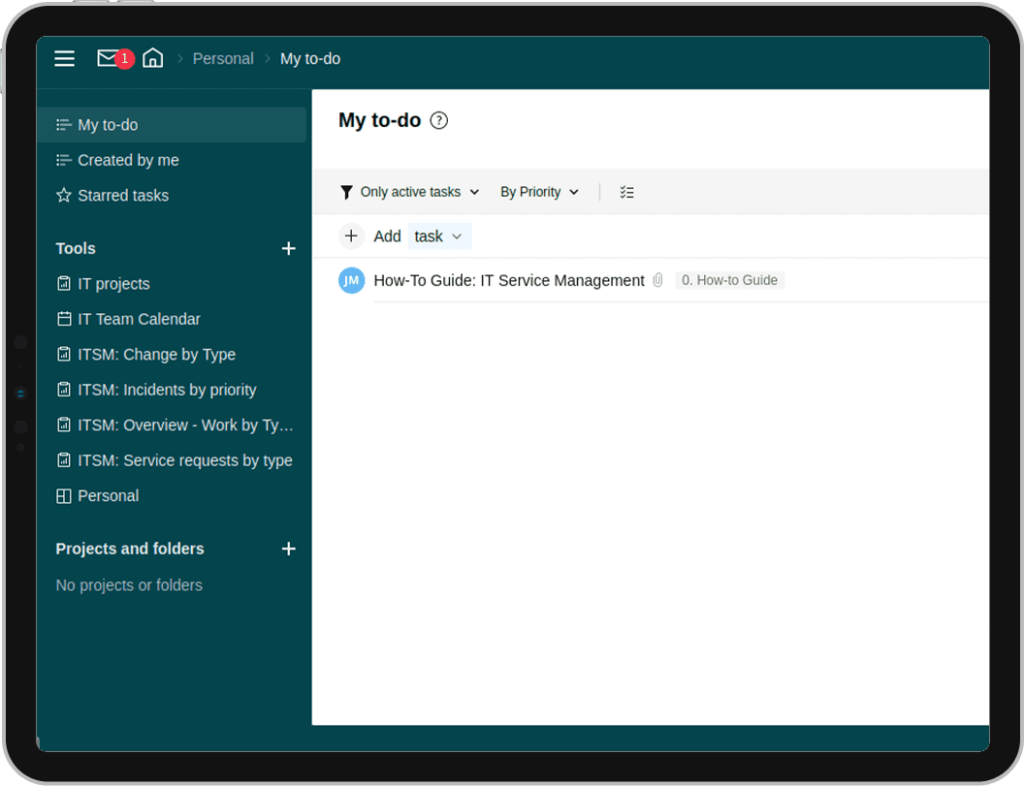 Another great Confluence alternative for team collaboration is Wrike. This software connects team members, discussions and tasks to the user's project plan. Wrike is useful for its hundreds of integrations that make work easier. Users can also set up a knowledge base for better information storage.
Main features
The list view is convenient for getting a quick overview of your tasks. There is also a Calendar view available that makes it easy to track what needs to be done. Therefore, it is available only for Business and Enterprise users.
Pricing
The lowest-paid plan costs $9.80 per user per month and supports 5 to 15 users, but it lacks some crucial tools such as time tracking and real-time reports making collaboration more complicated.
So what are Wrike's advantages and disadvantages?
Pros
Unlimited projects in a free account;
Mentioning users in any task by using @;
Tools for special customization for creative teams.
Cons
Only a few tools are available for the lowest-paid plan;
Managing the system can be too complicated for new users;
Lack of live chat that requires additional apps to communicate in real-time.
Although it seems convenient and user-friendly, the free version lacks many customization options. Wrike is more like a shared task list for small teams of 1–5 users. And, as you see, it doesn't provide some crucial features to improve communication and collaboration, something that Nimbus does very well. But still, you can use it as a great Confluence alternative.
Find the Right Confluence Alternative for Your Team
There are many Confluence alternatives with various features and functions for different needs. So how do you select the best alternative for your team?
Set a target. Understand the problems a collaboration platform can solve. Then, define the features that will help. Every Confluence alternative has its own advantages and disadvantages and you need to understand what exactly you need for better collaboration.
However, if your main goal is to increase productivity and organize multi-format information, Nimbus Platform is your perfect choice.
Try Nimbus Platform for free and use it as a Confluence alternative to boost effective team collaboration!
Get our newest articles and updates by following Nimbus on Facebook.
Disclaimer
Parties other than Nimbus Platform™ may provide products, services, recommendations, or views on the Nimbus Platform™ site ("Third Party Materials"). Nimbus Platform™ is not responsible for examining or evaluating such Third Party Materials, and does not provide any warranties relating to the Third Party Materials. Links to such Third Party Materials are for your convenience and do not constitute an endorsement of such Third Party Materials.
Previous post
7 Best Free Screen Recorders in 2023 and How They Compare