13 Best Alternatives to Zoho Software Suite
'Your Life's Work, Powered By Our Life's Work'. This logo of Zoho Corporation explains the company's idea of providing businesses worldwide with an all-in-one platform – a 'unique and powerful suite of software to run your entire business'. Established in 1996 under the name of AdventNet Inc., this Indian company began with network management. In 2005, it joined the cloud applications market and released one of its best-sellers, Zoho CRM. 2006 saw the launch of Zoho Sheet, Zoho Creator, and Zoho Show, followed by many others. Zoho apps, which today count around 40, are all web-based tools, operating on cloud servers rather than local ones. Zoho, which remains a privately-owned business independent of investors and shareholders' whims, claims to be running on its own products, thus, testing them and making sure they do not fail the customers. As the SaaS market is growing and Forbes encourages businesses to move to the cloud, Zoho will keep its market and expand it further.
13 Best Zoho Alternatives and Competitors
Zoho as an All-In-One Solution
All-In-One Zoho Alternatives for You
Top Alternatives to Zoho People
3 Alternatives to Zoho CRM
Zoho Office Suite and its Alternatives
The Alternatives to Zoho Projects
Conclusion
13 Best Zoho Alternatives and Competitors to Use in 2023
Word processing, CRM, tools for HRs and recruiters, project management instruments, presentations, spreadsheets, databases, email, and chats – you name it, Zoho seems to have it all covered. However, it's always good to have alternatives – other products similar to Zoho and may serve as a replacement. Perfect is the enemy of good, but such alternatives may be more suited to your market situation and circumstances, offer a more preferable plan or functionality scope. Below, you will find a list of tools and products that may be considered worthy alternatives to Zoho. Since Zoho is a comprehensive tool suite, we'll look at alternatives to Zoho's most popular apps, and see what replacements there exist for the whole platform.
Zoho as an All-In-One Solution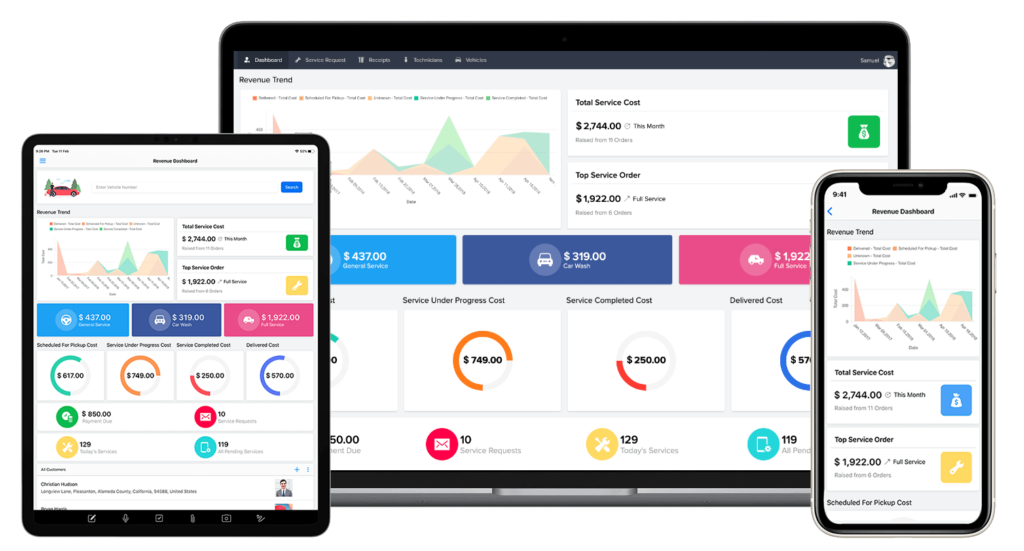 Zoho takes pride in its ability to meet the needs of virtually any business. You can pick separate apps or entire bundles. Are you in sales or marketing? You need Zoho CRM, or, if you are still small, Zoho Bigin paired with Zoho Campaigns for email marketing and Zoho Surveys to feel the pulse of your target audience. You can add Zoho Marketing Automation to manage your marketing activities and generate more leads through multiple channels or Zoho SalesIQ with live chats and other customer engagement tools.
Are you in customer service? Zoho offers Zoho Desk, which empowers your support team with helpful tools to be more accessible and efficient for your customers. You can go further and pair it with Zoho Assist for secure access to remote devices or Zoho Lens, an AR-based remote assistance software.
The finance sector can benefit from Zoho Books – an online accounting solution to manage finances from signing deals to processing orders and invoicing. Add Zoho Inventory to integrate with popular marketplaces, manage orders, and keep track of stocks, or Zoho Checkout to build payment pages.
All-In-One Zoho Alternatives for You
Zoho seems to have it all – bundles of apps for the legal department and HR, IT, and Business Intelligence. But even being such a comprehensive all-in-one platform, it has competitors that also try to offer numerous solutions in one place.
1. Nimbus Platform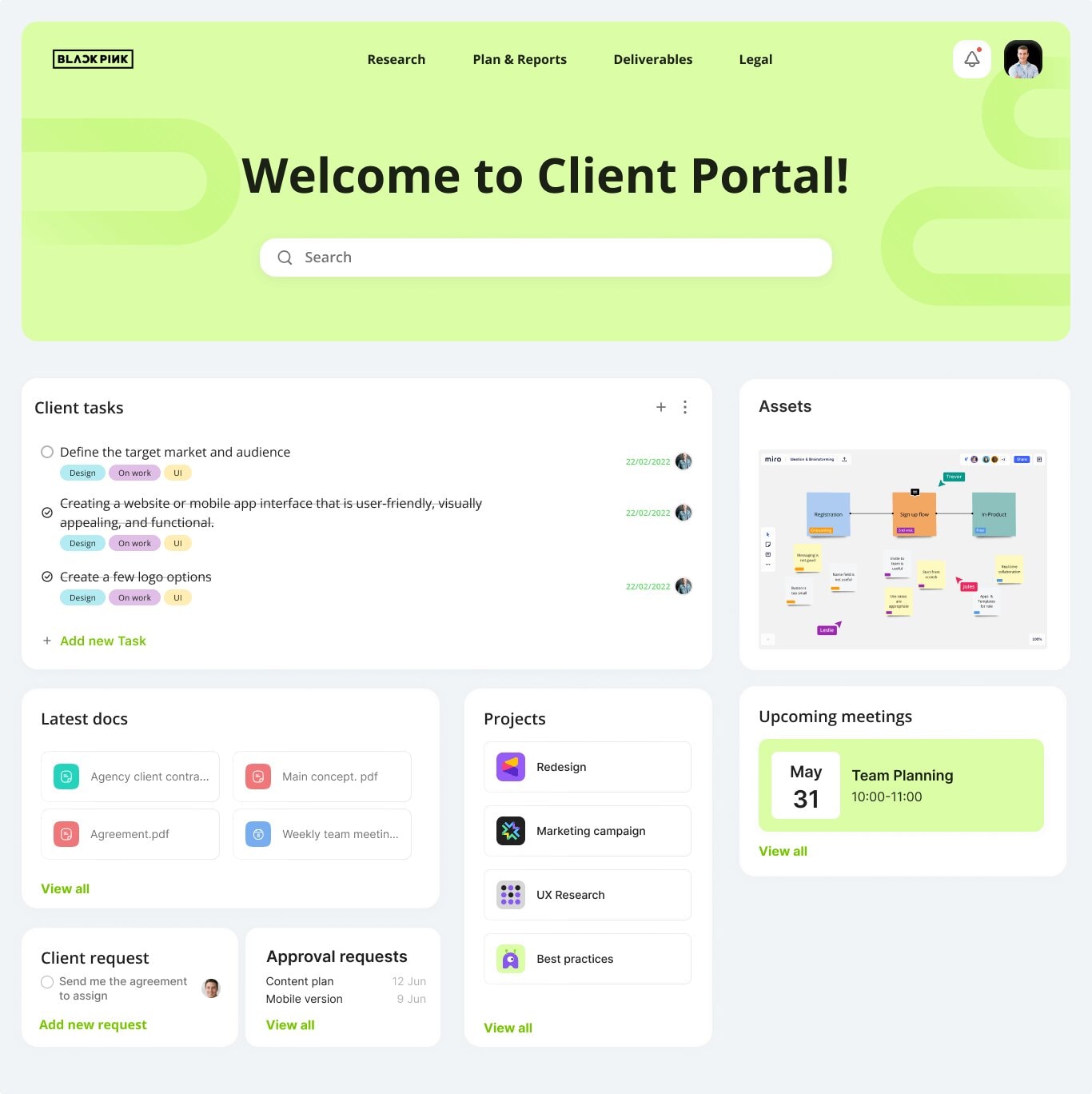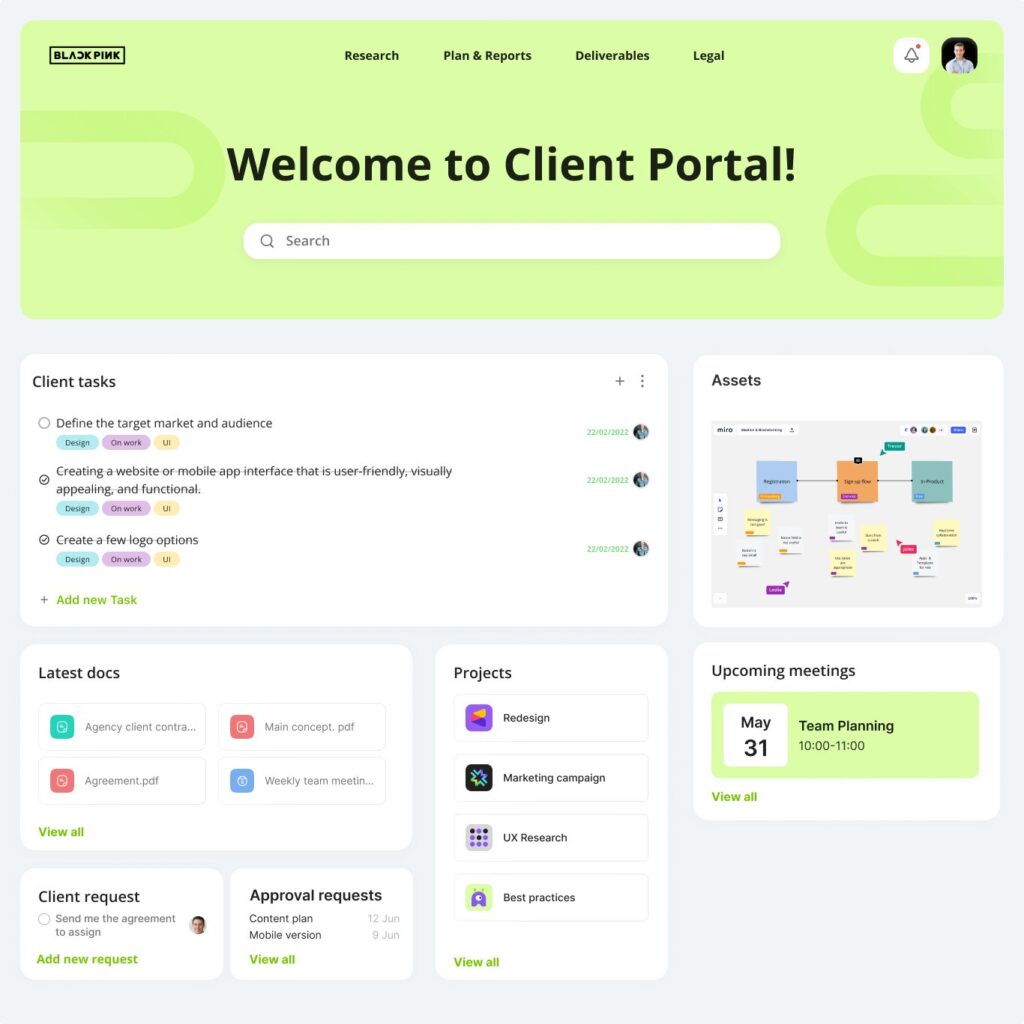 Another great alternative to Zoho is Nimbus Platform. User-friendly and adaptive to all major devices, it comprises a new generation Super Editor that makes document management and collaboration easy, Nimbus Tables adaptable to most use cases from simple spreadsheets up to the whole databases, and many other tools that help you produce, structure, and store information represented in various types of documents.
Nimbus Platform can be customized to fit any of your HR practices and workflows from recruiting and onboarding to setting up an employee knowledge base and keeping track of performance. Centralize employee training, provide easy access to professional development resources, collect and share feedback, and arrange regular meetings.
Management solutions by Nimbus Platform can be a great choice if you are looking to manage your projects more easily without the clutter and complexity of excessive project management tools. You can create multiple workspaces, where each of your projects is easily accessible with its own space, and handle their data separately with specific content and permissions, organized notes, folders, and tags.
Manage your projects easily with Nimbus Platform™
Organization of documents, employee performance, and exchange of feedback have never been easier!
2. Apptivo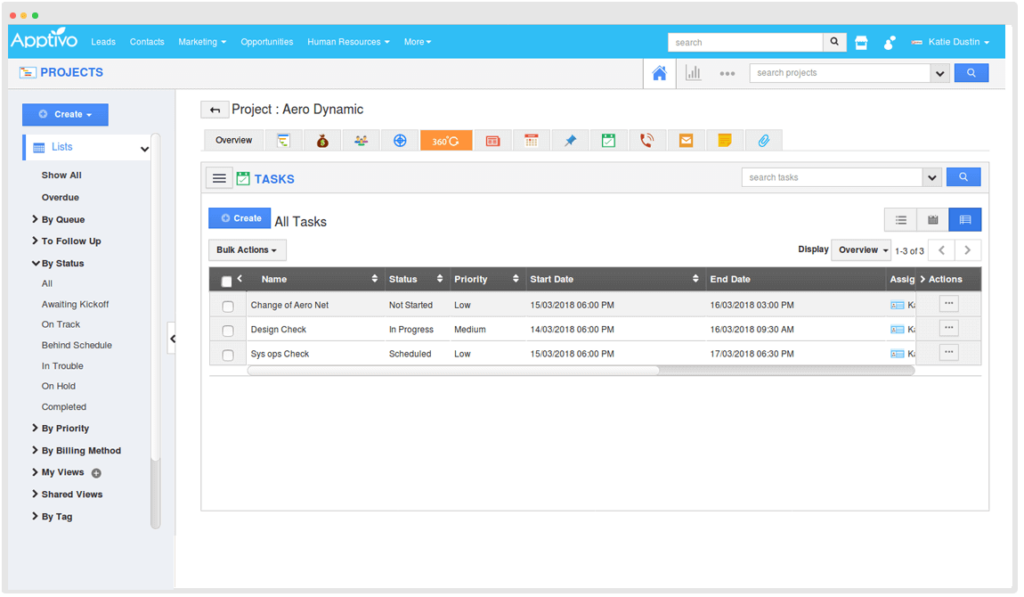 One more all-in-one Zoho alternative for comprehensive business management is Apptivo. It is a cloud platform of integrated business apps that includes solutions for sales and marketing, a help desk and call center management, Human Resources, a CRM tool, management of expenses and procurement, product management, and supply chain control. There is no pricing for a specific app – users get access to the entire package of 18 applications in the Lite pricing plan and up to 65 apps in the largest Enterprise plan. Users highly appreciate its support and price plans but sometimes struggle with inconsistencies between the apps and insufficient integrations.
3. SuiteDash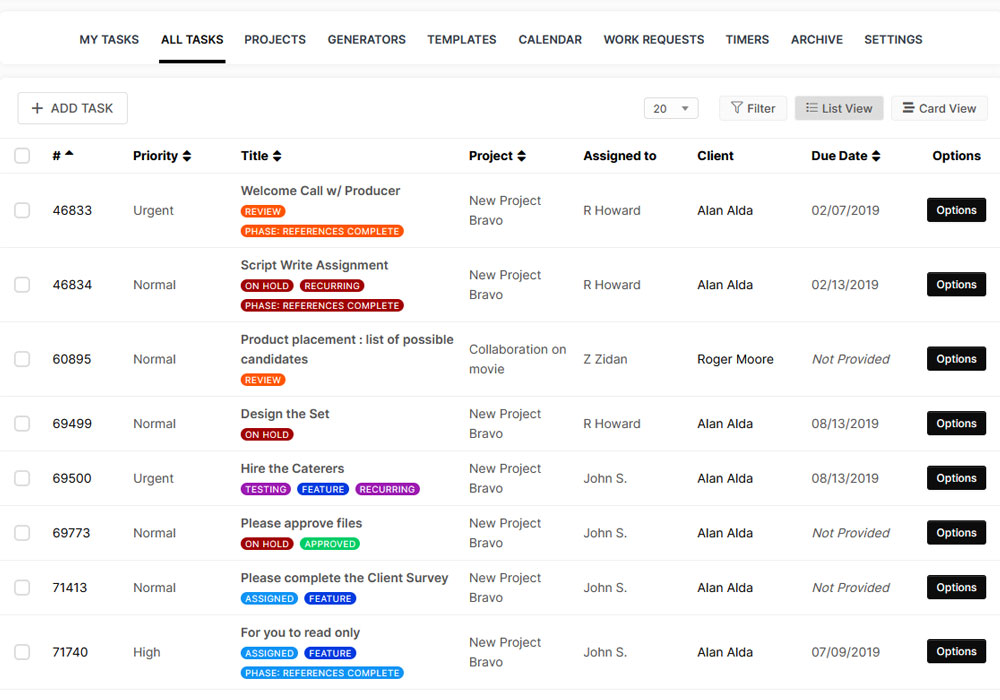 Another competitor of Zoho, mostly suitable for small businesses, is SuiteDash. Starting with a CRM and a client portal, this alternative can go further and offer project management tools and invoicing, time tracking and billing, custom client on-boarding, and embeddable forms – basically, everything you need for team collaboration, easy customer interactions, and automated business workflows.
Top Alternatives to Zoho People
n the fast-changing world of work HR practices are changing shape, too. To cater for the needs of HRs, Zoho offers Zoho People, a cloud-based HR software product. It is an HR management system aimed at simplifying HR operations and managing HR tasks with a scalable employee database, case management, smart workflows, analytics, performance measurements, and management resource learning. It has 3 tariff plans: Essential, Professional, and Premium, and provides a free trial, but no free version, even with a limited functionality. Users appreciate easy management of employee databases, performance, attendance, and payroll trackers. However, there are downsides with analytics tools, notifications, and onboarding features allowing room for improvement. What alternatives do competitors offer?
4. BambooHR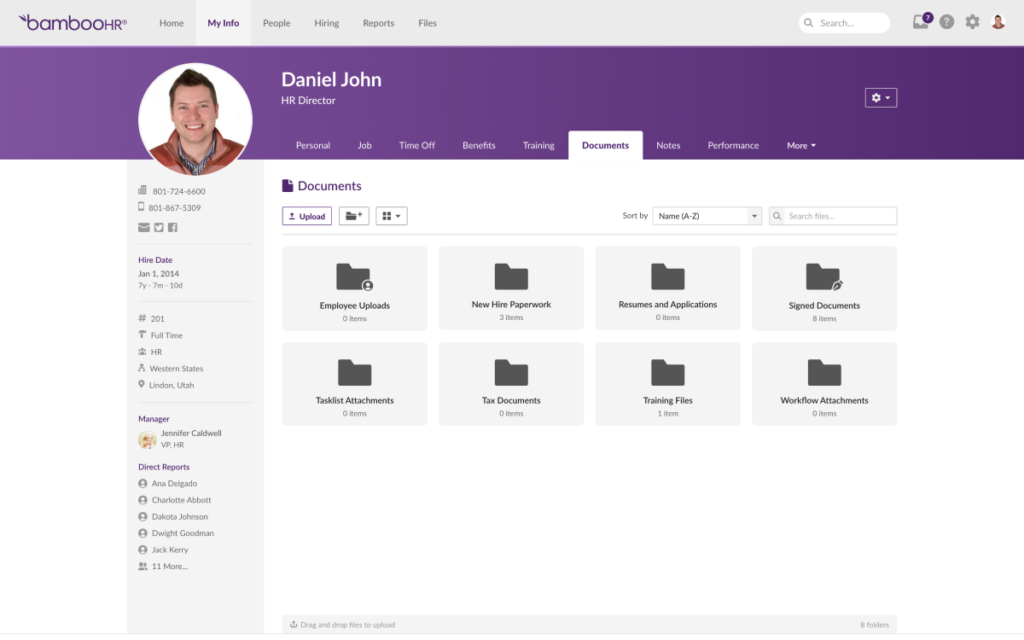 Another competitor to Zoho People is BambooHR. It also creates a single employee database with analytics and reporting tools to manage workforce data easily. This alternative includes recruiting, onboarding, compensation management, and support for creating and maintaining a corporate culture.
5. Hibob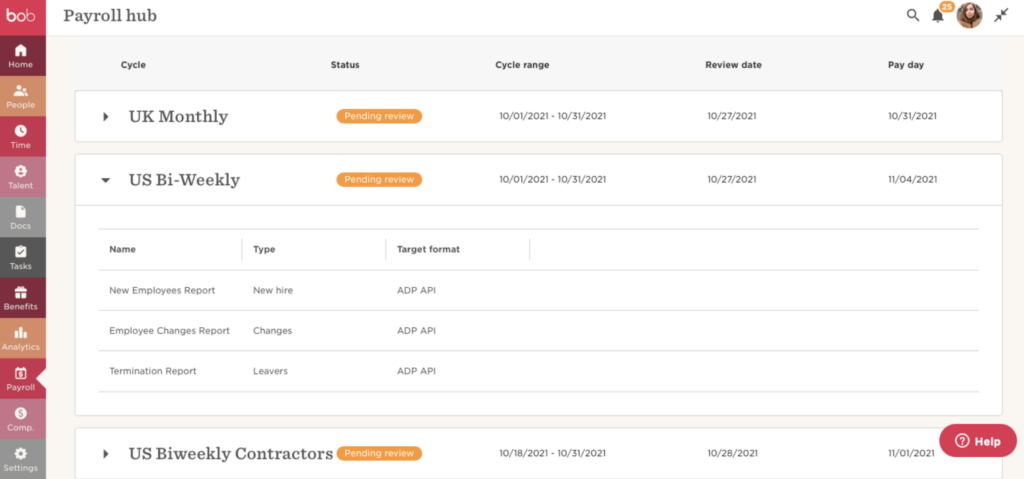 Hibob is an alternative HR platform to power productivity, engagement, and retention. One feature that makes it stand out is a focus on employee engagement with Shoutouts, Kudos and Clubs, which makes it a great choice for young dynamic businesses. Along with these fun features, Hibob has time-tracking functions, integrations with communication apps, like Slack and Microsoft Teams, insights into KPIs, and other HR functionality that makes company operations easy and efficient.
3 Alternatives to Zoho CRM
Zoho CRM is Zoho's oldest and, probably, most popular app. Often, it is the first app that springs to your mind when thinking of Zoho. It promises state-of-the-art customization, integrations with over 500 third-party apps, advanced analytics tools, custom reports and dashboards, KPIs and sales forecasting, deep automation, and many other common CRM features. Zoho CRM has 5 tariff plans, ranging from Free (3 users only) to Ultimate (65$ per user monthly). Zoho CRM is liked by many, but before choosing this app, it makes sense to check out what users say about Zoho's downsides as well. Feedback collected at TrustRadius states that Zoho CRM may not be intuitively clear and easy to learn for beginners, offers only limited customer support, and requires too much customization at the start, the extensive functionality that may only be confusing as you start proves limited when you are growing. So, if you are looking for something better than Zoho CRM, you can first read our article about CRMs and check the following sites like Zoho and competitors:
6. HubSpot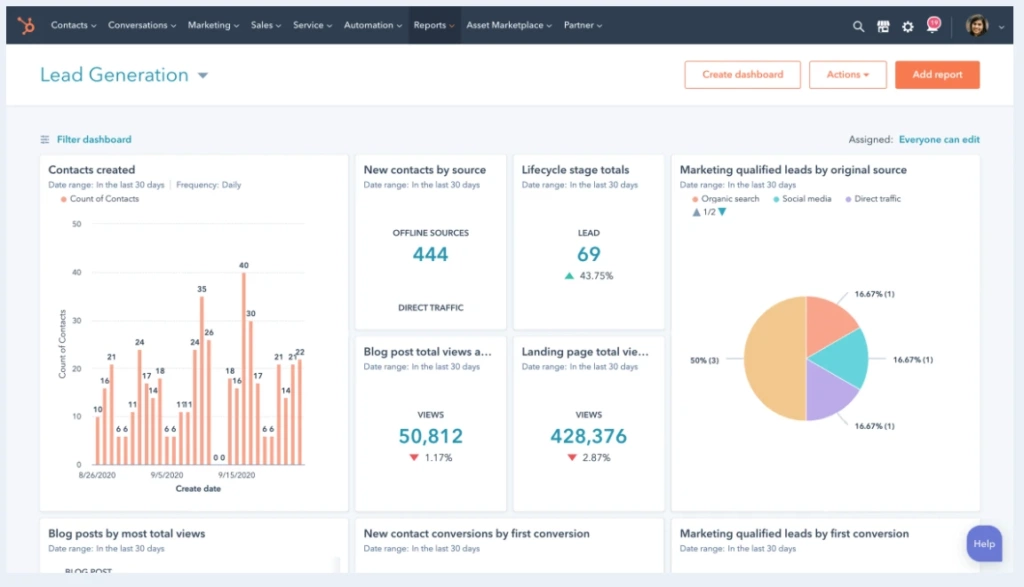 Easily customizable and simple, HubSpot comes with email and prospect tracking, meeting scheduler, and live chat included as free features. An unlimited number of users within a free plan makes HubSpot especially attractive for startups. This solution includes all the essential features expected from a CRM: a meeting scheduler, pipeline management, contact and lead management, email marketing, reporting and tracking tools. HubSpot has numerous integrations and is a rather intuitive design. Users appreciate the usability but indicate that the app may be too slow and the call function needs improving.
7. SalesForce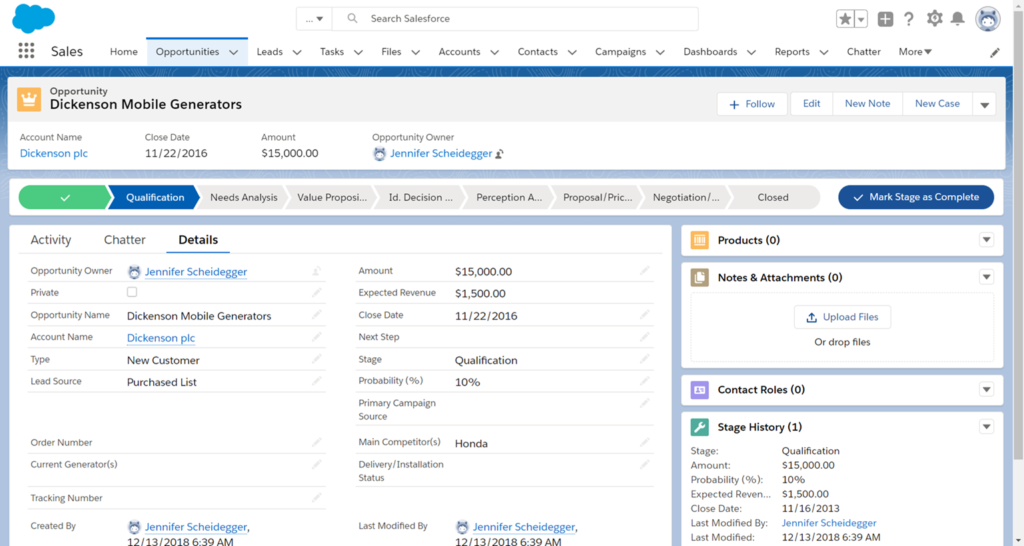 Highly advanced and technically impressiveSalesForceprovides total sales pipeline management and advanced reporting. It is good to forecast revenues and track leads. While it intends to be user-friendly, with good analytics data, business insights, and mass emailing, there are many complaints about glitchy reporting, integrations, and customizations that require in-depth developer knowledge.
8. PipeDrive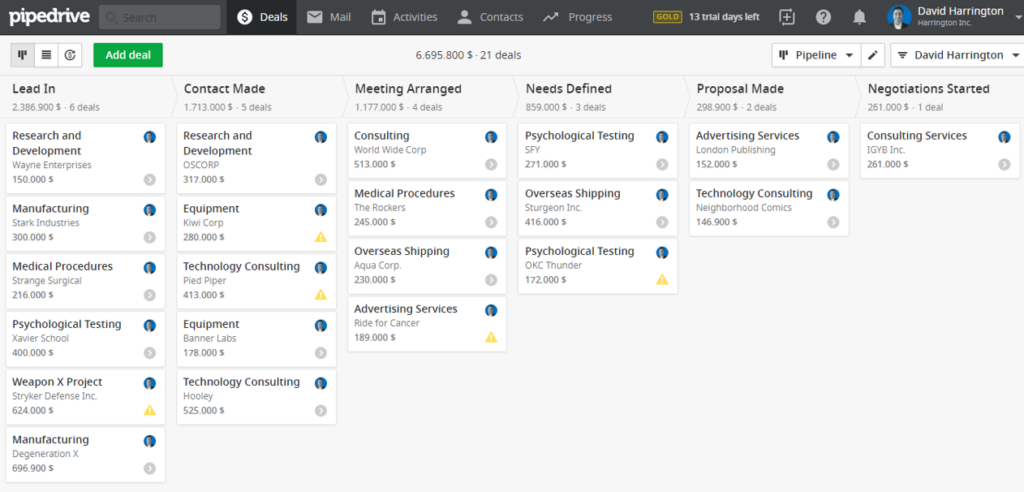 PipeDrive is designed 'by salespeople, for salespeople', with a special focus on the sales process, advanced segmentation of leads, and a free trial for 14 days of the entire functionality. PipeDrive is especially suitable for sales teams that need to track a long sales cycle. Most users report easy lead management and contacts with prospects but admit it requires better automation and simplified customization.
Since your requirements of a CRM may vary greatly depending on your industry, size, and nuances of growth, Zoho may not be your first choice. List your needs: functionality, integrations, level of customization, budget limitations – and consider all the alternatives.
Zoho Office Suite and its Alternatives
Next, let's look at Zoho Writer, Zoho Sheet, and Zoho Show. This set of office tools has been around for many years now. Zoho was one of the first to offer SaaS instruments as a way to a paperless office, where dynamic, or living, documents save resources on paper and office equipment, reduce waste, and allow teams to collaborate better on shared information. If you are used to Microsoft Word, Excel, and PowerPoint, but feel limited by their static nature, you are likely to look for dynamic alternatives.
Zoho Writer is a word processor available across many devices, aimed at facilitating collaboration, and capable of posting directly to WordPress or Blogger.
Zoho Sheet enables you to create shared spreadsheets. It can boast of an automated data processor and an AI-powered data analyst. It turns a regular spreadsheet into an interactive document with drop down menus, forms, and checkboxes.
Zoho Show is a dynamic alternative to PowerPoint – better, richer, and faster. It comes with a library of over 100 templates, slides, and fonts for engaging, professional-looking, and well-designed presentations.
9. Google Workspace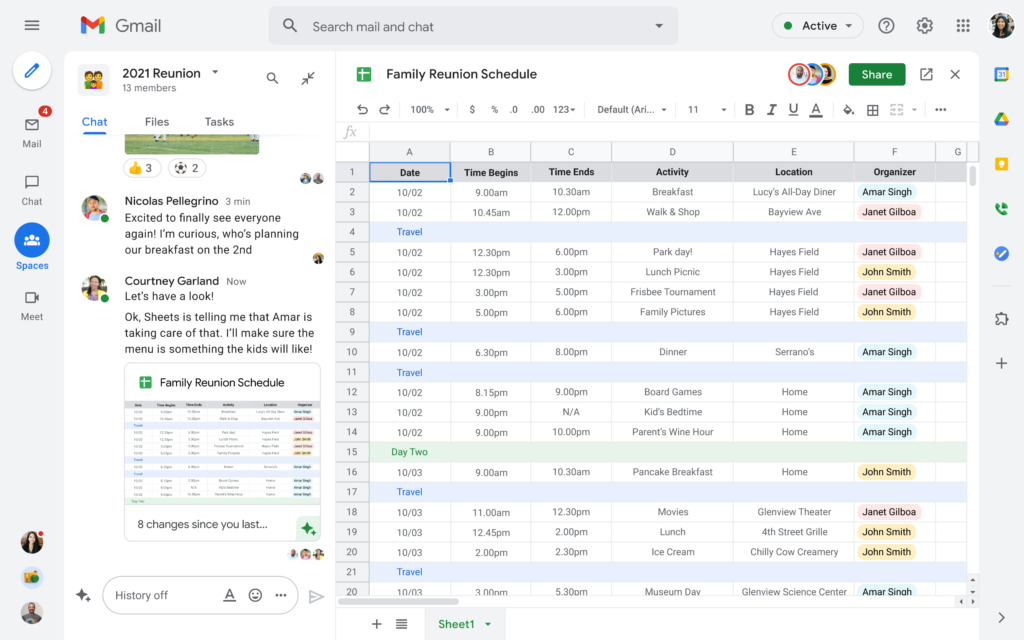 The most obvious competitors to Zoho office tools would be the programs from the Google Workspace. Google Docs, Google Sheets and Google Slides allow easy sharing, editing, and commenting across your team. Reliable and simple, they are often preferred by those accustomed to traditional office products. Besides, this set includes collaboration tools like Gmail, Calendar, Meet, and Chat.
10. Microsoft 365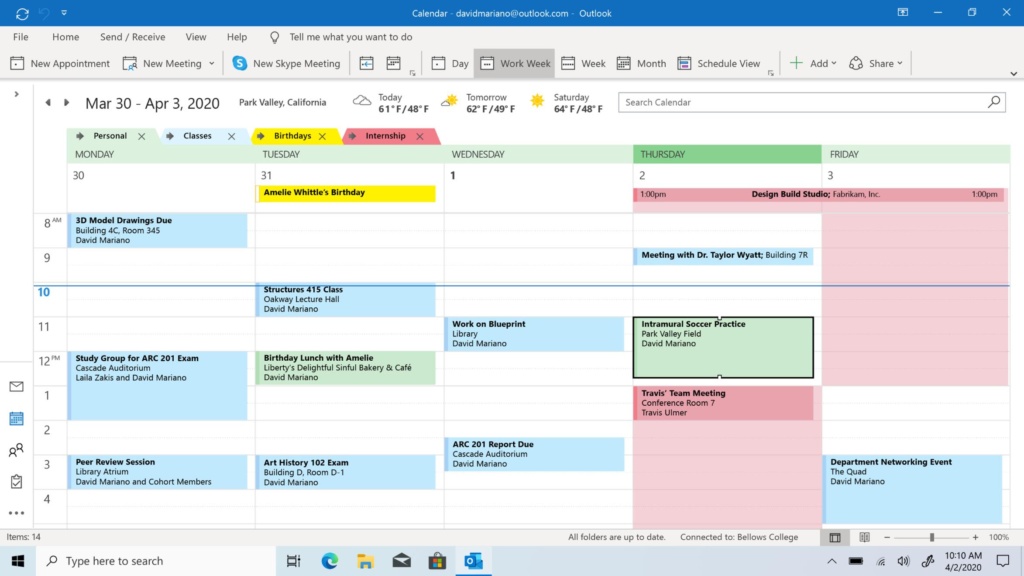 If you are not ready for alternatives to your favorite office software and still keep to Microsoft Office, you should know about the Microsoft 365 – the renewed and upgraded package of the same old Office Word, Excel, Outlook, and PowerPoint with more newly-added features for better sharing and collaboration.
The Alternatives to Zoho Projects
In the post-pandemic world, being agile and able to keep up productivity while working from home is essential. There is a need for uninterrupted communication and keeping remote teams on track calls for effective project management tools more than ever. Project managers are in big demand, but to manage the scope, budget, and time on ever-growing projects, they need specialized software. The market is so huge that merely picking the right software instruments requires a lot of learning. LinkedIn even offers a course on choosing the right online tool for project management. Zoho does not miss out and offers Zoho Projects – a cloud-based project management software to plan your projects, track work, and collaborate with the team with minimum effort and maximum efficiency.
Zoho Projects provides task management and resource management with Gannt charts and Waterfall methodology support, scheduling, budgeting, document management, and integrations with email and other Zoho apps, including Zoho CRM.
The Zoho Projects app is praised for easy reporting, sensible task tracking, time tracking, and task management. On the other hand, users indicate its UI as not the most intuitive, its mobile version as buggy, and its support as insufficient. You cannot please everyone, and different users share different opinions as to what needs improvement, but before sticking to one choice, check out the competitors.
11. Monday.com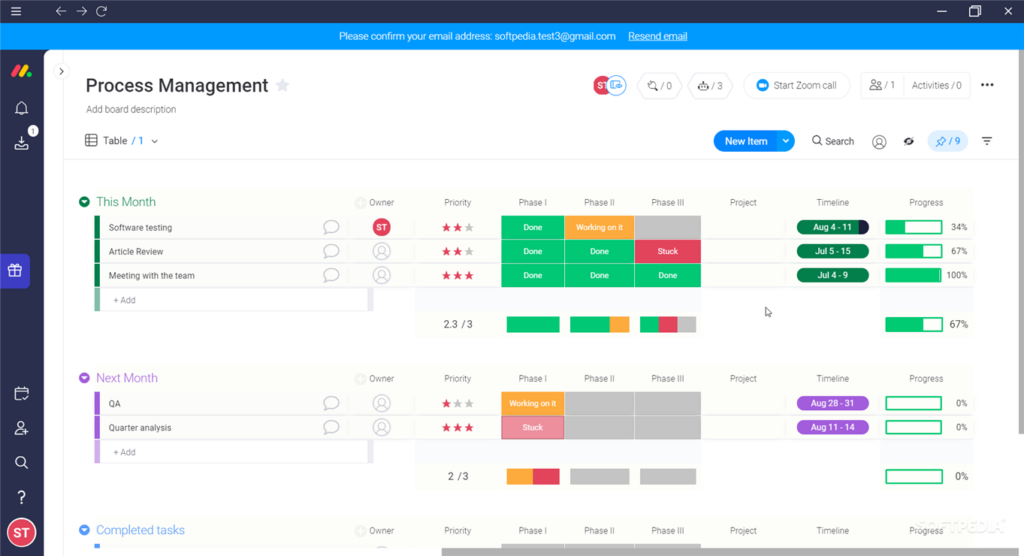 Another alternative for smooth project management is Monday.com. It is an open platform where users create the tools they need for their specific projects. Its building blocks can allow you to build your own solution. Monday.com claims to 'let you shape workflows, your way', its main advantage being advanced customization to fit your needs, especially if you are using Agile methodology. While recognizing Monday is the only one worth not being hated, users point out the glitchy mobile version, difficulties with file management and dependencies, and a need for some basic technical expertise.
12. Smartsheet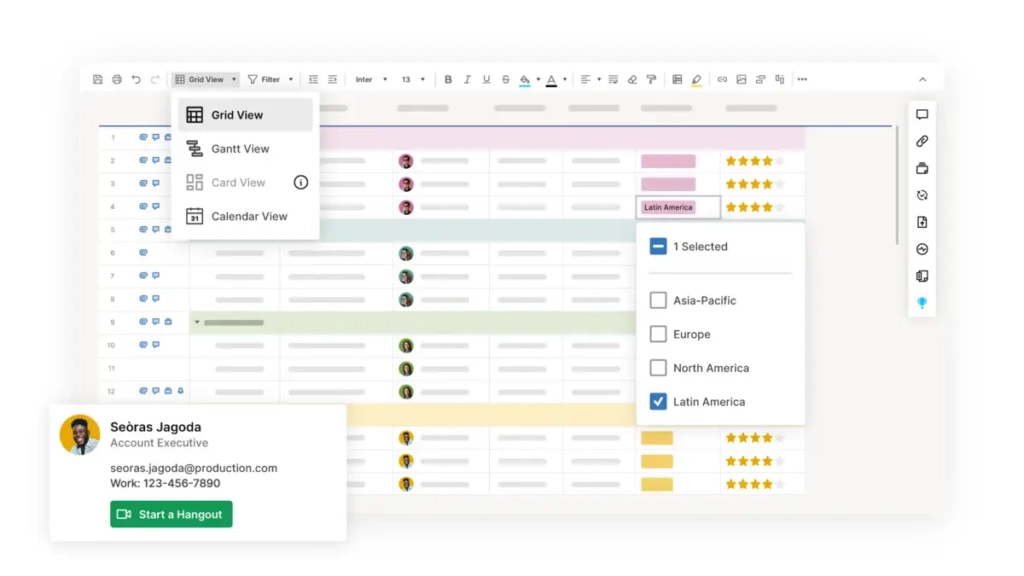 Zoho's competitor, Smartsheet, makes a special focus to cater for the needs of the IT industry. It may be especially liked by Excel lovers for its spreadsheet-like interface. Integrated with many Microsoft and Google applications, Smartsheet can boast powerful dashboards and reporting tools and is best for small-scale projects, while large organizations may find its functionality insufficient.
13. Trello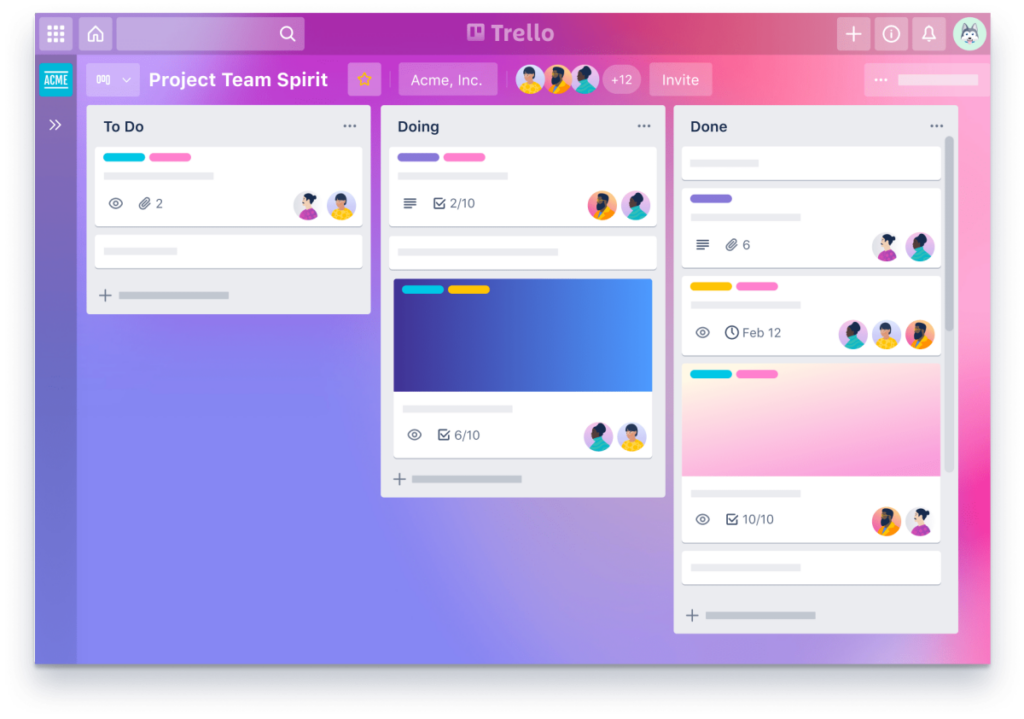 If you are keen on Agile practices, Trello may be an alternative you are looking for. It is based on the Kanban framework and represents the familiar idea of to-do lists with boards and cards of 'to do', 'doing', and 'done'. This product offers a free version for individuals or small teams, with functionality growing to three other tariffs. Most users love the customizable cards and boards but complain about calendar integrations.
Conclusion
Zoho today, with its variety of apps, packages, and tariff plans, is definitely a key player on the market of business management software solutions. In the scope Zoho offers, virtually any company can find a tool to help their business grow fast and operate with more ease. However, the market is huge and diverse, with many other small and big players catering to specific niches or specializing in chosen features. When faced with the necessity to choose one platform, you need to consider many factors and criteria. How fast are you growing? What departments and workflows need automation? How effective is your current interaction with customers and what are you seeking to improve? Once you have compiled a list of your needs and requirements, start with vendors that specialize in the very tools you are in need of. Nimbus Platform can become your number one choice of a user-friendly, comprehensive, and easy-to-implement business management solution.
Get expert advice on alternative solutions
Find more Nimbus articles and updates on our Twitter page!
Read more posts on this topic:
Disclaimer
Parties other than Nimbus Platform may provide products, services, recommendations, or views on the Nimbus Platform site ("Third Party Materials"). Nimbus Platform is not responsible for examining or evaluating such Third Party Materials, and does not provide any warranties relating to the Third Party Materials. Links to such Third Party Materials are for your convenience and do not constitute an endorsement of such Third Party Materials.
Previous post
How to Improve Company Documentation and Make it Pop
Next post
A Simple Guide to Create a Customer Service Knowledge Base