10 Best Customer Service Software to Use in 2023
Find the perfect solution for your business with our experts
Book a demo
What does the contemporary market look like? And how does it differ from the past? Well, while the fundamental principles remain pretty much the same, it is no longer sufficient to merely have a high-quality product or service — a business should also market it well, drive sales and make customers happy. And the last part of the equation is probably the most complex. Being spoiled with the abundance of choice, modern customers are picky and impatient. They do not like to wait and expect a premium class service.
Sounds like a challenging environment, right? So what can a business do to thrive in it? According to a recent survey, consumers are 5.1 times more inclined to recommend a brand after a positive customer service experience. Furthermore, there is also 3.5 times higher probability they will make a purchase from a business after a pleasant interaction.
It seems satisfying and engaging with every customer might be an answer. But how do you achieve this, especially for a large company with a sizable customer base? The key to success here is well-customized cloud-based customer service software.
In this article, we will explore the top customer service solutions that are currently available in the market, assess their advantages, look into the features they should have and try to understand how to choose the right customer service solution for your business.
What is Customer Service Software?
Сustomer service is a term used to describe assistance businesses provide to their customers before, during and after the purchase of goods or services. It usually involves a direct interaction between a vendor and a buyer and can be done via different communication channels like old-style phone, email, chat or even social media, which by the way is becoming more and more popular.
Accordingly, customer service software comprises specialized tools designed to help customer service agents process and answer customer queries. There are various types of customer service tools which may vary in price, functionality and methods of handling customer support requests. However, what they all have in common is that they enable businesses to consolidate customer messages coming from different sources into a unified inbox.
Let us now look at the best customer service software available in the market today.
10 Best Customer Support Solutions to Use in 2023
1. FuseBase (formerly Nimbus)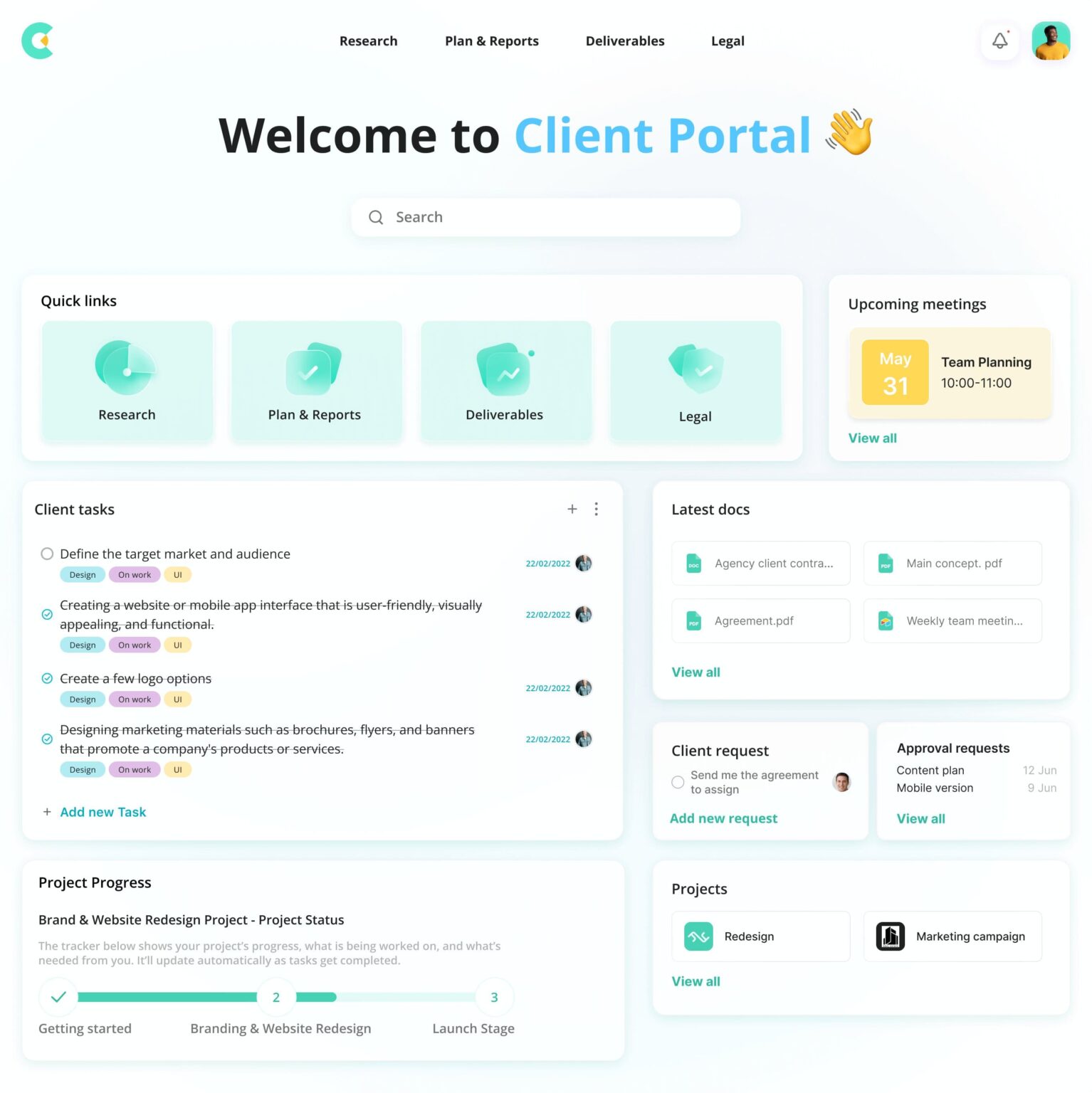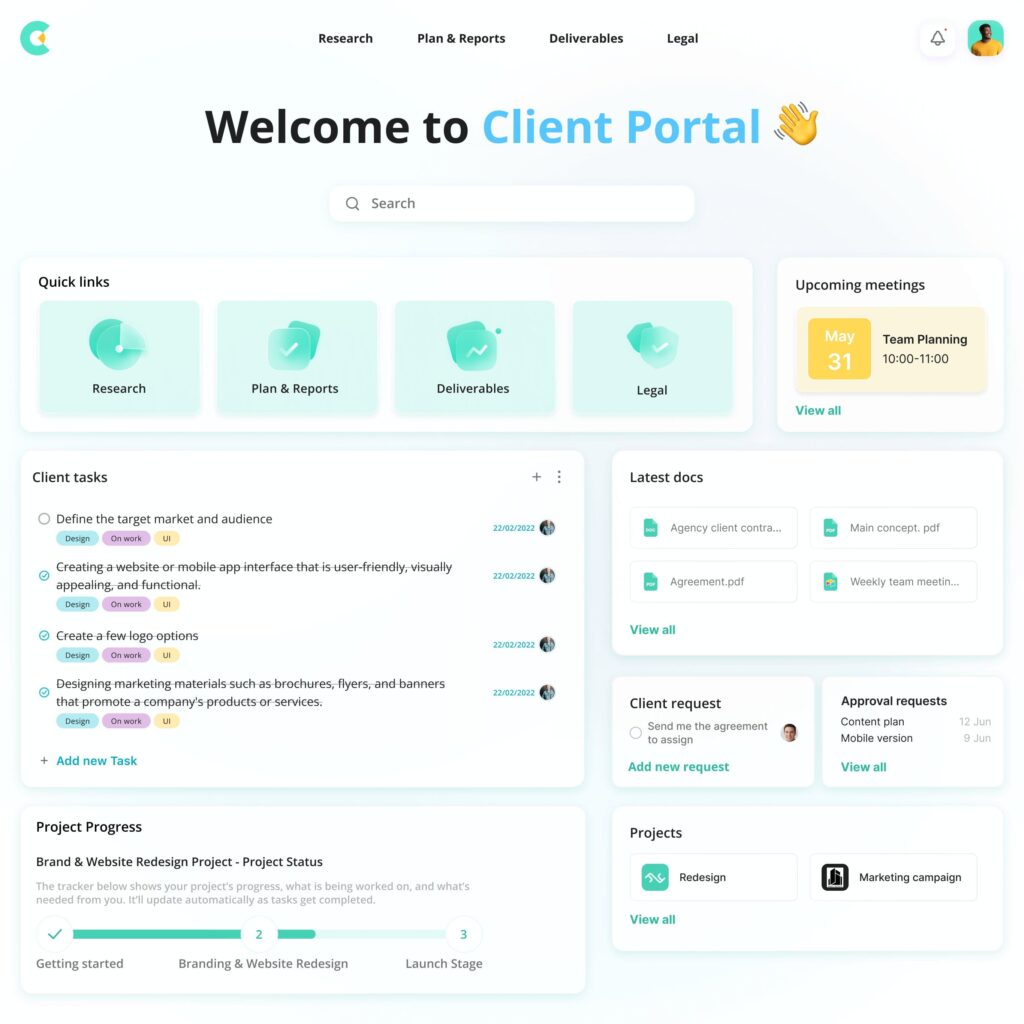 FuseBase (formerly Nimbus) is an all-in-one collaboration solution designed to help client-oriented businesses better engage with their customers. It comes with all the necessary features of customer service software while also providing team collaboration and content management tools.
FuseBase's most prominent feature is customer portals—no-code websites that can be used for both internal and external communication. The platform is easy to use and set up. Users do not need to have a technical background to create self-service knowledge bases, dashboards, data collection forms and much more, which can be done under your own branding.
Key features:
Develop effective customer portals with an intuitive user interface that enable customers not only to view content but also to actively engage with it
Categorize and tag pages for quicker access
Integrate external sources like Google Analytics, Google Docs, Calendly, Figma, etc.
Create personalized knowledge bases and home pages
Design data dashboards for better analysis of project and customer information
Access pages in one click either with or without a password
Efficiently manage access and permissions
To tell the truth, FuseBase (formerly Nimbus) is more than just customer service management software and that is why it ranks number one on our list. In addition to customer service, it also offers collaboration and communication tools as well as content creation and project management features.
2. Zendesk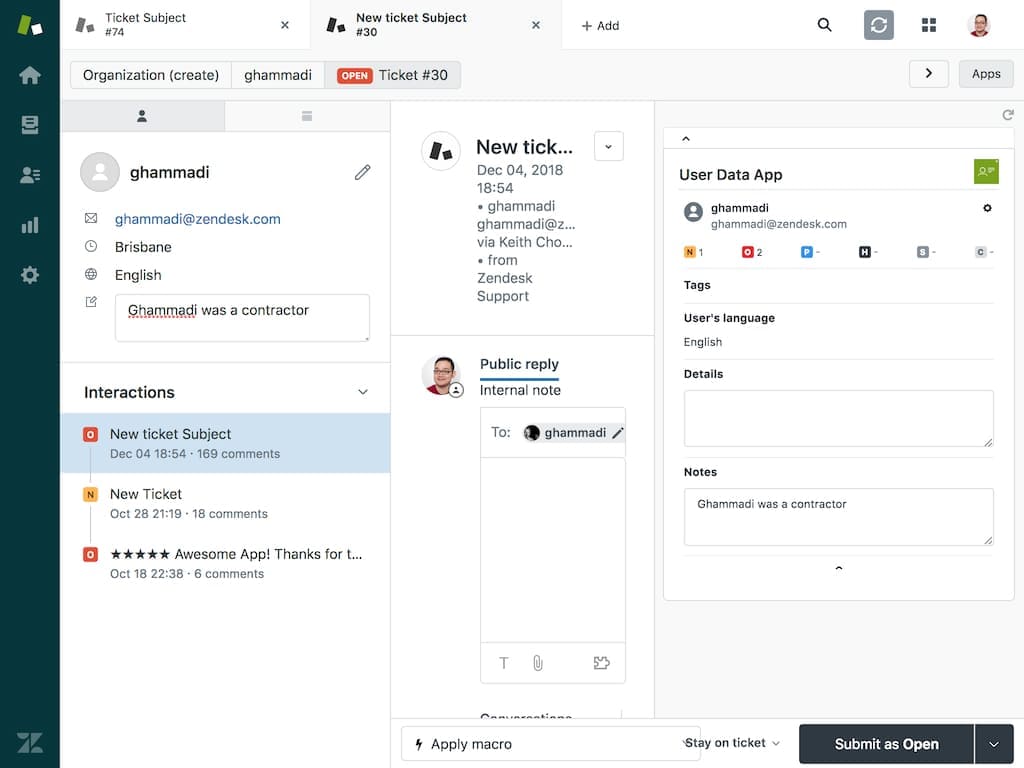 Number two on our list of the best customer service software tools available in the market today is Zendesk. It is a cloud-based customer help desk management platform designed to help businesses take their support operations online. It is one of the oldest customer service management solutions and now in addition to help desk tools, the Zendesk support software also offers its users a CRM and tools to build customer service portals and knowledge bases.
Another huge benefit of Zendesk is its support mobile app that is easy to use and allows customer service agents to view and respond to tickets from the comfort of their mobile device or tablet.
With any Zendesk subscription, you can manage email, Twitter and Facebook conversations. On their more expensive plans, you can also handle phone and chat conversations.
Key features:
Gather customer inquiries from multiple communication channels and tools like email, chat, social media and calls into an all-in-one inbox
Convert customer inquiries into tickets, which your support teams can then prioritize, process and close
Create and maintain knowledge bases, FAQs and community forums
Automate repetitive tasks, such as routing tickets to the appropriate agents or sending automated responses
Analyze customer service team performance and levels of customer satisfaction
Customize ticket forms and customer communication templates to special requirements
Customer support mobile app
IVR call center
3. Intercom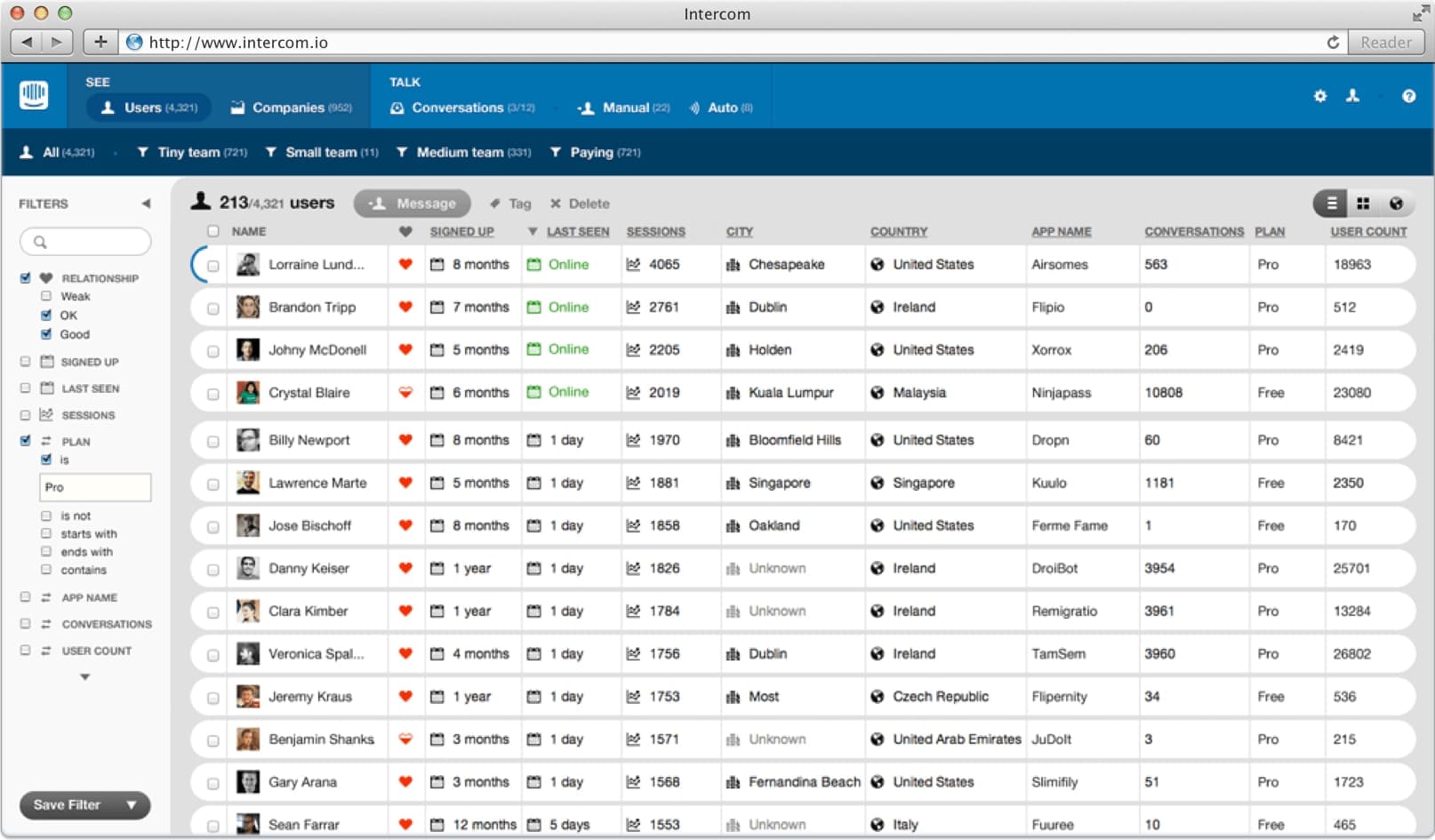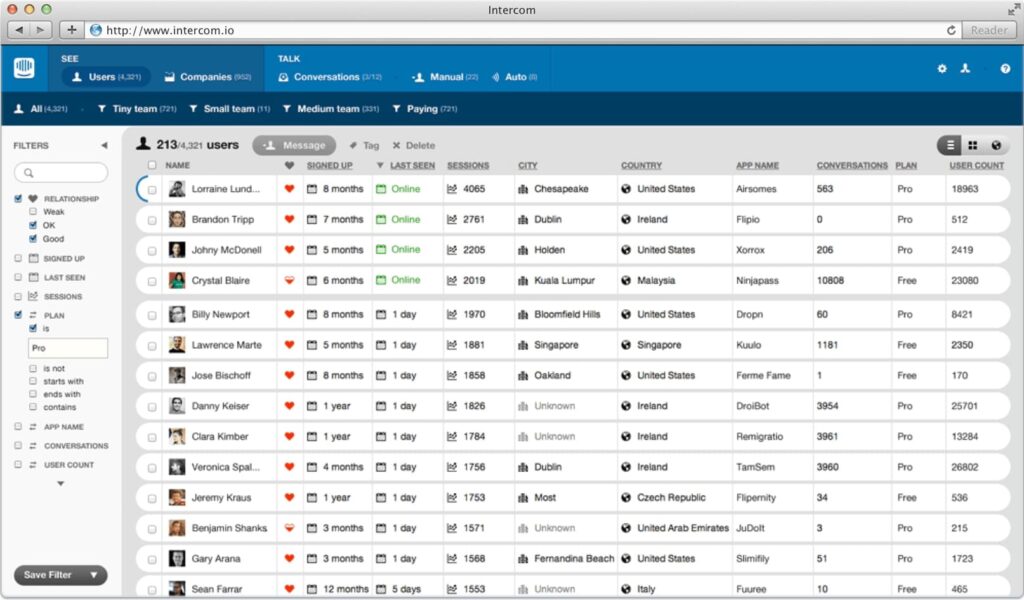 Intercom was named after an intercommunication device to give its users the perception of its purpose from the very beginning. This customer service app gives businesses the possibility to have real-time conversations with their customers and has been included in our list of the best customer service support mainly because it allows its users to scale any time without having to invest more.
Intercom's resolution bot can answer up to 33% of common questions. Incredible, right? This can considerably reduce your support team's workload and let your agents deliver value more effectively.
One should also mention that Intercom claims to feature the world's fastest shared inbox.
Key features:
Interact with customers across multiple communication channels, which include email, in-app messaging, live chat and even social media
Communicate with customers in real-time: answer their questions, provide support and even automate responses using chatbots
Create and manage knowledge bases, repositories of articles, FAQs, etc.
Automate custom workflows, trigger messages based on user behavior and send personalized messages
Track customer interactions, measure the performance of the support team and start to understand the customer behavior better
Initiate proactive interactions with customers with the help of targeted messages, product announcements and different surveys
Categorize your audience based on different criteria such as user behavior, location, and/or subscription status
4. Freshdesk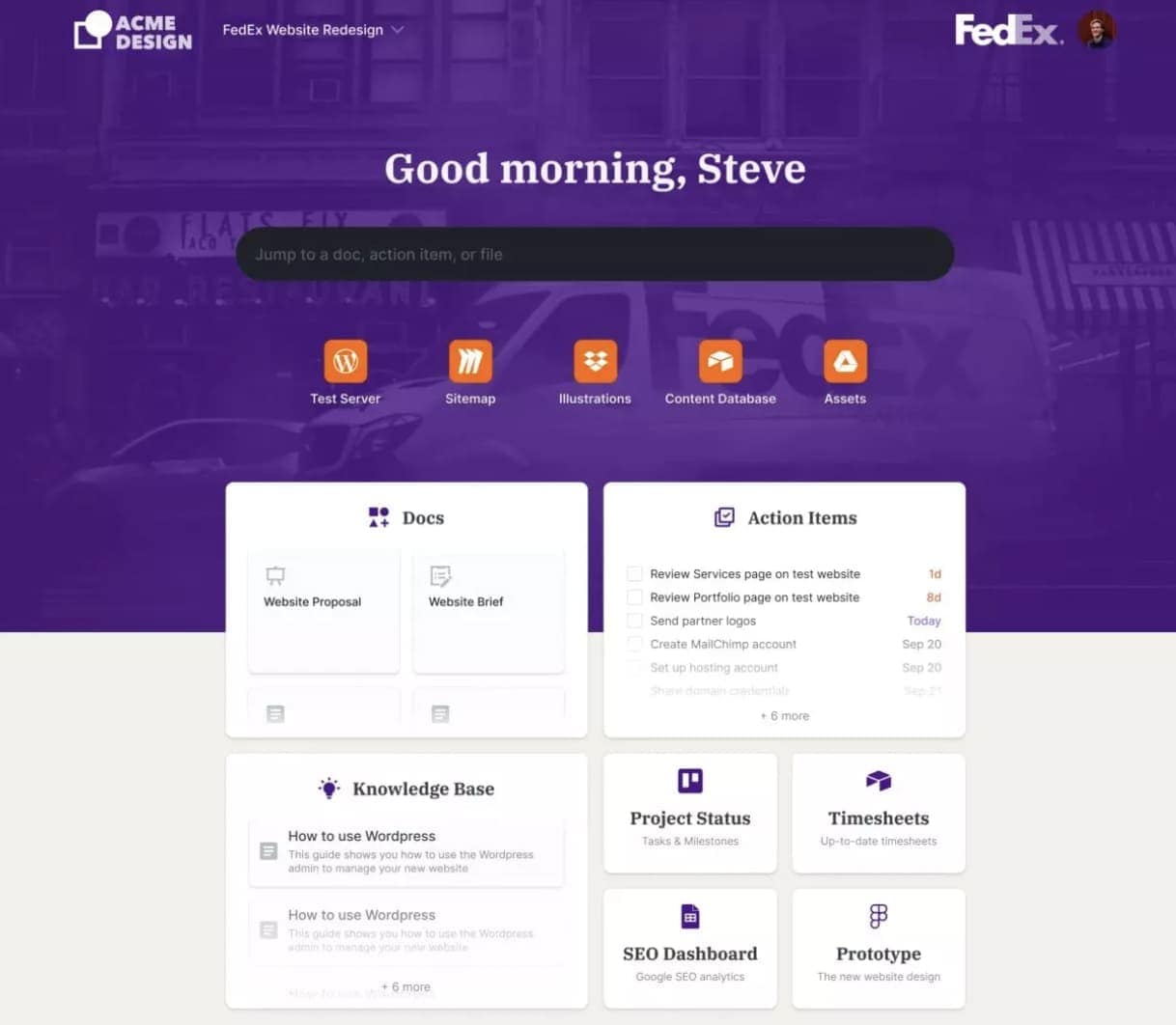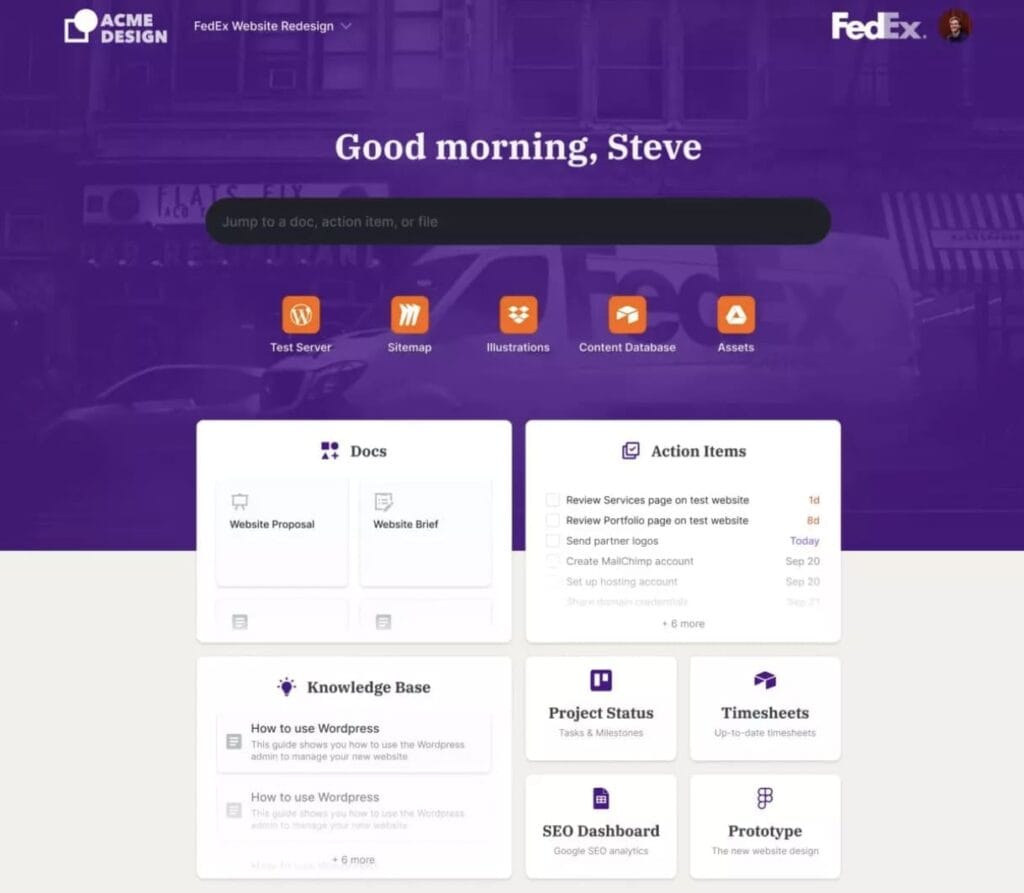 Freshdesk is one of the best customer service software solutions for enterprise teams that one can find in the market. Like the majority of solutions on our list, it is a cloud-based software designed to simplify and enhance customer support. Okay, but what sets Freshdesk apart? It's affordable pricing plans, ease of use and smart automations, of course.
Key features:
Aggregate customer inquiries from multiple communication channels in one place
Provide assistance and answer customer queries via a call center
Create, prioritize, assign and track customer issues using a well-elaborated ticket management system
Set up a repository of articles, FAQs and documentation centers, which can be used for self-service purposes
Automate repetitive tasks, create forwarding rules and trigger customized responses based on ticket properties
Use AI to improve the efficiency of support team members
5. LiveAgent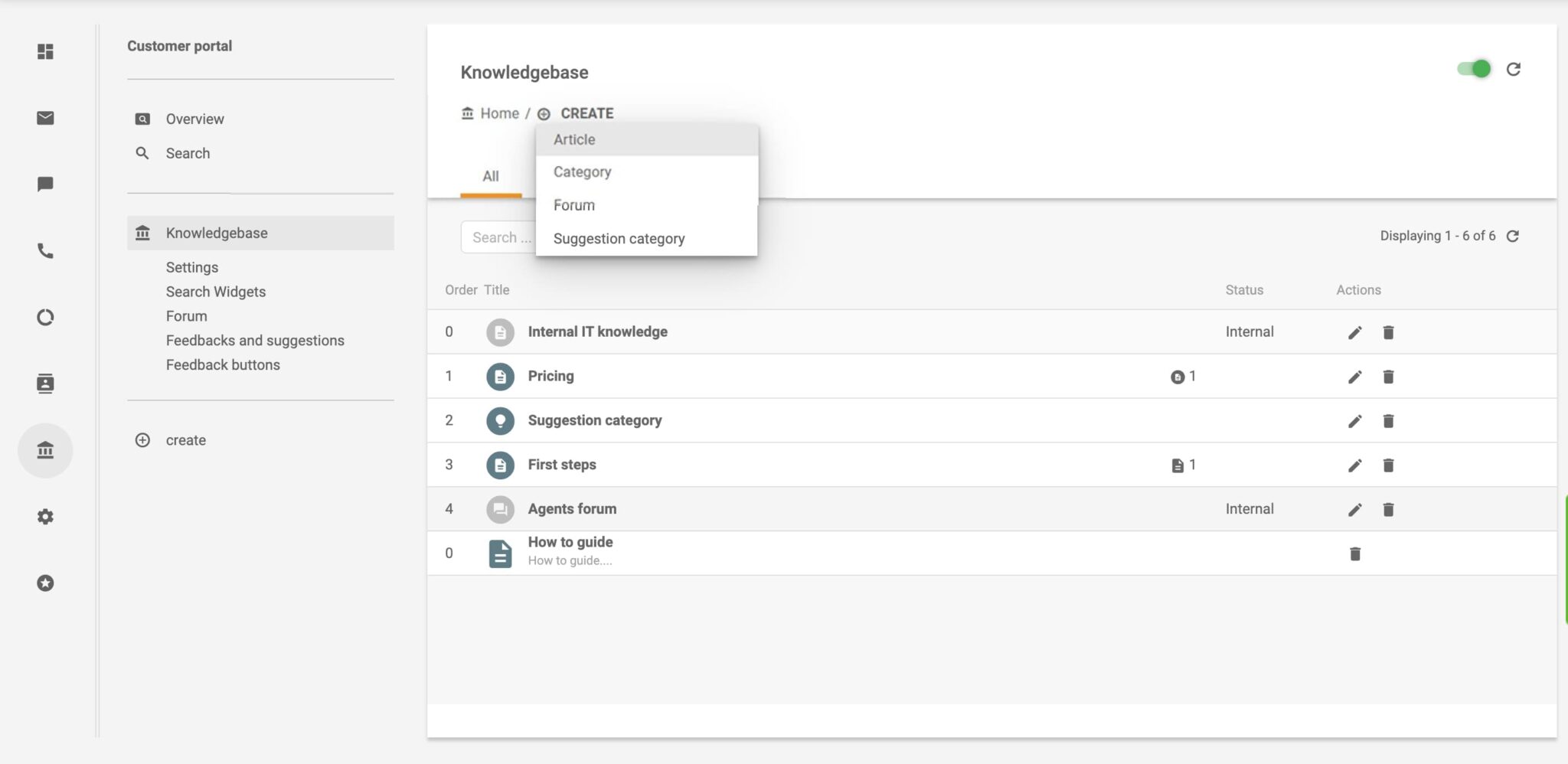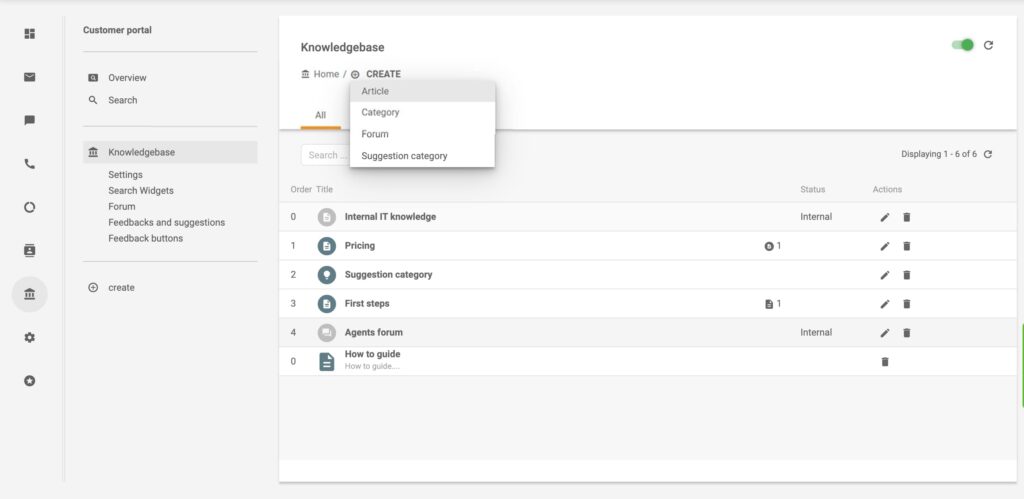 LiveAgent is an integrated customer support software, ticketing system, live chat, social helpdesk and voice helpdesk. It is a popular choice among small and mid-sized e-commerce companies because of the affordable price and decent feature set.
LiveAgent offers more than 200 integrations with third-party tools, boasts a simple setup and is a good option for businesses interested in gamification.
Key features:
Direct customer interactions from multiple channels, such as email, live chat, phone, social media and more into a consolidated inbox
Embed a live chat widget right into websites and applications
Create customer portals with internal and external knowledge bases, community forums and FAQs
Monitor your support team performance and measure the levels of customer satisfaction
Take customer service to a new level using the gamification approach
Improve collaboration among your company's support agents with features like internal notes, ticket assignments and team collaboration tools
6. HubSpot Service Hub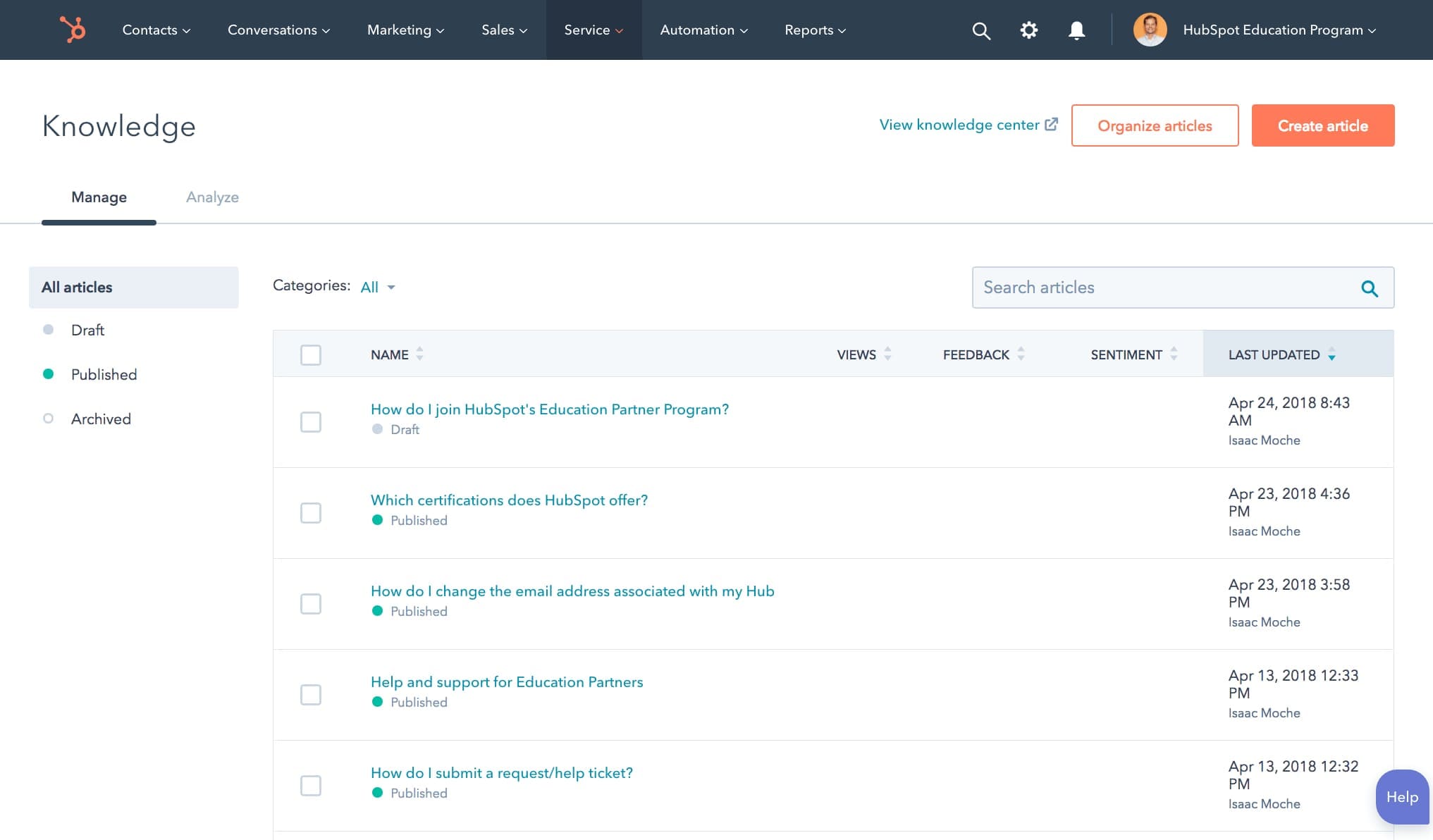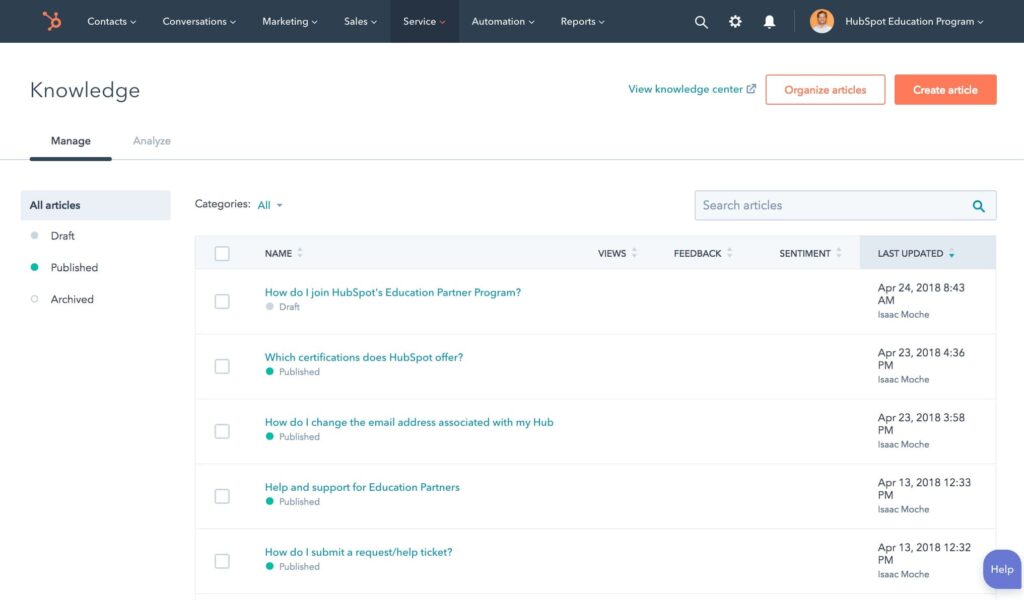 Hubspot Service Hub is a customer service software solution delivered by Hubspot, a vendor of a popular CRM platform. HubSpot Service Hub integrates seamlessly with Hubspot CRM to deliver outstanding customer experience and improve the overall customer satisfaction.
Hubspot Service Hub includes customer communications tools, a shared inbox, help desk tools and much more. It is a good choice for businesses that already use HubSpot CRM.
Key features:
Manage customer requests and issues using one of the most sophisticated ticketing systems in the market
Create and maintain comprehensive customer portals and knowledge bases
Interact with customers in real-time
Gather and analyze customer feedback
Create interactive content cards with valuable customer information
Use email templates and snippets to shorten response times
7. Zoho Desk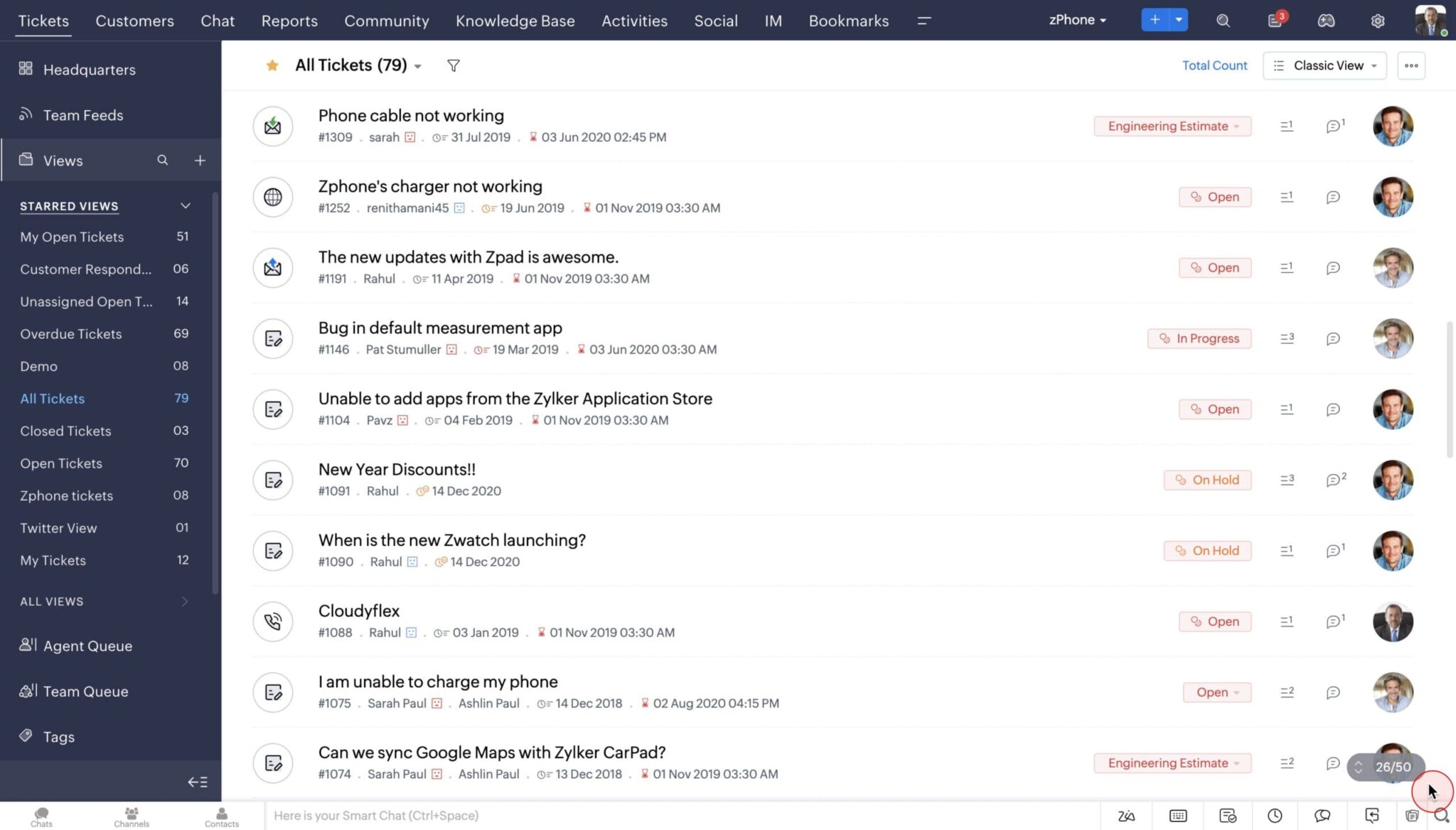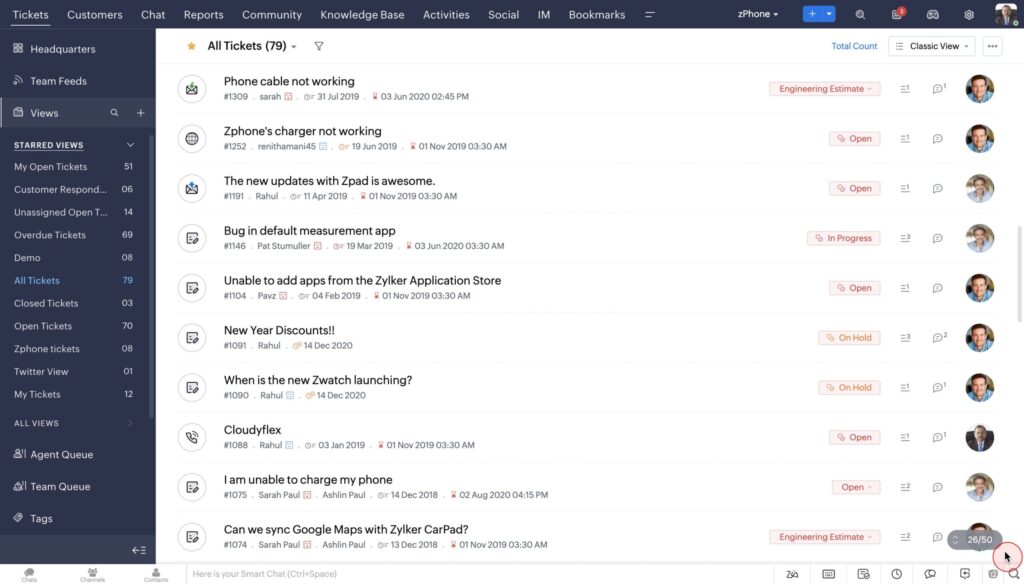 Zoho Desk is the next participant on our list of the best customer service software solutions to consider in 2023. It is a cloud-based help desk from Zoho Corporation designed to help companies automate and track their customer service interactions. Zoho Desk presents itself as a help desk software suitable for businesses of all sizes.
This customer support solution offers a truly impressive feature set and besides that it boasts a rich selection of integrations with third-party tools and solutions that will let you easily integrate it with the rest of your tech stack.
Key features:
Manage tickets and all customer conversations in one place
Integrate your customer service with popular instant messaging channels
Create a self-service portal for your customers
Receive and make old phone calls with a click
Be available for your customers instantly with live chat and help
Deliver quick support across social media channels
Gather feedback with embeddable web forms
8. Salesforce Service Cloud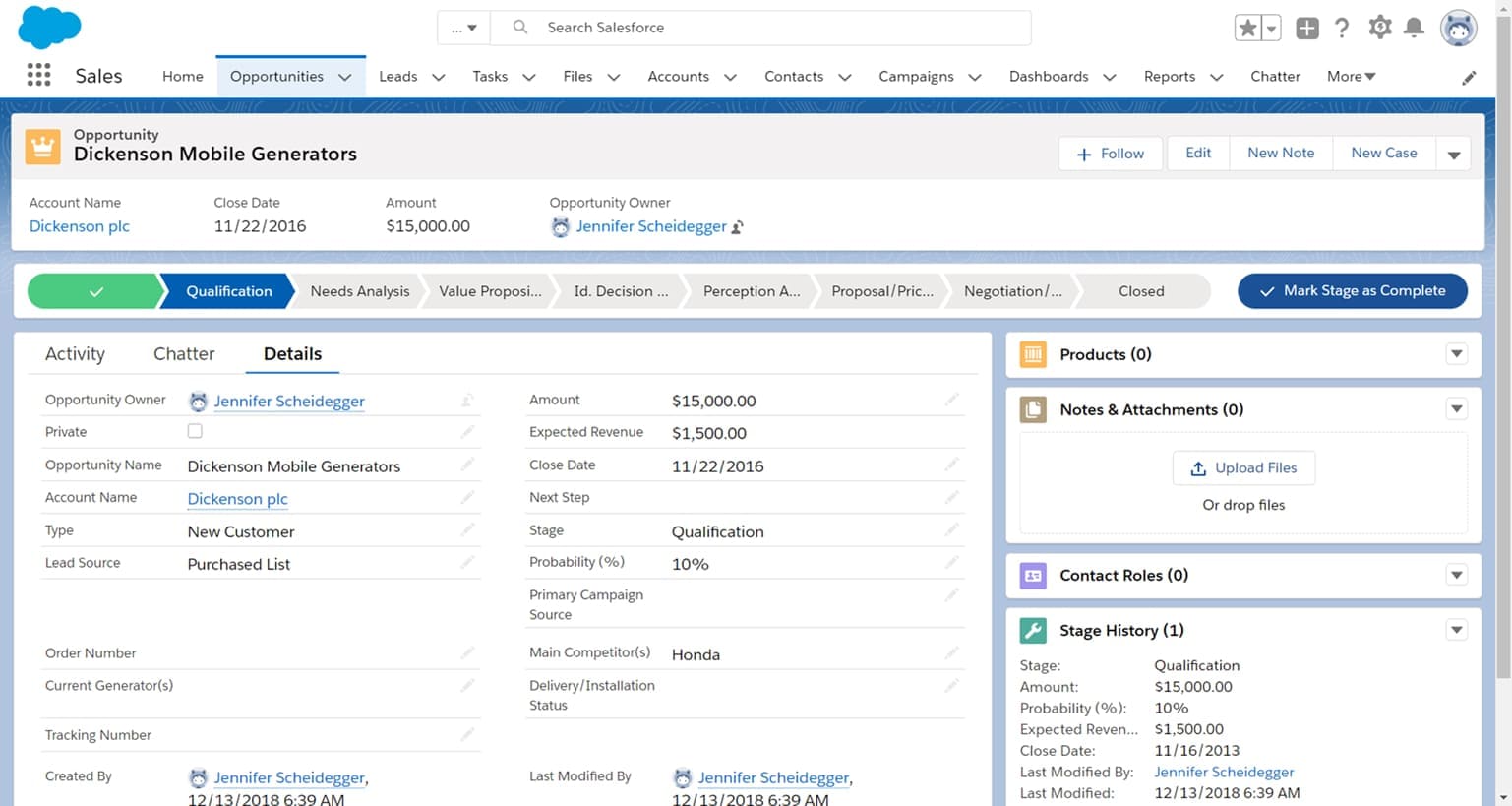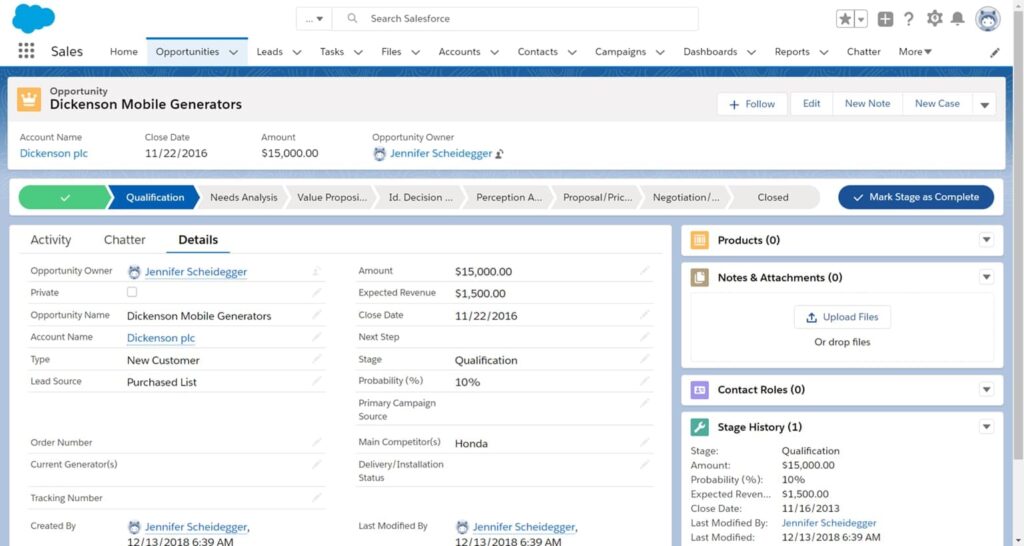 Salesforce Service Cloud is a universal customer service system designed to help businesses assist their customers at any time and in any location via phone, email, social media, chat and self-help resources. Salesforce Service Cloud claims to transform how service teams deliver value across every customer touchpoint.
With this customer service software solution, businesses can create connected knowledge bases, enable live agent chat and manage case interactions—all within one platform.
Key features:
Create knowledge bases and customer portals to empower customers to find answers on their own
Communicate with customers across various communication channels, including email, live chat, phone, social media channels and web self-service
Speed up issue resolution using AI-powered chatbots
Use case management tools for creating, assigning and tracking customer cases
Get practical insights from Tableau
Make use of a mobile app for support agents and field service personnel, ensuring they have access to critical information and tools on the go
9. Help Scout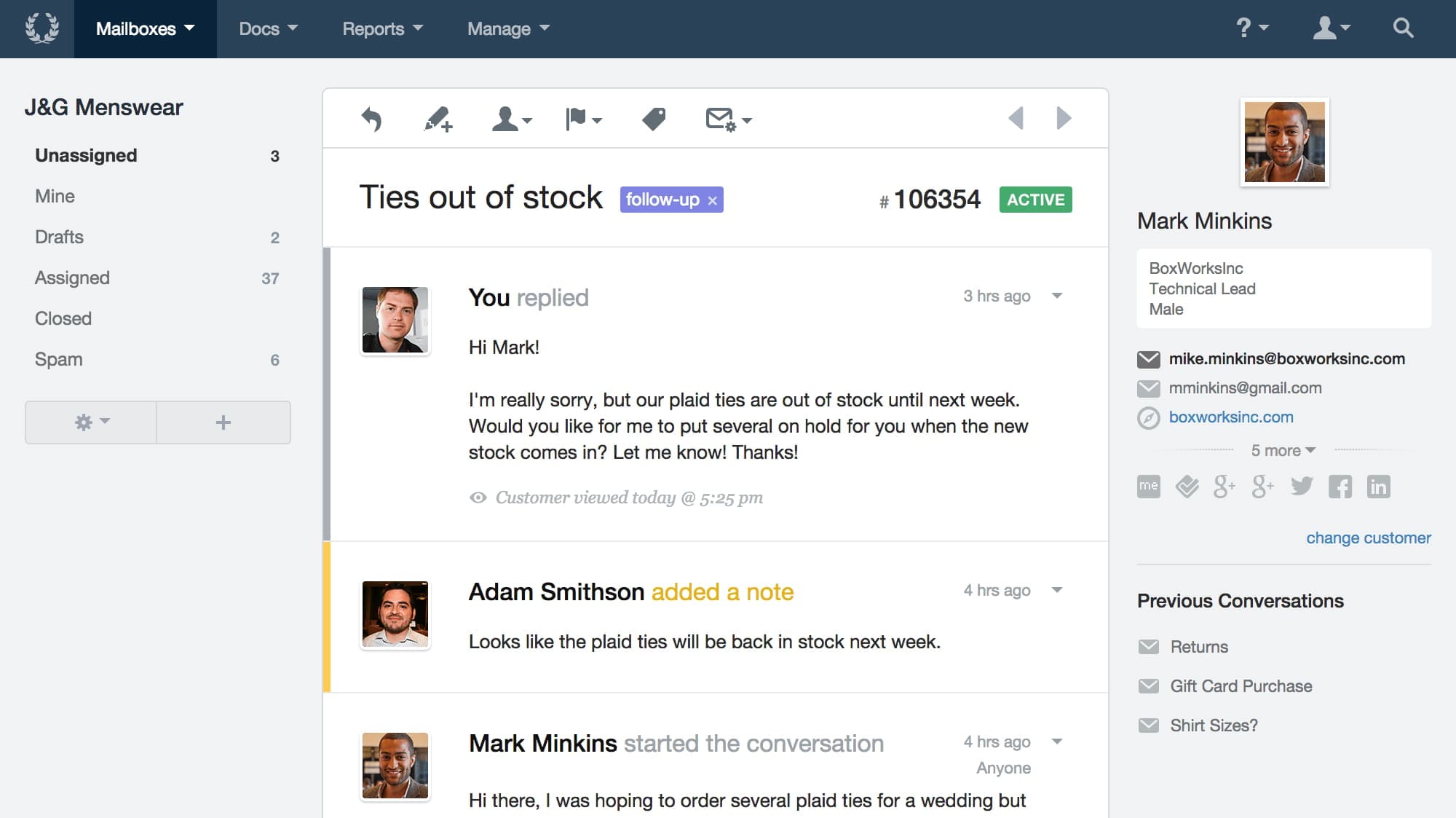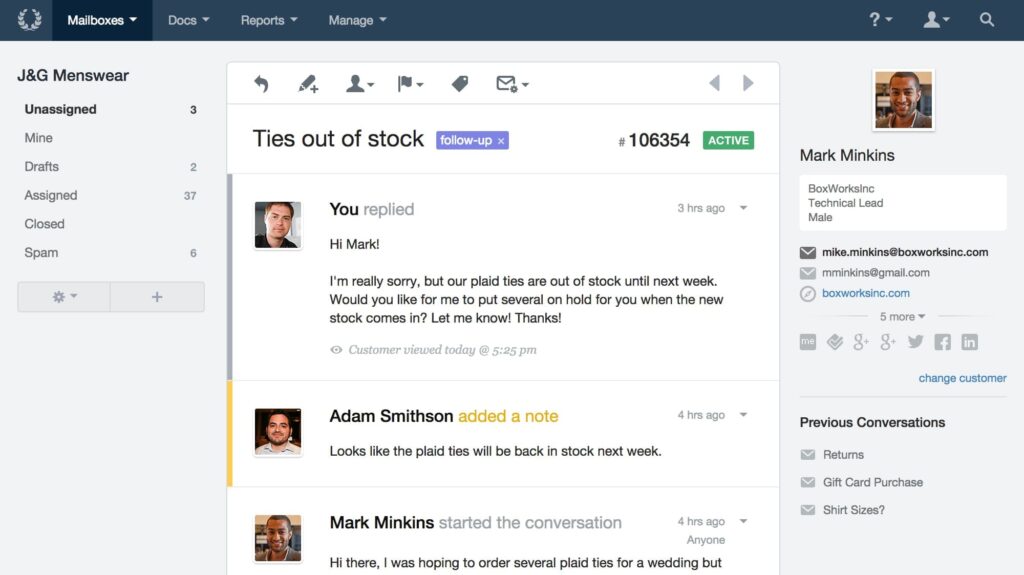 Help Scout is a simple, scalable help desk solution for small and medium-sized businesses to manage customer support. This popular customer service software solution focuses mainly on providing customer assistance via email and live chat.
Help Scout's mission is to help its users build a company people love. And we should admit they cope with that quite effectively. Its shared inbox, sophisticated help center and live chat aim to equip your support team with all that's necessary to manage communications with customers.
Key features:
Embed a live chat on your website and talk to your customers via the same tools like those you use to manage email
Reduce the burden on your support team members by creating a self-service knowledge base
Engage with your customers proactively via in-app messages
Generate reports based on customer data
Track business performance metrics, such as response times, resolution times and customer satisfaction scores
Use AI to resolve issues more quickly and deliver more relevant answers
10. Aircall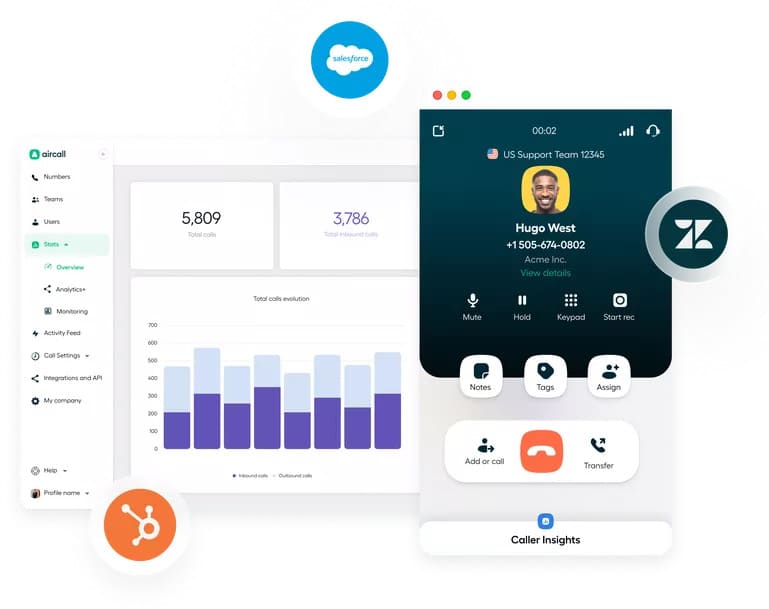 Aircall is a cloud-based call center software that easily integrates with CRM, productivity and helpdesk tools. It was designed to enable businesses to choose toll-free virtual phone numbers from various countries and thus get a global presence.
Aircall is probably the best customer service software for call center support.
Key features:
Use interactive voice response system
Set up toll-free local phone numbers in any country
Direct calls to specific teams, agents or departments based on multiple criteria, such as time of day, caller location or language preferences
Record calls for quality assurance and agents training purposes
Let your agents work from any place with a stable internet connection
Organize call queues to manage high call volumes more efficiently
Assess your support team activity with advanced reporting and analytics tools
Customer Service Software Comparison Table
Customer Service Software
Starting price
Trial
Core Features
Best for

FuseBase (formerly Nimbus)

Free plan is available
Paid plans start at $9 per month

Free trial is available

Customer portal
Knowledge base
Integrations
Content creation
Collaboration and communication
Interactive dashboards

Client-oriented businesses across industries like IT services, advertising and marketing agencies, etc.

Zendesk

The Basic plan starts at $19 per agent/month.

Free trial is available

Multichannel support
Automations
Community forums
Dashboards and analytics

Large teams

Intercom

The Starter plan starts at $74 per month.

Free trial is available

Real-time chat
Customer segmentation
Knowledge base
Targeted messaging

Web-based products

Freshdesk

Free plan is available
Paid plans start at $15 per month

Free trial is available

Shared inbox
AI-powered chatbots
Dashboards
Self-service portals

Enterprise-level companies

LiveAgent

Free plan is available
Paid plans start at $9 per agent/month

Free trial is available

Shared inbox
Gamification
Live chat widget
Collaboration tools

Businesses seeking to gamify their support operations

HubSpot Service Hub

Free plan is available
Paid plans start at $45 per month

Free trial is not available

Shared inbox
Feedback analysis tools
Knowledge base
Meeting scheduling
Interactive dashboards

Hubspot CRM customers


Zoho Desk

The Standard plan starts at $14 per user per month.

Free trial is available

Shared inbox
Integration with instant messaging channels
Live chat
Chatbots

Sales-focused teams

Salesforce Service Cloud

The Starter plan starts at $25 per user per month.

Free trial is available

Shared inbox
AI-powered chatbots
Tableau analytics
Reporting dashboards
Mobile apps for support

Salesforce users

Help Scout

The Standard plan starts at $20 per user per month.

Free trial is available

Shared inbox
In-app messaging
AI
Automations
Knowledge base

Growing businesses

Aircall

The Essentials plan is available for a minimum of three licenses, starting at $30 per user per month.

Free trial is available

Interactive voice responses
Call Routing
Call Recording
Dashboards and reporting

Businesses that require voice call centers
Read more posts on this topic:
Must-Have Features in Customer Support Software
Now that you already know what customer support software is and have a list of the best customer service software at hand, let us look at the essential features the right customer service tool should have.
Multi-channel support: The more communication channels the customer service software platform can handle, the better. Email, live chat, social media and phone calls—customer requests should go into one unified inbox.
Ticketing system: At the heart of any customer service management software lies a ticketing system. It helps accept a customer request, then convert it into a ticket, prioritize, forward to a specialist and finally close.
Automation of workflows: Automation features like auto-assignment of tickets, response templates, routing rules, alerts, notifications, etc. can significantly unload support teams and save time and effort for your staff.
Categorization and tagging: When all the tickets your company receives are categorized and tagged, it becomes much easier for the support agents to process them. This way issues get resolved much quicker and the response times are considerably shortened.
Self-service portals and knowledge bases: Are you familiar with the concept of the self-service economy, which is believed to replace the traditional economy we all are accustomed to? Today, customers having troubles will first try to solve their problems on their own and contact a support center only if they do not succeed.
Customer feedback mechanism: Trying to improve customer satisfaction and retention? It is almost impossible to achieve without collecting and analyzing customer feedback.
Advantages of Customer Service Software
Yes, the customer service platform might be a bit pricey, but the benefits it brings can also be tangible. The right customer service software when thoroughly selected based on the needs of a business and then customized to its unique requirements will result in improved customer retention, better brand reputation and more word-of-mouth advertising. All these will ultimately lead to revenue growth which is the primary objective of any business.
Customer communication is a complex matter full of unobvious interrelationships and enhancing one element of it such as customer support operations for example can have a snowball effect on the overall customer engagement.
Best Practices in Using Customer Service Software
Those tangible benefits, however, can be achieved only on condition that the customer service system is used effectively. Let us now look at the top practices for using customer service software so that you could fully realize its potential.
Comprehensive training for support staff
When implementing a customer service system, make sure all your agents receive proper training and know how to use the software to its fullest. You should also understand that a mere initial training might not be enough and you will have to make sure your teams are aware of all the changes and updates.
Multi-channel integration
The more channels a customer service software supports, the better. If you are not restricted in terms of your presence and availability, you can start to listen to customer conversations from more channels any moment.
Personalization
It is already an axiom that customers like personalized treatment. So address them by name, refer to previous conversations, be friendly and human. Personalization builds rapport and improves customer loyalty.
Quick responses
Short response times demonstrate your commitment to customer satisfaction. Timely issue resolution shows that you respect your customers and value their time.
Performance monitoring and analysis
You might have noticed that every customer service platform on our list has reporting and analytics features. With the help of these tools, you can collect valuable customer data and monitor customer support metrics.
The Future of Customer Service Software: Key Trends
We are living in the world of technological advancements, so it's no surprise that customer service software is evolving super quickly too. But what drives its evolution? First and foremost, it's constantly growing customer needs. Below we will look at the current trends in this market that may shape its future design and feature set.
AI hits stage
As you can see, nearly every solution on our list of the best customer service software tools has AI-powered chatbots that provide instant support and can be reached 24/7. We believe that this trend will only become stronger.
Multi-channel support is a must
Customer service tools evolve and support across multiple channels, like email, chat, social media and phone — this is already a standard.
Personalization is essential
Nowadays, customer expectations are growing exponentially and one of the ways to deliver the best possible customer experience is to personalize it. It is important to show your customers that you treat them as individuals with their preferences and tastes rather than a general audience.
Self-service is at scale
Today's customers often delay seeking direct assistance whenever possible. Initially, they attempt to find solutions independently and only as a last resort, when frustrated, do they turn to chat and help desk. Knowledge bases, FAQs and documentation centers play a pivotal role in not only enhancing customer happiness but also alleviating the burden on support agents, thereby improving the overall customer experience.
Rich integration capabilities are expected
A wide array of integrations is no longer considered a luxury but an expectation. This ensures that customer service software becomes an integral part of a larger ecosystem, offering a comprehensive view of customer interactions and history.
How to Pick the Best Customer Service Software for Your Team
The customer service software market is saturated with choice—there are dozens if not hundreds of customer service solutions available. Then how do you pick up the right tool? It is by all means an important step and should be well thought out. Below is a sequence of steps you should take to choose the best customer service software for your team members.
Define and prioritize your requirements
Think of key features you need the software to have
Draw up a budget
Search and compare options
Request a demo and/or free trial
Take potential scalability into account, evaluate customer support and customer data security
Seek references and recommendations
Create an implementation plan
Choosing customer service software is a serious step for any company, no matter how big or small it is. Therefore this should be planned properly. By following our guide and taking into account your team's unique requirements, we are sure you will be able to make an informed decision that will significantly benefit your organization.
Conclusion
Today customer service software has become an important part of nearly every customer service interaction in sales-focused companies. And the key reason for this lies not only in the unloading of the support teams and accelerating response delivery to customers. These tools allow businesses to offer proactive support to every customer and this way significantly improves customer engagement.
In this article, we looked at what customer support software is, created a shortlist of the best customer service software tools and explored how to choose the right tool for your team. Our list of top customer service software platforms counts 10 decent tools, out of which FuseBase (formerly Nimbus) stands out as the tool with the best feature set. Being more than just a customer service management solution, it empowers businesses to deliver exceptional customer experiences.
Ready to take your customer service to a whole new level? Try FuseBase today and see the difference for yourself.
Boost your Customer Service in a few clicks with FuseBase (formerly Nimbus)!
Disclaimer
Parties other than FuseBase (formerly Nimbus) may provide products, services, recommendations, or views on FuseBase (formerly Nimbus) site ("Third Party Materials"). FuseBase (formerly Nimbus) is not responsible for examining or evaluating such Third Party Materials, and does not provide any warranties relating to the Third Party Materials. Links to such Third Party Materials are for your convenience and do not constitute an endorsement of such Third Party Materials.
Next post
The Ultimate Guide to Top 7 Apps like Vcita