Building a Knowledge Base: Your Comprehensive Guide
Organize an effective knowledge base for your business with Nimbus Platform™!
Check it out
"Knowledge is power," a very wise man once said. But in the digital world of 2023, where can we store all that knowledge to leverage its power in favor of our business? The answer is in knowledge bases. A knowledge base is like that beautiful Hogwarts library, filled with magical information and secrets capable of unlocking the most wonderful spells and darkest curses, but instead, they unlock customer satisfaction and employee efficiency. Oh, well… it's not magic, but it's better than nothing!
In this ultimate guide, we will dive headfirst into the world of knowledge bases and discover how they can turn your business into an internal and external know-how machine.
What is a Knowledge Base?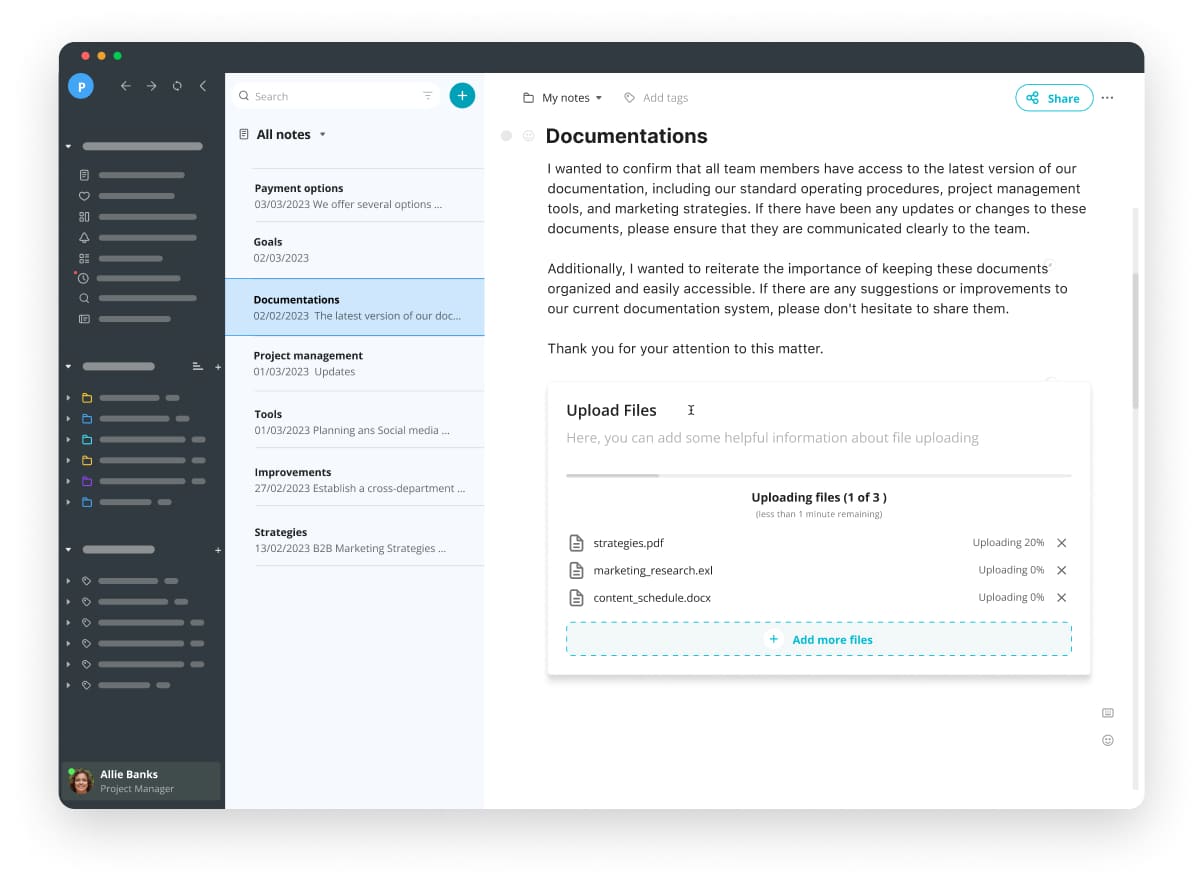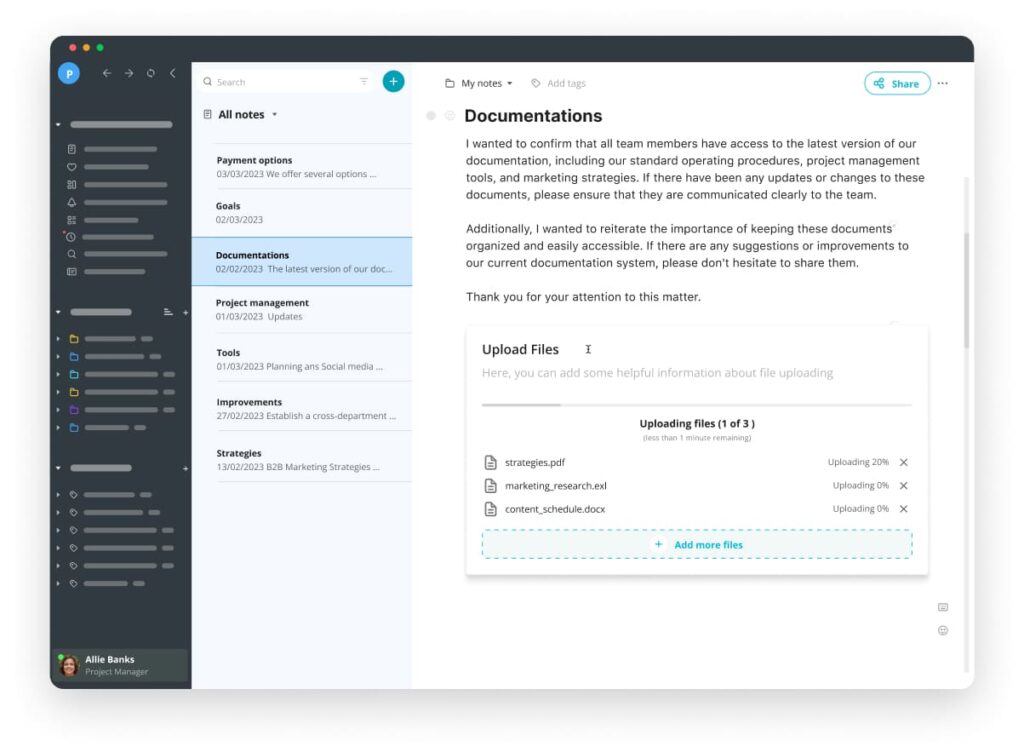 A knowledge base is a centralized repository of information in the form of support articles, how-to guides, company policies, frequently asked questions, best coding practices, and much more. It serves as a one-stop solution for your customer service team and your customers to find answers to their questions, and it assists in achieving excellent customer service and effective knowledge management.
Picture this: a virtual cornucopia of information, meticulously organized, easily accessible, and always up-to-date. It's like having Gandalf's entire memory bank at your disposal in a perfect search engine form. That, my dear friend, is what a knowledge base is. Oh, and by the way, we sometimes also use the term KB in written form to refer to knowledge bases. Not to be confused with the KGB!
Why a Knowledge Base is Important
A knowledge base is like the Mary Poppins bag of any digital business: it contains everything you need and it's practically perfect in every way for businesses seeking growth and efficiency. And if you don't believe us or don't know who Mary Poppins is (shame on you!), here are some compelling reasons why you should always have one at your fingertips:
Manage crucial data effectively: A knowledge base allows you to store and monitor critical information such as product specs, customer service policies, and employee training manuals or human resources documentation. This helps save both time and money by minimizing errors.
Swift data organization and retrieval: Speed is the name of the game with a knowledge base. If you combine collective expertise on relevant subjects with lightning-fast search capabilities, you will find the information you need in no time without wading through endless pages of text.
Elevate your website's UX for both new visitors and existing customers: A comprehensive knowledge base helps visitors find answers quickly and without hassle, leading to a more positive user experience overall. Everyone will love you!
Boost your SEO and leverage shared document systems: Search engines have a soft spot for content-rich websites. A well-structured knowledge base increases your website's visibility, leading to higher SERP rankings.
Project a professional image: An up-to-date and accurate knowledge base showcases your commitment to maintaining a top-notch business that includes employee benefits and customer support.
Streamline customer communication and knowledge transfer: A knowledge base speeds up your response time to customer inquiries. With easily accessible answers to common questions, you can provide faster and more efficient customer support that will undoubtedly improve customer satisfaction.
Drive sales growth: Including helpful customer self-service tips, tricks, and product overviews in your knowledge base increases your changes of your customers buying your products and services.
Build trust: A well-maintained knowledge base conveys that you take pride in your business and value your customers' opinions. When customers feel they can trust your company to provide accurate information, they are more likely to become loyal patrons.
In summary, a knowledge base is a great business tool to guide your company through the ever-evolving, competitive landscape. Equipped with an efficient knowledge base, both internal and customer-facing, you'll be crowned the ruler of customer satisfaction and employee productivity. So hop on board, and let this simple yet magical tool pave the way to success!
Types of Knowledge Bases
Knowledge bases can be sorted into various types based on their use and implementation. Among the different types of knowledge bases, we can find help centers, corporate wikis, information hubs, second brains, SOP repositories, and more. But indulge me, dear reader, as we focus on a broader categorization and end up with the two main categories most relevant to companies, team members, and users/customers: external and internal knowledge bases.
External Knowledge Base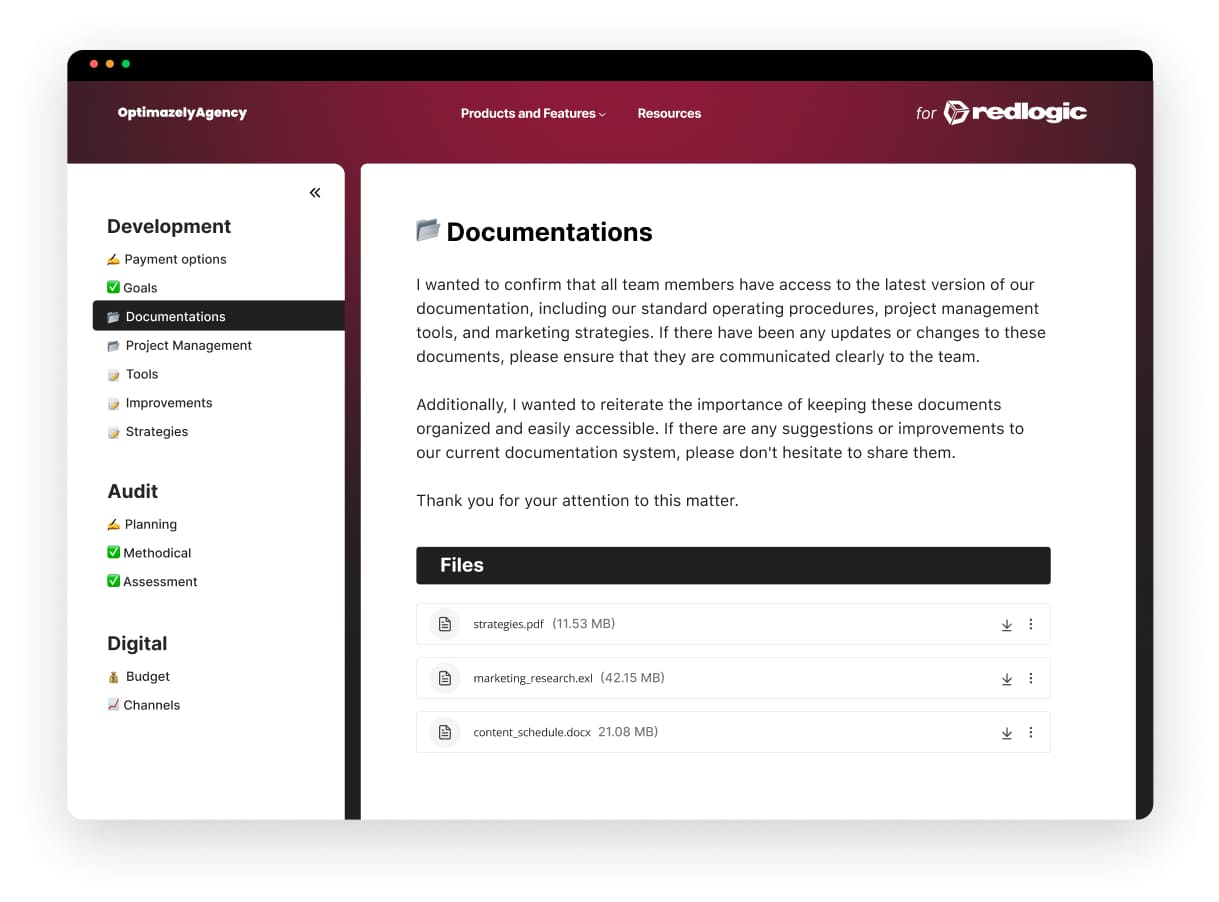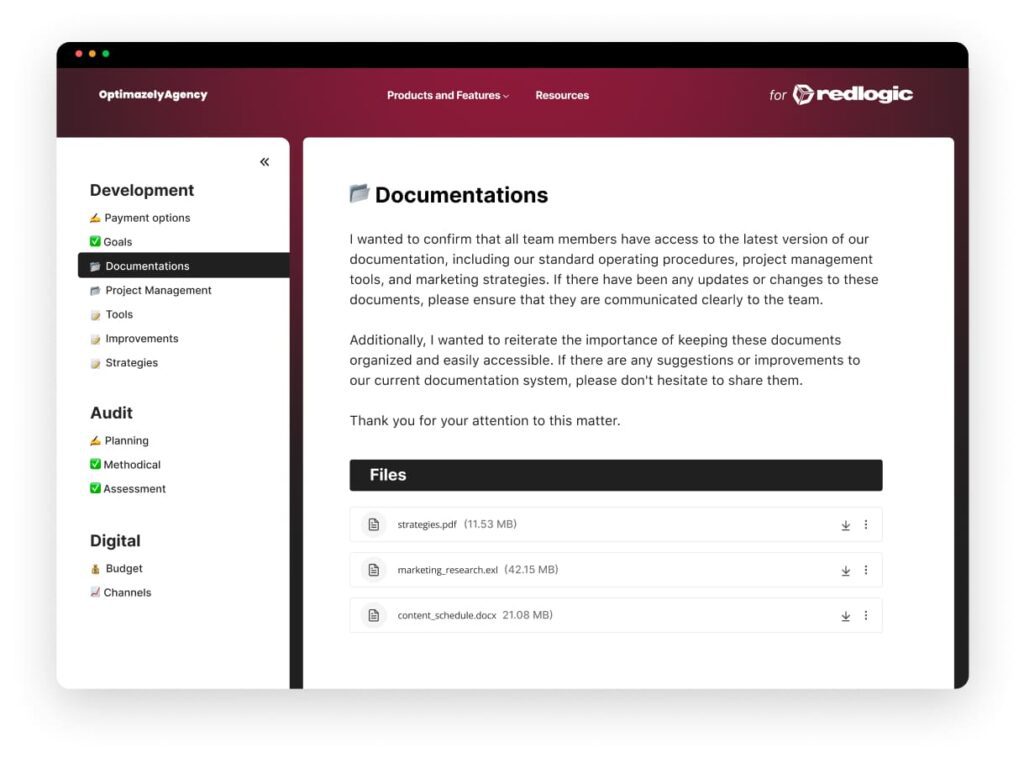 Also known as self-service or customer service knowledge bases, these public company information hubs are designed to help customers, users, or potential clients find answers to their burning questions or dilemmas. Some external knowledge base benefits include reduced support requests and improved customer experience.
To better figure out what external knowledge bases are for, just imagine a customer digging up a treasure trove of solutions without the need to contact support directly – that's an external knowledge base in a nutshell. Cool, right?
By offering self-service solutions using external knowledge base software with fast and efficient access to information, you'll reduce customer service emails, calls, and even walk-ins, ultimately enhancing customer experience and retention.
Internal Knowledge Base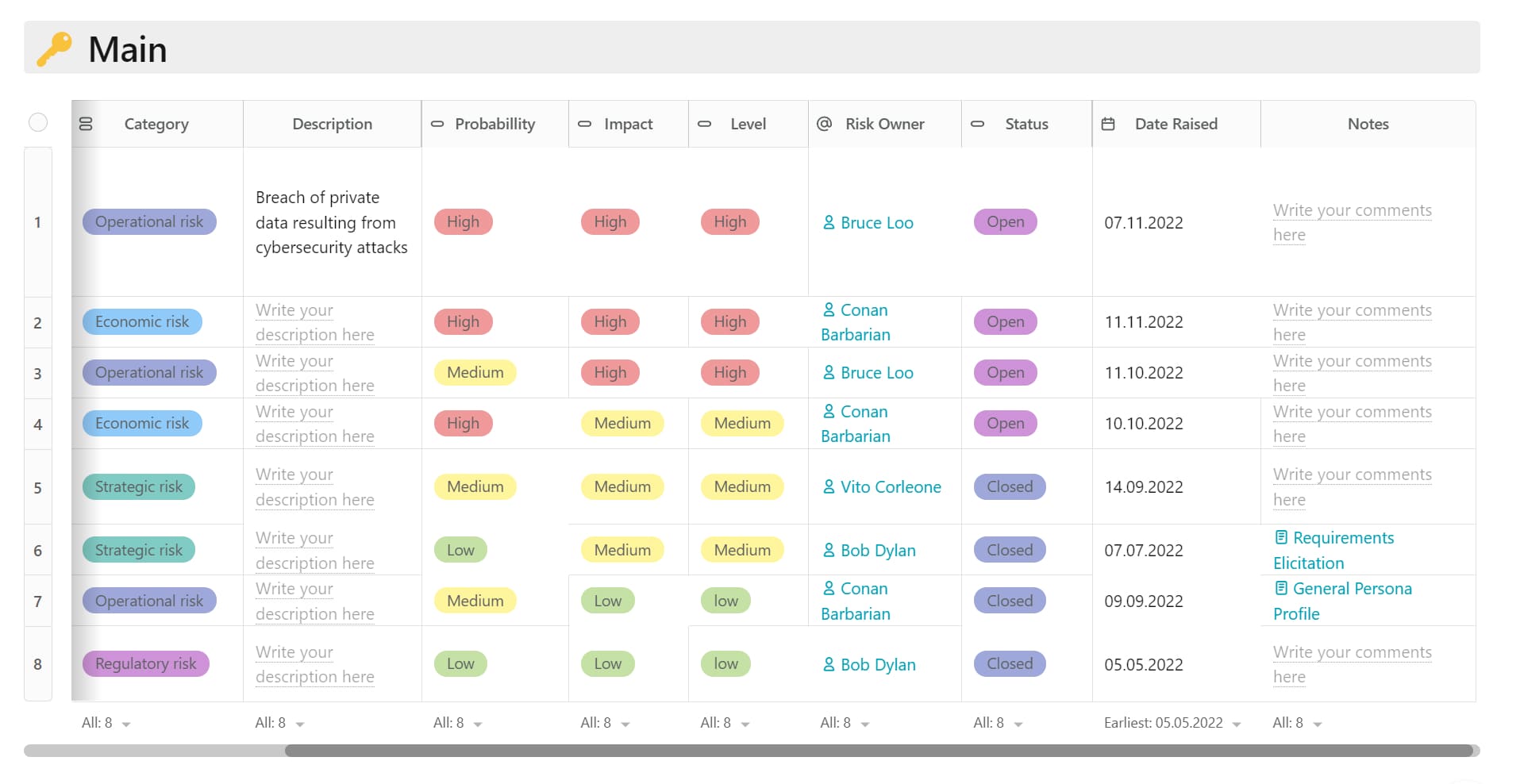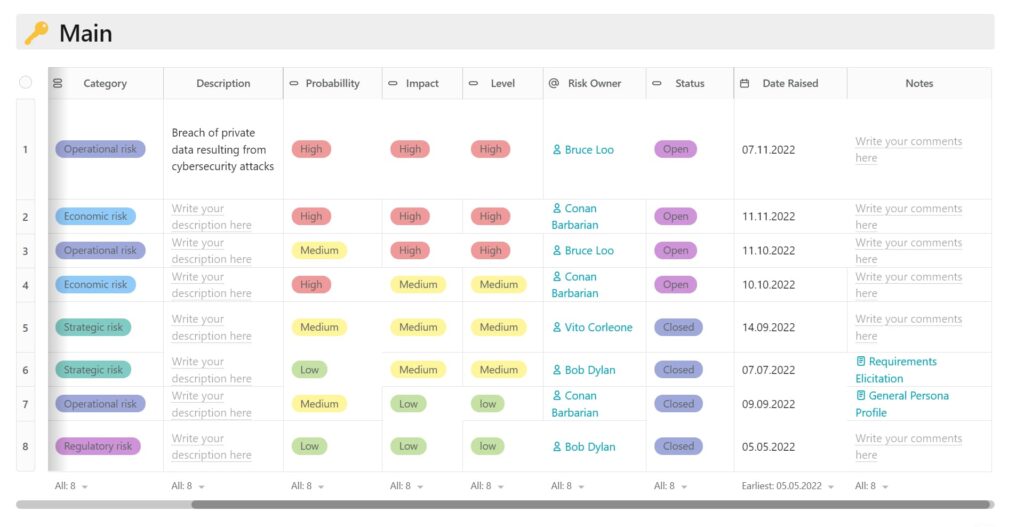 An internal knowledge base is a centralized digital repository of a company's information, resources, and documentation, accessible exclusively by its employees to streamline communication, collaboration, and decision-making processes.
The reasons for using an internal knowledge base are quite varied, such as streamlining employee onboarding, centralizing SOPs, expediting solutions to customer queries, and maintaining a record of vital updates. Some internal knowledge base benefits include improved collaboration and information accessibility.
An internal knowledge base functions like an informational melting pot, guiding various departments to share best practices and learn from each other's experiences, thus improving overall team coordination and efficiency. Utilizing dedicated knowledge base software can enhance this process by offering tailored features that cater specifically to a company's unique needs.
How to Create a Knowledge Base in 12 Easy Steps
Building a robust knowledge base is like assembling a lego masterpiece – you'll want to ensure every brick is in the perfect place so that the end result is a resource that drives decision-making. So here's how to create the perfect knowledge base for your business by simply following 12 essential steps:
Set the goals for your knowledge base: Start by outlining your objectives. Are you aiming to boost employee productivity, improve customer service, cut costs, or increase revenue? Clarifying your goals will help you determine which type of knowledge base is the right solution for your company.
Identify the target user: Identify the individuals who will manage and make use of the knowledge base, including IT administrators, HR managers, marketing specialists, etc.
Choose the type of documents for your knowledge base: Determine the internal and external documents that your users will need, such as training manuals, policies, procedures, press releases, product descriptions, etc.
Develop guidelines and SOPs for the knowledge base: Set guidelines for storing and accessing documents, ensuring the process is seamless and efficient for users.
Implement access control: Establish different permission levels for different types of users, granting full access to certain employees while restricting exposure for others.
Select the right knowledge base software: Knowledge bases are powered by appropriate software, so choose a tool that is compatible with your needs, such as Nimbus Platform or some other popular options.
Create your knowledge base content: Upload or link to internal and external documents to create a comprehensive knowledge base that addresses various informational needs.
Arrange the knowledge base content in a way that makes sense to your users: Implement user-friendly organization methods like category-based, tag-based, or keyword-based navigation to make browsing through the knowledge base a breeze.
Go live with your knowledge base: Publish your knowledge base using either self-hosting or a third-party service, and decide whether you prefer a dynamic or static HTML page.
Promote your knowledge base content: Leverage social media marketing, email campaigns, and paid advertisements to spread the word about your impressive new resource.
Keep an eye on your knowledge base content: Monitor factors such as page load speeds, broken links or incoming traffic to ensure consistent, top-notch performance.
Maintain and update regularly: Keep your knowledge base in tip-top shape by refreshing content, removing outdated material, and consistently reviewing navigation and design elements.
By meticulously following these 12 steps, you'll soon develop a knowledge base that both helps your customers and makes your competitors envious! Yippee!
Read more posts on this topic:
Top 15 Knowledge Base Software & Tools
Embarking on a quest for the perfect content management systems or knowledge base software may seem like a daunting task, with countless platforms on the market. But fear not, our dear reader, for we have compiled a list of the top 15 knowledge base software and tools, designed to help you identify the best solution for your business' unique needs, whether you're building from scratch or upgrading an existing knowledge base.
Get ready to explore marvelous knowledge base software solutions that will catapult your knowledge management to new heights! Let's-a-go! (Hope you read that in Super Mario's voice!)
Nimbus Platform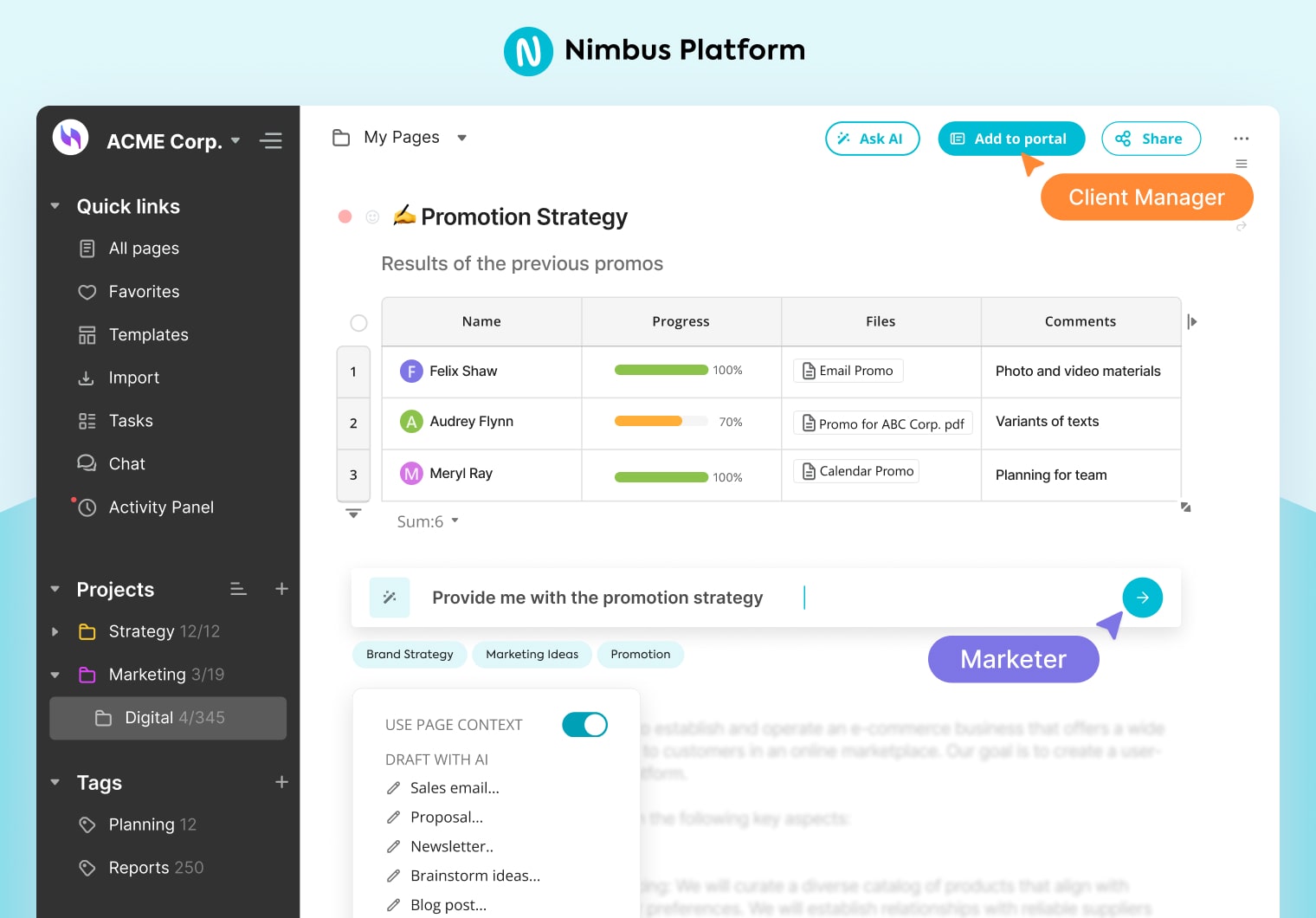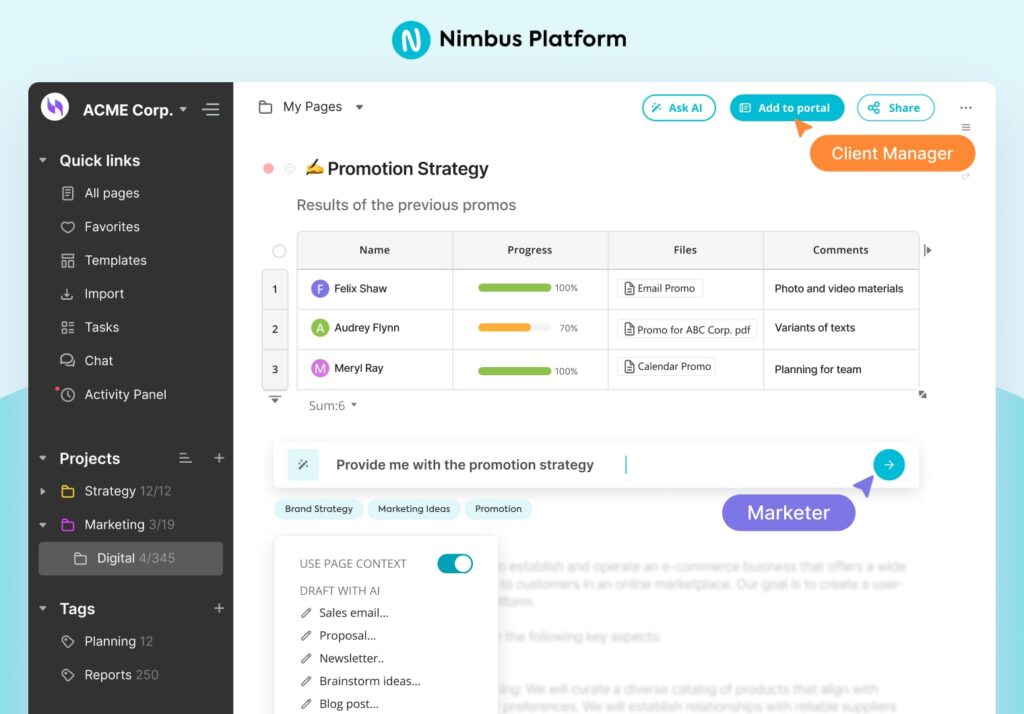 Nimbus Platform is a versatile and affordable solution for internal documentation, content creation, and team collaboration. With its flagship app, Nimbus Note, it offers a powerful editor, rich embedding features, and a host of integrations, making it suitable for various content management efforts, including creating how-to articles. Plus, its companion apps, Nimbus Capture and Nimbus Clipper, enhance the knowledge management process by providing screen recording, screenshot, and web clipping capabilities.
KnowledgeOwl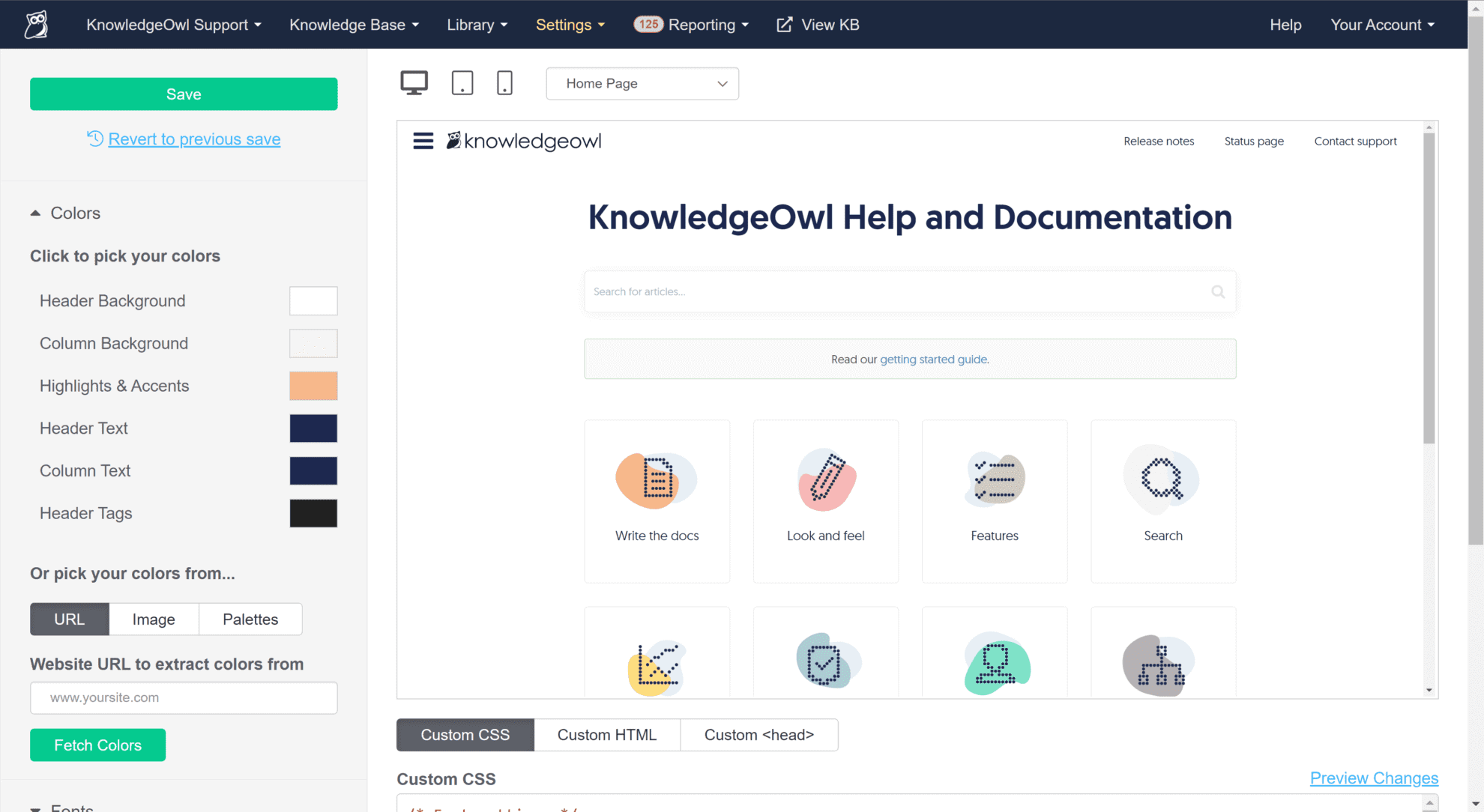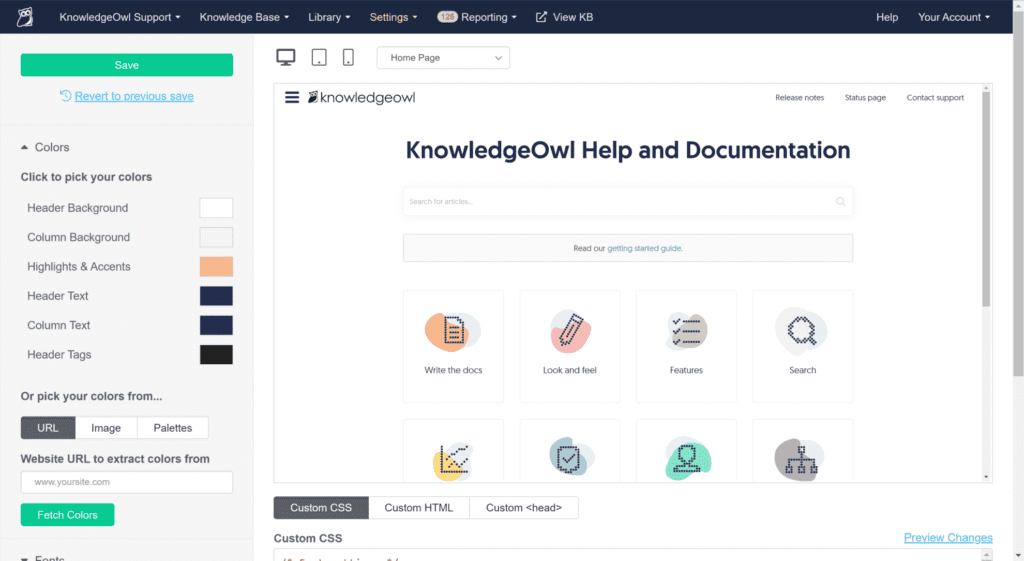 KnowledgeOwl is a knowledge base software dedicated to offering top-notch support through continuous analysis of customer requests and feedback. It boasts features such as easy knowledge sharing, videos, job briefs, simple-to-create and manage technical documentation, a robust search with autosuggest, and extensive custom branding options. With all these features, this knowledge base software enables multiple users such as your customer success and marketing team to access vital information and contribute to your knowledge base.
Answerly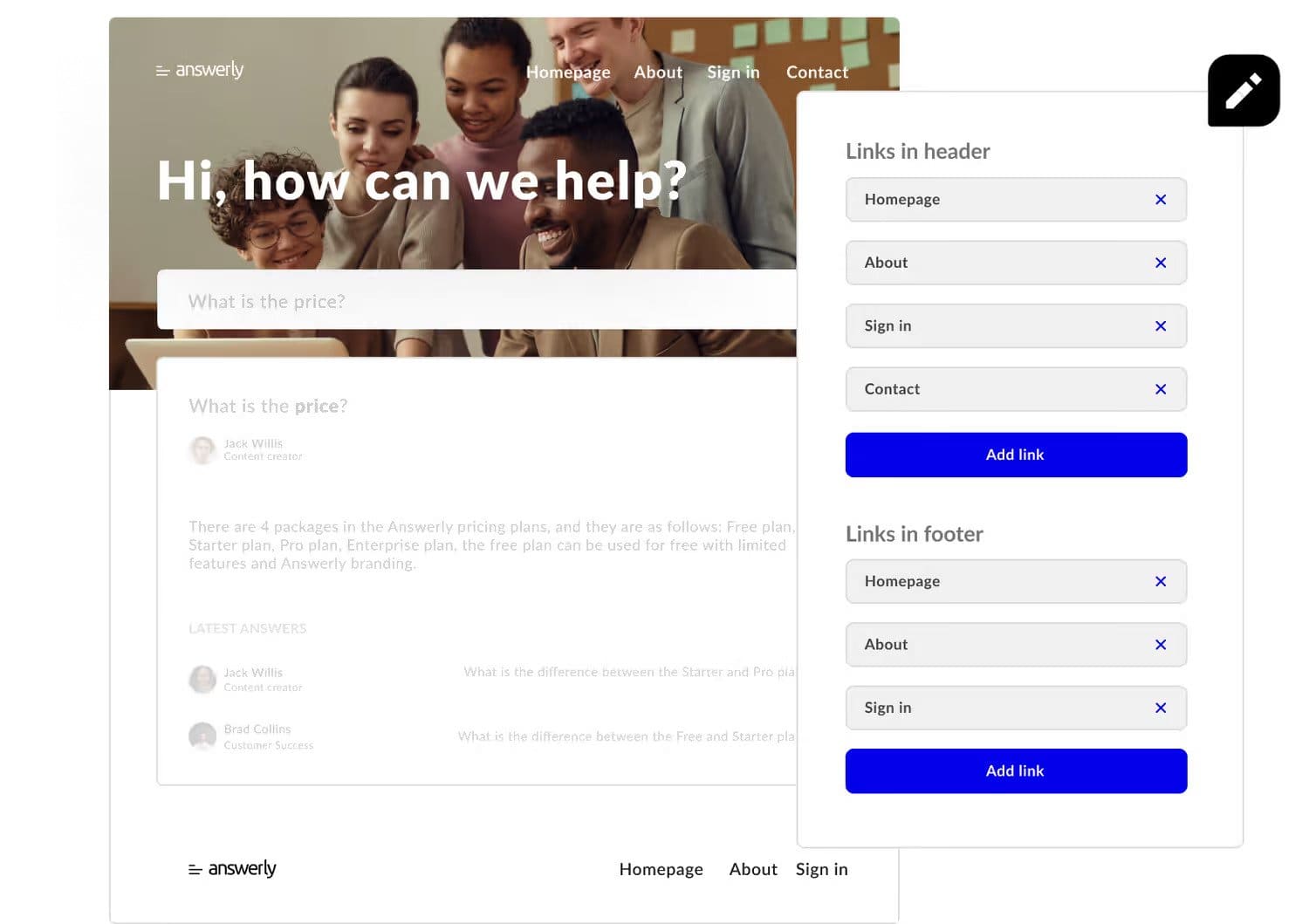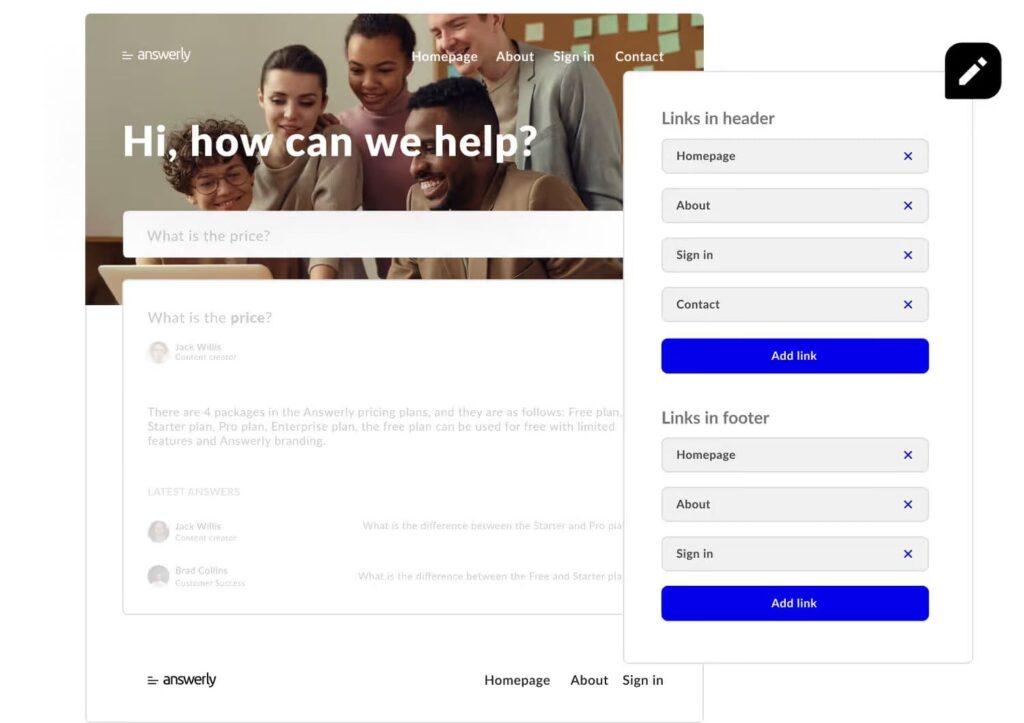 Answerly is a user-friendly yet robust knowledge base software that empowers you to develop, arrange, compose, and deliver prompt responses to your customers' inquiries. With this solution, you can personalize the knowledge base by incorporating your logo and headline, making it feel like a natural extension of your brand rather than an external help center software. Answerly also stands out because it boasts top-notch SEO features in a knowledge base, enabling you to tailor meta fields for all pages while automatically generating search engine-friendly structured data schemas.
Notion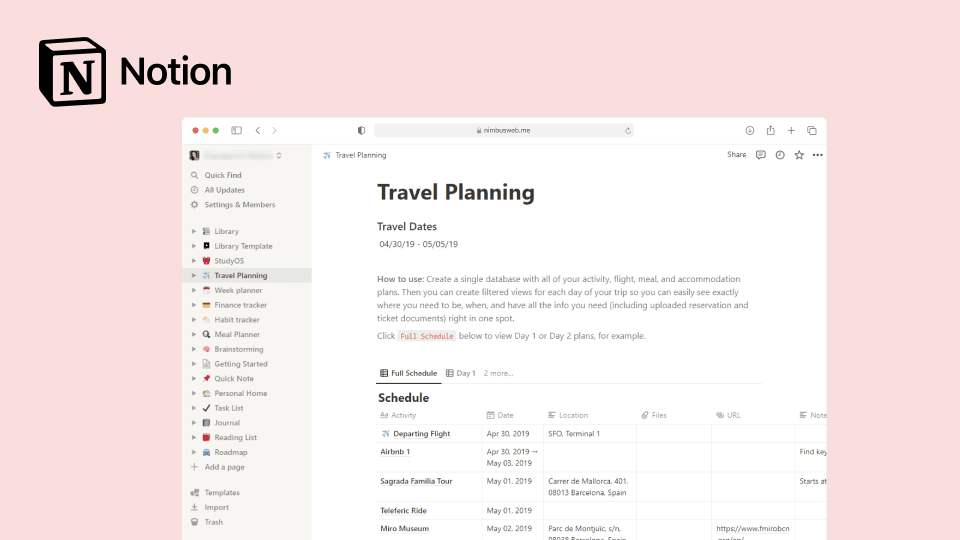 Notion is popular among teams of all sizes for internal documentation, team collaboration, and as a knowledge base management system. This software platform offers powerful databases, flexible content organization, and easy sharing options to manage company knowledge and optimize business processes. However, the absence of custom domain and white label features makes it less suitable for customer-facing knowledge bases.
LiveAgent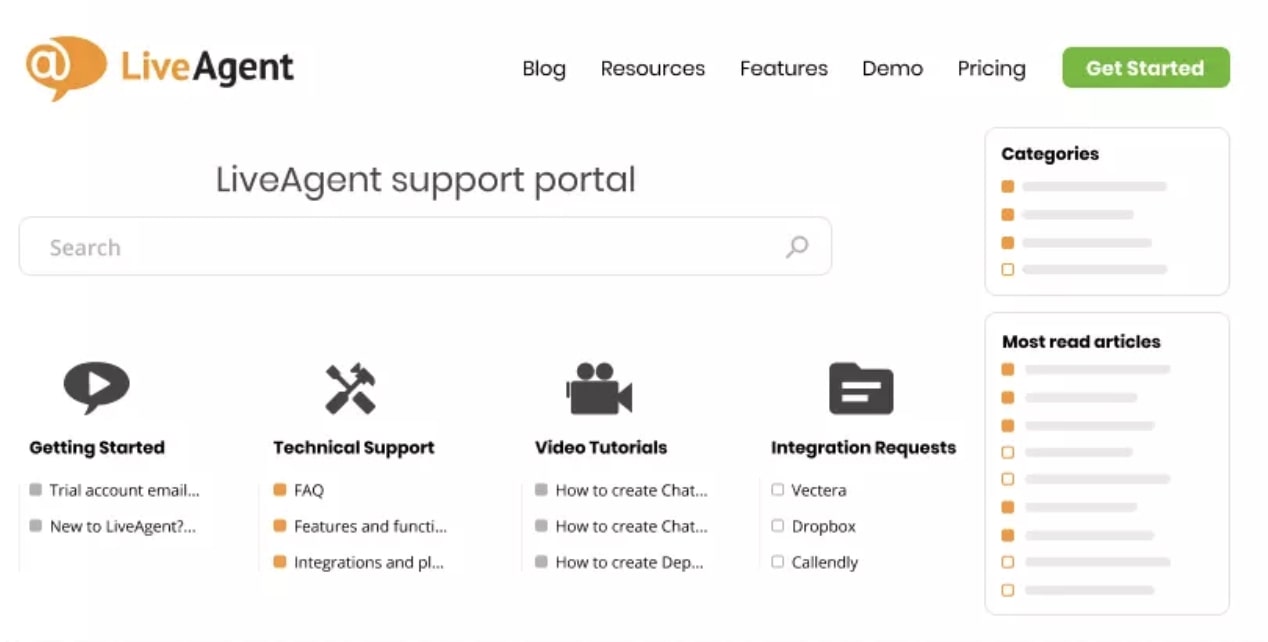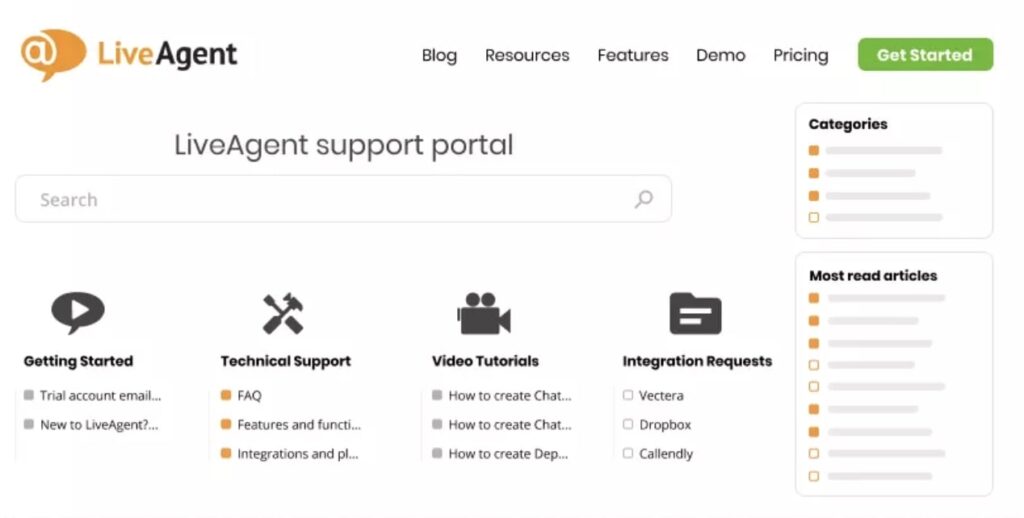 LiveAgent is a highly customizable knowledge base software that allows you to tailor every element of your knowledge base to your needs. With support for multiple brands, each with its unique theme, it caters to a variety of businesses. Additionally, it offers great features for call center knowledge bases with clearly defined access rights for employees and customers, ensuring an organized and efficient support system.
HelpScout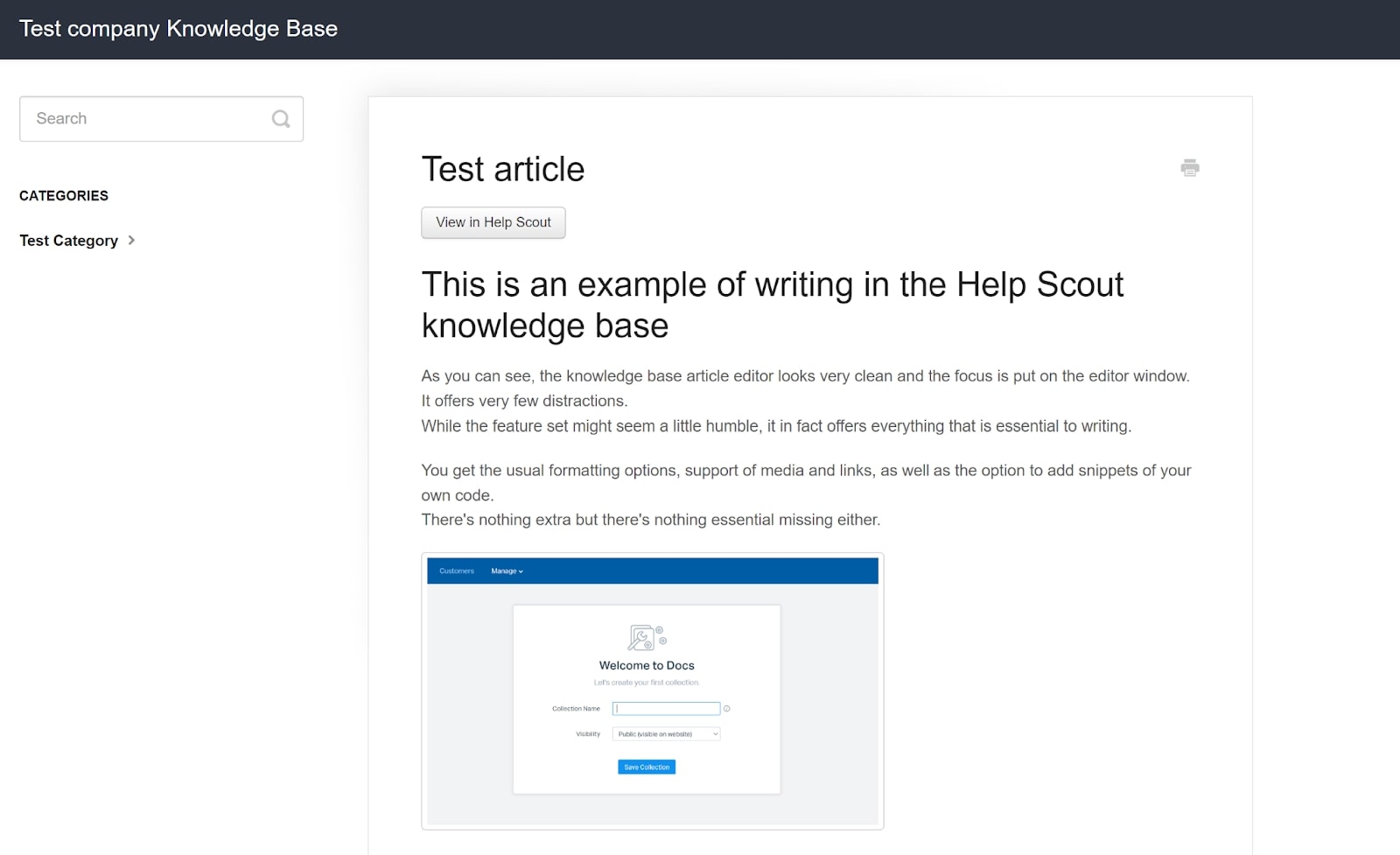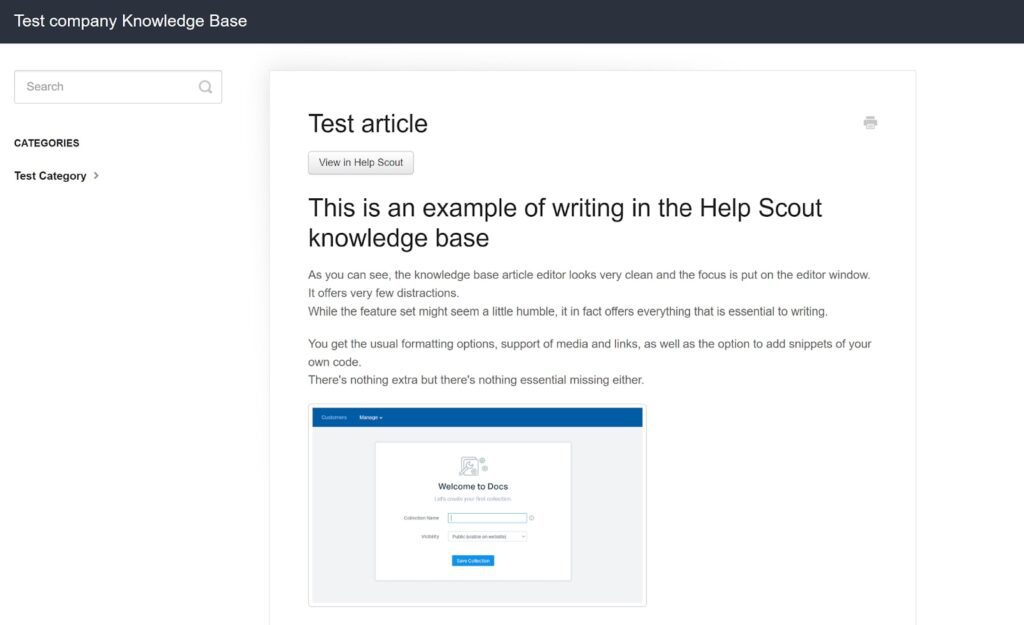 HelpScout is a support solution platform designed for external documentation and customer support teams. Its core features include an internal or customer-facing knowledge base, shared email inbox, and beacon widget. With an in-built knowledge management system, a search box and informative knowledge base articles, it aims to reduce support tickets and promptly address users' queries, improving customer satisfaction.
HubSpot Service Hub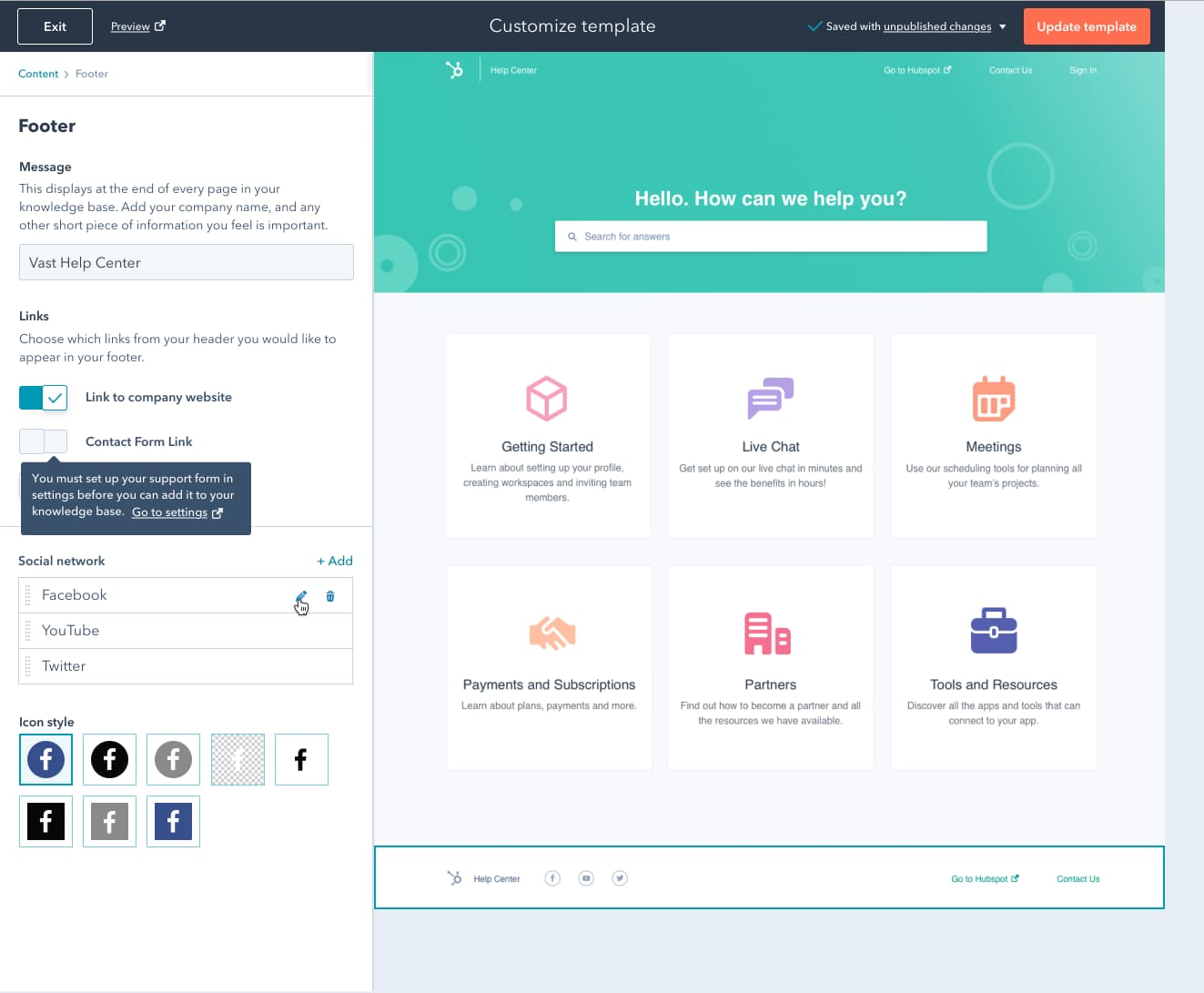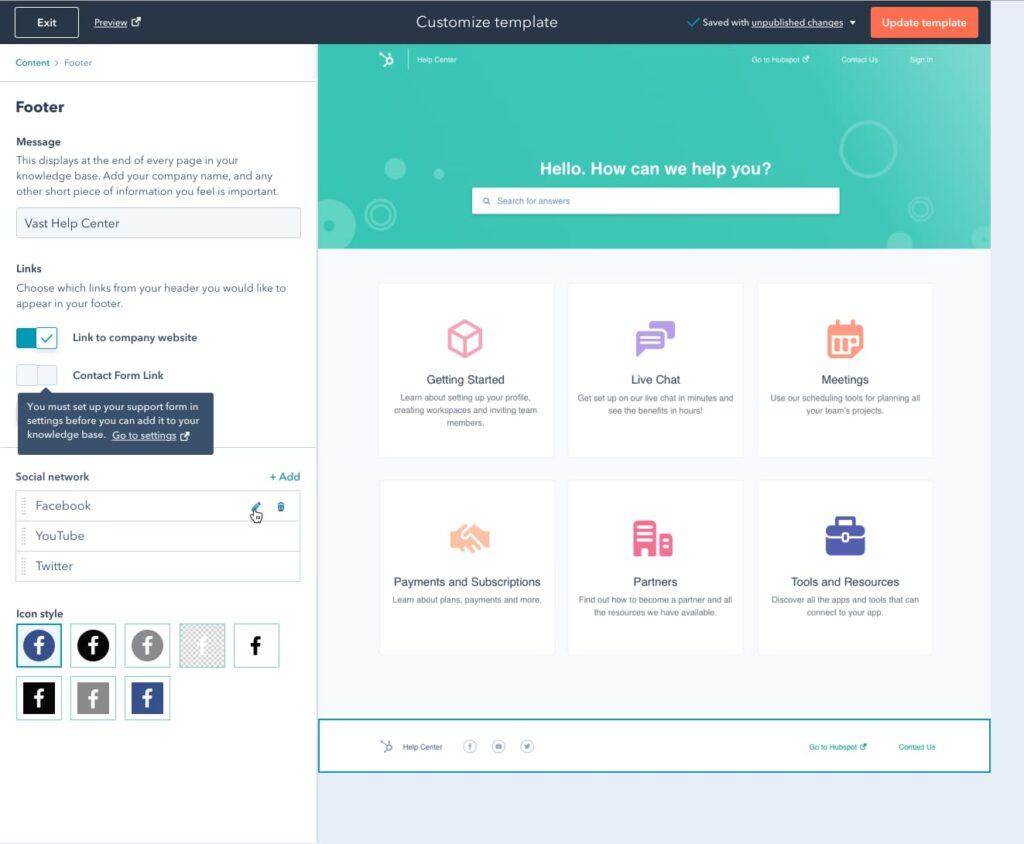 HubSpot Service Hub is a knowledge base solution focusing on self-service, enabling users to create a library of indexed help articles. With features such as built-in reporting, ticket logging, surveys, and real-time personalized customer service conversations, it provides a comprehensive support system. However, it might be too costly for small, newly established businesses.
ZenDesk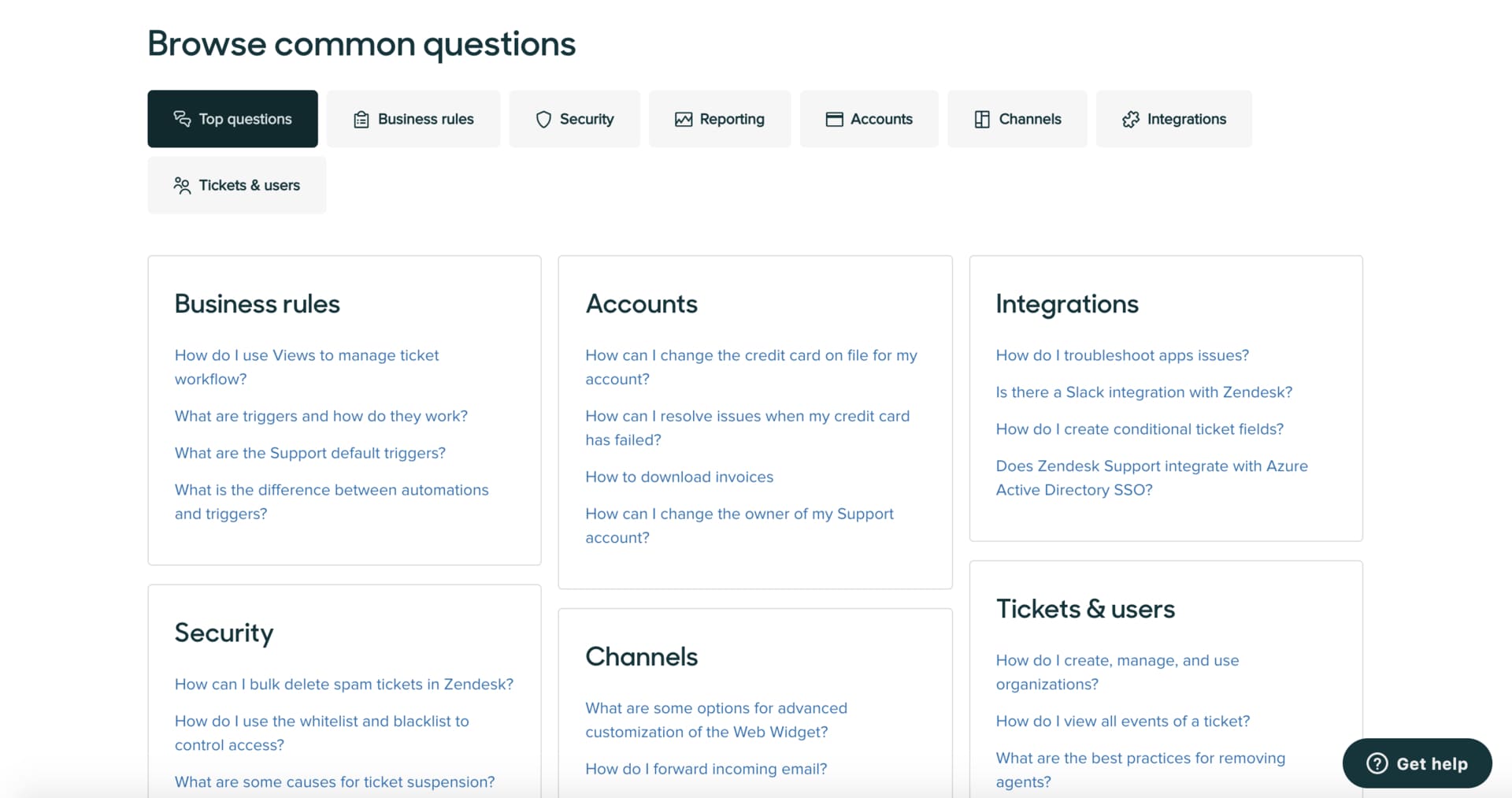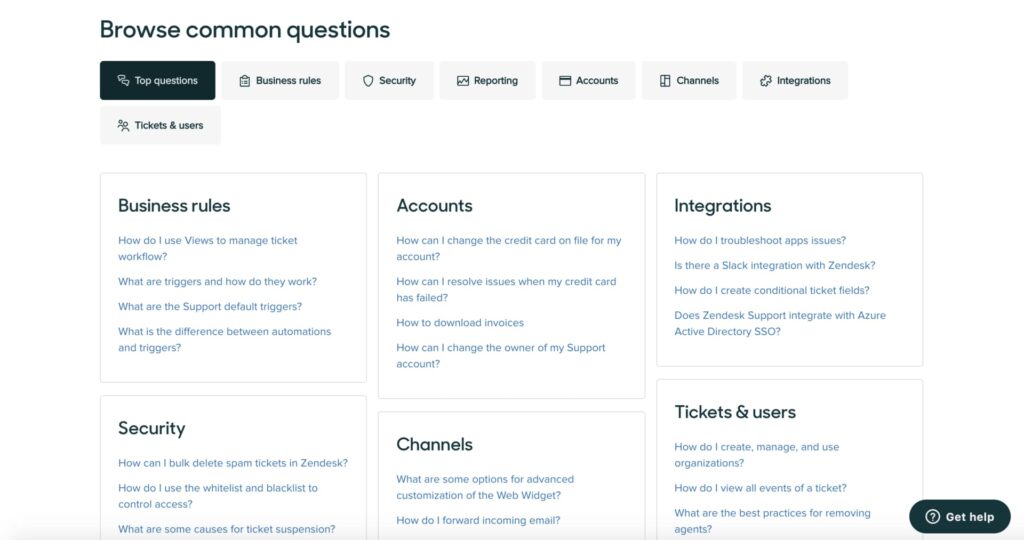 ZenDesk is an established support platform catering to medium and large businesses. It offers a comprehensive suite of tools, including a powerful customer knowledge base, to assist customers and website visitors. However, it might be overwhelming and pricey for those who only require a knowledge base tool.
Slab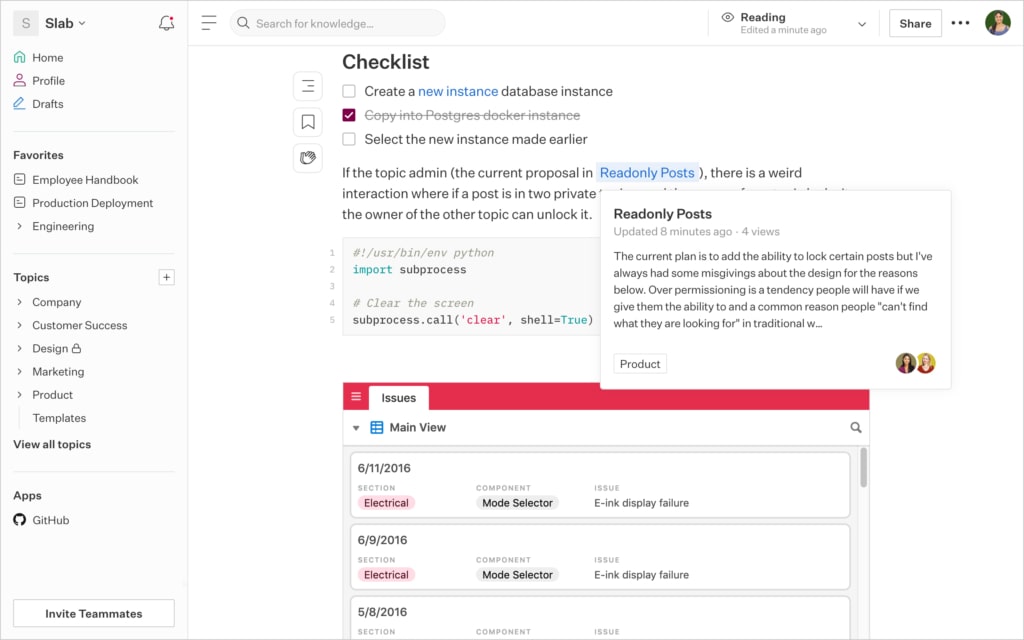 Slab is an affordable content creation and management platform suitable for both internal and external documentation, as well as a traditional knowledge base. This hosted knowledge base software enables organizations to create a visually appealing information hub with a simple sidebar, making various sections easily accessible and enhancing user satisfaction.
Heroic KB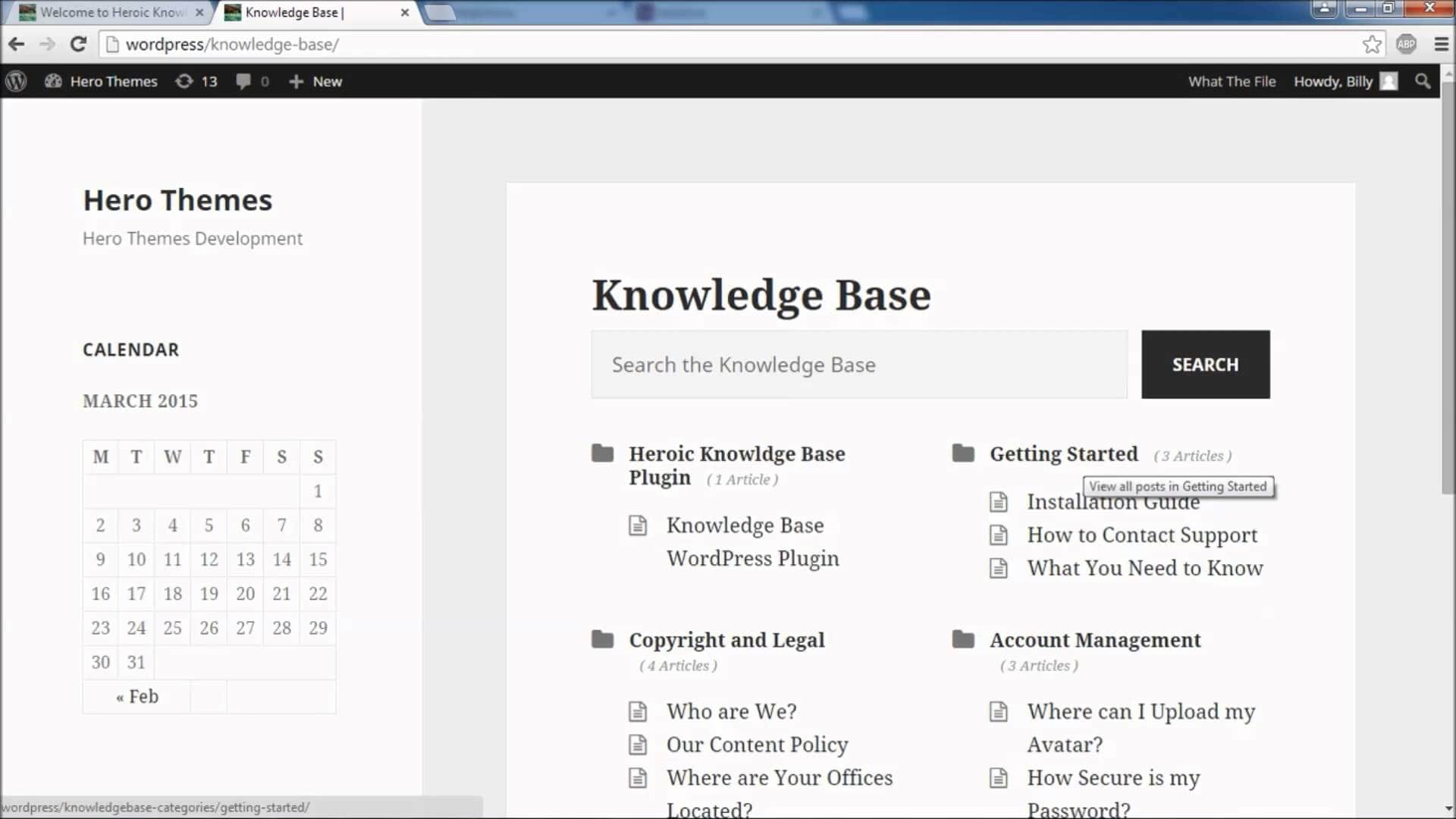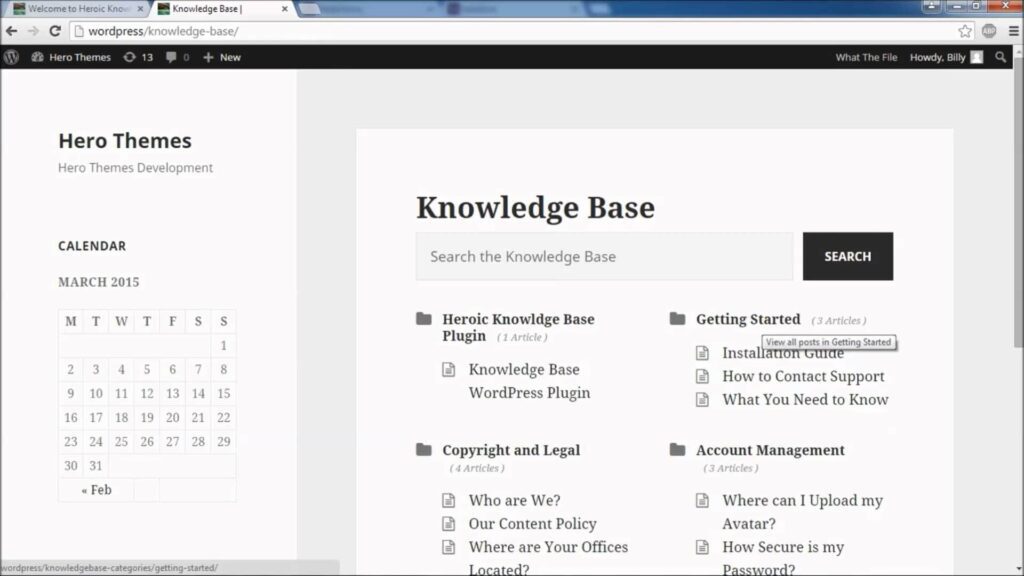 Heroic KB is a WordPress plugin that enables creating a knowledge base as a self-hosted solution on a local file server. With features like instant search, article analytics, user feedback, and customizable designs, it offers a curated knowledge base experience for site visitors and helps you design an effective knowledge base structure. Given that it runs on WordPress, you can use it both as external or internal knowledge base software. However, it comes with a few downsides, as a self-hosted knowledge base created with Heroic KB requires technical knowledge for setup, and additional costs for hosting and maintenance.
Archbee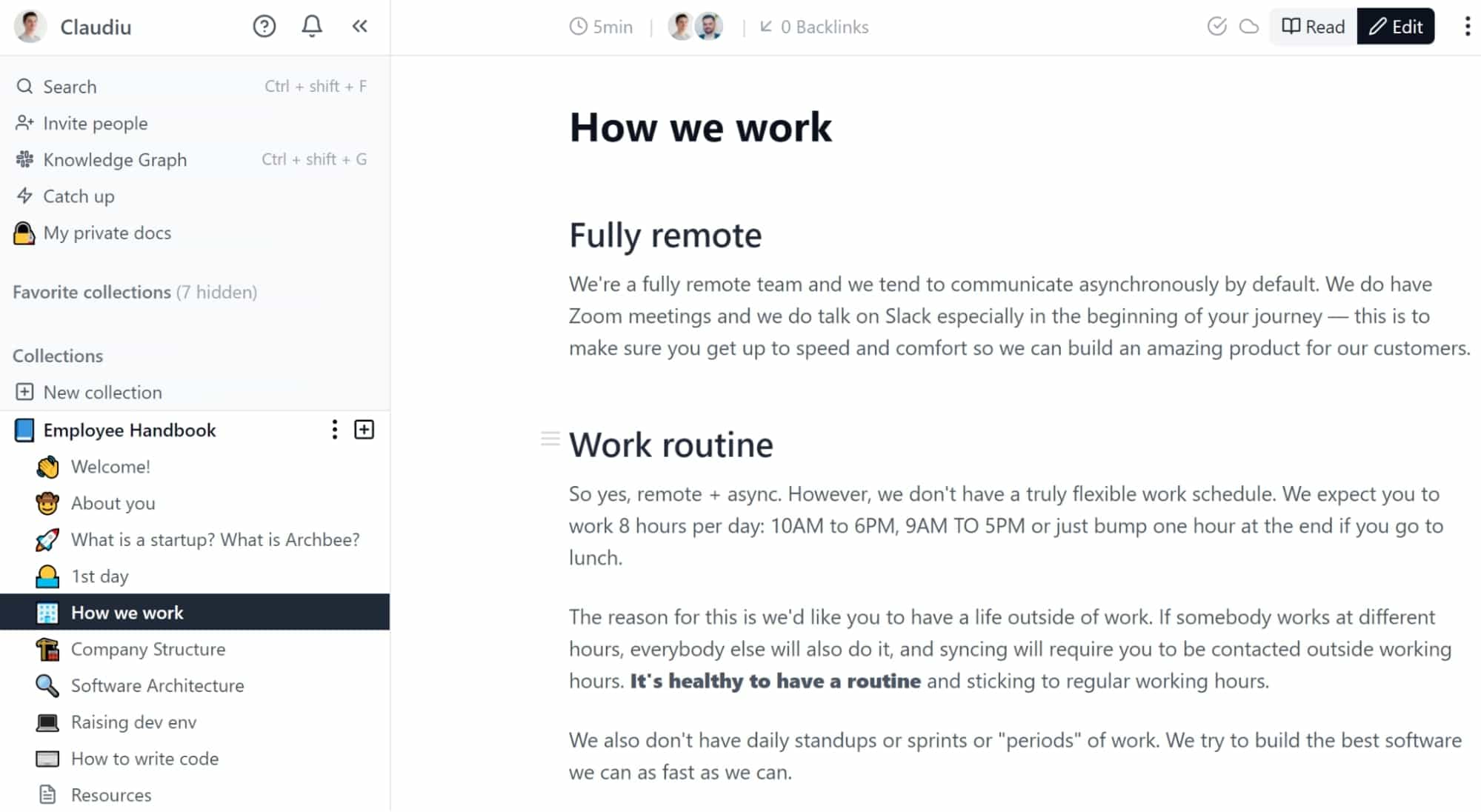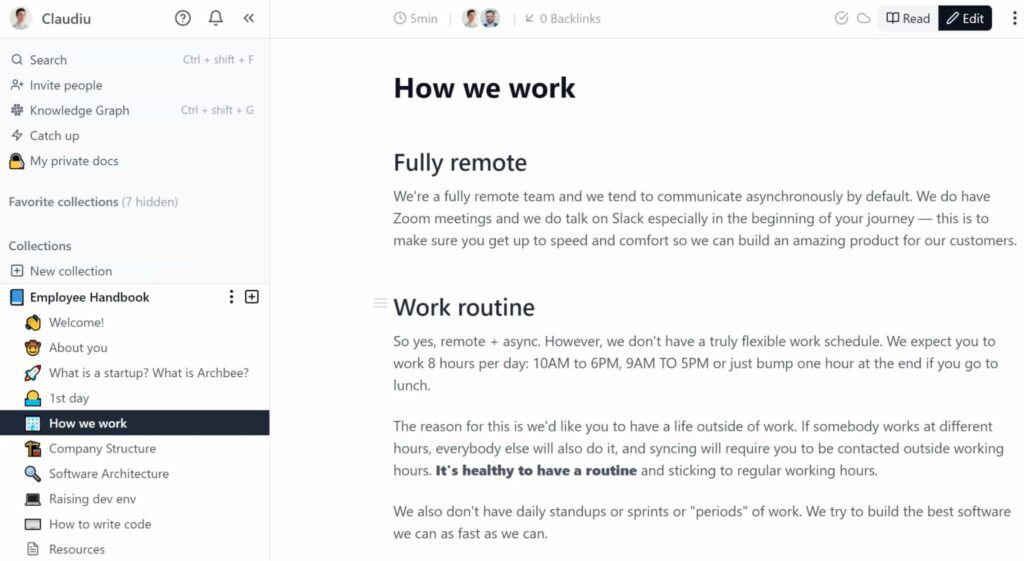 Archbee specializes in internal and external software documentation and collaboration, allowing you to create knowledge base content that's tailored to your needs. With this platform, you can create public or private spaces for different documentation types (E.g.: user guides, API docs, contextual documentation, etc.) which enable end users to find the information they need more efficiently. By following some content creation guidelines and providing easy access to documentation on Archbee, you can improve both employee satisfaction and overall productivity.
GitBook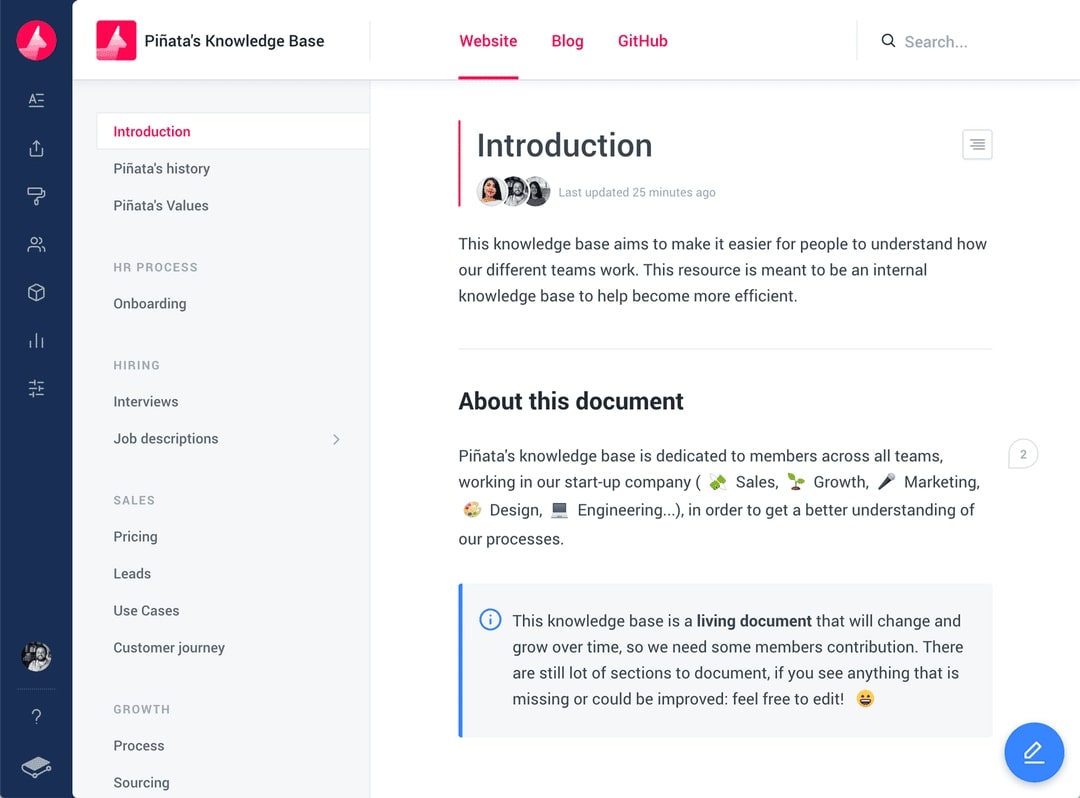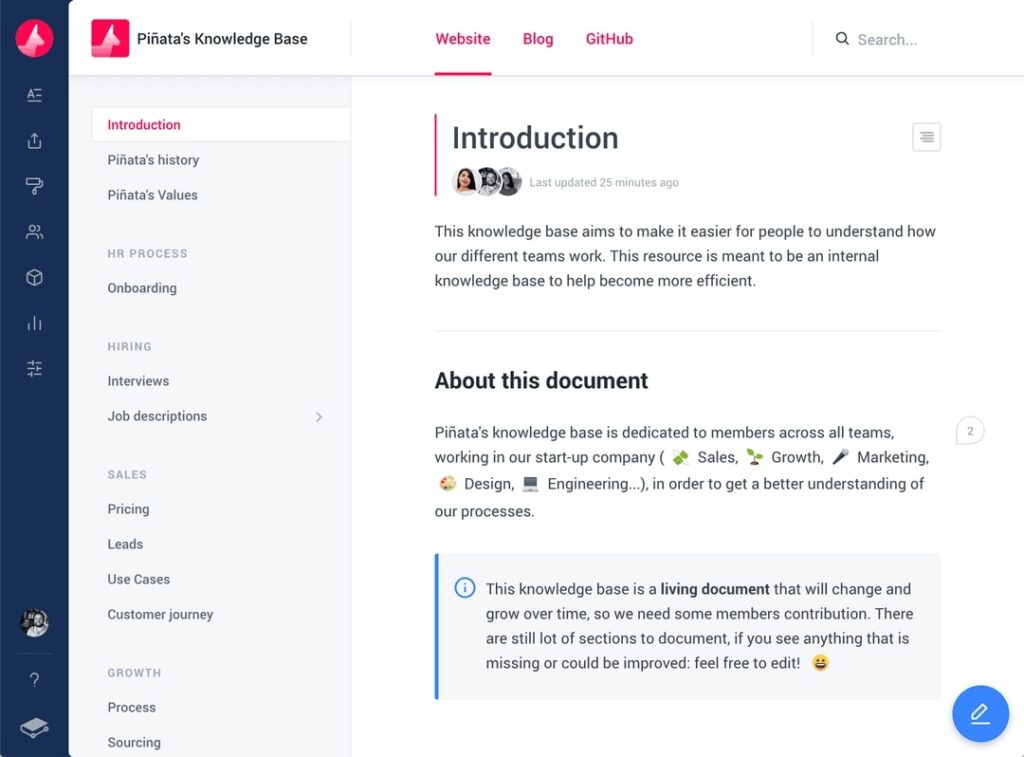 GitBook is an affordable, easy-to-use documentation tool catering to internal and external software documentation and collaboration. With features like custom domains, drag-and-drop organization, and content feedback, GitBook centralizes technical knowledge for both teams and users.
Intercom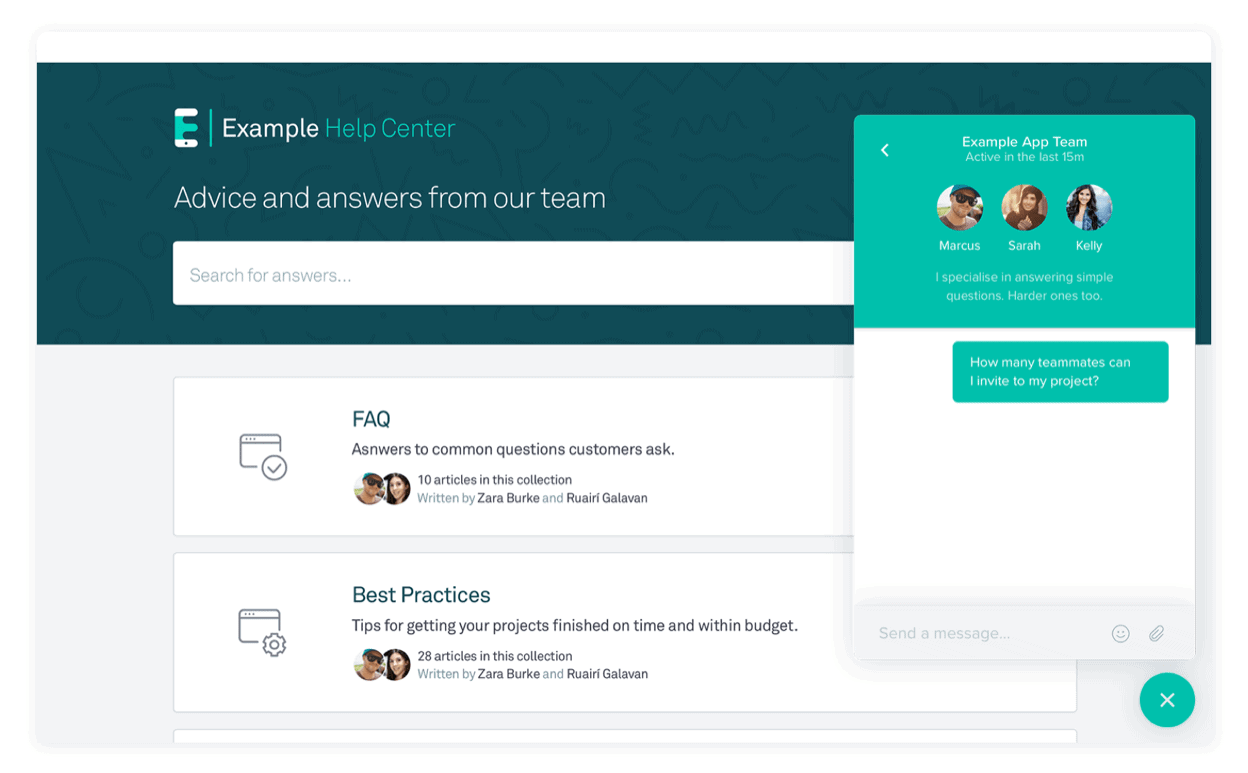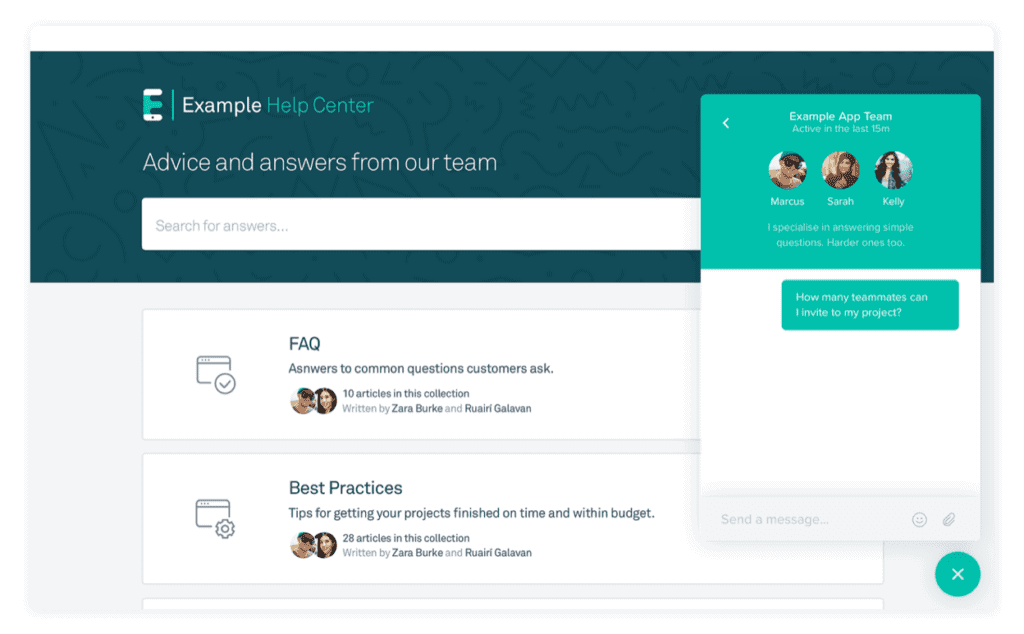 Intercom is an all-in-one customer support platform with a wide range of support features, including live chat, ticketing, support articles, and more. Although it is an excellent solution for customer support, its high price tag may not justify its use solely as a knowledge base software.
HelpCrunch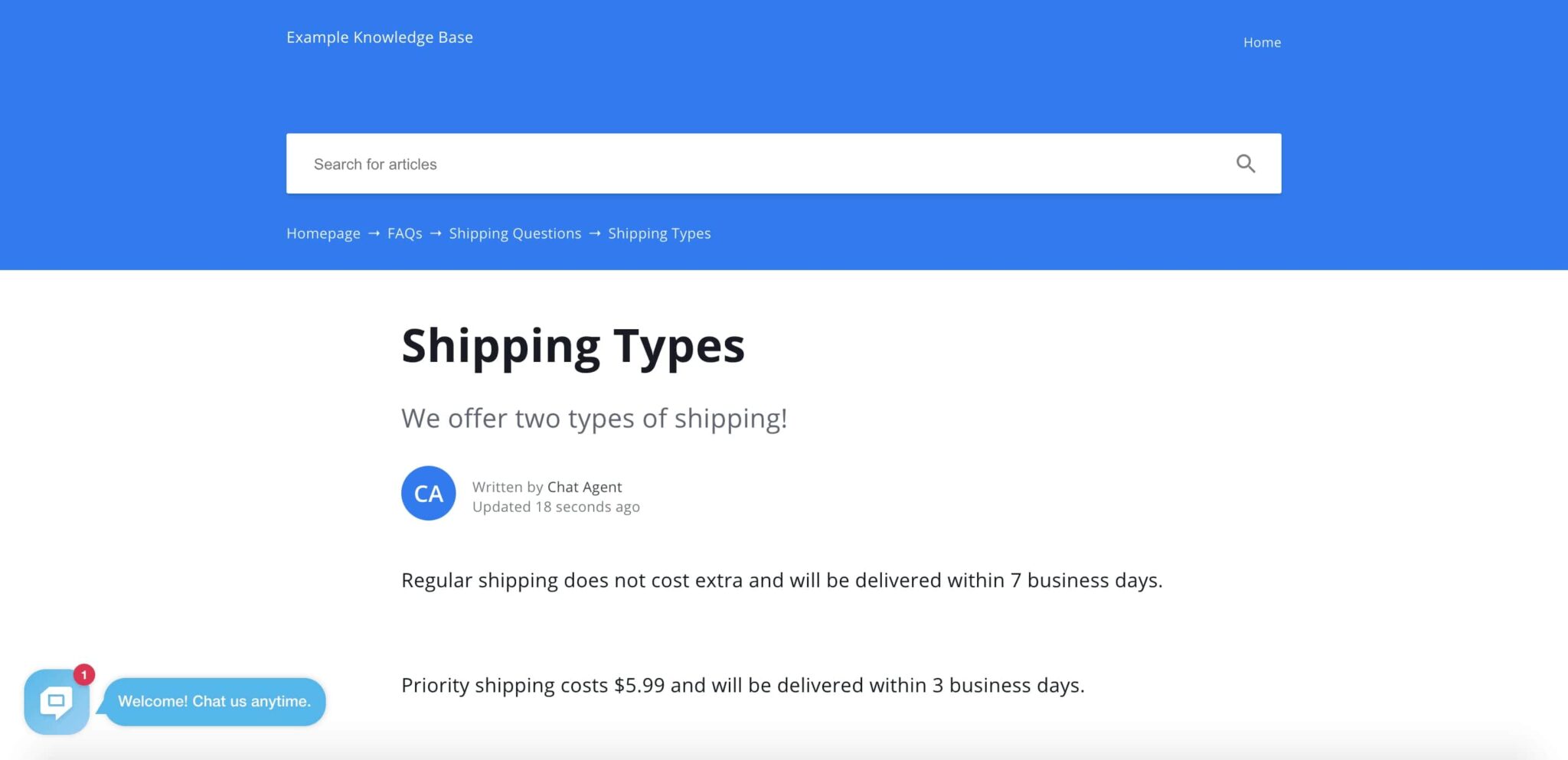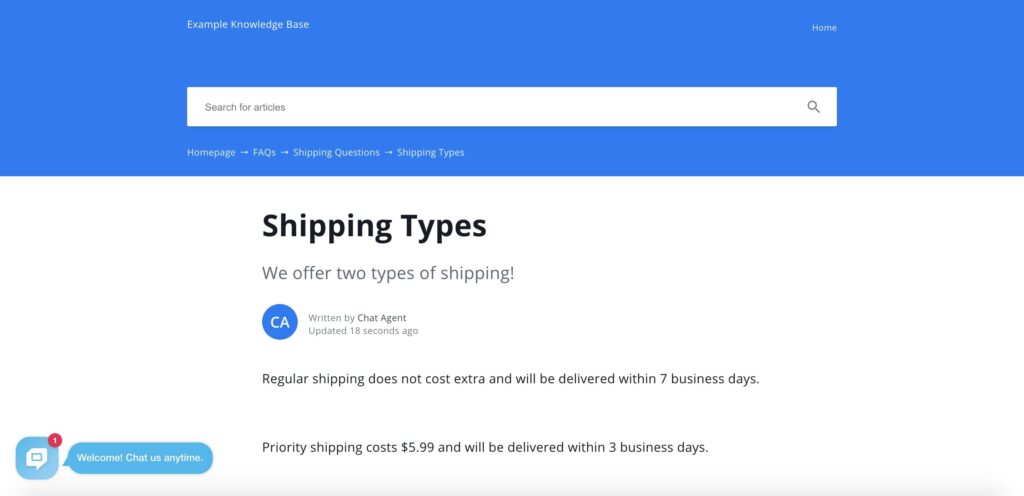 HelpCrunch is an affordable customer support platform designed for small and medium-sized businesses. It provides a comprehensive suite of tools, including live chat, help desk, and knowledge base tools, making it a strong alternative to Intercom or Zendesk as an all-round support solution with knowledge base.
Eniston Knowledge Base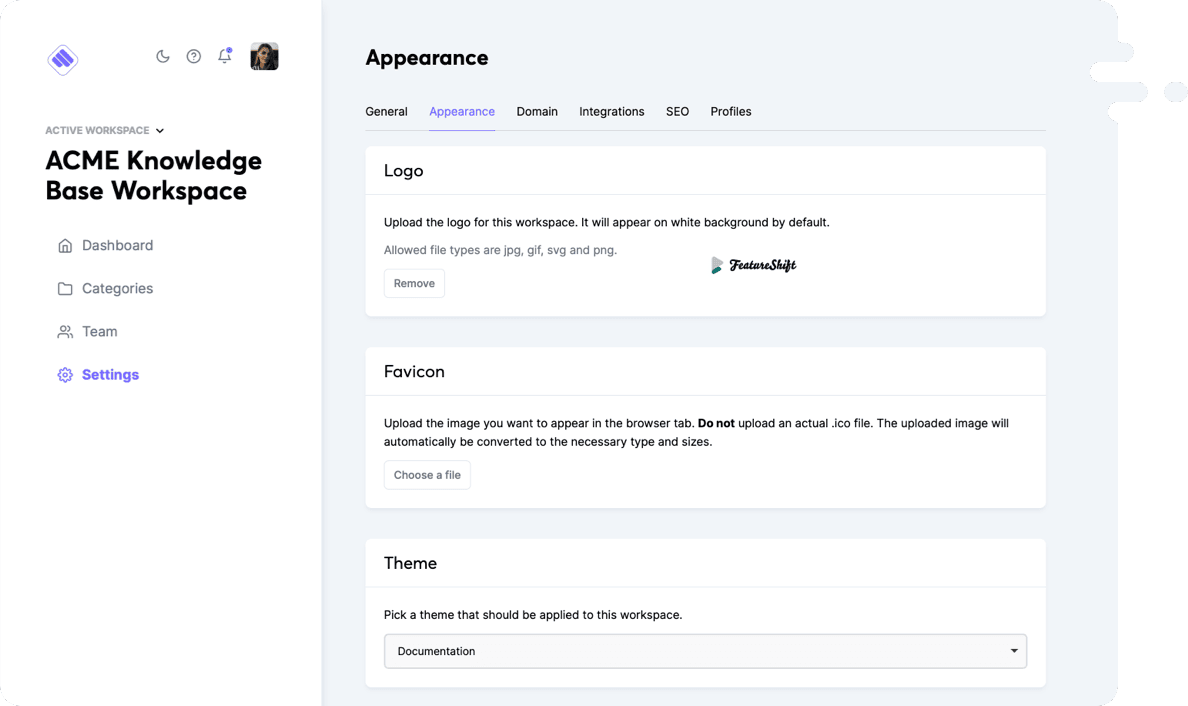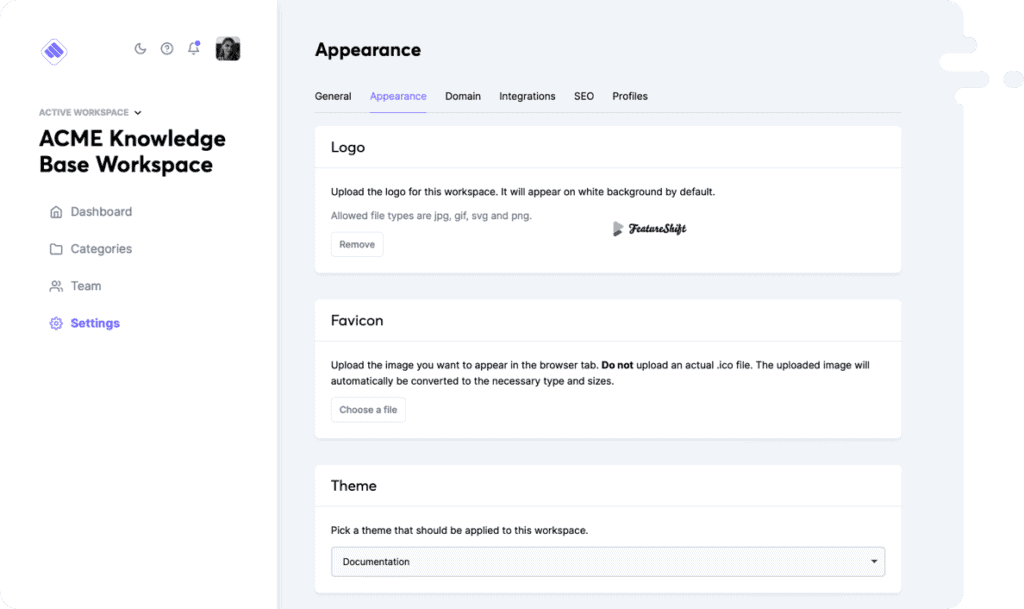 Eniston is an intuitive knowledge base software that enables quick setup and collaboration among team members. With its rich text editor, you can create engaging content while easily obtaining valuable customer feedback through its rating system. The platform offers customization options, including custom domains and appearance, along with blazing-fast integrated search functionality. Eniston also provides enhanced security measures through IP or password restriction, ensuring that your workspace remains secure and accessible only to authorized users.
Choosing the right knowledge base software can be a game-changer for your technical support team, as it allows them to quickly find relevant information. So choose wisely, our young Padawan!
10 Best Practices to Create an Awesome Knowledge Base
Get ready to level up your knowledge base game with our top ten tips and best practices that will help you create a truly exceptional resource hub. These tried-and-tested tactics are designed to enhance usability, organization, and effectiveness, ensuring you deliver a knowledge base experience that helps your business and keeps users coming back for more. Let's dive in and transform your knowledge base into a well-oiled, user-friendly machine!
Straightforward navigation: Create a clear and intuitive navigation structure that makes it easy for users to find the information they need quickly and efficiently.
Search box: Include search functionality to allow users to quickly find specific information within the knowledge base.
Mobile friendly: Ensure that the knowledge base is mobile-friendly and accessible from a variety of devices to accommodate users who need to access information on the go.
Consistent layout: Use a consistent style and formatting throughout the knowledge base to make it easy to read and visually appealing.
Accuracy and relevancy: Make sure that the content is accurate, up-to-date, and relevant to the needs of your audience. Regularly update and maintain the knowledge base to ensure its ongoing relevance and usefulness.
Crystal-clear clarity: Provide clear and concise instructions and explanations for complex processes or procedures, making it easy for users to follow.
User feedback: Encourage user feedback and incorporate user-generated content to continually improve the knowledge base and ensure that it meets the needs of its users.
Support documentation: Include supporting documentation such as written instructions, manuals, or tutorials that may be included in your knowledge base. Interactive tutorials are also a valuable way to provide answers your customers are looking for.
FAQ section: Offer answers to commonly asked questions to ensure that your customers know what to expect from your product or service. This feature is an excellent resource for providing self-service content.
Flexible Scalability: Provide a flexible organization for the knowledge base that allows for the addition of new pages or folders, editing existing ones, and deleting old ones, ensuring that it adapts and evolves.
In conclusion, a well-designed and well-maintained knowledge base is an invaluable asset for your customers, reducing the need for them to contact your support team and improving their overall experience with your product or service. Remember, a knowledge base is like a box of chocolates; you always want to make sure your customers get the best ones!
Top 5 Knowledge Base Examples
To help you understand what makes an outstanding knowledge base, we've handpicked five exceptional knowledge base examples that excel in various aspects such as design, organization, and user experience. From Nimbus Knowledge Base's visually pleasing layout to WhatsApp's mobile-friendly help center, these examples demonstrate the key components of a successful knowledge base that empowers users and enhances their overall experience.
Nimbus Knowledge Base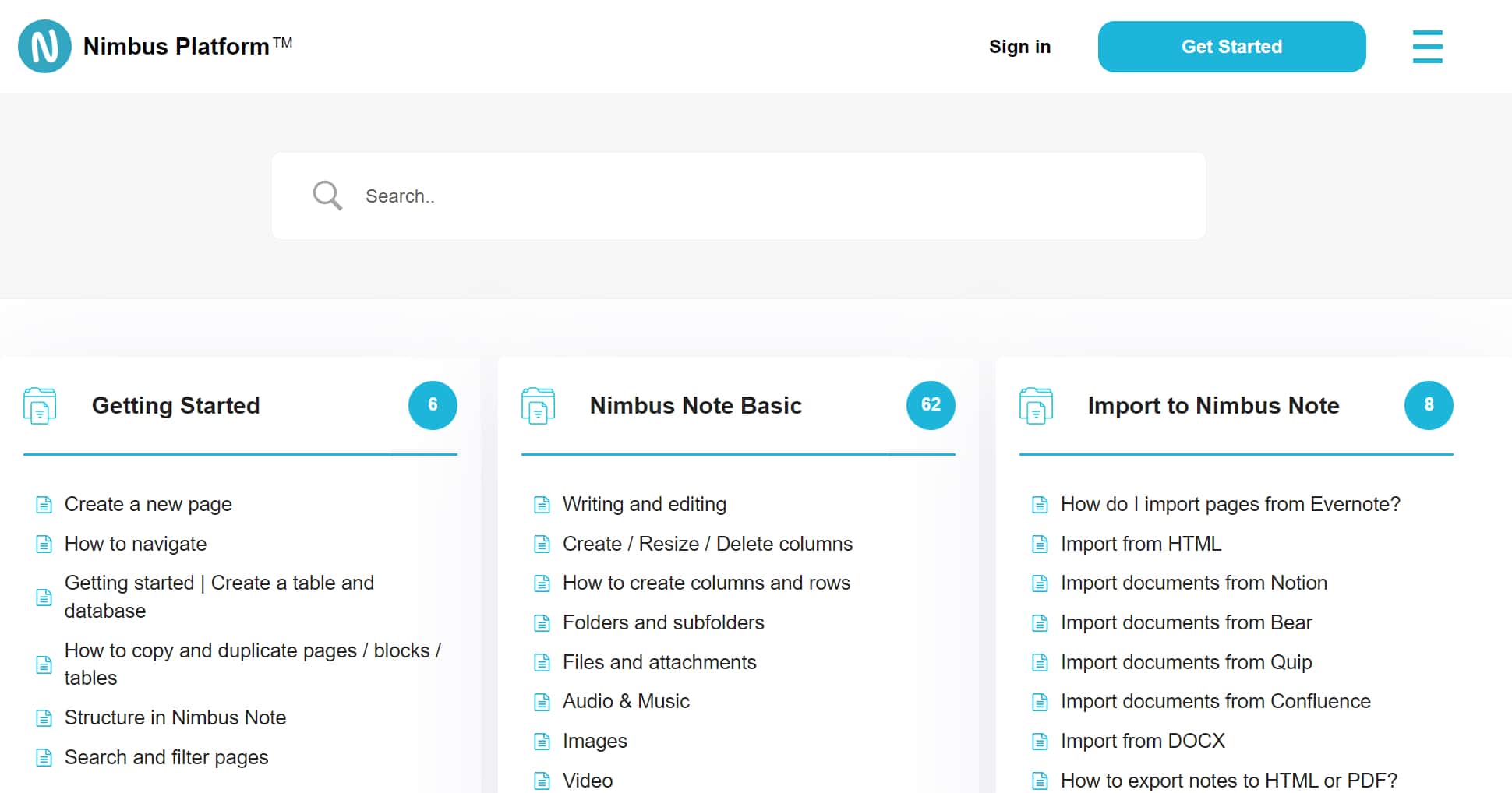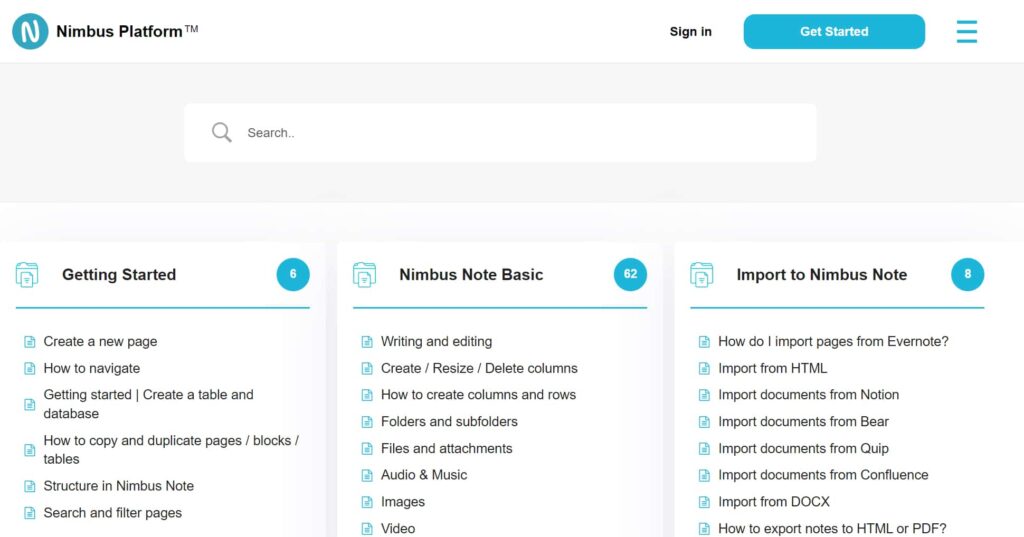 Nimbus Knowledge Base stands out for its visually appealing user interface, despite containing a vast amount of support articles. Its layout includes a search box, complete sidebar, and table of contents for easy navigation. Additionally, it provides a direct link at the end of each article to open a support ticket, offering a personal touch often missing from help centers.
Canva Help Center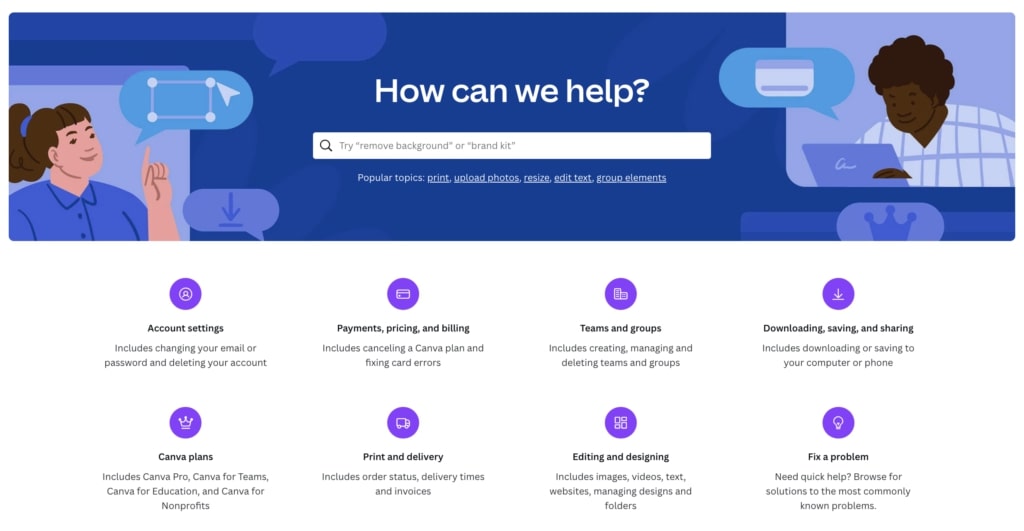 Canva's help center is highly comprehensive, with an interactive search bar for quick content access. Its support articles deliver concise yet detailed answers to common user questions and include helpful internal links to additional resources. The platform is well-organized and 100% multilingual, catering to an international audience.
Buffer's Help Center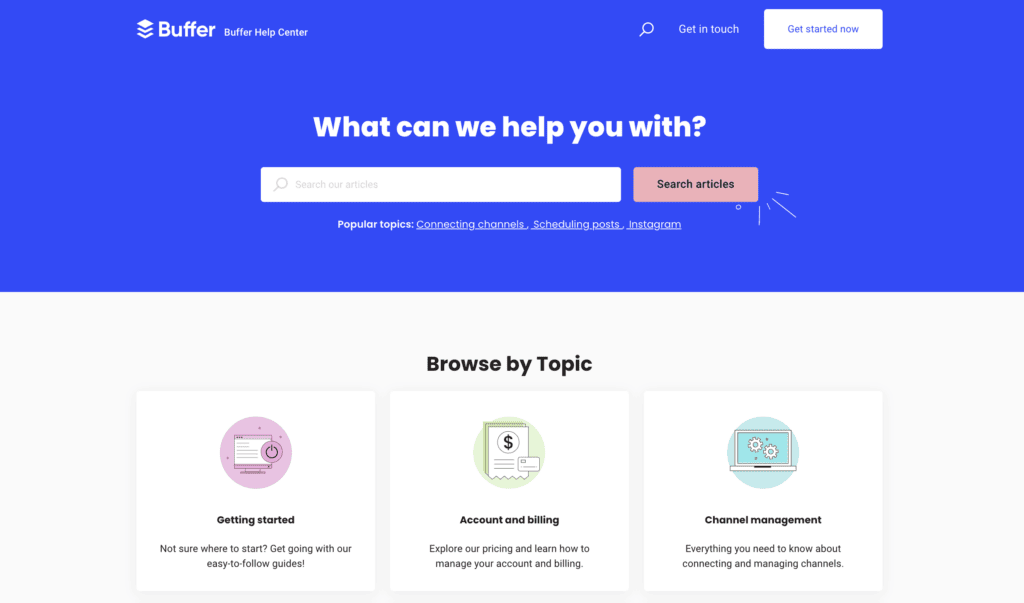 Buffer offers a clear and easy-to-navigate knowledge base for its social media scheduling tool. Its branding is consistent throughout, and the platform showcases unique features such as recently viewed articles and publication dates for support articles. The use of call-out and colored warning boxes helps essential information stand out from the rest of the content.
Shopify's Help Center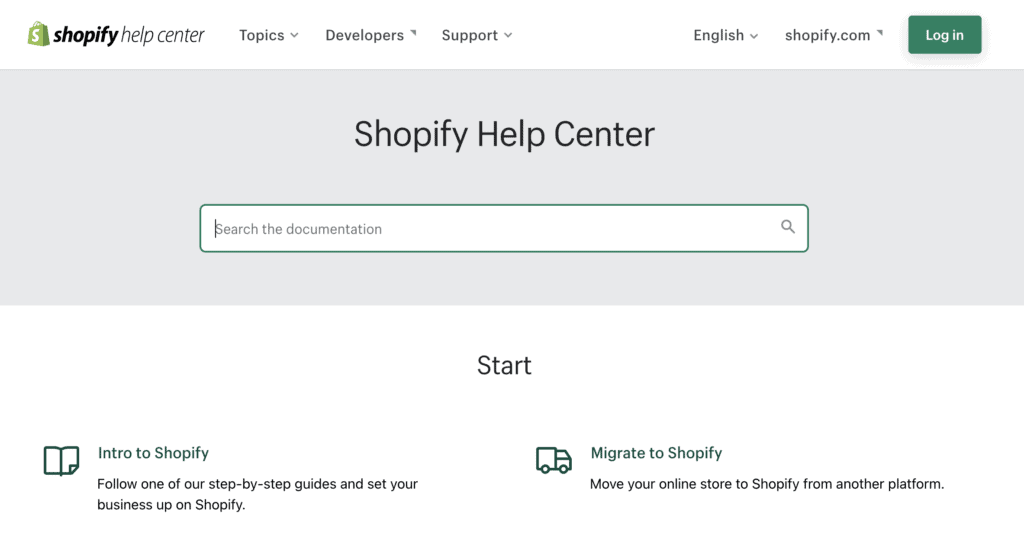 Shopify's help center is a comprehensive resource for individuals and businesses looking to create and manage their online stores. It offers a visually simple yet appealing interface, a FAQ section on the main page, and connections to a user community. The platform is available in 21 languages and includes a complete sidebar in every support article.
WhatsApp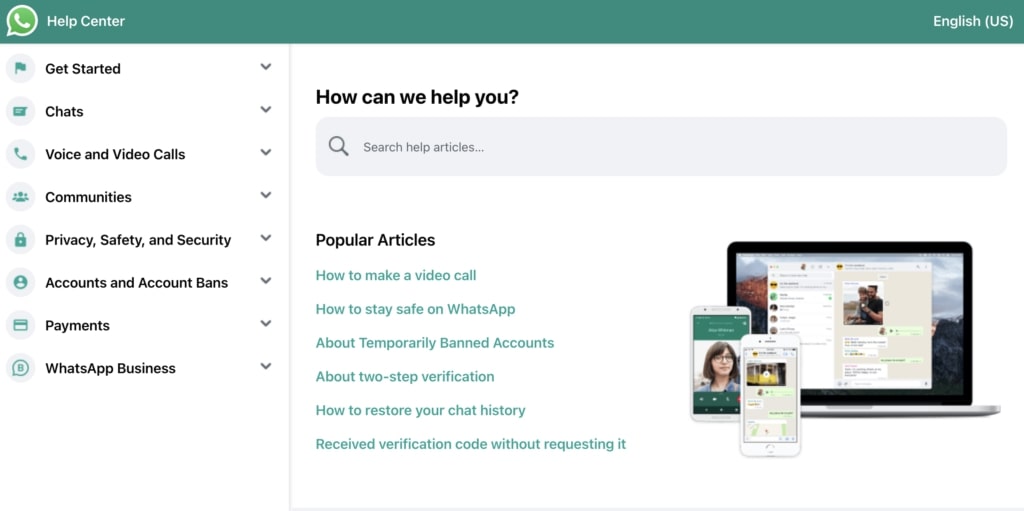 WhatsApp's help center is user-friendly, with a clear interface and layout that uses icons to facilitate browsing. It provides a nested hierarchy of categories, subcategories, and articles, and offers content specific to different devices through separate tabs. The help center is also accessible through the mobile app, ensuring easy access for users on the go.
How Do I Choose a Knowledge Base Solution?
Selecting the right knowledge base platform might feel like finding the perfect wand in the wizarding world; daunting, but possible with proper guidance! To help you identify the ideal knowledge base tool for your external or internal knowledge base and support your customer service team, consider the following key factors.
Budget
Knowledge base software prices can vary greatly, ranging from budget-friendly options to premium services that require deep pockets. Start by determining the maximum amount you're willing to invest in your external or internal knowledge base software.
Features and Functionality
Assess your team's specific requirements for the knowledge base. Consider features like internal chat, live chat support, CRM integration, white labeling, email notifications, and project management capabilities, depending on your needs. Don't forget to include tools that facilitate creating how-to guides and maintaining important documents like company policies.
Search and Analytics
A search box is essential for users to find information quickly in your within your knowledge base articles, especially in an internal knowledge base where content isn't indexed by search engines. In addition to search functionality, consider platforms that provide data regarding search queries to help guide future content development.
Ease of Use
Ensure that your chosen software is user-friendly. Adopting a platform that your support team struggles to use will only result in wasted resources and overlooked content.
Hosted vs. Self-hosted
Self-hosted solutions offer more control but require manual management and updates. Hosted solutions typically take care of the hosting and software, providing convenience and ease of use at a potentially higher cost. Decide which option is best for you and your self-service or internal knowledge base.
AI and Machine Learning
While artificial intelligence and machine learning can improve customer experience and streamline processes, these features may come at a higher cost and may be out of scope for smaller businesses or those with limited budgets.
Flexibility and Scalability
Choose a software solution that is adaptable, allowing it to grow and accommodate changes as your business and team expand, regardless of whether you are creating an self-service or an internal knowledge base.
Customization
A customizable solution enables you to tailor your knowledge base to the unique characteristics of your services, products, or brands. By creating a knowledge base that fits your brand, you will undoubtedly boost the image of your business.
SEO Considerations
If driving organic traffic is a priority (and it should be!), opt for a solution that offers SEO features to help your knowledge base articles rank higher in search engines.
By evaluating these factors, you'll be in prime position to choose a knowledge base tool that caters to your unique needs and preferences – one that's as reliable as Dumbledore's wand, ready to empower your business to greatness.
Keep Ahead of the Knowledge Base Game with Nimbus
With Nimbus Platform, you can achieve all of these and more. We're biased, but listen up! Nimbus enables you to create feature-rich documents, share resources externally, organize content in dedicated workspaces, tag documents for easy navigation, manage access control, reinforce security, and streamline the creation process with knowledge base templates. In essence, Nimbus Platform is the secret ingredient to conjuring the perfect knowledge base for your company – the digital sorcery needed to ensure success in this ever-evolving landscape. So, open a free account with us today and let the magic begin!
Learn from our expert how Nimbus knowledge bases can benefit your company!
Check out the Nimbus Facebook page to get the latest news and updates!
Disclaimer
Parties other than Nimbus Platform™ may provide products, services, recommendations, or views on the Nimbus Platform™ site ("Third Party Materials"). Nimbus Platform™ is not responsible for examining or evaluating such Third Party Materials, and does not provide any warranties relating to the Third Party Materials. Links to such Third Party Materials are for your convenience and do not constitute an endorsement of such Third Party Materials.
Next post
The 5 Best CRM Software with Client Portals