7 Best Free/Paid Evernote Alternatives & Competitors
Move all your Evernote documents to Nimbus quickly and easily with our experts' help
Book a demo
Evernote has been in the market for many years and is still one of the most popular note taking apps, being used by millions of users around the world.
Most Evernote users stick with using Evernote notes because it works well enough, so they may not know there are alternatives that are even better.
Today, there are many alternatives to Evernote that offer similar features with fewer limitations. Some of these apps are completely free, and some of them offer paid subscriptions to get access to premium features, just like Evernote does.
If you've used Evernote in the past or you're looking for Evernote alternatives, either for your personal use or for your company, and have been waiting for more information, then you're in the perfect place as you can check out these apps that offer as many or more features.
What is Evernote?
Being a great note taking tool and productivity app, Evernote is a software application that supports how you collect information and helps you manage everything. You can use Evernote to share ideas, keep track of notes, recipes, quotes, documents, web clippings, photos, videos, audio files, voice memos, or something as simple as creating a to do list.
Evernote syncs across devices, making it easy to access what you need wherever you are. Evernote offers many features found in digital notebooks. You can use Evernote to take notes, organize information, keep track of tasks, manage projects, and improve your collaborative effort. Also, since Evernote supports many devices, whether you're using Android, iPhone, Mac, or Windows, you can access your data no matter where you are. One thing to keep in mind is Evernote is not an open source, which means you cannot view or customize the source code to fit your needs.
The free Evernote note taking version includes basic features like creating and editing notebooks, adding text, images, and videos, saving web pages, and tagging items.
If you're a note taker looking to add some extra functionality, Evernote offers paid monthly plans, which unlock premium features including offline mode, voice recording, document sharing, and collaborative workflows. The premium note taking features Evernote offers support any company with many users working in teams that need to collaborate with other members or communicate with customers anywhere in the world.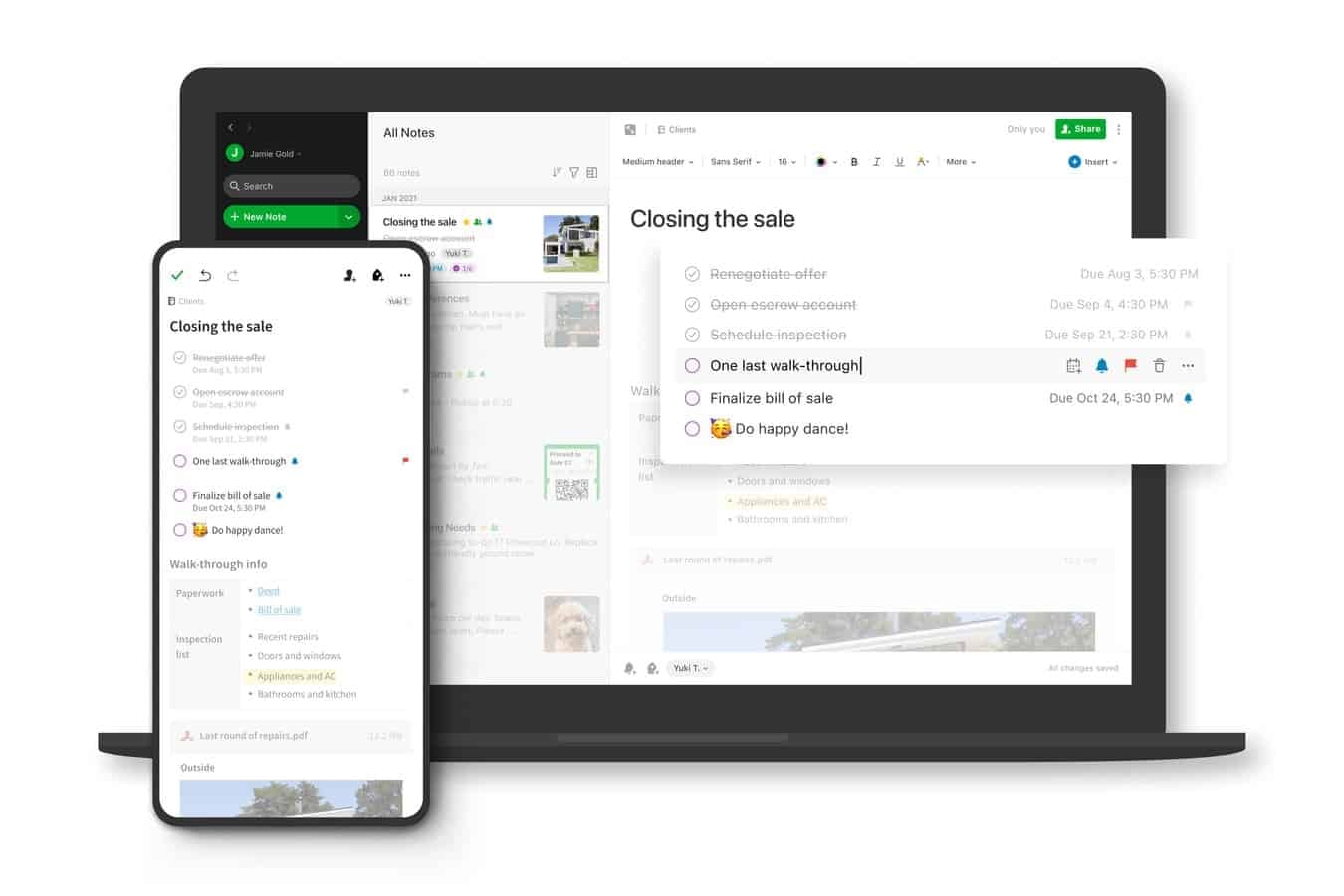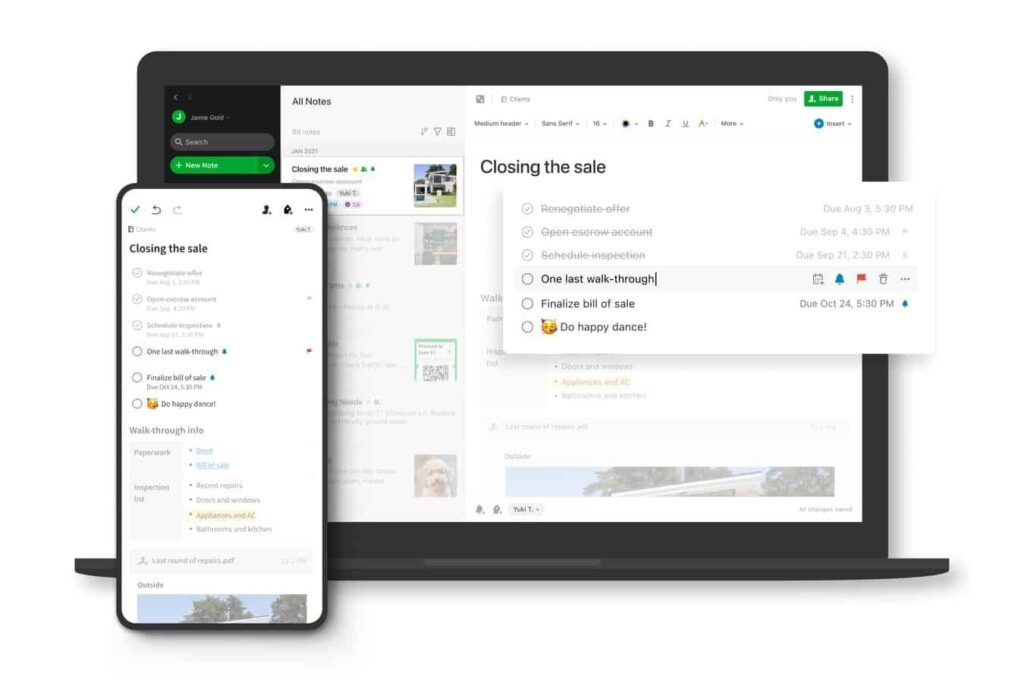 What is Evernote Good for?
Evernote is a note taking application that focuses on capturing information and improving productivity. Whether you're looking to take notes that's accessible on multiple devices, brainstorm ideas, or keep track of your to do list and everything you've done throughout the day, there are a whole lot of reasons why you'd want to download the Evernote software app and take advantage of its key features.
Here are five ways the Evernote note taking app stands out among other note taking apps.
1. Organize your notes any way you want
You might think that organizing notes into folders would make things easier, but Evernote lets you do whatever you want. If you want to put your notes into categories based on what they relate to, or even group them by date, you can do that. There are no limits to how you can organize your note cards or how to set up your note views in Evernote. You can take advantage of the Evernote organizational features and sort them by tags, keywords, or anything else you like. This makes your life easier with document or note management.
2. Works across different operating systems
If you're someone who likes note taking on multiple devices, Evernote is great because you don't have to worry about syncing files between platforms. You can access other documents or notes on Windows, MacOS, Android, iOS, Linux, and even web browsers, which is great for organizing notes in Evernote. This way, you won't have to worry about losing important information if you switch phones, tablets, computers, or use the Evernote web application.
3. Helps you keep track of everything you do
As a note taking tool, one of the best parts about Evernote is that it gives you a single place or single platform, where you can store all of your thoughts and ideas. You can save text clippings and articles you find online, pictures you see, videos you watch, and much more, without much effort. All of your memories are stored here, so you'll never forget something again.
4. Easy to share your content
When you create a new document or note in Evernote, you can easily attach files such as PDFs, Word docs, Excel spreadsheets, and PowerPoint presentations. Evernote supports several popular applications. When you send a link to a file, people will be able to view it right away without having to install anything.
5. Keeps your data secure
Since Evernote stores your data on their servers, your information is safe. They encrypt your data before sending it over the Internet. Every Evernote account is verified. You can also set up two-step verification, so that only you can access your Evernote account, which is a good security feature.
What Features Does Evernote Have?
The key features Evernote has include:
Create quick notes. Evernote's main focus is note taking. Being a notes app, you can create new notes or documents using the keyboard or mouse. You can type directly into the same note field, or paste from another application.
Organize your notes. You can organize your notes into notebooks. You can even create nested notebooks. Each notebook contains a collection of related notes and documents. You can name each notebook however you wish and add comments as needed.
Add images. You can add photos to your notes. You can upload a single image from your computer or use a URL to pull images from websites.
Record audio. You can record audio directly into your notes. You can record yourself speaking, typing, or playing music.
Save content and share. Evernote lets you clip webpages, save bookmarks, links, or anything you can imagine, and share your text notes via email, social media, or text message. You can also publish your notes to the web.
Search your notes. You can search through your relevant notes quickly and easily. You can search by keyword, tag, or location. Use tags to categorize your notes. You can add multiple tags and comments to a single note if you need to add more details.
Back up your notes. You can back up your notes automatically as Evernote offers limited free storage. You can restore your backup at any time. Evernote uses 256-bit encryption to protect your data, which means it supports data safety.
Sync your notes across devices. You can sync your notes across multiple devices. You can sync notes between desktop applications, mobile apps, and the web. Whether you're using an Android, iOS, Windows, Linus, or Mac computer, you can access your Evernote data as long as you have an internet connection. If you feel note taking should not be restricted in any way, Evernote is a good option.
Access offline. Evernote allows you to take notes on the devices supported while offline. You can set yourself a reminder or edit your notes when you go back online. Evernote supports how you work in many ways.
Find anything easily. You can find notes, documents, attachments, links, and other items quickly. You can search by title, description, or filename.
Work on all the major platforms. Evernote lets you work on multiple devices simultaneously. You can open notes on your phone, tablet, computer, and even the web. If doesn't matter if you have an Android, iOS, Linux, Mac, or Windows device, Evernote works on all of them.
Save time. You no longer need to manually copy and paste information from one app to another. You can now simply drag and drop file attachments and links from one application to another.
These features have made Evernote a popular note taking app in the market for many years that Evernote users expect to be available in the future as the company strives to improve.
Pricing and Limitations of Evernote
Users can choose from one of four Evernote plans. The pricing options are:
Basic, which is a free plan.
Personal, which is priced at $7.99 per month.
Professional, which is priced at $10.99 per month.
Teams, which is priced at $14.99 per month per user.
The limitations of Evernote for note taking include:
You need to be on the Professional plan to have access to all their features.
On the Free plan, you can only sync between two devices. This means you cannot use Evernote on your phone, tablet, and desktop app. You will need to choose the two apps you want to use, or constantly log out of one device and log in to another. You can update the same page if you have Evernote open on more than two devices at the same time. This won't work well if note taking on multiple devices is an essential part of your workflow.
Limited storage space. The monthly upload limit on the Free plan is 60MB and 10GB on the Personal plan, and 20GB on the Professional plan.
Cannot integrate with other devices or apps unless you're on the Professional plan. This means if you want to make Evernote an essential tool in your workflow, the Basic or Personal plan will not work for you. Evernote does not support an essential requirement, such as integrating with Google Calendar, on the Basic or Personal plans.
Restrictive task management options. You cannot assign tasks or track their progress unless you're on the Professional plan, which makes it unsuitable for project management or managing your schedule.
Cannot export notebooks as PDF files or have access to advanced PDF export controls on the Basic or Personal plans. You will find these export options restrictive if you're a power user.
If you want to maximize your efficiency and productivity with Evernote, your best option is their Professional plan, which will cost you over $100 per year based on their current pricing.
What Are the Main Evernote Drawbacks?
The main Evernote drawbacks and some of its missing key features include:
1. Cannot sync when offline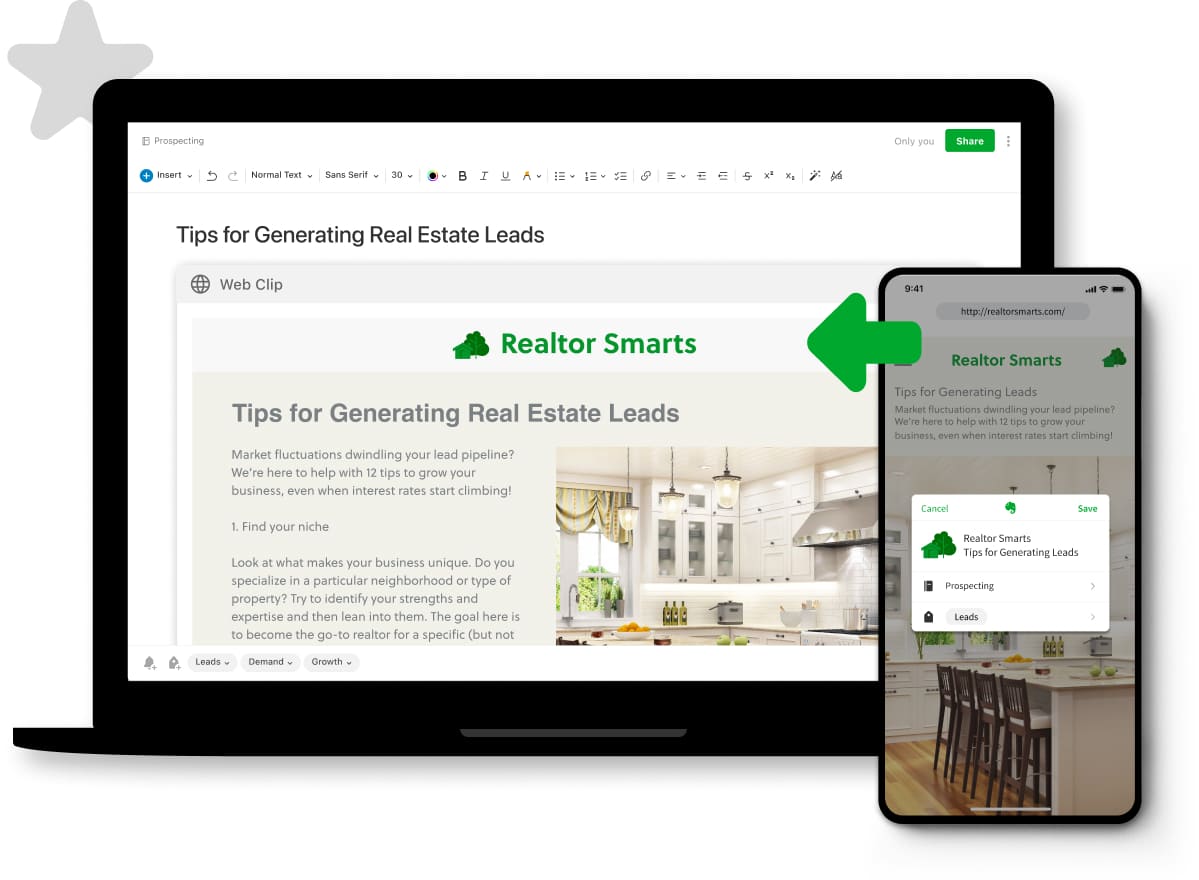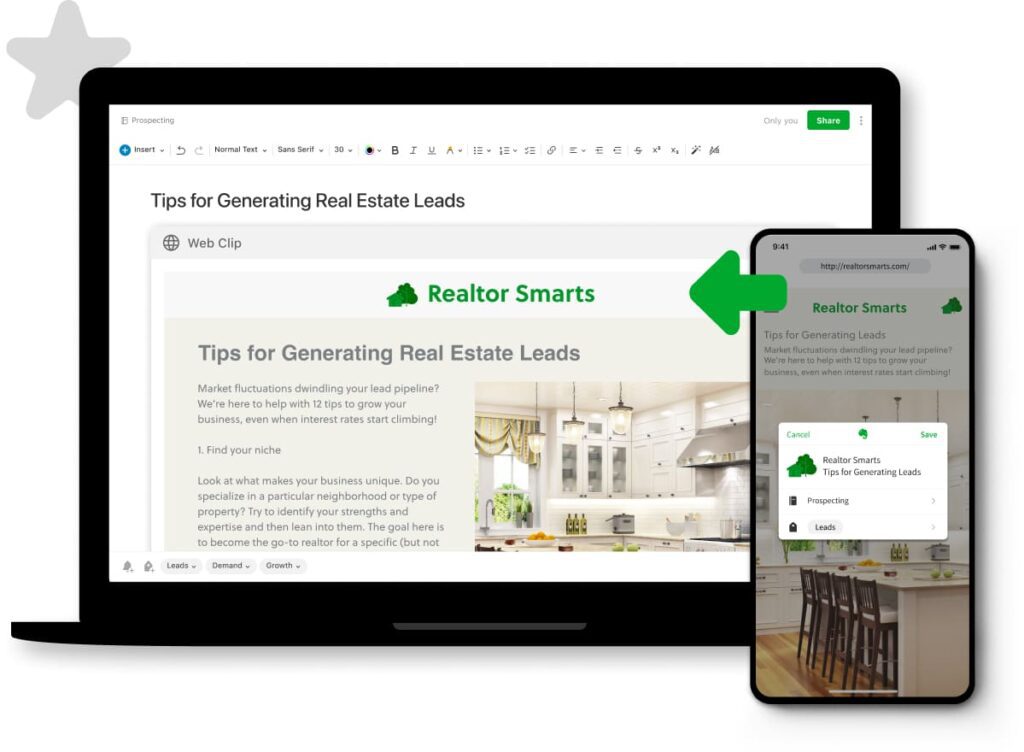 This means if you want to sync your notes across all your devices, you always need to have an internet connection. This is not always ideal for efficient note taking.
2. Inability to import notes from other apps
If for instance, you want to take notes using Apple Notes, you cannot add them directly into Evernote. You will need to manually copy and paste them into Evernote, which is not only time-consuming, but inefficient as well.
3. Slow or sluggish performance
Many users have complained about the time it takes to save a file, or how long it takes to load a page. This often results in data being lost or not saved correctly, which can cause trouble if you're dealing with sensitive data. This suggests the app can be unstable at times.
4. Limited storage space
Evernote's basic plan allows you to upload up to 60 MB of data per month. If you want more than this, you'll need to upgrade to a higher plan. Most users who want to use Evernote for the productivity workflow will require more than what's offered on the free Evernote plan.
5. Restricted functionality
For example, you cannot edit text within images or add custom fields. While you can create tags, add locations, and attach photos, you cannot do much else without paying for a higher plan.
6. No integration with other apps
You cannot connect Evernote to any other tools as it doesn't support any third party integrations unless you're on the Professional plan. For example, you cannot link your Evernote account with Gmail, Outlook, Box, or Dropbox. Since Evernote is not an open source app, you're limited by how much customization you can do.
7. Can't export notebooks as PDFs
While you can export notes as HTML, RTF, CSV, or plain text, you cannot export notebooks as PDFs.
8. Restrictive task management
Advanced task management features are limited to the Professional plan. You cannot set reminders and due dates, deadlines, or reminders, nor can you assign tasks to multiple people at once. For more project management features, you need to subscribe to a paid Evernote plan.
Evernote was once a leader in the personal productivity space, but that has now changed as there are many Evernote alternative platforms today.
Reasons Why You Need Evernote Alternatives
You need to explore Evernote alternative platforms because:
It's hard to justify paying for a premium plan when there are so many Evernote alternatives that offer similar features either on their free plans or at a much cheaper price.
You cannot make Evernote an essential tool in your daily workflow if you're also mindful about what you want to pay to have the features you need.
It's not to proper project management or task management tool. There are Evernote alternative platforms that are more suitable for task management and project tracking.
You don't want to be restricted to how many devices you can use Evernote on. If you use more than two devices, you will need the Professional plan to make it worthwhile.
It's difficult to manage projects. With Evernote, you have to organize your notes into different notebooks. Each notebook may represent a separate project. You can then tag each note inside a notebook with keywords, add locations, and attach files. However, when you switch between projects, you can lose track of where you left off. Since you can only save notes in one notebook at a time, you end up having to copy and paste all your notes from one notebook to another.
Evernote alternatives offer better sync and sharing options. There are many Evernote alternatives out there that allow you to sync across multiple devices. These include Google Drive, Microsoft OneDrive, Box, iCloud, and Dropbox. Some of these Evernote alternatives are free, while other services are paid. The best part about using Evernote alternative platforms is that you get access to the features you really need regardless of whether you need to pay for them.
More powerful note taking apps. There are many Evernote better alternatives that offer more powerful note taking capabilities. Some are open source apps, while others aren't, just like Evernote. If you want more flexibility with the type of notes you can create and what you can post, other alternatives offer a lot more.
If you're looking for a simple way to keep track of everything you need to remember, Evernote is still a good choice. It's easy to use and offers plenty of useful features. Now that you have a better sense of Evernote's features and limitations, if you're looking for something more powerful with a better pricing option, that is an open source note taking app, consider finding an Evernote replacement.
How to Choose the Right Evernote Competitors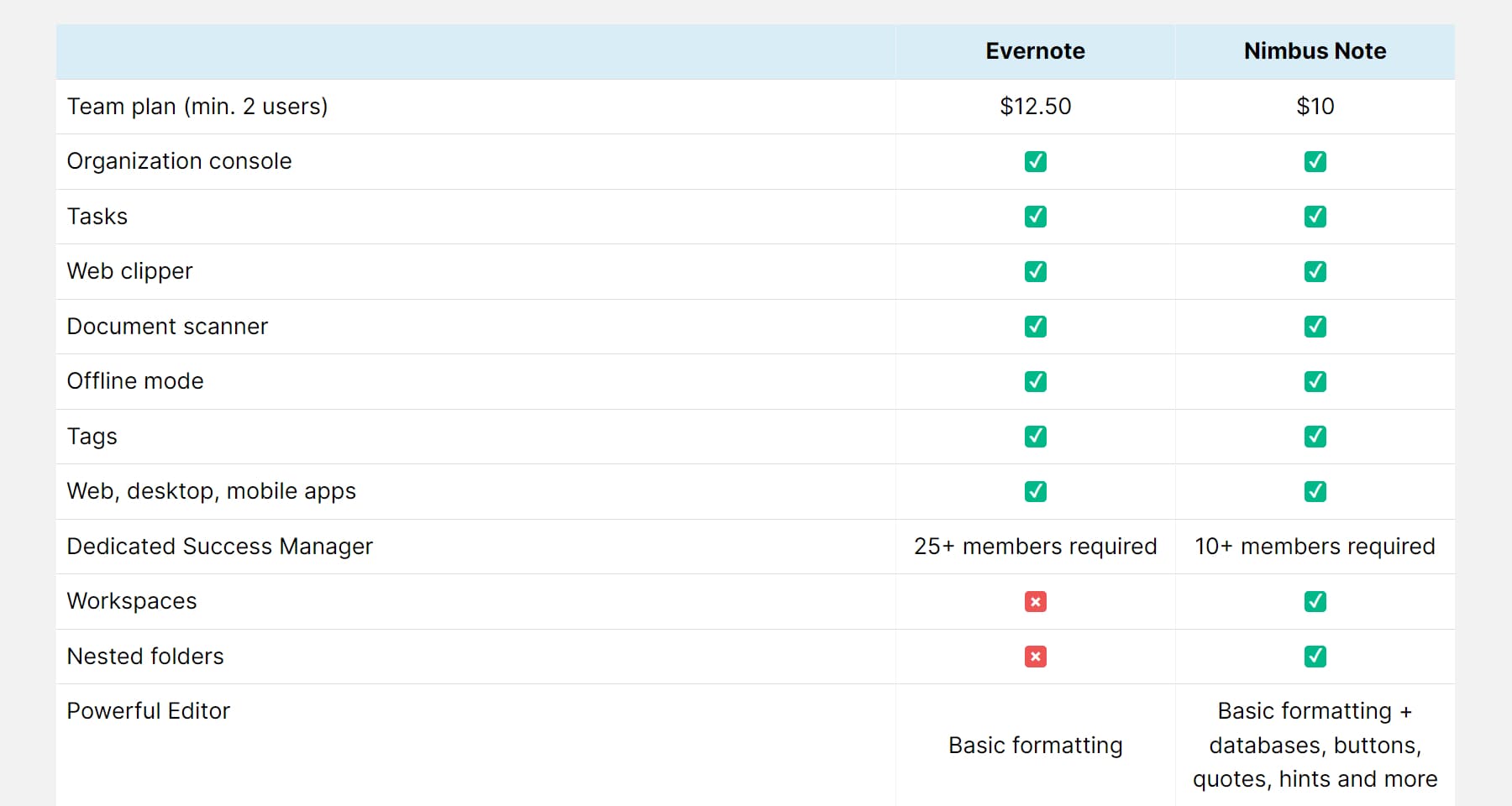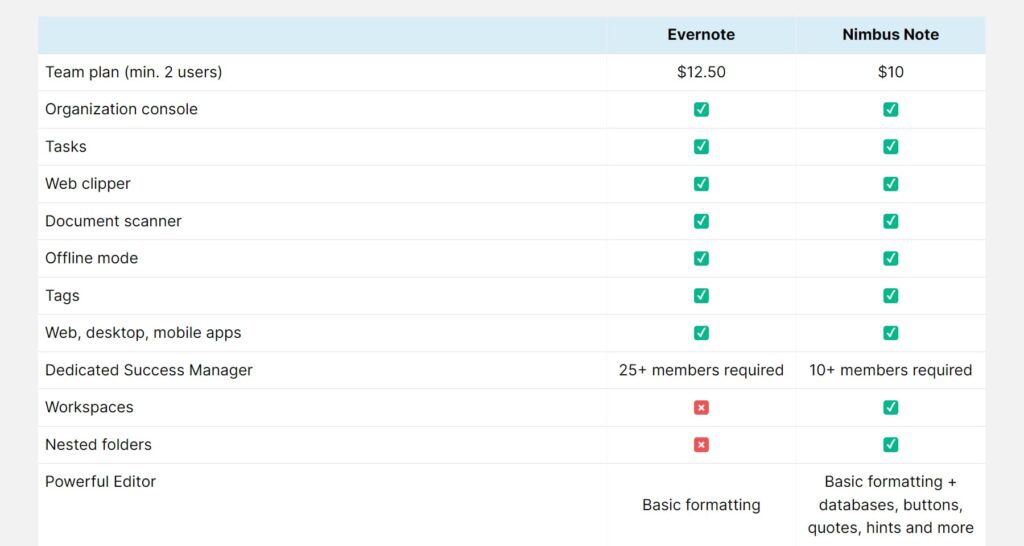 Choosing the right Evernote alternative platform depends on your needs. Here are some things to consider when exploring the best alternatives or if you want to go with the best alternative.
1. What type of user are you?
If you're a user looking for something simple, the free version of Evernote may be worth exploring. It offers basic functionality such as tagging, adding locations, and attaching documents. If you're an advanced user, other alternatives may support your needs better.
2. How often do you work offline?
If you rarely work offline, you might find yourself needing to rely on cloud-based solutions. This means you'll need to choose a service like Google Drive, OneDrive, Box, or iCloud.
3. Do you prefer to use mobile apps or desktop software?
Some Evernote alternatives are available as both mobile apps and desktop apps. If you're a user who constantly switches between them, you need to find the best free Evernote alternatives.
4. Do you need to share notes with others?
If security is a concern since you frequently collaborate with colleagues or have multiple users in your business, you'll probably want to explore Evernote competitors that offer better collaboration options and tools or support your workflows.
5. Are you working on several projects at once?
If you're juggling several projects at once, you'll need to look for a solution that allows you to easily switch between projects and has a better project management option.
6. Will you store large amounts of data?
If you need to store large amounts of data, you'll need to explore Evernote alternatives that offer higher storage limits or unlimited storage space.
7. Do you need to manage tasks?
If you need to manage tasks and add or post comments, you'll need to check out Evernote alternatives that have better task management features.
8. How will you organize files?
If you need help with organizing files, you'll need to take a closer look at Evernote alternatives that support more robust file organization.
9. How often will you need to search through your notes?
If you need a powerful tool with a robust search function that lets you search through all your notes, you'll need to try out Evernote alternatives. You can also use this feature to quickly locate specific notes.
10. Do you need to add tags to your notes?
If your notes don't already contain tags, you'll need to find a tool that supports adding tags to your notes and linking between notes.
Top 7 Evernote Alternatives
Here are some of the best Evernote alternatives in the world today that will satisfy the most of the needs of basic and advanced users.
1. Nimbus Note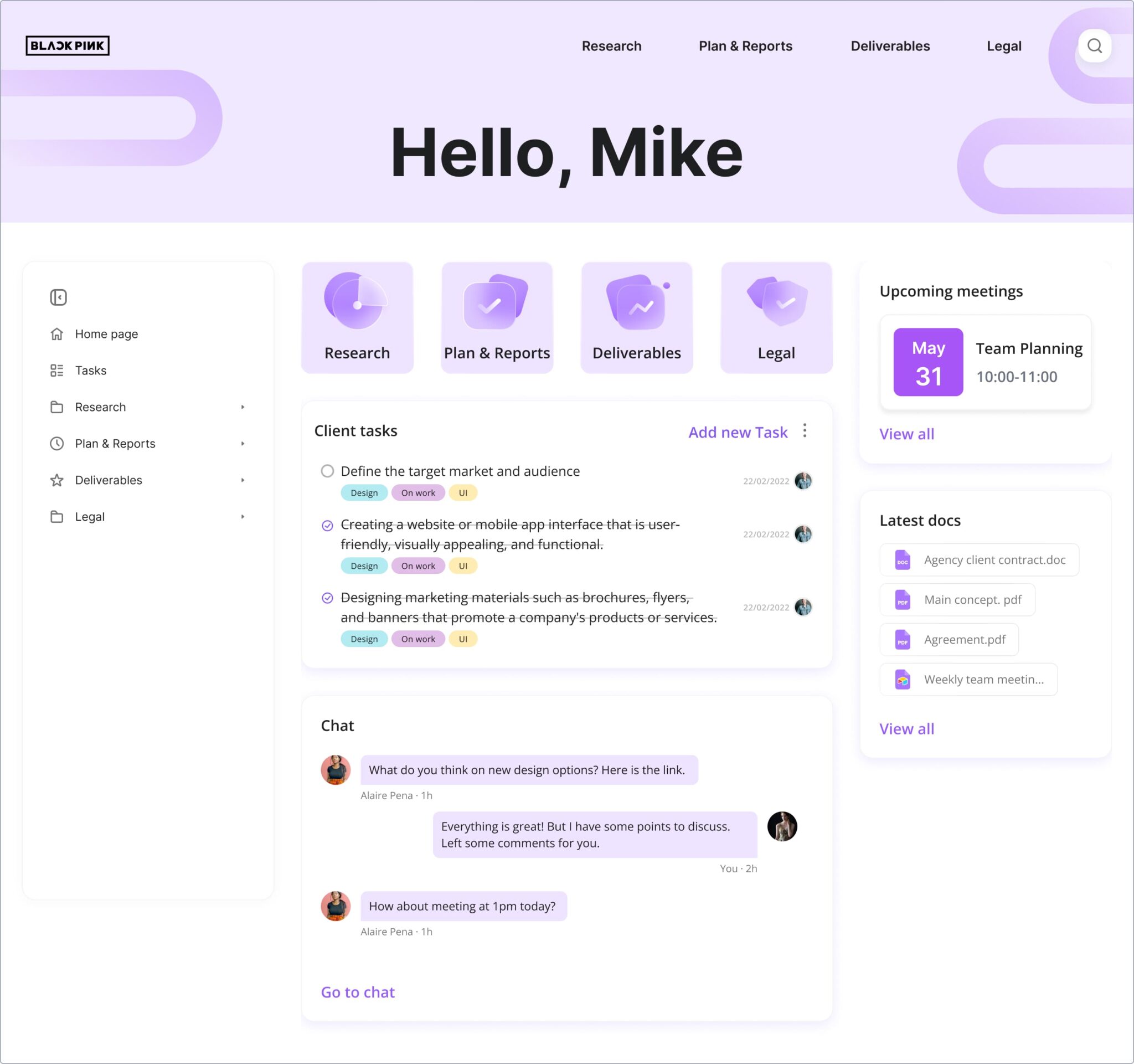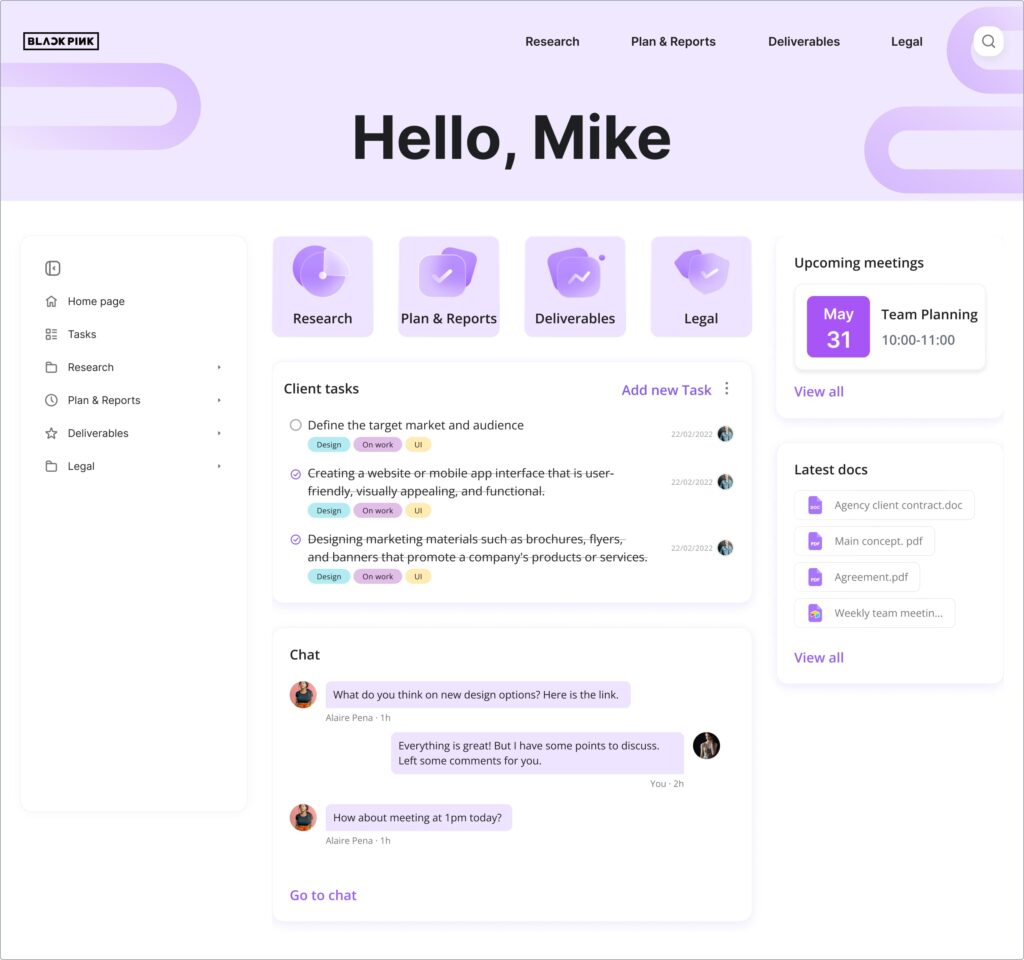 As one of the premier apps within the Nimbus family of products, Nimbus Note is a great alternative to Evernote.
Unlike Evernote, you don't have upload limits and you have ultimate control on how you want to take notes. Nimbus is a good free alternative to Evernote that's worth exploring.
The core features Nimbus Note offers include:
Create notes, docs, voice memos, and a team wiki.
Easily create tasks, checklists, databases, spreadsheets, and tables.
Set reminders for specific times for your projects, events, or tasks.
Create and organize notes in multiple file formats, add comments or reactions, and share notes securely across workspaces for threaded discussions and to get feedback from friends, family, or others.
Capture and annotate your notes, attach files, including markdown files, and have them organized in workspaces and folders.
Available on your mobile via the Nimbus mobile app, which means your data is available wherever you go.
Add custom code using the code block option for advanced integrations and to add more details. You can apply syntax highlighting for all major programming languages.
Write and format your code faster using markdown commands and hotkeys.
Web clipper that allows you to clip and save bookmarks, and store anything you want online.
Supports offline mode and dark mode.
Optical character recognition (OCR) to copy text from images or photos.
Set passwords on your standard notes and folders.
Use customizable themes or templates to get started quickly.
Easily migrate your notes from Evernote to Nimbus.
For a more detailed comparison between Evernote and Nimbus Note and why it's one of the best Evernote alternatives, please visit this page.
2. Apple Notes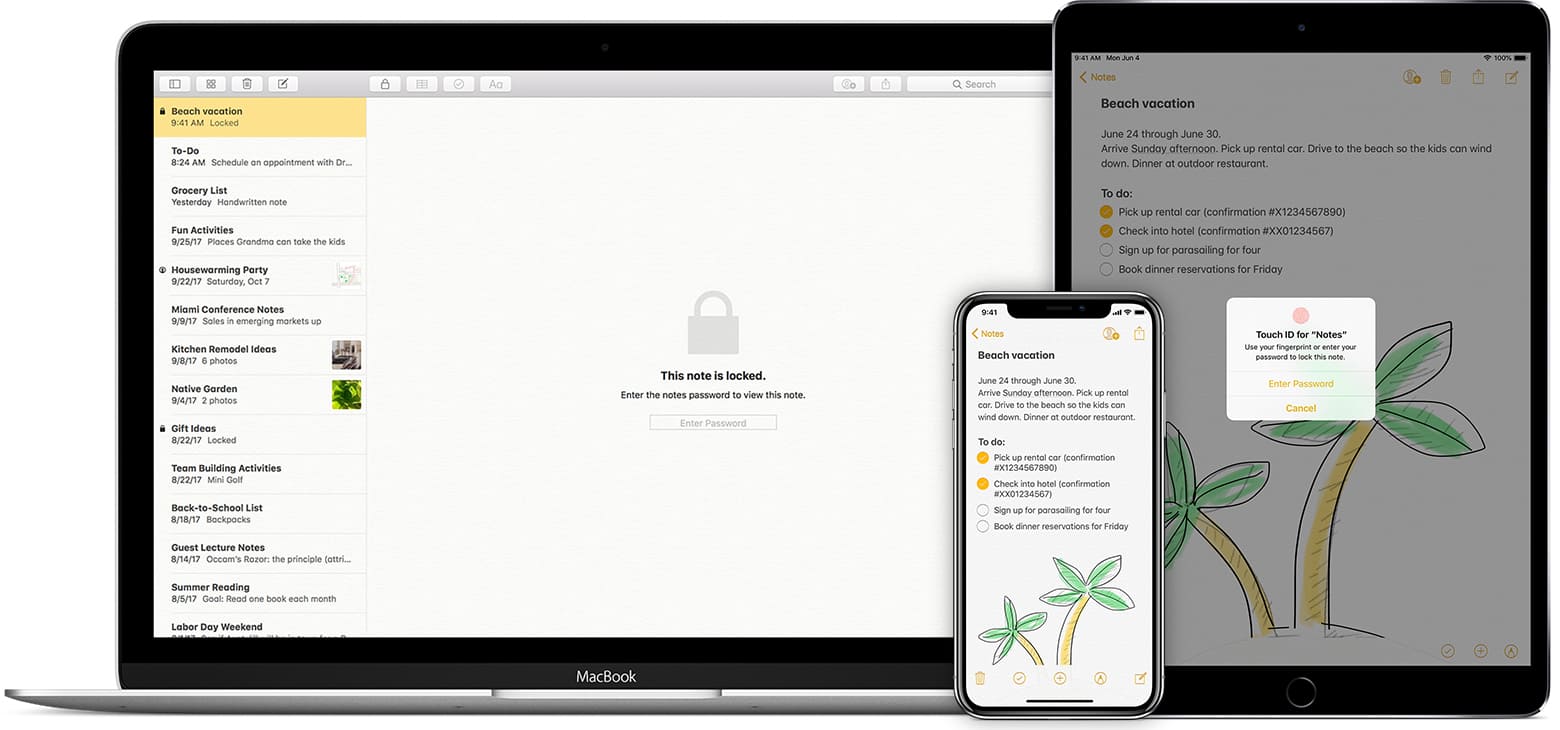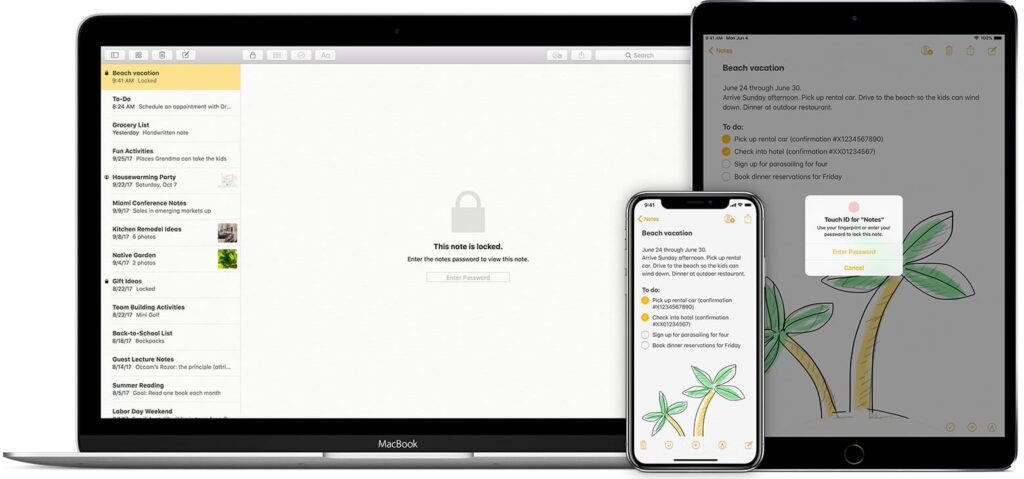 As one of the free Evernote alternatives, Apple Notes is a simple app, with a nice interface, that works well for taking notes, storing notes, creating outlines, and adding tags. If you're an Apple user, this is a great alternative to capture ideas.
Apple Notes offers features like:
Free to use if you have an iOS device.
User friendly, intuitive, and flexible writing app with the capability to also capture handwritten notes.
Easy to jot and capture ideas in real time and share notes securely.
Create multiple to do lists to keep track of your tasks.
Sync data using your iCloud account.
Although regarded as one of the best Evernote alternatives, the main limitations of Apple Notes include:
Only available on a mac computer, iOS, and not on Android devices.
Inadequate page customization options, as there aren't enough page templates, elements, sizes, and colors.
Difficult to move or copy notes or pages. You can move one note at a time.
Doesn't have enough audio recording options as there isn't a built-in audio recording feature, which means if you want to record a voice memo, you have to use another app, like Apple's Voice Memos app.
Typed and handwritten notes are separated with two styles, which means you cannot integrate them together.
3. Bear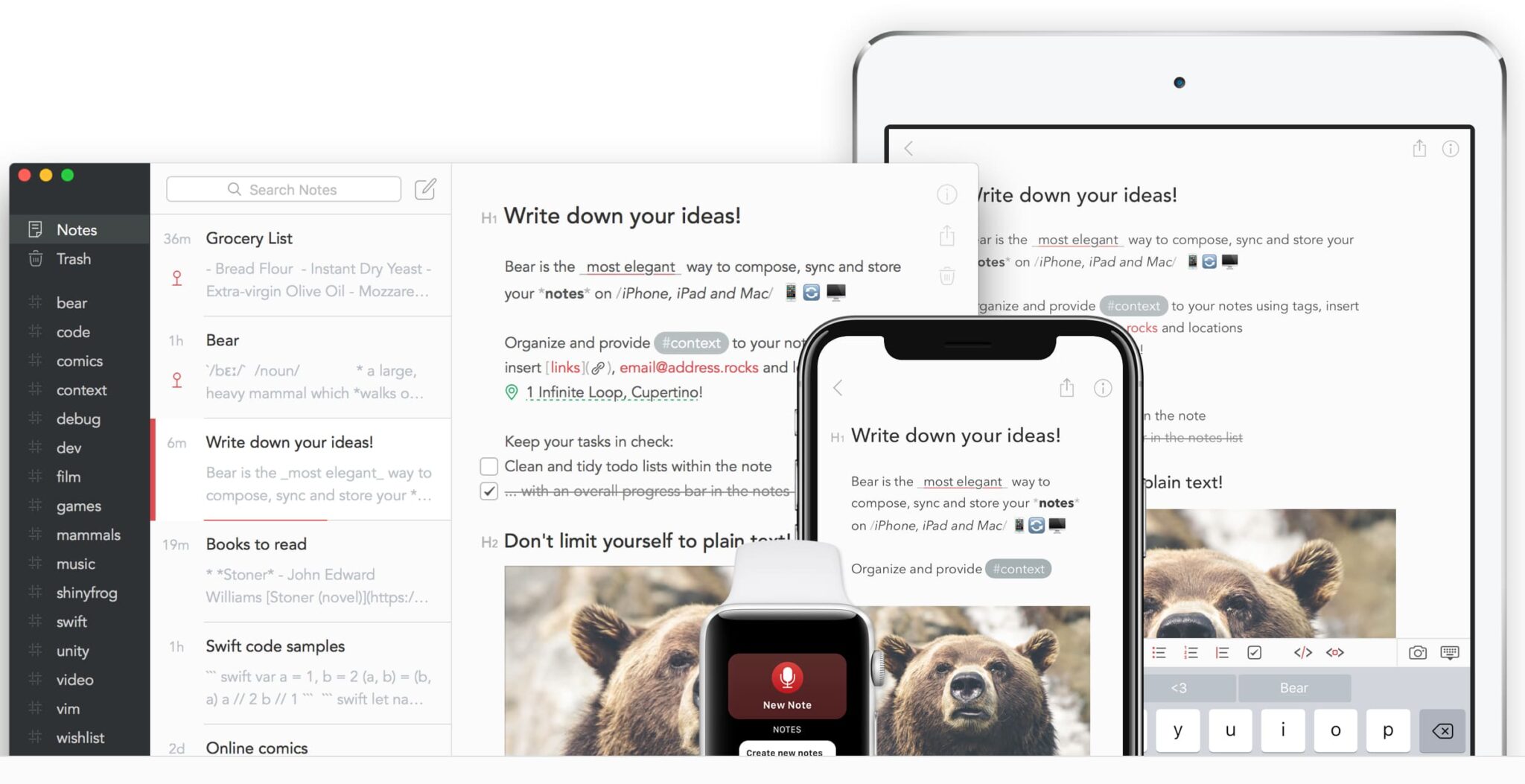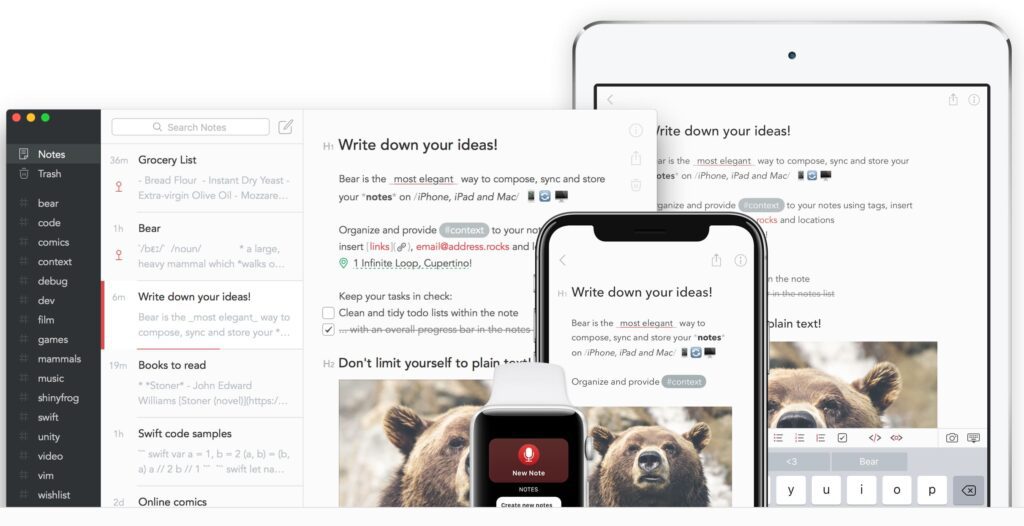 Another good alternative to Evernote, Bear is a flexible writing app for crafting notes. A capable note-taking tool, Bear offers a beautiful interface that works on iPhone, iPad, and Mac, so you can write wherever you want.
The features Bear offers include:
Use to-dos to stay on task across every device, including Android and iOS, desktop app, and different devices.
Like Evernote, you can link your notes to each other, which makes it easier when you want to edit notes in real time.
Add hashtags to keep your ideas organized.
Use Face/Touch ID to protect sensitive notes.
Advanced markup editor that supports and highlights over 150 programming languages.
Rich previews while writing, with beautiful and intuitive themes, typography and dark mode.
Multiple themes and templates to offer a style for everyone, which can save time when taking notes.
Add code snippets using the in-line code block feature.
In-line support for images and photos.
Focus mode that hides standard notes and other options when it matters.
Effortless, secure, and private multi-device sync via iCloud.
While Bear may not be the best Evernote alternative, it's still a good alternative to Evernote, however, its limitations include:
Only works with the Apple platform. This means you cannot use it Android devices, or Windows or Linux computers.
Cannot sync across all your devices if you're on the Free plan.
Uses iCloud as your cloud storage, which means you will need new storage once you reach your limit.
The hierarchy structure is built based on tags rather than folders, which is not the best file structure.
4. Google Keep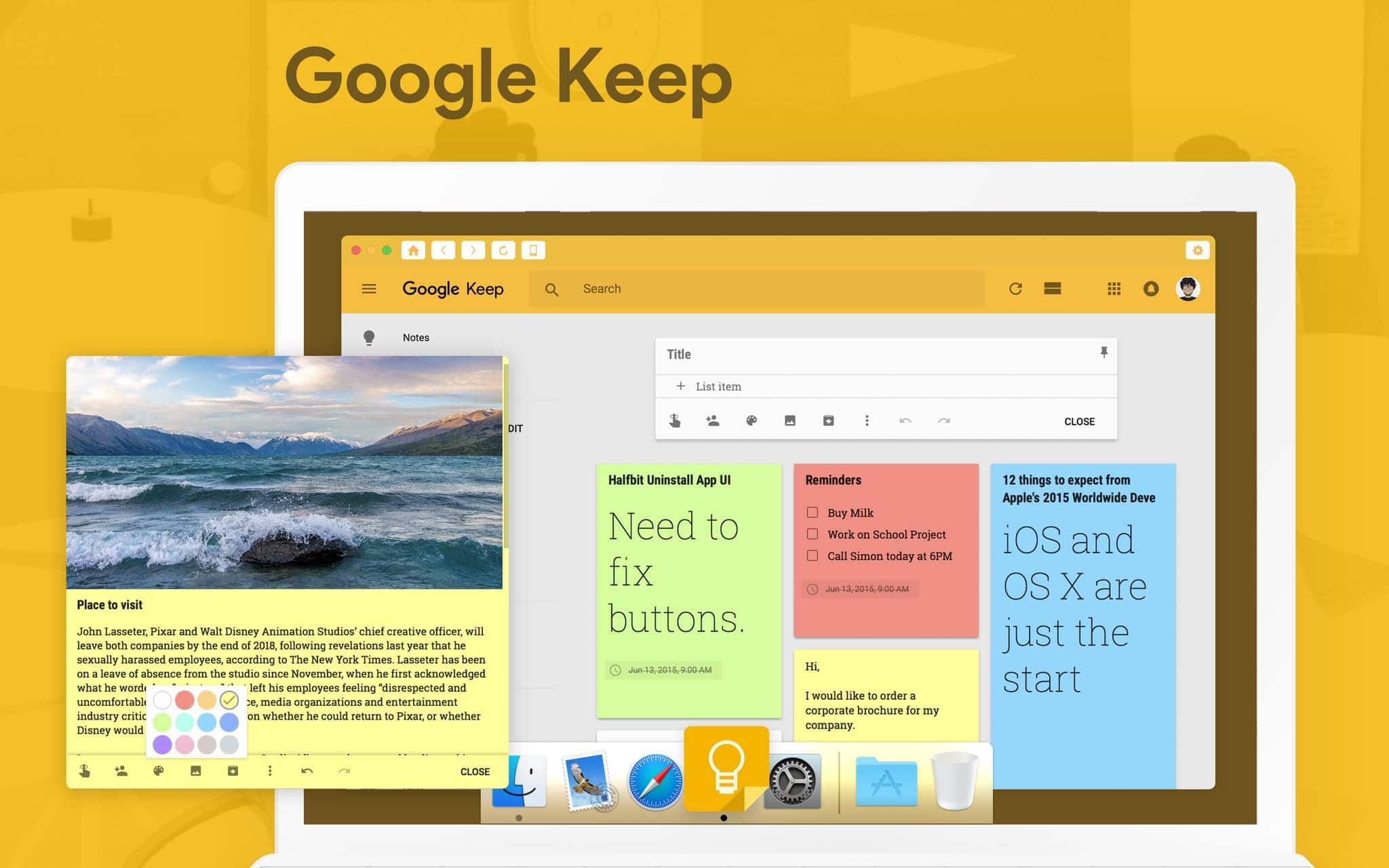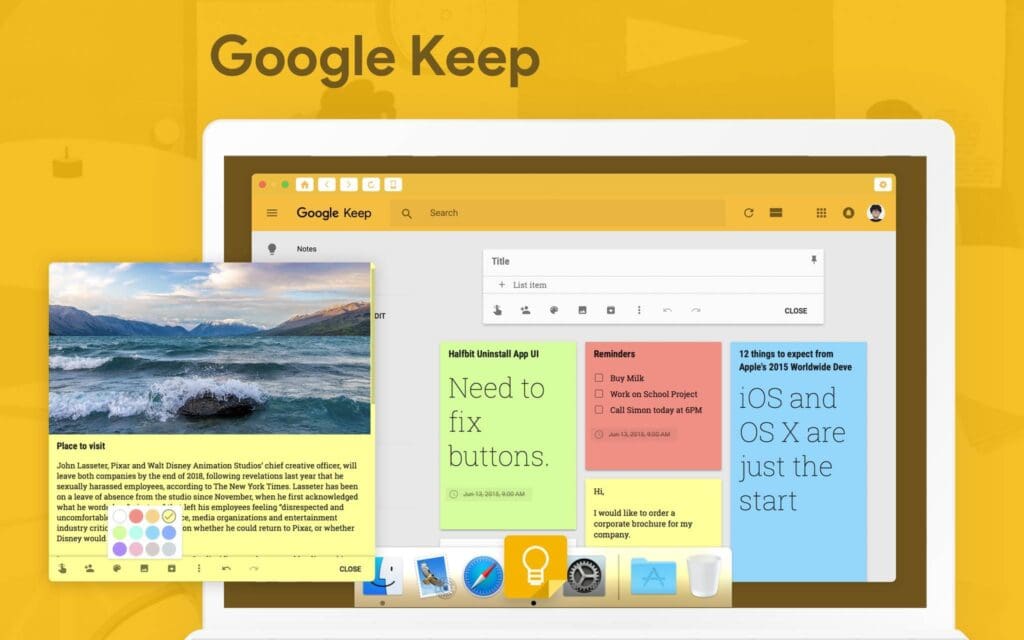 Offering a simple interface, Google Keep is another good alternative to Evernote that lets you create lists and draw pictures. Google Keep is super easy to use to capture an idea, set a reminder, or create a grocery list.
Google Keep is a useful tool which offers features like:
Create an unlimited number of standard notes.
Free to use on Android and iOS mobile and tablet devices, making is accessible to unlimited users.
Integrates with other Google apps, including Google Docs, Google Drive, and Google Chrome, and is compatible with Windows 10, which is available for download in 32 bit, 64 bit, or 86 bit from the official Google Windows 10 site.
Create voice notes, which is helpful if you want to send a voice memo with additional details.
Easy for taking notes and combining them into groups using tags.
Google Keep is better than a low-cost alternative to Evernote because its available on a free plan.
The limitations Google Keep has compared to other Evernote alternatives include no notebook or folder structure, basic formatting and editing options, cannot embed notes or create notes from your inbox, and cannot add a password to protect your notes.
For a more detailed comparison between Nimbus Note and Google Keep, please visit this page.
5. Microsoft OneNote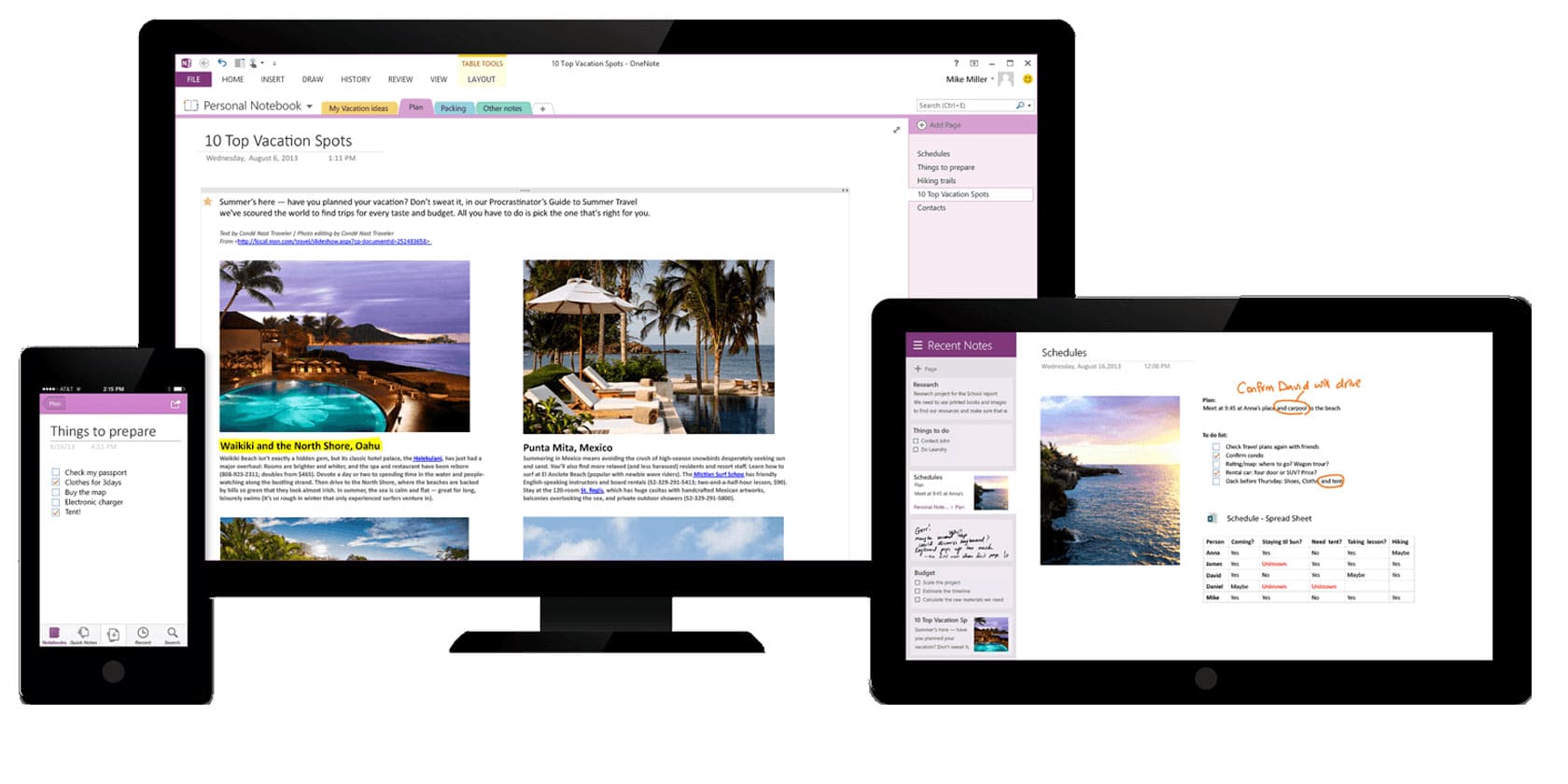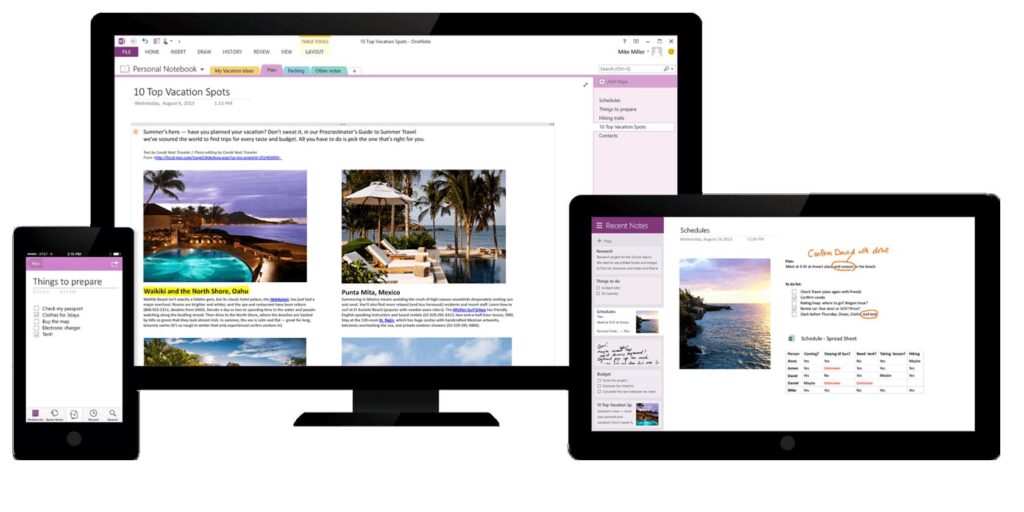 You can use Microsoft OneNote to organize your notes in notebooks, sections, and individual pages. With Microsoft OneNote, you can easily navigate your notes by using simple navigation and interface layout, and search features.
The features Microsoft OneNote offers include:
Works on Android, iOS, Windows, Linux on desktop and mobile, and integrates with other Microsoft Office applications or use as a web app.
Create a simple to do list or use its numerous task management features.
Add comments or reactions, and easily share notes with team members using a shareable link for improved collaboration in real time.
Collapse and expand your pages and notebooks when in list view.
Add notes via email forwarding.
Easy to create notes using templates.
The limitations of Microsoft OneNote include:
Limited text formatting options unlike other Office applications.
Inefficient layout, which can decrease your efficiency if you write a lot.
Complex layout for the desktop app.
Sync issues with shared notebooks on different devices.
Basic project management options.
Not the best option for iPad and iPhone users.
For a more detailed comparison between Microsoft OneNote and Nimbus Note, please visit this page.
6. Dropbox Paper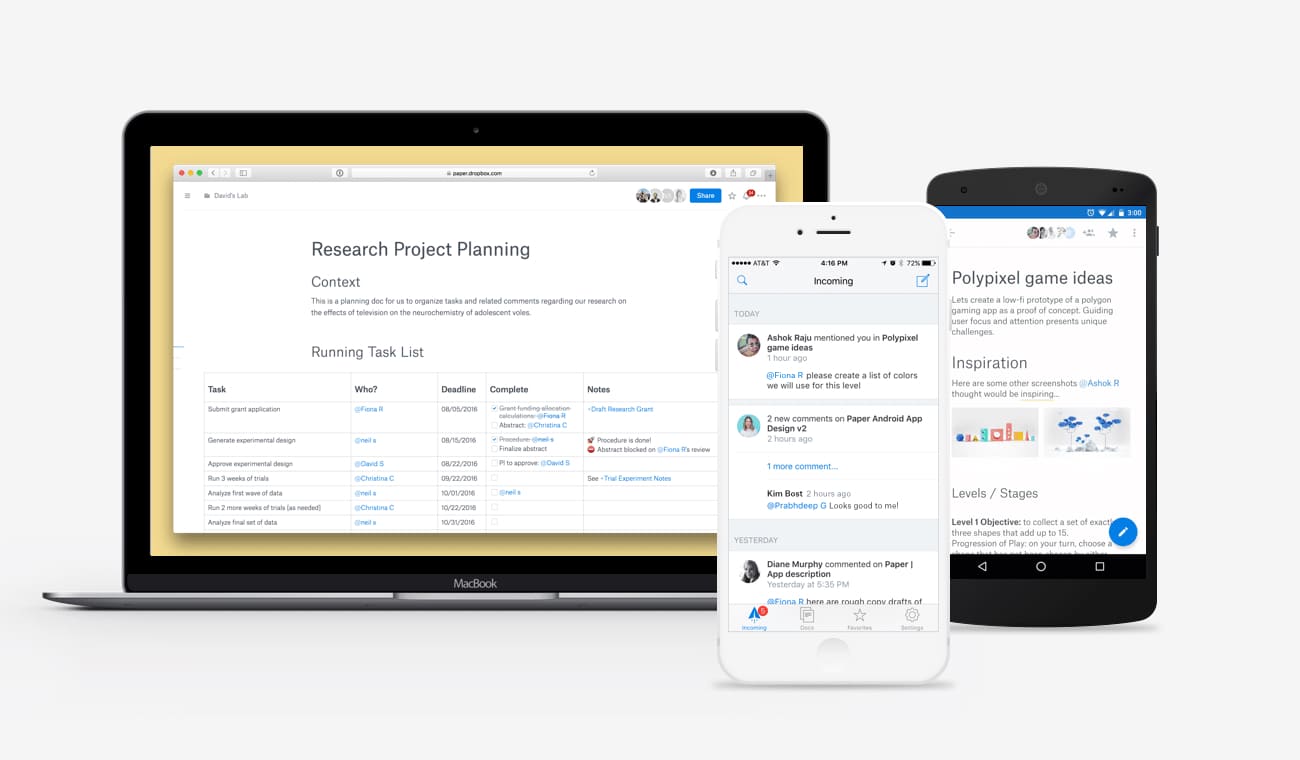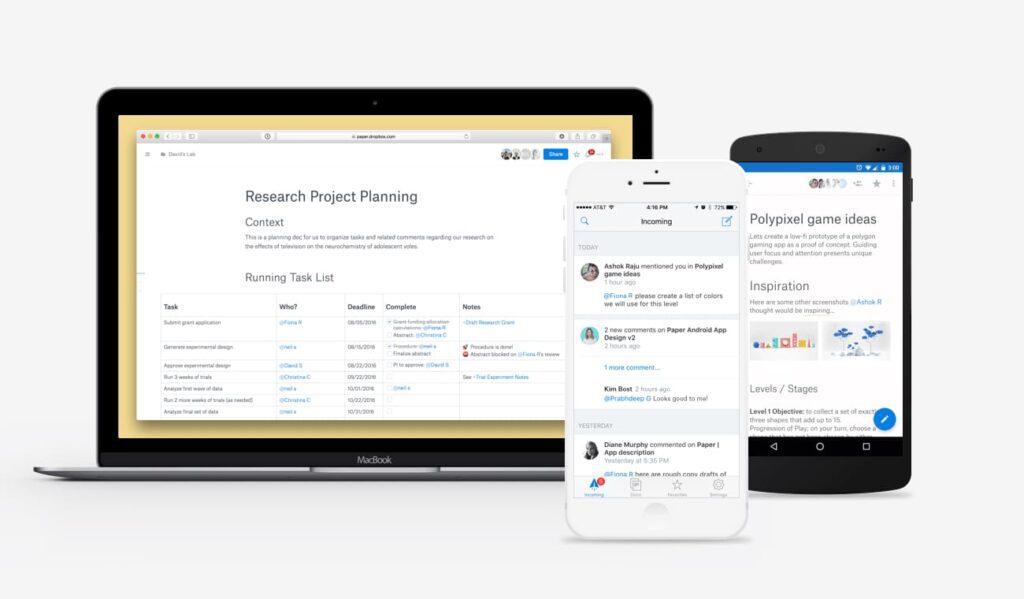 Positioned as more than a document app, Dropbox Paper is a project management software tool that brings creation and coordination together in one place.
The features Dropbox Paper offers include:
Improve team collaboration by creating meeting notes and keeping everything relates to your meetings in one place. For instance, if you have a marketing team, you can keep your projects, docs, agenda, minutes, files, next steps, and task assignments organized in folders.
Transform docs into presentations with the click of a button.
Project management features, where if you have a deadline or task due, or if someone shares a doc or mentions you, Dropbox Paper will follow up in real time, like your own personal assistant.
Available on multiple desktop and mobile devices, including Android, iOS, desktop app, Windows, Linux, and all tablet devices.
Give and get better feedback using annotations to collaborate with team members or other users.
The limitations of Dropbox Paper include lack of word processing control with basic editing and customization options, lack of a spell-checker, which makes it not a good option for document or word processing, inability to create spreadsheets, and it does not offer anything additional than what Google Drive offers if it's used for collaboration.
7. Hive Notes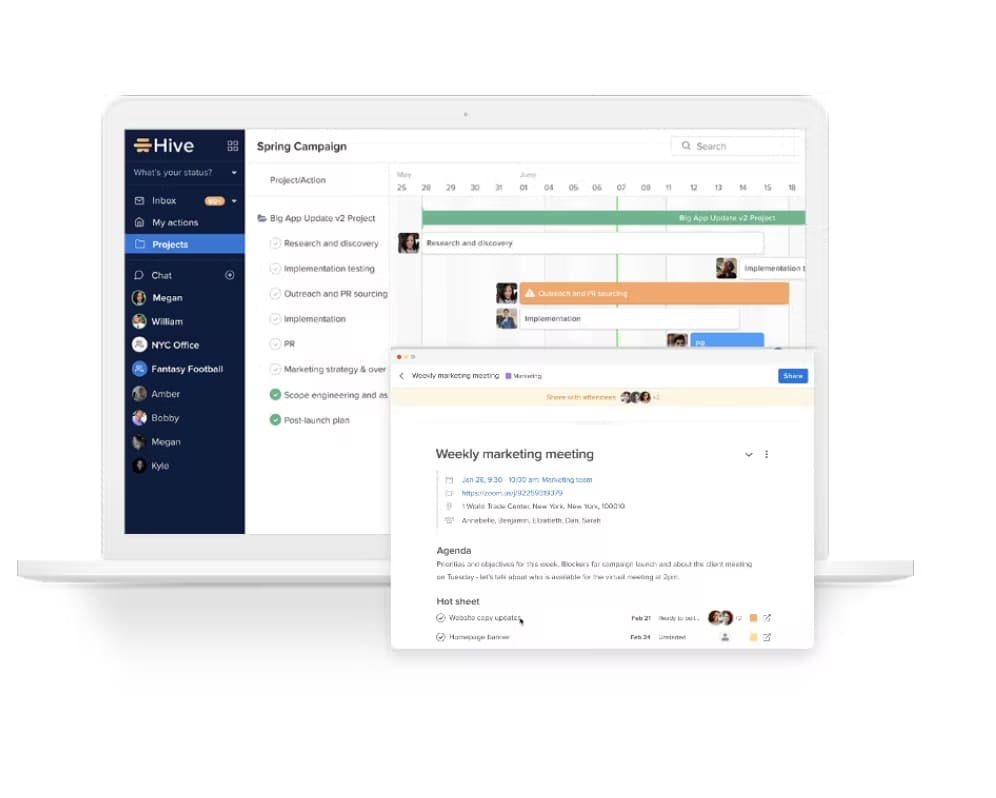 Bets suited for team collaboration and meetings, with Hive Notes, you can create notes, agenda, templates, assign tasks and collaborate with teams and other users.
The features the Hive Notes software app offers include:
Share a note or document with a meeting agenda for better team collaboration.
Create and assign tasks, create events and set deadlines, and always leave meetings with clear next steps.
Collaborate with your entire team in real time.
Create unlimited tasks and projects, and assign next steps and due dates to keep everyone on track.
Available on iPad, iPhone, Android, Windows, Linux, and desktop and tablet devices.
Create a personal to-do list, where you can access all tasks assigned to you and view due dates.
Integrate with commonly used apps, including Google Drive, Gmail, Dropbox, Google Calendar, and Zoom.
The limitation of Hive Notes includes no time tracking option, no add-ons for better analytics, and cannot create custom workflows. There is a steep jump from their free Solo plan to their Teams plan, which is $12 per user per month.
In conclusion, if you haven't already started using Evernote or you have an Evernote account and want a cheaper option, now is the perfect time to finally explore Evernote alternatives.
The Evernote alternatives mentioned can become an integral app in your daily workflow. Before you choose one, test them by signing up to their free plans.
We'd definitely recommend you to start with Nimbus Platform. It is the best tool for remote work that will help you manage everything in one place. This app is great for teams located in different parts of the world which need a unified system for effective collaboration. It's completely free to start with, and you can cancel your subscription at any time!
If you have been used Google Docs for creating notes and documents, you probably know it has many limitations. There are other alternatives to Google Docs, which you can learn more about in this blog post.
All businesses need a CRM for their workflows and to improve productivity. In this blog post, find out how to choose the best personal CRM for your business.
Do you want to know more about the difference between Nimbus and Evernote?
If you found this article helpful, please share it so others can benefit too.
Read more posts on this topic:
Disclaimer
Parties other than Nimbus Platform may provide products, services, recommendations, or views on the Nimbus Platform site ("Third Party Materials"). Nimbus Platform is not responsible for examining or evaluating such Third Party Materials, and does not provide any warranties relating to the Third Party Materials. Links to such Third Party Materials are for your convenience and do not constitute an endorsement of such Third Party Materials.
Next post
Top 10 ClickUp Alternatives and Competitors in 2023