Best OneNote Alternatives You Must Know About
Get expert advice on replacing OneNote with Nimbus in your workflow
Book a demo
The era of handwritten notes is long gone. Now, you can use specially tailored web or mobile apps for faster sharing, storing, and editing. This is a great alternative to a simple paper notebook and notes. You don't have to carry extra stuff in your bag or try to recall where your exact reminders or checklists are.
Such apps are helping create notes and keep them organized. You can sort notes by topic or importance, and organize your personal knowledge system that will save you a lot of time. What's more, you can even work on notes with your colleagues or friends and enjoy collaborative functions to speed up planning and task creation. Note-taking apps are a great solution for both individual and corporate use.
One of the most well-known apps to serve all your work-related needs is the Microsoft OneNote web application. This is a popular note-taking app you can use within your paid Microsoft Office 365 or via a free Microsoft account. Some of the most useful features of Microsoft OneNote include voice-to-text content, handwritten notes, virtual sticky notes, translations, and a paid built-in Math Assistant.
This solution will help boost your productivity level and enhance your corporate skills and empower your notes. However, there are a few reasons why many people are trying to look for OneNote alternatives to use for note-taking and compiling task lists. For one, there are several drawbacks in terms of OneNote's functions.
For example, it'll be difficult for you to upload your notes and documents from other apps and even from Google Suite. Minimal tagging capability and general app complexity for newbies make it harder for you to create the system of notes you've always dreamt of.
Many users complain about confusing integration between OneNote and Outlook or Google docs, ineffective usage of its wide range of features, and even the loss of information which is unacceptable for note-taking apps. So, it becomes hard for companies and users to enjoy OneNote's functionality to the max.
But don't worry, though! If you're looking for OneNote alternatives, keep reading — we've gathered some of the most convenient and useful tools for your efficient workflow and super notes. No need to spend time Googling them, just continue reading our post.
1. Nimbus Note, powered by Nimbus Platform™
Nimbus Platform™ helps companies and individual users collect and store multi-format data. It is designed to transform your information into a powerful workflow that smoothes your work and collaboration. Nimbus is a perfect solution for those willing to collaborate with their teammates and create Intra- or Extranets for more convenient and effective task completion.
It started as a note-taking solution for those who love creating action plans, drafting checklists, and saving their ideas on more reliable sources than just a paper notebook. In several years, it has become a competitive app for organizing your projects & collaborating with teammates. Today, Nimbus Note is a worthy alternative to the OneNote app.
Since it's now aimed at multi-format information, you're able to store all sorts of data there within your super Nimbus notes: tables, images, databases, embedded data, and simple texts. Plus, you may store all of it in dedicated folders to keep your massive load of files and notes in order.
By the way, Nimbus Note works on any platform: Windows, macOS, Android, iOS, and on the web. You can work both online and offline if needed.
Let's check out the Nimbus Note key features:
Drag & Drop blocks for quick editing and uploading;
Tables for better data organization;
Integration with other apps (Google Docs, YouTube, Calendly, Google Calendar, etc.) for seamless file and information transmission;
Advanced text search functionality;
Super notes where you can store multi-format files like videos, images, and texts;
Easy sharing of your notes with anybody;
Web clipper that helps you save pieces of content and annotate them.
As for the pricing plans, you can get Free, Pro, or Business accounts. See the prices here>
Now, let's talk about the advantages/disadvantages of Nimbus Note.
Pros
User-friendly, intuitive interface — a perfect tool both for newbies who have just started using note-taking tools and those who have tried a ton of them. It's a perfect combination of complex features and ease of use;
Multi-functional editor — take over your content to the fullest. In Nimbus Note, you can add headings, change background colors and use buttons, hints & many other objects for better-structured content in your notes;
Control over your data. You can choose permissions for different team members according to their roles in the company. You can also forbid downloading of files and editing of selected blocks;
No device restrictions — easily sync your dashboards and files in a matter of a few seconds to get them on any device of your choice;
Easy sharing functions — even if someone's not using Nimbus Note, you're still able to share the notes with them. This simplifies remote collaboration as it only takes a link to share it all with others;
Customizable workspace — you may give your dashboards a personal touch and even make them part of your brand's ecosystem. This increases trust and loyalty among customers and colleagues using your corporate Nimbus Note.
Cons
Not all subscription types give access to a particular feature, obviously. For instance, without a Business account, you can't add script integrations. But you can start the Business trial for free (no credit card is required) and explore all Nimbus features to see if you like it as an OneNote alternative;
No backlink management — you can create one-way links between your pages;
Absence of built-in formulas for Nimbus tables. You can't add complex formulas to your tables like in Excel or Google Sheets.
You can make great use of Nimbus Note and surely replace Microsoft OneNote with it. This alternative is perfect for collaborative work from anywhere in the world. It is also great for personal use and professional organization of your work with clients. Nimbus Note is sleek, convenient, and secure to use — try it and its functions yourself!
Do you want to know more about the difference between Nimbus and OneNote?
2. Notion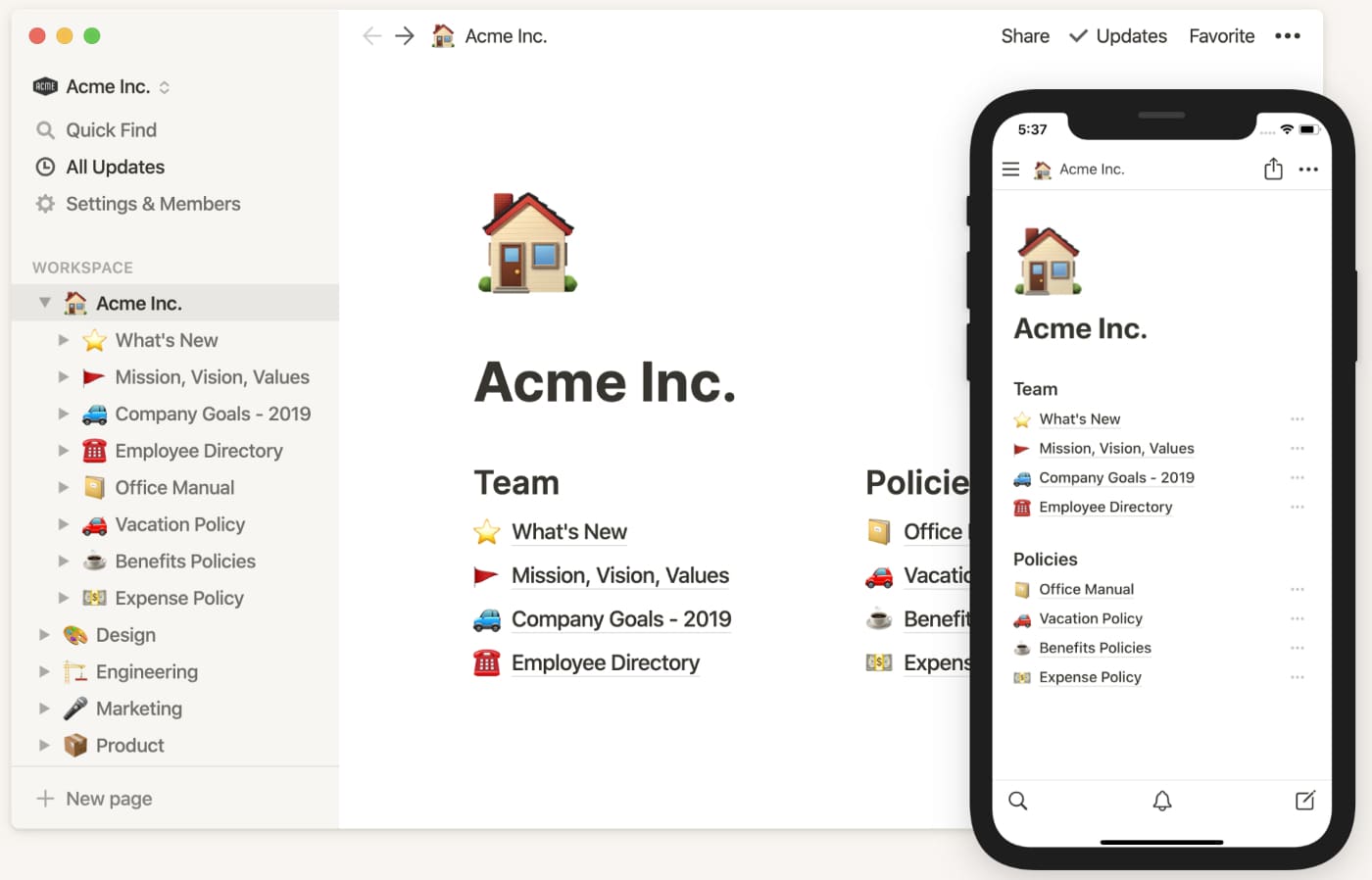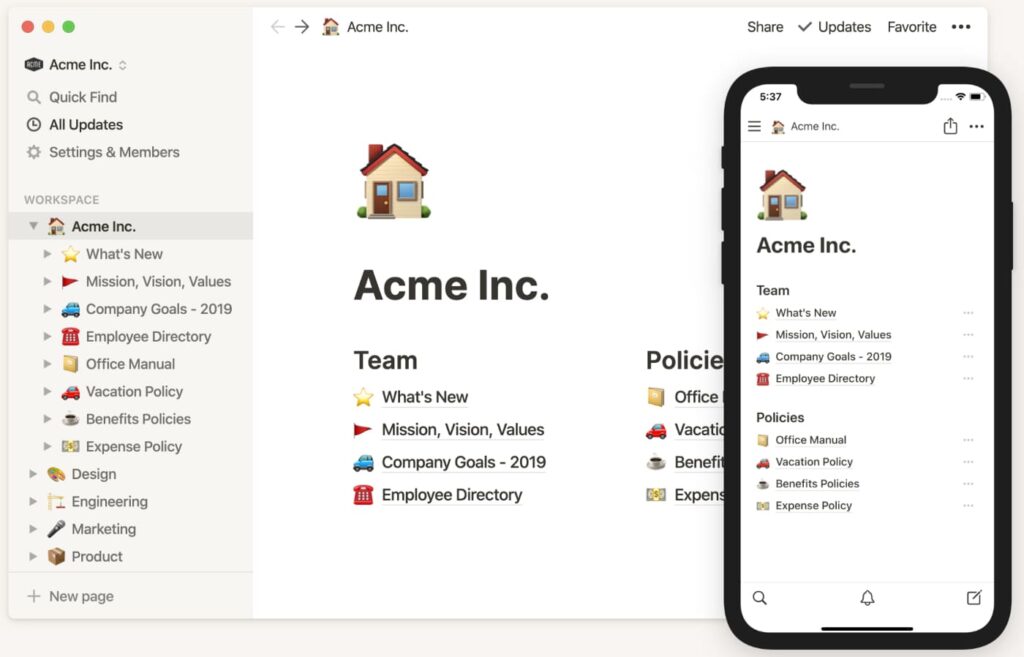 Notion is one of the alternatives to OneNote. It's perfect for project and time management, both at work and for personal use. You can create your own work environment inside Notion and use its functions for planning and creating more notes.
But you should know it from the beginning: it might be complicated to start using Notion. There are many add-ons for Notion that can help you out and create appealing notes. With these add-ons, you can add descriptions, deadlines, and assignees to every point of the list, email, in-app notifications, etc. However, be aware that you'll need to download these add-ons first and learn how to integrate them wisely. If you're ready to invest a lot of your time in creating your custom personal management system, learn by trial and error just to make it fit your specific desires and needs – then Notion can be your perfect choice!
Notion offers free plans for individual usage and paid corporate plans from $4/month. You may pick from a Personal, Personal Pro, Team, and Enterprise account. This OneNote alternative can be used on the web, Android, iOS, macOS, and Windows. So, what are its advantages and disadvantages?
Pros
Adequate task management opportunities;
Simplistic search function;
Convenient tagging for sorting responsibilities by event, importance, deadlines, and so on;
Rich embedding function for your notes.
Cons
Adequate task management opportunities;
It might be too complex alternative for big companies and newbies;
Inconvenient mobile version;
Quite limited opportunities to work offline — might be difficult to work only when you have access to the Internet;
It could be time-consuming to make your dashboard and notes look clear and appealing.
As you see, Notion is quite cool but lacks convenience in usage compared to Nimbus Note. This is one of its main disadvantages. Plus, it may take a while to learn how all of its features work, so you'll need to Google a lot.
Do you want to find out about the differences between Nimbus Note and Notion? Take a look at our comparison page.
3. Evernote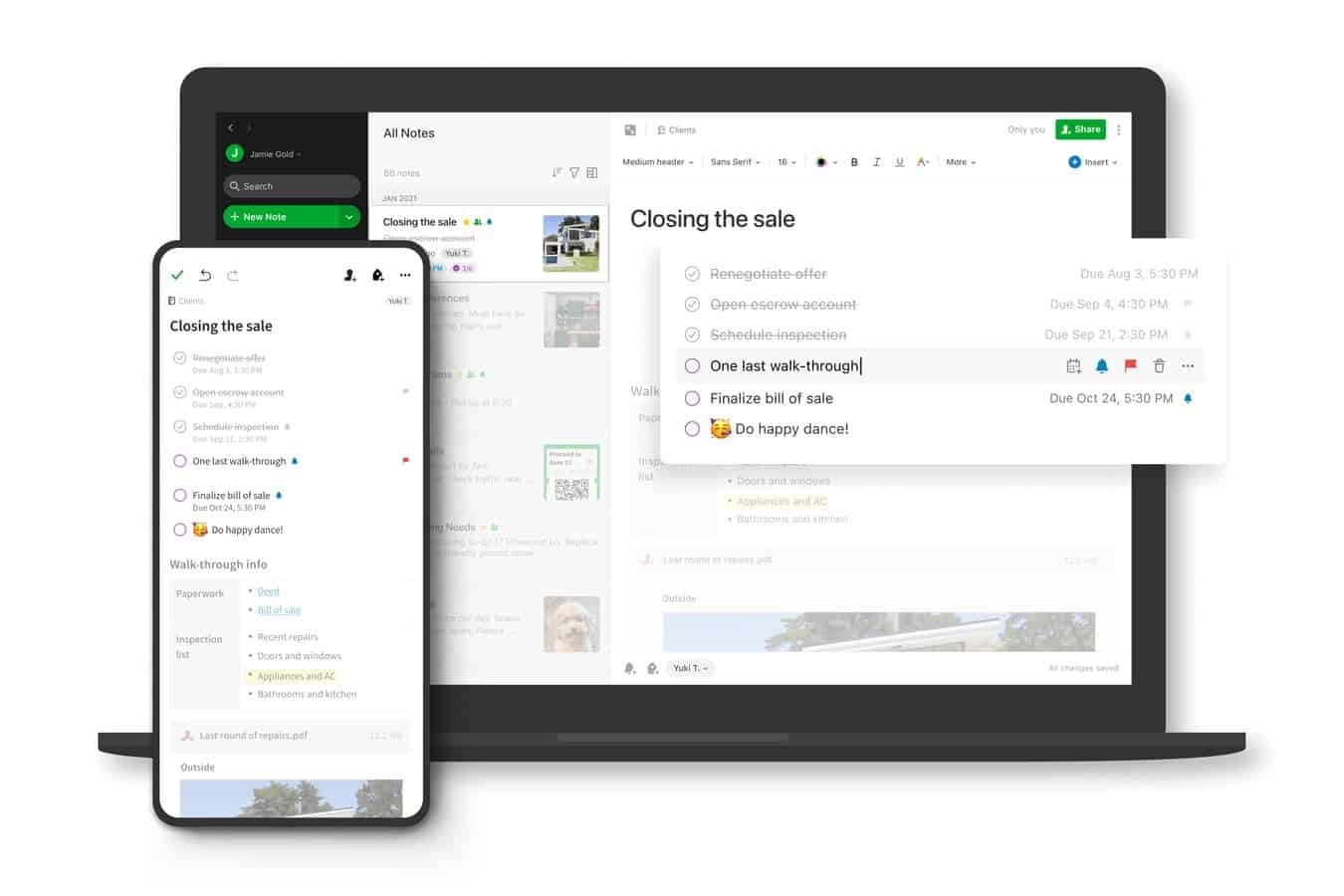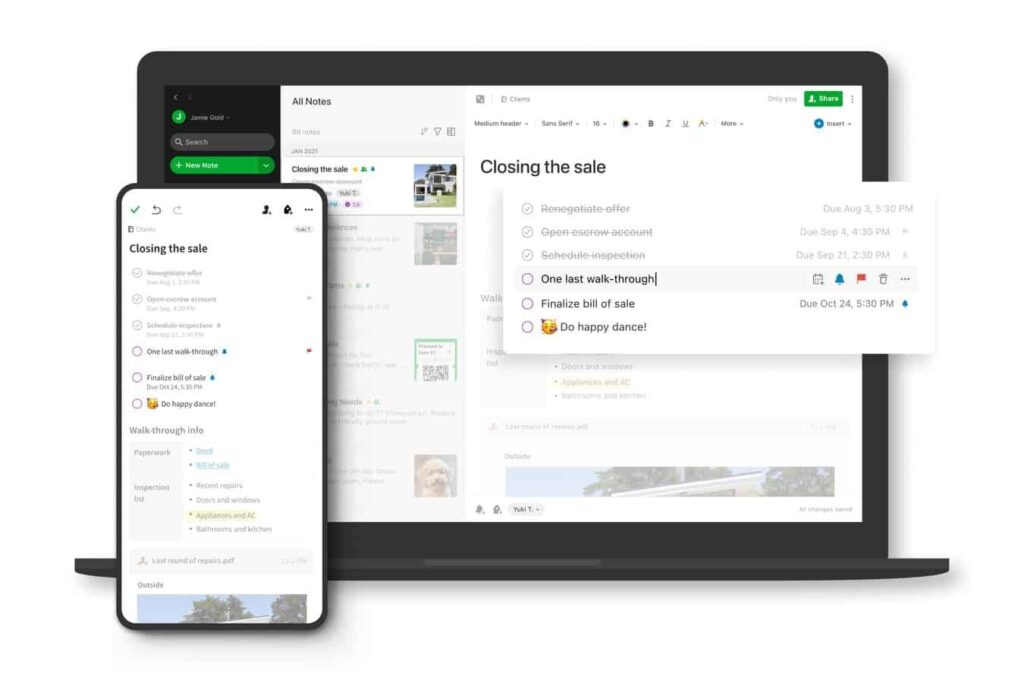 One of the oldest web tools to create notes, Evernote still remains quite popular today. It's a good alternative to OneNote too.
Evernote is easy to use from the very first minutes you launch it. Some of its key features include the ability to scan and save files, convenient note storage, and no excessive complexity in functions. One of its biggest advantages is simplicity. It allows you to add handwritten notes, sync notes, and enjoy simplistic text formatting, a web clipper, various files and Google calendar integrations.
This web application for your notes works on any Mac, Windows PC, Android, and iOS device. The monthly subscriptions can be Free, Personal, and Professional. The minimal payment plan goes for $7.99/month. So what are the advantages/disadvantages here?
Pros
Searchable text of your notes in various formats, including PDFs;
Note templates for multiple purposes: from business plans to yearly goals and weight loss trackers;
Simplified note search function and syncing options;
Advanced task tracker to keep an eye on every small thing that's going on;
Spaces for dedicating relevant people to a variety of tasks — to not confuse everyone's responsibilities and overload people with excessive information.
Cons
It's a better alternative to your paper notebook but, to be honest, it's quite similar to a material notebook. There are not many significant functions and advancements;
A somewhat outdated note-taking solution from the point of view of design and features;
No ability to protect personal notes with passwords;
Glitchy work before update releases;
Poor support with long response times.
Even though it remains quite popular, Evernote is now becoming a little bit old-school and limited in features. As an OneNote alternative, it isn't as advanced and modern as Nimbus Note, and it's difficult to work with once a new update is about to launch.
Want to know more about notes in Evernote compared to Nimbus Note? You can find out the main differences between these two solutions here>
4. Apple Notes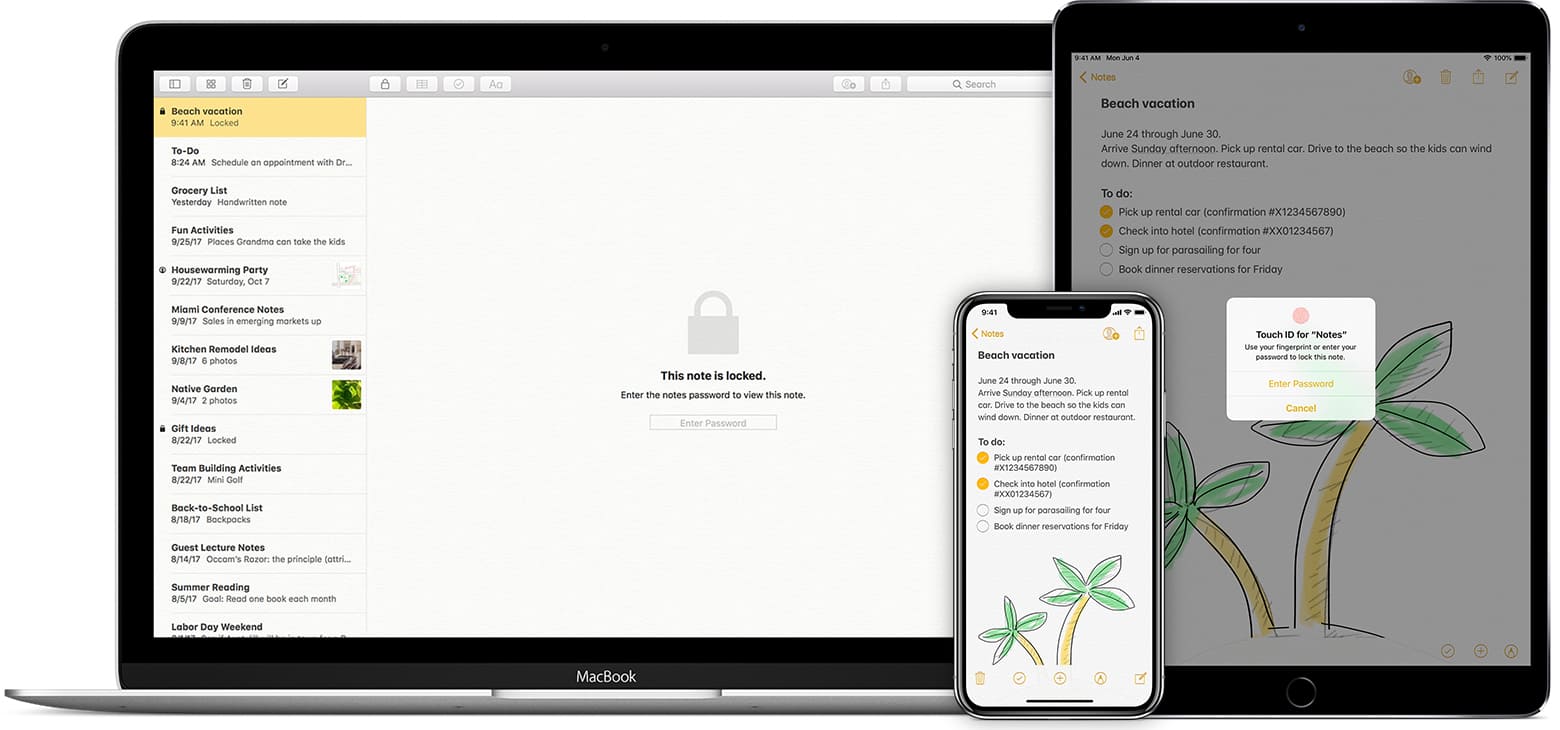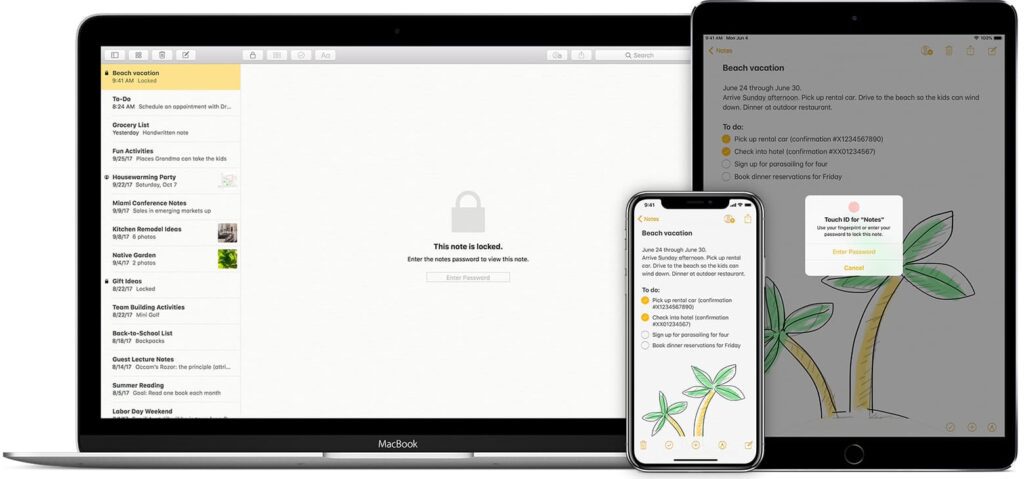 Who'd think Apple would take their Notes app that seriously? Its brand-new relaunch has been a revelation to many Apple-based users. With various freshly-added features like text formatting and document scanning, it is now a great option for those who switched from paper notes to digital ones. And yes, it's a way more pleasant alternative to OneNote.
Unfortunately, it works only on macOS and iOS gadgets. Plus, its functionality is quite limited. However, it's 100% free to use — you don't need to pay for extra add-ons. What advantages/disadvantages does it have? Let's see what you can do in your notes:
Pros
Perfect for mobile usage;
Comprehensive to use and navigate;
Convenient note search function;
Key text formatting features are available;
Integration with a variety of media files;
Document scanning is available.
Cons
Apple-only compatibility;
Notes has limited functionality compared to more advanced solutions;
Few editing options are available;
Little storage space.
Although Apple has put quite a lot of effort into bringing its free Notes app to a new level, it still can't do everything you need: you can use only a basic text for your notes. Plus, it only works on iOS and macOS, making this OneNote alternative less universal and widespread among users.
5. Simplenote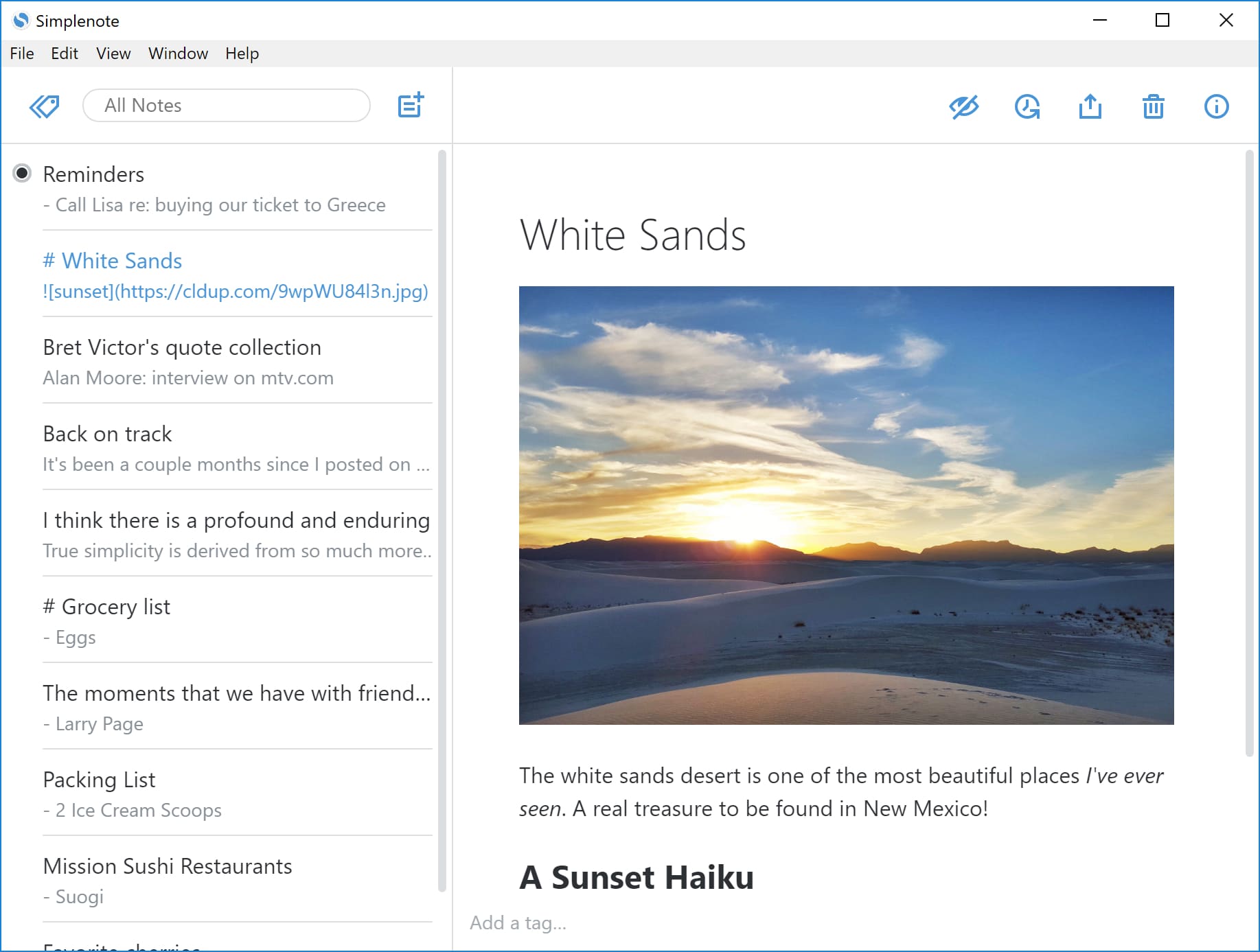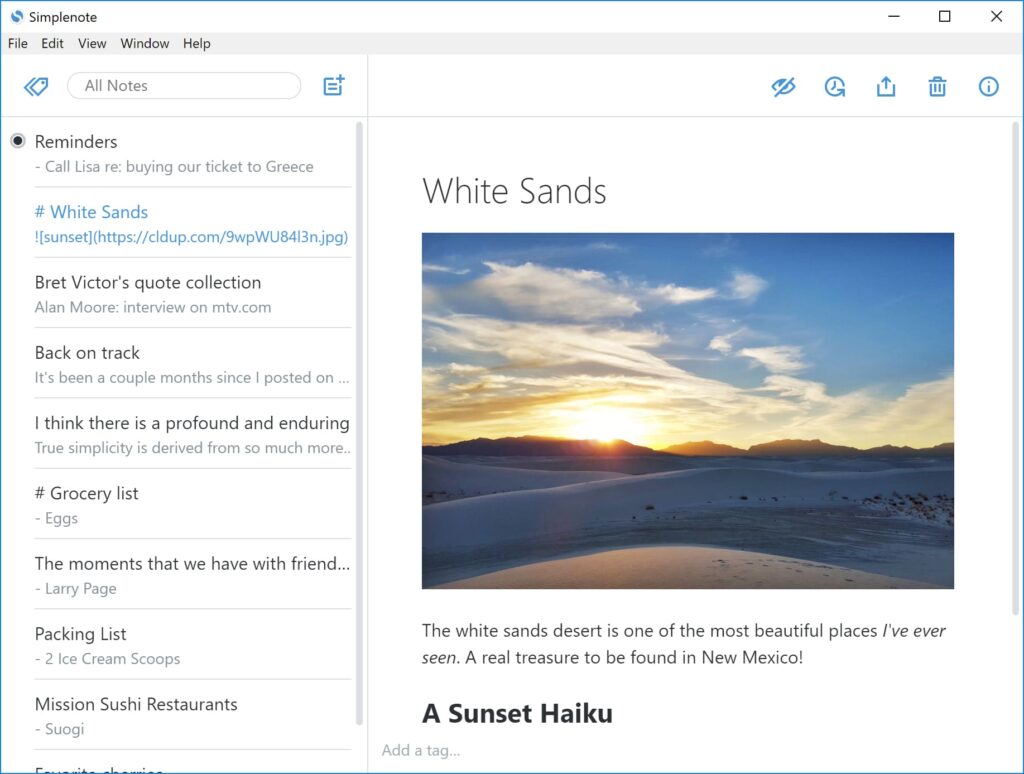 This is a minimalistic alternative to OneNote. Simplenote is a mobile and web application and a great notebook app. It helps you organize your notes and structure the action planning. As the name says, it's easy to use and doesn't require any extra skills or knowledge to work properly with Simplenote.
You can use tagging, search function, and even the note history to track all the changes you've made. The app allows you to share notes via links and create checklists. Sounds pretty good for non-sophisticated tasks, yeah?
Simplenote works on macOS, iOS, Windows, Android, and Linux. Plus, compared to OneNote, it's a free alternative. You can enjoy its functions from any platform or device available. Let's see the advantages and disadvantages of taking your notes in Simplenote.
Pros
Simple usage throughout various platforms;
Note previews before publishing them;
Simple cross-reference between notes via links.
Cons
Too simplistic for complicated tasks — might lack features;
No optimized organization of sensitive information in your notes;
Little task management opportunities.
Simplenote is a better OneNote alternative for personal usage. It's a minimalistic not-so-complex tool, with functions for those who want nice action planning without diving into any specifics. Still, it's better to use a more advanced alternative for corporate tasks and multiple collaborators. Simplenote won't cope with such a massive workload and its functions are quite simple.
6. Confluence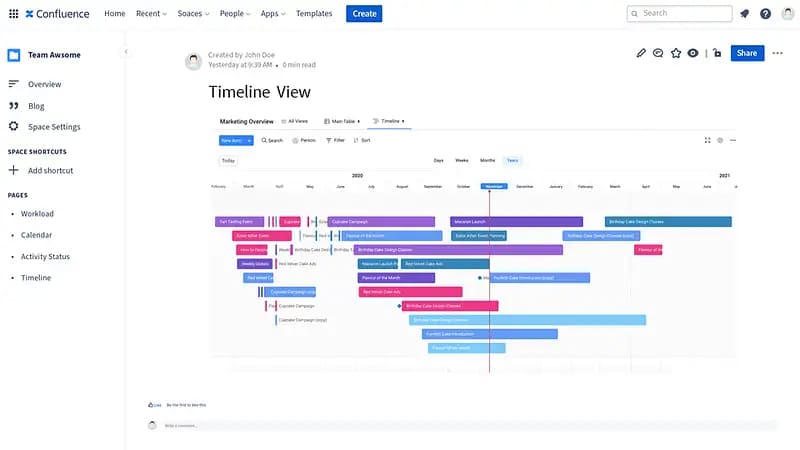 This is an Atlassian-based solution for large enterprises with sophisticated functions and approaches. It's one of the best tools for knowledge management and project cooperation — especially if you're working remotely. Confluence helps with project planning and facilitates providing feedback from multiple parties. As a OneNote alternative, the app does its job pretty well.
Some of the most helpful features of the notebook include integration with Jira issues, Trello boards, Google services, and roadmaps for improved management and quick navigation through any process you're involved in. Plus, it offers over 100 project outline templates and a great search function that allows you to make collaboration smoother for everyone. If it's too hard for you to understand how it works — there are plenty of tutorials on Google.
Confluence is available for various web browsers like Chrome, Opera, Firefox, or Safari. It also works on Windows, macOS, iOS, Android, and Linux. As for the subscription types, it offers Free, Standard, Premium, and Enterprise packages starting from $5.50 per user a month.
Pros
Perfect for big enterprises and multi-layer, complex task management;
Compatible with over 3000 marketplaces;
You always can create notes and keep all tasks and comments in one place;
Inline comments and accelerated feedback systems;
Transparent editing features with the ability to see the timeline of all the changes.
Cons
Bad investment if less than ten people are working in the company;
Poorly developed in-app search function;
Some actions require third-party plugins;
Inconvenient design;
Lack of good free templates.
As you can see, Confluence is a great OneNote replacement. However, it's true only in a specific case — when you have a large company and use a paid subscription. This notebook app is somewhat hard to navigate compared to other alternatives and it offers functions like project plan templates. Consider using it for sophisticated tasks, and only if your company is big enough.
7. Notejoy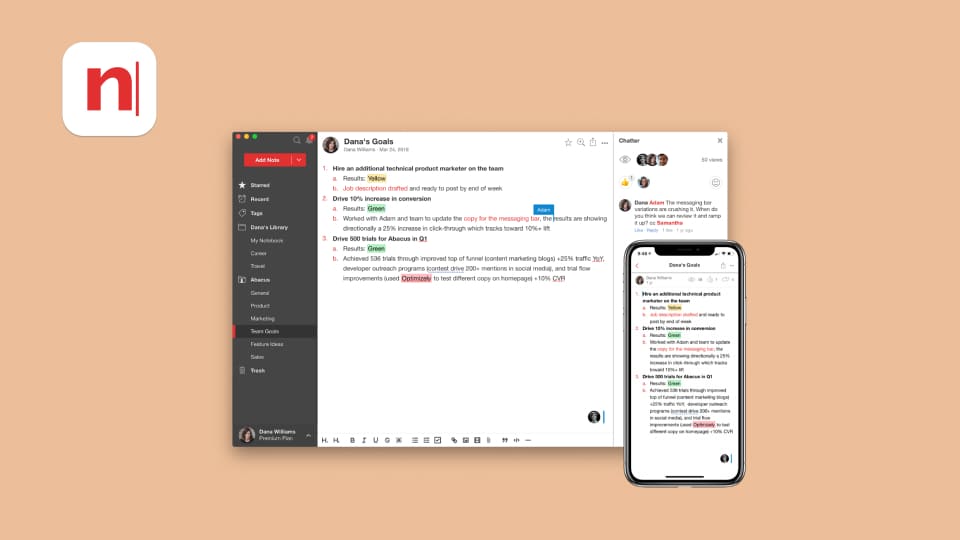 This is one of the nicest OneNote alternatives for those who love real-time collaboration and have little opportunity to work together at the office. With such functions as adding reactions, the web clipper, and live chats, this notebook solution indeed makes task management fun and easy with communication and responsibility delegation. And yes, it can import notes from OneNote!
What can this OneNote alternative offer you?
Image galleries for your notes — drag & drop, copy & paste features allow you to quickly upload a bunch of images at once;
Markdown and shortcuts — easy to set up a new note with quick keyboard combinations and markdowns;
Offline access for the most effective tool usage;
Focus view to remove any distraction from your desktop;
Team libraries — create separate workspaces for different teams you're working with.
The pricing plans include Free, Solo, Plus, and Premium. They cost $4, $8, and $12 per user per month, respectively. Like OneNote and Nimbus Note, Notejoy works in desktop, mobile, and browser versions, so you can use any alternative that works best for you.
Pros
Compatibility with all types of docs;
Web clipper feature in a browser extension like in Evernote and Nimbus Note;
Convenient collaborative editing;
Comprehensive search function in your notes;
End-to-end encryption and password protection for notes.
Cons
Limited text editing ability for your notes;
Lack of drawing tools;
A great number of features doesn't create a smooth workflow. Many features are just out of place and aren't used by newcomers or experienced users;
Somewhat complicated interface.
Notejoy, as a OneNote alternative, is helpful for effective task management and is full of extra features that simplify the overall experience. However, these functions don't always meet the main customer needs. As a result, users tend to complain that some of the most essential features like offline access or text search aren't there. You can compare Nimbus Note to Notejoy and see the difference of both alternatives and relevance of wide range of functions right here.
8. Bear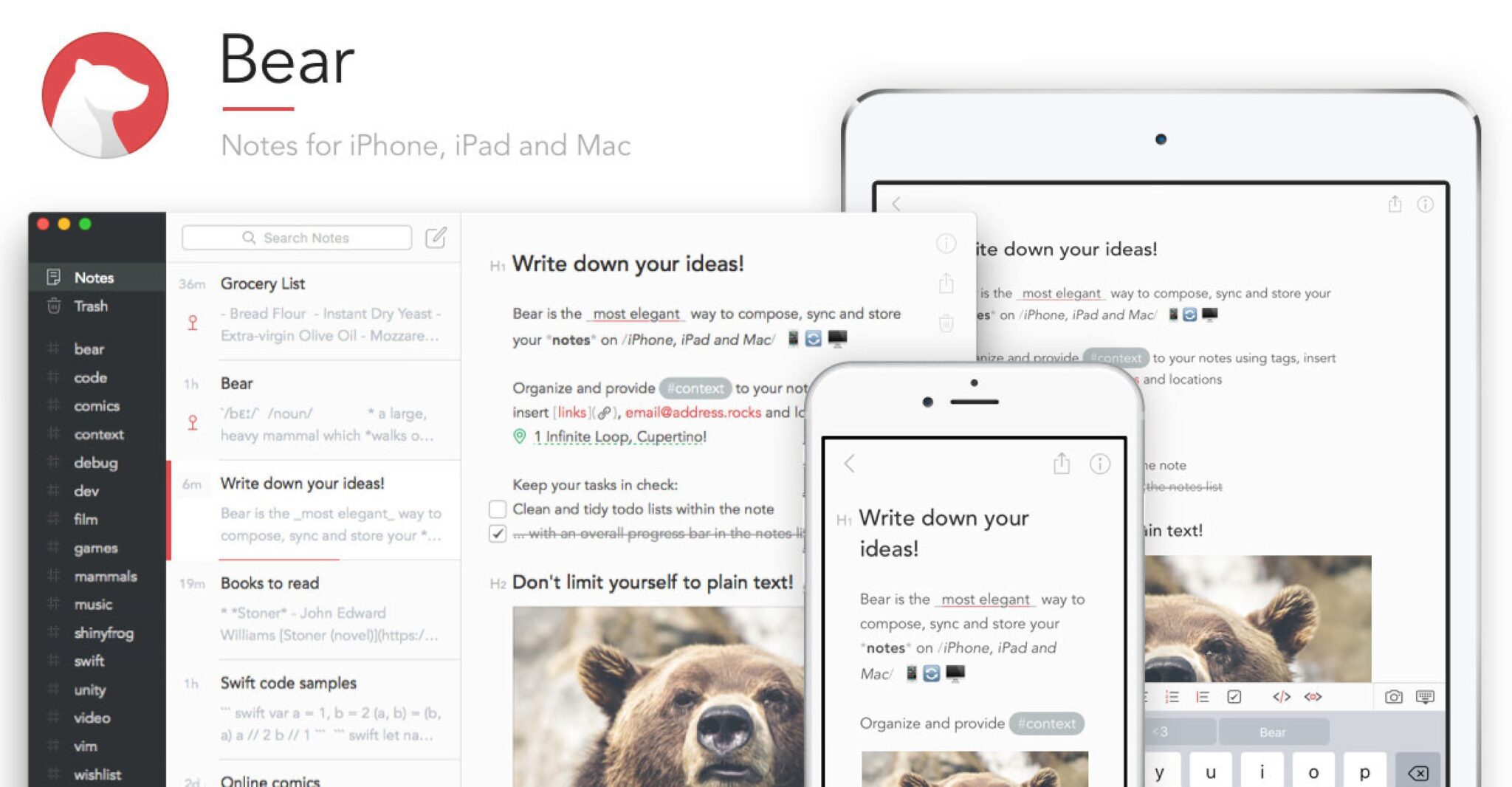 Bear is a popular OneNote substitute among content creators and students — its seamless and intuitive interface facilitates their task management issues right away. Using the notebook app is no rocket science — it's minimalistic, and you have all its features in one place. What makes Bear a great alternative is its wide range of text editing functions and inclusive settings like dark or night mode.
Plus, you can be ensured your notes and tasks are protected: Bear allows data encryption functions and access via passwords and Face / Touch ID. With this tool, you can do an iCloud multi-device sync, enjoy various export options, and use cross-note links for faster and more effective interaction.
Bear, unlike OneNote, works only on Apple devices. However, this notebook app offers reasonable pricing conditions. You can pay $1.49 monthly and enjoy a one-week free trial. You can also pay $14.99 annually and get a one-month free trial. Some of the key advantages and disadvantages include:
Pros
Multiple styling options for texts and layouts;
Advanced features for texts like reading time and word count;
Professional markup editor with over 150 programming languages supported;
Useful hashtag sorting functions for faster navigation and finding a necessary file category;
Smart data recognition for your notes.
Cons
Only available to Apple users;
No note-sharing feature;
Most of the necessary notebook features are paid;
More suitable for creative writers and bloggers rather than other types of jobs;
Too minimalistic range of functions for your needs.
Although Bear looks nice and provides various useful features, its scope of usage is quite narrow. This OneNote alternative is mostly popular among writers and those who are working with texts and notes rather than project management and task planning.
However, its functions are still great for taking notes — and making some beautiful ones. It's a nice go-to OneNote alternative with useful and comprehensive features. Google it and see how it works.
Conclusion
With such a wide range of OneNote alternatives, it's hard to realize what mobile, desktop, or web application will fit you best. Here's a quick wrap-up of the top contenders and what functions they're most suitable for:
Nimbus Note — a perfect alternative for both remote working teams and personal use. Being a part of the Nimbus Platform™, it offers great collaborative features to simplify and improve project management. It's got way more features than Onenote does and offers fair pricing;
Notion — minimalistic in terms of design yet overcomplicated in terms of functionality. You can use it for creating notes, team projects and detailed planning;
Evernote — a simplistic old-school note-taking app. Very similar to your paper notebook online;
Apple Notes — a perfect native iOS alternative for quick notes and checklists;
Simplenote — a simple notebook app to use on the go for personal matters and ideas;
Confluence — a great complex tool for big enterprises with detailed project planning;
Notejoy — perfect for collaborative projects with fast editing and multiple file formats support for your notes;
Bear — an excellent notebook solution for content creators and bloggers who use iOS and need text formatting features.
As you can see, each alternative serves a particular goal. Whether you only want to create notes or improve your team's productivity, you need to understand exactly what you need to pick the right solution.
However, if your primary goal is to improve collaboration and project management in your team, Nimbus Note is your top choice. It's perfect for remote work and fast communication with your colleagues. Use it for creating meeting notes, tracking your progress and streamlining your team! It supports a wide range of formats and has no device restrictions, which makes its functions accessible to literally anyone.
Try Nimbus Note for free to see how you can boost productivity and make your workflow much easier!
Disclaimer
Parties other than Nimbus Platform™ may provide products, services, recommendations, or views on the Nimbus Platform™ site ("Third Party Materials"). Nimbus Platform™ is not responsible for examining or evaluating such Third Party Materials, and does not provide any warranties relating to the Third Party Materials. Links to such Third Party Materials are for your convenience and do not constitute an endorsement of such Third Party Materials.
Previous post
5 Best Organization Apps to Streamline Your Business in 2023
Next post
Best 5 Free Microsoft Word Alternatives to Use in 2023