Top 7 Self-Service Software Platforms in 2023
Improve your business through customer self-service with Nimbus experts
Book a demo
Just imagine: Your customer has a problem, and instead of terrorizing your support team, they find an answer and resolve it on their own. Yes, the self-service economy is already here. And in this article, we will explore the magic of self-service software platforms that make it happen.
With 24/7 access to knowledge bases, interactive tutorials and responsive AI-powered chatbots, self-service customer portals make your customer their own support superhero. So, whether you are a business owner looking to increase customer satisfaction or just stumbled across this article while surfing the Net for interesting information, join us as we explore the wonders of the self-service model and review the best customer self-service software platforms available in the market today.
What Is Customer Self-Service Software?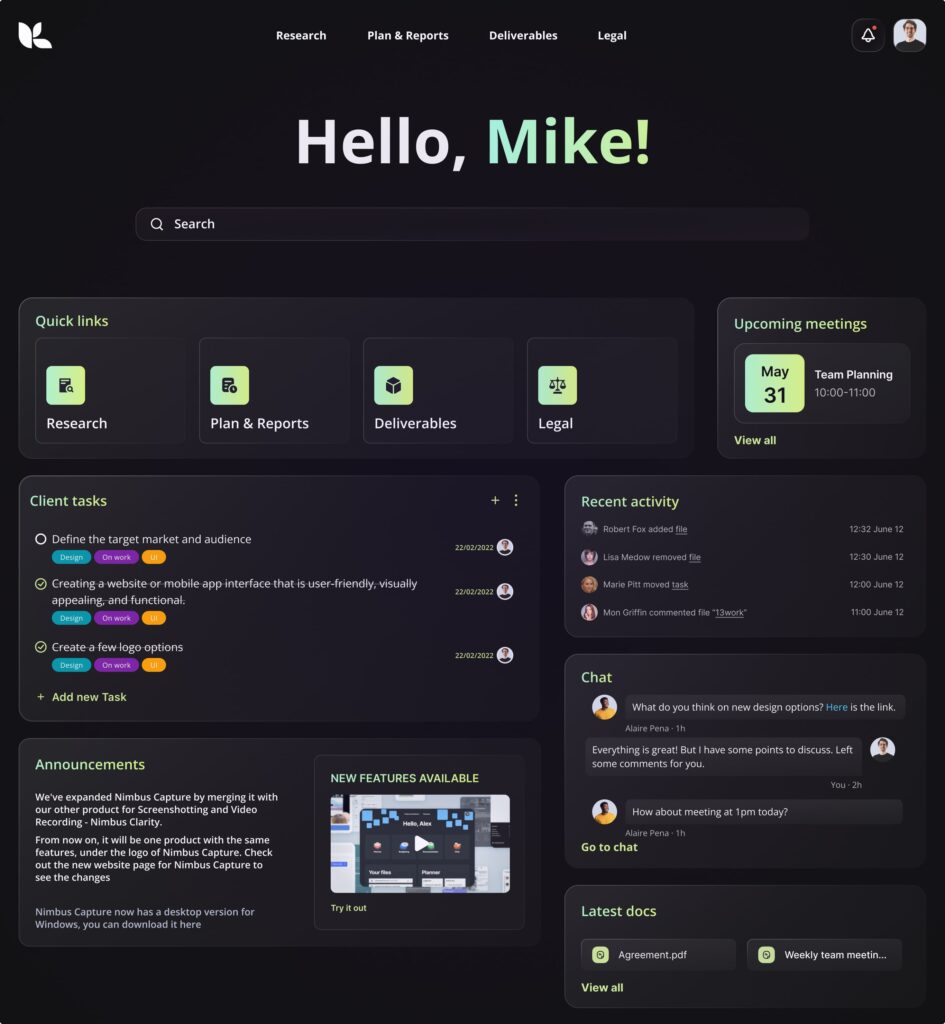 Self-service software is a type of software that enables customers to access information related to their customer experience and perform routine tasks without any assistance from a live customer service representative. Among the most popular self-service software tools one should mention a knowledge base portal, FAQ, user guides, video tutorials, community forums, and AI-powered chatbots – despite being very different, these tools have one thing in common: they help customers find solutions to their issues independently.
The primary objective of customer self-service software is to make it easier for customers to solve their problems, which leads to faster resolution times and happier clients. Self-service softwarealso helps reduce the workload on a customer service team, allowing customer support employees to focus on more challenging issues that require human assistance.
Benefits of Using a Customer Self-Service Portal
Are your customer service representatives flooded with support tickets? Implementing self-service software brings multiple benefits for both businesses and customers. Let's discover them all.
Faster Issue Resolution
With self-service options like knowledge bases, FAQs and troubleshooting guides, clients can quickly find answers to their questions on their own without outside help. This reduces the need for contacting the customer support center and speeds up issue resolution. Tired of answering repetitive questions? A comprehensive knowledge base is what you need.
Cost Efficiency
Customer self-service software helps businesses reduce support center costs by reducing the volume of incoming support requests. When clients can find answers independently, fewer resources are required to handle repetitive inquiries, freeing up support agents to focus on more complex issues. Simply provide your customers with self-support via a knowledge base, a self-service portal or a self-service help center and reap all the benefits.
Improved Customer Satisfaction
When customers have access to self-service options, they can discover solutions at their own pace, which greatly improves their overall customer experience. Whether it's through a self-support help center, an AI-powered chatbot or a self-service portal, your clients will definitely appreciate the chance to resolve their issues on their own.
Scalability and Consistency
Using the power of self-service platforms, businesses can handle a higher volume of customer inquiries without adding significant support resources. Self-service software guarantees consistent information and support across all self-service interactions, regardless of the time or location. Once a knowledge base is created, it becomes a valuable resource that can be utilized by countless customers.
Empowering Customers
By providing self-service options, businesses empower customers to take control of their own customer experiences, which instills a sense of independence and self-reliance. 67% of customers prefer self-service to speaking to a support agent, and this is precisely what self-service solutions, self-service portals and knowledge bases can assist you in achieving – the satisfaction of your clients.
Data Insights
Self-service software generates valuable up-to-date data on customer behavior, preferences and common issues. This data can be analyzed to identify trends, improve knowledge base content and enhance the overall customer experience.
Top-Ranked Customer Self-Service Tools
The self-service method of customer support aligns seamlessly with effective client management. By offering a customer self-service portal or utilizing self-service support software, businesses can empower their clients to take control of their support experience.
Choosing self-service software? Let's explore some of the best customer self-service software solutions available in today's market.
1. Nimbus Platform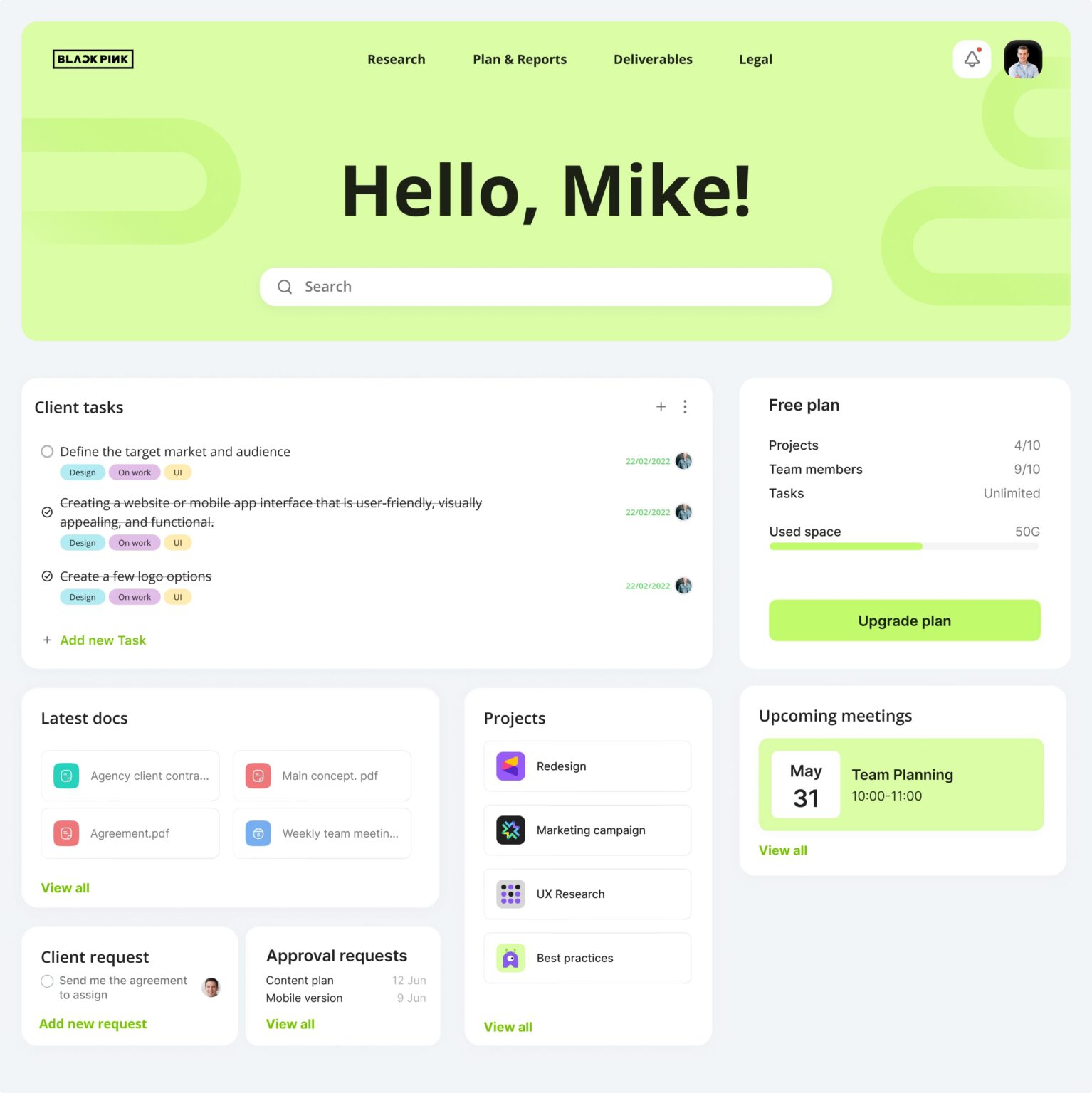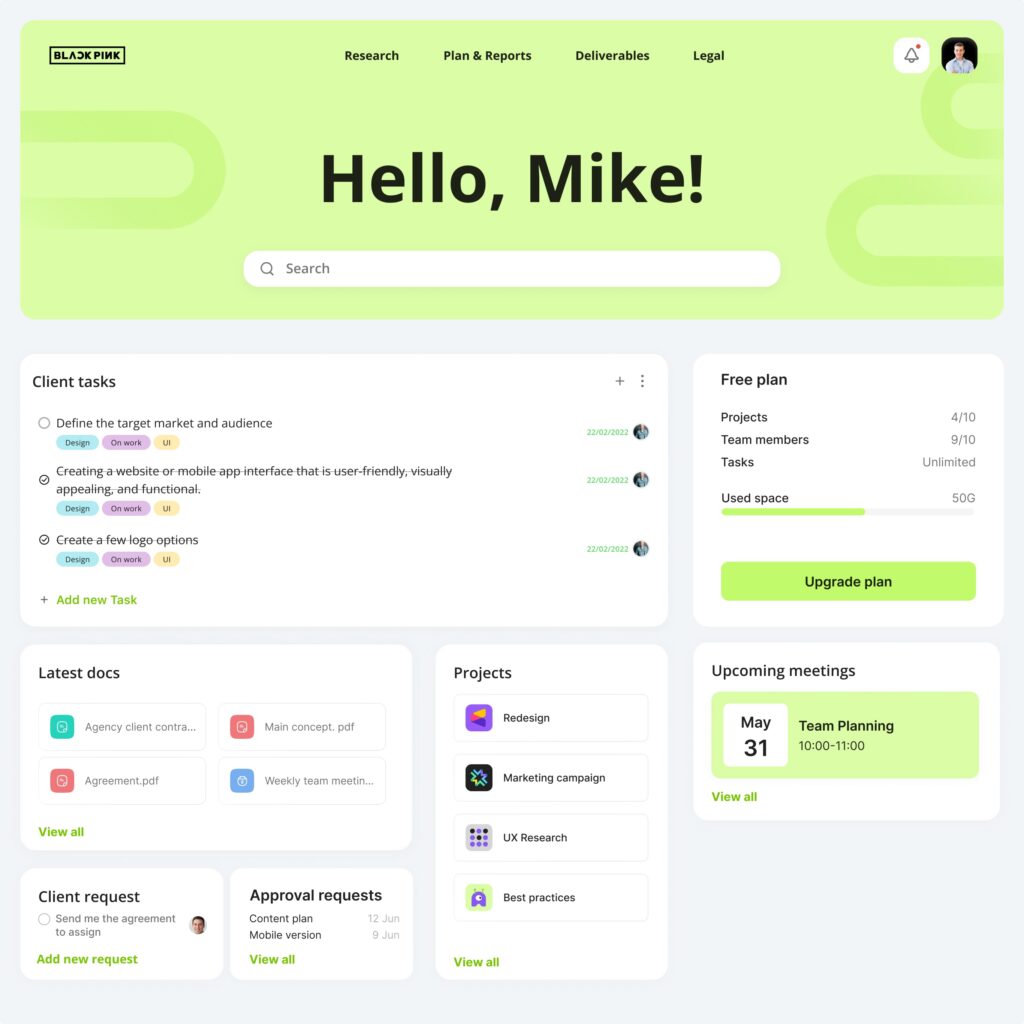 Nimbus Platform stands out as an exceptional solution in the realm of customer self-service software in 2023. Its preeminent status is primarily derived from its comprehensive focus on self-service. The Nimbus self-service software empowers customers with robust, intuitive tools, facilitating a multitude of tasks without the need for direct assistance from a support representative.
Key Features:
Customer Self-Service Portal: Nimbus provides an intuitive self-service portal with a customizable user-friendly interface that allows clients to resolve their queries independently.
Self-Service Knowledge Base: With the Nimbus self-service software, you can create a comprehensive library of FAQs, tutorials and articles to provide instant help and educate customers. A well-built knowledge base can significantly reduce customer calls as it becomes the go-to solution instead of relying on support agents for assistance.
24/7 Accessibility: The Nimbus self-service portal allows you to organize a round-the-clock service that customers can access whenever they need it, regardless of the time zone or holidays.
Powerful Search Functionality: As customers type their queries, the system suggests possible solutions, reducing the time spent in searching for information.
Rich embedding capabilities and integrations: With Nimbus Platform, you can effortlessly insert a range of components, from Excel tables to YouTube videos, and even Nimbus pages themselves. This eradicates the need for switching between various tools, allowing for a more streamlined workflow.
Easy Sharing: Even without Nimbus accounts, your clients can access the pages you share with them. There's no requirement for advanced technical knowledge – simply supply them with a link.
Pricing:
Pricing begins at $9 per user per month, although there is also an option for a free plan and a free trial.
2. ZenDesk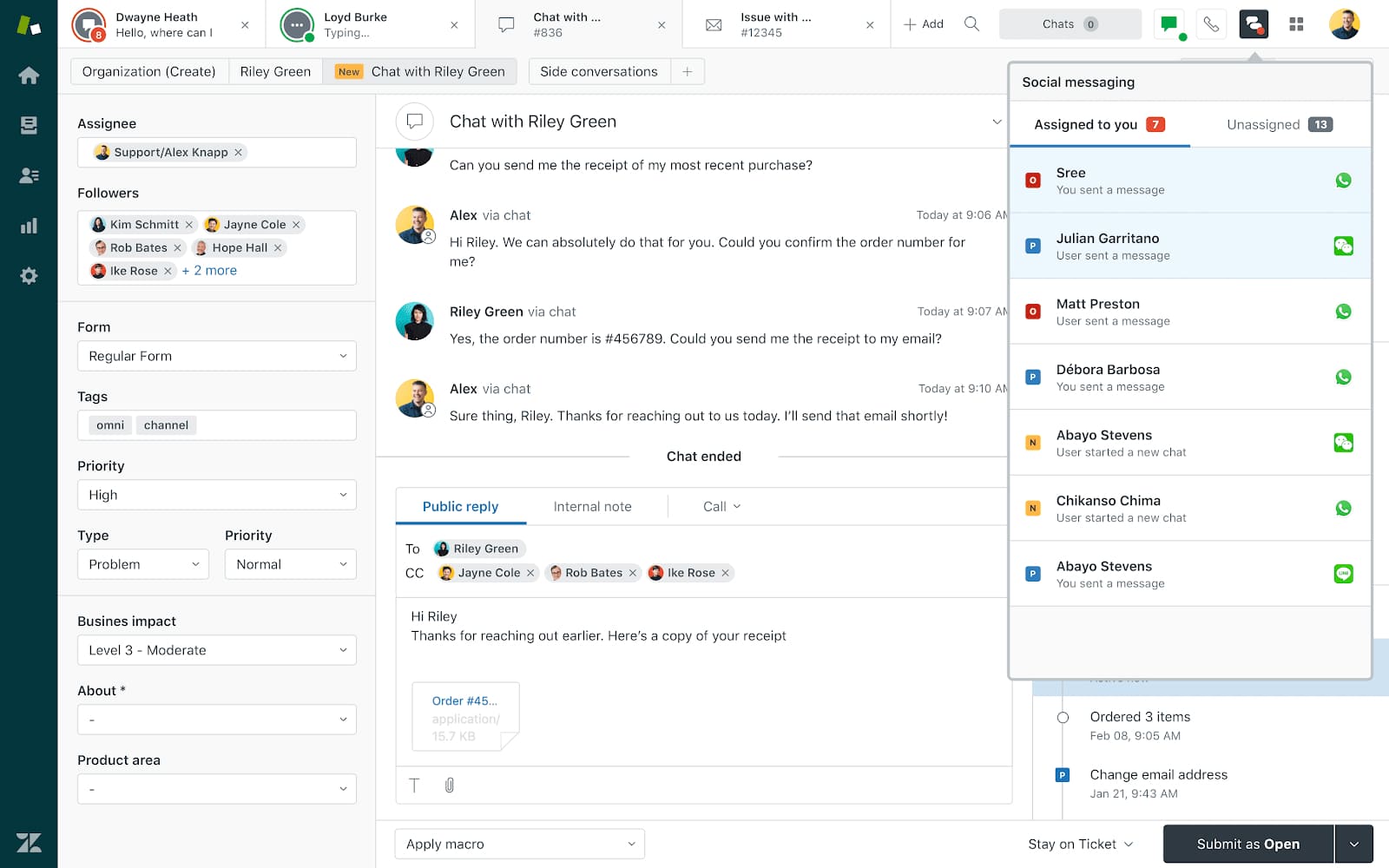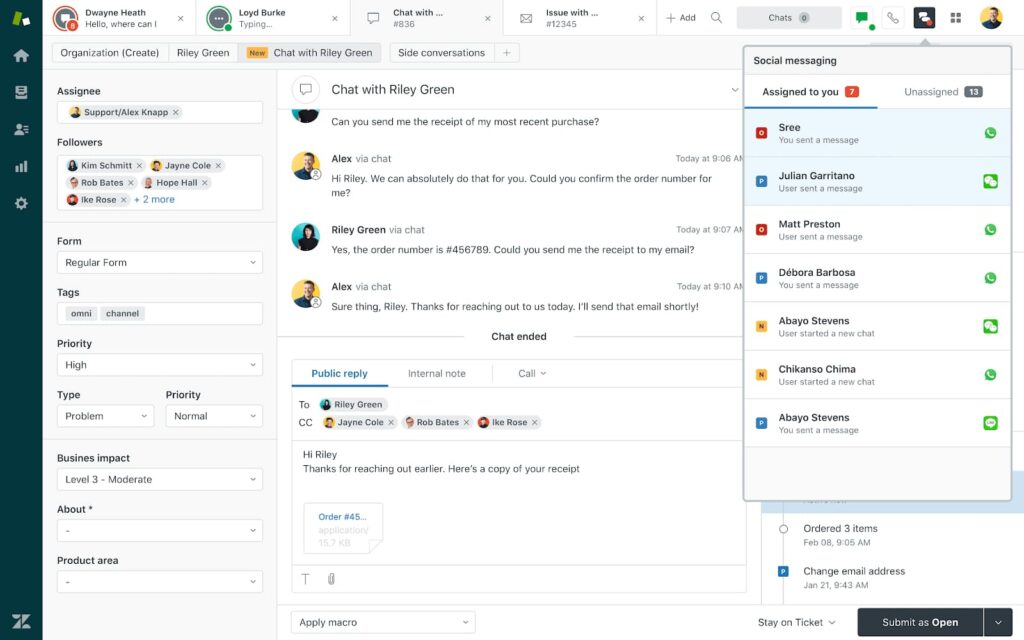 ZenDesk is a well-known customer service software provider that offers a range of cloud-based tools to improve communication between businesses and their customers, thereby helping the former build better customer relationships. With a focus on user self-service, ZenDesk enables customers to find answers to their questions quickly, reducing the need for direct interactions with the customer support team.
Key Features:
Knowledge Base: With ZenDesk, companies can create comprehensive and easily searchable knowledge management hubs that consist of FAQs, articles, how-to guides and are accessible at any time of the day or night. If your support agents are feeling exhausted from answering repetitive questions, a comprehensive knowledge base is exactly what you need.
Customer Portal: The ZenDesk Customer Portal is an easy way to let your customers conveniently access their support tickets, track their interactions with the sales and support teams, and browse self-service resources.
Community Forums: On forums, users can communicate with each other to solve issues, share ideas and discuss topics, creating an interactive self-help environment.
AI-Powered Bot: The ZenDesk self-service tool incorporates an intelligent bot that suggests users the relevant help articles or escalates complex queries to human agents.
Help Center: ZenDesk provides businesses with the ability to customize the look and feel of their help center to match their brand and impress their clients.
Multi-Channel Support: ZenDesk allows for self-service support across multiple channels, including web, mobile apps and social media.
Pricing:
Pricing for Zendesk Suite plans begins at $49 per agent per month, and there isn't a free plan available. However, you can road-test the Zendesk self-service system with a free trial.
3. Zoho Desk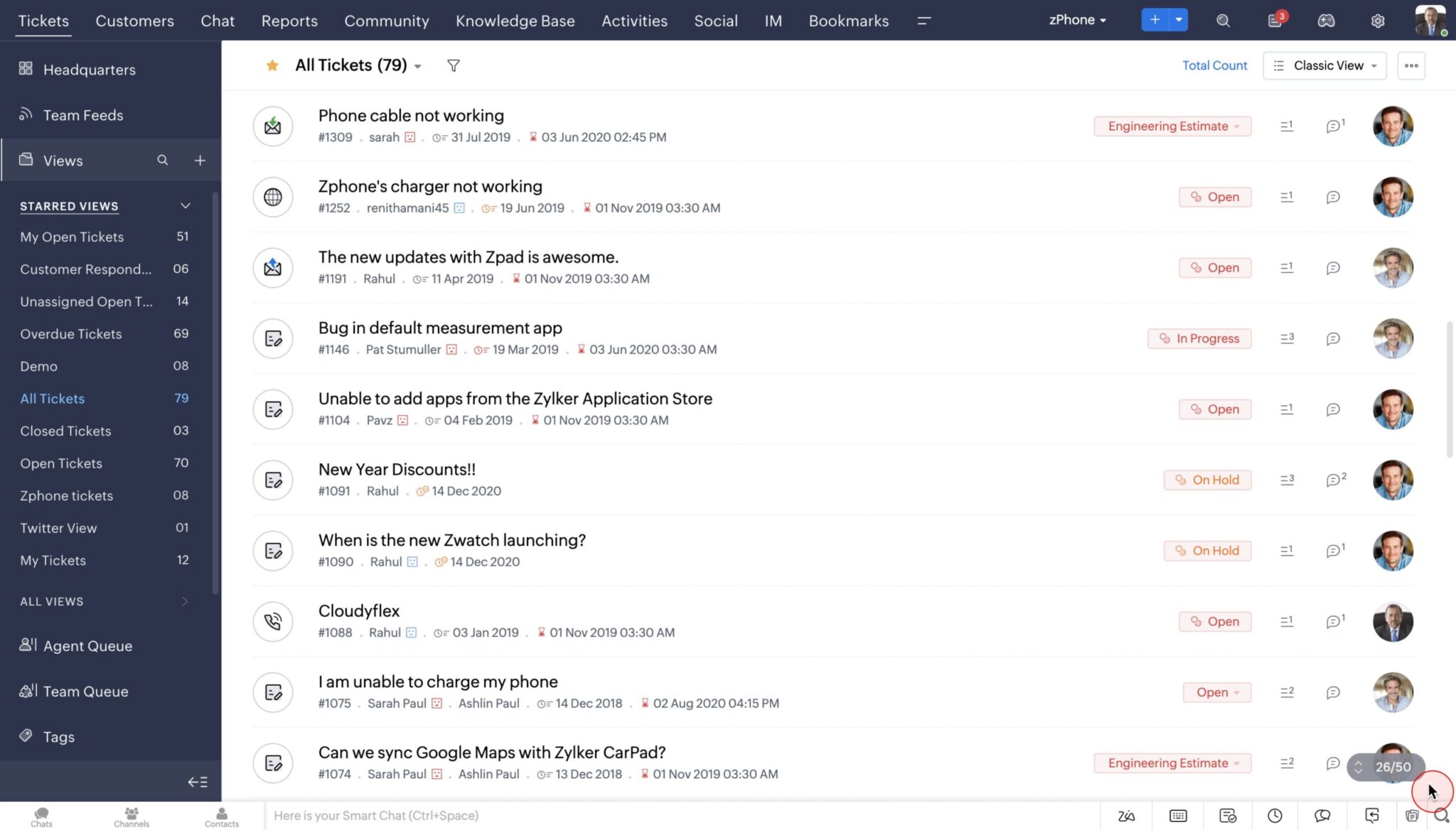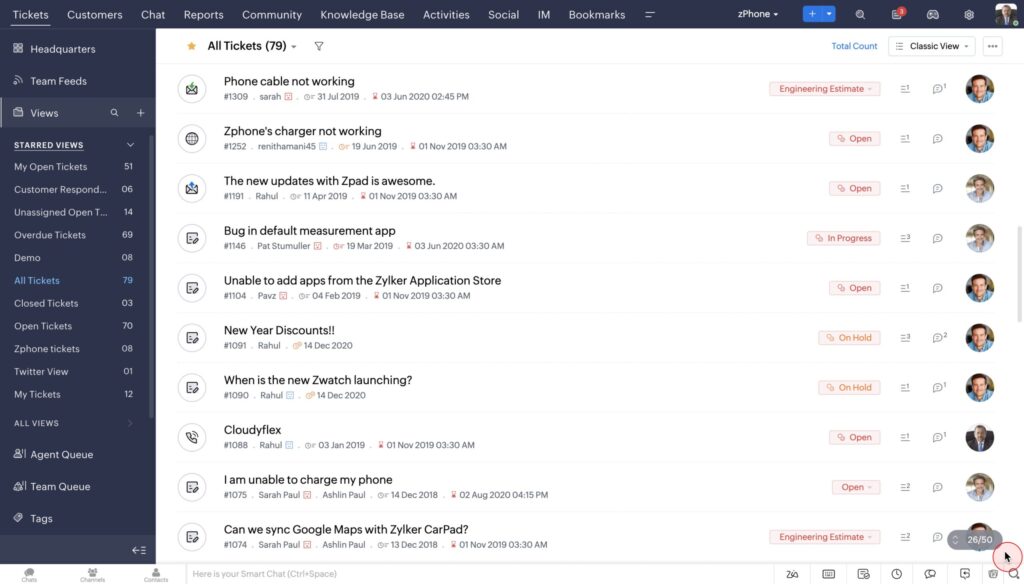 Zoho Desk is one of the best customer self-service software solutions that streamlines all your customer support activities. Zoho Desk boasts robust self-service capabilities and distinguishes itself from other self-service portals through its seamless integration with other Zoho applications, providing a comprehensive suite of tools for customer service, sales and marketing.
Key Features:
Multi-Channel Support: Zoho Desk allows customers to contact the support team across email, live chat, phone, social media and other channels.
Knowledge Management Tools: Zoho Desk software allows you to create a customer self-service portal with knowledge base articles and community forums where customers can find the necessary information and resolve their issues independently.
AI-Powered Assistance: Zia, Zoho's AI, helps automate routine tasks, predicts trends and generates AI-powered suggestions to both clients and agents.
Ticket Management: Its powerful support ticket organization tools help sort, categorize and prioritize customer requests efficiently.
Help Center: With Zoho Desk self-service software, businesses have the ability to customize and brand their customer self-service portal in order to create a lasting impression on customers.
Collaborative Teamwork: Built-in collaboration tools enable agents to communicate and collaborate effectively to quickly resolve customer issues.
Pricing:
Zoho Desk's most affordable plan, the Standard plan, starts at €14 per user per month when billed annually. A 15-day free trial is available.
4. HubSpot Service Hub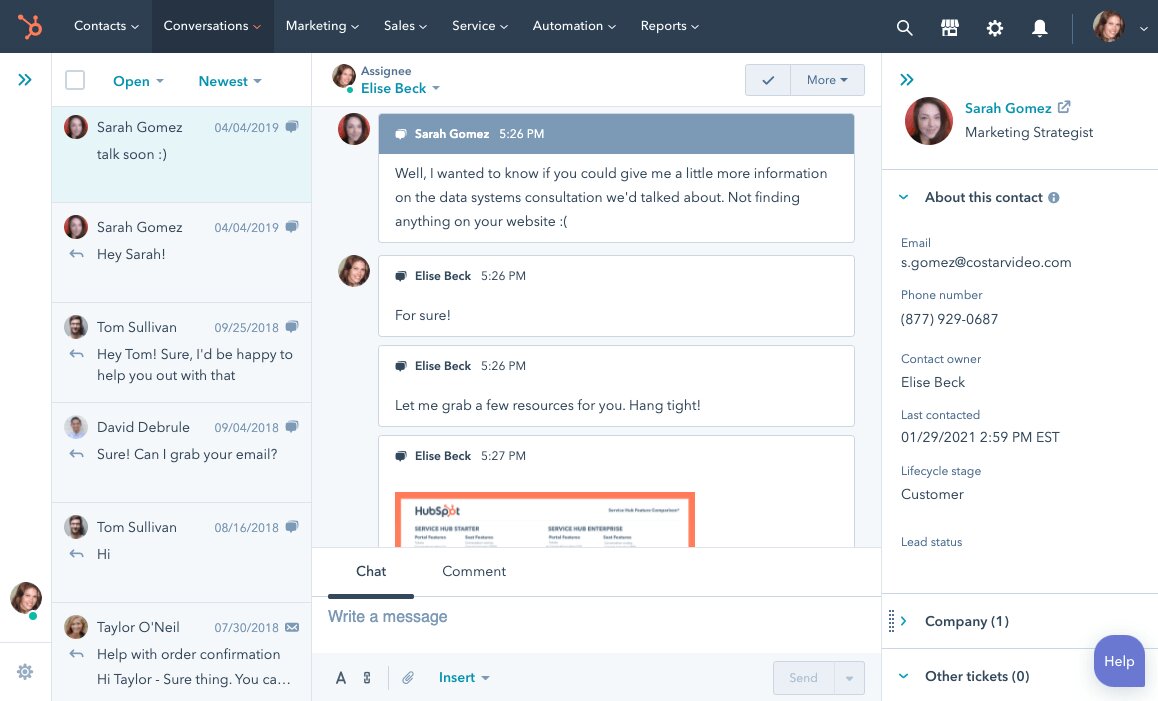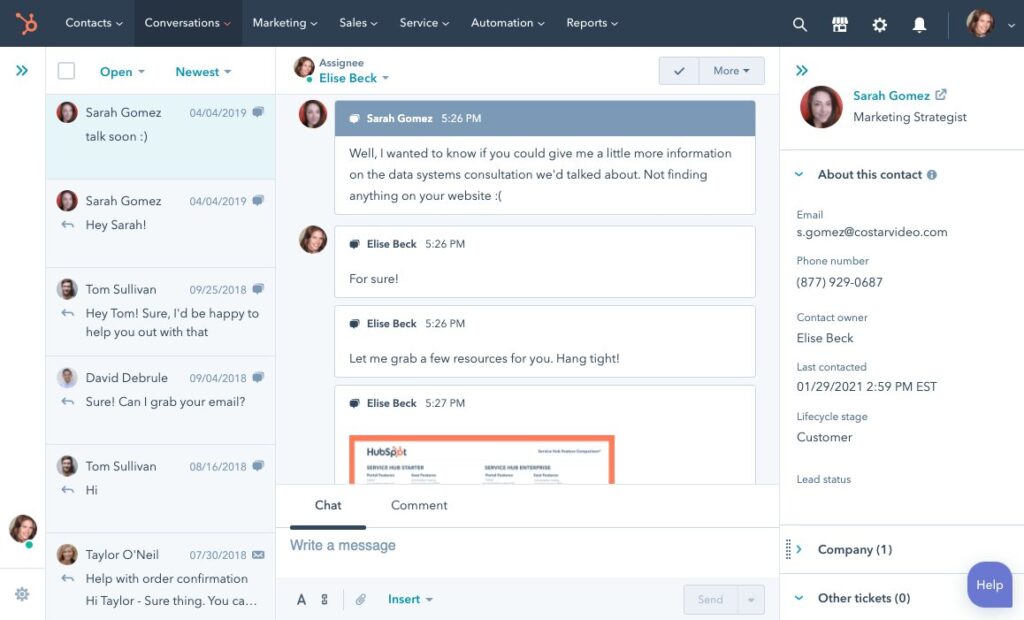 HubSpot Service Hub is a powerful customer service platform that aims to help businesses streamline and simplify their customer support operations. This innovative tool grants businesses the ability to efficiently connect with clients, effectively resolve their issues and turn them into their advocates and promoters.
Key Features:
Conversations Inbox: HubSpot Service Hub consolidates client interactions from various channels into one unified inbox for easier and more efficient communication.
Knowledge Base: HubSpot Service Hub has robust knowledge management features that allow businesses to easily create and share help articles, enabling clients to find answers to their queries on their own. A well-organized knowledge base enhances the self-service experience and unloads customer support teams.
Customer Feedback: HubSpot Service Hub allows businesses to collect client feedback through surveys, delivering insights into their satisfaction levels and identifying areas of improvement.
Ticketing System: HubSpot Service Hub self-service software helps to handle, track and resolve customer issues quickly in an organized and efficient manner reducing the ticket volume significantly.
Integration with HubSpot CRM: HubSpot self-service software allows for seamless sharing of data with HubSpot's sales and marketing tools, creating a comprehensive view of the customer journey.
Pricing:
HubSpot Service Hub pricing starts at $18 per month for two paid users, with an additional $9 per month for each extra user. For every additional user, an extra $9 per month will be charged. A free plan and a free trial for 14 days are also available.
5. Salesforce Service Cloud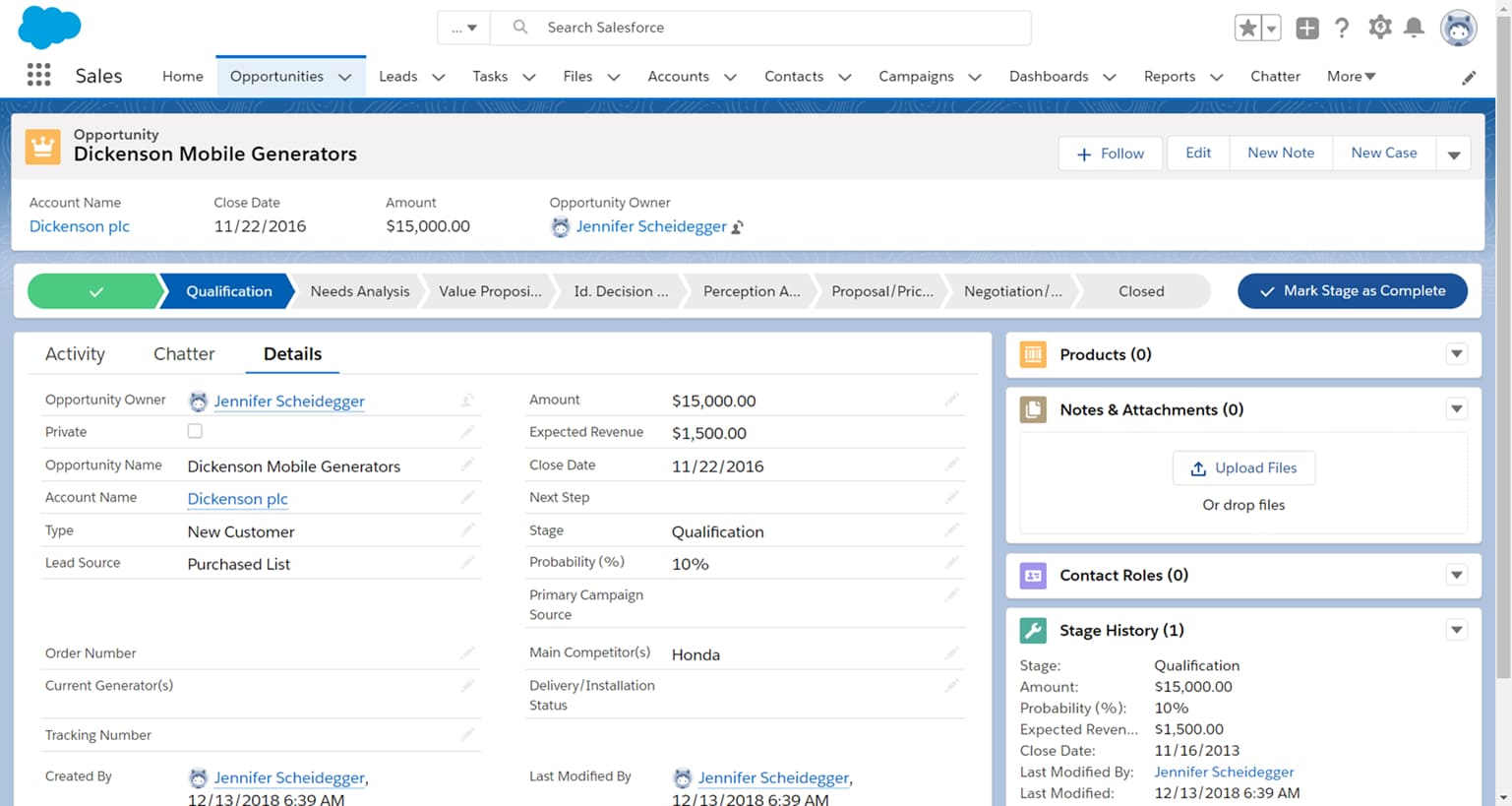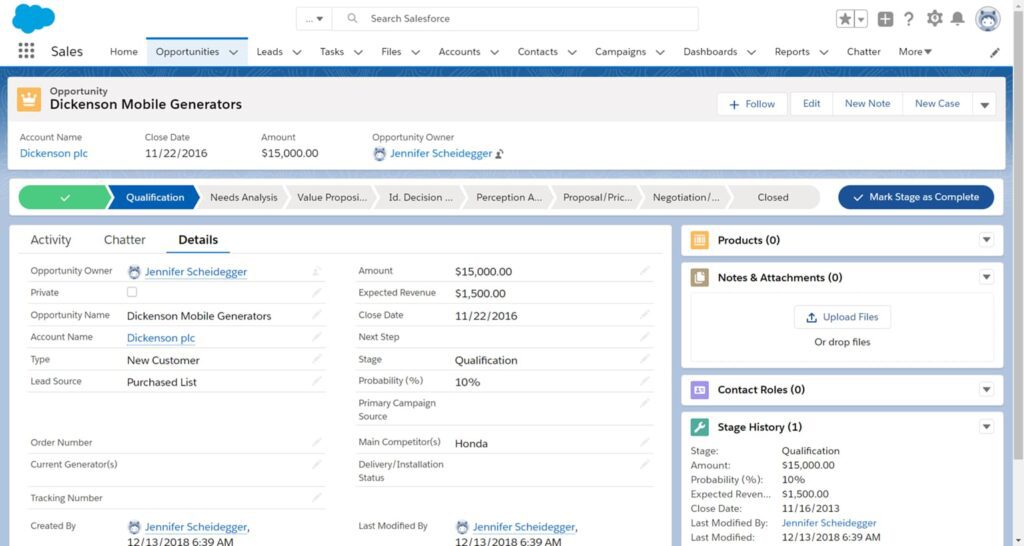 Salesforce Service Cloud is a leading customer self-service software platform that equips businesses with a full suite of tools needed to provide exceptional customer service and support. Built on Salesforce's trusted CRM platform, Service Cloud brings together a range of functionalities, allowing businesses to manage all aspects of their customer service in one place.
Key Features:
Case Management: Salesforce Service Cloud helps businesses track, manage and resolve customer queries quickly and effectively.
Multi-Channel Routing: The Salesforce self-service software consolidates customer interactions from various channels such as email, phone, social media, live chat and others into a unified view, and automatically redirects them to the right support agent based on their skills, availability and workload.
Knowledge Base: With Salesforce, businesses can build an extensive library of articles, FAQs and other resources that clients can use for self-service.
AI-Powered Chatbots: Salesforce's Einstein Bots can handle repetitive questions, guide customers to self-service resources and escalate complex issues to human support agents.
Service Analytics: Salesforce offers in-depth insights on key customer service metrics, helping businesses continuously improve their service operations.
Computer Telephony Integration: Service Cloud can be integrated with various telephony systems, enabling seamless call management within the platform.
Service Console: Salesforce provides support agents with a comprehensive, customizable workspace that brings together customer data and case history, helping them deliver informed and personalized service.
Field Service: Salesforce allows businesses with field service operations to manage scheduling, dispatch and work order management.
Pricing:
The pricing for Salesforce Service Cloud begins at $25 per user per month, billed annually. A 30-day free trial is available.
6. Intercom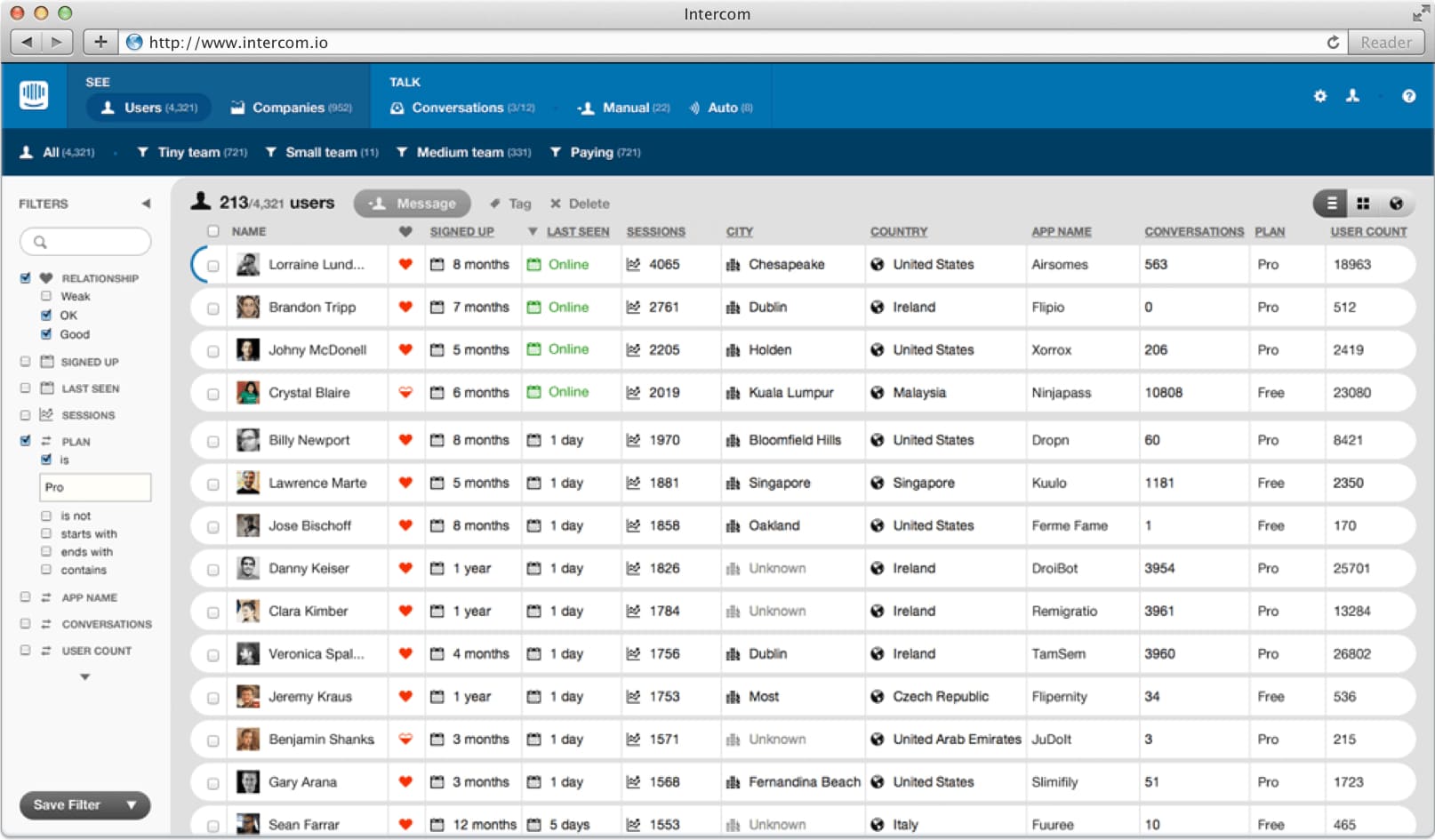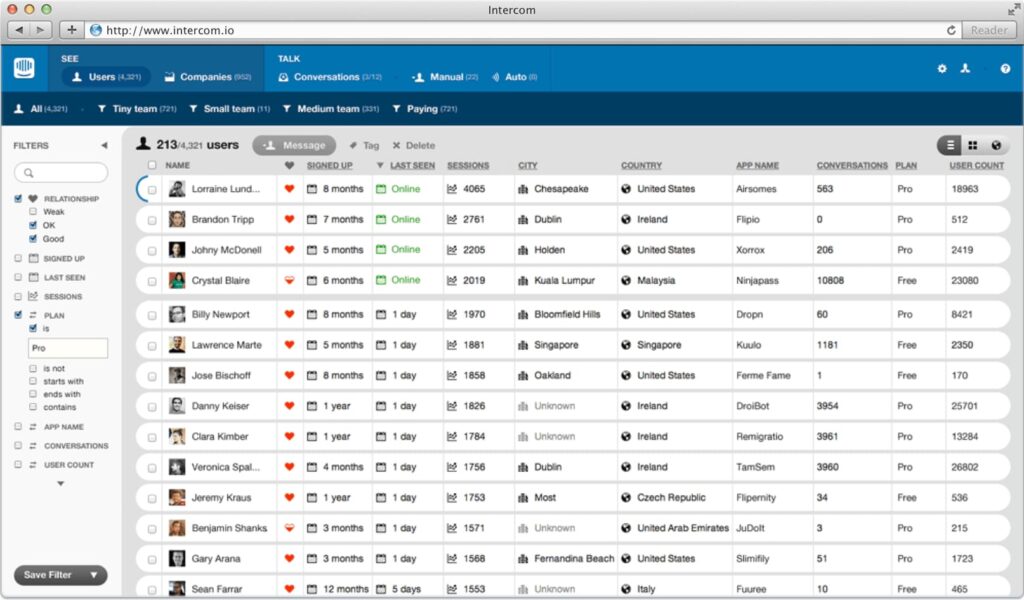 Intercom is a novel Conversational Relationship Platform reputed for its fresh self-service approach to B2C (business-to-customer) communication. Intercom's products are aimed at customer retention, customer engagement and personalized customer experience.
Key Features:
Automated Bots: Intercom's bots can qualify leads, answer customer queries and deliver automated customer service round-the-clock, 24/7.
Product Tours: The Intercom digital adoption platform allows businesses to organize and manage customer onboarding with interactive product tours, helping customers get to know the product faster.
Customer Segmentation: The Intercom self-service software offers detailed customer segmentation based on user behavior and data. This allows businesses to deliver targeted messaging and ads.
Knowledge Base: Intercom boasts robust knowledge management capabilities, allowing businesses to effectively create and manage a knowledge base library of help articles. A knowledge base empowers customers to find answers independently, enhancing their overall customer self-service experience.
Customer Surveys: The Intercom self-service solution collects customer feedback through in-app surveys, providing useful insights to improve the product and customer service.
Pricing:
Intercom's Starter plan begins at a rate of $74 per month. They do not offer any free plans, however a 14-day free trial is provided for users to test-drive the platform.
7. Freshdesk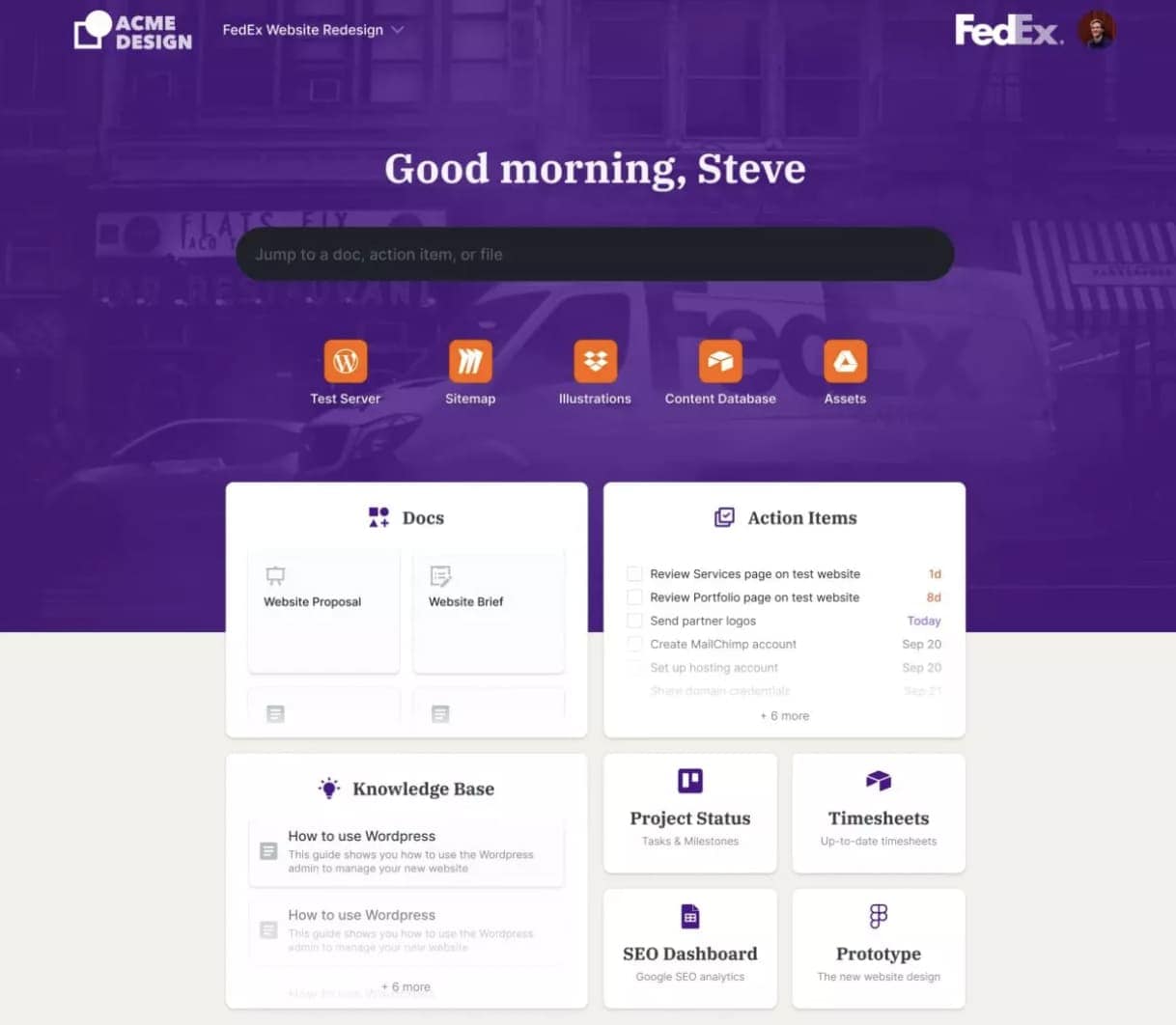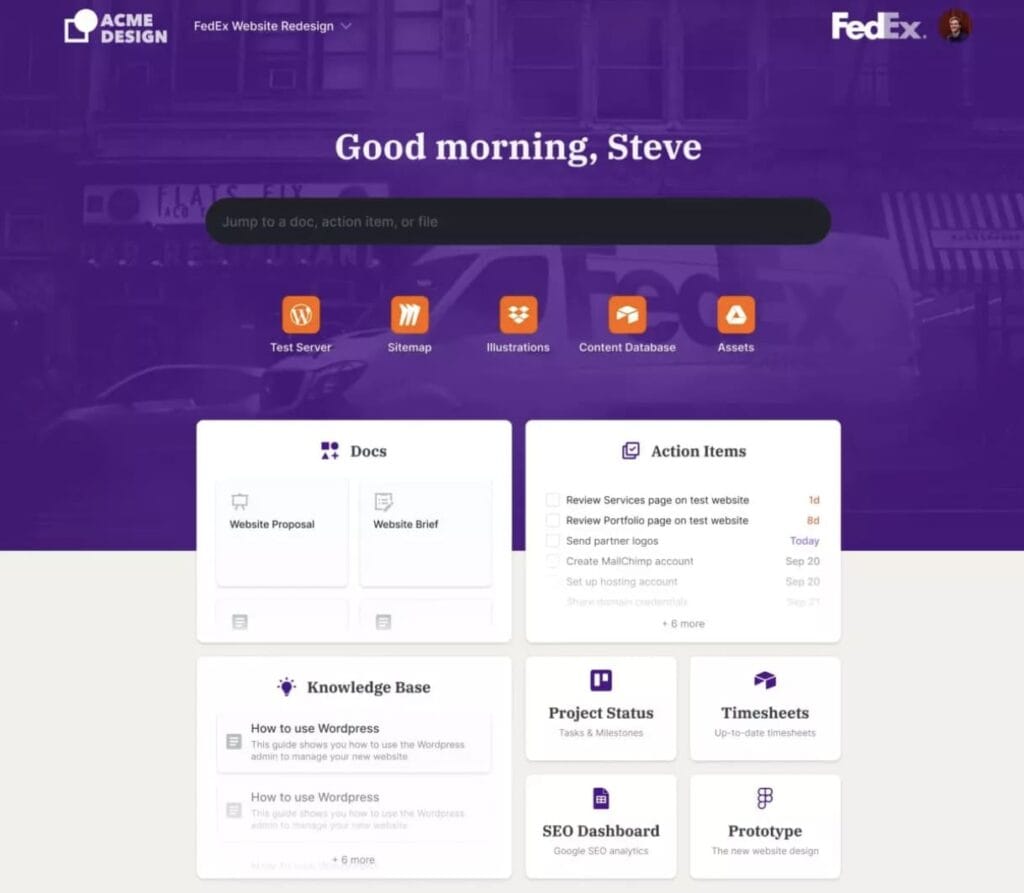 Freshdesk gained its popularity as a customer self-service software solution that delivers a comprehensive set of tools to effectively organize customer service operations. It distinguishes itself from other customer self-service portals with its user-friendly interface and competitive pricing, which makes Freshdesk a great choice for companies looking for a flexible and robust self-service solution.
Key Features:
Ticketing System: Using Freshdesk, support team agents can easily track, manage and prioritize customer inquiries, making sure all the responses and resolutions are delivered in time.
Self-Service Portal: Freshdesk's self-service software allows businesses to create customer self-service portals where customers can access important product information and find answers to their questions. By using such features as a knowledge base, community forums and dedicated FAQs, customers can resolve their queries quickly and on their own.
Multi-Channel Support: Clients can contact support through various channels, including email, phone, chat, social media, and Freshdesk will consolidate all the ticket info into a single console for effective handling.
Pricing:
Freshdesk's pricing starts at €15 per agent per month when billed annually, or €18 per agent per month when billed monthly. There is also a free plan, which includes up to 10 agents.
Conclusion
Customer self-service portals have drastically changed the way businesses and customers interact by providing a convenient and efficient customer experience. Among the other customer self-service solutions, Nimbus Platform stands out as an exceptional choice as it strikes the perfect balance between affordability and a comprehensive set of features. With its user-friendly interface, extensive integration capabilities and an optimal range of self-service tools, Nimbus Platform is well-equipped enough to meet even the most demanding needs of businesses and their customers.
Upgrade your customer communication with Nimbus Platform
If you're ready to reshape your customer support experience and empower your customers with self-service capabilities, we invite you to give Nimbus Platform a try.
Visit our LinkedIn page for more articles and updates!
Disclaimer
Parties other than Nimbus Platform™ may provide products, services, recommendations, or views on the Nimbus Platform™ site ("Third Party Materials"). Nimbus Platform™ is not responsible for examining or evaluating such Third Party Materials, and does not provide any warranties relating to the Third Party Materials. Links to such Third Party Materials are for your convenience and do not constitute an endorsement of such Third Party Materials.
Previous post
Customer Self-Service: Enhancing Experience and Saving Costs
Next post
Your Detailed Guide to Virtual Data Rooms and How to Use Them