The 5 Best CRM Software with Client Portals
Learn from our expert how FuseBase Portals can enhance your client interaction!
Book a demo
The COVID-19 pandemic has tremendously changed the way businesses interact with and serve their clients. A driving factor of this change lies in the greatly increased demands of customers, who now expect super fast and personalized communication, regardless of business hours. Having a company website and being present on social media channels still matter, but unfortunately, this is no longer enough to stay competitive in the modern market.
Customer portals integrated into the company's customer relationship management (CRM) system are a necessity. In the rapidly changing environment we are living in, keeping up with the latest trends is a matter of success, and client portal software can significantly help.
Why Every Business Needs a CRM Client Portal
Customer experience
Client portals provide customers with easy, immediate access to important information, such as invoices, order histories, and support tickets, thus helping to increase transparency and make the client experience smoother.
Efficiency and productivity
Client portals can significantly reduce (if not eliminate) manual tasks, allowing vendors to promptly allocate resources and solve problems on the spot.
Security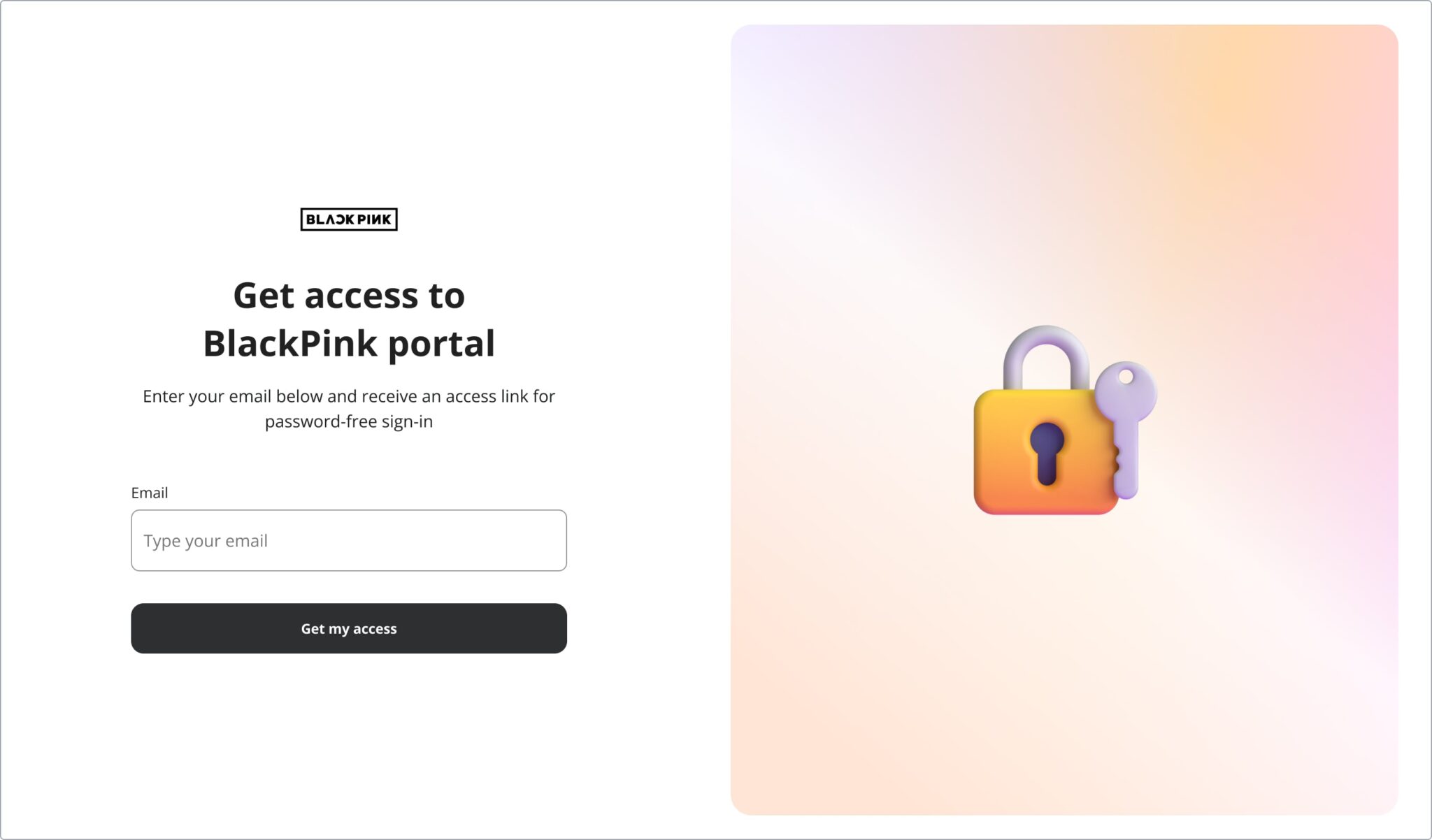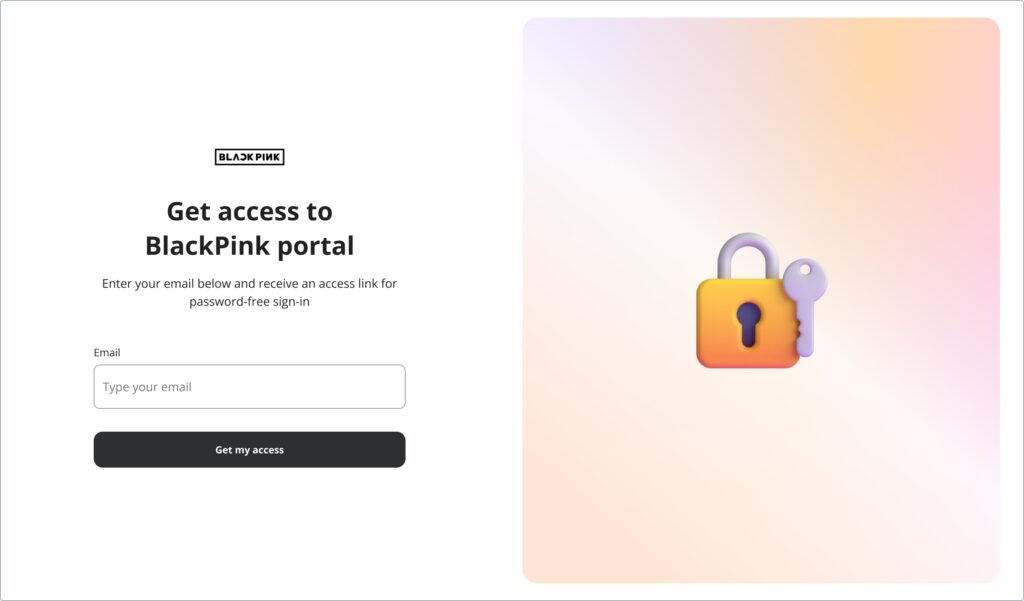 A client portal software comprises a secure place for customers to share sensitive information, such as their personal and financial details.
Customer satisfaction
A well-calibrated client portal can help build trust and confidence in the company brand and thus increase client loyalty as people are more likely to return to a business they trust and feel comfortable with.
Collaboration
A CRM client portal software allows vendors to coordinate teams, enabling them to work together harmoniously on projects of any complexity.
Analytics
By allowing for the collection of customer data such as buying habits, preferences and social media activities, a client portal can deliver valuable insights to sales and promotional strategies.
Marketing
By using a CRM client portal, vendors can personalize their email marketing according to a customer's past behavior and preferences, which undoubtedly will lead to higher conversion rates, as customers will receive more relevant updates and promotions.
Read more posts on this topic:
Key Factors to Consider When Choosing a CRM Portal
Features
The feature set offered by the CRM client portal software should fully meet your business needs. Think carefully of the features that are essential for managing your customer relationships effectively.
Customization
The CRM customer portal software should be customizable so that you can tailor it to your specific needs. For example, you may need to set up follow ups such as sending reminder emails or scheduling calls and even create fully customizable email marketing campaigns tailored to your company.
Ease of use
The CRM client portal should be user-friendly and intuitive to navigate, with a clear and simple interface.
Integration
The CRM client portal software should integrate seamlessly with your business processes, existing systems and software, such as your website, sales tools and payment gateways.
Security
The CRM with a client portal should provide a high level of security to protect your customers' information and make sharing files 100% safe. Make sure that the portal adheres to industry standards and regulations for data privacy and security.
Scalability
The CRM portal should be able to accommodate your business growth and expansion, with the ability to add more features and users as needed.
Mobile accessibility
A CRM customer portal should offer a mobile-friendly interface that allows users to access customer information and perform essential tasks on the go.
Access
With a cloud-based CRM, it's possible to access CRM data and client portals from any location with a stable internet connection, which allows teams to work remotely and keep a finger on the pulse of customer activities.
Top 5 CRM Portals for Effective Customer Management
FuseBase (formerly Nimbus)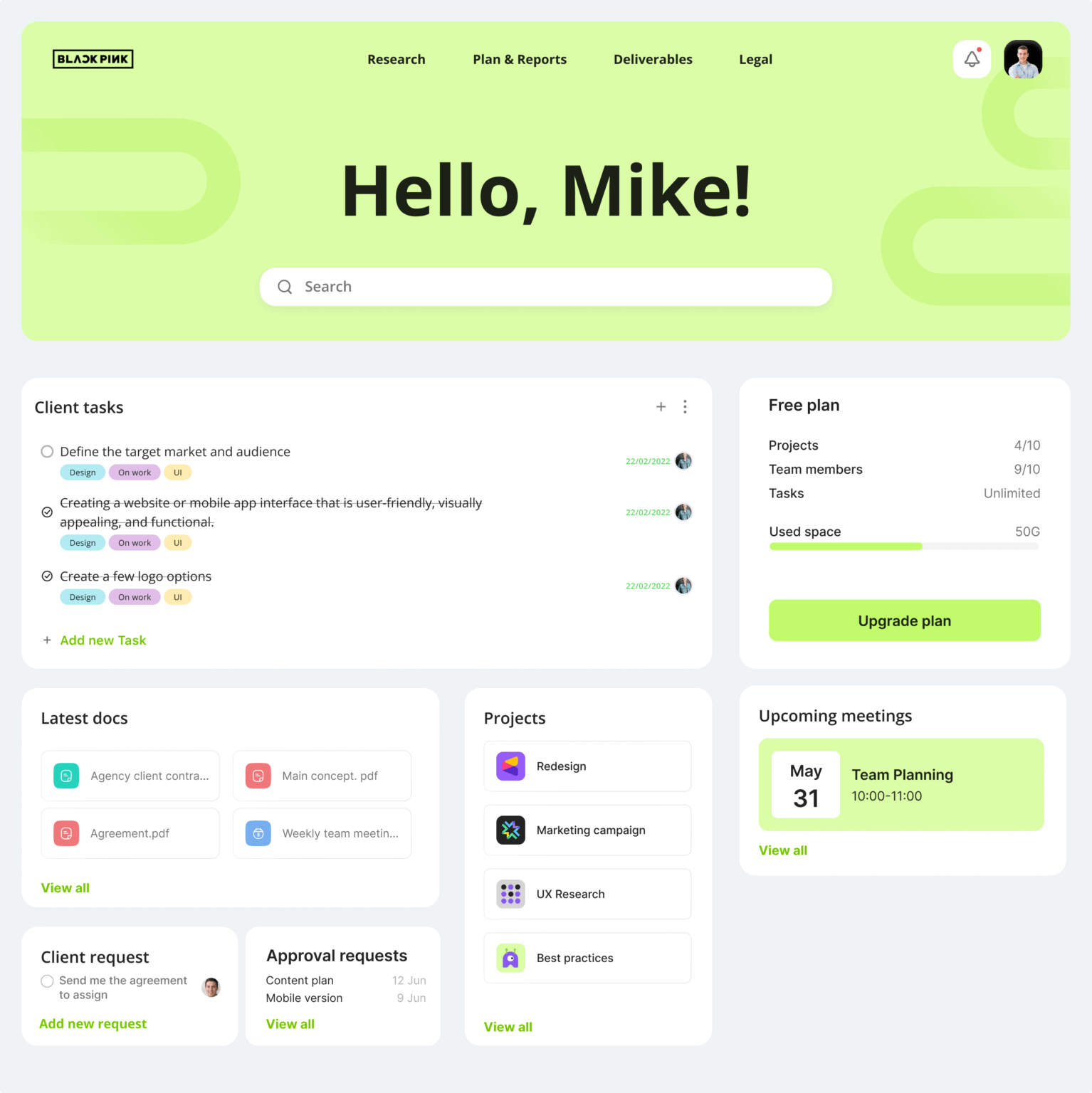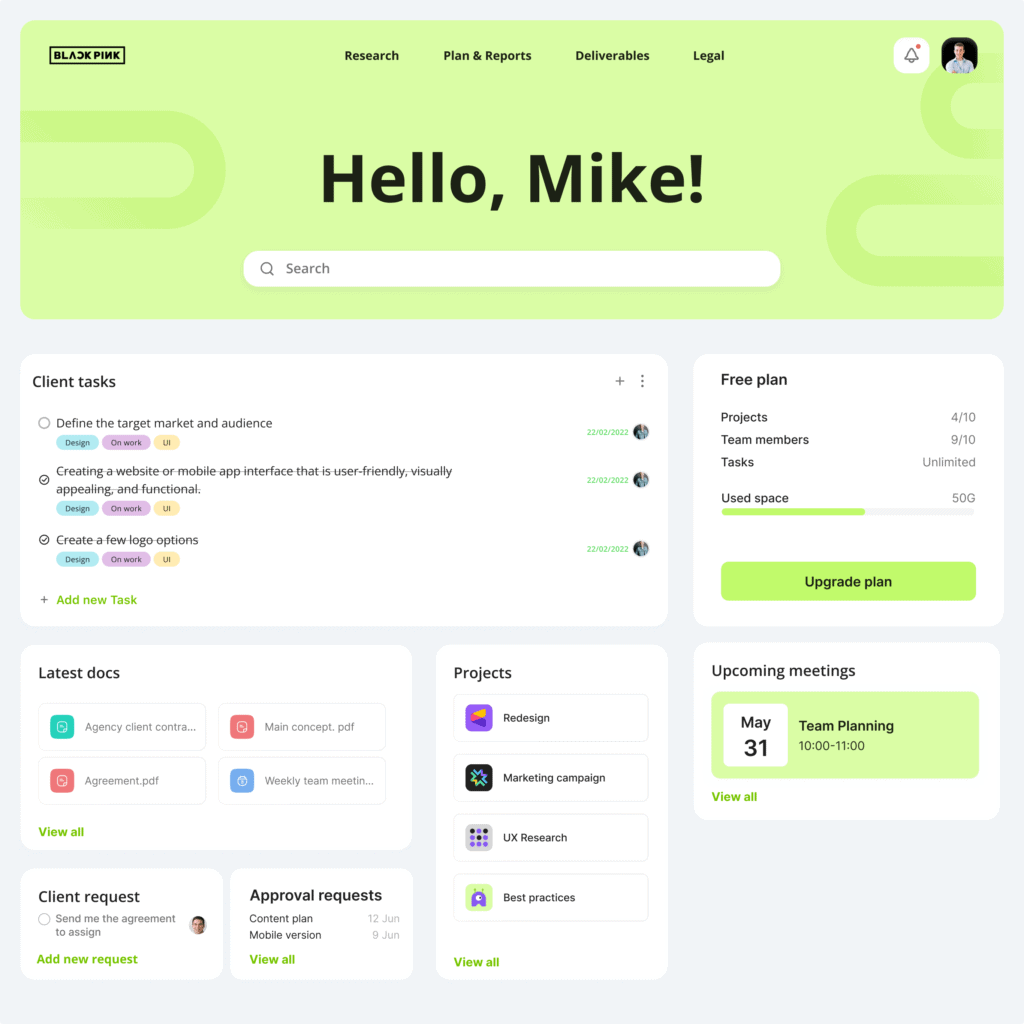 FuseBase (formerly Nimbus) is a universal CRM solution offering a comprehensive range of features for managing customer interactions of any kind. The heart of FuseBase is its client portal with self-serve options and an extremely friendly user interface, which enables customers to easily create and manage their accounts. FuseBase's users love its powerful personalization capabilities and seamless integration with external apps. Among the essential features of FuseBase (formerly Nimbus Platform), one should also mention its powerful analytics, using which vendors can make data-driven decisions on the fly.
Pros:
A robust CRM customer portal that enhances the customer experience and enables self-service customer support;
Strong customization options that allow vendors to tailor the platform and its client portal to their specific needs and ensure a seamless experience for their customers;
Scalability to respond to potential business growth and changing environment which makes it a flexible and versatile solution for organizations of all sizes;
Extensive document management functionality that allows organizations to securely create, store and manage documents within the CRM, knowledge base and client portal, eliminating the need for separate file storage systems;
Simplified collaboration both between teams and within teams, with tools and features that enable efficient teamwork and communication.
Cons:
Customer support may have a longer response time;
Integration with certain third-party applications may pose challenges.
Salesforce Sales Cloud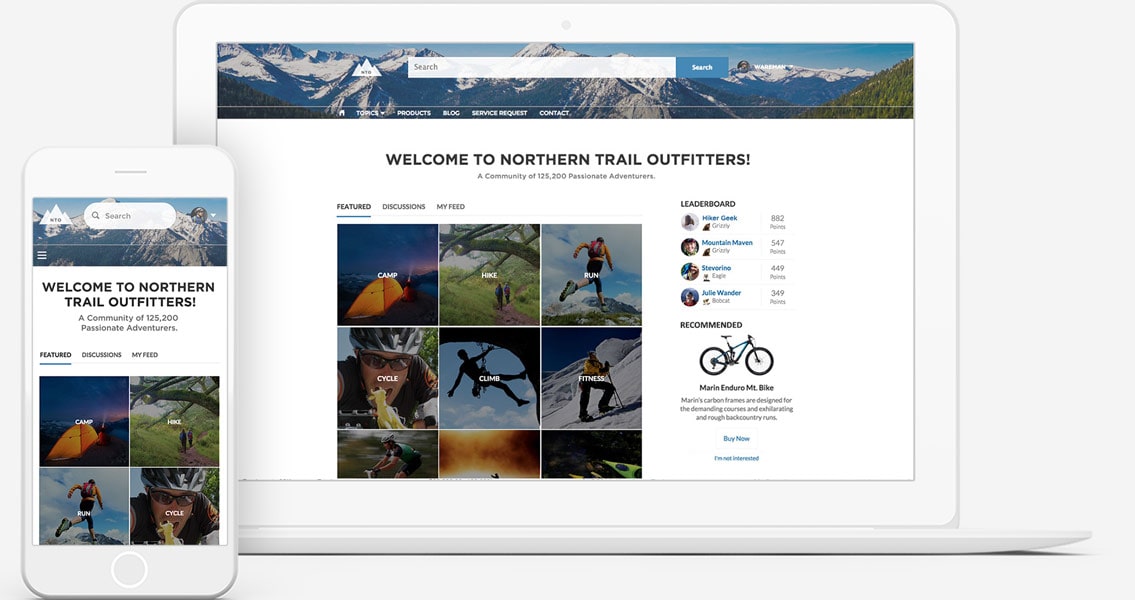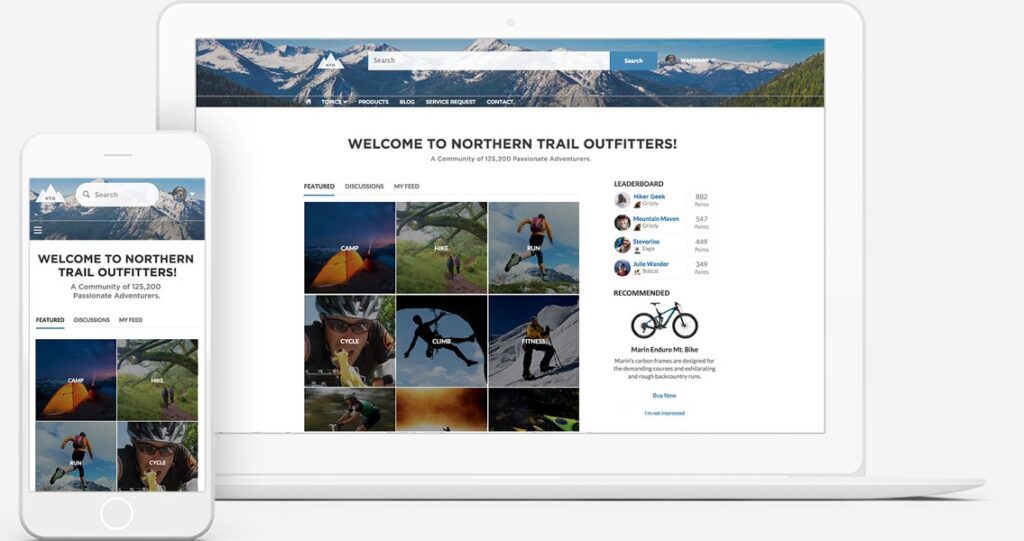 Salesforce Sales Cloud is a renowned CRM platform that comes with a customer portal furnished with a set of tools for managing client relationships. It offers an in-depth analysis of customer data, including buying habits, social media activity and service requests. With Salesforce Sales Cloud, clients can easily access their account details, submit support tickets and review their purchase history. Businesses can leverage the Salesforce Sales Cloud's CRM customer portal to optimize their business processes, automate routine tasks and shape their business strategy using real-time analytics. And the icing on the cake is the platform's client collaboration tool with file-sharing options and self-service capabilities to enhance teamwork and efficiency.
Pros:
Marketing automation features that allow for streamlining marketing tasks, organizing email campaigns and boosting lead generation;
Seamless integration with other Salesforce products and various third-party applications;
Strong sales automation capabilities that give vendors an opportunity to automate sales processes, such as processing customer requests, and allow them to create and pay invoices digitally;
Scalability that accommodates company growth and evolving needs over time;
Secure client portal software that enables vendors to offer their customers a secure and reliable platform to manage their accounts, share files and communicate through direct messages;
Multiple options to access CRM data: through the Salesforce website, Salesforce mobile app or Salesforce APIs.
Cons:
Complexity, which may require extensive training for new users;
Cost, as the Salesforce customer portal can be expensive, especially for small businesses or startups;
Customization limitations that may make it challenging for some organizations to tailor the platform to their specific needs;
Integration challenges that may require technical expertise and support;
Dependence on internet connectivity may affect the platform's functionality if the internet connection is slow or unstable;
Data security, as some organizations may have concerns about storing sensitive information in the cloud.
Zoho CRM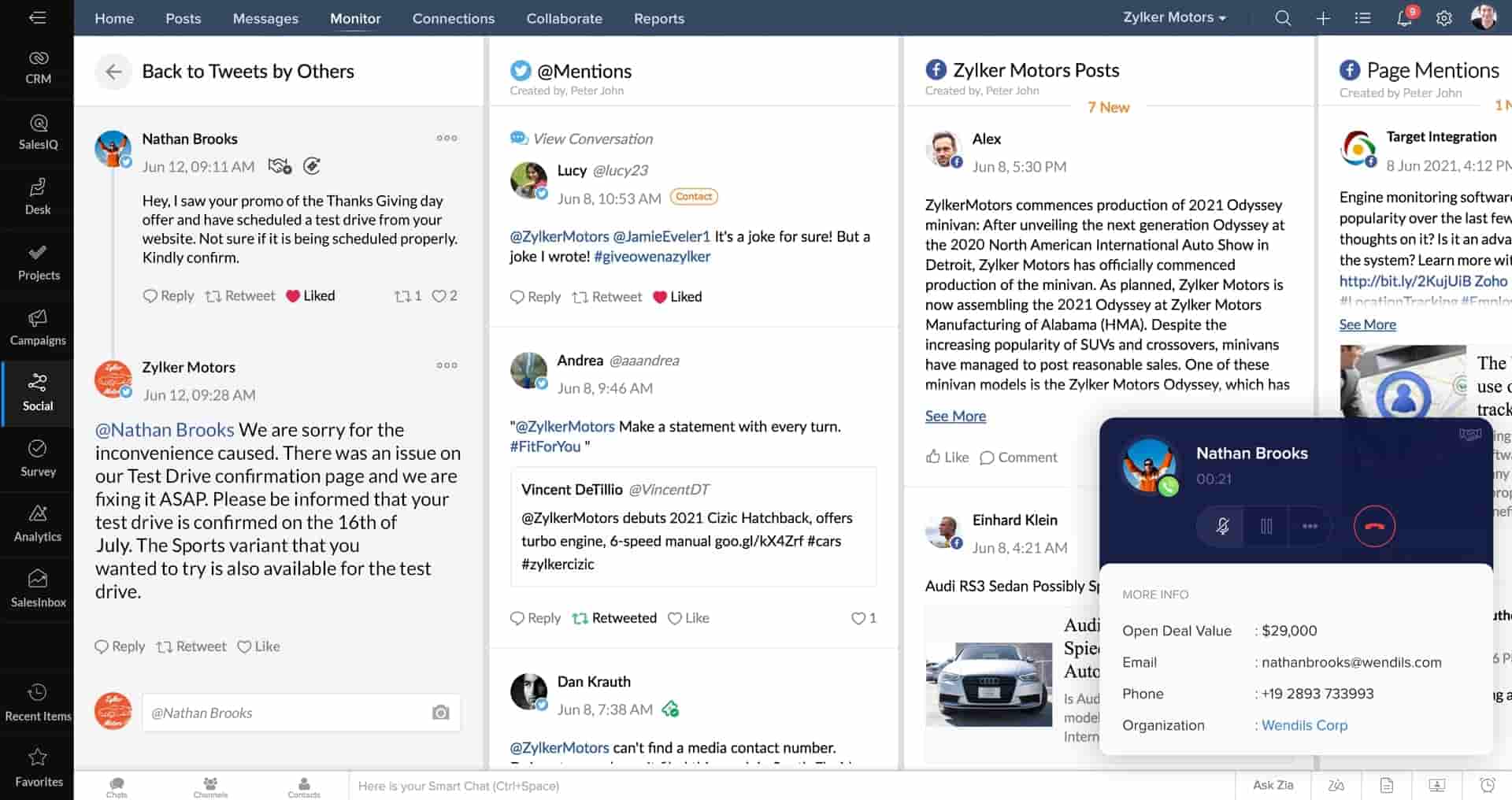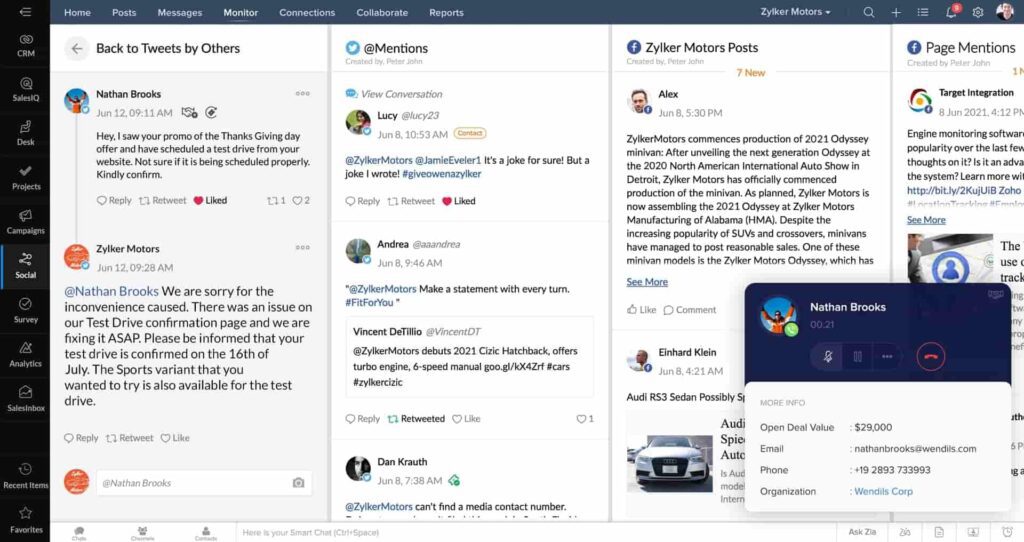 It's a cloud-based CRM software that assists organizations in managing their sales and customer support processes, regardless of their size. Its key features include lead management, sales forecasting, email integration and analytics that aim to enhance vendor operations and customer relationships. Zoho CRM comes with a dedicated client portal that allows companies to offer their customers a personalized self-service experience. Customers can access invoices, support tickets, project status updates and other documents through this client portal. Zoho CRM boasts different access permissions for different types of users, which allows vendors to control who can access certain types of data within the system.
Pros:
Integration capabilities that allow for seamless integration with third-party applications;
Sales automation features that help streamline sales and promotion tasks;
Gantt charts, which are extremely useful for visualizing project timelines, tracking project progress and identifying potential bottlenecks or issues that may arise during the project;
Time tracking capabilities that allow organizations to track billable hours for client work, monitor employee productivity and gain insights into how time is being spent across different tasks and activities;
Integration with the Zoho Projects project management tool which allows managing customer relationships and projects in one platform.
Cons:
Limited functionality compared to some of the larger client portal software;
Steep learning curve, which may require extensive training for new users and result in a longer onboarding process;
Customer support may be lacking in responsiveness or effectiveness;
Limited customization options for certain features and functionalities;
Zoho CRM starter plan does not include the client portal functionality;
The interface of this CRM client portal might not be as user-friendly or intuitive as that of certain other solutions.
Zendesk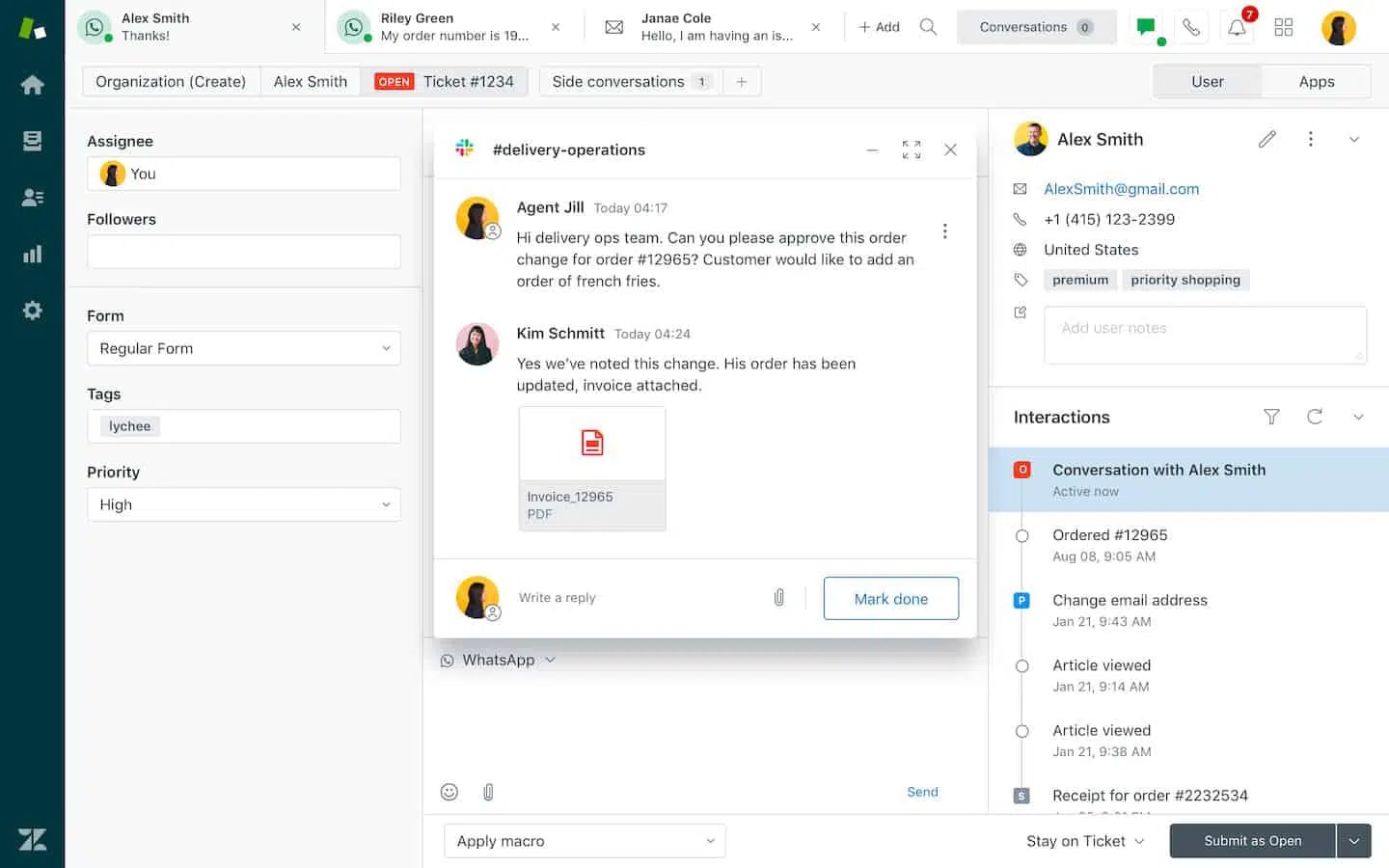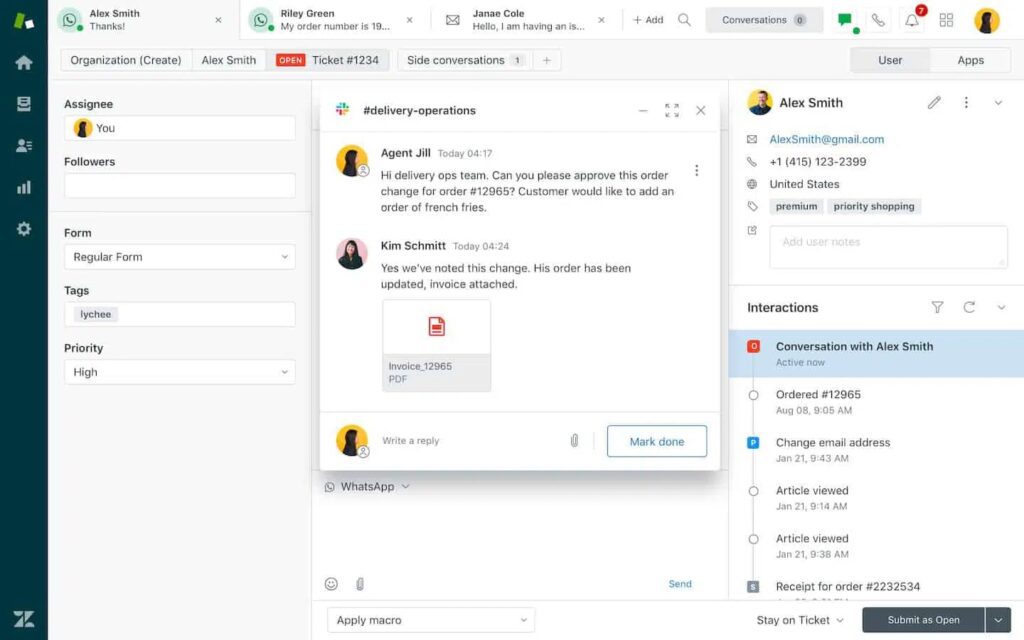 Zendesk is a customer service software that provides businesses with a range of tools and services to manage clients across multiple channels. The platform includes a CRM customer portal that enables customers to manage their support requests, access knowledge base articles and track the status of their inquiries. Additionally, Zendesk offers robust reporting and analytics capabilities, automation features and integrations with third-party applications, making it a comprehensive solution for vendors looking to improve their communication with customers.
Pros:
Comprehensive customer service management capabilities
Integration with multiple channels, including email, social media, phone and live chat
Robust reporting and analytics capabilities that provide insights into customer behavior and support team performance
Easy access to account information and purchase history, which helps support staff resolve customer requests faster.
Cons:
Budget-unfriendly pricing especially if you have a small or medium-sized team;
Limited customization capabilities;
Complex interface that may require extensive training for new users;
Integration challenges, which may require technical expertise and support to integrate with certain third-party applications.
SuiteDash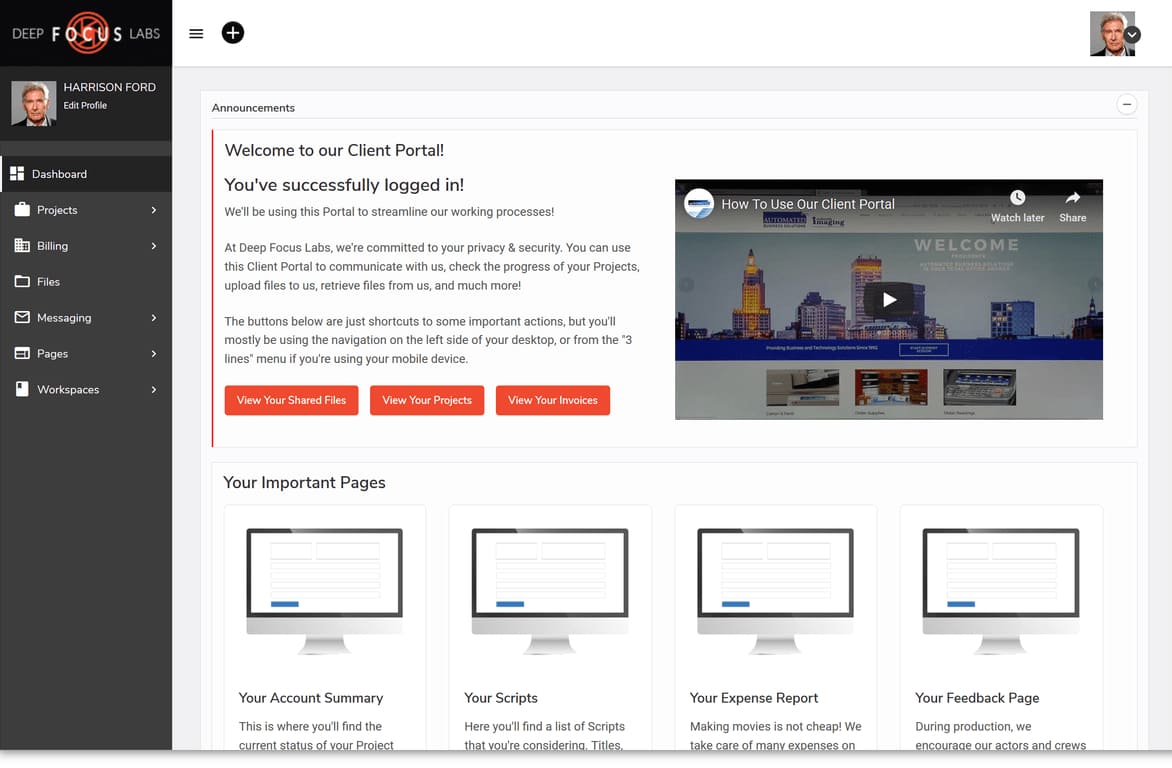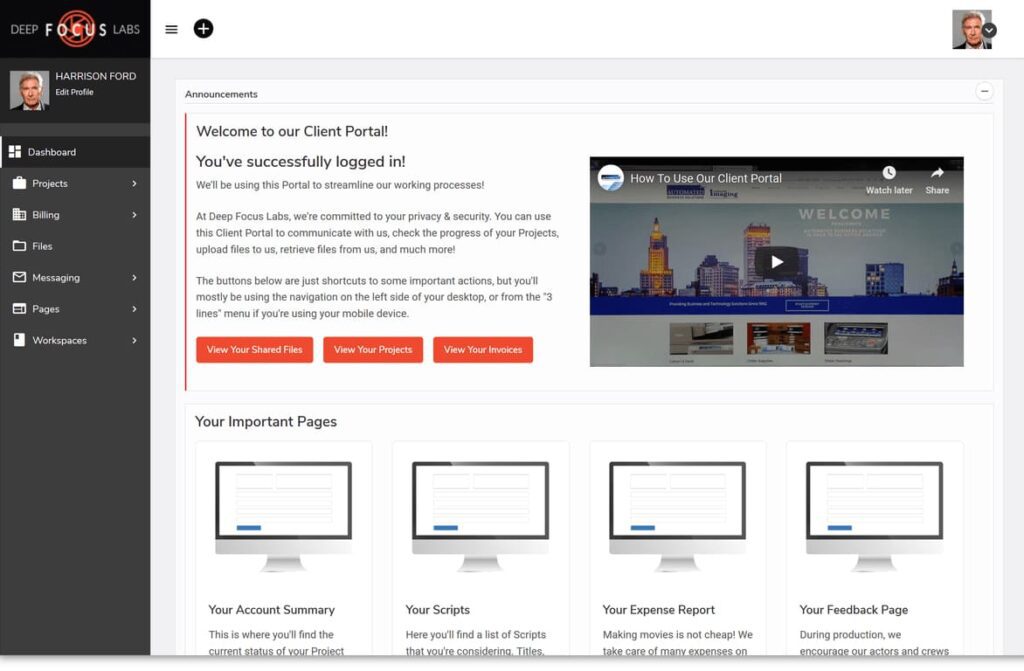 SuiteDash is a comprehensive business management software with robust CRM features, such as lead and contact management, sales tracking and marketing automation, all on a single platform. Additionally, SuiteDash includes tools for project management, invoicing and integrations with third-party applications, making it a flexible and scalable solution for businesses of any size. SuiteDash incorporates a client portal functionality as well. The platform's rich customization options enable businesses to modify it according to their unique needs, making it a valuable solution for improving relationships with clients and streamlining company workflow.
Pros:
A comprehensive set of task management tools that enable teams to create and assign tasks as well as manage activities related to customers, sales and other procedures;
Integration capabilities with other resources and tools;
Affordable pricing plans;
Security features that ensure clients' data is protected and secure.
Cons:
Steep learning curve, which may require extensive training for new users;
Limited third-party integrations as compared to some of the larger CRMs with a client portal;
Interface may not be as intuitive or user-friendly as some other platforms;
Customer support may be lacking in responsiveness or effectiveness;
The platform may not be suitable for teams with very specific or complex needs;
Some users may find SuiteDash to be less robust than more specialized tools for CRM, project management or invoicing.
How to Implement and Optimize CRM Portals
Implementing and optimizing CRM portals can be a complex process, but there are several key steps organizations can follow to ensure success:
Define your goals. Identify what you hope to achieve with your CRM portal in the first place, such as improved customer service, increased sales or better data management.
Choose the right CRM portal. Select a client portal that aligns with your business needs and objectives. Consider the factors we have mentioned above.
Set it up: Configure your portal settings, including user access and permissions.
Integrate with your CRM system. Make sure your portal is fully incorporated into your CRM system.
Educate your team. Arrange training and assistance for your team to guarantee they will use the portal efficiently.
Evaluate the performance. Keep an eye on your portal's performance and collect feedback from users and team members to pinpoint areas for improvement.
Conclusion
In today's dynamic business landscape, integrating a client portal into a company CRM system is vital to maintaining a competitive edge. However, selecting the right CRM portal and effectively implementing it can be a challenge.
If you're in search of a powerful and user-friendly CRM portal solution, FuseBase (formerly Nimbus) is a decent choice. With its robust CRM customer portal, strong customization options and integration with third-party applications, Nimbus comprises a comprehensive solution for organizations longing to improve their customer relationships. With Nimbus Portal, you can enjoy a flexible and scalable CRM platform that delivers value, enhances collaboration and drives growth.
Boost your collaboration with customers using FuseBase!
Visit our LinkedIn page for more articles and updates!
Disclaimer
Parties other than FuseBase (formerly Nimbus) may provide products, services, recommendations, or views on the FuseBase (formerly Nimbus) site ("Third Party Materials"). FuseBase (formerly Nimbus) is not responsible for examining or evaluating such Third Party Materials, and does not provide any warranties relating to the Third Party Materials. Links to such Third Party Materials are for your convenience and do not constitute an endorsement of such Third Party Materials.
Next post
What Are The Best SaaS Knowledge Base Platforms to Use in 2023?