Top 5 Killer Coda Alternatives & Competitors in 2023
Get expert tips on migrating your docs & projects from Coda to Nimbus efficiently
Book a demo
Project management tools are like different kinds of pizza: everyone loves them, everyone has tried a few of them and everyone has their favorite. The problem is that to find your favorite, you need to try a few competitors first. And that's probably why you're looking for a Coda alternative. Because, yeah, it's nice and powerful, but you're not sure yet if it's right for you. And hey, there's plenty of fish in the sea (or Coda competitors online), so in this article we're going to help you decide. We'll be talking about its main features, pricing and limitations and the best Coda alternatives that you can find out there, in the wild.
What is Coda?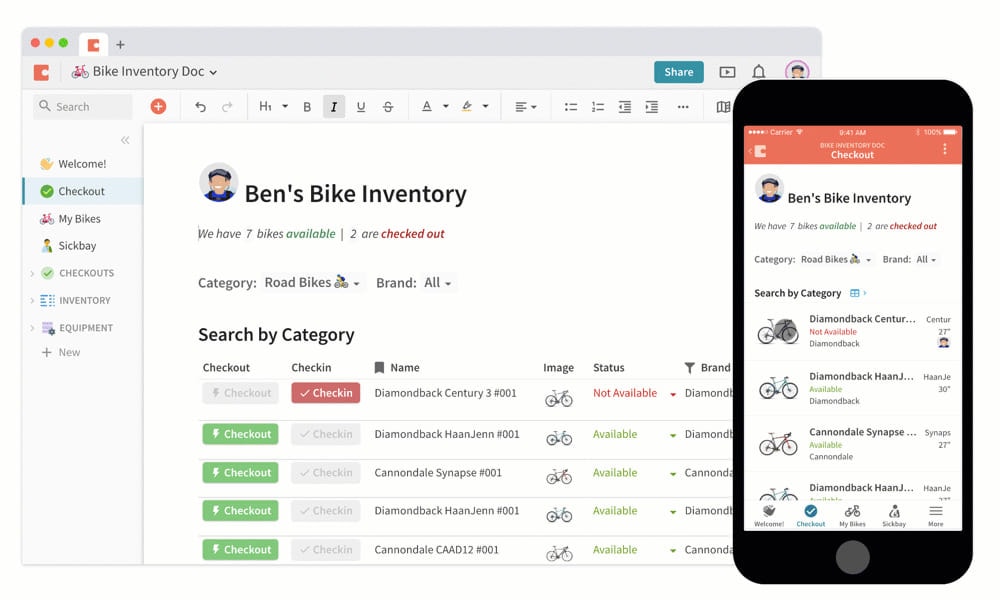 Coda is a block-based document management tool with project management features. It's a modern tool with a sleek interface that allows you to create documents by putting together customizable blocks, in a very similar way as Notion, one of its closest competitors.
Founded in 2014, the founders' vision was to create an evolved competitor to Google Docs and Google Sheets; a tool that allowed teams to collaborate not only on documents, but also on complete projects. In fact, the headline on their site reads "Meet the evolution of docs" (wink, wink).
And the result is frankly amazing, as it is one of the most prominent productivity and doc management competitors on the market, being extremely versatile and powerful in many respects.
However, as you already know, there is no perfect project management software and even the best of the best can be the worst for some people. And that's why we're writing this, to help you choose the best pizza — sorry, the best Coda alternative for your use case.
What Is Coda Good For?
First things first. Why would anyone use this tool? What's it good for? And, most importantly, why do some people put pineapple on their pizza?! Sorry, sorry. Let's not get sidetracked here.
This platform has quite a few good use cases, among which we can highlight:
Content management and documentation: Coda is a great knowledge base software with which you can create wikis, SOPs and other documentation. For some reason though, they use Intercom for their own help articles… Why, Coda? Why would you do that?!
Project management: It allows you to manage projects thanks to its multiple PM features like timelines, multiple views, custom dashboards, task lists, OKR planning capabilities, etc.
Teachers and students: Coda is a good tool to create notes as a student or offer written lessons as a teacher. And they offer discounts for students and educators, which is nice of them.
Blogging: If you enjoy writing and don't care much for having your own domain, you can use this tool for publishing blog posts. These can be public and even indexed by search engines.
Now that we know who can benefit from using this platform, let's move on to its main features, as this will help us understand better why you might need a Coda alternative and which will be the best for you.
What Features Does Coda Have?
If you haven't tried Coda yet, maybe you should, because it's got quite a few powerful features. The ones we like most are:
Clean writing interface: If you need to do quite a bit of writing, whether for content publishing or documentation, this Notion-like tool offers a clean writing interface, allowing you to write your content without distractions.
Customizable blocks: By typing a trailing slash (just like in other competitors), you can quickly insert different types of blocks like callouts, images, tables, cards, boards, etc. One of the coolest blocks that make it stand out are forms. All of these blocks make it much more versatile than a regular Google doc, which is mostly limited to text and images.
Drag-and-drop: Another cool thing about Coda is that you can simply drag and drop the different blocks to rearrange the content on the page. This is pretty useful as it's sometimes more convenient to simply move something than to copy, delete and paste. This drag-and-drop feature is also present in some of its competitors, as we will see later on.
Powerful spreadsheet functionality: If you're one of those people who love to use tables to organize their tasks and data (we do too!), Coda has you covered. Their tables are pretty nifty, as you can reorganize them, filter info, enter formulas, create different column types, etc. Although the possibilities are more limited than in some of its competitors, the UI makes it a more user-friendly, advanced spreadsheet.
Hierarchy: A Coda account is organized into workspaces > folders > docs > pages > blocks. That's from the largest to the smallest unit. This multilevel hierarchy is great because it allows you to organize your projects and documents however you want. Every Coda competitor has a particular hierarchy, but this one is easy to follow.
Relational documents: Coda documents and pages can be easily interconnected in a few ways using good old text links or subpages, which look way cooler.
Automations: You can set rules inside your documents to trigger different actions to make your workflow tracking faster and more effective. These actions include different types of notifications or changing task owners, among a few others.
As you can see, Coda is a feature-packed platform with many possibilities and strong financial backing. But, obviously, its competitors also have some great things to show off, as we will see later on.
Coda Pricing and Limits
Coda's prices are based on this fancy quote from their pricing page: "Often one person creates a doc, others edit it, and some simply observe from afar."
What this means is that their pricing is based on the roles of the people who have access to the documents: makers (paid), editors (free) and viewers (free).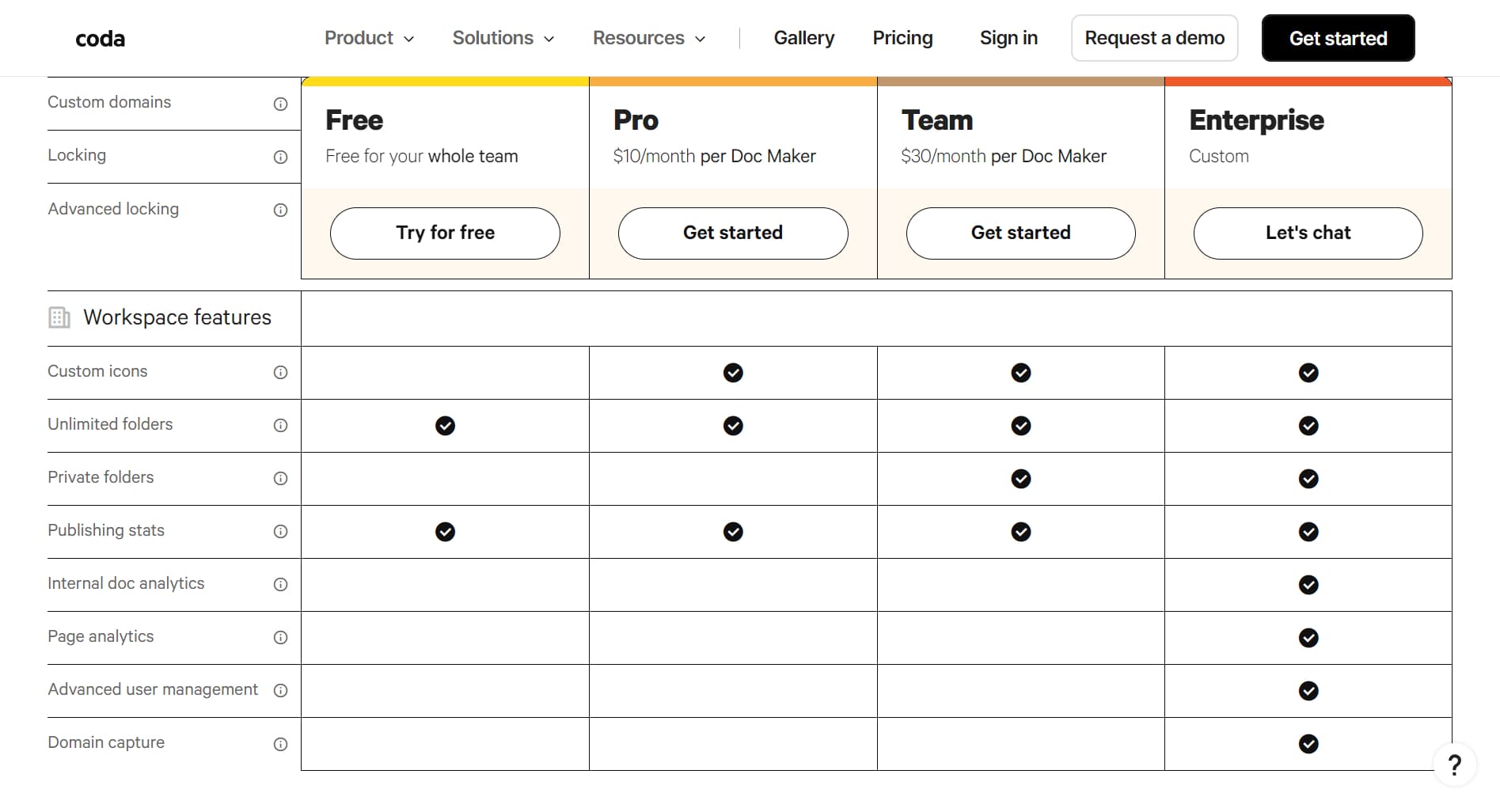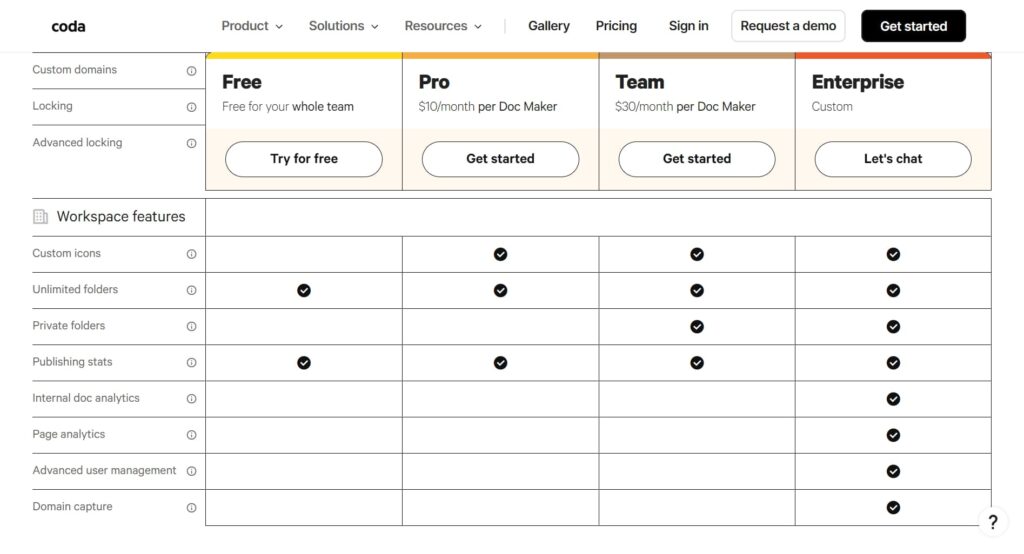 Based on this, Coda has quite a simple pricing structure.
Free ($0/month): The free plan seems quite generous at first glance, as you can invite unlimited editors and viewers, making it suitable for teams, and it even includes automations. However, there is one important limitation: documents are limited to only 50 objects and 1,000 rows. This is a bit of a deal breaker if you need to create midsize docs. Also, automations and storage are quite limited, though this is common in its competitors as well.
Pro ($10/month/maker): This plan introduces unlimited doc size and increases the number of automations (100 time-based and 500 event-based automations per month and doc). However, the storage might still be quite limited for some use cases, as it's 5GB per document.
Team ($30/month/maker): The pricing of this plan triples, which seems a bit excessive, but they try to make up for it by including unlimited storage and automations.
Enterprise (custom pricing): The top tier, created for larger companies, offers dedicated customer success managers, SSO, SOC 2 Type II reports, etc. But it will obviously be too much for most companies and will come at a dear price.
To be fair, Coda's pricing options seem reasonable. Not cheap, but reasonable, which is at odds with what we've seen in many alternatives. Remember our Best Monday alternatives article? Some of the prices there were…
What Are the Main Coda Drawbacks and Limitations?
Enough with the praises. Coda is great, but not perfect, and it's time to dig out the skeletons in the closet, muahahaha! (That's supposed to sound like evil laughter, okay?)
So let's take a look at Coda's dirty little flaws:
Pricing for teams: While the cost is reasonable, it might get a little too pricey for teams that need quite a few Doc Makers. For larger teams, relying on a single Doc Maker might create an awful workflow bottleneck, so more maker accounts will be needed, meaning higher costs, especially if you need any of the key features or limits in the Team plan. $30 bucks per user per month is a big no-no for many SMBs, especially with similar alternatives out there.
No custom domain or white label: Coda's branding is everywhere. Sure, this is alright if you're using this for yourself, but as soon as you need to share your content, your work or your projects, do you really want everyone seeing their domain and branding? Not if you want to look cooler than the other kids!
No desktop app: Yeah, believe it or not, Coda does not offer a desktop app so 1) you need to work on your browser (Distractions everywhere!) and 2) you cannot work offline at all. Nothing. Nada. Whaaaaat?! Not cool, Coda, not cool.
No internal chat or video calls: Here's where you utter an "oh, no" in disappointment. And we get you. Communication is essential for successful project management.
No native time tracking: If you're a time-tracking nutter, just know that Coda does not offer a native time-tracking feature like ClickUp and some other competitors do. You can create your own manual time-tracking sheet inside it, but it's not ideal.
Overwhelming: This seems to be one of the most widespread drawbacks of many PM softwares out there, and Coda is no exception. So many features and so many options make it a bit too complex even for someone experienced with task management and documentation tools. Steep learning curve alert!
So yeah… quite a few deal breakers up there, right? We know, we know, but we've got you covered with a few Coda competitors further down. Keep on reading, friend.
5 Reasons Why You Need a Coda Alternative
Now that we're fully aware of its disadvantages, let's take a look at the reasons why you need an awesome alternative to Coda.
You want your clients to think you're cool by using your own white label client portal. Yeah, we know how that feels, which is why Nimbus Note (our own Coda competitor) does offer a fully white label project management solution.
You don't want to pay $10 per user. Hey, we don't judge you for trying to save a few bucks by using a competitor. We're all for helping you save and invest towards your business success, which is why you can save some precious cash by using some of its alternatives. With us, you can save $4/month/user with our Pro plan.
You need a competitor to work offline and away from a browser. We get it. You can focus the most when you're away from pop-ups, notifications, tabs, etc. This is why working offline is essential and why our Nimbus Note app allows you to work 100% offline.
You don't need an PM alternative with so many features. Features are like clothes: you can have as many as you want, but you'll only wear a few of them. So why pay for something if you won't be using half of it? Simplicity beats unnecessary bells and whistles any day, so if you're overwhelmed by Coda's features, hop on to one of its alternatives.
Weak project management features when compared to some of its competitors. Maybe you started using Coda expecting it to be able to manage large complex projects. If that's the case, we can see why you're disappointed and need to try a different alternative. If your main use case is project management, you might be better off with a richer alternative in terms of PM features.
How to Choose the Right Coda Competitor
As usual, choosing the right alternative for you, your team and your business is a matter of self-assessing your needs. So let us help you choose the best competitors by asking you the most relevant questions you need answers for:
What's your budget for this Coda competitor? Are you rolling in cash or are you bootstrapped and running on a budget tighter than a pair of spandex pants?
Do you mind your clients knowing what PM alternative you're using? How professional do you want to appear?
Do you need competitors that offer a client portal to share your progress with clients?
Do you want to be able to work offline with this alternative or do you think you will never, ever have an internet outage or be on the go without internet connection?
What type of project management features do you need in this competitor? Are you okay with simple to-do lists or do you need task dependencies, time tracking and all the lot?
Do you want to have a bit of fun with your teammates via chat and video calls (while being efficient, of course!)? Or do you prefer to jump in and out of this Coda alternative to have to reach out to others via Slack or, worse, email?
Do you need an alternative app with extensions to complement your PM software with screenshots or screen recordings?
Once you've managed to solve the above conundrums, you'll be ready to choose among the best Coda competitors for you and your team.
Top 5 Coda Alternatives
Nimbus Platform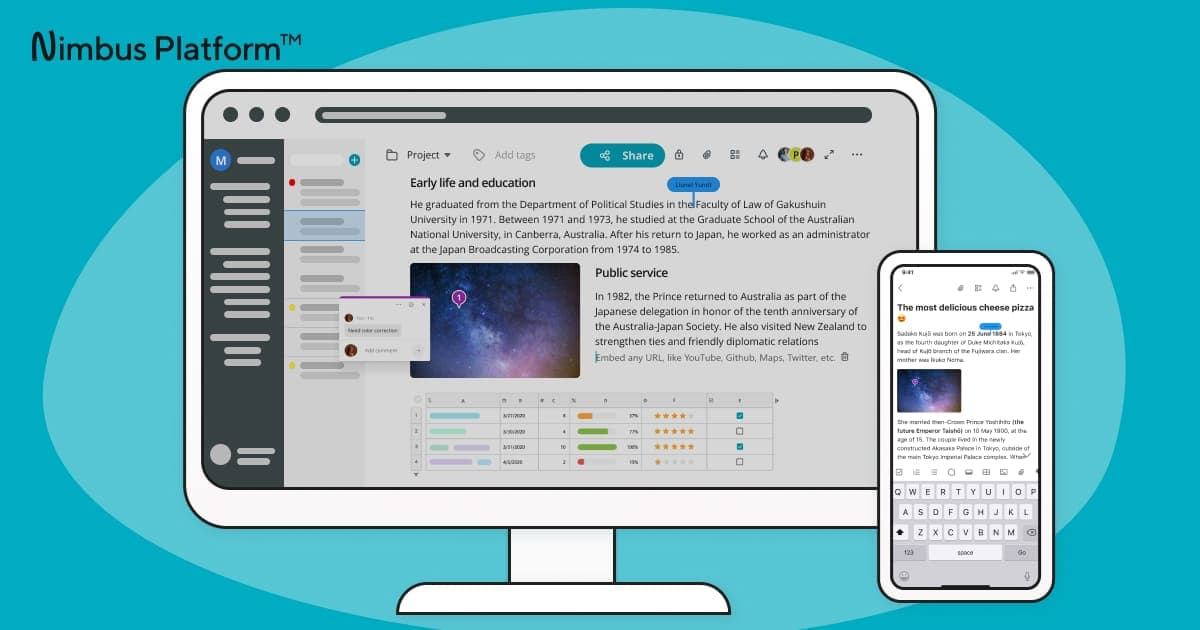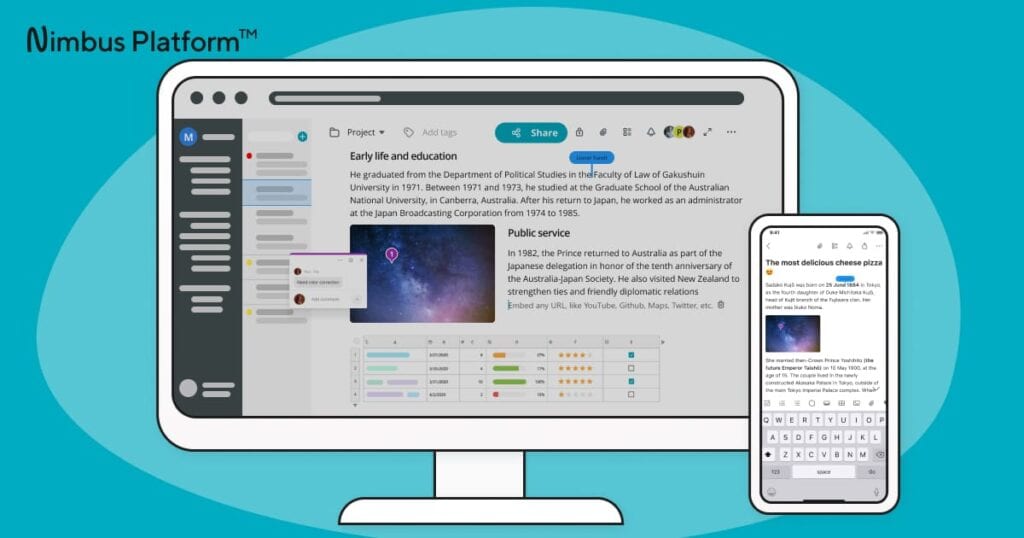 Best for: Remote collaboration, content-based projects and documentation.
Price starting at: $7/month/user
This competitor, which features a series of apps and extensions (Nimbus Note, Capture, Clarity and Clipper), offers all the necessary tools for project management and collaboration. Among all the Coda alternatives in this article, this is the only competitor that allows users to create fully white-labeled client portals and has internal collaboration tools like live chat, video calls and comments. In addition to this, you can enrich your docs with screenshots, screen recordings and clippings from other websites, which is perfect to do research while writing articles or documentation.
Pros
Custom domain.
White-labeled client portal.
Better pricing.
Powerful document editor.
Project management capabilities.
Internal collaboration features.
Internal communication (live chat and video calls).
Workspaces, folders and subfolders.
Native app to work offline.
Extension to record your screen and take screenshots.
OCR for images.
Document scanning with the mobile app.
Cons
Cannot reorder elements (folders and notes) manually.
No SEO features (meta title, description or friendly URLs).
No webhooks for external triggers.
No native time tracking.
Do you want to know more about the difference between Nimbus and Coda?
Notion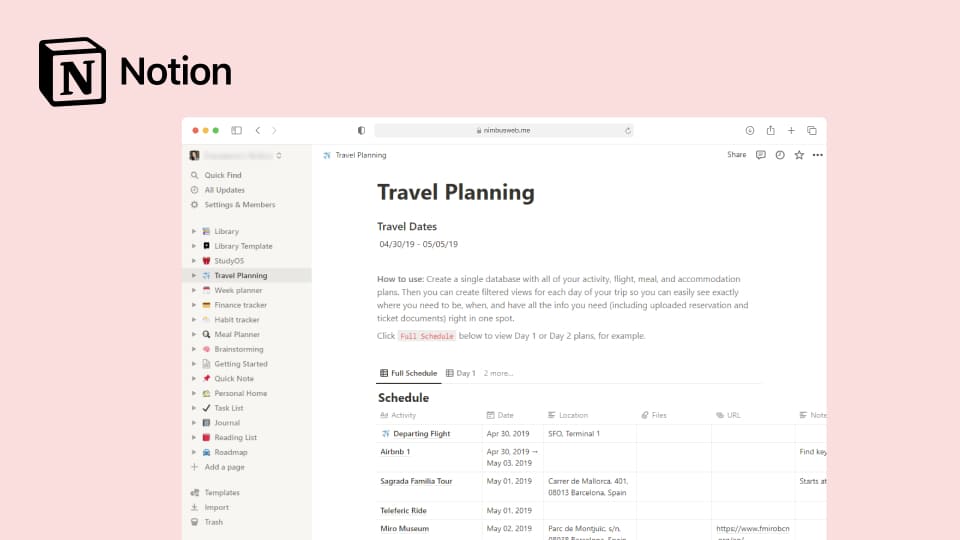 Best for: Team collaboration, project management and lightweight databases
Price starting at: $8/month/user
This Coda alternative is a content creation and project management platform with very similar features. Notion is equally used by teams and freelancers to manage tasks, projects and content. In terms of features, it is a very close Coda competitor, but it has doubtlessly succeeded in creating a strong community around the product, so you can find thousands of templates online created by users to fit most types of projects. However, just like Coda, this competitor does not offer any white label features or custom domain, so it's not the best option either if you're looking for a client-facing project management tool.
Pros
Wide range of content blocks.
Unlimited storage.
Relational databases.
Varied templates.
Versatile content management features.
Multiple PM views (table, Kanban board, timeline, calendar, etc.).
Sharing capabilities.
Internal collaboration features (editing, comments, mentions, etc.).
Nested pages and tables.
Chrome extension (web clipper).
Cons
Does not work offline.
No white label.
No customer portal to share your work.
Steep learning curve for beginners.
Overwhelming set of features.
Weak writing experience.
Airtable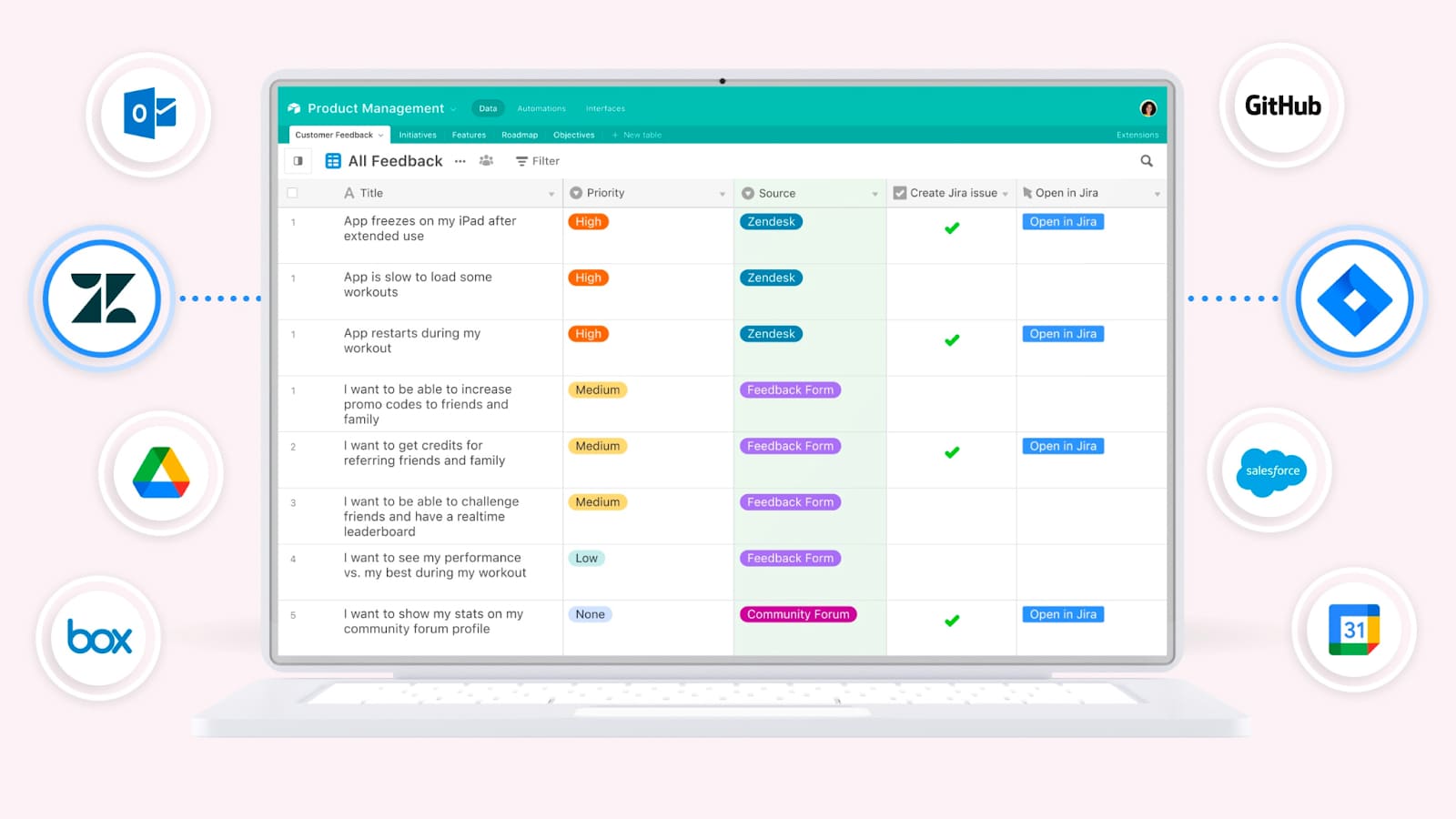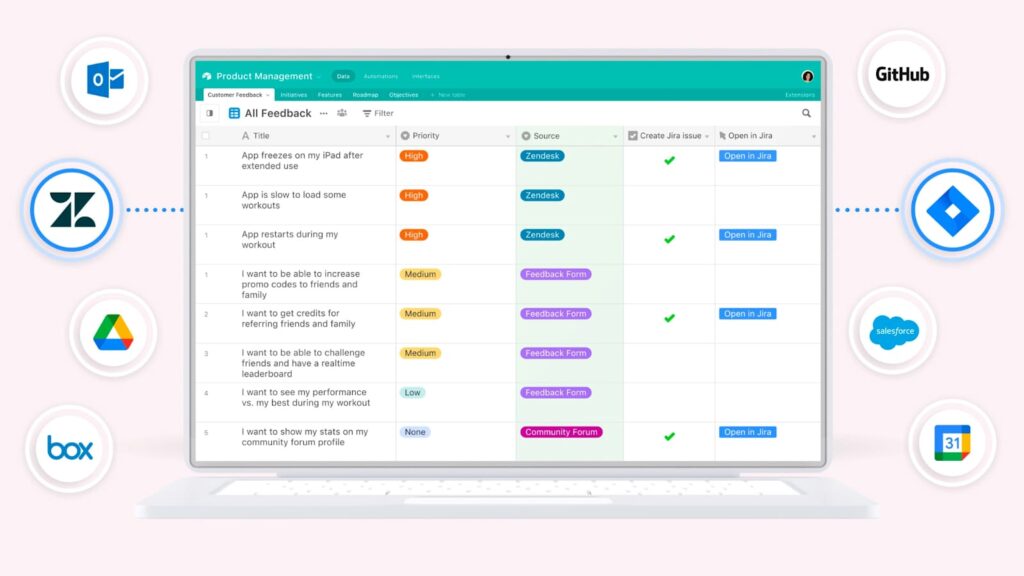 Best for: data storage and collection, project management and team collaboration
Price starting at: $10/month/user
This Coda competitor offers a completely different approach to project management. This alternative steers clear of content creation features and focuses more on project management based on powerful spreadsheets, like Google Tables or Microsoft Lists. With this Coda competitor, you can create your own spreadsheet-like dashboard to manage all your tasks, deadlines, etc. You can do virtually anything in terms of project management and collection of data automatically with this Coda alternative. However, it does come at a cost. So if the pricing is one of the reasons you're looking for a Coda competitor, Airtable might not be for you.
Pros
Wide range of views (tables, columns, lists, form, etc.).
Powerful table view and forms.
Custom attributes to create tailored project dashboards.
Whole range of internal automations.
Native integrations with external tools.
Extensive directory of templates and add-ons.
Extensive marketplace of free templates.
Cons
Quite pricey.
No offline function apps.
No internal chat.
No white label features.
No customer portal.
Steep learning curve for beginners.
Unsuitable for content creation.
Walling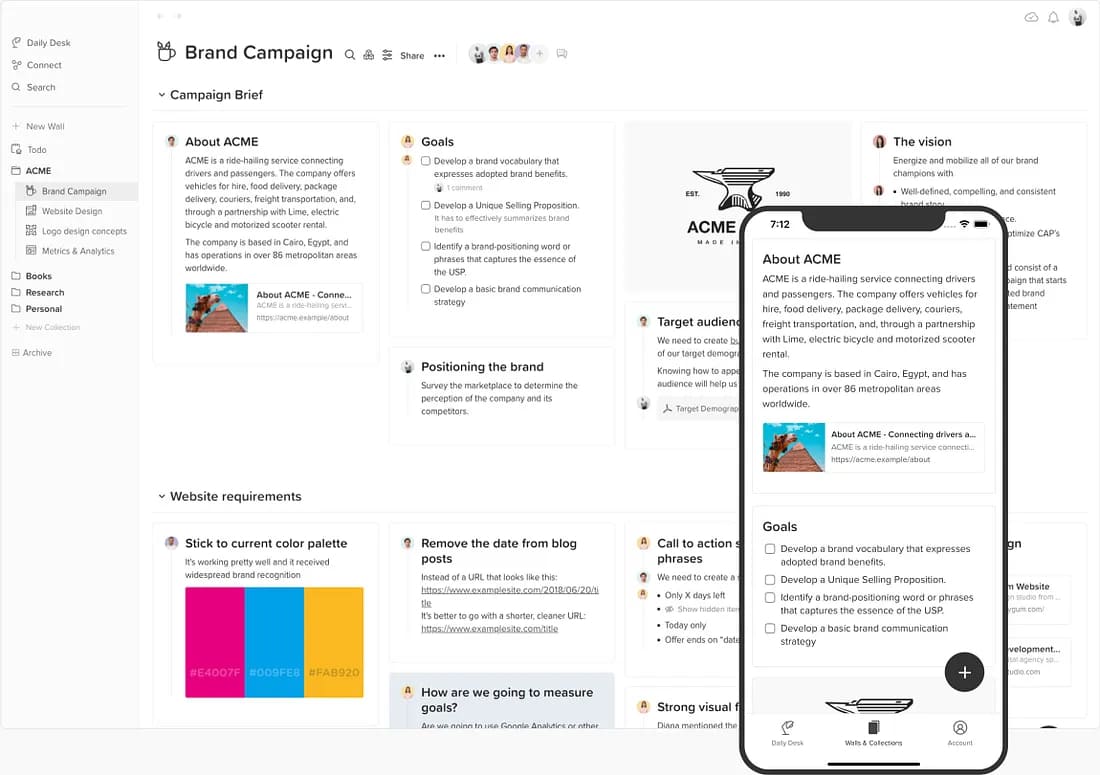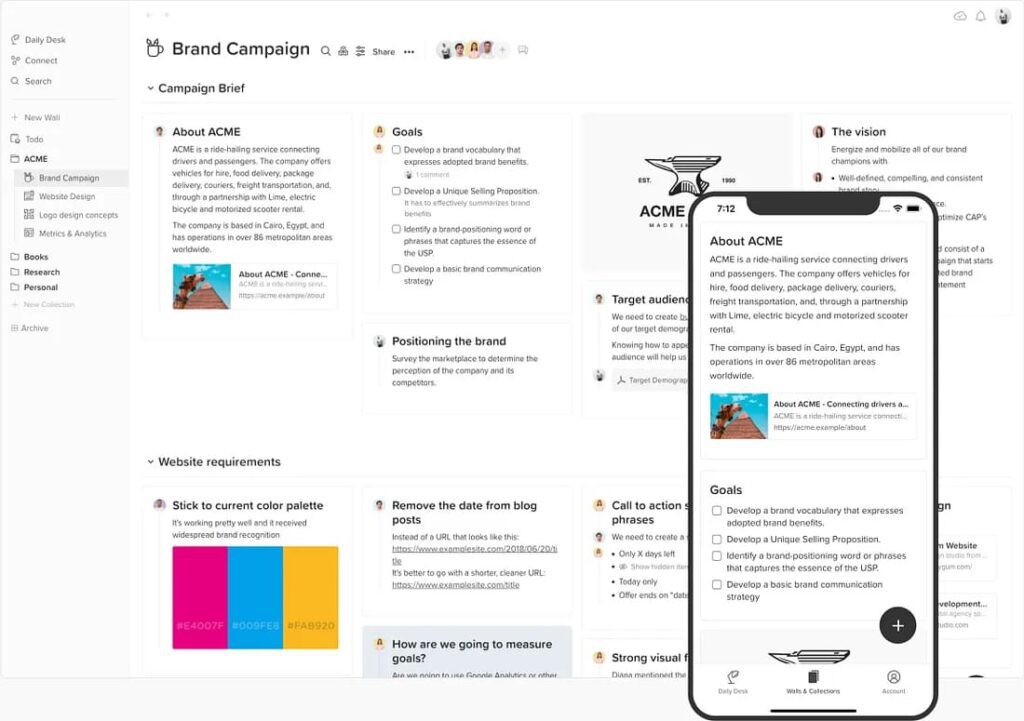 Best for: document creation and management
Price starting at: $5/month/user
This alternative is a strong Coda competitor in terms of content creation and lightweight project management features. With a fast-paced development and a brick-based approach, Walling offers a wide range of content creation capabilities which are especially appealing to visual content creators. Although it does not offer white label features or mind maps for creative work, its multiple views and range of custom blocks make it a great tool for freelancers and small teams.
Pros
Affordable pricing.
Unlimited file uploads.
Versatile hierarchy (walls, folders, sections, bricks, blocks).
Quite a few templates available.
Lightning fast user experience.
Unlimited guests.
Chrome web clipper.
Cons
No offline capabilities.
No white label features.
No custom domain.
Weak project management features.
No internal communication.
GitBook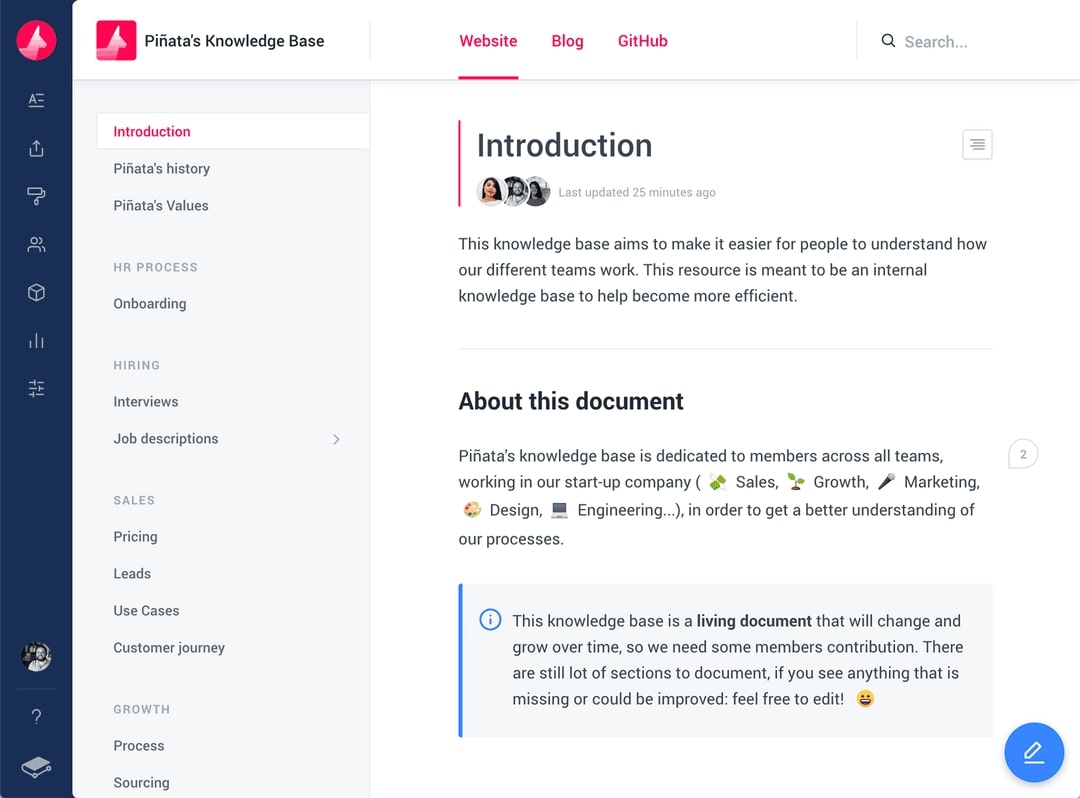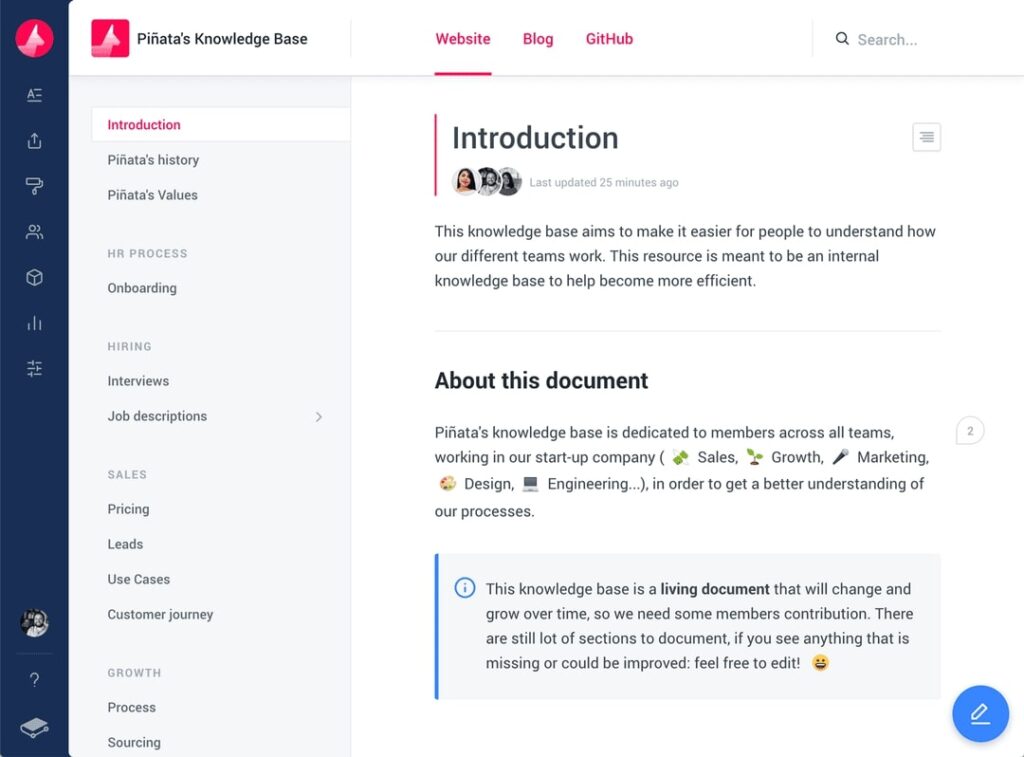 Best for: Internal and external software documentation and collaboration
Starting price: $6.70/month/user
GitBook is a simple documentation tool with a very clean and intuitive interface, and great customer ratings. This Coda competitor allows teams to document anything from product guides or frequently asked questions to APIs or SOPs. As an alternative to Coda, Gitbook focuses on making it easy to document technical knowledge of any kind and share it both with team members (internal documents) and with clients (external documents).
Pros
Custom domain available even on the lowest plan (free).
Affordable pricing.
Easy drag-and-drop organization of folders and docs.
Content feedback features available to paying users.
Insights and analytics.
Comprehensive document version history.
Cons
Gitbook branding cannot be removed.
Very basic and limited range of integrations.
Little customization available.
Unclear file storage limits.
No internal communication capabilities.
Let's Wrap It Up, shall We?
Coda is a fantastic platform in many ways, but so are the five competitors we have listed in this article. All of these alternatives beat Coda in some way or another. All you need to do is analyze your business needs and team requirements. Only then will you be able to choose the right competitor. And remember, if it suits you, it will never be a wrong choice. Except pineapple on pizza. That's always wrong.
Disclaimer
Parties other than Nimbus Platform™ may provide products, services, recommendations, or views on the Nimbus Platform™ site ("Third Party Materials"). Nimbus Platform™ is not responsible for examining or evaluating such Third Party Materials, and does not provide any warranties relating to the Third Party Materials. Links to such Third Party Materials are for your convenience and do not constitute an endorsement of such Third Party Materials.
Next post
5 Best Google Keep Alternatives in 2023