Top 8 DashThis Alternatives to Elevate Your Reporting
Build your reporting process with our expert advice
Book a demo
Are you searching for alternatives to DashThis for report building? When it comes to marketing reports, DashThis has long been considered an easy and automated option to generate reports quickly and efficiently.
DashThis may be popular, but it might not be the best choice for everyone. In this article, we explore several DashThis alternatives and discuss why they might be a better choice for expanding your business.
Why do You Need a DashThis Alternative?
DashThis is used by organizations around the globe, helping it stand out in marketing automation. And while it garners some positive reviews, this doesn't guarantee the platform will meet all your needs flawlessly; it's even safe to say that it has some downsides such as:
Steep learning curve
DashThis is an outstanding tool for building beautiful dashboards, but some users find the learning curve too steep; too much functionality often leaves dashboards unusable and nonfunctional.
Few customization options
People love customization and personalization. Brand experiences tailored specifically for customers draw in over 80% of users. Unfortunately, DashThis's customization choices are too basic; Additionally, this platform lacks automation features.
User interface issues
Tracking and interpreting all your data might be difficult with a sloppy dashboard.
1. Nimbus Platform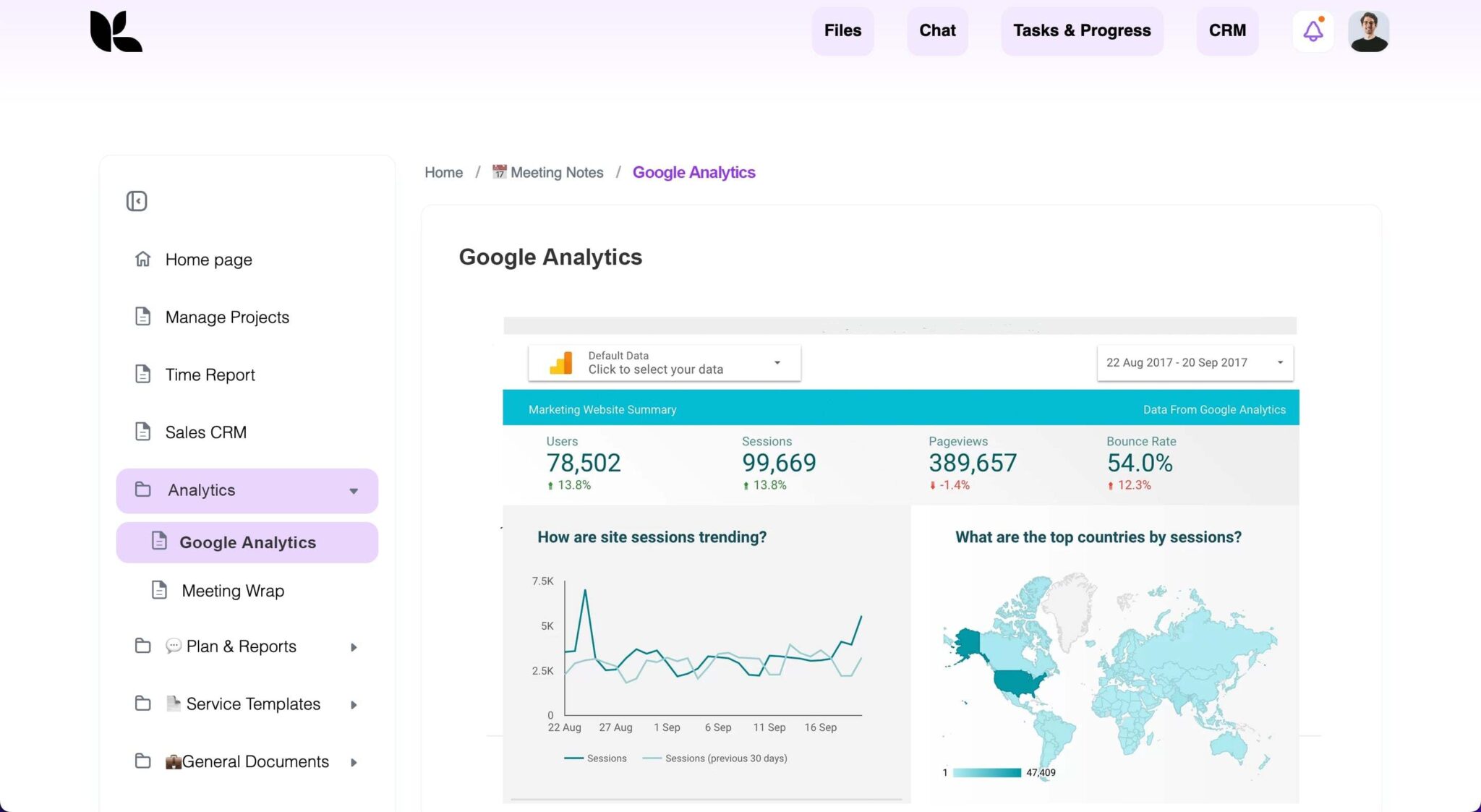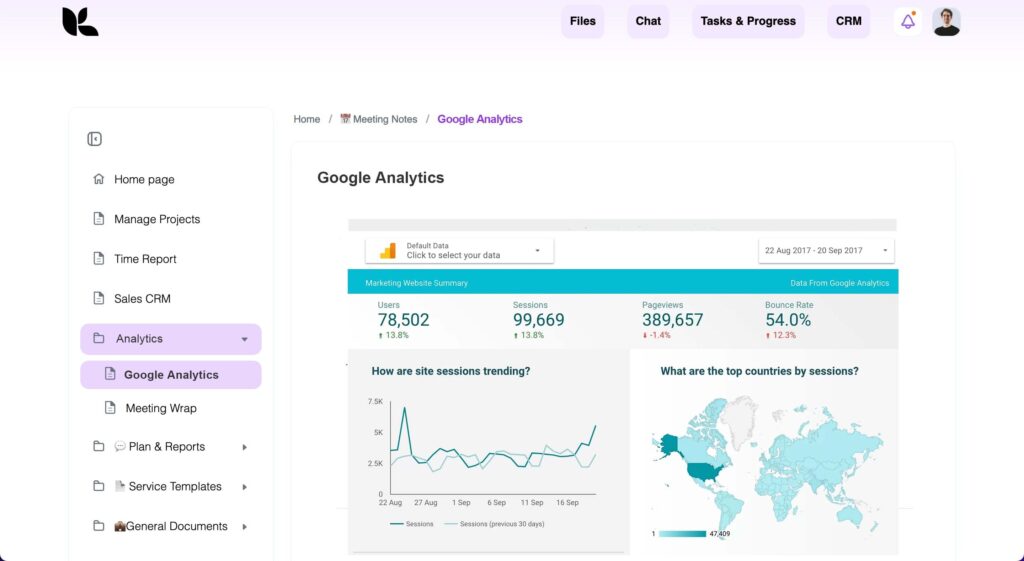 Compared to DashThis, Nimbus Platform is a strong contender. It has this innovative mix of simplicity and power that makes it stand out among other marketing reporting tools.
Nimbus shines against competing platforms thanks to its flexibility in report formatting, which lets users create custom reports. And it's an amazing feature that helps reflect your company's corporate identity and presentation preferences.
Nimbus Platform is flexible and simple to use, so it can serve businesses of all sizes.
Key features
Super Documents. Document creation for every need. It has an intuitive user experience and robust functionality (suited for all major devices and users).
Link Data and Network Data are perfect for creating your own network. Use mentions to link notes, workspaces and folders.
White-label options are great for presenting data and insights under your own brand, giving it immediate impact and relevance for any audience.
Visual customization enables faster results in faster information retrieval.
Pricing
Free plan
Plus – $9/month per user
Team – $12/month per user
Business plan – $30/month per user
2. AgencyAnalytics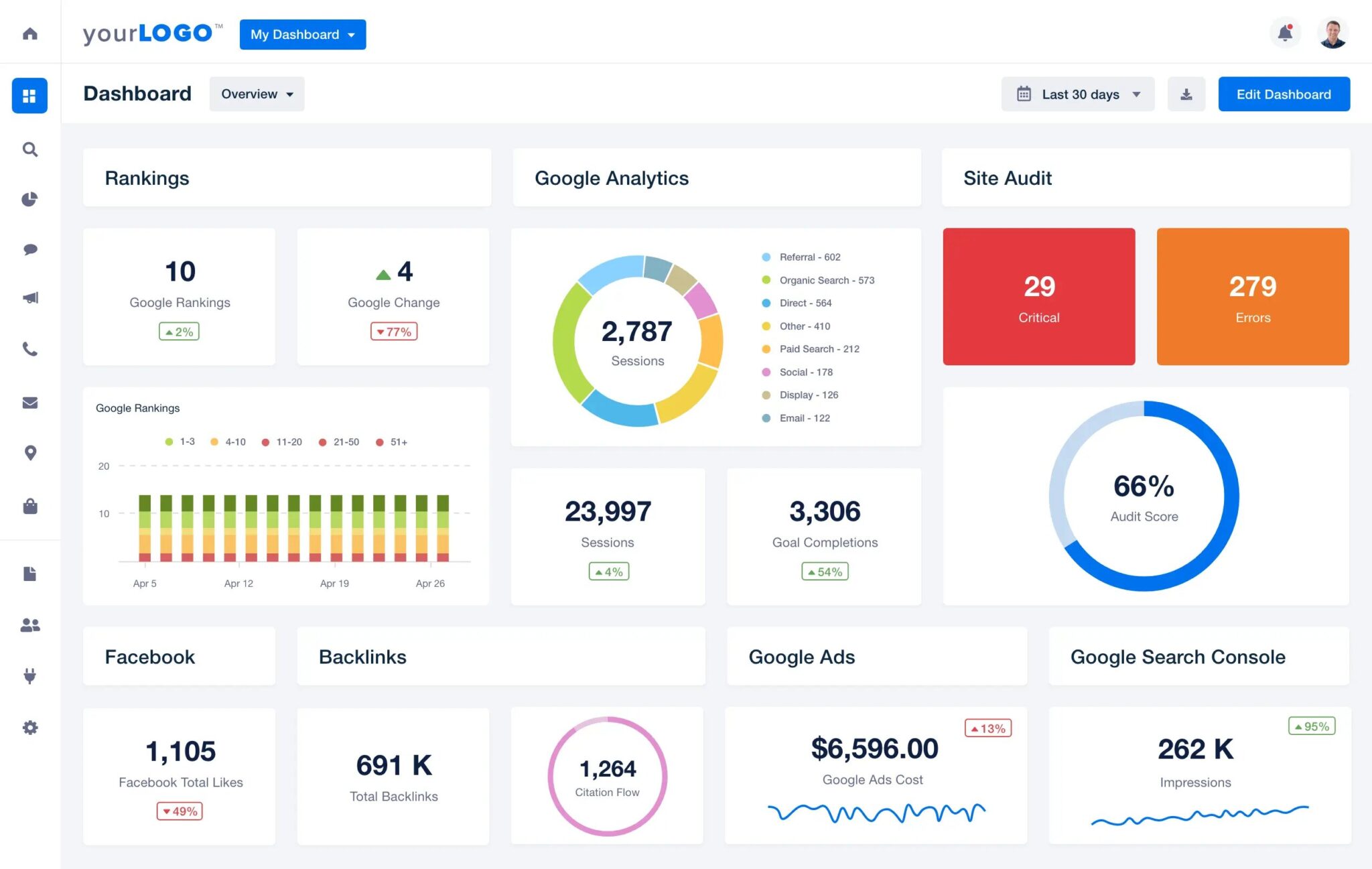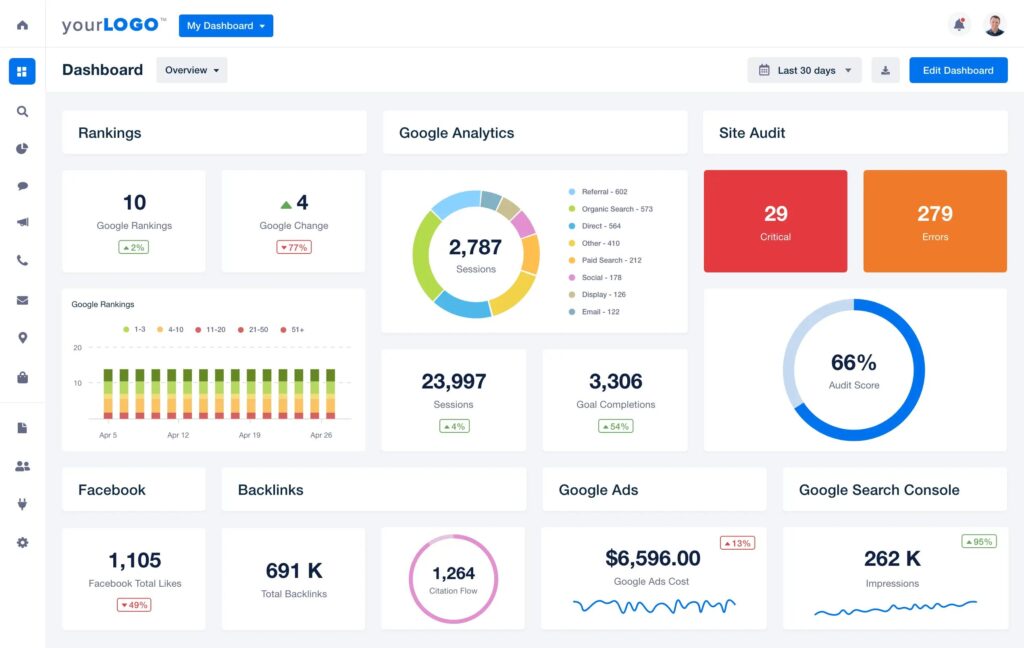 AgencyAnalytics is one of the best DashThis alternatives, as there is no other reporting platform available for advertising agencies. The user-friendly platform cuts down on administrative work, streamlines report generation and makes a good impression on clients with detailed reports and real-time, fully customizable marketing dashboards.
Search engine optimization (SEO) and digital marketing metric monitoring are two areas where AgencyAnalytics will help you. In addition to providing SEO tools like website audits, rank tracking and backlink monitoring, it also allows you to create your own dashboards and build reports.
Who uses AgencyAnalytics?
Businesses in all sectors, including digital marketing agencies, media outlets, brands, franchises with multiple locations and independent marketers.
Best features
Automatic client reporting within minutes.
All your marketing data under one roof (new integrations released every month).
Custom Dashboards for great data visualization.
Track the success of your clients with custom metrics.
Customize your marketing reports.
Give each client their own log-in to an online marketing dashboard they can use at any time.
Simplify your staff workflows.
Custom reporting.
Pricing
This analytics tool offers three paid plans
Free trial for 14 days
Freelancer – $12/month per client campaign
Agency – $18/month per client campaign
Enterprise – Custom pricing
3. Geckoboard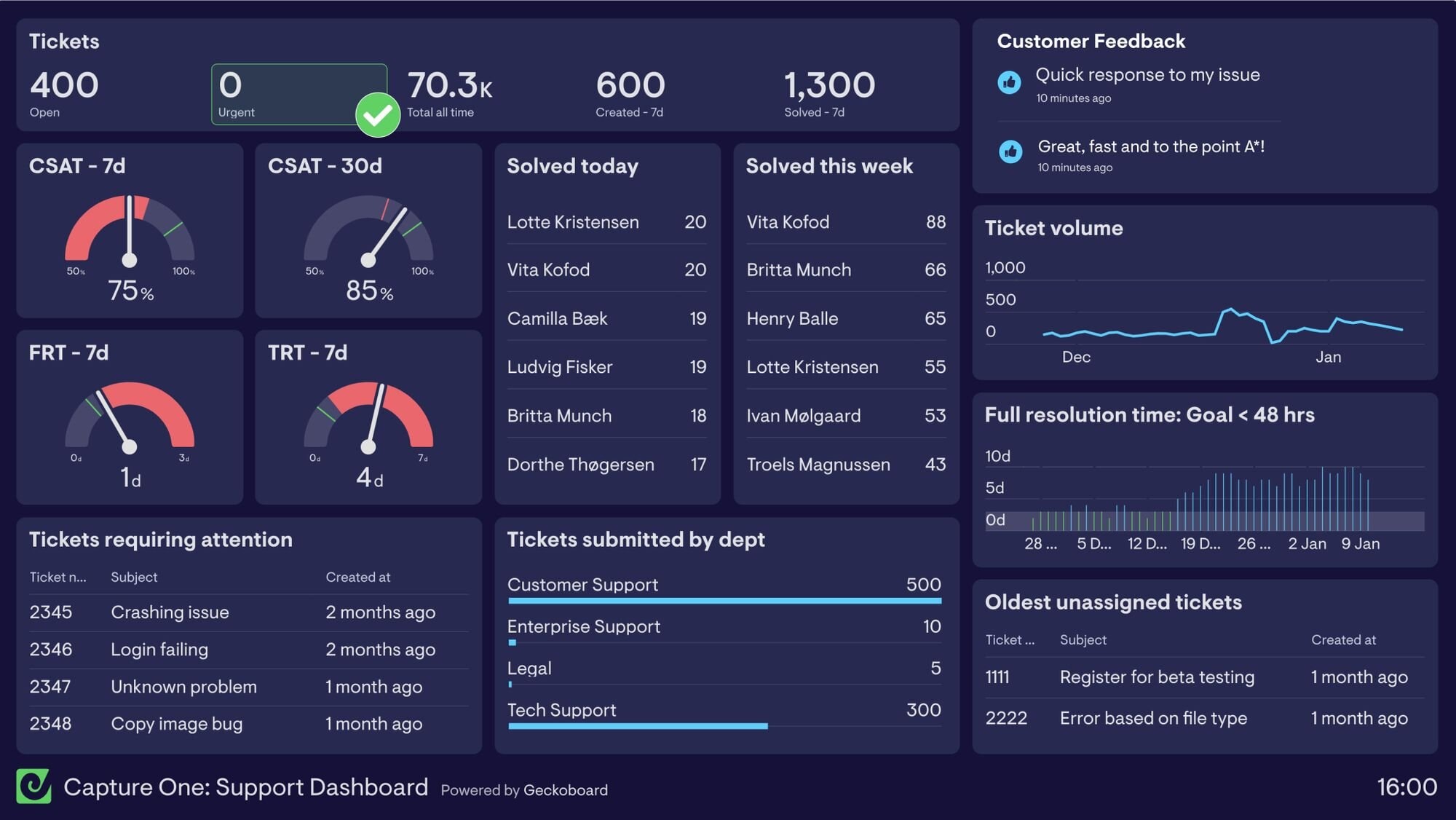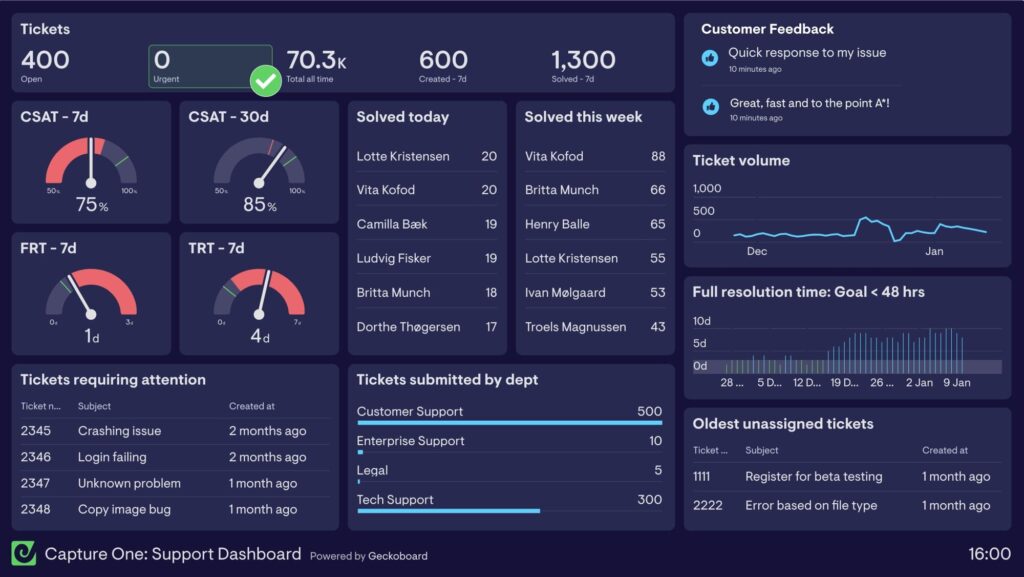 Geckoboard DashThis alternative makes real-time business dashboards easy to create and share. Geckoboard integrates seamlessly with a variety of data sources, allowing team leaders to quickly and easily bring in all their data from more than 80 different channels and services. This empowers them to present a polished dashboard to their team and the rest of the company, all without the need for coding or training.
Whatever your team is doing, Geckoboard simplifies dashboard sharing. You can copy and paste a link to a live dashboard in any web browser or invite your peers to log in, watch and build any dashboard. Dashboard screenshots can be scheduled for email or Slack channel updates.
For perfect visibility, Geckoboard's 'Send to TV' feature lets you connect your account with a browser on a large screen or TV and choose which dashboard to display. It may loop multiple dashboards on one screen. It has simple instructions for doing this using inexpensive hardware.
Who uses Geckoboard?
Small and medium-sized online business team leads who want to improve KPI visibility, goal focus and data response.
Best features
The interface of the standard reports and self-service report is easy to understand and use.
The platform offers a diverse array of graphs and charts within a single dashboard.
Measure engagement metrics like average session duration, page views, scrolling, etc.
Custom variables can be set to track all user activities on the website.
Pricing (billed annually)
Free trial available
Essential – $39/month
Pro – $79/month
Scale – $559/month
4. Google Data Studio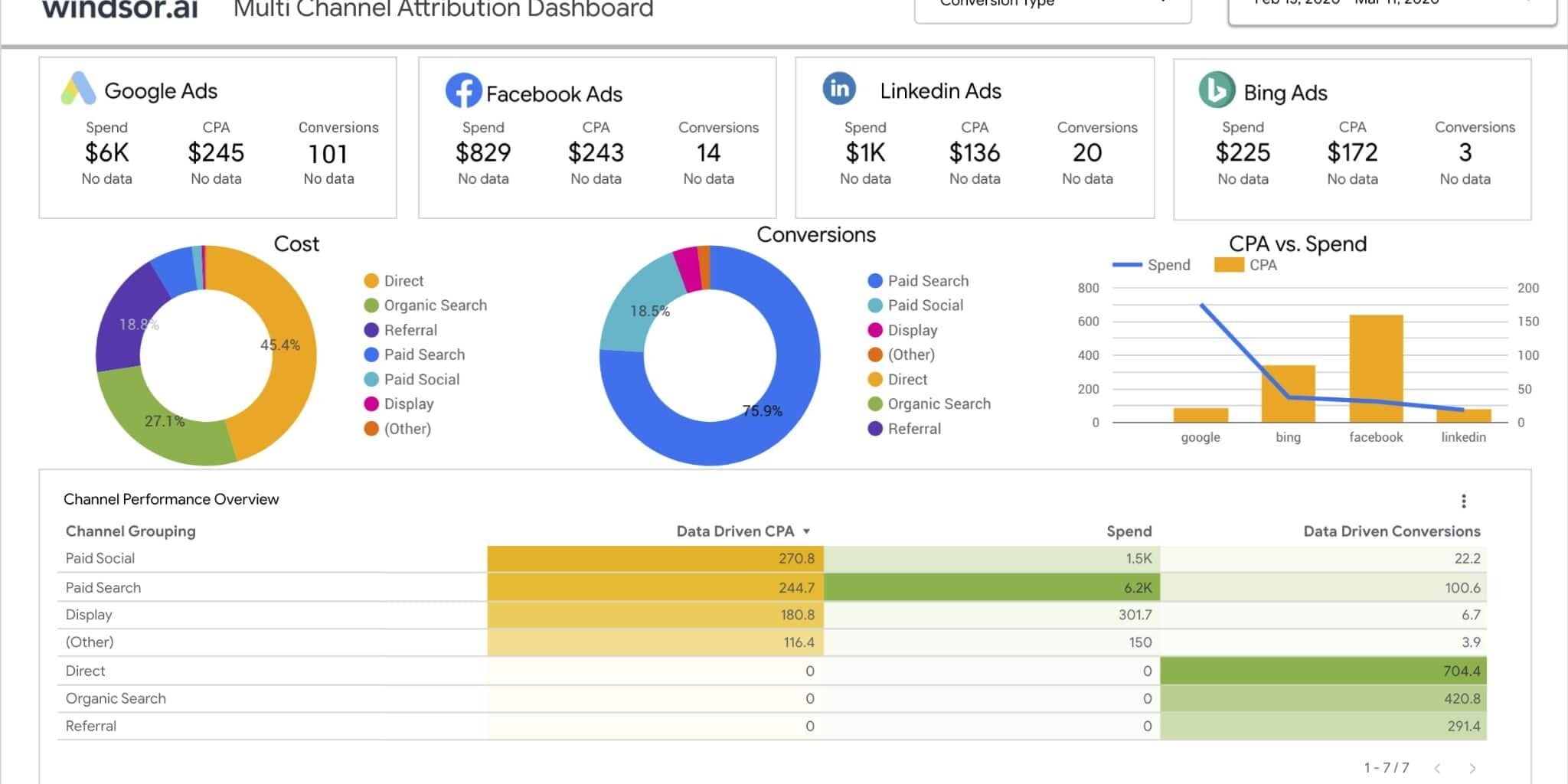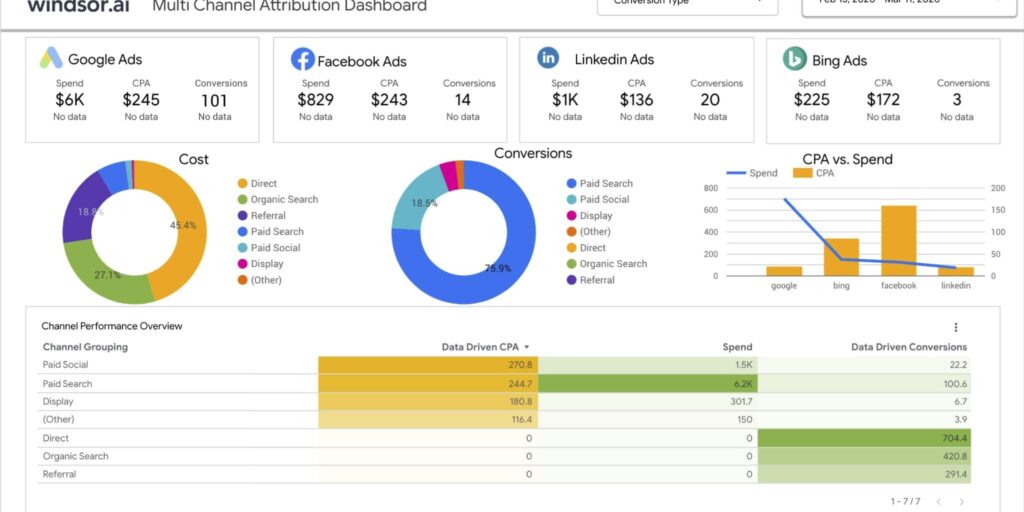 This platform is one of the best DashThis alternatives ever. It helps businesses make informed decisions with its interactive dashboards and insightful reports. Data from different places, like spreadsheets and other tools, can be combined in one spot. To make a custom report and KPI more digestible, you can use this DashThis alternative. Then, users can send reports to their team and company.
Who uses Google Data Studio?
It can be used by small and large businesses.
Best features
Utilize white labeling for data visualization and direct import from major digital marketing channels like Google Analytics, Google Ads and BigQuery dashboards and databases.
Customizable reports are not only designed to meet your business intelligence requirements but also offer the option to add comments, facilitating collaborative data analysis.
Data visualizations can be created and shared to automatically transform numbers into meaningful insights.
You can instantly share marketing and business information with your team to solve problems.
Pricing
This DashThis alternative is free.
5. Whatagraph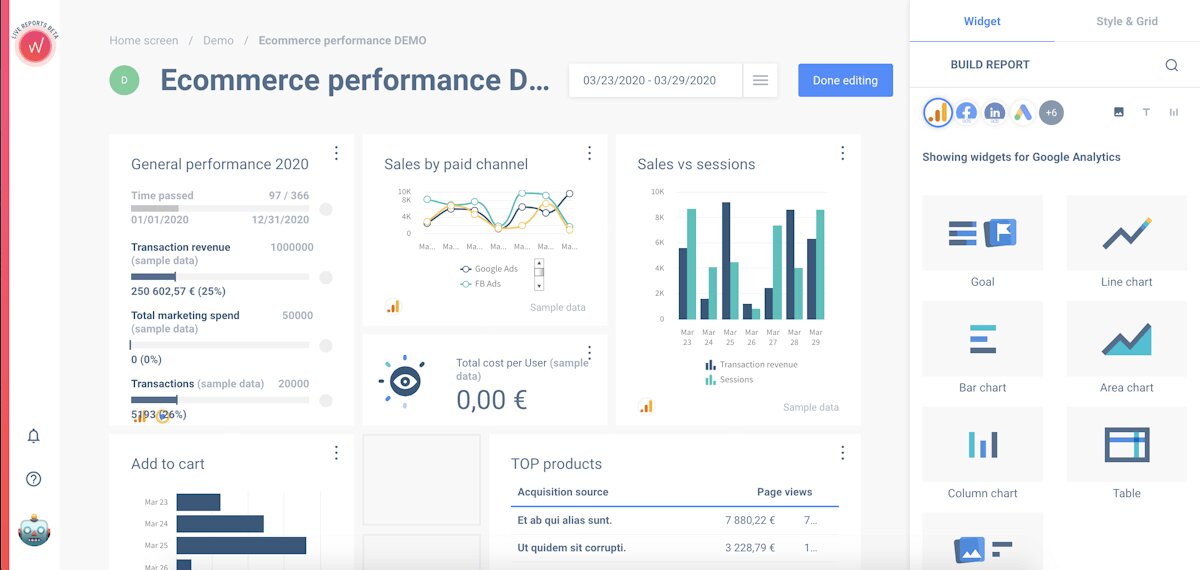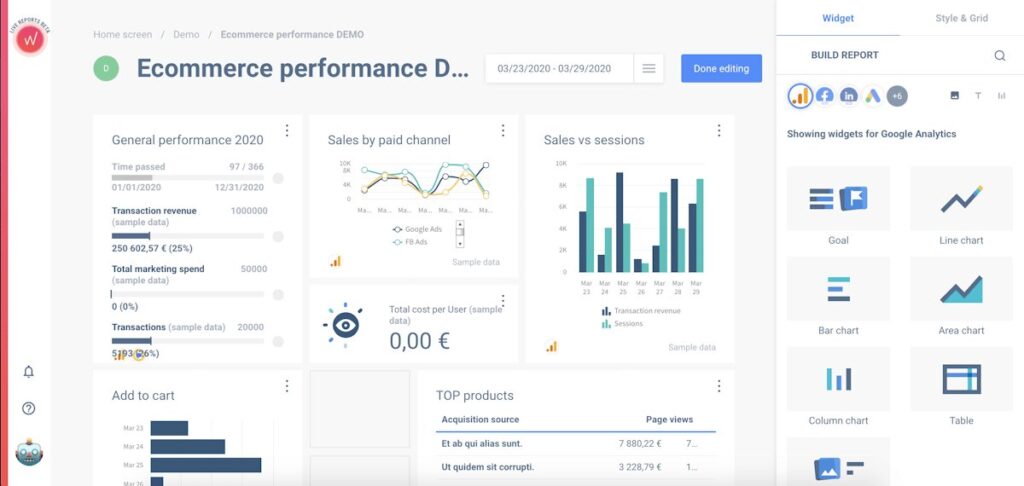 Whatagraph is an excellent option if you need a simple and effective reporting solution from digital marketing channels. Create beautiful marketing reports from scratch with this tool, whether you're an in-house marketer or an agency.
Whatagraph now includes a data transfer feature for users with more advanced data requirements that helps import data from several digital marketing channels into Google BigQuery.
Who uses Whatagraph?
Whatagraph is designed for marketing agencies and in-house teams.
Best features
BigQuery Warehouse, custom APIs and other multiple sources are available for pulling your marketing metrics for sharing and data visualization, all without worrying about connectors.
You can use pre-built templates and widgets specifically tailored for your metrics to get started quickly.
If you start with a blank sheet, the building process is intuitive and easy to customize.
Live dashboards, automatic emails and intuitive data export and transfer are all ways to share insights quickly.
You can customize reports to make them stand out – add your own logo and color scheme. Modify widgets, layouts, metrics, etc.
Pricing (pay annually)
Free trial available
Professional – $223/month
Premium – $335/month
Custom pricing plan available
6. NinjaCat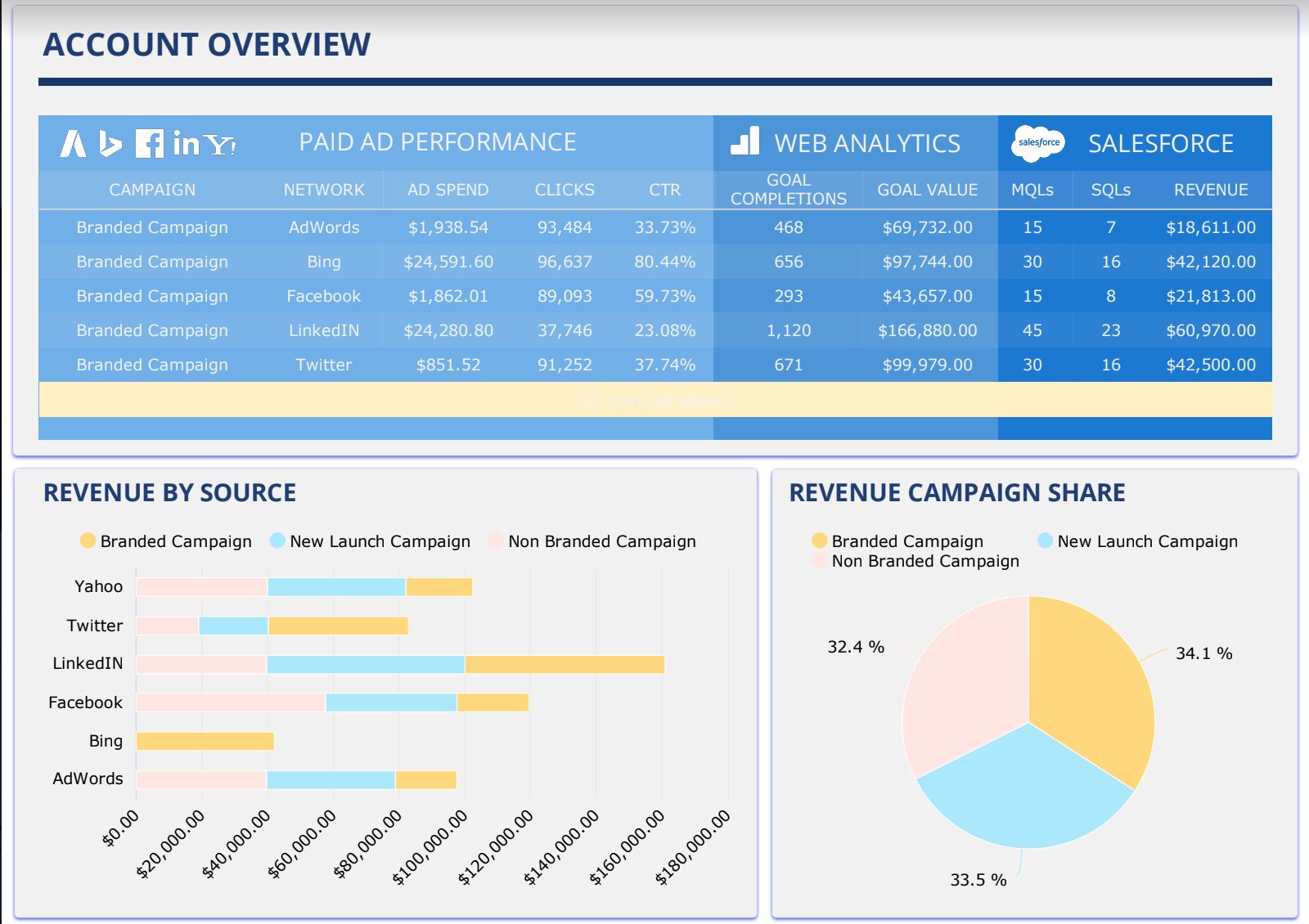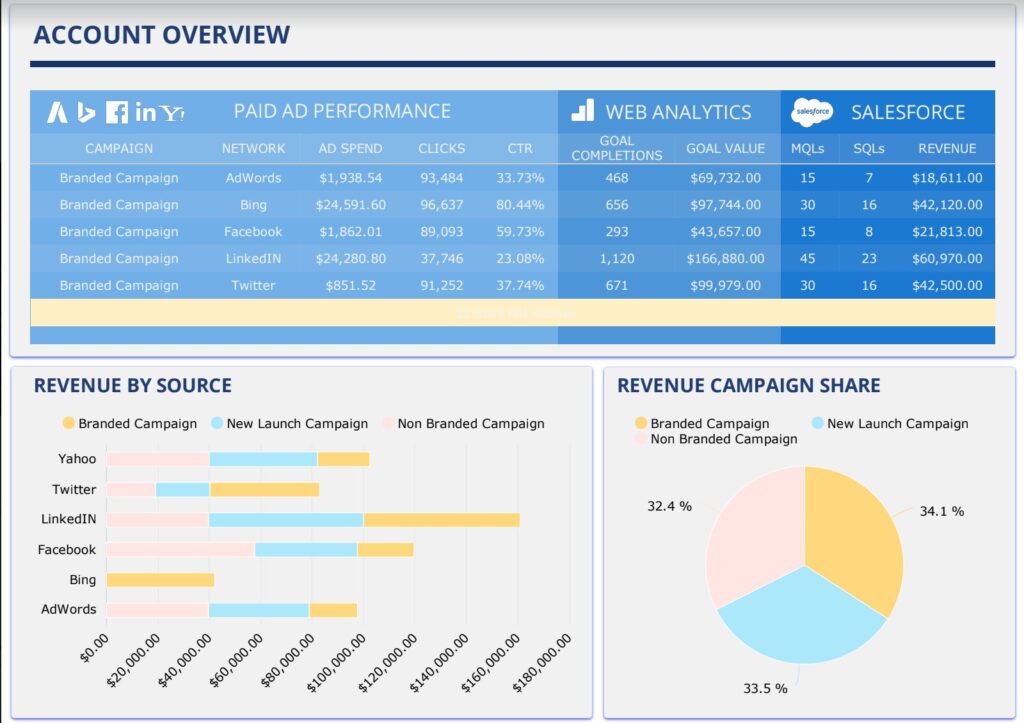 NinjaCat dashboard software was designed to help digital marketers streamline their operations by centralizing campaign data and facilitating automated client reporting. It collaborates with advertising groups of all stripes, including agencies, media businesses and brands to ensure their reports to clients and stakeholders are thorough and uniform. With NinjaCat, you can consolidate marketing data from a wide variety of digital marketing platforms into a unified dashboard.
Who uses NinjaCat?
Digital marketing agencies and professionals use NinjaCat to accelerate reporting.
Best features
A wide range of graphs and charts is available for perfect data visualization.
Any dashboard can be easily designed, refined and collaboratively developed by business users.
Tracking historical data is possible.
You can get updates on metrics regularly and in real time.
Marketing campaigns' metrics like effectiveness, reach and impact are easily collected from multiple sources.
Co-editing allows users to collaborate on the creation of visualizations.
Pricing
Contact customer support to get more information about the pricing plans.
7. Adverity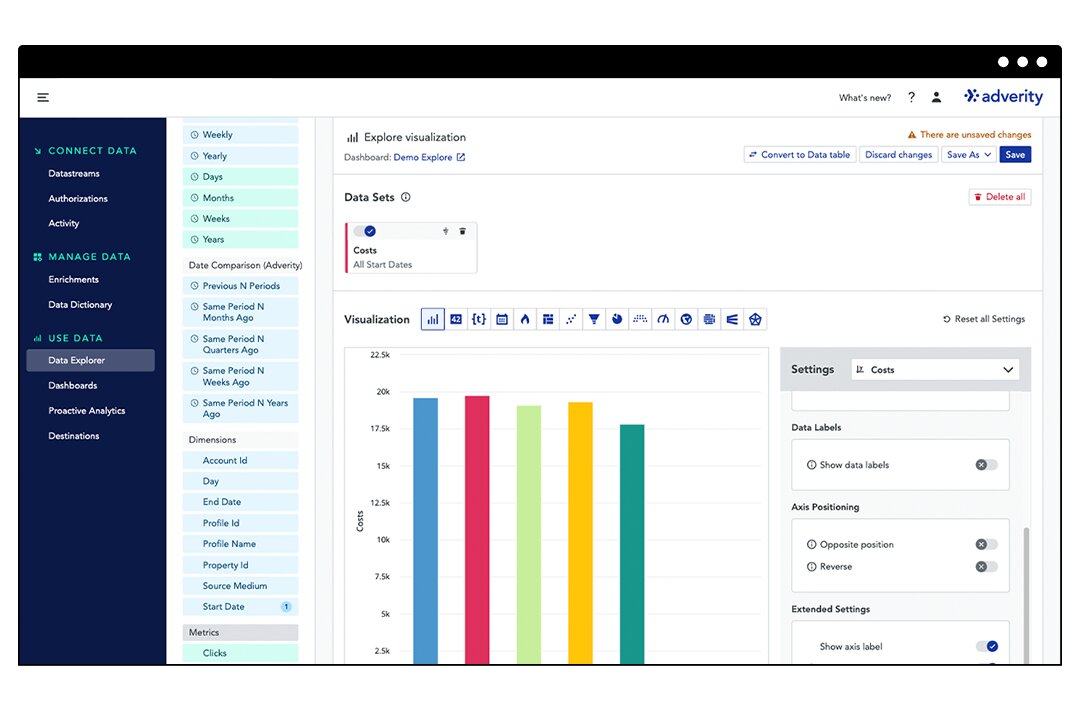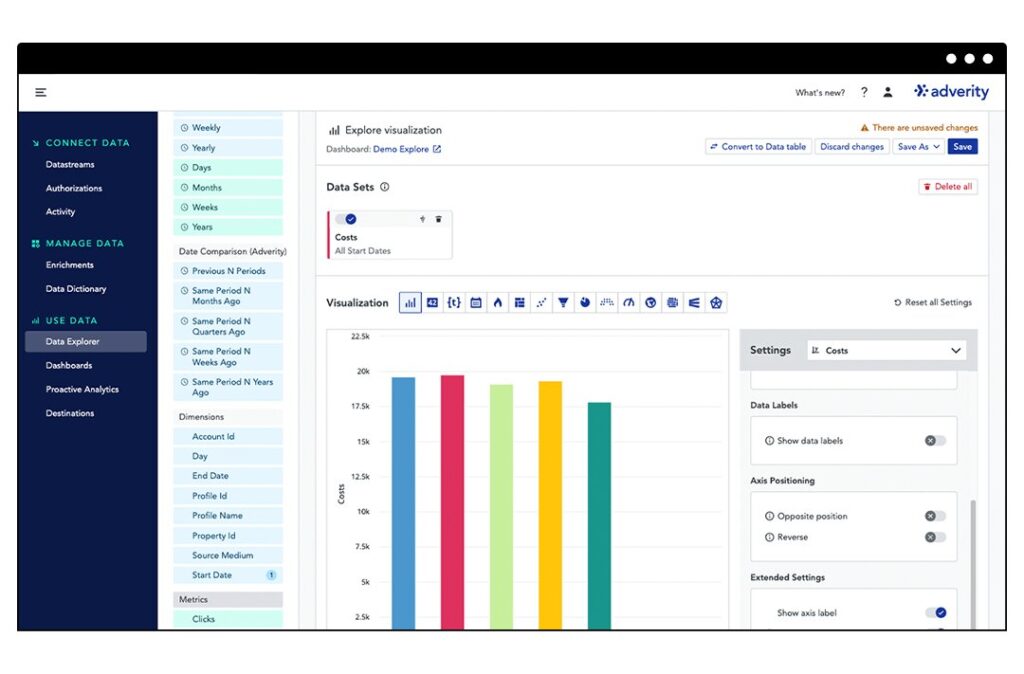 Adverity is one of the intuitive data visualization and reporting platforms that consolidates information from various sources into a single view. Adverity is an adaptable dashboard software that helps data-driven marketers optimize their campaigns and various channels for maximum success through its comprehensive automation features. Some users say Adverity is the best alternative to DashThis because it simplifies the process of finding ways to increase revenue and proving the value of marketing investments.
Who uses Adverity?
Adverity assists agency and brand marketers in solving data issues, keeping track of business performance and making high-ROI data-driven decisions.
Best features
The platform allows you to monitor performance and demonstrate value. Data can be democratized quickly.
Connect your KPI Dashboard to Adverity's predictive web analytics to find hidden trends. These are chances to strengthen your strategy and boost ROI.
You can easily customize the pre-built dashboard (out-of-the-box dashboard) and start tracking.
You can also create dashboards from scratch using the drag-and-drop builder.
Pricing
Standard – from $500/month
Professional – from $2,000/month
Custom pricing plans are available
8. Databox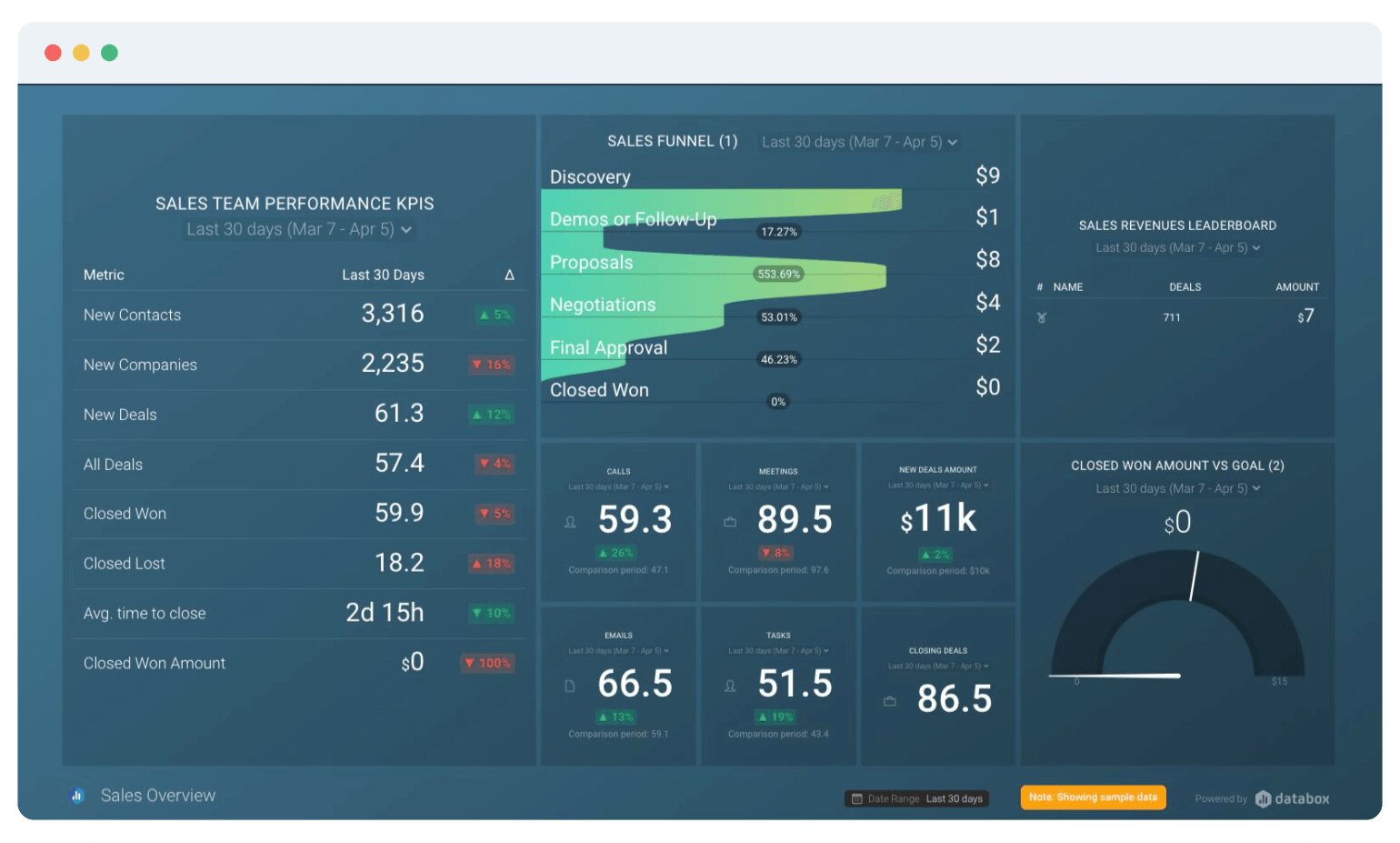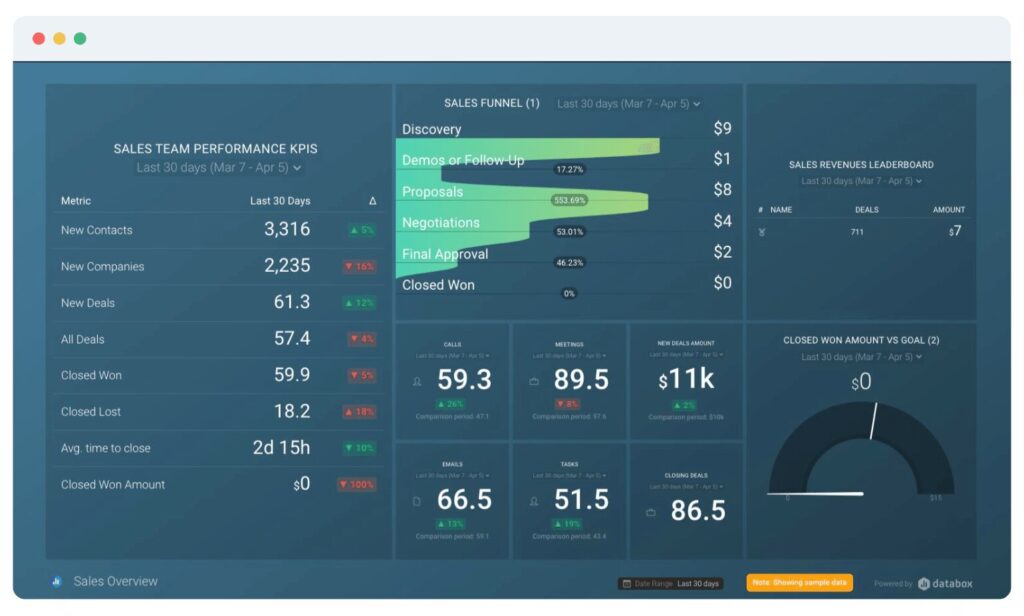 Databox is a business analytics platform that centralizes all of your information in one place, allowing you to monitor KPIs and uncover hidden patterns in real time. You may get a more holistic picture of your performance by combining data from any dashboard. In addition to Google Analytics, Salesforce, HubSpot, Mixpanel, Facebook, Shopify and more, Databox seamlessly integrates with dozens of other data sources and services with a single click. This reporting tool allows you to create insightful analytics by incorporating your own custom formulas. Making a powerful dashboard is now easier than ever with the help of a simple drag-and-drop builder.
Who uses Databox?
The platform is perfect for marketers, sales reps, executives, etc.
Best features
Dashboard designer makes it easy to visualize key metrics. Your custom dashboard can be updated in real-time.
Connect to almost any data source in order to make custom dashboards.
You can share dashboards with your TV to better visualize your goals, set them and track them.
Receive automated alerts whenever there is a change in your key metrics (positive or negative).
You can get daily, weekly or monthly reports by email, Slack and other platforms.
Its hundreds of integrated tools aid data import and tracking. Drilling down into data provides more information.
Pricing
Free plan
Starter – $47/month
Professional – $135/month
Growth – $319/month
Premium – $799/month
Choosing the Best Option
Compared to DashThis, Nimbus Platform stands out because of its beautiful design, extensive white-label reports and exceptional flexibility.
Working with Nimbus would be a smart choice since we offer all the necessary features and premium services you might need. Check out our free trial period and see what all the fuss is about.
Enhance your client reporting through the Nimbus Platform!
The platform you choose will have a major effect on how productive your team is and how happy your clients are. If you choose wisely, you can take client reporting to new heights and really impress your customers. Good luck!
Disclaimer
Parties other than Nimbus Platform™ may provide products, services, recommendations, or views on Nimbus Platform™ site ("Third Party Materials"). Nimbus Platform™ is not responsible for examining or evaluating such Third Party Materials, and does not provide any warranties relating to the Third Party Materials. Links to such Third Party Materials are for your convenience and do not constitute an endorsement of such Third Party Materials.
Previous post
Best 9 Client Reporting Software Tools to Use in 2023
Next post
Unleash Your Creativity with 11 Best Alternatives for Zoho Creator