Top 5 Knowledge-Sharing Platforms in 2023
To remain agile in a rapidly changing business environment, organizations need to recognize that knowledge has become a critical resource for staying competitive. To maintain a competitive edge, organizations need to ensure that knowledge is shared effectively and efficiently among team members. This is where a knowledge-sharing tool comes in. In this article, we will explore the concept of a knowledge-sharing platform, its benefits and the essential features that organizations should look for when selecting a platform to implement. We will also provide insights into the most popular knowledge-sharing platforms organizations can utilize to maximize productivity and innovation in 2023.
Understanding the Concept of a Knowledge-Sharing Platform
A knowledge-sharing platform comprises a digital tool designed to facilitate the sharing and dissemination of knowledge and information among team members in an organization. It is an online space where users can store, access and share knowledge resources such as documents, videos, images and other multimedia content. The primary purpose of a knowledge-sharing platform is to encourage collaboration among employees and to make information readily available to staff. The platform is designed to help members of the organization work together more efficiently by improving access to information, which can help reduce duplication of effort and enhance productivity.
Essential Characteristics of a Knowledge-Sharing Platform
A perfect knowledge-sharing tool should be designed to provide easy access to information and facilitate collaboration among employees, including remote workers, while also ensuring the security of sensitive information. It should have a powerful search function that allows users to quickly find information they need. The platform should be scalable and customizable to fit the needs of the organization. It should also integrate with other systems and tools that are already in use, which can help improve workflow efficiency. The usability of the platform is also essential; it should be user-friendly and intuitive, encouraging participation and adoption by all team members and facilitating effective sharing of company knowledge. Additionally, a platform for sharing knowledge should have analytics and reporting features that can be used to measure the effectiveness of knowledge sharing and identify knowledge gaps. Finally, a good knowledge-sharing platform should be designed to continuously improve and evolve to remain effective over time.
Top 7 Criteria for Selecting the Best Knowledge-Sharing Tools
Collaboration features: Right knowledge-sharing tools should allow users to collaborate and share information easily with others.
Security: The knowledge-sharing solution should have strong security features to ensure that confidential or sensitive information is protected.
Ease of use: Platforms for sharing knowledge should be user-friendly and easy to navigate to encourage adoption and use by all team members.
Customization: Knowledge and information-sharing platforms should offer customization options to allow organizations to tailor the platform to their specific needs.
Integration: A right knowledge-sharing tool should be compatible with other applications and systems used by the organization to improve workflow efficiency.
Analytics and reporting: Knowledge-base sharing platforms should offer analytics and reporting features to track usage, fill knowledge gaps and measure the effectiveness of the knowledge-sharing process.
Scalability: Knowledge-sharing tools should be scalable and able to accommodate the organization's growing knowledge management system over time.
Best Knowledge-Sharing Platforms in 2023
1. Nimbus Platform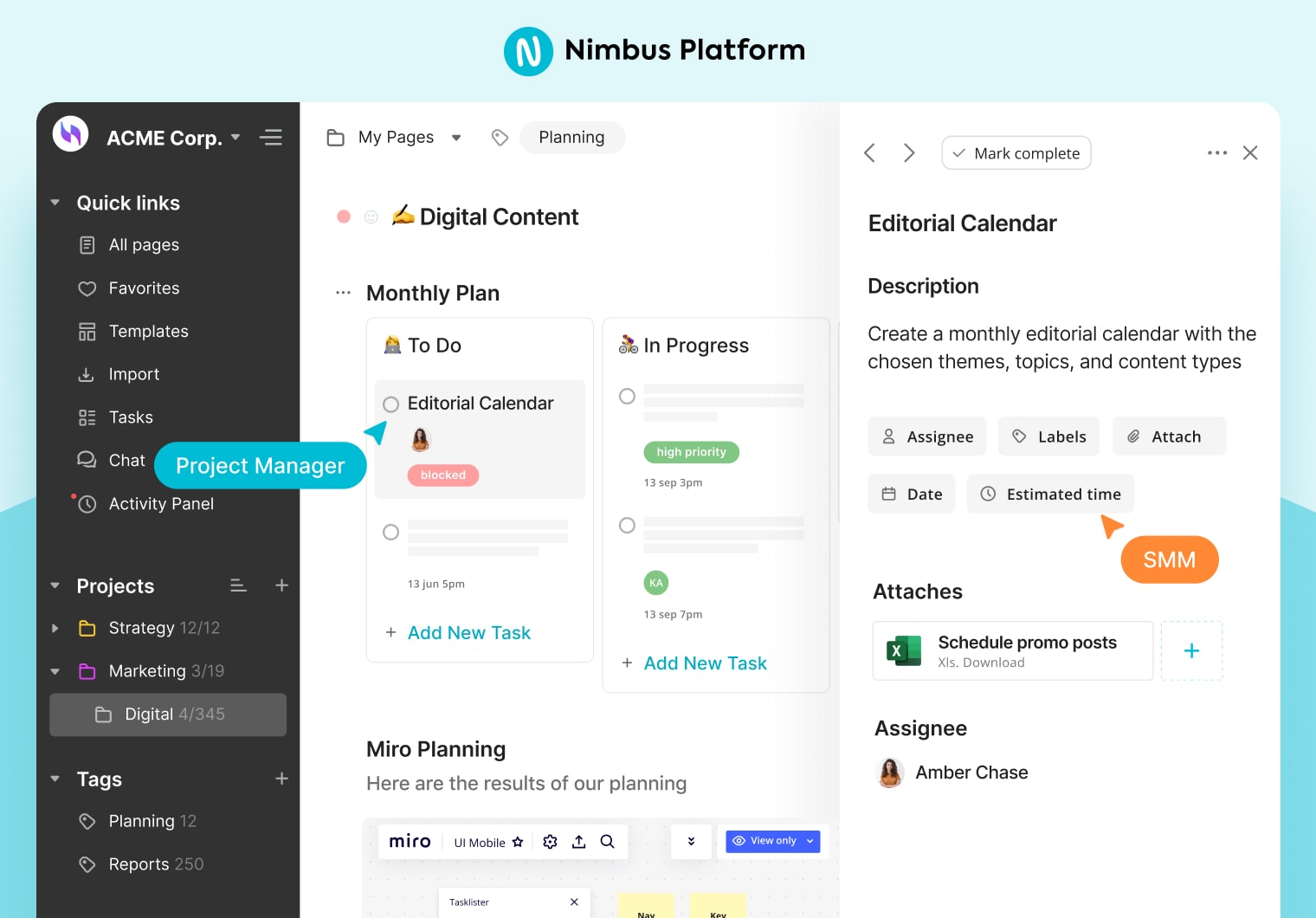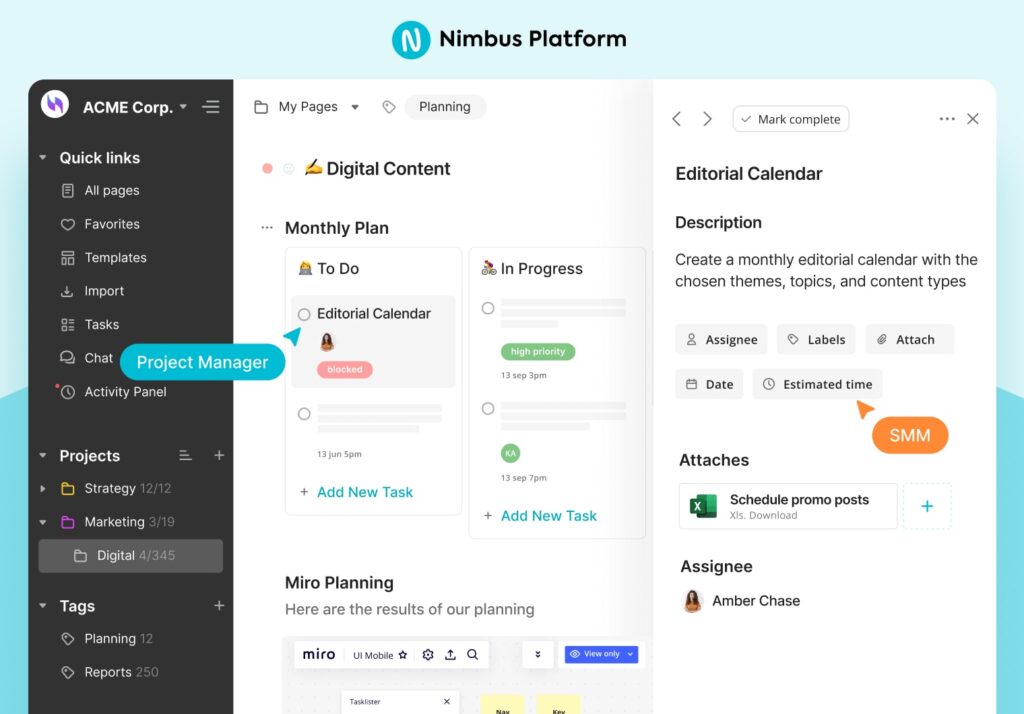 Nimbus is a cloud-based knowledge-sharing platform designed to help teams collaborate and share information most effectively. It offers a range of features that facilitate the capture, arrangement and dissemination of internal knowledge across an organization.
One of the key features of Nimbus is its capability to create a centralized knowledge repository. This allows for effortless storage and organization of content in a structured format, which even includes the ability to add code blocks for technical documentation. Furthermore, this rep of knowledge-sharing platforms enables users to quickly locate information they need through instant search, making the process of accessing valuable knowledge incredibly efficient.
Another important feature of Nimbus is its integration with other popular business tools, such as Microsoft Office and Google Suite. This facilitates creating and sharing documents and other types of content directly from within Nimbus in a traditional intranet structure, making it easier to facilitate knowledge sharing and collaboration within the organization.
Nimbus also offers advanced security features, including role-based access controls, single sign-on (SSO) support and data encryption. This ensures that sensitive information is protected and only accessible by authorized users. Overall, Nimbus is a powerful and user-friendly knowledge-sharing platform with an amazingly low learning curve that can help teams collaborate more effectively and streamline their internal knowledge management processes. Such a platform is well-suited for organizations of all sizes.
Boost knowledge sharing in your company with the Nimbus Platform™!
Pricing plans
Nimbus offers a variety of pricing plans to suit different needs and budgets, including a free plan with basic features, a team plan for small teams and custom plans for larger organizations with advanced needs, with pricing based on the number of users and the level of support required. For detailed and up-to-date information on Nimbus pricing options, it is recommended to visit the official website of the company.
2. Confluence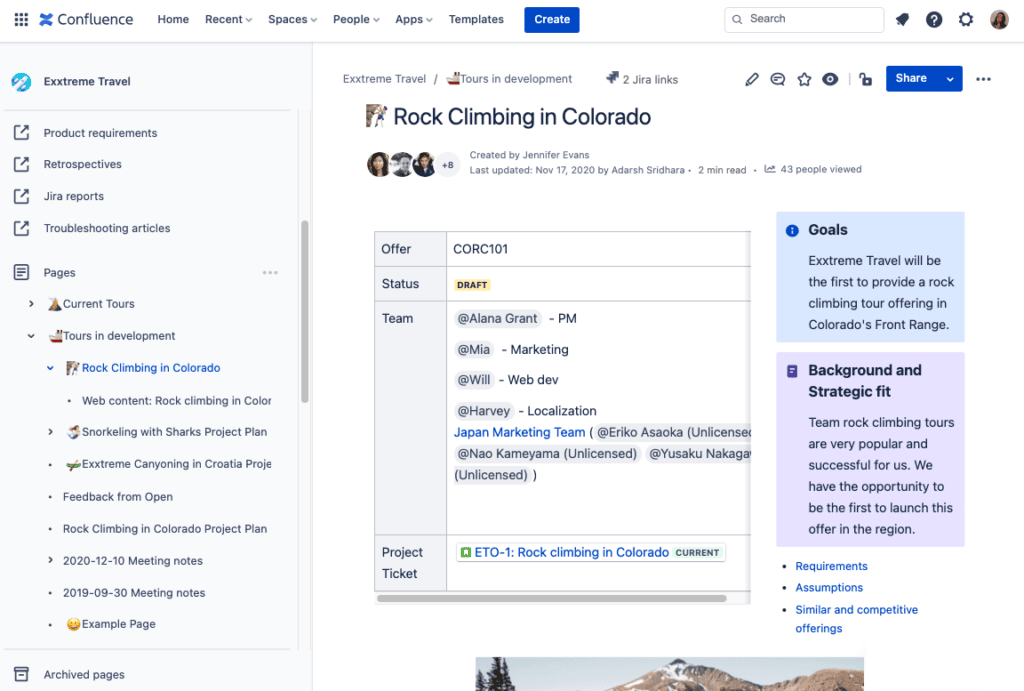 Confluence is a popular knowledge-sharing and collaboration platform with a mobile-friendly interface designed for teams to create, share and discuss content in real time. Developed by Atlassian, Confluence allows users to create pages, blogs and other types of content. This knowledge-sharing solution boasts integrations with Google workplace tools, including Google Drive, Google Calendar and Google Docs.
Confluence's key features include its integration with other Atlassian tools, such as Jira and Trello, which minimizes context switching and enables seamless collaboration across multiple applications. It also has customizable templates and page layouts as well as a rich text editor, allowing users to create pages that fit their needs. In Confluence, users can set up custom domains for their knowledge base, which can help enhance the branding and accessibility of the platform for both internal and external users.
One of the biggest advantages of Confluence is its robust search functionality, which allows users to quickly find relevant information across multiple interconnected knowledge pages and spaces. It also has powerful permission controls, ensuring that only authorized users have access to certain content. Confluence's personalized feed enables users to stay up-to-date with the latest changes and updates across their team's pages and spaces, helping them remain informed and connected.
Confluence is a versatile platform that can be used for a variety of purposes, including knowledge management, project management, arrangement of company intranet and software development. Overall, Confluence is one of the best knowledge-sharing platforms for teams looking to centralize their internal knowledge base and streamline collaboration.
Pricing plans
Confluence pricing varies based on the number of users. The cloud version starts at $5 per user per month, while the server version is available for a starting price of $10 for up to 10 users. The data center version is priced at $12,000 per year for 500 users.
3. SharePoint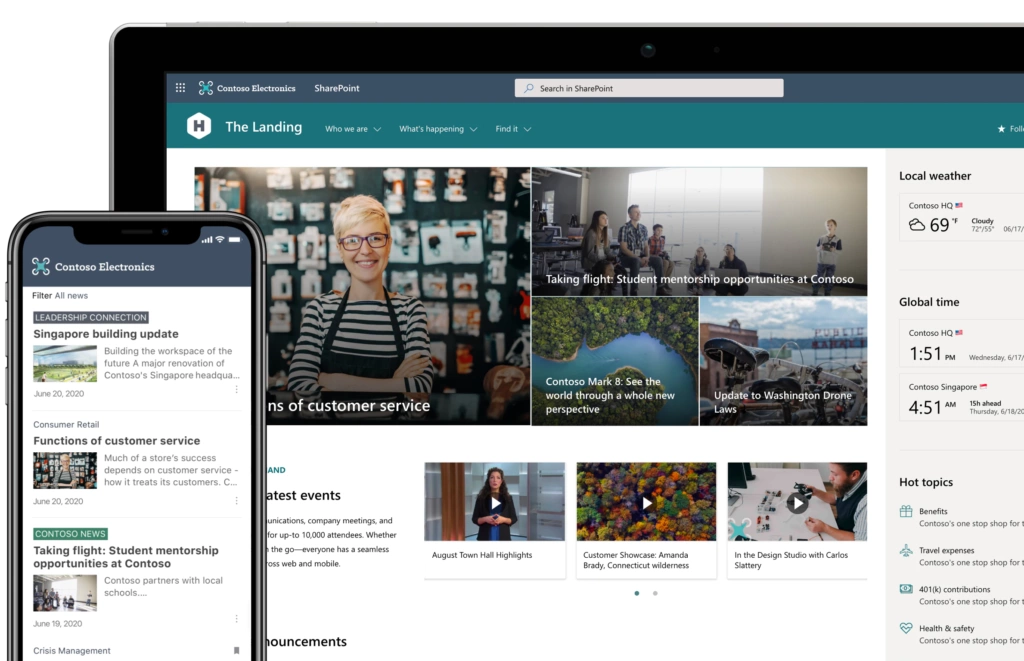 SharePoint is a widely used knowledge-sharing platform developed by Microsoft that allows teams to collaborate and share content in a secure and organized way. It offers a wide range of features that make it an attractive option for businesses and organizations looking to streamline their knowledge organization and collaboration efforts.
One of the key features of SharePoint is its ability to integrate with other Microsoft tools such as Word, Excel, and PowerPoint, as well as other third-party apps. This enables users to easily create, edit, and share documents, spreadsheets and presentations directly from within SharePoint.
Additionally, it offers robust permission controls, allowing administrators to assign different levels of access to the same information for different users or groups. SharePoint also has a powerful search function that enables users to quickly and easily find the information they need, whether it's stored in documents, lists, knowledge pages or other types of content. It also offers version control and a detailed version history, so users can track changes and updates to content over time.
Overall, SharePoint is one of the most powerful knowledge-sharing solutions that can serve multiple purposes such as document management, project management and team collaboration.
Pricing plans
This rep of knowledge-sharing platforms has various pricing based on the deployment option selected – on-premises or cloud-based. For cloud-based deployment, SharePoint Online is available as part of the Microsoft 365 suite, and pricing starts at $5 per user per month. For on-premises deployment, SharePoint Server is available in several editions with pricing starting at $4,669 for a Standard edition license.
4. KnowledgeOwl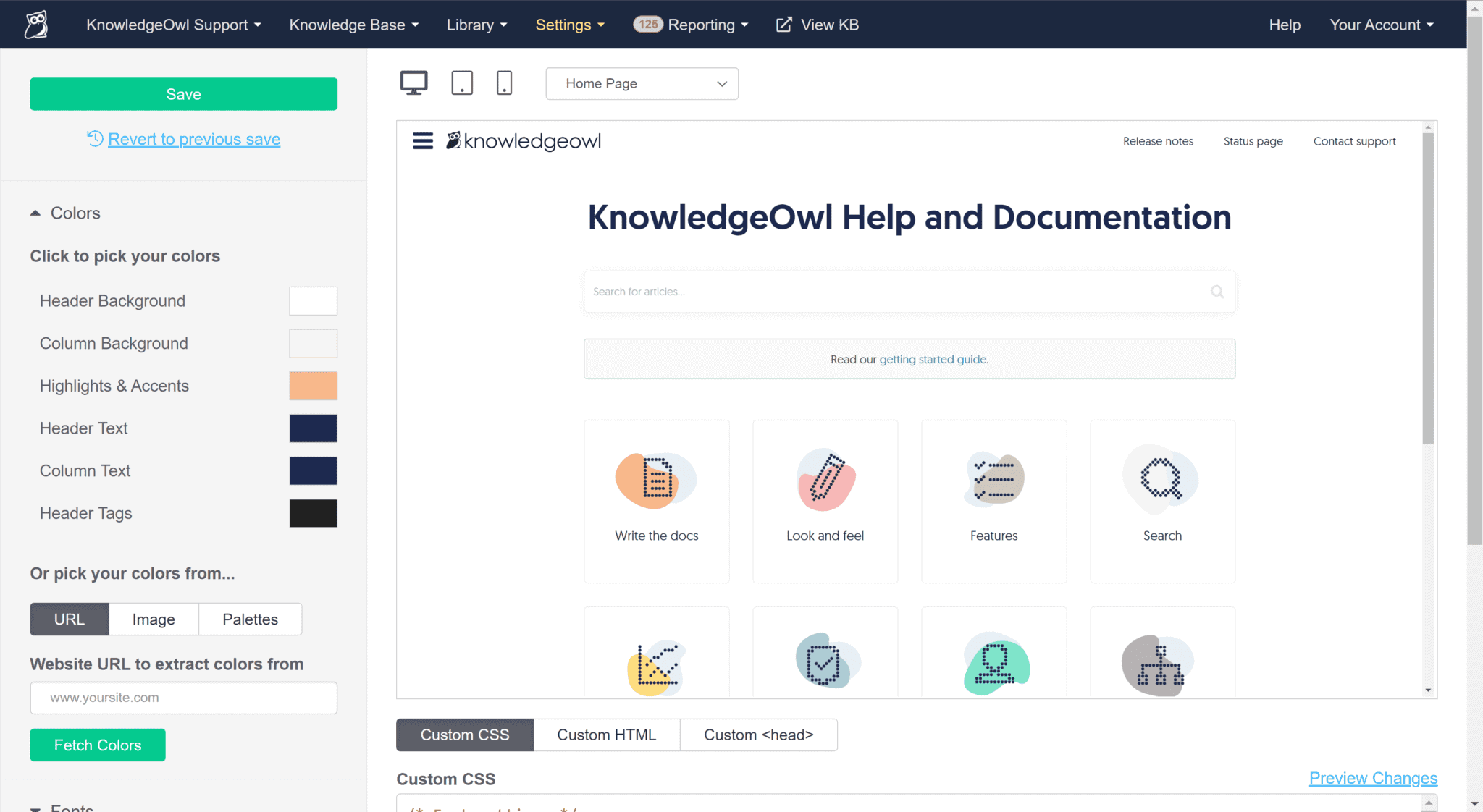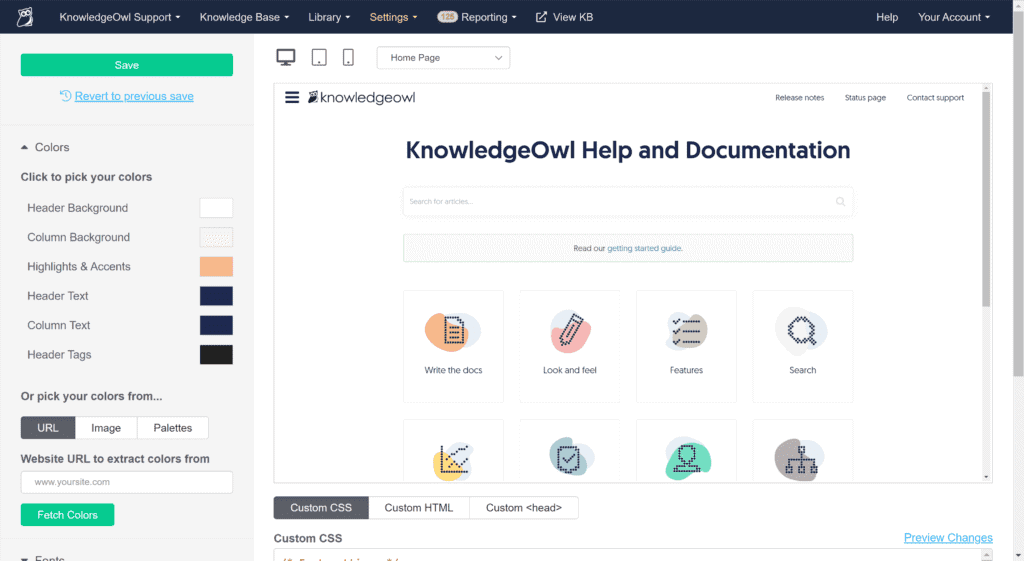 KnowledgeOwl is a powerful knowledge-sharing platform that simplifies the creation and management of both internal and external knowledge bases for businesses and organizations. The platform offers a range of features that allow users to easily create and publish articles, FAQs, and other content, and organize it in a logical and comprehensive manner.
One of the key strengths of KnowledgeOwl is its intuitive and user-friendly interface and multiple supported file types, which makes it easy for users of all levels of technical expertise to create and manage their company wikis. The platform includes a range of customizable templates that can be used to create a visually appealing and professional-looking internal wiki or a help center, without the need for complex coding or help from technical teams.
Additionally, KnowledgeOwl includes a set of advanced features to help organizations manage and maintain their knowledge bases. For example, the platform includes built-in analytics tools that allow users to track the performance of their content and make data-driven decisions about how to improve it. KnowledgeOwl's support for code snippets and templates simplifies the process of creating and publishing technical documentation and tutorials, providing a streamlined workflow for developers and technical writers.
KnowledgeOwl's multi-language support feature enables organizations to create knowledge bases in different languages, making it an ideal tool for businesses with a global customer base that requires localized support. All in all, KnowledgeOwl is a versatile and robust knowledge-sharing solution that can benefit organizations of any size by enhancing customer support, boosting employee productivity and simplifying knowledge management processes.
Pricing plans
KnowledgeOwl offers a range of pricing plans based on the number of users and level of support, starting from $79/month for up to 3 users and basic features, with a 14-day free trial available for all plans.
5. Guru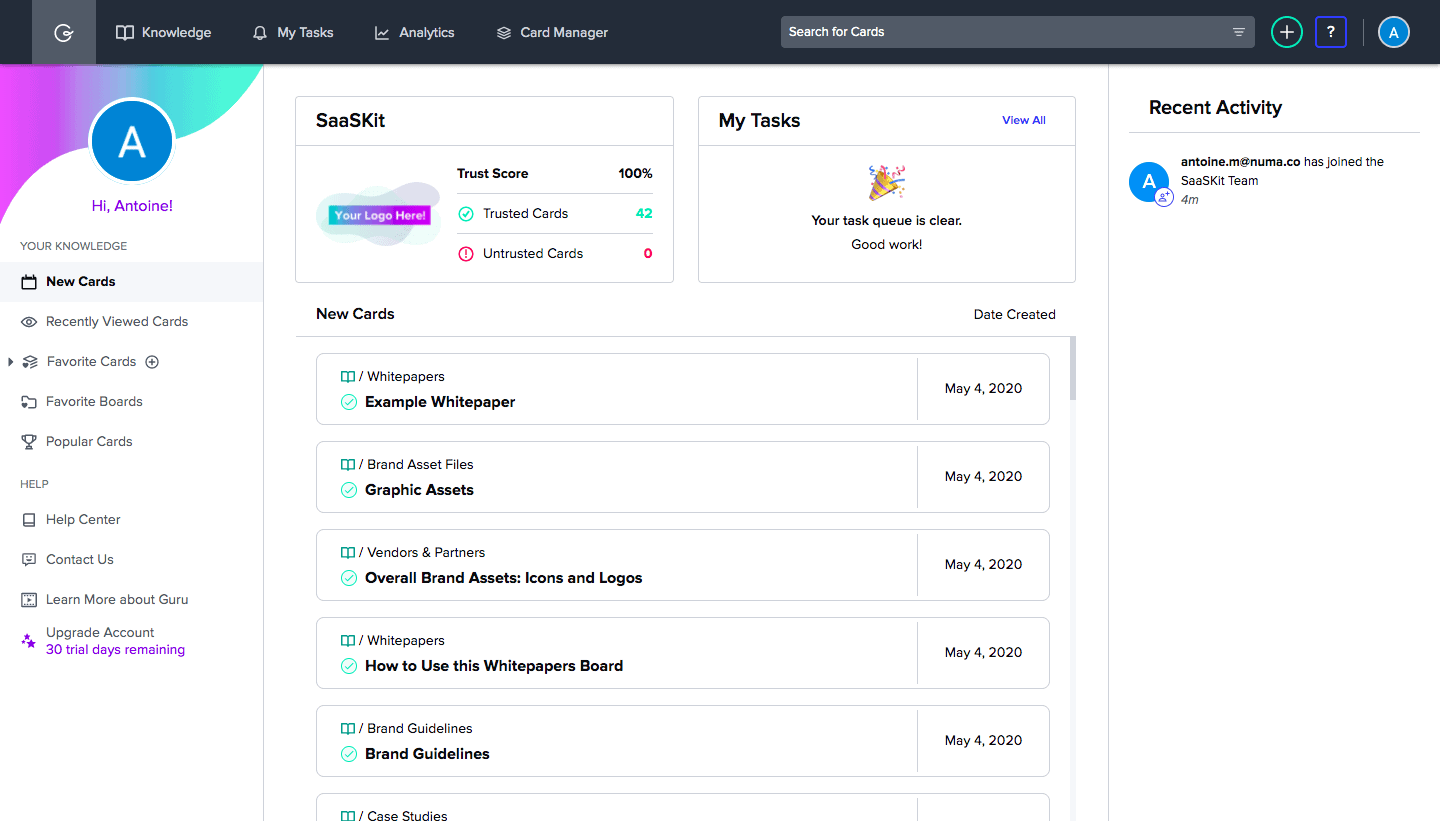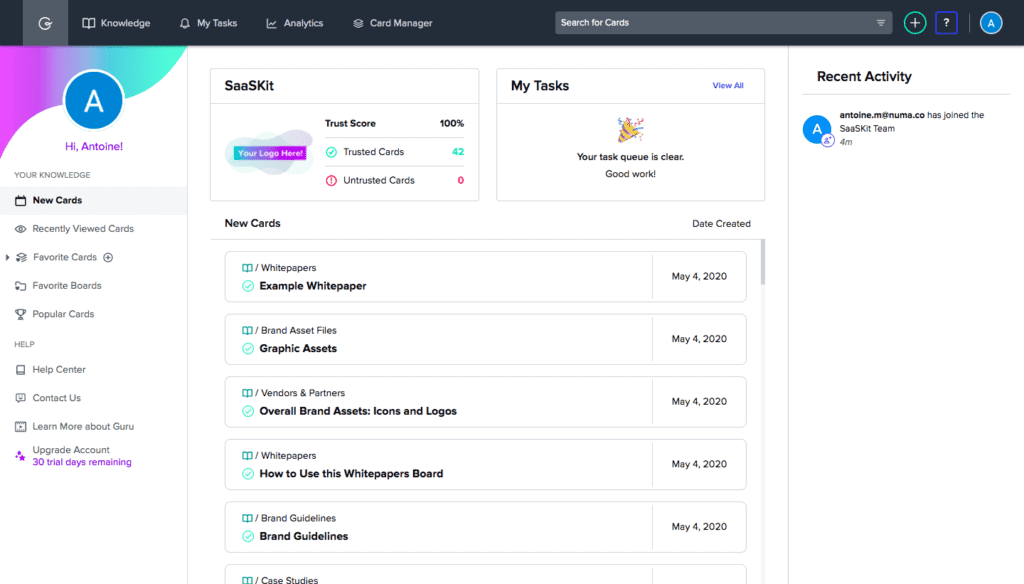 Guru is a powerful knowledge-sharing tool with an intuitive interface that is designed to help organizations capture their knowledge and then create documentation and training materials on its base, which can be later made easily accessible and shareable within their teams. The platform includes a range of features and tools that enable organizations to create, manage, and share knowledge more effectively, streamlining new employees' onboarding processes and increasing productivity by providing access to relevant information at the right time.
Guru's key features are its AI-powered chatbot, browser extension and mobile app, which allow users to access knowledge directly within their existing workflows and systems. For example, the chatbot can be used to ask questions and receive answers in real-time, without leaving the application or platform being used. The browser extension and mobile app also provide quick user access to knowledge, making it easy to find and use valuable information on the go.
In addition, the platform also includes content verification tools that ensure accuracy and up-to-date information. It has analytics tools to track content creation performance and make data-driven decisions. Guru boasts integrations with popular third-party tools like Slack, Salesforce and Microsoft Teams for easy access and sharing of knowledge within existing workflows. More than that, it integrates with Google Workspace and allows its users to access their Guru knowledge base directly from Gmail or Google Drive.
In sum, Guru is a robust and versatile knowledge-sharing platform suitable for organizations of any size, offering an AI-powered search engine and chatbot, browser extension and mobile app. The platform provides everything you might need to introduce the best knowledge-sharing practices to your organization.
Pricing plans
Guru has various pricing plans to accommodate the requirements and budgets of different organizations. A free plan with limited functionality is available for up to 10 users, while paid plans start at $9 per user per month for the Team plan and $18 per user per month for the Enterprise plan. There's also a custom plan for organizations with more than 100 users or specific needs. All paid plans have a free trial.
Selecting the Appropriate Knowledge-Sharing Tool
An organization's ability to foster collaboration, maximize productivity and drive innovation is significantly influenced by its choice of the right knowledge-sharing platform. Nimbus Platform, among the tools discussed in this article, stands out for offering a comprehensive suite of advanced tools to help organizations achieve their knowledge-sharing and collaboration goals. With features such as Nimbus Super documents, Nimbus Note, Nimbus Capture and other powerful tools and mini-tools, organizations can streamline their document management process and improve teamwork at minimal costs. Nimbus makes building an effective knowledge-sharing system a breeze!
Visit the Nimbus Twitter page for the latest news and updates!
Read more posts on this topic:
Previous post
6 Best Project Management Software With Client Portals
Next post
Customer Self-Service Portals and 7 Killer Examples