Learn how to build the most efficient VDR for teamwork from Nimbus experts
Book a demo
Looking to share sensitive data with clients and other organizations but don't trust the likes of Dropbox or Google Drive? We get ya and we're here to save the day. What you're looking for is not regular cloud storage, but data room software that allows you to create a top virtual data room. Yep, you heard (read?) that right. Whether you're embarking on complex business transactions or simply juggling tons of sensitive data, you probably need a suitable data room software to get the job done properly.
So buckle up, because we're about to hop on an exhilarating ride through the wonderful world of virtual data room solutions, engaging in an insightful virtual data room comparison along the way! Okay, okay, we'll try to tone down the geekiness a notch for the sake of your mental wellbeing…
What is a Virtual Data Room (VDR)?
A Virtual Data Room (VDR) is an online repository of data that uses data room software to store and distribute documents securely. Think of it as your superhero alter-ego for your traditional physical data room. Unlike traditional data rooms, instead of being bound by the physicality of walls, a VDR lives in the cloud. A virtual data room (also called deal room) can also transform into a secure corporate governance software, making corporate management safer and smarter.
But data room software isn't just a simple cloud storage, though. Deal room software is known for its cutting-edge data security, and control measures, which are invaluable during the due diligence process in business transactions. It makes it dead easy to share confidential information with external partners. These types of supervaults offer sophisticated data security controls, ideal for complex transactions such as mergers and acquisitions (M&As), IPOs, or legal proceedings often engaged by financial institutions.
In the ever-evolving digital landscape, virtual data rooms are like a private island in the ocean – secure and controlled, yet accessible anywhere in the world.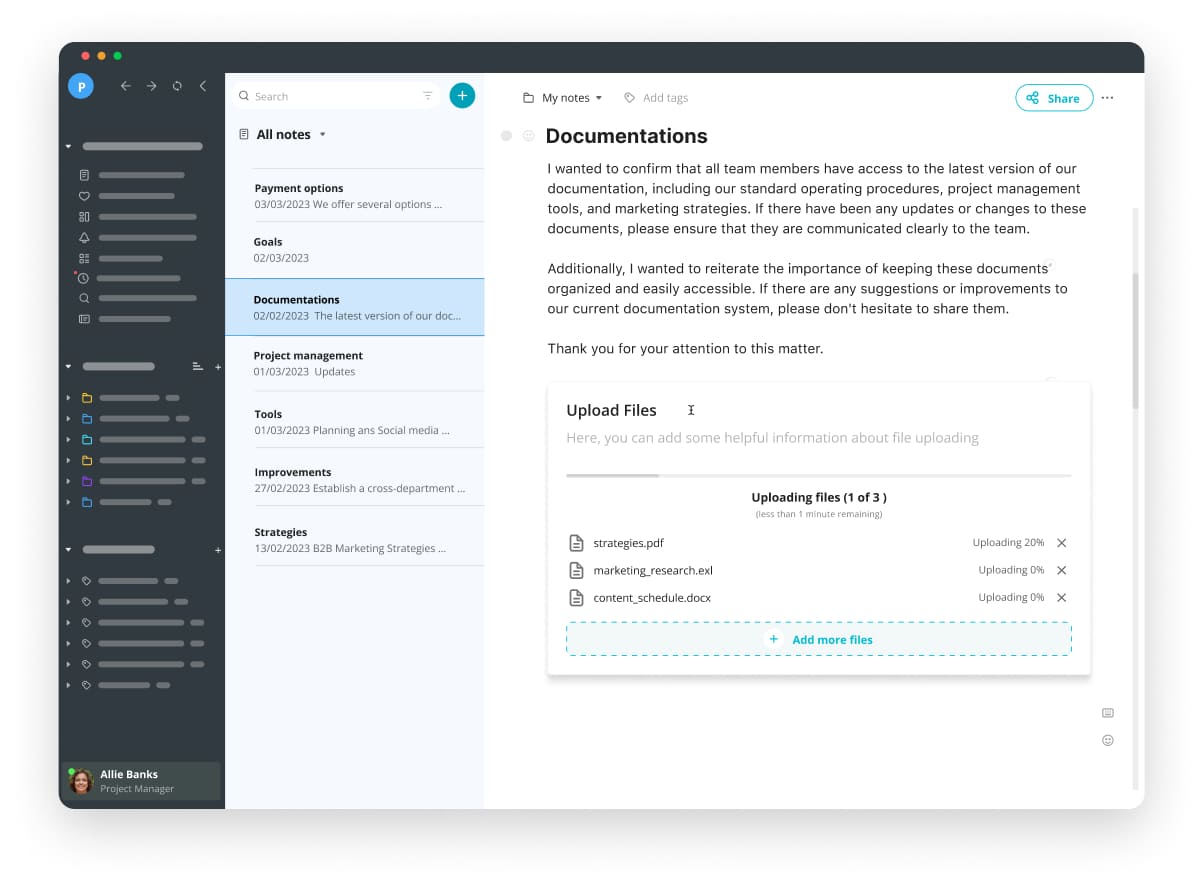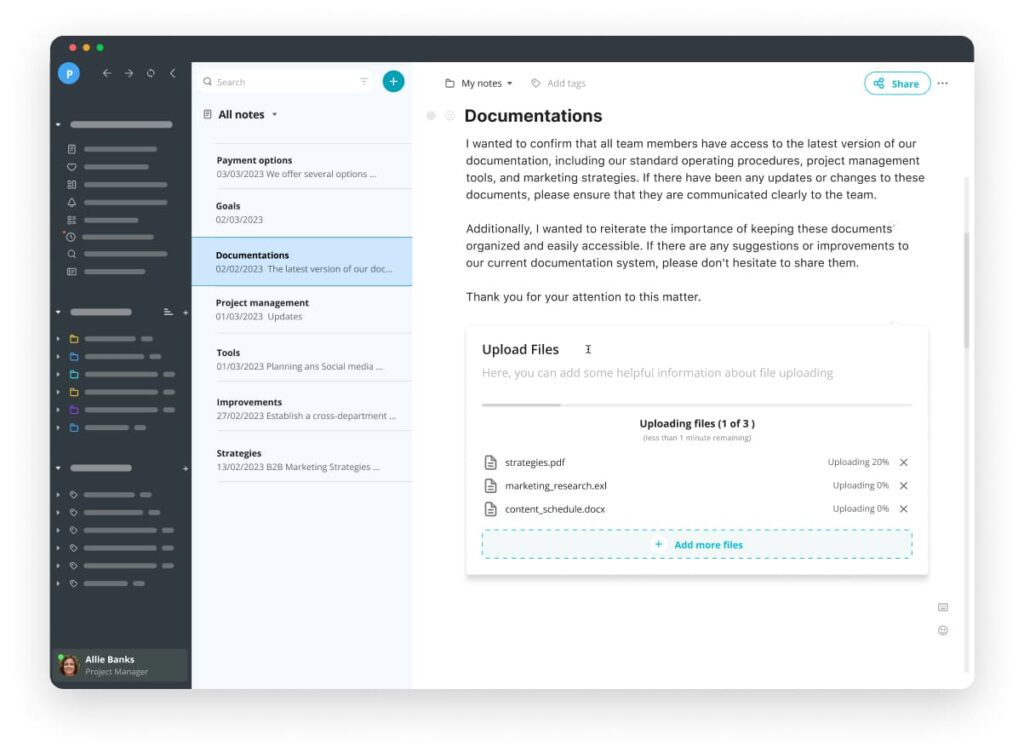 Who Needs Data Room Software?
We bet you're beginning to wonder, so who exactly needs this kind of software? Gather round, pals, because the answer is probably broader than you're expecting:
Business transactions: Companies going through M&As, for instance, need secure virtual data rooms. When confidential documents need to be shared securely, a digital data room is a necessity. The same goes for businesses undergoing an initial public offering (IPO), where confidential documents need to be accessed securely.
Joint ventures: Companies working on partnerships also need virtual data room services, using it as a neutral ground where all parties can safely share and review documents while performing some due diligence actions.
Legal affairs: Virtual data room software is a lawyer's new best friend. Get some peace of mind managing contracts and confidential documents with virtual data room solutions.
Real estate: A virtual data room software can come to the rescue of real estate agencies by offering a safe haven for contracts and floor plans, streamlining secure sharing processes and document management between parties.
In short, data rooms and virtual data room software are for anyone in need of a secure, efficient, and reliable means to store and share sensitive documents— it's not just for the big business giants. Virtual data room providers can bring peace of mind and efficiency to more people and industries than you might think!
Read more posts on this topic:
Key Features to Consider When Choosing Data Room Software
Now that we know the who, let's focus on the how and the what: how can we choose the right data room software and what data management features must we pay attention to? Yeah, we know, choosing the right software can feel a bit like picking the perfect avocado… and nobody picks them like you! Anyway, we're here to help you, not to judge your partner's avocado picking skills, so here are several features you should consider:
Security: The very essence of a virtual data room (VDR) is to provide a secure environment for your sensitive corporate data and confidential files while allowing seamless collaboration. So, you want features like data encryption and two-factor authentication. Also, be on the lookout for dynamic watermarking, access control, document security and secure file sharing functionalities that guard against data leakage.
User management: A top virtual data room should offer granular access control levels, meaning you can set different permission levels for different users. Plus, features in data rooms that allow you to revoke access or add new users easily can come in super handy.
Ease of use: Remember, the best virtual deal room for you should make your life easier. So things like a user-friendly interface, easy navigation, and compatibility across various devices are key.
Collaboration tools: In today's work-from-anywhere world, data rooms that enhance secure collaboration are vital. So, a virtual data room (VDR) with features like version control, notes and comments, and synchronized viewing can make working with your team a breeze.
Audit trails: This one's fun. Well, as fun as audit trails and data rooms can be, anyway. A quality virtual data room provider should offer detailed activity logs so you can see who accessed what data, when, and what they did with it. This feature in a data room can be handy in case any legal issues crop up.
Customer service: Don't underestimate the importance of good customer service when choosing virtual data room providers. Because when something goes awry, reliable and responsive customer support can be a lifesaver.
By considering these features, you can compare virtual data rooms and make sure that you're picking one of the best virtual data room providers that not only meets your needs but makes handling sensitive information a streamlined, secure, and stress-free process. Remember, a great virtual data room is only as good as the company behind it and the features it offers.
Top 11 Virtual Data Room Software
After going through what virtual data rooms are, who needs one, and the matchless features to watch out for, it's now time to take the plunge into the deep end as we unveil the top 10 virtual data rooms offer in 2023.
1. Nimbus Platform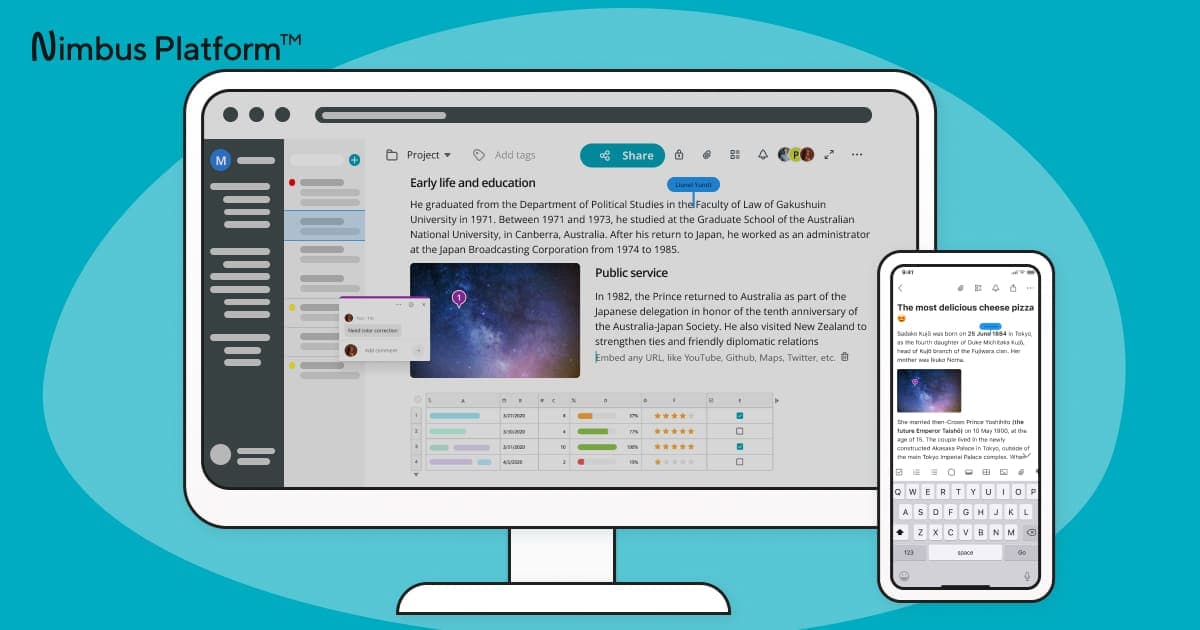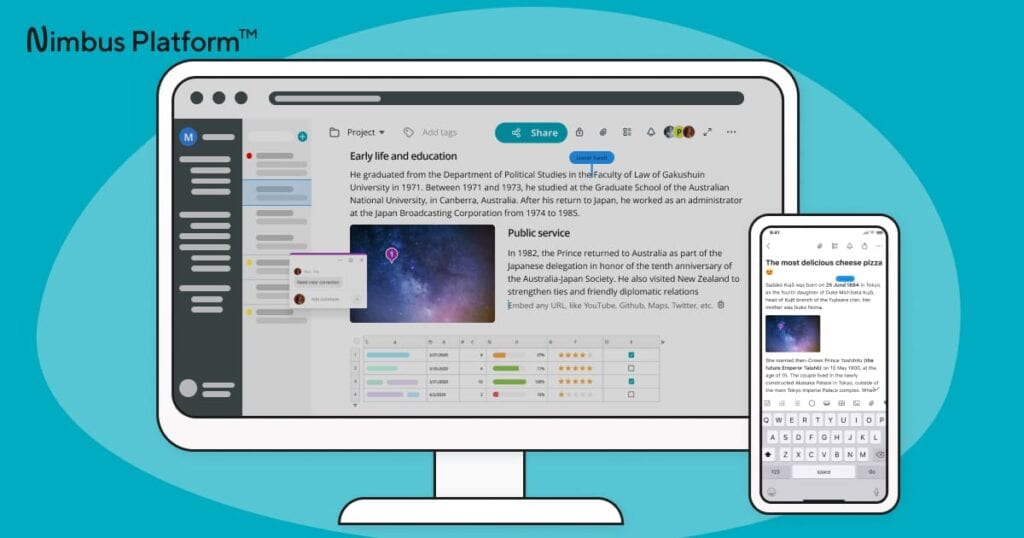 Free trial: Yes
G2 rating: 4.6
Meet Nimbus Platform, a powerful project and document management software with virtual data room (VDR) with optical character recognition (OCR) capabilities that places privacy and security at its core. Nimbus Platform is the perfect blend between a PM tool, a document management solution and one of the best virtual data rooms. With Nimbus you can securely upload and share files via their so-called notes (more like superdocs), and you can decide who has access to what thanks to their granular sharing controls, an essential element in diligence processes. Besides, you can enable client uploads via any of its notes by using their bulk upload blocks, which allows your collaborators to easily share their files with you and your team.
On the topic of security, Nimbus stands tall among data room providers. This document and project management software guarantees the security of your team's data and stored documents, thanks to continuous data backups on Amazon S3 servers and 'bank-grade' 128-bit SSL encryption. Nimbus Platform also beefs up safety for all the documents with stringent physical security forms by enclosing EC2 cloud servers within Amazon's two-factor authenticated, military-grade facilities, and with user-security features like a two-step verification, mobile passcodes, password-protected public pages, and server-side backups.
And how about branding and customization? Easy peasy. Branding and customization of your shared spaces are a breeze, as you can set your own logo, adjust the colors to your brand and, wait for it…, set your own custom subdomain for your project management organization. You can also configure public pages, embed Nimbus pages into your website, and even tweak HTML injections.
With Nimbus Platform, your data is not only safe but also managed efficiently in customizable personal spaces, accentuating your brand and amplifying user comfort.
2. iDeals Virtual Data Room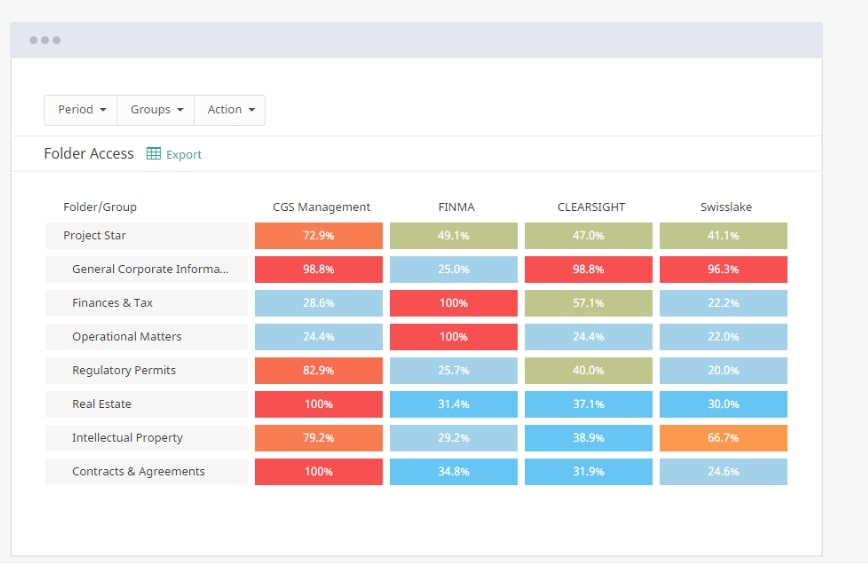 Free trial: Yes
G2 rating: 4.7
iDeals Virtual Data Room Software brings to life your virtual data rooms in just 15 minutes and is built to be inclusive, welcoming users regardless of their device, operating systems or the varying file formats they use. This virtual data room software champions user-friendly interactions but pulls no punches on security, deploying robust, certified document security features to safeguard the integrity of your confidential data. However, the offerings don't end there. The software incorporates advanced features, such as personally-identifiable watermarks, a unique document tracking mechanism which is perfect for due diligence processes, and the ability to restrict access to sensitive information. In a nutshell, iDeals Virtual Data Room is a harmonious blend of simplicity, secure data protection, and convenience, making it a superior choice for your virtual data room needs.
3. Ansarada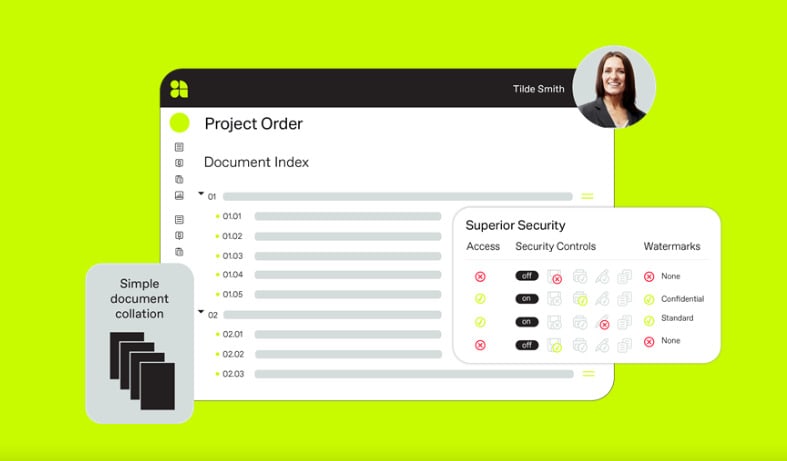 Free trial: Yes
G2 rating: 4.5
Ansarada Virtual Data Room software is your one-stop data room provider to turning deal chaos into a smoothly running operation. Being a pioneer in the field, this virtual deal room software stands out with its superior data management, security features, and AI-driven insights. As one of the top secure file sharing services, Ansarada offers an intuitive design with time-saving tools like bulk AI-redaction abilities, providing full control and ease in transaction processes within its virtual data rooms. Plus, with insights into user behavior, this software gives users a unique competitive edge, even on mobile devices. With flexible pricing plans, stellar customer support, and superior deal management, Ansarada VDR creates a secure, confident, and effective business environment.
4. Box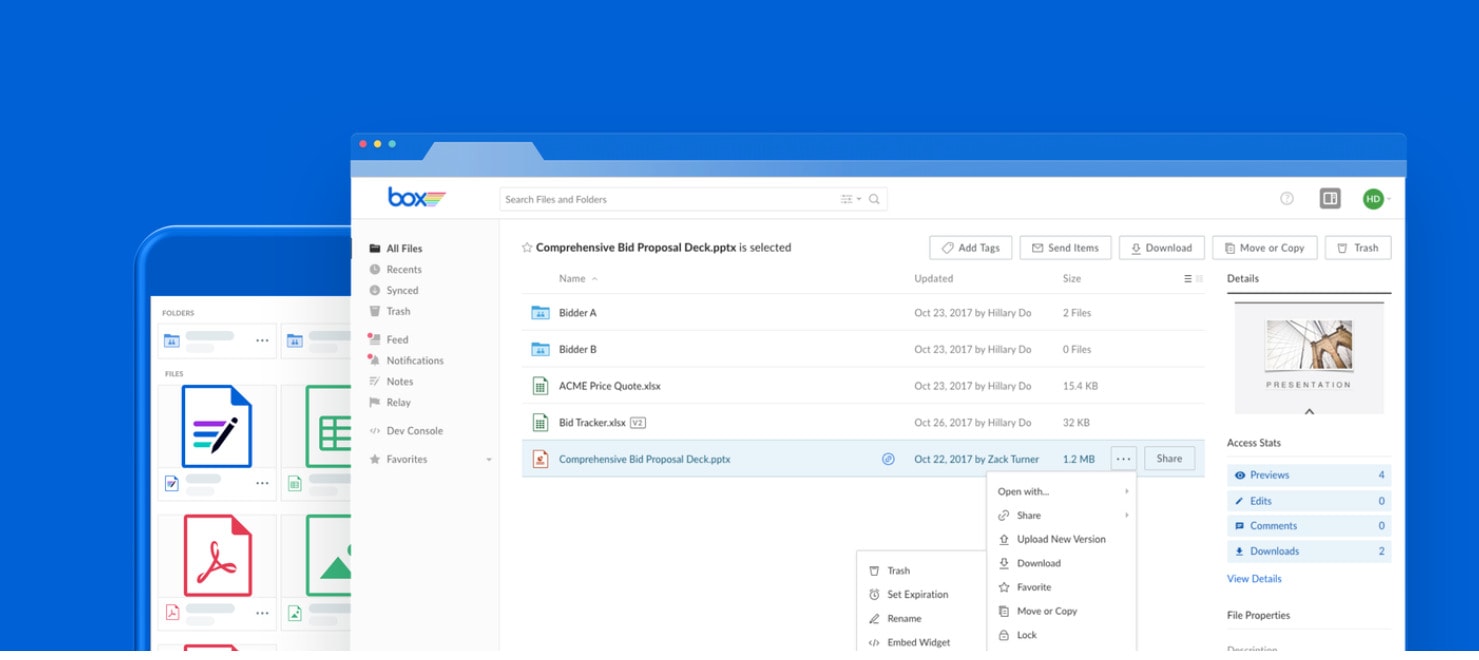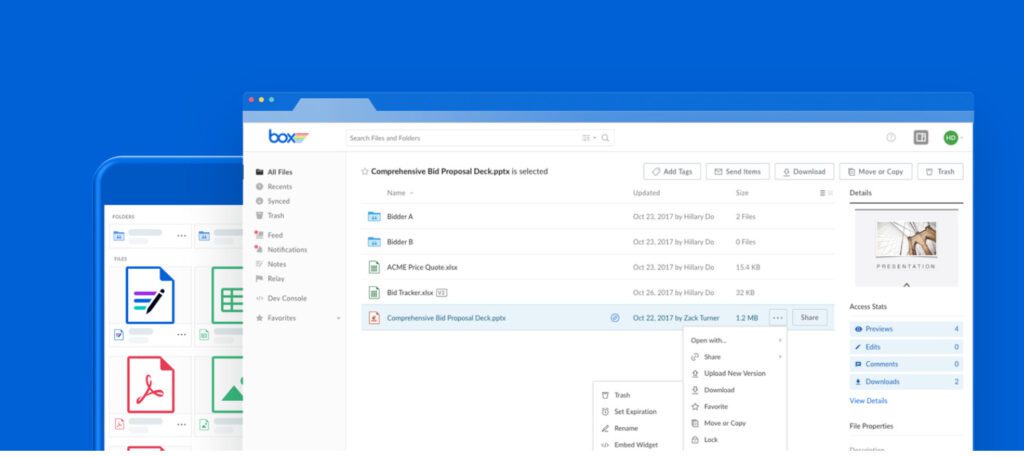 Free trial: Yes
G2 rating: 4.2
Introducing Box VDR, a virtual data room solution injecting modern efficiency and seamlessness into your due diligence and deal management process. The star feature of this popular Dropbox alternative is its untethered mobility, providing full freedom to access, respond, and seal deals, even when engaging multiple parties, anywhere, anytime, and on any device. Boasting user-friendly, industry leading features like in-browser previews, drag and drop functionality and rock-solid file sharing security, it ensures worry-free document accessibility at your fingertips. In terms of security, Box takes bidder privacy seriously, offering a vigilant watch over your data room activity along with rigorous control measures. Elevating Box into a class of its own is its 1400+ integrations, robust compliance adherence, and a dash of machine learning through 'Box Skills' for smart data extraction. With Box VDR, you gain a reliable, futuristic ally for streamlined deal management.
5. Vitrium Systems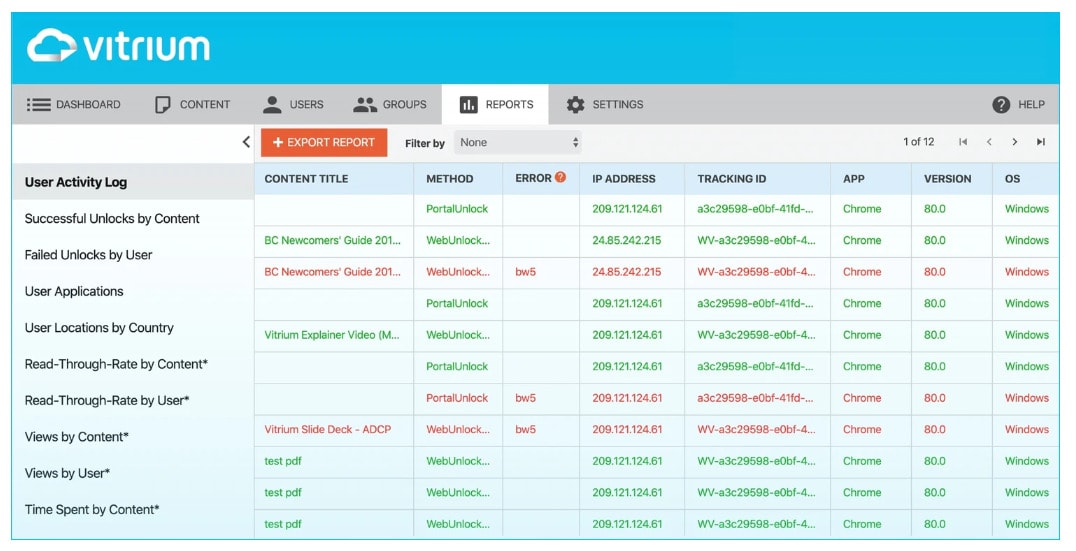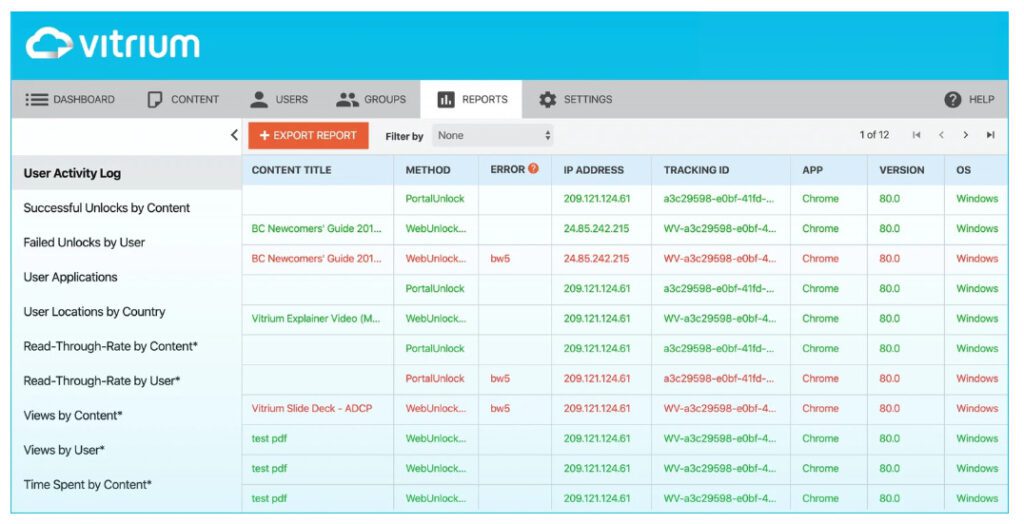 Free trial: No
G2 rating: 4.9
Vitrium Systems is a virtual data room solution to secure and share intellectual property in today's digital world. Think of it like a digital fortress, where your content is not just stored safely, but also controlled meticulously. Whether you're dealing with document, audio files, video files, or images, Vitrium equips you with Digital Rights Management (DRM) controls that dictate who can access certain files, for how long, on which devices, and much more. Beyond providing data rooms and an extra layer of data security and secure file storage encryption, Vitrium's DRM solution enables you to track how users engage with your content, providing valuable insights to enhance your offerings. From financial firms to research companies, or even sales and marketing teams, Vitrium offers a robust, trusted, and comprehensive solution for storing, protecting, and distributing your most valuable digital assets securely.
6. DocSend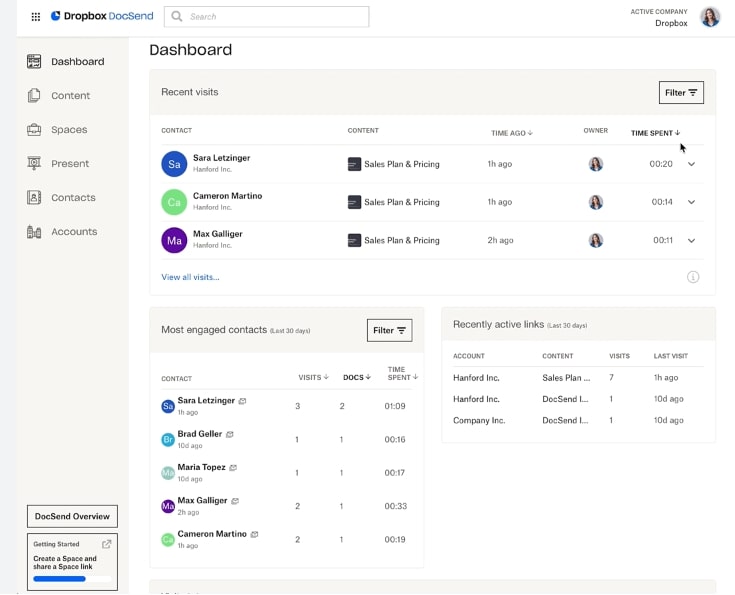 Free trial: Yes
G2 rating: 4.6
DocSend provides a modern way of managing, sharing, and tracking your important files, changing the game from attachments to secure links. This data room provider is designed to maximize your control over your documents, providing you the power to control downloads and toggle access anytime. It's like having a real-time feedback system to keep you prepared for your next meeting with the intelligent insights the platform garners from your documents. Even better, DocSend ensures everyone always has the latest version of your file. Rich in features, DocSend offers everything from secure file sharing, document analytics, and one-click NDAs, to e-signature capabilities, data rooms, and dynamic watermarking. This makes it a comprehensive, user-friendly, and secure tool for all your document sharing and due diligence needs.
7. Syncplicity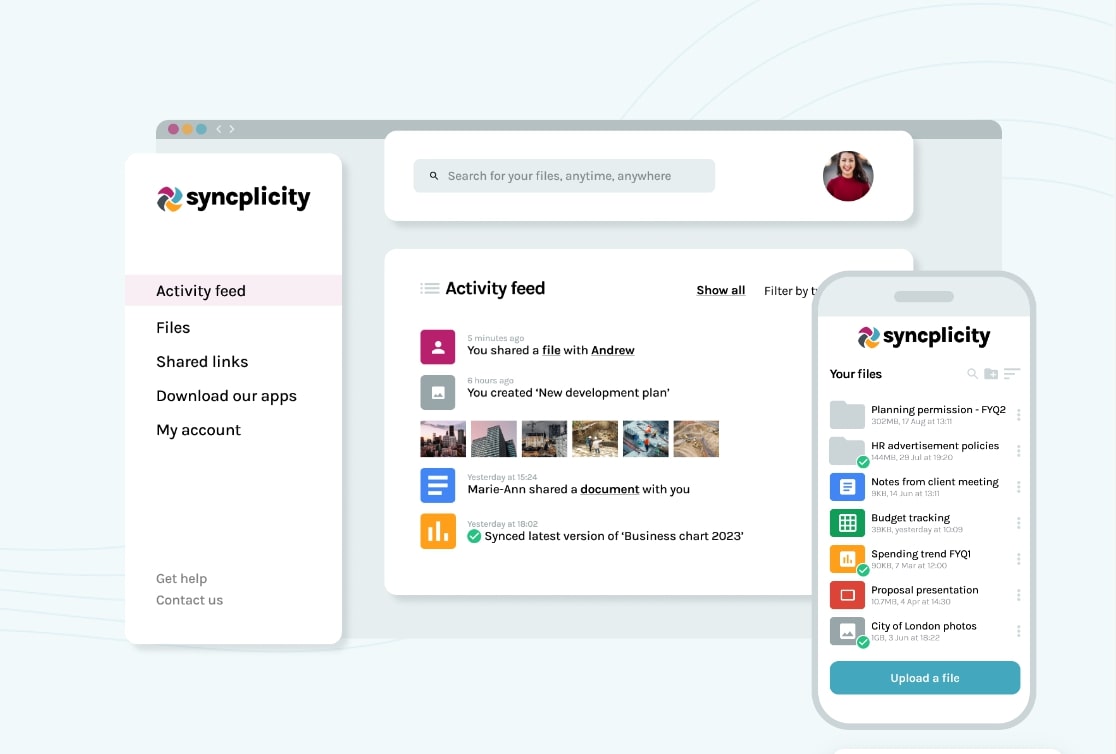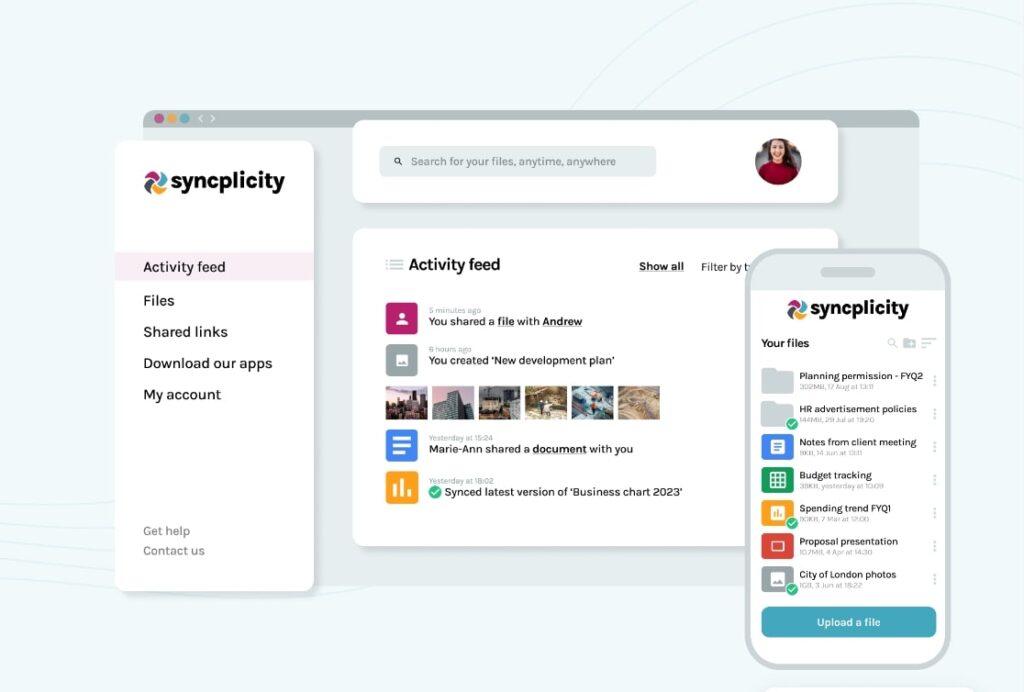 Free trial: Yes
Capterra rating: 4.1
Say hello to Syncplicity, a comprehensive data room platform for secure collaboration and information sharing that caters to the diverse needs of managing your digital world and data rooms effortlessly. It's dedicated to making your information accessible across all teams, devices, and locations, whether you're looking to share confidential information, control information management, save large files, or integrate into your workflow. Featuring 24×7 support, easy-to-use APIs, device agnostic syncing, and in-depth policy management, Syncplicity adapts to your specific security and administrative requirements. What's even better? It offers seamless integration with industry favorites like Salesforce, Office, Outlook, Adobe Sign. Compliance isn't a worry either, with industry standards like SOC II, HIPAA, and GDPR taken care of. Irrespective of your industry – from engineering and finance to healthcare and education – Syncplicity provides a custom level of integration and usability, making your digital information management and due diligence operations more efficient and secure.
8. SecureDocs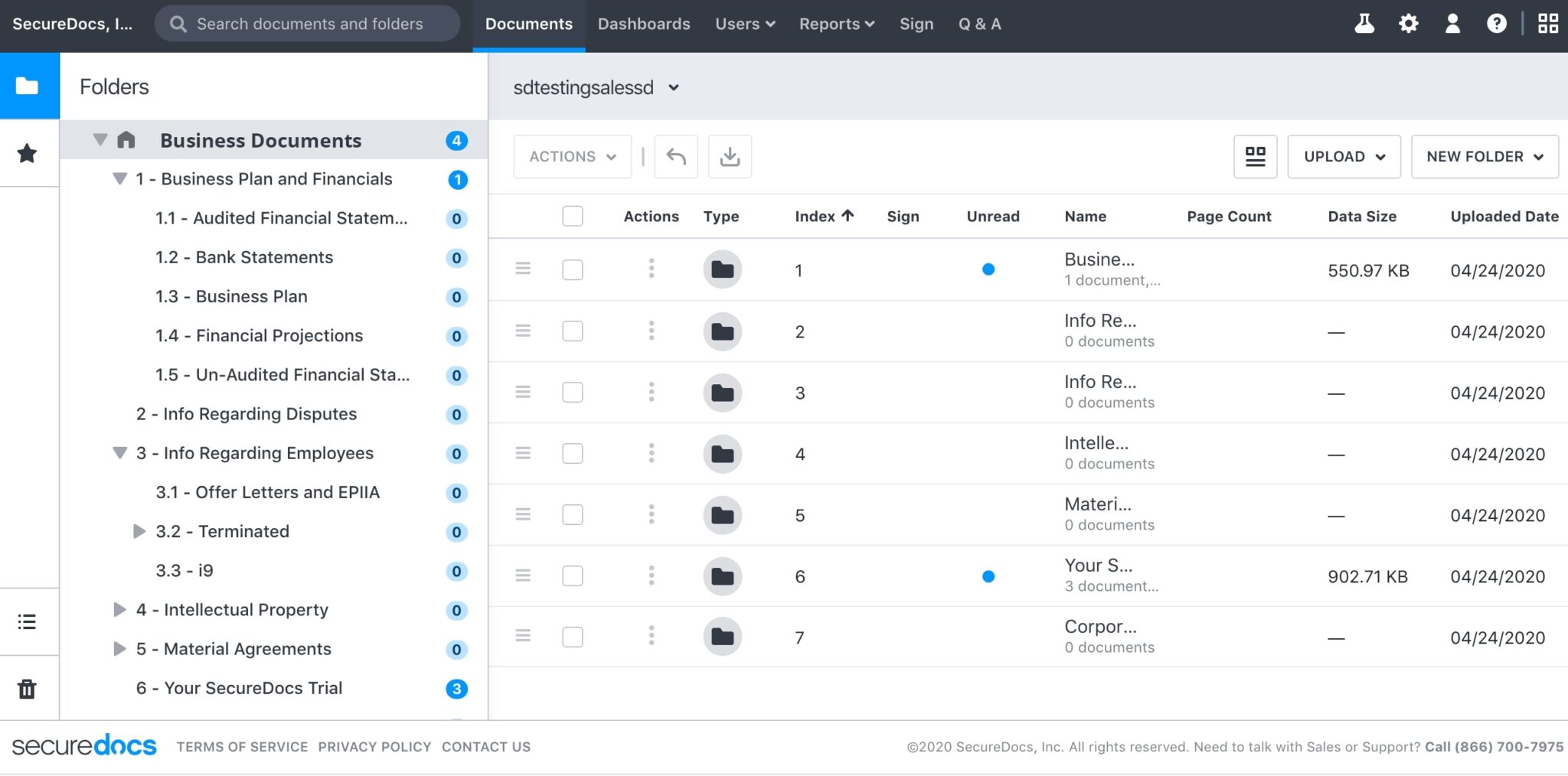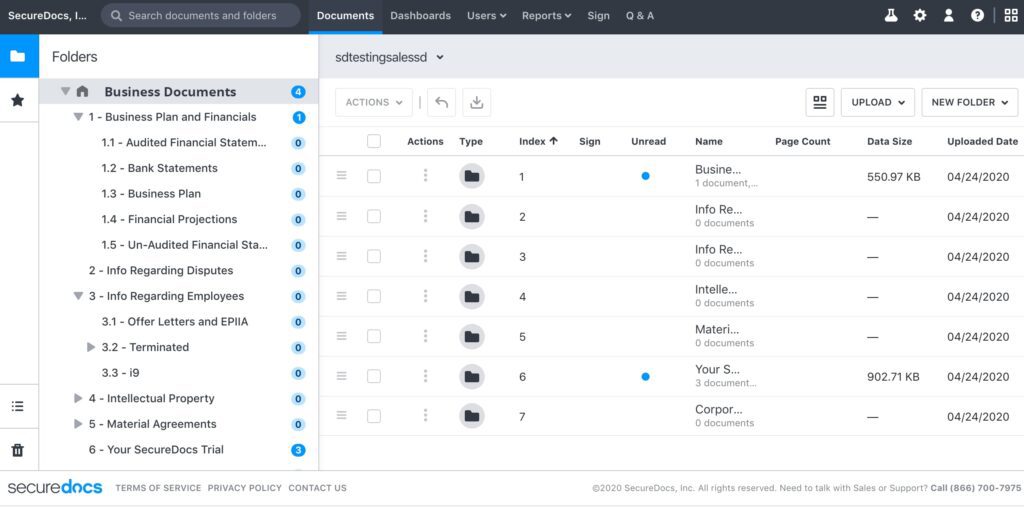 Free trial: Yes
G2 rating: 4.8
SecureDocs is a reputable virtual data room software, a safe solution for managing your business's sensitive documents. This platform combines a user-friendly interface with meaningful dashboard reporting, instant activity alerts, and a handy Q&A feature, all nestled within a sturdy Virtual Data Room. SecureDocs takes document security measures seriously, boasting a highly secure infrastructure that includes SOC 2®, Type 2 audit, permission-based user roles, customizable NDAs, and two-factor authentication, all housed within secure AWS data centres. When it comes to file sharing, SecureDocs promises absolute safety for your files and peace of mind for your team. Your documents and interactions are safeguarded with militarily precise controls, ensuring your sensitive data always remains confidential. A cherry on top is their dedicated 24/7 customer support team and a near perfect 99.9% uptime, ensuring your data room experience is smooth, safe, and smart. With SecureDocs, you can carry out your deals and due diligence mechanisms with all the confidence and control you need, boosting trust in every interaction.
9. ContractZen Virtual Data Room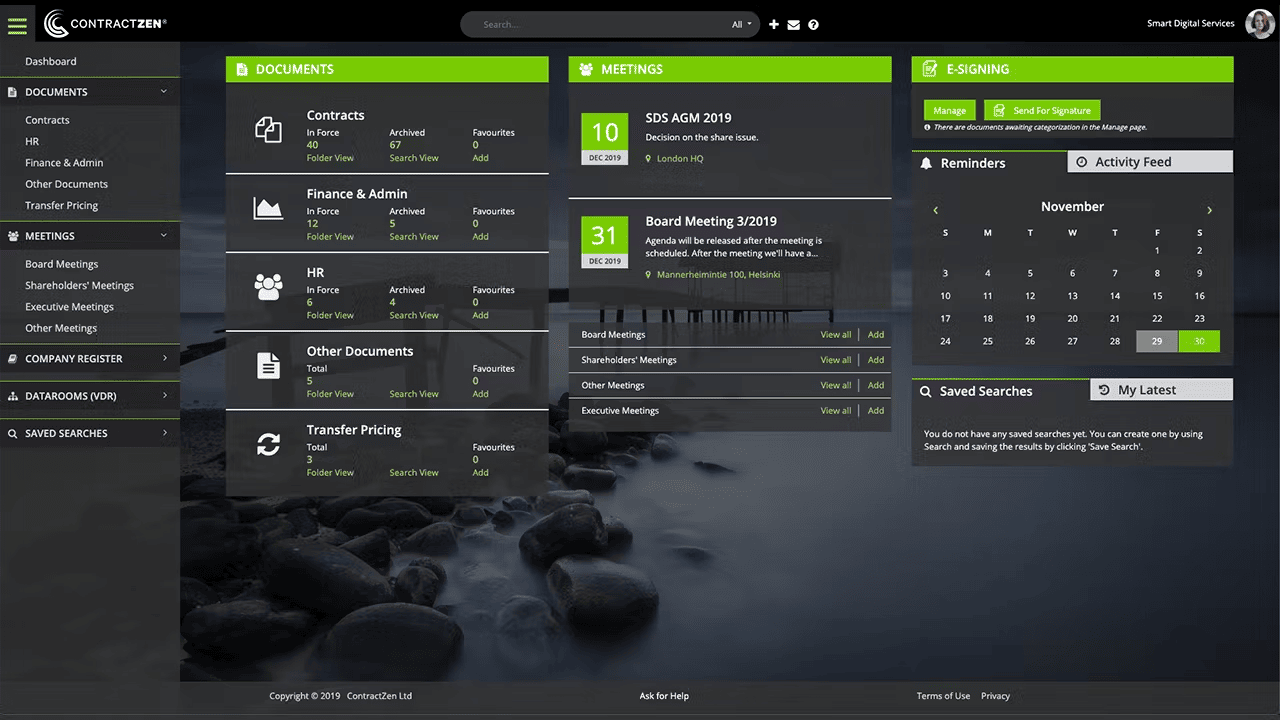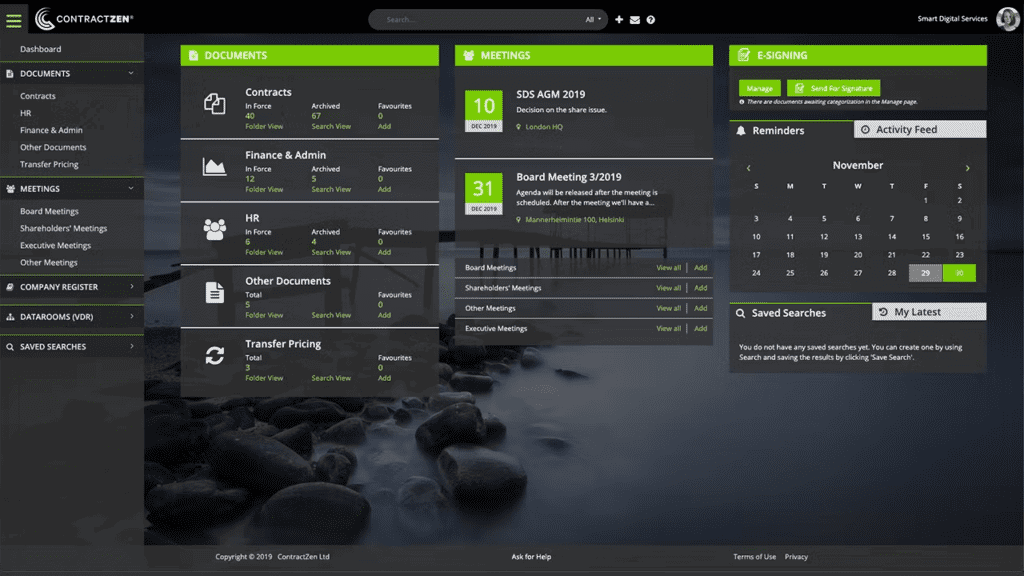 Free trial: Yes
G2 rating: 4.9
Meet ContractZen Virtual Data Room, a groundbreaking blend of ease, efficiency, and high-end security designed to revolutionize professional document sharing and advanced contract management. Just a few clicks and you have your secure Virtual Data Room set up in seconds! What sets it apart is its robust digital rights management too, ensuring that only authorized users can access your data with specific read, print, and download rights. Its search function uses metadata-driven technology that outperforms traditional folder-based searches, letting you conduct precise, targeted searches and due diligence easily. Adding to its bag of smart tools are user progress tracking, document tagging, and a group discussions timeline for superior workflow control. ContractZen VDR also offers an audit log & reporting feature complete with IP address tracking for full visibility. And when it comes to security, it doesn't get much better. All documents undergo RSA 256 encryption, with a Symantec SHA 256 RSA SSL encrypted connection, and adherence to multiple international and regional compliance standards. With servers located in the Netherlands under strong EU data privacy laws, ContractZen VDR prioritizes your document's safety while giving you seamless control.
10. Intralinks Virtual Data Room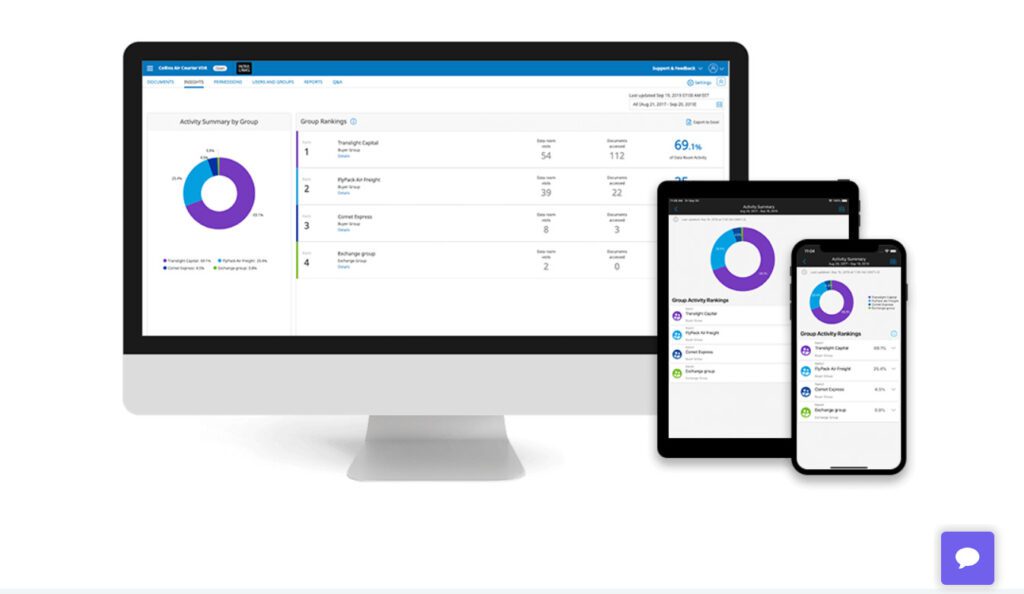 Free trial: No
G2 rating: 3.6
Highlighting secure file sharing and efficient document handling for enterprise collaboration, Intralinks Virtual Data Room allows you to build a dynamic, feature-rich, secure environment for a myriad of transactions demanding controlled file access. From secure document sharing to deal optimization and compliance, Intralinks prioritizes user convenience with elements like easy document organization, mobile access, AI-integrated due diligence, and self-launch data rooms. Unique features like 24/7 multilingual support, pre-configured solutions, and dedicated customer service add to its allure. In essence, if a secure, user-friendly, and innovative virtual data room is what you're after, Intralinks is a compelling choice.
11. Orangedox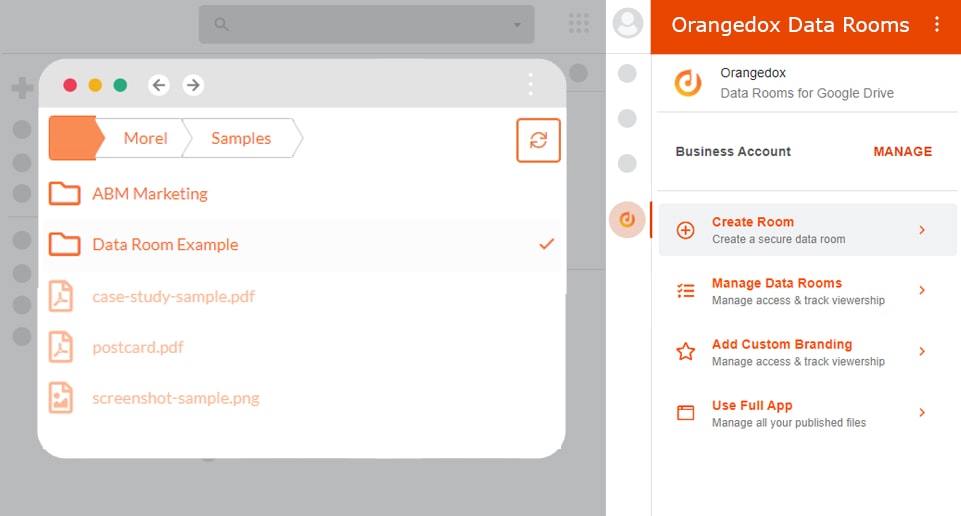 Free trial: Yes
G2 rating: 4
Orangedox is a secure and efficient platform for creating virtual data rooms and facilitating the deal management process for your business. With its secure document sharing technology, Orangedox assures secure real-time participant access. It seamlessly syncs with your existing cloud storage, such as Google Drive or Dropbox, aiding in real-time file editing. Moreover, it allows for better due diligence and detailed auditing of participant activities within its secure virtual data rooms and offers unique professional branding features. With a risk-free 14-day free trial and an affordable business plan for unlimited virtual rooms, Orangedox stands as a one-stop solution for data room setup that values efficiency, security, and brand representation.
Seal the Deal Today with Nimbus Platform
Looking for a blend of project management, document management, and virtual data room capabilities? Look no further than Nimbus Platform to securely bulk upload files as well as share and control access to your files within your own online data rooms.
Try Nimbus Platform™ to make your businnes data more safe & secure
So why wait? Give Nimbus Platform a test run today with a 14-day free trial, no credit card required. Jump on board with the 1,000,000+ remote teams and professionals who've already made the smart choice of choosing this incredible, collaborative data room solution. Remember, with Nimbus, you're investing in fewer emails, fewer meetings, and more results and security. Enable efficient, deep work and secure sharing for your remote teams today with Nimbus Platform. Seal your deal with Nimbus today, because with Nimbus, safety, collaboration tools and productivity are woven into the fabric of your corporation.
Disclaimer
Parties other than Nimbus Platform™ may provide products, services, recommendations, or views on the Nimbus Platform™ site ("Third Party Materials"). Nimbus Platform™ is not responsible for examining or evaluating such Third Party Materials, and does not provide any warranties relating to the Third Party Materials. Links to such Third Party Materials are for your convenience and do not constitute an endorsement of such Third Party Materials.
Previous post
Boost Conversions with Customer Testimonial Templates
Next post
Your Application Guide to Knowledge Management Portals