What a Partner Portal is and How to Build One Today
If you're a business that works with partners, keeping everyone on the same page and managing the relationships can be tricky (we've been there!). This is where partner portals come in, providing a centralized platform that allows collaborators to connect, cooperate, and access critical information. Partner portals help automate processes and improve communication, making it easier for businesses to manage relationships with their partners efficiently.
But you might be wondering… what is a partner portal, exactly? Don't worry and keep on reading. In this article, we will take a close look at partner portals, discussing what they are, the benefits of partner relationship management platforms, key features that set them apart, and best practices on how to build your own. So whether you're already using a partner portal or considering implementing one, this article has all the information you need to take your partner program to the next level.
What is a Partner Portal?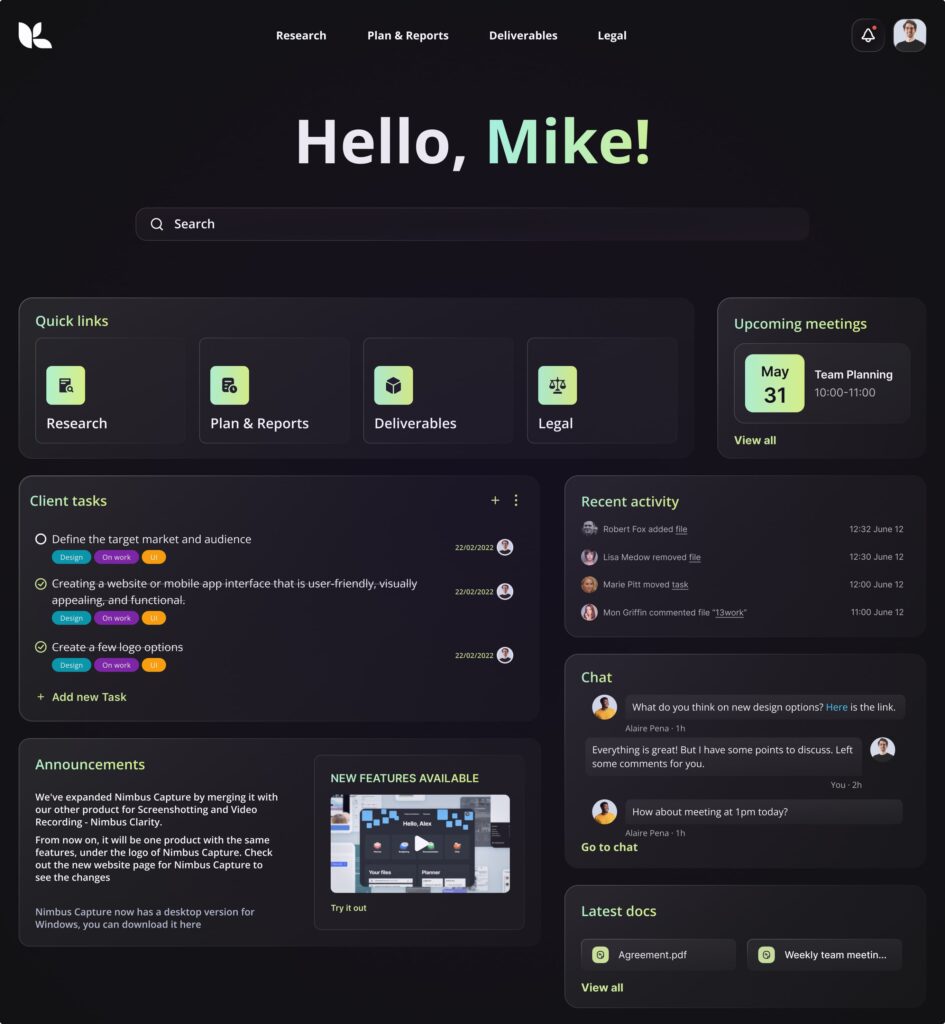 A partner portal is a web-based application that offers a controlled and collaborative platform for businesses to interact with their partners, including vendors, customers, resellers, and suppliers. It offers a centralized access point for customer management, allowing clients to communicate and collaborate with the parent company on important business functions, including lead generation and management, sales, customer support, partner recruitment, and reporting. By providing associates with a secure and personalized experience, companies can maintain stronger relationships, streamline communication, and drive better revenue opportunities. A well-designed customer portal can also provide partners with insights into the business and leverage automation to improve operational efficiency, which ultimately benefits all parties involved.
Benefits of Implementing a Partner Portal
Partner portals offer many benefits for businesses looking to expand their network of collaborators and improve partner relationship management and collaboration. Here are the top 5 benefits of implementing a partner portal:
Efficiency: Customer portals provide a self-service model that lets users access the information they need and solve their issues without the assistance of a partner program manager. You heard that right, buddy. Less support needed! Yay!
Accessibility: These types of portals are typically mobile responsive and available 24/7, making it easy for partners to access the platform's contents in an easy to access place anytime and anywhere. This feature enhances mobility, boosts productivity, and helps many partnerships thrive.
Analytics: Some portal solutions offer built-in analytics that track progress, key metrics and partner performance in certain areas like program success, marketing results or even overall company sales. This valuable data, including partner activity, can help identify areas for improvement and highlight successful partnerships, especially when dealing with affiliate network collaborators.
Online training resources: Client dashboards can provide new partners with access to training and marketing materials and knowledge bases to improve partner onboarding. They can also help your customers improve their marketing tools and activities, sales and communication skills, among others. By offering these resources, companies like yours can increase partner engagement, ensuring that your clients are well-equipped to promote the business and generate more revenue for both parties.
Collaboration: Client portals offer advanced communication and collaborative tools that encourage the sharing of knowledge and, among other things, lead tracking. They also boost partner performance, and facilitate feedback and best practices among channel partners. This collaboration can ultimately lead to better results for everyone involved and, as you already know, good results are the best partner incentives.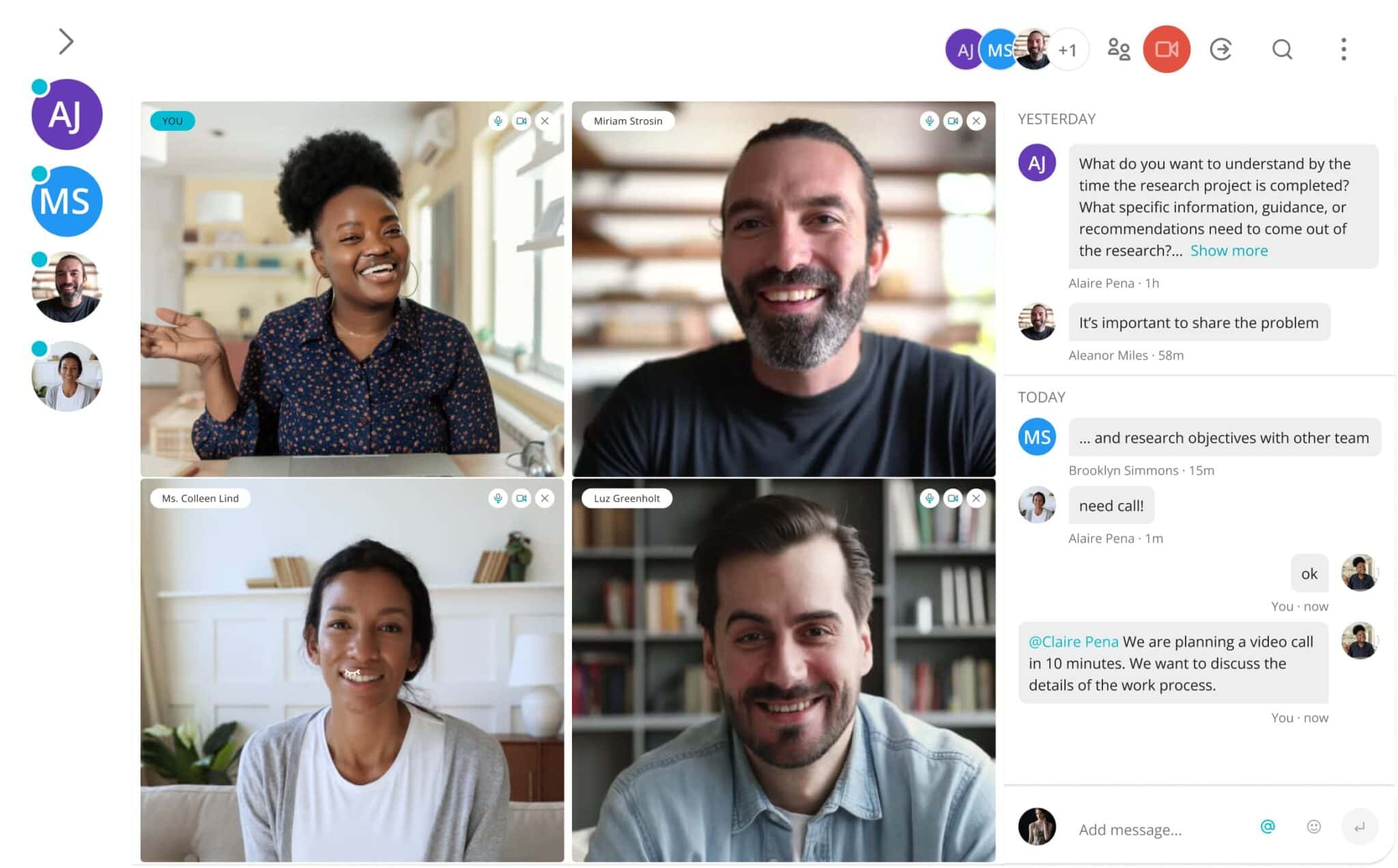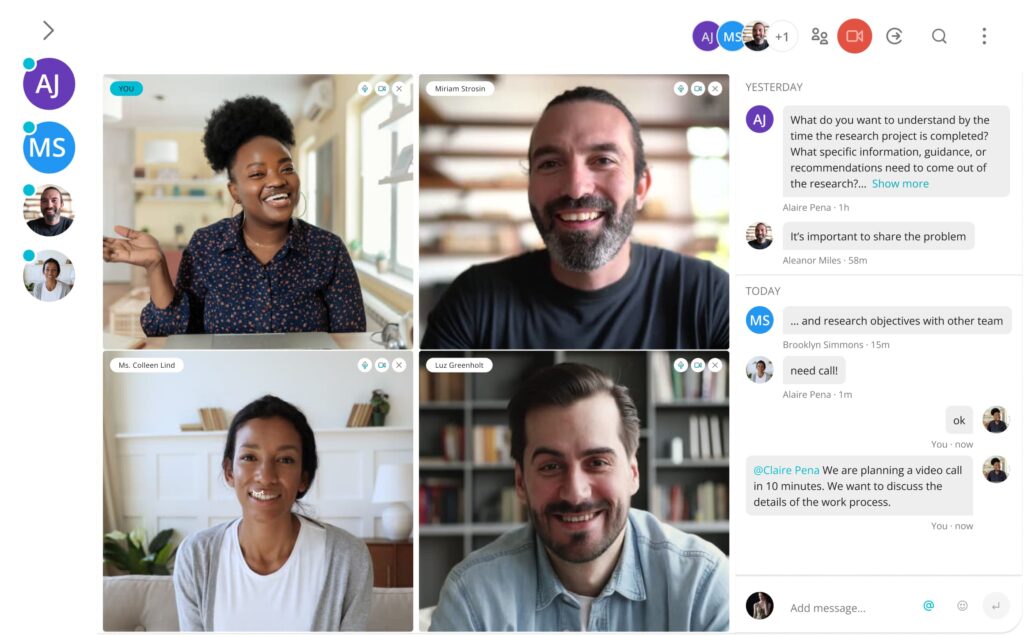 The Main Purpose of a Partner Portal
Partner portals serve as a valuable tool for businesses to develop and maintain strong relationships with their clients. By making relevant information accessible and creating a collaborative environment, these portals can help businesses and their partners achieve common goals more efficiently and effectively, dramatically improving partner relationship management.
The main purpose of a partner portal is to provide business partners with a centralized hub where they can access the information, key resources, marketing materials, and tools they need to be successful. This can include anything from pricing and sales information to technical support documents, marketing resources, and training materials. By utilizing a partner portal, businesses can keep clients informed, streamline workflows, and foster communication and collaboration.
Partner portals can also help businesses monitor performance and identify areas for improvement. Remember, you can't improve what you don't measure! With built-in analytics, companies can track partners' progress, evaluate their effectiveness, and adjust other resources and incentives as needed.
Another key benefit of a partner portal is the opportunity to create a strong bond between business partners and suppliers. With advanced features like communication and collaboration tools, single sign-on, automated workflows, and two-way communication, partner portals encourage engagement and help build better relationships between businesses and their associates.
In summary, a partner portal is the piece of the puzzle that you and your partners need to finally be a match made in heaven.
Main Features of a Killer Partner Portal
A well-built partner portal that follows best practices empowers businesses to enhance client satisfaction, boost productivity, and achieve effective collaboration. So in this section, we will be exploring the main features of a great partner portal and why each feature is necessary for looking after your most valuable partners.
Self-service options: Many partner portals have self-service options that empower partners to access the information they need to resolve their issues quickly without relying on direct support. The ability to manage their account information, track performance, and manage their own marketing campaigns can enhance business partnerships, customer satisfaction and productivity.
Advanced analytics: Advanced analytics provide real-time data for businesses to measure performance and identify concerning trends or areas for potential growth. Access to data like leads, real time visibility, sales forecasts, and deal closures allows you to provide timely and personalized support to your partners.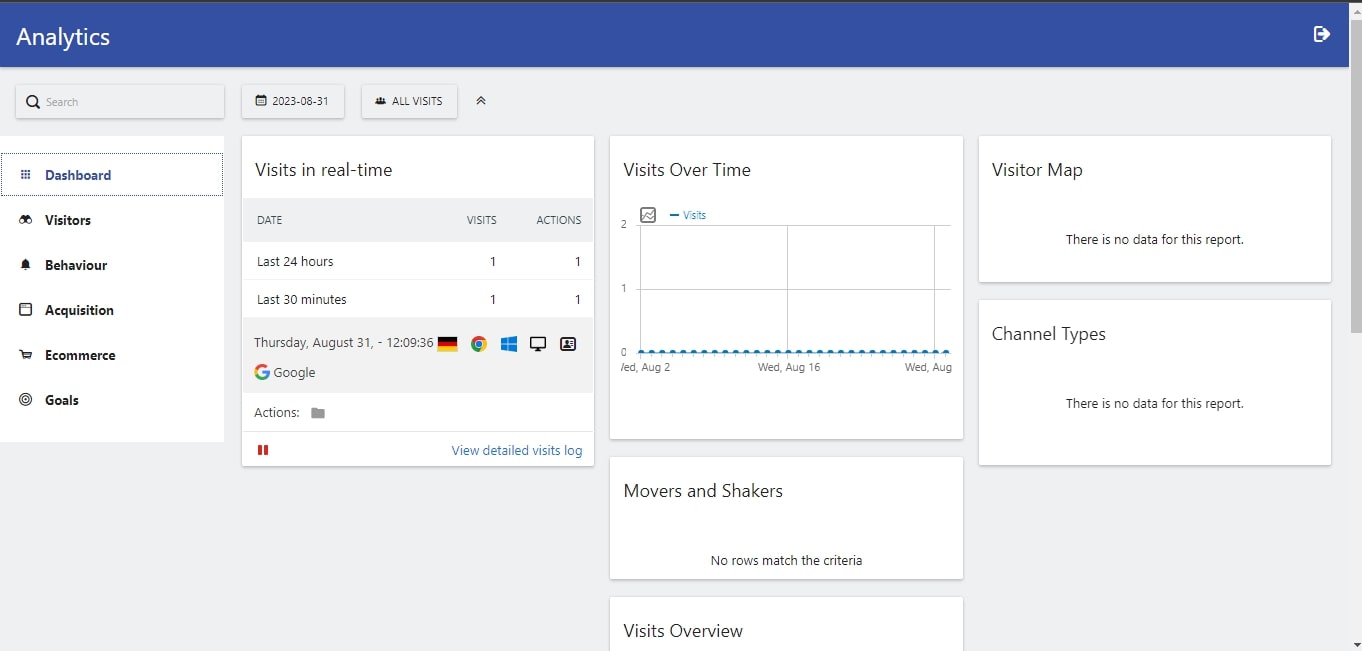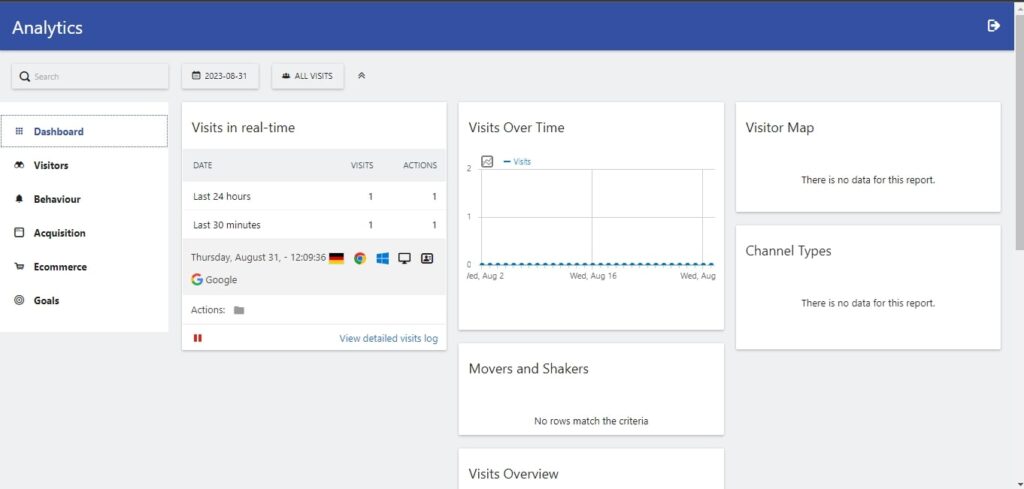 Customizable dashboards and reporting: Customizable dashboards and reports offer partners an easily accessible and user-friendly way of receiving the vital information they need to make decisions or measure their performance.
Advanced communication tools: Features like virtual meetings, ticketing systems and chat applications facilitate communication, while also enhancing engagement and productivity. Say bye-bye to time-consuming emails!
Secure document management: Secure document management offers partners a trustworthy platform for accessing, sharing, and managing critical resources and documents. Following best practices for sharing documents ensures that all partners are working with the most accurate and up-to-date information.
Integration with existing technology platforms: Integration with existing technology platforms helps eliminate redundancies and streamline business processes to convert leads into customers more easily.
Customizable access and permissions: This ensures that collaborators only see information that is relevant to them, enhancing security and protecting sensitive information. Also, customizable dashboards, reports and access settings offer increased flexibility and personalization options rather than a one-size-fits-all approach. This also makes partner onboarding easier and more effective.
Easy-to-use and intuitive interface: An intuitive user interface ensures that partners can navigate the platform with ease and without friction, even using a mobile device. Following UX and UI best practices leads to more engagement with the portal, with partners using the platform to complete desired tasks more efficiently. Simple and intuitive user interfaces lead to better user experiences and a more efficient outcome, regardless of the partner type.
Read more posts on this topic:
How to Build a Partner Portal in a Few Simple Steps
Without further ado, here you have seven simple steps for building a successful partner portal:
Determine your requirements for the portal, including user access levels and necessary features. Before you start building your partner portal, you'll need to define your requirements, including who will be using the portal and what they need access to. What features are necessary to facilitate and channel partner communication, document sharing, and other collaborative activities? What will be the partner portals cost?
Choose a partner portal software platform that meets your needs. There are plenty of software companies available for building partner portals, each with different features, costs, and integrations. You'll want to research and choose a platform that not only meets your requirements, but also fits within your budget and can integrate with your existing systems.
Customize the portal's design and branding to match your company's look and feel. Set it up to match your company's branding, such as adding your company logo, choosing your brand colors, and setting up your domain name. This can help many partners feel more comfortable and engaged with the portal. Keep it simple, but make it fancy and stylish!
Set up the portal's functionality. With the branding complete, you'll need to set up things like account creation and management, content management tools for documents and shared resources, and communication tools like chat or forums.
Test the portal thoroughly to ensure it follows best practices guidelines, meets your expectations and is user-friendly. Have both internal and external portal users test the portal and provide feedback on its usability and functionality to ensure everything works as intended.
Invite and onboard partners to the portal, providing training and resources as needed. After testing and making any necessary adjustments, you can invite users to join the portal. This may require some training and resources to get them up to speed on how to use the portal effectively for their business needs.
Continuously monitor and update the portal to ensure it remains relevant and effective for your partners. Finally, it's important to schedule regular check-ins to ensure the partner portal remains relevant to your partners and your business. You may need to make updates based on feedback or changes to your business processes, so it's important to stay in tune with what your partners need and how they're using the portal.
Top 5 Partner Portal Software Platforms
When building a client portal, choosing the right client portal software is crucial to its success. So in this section, we'll explore five of the top partner portal software platforms, examining their strengths and explaining why they might be the right choice for your business.
FuseBase (formerly Nimbus)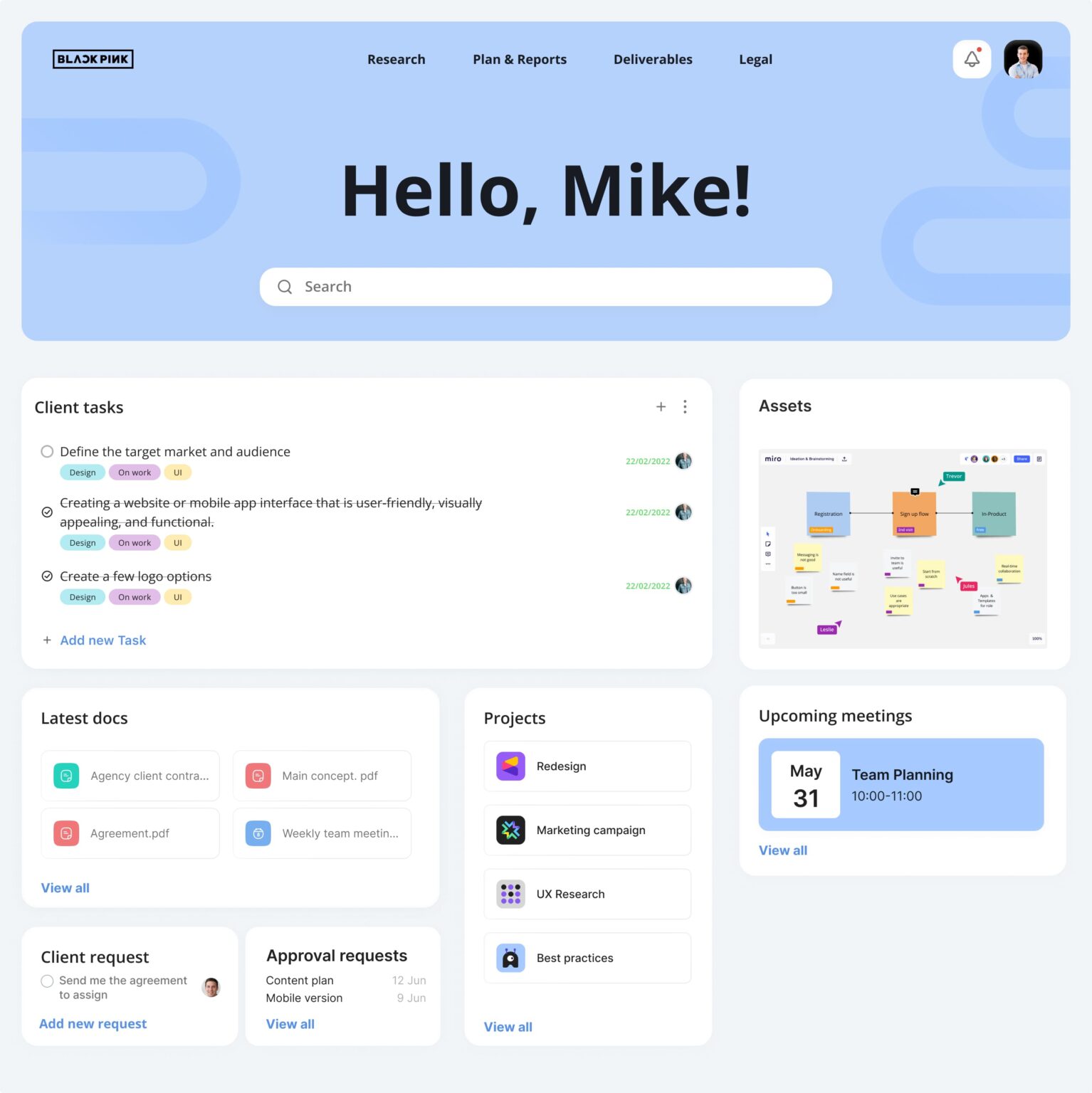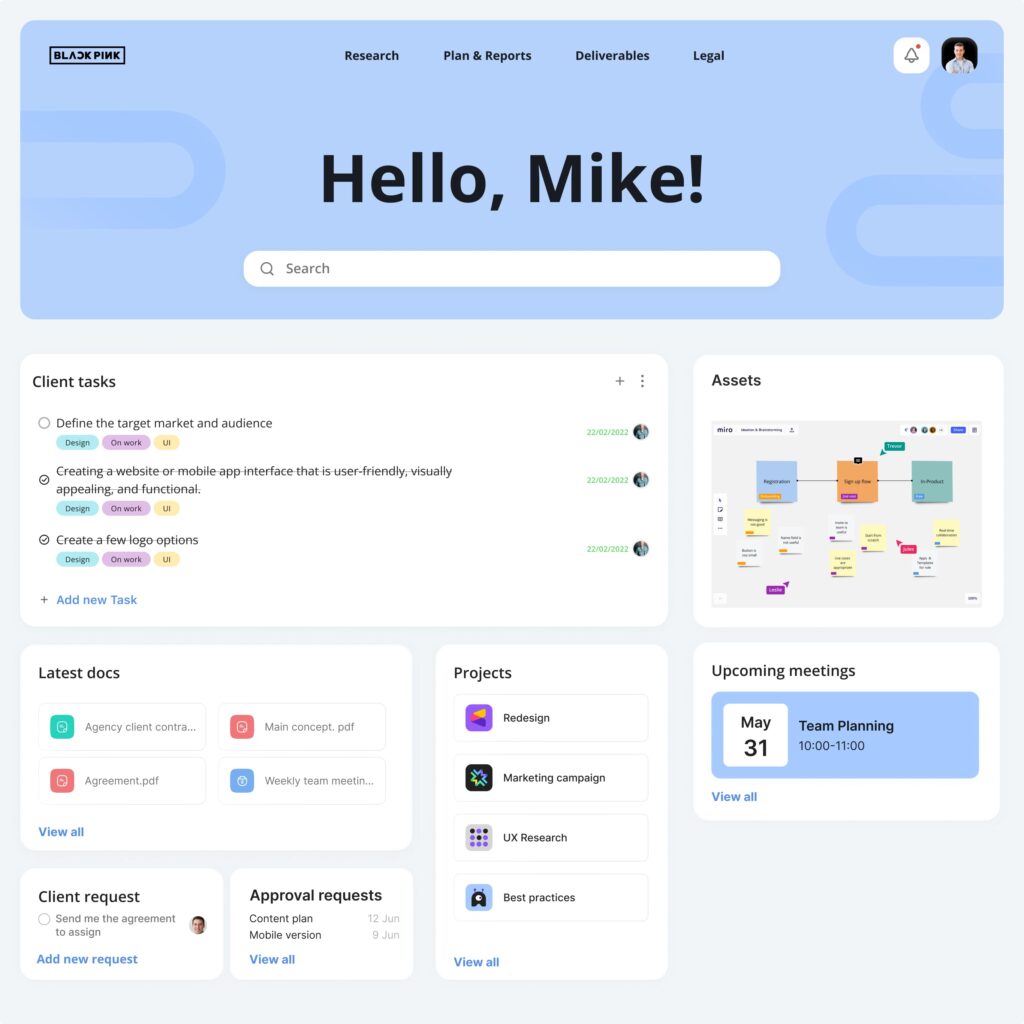 FuseBase (formerly Nimbus) is a versatile partner portal software that offers a comprehensive range of features for content management and customer support. Alongside traditional portal building capabilities, such as support documentation creation, this partner management software also boasts robust chat functionality to keep in touch with team members and partners alike. Besides, FuseBase (formerly Nimbus) has other add-on apps like Nimbus Capture and Nimbus Clipper, which make capturing and sharing web content simple and secure. 
With affordable pricing, easy-to-build and fully branded portals, and seamless connection to all FuseBase tools, FuseBase (formerly Nimbus) is an excellent choice for any company seeking a well-rounded, effective customer portal solution. Okay, we might be a little biased here, but all our users agree: FuseBase rocks!
Zendesk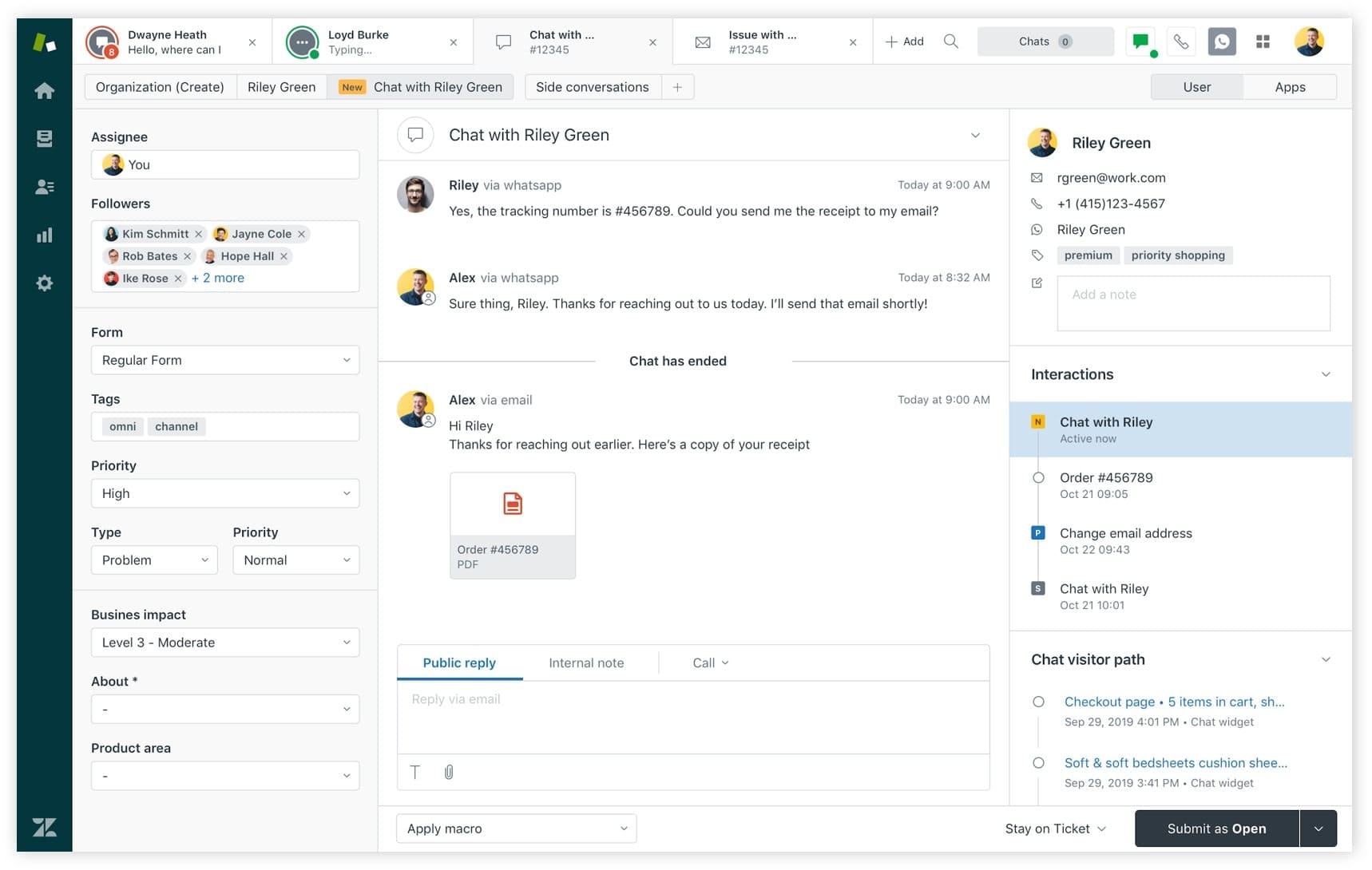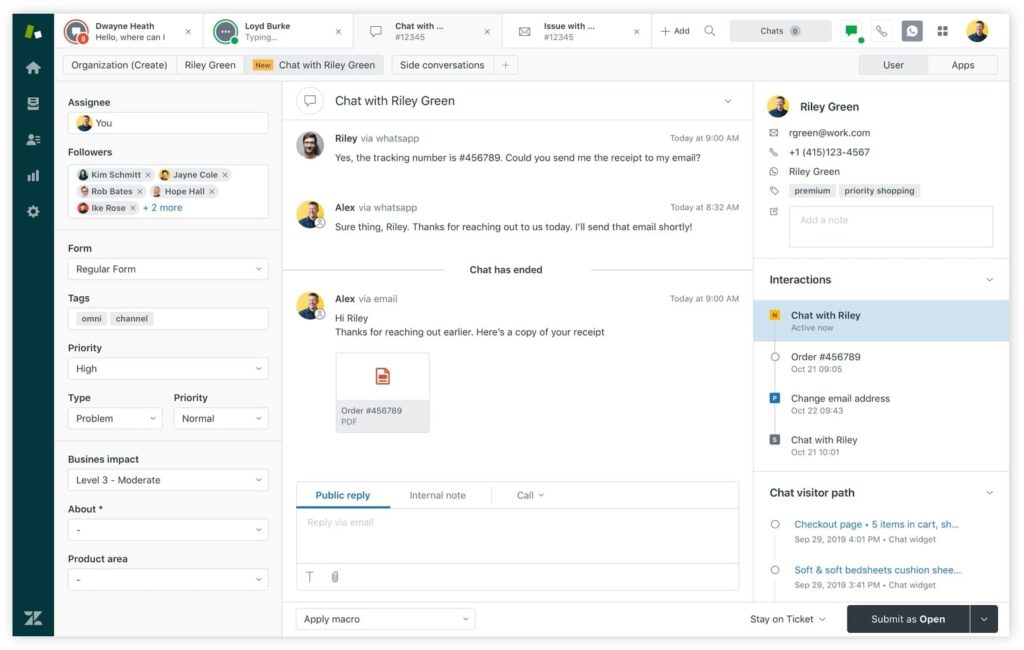 Zendesk is a robust customer service support platform and partner portal software that offers a wide range of customization options for businesses. This helpdesk solution offers customizable partner portals, powerful knowledge base management, and live chat functionality. Zendesk integrates with many popular CRMs and analytics software, facilitating streamlined customer service operations. Despite being feature-rich and customizable, Zendesk's cost per agent can be considered a drawback, as well as its unintuitive setup and steep learning curve. However, customers seeking a comprehensive customer service platform may still find Zendesk's features to be well worth it.
SuiteDash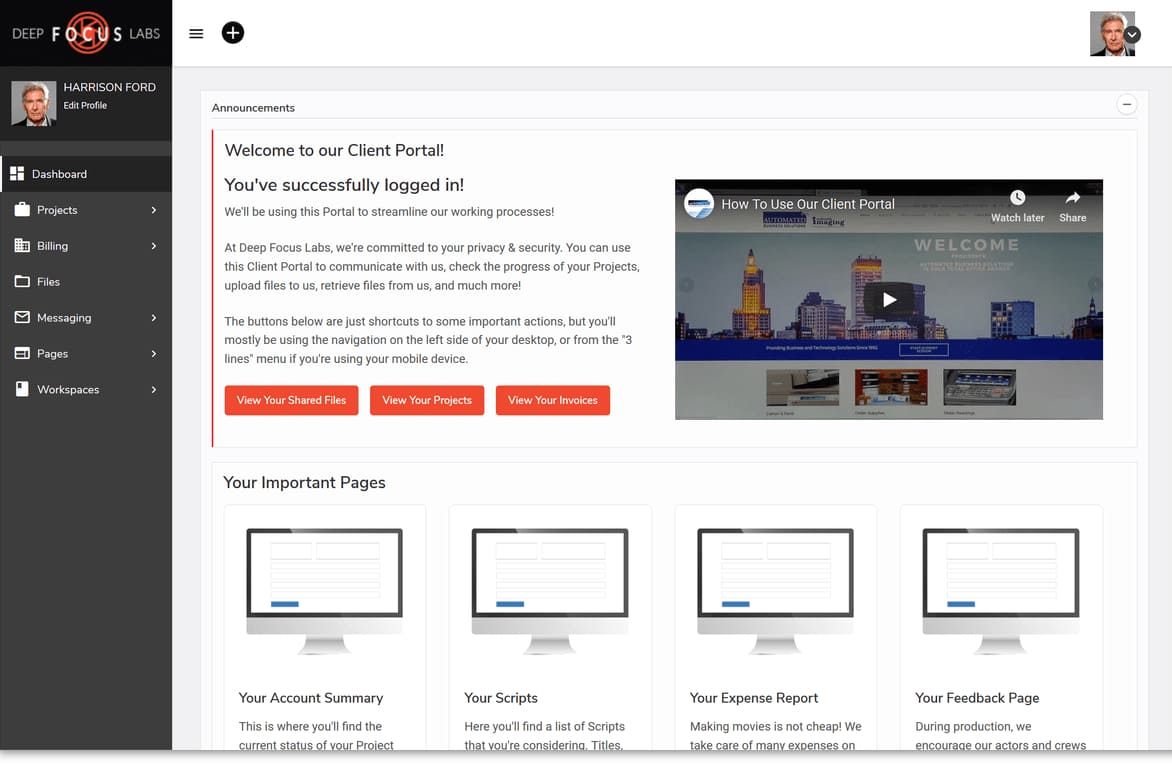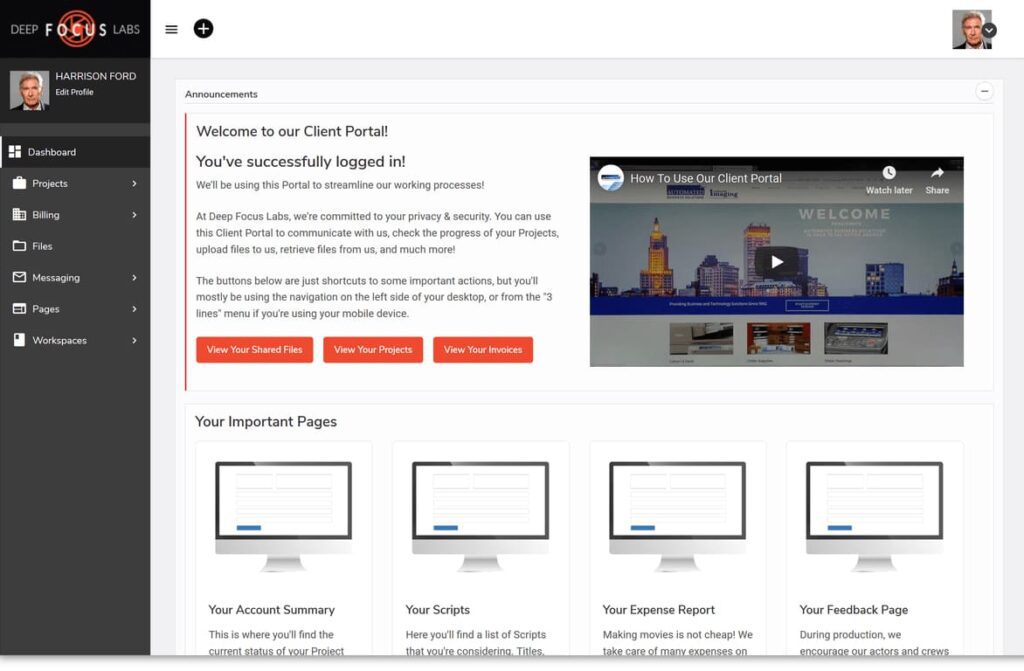 SuiteDash is an all-in-one partner management solution that offers businesses robust tools to manage their customer relations, project management, and invoicing. With this customizable partner portal software, businesses can make sure that customer interactions match their branding, while its clear reporting and tracking systems enable task delegation and progress monitoring. At an affordable pricing point, businesses can take advantage of SuiteDash's customer template library, comprehensive documentation, and document collaboration features. However, the platform's steep learning curve, overwhelming number of features, unappetizing UI, and limited integrations may prove to be downsides for some businesses.
AhSuite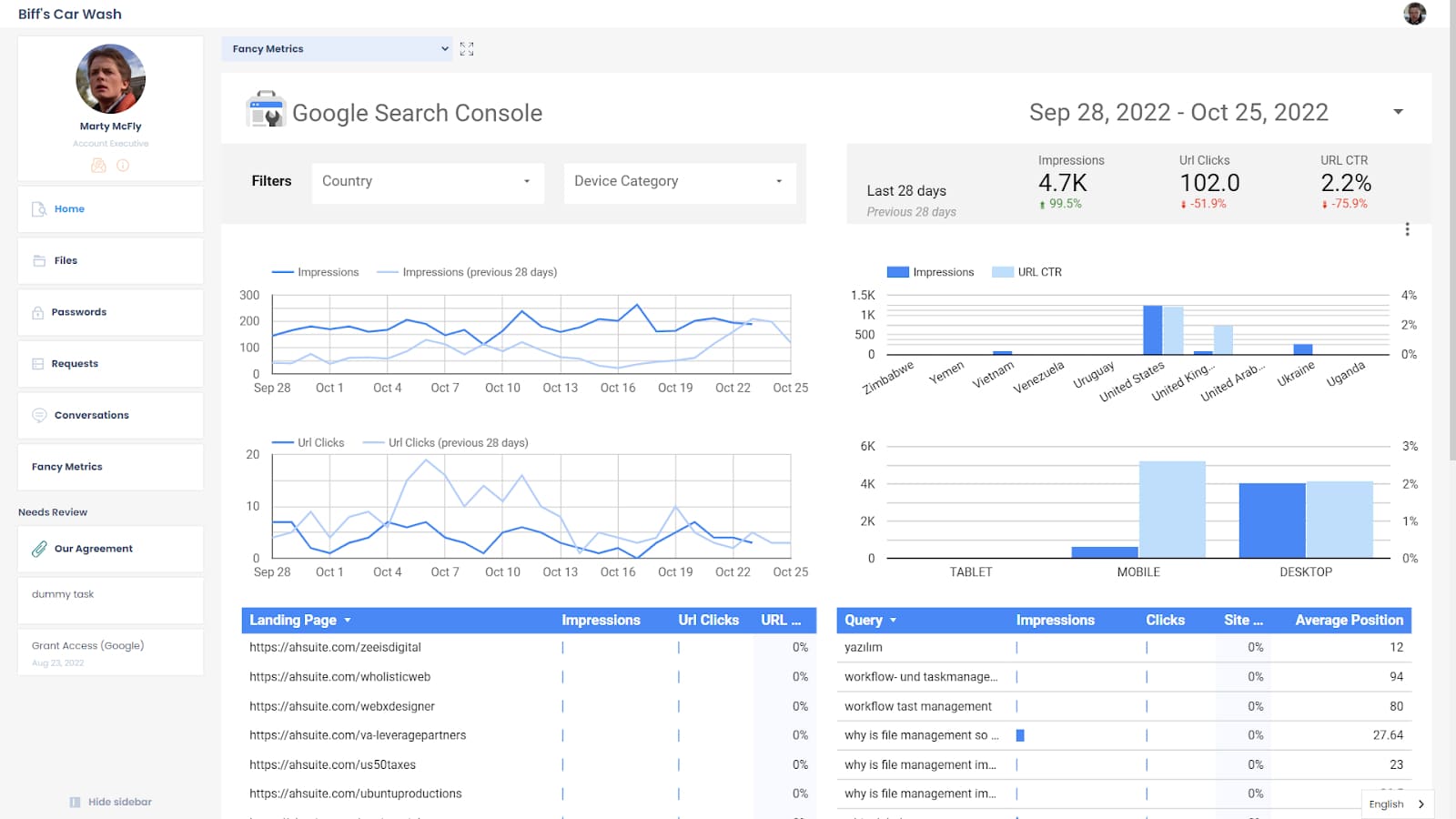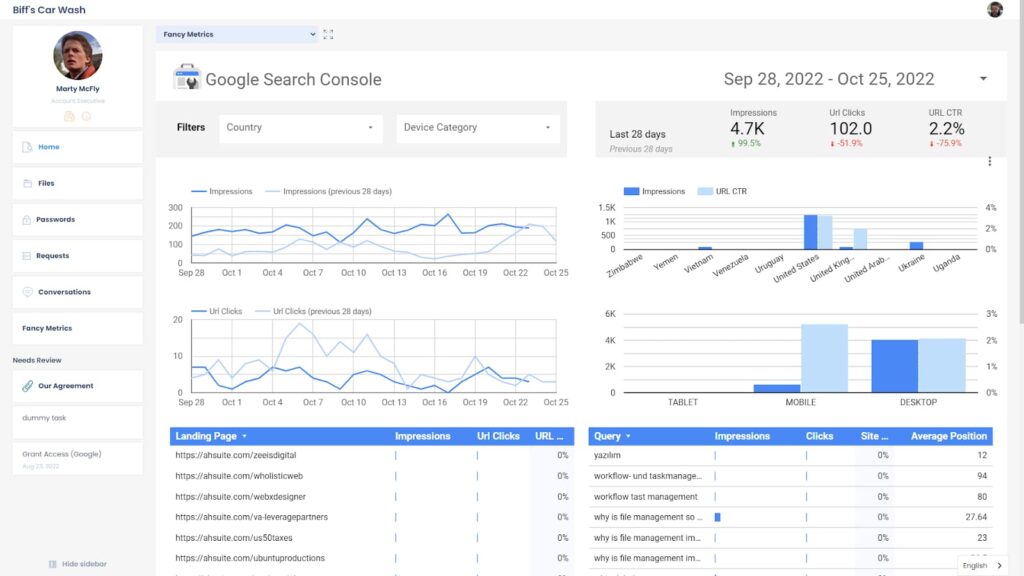 AhSuite is a business management platform that streamlines partner portal creation and team collaboration. Users can embed reports and presentations, allowing clients to access all platforms with a single login. Auto-login links, link sharing across top apps, and customizable labels, checklists, and dependencies enhance the portal experience. This partner portal software helps you manage workflows, track shared documents, and maintain timestamped progress logs. The platform offers encrypted password management, reply-by-email messaging, SEO-optimized public-facing profiles with lead capture forms and white-label pages with custom domains.
Clientary (formerly Ronin)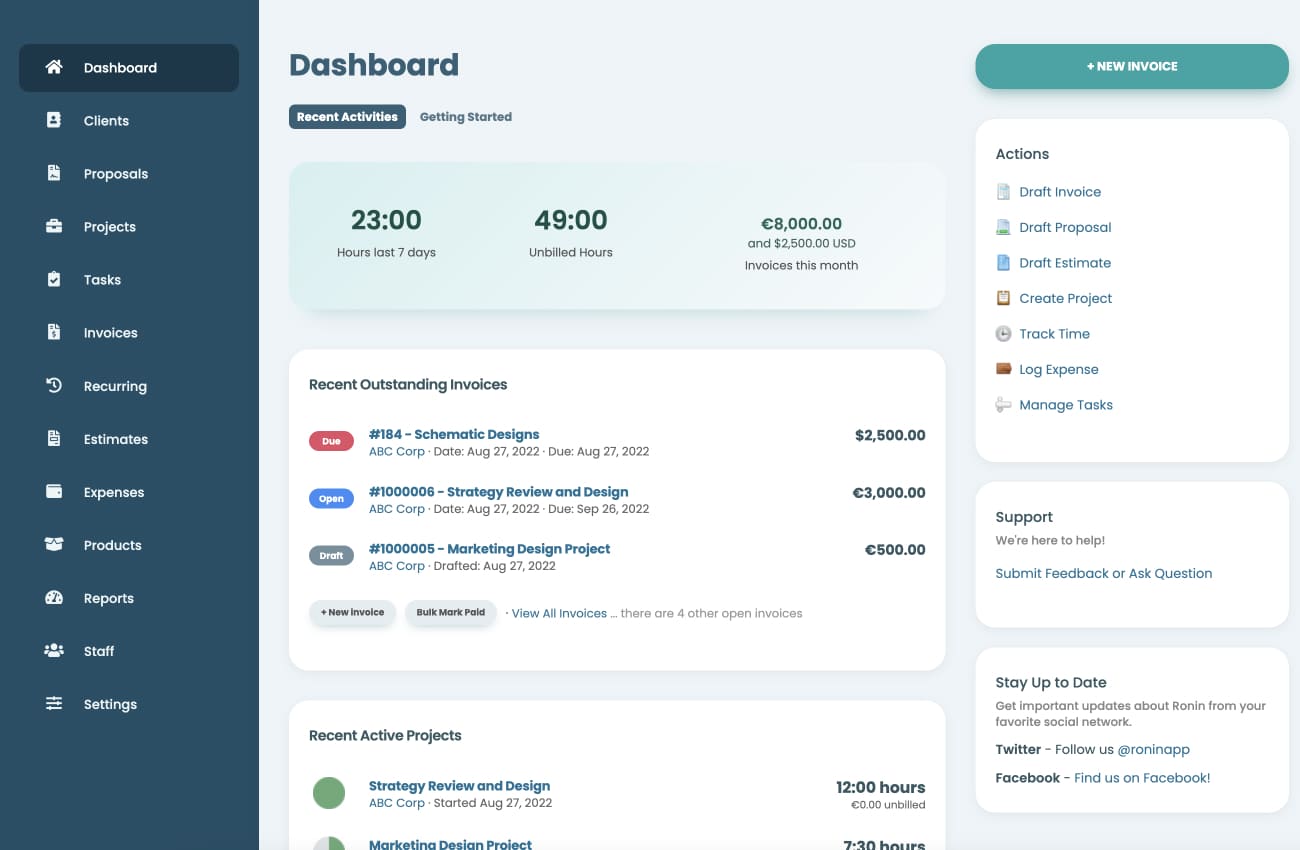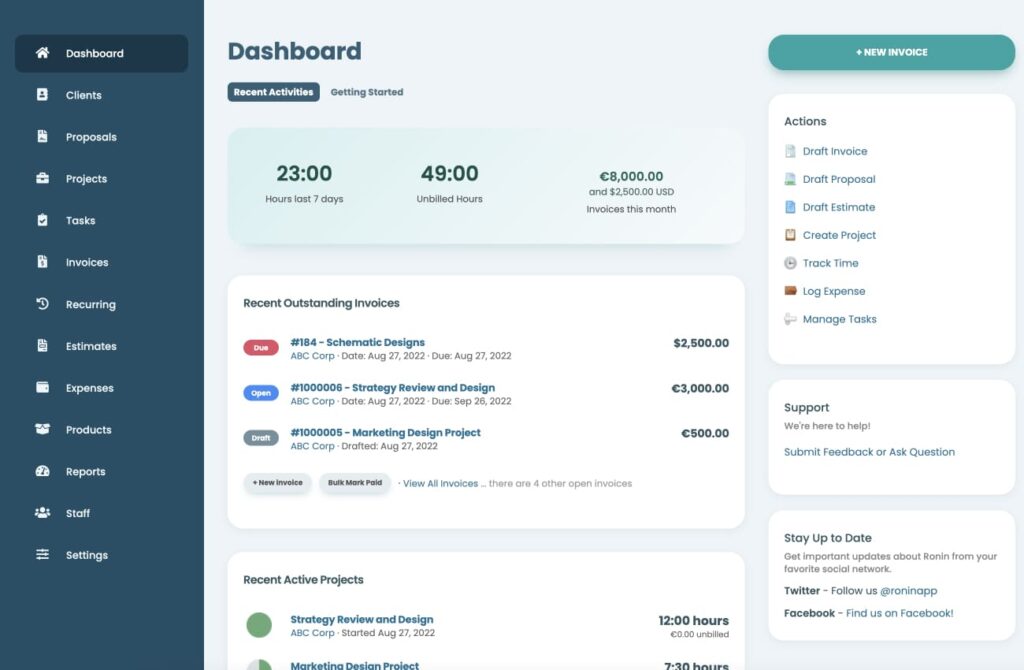 Clientary, previously known as Ronin, is an all-encompassing SMB platform that manages client relationships, invoices, payments and more. Clients can sign contracts from the platform, and users get a view of client workflows from a single dashboard. The platform offers invoice templates, ten customizable themes to make the invoices look professional, and the option to choose how clients will pay, with third-party support for online payments. Users can track project tasks, expenses, time and manage budgets, and set up unique rates for invoicing. The platform also lets users create custom partner portals, where they can post documents and files, send messages and forget password prompts. Overall, Clientary offers an excellent array of features to track and manage client operations from start to finish.
Best 5 Examples of Partner Portals
In this section, we'll go through five partner portals that have caught our eye for different reasons, such as their user-friendliness, customization options, integration capabilities, and even their design.
Amazon's Seller Dashboard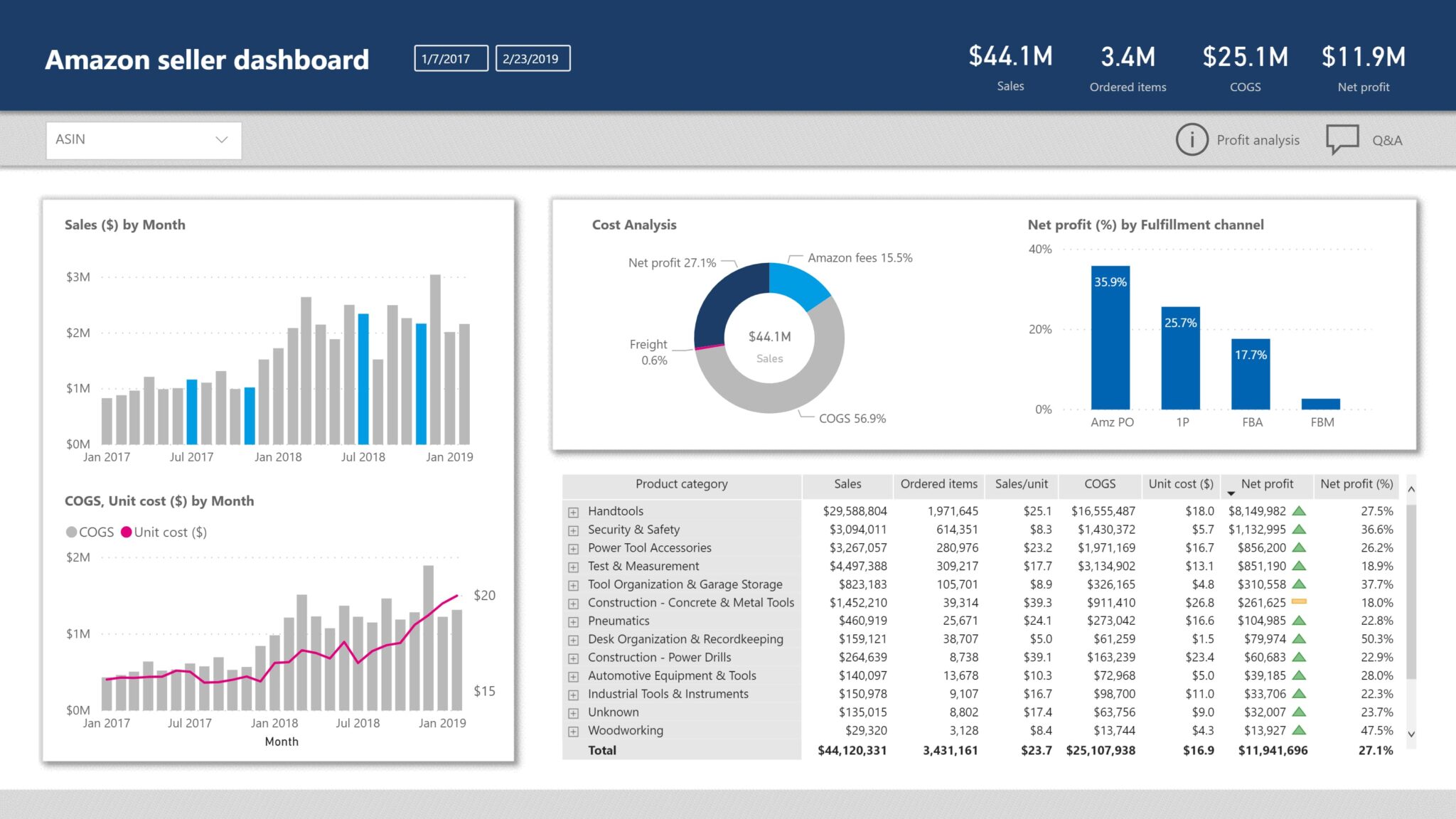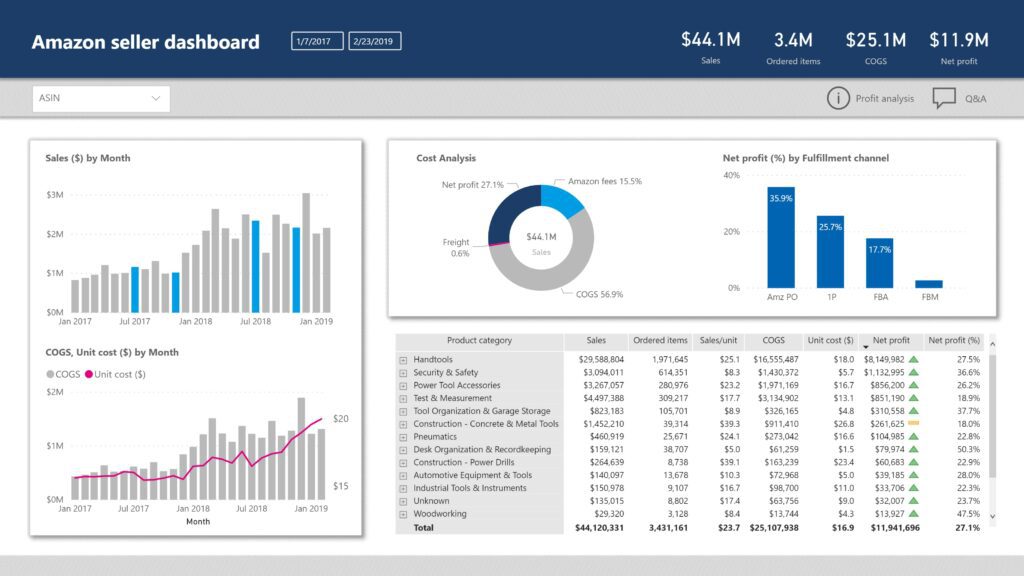 Amazon's seller dashboard is a great example of a user-friendly and visually appealing partner portal. Its modern design and easy navigation make it easy for users to find what they need quickly. The portal provides easy access to essential sections such as purchases, payments, login details, and more. Additionally, the portal includes quick links to the most common FAQs and support articles, making it effortless for customers to find answers to their questions. We love how Amazon has streamlined the user experience, ensuring that partners can focus on their business with minimal distractions or obstacles. However, we don't find it surprising, as Amazon is probably the greatest marketplace and one of the largest online channel partners!
AppSumo's Partner Portal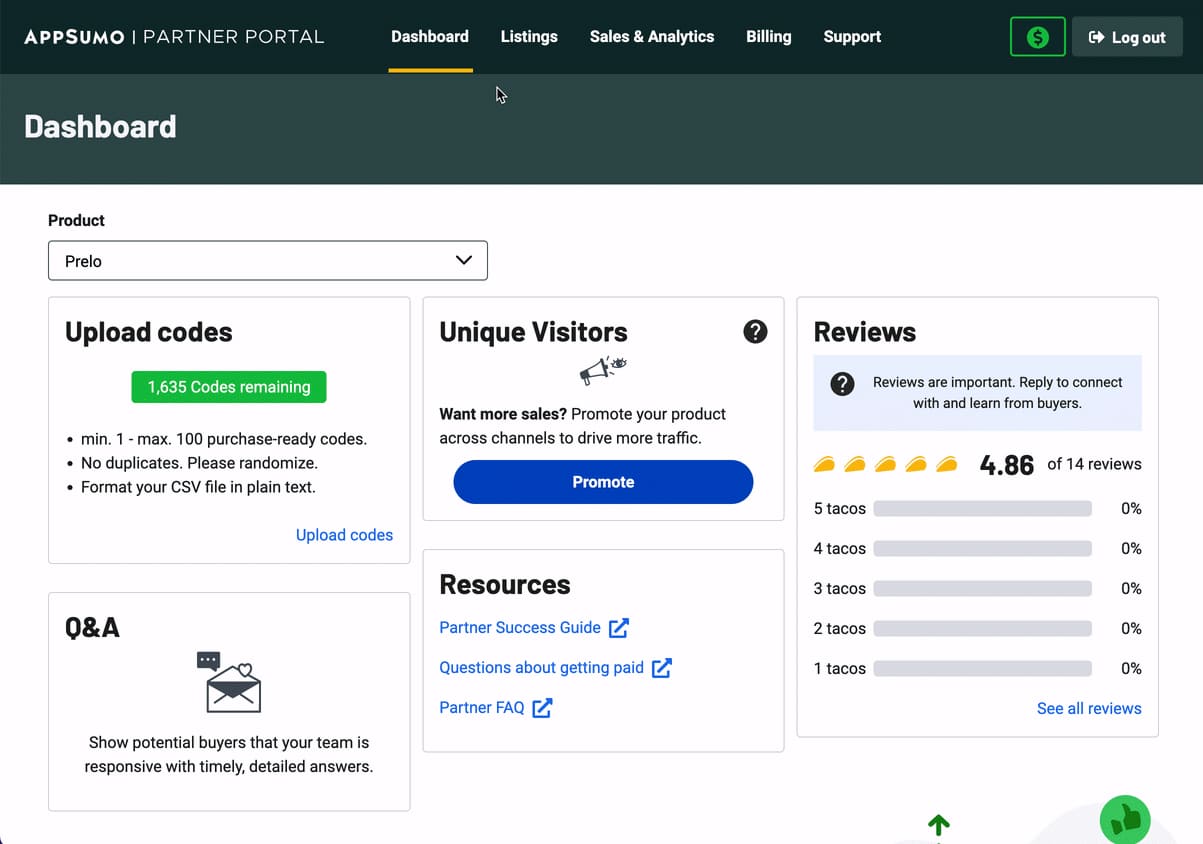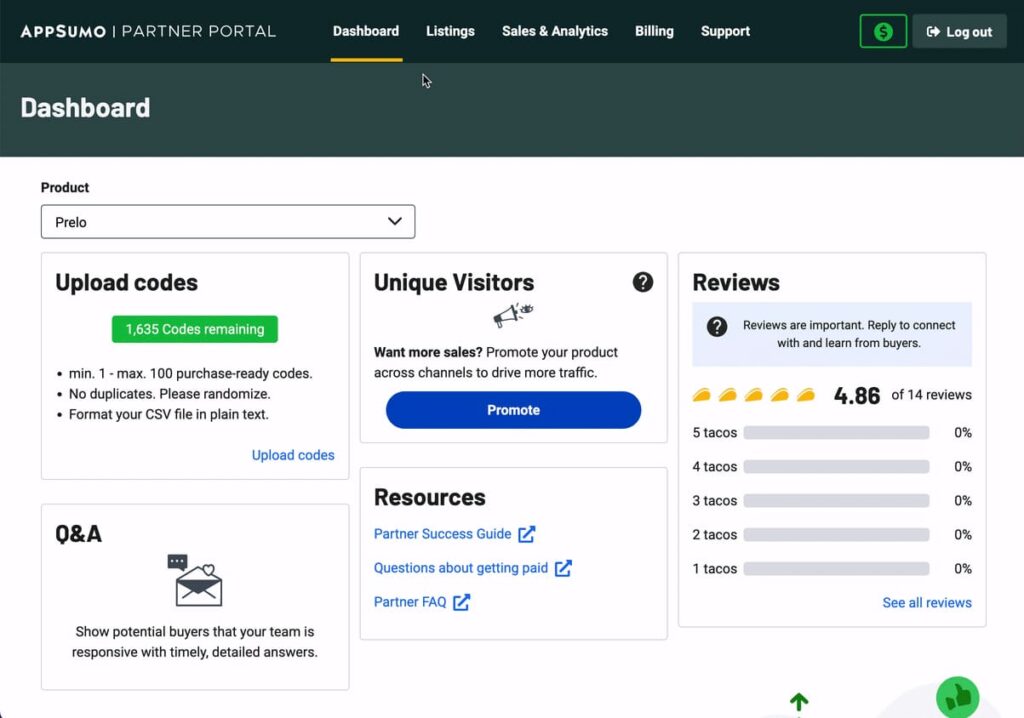 AppSumo's Partner Portal offers a nice set of features to its vendor partners. As a channel partner, AppSumo offers its partners complete control over their listings. Partners can self-publish their listings through the portal and track their sales and analytics, making it easy for them to optimize their content and maximize revenue. Another great feature of AppSumo's Partner Portal is its billing and payouts section, which allows partners to manage their payment details and receive payment for their sales easily. Their partner portal also provides access to direct support and a comprehensive knowledge base, making it a one-stop-shop for everything an associate might need. This is definitely a good use case example for other channel partners out there.
Wise (formerly Wise Transfer)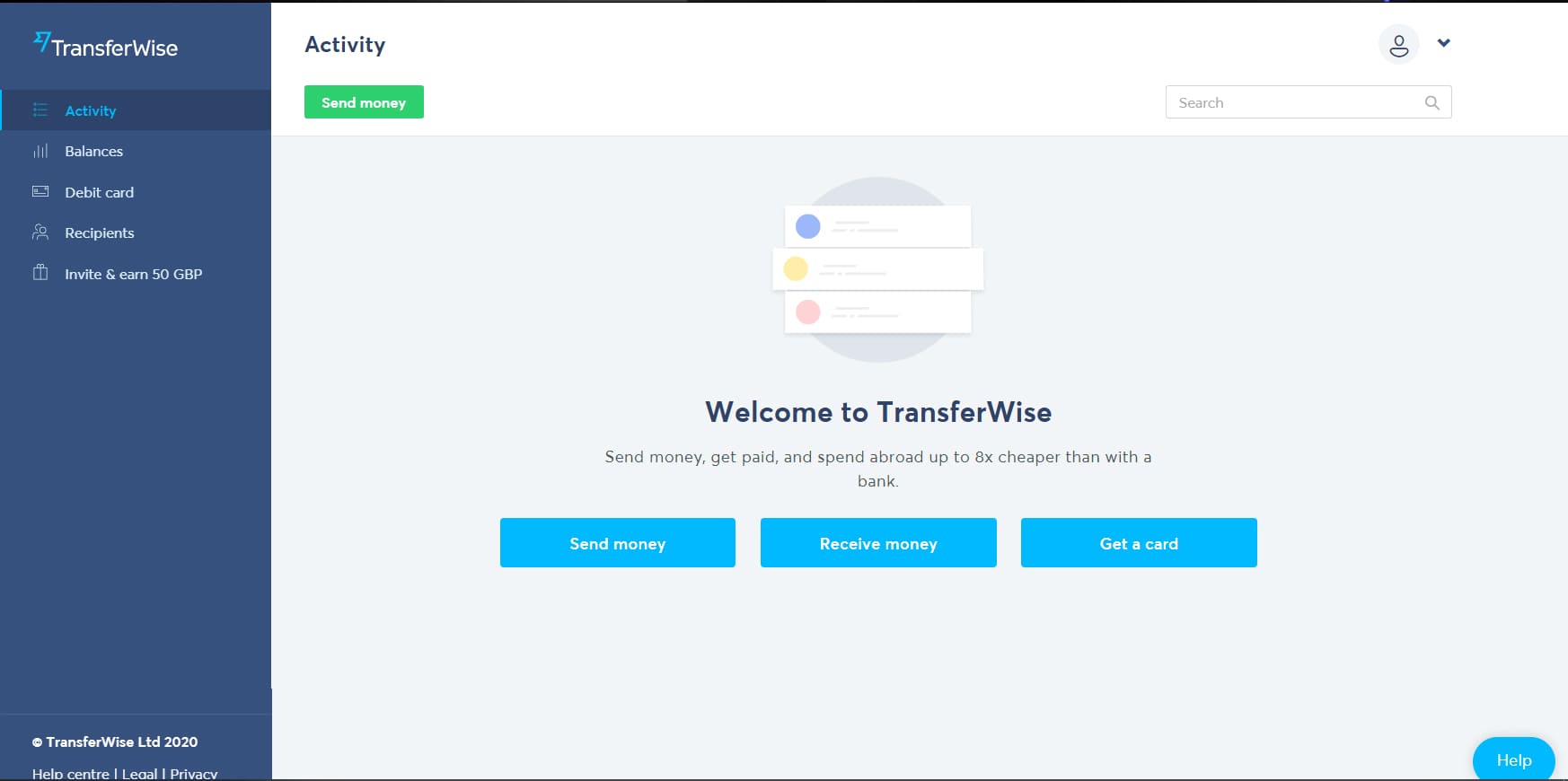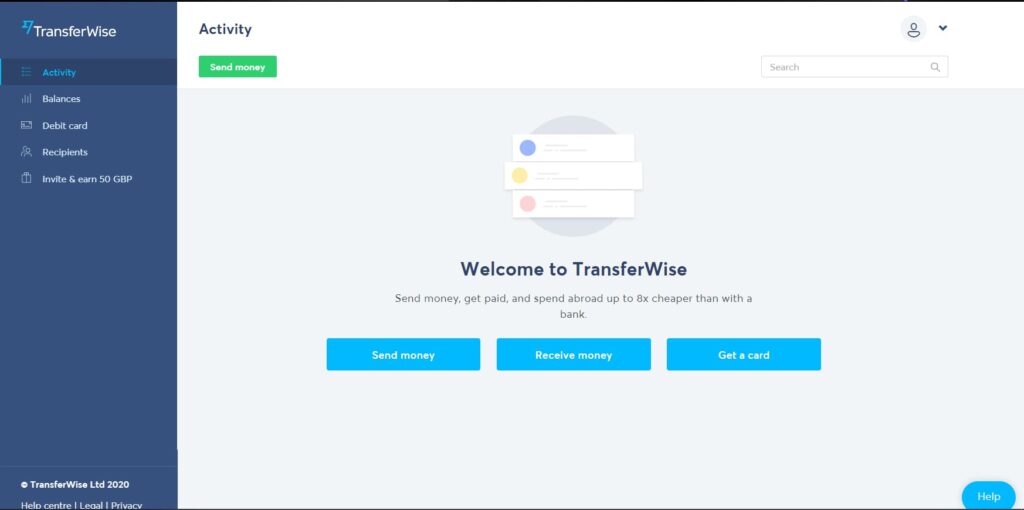 Wise's partner portal that stands out for its visually minimalistic approach. Recently redesigned, their partner portal or user dashboard is simple and intuitive, minimizing on-page elements to create a clean and clutter-free interface. This minimalistic approach not only looks good, but it also creates a great user experience, facilitating browsability and allowing users to perform transfers and other actions with ease. Wise's Partner Portal is designed to focus on the critical aspects of the user experience, highlighting essential features and areas without overwhelming users with unnecessary elements. Overall, Wise's Partner Portal is a prime example of how a simple, well-designed partner portal can help users achieve their goals quickly and with minimal effort.
Stripe's Dashboard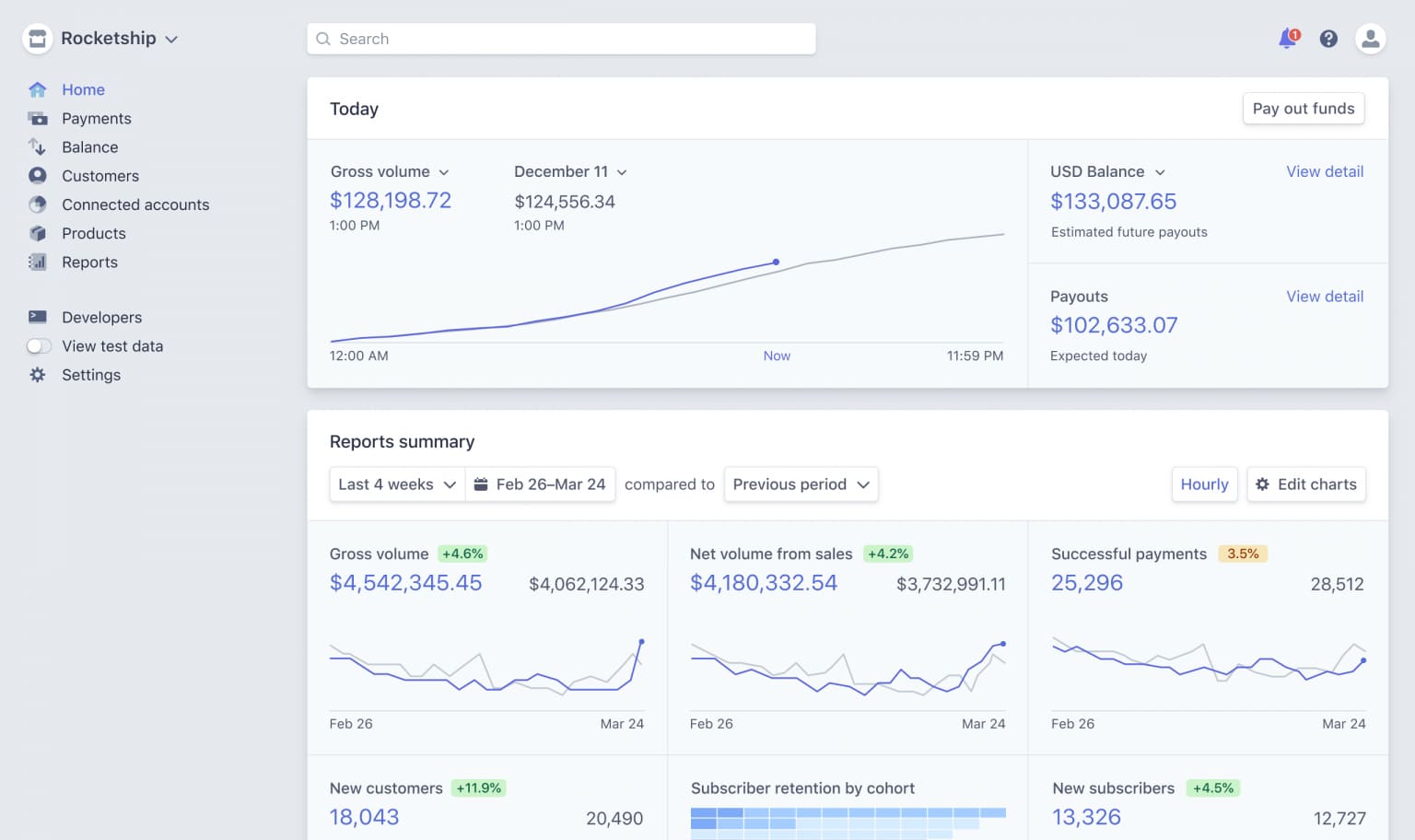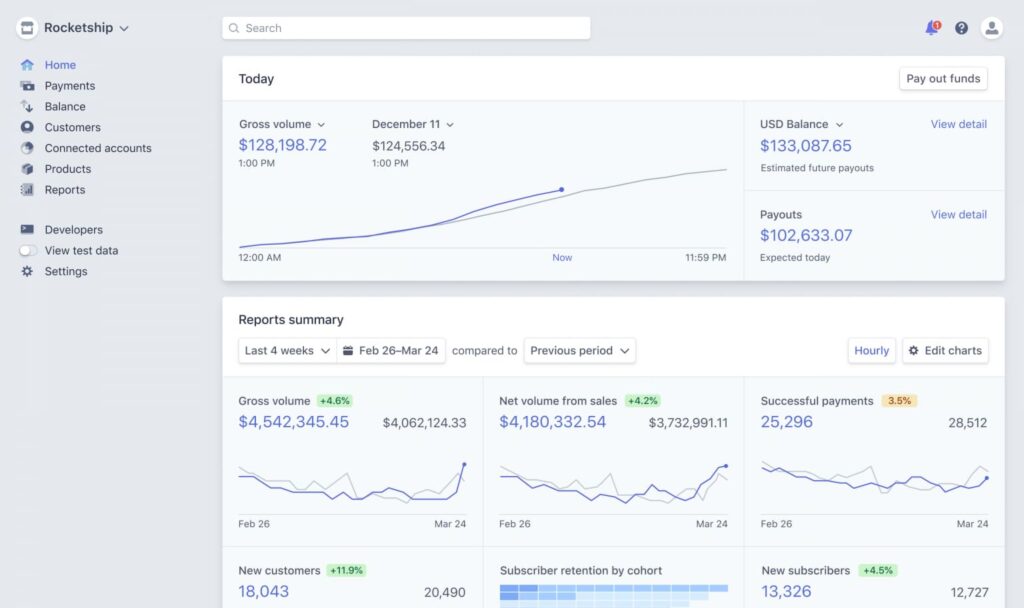 Stripe's customer dashboard is a partner portal that achieves quite a lot without taking a toll on user experience. Firstly, this partner portal is focused on a main goal: offering payment stats at a glance. Stripe is primarily a payment processing service, and its partner portal reflects this by prioritizing payment analytics and critical payment functionalities above all else. The portal also includes links to all of Stripe's functionalities and additional services, making it easy for users to access and manage their accounts from a single location. While the portal can be slightly overwhelming for beginners due to the number of elements on the screen, Stripe's layout is designed to be as user-friendly as possible, guiding users and helping them navigate through the complex data effortlessly.
Impact's Affiliate Partner Portal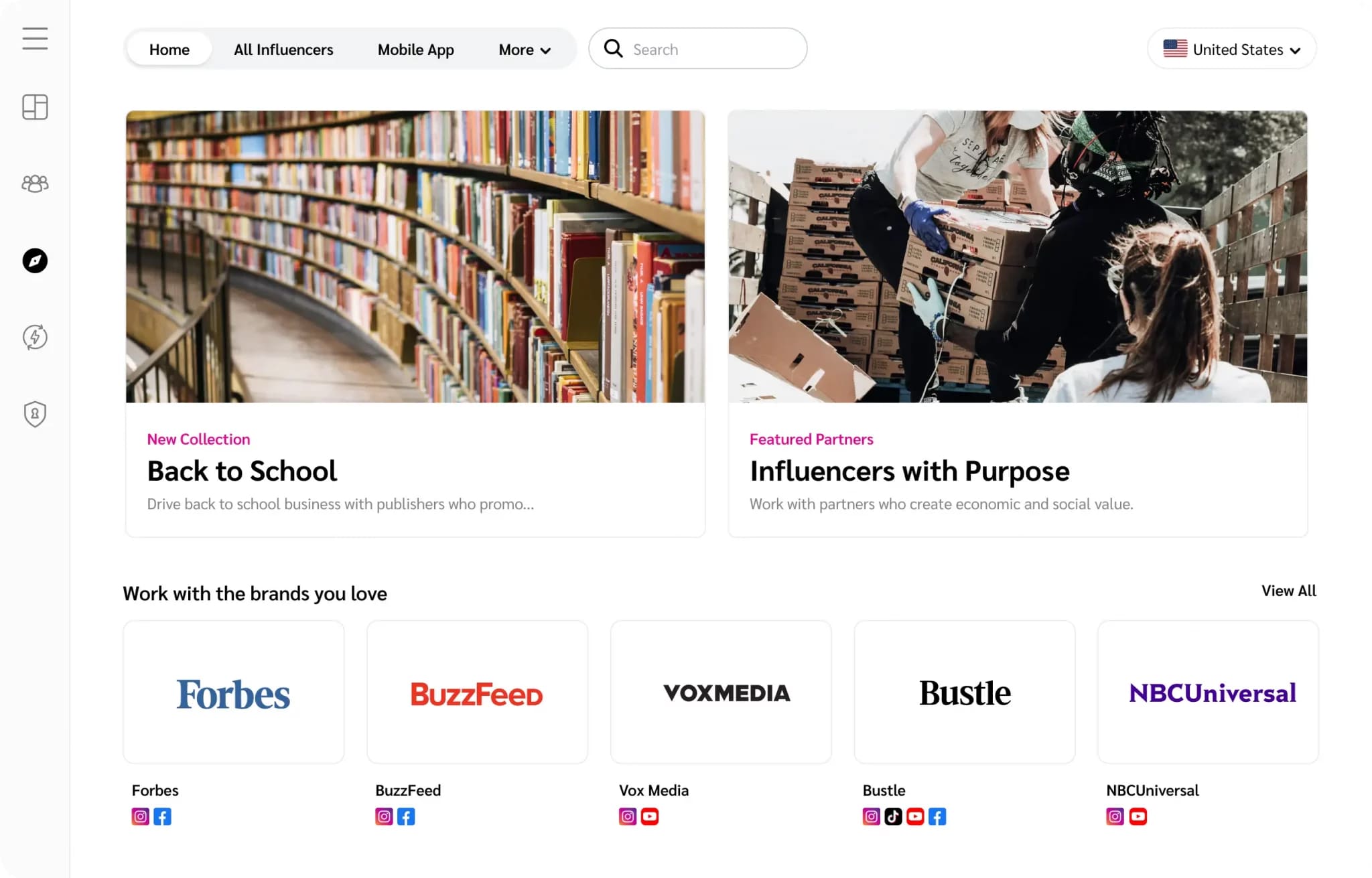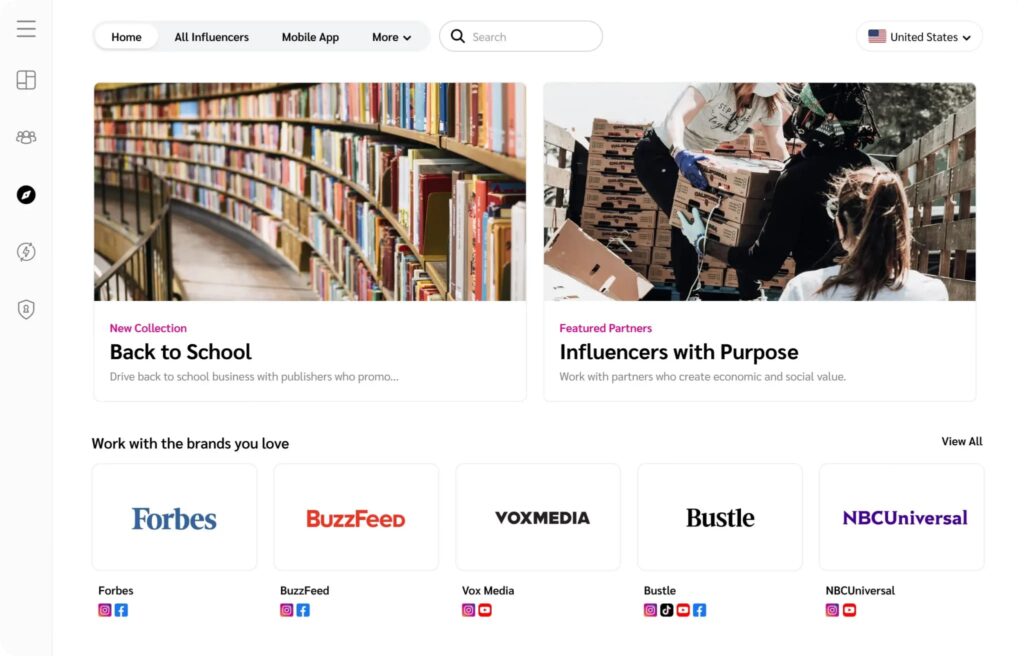 Impact's Affiliate Partner Program is an outstanding example of a partner portal that connects brands with affiliates in a single location. The portal offers its users instant access to critical data, providing main figures such as total revenue and commission, growth, and more at a single glance. Users can also create affiliate links, join partner programs and track the performance of their campaigns, simplifying the management of affiliate marketing programs. Another fantastic feature of Impact's Affiliate Partner Portal is the visual assets that it provides partners. Users can choose from a range of visual resources, including social media posts and website banners, boosting partner enablement by helping them create engaging content and driving more traffic to their campaigns.
Ace the Partner Program Game with FuseBase
With FuseBase (formerly Nimbus) Portal, you can take your partner portal game to the next level. FuseBase allows you and your business to build your own partner portal in minutes and, unlike with other platforms, you can do so with zero coding or technical skills. Wether you clients are local business owners or digital agencies, you can tailor their portal to meet their specific needs and make it as comprehensive as you desire, with features like support widgets, live chat, knowledge base, video tutorials, custom links, and more. You can even build your own learning management system for your clients!
Find out how FuseBase Portals can help you get more partners
FuseBase (formerly Nimbus) has all the tools you need to create exceptional self-service customer experiences, streamlining communication, and improving partner satisfaction. Assist your customers and portal users with one of the best partner portal software and provide them with an excellent self-service experience that will set you apart from the competition and take your business relationships to the next level.
Visit our LinkedIn page for more articles and updates!
Disclaimer
Parties other than FuseBase (formerly Nimbus) may provide products, services, recommendations, or views on the FuseBase (formerly Nimbus) site ("Third Party Materials"). FuseBase (formerly Nimbus) is not responsible for examining or evaluating such Third Party Materials, and does not provide any warranties relating to the Third Party Materials. Links to such Third Party Materials are for your convenience and do not constitute an endorsement of such Third Party Materials.
Next post
How a Business Portal Can Help Your Company