Customer Self-Service Portals and 7 Killer Examples
Learn from our experts how to solve clients' problems using a self-service portal!
Book a demo
Give customers an answer and you make them happy for a day. Give them a self-service customer portal and you keep them happy for a lifetime.

Confucius' Customer Support Manager
Do you wish you could solve your customers' problems without having to actually interact with them like a live human being? Duh! Well, fear not, our friend, because the solution to your business customer service woes is finally here: customer self-service portals! A self-service portal puts the power in your hands to solve your customers' problems, without the need for a customer support team to keep answering phone calls or passive-aggressive emails from them. In this digital age, why put up with that when it's so easy to avoid?
In this article, we'll go over the main features of self-service portals and we'll take a look at seven awesome examples of companies that are crushing the customer self-service game. Get ready to take notes and say goodbye to support requests by unhappy customers forever!
What is a Customer Self-Service Portal?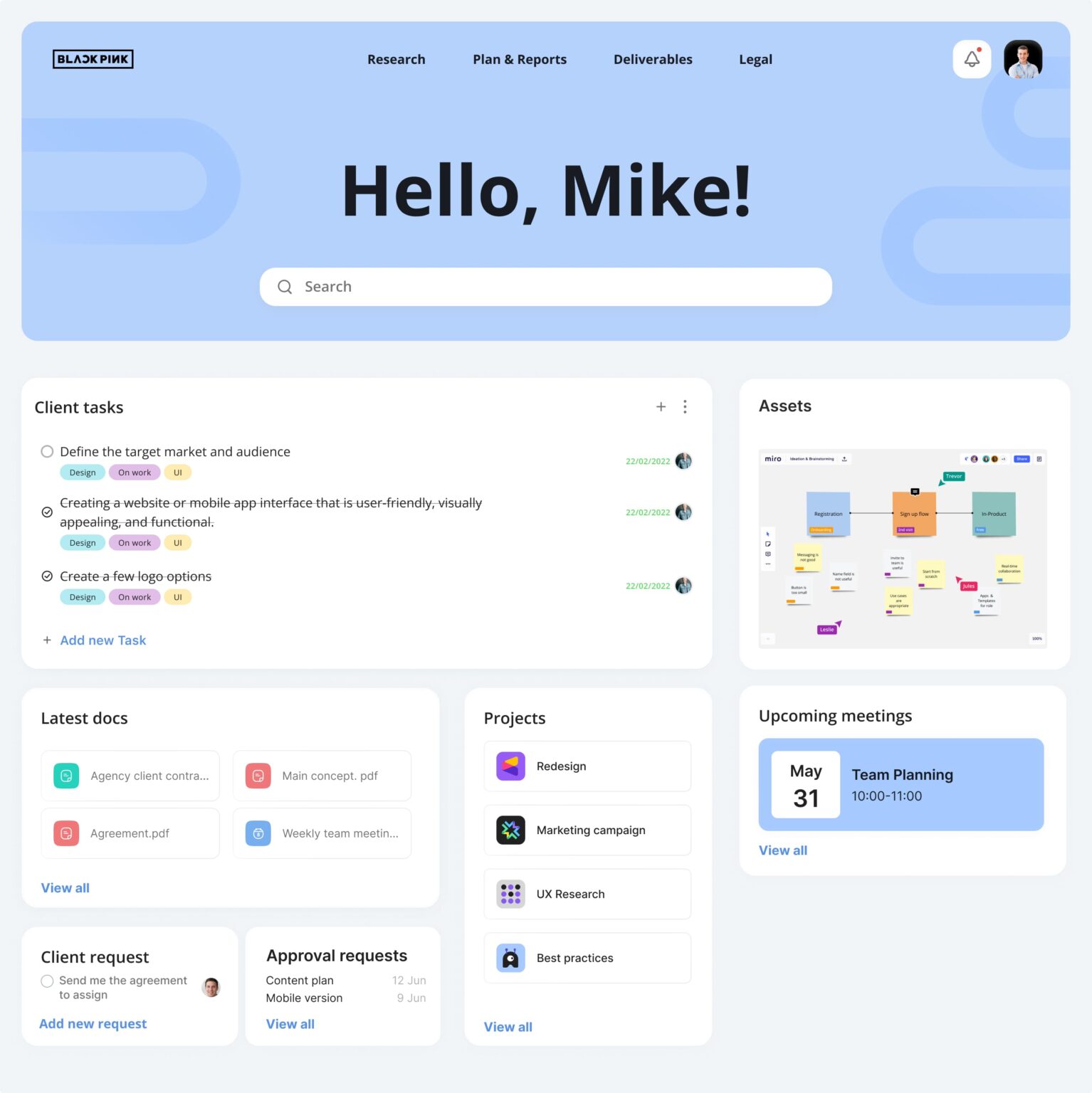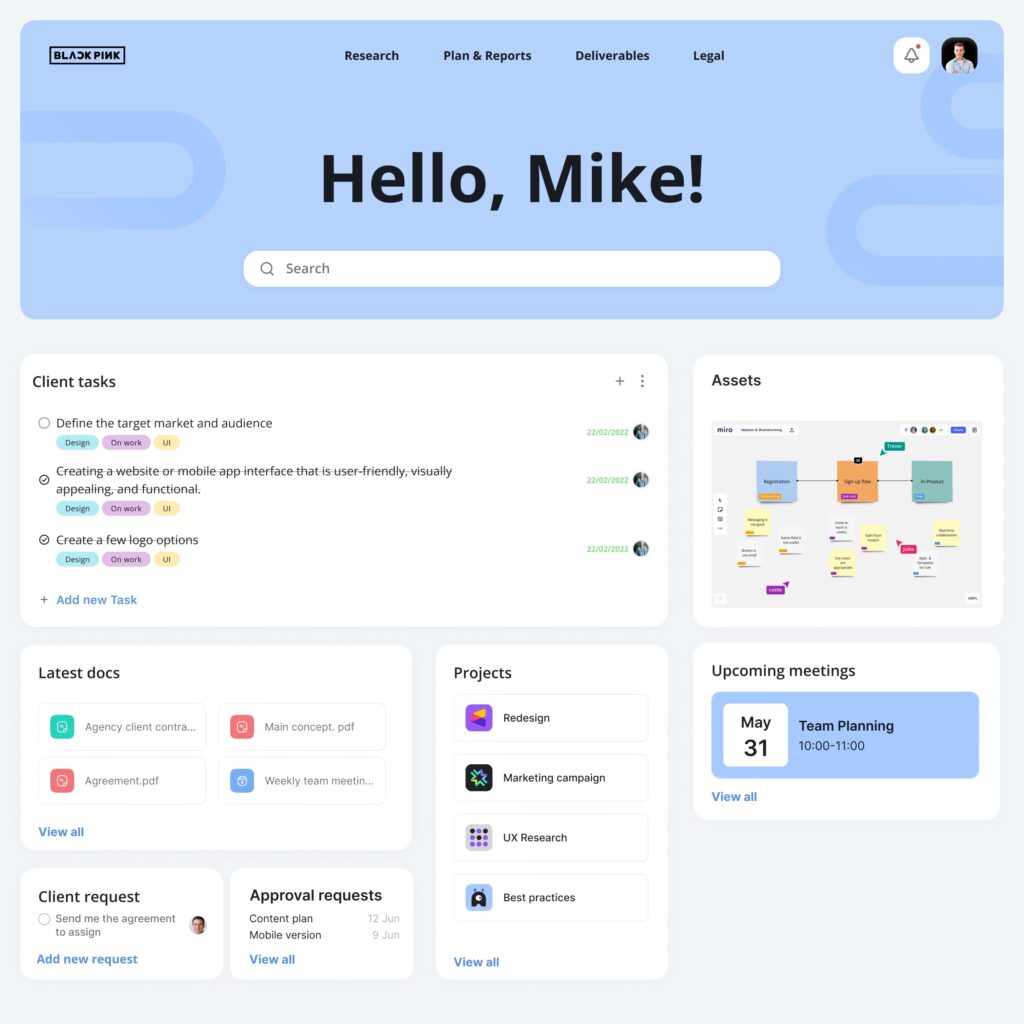 A customer self-service portal is a web-based platform that provides customers with access to a range of services and tools without the need to contact their business provider or a customer support agent directly. Essentially, it empowers customers to solve their own problems using a self-service portal, instead of relying on a customer service agent. Think of it like a library for your customer service resources, available 24/7, even when the librarian (A.K.A. you) is not there.
At its core, a customer self-service center is designed to provide quick and easy access to support resources and tools, from FAQs and knowledge base articles to product documentation and troubleshooting guides. It's like having a team of Sheldon Coopers available to answer every one of your customers' burning questions and help them with any problem, any time, any day. That's what customer self-service is all about.
Why Should You Use a Customer Self-Service Portal?
There are a ton of reasons why you should consider using a customer or client portal. For starters, it can help reduce the volume of assistance requests you receive, freeing up your team's time to focus on more complex client issues. This can be particularly helpful if your company is growing, you're starting to experience a higher volume of requests and, of course, you still need to lower costs and save money. Who doesn't, right?
In addition, a customer self-service hub can improve the overall client experience by providing quick and easy access to the information customers need to resolve their own issues. This is like giving your customers a magic wand and the power to solve their problems on their own.
Perhaps most importantly, a customer self-service portal can help increase client satisfaction by providing a more convenient and personalized experience. In the same way, by giving customers the tools they need to solve their own problems, you're showing that you value their time and want to make their experience with your company as seamless as possible. We love you, customers, we really do.
What Makes a Customer Self-Service Portal Rock?
Providing a great customer self-service portal is like giving Frodo a map and the tools to destroy the One Ring by himself instead of having Samwise Gamgee hold his hand and drag him through Middle-earth. Off you go, Frodo!
But hey, the map and tools need to be the right ones! So let's take a look at three key points you need to bear in mind when choosing the right client portal software and developing your personalized customer self-service strategy and your own self-service portal for your customers.
Seamless and intuitive
A kick-ass customer self-service portal is all about providing a seamless, intuitive, and personalized experience where the users find answers to their own problems with minimal effort by using the right tools and taking an active role. This means making it easy for customers to find the information they need, whether that's through a search bar or by organizing information into easy-to-navigate categories.
Integrated
The real secret to a kick-ass customer self-service portal is making sure it's integrated with your overall customer self-service strategy and support team. This means using data to identify the most common client issues and creating content or facilitating the tools that specifically address or solve those issues.
Up to date
A great self-service portal is also regularly updated to reflect changes in your product or service offerings, and you must make sure your customer service team is trained to direct customers to the support center whenever possible.
In other words, a good self-service portal is all about being proactive, personalized, and responsive to your customers' needs. It's like having a customer service superhero or, even better, the whole Avengers team, at your beck and call.
Types of Сustomer Self-Service Portals
There are a few different types of customer self-service hubs, each with its own unique set of features and benefits. Here are some of the most common types:
FAQ pages: Tired of answering the same questions over and over? We bet your customer service agents are! So why not let a FAQ page do the job? These self-service portals provide a searchable database of frequently asked questions and answers, which customers can access to quickly find the information they need.
Community forums: Community forums allow your customers to post questions and receive answers from other customers, as well as company representatives. This type of customer self-service portal can be particularly effective for building a sense of community and brand loyalty.
Knowledge base portals: Among all the different customer self-service options, knowledge base portals are the best to provide access to a range of product documentation, user manuals, and troubleshooting guides. This type of information hub, which you can create with any knowledge base software, is extremely helpful for technical products, where even experienced users need a certain degree of guidance. Oh, and don't forget that search engines tend to love knowledge bases when they are open to the public.
Chat-based portals: Chat-based portals allow your business customers to engage in real-time chat with customer service representatives. Yes, we know, this type of portal isn't entirely self-service, as it does put some workload on your support team, but it always feels nice, as a user or client, to have someone on the other end giving you a hand when you really need to solve a complex issue that requires a real-time back-and-forth conversation rather than reading a ton of self-service support articles. Our advice is to provide this type of solution as the last resort, when all other self-service options have fallen short.
Chatbot portals: Chatbot self-service customer portals are a type of client support solution that allows customers to interact with a virtual assistant which (or rather who?) provides a lower-cost solution that reduces wait time and provides answers fast. These customer self-service solutions are helpful for handling simple or frequently asked questions, and are available 24/7, freeing up support teams to focus on more complex issues.
Video-based portals: Video-based portals provide a library of videos with step-by-step instructions that users, customers or visitors can use to learn how to use a product or service, or to troubleshoot common issues. This type of self-service customer experience is particularly effective for visual learners and for tutorial-based content.
Billing portals: A billing center is a self-service portal that allows customers to manage their account information, view billing statements, and make payments. It can help to reduce the volume of billing-related inquiries and support requests while creating a more convenient and personalized customer self-service platform and experience for your beloved clients. Oh, and it really helps to get paid on time!
Hybrid portals: A hybrid self-service portal combines two or more of the above portal types to create a more comprehensive self-service experience. For example, a hybrid solution might include a searchable knowledge base, community forums, and live chat support. This is probably the most common type of self-service portal, as it provides the most comprehensive solution. It's basically the Superman of portals.
No matter which type of customer self-service portal you choose, it's important to ensure that it's easy to use, navigate, and search. It's also important to regularly update your self-service center with new content, so that customers can always find the information they need. With the right self-service portal in place, you can empower your customers to become self-sufficient problem-solvers and create a more positive client experience.
7 Best Examples of Customer Self-Service Centers
Since we've already talked about the best client area and knowledge base software out there in another blog post, we will now give you some examples of the best self-service portals, so you have an idea of how businesses are implementing that software and creating the different types of portals described above.
1. Nimbus Platform Knowledge Base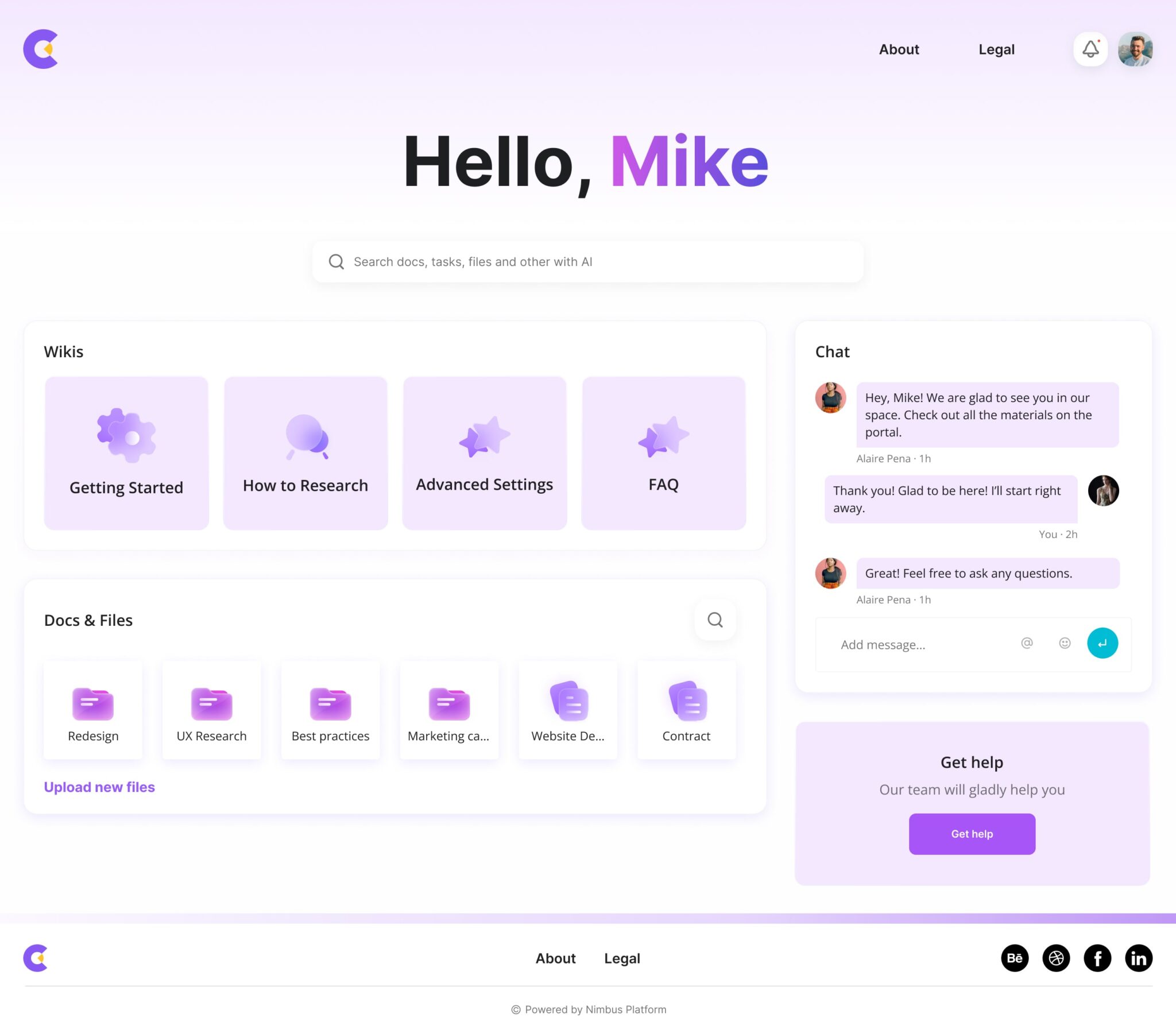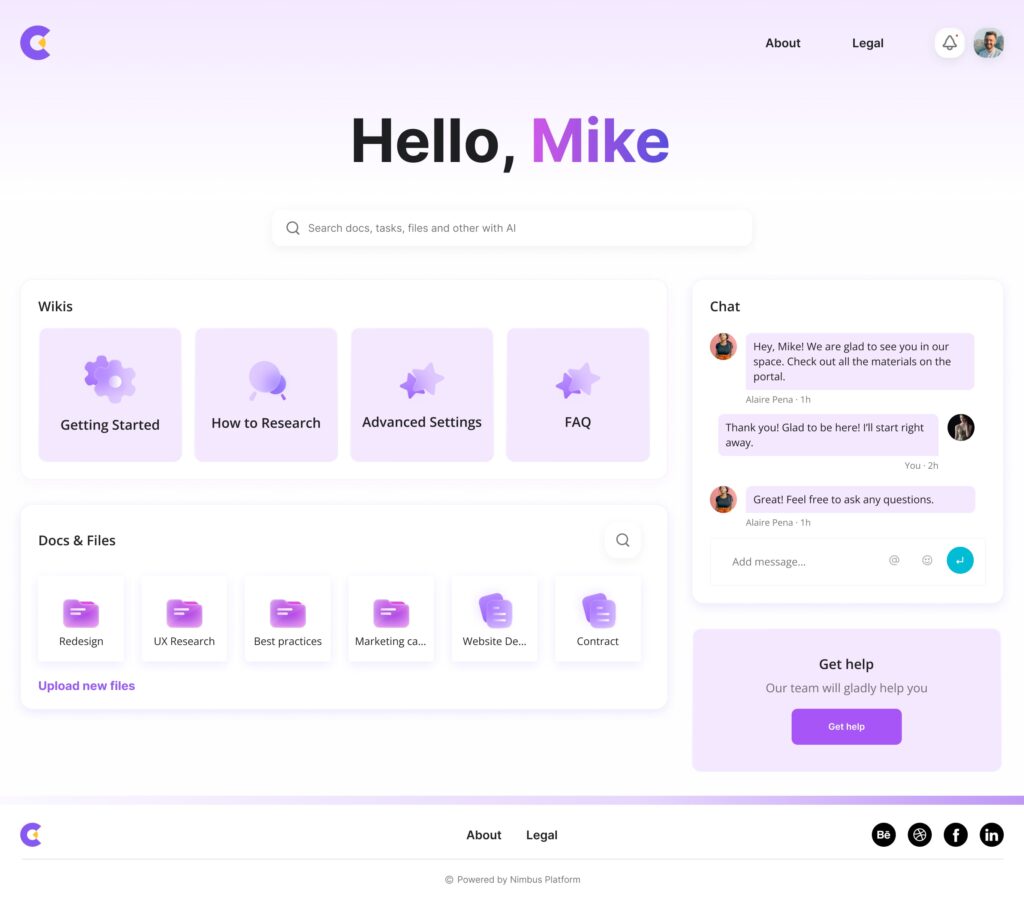 Nimbus Platform has a comprehensive knowledge base covering all the different aspects of our amazing software. This knowledge base, which is a great example of one of the different types of customer self-service tools, does an awesome job in supporting customers by means of text-based self-service content (A.K.A. help articles) with a range of visuals like how-to videos, helping our customers better understand how to use Nimbus Note and our other products.
2. Google Support Center
Google has a good self-service portal by means of a hybrid customer support solution which combines a knowledge base, a FAQ center and online discussion forums, allowing users to browse articles by topic, search for answers to specific questions, and even chat with support specialists in some cases if they don't find the information they need.
3. Apple Support Community
Apple's self-service support community is a forum-based portal that enables customers to ask questions and receive almost instant answers from other customers and Apple specialists. It also allows users to search for previously asked questions and answers and even to contact official Apple customer service reps by different means: contact form, phone, live chat, etc.
4. Shopify Help Center
Shopify has a hybrid self-service customer center with a chat-based solution that enables customers to get real-time assistance from customer service representatives. One of the benefits of this type of functionality is that it allows customers to attach screenshots and other files to help explain their issue to a live representative.
5. Stripe's Billing Portal
With Stripe's billing portal, customers can manage their subscriptions, view their billing history, and update their billing information. The portal is customizable and it integrates automatically with Stripe payments. It's a powerful tool that can help your company to manage their subscription billing and deliver a seamless customer experience and service.
6. Cloudflare's Support Center
This self-service client portal provides a wealth of resources for customers to find instant answers to their questions about Cloudflare's services. The portal features a searchable knowledge base that includes a range of individual articles, guides, and tutorials on topics such as security, performance, and how to get started with Cloudflare. Customers can also submit support service enquiries and track the status of their requests. In fact, this section is easily accessible from the user profile dashboard, where they can simply click on "My activities" and see all their interactions with support reps and their status. It definitely feels like a great self-service customer experience.
7. HubSpot Help Center
HubSpot's support and service center is a great example of a hybrid self-service portal. Among all the awesome features that this portal offers to their customer base, we can highlight the search bar, the link to the different portal sections, their chatbot and a section to contact support by phone depending on your HubSpot plan and the country you're calling from. It's a truly all-around support hub for any type of business or organization that solves problems without wait times.
Build Your Own Customer Portal with Nimbus Platform
With Nimbus Platform you can create your own self-service support portal for your business clients in minutes. Nimbus enables any organization to build a fully functional hub tailored to your customers' specific needs, designed to solve problems, and without any coding or technical expertise. You can make it as complete as you want, incorporating support widgets, live chat, knowledge base, video tutorials, custom links, etc.
Streamline your client collaboration with Nimbus Portals!
Overall, the Nimbus customer support portal features give businesses the tools to create great self-service customer experiences and provide customers with an easy and effective way to stay in touch with you, find their own answers when they need them and keep track of your business relationship and customer conversations, which will improve customer satisfaction and reduce support costs. As the NYPD officers would say, we self-serve and protect! We are like the NYPD officers of self-customer service: We self-serve and protect!
Visit the Nimbus Facebook page for the latest news and updates!
Read more posts on this topic:
Next post
Why a Client Portal is Essential for Your Business Success