The Top 7 Best Alternatives to Dropbox to Consider in 2023
The Top 7 Best Alternatives to Dropbox to Consider in 2023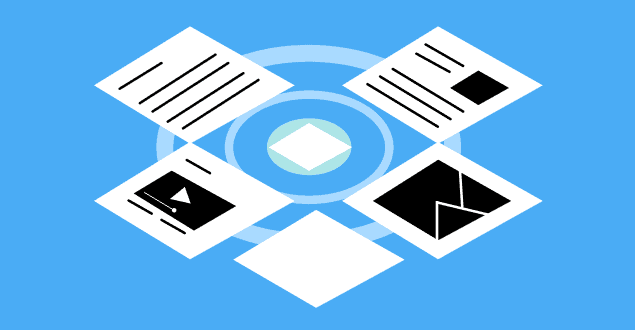 As the cloud storage market continues to grow, there are many options available today.
Besides being the most popular service for storing files online, Dropbox has also become the go-to solution for businesses who need to share files securely.
In today's fast-paced world, people will continue to need a way to store their files securely and easily. As we move ahead, there are new and exciting alternatives to Dropbox that provide even greater benefits and convenience. Some of them are even better than Dropbox.
Maybe you're looking for something with more security features, or maybe you just prefer cloud services over traditional file sharing solutions.
That's where alternative services come into play. Some of these alternatives offer more features than what Dropbox does. Find out what some of the best alternatives to Dropbox you should consider for your cloud storage needs.
What is Dropbox?
What Features Does Dropbox Have?
Pricing and Limitations of Dropbox
Reasons Why You Need Dropbox Alternatives
How to Choose the Right Dropbox Competitors
Top 7 Best Dropbox Alternatives
1. Nimbus Platform
2. Google Drive
3. iCloud
4. Microsoft OneDrive
5. Box
6. Mega
7. SpiderOak
What is Dropbox?
Dropbox is a cloud storage app used by millions of users worldwide. It allows you to store files online and access them anywhere on any device.
Many people use Dropbox to share images, files, videos, documents, and presentations, while others use it to back up important documents and media files.
The best way to describe Dropbox is that it is a cloud-based storage service and file sharing system. This means that your data is stored remotely rather than locally on your device. This makes it easy to access your files anywhere and share data because all you need is an internet connection.
What is Dropbox Good for?
Dropbox allows users to store files online and access them anywhere. This makes it great for storing large amounts of documents, photos, videos, music, etc., and sharing them easily with others.
Users can share folders with each other and collaborate on projects. Dropbox also provides file synchronization between computers and mobile devices.
You can even sync multiple copies of your documents across multiple devices. Dropbox is also useful for backing up important information, such as financial records, medical reports, business plans, etc.
Dropbox is efficient for collaborating on projects because it enables multiple users to view and edit shared files simultaneously. In addition, Dropbox offers features such as version control, automatic backups, and instant file recovery.
What Features Does Dropbox Have?
Being a leader in the cloud storage market, here's an overview of the features Dropbox has:
Sync files between computers, mobile devices, and online accounts.
File versioning, which lets users revert to previous versions of documents, photos, videos, presentations, and spreadsheets.
Share folders with friends and family via email, text messages, social networks, and instant messaging services.
An API (application programming interface) that developers can use to integrate Dropbox functionality into third-party applications.
Unlimited syncing between two accounts, allowing users to share large amounts of information without worrying about bandwidth limitations. Files stored in the cloud can be accessed from anywhere, even when offline.
Drag-and-drop functionality, allowing users to move files between folders easily.
2GB of free storage space for personal use.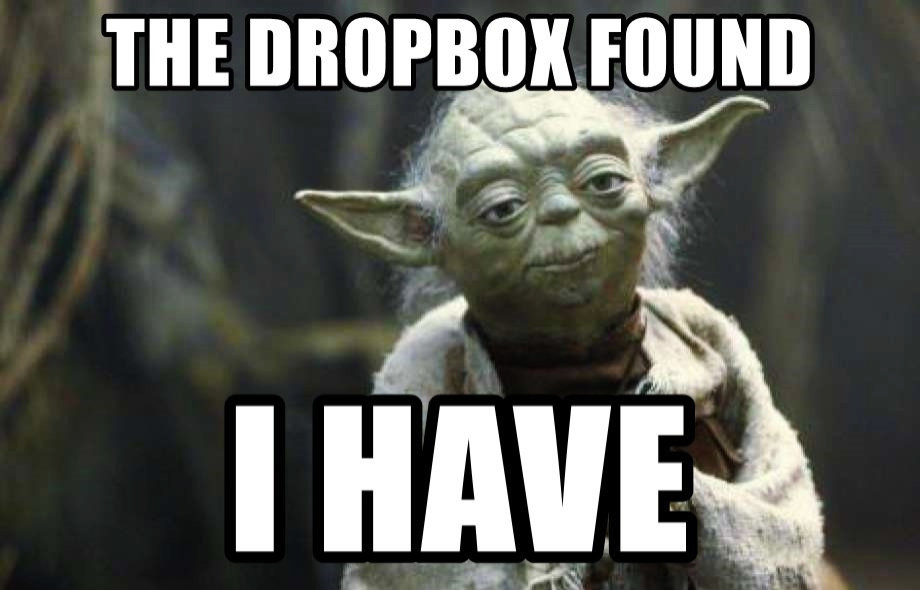 Pricing and Limitations of Dropbox
The price of the main Dropbox plans are:
Basic Plan

2 GB of free storage and access to files across multiple devices.

Plus Plan

$9.99 per month (if billed annually), which offers 1TB of storage.

Professional Plan

$19.99 per month (if billed annually), which offers 2TB of storage.
The limitations of Dropbox are:
With only 2GB offered on their free plan, free space runs out quickly, which means you need to purchase additional storage space, which many small businesses find unappealing. Therefore, storage space is a significant limitation.
You need an internet connection to synchronize your files. If you don't have an internet connection, you have to wait until you do to sync your files.
Difficult to share files with people who don't have Dropbox accounts. Even if they have an account, they can only access files shared with them and not the whole folder. This makes it harder to collaborate with others when working on projects.
What Are the Main Dropbox Drawbacks?
The main drawbacks of Dropbox include:
No ability to download files locally. When you're offline, you cannot access files stored in the cloud.
Difficult to collaborate with non-Dropbox users. If someone does not have a Dropbox account, it's harder to share files, which leaves them little choice but to sign up for an account.
Cannot play audio files stored in your account in the background. As soon as you leave the Dropbox app, the file will stop playing. This is annoying for those who want to play music stored in their Dropbox account in the background while working.
Poor folder management structure. You can create folders on one level only, which makes it harder to organize your data well.
Lack of a robust search functionality. The search feature in Dropbox is slow and limited. You cannot search for data using multiple filters, which becomes an issue if you have a lot of data stored in your account.
Reasons Why You Need Dropbox Alternatives
When deciding where you want to store your data, documents, and files online, it's useful to consider alternatives rather than automatically choose Dropbox.
Here are reasons why you need to have Dropbox alternatives.
Time and effort required to set up a file sharing system. Uploading and organizing files in the cloud is time-consuming. If you decide later on you want to use an alternative storage service, it will take time to download all your data and upload them to the new provider.
Security and privacy of your data. By uploading your data to the cloud, you give away control over your information. The risk of hackers gaining access to your data increases.
Accessibility of your data. With Dropbox, you have to be connected to the internet at all times to access your files. If you lose your internet connection, you won't be able to access your files. This is an important factor when evaluating alternative solutions.
Customer service and support level. Dropbox has a reputation for not responding promptly to customer inquiries. This is an issue if you need help with something important quickly.
The cost of using Dropbox. With a limited free plan, you need to have a subscription to get more value. You have the option to start with a 1-month plan and upgrade to a 1-year plan. If you choose to pay month-by-month, you will pay a higher price. If you choose to be billed per year, the price is a little lower. Dropbox alternatives offer more competitive prices.
Customers want more than just a cloud storage option. Dropbox is a cloud storage service mainly. Other alternatives are more than that. They offer the option to create notes, create screen recordings and annotated screenshots, create a client portal, and collaborate with others using a chat feature. These make other alternatives more appealing.
Like with any other app, using Dropbox has pros and cons. If you want an alternative option, you will need to do your research to choose the right one.
How to Choose the Right Dropbox Competitors
Choosing between Dropbox alternatives isn't always easy because there are many to choose from now. Here are tips to help you choose the right Dropbox alternatives.
Look for the best features. When comparing alternative services, look for what they offer. For example, some providers allow you to sync files across devices while others don't. Look for those features before making a decision.
Compare pricing plans. It's easy to find out how much Dropbox costs when you visit their site. However, you should compare the monthly fee with other providers as well. There may be cheaper alternatives that offer similar features.
Consider their number of users. A large user base means there are more chances others will try the same service. This could lead to competition, which means you might end up paying less for the service.
Check the reliability of the service. Many companies claim to be reliable but fail to deliver. Make sure that the company offers adequate customer support.
Check the security measures. Security and data privacy is very important when choosing a cloud storage service. Look for a provider that uses encryption technology. Also, check whether the provider allows you to encrypt individual folders.
Choose the right storage plan. Choosing a small storage plan can save money. If you're planning to store lots of files, then you'll probably need more space.
Make sure that the service works offline. If you're working somewhere without an internet connection, you'll need to know that the service still works.
Make sure that the service doesn't slow down your computer. If it does, you won't be able to work efficiently, which will affect your productivity. You can find this out by signing up for a free trial with an alternative provider.
Top 7 Best Dropbox Alternatives
There are many alternatives to Dropbox today. Some are better than others, depending on your needs. Here are seven popular alternatives to Dropbox to consider.
1. Nimbus Platform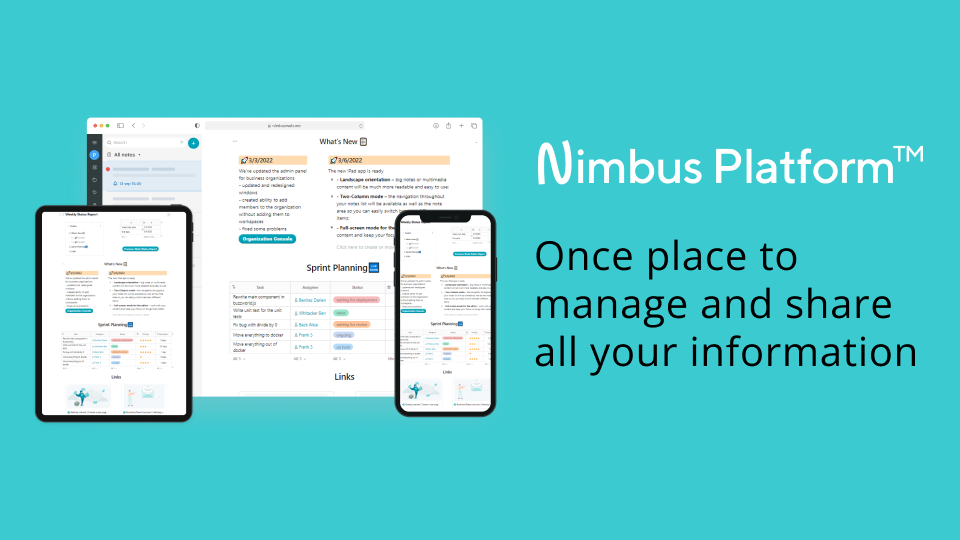 Known for its collaboration features, Nimbus Platform is more than a cloud storage service.
The Nimbus family of products provides tools for collecting and organizing content from multiple sources. They can be used for building client portals, teamwork, and collaborative platforms, extranet systems, knowledge bases, and internal networks.
With the Nimbus Platform, you can:
Create a knowledge management system.
Add different types of content to a document or note and share it will others, even if they don't have a Nimbus account.
Remove any Nimbus branding and customize your account with your company branding.
Send emails using an SMTP server, which means you can share documents or files with clients using your domain and with no mention of Nimbus.
Download the app on any device you need and work offline. When you're back online, synchronization is quick, so all your work will be saved.
Edit your content using the drag-and-drop option. You can also set permissions at the workspace and folder level, which add extra levels of security for your data.
Do you want to know more about the difference between Nimbus and Dropbox?
2. Google Drive
This is another popular cloud storage service. Like Dropbox, Google Drive, which is owned by Google, lets you upload documents and files and share them with others.
Google Drive provides many additional features, such as:
A file manager that makes it easier to organize your files.
Option to sync your files across devices.
Access your files anywhere, anytime, and use them offline.
Many options to access your files. You can access your files through the web browser, mobile apps, and desktop applications.
The downside of Google Drive is that it's not as secure as other services. It lacks some of the advanced security features found in other providers.
3. iCloud
Apple's iCloud is a cloud storage solution that automatically backs up your iPhone, iPad, Mac, and iPod devices. With iCloud, you can:
Sync your photos, videos, contacts, calendars, reminders, notes, bookmarks, Safari browsing history, and other information between these devices.
Choose to back up only certain items, like music, movies, books, and apps. This feature is called selective backups.
Backup your entire device when you connect it to iTunes.
The downside is that the iCloud drive only works with Apple devices and it costs $0.99 per month for 50GB of storage for a single user.
4. Microsoft OneDrive
Microsoft's answer to Dropbox is called OneDrive. It works similarly to Dropbox, allowing you to store files online. With Microsoft OneDrive, you can:
Share files with anyone, including those without a Microsoft account.
Upload large files quickly and efficiently.
Use Microsoft Office Online to edit Word, Excel, PowerPoint, and OneNote files.
The downside of Microsoft OneDrive is that it doesn't offer adequate storage space on their lower plans. The free version offers 15GB of storage, while a paid version gives you 25GB.
5. Box
A secure cloud storage platform, Box allows you to collaborate with colleagues and customers. It integrates seamlessly into your existing workflow. With Box, you can:
Store and manage files.
Work together with co-workers and customers.
Collaborate with others using the Box website.
Share files and documents using public and private sharing options.
It also offers advanced security features, such as encryption, multi-factor authentication, and audit logs.
The downside of Box is that it's expensive compared to other services. For example, Box Business starts at $9.95/month for 100GB of storage.
6. Mega
Another cloud based service, Mega can be used with all major devices and platforms from anywhere with internet access. With Mega, you can:
Create folders and sub-folders to organize your files. You can also add tags to help identify your files.
Download files directly to your computer.
Upload multiple files simultaneously.
Download files to any device connected to the Internet.
Mega supports both Windows and macOS operating systems and offers generous storage space.
The downside of Mega is that it has constrained bandwidth offerings, which means you need to know how much bandwidth you will require per day or per month to avoid exceeding your monthly limits.
7. SpiderOak
An encrypted file hosting service, SpiderOak lets you upload, download, and share files privately. Unlike traditional cloud storage solutions, SpiderOak uses end-to-end encryption technology to protect your data.
With SpiderOak, you can:
Securely store files in the cloud.
Create folders and sub-folders to organize your files. These folders can have different levels of privacy settings.
Add tags to help identify your files.
Search your files using keywords.
Download your files directly from SpiderOak.
Keep your data safe by encrypting it before uploading it to the server.
SpiderOak also encrypts all communications between users so no one else can see what you're doing. They also make sure that your data stays safe, even if someone hacks into their system.
The downside of SpiderOak is it is more expensive than other cloud storage services and there is no phone support. You can submit a support request via an online form if you need to contact customer service.
In conclusion, if you haven't already done so, it might be worth checking out alternatives to Dropbox before you decide which one to switch over to. There are many cloud storage services available today, with different levels of security and reliability.
Since most businesses rely heavily on online file sharing, it makes sense to find a service that works well with the apps and software you use daily.
Should you use a self-service knowledge base for your business? Find out what a self-service knowledge base is and why you need to have one if you want to build trust and credibility with your customers in this blog post.
Every business needs a person CRM to manage their workflows and improve productivity. In this blog post, learn how to choose the best personal CRM for your business.
If you found this article helpful, please share it so others can benefit too.
Learn how Nimbus can help you with building up your perfect knowledge base here.
Disclaimer
Parties other than Nimbus Platform™ may provide products, services, recommendations, or views on the Nimbus Platform™ site ("Third Party Materials"). Nimbus Platform™ is not responsible for examining or evaluating such Third Party Materials, and does not provide any warranties relating to the Third Party Materials. Links to such Third Party Materials are for your convenience and do not constitute an endorsement of such Third Party Materials.
Previous post
How to Choose the Best Personal CRM for Your Small Business
Next post
Best Quip Alternatives to Consider in 2023