Boost Support Efficiency with the Best Knowledge Management Software in 2023
Boost Support Efficiency with the Best Knowledge Management Software in 2023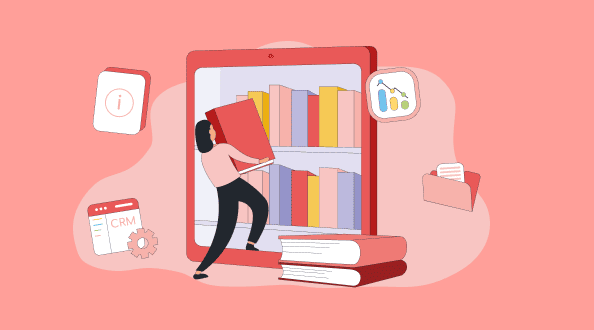 Optimize your knowledge management and boost company efficiency with Nimbus Platform™!
Try it now
Knowledge, the secret sauce to business success? You bet your bytes it is!

Anonymous Tech Visionary, 2023
If you're looking for a way to trim down your business' support tasks in order to take your productivity levels up a notch or two, then it's time to explore the universe of knowledge management software. In case you're clueless about such software (worry not, our dear reader), you should know that the best knowledge management systems are tools packed with a range of key features used to create, store and manage your content. This gives you a productivity boost that is, to say the least, game-changing! So if you've already brewed yourself a cuppa, let's get this party started. Here is our take on the best knowledge management software of 2023.
What is Knowledge Management Software?
Knowledge Management Software is your digital librarian, the gatekeeper of your company's intelligence. Imagine a tool that not only stores but also organizes, and optimally disseminates your vast sea of information across various channels. That's exactly what a Knowledge Management Software does! It's your go-to solution for capturing, curating, and sharing knowledge effectively within your organization, putting an end to the hunt for scattered data. Regardless of your business size, it helps in transforming raw information into beneficial insights, making decision-making as breezy as a walk in the park. Essentially, knowledge management solutions are your key to unlocking smoother, faster, and smarter support operations!
Who Benefits from Knowledge Management Software?
Alright, let's unpack who's in the winning circle when it comes to using knowledge management software.
Businesses and corporations: By working as a centralized repository for all of their data, knowledge management software is like hitting the jackpot! It can streamline communication, encourage collaboration, and expedite decision-making processes. Whether it's an executive looking for market statistics or a sales teammate hunting down the latest product specs, information is merely a few clicks away. The result? Time saved, productivity increased, and a big round of virtual high-fives! Yay!
Educational institutions: Ever think about the ocean of knowledge inside a university or a school? Well, it's time to apply some Marie Kondo-style using knowledge management systems! From research papers to course material, it's much easier and faster to dig up relevant information in a well-managed digital environment. Plus, it can pave the way for improved cooperation between departments, leading to more top-notch interdisciplinary research and learning.
Non-profit organizations: Here's the deal. As non-profits routinely deal with a myriad of data from fundraising campaigns to volunteer databases, a knowledge management system can help consolidate and make sense of it all. With a knowledge management solution, you can track the success of different initiatives, see patterns, and devise more effective strategies for the future. Basically, it's a goldmine for getting the most out of every hard-earned dollar and every well-meaning volunteer.
So, bottom line, whether you're in the world of profit, education or serving humanity, a powerful knowledge management software is a major game-changer, helping you to swim merrily in your sea of information rather than sinking under its weight!
Top 11 Knowledge Management Software Platforms to Consider
From knowledge sharing and document management to a variety of other tools, a good knowledge management tool can prove to be the game-changer your enterprise needs. And since finding the best knowledge management systems and their key features might be a daunting task, we're here to help you with the most up-to-date information. So let's now dive into our curated selection of the best knowledge management software platforms we think are worth considering this year.
Nimbus Platform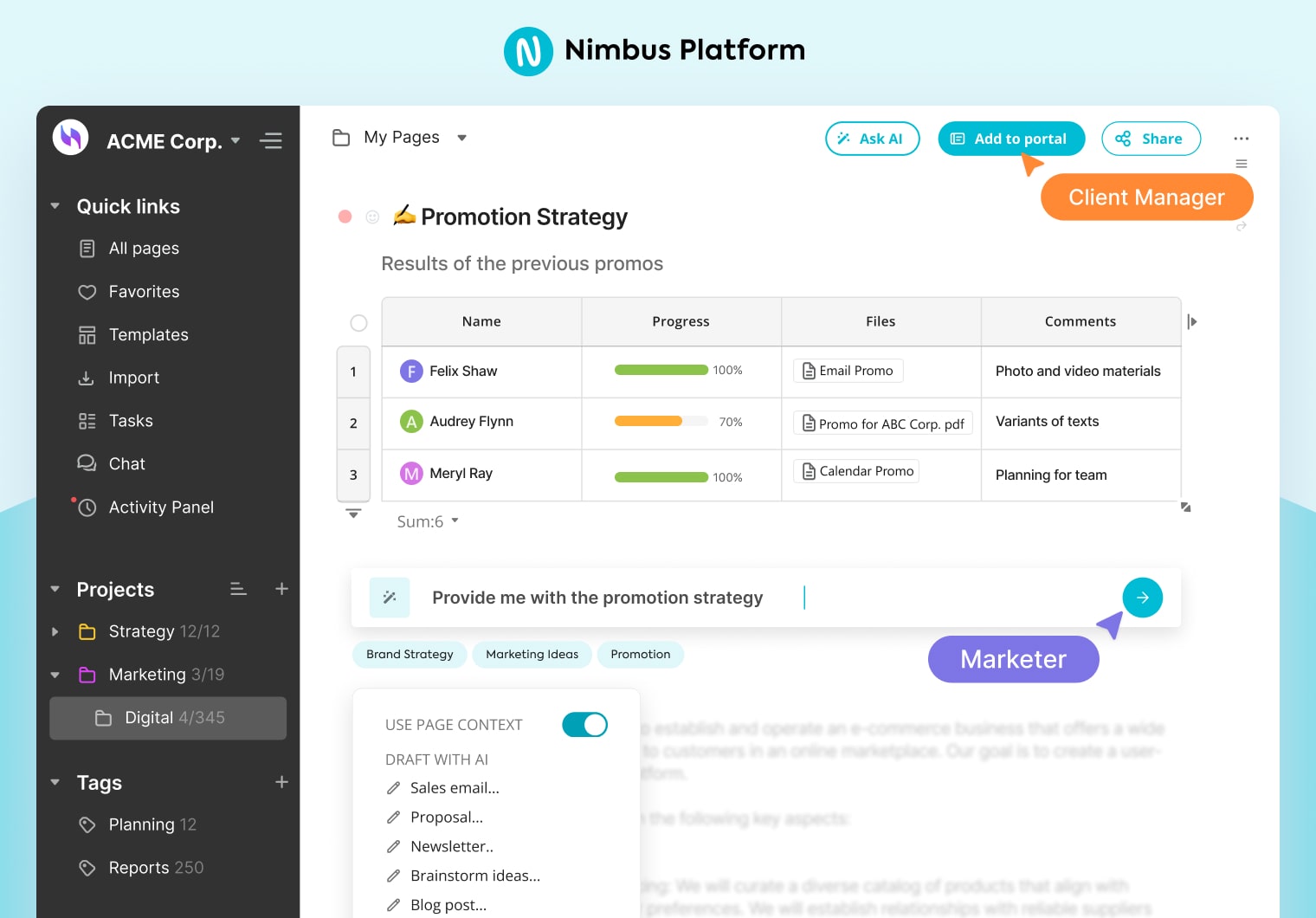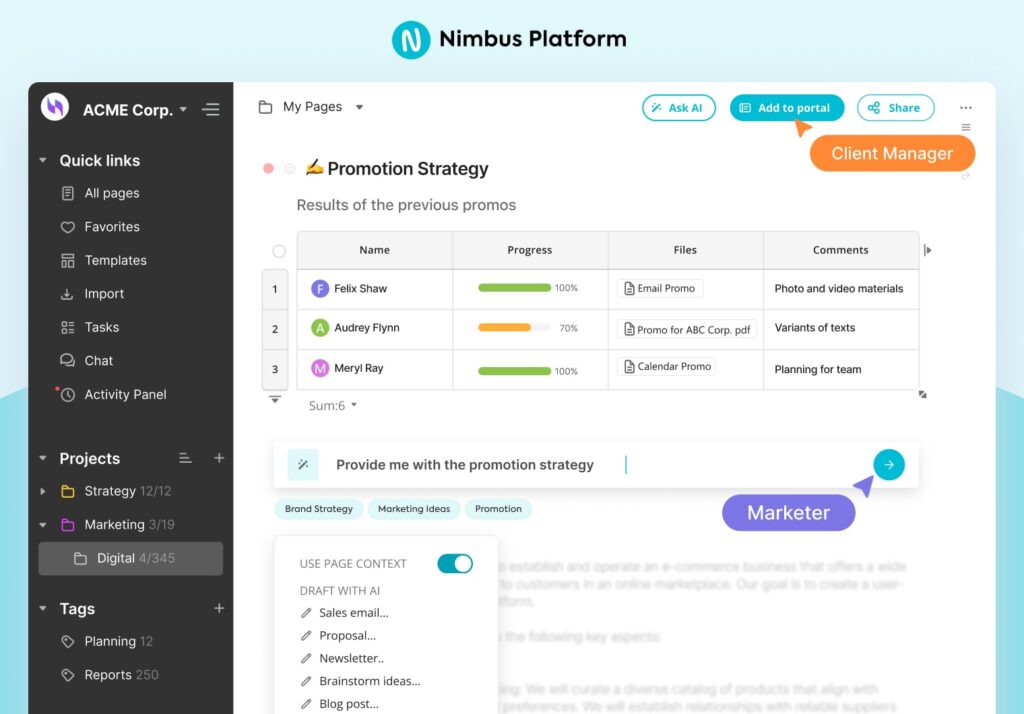 Nimbus Platform enters the realm of knowledge management software as a holistic platform dedicated to streamlining information management and team collaboration. Be it your information, external knowledge bases, internal knowledge bases, projects or tasks, Nimbus aims to bring everything under its roof saving your time. It also offers an efficient collaborative environment for remote teams of all sizes. Plus, it allows easy migration from other tools and presents its advanced features at a reasonable price.
Best for: Businesses needing an all-in-one platform for effective information management, team collaboration, and client interaction while enabling secure migration from old systems.
Why we like it:
Nimbus is a one-stop project management tool and knowledge management platform for document creation and collaboration, and streamlining knowledge bases, projects, tasks, and information.
It enhances teamwork through tools designed for boosting collective knowledge, knowledge management and optimal communication.
Nimbus makes it easy to import your existing knowledge base from different content management systems like Notion or Evernote.
Seamlessly embed data in its powerful editor, which also allows you to create tasks, workflows, SOPs, timelines, tables and databases, etc. It's the perfect tool to create awesome knowledge base articles.
Boost client interaction with this collaboration software thanks to client portals. By providing a one-link-access to clients, you can share with them all the project information, company data and tasks in one sleek dashboard.
This knowledge management tool offers customization, integration with other marketing and project management tools, and houses four integrated products: Nimbus Portals, Nimbus Note, Nimbus Capture, and Nimbus Clipper.
Unlike other knowledge management platforms, Nimbus makes it easy to search for information on the go thanks to its native apps available for all types of mobile devices.
Coda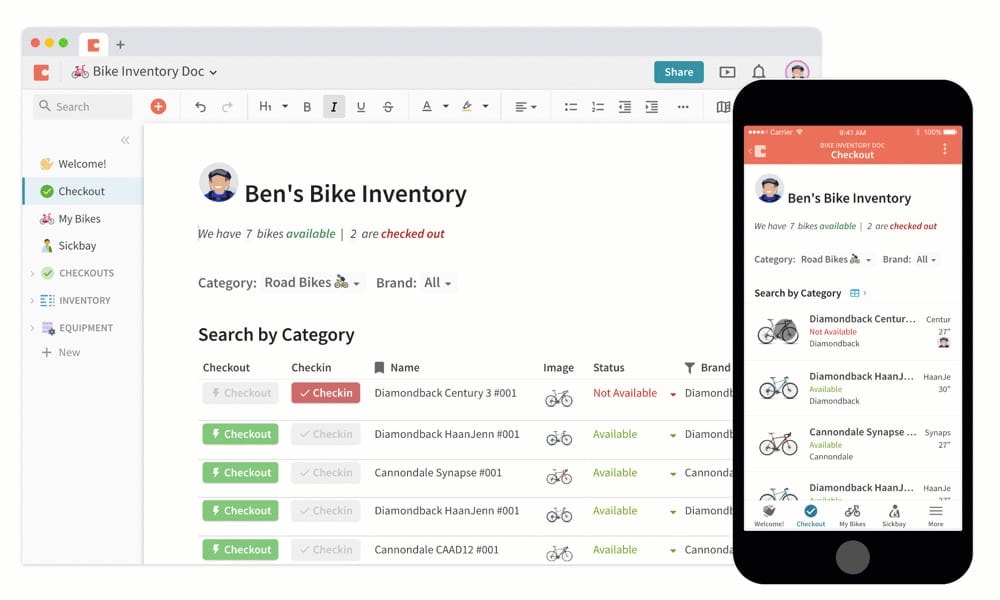 Coda is an adaptable knowledge management tool that perfectly blends text, data, and teamwork into dynamic documents. This document management tool facilitates effective collaboration and smart decision-making with a unique ability to evolve and scale as your team grows. This versatile and powerful knowledge base tool can easily replace multiple apps thanks to its flexibility and wide range of key features.
Best for: Teams looking for a flexible and versatile knowledge management system that evolves with their growth and changing needs.
Why we like it:
Coda is a unique blend of knowledge base software and document management, functioning as both a document and a user-friendly app.
Its collaborative building blocks can elevate a basic to-do list into a complex content management system and project board.
The platform features interconnected data tables, facilitating automatic updates and executive knowledge management dashboards, making it easier to identify knowledge gaps.
With Coda, you can connect to thousands of third party tools, syncing and embedding data from everyday tools directly into your documents.
Coda's template gallery offers a vast collection of tested playbooks and pre-made knowledge management templates, ensuring a smooth kick-off to your projects.
Notion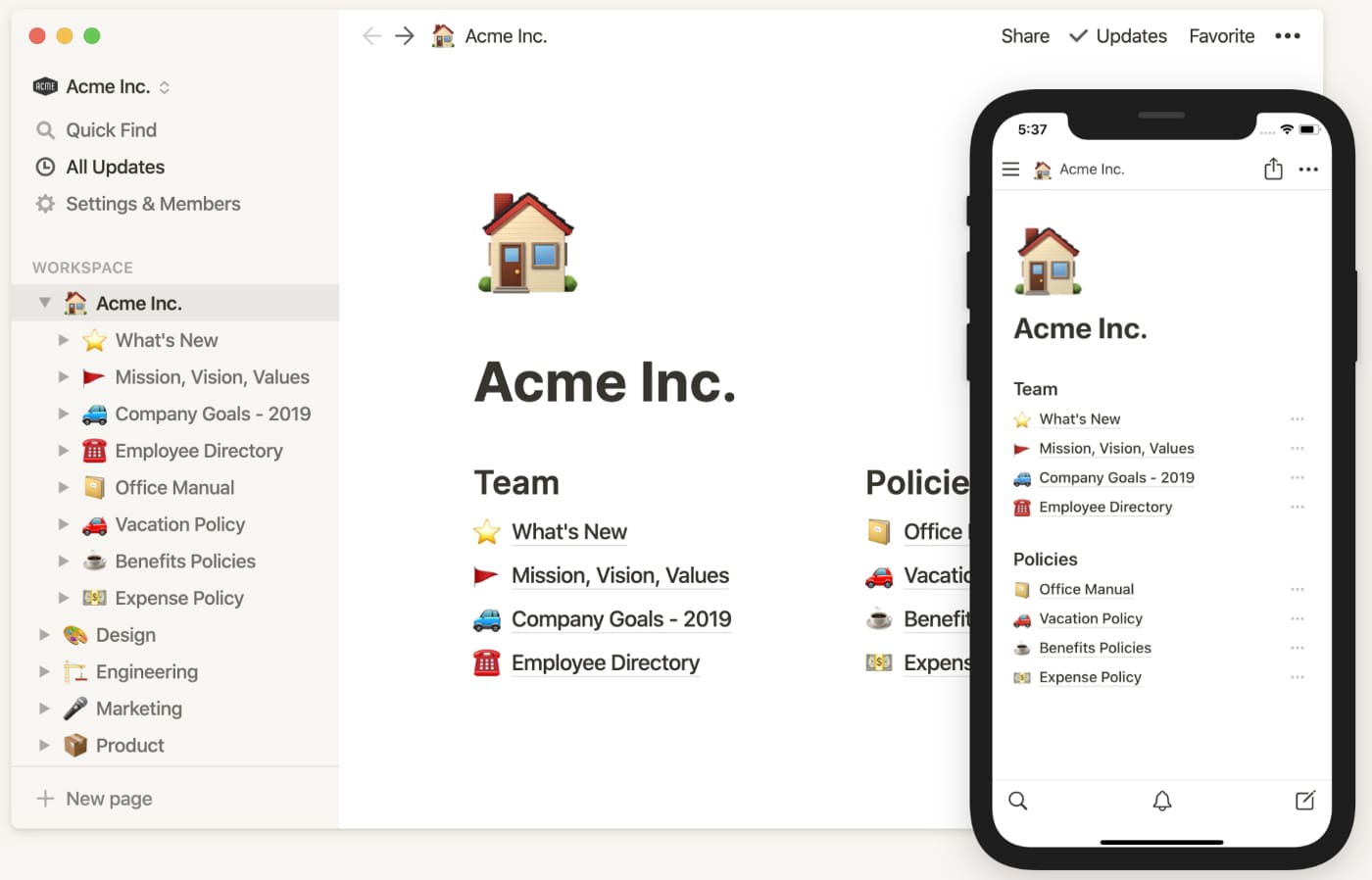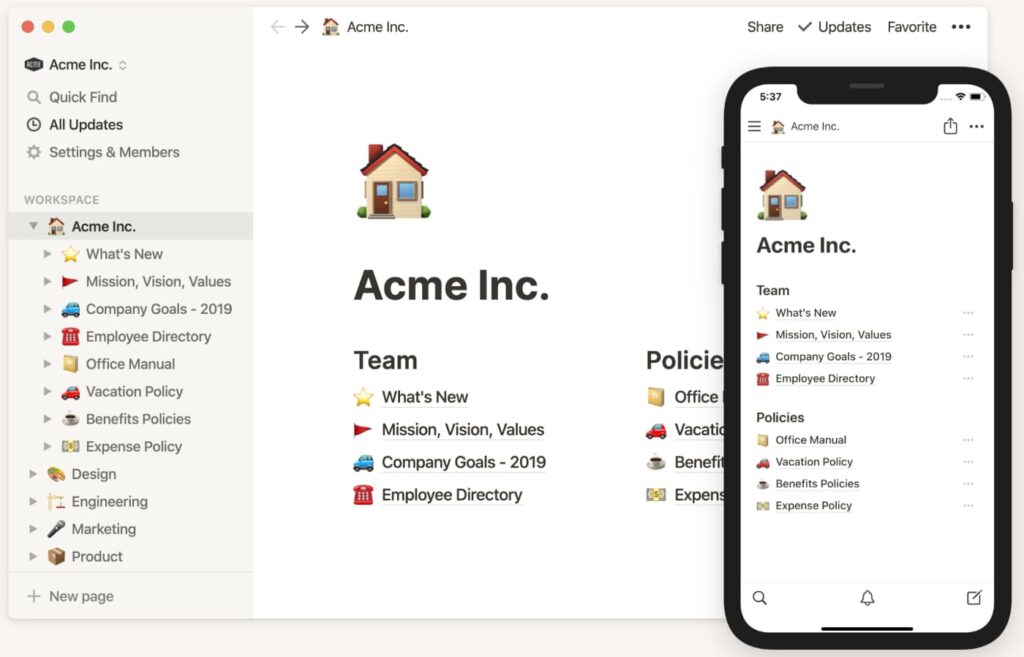 Notion is a really adaptable piece of knowledge management software that can serve as the knowledge hub for your entire business. The next-generation documents that this knowledge management system offers are excellent for ensuring effective collaboration and a simple content management process. The additional benefit of AI that Notion provides to the workplace opens up a world of virtually endless possibilities.
Best for: Teams that require a highly adaptable knowledge management system to efficiently manage content and communication.
Why we like it:
The goal of this knowledge management system is to provide users with a simple yet powerful method for managing information.
Its dynamic document editor simplifies many knowledge management tasks: writing knowledge base articles, writing complex reports, setting up SOPs, taking meeting notes, etc.
Notion allows you to track tasks and assign them to users, which is great if you're looking to boost project and team collaboration.
Automate task management and make use of advanced search functionality with Notion's AI implementation.
You can create custom workspaces to fit the needs of your support team.
You can integrate third-party apps and make it even easier to exchange knowledge.
Slite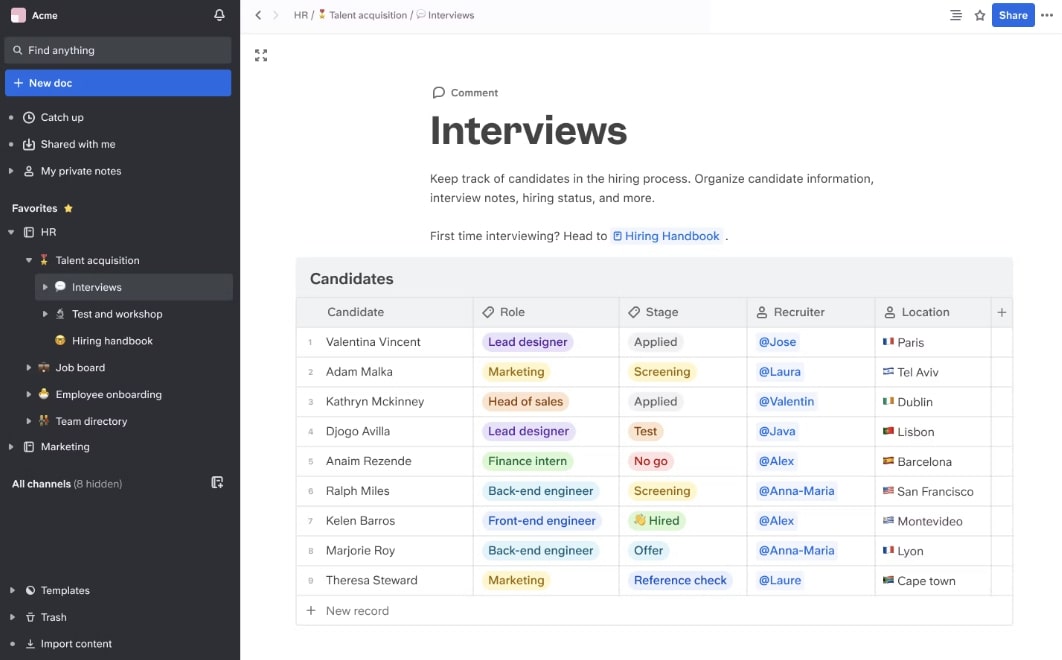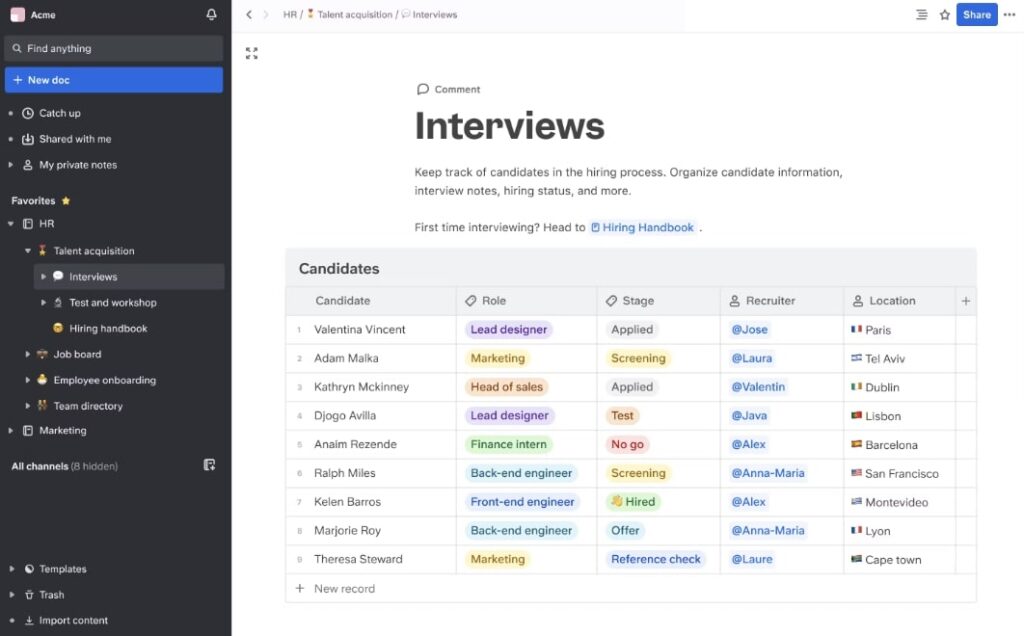 Slite is an AI-powered knowledge base software known for its clean, clutter-free interface, which offers lightning-quick access to validated company knowledge. Presented as an efficient alternative to all-in-one solutions like Notion, Slite provides a flexible and potent home base with valuable key features to manage your team's knowledge. It cuts through the unnecessary overlaps often found with other platforms, making it the most suitable for rapidly expanding businesses.
Best for: Growing businesses and remote teams looking for a simple, flexible, and easy-to-use knowledge management software for organizing and writing company-wide content.
Why we like it:
Slite sports a sleek interface with minimal navigation and search function, focusing on providing a clutter-free knowledge base platform and essential functionalities.
It thrives in adaptability, serving as an efficient alternative to other knowledge management systems, especially for rapidly growing companies.
Combining simplicity, focus, and flexibility, Slite stands strong against most knowledge management tools and caters well for both internal and external audiences.
Slite enables organizations to easily write and organize content, boosting organizational efficiency.
Famed for its user-friendly interface for remote teams, Slite elevates the daily use of knowledge management tools to a new level.
Slab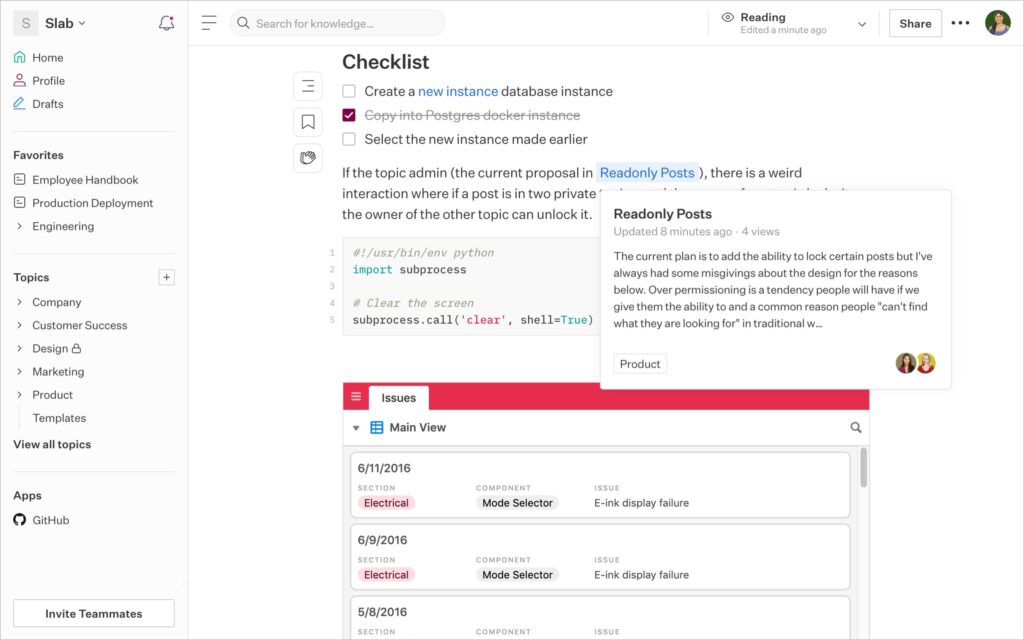 Slab is a knowledge base and wiki software tool that blends modern editing capabilities in an intuitive interface that makes your content look stunning, freeing you from pesky formatting troubles. Slab introduces "Topics" to offer context and organize your content, facilitating learning and knowledge sharing within your team. Renowned for its efficient search functionality, it fetches answers from both your Slab content and integrated tools, all landing in one place. Plus, it flawlessly integrates with your other tools, acting as a dedicated knowledge base.
Best for: Teams aiming for a hassle-free content creation and organization experience, preferring a system that connects with other existing tools without trying to replace them.
Why we like it:
Slab revolutionizes document management with modern editing capabilities within a user-friendly interface.
This innovative knowledge base solution enhances knowledge and idea exchange by improving content discovery and organization of all your documents.
The platform's search functionality presents a convenient alternative to traditional information search, retrieving data from Slab and all integrated tools.
Slab seamlessly integrates with task managers, flowcharts, making it a superior knowledge base software with document sharing capabilities.
It also works perfectly with slide decks and spreadsheets, marking its versatility and alignment with your existing software stack.
Archbee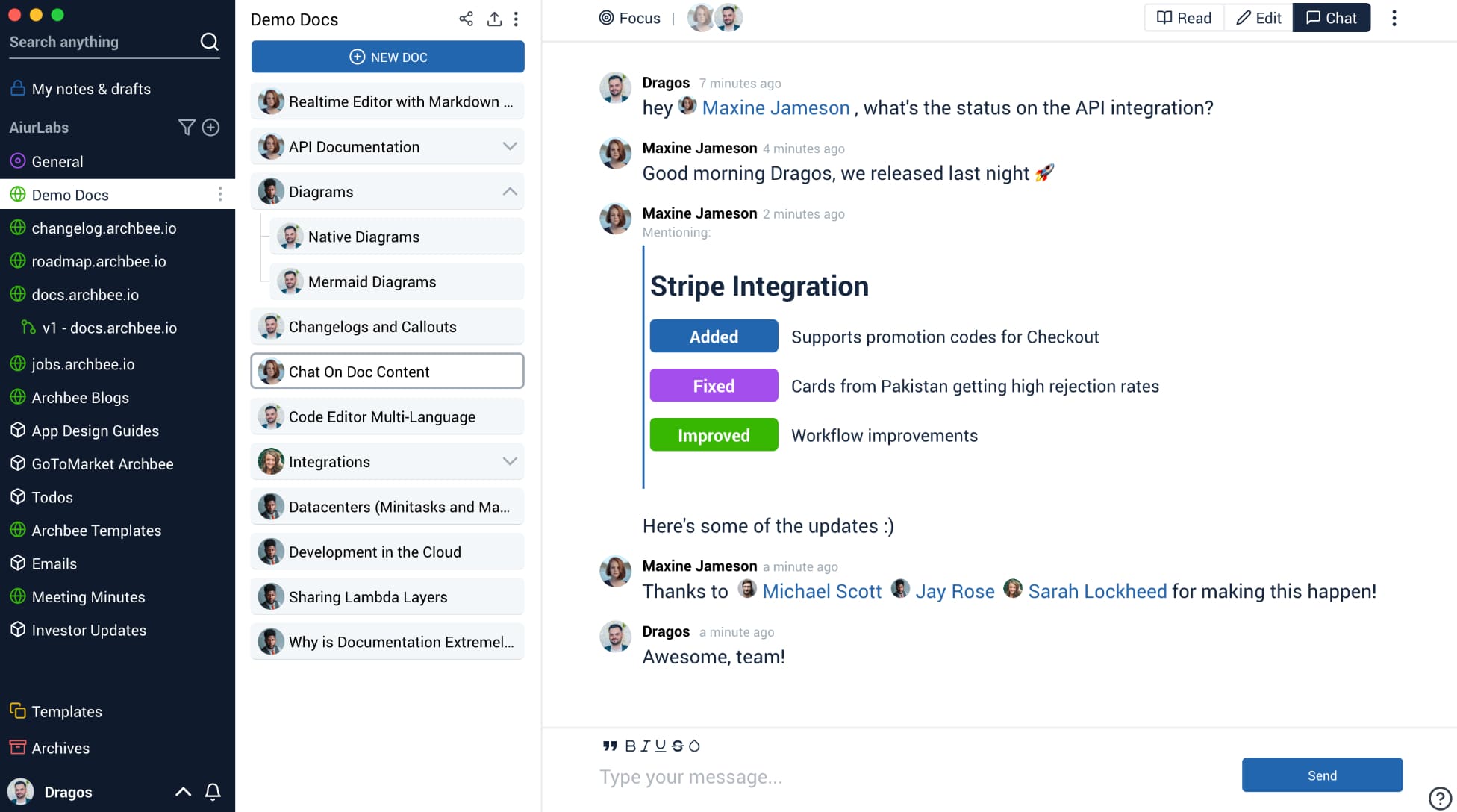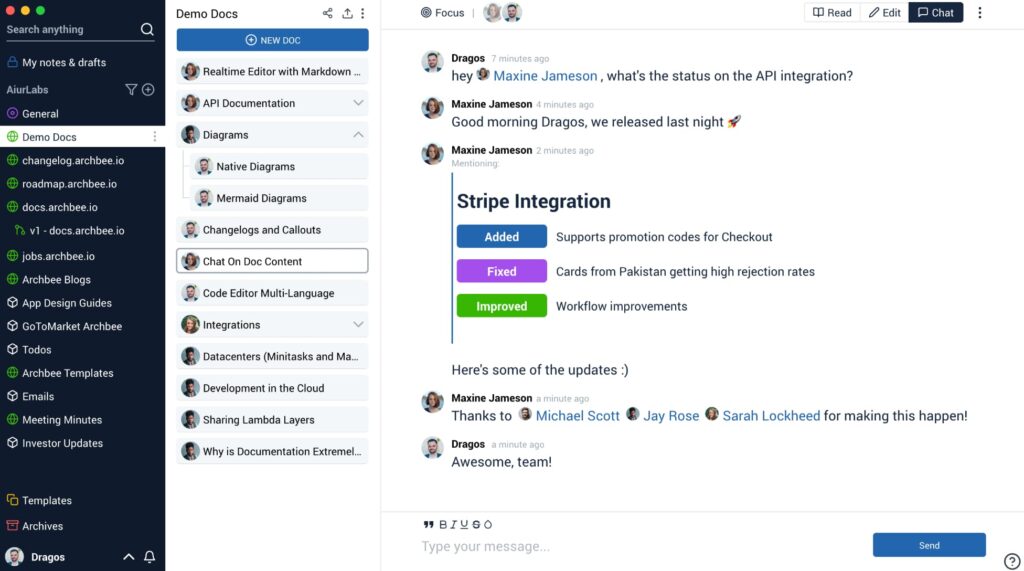 Designed with product teams in mind, Archbee is a game-changing documentation platform that turns complex documentation needs into simple, creative, and interactive knowledge portals. It emphasizes user onboarding, ongoing support, and product usage guidance in rich, technical, and non-technical formats. Featuring an AI supercharged search function, Archbee ensures you are never far from the information you need. Plus, it integrates effortlessly with many popular software platforms and tools.
Best for: Teams looking to boost their growth and streamline documentation processes with zero engineering effort, also favoring a platform for real-time collaboration in creating relevant documentation.
Why we like it:
Archbee delivers beautifully crafted, informative portals for users and developers, enhancing understanding of complex products.
It values ease of use and visual hierarchy, allowing you to create distinct categories for your content, organize, format, and host your information on your domain without infrastructure woes.
The platform incorporates supercharged search capabilities, ensuring swift and precise answers to users' queries.
Its focus on collaboration and knowledge sharing improves team synergy in creating and updating documentation.
Archbee acts as your single source of truth with auto-generated API references, code guidelines, product overviews, and features extending from Generative Q&A to on-page SEO and no-code tools.
Gitbook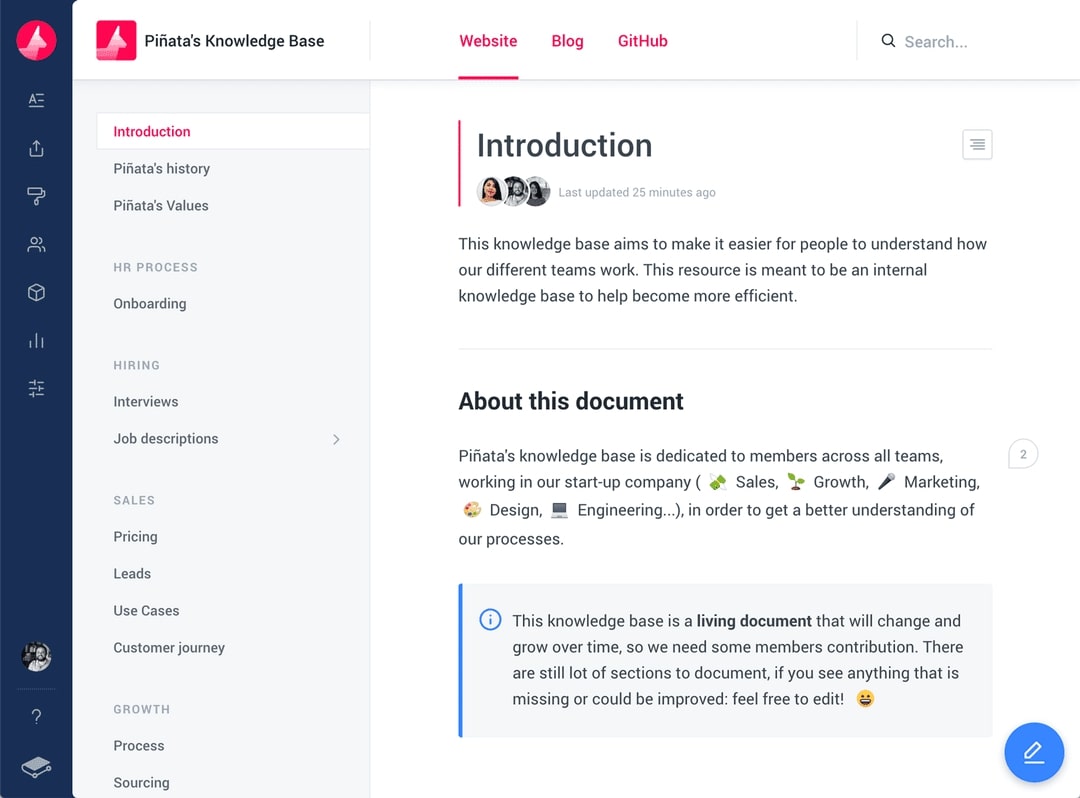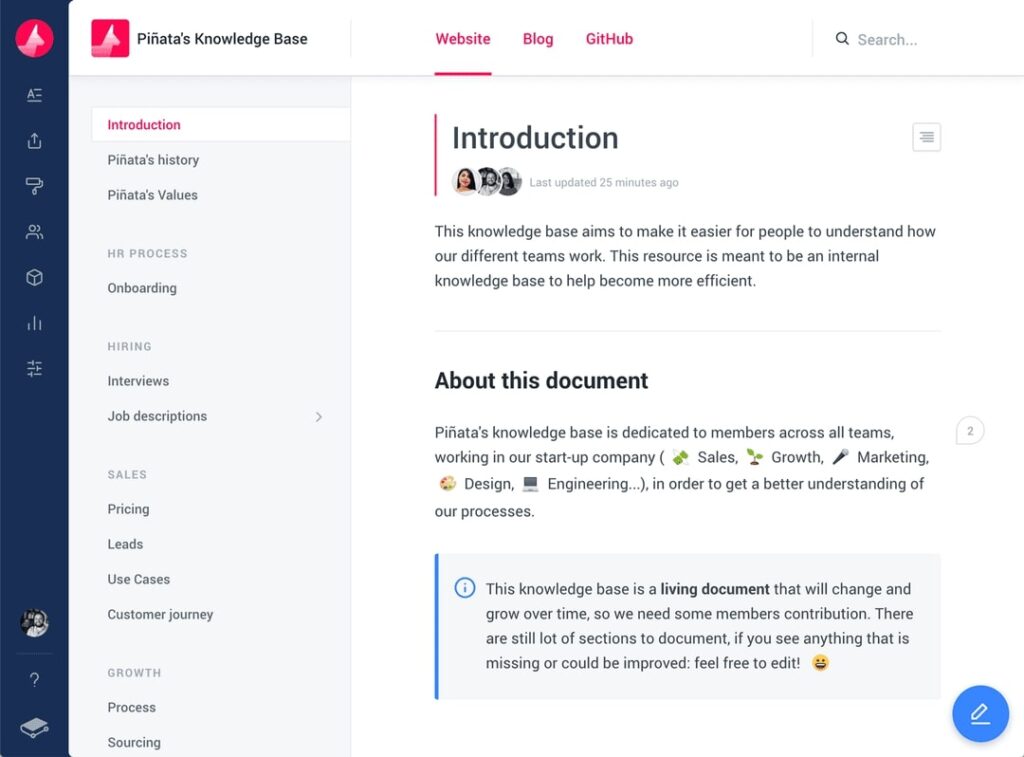 Crafted for technical teams, GitBook is one of the best knowledge management tools to plan, create and centralize knowledge effortlessly. From inception to delivery, it aids teams in creating user-friendly, highly searchable docs including API references, code guidelines, and comprehensive product overviews. Gitbook also facilitates the centralization of decision-making, ensuring the involvement of all team members, irrespective of their technical expertise. Plus, its key features meld flawlessly with the tools you already use.
Best for: Technical teams regardless of size, looking for a platform to plan, centralize, and share knowledge without difficulties.
Why we like it:
GitBook provides a seamless approach to plan, centralize, and share knowledge, trusted by technical teams in companies of all sizes.
It enhances user assistance by crafting intuitive, highly searchable public documents, including API references and coding guidelines.
GitBook promotes centralizing technical knowledge, empowering everyone in the team to contribute, regardless of their role or technical expertise.
The platform shows commitment to integration, seamlessly blending in with your existing tools for support, tracking, collaboration, and more.
Obsidian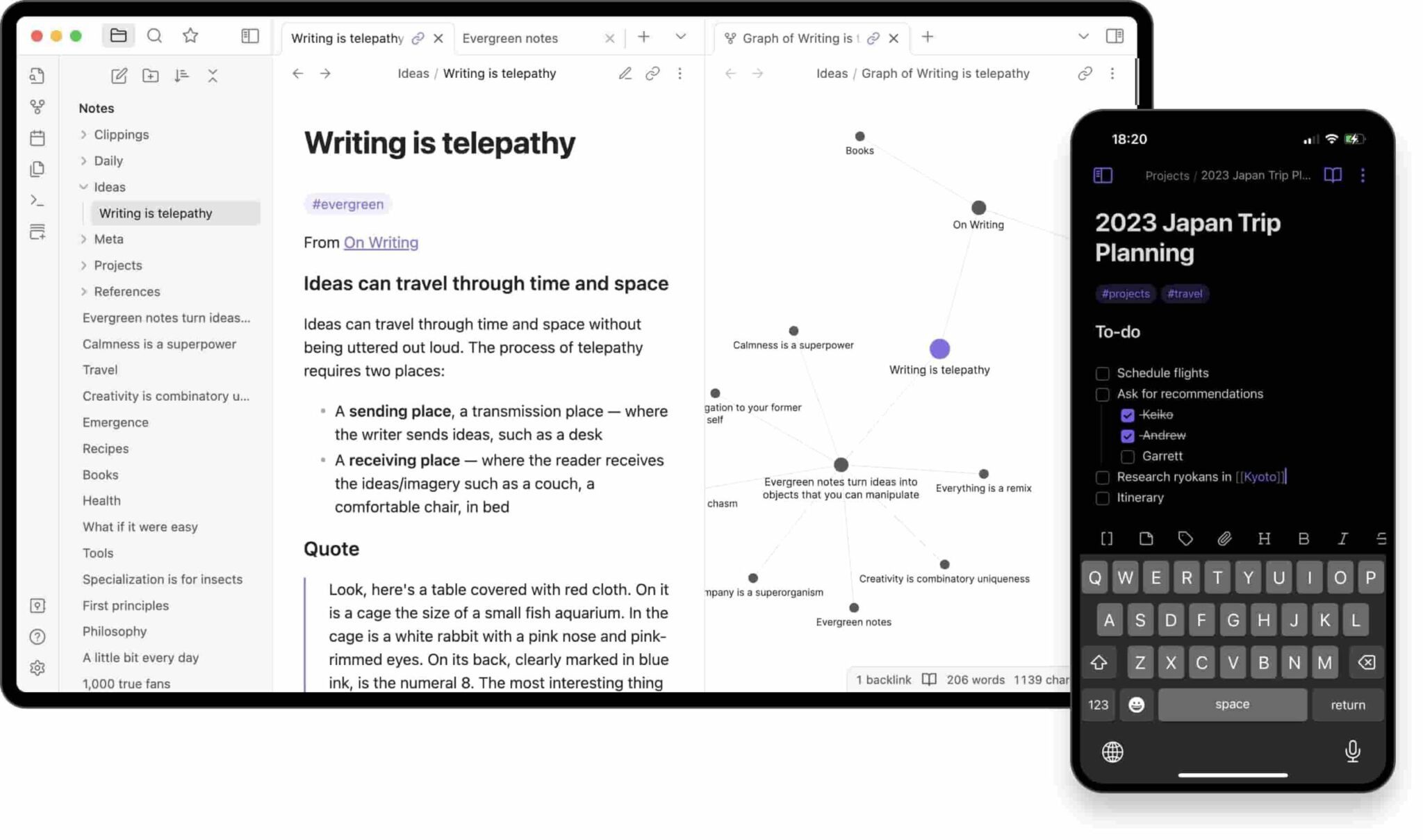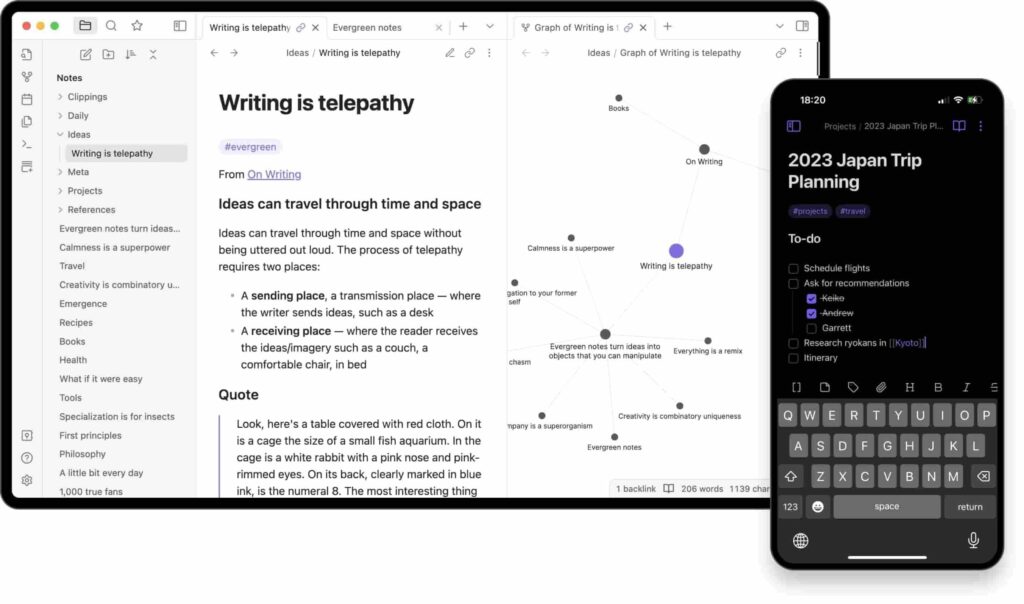 Designed to mirror your thinking process, Obsidian is a cutting-edge note-taking app that places a solid emphasis on idea generation and organization of essential knowledge to create your own internal knowledge base. However, it also offers tools for personal notes, project management, and journaling. Obsidian takes it a notch higher by allowing linking between notes to achieve your own personalized Wikipedia. To enhance your control over ideas, it introduces a visually engaging interactive graph visualization and a limitless playground for your ideas in the form of the "canvas".
Best for: Anyone seeking a sophisticated tool for note-taking, idea generation, and project management, with a strong desire to link, visualize and plot ideas on an expansive canvas.
Why we like it:
Obsidian caters to a range of needs, including personal note-taking, journaling, knowledge bases, and project management.
The linking feature allows you to connect anything (people, books, ideas, etc.) turning your notes into a personalized internal knowledge base.
Its unique graph feature visualizes the relationship between your notes, helping you uncover hidden thought patterns.
The canvas feature offers an infinite space for research, brainstorming, laying out thoughts, and creating diagrams.
Obsidian is a limitless playground for minds, encouraging creativity and comprehensive thinking.
Notice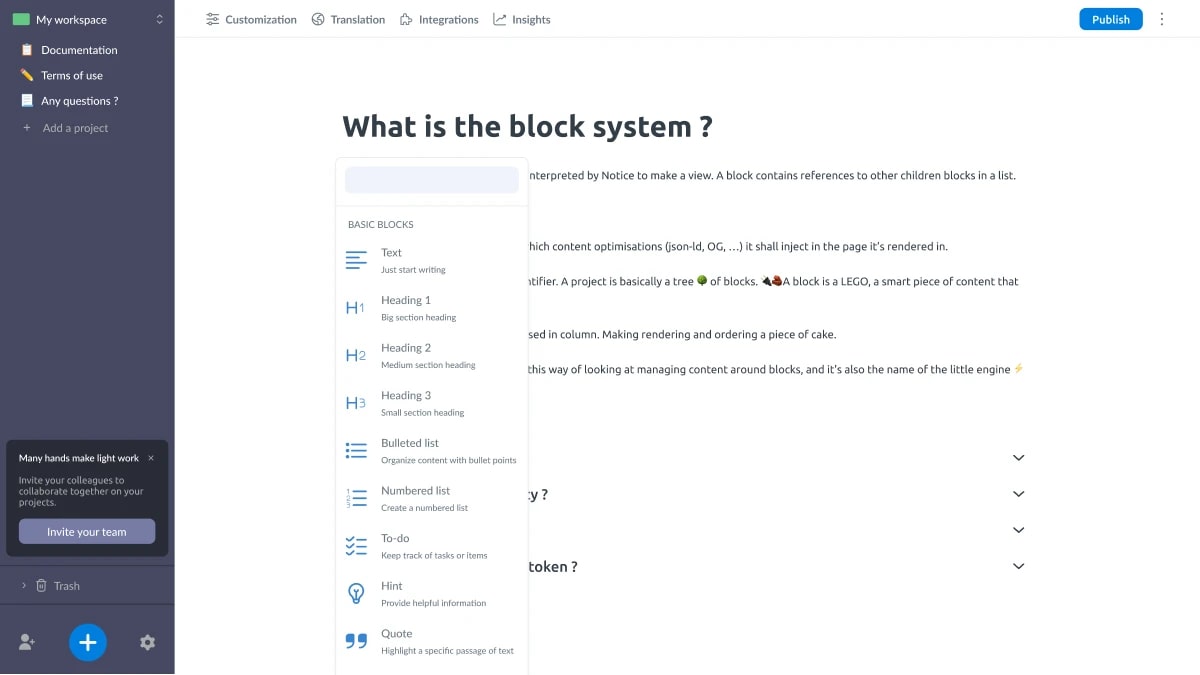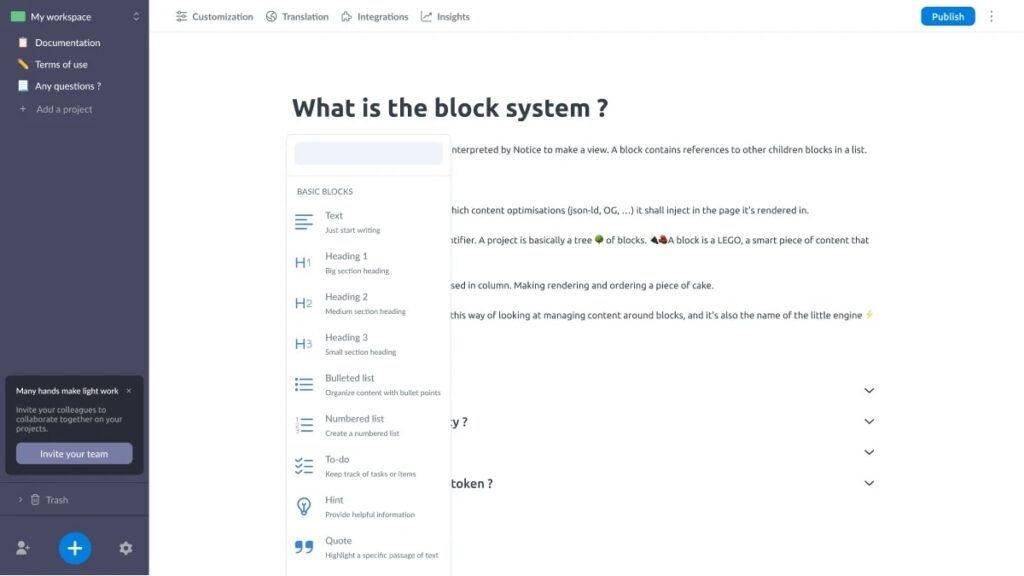 Acting as a no-code editor, this new player focuses on creating, customizing, and implementing diverse types of web content. Unlike many no-code platforms, Notice doesn't put barriers on where and how you post your content, be it on your own subdomain, a standalone page, or just a section of your website. With SEO-friendly blocks, auto-translation into 100+ languages, and a high-quality UI & UX, it brings simplicity to the web.
Best for: Teams aiming for a versatile documentation platform, which provides flexibility in deployment, collaboration across different regions and languages, and brand-aligned SEO-friendly content.
Why we like it:
Notice focuses on content creation, enabling you to create and publish diverse web content all in one place.
Offering deployment flexibility, it grants you the freedom to post content anywhere, from your subdomain, standalone pages to website sections.
Standout features include SEO-friendly blocks, cookie-free analytics, auto-translation into 100+ languages, and top-notch UI & UX.
It boasts a collaborative editor and offers auto-translation into more than 100 languages, making it adaptable for global teams.
Creating SEO-friendly, brand-aligned content is easy, enhancing your online visibility and maintaining brand consistency.
BetterDocs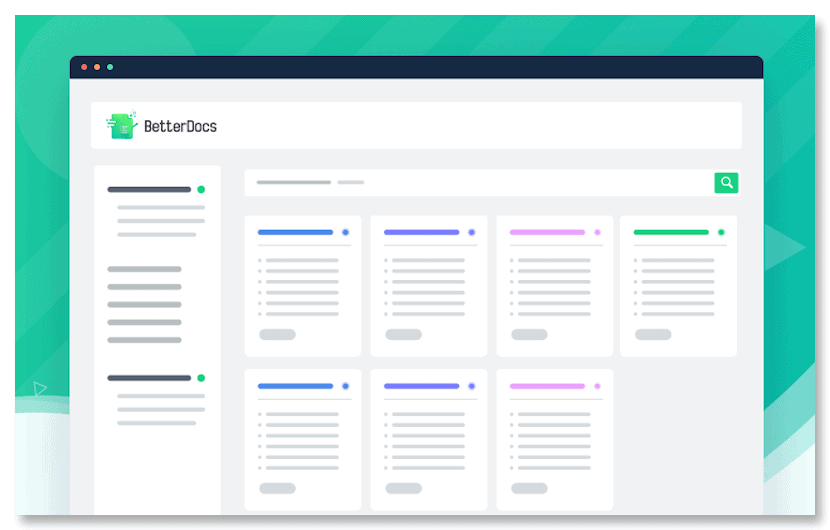 BetterDocs is a great self-hosted solution for creating and managing knowledge base documentation. This knowledge management tool is designed to boost productivity, improve user experience, scale your customer support operations, and notably reduce support tickets. From providing ready templates for an attractive knowledge base landing page on WordPress, to creating a scrollable table of contents and offering a customizable self-service knowledge base, this tool has it all. Moreover, it allows translation into multiple languages and can manage multiple knowledge bases simultaneously.
Best for: Teams looking for a self-hosted solution to scale customer support operations while reducing support tickets.
Why we like it:
BetterDocs offers hassle-free, ready templates for creating attractive landing pages for WordPress-based knowledge bases.
It includes a responsive, scrollable table of contents, allowing for effortless content navigation for site visitors.
With endless customization options, you can adjust layout, colors, or design with popular page builders and addons to fit your preferences.
The instant answers chatbot swiftly provides customers with necessary information and knowledge base articles, helping decrease support tickets influx.
BetterDocs incorporates an advanced analytics tool providing insightful data on traffic, views, and click rates on your knowledge base.
HelpCrunch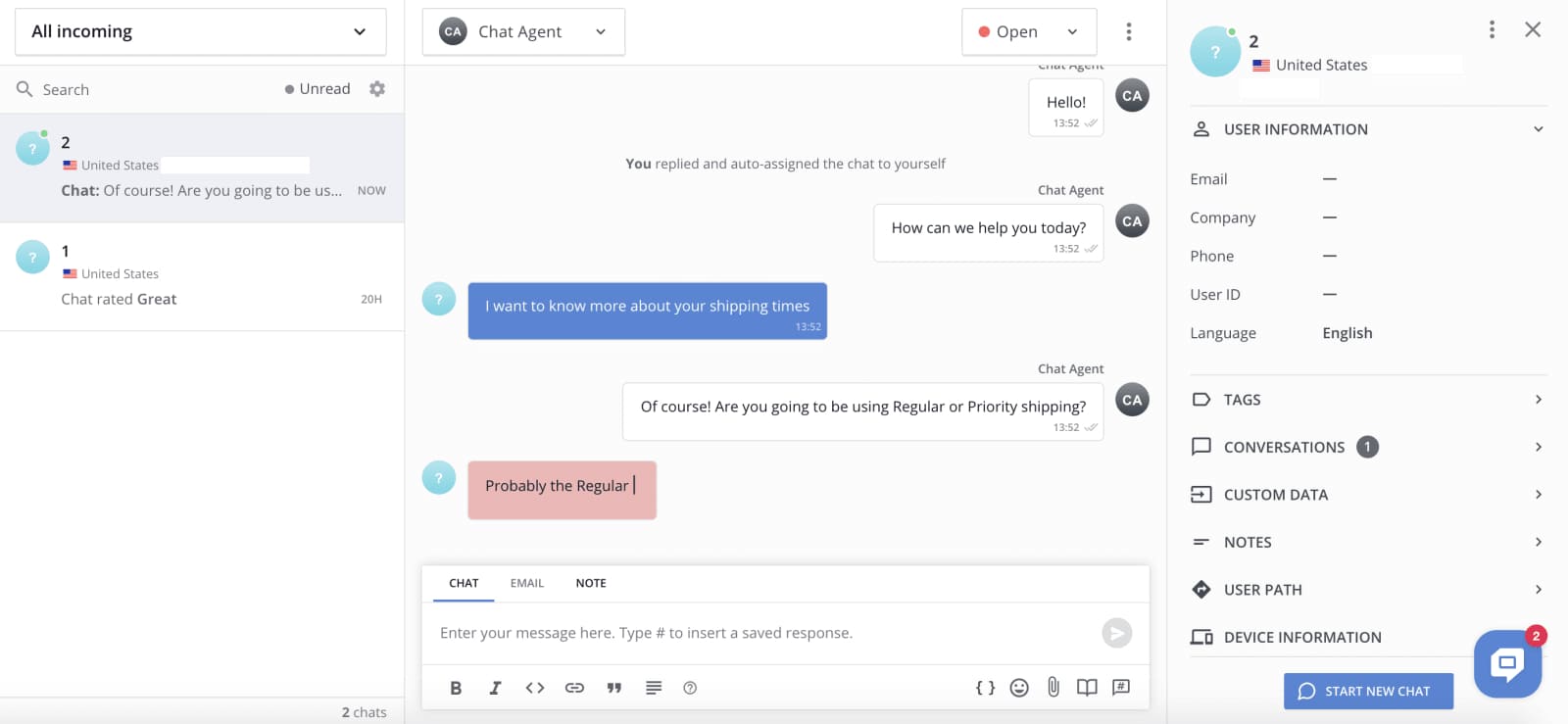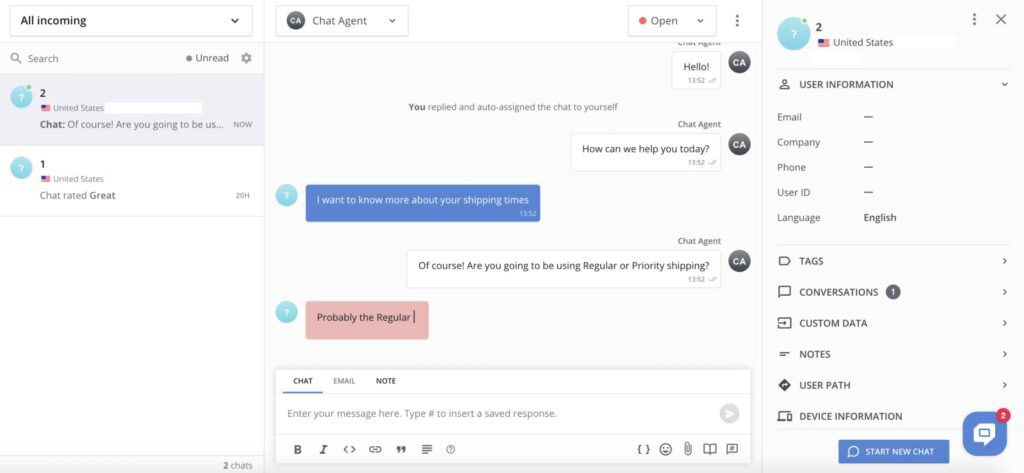 As one of the most renowned customer support systems on the market, HelpCrunch offers powerful knowledge base software to reduce customer service requests and costs. It allows you to host your company documentation and customer related data on their platform, significantly enhancing customer experience and reducing repetitive queries. From a true WYSIWYG editor making article creation smooth and simple, to using custom CSS and JavaScript for complete brand customization, HelpCrunch offers it all in one neat package.
Best for: Companies seeking a comprehensive solution to create customer facing knowledge bases for improved customer relationships and self-service.
Why we like it:
HelpCrunch is an extensive platform that reduces customer service requests and costs, and enhances customer self-service with help widgets and up-to-date information.
The platform makes managing your public knowledge base and customer data a breeze.
Brand customization, with options for using your own domain, custom CSS and JavaScript, allowing you to mold your knowledge base to align with your brand.
HelpCrunch beats about customer self-service through a sleek help center, a powerful search bar, personalized suggestions, version history, and multilingual support.
HelpCrunch offers essential tools for customer service, marketing, and sales, including live chat, chatbot, in-depth analytics, email marketing, popups, and a shared inbox.
Boost Knowledge Management with Nimbus Platform
Ready to go mega with knowledge management software? Step right up and meet one of the best knowledge management systems on the market: Nimbus Platform. Designed as an all-encompassing, one-stop solution, Nimbus is here to take your business productivity and collaboration to the next level. Bringing all your data, tasks, and projects under its big-league umbrella, Nimbus is set on saving your precious time. Long gone are the days of disjointed work with remote teams. Nimbus promotes an unparalleled environment for truly focused, collaborative work. Transitioning from older tools? Nimbus makes it a breeze while offering functionality of superior caliber at a cost your budget will thank you for.
Still unsure? Fear not! Nimbus gifts you a 14-day trial, absolutely free, no card detail hassles! Get on board with Nimbus today. We've got your back with one of the best knowledge management systems!
Get tips from our expert for a top-notch knowledge system!
Visit our Linkedin page for more articles and updates!
Disclaimer
Parties other than Nimbus Platform™ may provide products, services, recommendations, or views on the Nimbus Platform™ site ("Third Party Materials"). Nimbus Platform™ is not responsible for examining or evaluating such Third Party Materials, and does not provide any warranties relating to the Third Party Materials. Links to such Third Party Materials are for your convenience and do not constitute an endorsement of such Third Party Materials.
Previous post
Your Application Guide to Knowledge Management Portals
Next post
10 Powerful SuiteDash Alternatives to Consider