8 Top Alternatives to Basecamp for Project Work in 2023
Basecamp is a popular project management tool for startups and small businesses. In recent years, many new alternatives to Basecamp have emerged.
These alternatives offer similar features with fewer limitations and lower prices. They also provide additional functionality that makes them even more useful.
Find out more about these Basecamp alternatives and the flexibility and customization options they provide that make them an effective project management solution.
What is Basecamp?
5 Reasons Why You May Want a Basecamp Alternative
What to Consider When Searching for a Basecamp Alternative
Best 8 Alternatives to Basecamp in 2023
1. Nimbus Platform
2. Trello
3. ClickUp
4. Asana
5. Monday.com
6. Teamwork
7. ProofHub
8. Podio
Get Started with the Best Basecamp Alternative Now
What is Basecamp?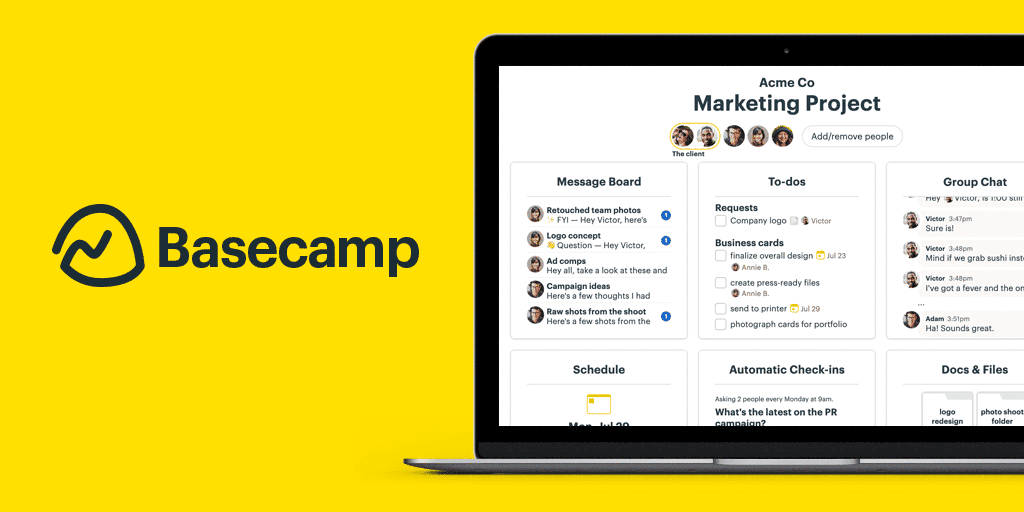 A powerful project management tool, Basecamp provides a simplified, organized, and easy-to-use platform for businesses and individuals.
Basecamp is a great tool for managing projects because it helps teams collaborate effectively. It provides features such as task lists, file sharing, chat rooms, and issue tracking. Basecamp allows users to collaborate through shared documents and email.
If you're looking for a simple solution to help you organize projects, Basecamp is a great option.
Even though Basecamp is one of the most popular project management apps available today, there are alternatives out there that may be better suited to your needs.
5 Reasons Why You May Want a Basecamp Alternative
If you have considered Basecamp for project management, the good news is there are many alternatives available today.
Here are several reasons to consider a Basecamp alternative.
1. Cost effectiveness
Even though offer a free trial, at $11/user per month, Basecamp offers a competitive price if you're a solo user. However, for small businesses with multiple users, that can quickly add to hundreds or thousands of dollars every year.
2. Limited integrations
Basecamp only integrates with selected third-party apps. This limits its usefulness for larger companies who want to integrate their own systems into Basecamp.
3. Lack of customization options
The lack of customization options means you cannot customize Basecamp to suit your specific business needs. If you're looking for something that works specifically for your company, then you'll likely find it difficult to do so with Basecamp.
4. No time tracking
Since time tracking is an essential part of project management, not having it at a task level makes Basecamp an unreliable tool for tracking tasks.
5. Too many features
Since Basecamp has been in the market for nearly 20 years, they have added many new features over the years. This has taken away its focus on being a solid project management tool, which makes it difficult for user to get the most out of it. This lack of flexibility prevents users from customizing their workflows the way they want.
With sites like Basecamp, you will quickly discover they may not offer the features you need. Many of these alternatives are better than Basecamp and offer many additional features, just like Basecamp does.
With many competitors in the market today, you have many options for finding an alternative for Basecamp. As many of these software like Basecamp offer similar features, this means they may be more suited to your needs. Even though sites like Basecamp may offer cheaper plans, other products may not be as cheap, but are a lot better than Basecamp.
What to Consider When Searching for a Basecamp Alternative
There are many alternatives to Basecamp, but not all of them are created equal. Some of these software programs are free, while others require a monthly subscription.
Some are easy to set up and use quickly, while other software, like Basecamp, require technical expertise. There are also differences in their capabilities and features compared to Basecamp. Some are designed specifically for teams, while others are meant for individuals.
Here are things to consider when searching for a Basecamp alternative.
1. Do you need a program that offers features beyond project management?
Many project management systems like Basecamp include additional features, such as task tracking, file sharing, client portals, and chat systems. These features can help streamline workflows and improve collaboration among team members and clients.
2. How much time will you spend setting up the system?
Setting up a new project management system that has a similar level of complexity to Basecamp takes time. The process involves installing software on each computer, configuring settings, and learning how to navigate the interface. You will also need to consider the training required to get user up to speed with using the system.
3. What's your budget?
You don't need to pay top dollar for a project management system. Many of the best alternatives to Basecamp cost less than $50 per month. However, if you plan on using this software for a long time, you might want to invest in a better version of Basecamp.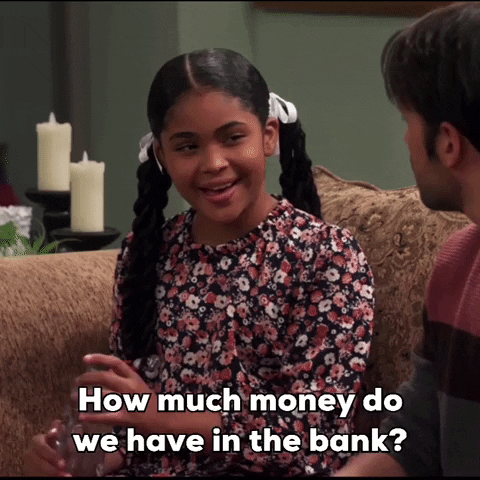 4. Do you need a web or desktop application, or both?
You can choose between a web-based application and a desktop application, or use both like Basecamp offers. Web-based applications are easier to install and manage, but they aren't always compatible with all devices. Desktop applications are often more stable and reliable.
5. Will you need support?
If you decide to go with a replacement app to Baseline, you should know what kind of support you will receive. Most companies offer 24/7 phone support, email support, and online forums. You can also expect to receive updates and bug fixes through the software update feature.
Despite its popularity, Basecamp isn't necessarily the best option for every business. There are plenty of Basecamp alternatives out there that might be better suited to your specific needs.
Best 8 Alternatives to Basecamp in 2023
Here are eight of the best alternatives to Basecamp that you may want to consider for your project management, productivity, and collaboration needs.
1. Nimbus Platform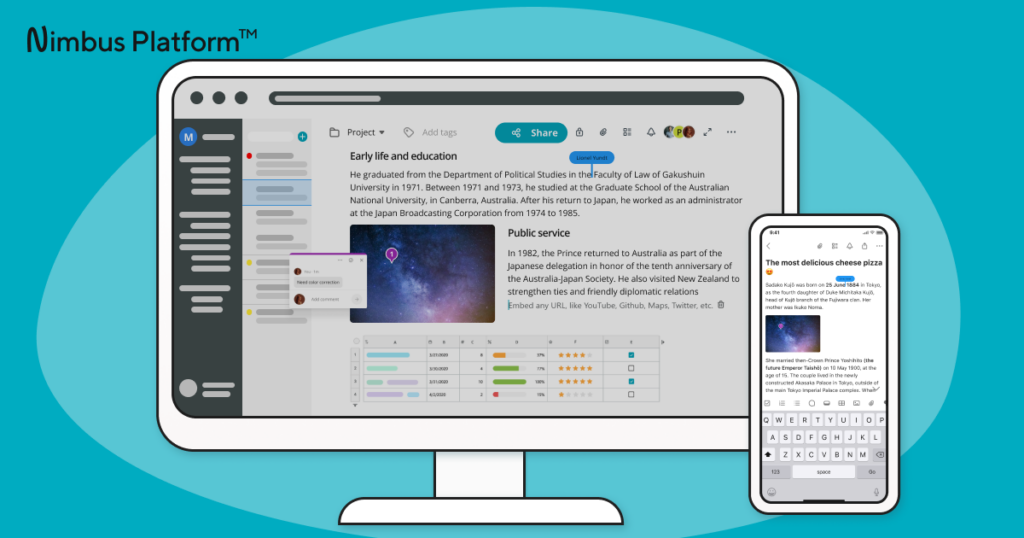 More than just a project management tool, Nimbus Platform offers a suite of products to support your collaboration needs, beyond what Basecamp does, including Nimbus Note, Nimbus Capture, and Nimbus Clipper.
You can use the Nimbus products for task management, real-time collaboration via live chats or video calls, cloud storage, file uploading and sharing, and integration with other programs.
Collaborate effectively with Nimbus Platform™!
Here are a few of the key features of Nimbus Platform.
Custom domain and white label. This allows you to set up your organizations and fully customize your workspaces with your brand assets.
Note-taking and document creation capabilities. Complement project and task management capabilities with interactive and multi-format information in super documents. You can add tables, buttons, and toggles to better organize your information. You can highlight sections in your notes to more emphasis and to make decisions faster.
Flexible editor with many embedding options. Add video and audio files, images, text, PDF documents, and file attachments. Use the drag-and-drop feature to move blocks of content and arrange information as you prefer. Create columns and arrange tables so you can transform your pages into articles, how-to guides, and landing pages.
Customizable client portals. Reduce the tools you need to use and centralize all your client communication and provide a better service and user experience. You can use Nimbus Portals to collaborate with your team and manage tasks and also improve your communication with your clients.
Internal chat via Nimbus Chats. Reduce the amount of emails you send internally and eliminate the need to use stand-alone chat tools like Slack with Nimbus Chats. Create public channels for your projects or other team-related communication and create private channels for confidential discussions.
Hundreds of ready-to-use templates. Save time and effort by using templates already available. Whether you're in operations, sales, marketing, and want to create product or design briefs, there are templates to help you get started much faster.
Project and task management features. Stay on track with your projects and tasks using the built-in tasks feature. Assign team members, define labels, and set due dates to better manage your tasks.
Screen recording capabilities. You do not need to use an external screen recording tool because you can use Nimbus Capture. All your recordings are automatically stored as a note in Nimbus Note, which eliminates the need to upload and download from external cloud services.
Desktop, web, and mobile apps. Take all your information with you and work from anywhere. You can install Nimbus on your smartphones and tablets, which means you can work offline and have access to your most important information wherever you are.
Multi-level hierarchy, including workspaces, folders, and sub-folders. Set up your organization and then create workspaces to set up how you want to work. You can create workspaces by departments or teams and create folders by projects. You could also create workspaces for your projects. Within your workspaces, you can create nested folders and sub-folders to better structure your information and content.
Chrome extensions for Nimbus Clipper and Nimbus Capture. With Nimbus Clipper, you can save articles or any relevant content from the internet. With Nimbus Capture, you can take screenshots and video record your screen for better visual messaging. You can annotate your screenshots and use built-in features to add watermarks to your videos and convert them to your desired format.
OCR functionality. You can conduct better searches and extract text from images using OCR technology.
Cons
Cannot integrate with other apps via API or webhooks.
Inability to organize folders manually.
Lack of robust search features within workspaces.
No proper time tracking feature.
Pricing
Free plan, which you can use on unlimited devices and create unlimited folders.
Pro plan from $7 / month per user, which allows you to create unlimited notes and unlimited video/audio recording.
Business plan from $10 / month per user, which gives you unlimited workspaces, white label option, custom domain, and many more features.
Nimbus Platform is a solid alternative to Basecamp because you can do so much more than manage projects or tasks.
To find out more and to get started with a free account today, you can by visiting this website.
2. Trello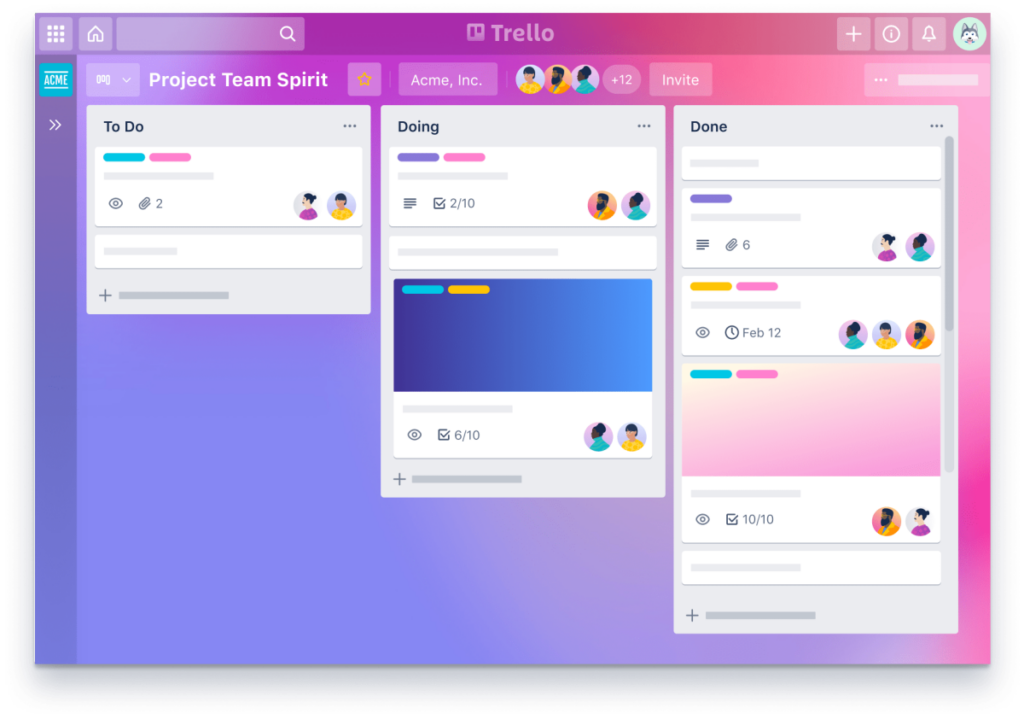 One of the more popular free project management apps, Trello, has been around for over a decade. It was originally created as a simple way to share boards with friends and family.
Over the years, Trello has evolved into a powerful project management platform and is another excellent alternative to Basecamp because it allows users to easily organize their ideas and projects.
Trello provides many features such as:
Task management.
Board organization.
Real-time collaboration and updates.
File uploads.
Integration with Google Drive.
Mobile apps for iOS and Android.
Multiple board types.
Powerful filters.
Searchable cards.
Card sorting.
Gantt chart view.
Time tracking.
Calendar integration.
Email notifications.
Google Calendar integration.
Easily add comments to cards.
Cons
Does not allow multiple team members to edit the same card at once.
Limited integrations.
Lacks advanced project management features.
Limited customization options.
Cannot aggregate boards.
Limited note-taking capabilities.
Pricing
Basic Plan – Free. This gives you a limited number of boards per workspace and a 10MB file upload limit.
Standard Plan – $4.99 / month per user when billed annually. This provides additional features, such as unlimited boards, advanced checklists, and custom fields.
Premium Plan – $9.99 / month per user when billed annually. This is best suited for teams and offers features such as multiple workspace views, admin and security features, and a lot more.
3. ClickUp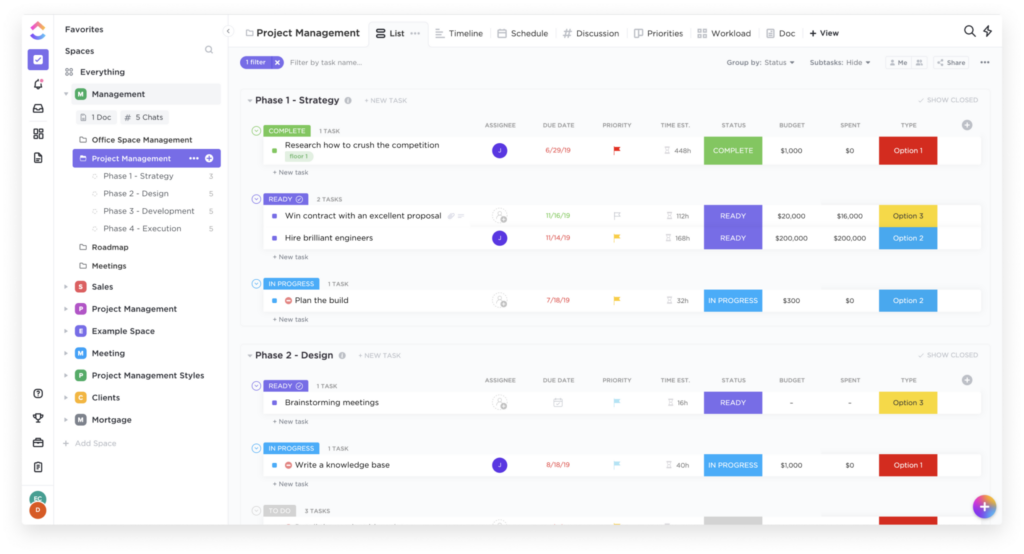 A similar tool to Trello, ClickUp is an online project management app that lets you collaborate with your team using real-time communication tools like Slack and Zoom. It's one of the most flexible project management solutions available and is an excellent alternative to Basecamp.
It comes with a variety of features, such as:
Team collaboration.
Chat rooms.
File sharing.
Video conferencing.
Slack integration.
Zoom integration.
Google Docs integration.
Document editing.
Markdown support.
Task management, including task dependencies, list, and reminders.
Workflow automation.
And much more!
Cons
Not suitable for large teams.
Limited integrations.
Lacks advanced project planning features.
Pricing
Free Forever. This gives you unlimited tasks and 100MB of storage.
Unlimited Plan for $5 / month per user. This gives you unlimited storage, unlimited integrations, and unlimited dashboards.
Business Plan for $12 / month per user. This gives you everything in the Unlimited Plan, along with unlimited teams, custom exporting, advanced sharing and automation features, and advanced dashboard features.
4. Asana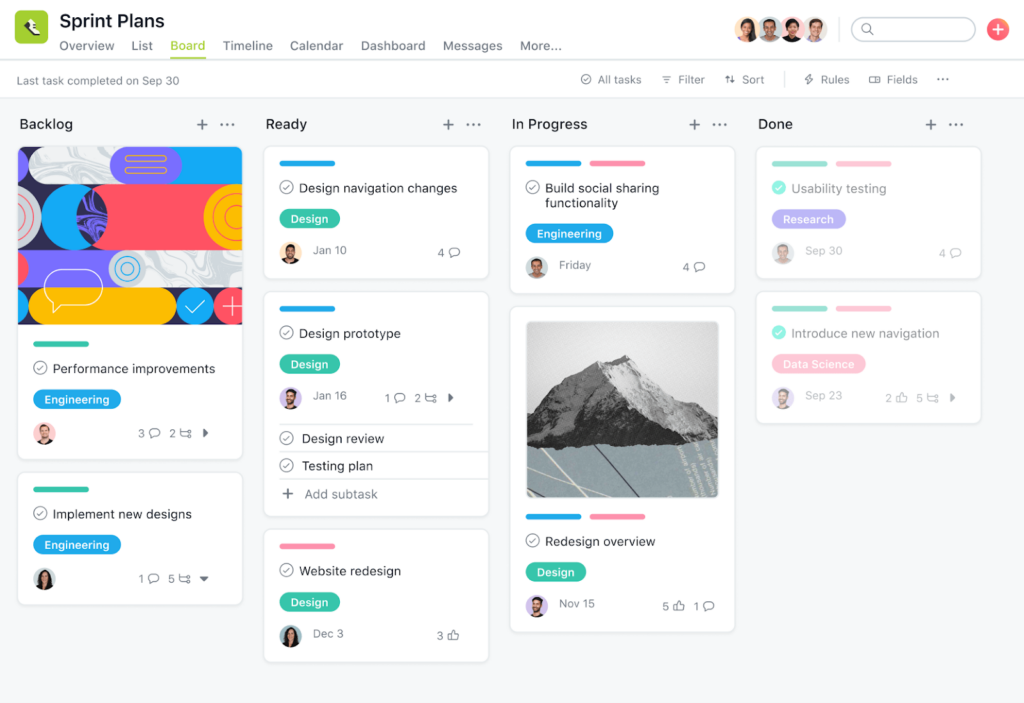 One of the most popular project management tools for teams and freelancers, Asana, is used by companies like Airbnb, NASA, and Spotify.
It's an all-in-one project management tool similar to Basecamp that helps you track tasks, collaborate with teammates, and stay organized.
Some of its key features include:
Task management. You can assign tasks to yourself or others.
Collaboration. Share files, chat, and discuss issues with other team members.
Project management. Create milestones, manage time, and keep track of progress.
Communication. Use email, text messages, and video calls to communicate with your team.
File sharing. Upload documents, images, and videos.
Invoicing. Track expenses and generate invoices.
Dashboard. View your workflows from anywhere.
Asana integrates with Gmail, Dropbox, Box, OneDrive, Slack, Salesforce, and Zapier. It also supports third-party integrations, such as GitHub, Jira, and Zendesk. You can use Asana on desktop, mobile, and web browsers.
Cons
High priced because you need to have a subscription to get access to advanced features.
Unable to assign tasks to multiple users.
Limited mobile app functionality.
Pricing
Basic: Free, with limited features.
Premium: $10.99 / month per user.
Business: $24.99 / month per user.
Enterprise: Custom pricing based on your specific requirements.
5. Monday.com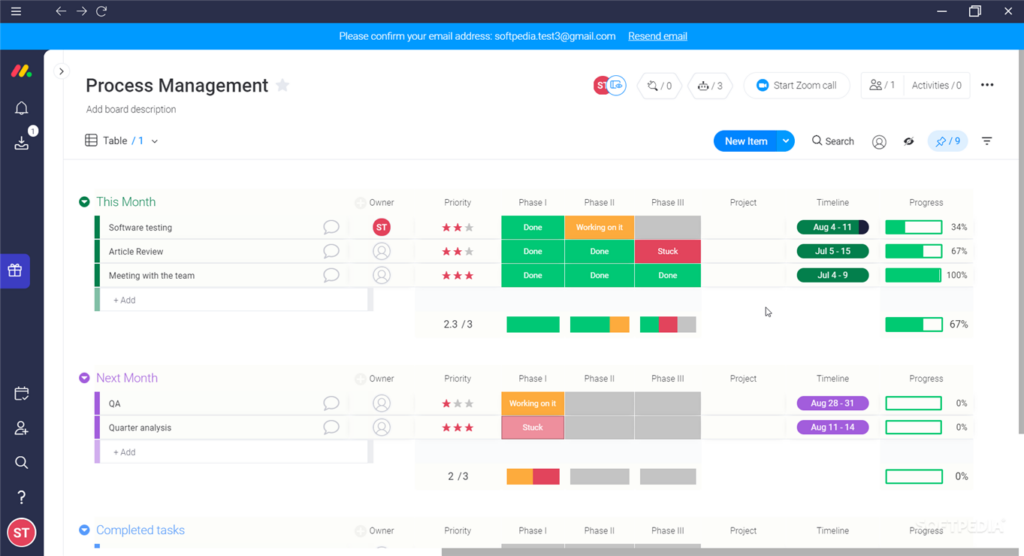 Another solid alternative to Basecamp, Monday.com, is a simple yet powerful project management tool.
It has been designed specifically for teams and freelancers who are looking for a quick way to organize their projects. You can create projects, add tasks, set deadlines, and share files easily.
Monday.com provides a number of features such as:
Task management.
File sharing.
Collaboration.
Time tracking.
Automations.
Reporting.
And more!
Cons
Limited to only three boards on their free plan.
Basic plan requires you to sign up for three seats, so if you are a solo user, you will pay for two extra seats you do not need.
Pricing
Individual: Free for up to two seats, with three boards and unlimited docs.
Basic: $8 / month per user, which offers unlimited items and 5 GB file storage.
Standard: $10 / month per user, which offers timeline and Gantt views, and automations.
Pro: $19 / month per user when billed annually, which includes private boards and docs, time tracking, and custom dashboards.
6. Teamwork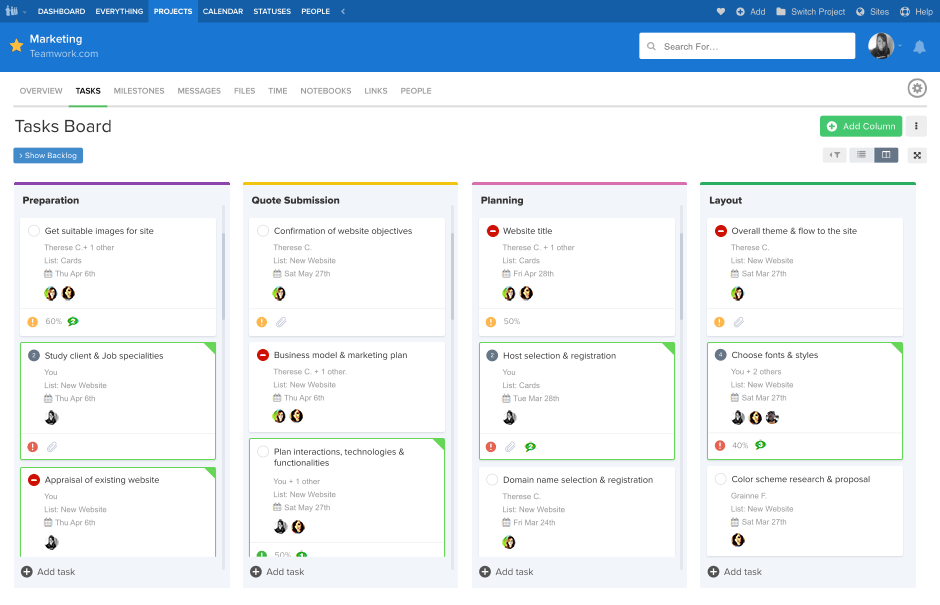 An advanced version of Basecamp, Teamwork, is ideal for large teams. It allows you to create projects, assign tasks, and track progress using different channels, including email, instant messaging, and social media.
Teamwork offers a variety of features that include:
Task management.
Email integration.
Chat room.
Integration with popular apps, including HubSpot, Slack, Zapier, Google Drive, Office 365, and more.
Mobile apps.
Cons
Requires a paid account to be able to view certain information.
Lacks some of the core features found in other project management solutions.
Pricing
Forever Free for up to five users per plan.
Deliver: $9.99 / month per user, which offers such as, create and process intake forms, and billing and invoicing.
Grow: $17.99 / month per user, which offers reporting features and client level teams.
Scale: Custom pricing, which offers all their advanced features.
7. ProofHub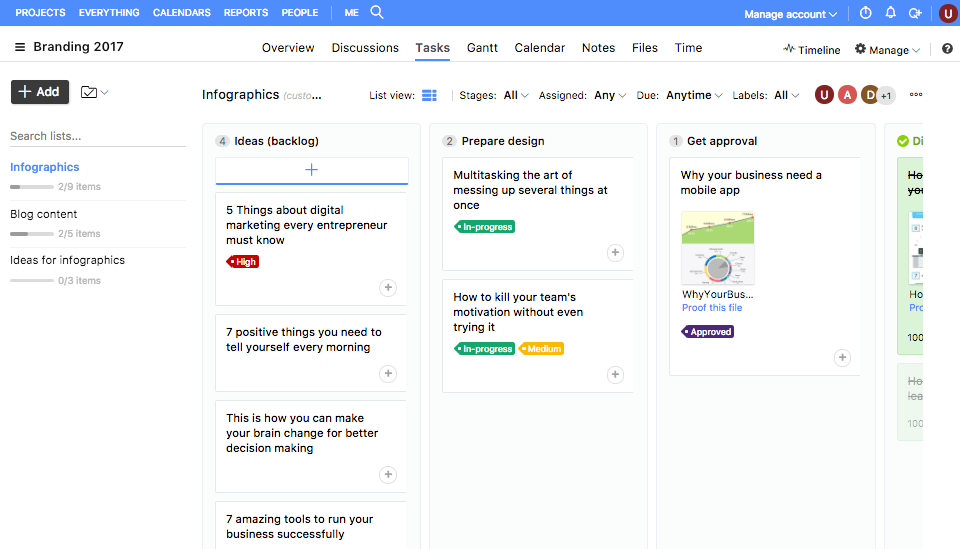 Another one of Basecamp's competitors, ProofHub, allows solo users and teams to manage their work by providing a secure workspace where they can collaborate with clients and colleagues.
ProofHub offers a wide range of tools that help you manage your workflow efficiently. These include:
Plan and organize projects based on your needs.
Assign tasks to yourself or assign them to team members.
Prioritize tasks with deadlines, labels, and time estimates.
Create custom workflows.
View projects in multiple views, including kanban boards and Gantt chart.
Create custom roles.
Flat pricing and not a per-user fee.
Cons
Not price competitive, with only two plans offered.
Limited integrations on their Essentials plan.
Not ideal for large teams.
Pricing
Free trial for 14 days.
Essentials Plan: $45 / month billed annually.
Ultimate Control: $89 / month billed annually.
8. Podio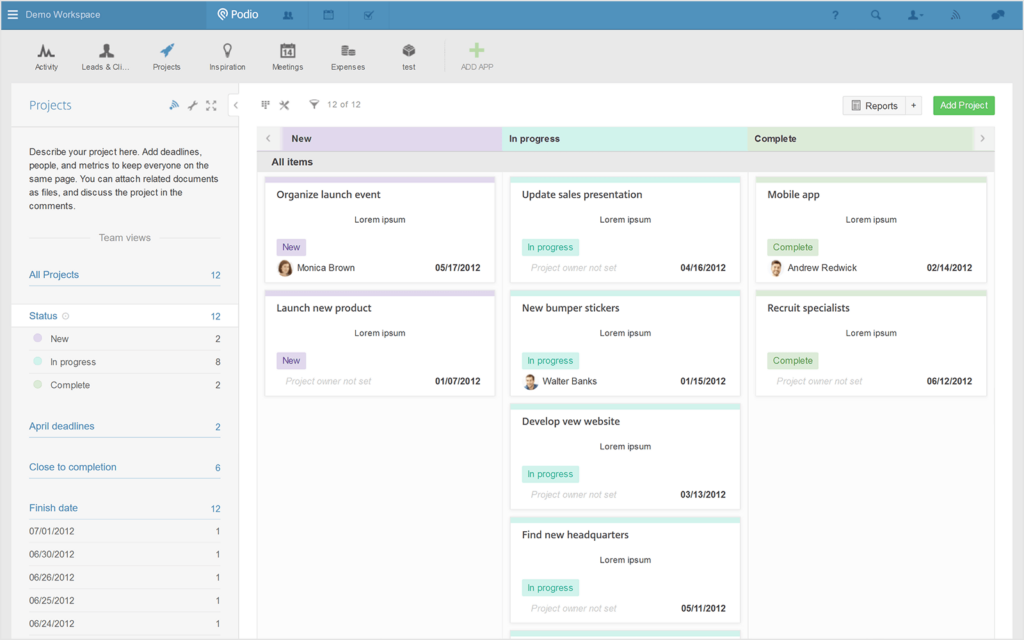 With a focus on easier project management and faster communication, Podio is another adequate Basecamp alternative that enables you to bring all your content, processes, and conversations in one place.
With Podio, it's quick to set up and have full control for how you want to manage your activities. The features Podio offers include:
Customizable dashboards, which includes having personal dashboards.
Integrated chat.
Unlimited storage.
Automated workflows.
Web and mobile apps.
Calendar set up, including scheduling meetings.
CRM.
Cons
Unattractive interface.
Slow development of new features.
Poor communication and support.
Regular downtime.
Pricing
Free plan for five users.
Basic Plan: $9 / month per user billed annually.
Plus Plan: $14 / month per user billed annually.
Premium Plan: $24 / month per user billed annually.
Get Started with the Best Basecamp Alternative Now
With many products similar to Basecamp available today, software like Nimbus Platform is your best option if you're searching for a Basecamp alternative.
Today, to maximize productivity and effectiveness, you need apps that go beyond project and task management. Nimbus Platform is your best collaboration tool for your business because it gives you many more options and flexibility than Basecamp.
Go here now to get started with Nimbus Platform.
After reading this article, if you want to use project management templates to get started quickly, read this next: 5 Best Free Project Management Templates to Use.
Having a client portal, like Nimbus Portals, will complement any project management tool you use. Learn how Nimbus Portals can improve your client communication.
If you found this article helpful, please share it so others can benefit too.
Visit the Nimbus Twitter page for the latest news and updates!
Previous post
How to Create an Onboarding Process for your Company in 2023
Next post
25 Best Trello Alternatives for 2023