10 Google Docs Alternatives for Creating Better Documents
Make sure Nimbus Platform is your best Google Docs alternative today
Check it out
In today's fast-paced digital era, working with documents has become an integral part of our personal and professional lives. Whether you are a student, professional or entrepreneur, you likely need to create, collaborate and share information in a structured manner. While Google Docs has long been a go-to solution for many, exploring alternative platforms can offer unique advantages.
The rise of remote work, global collaboration and the increasing need for efficient documentation processes have propelled the significance of working with documents to new heights. This article delves into the realm of Google Docs alternatives, shedding light on the reasons why finding the right tool for document management is essential in today's evolving landscape.
What is Google Docs?
Google Docs is a free online word-processing app that allows users to create and edit documents in real time. It was first launched in 2004 as an alternative to MS Word and since then, the service has since evolved into a full-fledged office suite with key features like spreadsheets, presentations, forms, editing tools and more.
Google Docs is an online office suite for creating documents, spreadsheets, presentations, drawings and quizzes with the interface looking pretty much similar to a Word document. It allows users to create, view, edit, share, print and sync files across multiple devices.
It also includes features such as drawing tools, text formatting features, tables, charts and more. Teams can collaborate on projects together via real-time editing and commenting.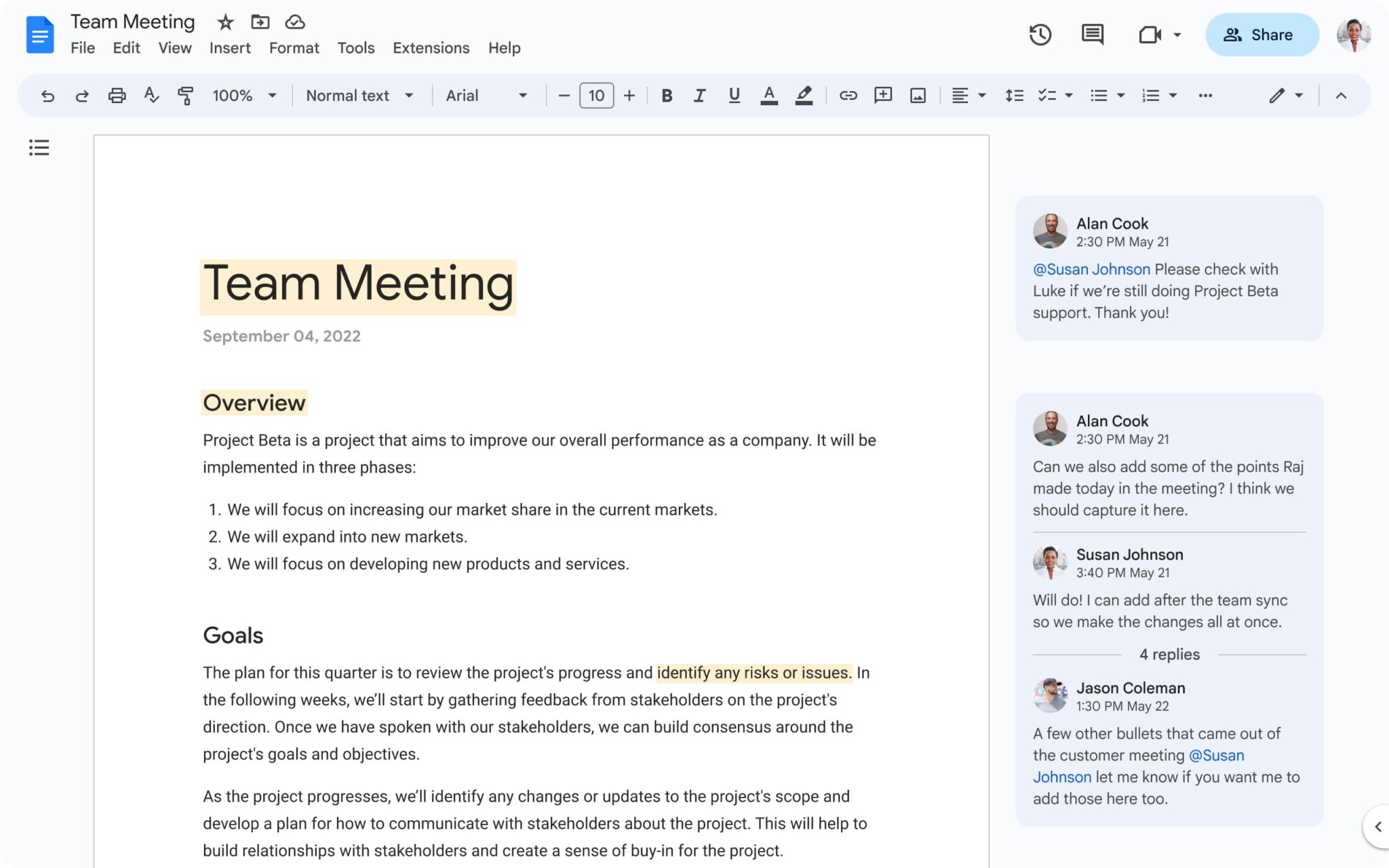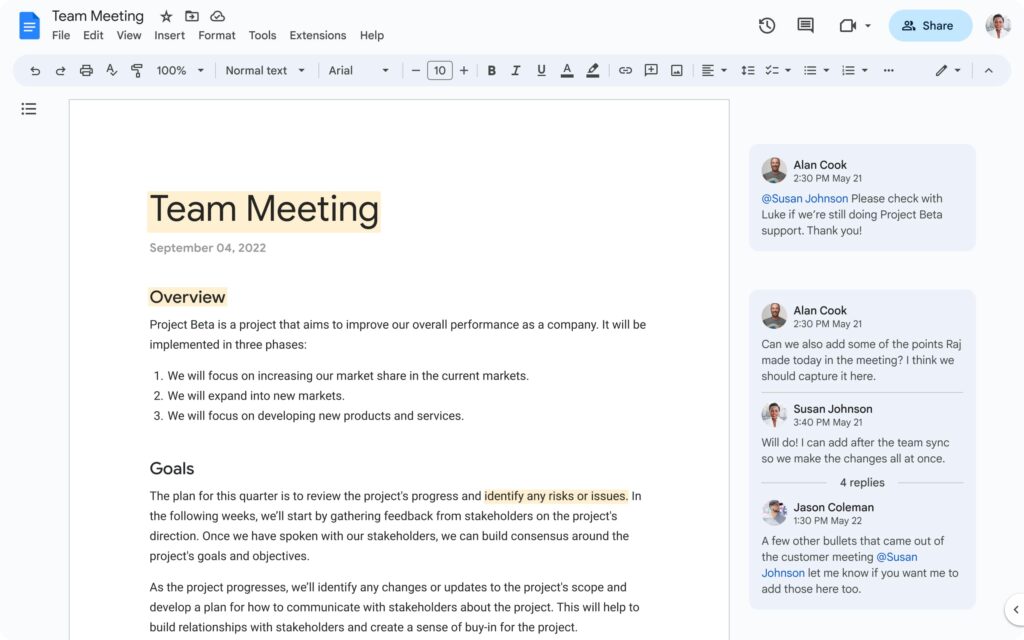 What is Google Docs Good for?
It is a document editing tool that allows users to create documents, spreadsheets, presentations, drawings and forms. It also provides basic editing functionality such as cut, copy, paste, undo and redo as well as basic formatting tools. Now, let's examine the evident advantages.
Ease of use
There are plenty of tutorials online on how to do things quickly and efficiently, which means there isn't a high learning curve. Since it's a basic word processor, it's perfect for students, business owners, freelancers and anyone else who wants to share information easily.
Broad range of supported formats
Google Docs supports multiple file formats, including its native .gdoc format, as well as Microsoft Word (.docx), OpenDocument (.odt), Rich Text Format (.rtf), Plain Text (.txt) and HTML (.html).
Collaboration capabilities
Google Docs offers collaborative document editing capabilities. This means that multiple users can work on the same document. For example, after document creation, you can invite other people to view and edit it simultaneously. You'll be able to see what they're doing in real time and make changes together. This means everyone involved can make changes without having to wait for someone else to finish.
Online office suite
Google Docs is part of Google's Office online suite of products, which is similar to Microsoft Office online with their Office 365 apps. Google's Office online suite is a cloud-based productivity suite that offers a range of applications including an online word processor, spreadsheets, presentations and other tools for collaborative work.
However, offline editing tools for Google Docs have somewhat limited capabilities.
The main limitations of Google Docs include:
Limited integration with external cloud-storage platforms. While Google documents are automatically saved in Google Drive, you cannot link your documents to other alternative cloud-storage services, such as Dropbox, Box or Mega. This means if you want to share a Google Doc through other services, you need to download the file and then upload it to the alternative cloud-storage service.
Limited editing features. Unlike Microsoft Word, which offers advanced formatting and editing features, Google Docs' editing functionality is basic. Standard right-click features available in most Microsoft Office products don't exist in Google Docs. You need to use alternative methods, such as the menu options or toolbar commands to do basic editing operations.
Compatibility. To perform edits on documents, it is necessary for them to be in the Google Docs format. If you upload a file from an alternative program with a lot of formatting, such as Microsoft Word, it's highly likely you will lose a lot of the formatting. This can become time-consuming if you have to redo all the formatting.
Reasons Why You Might Need an Alternative to Google Docs
Restricted collaboration functionality
While Google Docs offers basic document collaboration features, it does not offer advanced ones. It offers features such as document sharing and real-time editing, which are adequate for most users. However, to tailor your experience further, you may require specific add-ons.
For example, Google Docs does not have a built-in chat feature or solid project management tools. You either have to use add-ons, other Google apps or find an alternative.
Inadequate permission structure
There are two sharing options. The first one gives restricted access, which means only people with access can open the link to the document. The second option allows anyone with the link to view your document. If you make a mistake and set the wrong sharing option, you can unknowingly give access to your documents to those unauthorized.
No desktop application
Google Docs doesn't have a native desktop application. Instead, you need to access it using a web browser. This means you need to open a new tab every time you want to view or edit a document. This is inconvenient because you need to switch between tabs to get back to your original document.
Read more posts on this topic:
How to Choose the Right Google Docs Alternative
When choosing the right Google Docs alternative, the factors to consider include:
Features: The more advanced features a product has, the better. However, this should be balanced against its usability. Some document editing tools may have fewer features but are easier to use.
Compatibility: This refers to how well the software runs on different operating systems. A good Google Docs alternative needs to run smoothly on all platforms.
User interface: A good alternative should have a user-friendly interface. This includes ease of navigation and ease of use.
Security and privacy: Security is important. You don't want to accidentally send sensitive information to someone else. You also need to know what data is being collected and whether you have any control over what data they collect.
Cost: While free services are great, they often lack essential features. This is where the cost will play a factor when deciding on an alternative solution. A free tool can be a suitable choice as long as it meets the necessary requirements.
Support: When looking for a Google Docs alternative, you need to know how easy it is to get help and whether they respond to inquiries promptly.
Top 10 Google Docs Alternatives
Although there are many alternatives to Google Docs, here are a few to consider.
1. Nimbus Platform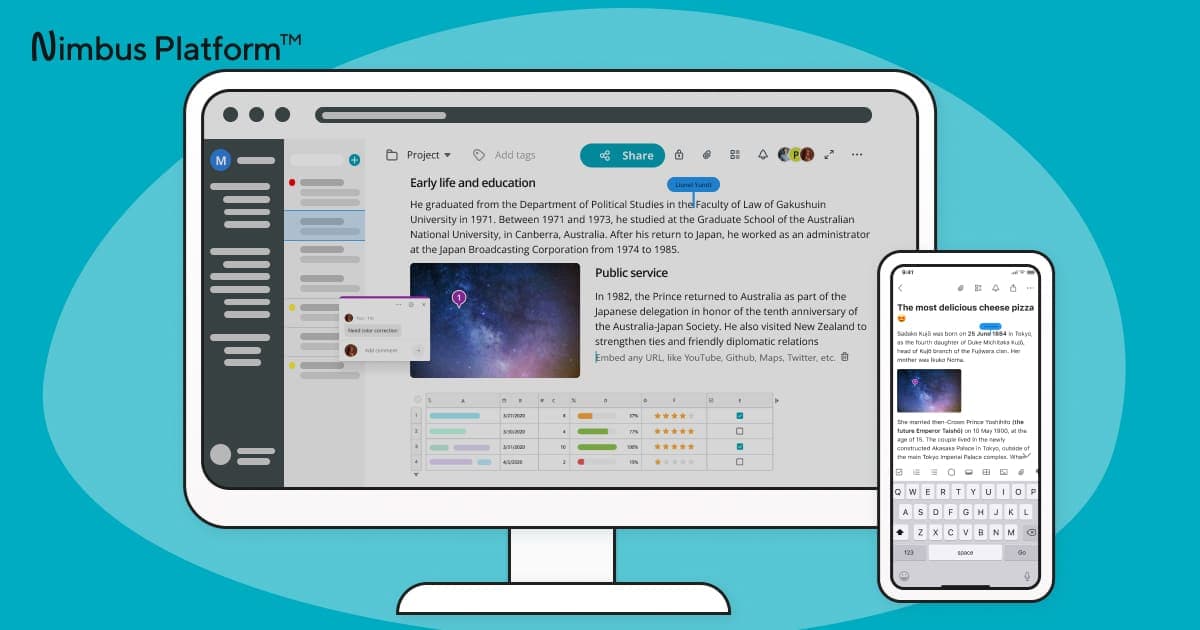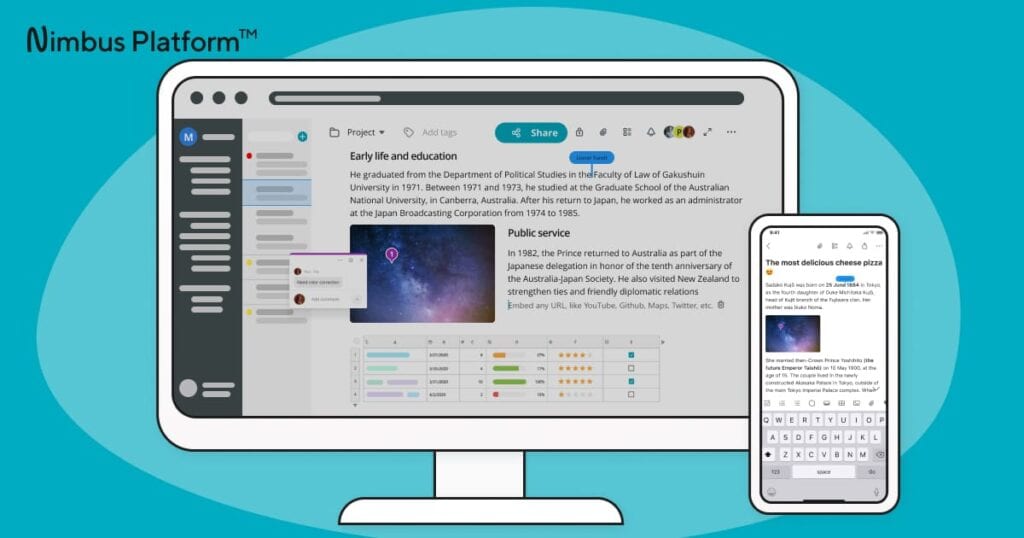 Nimbus Platform stands out among other Google Docs alternatives thanks to its optimal feature set, which includes:
Super documents, which allow you to add content in various forms, including text, images, video, audio and links, as well as link related pages together like in a wiki. You can store all of your information inside notes you write and then customize the look of each note.
Advanced collaboration through Nimbus Chat, client portal and task management. Nimbus's great collaboration tools enable you to improve your communication with team members and clients and have better visibility of all your projects and tasks.
Advanced permission levels, which allow you to set permissions for file sharing at the workspace and folder levels, along with creating password-protected notes.
Visual communication with Nimbus Capture, through which you can create annotated screenshots and videos.
All these features allow Nimbus to set itself apart as the best Google Docs alternative, offering a powerful document editor complemented by exceptional document collaboration tools, version control and functionality that enables users to manage projects with ease. Nimbus is far more than just a document editor – it is a comprehensive suite of productivity, project management and collaboration tools that allow you to manage tasks, create client portals, structure and share documents and more.
2. Microsoft Word Online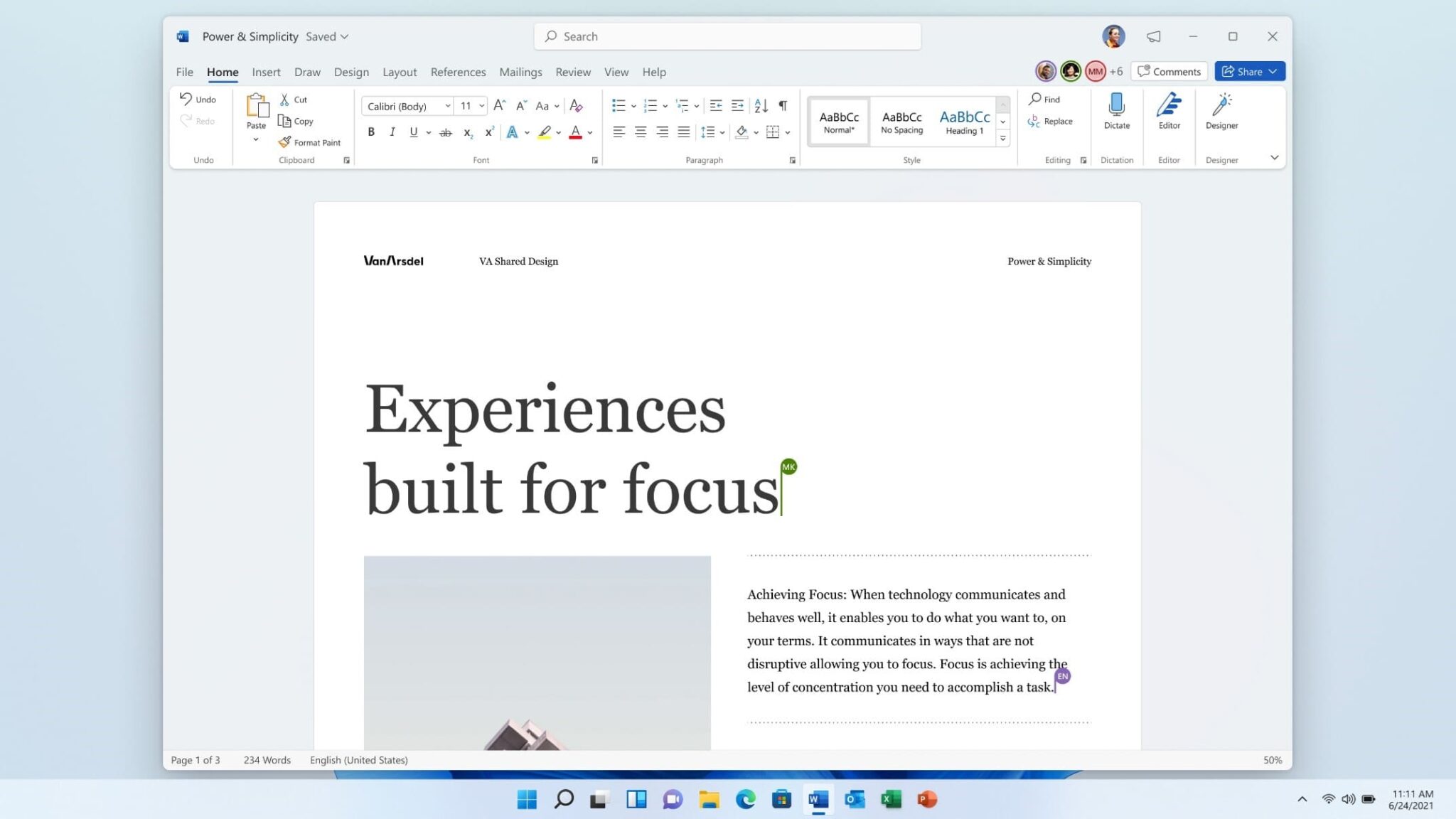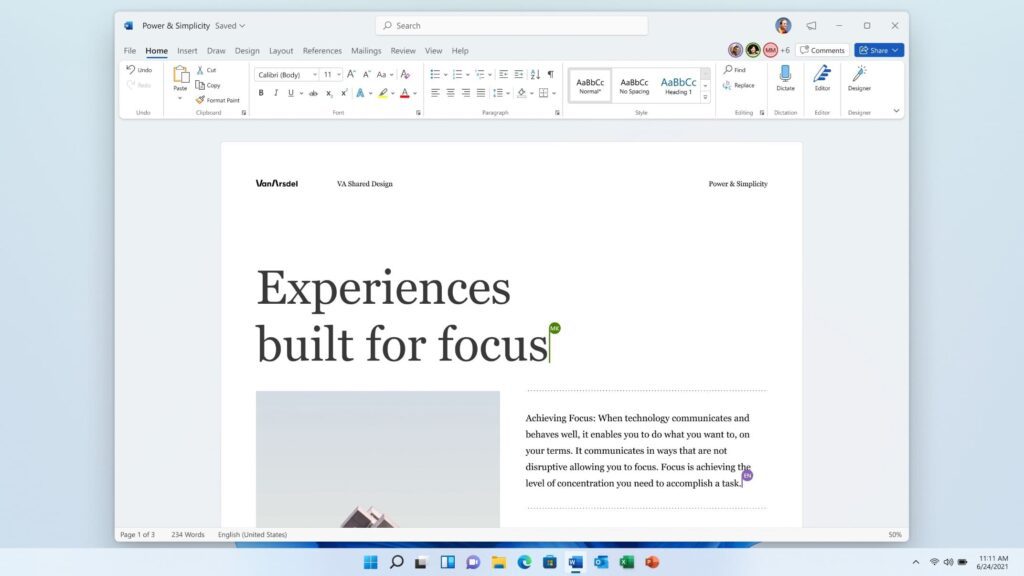 Microsoft Word Online is a part of Microsoft Office 365 – a comprehensive productivity suite that includes various applications such as Word, Excel, PowerPoint and Outlook. It offers cloud-based access to these tools, allowing users to create, edit and collaborate on documents from anywhere with an internet connection.
Microsoft Word web version is one of the most popular alternatives to Google Docs; it offers a range of features similar to the desktop app, including document editing tools and formatting features, all reachable through a web browser without installation. By accessing Microsoft Office online, you can enjoy the full range of options available in the desktop app, while also benefiting from the ability to share your Word document with multiple users and relishing real-time collaboration.
Key benefits:
Mobile apps for iOS and Android devices
Free version
Familiar interface
3. Zoho Writer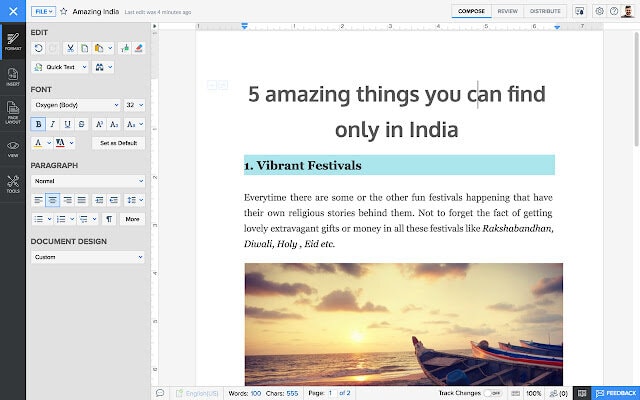 Another decent alternative to Google Docs is Zoho Writer. Coming as part of Zoho Office Suite, it comprises a powerful online word processing and document editing tool that provides a range of features that facilitate efficient document creation, editing and collaboration. With its intuitive interface, customizable templates and real-time collaboration capabilities, Zoho Writer offers a user-friendly experience for individuals and teams.
Its editor boasts highly advanced formatting options, empowering users to design visually appealing documents with custom layouts and incorporate their company branding for a professional touch. When paired with the robust Zoho Docs platform, Zoho Writer is no worse than the comprehensive productivity suites offered by Google Workspace and Microsoft Office Online. Additionally, Zoho Docs provides a wide range of features for document management, collaboration and organization, making it a strong contender in the realm of productivity tools.
4. Apache OpenOffice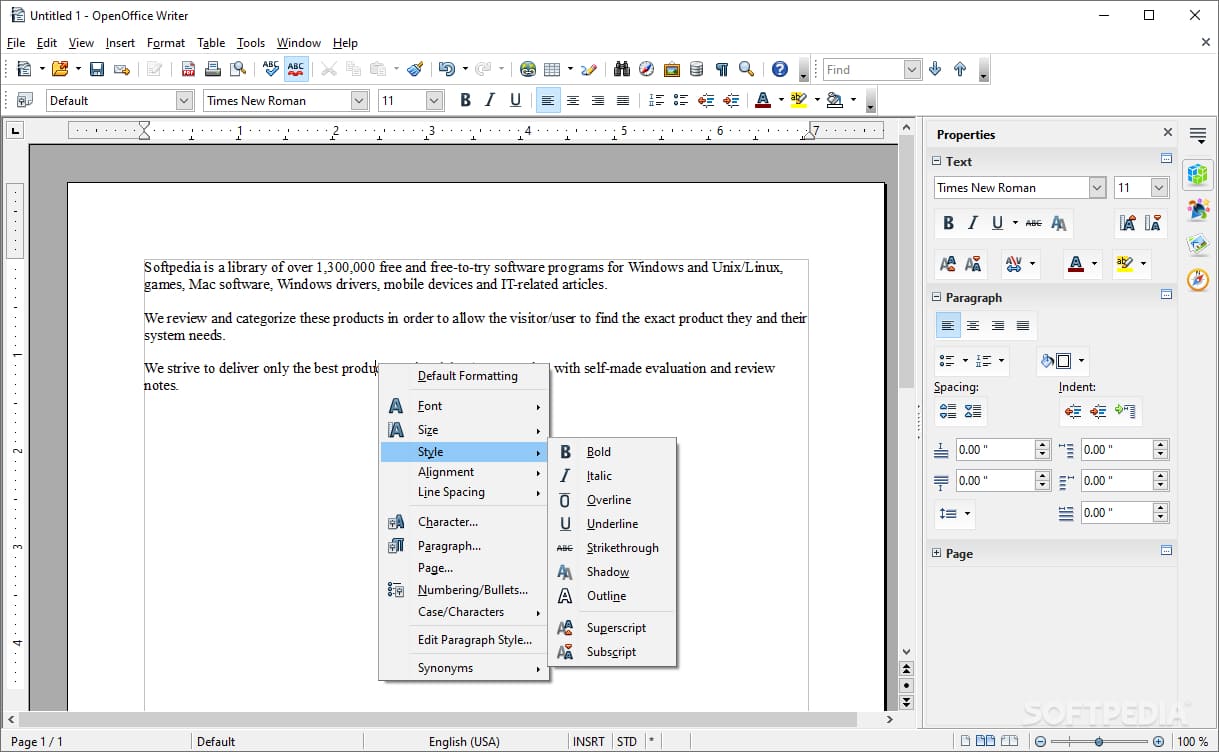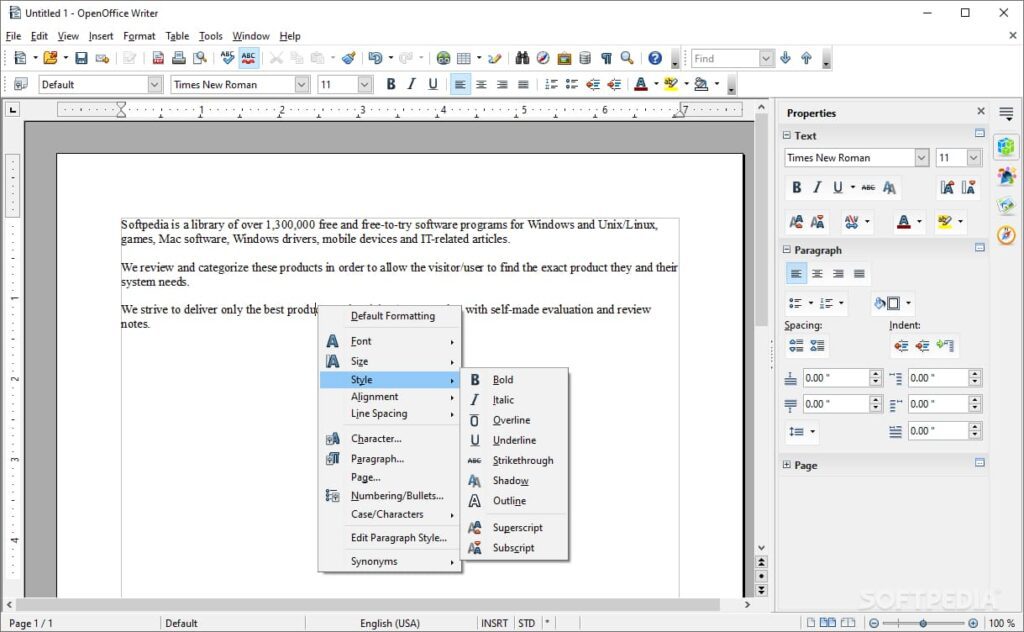 Apache OpenOffice is a free and open-source office suite that includes a word processor called Writer and is a worthy alternative to Google Docs. It offers a range of powerful document editing and formatting features.
Apache OpenOffice Writer is compatible with other popular word-processing applications. With its intuitive interface and extensive toolset, Apache OpenOffice Writer provides users with a viable alternative for word processing needs.
The main benefits of Apache OpenOffice include:
Built-in database tool
Cross-platform compatibility
Free and open-source
5. ClickUp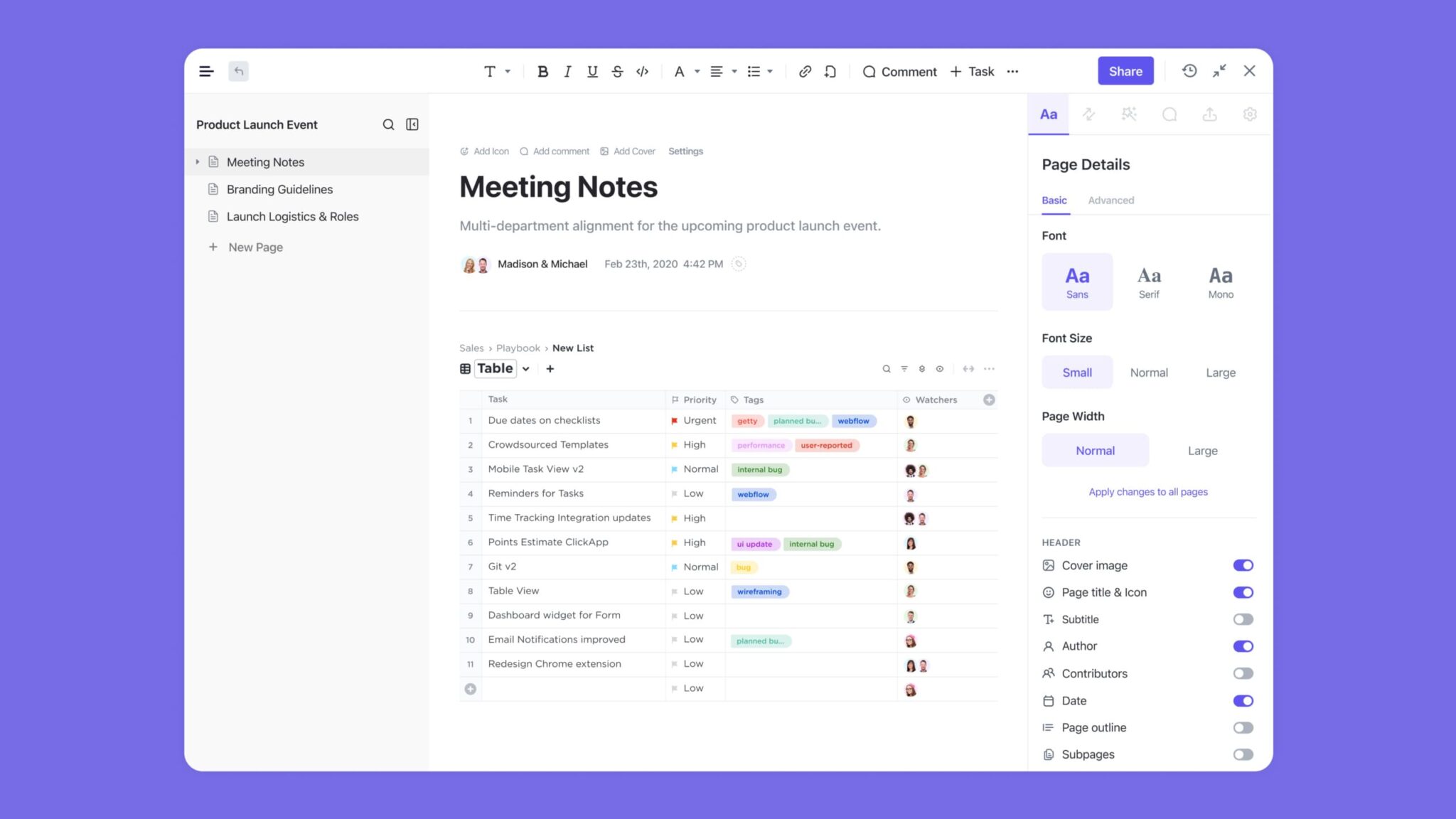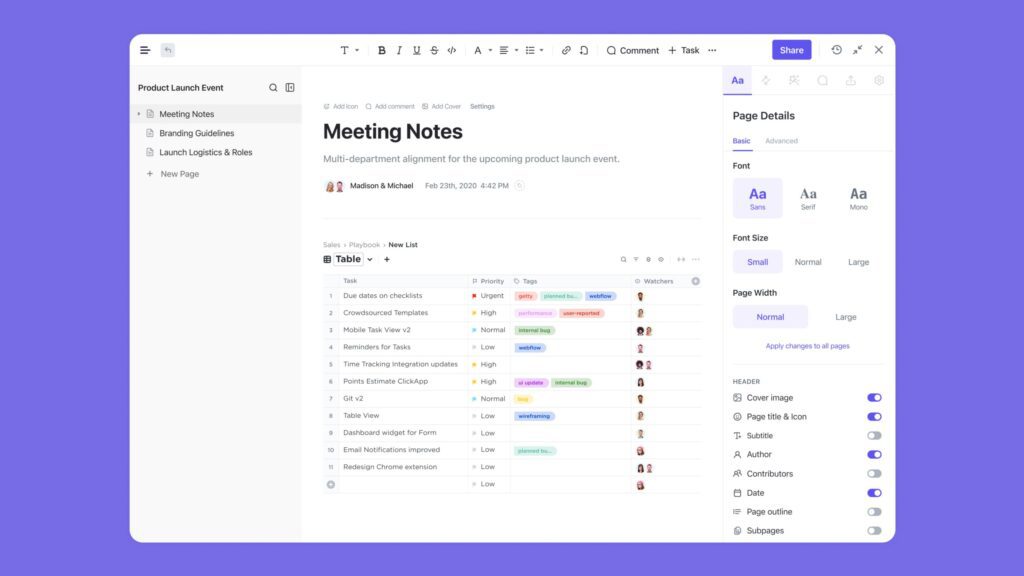 ClickUp is a comprehensive project management and productivity platform that brings teams, tasks and tools together in one centralized workspace. ClickUp Docs is a cloud-based word processing tool within the ClickUp platform that allows users to create and collaborate on documents in a centralized and organized manner.
With ClickUp Docs, another noteworthy Google Docs alternative, you can write, edit and format text documents directly within the platform. It offers a range of formatting options, including headings, lists, tables and more to structure your content effectively.
ClickUp Doc's key features:
Create ClickUp Docs for any use case, such as knowledge bases, user guides, templates and processes
Tag team members using @ mentions for easy communication and team collaboration
Create dashboards to quickly view your main documents
Link documents to access them in more places
6. Dropbox Paper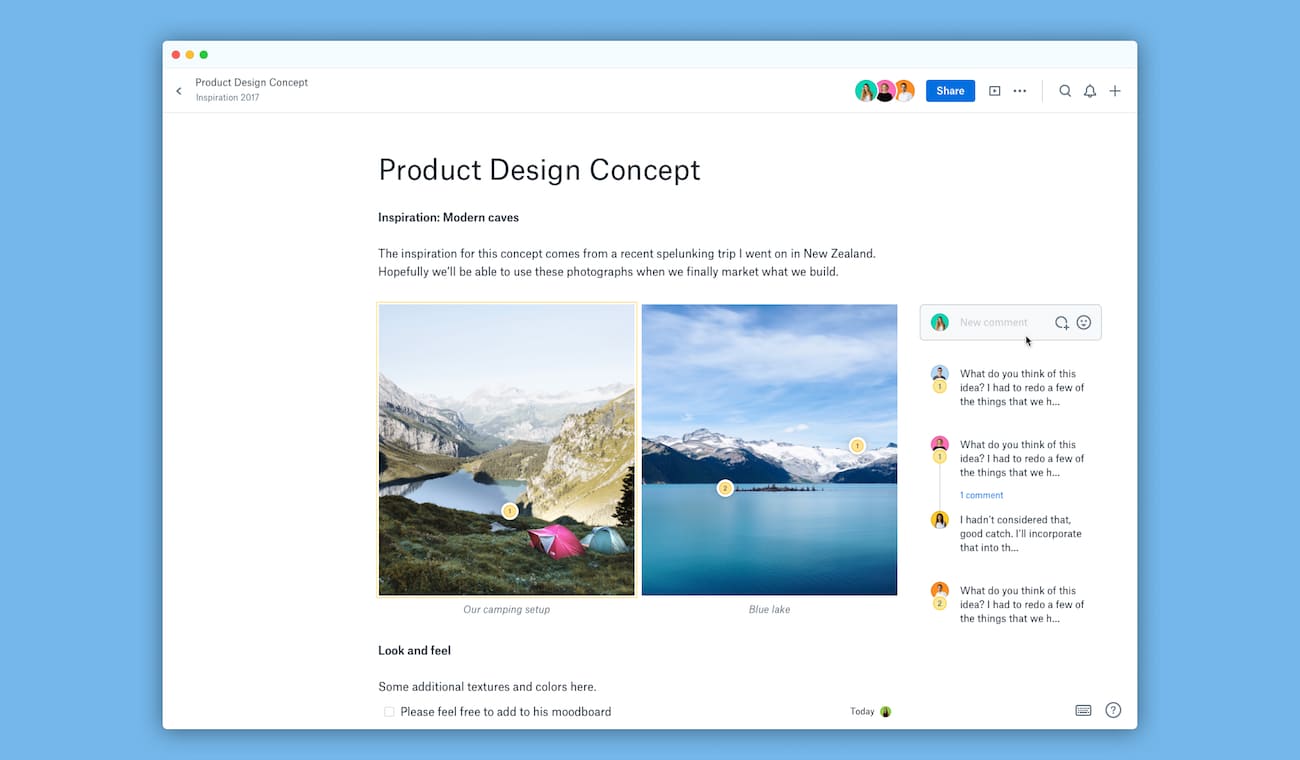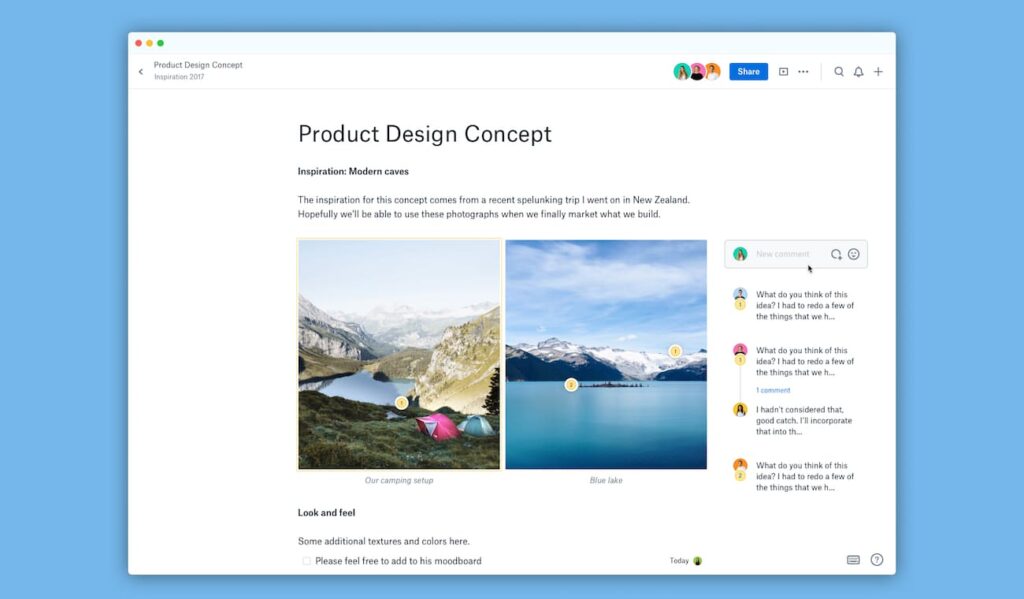 Among the best Google Docs alternatives one should also mention Dropbox Paper. It is a collaborative online document editing tool offered by Dropbox that provides a simple and intuitive interface for creating, editing and organizing documents, notes, to-do lists and project plans.
The key features of Dropbox Paper include:
Easy conversion of documents into presentations
Use of annotations to improve visual communication and provide better feedback
Task assignment with due dates to team members
Template creation for improved workflows
Dropbox Paper offers a dynamic platform for document creation and organization compared to traditional Word documents.
7. Evernote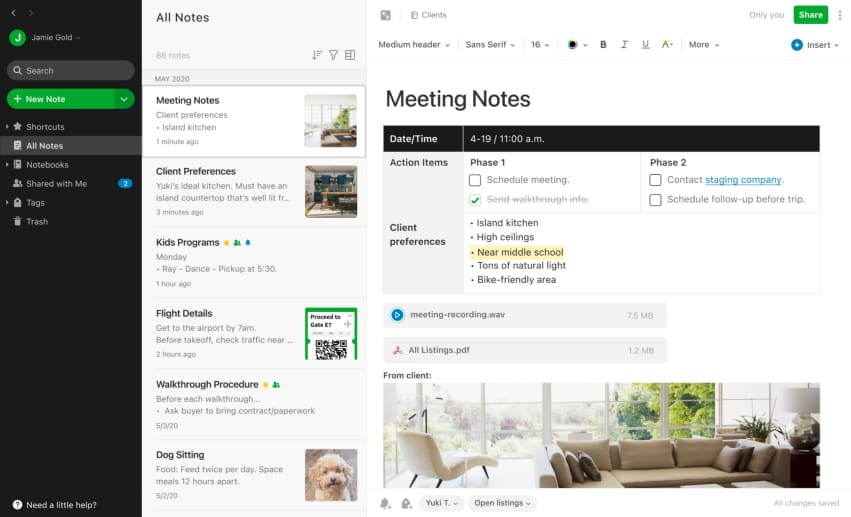 Evernote is also worth mentioning when speaking about the best Google Docs alternatives. It comprises a versatile note-taking and organization tool designed to help users capture, organize and access information effortlessly.
With Evernote, you can create notes, store web articles, capture images and even record audio, all in one place.
Evernote's key features are as follows:
A home dashboard that allows you to set up widgets for your most common tools
Offline mode, which means you can continue working without needing internet access
Notebooks to help you organize and sort notes using tags
Notes history which allows you to retrieve previous versions of your notes
8. Quip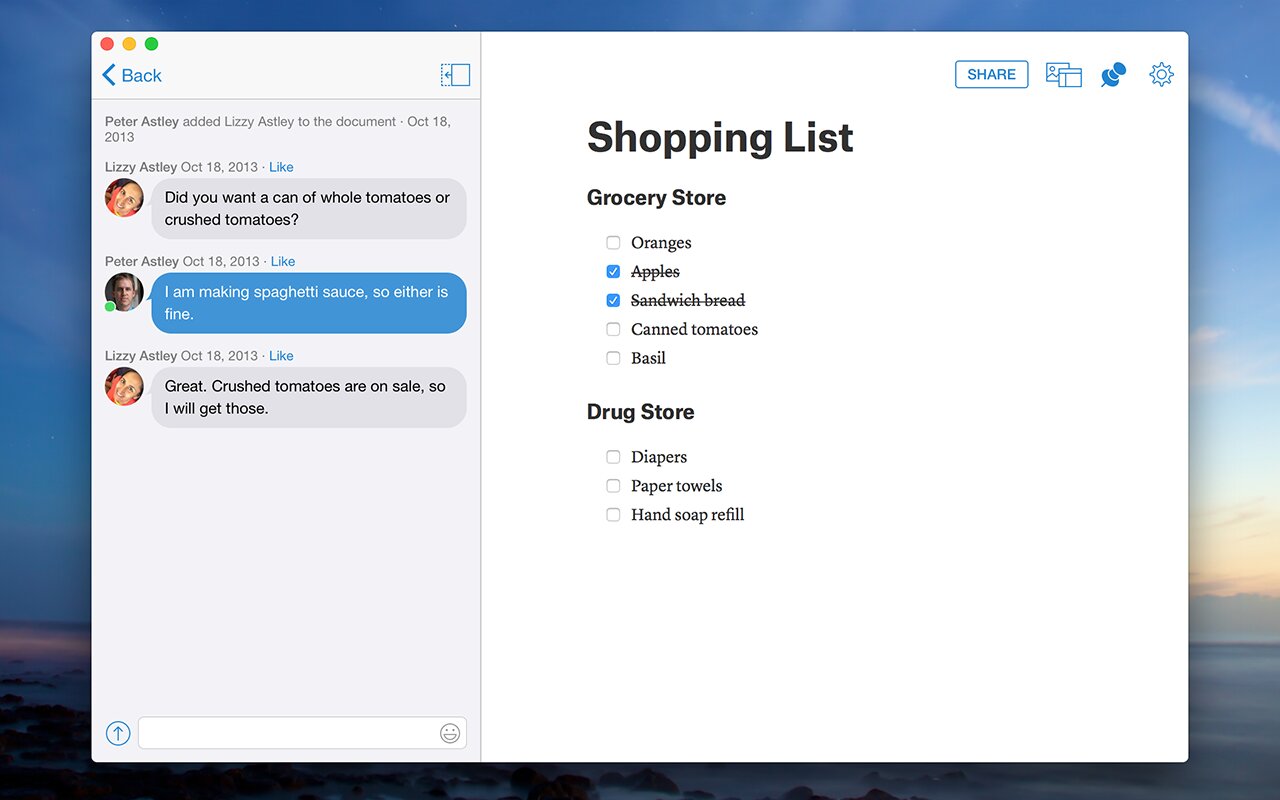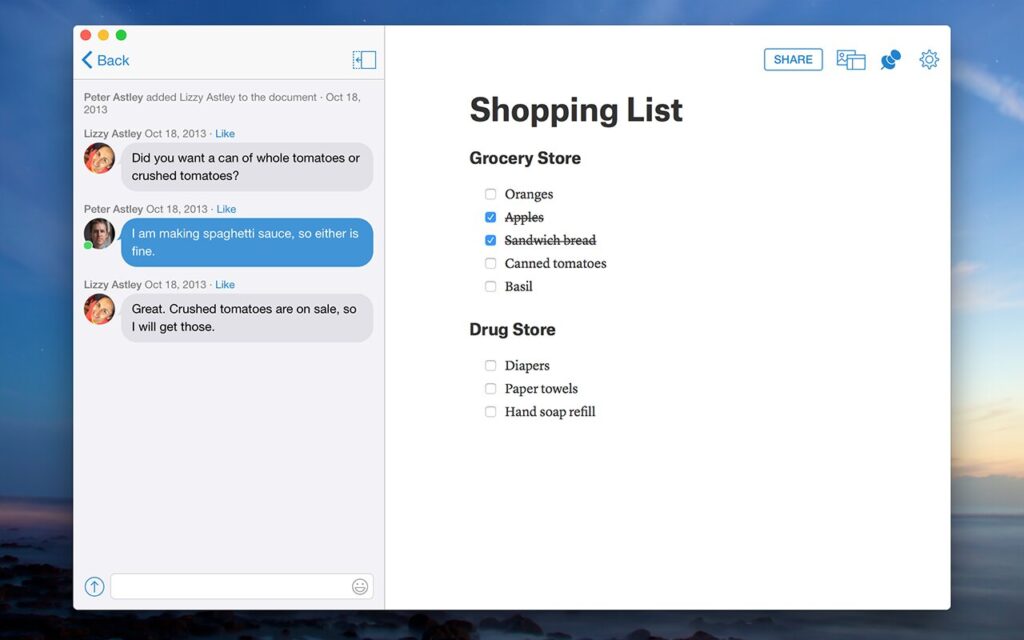 Quip is a collaborative productivity platform that offers a unified workspace for creating documents, spreadsheets and communication. It combines real-time cooperation, task management and chat features to streamline teamwork and enhance productivity.
With mobile accessibility, integration options and a focus on seamless collaboration, Quip provides a versatile solution for teams to work together effectively.
Quip outstands other word processors thanks to its key features which include:
Useful note-taking and project management capabilities
Real-time chat for better collaboration
Efficient workflow and document management
Status tracking for greater visibility of tasks
Notifications and mentions functionality that allows users to stay informed about updates and important discussions
9. OnlyOffice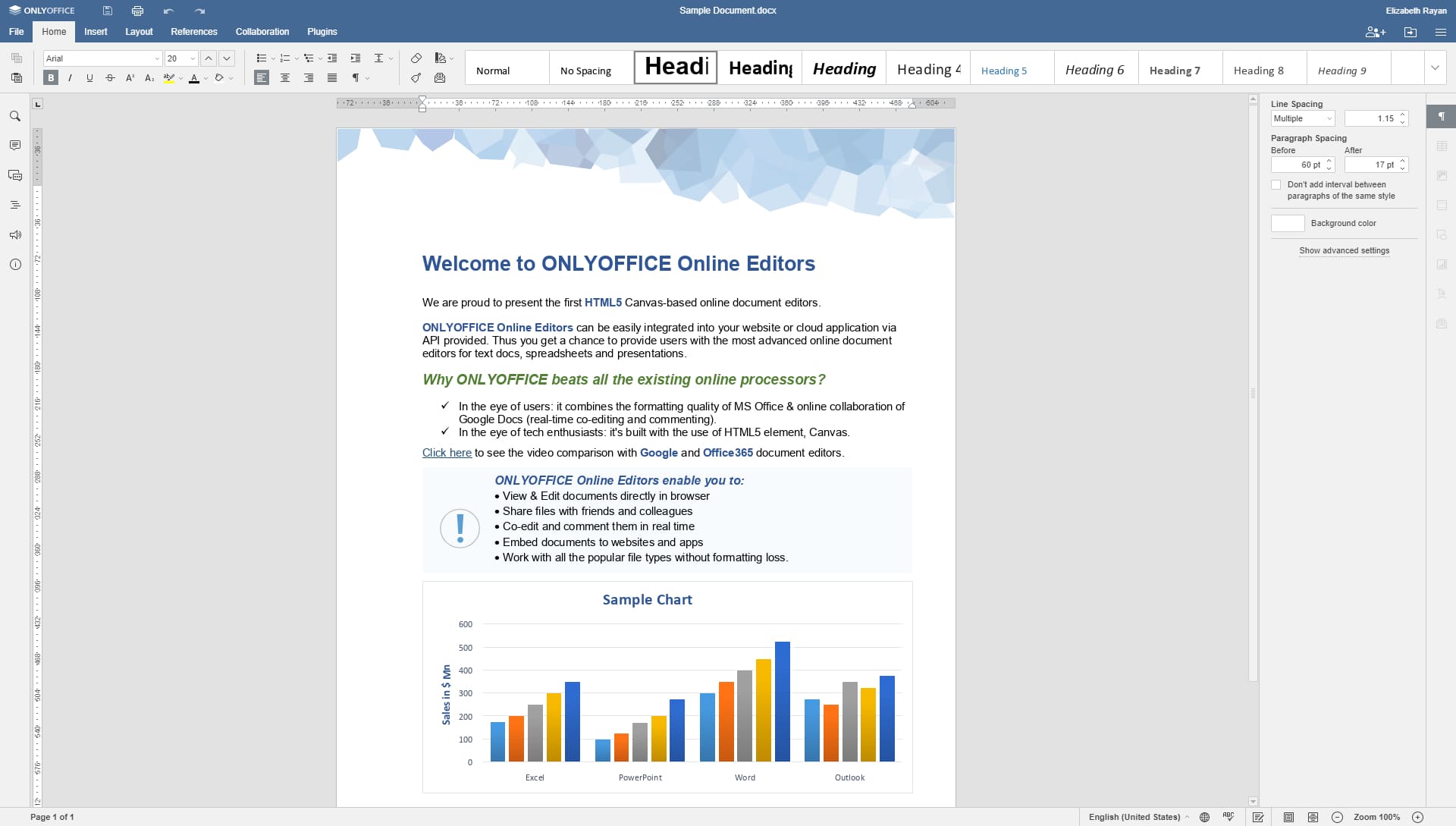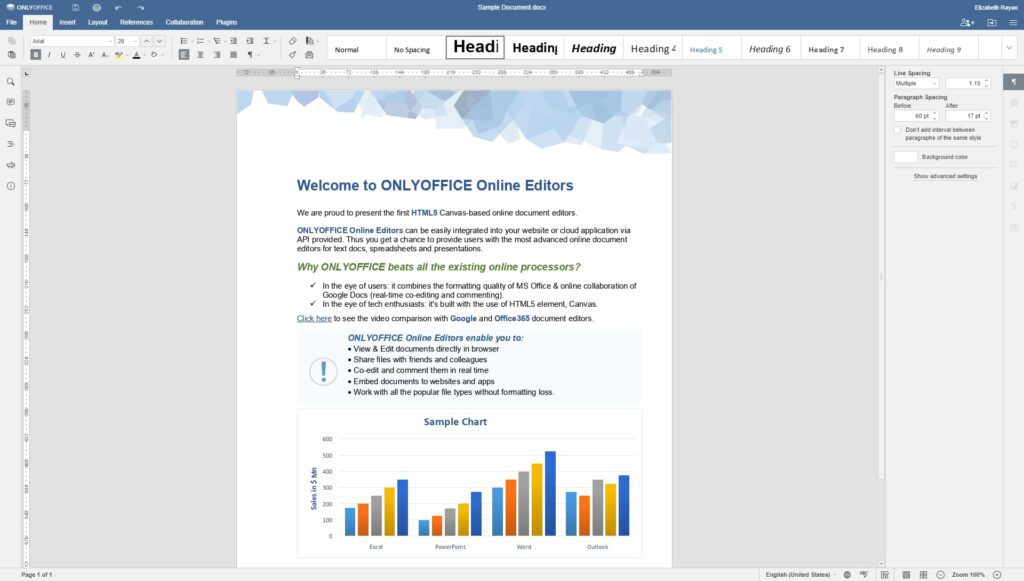 It is a comprehensive office suite that offers a range of features for document editing, collaboration and productivity. With OnlyOffice Docs, users can collaborate in real-time, track changes and access their files from anywhere with an internet connection.
The suite boasts a familiar and user-friendly interface, supports various formats and provides extensive formatting and styling options.
Moreover, OnlyOffice Documents integrates with other productivity tools and platforms, making it a versatile solution for individuals and teams seeking powerful online document editing capabilities.
Here are the features that distinguish OnlyOffice Documents from other tools:
Powerful commenting and reviewing functionality
Convenient spreadsheet management with advanced formulas, functions and data analysis tools
Robust presentation tools that enable users to create appealing presentations with customizable templates, slide transitions and multimedia integration
Document versioning
Cross-platform support
Secure collaboration
10. Coda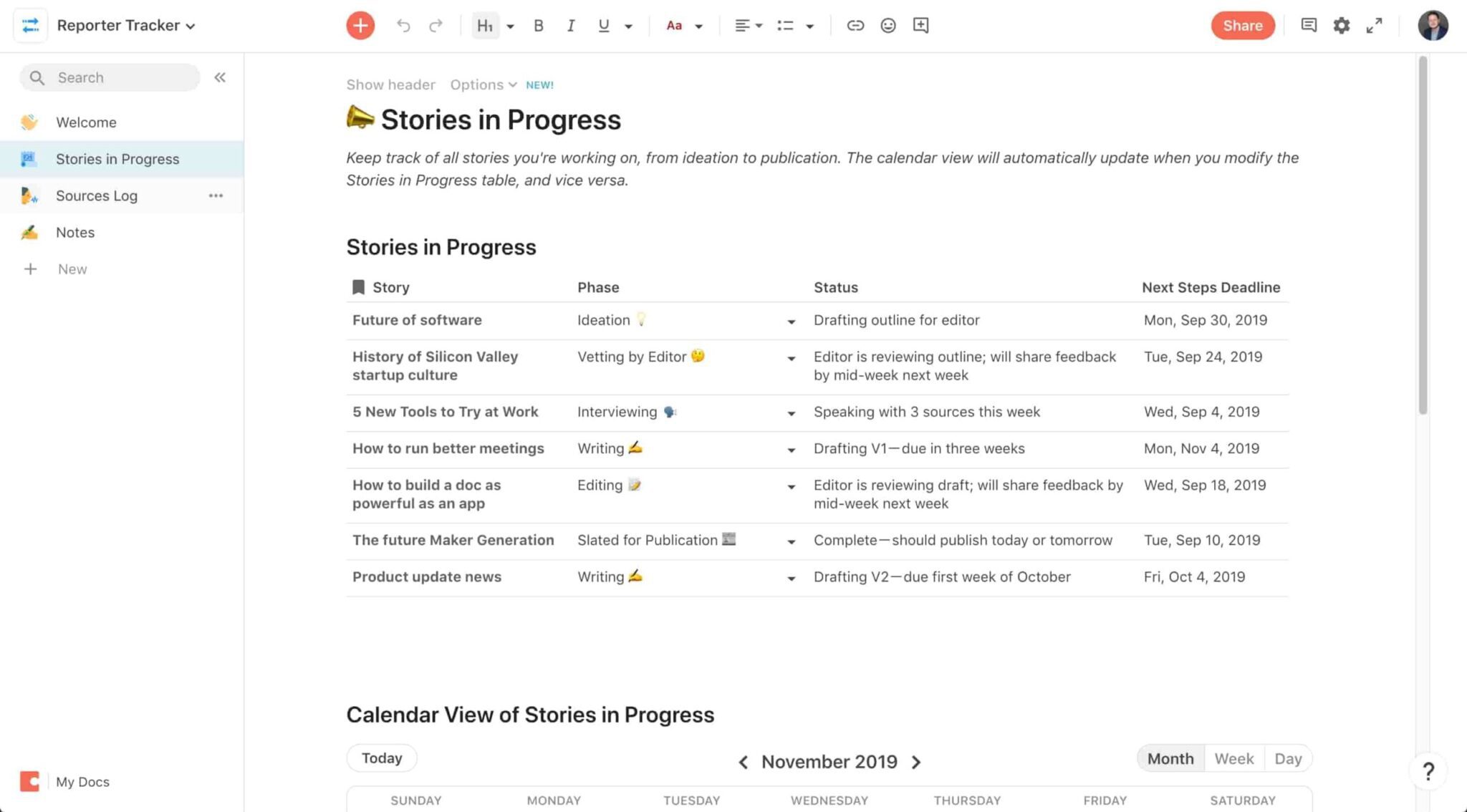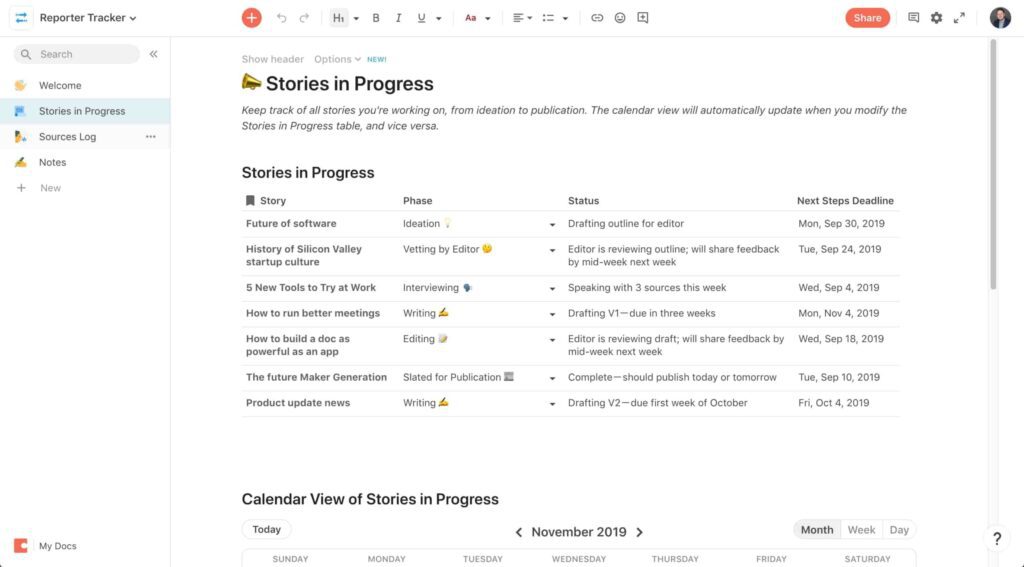 Coda is a powerful all-in-one platform that combines the functionality of documents, spreadsheets, databases and project management tools. It allows users to create interactive and collaborative documents that can be customized with various elements such as tables, forms and buttons.
Coda's flexible design and extensive integration capabilities make it a versatile tool for teams to streamline workflows, organize data and collaborate effectively.
Coda offers a uniquely collaborative environment for creating word documents, allowing you to go beyond traditional text and paragraphs by incorporating tables, videos and more. Similar to Google Docs, you can create tasks using the "@" symbol, but Coda sets itself apart by providing task automation capabilities that enhance productivity.
Coda's key features:
Collaborative space where multiple users can simultaneously edit and comment on the text
Multi-format content with interactive elements like tables, videos, etc.
Task automation
Customizable templates to save time and maintain consistency across documents
Interactive tables with built-in formulas, filters and sorting options
Extensive third-party integrations
Mobile accessibility
Conclusion
Modern word processors have evolved to offer the most advanced features; they have transformed the way we capture and express ideas, ensuring all your words and even the most complex mathematical equations can be effortlessly incorporated into your online document.
Learn from our experts how to organize your docs better than Google Docs!
Take your productivity to new heights and experience the power of Nimbus platform, number one in our Google Doc alternative list, and unleash your full potential today!
Visit our Facebook page for more news and updates!
Disclaimer
Parties other than Nimbus Platform may provide products, services, recommendations, or views on the Nimbus Platform site ("Third Party Materials"). Nimbus Platform is not responsible for examining or evaluating such Third Party Materials, and does not provide any warranties relating to the Third Party Materials. Links to such Third Party Materials are for your convenience and do not constitute an endorsement of such Third Party Materials.
Previous post
Top 7 Google Workspace Alternatives Worth Checking Out
Next post
Collaborative Workspaces: Boosting Team Productivity