7 Top Alternatives to Google Sites Website Builder
Discover how a website created with Nimbus can fulfill your specific business needs!
Try it now
'I don't need Google, my wife knows everything.' Today's world is hard to imagine without Google. We can Google just about everything, and the phrase 'OK, Google…' has become one of the most recognizable markers of our time. So much so that the proper name Google has turned into a generic one – a sign of deserved popularity, along with 'Fedex', 'Xerox' and 'Hoover.' However, Google provides more than search. We have Google Drive for storing data, Google Calendar for making and keeping appointments, Google Forms for creating surveys, Google Meet for online conferencing, and much more. While some Google tools are known to the vast majority of internet users, others cater more to business and are less popular. Forbes authors advise to dig deeper and learn about business-oriented Google tools. In this article, we will consider one such tool – and its best alternatives.
Whether your business is in products or in services, operates as an e-commerce store or a brick-and-mortar shop, you need your own website. In today's world, if you are not present online, you do not exist. Even a small business or a freelancer needs at least an online portfolio or a landing page. Fortunately, you do not have to be proficient at web design or have coding skills to get a professional website. You don't even need to hire web developers or professional designers – a stunning website can be built in just a few clicks with specialized tools called website builders. Building a website to take your business online has never been easier. Website builders are there to give you a professional looking website, with customizable templates, a drag-and-drop interface, search engine optimization, marketing tools, inventory management, custom databases and other features, as well as all the tools necessary for an awesome website. Using such services, you can create websites, online stores or landing pages for your e-commerce business and much more rather easily. If you do some research and choose a free website builder, you can stay within budget and save time and effort. One such website builder is Google Sites.
Why do You Need a Google Sites Alternative?
Like many other Google tools, Google Sites is simple, reliable, intuitive – and very basic. It is cost-effective – without any paid plans, you get your own free website. Google Sites offers a drag-and-drop editor and customizable templates, as well as proper security and high website performance, as it is hosted on Google's servers. However, there are many limitations. Integrations are available only with other Google apps, and not many third-party apps. Design options are limited too – using classic Google Sites, you will struggle to create truly personalized websites. The main weakness, though, is probably poor optimization for search engine rankings. Search engine optimization statistics are stunning: only 0.63% of people searching Google ever go to the second page of search results, while SEO brings over 1,000% more traffic than organic social media and the close rate of SEO leads is as high as 14.6%. So, it is clear that unless you are ok with only very basic websites, you need to look for Google Sites alternatives.
Top 7 Alternatives to Google Sites
Creating a stunning website may not require coding skills, but it does take some planning and analysis. You need to think about the functionality and integrations. In addition to the usual product or service descriptions, contact info and branding options, you may need to include integration with other apps, like calendars or chats. If you plan to sell online, there is a whole bunch of other functions to include: purchase support, payment options, shopping cart management, etc. Business websites also need good SEO tools to rank high in search engines. Some risks may be hidden: what if a website builder goes out of business, changes their pricing plan or the features provided? Will the web builder support your growth if you scale up? Plus, there are budget considerations. With all this in mind, you need to choose which website builder to choose for your business site carefully. Below you will find some worthwhile Google Sites alternatives that can offer your online business various tools, from stunning templates and a simple drag-and-drop interface to more advanced options, like Google Analytics and a free domain name.
Read more posts on this topic:
Nimbus Platform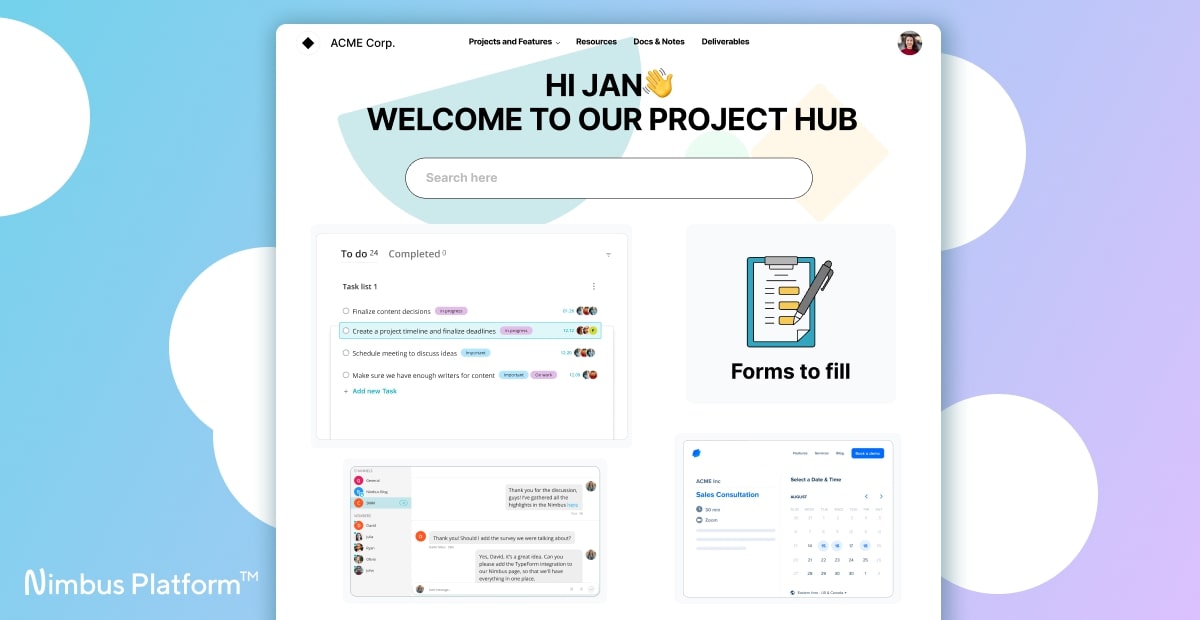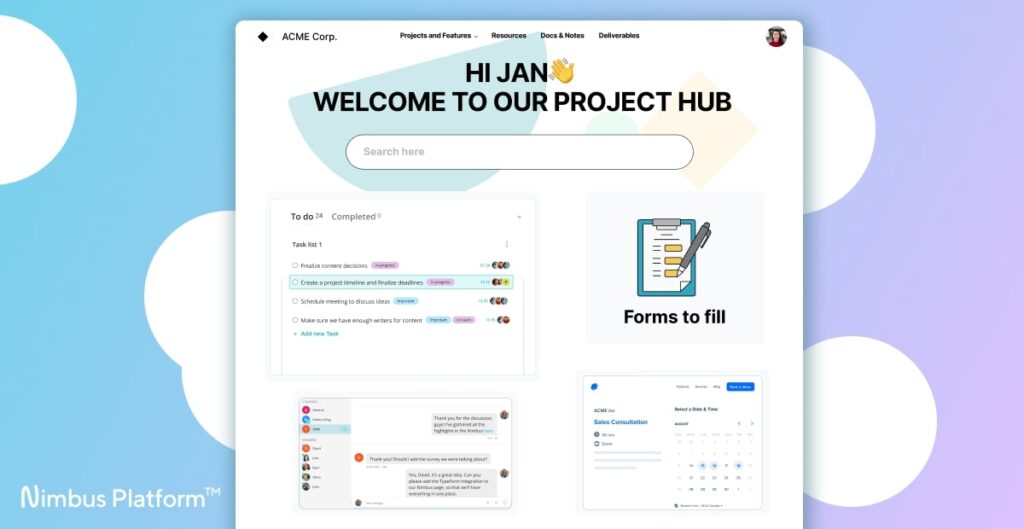 If your business website's primary aim is to provide product and service descriptions, keep in touch with customers, inform them about updates, upcoming events and new policies, your best Google Sites alternative will be a portal from Nimbus Platform. You can read more about portals in general here. To be more specific, Nimbus Portals are no-code websites for promoting your products or services, creating custom designs and offer an excellent user experience. You can gather and keep all the project information in one portal, which will synchronize with the team workspace, so no copying is necessary. Besides, you can provide access with a secure link, so the information will be shared as you intend, with only the users who need it. A dedicated chat will help you get in touch with customers in a handy and timely manner.
So, if you are looking for something better than Google Sites, with thousands of integrations, among them all the social media sites imaginable, clean and neat imagery from professionally designed templates, excellent branding capabilities and simplicity for users, Nimbus Portals is your fool-proof choice and one of the best alternatives to Google Sites.
You can create a free account and get a personalized website with support for an unlimited number of devices, all editor features and integrations, and then upgrade, when necessary, to 'Pro' and 'Business' pricing models, at the very affordable prices of $7 and $10 per month, respectively.
Nimbus portals is a flexible solution that can push your business to a fast takeoff, without high budgets or time-consuming training needed.
WordPress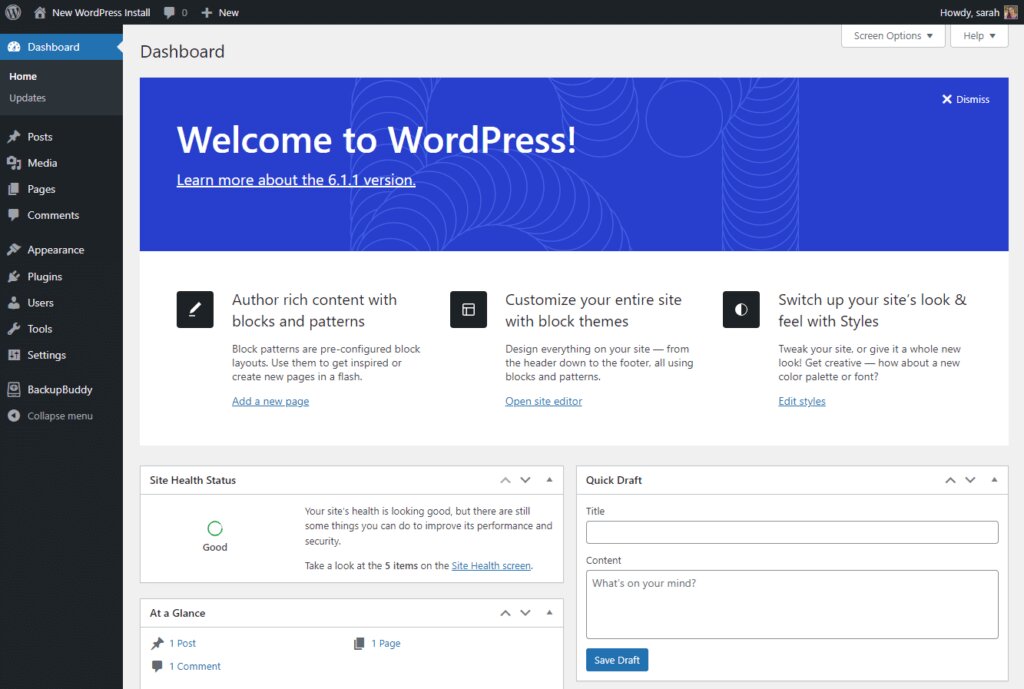 WordPress claims that it runs 43% of sites on the internet, with users ranging from bloggers to Fortune 500 companies, as well as such giants as Salesforce, Al Jazeera and Facebook using its services. As a Google Sites alternative, WordPress allows more customizability, with over 50,000 of plugins, stylish templates, layouts and themes. In addition, there are completely custom databases, the ability to host an ecommerce store, scalable CPU usage, real-time backups and firewalls to help your website not only stand out, but provide decent performance and solid security. WordPress has 6 affordable tiers, from a free one to a virtually unlimited Enterprise plan. With all paid plans, except the free one, you get your own domain name, whereas the free plan gives you a WordPress.com subdomain. Unlike Google Sites, there is also a huge community to get advice from.
Among the downsides are a learning curve due the large number of options, issues with formatting and large images and, most importantly, a hassle with the number of plugins and their updates. Since every new feature means a new plugin from the huge library, pages may become too slow and keeping everything up to date can be a headache.
Shopify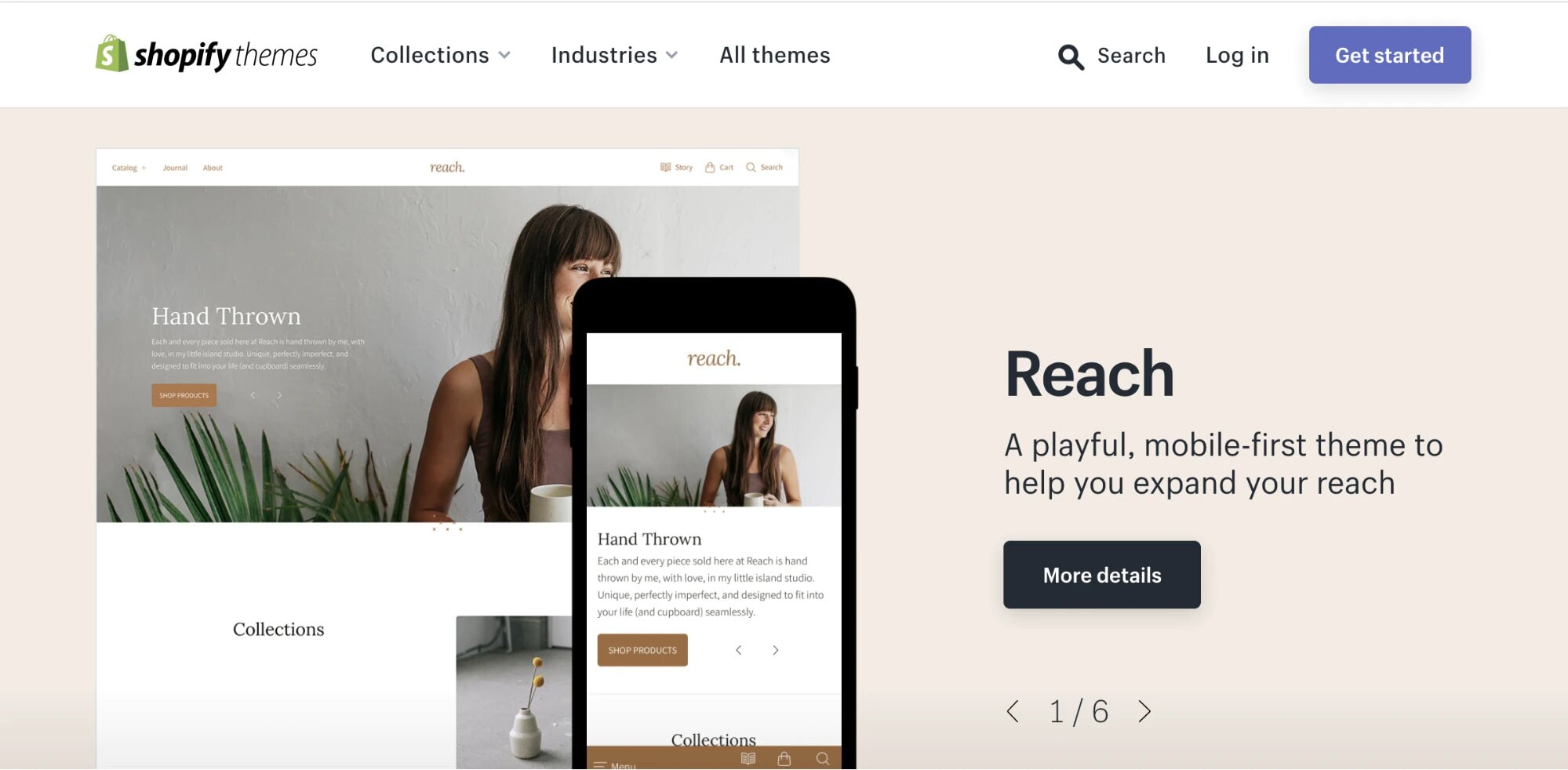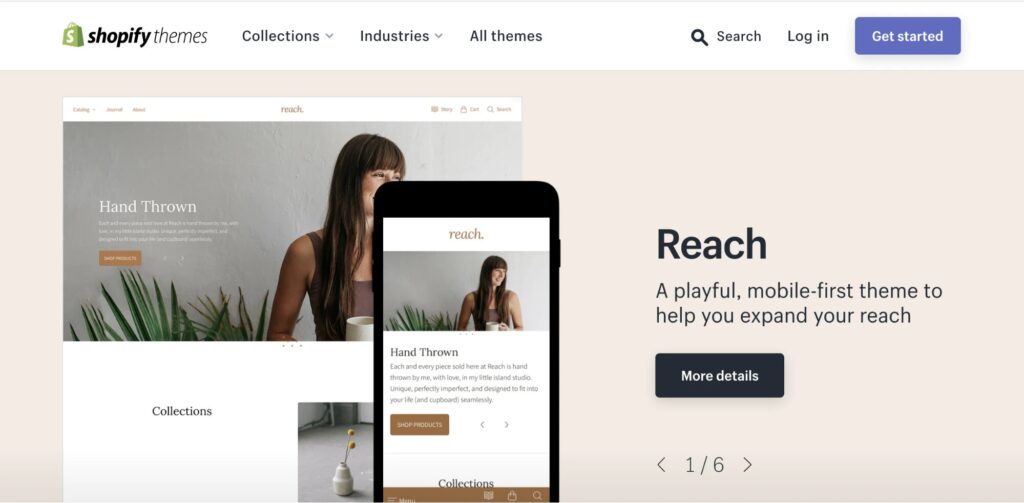 If you need an all-in-one solution for an ecommerce website, Shopify may be your first choice. This global commerce platform is a Google Sites alternative used by millions of merchants in over 170 countries worldwide. The Shopify website builder is aimed specifically at businesses of any size that sell online anywhere, with a fast and reliable one-click checkout and support for 133 currencies. Shopify promises to be with you 'From first touch to full funnel' – and it really is, with 20 languages supported, endless tools for SEO, social media integrations, content marketing, insights into customer data, custom email campaigns, messaging tools, inventory management, control over shipping, tax calculators, multiple payment gateways and tons of additional features to extend your store functionality, plus paid and free apps, like shopping cart management and upsells. Among all Google Sites alternatives, Shopify is probably the best for ecommerce. The Shopify community is huge and can help you figure out virtually any issue that comes up.
You can start using Shopify for free for 3 days, then enjoy it at $1$ a month for 3 months, and then choose between the 3 paid plans, from Basic to Advanced, with unlimited product listings in all plans, but a varying number of staff accounts, tax calculations and automation features.
Shopify's advantages can also be seen as its downsides. Despite the huge amount of customizability options, only a small fraction of themes are free. The impressive Shopify app store has a solution to meet your every need – but it might be hard to find and, more disappointingly, not free. To enjoy the full scope of Shopify's possibilities, you may want to work with more than its front end, which will entail hiring developers to handle the API.
GoDaddy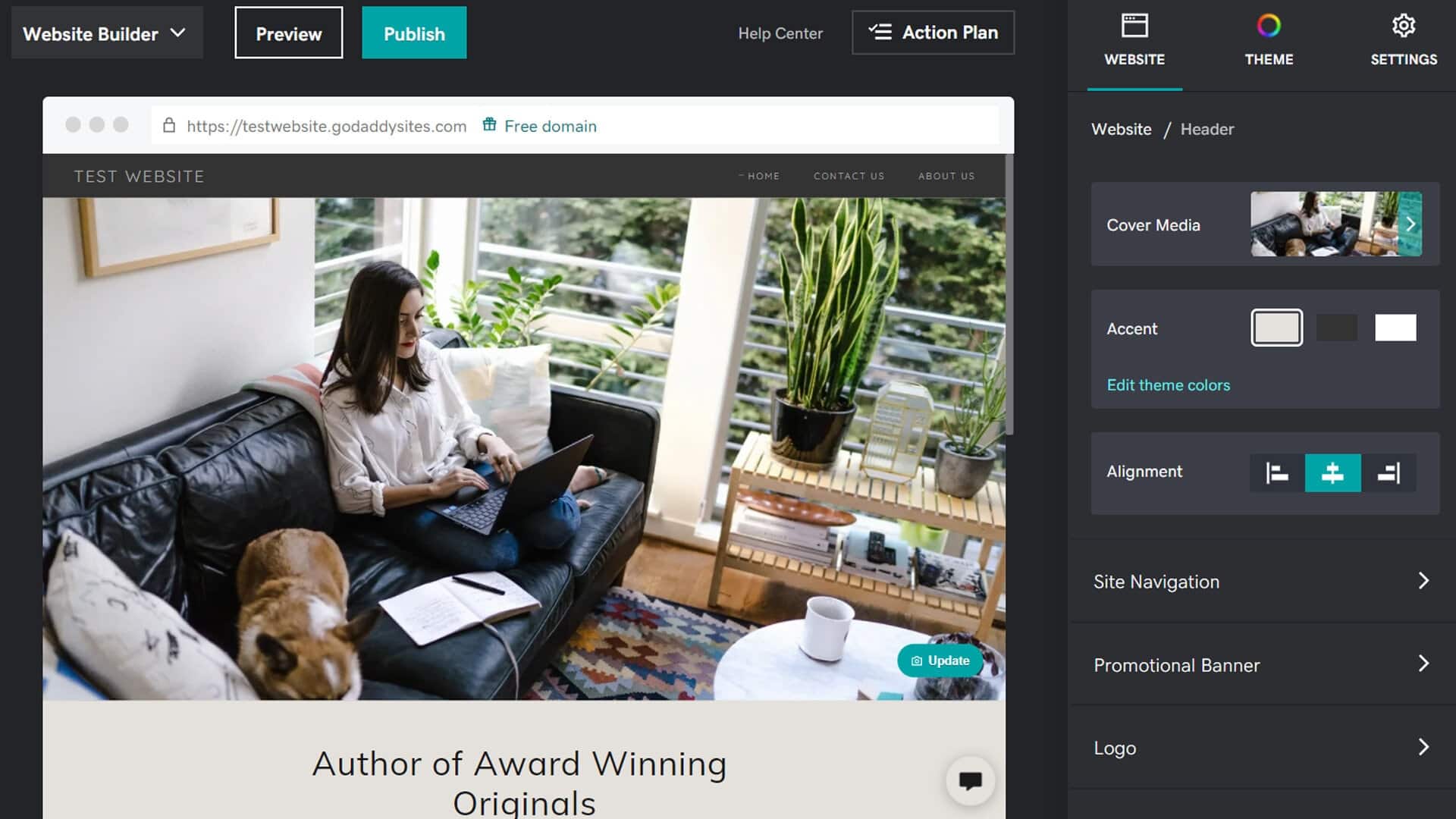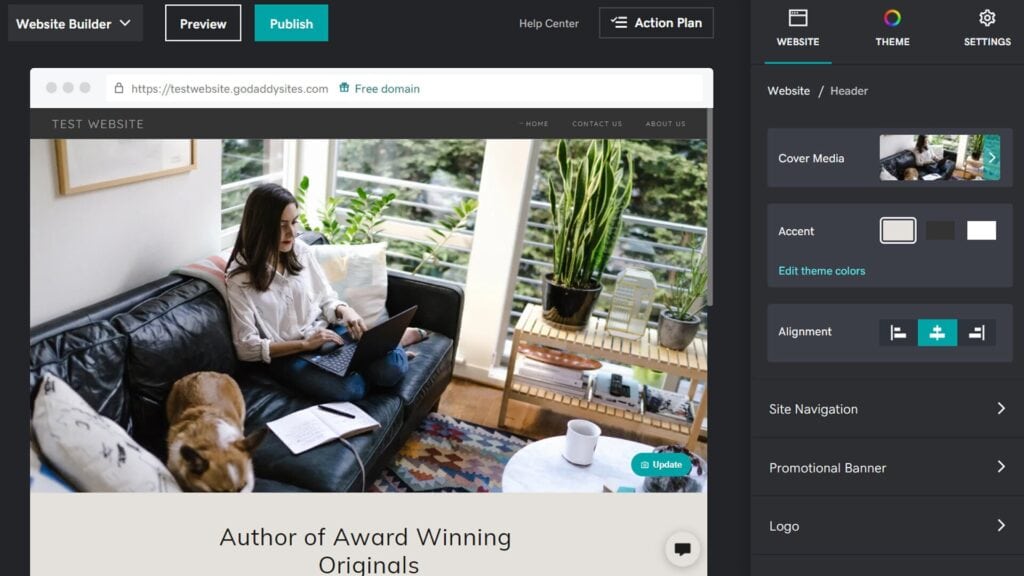 Another Google Sites alternative,the GoDaddy website builder, with over 21 million customers worldwide, is known not only for building websites – it also offers hosting services, meaning you can publish websites created on, say, WordPress. You can get a custom domain and move your entire website to the hosting provided by GoDaddy. While the website builder has about 100 designs, thousands of customizable templates for any industry and built-in marketing tools, its main power is registering domain names and hosting – something that Google Sites and most other website builders do not offer. GoDaddy is the world's largest domain registrar and can give your business a domain name that will take it to success. Its plans are really attractive, starting at only 2.99$ a month, including a free domain in all plans. Being a perfect web host, with high speed and high uptime guaranteed, GoDaddy is somewhat limited in its functionality. Users notice a lot of upsells and missing essential features in lower plans.
Joomla!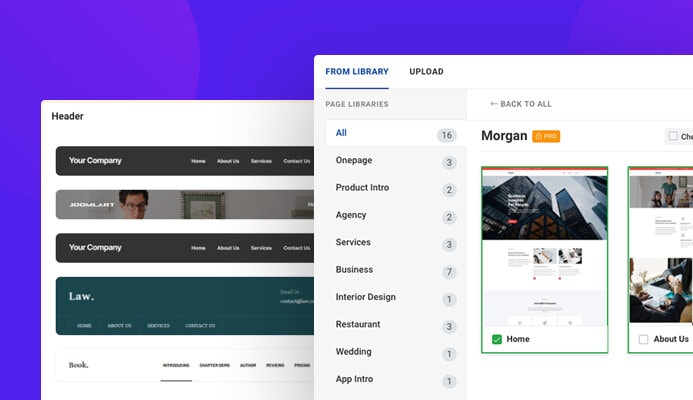 Joomla! is not strictly a Google Sites alternative as it is not a website builder so much as an an open-source content management system for publishing content. Currently, there are about 2 million websites created and hosted with Joomla!, which accounts for 3% of the entire web. In addition to building sites, Joomla! allows for developing applications and various templates within its framework. It provides SEO functionality, support of over 70 languages, nearly 8,000 extensions to better meet your business needs, the creation of responsive websites and monetization through adding banners to your pages. Its main advantage is the free version – Joomla! enables you to get a website for free, which makes it a great choice for startups and nonprofits. However, this alternative to Google Sites is less intuitive and has a steep learning curve, requiring quite a bit of technical expertise.
Squarespace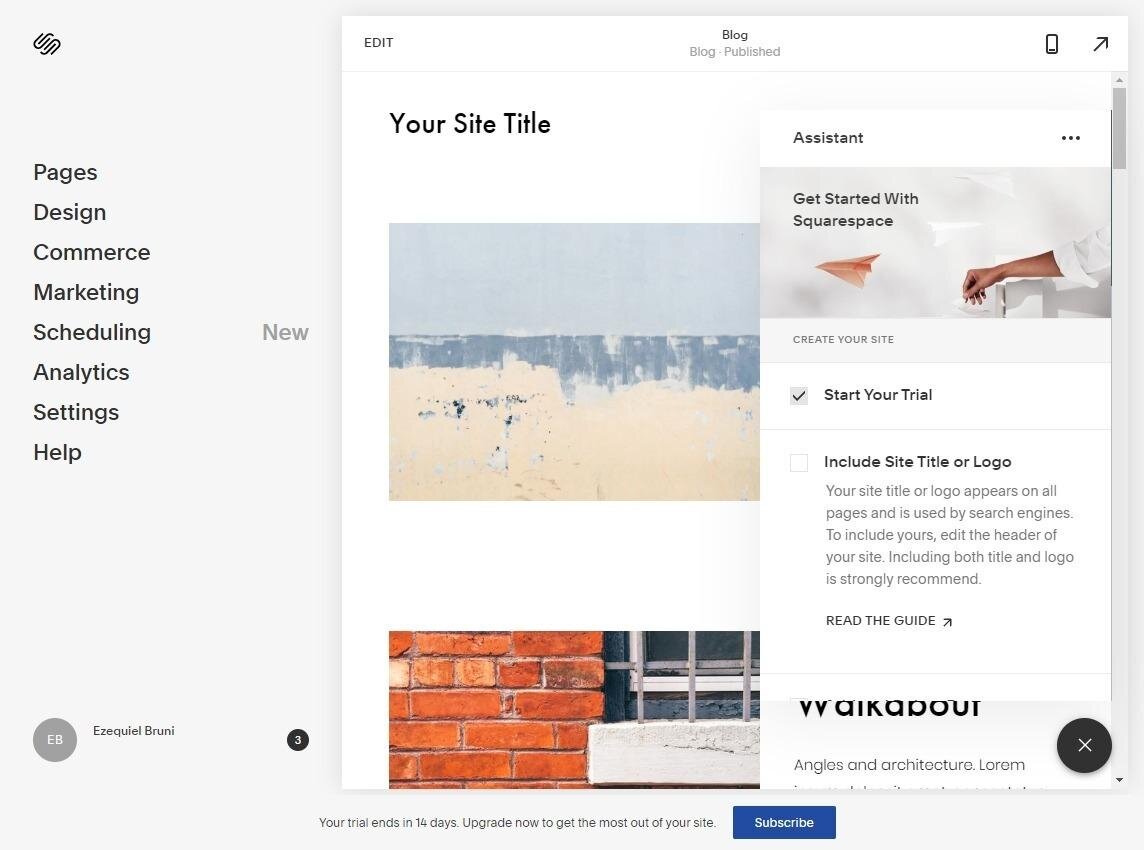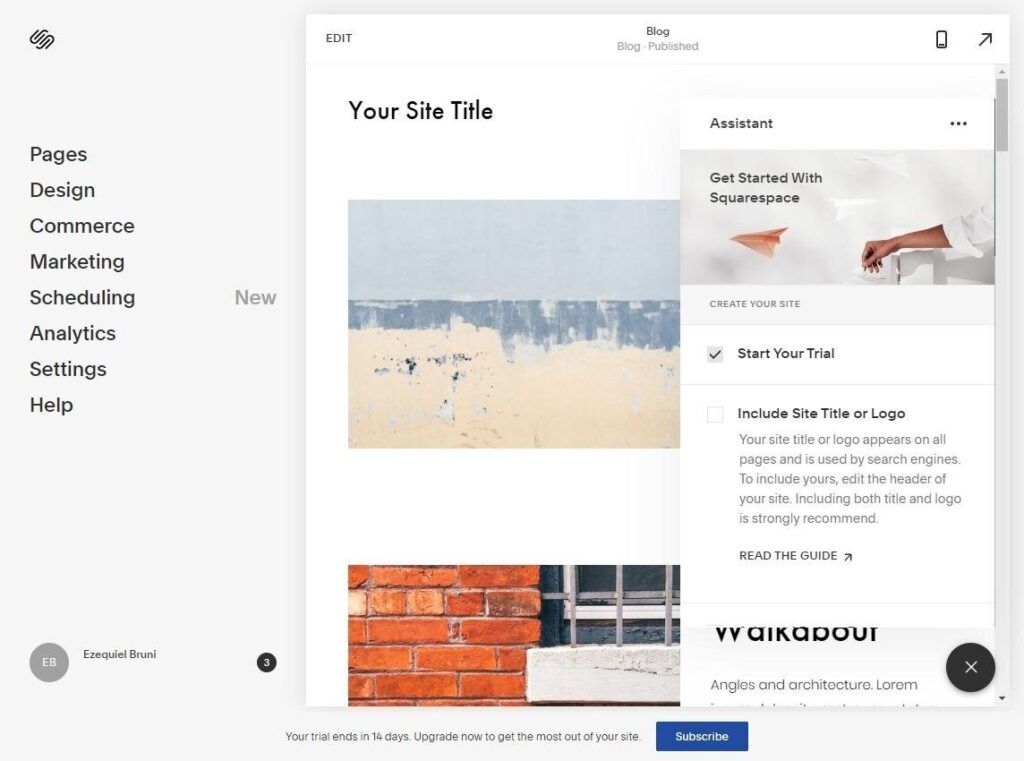 This Google Sites alternative stands out in offering tailored website templates and ideas for various groups of users: online store owners, restaurants, photographers and artists. It offers special conditions for students and caters specifically for bloggers, providing a lot of social media and marketing integration. The templates are aesthetically pleasing and easy to use. Most users agree that the appealing designs and integration with Unsplash for high-quality pictures are two great advantages. Being an all-in-one platform, Squarespace makes sure you don't have to worry about domain and hosting fees.
There is a 14-day free trial and several plans, ranging from 'Personal' at 16$/month to 'Commerce Advanced' at 49$/month, along with custom plans to meet the unique needs of a larger business.
However, customizability with Squarespace is limited and the set of features is not the most advanced. It is up to you to decide whether such simplicity is an advantage or a limitation. If your main aim is an attractive, professional-looking website for a blog or online portfolio, without too much customization but also without the need for deep technical knowledge, Squarespace may be a good choice.
Wix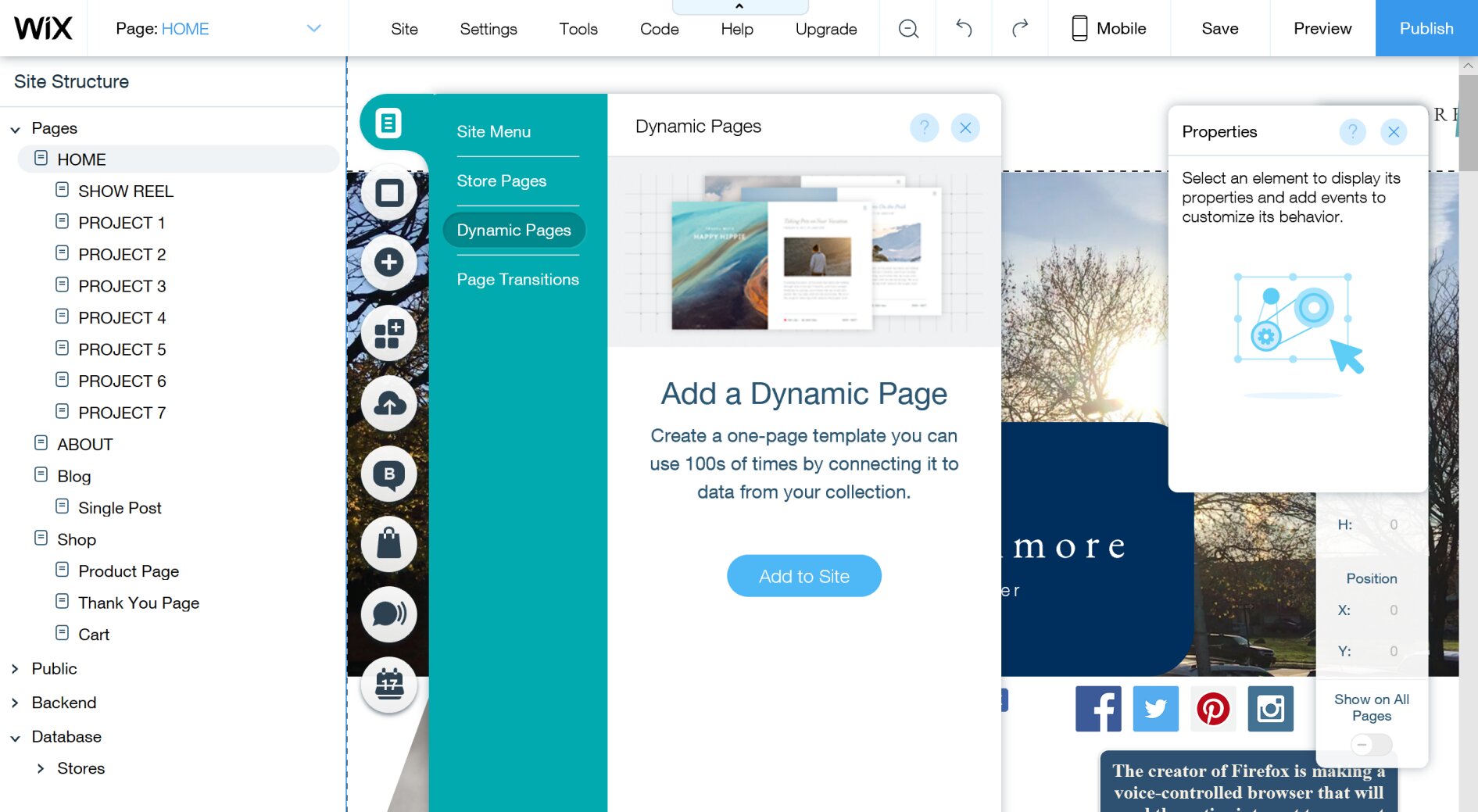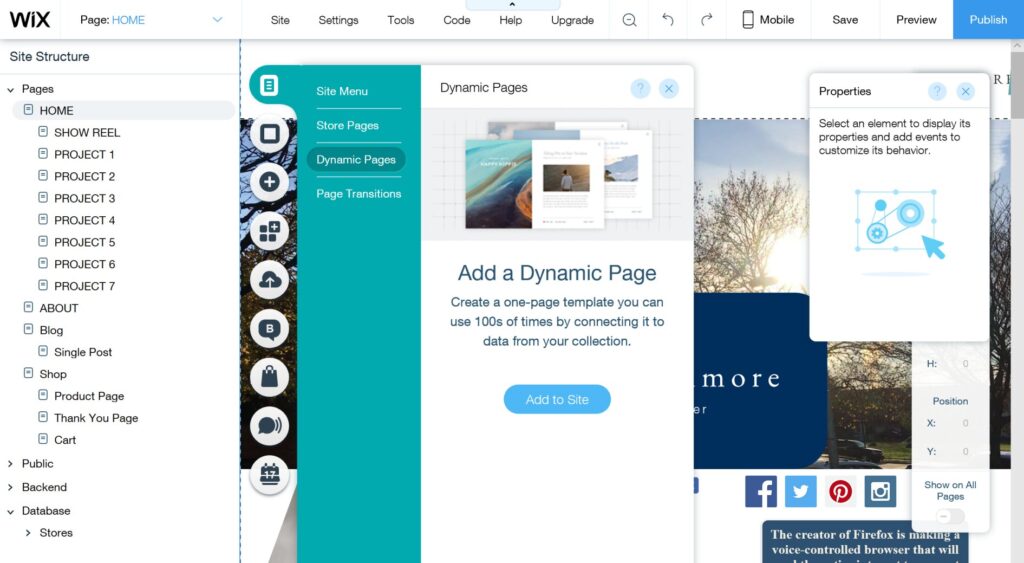 This is yet another Google Sites alternative, delivering smartphone-friendly website building suited especially for blogs, portfolios and small to medium e-commerce businesses. It is very easy to use, with an effective drag-and-drop editor that conveniently saves your progress and hundreds of templates. Its extensive selection of tools helps to promote a business, with AI-driven ads, good branding and SEO solutions. Wix offers free web hosting for websites created with it and provides professional domain names.
Wix has several paid plans, from the most basic at $4.50/month to VIP at $24.50/month. The cheaper plans will include a Wix banner on your site, have less storage space and lower bandwidth.
It boasts a gentle learning curve and great responsive website templates that require no coding skills. However, it is not very Google-friendly and your site may not rank well in Google result pages, which is not an option for ecommerce sites. It also has no migration option and limits your site to its own platform and the chosen template without any opportunity to change it.
Conclusion
Having a professional-looking website today is a necessity for all business, big or small. Luckily, building websites is much easier today than in the past, and can be done with no coding skills or professional web designers and developers. There are dozens of web builder solutions, catering to any taste, scale and budget, offering you the chance to get an awesome website quickly and easily. Google seems to have solutions to meet any business need, but there are many Google Sites alternatives to consider. With a little research and planning, you can find a Google Sites alternative that will satisfy your needs best, without much hassle or unnecessary spending. One such solution may be a web portal from Nimbus – so give it a try!
Take your business website higher with the expertise of Nimbus professionals!
Visit our LinkedIn page for more news and updates!
Disclaimer
Parties other than Nimbus Platform™ may provide products, services, recommendations, or views on the Nimbus Platform™ site ("Third Party Materials"). Nimbus Platform™ is not responsible for examining or evaluating such Third Party Materials, and does not provide any warranties relating to the Third Party Materials. Links to such Third Party Materials are for your convenience and do not constitute an endorsement of such Third Party Materials.
Previous post
Decoding the Performance Dashboard: Definition, Advantages, and Uses
Next post
Top 7 Google Workspace Alternatives Worth Checking Out