Your Application Guide to Knowledge Management Portals
Get personalized tips on creating a KM Portal just for your business
Book a demo
Today effective knowledge management has truly become one of the modern business superpowers. With people coming and going, insane amounts of information to analyze and, a customer expecting an immediate answer – being able to organize and maintain your company knowledge is definitely a game-changer. It is like a magic spell that boosts innovation, puts teams together and, helps newcomers quickly adapt. So, if you want your team or business to rock and roll, knowledge management is the way to achieve that.
In any professional partnership, knowledge-sharing should take center stage. More than that, it has become a crucial factor for thriving in the saturated market. But how can you make this happen? Implementing an efficient knowledge management system is key to success. In this article, we dive into the essence of a knowledge management portal, explore its types and, look at the obvious benefits companies can reap from adopting it. We will also walk you through the important steps to create an effective knowledge management portal. So, fasten your seatbelts as we embark on this knowledge-sharing adventure!
What is a Knowledge Management Portal?
Let us start with shedding light on what a knowledge management portal (also known as KM portal) is. Well, it's like a secret space where all important stuff in a company is stored! Think of it as a one-stop shop for all the knowledge, wisdom, and insights that make a business rolling. It's where team members can share ideas, collaborate like champs, and access crucial info like employee data, workplace policies, and internal documentation whenever they need it.
From documents and how-to guides to best practices and lessons learned, it's all neatly organized in this awesome virtual space. So, if you want to boost your company's brainpower and take your game to the next level, a knowledge management portal is the winning strategy.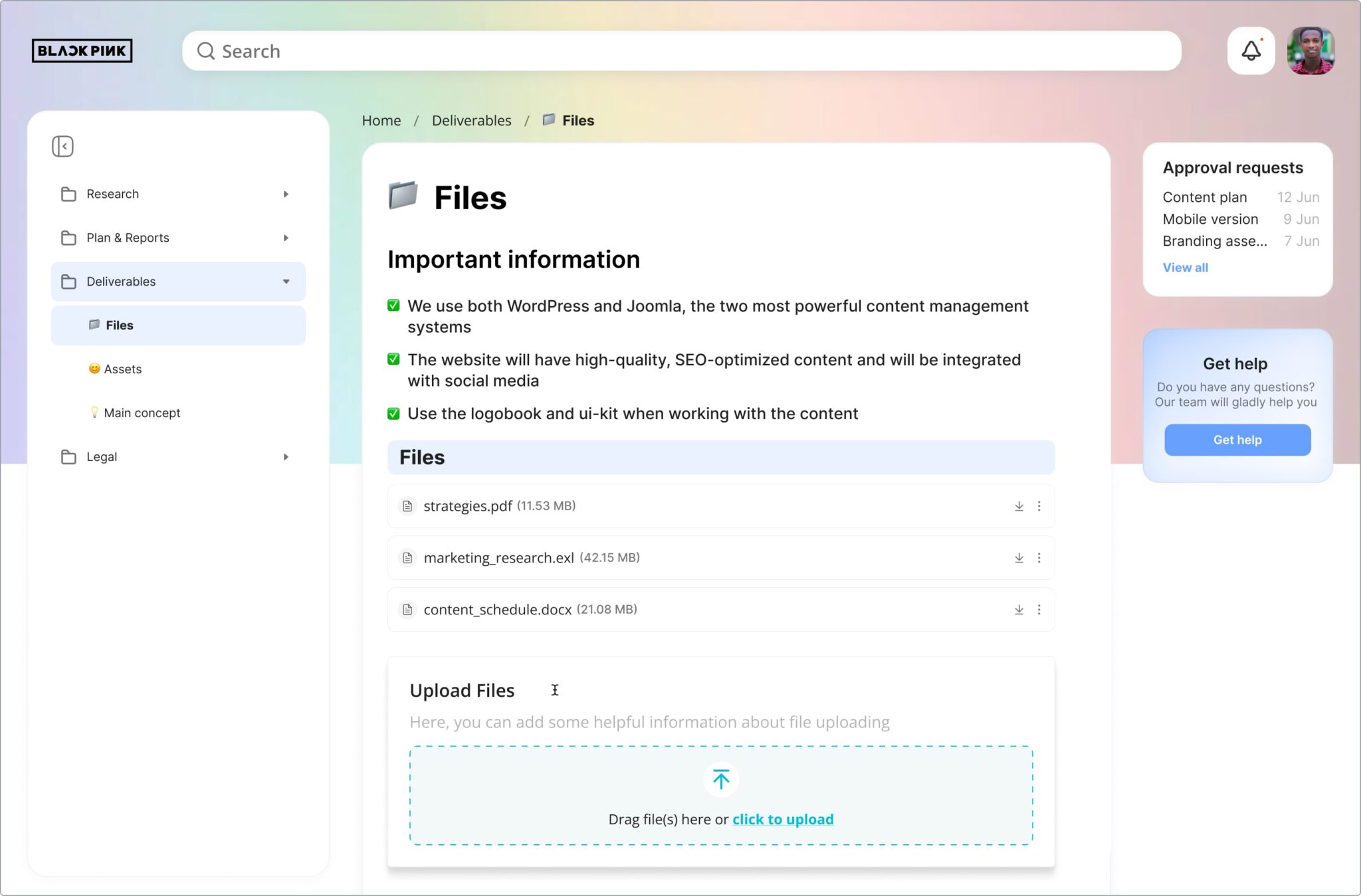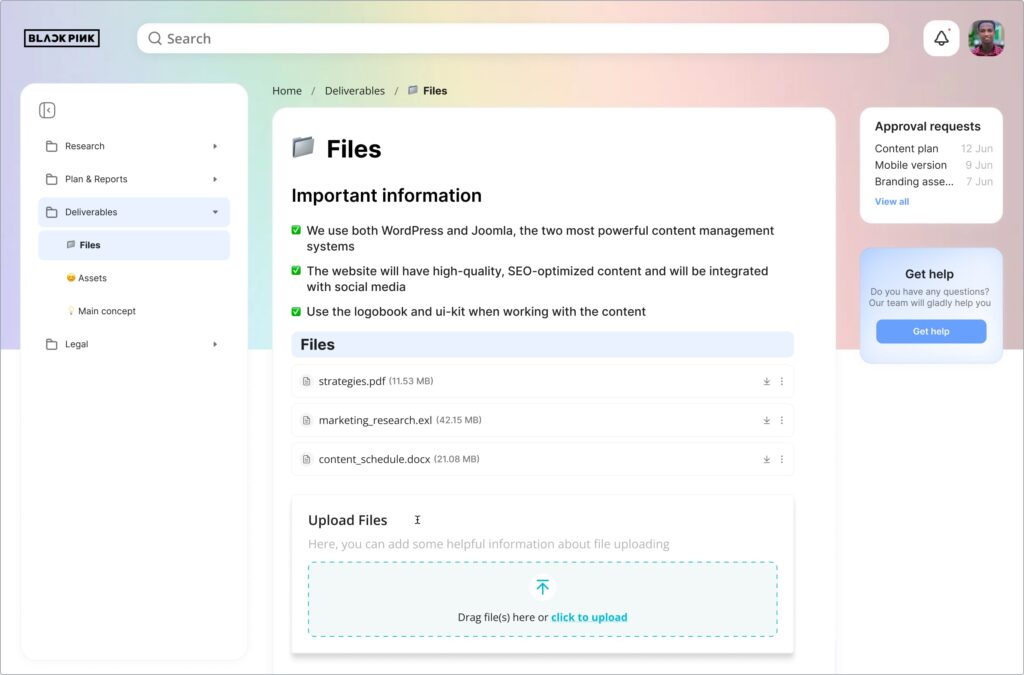 In a nutshell, a knowledge management portal is a centralized digital platform where company knowledge, valuable information, insights and, expertise are stored, organized and, shared. It serves as a hub for team members to access critical organizational knowledge, collaborate effectively and, drive innovation.
More than that, KM portals or their parts (such as a knowledge base, for example) can be opened up to customers, partners and, external stakeholders, facilitating easier issue resolution, information sharing and, collaboration.
Essential Components of an Effective KM Portal
Knowledge base. KM portals are even sometimes referred to as knowledge base software, as this feature forms a crucial cornerstone of their functionality. A robust KM portal should possess the capabilities to construct both an internal knowledge base to serve employees and an external knowledge base to cater to the needs of customers, partners and, support teams.
Dynamic search capabilities. An efficient KMP should provide an excellent search engine to reduce time spent on searching relevant information for both employees and customers.
Collaboration tools. In addition to the main tech stack,a comprehensive knowledge management portal should also include other collaborative tools this way eliminating the need for multiple tools within the company workflow.
Mobile-device accessibility. Portal pages of a good knowledge management platform should be easily accessible from mobile devices, ensuring end users can access vital information on the go.
Read more posts on this topic:
Types of Knowledge Management Portals
Knowledge management portals come in various types, each designed to cater to specific needs and requirements within an organization. Here are some common types of knowledge management portals:
Document Management Portals focus on organizing, managing and sharing documents, files and, other digital assets. They make it easy for company employees and customers to access important resources, share files and, collaborate effectively.
Collaboration and Communication Portals are centered around fostering teamwork and communication within the organization. Providing employees with tools like discussion forums, chat platforms and, project management features, they enhance collaboration among team members.
Learning and Training Portals mainly comprise training materials, online courses and, other educational resources. Their aim is to improve employees' skills and knowledge and make self-education in a company a continuous process.
Innovation Knowledge Portals encourage idea generation and problem-solving, particularly in new product development or process improvement. They aim to boost creativity and stimulate employees to willingly contribute their ideas.
Social Knowledge Sharing Portals stand out by having social media-like features and aim to promote both private and public sharing of information in a somewhat informal manner. Here, both customers and employees can share ideas, expertise and, best practices in an interactive environment.
As you can see, each type of a knowledge management portal has its unique purpose, but they all share one common goal of stimulating knowledge-sharing and ensuring that all stakeholders are on the same page.
Knowledge Management Portal Benefits
Implementing a knowledge management portal offers quite a number of benefits to organizations. Here are some of them:
Better collaboration
A robust knowledge management portal facilitates teamwork significantly and encourages team members to work together. It helps employees freely share ideas and expertise.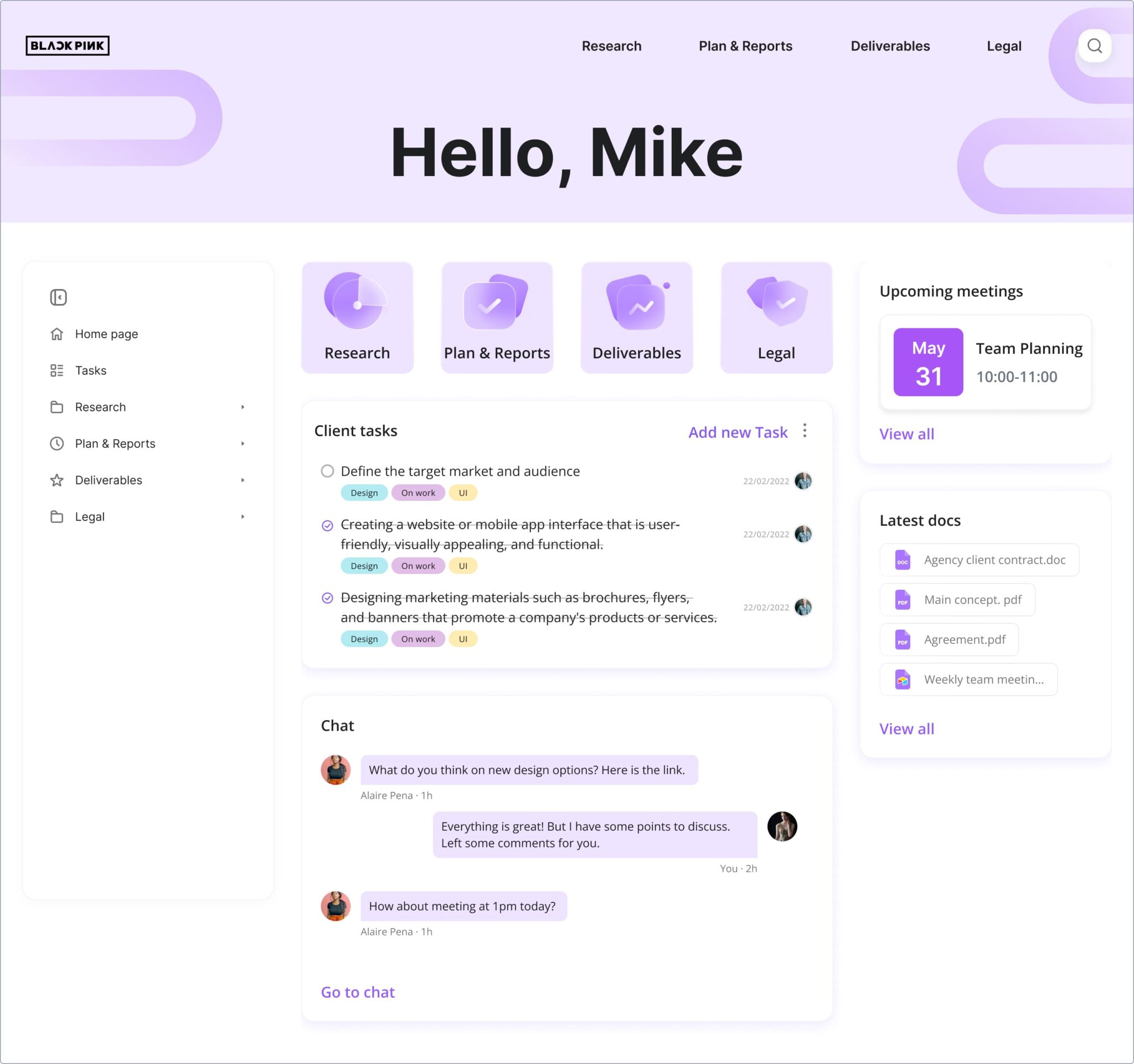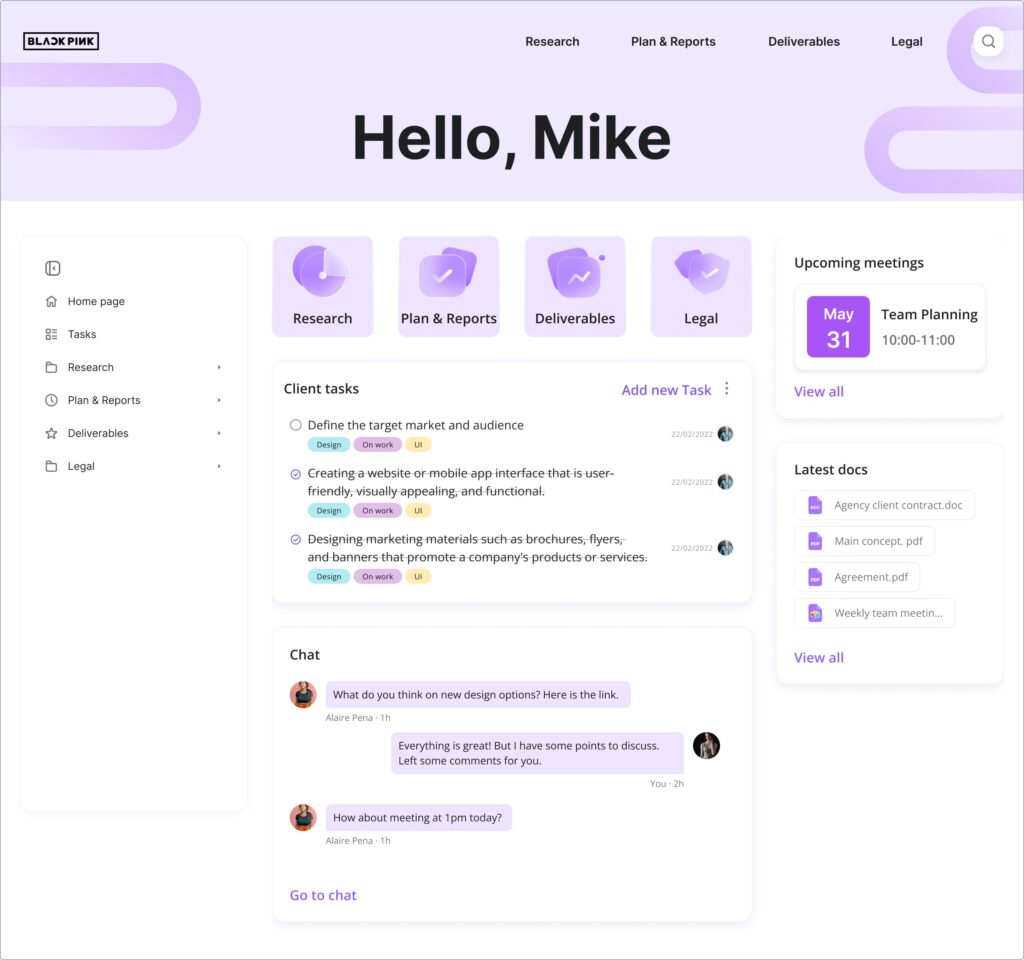 Improved decision-making
With constant and easy access to all the necessary information, it is considerably easier to make weighted decisions, which is true for both employees and customers.
Increased productivity
Having a comprehensive knowledge portal at hand, customers and employees can quickly find necessary information, which reduces time and effort, boosting overall productivity.
Knowledge preservation
The KMP acts as a central repository for critical knowledge, preventing information loss due to employee turnover and ensuring continuity even when key individuals leave the organization.
Facilitation of learning and development
A knowledge management portal provides resources for continuous learning, enabling employees to enhance their skills and knowledge, leading to personal and professional growth. A great benefit of knowledge management systems is that they minimize training time, as all essential information is conveniently gathered in a single location.
Innovation and creativity
By encouraging knowledge exchange and collaboration, the knowledge portal becomes a breeding ground for innovation, fostering new ideas and creative problem-solving.
Efficient new employee onboarding
Using the portal's resources, new employees can seamlessly integrate into the team, reducing the time and effort required for onboarding.
Standardization of best practices
The portal allows companies to establish standard procedures and then work efficiently, ensuring consistency and quality across various internal processes and projects.
Cost savings
By providing a comprehensive central knowledge repository in a company, businesses can achieve significant cost savings, considerably shortening the time spent searching for information and reducing effort being spent in the process. More than that, knowledge management systems eliminate the need for re-training experienced employees thus resulting in additional cost savings.
Competitive advantage
Businesses that successfully implement a knowledge management portal gain an automatic competitive edge over their competitors, because it allows them to respond faster and more effectively to market changes.
Many organizations with a KMP or external knowledge base have reported a reduction in the workload of their support team. This proves the huge part knowledge base plays in enhancing customer experience. Providing customers with the means to independently address their basic issues via knowledge bases or KM portals not only creates a positive impression but also builds trust and loyalty, encouraging the customer to return.
Creating a KM Portal: A Step-by-Step Guide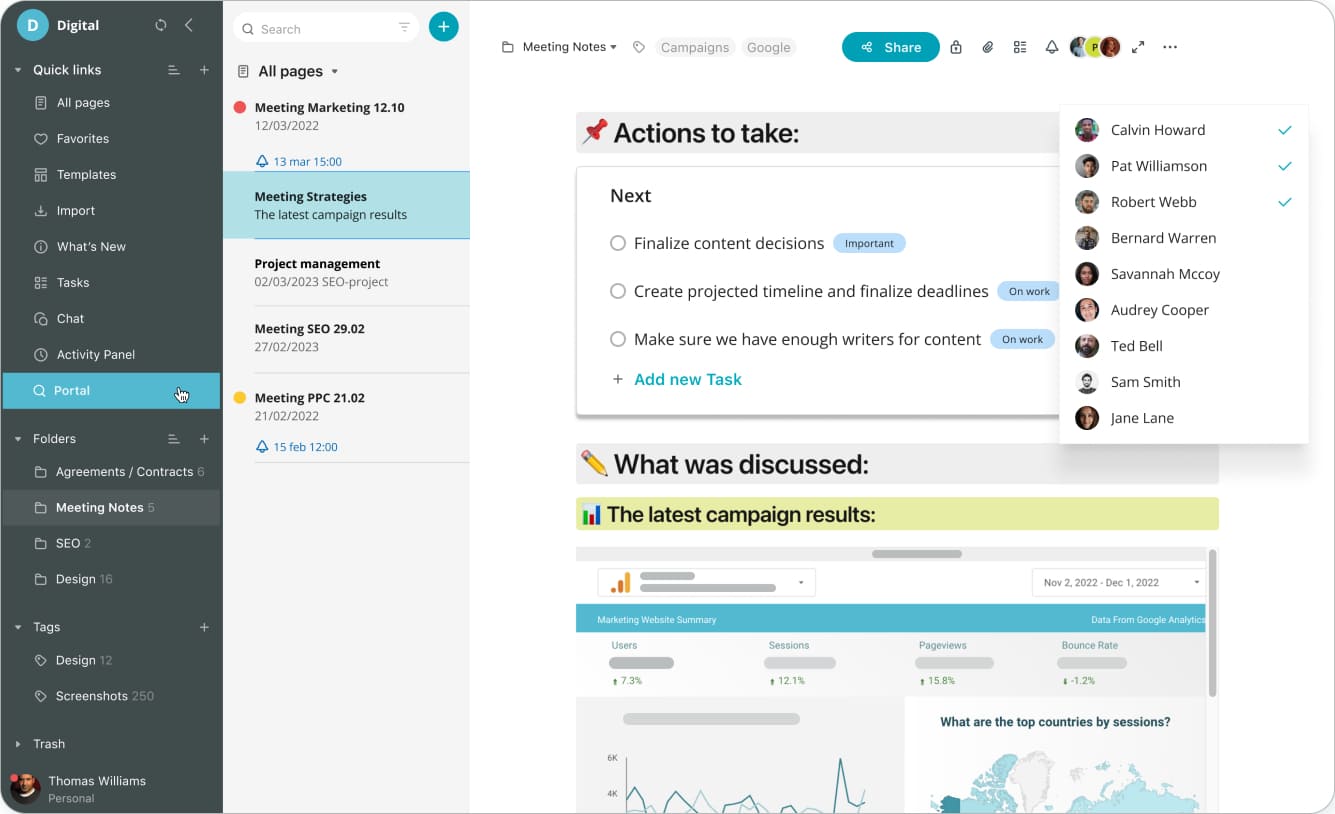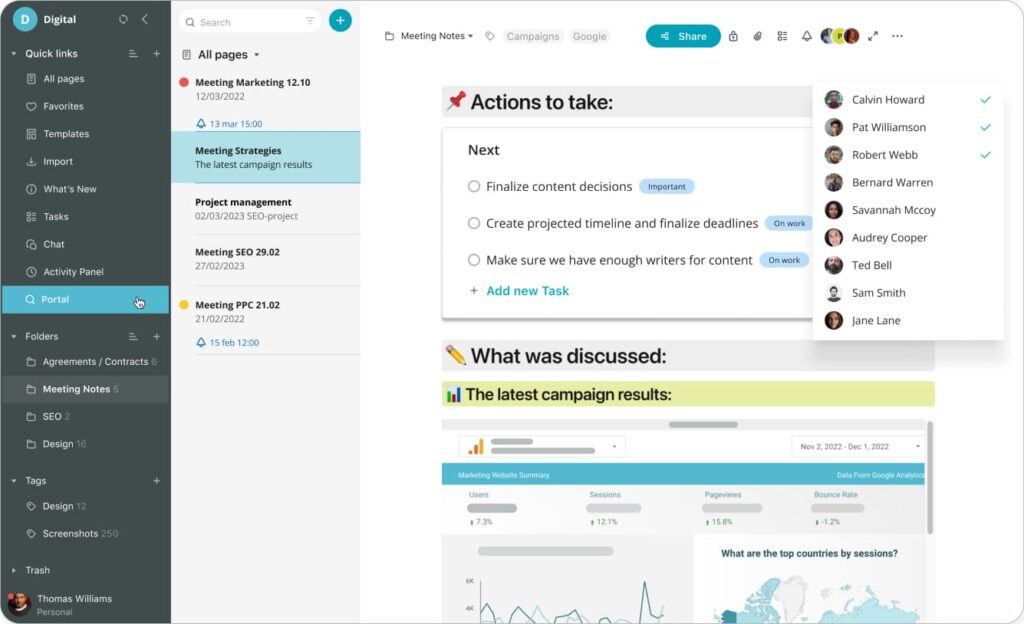 Now, let's explore the main steps to establish an effective knowledge management portal that will equip your team to boost collaboration, improve customer care and, position your company ahead in the industry.
Define objectives and scope: First, if you haven't done this yet, establish the company's vision and goals, then proceed to defining the specific objectives of your knowledge management portal. Don't forget to determine your target audience and its specific needs.
Select a knowledge management software: Choose a suitable software or platform to host your knowledge management portal. There are numerous options available on the market – select one that aligns with your requirements and budget.
Design a user-friendly interface: An intuitive and user-friendly interface guarantees users will keep using the portal. Don't neglect search functionality; it is vital – implement a search bar to allow users to find information quickly and effortlessly.
Identify and organize content: Gather and assess the knowledge assets you want to include on the portal or knowledge base. Think of information that needs to be created. Organize content logically, add tags and metadata to ensure users will be able to quickly find the necessary information.
Introduce security measures: Security is vital when dealing with sensitive information. Implement access controls and permissions to make sure only authorized personnel can access specific content based on their roles and responsibilities.
Encourage information sharing: Nurture a culture of wisdom sharing and collaboration in your company. Educate employees and customers to openly share their expertise, insights and, information on industry standards.
Train users and admins: Training sessions to both portal users and administrators would not go amiss. Users should understand how to access and use the platform effectively, while administrators should learn how to manage and maintain it.
Monitor and analyze usage: Invest time and effort in assessing your knowledge management efforts by keeping track of the portal's usage metrics. Analyze the collected data to identify trends and areas for improvement. Use this information to optimize the content and enhance its value to users.
Update regularly: Keep the platform afloat by regularly adding new content and updating existing materials. Ensure that outdated or irrelevant information is removed to maintain the portal's relevance and accuracy.
Promote the portal: Launch a marketing campaign for company employees and customers to promote the knowledge management portal. Create awareness about its benefits and value and, encourage widespread adoption.
Nimbus Platform: Your Ultimate KM Portal Solution
Originally launched as a user-friendly note-taking app, Nimbus quickly evolved into much more than a personal information management system. It has now transformed into a versatile collaboration hub, catering to both internal team workflows and external customer interactions. Today, Nimbus serves as an exceptional knowledge management portal for teams and businesses alike, offering seamless project and task management capabilities while maintaining a clear delineation between personal and business data.
With Nimbus Platform, the possibilities are endless. It allows users to generate comprehensive guides, knowledge bases and, centralizes all documentation and reports under one roof.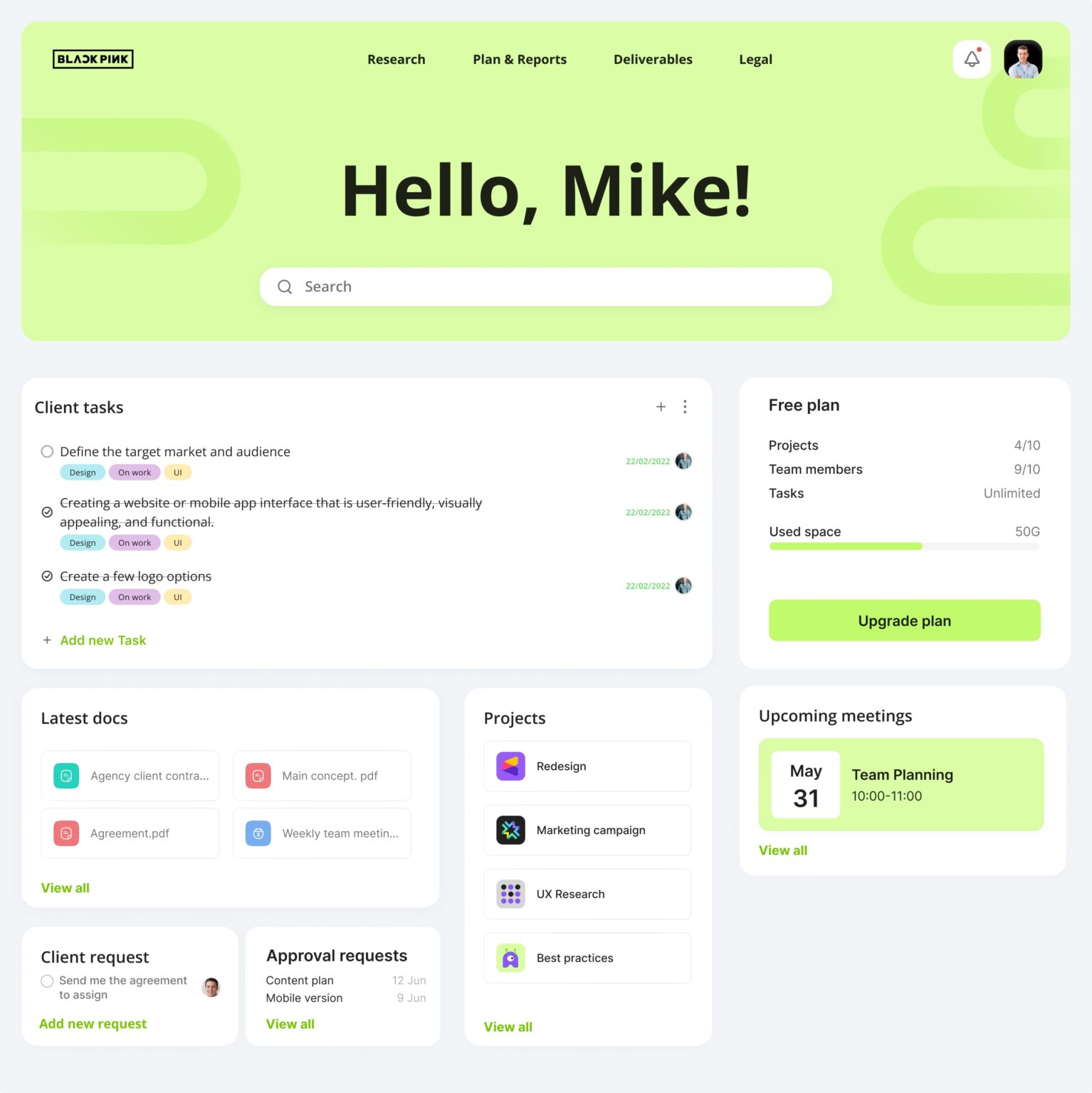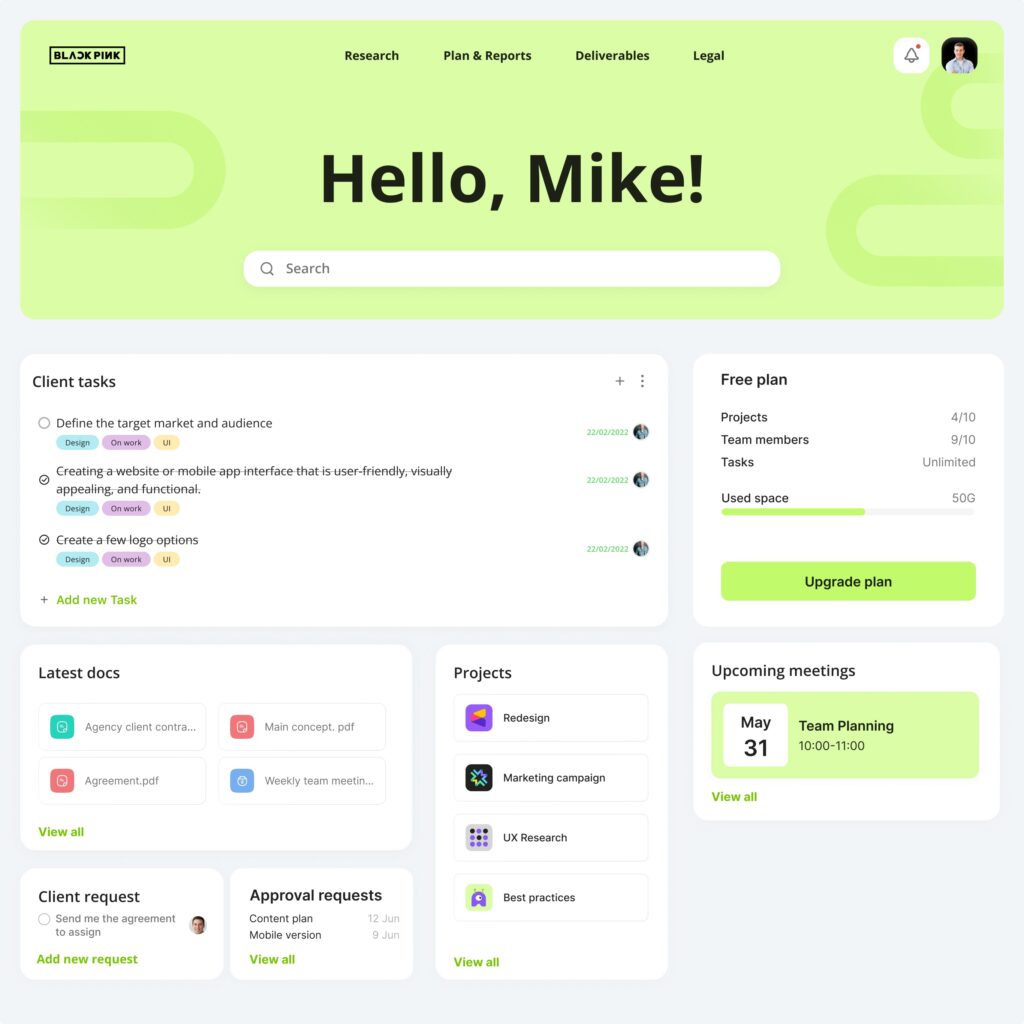 Create your unique Knowledge Management Portal with Nimbus
Nimbus Platform Strengths
Super documents allow employees to create dynamic "super pages" that consolidate multi-format information, such as text, images, audio, video, PDFs and, more, all on a single page.
Tables as databases that enable you to transform your pages into powerful databases using tables with various column types.
Powerful editor to easily customize content with background colors, headings, outlines and, more. Each piece of information is a movable block, allowing you to drag and drop elements, transforming pages into articles, guides and, landing pages.
Rich embedding and integrations enable you to seamlessly integrate Excel tables, Google Analytics, Calendly, YouTube and, over 2,000 other tools directly into Nimbus, eliminating the need to switch between various platforms.
With powerful knowledge base building capabilities, Nimbus empowers you to create knowledge bases of any complexity to serve both your employees and customers. More than just knowledge base software, Nimbus Platform encompasses all the necessary capabilities to function as a versatile and comprehensive knowledge base solution.
Customer portals where you can create clear and user-friendly interfaces, showcasing various content types in workspaces to facilitate long-term projects with customers, promote services effectively and, even let customers solve problems on their own.
With permission management, exercise granular control over access and editing rights at the workspace, folder, and individual block levels. This ensures the safeguarding and private sharing of sensitive information allowing team members to focus on their specific tasks not the issues of safety.
Using white label customization, you can fully customize your workspaces to promote your brand and instill trust among customers, creating a seamless and cohesive customer experience.
A user-friendly tagging system allows an employee or a customer to find what they need in just a few clicks.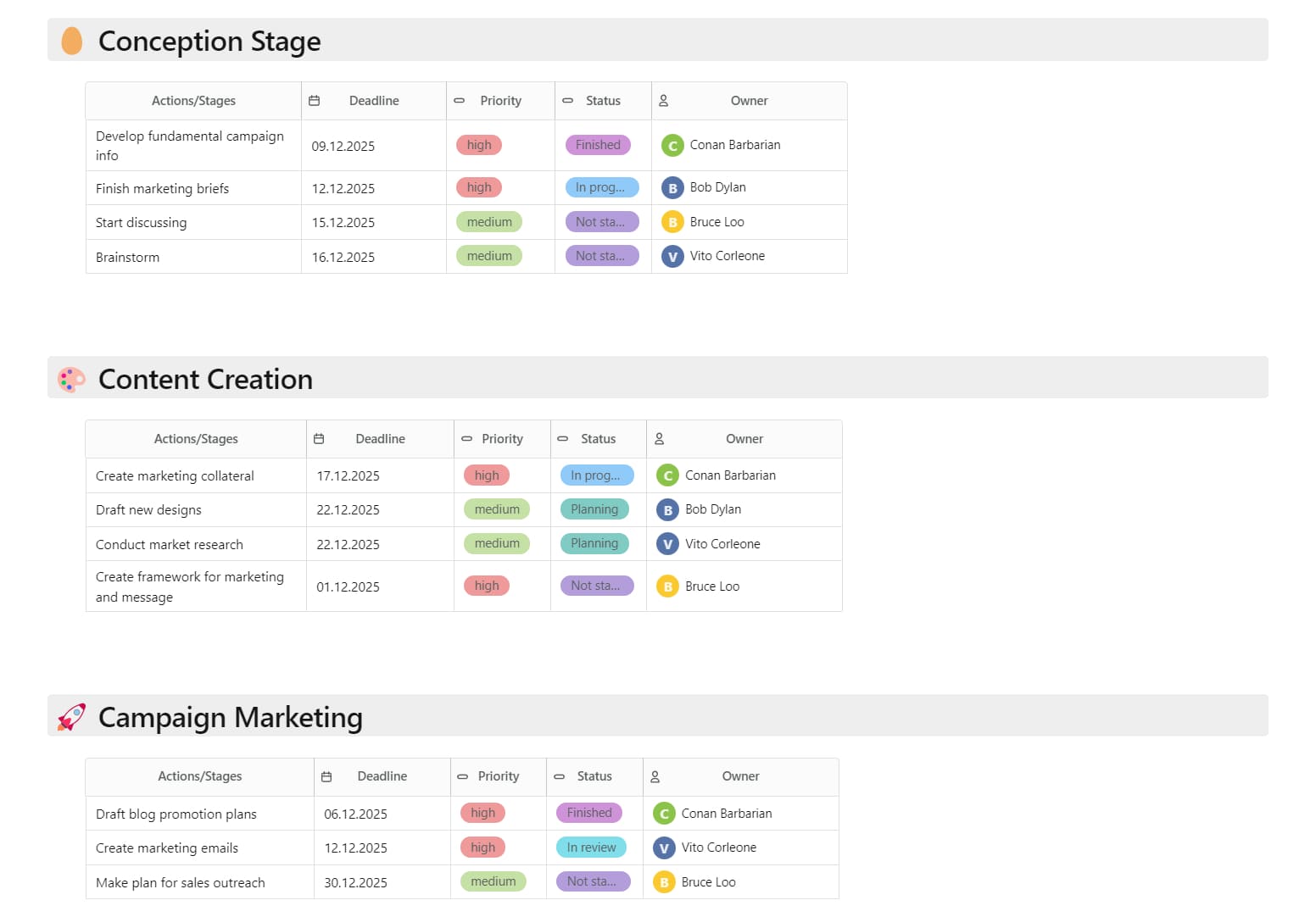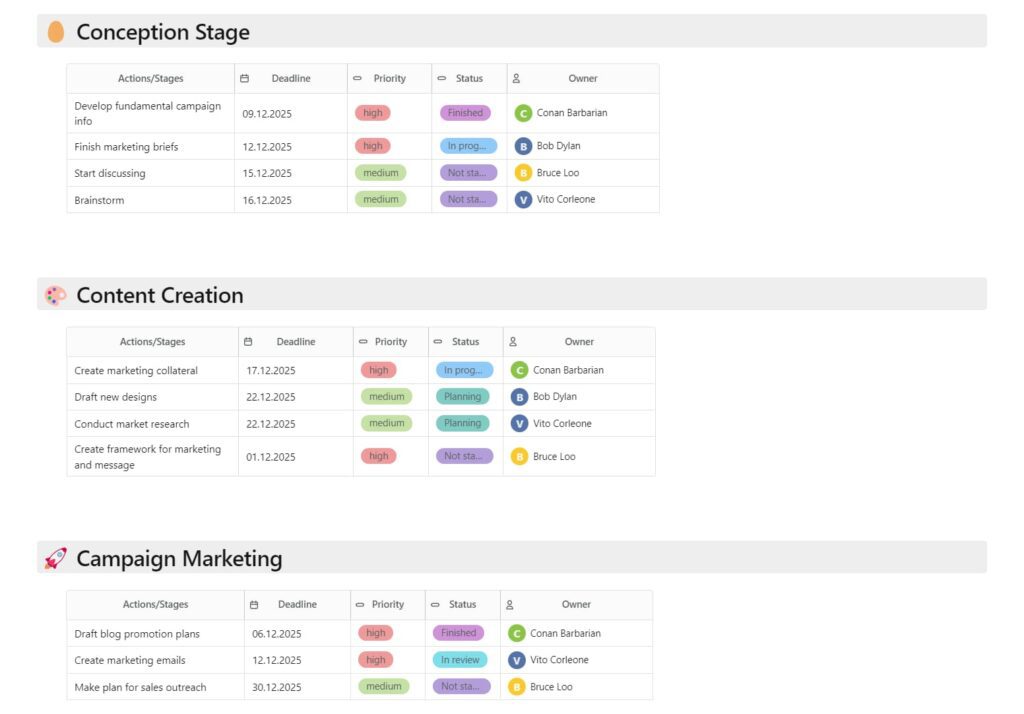 Conclusion
Knowledge management portals have emerged as essential tools for businesses seeking to thrive in the ever-evolving landscape of information-driven industries. Nimbus Platform stands out as a powerful and versatile solution that transforms the way companies manage and share knowledge. From consolidating multi-format information in dynamic "super pages" to facilitating seamless collaboration through powerful editing and rich embedding features, Nimbus Platform empowers teams to work smarter and more efficiently.
Ready to experience the game-changing knowledge management potential of Nimbus Platform and fuel your company's success? Start a free trial of Nimbus Platform today and, unlock a new era of knowledge management and collaboration for your team and business.
Previous post
Build Your Own VDR with the Best Data Room Software in 2023
Next post
Boost Support Efficiency with the Best Knowledge Management Software in 2023