How to Create Seamless Communication with Nimbus Chats
Chat Instead of Sending Thousands of Emails
Asynchronous communication is great but nobody wants to be buried in an email avalanche. Looking for some attachments you added to your email two months ago is quite a challenge. That's why more and more companies use chats. Chats are great when it comes to both remote communication with your team and work from the office. However, they don't cover all your needs. You still switch back and forth to collaboration tools like Jira, Google Docs and so on. Here Nimbus Platform enters the chat.
Now, apart from collaboration with your teams and clients, you can communicate with them in one place. Try Nimbus Chats and communicate right where your work happens. In this article, we'll uncover all ways of making your communication and collaboration seamless using only Nimbus Platform.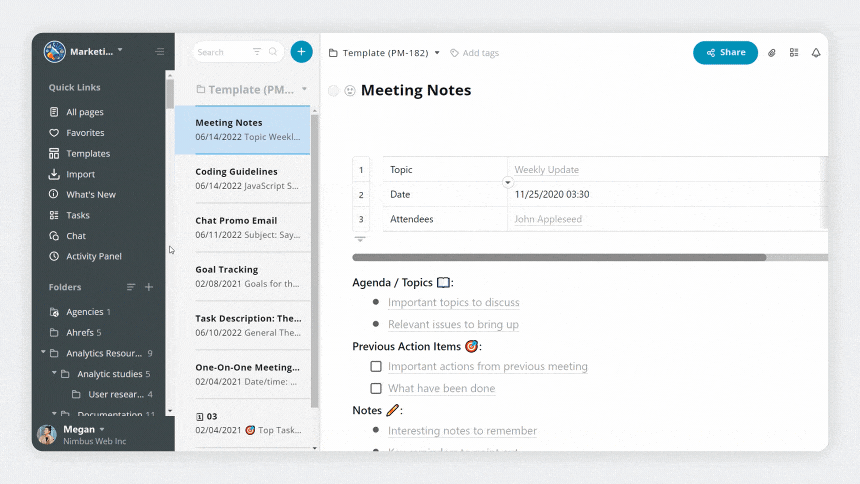 Why You Will LOVE our Nimbus Chats
Let's examine your usual workflow: you create a perfect Nimbus page for your clients or teammates and you want to send it to them. You open an email / Slack / another messenger and send them a link. It's a great workflow since you no longer use attachments in your emails, but it is still not perfect.
Now, you can send the link to your perfect Nimbus page right in Nimbus! Just click on the chat button in the left sidebar, choose a channel or direct messages and send your link!
Great news for our Free and Pro users. You can benefit from Nimbus Chats and collaboration too. Add up to 20 members >> to your workspace and chat with them in Nimbus.
First, you don't need to switch to another tool to collaborate. This way, you'll save your time. Second, you no longer need to pay for other apps for your whole company. This way, you'll save your money.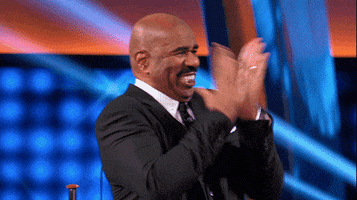 What Nimbus Chats Can Do
Let's take a closer look at what you can get using our chats:
Discuss your projects 1-to-1 with your teammates
Say hello to your team members in your dialog. Just add your workspace members to chat and quickly solve the problem or share news.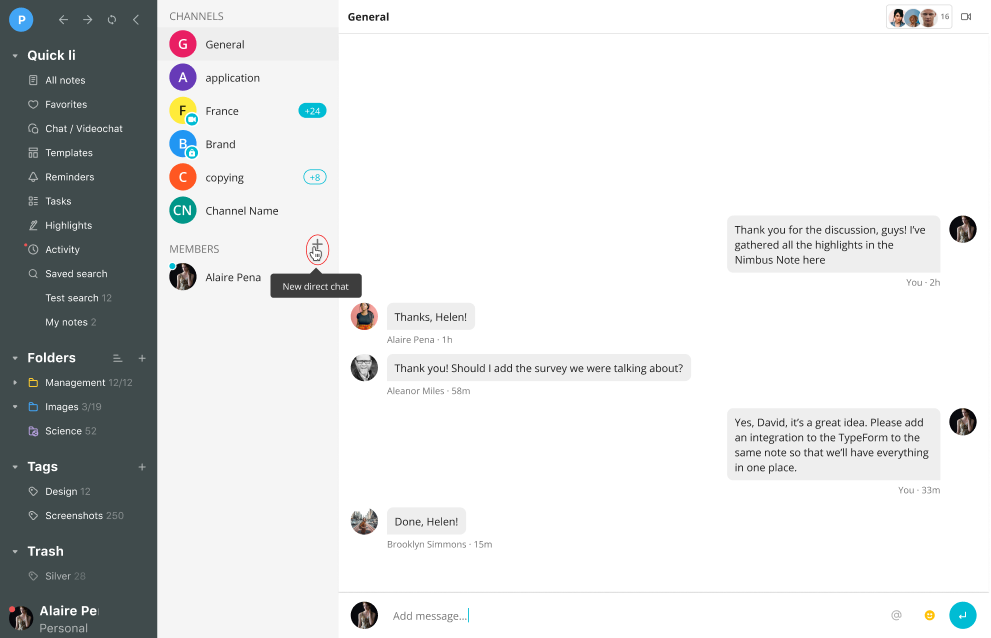 Click the + icon and choose a member from the list
Join Public Channels
Public channels are the best opportunity to get to know your team members, especially if you work remotely. There you can find out about the latest company news and updates, announce important information and get other general insights your whole team should know about.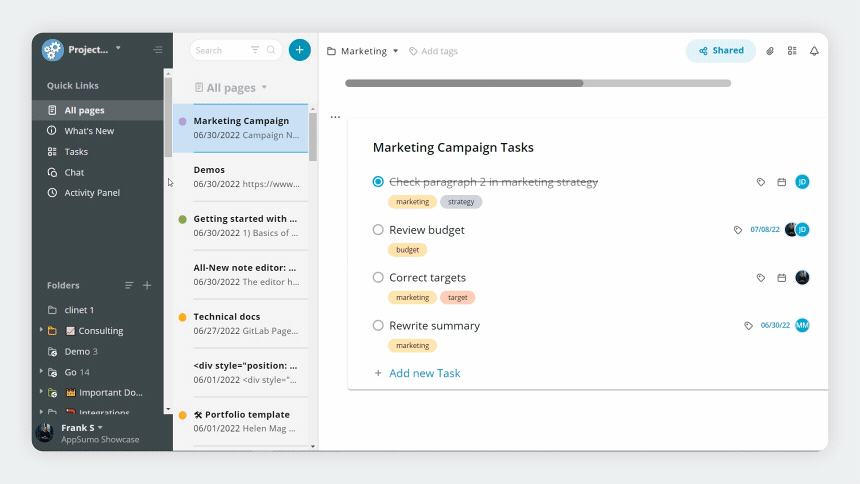 Create Private Channels
You don't need to show every message to your entire company. Conduct part of your communication on team levels. Invite your team members to particular discussions and deal with your tasks and projects promptly.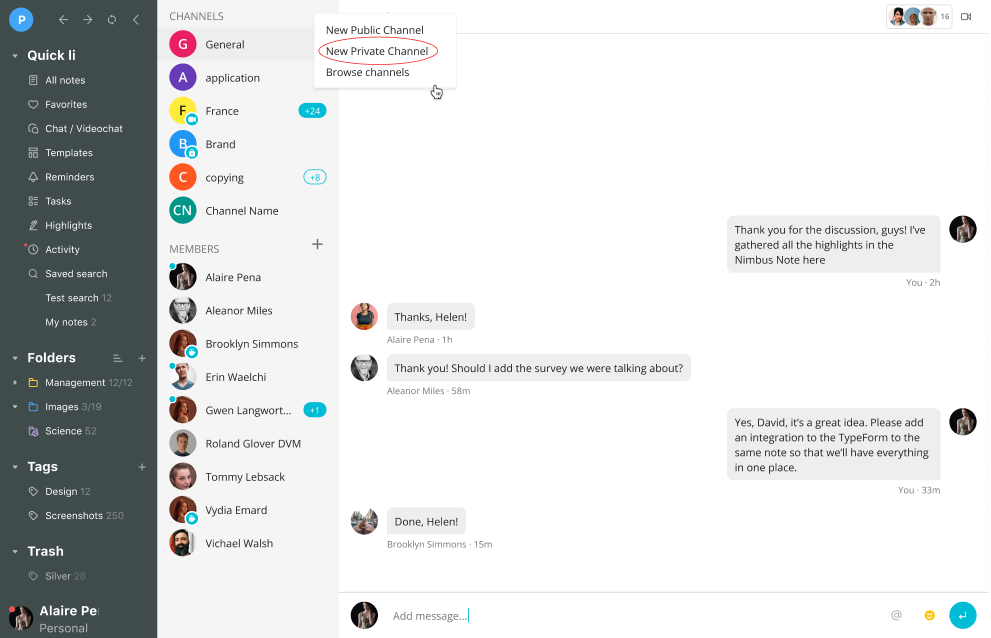 Make Onboarding Easier
Create a "Newcomers" channel for a smooth onboarding process. There you can send links to your onboarding pages and folders in Nimbus Note. Add first tasks for your new employees and discuss their progress in chats. This way you'll keep abreast of your mentees' success and integrate them into company culture.
Say Goodbye to Attachments, Send Links
Your chats shouldn't look like the attachment storage, use Nimbus pages for this. Add various types of content on your pages and structure the information there. Then simply send the link in chat and mention a team member to discuss the materials.
A Sneak Peek on Nimbus Chats from Nimbus Community
We can't leave you without sharing our own experiences. The Nimbus Team and our community pioneered in the Nimbus Chat field to give you more ideas for seamless communication and collaboration.
Here is the first reaction to Nimbus Chats from our community: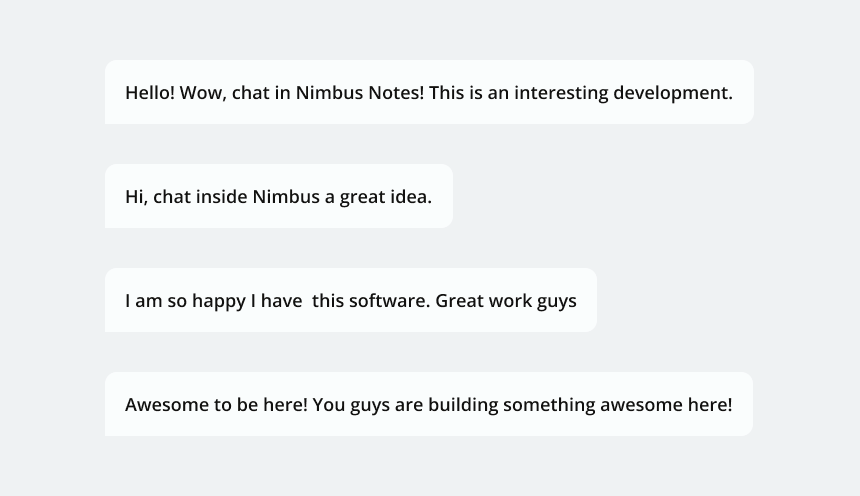 New to Team Work in Nimbus? Here Is How to Begin!
Start your work by inviting your team members to your workspace and write down your company rules and policies on Nimbus pages. Then add these pages to Favorites and quickly access them in your left sidebar. Fill your pages with the necessary content and mark them using different colors and emojis. This way you can show who pages belong to or their status.
If you already have a Nimbus workspace with members, start reading from this paragraph
Once you've written your ideas down and divided them into tasks, make a roll-up in the chat. Create different channels according to your needs and build up a communication chain to fruition.
✅ Quickly ask for advice by mentioning teammates;
✅ Send page links to check the task statuses;
✅ Appoint meetings (BTW, you'll be able to video chat right in Nimbus Platform in the near future);
✅ Organize all your work in one place!
Key Message
Now you don't need to have lots of costly tools and juggle them all to have an effect. Try out Nimbus Platform to collaborate and chat all in one place. Get to a new productive phase of your hybrid work with all Nimbus powers.
Communicate right where you work with Nimbus Platform
Previous post
How to Set and Achieve Your Goals: The Complete Guide
Next post
Building Business Relationships Virtually