What Are The Best SaaS Knowledge Base Platforms to Use in 2023?
Nimbus Platform can help you establish a proficient knowledge base for your business!
Make it happen
SaaS knowledge base platforms and internal wiki software are the secret weapon of SaaS businesses that enables them not only to conquer the digital world but also to boost customer satisfaction.
Knowledge base platforms and wikis have become our very own Morpheus in the SaaS world, guiding businesses through the Matrix of information to enhance client communication, manage projects, streamline workflows and, most importantly –drumroll, please– save time and money! Yippee! But with an ever-expanding universe of SaaS solutions, how can we choose the right software without getting lost in a sea of information? Worry not, dear reader, as we have done the job for you by curating a list of the best ones to focus on and some great SaaS knowledge base examples for inspiration! So without further ado, buckle up and get ready to uncover the best SaaS knowledge base platforms in 2023!
What is a SaaS Knowledge Base?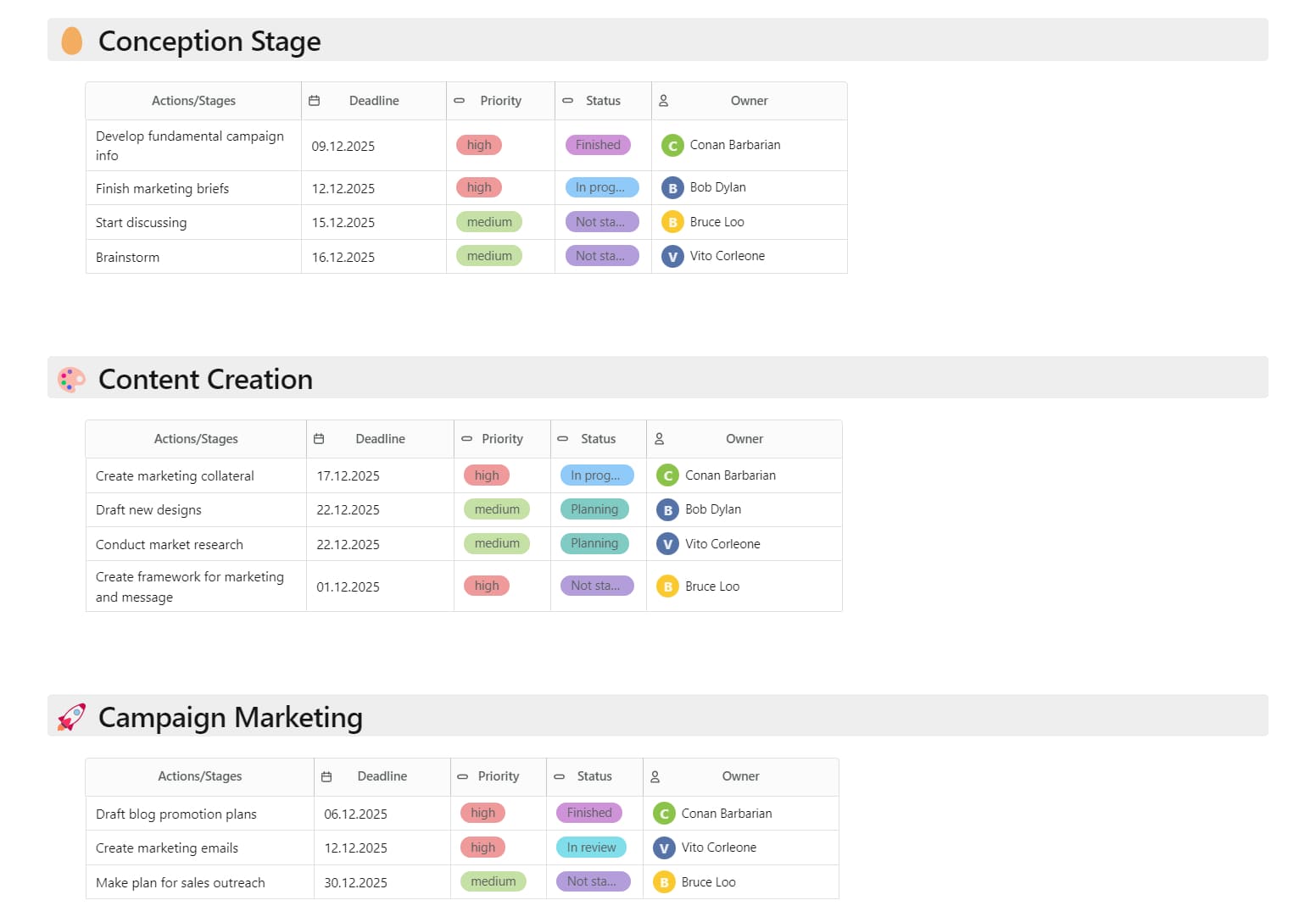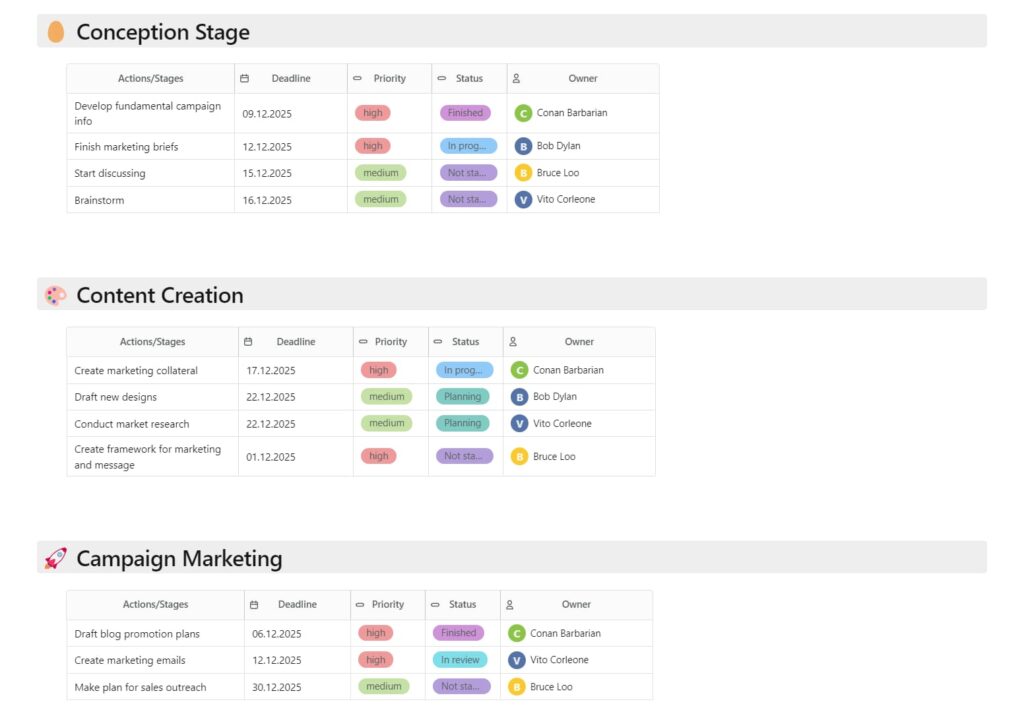 A SaaS knowledge base is an indispensable component of any SaaS (Software as a Service) business that serves as a central repository for collecting, organizing, and sharing valuable information related to the product or service. It can be used both internally, for your team members' eyes only, and externally, for your customers, empowering them to find solutions to their queries and learn more about the product's features and functionalities on their own.
The content within a SaaS knowledge base typically includes articles, guides, tutorials, and other helpful resources dealing with various aspects and tools of your product or service.
Think of it as a super handy sidekick that takes some weight off your support team's shoulders. Because… who doesn't want happy customers who can find answers on their own? Plus, it's all about giving them that sweet feeling of "I can do this!"
Top 10 Key Features Every SaaS Knowledge Base Must Have
So, are you ready to level up your SaaS knowledge base game? Awesome! To help you out, we've compiled a list of 10 must-have features that every killer SaaS knowledge base needs. Buckle up and let's dive in!
Self-service and accessible: Make sure your SaaS knowledge base is easy to find and always available for both your team and your customers. An accessible platform ensures that help is available round-the-clock without waiting for support staff. Otherwise, what's the point of a SaaS knowledge base?
FAQs and popular articles: If you're not answering your users' most popular questions about your software, then what are you doing? Your SaaS knowledge base has to feature frequently asked questions and popular articles. Otherwise, you're falling short and missing out on the advantages of having a knowledge base.
Interactive guides: Add interactive guides that include demo videos, walkthroughs and tutorials of your software. This will enable users to walk themselves through processes step-by-step, making it easier for them to understand complex features or troubleshoot issues. Trust us, this will reduce your support tickets!
Up-to-date and on point: Keep your knowledge base content relevant and current by updating it regularly to reflect product changes, new features, or customer feedback. Your software is constantly updated, right? Therefore, your knowledge base should be too!
Easy-to-use editor: A flexible text editor allows your content creators to format articles, embed videos, and add images quickly and easily. This will make it a more visually appealing and informative resource. Your users will appreciate it!
Smooth navigation: Organize the content into logical, top-level categories and enable simple navigation so users can find information quickly and efficiently. This makes a huge difference to user experience.
Article versioning: Track edits and revisions with article versioning, so your team can review the changes and ensure the information presented is accurate and reliable. This feature is essential if your software knowledge base needs to be constantly updated and you have a dedicated team of writers for it.
Roles and permissions: Manage who can create, edit, or publish content with predefined roles and permissions. You need to make sure that only authorized team members can make modifications, especially if you're using internal wiki software.
Customizable look and feel: Make your SaaS knowledge base feel like an extension of your brand with customization options for colors, logos, and styles. Consistent branding across all your pages is essential!
Search, feedback and analytics combo: Equip your platform with robust search functionality to help users easily find what they're looking for. Also, having insightful reporting and analytics will allow your team to assess the effectiveness of your knowledge base content. If you know what your users are looking for and what they like and dislike, you can easily use that information to make your help center even better.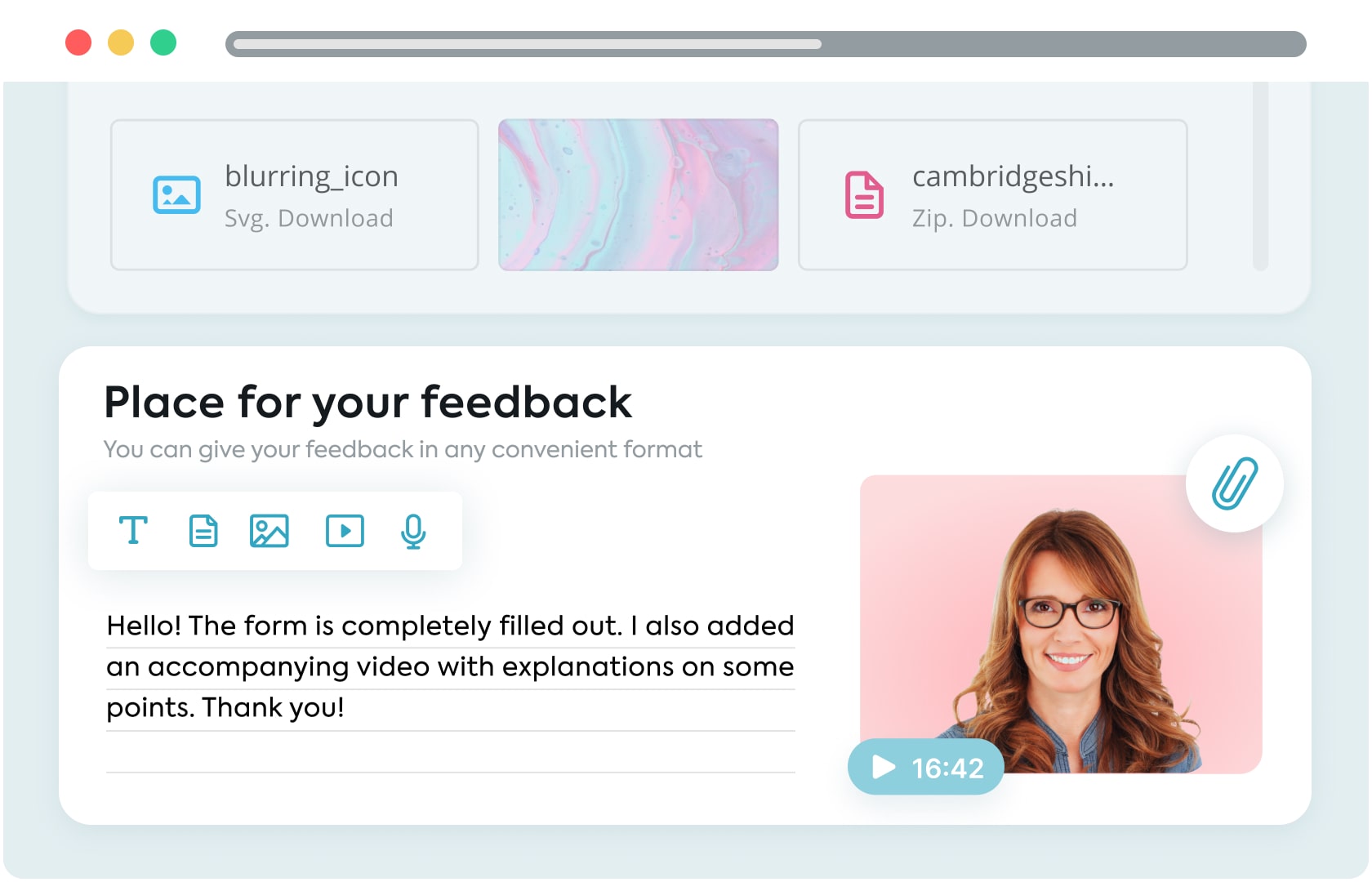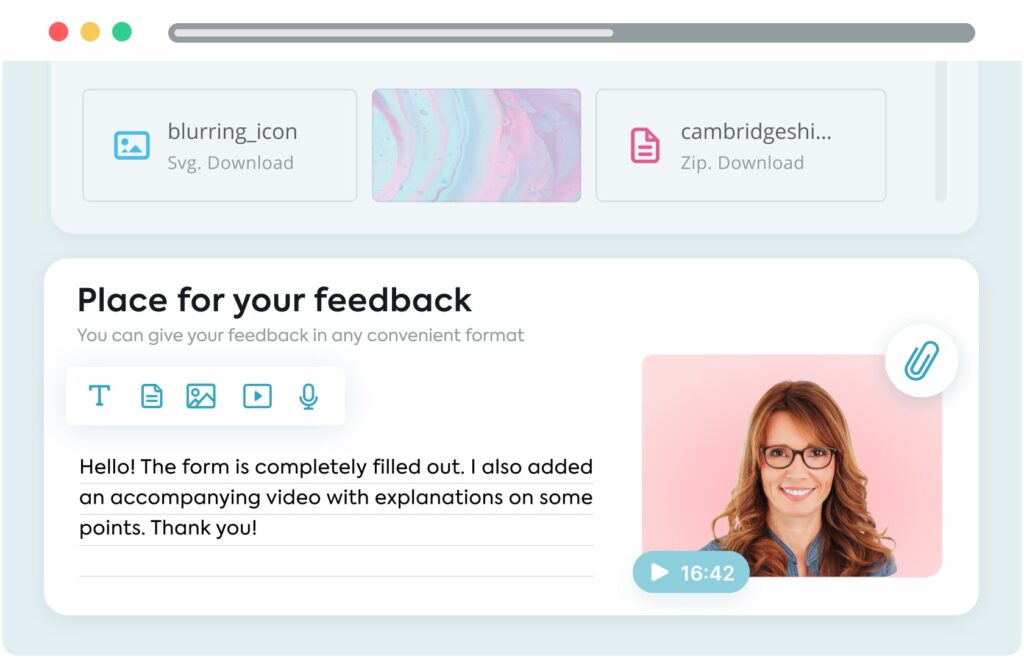 Why do SaaS Companies Need a Knowledge Base?
So, you might be wondering why SaaS companies should invest time and resources into building a knowledge base, right? Well, an effective knowledge base or internal wiki software does not only help customers find answers quickly but also supports your customer success and business growth in significant ways. So grab a cup of coffee (or tea, if you're one of those), and let's unpack the top reasons why SaaS companies need a knowledge base:
Ease the SaaS learning curve: With an ever-evolving list of features and capabilities, your software might feel a bit intimidating for new users. A knowledge base helps break down complex concepts and guides users through the learning process, ultimately improving user satisfaction and product adoption.
Boost customer success and retention: A comprehensive knowledge base empowers users to find solutions and learn about your software at their own pace. This results in happier customers who are more likely to stick around and recommend your product to others.
Reduce customer churn: When customers can quickly resolve their issues through self-service resources, they're less likely to experience frustration and consider switching to your competition. A reliable knowledge base helps keep your customers satisfied and loyal. FTW!
Cut support costs with self-service: By offering self-service solutions, you can drastically reduce the number of support requests your team receives. This means your support staff can focus on more critical tasks, bringing down overall support costs.
Great for SEO: A well-written and regularly updated knowledge base contributes to improved search engine visibility. By sharing valuable information, you'll attract more organic traffic to your website, potentially leading to new customers and increased brand awareness.
As you've probably figured out by now, in today's growing customer service market, a top-notch SaaS knowledge base is more important than ever. By understanding the value that a comprehensive knowledge base brings to your SaaS business, you're well on your way to leveling up your customer support game. So, get ready to boost customer success, reduce churn, and create happier, more loyal customers – all while staying ahead of the competition!
Read more posts on this topic:
The 5 Best SaaS Knowledge Base Examples
Ready for some serious knowledge base inspiration? We've got just what you're looking for! In this section, we'll take a deep dive into our favorite SaaS knowledge base examples for your software business, showcasing the crème de la crème when it comes to providing exceptional user experience and valuable resources. So as our favorite Italian-American plumber would say, let's-a-go!
Nimbus Platform Guides & FAQs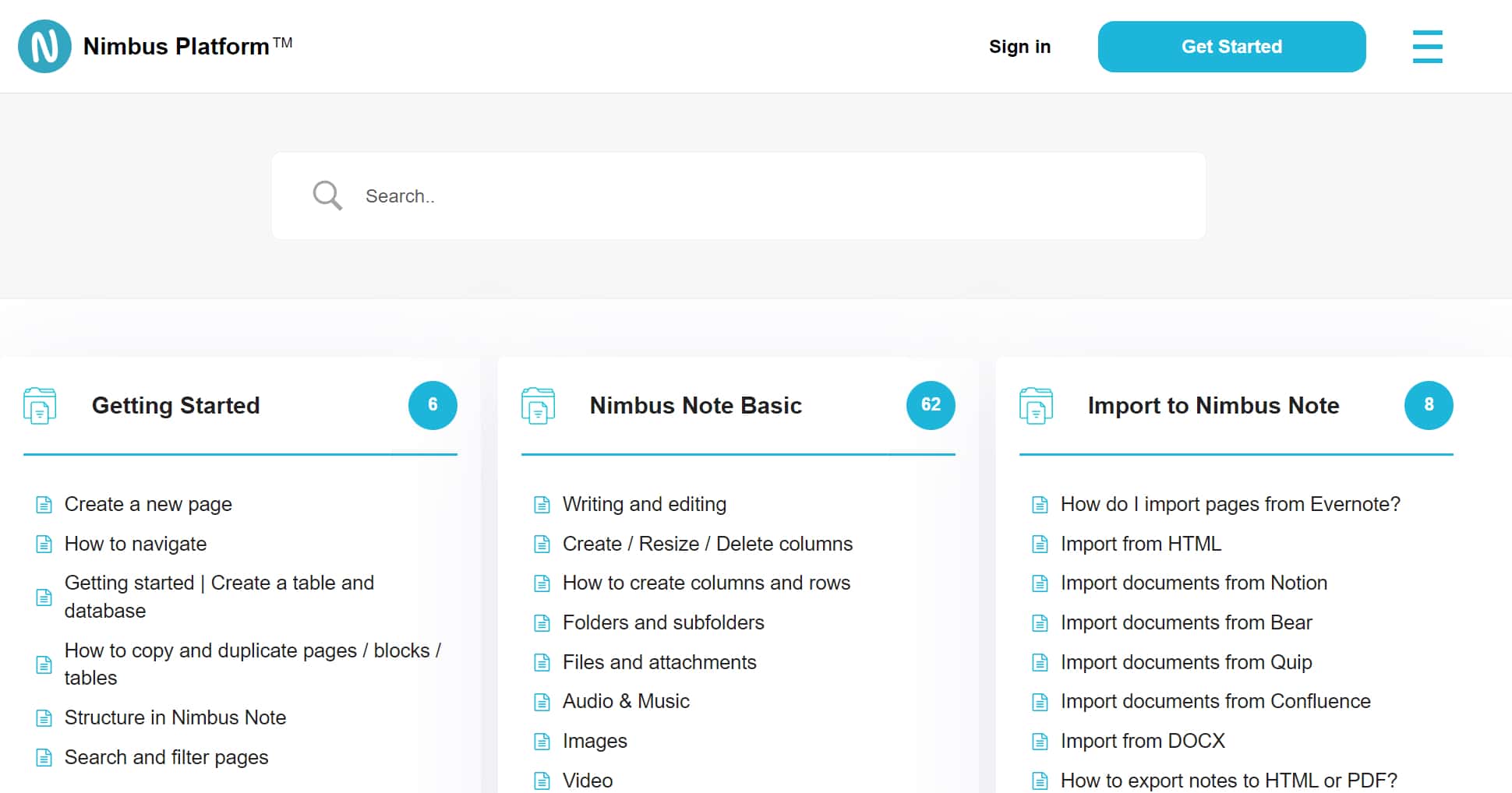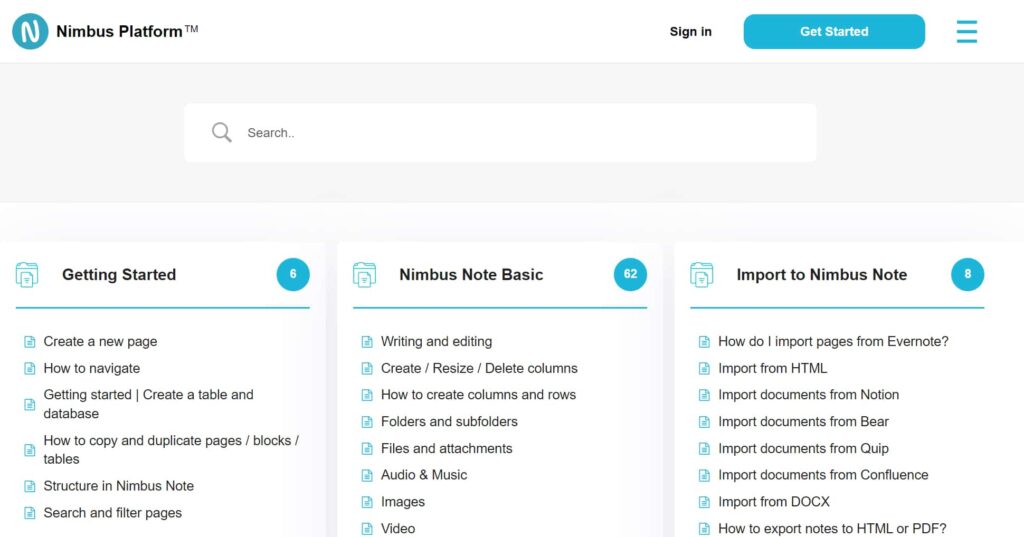 This knowledge base example boasts a vast collection of support articles while maintaining a visually pleasant UI, offering a delightful browsing experience. The layout features a search box, sidebar, and table of contents for easy navigation. Articles are enhanced with images, GIFs, and videos, and a direct link to request support is included at the end of each article, adding a personal touch that some help centers miss. The homepage is organized with clear categories, and a prominent search bar is present on every page. The key takeaways from Nimbus Platform Guides & FAQs are providing users with direct contact to the support team and utilizing GIFs for concise step-by-step instructions, making your knowledge base a valuable resource for customers.
Infinity's Help Center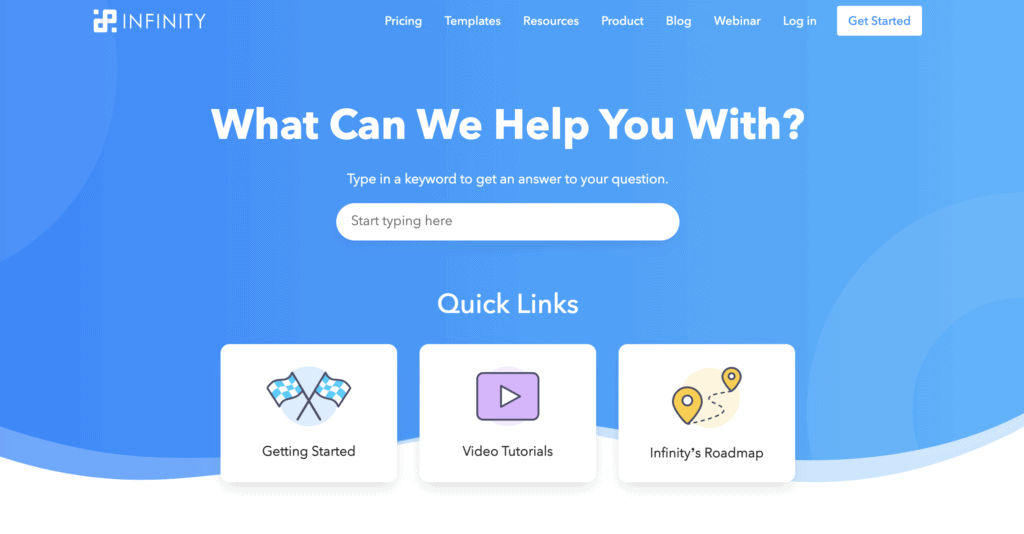 Infinity's support knowledge base shines with its appealing design and well-organized support page, providing users with a comprehensive resource enriched with images, GIFs, and videos. The interactive search bar is not only on the homepage but also in each article, making navigation more efficient. Articles include a table of contents at the beginning, call-out boxes for essential information, and link to next/previous articles at the end, as well as featuring a left sidebar for related support categories. Additionally, a live chat is available on the main support page. The key lessons from Infinity's example emphasize the importance of including a table of contents for lengthy articles and leveraging images to enhance the value of your knowledge base articles.
Dropbox Help Center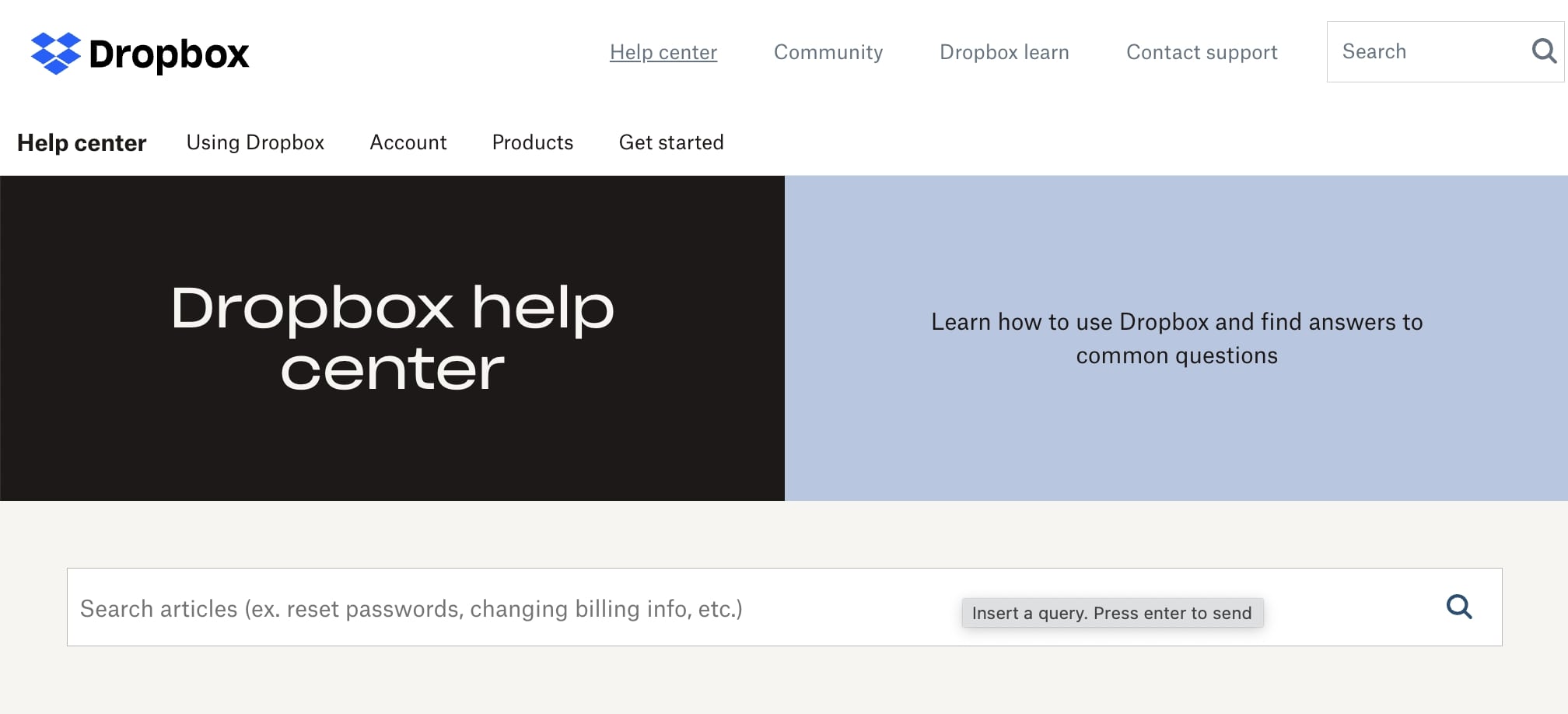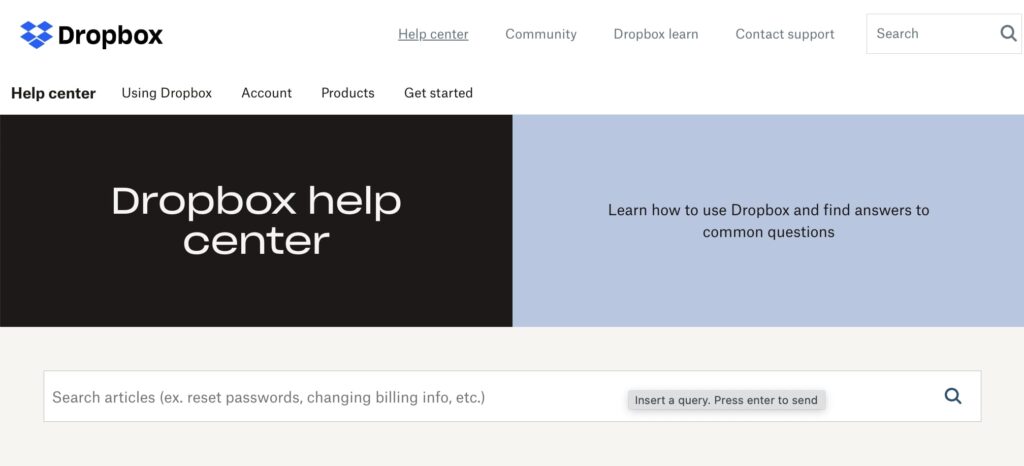 This is a great SaaS knowledge base example from one of the top brands in the world. Dropbox's knowledge base is like a bright and friendly buddy that's eager to help you out with any questions you might have. With a search bar and top articles right there on the homepage, you'll find answers in no time. Their articles are not only easy on the eyes but also include quick access to various support tools and an article rating widget for you to tell them how helpful it was – they really want to know! If you're still searching for answers, related articles and quick access to customer support are easily available, making it a breeze to get the assistance you need.
Grammarly's Support Center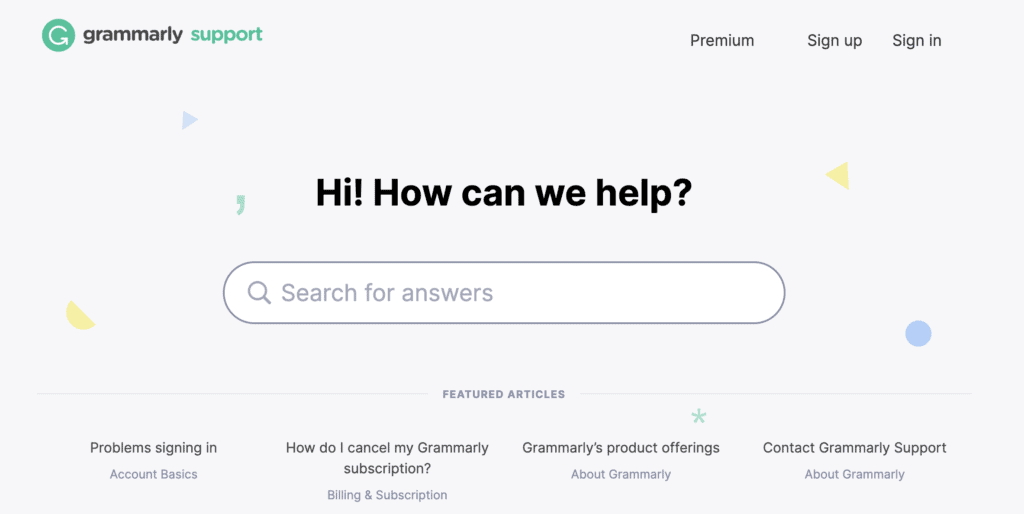 Among these five examples, Grammarly's support center is the best case of how minimalism and functionality can join forces to provide great user experience. The on-brand, clean design makes browsing through hundreds of articles a breeze, while also scoring major SEO points – we're talking tens of thousands of organic visits from search engines! Their main support page keeps it simple and focused, sporting just a search bar, four featured articles, and six support categories. To top it all off, Grammarly's knowledge base includes user feedback functionality and a "Submit a request" link at the end of each article, ensuring help is always just a click away. Grammarly have used the "keep it simple, dummy" approach, and they've done a great job!
Taskade's Help Center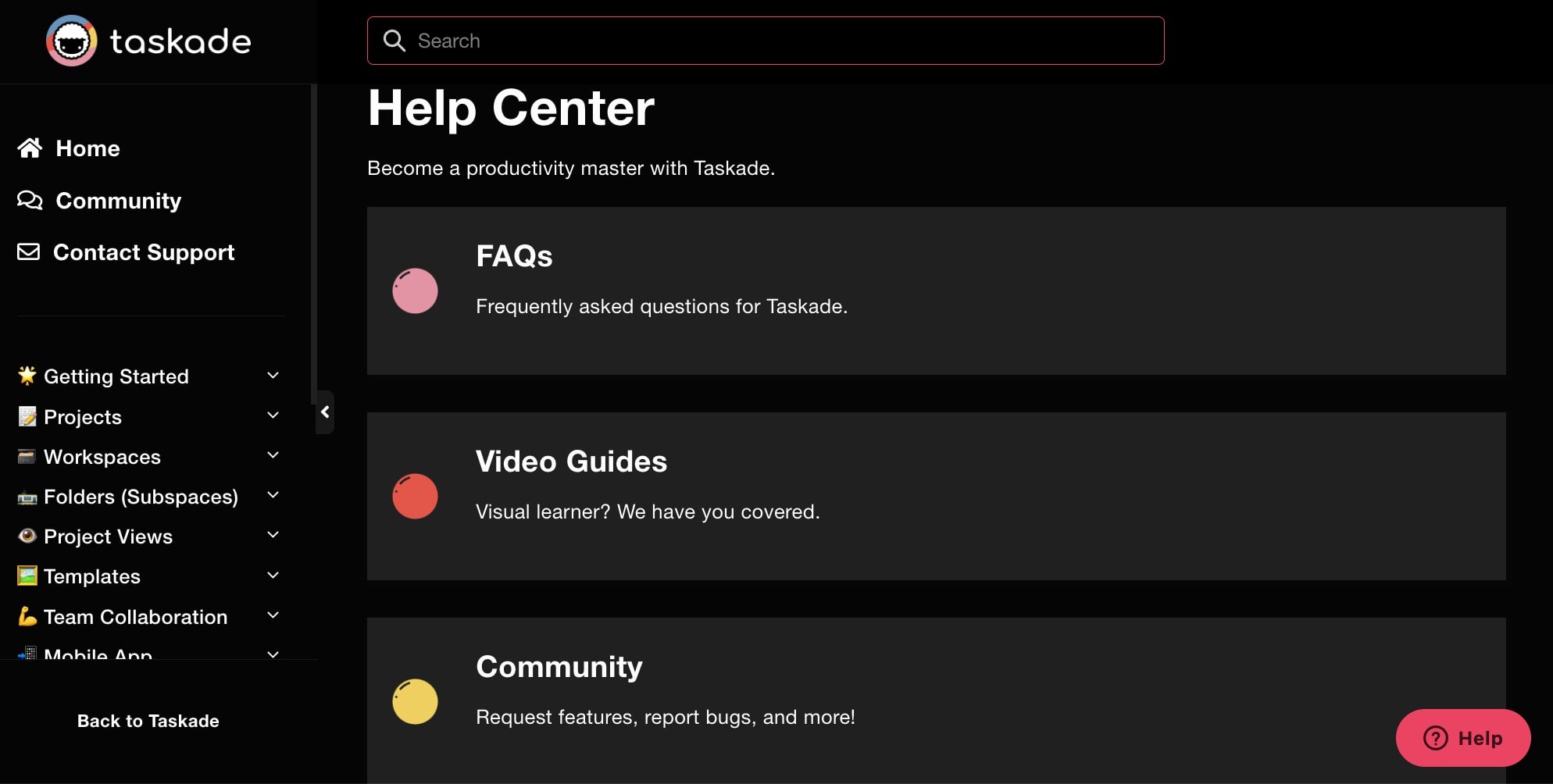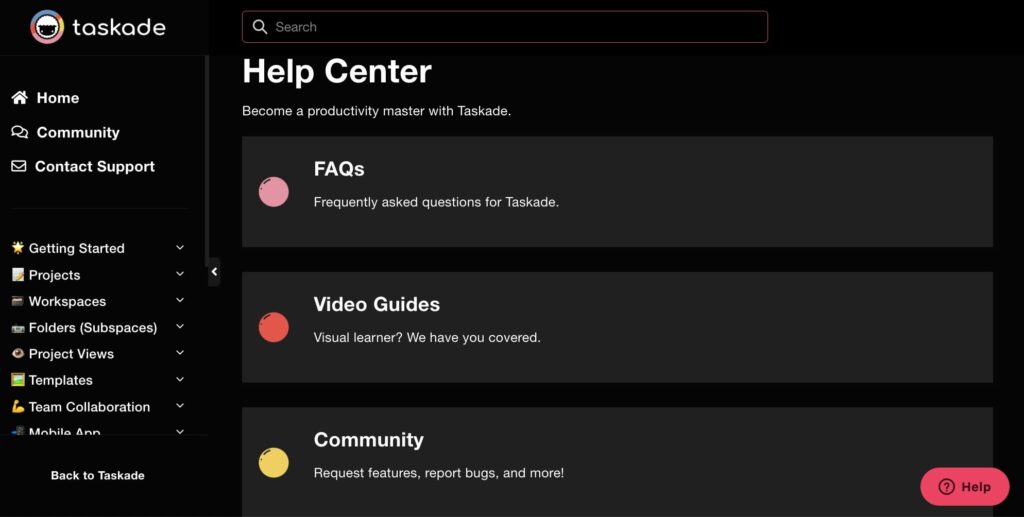 Taskade's Help Center is living proof that style and substance can coexist in perfect harmony. With a completely on-brand design, their homepage showcases main categories and promoted articles, spotlighting the latest bells and whistles. Navigating through Taskade's Help Center is easy-peasy, thanks to the use of intuitive icons next to each item on the sidebar. You'll find a sidebar and search box conveniently present on every page, making it easy to hop around between topics. Articles come to life with the help of images and GIFs, while a sticky table of contents helps you reach the sections you want to read much faster. Finally, a floating help widget with a "Contact us" button is always available to save the day if you need a little extra assistance!
Choose the Best Software to Run Your SaaS Knowledge Base
In this section, we'll sift through the top knowledge base software contenders for SaaS help centers and internal wikis, focusing on their unique features, user-friendliness, and overall impact.
Nimbus Platform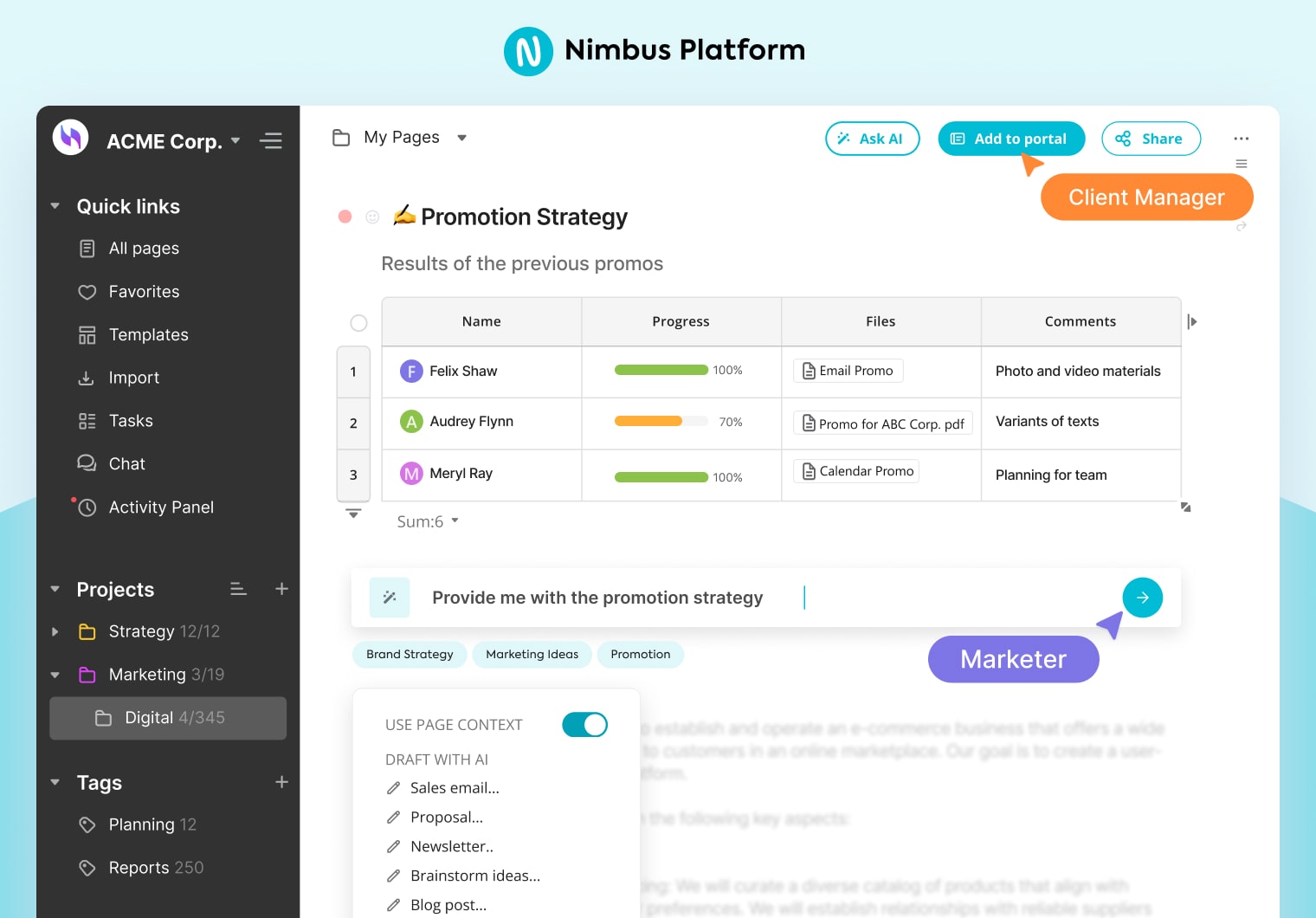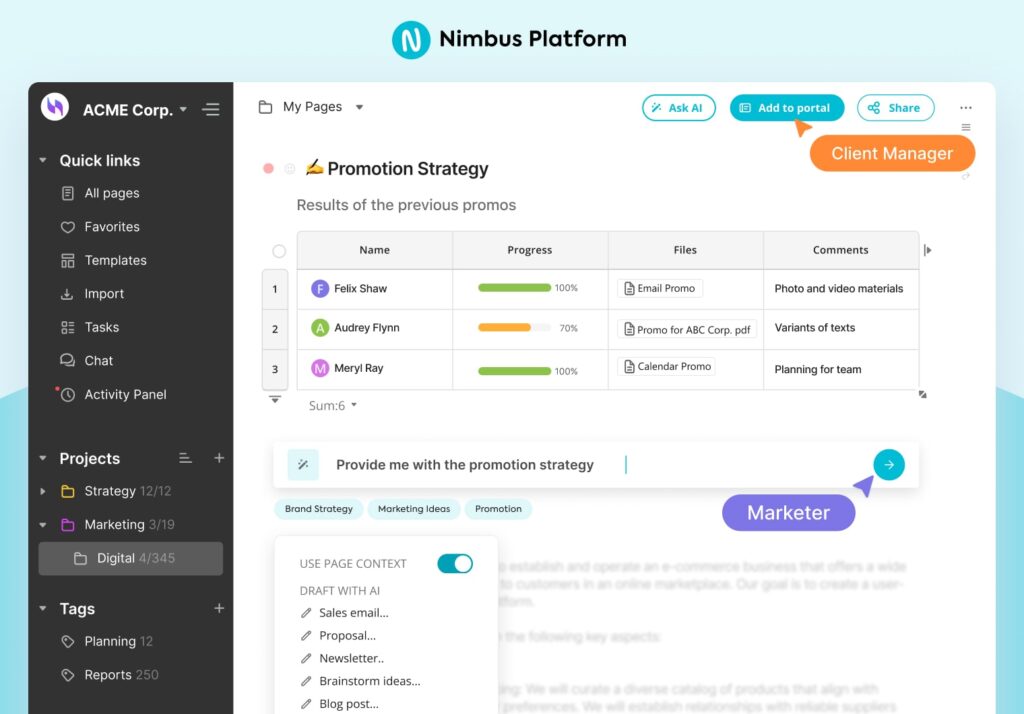 Get ready to unlock the power of slick internal documentation, seamless team collaboration, and content creation with Nimbus Platform and its flagship app, Nimbus Note. This bad boy (that would be us!) serves as your team's go-to information hub and internal wiki software, bringing a note-management vibe that's perfect for crafting all sorts of content from blog posts to SOPs and company wikis. It boasts one of the best text editors out there, with rich embedding features that make content creation a breeze.
But wait, there's more! The Nimbus ecosystem also includes nifty tools like Nimbus Capture and Nimbus Clipper, letting you snap screenshots, record screens, and save info from other websites like a boss. With perks like super-affordable pricing, white-label across the board, powerful client portal, easy sharing, and internal chat, plus fancy features like nested folders, working offline and document scanning, you'll be the rock star of team collaboration and knowledge management in no time. Keepin' it cool with Nimbus!
HelpScout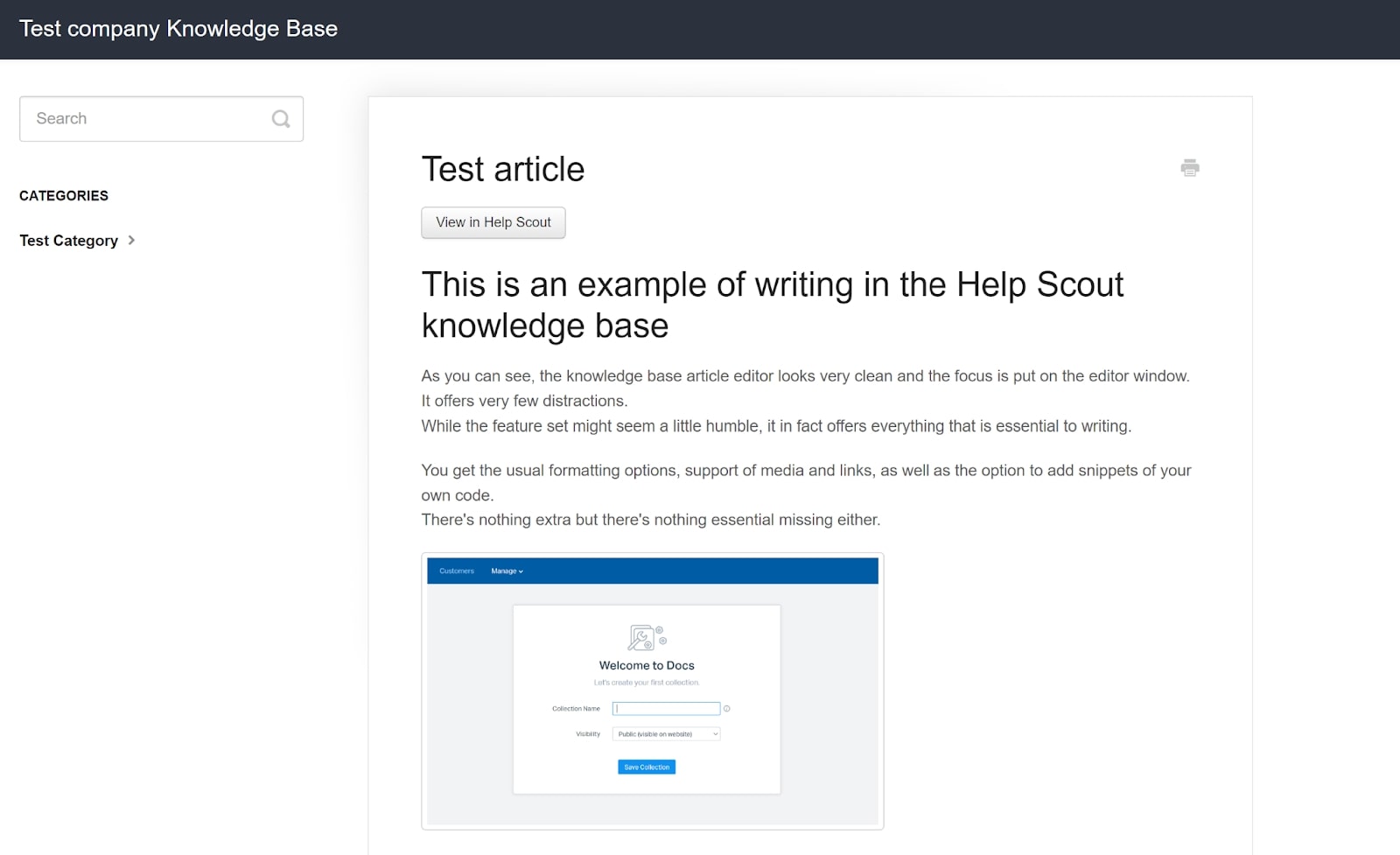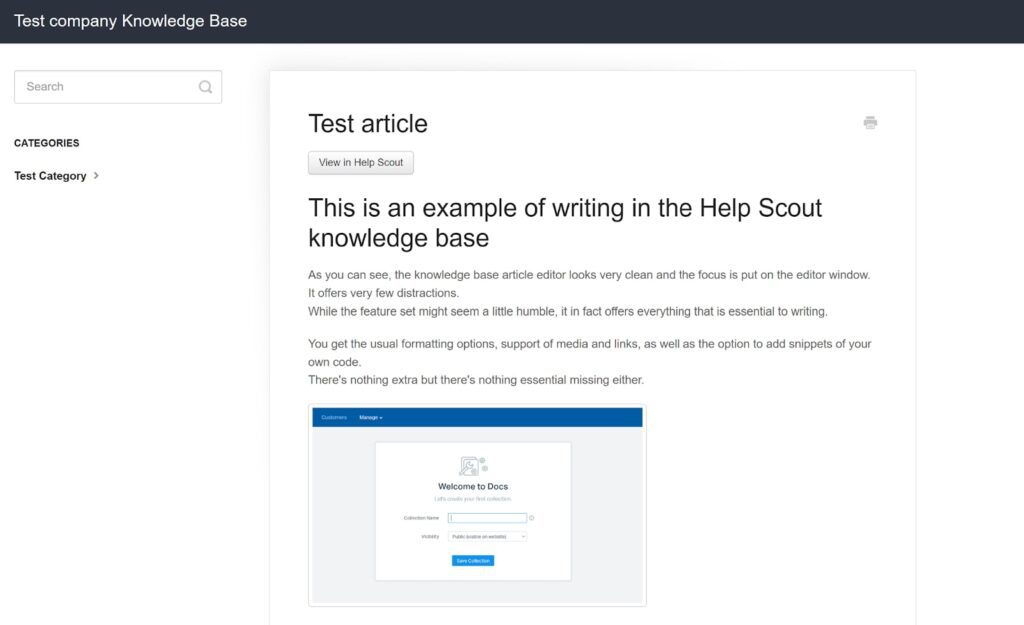 Best suited for external documentation and customer support, HelpScout offers three main tools: a knowledge base, shared email inbox, and beacon widget, all designed to enhance your customer support experience. SaaS owners like yourself can provide assistance to your users via email and through a live chat widget placed on your website. The knowledge base feature of this support software, equipped with an in-built search box, enables you to create informative articles, effectively reducing support tickets and addressing common customer queries.
Among its pros, HelpScout boasts a budget-friendly approach, mailbox management, custom search engine, live chat widget for websites, in-app messaging, automated workflows, analytics, and reporting, as well as customer feedback functionality. However, it also has a few cons, such as limited customization options, weak spam filters, and occasional issues with the document editors. Despite these drawbacks, HelpScout remains a competitive choice for enhancing your SaaS customer support.
BetterDocs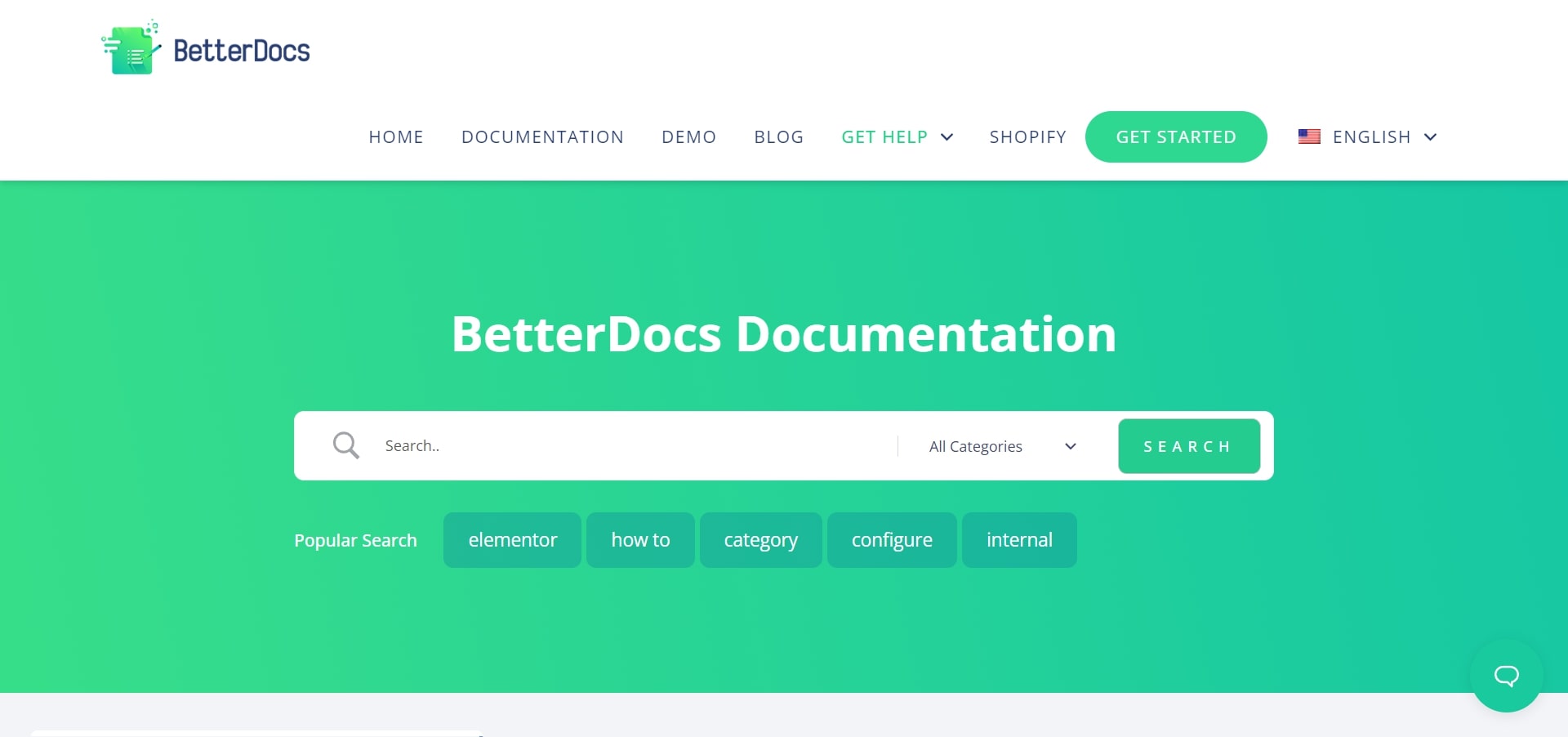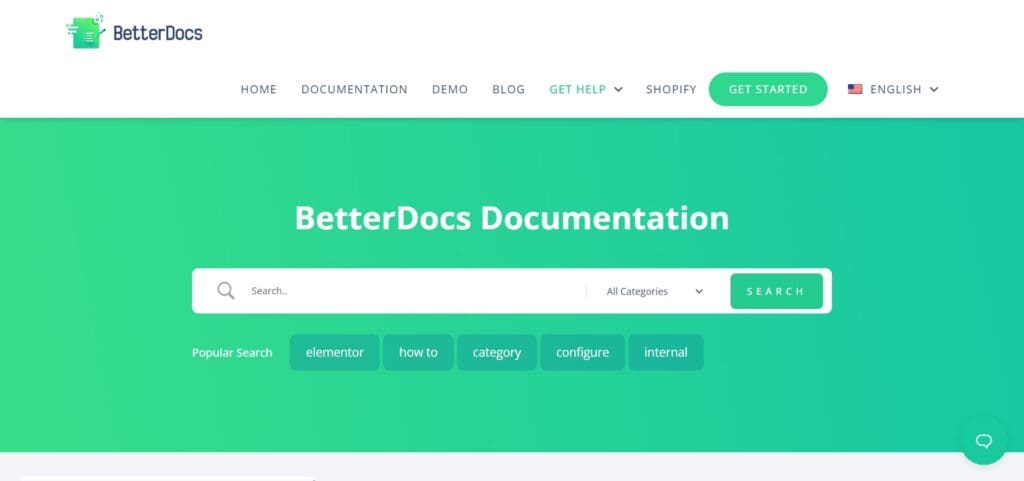 BetterDocs is a powerful knowledge base tool designed to help you create and manage knowledge base documentation effectively, streamlining support-ticket management, enhancing productivity, and improving the customer support experience. As a WordPress plugin, it allows you to craft an attractive landing page without coding, using beautifully designed ready templates. However, it's worth noting that because BetterDocs requires WordPress, you'll have to pay for additional hosting costs.
Besides endless customization options, BetterDocs has advanced built-in analytics tools which helps you monitor your knowledge base's performance, while the customizable search bar and Instant Answers chatbot improve your customers' self-service experience.
Answerly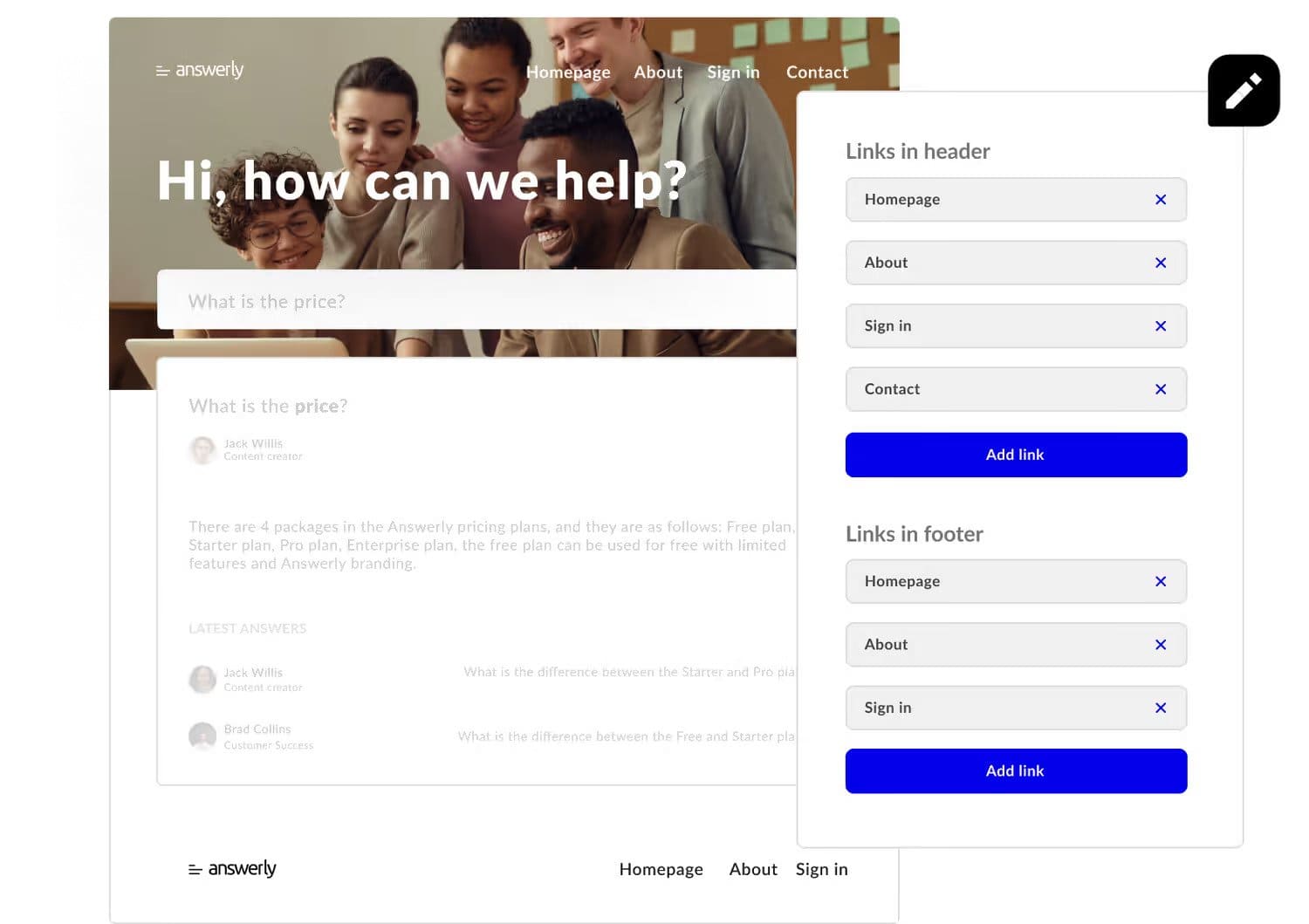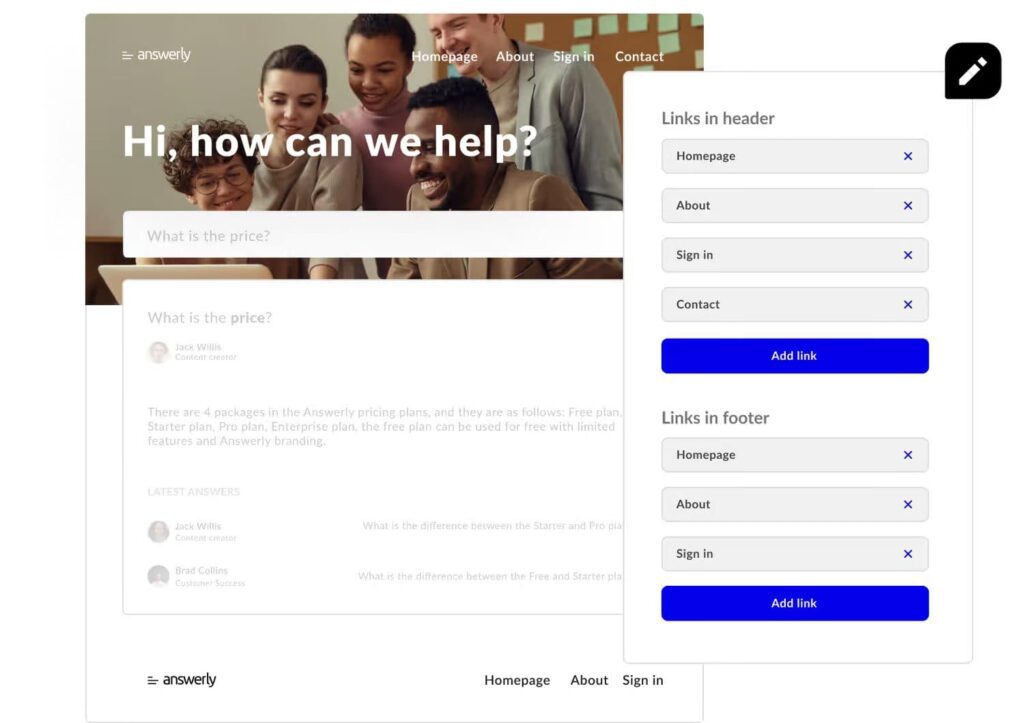 Answerly is a relatively new yet comprehensive software platform equipped with tools that include widgets, knowledge base, CMS, contact forms, and hundreds of features designed to boost your SaaS success. Their knowledge base empowers your customers to search and explore how your online business works, delivering on-the-spot answers tailored to their needs.
Besides their core knowledge base feature, Answerly offers widgets like FacePop, which lets you build trust by adding a personal touch to customer interactions, scheduling meetings, and collecting reviews through an engaging website widget; the Banner widget, which provides quick and critical updates about your business or visitors, ensuring they stay informed; and the Helpdesk widget, with which your customers can access your knowledge base anywhere on your website, contact you, and enjoy a seamless, streamlined support experience.
HelpCrunch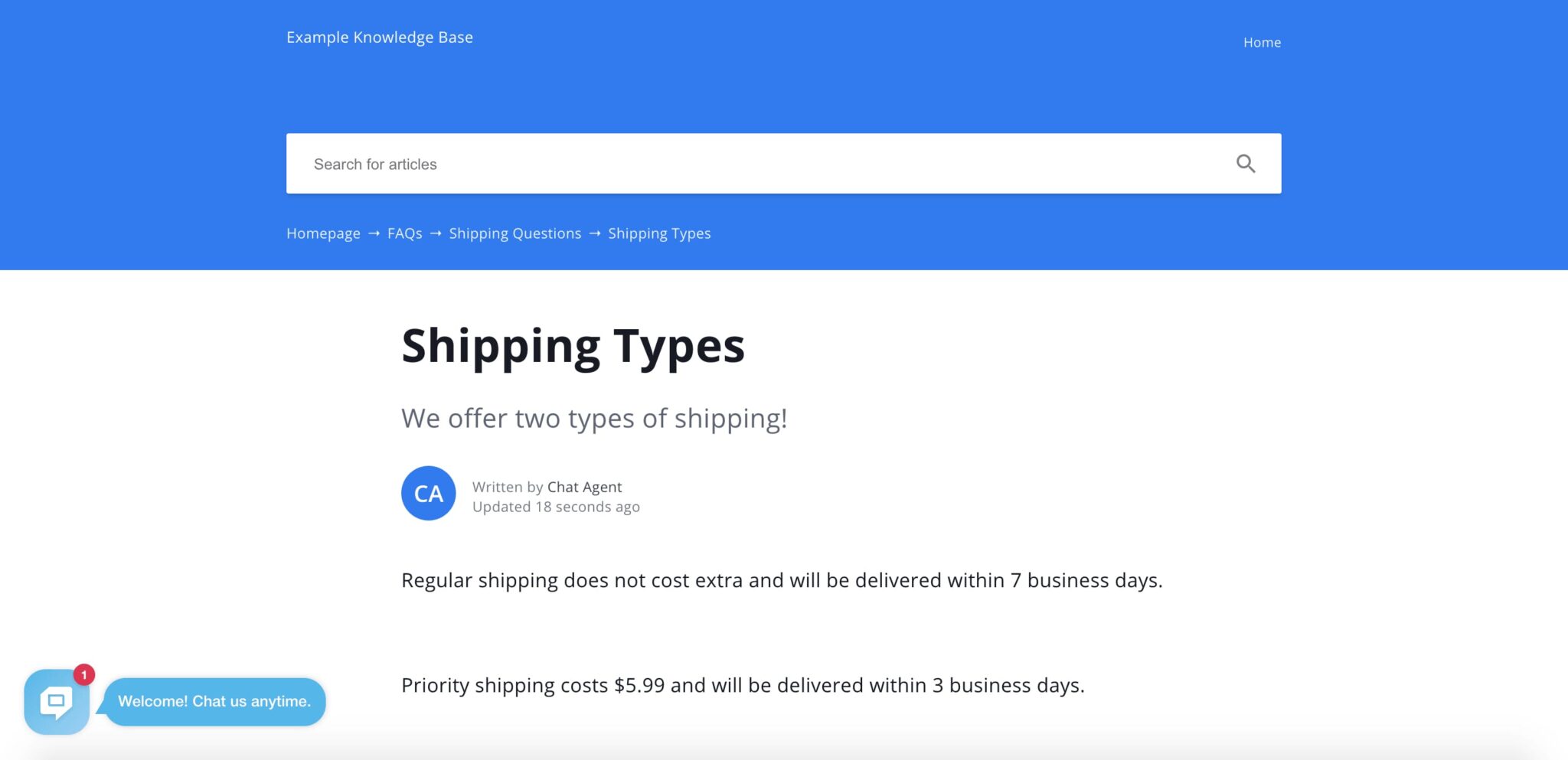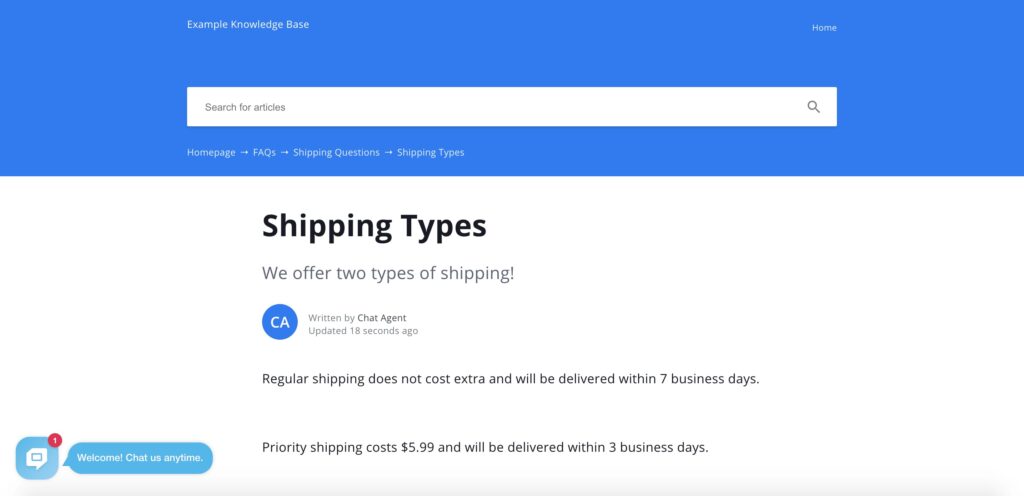 HelpCrunch is a customer support platform that delivers a comprehensive suite of tools for businesses aiming to provide top-notch assistance to their customers and website visitors. Featuring a live chat widget, help desk solution, and knowledge base tool, HelpCrunch positions itself as an affordable and versatile alternative to market leaders like Intercom or Zendesk.
With numerous advantages like easy documentation structuring, SEO setup features, actionable insights, custom domain support, and multilingual knowledge hubs, HelpCrunch is an excellent choice for SaaS knowledge bases. However, the lowest paid plan still includes HelpCrunch branding, which some SaaS owners like yourself may consider a dealbreaker. Despite that, the KB's smart search functionality, live chat and self-service widget make it a great option for businesses looking for an all-in-one customer support solution.
You Can't Go Wrong with Nimbus!
Nimbus Platform, and specifically Nimbus Note, provides a versatile solution for creating exceptional knowledge bases for both internal staff and external clients. With Nimbus Note, you can create a variety of support articles and enrich them with images, videos, call-out boxes, accordions, and embeds. Besides, it can also work as a project management software with a client portal that integrates seamlessly with your knowledge base. Could you wish for anything else? Probably not. So register for a Business account today for a free trial (no CC required!) and discover how Nimbus can help your SaaS to take your knowledge base to the next level!
Hear from our expert how you can benefit from Nimbus knowledge bases!
Check out the Nimbus Facebook page to get the latest news and updates!
Disclaimer
Parties other than Nimbus Platform may provide products, services, recommendations, or views on the Nimbus Platform site ("Third Party Materials"). Nimbus Platform is not responsible for examining or evaluating such Third Party Materials, and does not provide any warranties relating to the Third Party Materials. Links to such Third Party Materials are for your convenience and do not constitute an endorsement of such Third Party Materials.
Next post
Brand Portals as Resource Hubs to Store & Manage Brand Assets