10 Top Client Management Software Solutions for 2023
Upgrade your client relationships to the next level with Nimbus Portals!
Make it happen
According to the research, the size of the global customer relationship management market was estimated at USD 58.82 billion in 2022, and it is anticipated to grow by 13.9% from 2023 to 2030. And there's a reason for it to keep growing.
Every company nowadays needs some sort of client management software.
It's not an exaggeration to say your customers are what keeps your business afloat, whether you work in sales or any role that involves interacting with them.
When your client base expands, monitoring everyone's individual data and progress becomes more challenging. Things tend to slip between the cracks when you don't have the right client management software that monitors customer data.
Client management software can help you improve your customer relationships with existing clients, stay on top of everything, and keep things running smoothly.
The goal of client management software is to help teams save time and energy to concentrate on what matters: providing excellent service to clients and improving companies' sales processes.
In this guide, we'll look at the ten best client management software on the market.
What is a Client Management Software?
Do you spend more time entering various pieces of software to keep track of consumers than actually interacting with them face to face? If this describes your business, it's time to switch to CRM software to handle your customer relationship management system better.
Client management systems keep track of a database that details the company's interactions with each customer. Sales, marketing, and support teams frequently make use of data from the Client Management System to forge relationships with customers and turn them into devoted customers.
To sustainably expand their client base, teams should find a perfect client management tool that will include task management, customer relationship management, sales reporting, scheduling, goal monitoring, email tracking, third-party integrations and mobile access.
While deciding on a client management system, you should also take into account the following factors:
Personalization of marketing efforts, sales procedures and industry norms to fit each customer's needs
Permissions and security measures to guard data against unauthorized access, leaks and other violations of policy
Collaborative editing and commenting features for spreadsheets, presentations and different document types in real-time
Budgeting is used to assign resources, find ways to make money,and predict future trends
Use of automated systems for handling repetitive tasks, communications and the entire customer lifecycle
Methods of monitoring team members' time spent on specific tasks in order to enhance efficiency
Personalized web forms to collect leads and adapt sales strategies
Top 10 Client Management Software
Choosing client management software is not a simple task. So, here are ten best client management systems to choose from:
Nimbus Platform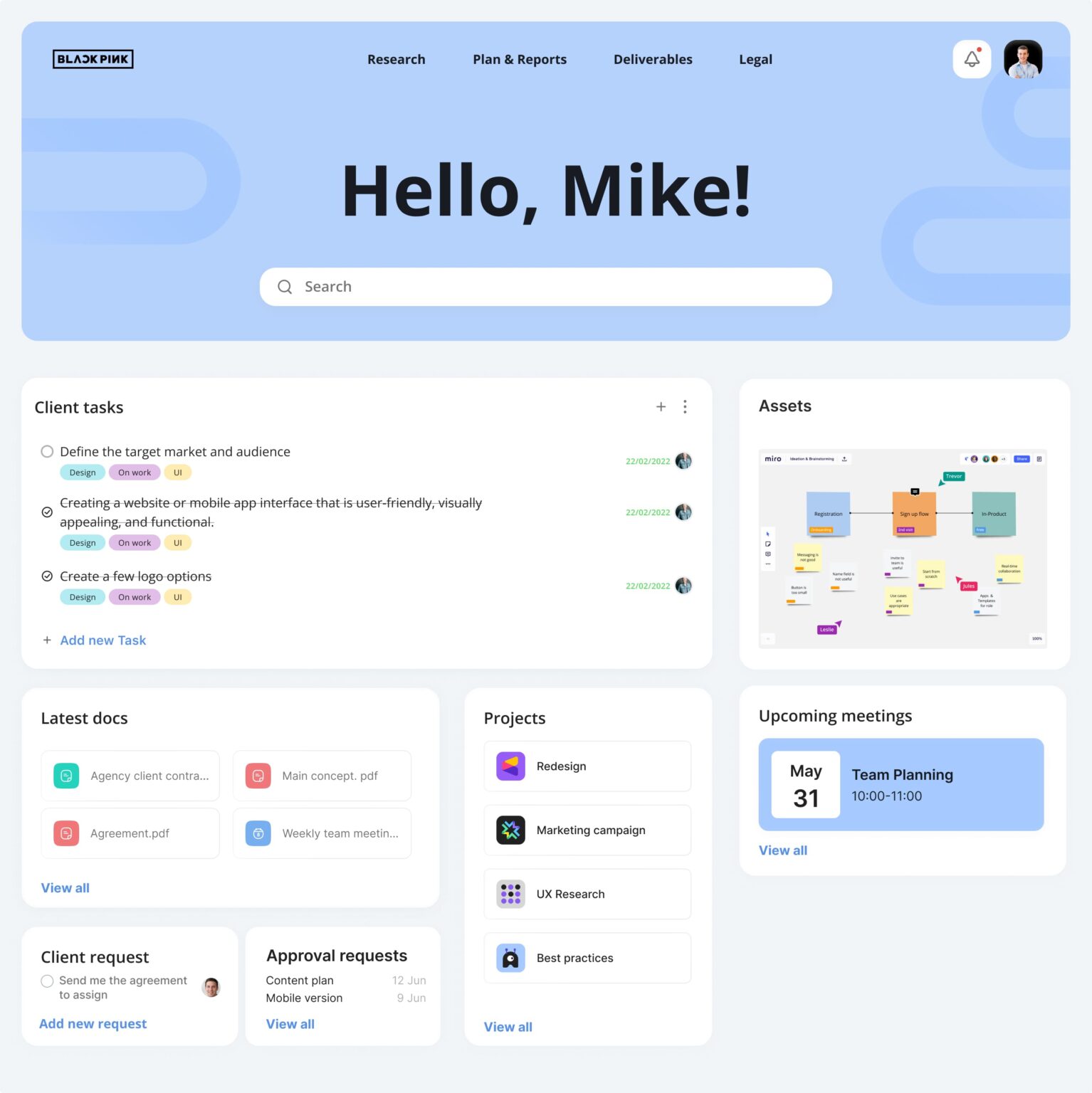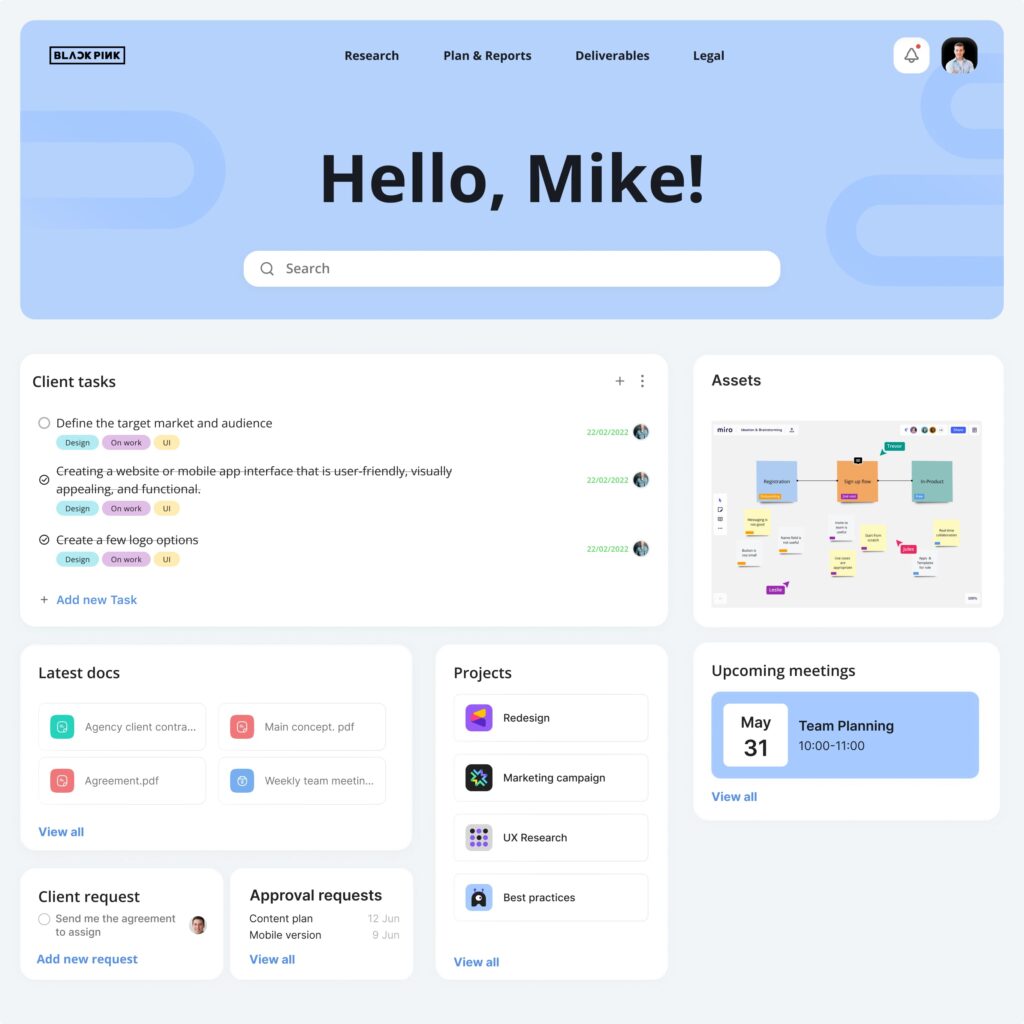 Nimbus is one of the best client management software options on the market.
It's an easy-to-use client management software system where users can nurture customer relationships, improve sales process, use various project management tools, store their notes, ideas and important documents.
Nimbus Platform is a popular client management software that also serves as a hub (internal – for teamwork or external – to ensure client communication). Its robust sharing and collaboration tools are helpful for big and small businesses. For instance, you can work with your team on some projects and give your clients access to your workspaces. Just put all relevant material (text, files, photos, tables, embeds, etc.) on one single page, and share a link to this page. Your work is accessible to everyone with a link, regardless of whether or not they have a Nimbus account.
One of the tools you can use to improve your client relationships is Nimbus Portals. Nimbus Portals are websites that don't require you to write any code. You can use them to promote your services and give your clients the best user experience possible. There, you may keep track of everything related to a client's project and make changes as necessary.
Best features:
Super documents. Combine many data formats into a single sheet (or super document). Word documents, PDFs, PowerPoint presentations and multimedia files. Nimbus Note's variety of items allows you to organize your page content better.
Tables. You can add tables to the pages in Nimbus Note to make them into databases.
Powerful editor. You may easily change the background color, insert headers and outlines, and more. You can make a clean-looking page. Nimbus Note organizes its data in the form of moveable blocks of information.
Simple sharing. Your customers don't need Nimbus accounts to view the pages you share with them. Don't worry if they don't understand technology; simply send them a link.
Clear UX for your clients. With Nimbus pages, you may build a portal for your customers. While working on extended projects with customers, they might be useful.
A clear structure. Make as many folders and subfolders as you like to organize your pages and essential data. Use the likes and tags system. Thematic tags can connect pages from separate directories.
Permission management. Nimbus's well-defined structure makes it easy to control who can do what.
Nimbus Capture. Create different types of screenshots, including entire web page screenshots and video recordings, and annotate them.
Nimbus Clipper. Another item from the Nimbus ecosystem. It enables you to save only pertinent Internet content. Clip emails, desired article excerpts, PDF files and other content.
White Label. Your workspaces are entirely customizable. Use this solution to build consumer trust in your company and to promote your brand.
Pricing:
Nimbus has several different pricing plans to meet the needs of different users.
Free plan provides basic features and limited storage space.
Nimbus Plus $9/ month per user
Nimbus Team $12/ month per user
Nimbus Business $167/ month per bundle
Bitrix24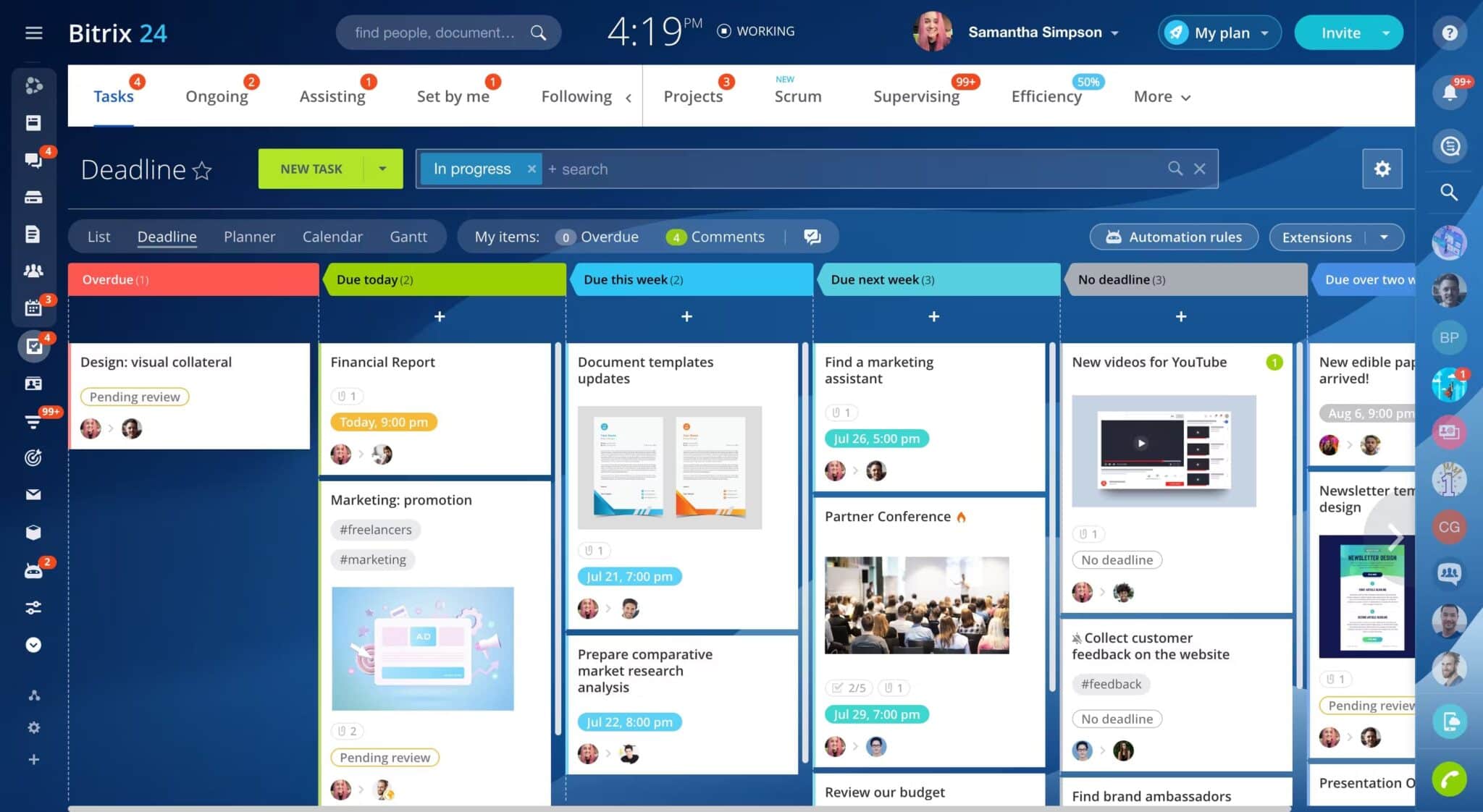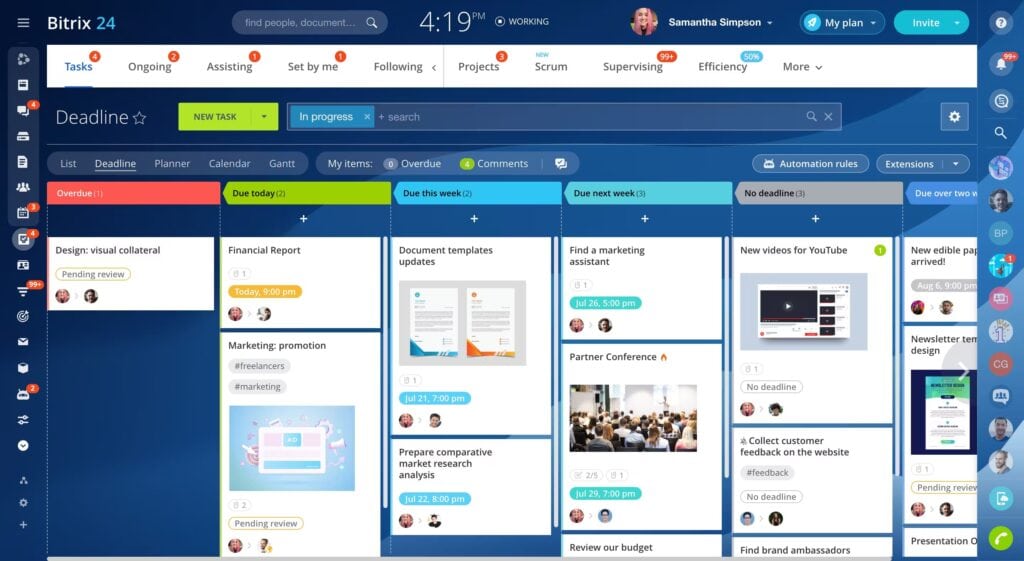 Bitrix24 is an on-premises or cloud-hosted client relationship management software and sales CRM. It has been explicitly designed for sales teams, and it's loaded with tools that will increase the likelihood that leads will become paying clients.
Lead management will not be a problem when sales funnel view displays the proportion of leads at various process stages, such as discovery, client information gathering, negotiation and closed-won. You can use the insights from this CRM software to fine-tune your sales pipelines. One of Bitrix's client management system advantages is that its automated sales funnels make customer communications easier. It also lets your sales team set up automated lead answers thanks to its rules for automation.
Best features:
Team collaboration tools
Customer database
Storage with cloud editions
Desktop apps for Windows and Mac
Custom applications
Pricing:
Free plan
Basic $61/month (5 users)
Standard $124/month (50 users)
Professional $249/month (100 users)
Zoho CRM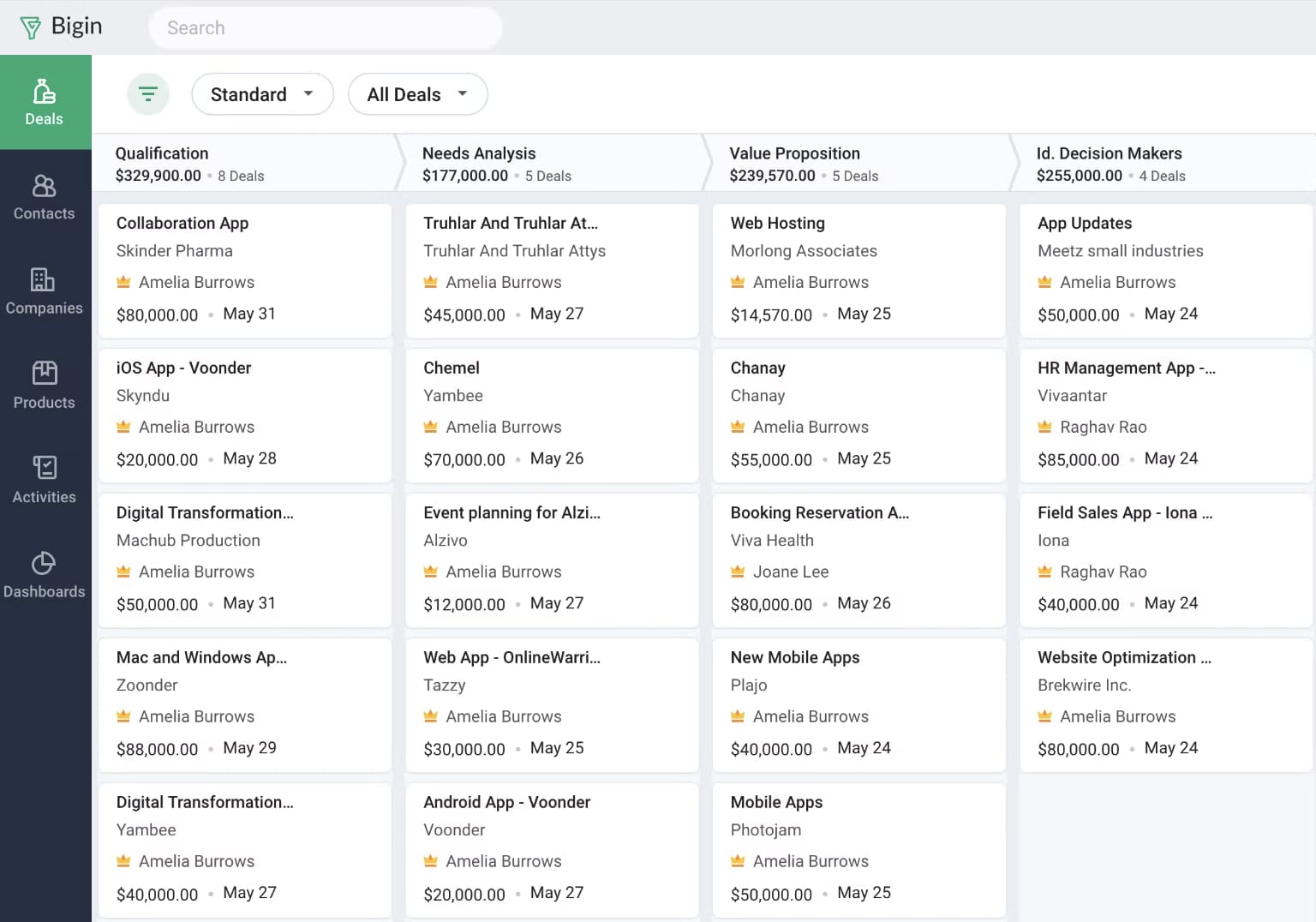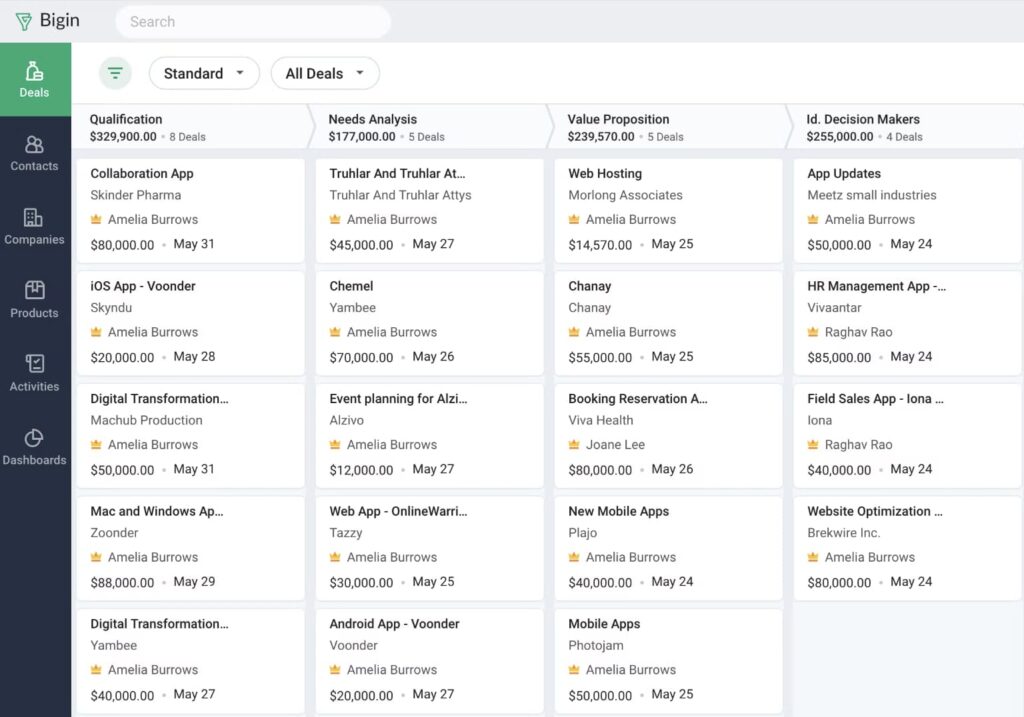 To help businesses organize and use their client data, Zoho CRM provides several useful features and functions. Contact management, leads, sales forecasting, marketing automation, support, analytics and reporting are all part of the package. Zoho Campaigns, Zoho Reports and other apps and services can be integrated with Zoho CRM. These resources allow companies to understand their customers better, streamline their sales procedures and forge lasting bonds with their clientele. The retail, e-commerce, financial and healthcare industries are just a few of those catered to by Zoho CRM software's specialized features.
Best features:
Segmenting clients by location, needs, lead source and responsiveness
Scan business cards of leads with an app and have them instantly added to your Zoho CRM
Web-to-lead forms that can be easily customized with a visual editor.
Sales forecasting provides a real-time view of the forecast of all your sales reps
Organizing sub-campaigns into hierarchies
Pricing:
Standard: $14/per user per month
Professional: $23/per user per month
Enterprise: $40/per user per month
Ultimate: $52/per user per month
HubSpot CRM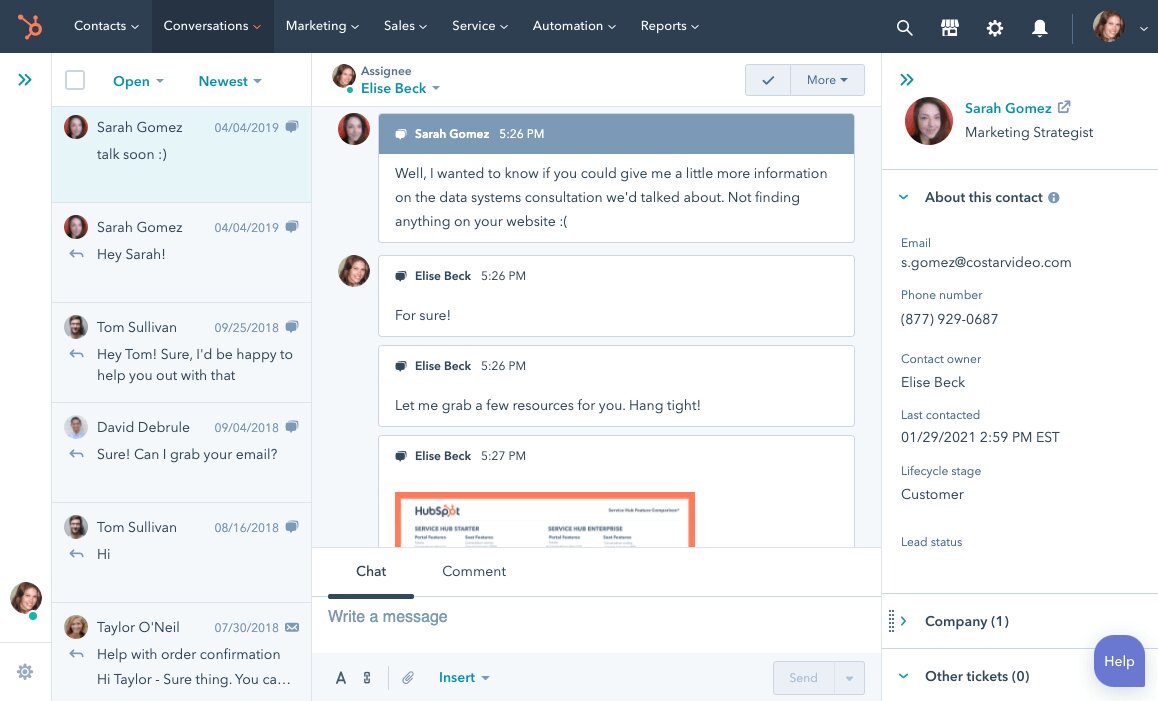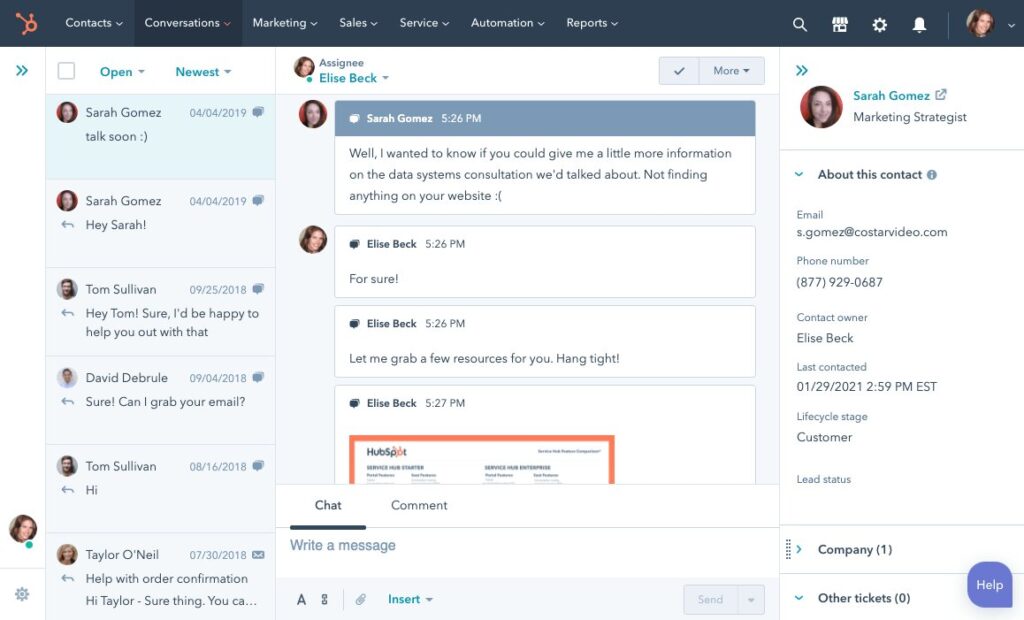 HubSpot CRM is a free client management software. It's like a one-stop shop with a stellar reputation for helping large and small businesses manage their clientele better. Sales managers, salespeople, marketers, customer service teams, operations managers, business owners and others can all benefit from its features.
HubSpot CRM free client management software is flexible, unified and easy to work with. HubSpot offers client management tools like email monitoring and alerts, prospect tracking, appointment setting, web forms and live chat to help you maintain contact with your most valuable clients.
You may save time and energy by integrating HubSpot CRM with Gmail, G Suite, Office 365 or Outlook.
HubSpot offers limitless users, data and up to 1,000,000 contacts with no time limit or expiration date, making it suitable for teams of any size.
Best features:
Contact management
Marketing attribution tools
Deal stages
Dashboards updated daily
Task management
Automated data collection
Pricing:
HubSpot CRM is a free customer management software. It can handle any number of users and data. There is no expiration date; you can add up to one million contacts.
Pipedrive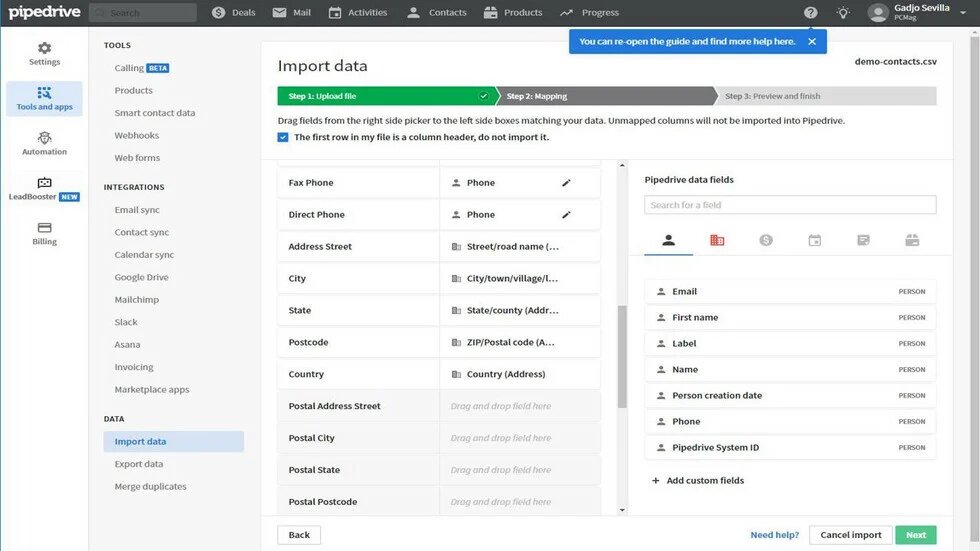 This top client management software is perfect for small businesses or freelancer work. Pipedrive is a simple CRM system that helps organize your client information, unifies your advertising and sales process. It has comprehensive customer service and records all interactions with clients.
To organize and manage your sales funnel, Pipedrive is one of the best client management software tools.
Pipedrive can automate tasks that you do over and over again by using workflow automation. It offers a Sales Assistant driven by AI. It's one of these client management tools that can do it all, from training your sales team to analyzing their past performance with algorithms to provide them with tailored insights and automated recommendations.
Also, this CRM software helps meeting scheduling, email tracking by utilizing your favorite inbox and automatically tying sales chats to deals and contacts. You may connect the Pipedrive client management tool to any app that helps you close more deals. Both Apple iOS and Google Android versions of the software are available.
Best features:
Sales automation
Lead management
AI-powered sales assistant
Insight and reports
Contact management
Pricing:
Free plan for 14 days.
Essential $11.90/per user per month
Advanced $24.90/per user per month
Professional $49.90/per user per month
Enterprise $74.90/per user per month
Keap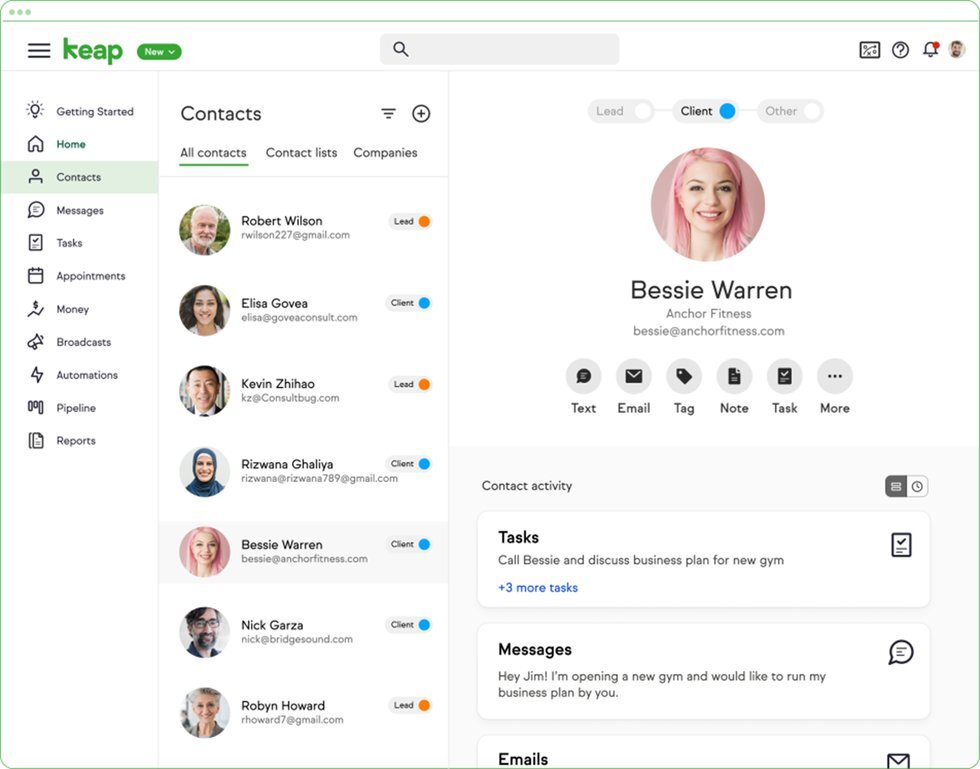 Keap is a client management tool designed to manage sales conversations, streamline enterprises' marketing and sales automation.
Its client management system provides these services by assisting businesses in attracting more potential customers, closing more sales and expanding their client base.
If you use the Keap CRM tool, you won't have to look for other client management tools.
To ensure that your team always follows up with leads on time, you can incorporate custom forms directly onto landing pages on your website. Once you have collected leads, you can utilize Keap's email and SMS marketing capabilities to divide your leads into more manageable groups depending on several characteristics.
Keap client management tool helps with sales automation and converts more quality leads into customers, even if personalization isn't your team's main priority. If the company does a good job of maintaining relationships with its consumers, those customers will become its best customers.
Best features:
CRM tool
Invoices and payments
Sales pipeline
Integrated Systems
Pricing:
All these prices are for 500 contacts and one user
Keap Grow Starts at $79/month
Keap Pro $149 per month
Infusionsoft Starts at $199/month
Insightly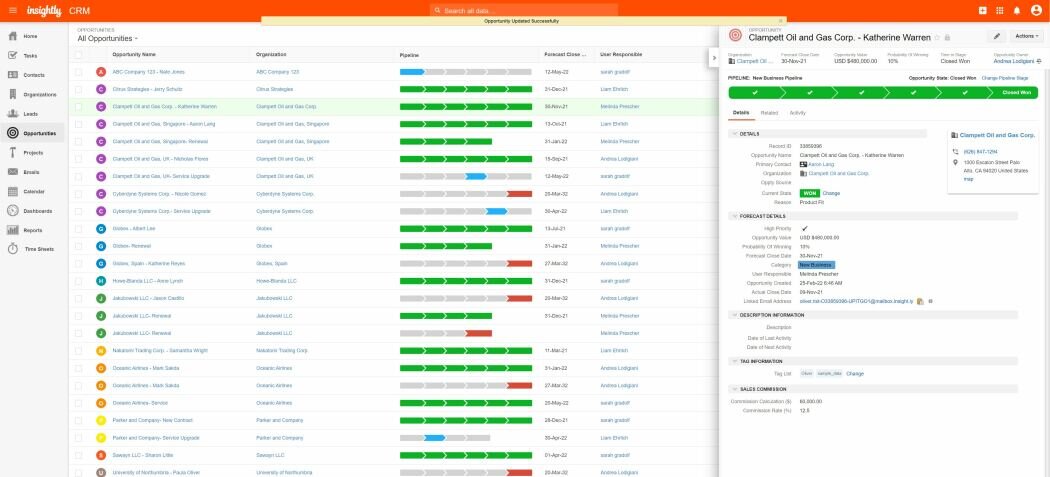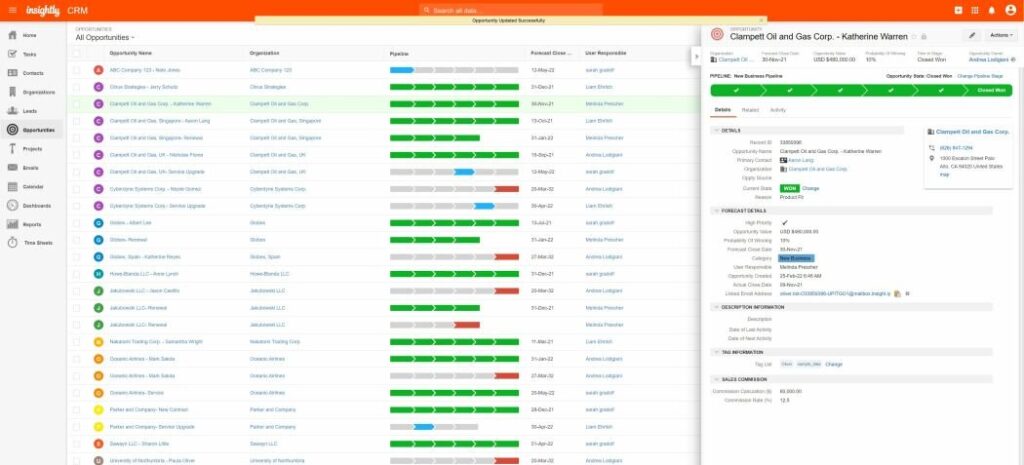 This is one of the sales CRM platforms perfect for freelancers and companies of all sizes, offering excellent customer service, a simple interface and the ability to grow with any company size while supporting the needs of individual sales reps. Insightly also has configuration options that all users may understand and use. The graphs, charts and visualizations you make using its drag-and-drop interface can be shared with the rest of your company. Insightly can connect to other services in several ways, including but not limited to MailChimp, QuickBooks, Microsoft Outlook and Gmail. Even if Insightly doesn't support a specific web service natively, you can still link it to it with Zapier.
Unfortunately, integrations are not as robust as they are in other client management software tools. And many of the advertising choices are reserved for the more expensive packages.
Best features:
The customer's journey is graphically depicted in Insightly
It's perfect for business reporting needs
Workflow automation helps create complex, multi-step business processes
Leads can be instantly redirected to the appropriate team member
Pricing:
A free trial is available
Plus $29/per user per month
Professional $49/per user per month
Enterprise $99/per user per month
Salesforce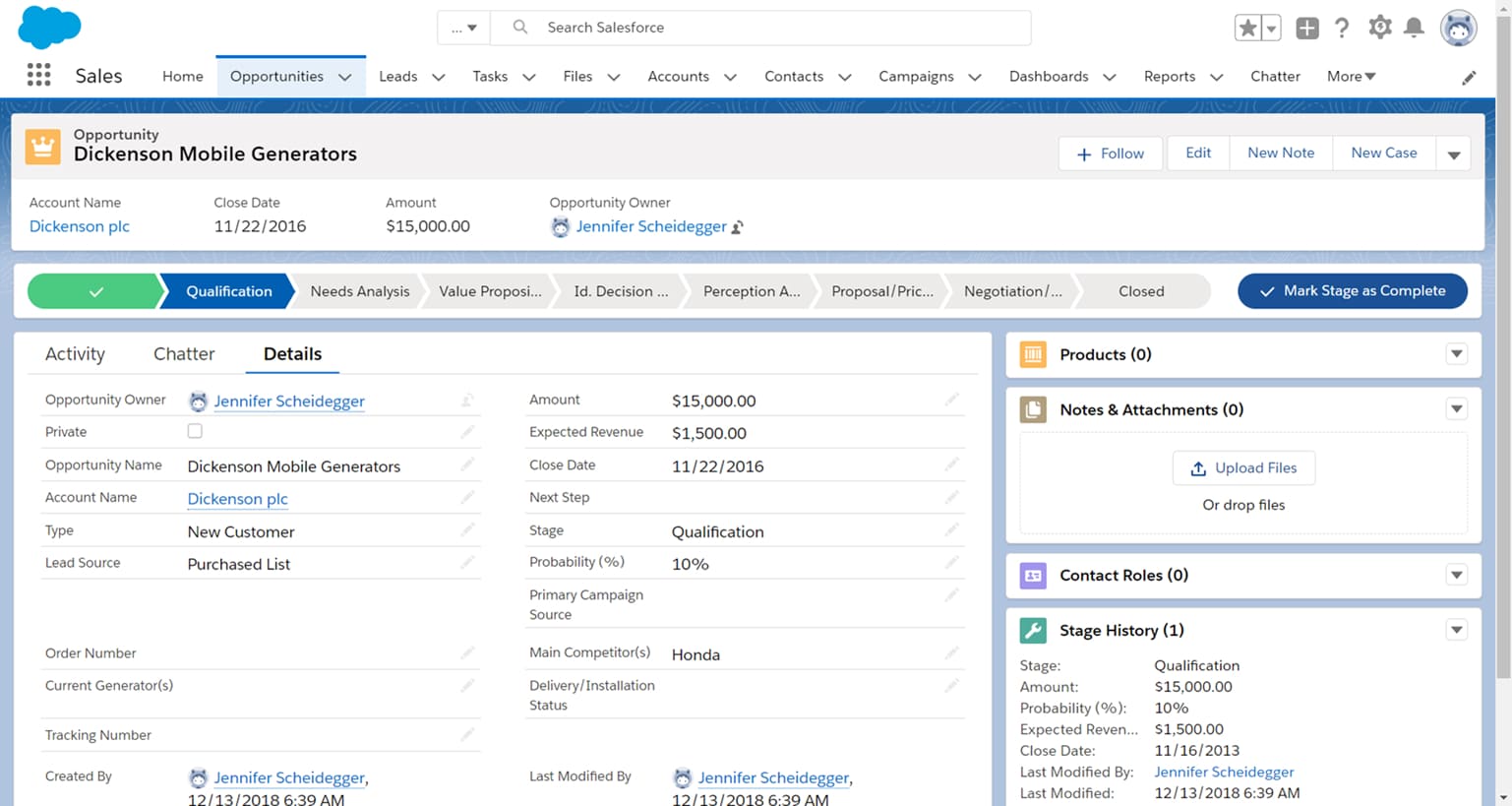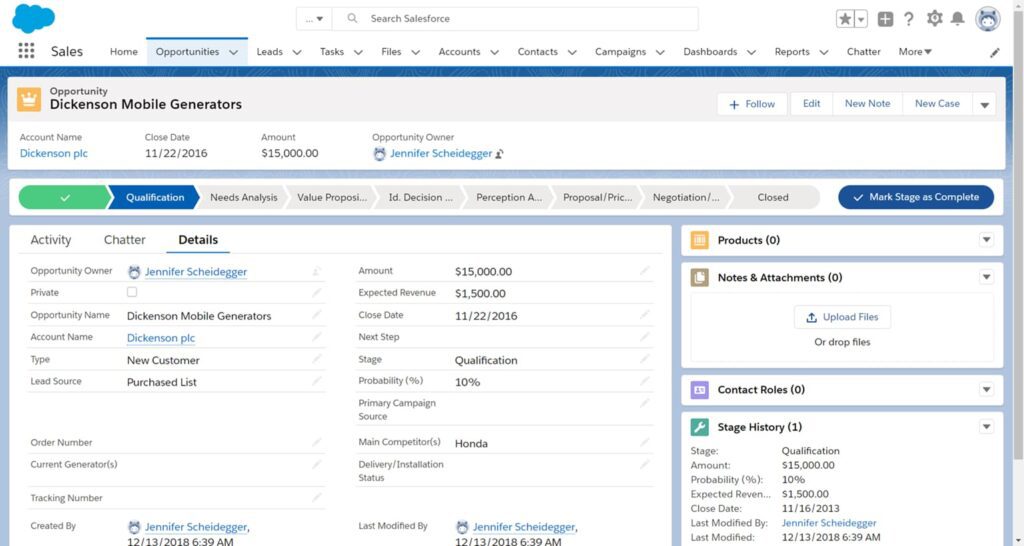 Salesforce is a CRM software that runs in the cloud and helps organizations manage their contacts and sales processes. The management software serves as a hub for a company's data, enabling sales reps to generate specialized reports, automate routine tasks, monitor client engagement and effectively manage their contacts and sales processes. In addition, it provides tools for marketing analytics, lead creation and other related tasks.
With Salesforce management software, organizations can learn more about their clients and make better decisions based on customer data. Teams have centralized client management thanks to interfaces with external data and systems.
Best features:
Activity management to combine emails and engagement activities on one platform
Pipeline management is part of this sales CRM
Slack integration makes it easier to manage clients
Sales forecasting enabling businesses to predict future sales revenue
Management of accounts, contacts, leads and opportunities
Customer 360 gives everyone a shared view of every customer
Email integration with Gmail or Outlook
Pricing
Essentials: $25/month per user
Professional: $75/month per user
Enterprise: $150/month per user
Unlimited: $300/month per user
Monday.com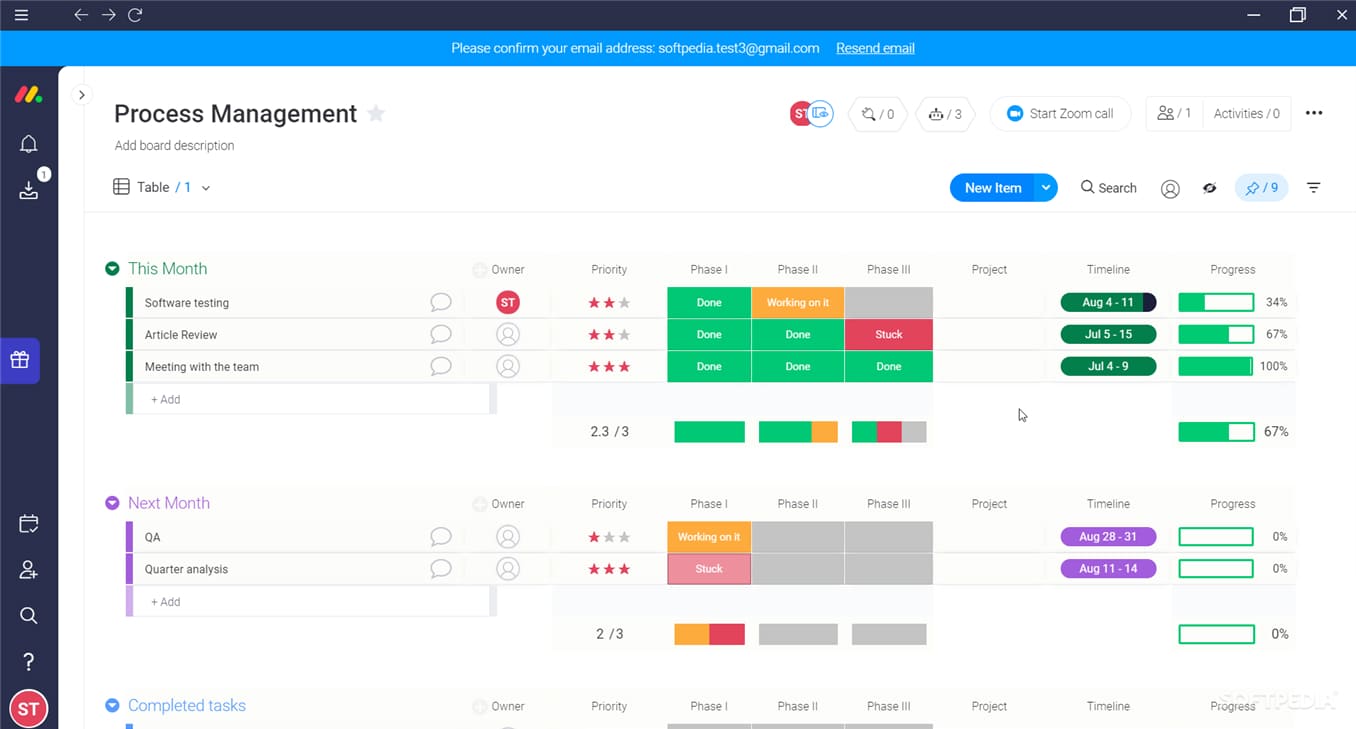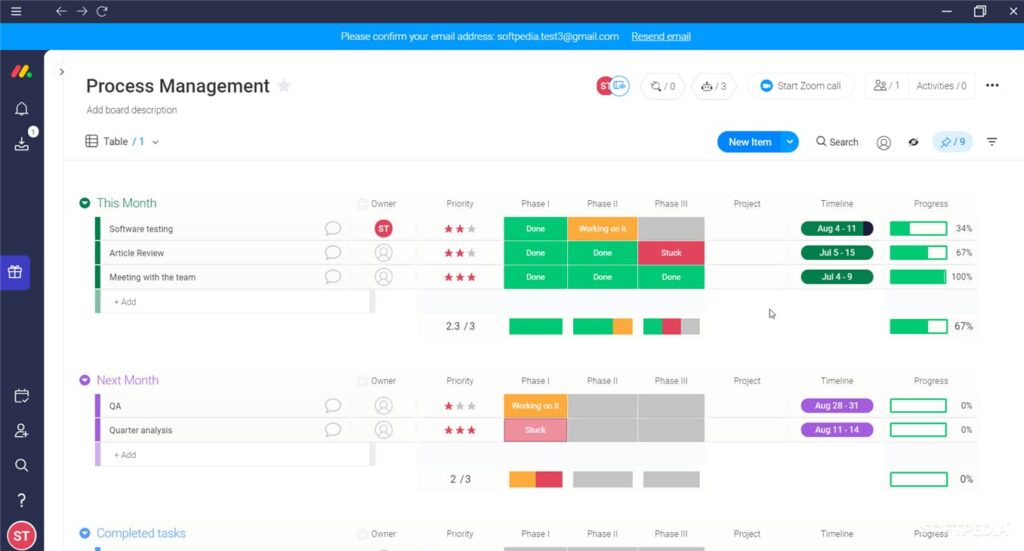 Monday.com is one of the best client management software services for organizing and coordinating group efforts. And while It was founded as a team management solution, it still helps companies take care of sales and customer relationship management, marketing campaigns and pipeline management.
Your customers will have no trouble using Monday.com, thanks to its user-friendly design. You can ensure complete openness by granting them access to the project's governing board. This will also help you save time, typically spent reporting to clients on the project's progress.
All your client interactions occur in one central location thanks to the integrated client board, collaboration and communication tools in this client management software. All of your customer chats and file-sharing activities take place in a single location.
You can see who has seen your messages and add notes to them with Monday.com's handy tools. The program will facilitate the transition of customers from one sales pipeline to another and the transformation of tasks into results.
Best features:
Custom fields to create a sales cycle workflow and customer relationship management software
Uploading files to Google Drive, Dropbox or OneDrive for document management
Lead management using automated, user-defined criteria
Integrating email communication with client interactions
Simple, code-free dashboard customization
Pricing
Individual: Free forever
Basic: $8/month per user
Standard: $10/month per user
Pro: $16/month per user
Enterprise: Contact Monday for details
Freshworks CRM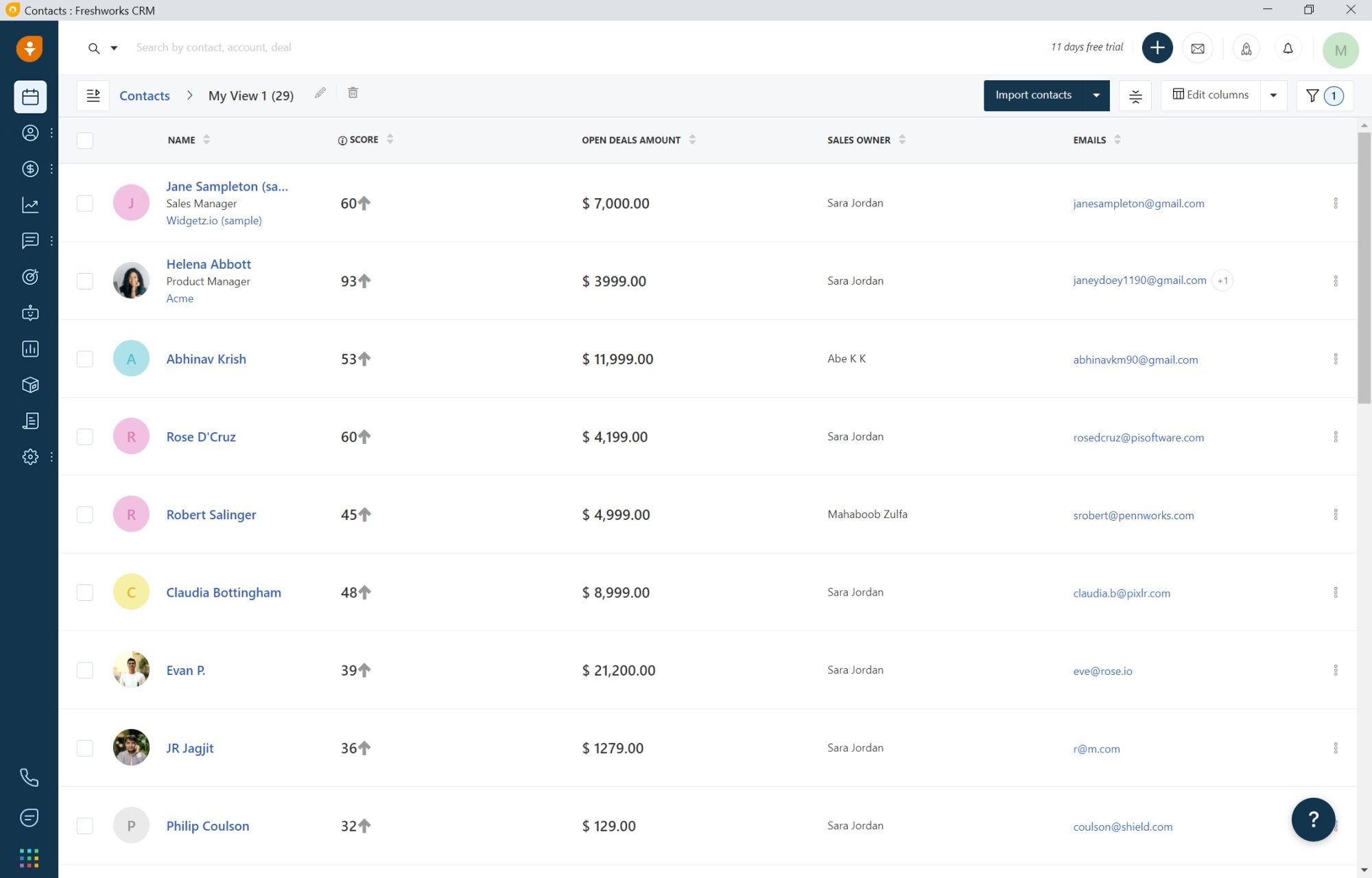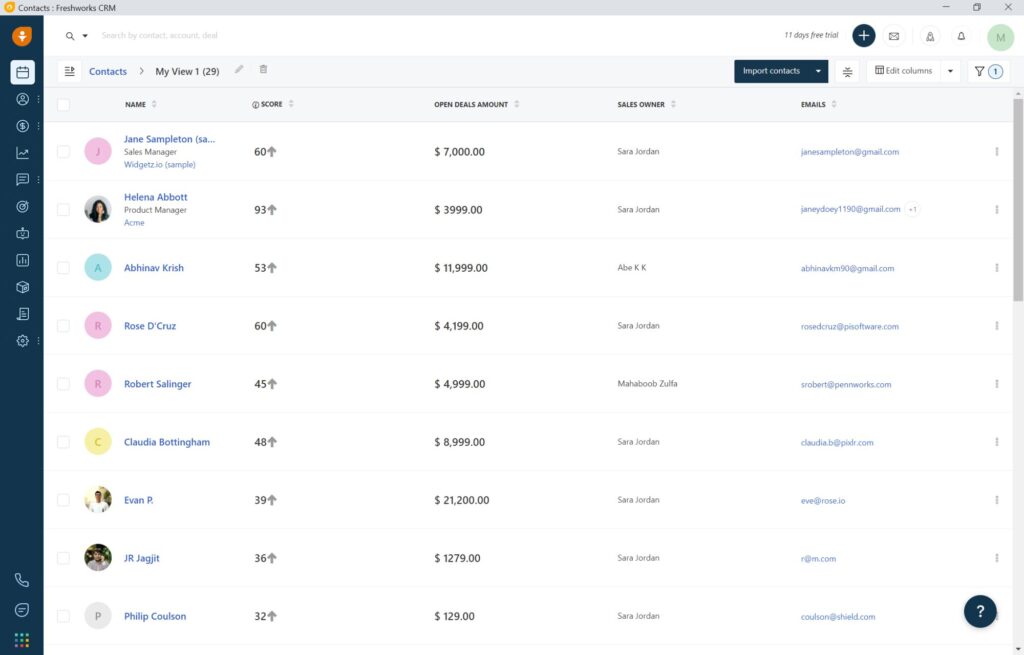 Freshworks client relationship management software streamlines the client management process, marketing automation, customer relationships, centralized data management, and manages sales pipelines, empowering sales reps to effectively manage customer relationships and boost productivity. Small businesses can boost earnings and learn more about client databases by making use of tools like contact management, lead scoring, customer segmentation, task automation and customer insights.
This is one of the best client management tools that helps teams better track customer contacts thanks to rich data and helps save time by automating routine tasks with rules-based workflows. Freshworks' client management tool can be integrated with other widely used programs such as Google Apps, Zapier and MailChimp for even more streamlined customer data utilization.
Best features:
Pipeline management
Lead scoring
In-built audio calls
Sales reports
Client data optimization
Pricing:
Starter: $19/per user per month
Growth: $49/per user per month
Pro: $95/per user per month
Enterprise: $199/per user per month
Read more posts on this topic:
Wrapping up
Client relationship management software and contact management help client relationships by providing a systematic approach and tools for organizing and leveraging customer life cycle.
Investing in customer management and client relationship management software can pay huge dividends for your company because it helps keep your new and old customers happy (and these are your customers who affect your revenue in the long run).
It's important to remember every company has its own unique requirements, rules and preferences for a contact management software. That's why you should choose a client relationship management software that provides all the sales tools and everything you need to manage your company's clients effectively.
For this reason we have created this list of best client managing software in 2023.
Why these software tools? Well, even though the corporate world has seen many innovative contact management software tools emerge in recent years, these ten have undoubtedly left an indelible mark.
We wish you good luck with your client service management efforts, and hope this list of the top client management programs will help you choose the best client management tool that meets all your requirements.
Discover the power of Nimbus Platform with our experts!
Visit our Twitter page for more articles and updates!
Disclaimer
Parties other than Nimbus Platform™ may provide products, services, recommendations, or views on the Nimbus Platform™ site ("Third Party Materials"). Nimbus Platform™ is not responsible for examining or evaluating such Third Party Materials, and does not provide any warranties relating to the Third Party Materials. Links to such Third Party Materials are for your convenience and do not constitute an endorsement of such Third Party Materials.
Previous post
The Power of Client Dashboards: What It is and How to Create One
Next post
Client Management: Key Strategies for Success