Top Nimbus Updates of June 2021
Another month has flown by, which means that fresh Nimbus releases are already waiting for you! So, let's find out what you can achieve with our solutions starting from June 2021!
➤ Add your custom SMTP server to the business organization;
➤ Use shortened public links with your CNAME;
➤ Get more with desktop apps;
➤ Enjoy new features on Android: comments and more;
➤ Explore new features on iOS as well;
➤ Customize the web client according to your needs: hint, sidebar, images alignment and PDF preview.
Let's get more details on each update!
Add your custom SMTP server to business organizations
Customize Nimbus Note settings even better! With a Nimbus Business account, you can add your branding to have a professional look and set yourself apart from other services.
From now on, your clients can receive email notifications directly from your professional email address, with no mention of Nimbus. This feature will help complete a powerful on-brand experience and build trustful relationships with prospects and clients!
You can add your custom SMTP server and choose the email address (with your logo and image) from which all emails will be sent. To do this, go to the business console and follow the instructions from the guide >>
Please note: adding an SMTP server and branding is available only in the Business account.
Try our advanced features with a free trial (no credit card required). Get a free trial >>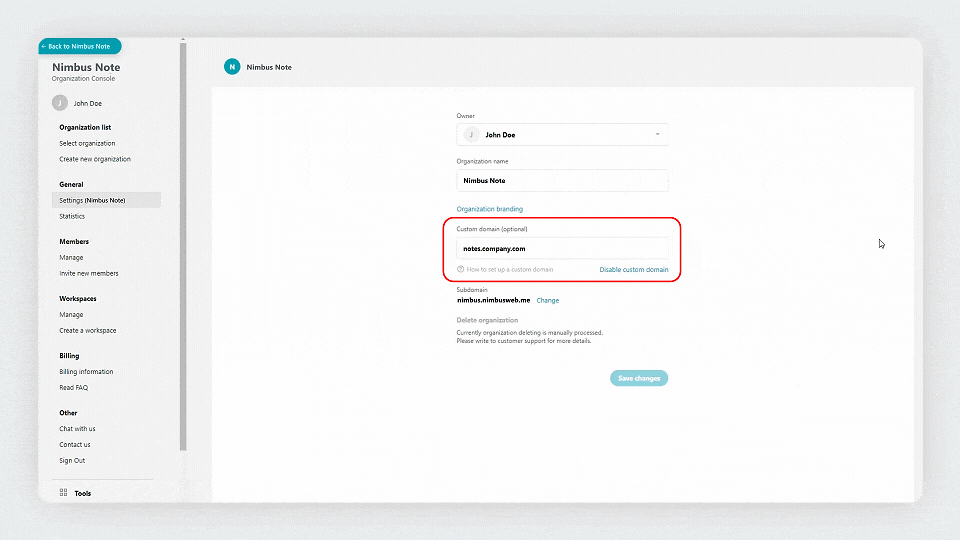 Use shortened public links with your CNAME
Did you know that you can have your custom subdomain? With it, your public pages and web client will be displayed as your_subdomain.your_domain.com. It's another great feature that will increase your brand awareness.
To add your custom subdomain (CNAME) to Nimbus, check out our guide>>
From June onwards, the shortened links for public pages will use the name of your organization instead of Nimbus. You can use shorter links and promote your brand!
This feature already works and is enabled automatically for all organizations with CNAME, so you don't need to do anything.
Please note: only business users can add CNAME and branding. If you don't have a business subscription, you should definitely check it out!

Let your clients live and breathe your brand with Nimbus Business Plan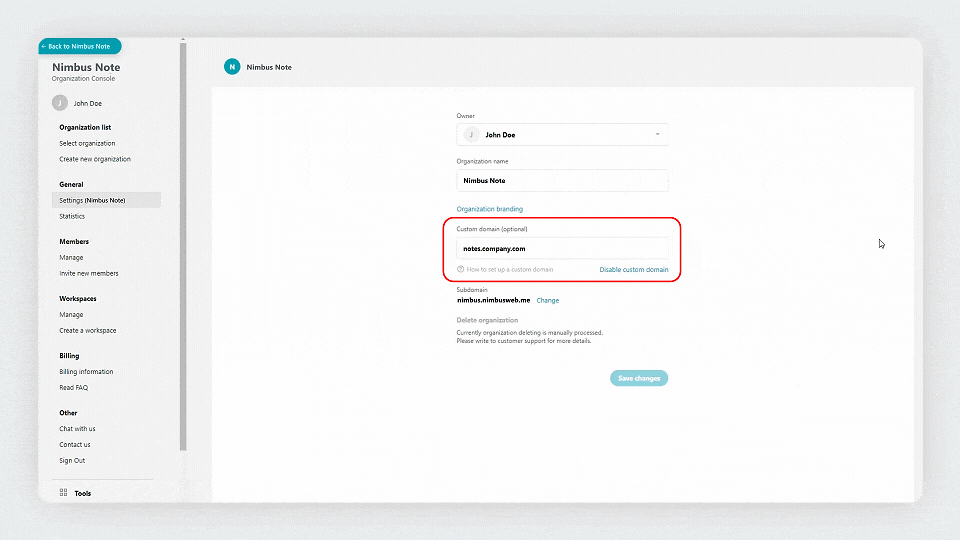 Get more with desktop apps!
In June, we updated our Windows and Mac apps for you!
In Settings, you will see a new category Note Appearance. There, you can set the default font, size, image alignment and theme.
We've also optimized desktop apps so you'll experience improvements in their performance and speed.
Nimbus Lifehack: local folders on your desktop apps. Folder content is not sent during synchronization with the server and stays only on the device. Just mark the checkbox while creating a new folder on your desktop app. Find out more info >>
Please note: at the moment, local folders can only be created on desktop apps.
Download Nimbus on your desktop here>>
Enjoy new features on Android: comments and more!
Our Android app has also been updated. Now, you can:
Comment on notes! Just tap on the block you need and choose the option Comment! You can comment on any type of block: text, image or video, and even files!
Choose the black Oled theme for your application by going to Settings and selecting Theme.
Add a date with the @ symbol;
Use the new panel in the editor to change folders and add tags even more smoothly.
See automatic previews once you've added a new image!
Explore new features on iOS as well!
If you are an iOS Nimbus user, we have great news for you too! Now, you can:
Send an article to Nimbus! Choose a workspace and folder and save it as a regular link, a bookmark, or an article.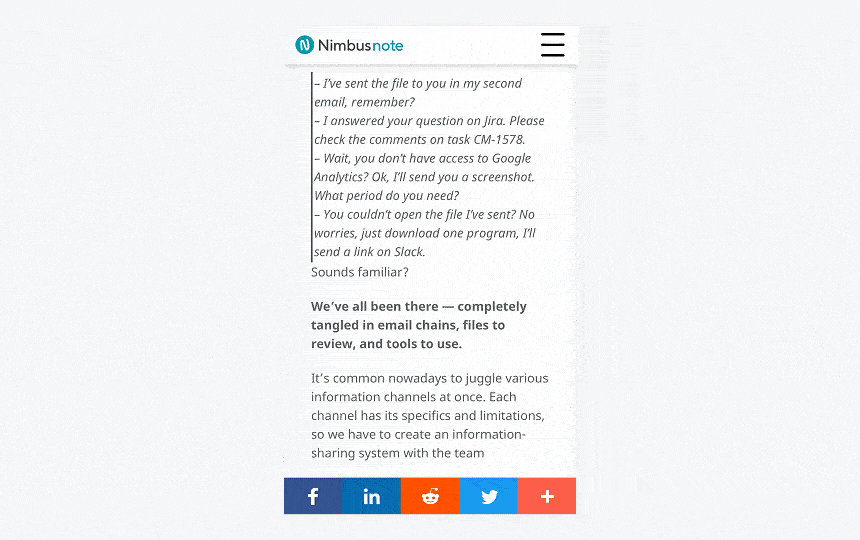 Use a new panel in the editor to select a folder or add tags even more smoothly;
Expand and collapse folders/subfolders in one tap;
Choose to show the folder and tags in the list of notes. To do it, go to the settings > Notes' list appearance;
Start the new block with a capital letter (after Enter).
Customize the web client according to your needs: hint, sidebar, image alignment and PDF preview!
Many more features for your seamless experience have been added! You can:
Customize the object Hint to draw the attention of your clients/teammates. Set background colors, choose icons, select border colors and even add vertical lines (like in quotes)!
Set the default alignment for images! All new images are center-aligned by default. However, it might not be convenient for all users. Choose the default image alignment that suits you best! Just go to the Settings >> Note Appearance and set the default alignment based on your needs!
Turn off the default sidebar outliner in the note menu! This disables the table of contents, both on the web client and public pages. With a Business plan, under the business console, you can turn off the outliner display for all workspaces' public pages.
Set a default page for PDFs! Usually, the PDF preview displays the file's first page. But now you can choose which page to show! Inside a PDF, click on the corresponding icon for the page you want to set as default.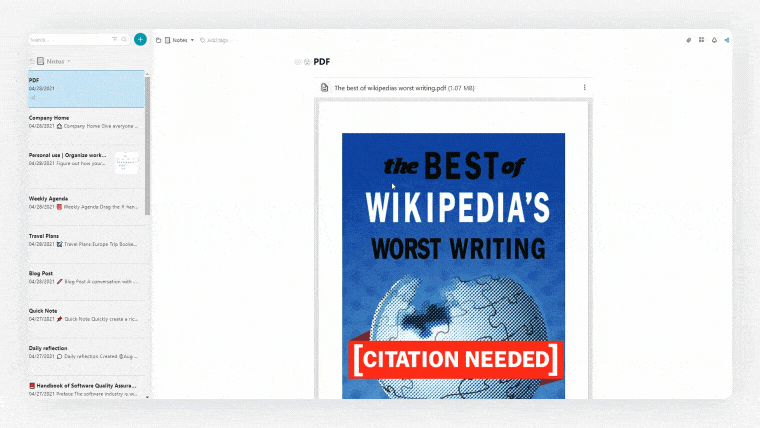 June was such a great month! But we have so much more for you in July!
What's next?
Object Button added right into your notes;
New hotkey Slash to add objects;
Search optimization;
And much more to come for mobile apps!
Previous post
Nimbus and its future: interview with CEO Pavel Sher
Next post
Learn how to make screenshots and recordings more professional