Introduction: Why do you need Custom Subdomain (CNAME)? #
By default, after you create an organization, you get a subdomain of the format "yourcompany.nimbusweb.me"
Optionally, you can add your personal domain. Then the web client and public pages will be displayed on a subdomain like "mynotes.mydomain.com". For such purposes, there are CNAME records.
You can also add your own personalized branding.
Adding a subdomain to your Nimbus Note account #
As the look may differ based on your domain registrar, adding a subdomain to your Nimbus Note account usually requires the following steps.
1. Log in to your domain registrar.
2. Find the DNS records for the domain you would like to add a subdomain to.
3. Create a CNAME record that points your desired subdomain to your Nimbus Note URL. The following screenshot from GoDaddy serves as an example of how it may look on your domain registrar.

4. Log in to your Nimbus Note business account and navigate to the Domains page.
5. Add your new URL (with the subdomain) to your Nimbus Note record.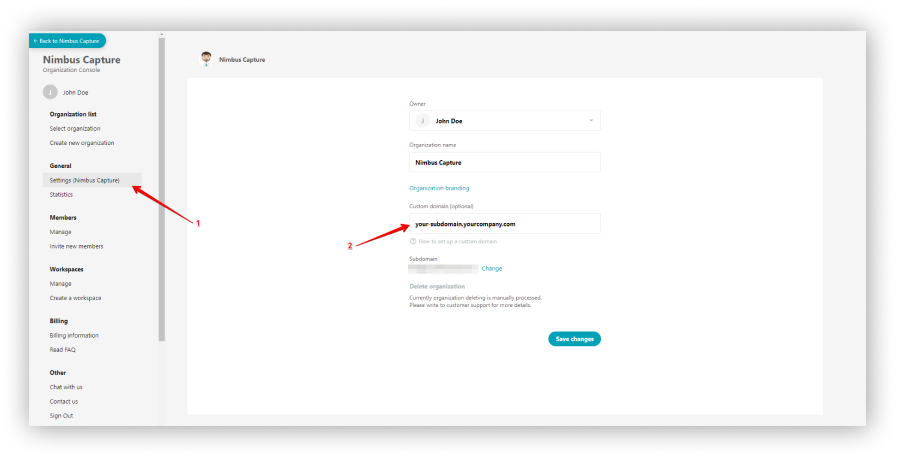 Check Domain Propagation Status #
It can take between 24 and 48 hours for your new domain to fully start working—a period called domain propagation. During this period, your visitors may not be directed to your new domain right away. You can check the current status of your domain's DNS propagation by visiting this DNS Propagation Checker tool. After domain propagation, you should be directed to your new "your-subdomain" when you visit your new domain. If it takes more than 72 hours, contact Customer Care.
How to add CNAME via DirectAdmin #
In case you have NS-servers set in your registrar, then you should add CNAME records via your hosting panel, for example in DirectAdmin.
1) Open domain control panel in DirectAdmin and click DNS Management.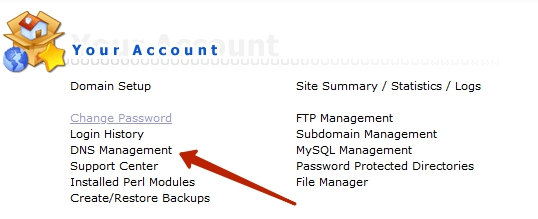 2) Input necessary data into CNAME fields. The left field is for subdomain names. For instance, if you have pages.yourdomain.com, then you should enter "pages" as the name. In the True values field, you should add the link to your subdomain in Nimbus Note—for example, your-company.nimbusweb.me. (with a dot at the end). Then press the Add button and wait for DNS records to be updated (which usually takes around 1-2 hours).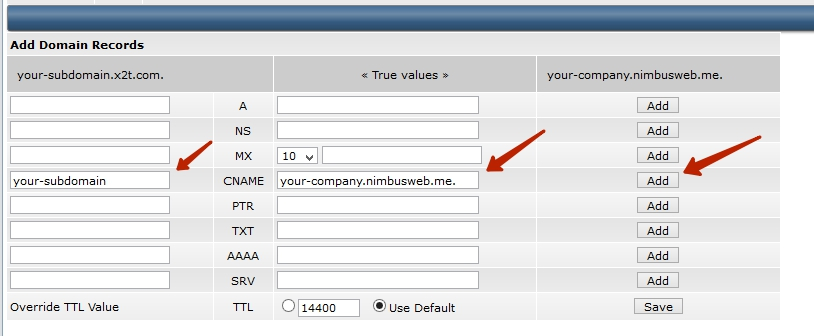 How to add CNAME via Cpanel #
1) Log in to Cpanel with your account.
2) Under the "Domains" section, click on the "Simple DNS Zone Editor" icon.
3) Select your domain from the drop-down menu.
4) Choose CNAME and click Add Record.

5) Fill in the Name field with the same URL you used in the Custom domain field.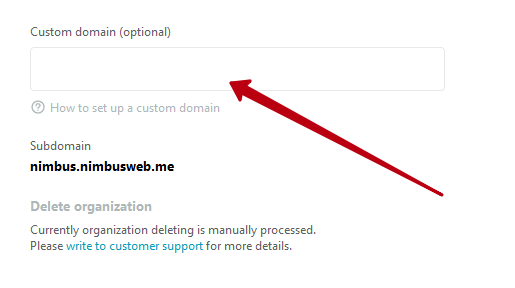 It's necessary to put a dot at the end. For example nimbus.mycompany.com.
In the CNAME field, fill the URL of your subdomain with nimbusweb.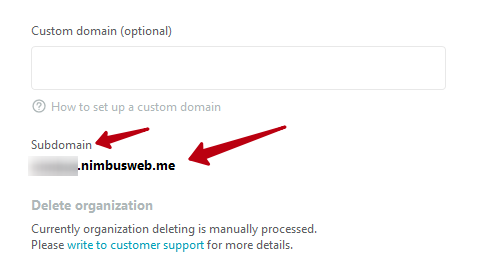 For example mycompany.nimbusweb.me
6) Then click Add CNAME Record –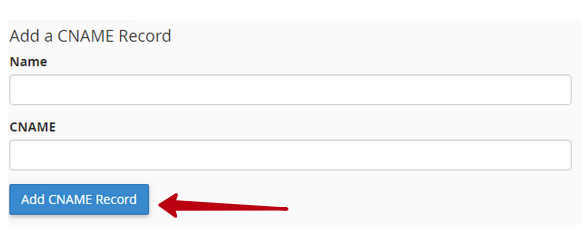 Short links with your CNAME #
Add a custom domain to your Nimbus organization! Let your clients and teams live and breathe your brand!
With CNAME, your public pages and web client will have the domain: your_subdomain.your_domain.com.
You can also use shorter links with your CNAME easily! While sharing a public link, click on Shorten, and the shorter public link will be generated automatically.
More Links #
👉 Godaddy – how to add CNAME for subdomain
👉 Namecheap – how to add CNAME for subdomain
👉 Getresponse – how to add CNAME for subdomain
👉 Ionos – how to add CNAME for subdomain
👉 Getomnify – how to add CNAME for subdomain
👉 Web24 – how to add CNAME for subdomain
👉 Ubnbounce – how to add CNAME for subdomain
👉 Google – how to add CNAME for subdomain
👉 Bluehost – how to add CNAME for subdomain
👉 Namecheap – how to add CNAME for subdomain
👉 Name.com – how to add CNAME for subdomain
👉 iwantmyname – how to add CNAME for subdomain
👉 Drift – how to add CNAME for subdomain
👉 123-reg – how to add CNAME for subdomain