10 Powerful SuiteDash Alternatives to Consider
Get tips from our expert on how to enhance your workflow with Nimbus Platform!
Book a demo
Today's dynamic and quickly changing business environment forces businesses to look for seamless and integrated solutions to optimize their operations and improve client interactions. SuiteDash, a powerful client portal software, is a robust solution enabling companies to consolidate diverse business tasks within a single platform. With a rich set of features, SuiteDash aims to improve teams' productivity and promote better client relationships.
However, nobody and nothing is perfect, and SuiteDash is no exception. In this article, we will look at what the solution is, examine drawbacks and explore SuiteDash alternatives so you can choose the most suitable platform for your specific needs.
What is SuiteDash?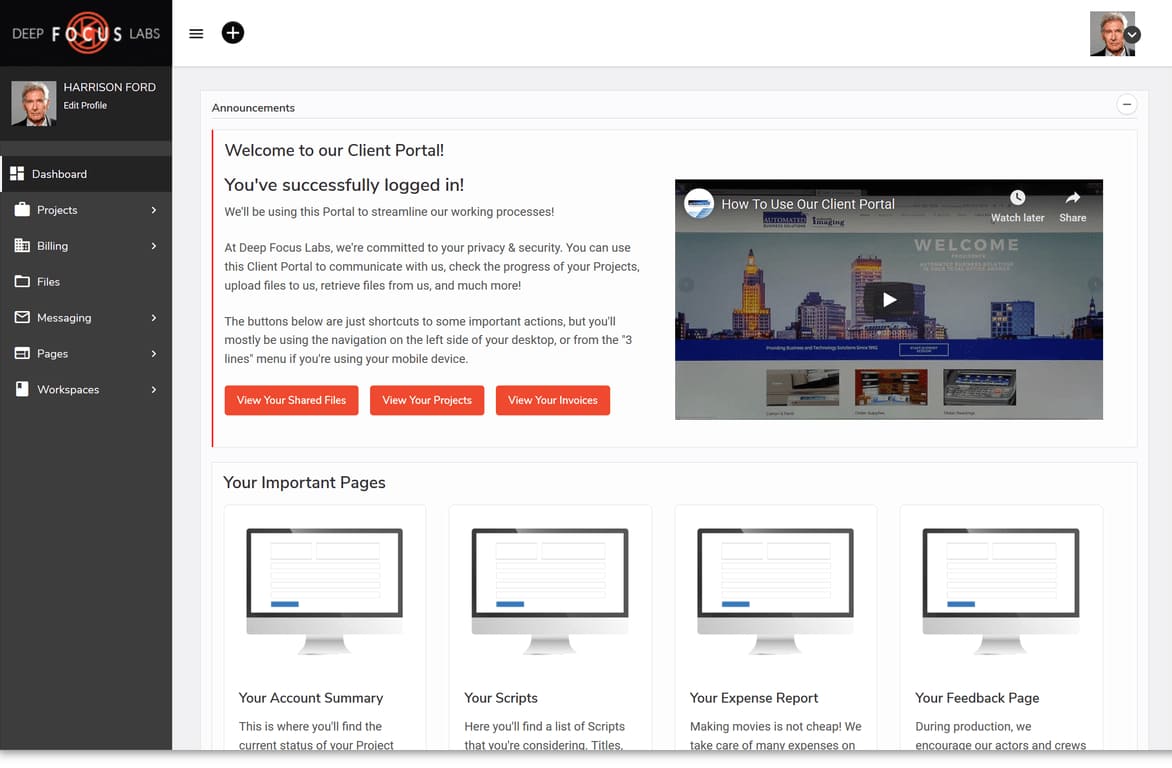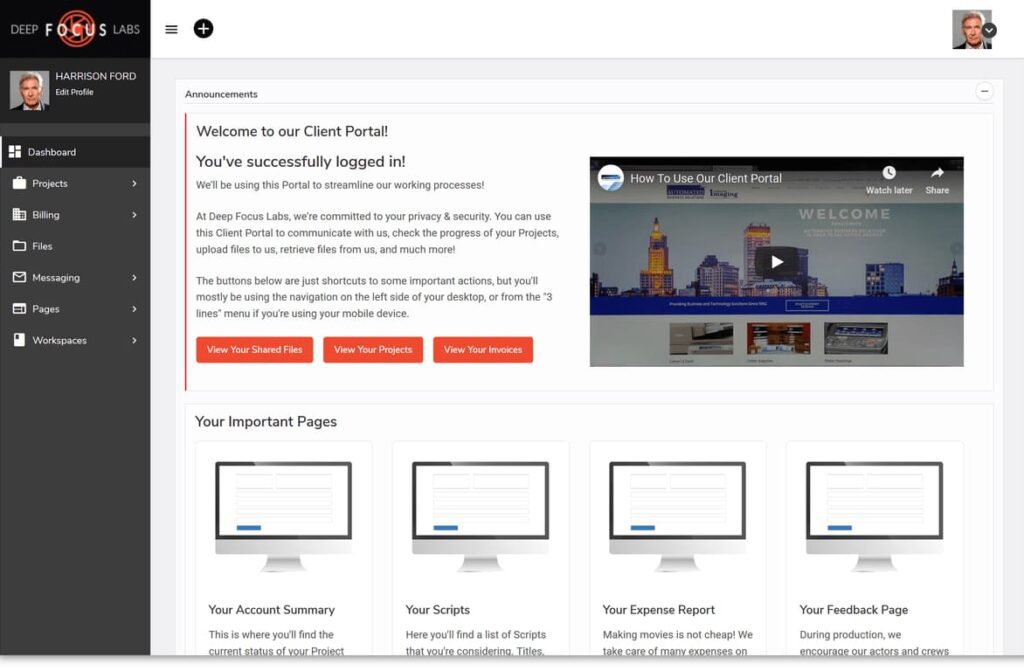 SuiteDash is an all-in-one business suite comprising project management software and a secure client portal. It serves as a universal business management solution that provides organizations with the tools they need to efficiently manage business operations, projects and clients.
SuiteDash focuses primarily on enhancing the client experience by providing a secure and centralized portal where clients can access relevant information, collaborate with the business and view project progress.
Read more posts on this topic:
Limitations of SuiteDash
SuiteDash is undoubtedly a powerful tool for business management; however, as we have already mentioned, it does have its drawbacks. Those comprise quite a steep learning curve, limited customization options, user interface inconveniences, issues with performance and speed, as well as reported problems with customer support. Additionally, the pricing is not that affordable, especially for small and medium-sized businesses, and the integration capabilities might not cover the full range of tools required.
Taking into account these drawbacks, it's worthwhile to explore alternative solutions to SuiteDash. In doing so, businesses can find other client portal software options that better meet their specific needs and offer more customized solutions for project management and client portals.
How to Find the Ideal SuiteDash Alternative
Finding the best SuiteDash alternative requires a systematic approach to ensure the chosen platform meets your business needs. Here's a step-by-step guide to help you in your search:
Analyze your needs: Start by identifying your specific business requirements and objectives. Consider factors like client management, project collaboration, invoicing, integration needs and scalability. Understanding your priorities will help you shortlist alternatives that match your goals.
Research and compare: Find time to carry out an investigation of SuiteDash alternatives available in the market. Compare the features they deliver, their pricing and the quality of customer support. Pay particular attention to those solutions that excel in the areas where SuiteDash has limitations.
Take advantage of free trials and demos: By spending more time with the product and giving it a test run you will be able to see if it will fit in the team's workflow.
Think of integrations: Check whether the solution you are considering as an alternative to SuiteDash can easily integrate with all the tools and applications you are currently using in your workflow. Unexpected integrations could appear to be quite costly in terms of time, money and effort.
Assess customer support: Find out whether the alternative solution offers good high customer support. Having reliable and timely assistance for any difficulties that may arise is important when implementing and maintaining any kind of software.
Prioritize security: Ensuring the protection of sensitive information (both yours and your clients') is a must. The selected solution should comply with the industry standards, so don't hesitate to ask about the specifics of data protection measures.
Take into account the potential for growth: When choosing a SuiteDash alternative, keep your company's future growth in mind and check whether the candidate solution will be able to accommodate it without compromising performance.
Collect feedback: Talk to the current users of the SuiteDash substitute you have shortlisted. Learn from their experiences to identify any possible weak points.
Assess your budget: This is perhaps the first and most important step you need to take. Carefully calculate the funds at your disposal and try to find the maximum set of features you can get within that cost.
10 Best SuiteDash Alternatives in 2023
#1 Nimbus Platform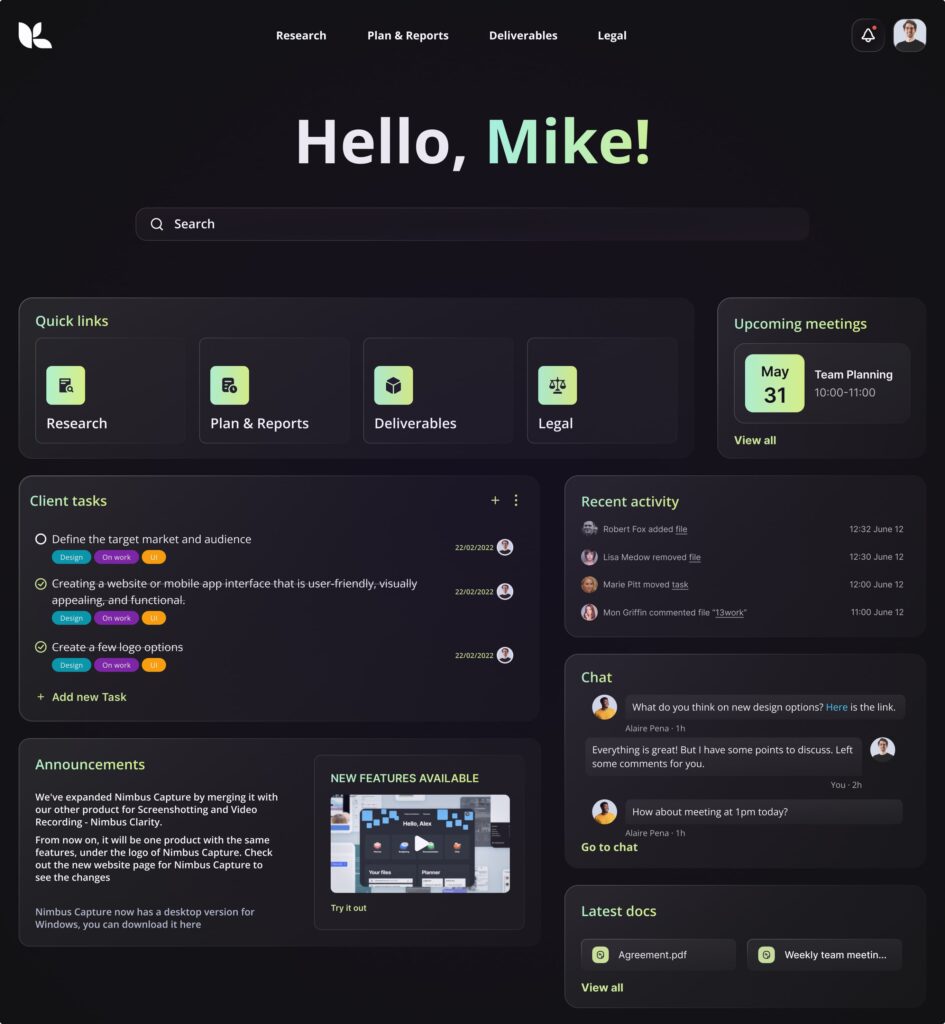 Nimbus Platform ranks number one in our list of the best SuiteDash alternatives, as it provides a popular all-in-one solution for content management and customer support for businesses of all sizes and industries. With Nimbus, you can quickly and easily create custom client portals and knowledge bases, interact with customers, resolve support requests and organize content. It also offers features to manage client appointments and chats, analytics tools to understand customers' behavior and white-labeling options to personalize and promote your brand.
Pros:
Project management tools
Vast embedding features and integrations
Simplified file sharing and document management
Easy data collection and feedback processing
Knowledge base feature
Permission management and access controls
Customizable workspaces with white labeling capabilities
Cons:
Search only within one workspace
No backlink management
Pricing: Starts at $9/month, Nimbus Platform offers flexible pricing plans based on the number of users and other features required. A free trial is also available.
Capterra rating: 4.6 (155 reviews).
#2 Copilot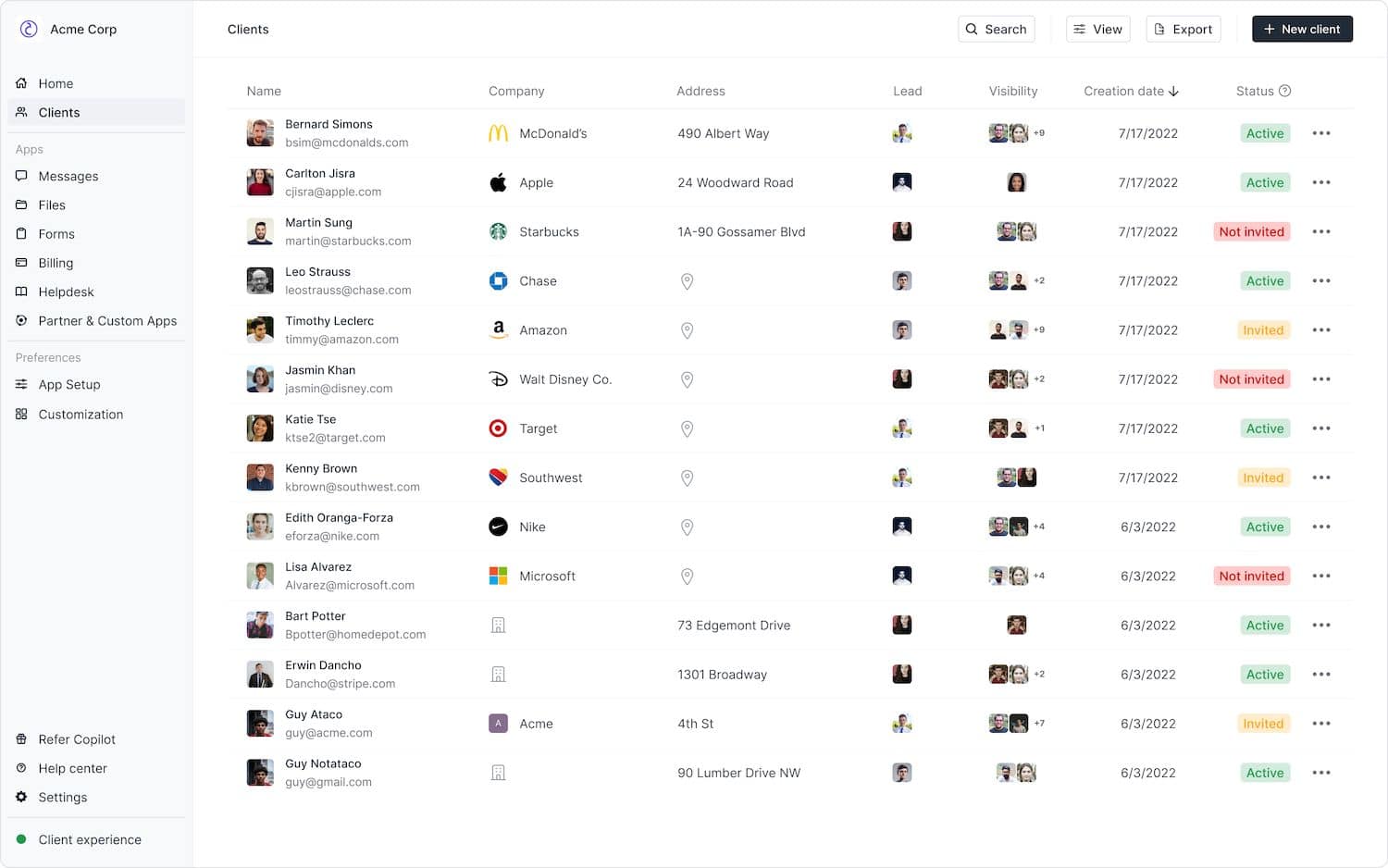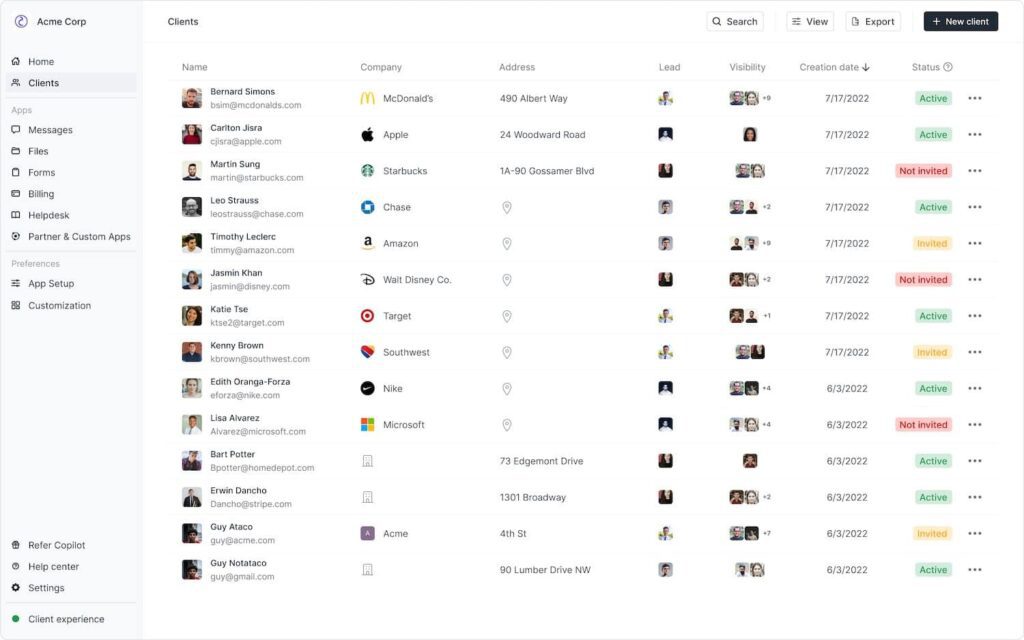 Copilot is a modern client portal platform for service businesses. It emphasizes real-time collaboration and extensibility, enabling integration with various apps, such as project management tools and payment processors. The Zapier integration further streamlines the client onboarding process through automation. What sets Copilot apart from other client portal software is its integration features allowing businesses to consolidate all their existing apps into a single, centralized platform.
Pros:
Intuitive interface
Client portal builder with no coding required
Easy integration with third-party tools
Built-in invoicing and payment management to process payments seamlessly
Included messaging, file sharing and form-building features
Cons:
Challenging customization process
Steep learning curve
Pricing: The basic plan starts at $29/month. The Professional plan allows up to 500 clients and 500GB of storage, and costs $69/month per internal user.
Capterra rating: 4.9 (19 reviews).
#3 Clinked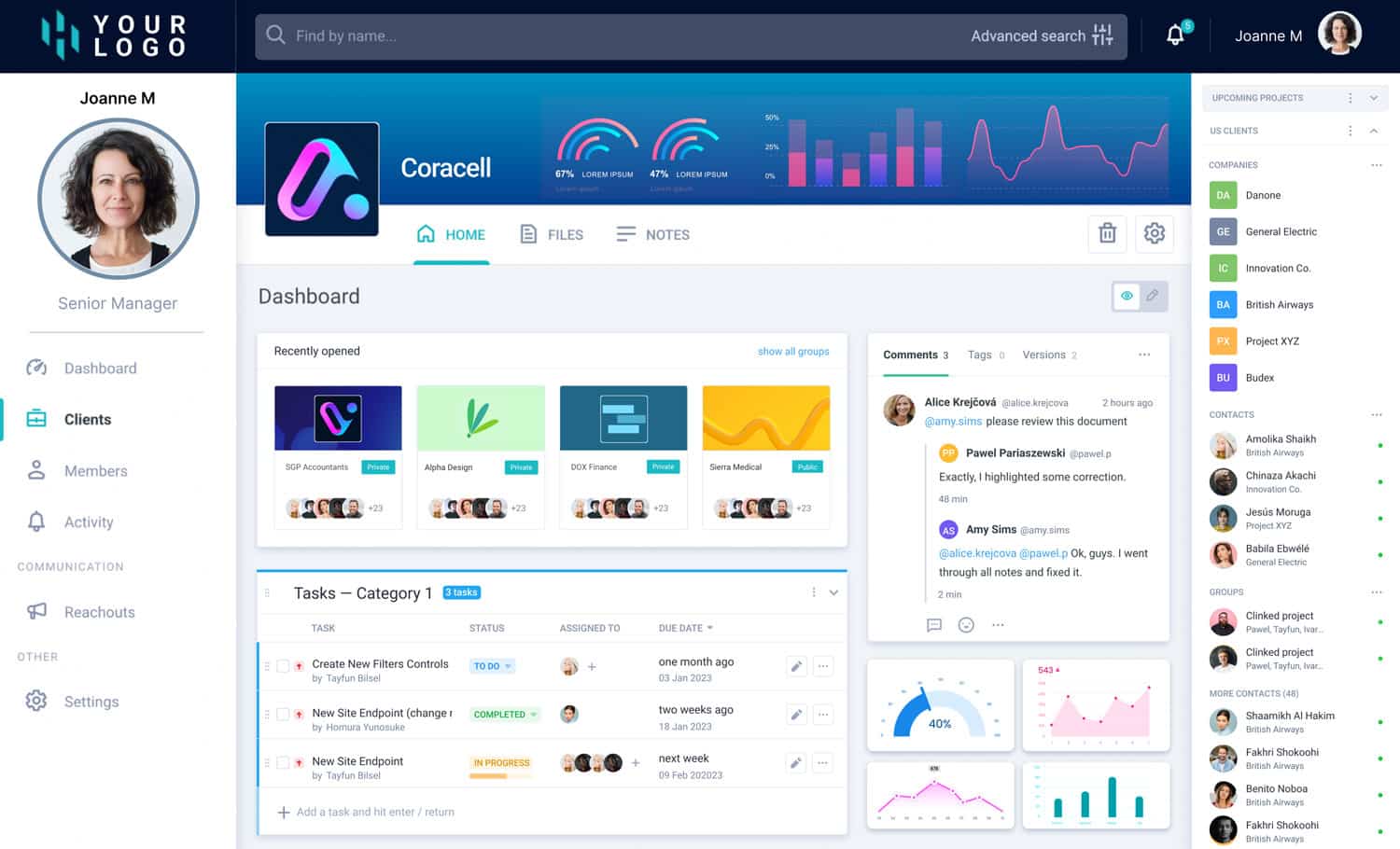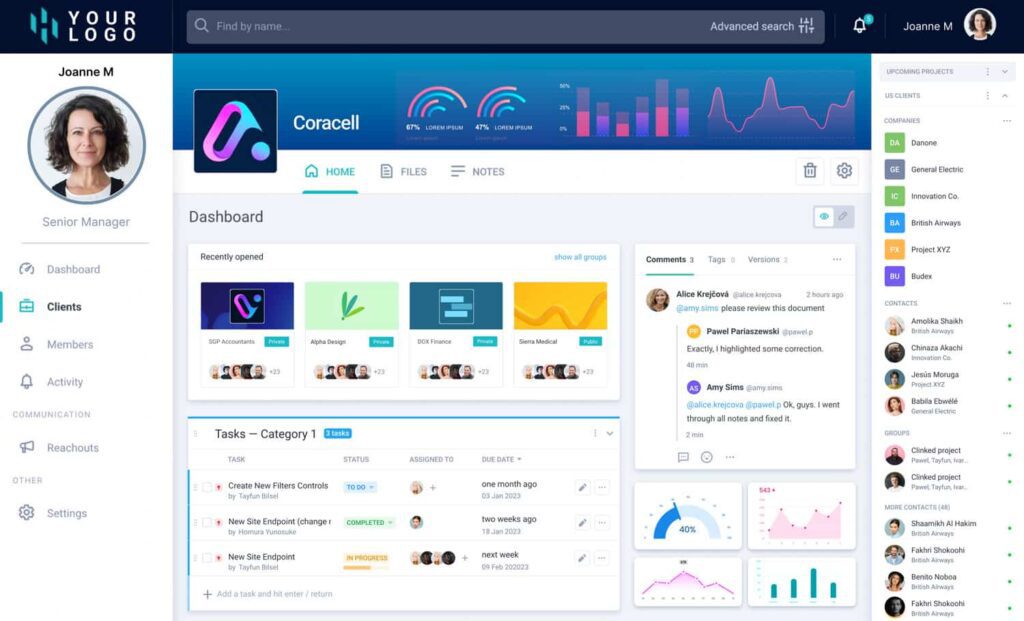 Clinked is a client portal solution with project management software targeted at client-facing teams. It delivers a range of features, including file sharing and project management. Clinked also offers task management, team calendars and time tracking tools, thus helping businesses manage projects and tasks effectively. The platform is renowned for its clean, organized and intuitive portals.
Pros:
Customizable branding
Enhanced security measures
Collaboration tools and project management features
The Enterprise plan allows for 1000+ members
Project tasks management features
Features for client communication
Cons:
Restricted integration options
Mobile app limitations
Pricing: Starts at $95/month if billed annually. Clinked does not offer a free plan, but you can start with a free trial.
Capterra rating: 4.9 (56 reviews).
#4 HoneyBook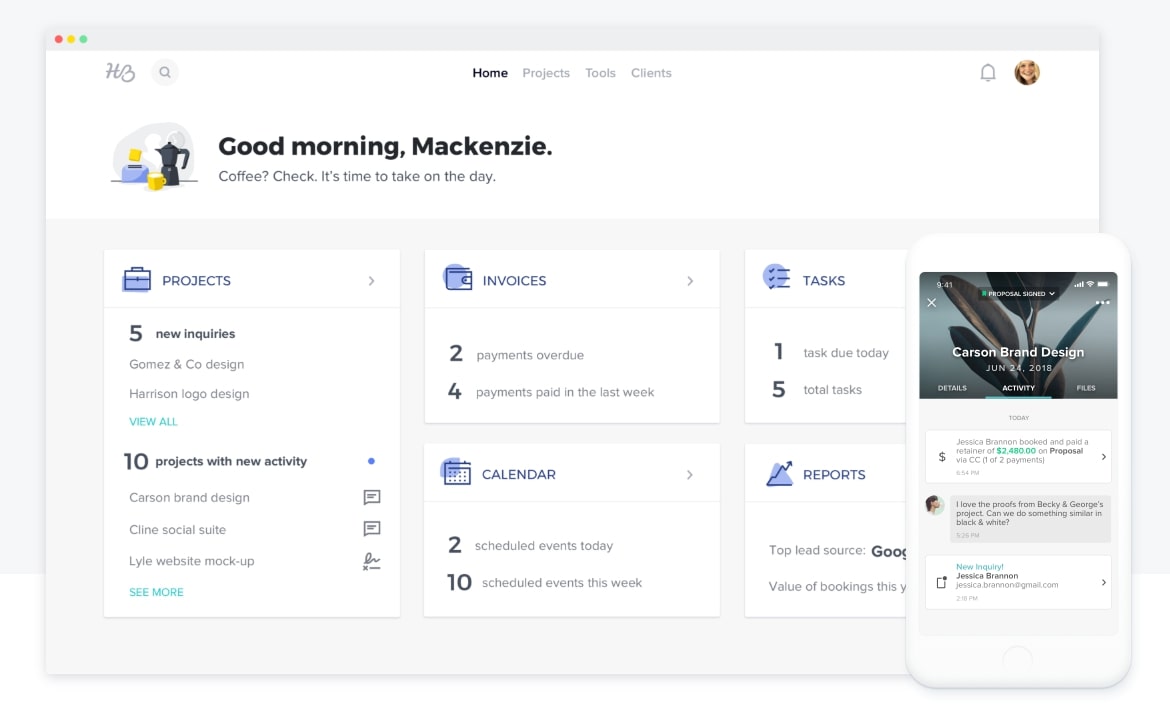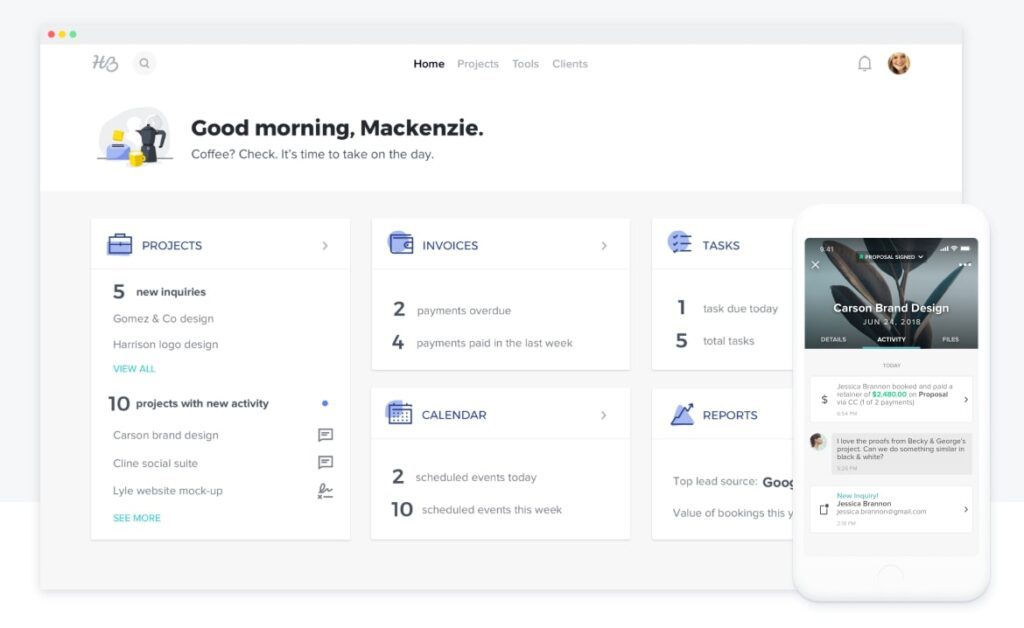 HoneyBook is a client management software designed for small service-based businesses seeking seamless management of clients, projects and payments. It offers a broad range of features necessary for efficiently managing creative businesses, including invoicing, proposals, contracts, projects, calendars and scheduling.
Pros:
Time tracking features
Mobile app available both on iOS and Android
Project management and project planning tools
Custom fields and branding
Cons:
Lack of payment integrations
A 7-day trial might be too short to fully test the tool
Pricing: The Starter plan begins at $12.80 per month.
Capterra rating: 4.8 (584 reviews).
#5 HelloBonsai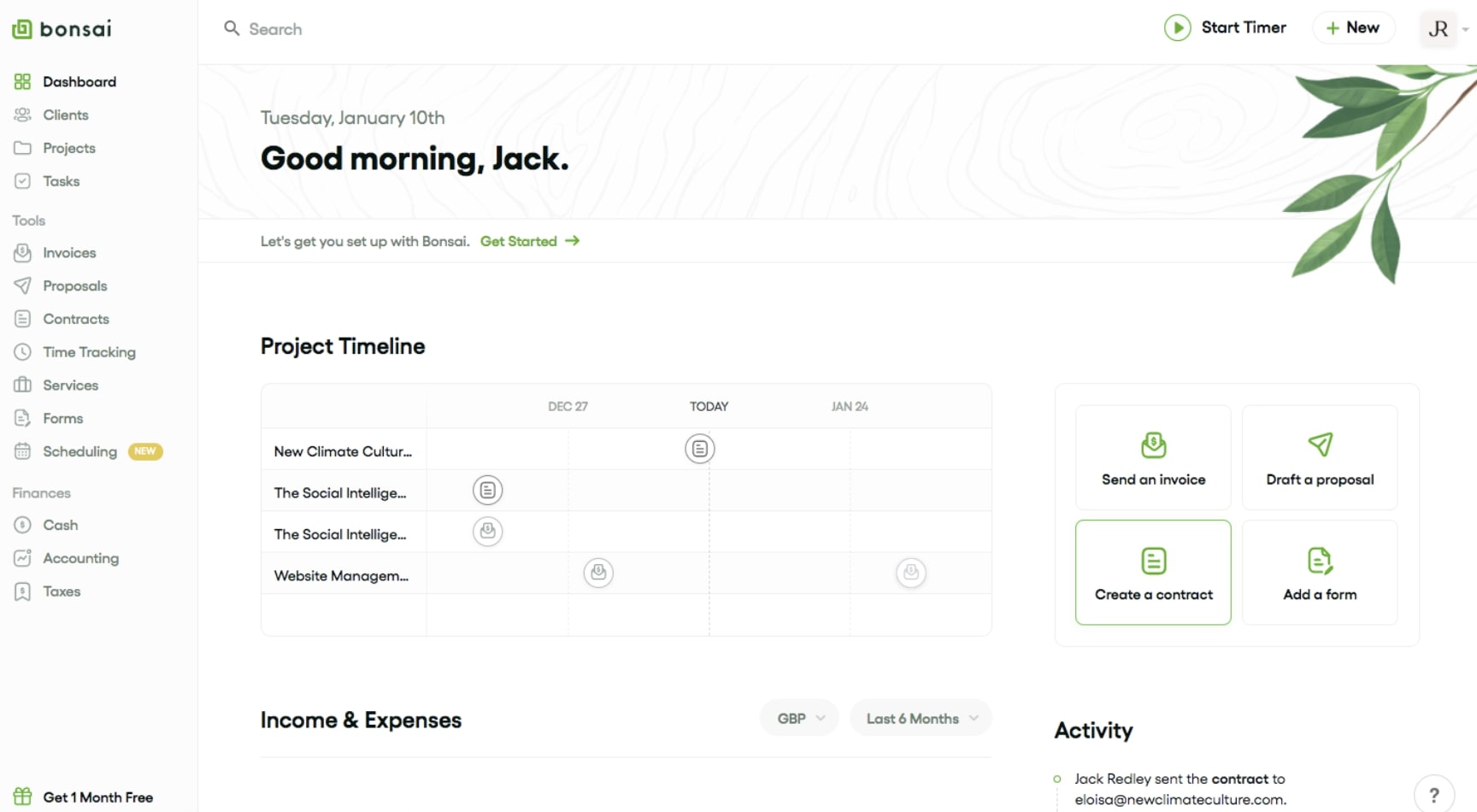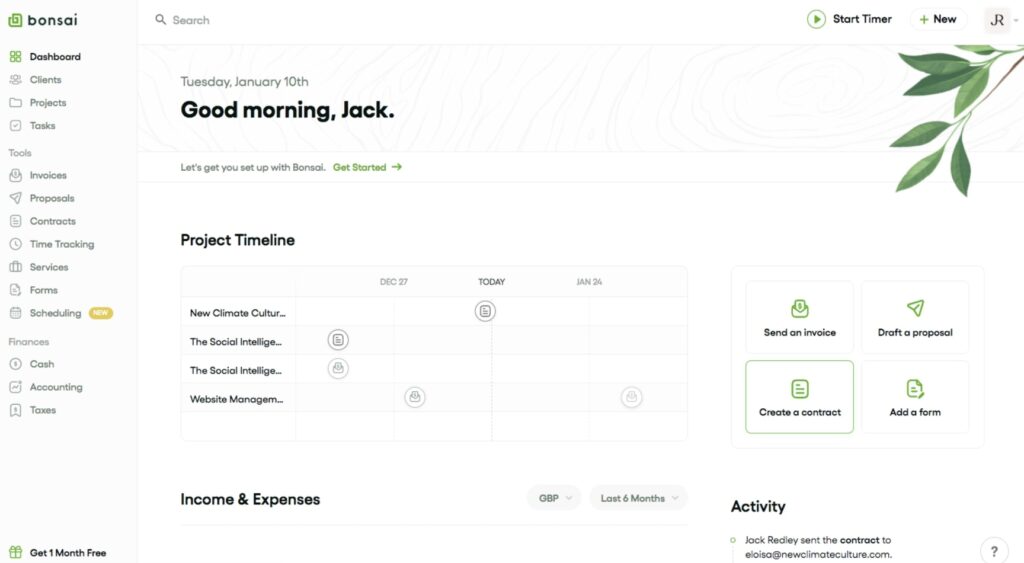 HelloBonsai is another SuiteDash alternative created to serve the needs of small service-based businesses, solopreneurs, freelancers and contractors. Its toolset comprises invoicing, contract management, client CRM, forms and task automation. With HelloBonsai, freelancers have all the features they need to efficiently run their businesses.
Pros:
Tax and accounting system
iOS and Android app
CRM system
Excellent customer support team
Financial management features
Cons:
Limitations for extensive teams
Insufficient progress tracking features
Lack of adequate localization
Pricing: Starts at $17/month. Unlimited clients and projects are already included in the Starter plan. HelloBonsai does not offer a free plan, and their 14-day free trial requires users to provide their credit card details to access the trial period.
Capterra rating: 4.7 (64 reviews)
#6 Onehub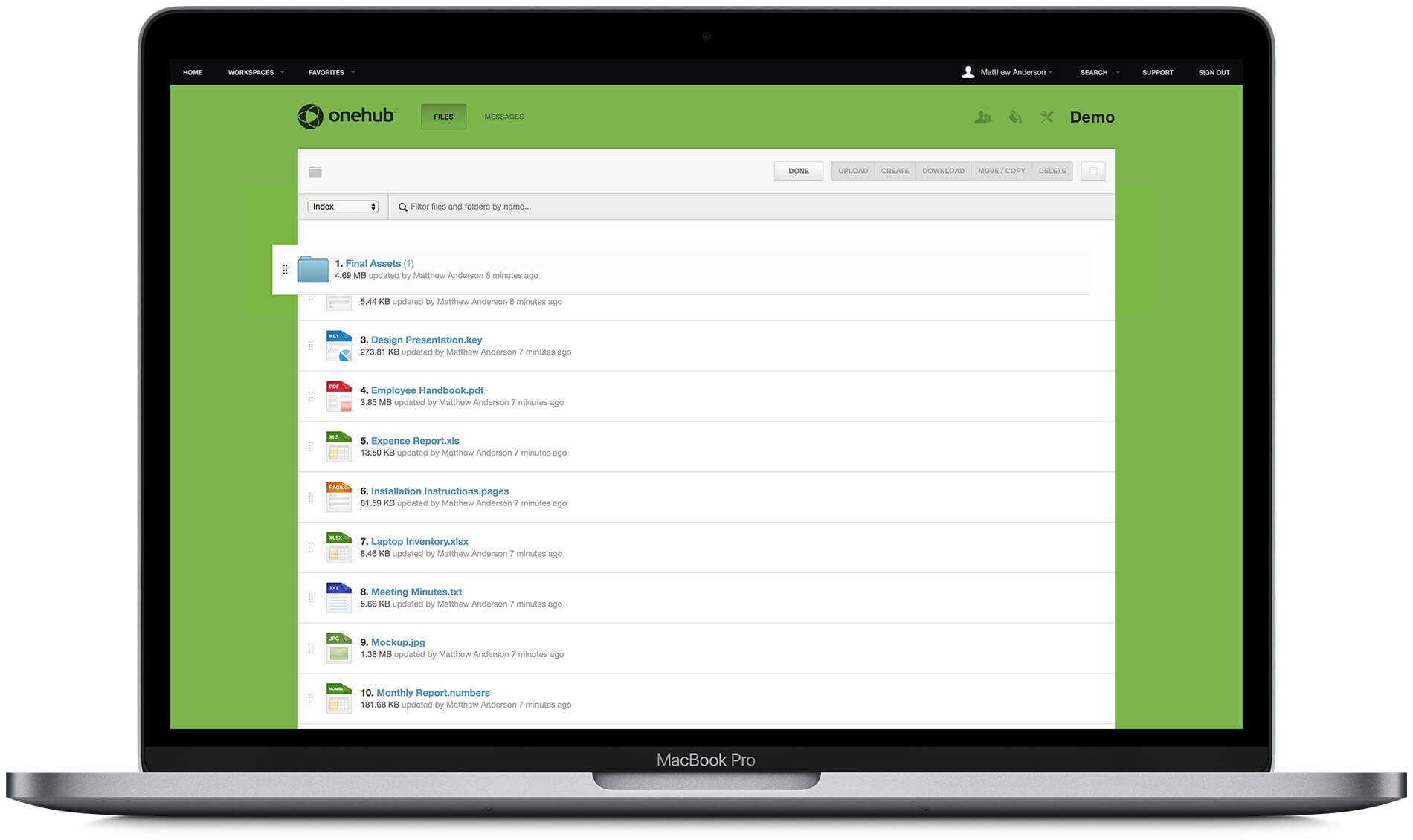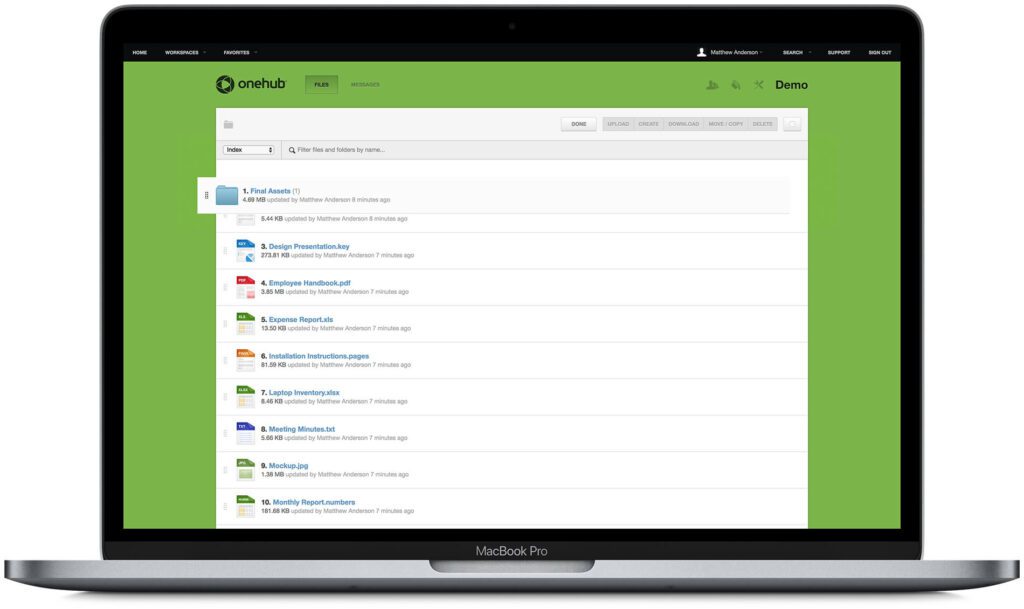 Onehub is a cloud-based client portal software solution that allows businesses to securely share files and manage them in the cloud. Its project management tools boast task management features, Gantt charts and calendar views. Onehub is also highly valued for its integrations with Google Drive, Salesforce and Dropbox.
Pros:
Gantt charts
Convenient document sharing
Accessibility from mobile devices
Easy setup and new clients onboarding
Cons:
Limited functionality for the price
Reported issues with access for outside users
Pricing: Starts at $12.50 per user/month if billed annually.
Capterra rating: 4.5 (33 reviews)
#6 ManyRequests
ManyRequests is a feature-rich client portal software that aims to meet the needs of agency owners and service-based businesses, no matter how specific they may be. Among the main advantages of ManyRequests, one should mention the ease of handling client requests and, of course, its user-friendly interface, allowing users to plunge into the tool immediately without any prior training. All of this makes ManyRequests the best suitable tool for small agencies or freelancers seeking an easily customizable client portal.
Pros:
Simplified automation with Zapier
Productize community
White label capabilities
Cons:
No public API
Lack of localization
Pricing: Starts at $99/month if billed annually
#7 Agiled.app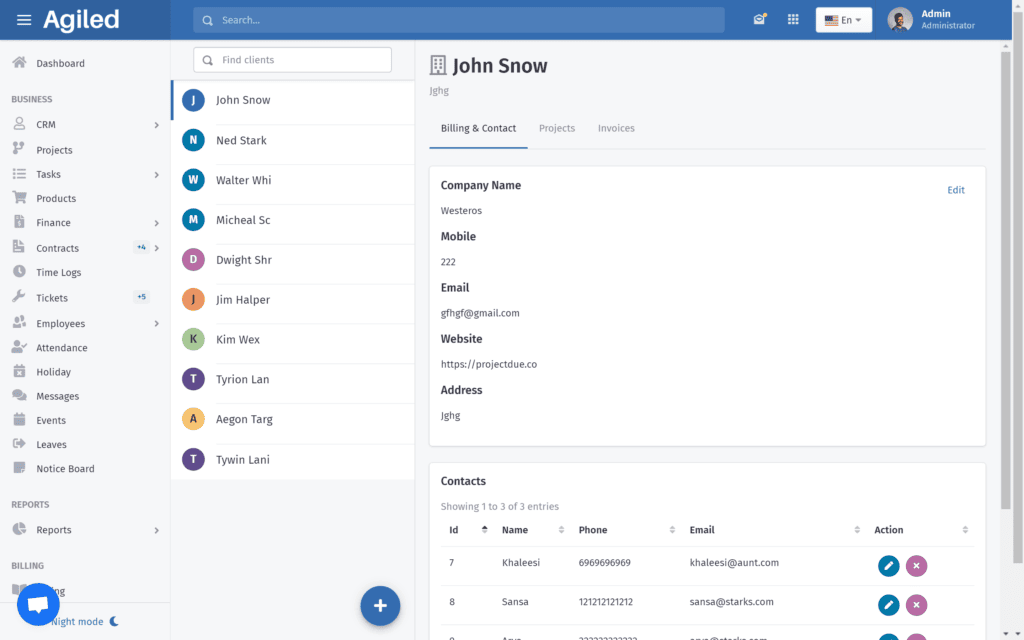 Similar to SuiteDash and other solutions in our list, Agiled.app is a client portal software. What makes it stand out is the availability of CRM, HRM, project and financial management tools, proposal and contract builder and reports. Consolidating all the features under one roof, Agiled.app sets itself apart as an cost-effective business management app.
Pros:
Extensive feature set
Regular updates
Cons:
Limited customization options
Lack of visual appeal
Lack of wave accounting and payment integration
Pricing: Starts at $7 per user/month.
Capterra rating: 4.7 (339 reviews)
#8 Asana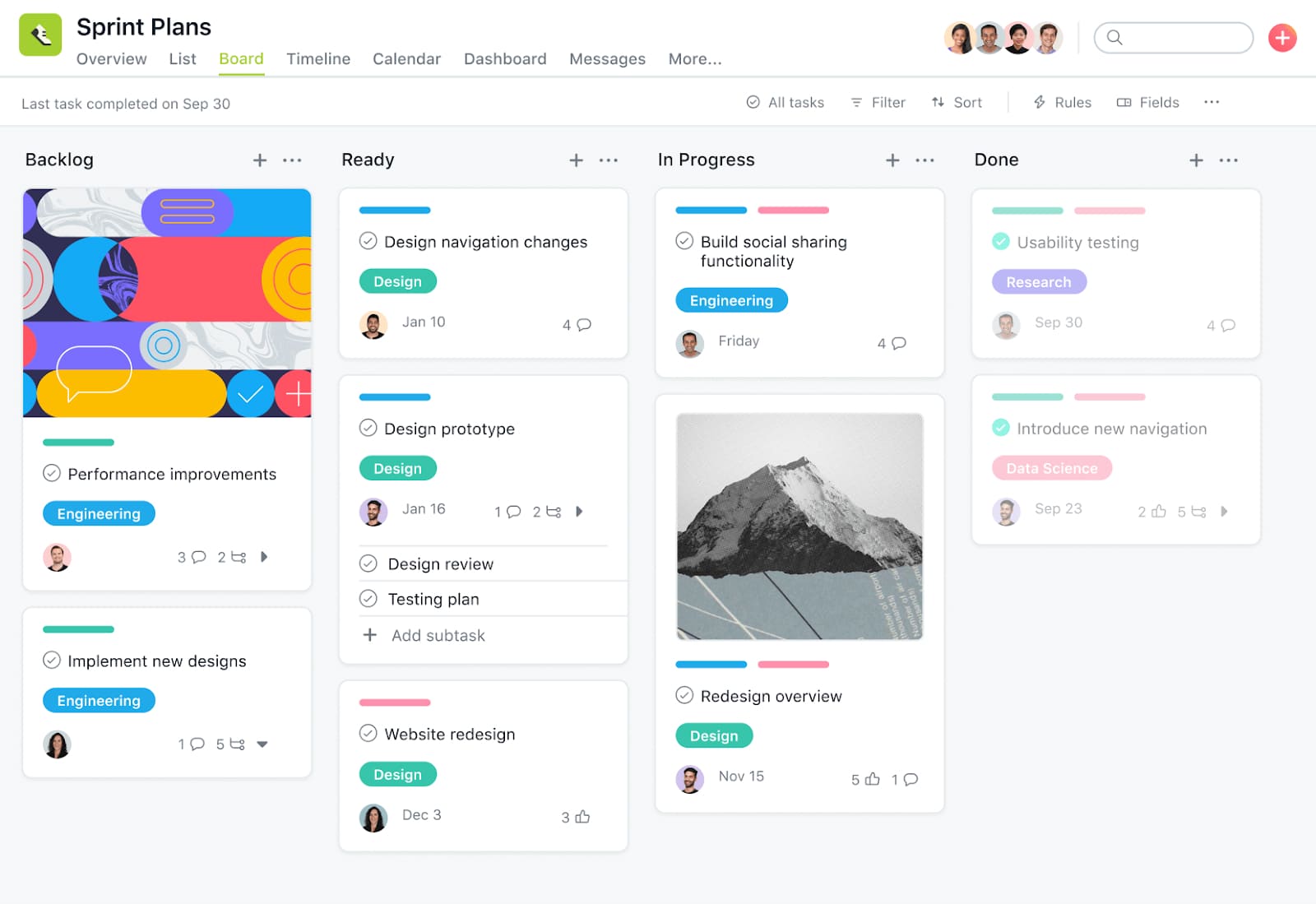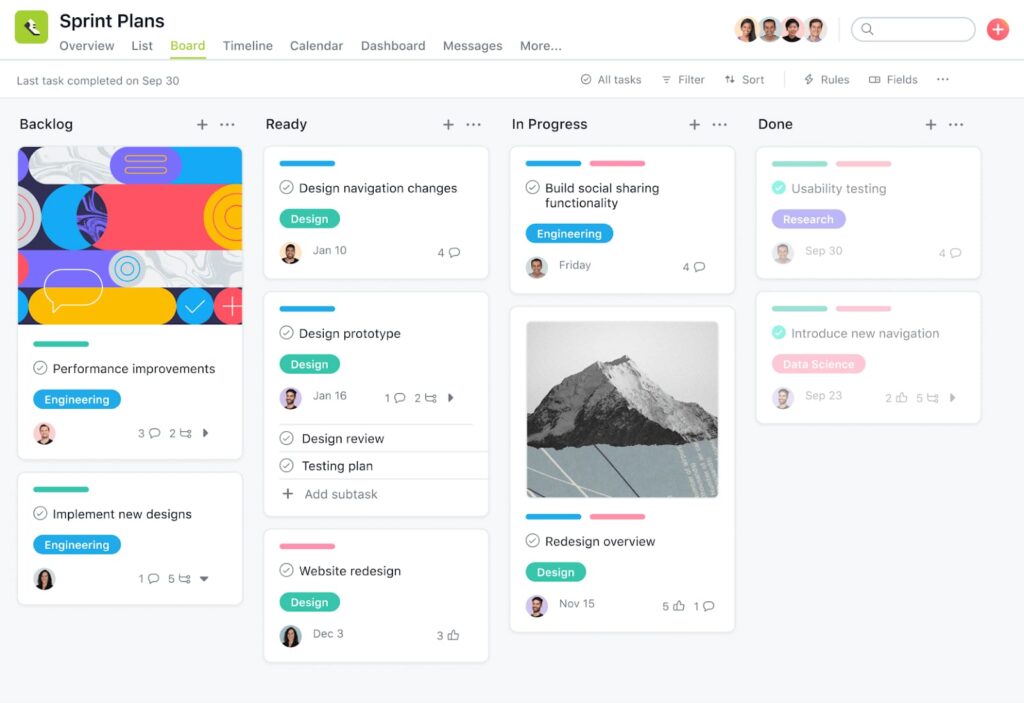 Asana is a highly esteemed project management tool with quite a rich target audience. It will suit individuals, teams and organizations of any size. Asana focuses on promoting collaboration between users by delivering capabilities to share files, leave comments and perform integrations. Asana also boasts timeline visualization, calendar views, portfolio management and automation options.
Pros:
Mobile app
Broad spectrum of team collaboration features
Generous free plan
Potential to create client portals
Cons:
Complexity for simple task management
Customization restrictions
Overwhelming notifications
Pricing: Asana offers free access for personal tasks, but to fully utilize its team collaboration features, you will need to upgrade to one of its paid pricing plans that start at $13.49 per month.
Capterra rating: 4.5 (12085 reviews)
#9 Plutio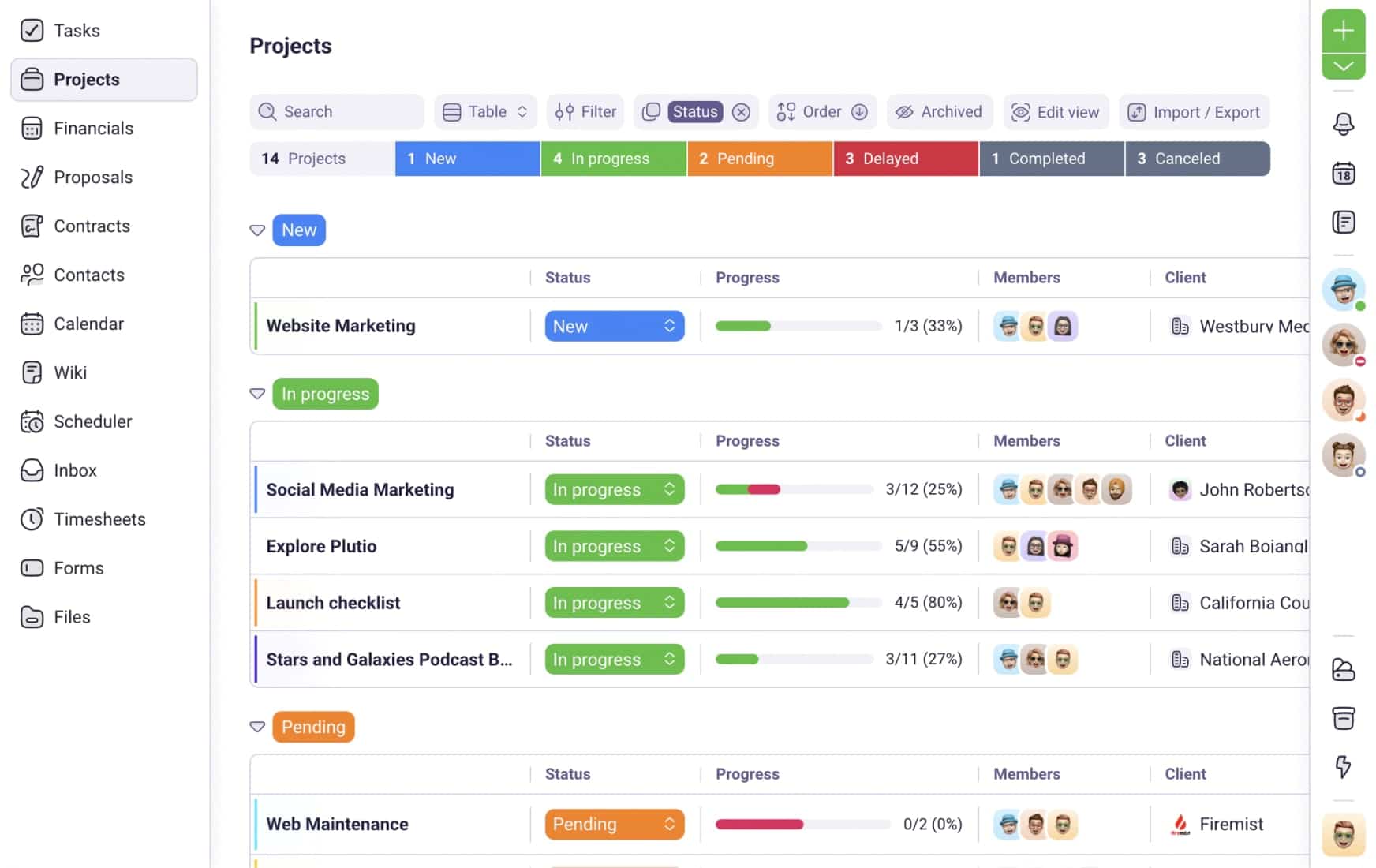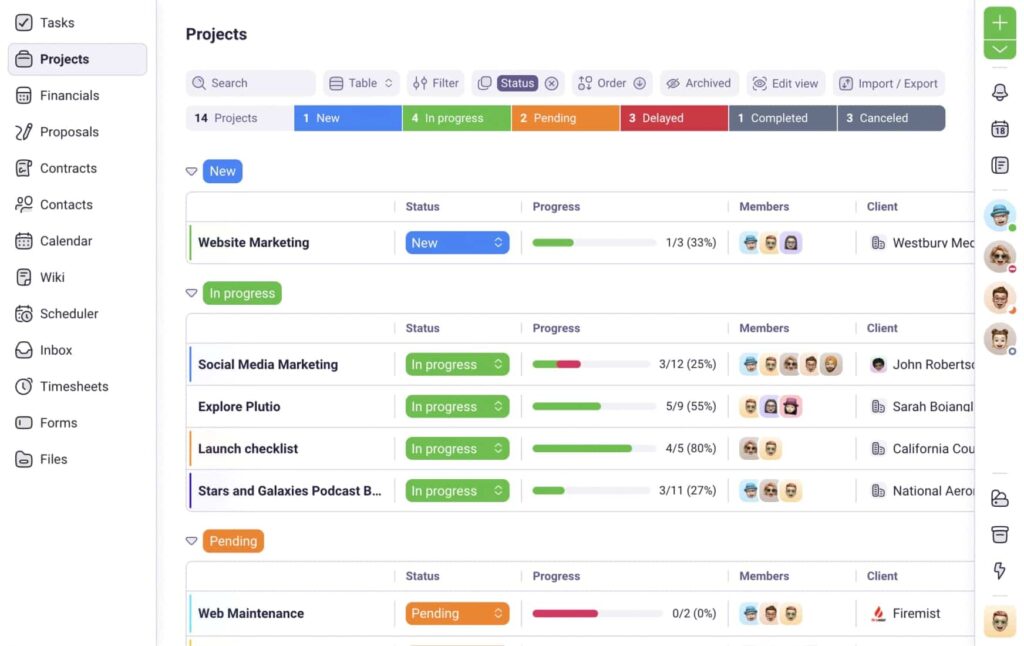 Plutio is a comprehensive all-in-one business management platform with an extremely user-friendly interface, valued for project management, invoicing, time tracking and team collaboration features. Targeting small businesses and freelancers, Plutio delivers a simple and affordable solution for project and client management.
Pros:
Templates for quick creation of contracts and proposals
Invoicing and payment management
Kanban boards similar to Trello
Cons:
Complexity of the initial setup
Restricted customization options
Pricing: Starts at $19 per user/month.
Capterra rating: 4.6 (156 reviews)
#10 Dubsado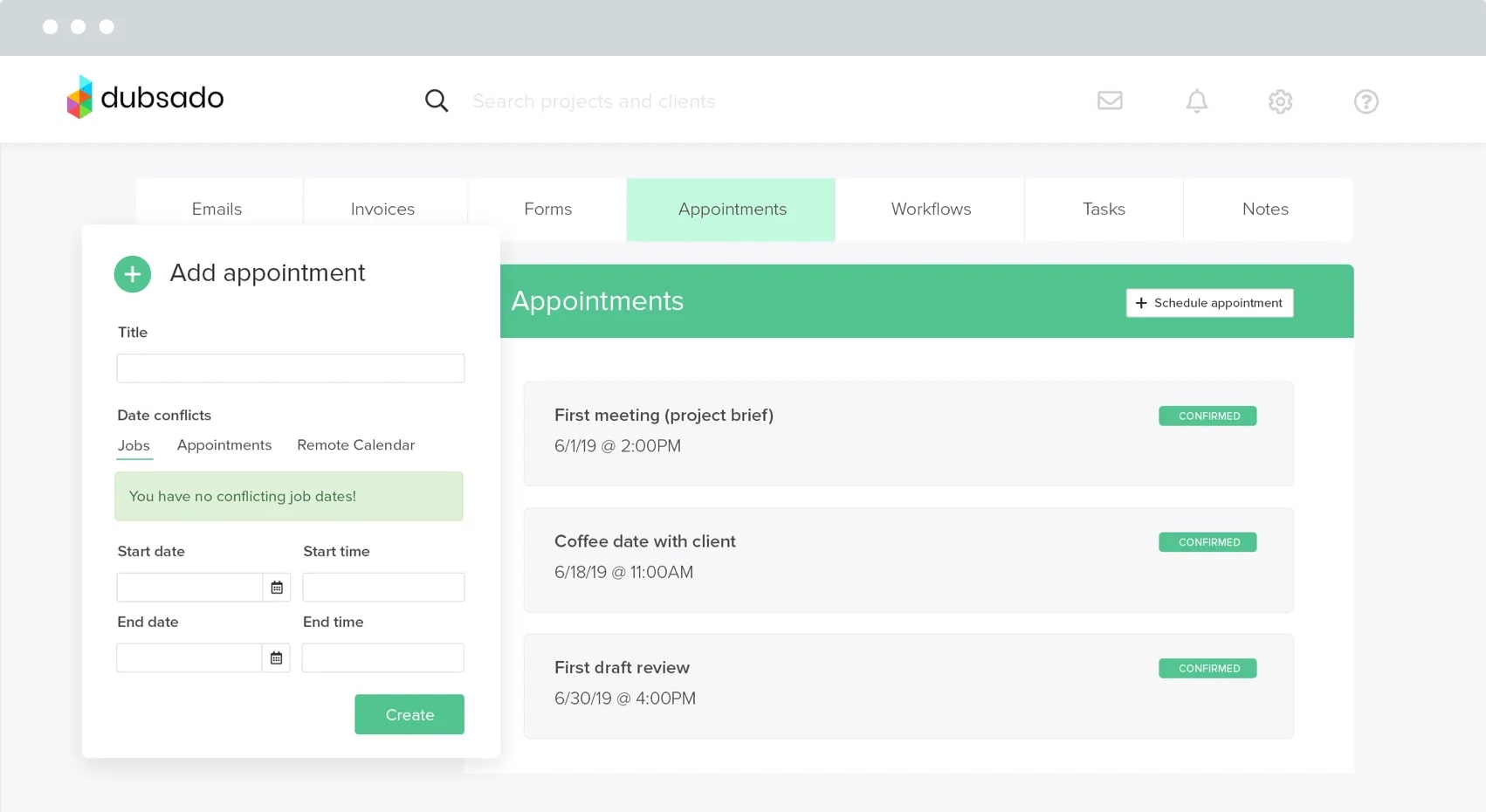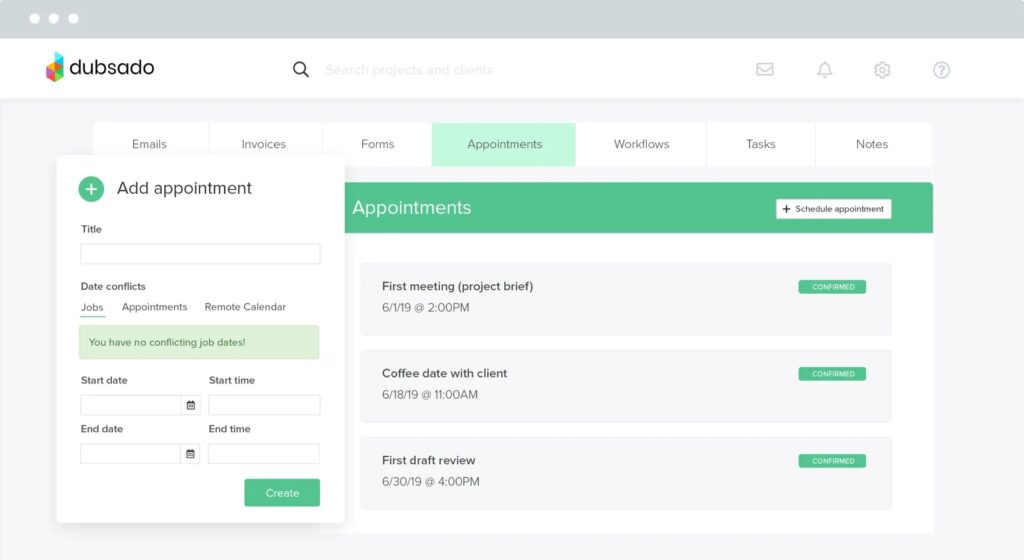 Dubsado is a popular client management software allowing businesses to manage client relationships, process invoices, handle contracts and proposals, automate routines, as well as stay organized in general. It is commonly used by freelancers, entrepreneurs and small businesses. Dubsado's main features include personalized forms and questionnaires, client portals, time tracking, task management and integrations with other tools.
Pros:
Impressive feature set
Automation capabilities
Client portal
Intuitive user interface
Cons:
Restricted reporting features
Delays with customer support
Limited pricing options
Pricing: Starting price is $200/year.
Capterra rating: 4.3 (42 reviews)
Conclusion
Today's business environment requires continuous experimentation, and one of the ways to experiment is to try out new tools. In this article, we have reviewed the best SuiteDash alternatives, studied their pros, cons, and pricing plans, and saw that Nimbus platform distinguishes itself as the best solution for businesses that need a working client portal.
Want to boost productivity of your teams? Discover the power of Nimbus platform for creating client portals by signing up for a free trial today. Click here to try Nimbus out and witness the positive impact it can have on your business.
Improve client interactions with Nimbus Platform!
Visit our Twitter page for more articles and updates!
Disclaimer
Parties other than Nimbus Platform™ may provide products, services, recommendations, or views on the Nimbus Platform™ site ("Third Party Materials"). Nimbus Platform™ is not responsible for examining or evaluating such Third Party Materials, and does not provide any warranties relating to the Third Party Materials. Links to such Third Party Materials are for your convenience and do not constitute an endorsement of such Third Party Materials.
Previous post
Boost Support Efficiency with the Best Knowledge Management Software in 2023
Next post
Top 10 Accelo Alternatives for Smarter Project Management