See how Nimbus can improve your wirkspace collaboration
Make it happen
Workers and management often stumble on the issue of a cluttered virtual workspace. You likely need to use multiple tools to communicate with your colleagues, deliver specific projects or tasks, share feedback and do the rest of your work. According to a study by Cornell University, 43% of surveyed workers claimed they spend too much time switching between tools. Countless messengers, calendars and meeting tools create chaos and disorganization in the work environment.
How can you solve this issue and build a more structured, well-defined workspace, especially when the whole team or particular members are working remotely? That's what work operating systems can help you with. It's no secret there are plenty of solutions tailored to the most specific needs of each company.
So how do you pick the right one for your team? In this article, we'll share some of the best work management operating systems with various pricing plans, integrations, tools and features to help you communicate and collaborate in the most convenient, user-friendly way.
What is a Work Operating System?
A work operating system or a work OS is a digital environment for managing work from teams and departments where you can add personal tasks, communicate and save time from switching between messengers and other work-related tools. It's a unified platform where all your tasks, deadlines, work plans and data are placed in respective units or sections and are visible to everyone.
Work operating systems are basically corporate social networks. Cat photos are possible here too. Essentially, you can see what's happening in each department in real-time. You can track new tasks and project updates, share knowledge, receive & share feedback and manage data turnover among your teammates.
Key benefits of implementing a work OS
Using work operating systems instead of multiple work-related tools has various advantages. Let's have a look at some of the most prominent ones:
Easier and more efficient management — with work operating systems, it's more convenient and fast to manage team progress, predict and avoid issues such as failed deadlines or unclear task explanations.
Automation of operating processes — implementing work operation systems allows you to automate plenty of processes: from preparing progress analytics to informing supervisors about project completion.
Convenient integration with necessary services — most work OS solutions enable integration with various services like Calendly, Google Docs and many others.
Quick access to work analytics and better data visualization — work operating systems give access to up-to-date insights about your team's workload, task completion progress and other metrics helpful in measuring the overall team productivity and efficiency.
Unified collaboration and communication inside teams and departments — having everything stored in one place minimizes search time and the need to switch between other tools to communicate or complete a task.
Higher level of autonomy among teammates — with work OS solutions, managing work inside a particular team is much easier as the system is 100% transparent. This way, you're able to track progress, see the status updates and share comments and ideas without the need to set up a meeting or switch to a messenger to deliver any information.
Extensive customization opportunities — most work operating systems allow you to adjust the workspace to your core needs and goals. You can set up corporate designs and add necessary elements or integrate relevant tools so that everyone is absolutely comfortable with the platform.
Top 5 Work Operating Systems for Any Kind of Business
Now that you know the key benefits of work OS solutions, it's time to learn more about the most advanced ones. We've prepared a list of tools that would fit any kind of business and purpose. Let's have a look at them!
Nimbus Platform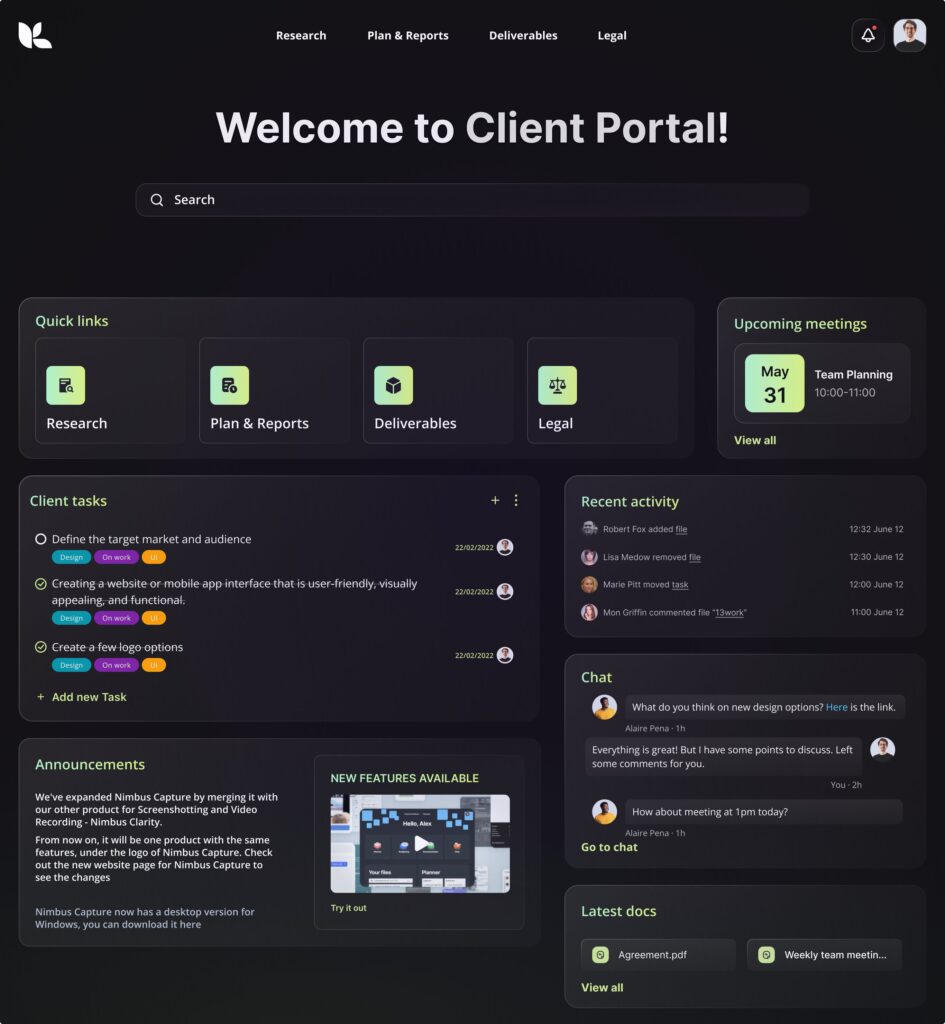 Nimbus Platform is a task management tool that will boost productivity and improve communication capabilities among your teammates and departments. It has proven its efficiency for managing individual and group tasks and maintaining proper collaboration among all departments, employees and management.
Features
Nimbus Platform offers plenty of useful features and integrations for companies of any kind. For example, you can try Nimbus Capture — a tool for visual communication where you can simply record your screen and turn on a web camera with a mic to present new ideas, share feedback or discuss the daily agenda.
Nimbus Platform also has Super Documents to gather and store all necessary data. You can upload files of all formats there, from calendar reminders to audio messages and videos. You can send video and audio recordings to share feedback conveniently and quickly.
Finally, comments and shared pages clarify each task or project and send them to relevant teams. You can leave short notes to explain particular steps in a task and reply to your colleagues' questions. Plus, you'll be able to share and store all the information your colleagues or clients need in a convenient, customizable location.
Pricing
Nimbus Note is available for a free trial, and you can also get a Pro or Business pack worth $5 and $7 per user/month, respectively.
Airtable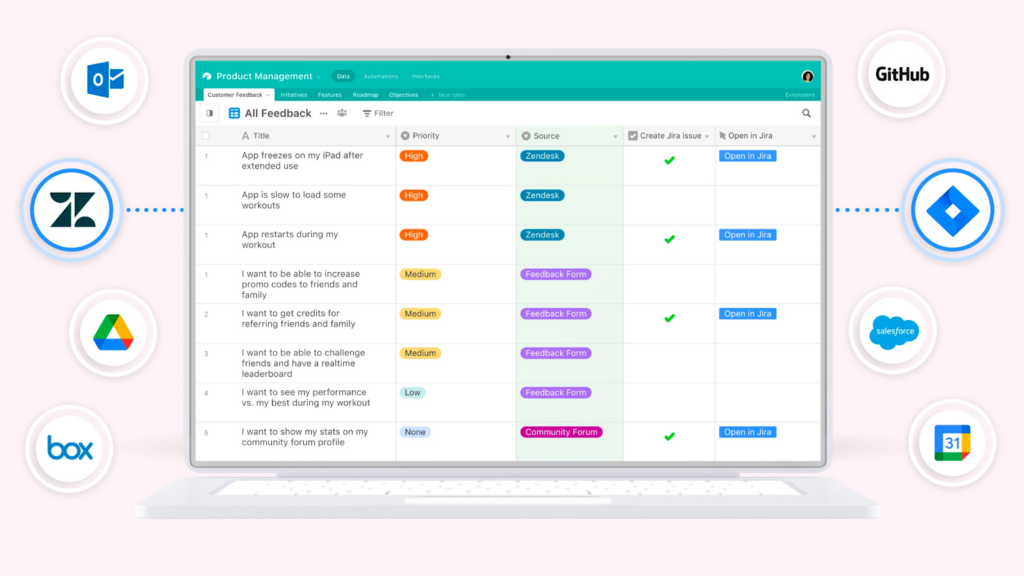 Airtable is one of the most famous work operating systems. It's intuitive and easy to navigate and has a full range of valuable features that would help you and your team stay on the same page even if you have a lot on your plate.
Features
With Airtable, you have an easy and well-structured task allocation system where you can add everything from information sources to visual attachments for a better understanding of what's required from you in your work, assignments or projects. Plus, the tool enables integration with plenty of other services like Google Calendar or Zendesk to ensure the most effective usage.
As for other prominent features, Airtable allows you to customize your workspace, sync data across various teams, departments & boards and get regular reports on the team's efficiency. It also helps implement automation into daily tasks and use the kind of data representation that suits you the most.
Pricing
As for the pricing, you can start with a free trial and switch to a Plus ($10/person/month), Pro ($24/person/month), or Enterprise (negotiable) package.
Asana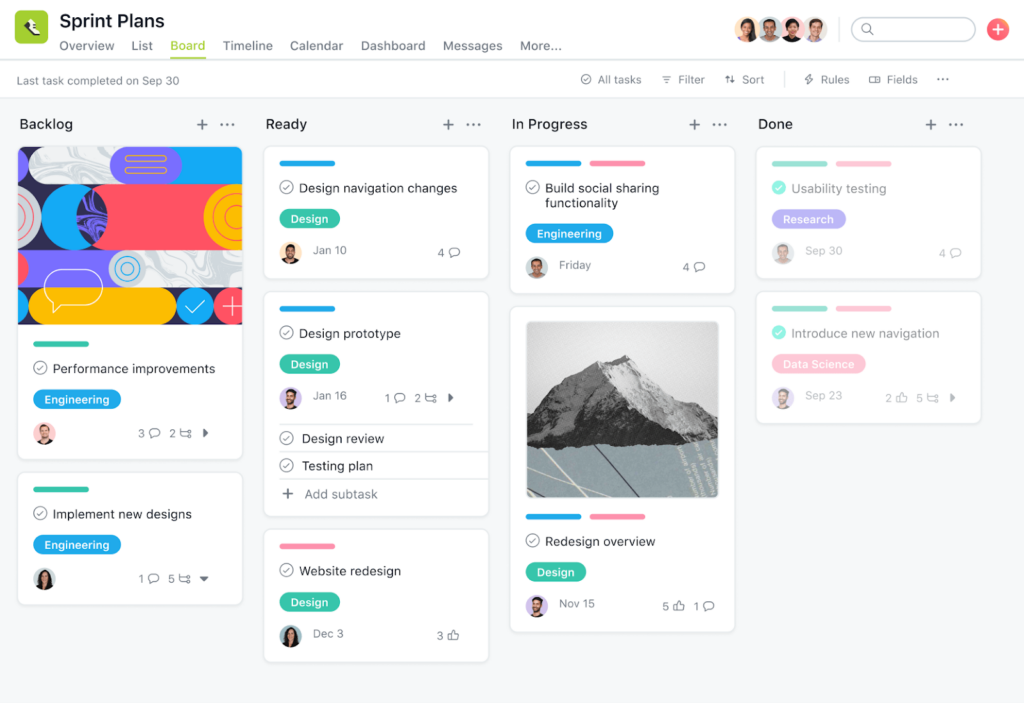 Asana helps automate repetitive tasks and get comprehensive feedback from your colleagues. With this work operating system, you can enjoy various kinds of process management formats like rules, forms, project overview templates and approvals. All this helps structure your work and systematize feedback sharing and knowledge inside your team or department.
Features
One of the main features Asana can offer is Workflow Builder — a new approach to customizing collaboration on various types of project tasks, from creative to technical ones. Simply choose a workflow template from a native gallery and make the most out of it.
With reports and workload trackers, you'll be able to see project progress and receive real-time status updates regarding each team's efficiency. And, to help you complete tasks faster and properly plan your day, there's a full range of features: from dependent tasks to likes, schedules, task sync across different projects and customizable fields.
Pricing
As for the price packages, Asana offers a free Basic package and three paid ones. Premium and Business cost $10.99 and $24.99 per person per month accordingly. You may also opt for an Enterprise pack to enjoy a centralized, uniform work system with robust support and intuitive task management.
Monday.com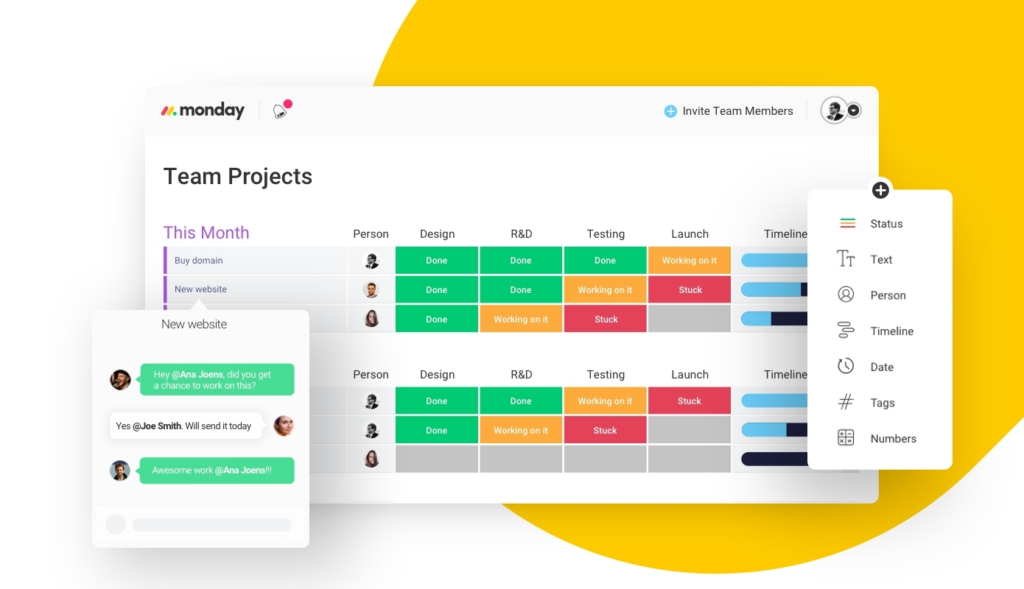 Monday.com isn't just a practical and well-known work operating system. It allows you to customize workflow and integrate special tools tailored to the purposes of your team or department. This tool offers integrations for marketers, developers and project & sales managers.
Features
Monday.com allows you to adjust your workplace to various corporate tasks: from project management to HR and operations. Add plenty of visualization formats, and you'll be able to easily ace any project. This work operating system offers a range of outlooks: tables, dashboards, timelines, even kanban and Gantt charts.
As for other features, Monday.com enables working with any file type and allows integrations with services of any kind: from Mailchimp and Jira to Hootsuite and Adobe Creative Cloud. You can even integrate other work operating systems into Monday.com — it supports Trello, Asana, Basecamp and a few more.
Pricing
The pricing packages include Individual (free), Basic ($8/person/month), Standard ($10/person/month), Pro ($16/person/month), and Enterprise (negotiable) options.
Read more posts on this topic:
nTask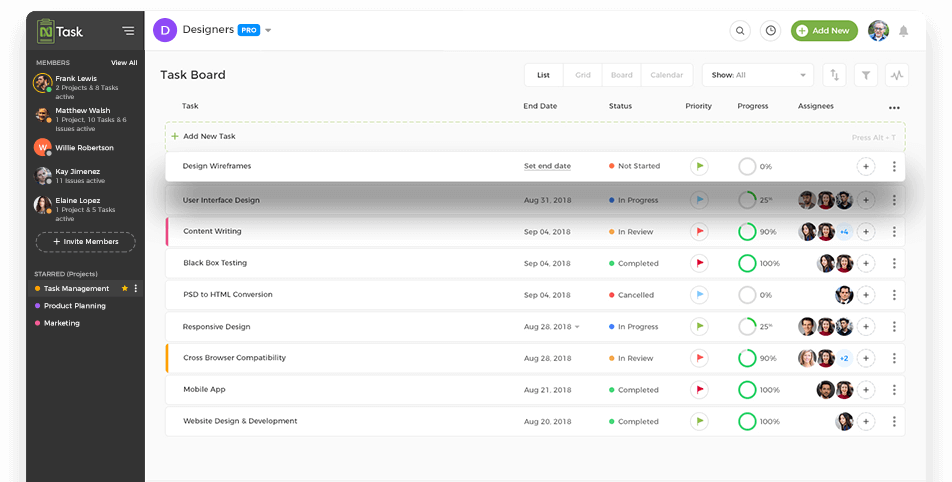 nTask allows you to efficiently prioritize, allocate and complete tasks. It offers interactive integrations and workflow trackers to monitor and maximize the productivity of your teams and departments. nTask's work operating system also provides a variety of functions, from issue tracking to risk management.
Features
To help you enjoy team collaboration to the fullest, this work operating system enables various means of communication — dedicated workspaces, team chats, task comments and bulk team invites. These features allow you to stay focused on work and not get distracted by things like setting up a call or switching to another messenger to ping someone.
Plus, nTask developers took care of effective timesheet management. With their native system, you can manually input the time spent on tasks, set automatic timers and submit, approve or withdraw timesheets. In addition, you'll be able to see dedicated reports and make necessary changes to your workflow on the spot.
Pricing
As for the package pricing, you can enjoy a one-week free trial. Plus, nTask offers Premium, Business and Enterprise packs. The price depends on the team size. For instance, a 5-user team will need to pay $20 or $60 for Premium and Business packages accordingly, while a 30-user team will be charged $120 or $360 for the given bundles.
Final Thoughts
Plenty of work operating systems can meet practically any need of any type of company. However, some of these solutions fit larger companies, while others are perfect for startups and SMBs.
Pick a perfect tool for work operation systems with our experts!
So howYou can do a few quick test runs and see what functions fit the most. To start, you can try out Nimbus Platform.
It's a universal tool that fits any company due to its wide range of functions and add-ons. With its help, you won't need to integrate any messengers or meeting tools, create branded dashboards separately or suffer from a lack of supported file formats. It's neat and minimalistic yet quite efficient. Try it now for free and feel the difference!
Visit Nimbus Facebook page to keep up with more new articles and updates!
Disclaimer
Parties other than Nimbus Platform may provide products, services, recommendations, or views on the Nimbus Platform site ("Third Party Materials"). Nimbus Platform is not responsible for examining or evaluating such Third Party Materials, and does not provide any warranties relating to the Third Party Materials. Links to such Third Party Materials are for your convenience and do not constitute an endorsement of such Third Party Materials.
Next post
Introduction to Culture of Innovation in the Workplace: a Guide for Employees and Managers