3 Ways to Optimize Your Workflow with Nimbus Platform and CatchApp
3 Ways to Optimize Your Workflow with Nimbus Platform and CatchApp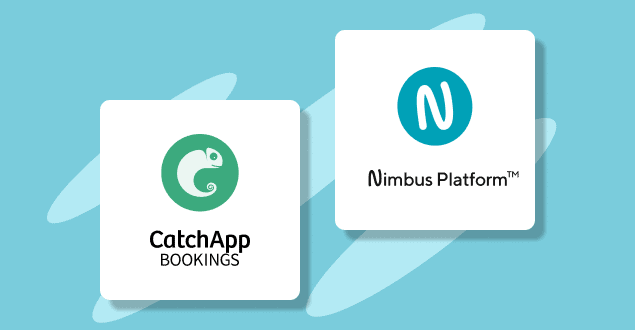 Collaboration is the key to success in any project, but miscommunication can be a major obstacle to achieving your goals. Whether you're working in a traditional office or a remote setup, it's crucial to have the right tools to ensure everyone is on the same page. With Nimbus Platform and CatchApp, you can enhance communication, streamline collaboration, and save up to three hours a day. In this article, we'll explore how this powerful tool combo can take your collaboration to the next level.
How Everything Works
To get started, set up your project workflow in Nimbus Platform. Add files, images, text, and any other necessary materials to your project workspace. Invite your team members to join the workspace, and collaborate on your project in real time. You can leave comments, assign tasks, and keep everyone up-to-date on the project's progress.
When making final decisions or discussing complex issues, you can easily schedule a meeting using CatchApp. CatchApp is an online booking service that helps you sync schedules and easily appoints meetings. With Nimbus Platform and CatchApp, you can keep your project tasks, meeting notes, and schedules in one place. Embed your CatchApp calendar on the Nimbus page, and say goodbye to back-and-forth emails and time-consuming scheduling conflicts.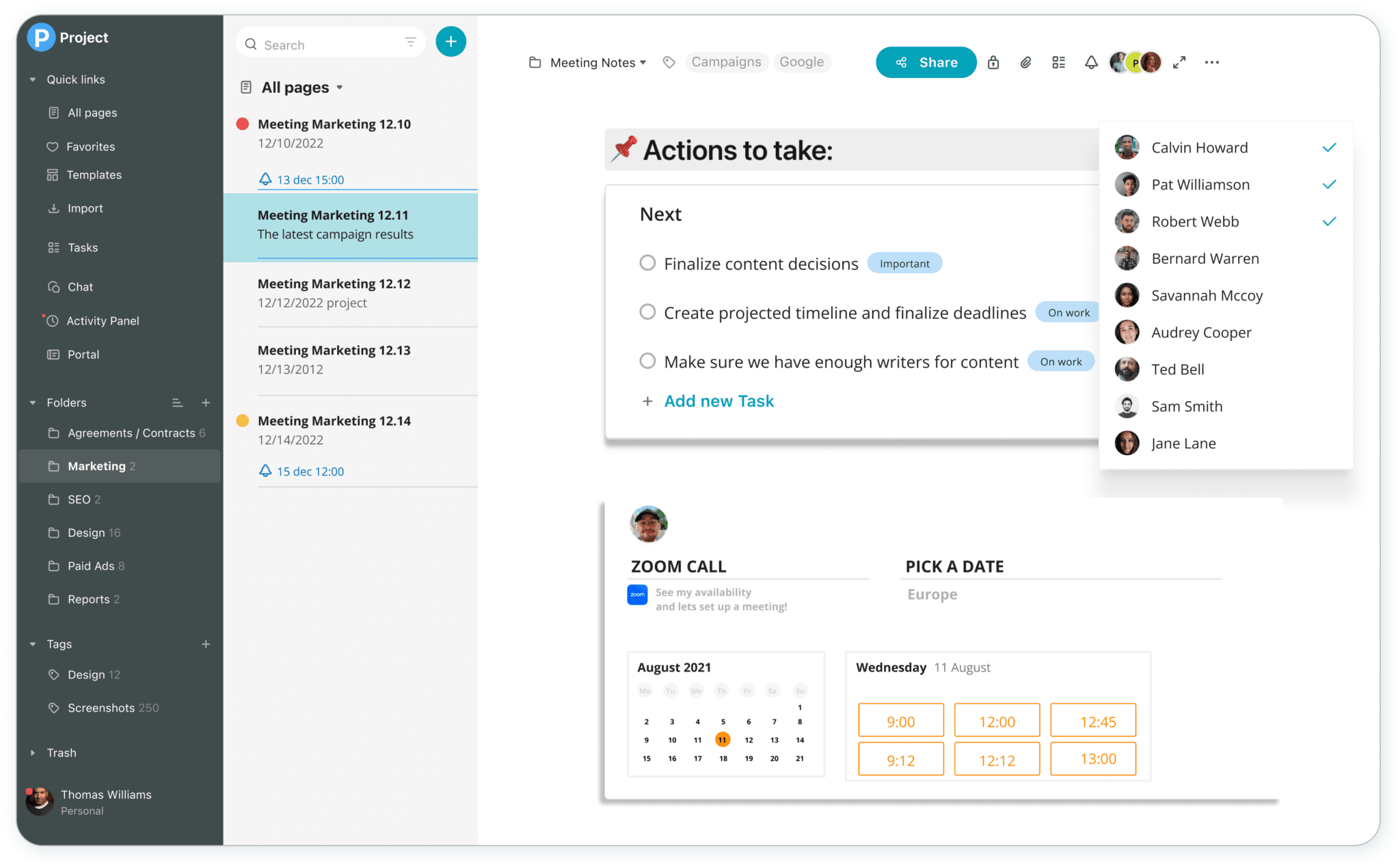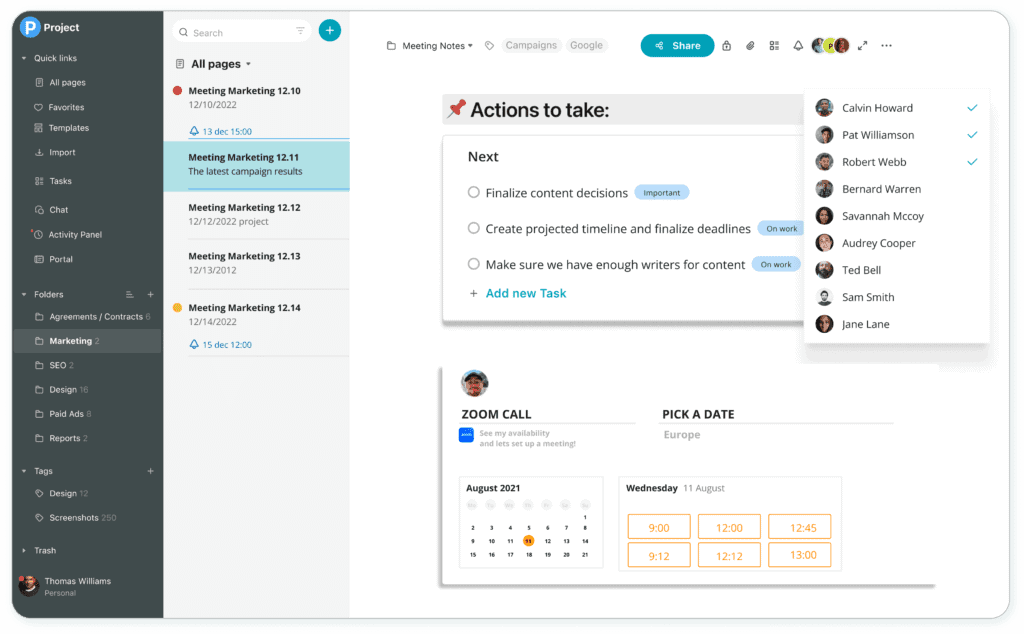 When Nimbus Platform and CatchApp are Most Efficient Together
Nimbus Platform and CatchApp are the perfect tools to enhance collaboration, no matter who you work with. Let's look at some scenarios where Nimbus and CatchApp work best together.
Scenario 1: Streamline Your Teamwork
Keep all the information your business needs in one place. Make Nimbus a single source of truth for everyone. You can create knowledge hubs for your teams and branded portals for your clients. Firstly, check out how Nimbus and CatchApp can empower your internal teams.
Present your project ideas and visions. Add images, videos, text and more to Nimbus super pages and discuss ideas with your team in comments or chats. If you feel a need for a meeting, embed CatchApp on Nimbus pages and make it easy to pick a suitable meeting time for everybody.
Store all documents & agreements in one place. Attach files with policies and procedures and give access to them only for particular team members. Fine-tune the permissions for each team member if you need them.
Assign tasks and set deadlines. Turn your big goals into actionable items right in Nimbus. Add labels for each task and track everything in a separate Task Dashboard.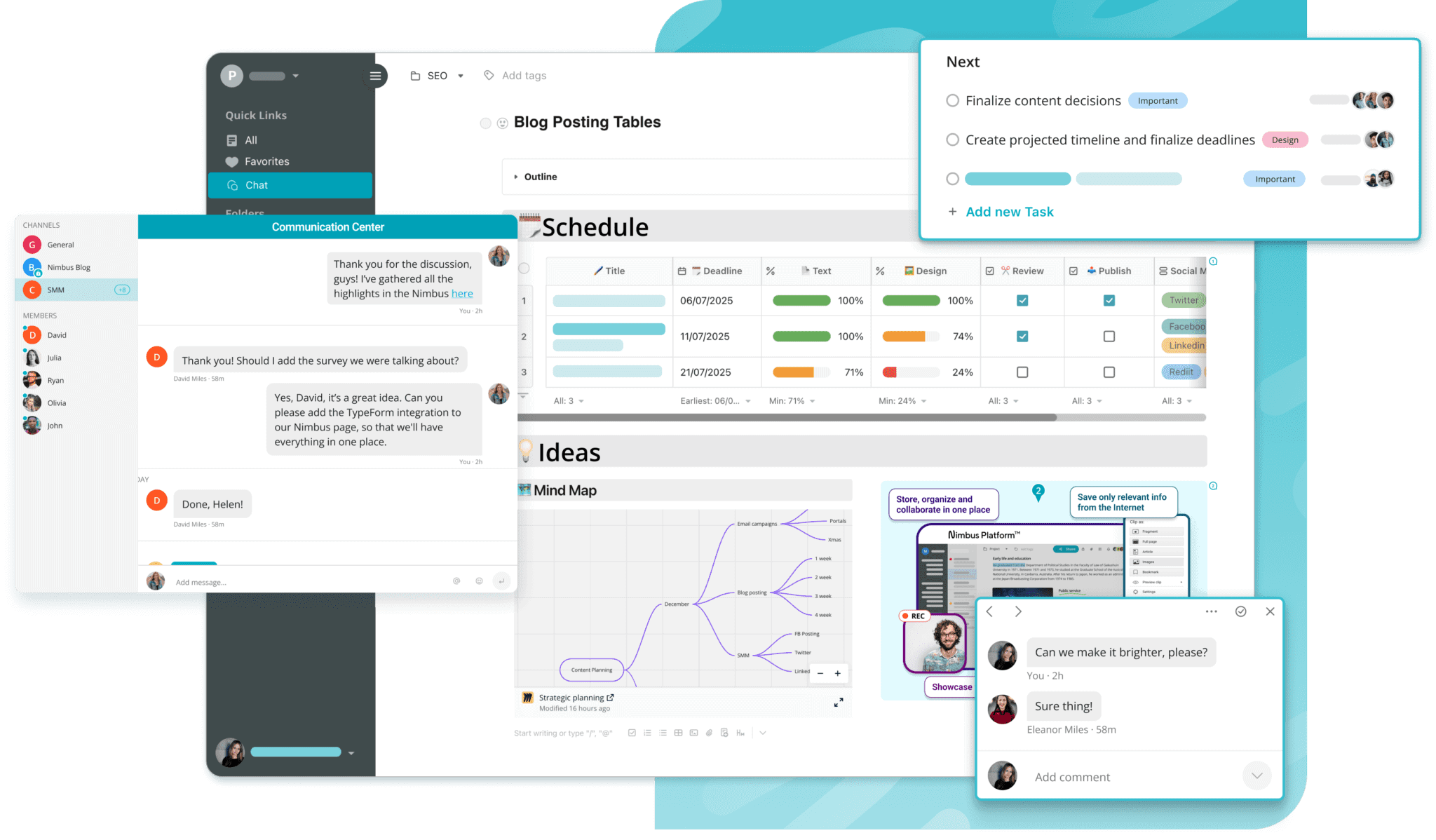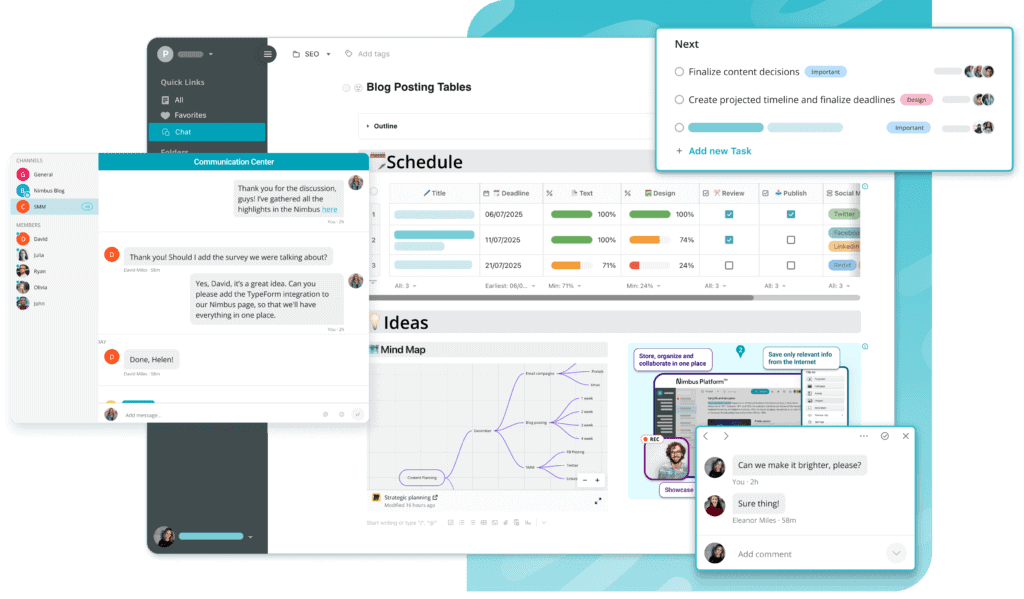 Scenario 2: Get in Touch with Your Potential Clients
Gather all the information your prospects need to know in one organized place. Add everything to your Nimbus page super docs, whether it be general information about you and your company or specific client cases. Anything that can attract clients and show your professionalism.
Then connect the Nimbus pages to the client portal and give your prospect a link. Your potential clients can check out everything and book a call via CatchApp to discuss more details. What's more, you can even integrate CatchApp into client portals to book meetings in a few clicks.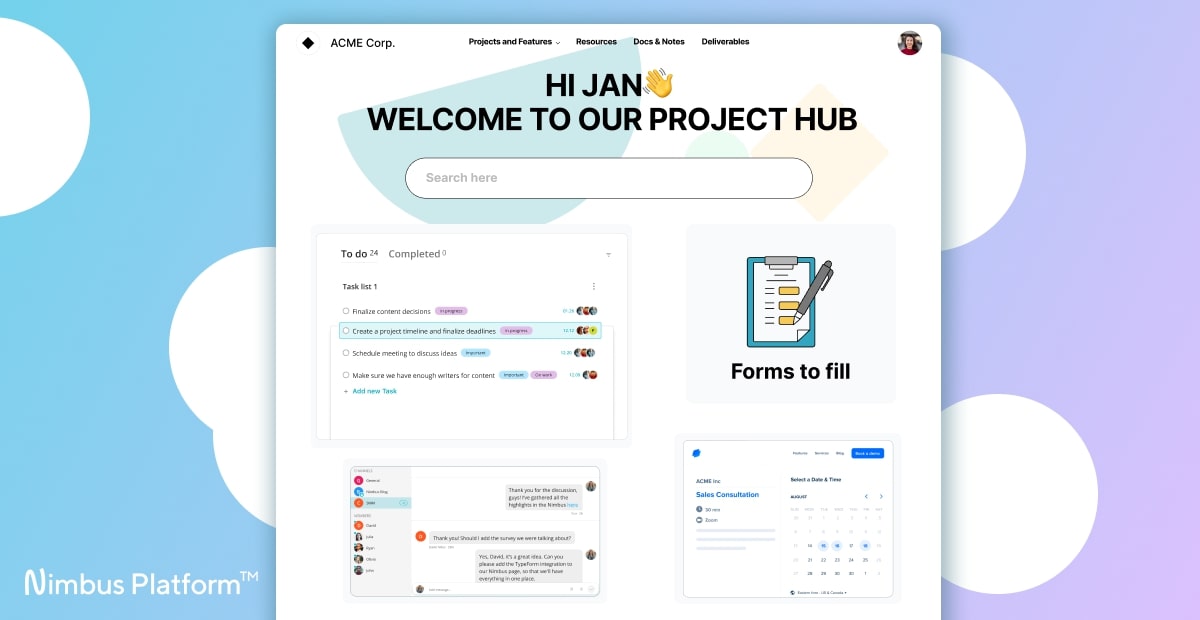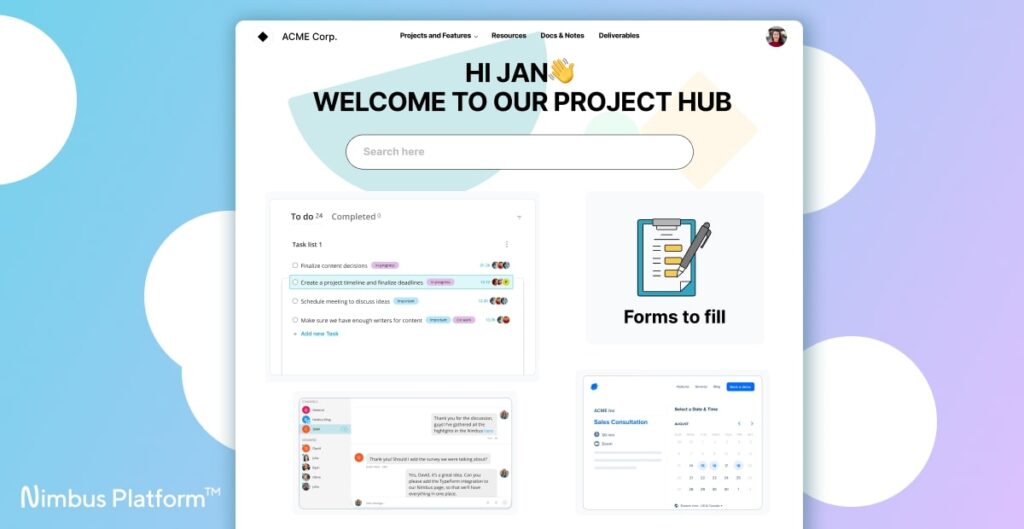 Scenario 3: Present Projects to Your Clients
Show your results during the meeting with clients. When Day X comes, use Nimbus Platform and CatchApp to save hours of preparation. Add all needed stats and outcomes to your Nimbus page and embed CatchApp there. Or you can gather everything on a client portal and send it with one link. Give your client time to go through your work and appoint a meeting with you.
Boost Your Collaboration with Nimbus and CatchApp
You've learned the tips and hacks on how to make your work more productive with a powerful combo. Now the ball is in your court!
Synchronize your appointments with your team and clients using an effective booking tool. Sign Up to CatchApp here >>
Book a call with our Success Manager >> and find out how to tailor Nimbus to your needs in 30 minutes.
Optimize your work and save time on what matters with Nimbus Platform and CatchApp!
Try vast Nimbus Platform™ powers now!
Read more posts on this topic:
Previous post
Why a Client Portal is Essential for Your Business Success
Next post
Unlocking Customer Loyalty: Engagement Strategies