Hooray, 2020 is almost over!
It's been a challenging year for all of humanity. It's no surprise that many have been waiting for the year to go away. No doubt 2020 has shaken us up — changing how we work, communicate, and have fun.
Yet, this year has been truly revealing, giving us the possibility to see new alternatives. Some changes have turned out to be beneficial, while others have helped us better appreciate the things we took for granted.
We all hope to return to simple pre-2020 pleasures such as going to concerts or flying abroad for the weekend. However, it's essential to acknowledge the precious lesson of 2020: the whole world can unpredictably change in a year, and we should be ready to change with it.
So what was 2020 like for Nimbus?
This year, many people tried working remotely for the first time, and we've been right there to help them go digital.
Above all, we've launched Nimbus Note for Teams, which includes a variety of functional features for your business.
Distinct roles of Owner, Manager, Member, and Guest allow creating a transparent system of managing workspaces and content in your company account.
Nimbus for Teams has become a WhiteLabel product, which means that it is absolutely customizable for your brand's needs and desires. You can add your personal domain (by using CNAME records) and customized branding on public pages so that your Nimbus Note can be fully integrated into your site and label! The branding includes the ability to add your logo, manage links, choose a theme, and administer indexing by search engines. The other new feature is the ability to create a client space in Nimbus. We suggest making a separate workspace for customers, so they will have appropriate limits and won't see inner processes. You can also customize your clients' web by adding your logo or modifying the menu and the favicon.
What's more, in Nimbus for Teams, you can easily add HTML/JS injections for integrations for public pages and clients' web. Code integrations are very useful; they can help you add a form, chat, or call-to-action button. You can also customize the fonts and add analytics.
In the office, collaboration software is a great advantage, as it contributes to better work organization and productivity (we've elaborated on this topic in our previous blog post). But for remote work, it's no longer a benefit — it's a necessity, the absence of which threatens all communication.
During quarantine, Nimbus Capture has become an essential remote working tool. With it, you can enhance visual messaging: sending screenshots, editing them with arrows and highlighters, recording your desktop, and so on. A picture is worth a thousand words—so why tap on your keyboard when you can demonstrate? In 2020, Nimbus Capture proved that online working communication could be as fast and efficient as its offline form.
In 2020, we've made the first launch of our consulting program. We look forward to creating our Consulting Community all over the world to implement practical Nimbus solutions to various teams and businesses.
We have also redesigned the iPhone application and launched Nimbus Note for iPad. Recently, we've released a new version for Android.
In 2020, the Nimbus Team has grown by 30%! We are always pleased to welcome professionals from all over the world in our company. Together, we improve our product by making it more brilliant and meaningful.
How did our clients evaluate us in 2020?
This year, we've conducted numerous interviews with our clients. Since our goal is to create a multi-functional tool without imposing unnecessary features, we value our users' feedback. We've asked the Nimbus community to evaluate our product and suggest ways we could improve. The interviews have inspired us to keep on going and doing our best in work. We're now at the end of the year, and many users' requests have already been implemented.
As our communication with users shows, our customers highly appreciate the work of our support team. We are delighted to know that Nimbus clients could always find a helping hand to navigate them through any difficulty.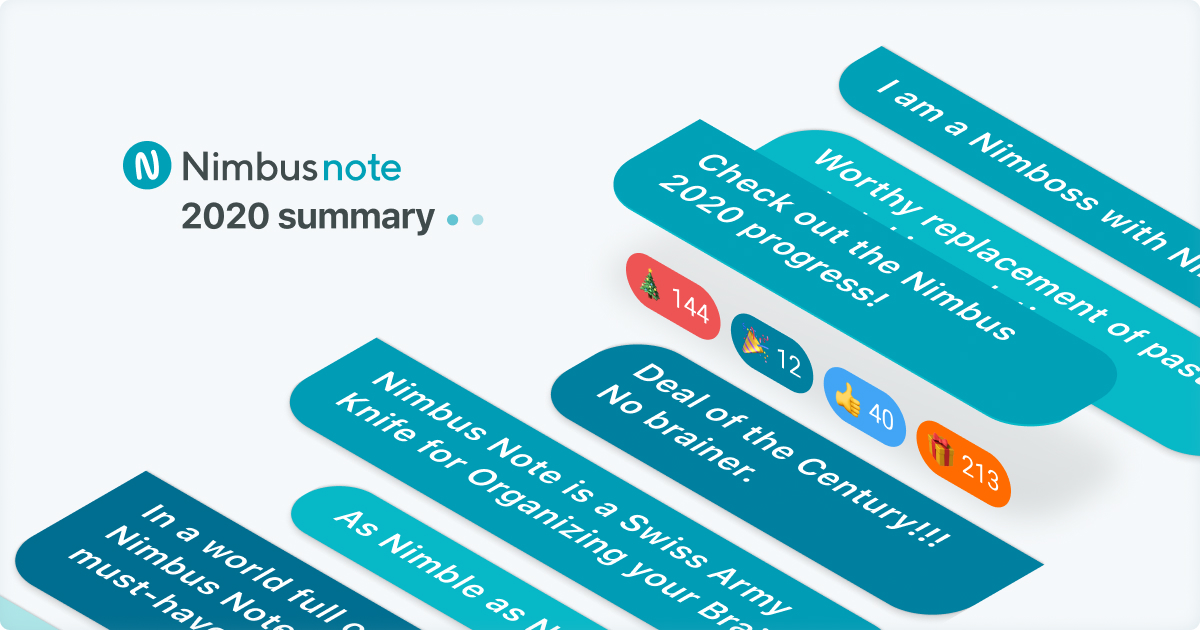 Let's pass the microphone to our users' comments on AppSumo
I am a Nimboss with Nimbus
Document management must-have
Nimbus Note is a Swiss Army Knife for Organizing your Brain
In a world full of distractions, Nimbus Note becomes our must-have note-taking app.
Worthy replacement of past note taking solutions
Deal of the Century!!! No brainer.
The Nimbus 2020 – Even Harry Potter would be jealous…
I have saved myself 40 minutes today with Nimbus.
It is a goldmine!
Nimbus Note has been a genius helper in organizing my every thought and structure all kinds of different activities, lists, and tasks…
As Nimble as Nimbus ?
Game Changer Note Taking App
The team is super responsive and helpful as well, happy to have purchased.
A next-generation notes app that doubles as a client portal
Our active users supported us not only with their words but also with their subscriptions. In 2020, our Private Business community grew ten times larger. It's a pleasure for us to meet numerous new friends and supporters all around the globe. Nimbus Community unites various professionals, and we appreciate their interaction and mutual help while working with Nimbus.
This year we've also welcomed experienced users from Evernote and other note-taking platforms. Minding the external restrictions, we've organized the transition to Nimbus as smoothly as possible and guaranteed the safety of notes during the migration. We've provided each incomer with one month of Nimbus Premium free of charge. That way, a new user can better explore our product and evaluate its nested structure and flexibility.
Nimbus main 2020's public activities.
Nimbus has participated in numerous conferences and events, including K12Alternative 2020 and two sessions of Smart Education Summit in August and December. We've also conducted a range of webinars to demonstrate to the Nimbus community simple and efficient ways to organize digital data with our product.
Nimbus has also been lively discussed on YouTube channels Keep Productive, Tom Solid, and SaaS Master. In fact, our product outgrew the English-speaking YouTube space. It was highly appreciated by the German channel Designers Inn & Businesserfolg by Marco Linke and the Spanish channel Roberto Castro – El Productivista.
Our product has also become the Best Value Collaboration Software for 2020 on Capterra.
What's more, we've been included in the top deals on AppSumo and SaaS Mantra – the largest SaaS Marketplace. As Nimbus Community grows, we are always pleased to welcome our LTD community, early adopters, and new fans. We hope you'll enjoy our collaboration and find our product efficient for productivity boosts and personal management.
It's all great, but what's next?
We have much more to come! Our plans for 2021 are indeed ambitious. Above all, we aspire to elaborate more on our White-Label solution by expanding customization and branding features. This means that Nimbus technology can be even more seamlessly integrated into your brand.
We also plan to provide teams with new collaborative work features, such as adding comments or selected folder sharing. In 2021, you will find new editing tools in Nimbus Note that will make your Nimbus experience even better. We are also considering Public API in the nearest future.
What's more, we want to delight our Nimbus Capture users with an update in 2021. We are going to better integrate it with Nimbus Note and make it even more valuable asset for businesses.
Besides new features, we will do our best to conduct service optimization and improve the work of older functions.
As you see, soon you will get much more! So take your chance and buy your annual subscription or
new add-on, as we have great discounts until the 10th of January!
Meanwhile, the Nimbus Team would like to thank you for being with us, and we congratulate you all during these holidays!
As a present, we've prepared free holiday templates to help you organize the holidays and the upcoming year. Elaborate on the holiday menu, create to-watch lists, and make your 2021's resolutions with Nimbus!
We wish you true happiness and success in all efforts in the upcoming year. Have a great time during these holidays—spend them well and get enough rest.
We will see you soon, in the new productive 2021!
Next post
Nine tips to easily get back to work after a holiday break