Nimbus Web Platform: a year in review
Hey dear community!
The holiday rush has finally passed and now with clear heads we can plan for the year. To know where we're going, we have to look back at where we've been. How was 2021 for you? For Nimbus, it was a fruitful year with new challenges and wins. We underwent some transformations and made our solutions even easier to use.
What was 2021 like for Nimbus?
We wanted 2021 to be a year of reassessment and growth. We've asked ourselves who & what we are and chosen to set new directions for development. Nimbus enhanced and our numbers have increased! Let's take a look at what we achieved last year:
business account numbers increased by 301.5%
our team grew by 30%
7 million pages were created
200 days of recording made by Nimbus Capture were uploaded to Nimbus Note
One thing we're proud of the most from 2021 is getting new investors. We're honored to be backed by those who invest in industry leaders. Some of our investors have passed the long way we have ahead. We plan to develop even faster and move actively guided by their knowledge and experience.
Nimbus evolved into Nimbus Web Platform
Last year we launched our beta business version, and we're now large enough to become a platform. We will continue bringing solutions to our target audience based on our platform.
We were nominated
In 2021 Nimbus unlocked new achievements and received more recognition. We are thankful to all who have contributed to developing Nimbus and spreading the word about our solutions.
Nimbus was included in the top 101 Best Ohio Video Companies and Startups.
Nimbus Note has received awards from G2, Capterra, Software Advice, and more as High Performer, Front Runner & Best Value in Notetaking and Information Management categories.
What's more, Google Chrome mentioned us in their blog >> where Nimbus Capture became one of Google Chrome's Favorite Extensions for productivity in 2021. Capterra and GetApp also awarded Nimbus Capture with User Review badges.
We are glad that our hard work has paid off and we haven't stopped our pursuit of new accomplishments!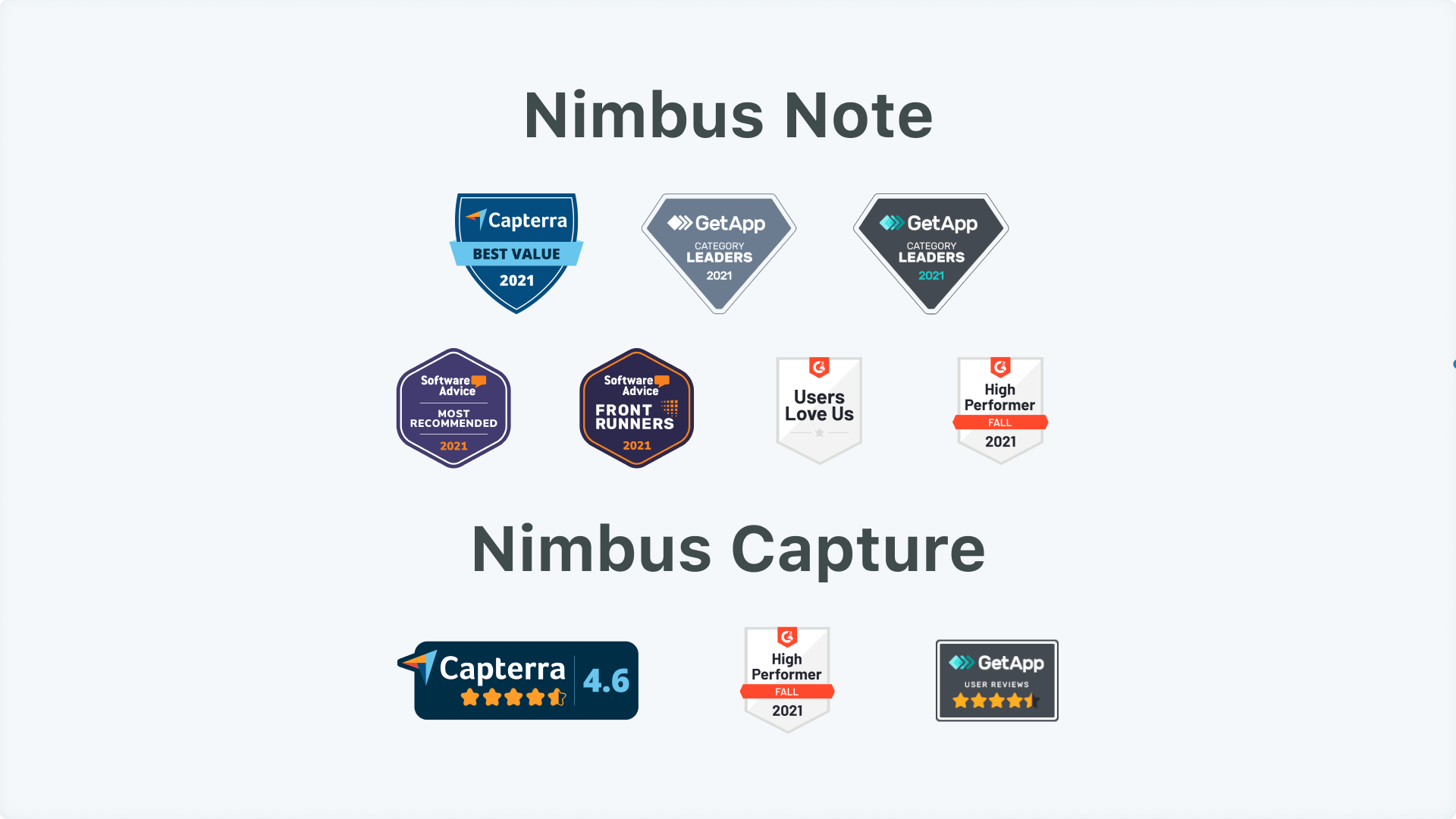 Growing a community of Nimbus citizens around the globe!
More and more people chose Nimbus in 2021. Last year proved that our solutions unite people across the world. We've gotten more users from different countries, especially German-speaking ones. For them, we've launched the German version of our website and created a community on Facebook.
Go there >> to discuss questions about Nimbus in your native language or hone your skills in German.
Community success stories
Our dear community is our eternal source of motivation and a constant reminder of what we work for. Each of your contributions impresses us and shows what community really means.
We are very proud of a new series of posts tagged #Nimbus_community on our blog and social media. You've shared your insights on Nimbus solutions and helped others understand how to benefit from Nimbus even more. Your ideas and interesting tips spark all of us to find new and creative ways of using our app.
Want to see insights on Nimbus from our community? Choose the case that suits you best ?
YouTube Channel
Our YouTube channel has a larger community now too! In 2021 we uploaded Nimbus tips and lifehacks. You can watch them and grab new ideas for yourself ?
Nimbus highlights in 2021
Nimbus is not just one solution but an entire ecosystem. We've set off on a great journey to becoming a collaboration and information management tool. Some important steps have already been made!
A bunch of epic updates for collaboration
Now you can customize the system of sending emails. Your clients will get notifications directly from your professional email address, with no mention of Nimbus. For this, you can add your custom SMTP server to your Nimbus Business account. Read more in our Top Nimbus Updates of June >>
If you work with your team in one workspace, don't worry about someone deleting important content. Easily restrict editing of individual blocks in the note and give specific permissions for each member or guest. Read more about permissions here >>
Share ideas under your name or brand. All Nimbus accounts have full customization of subdomains. You can choose the unique name for your subdomain and share information with others under it.
While working on projects, give your feedback straight away from your mobile. You can decrease the number of iterations and save your time. Just add comments to different blocks of information on your pages. After that, all information will be saved on your other devices too. We took care of optimizing synchronization.
Still don't use Nimbus on your mobile? Install versions for Android >> or iOS >>
More for information management
For sure, well-structured information enhances your productivity. You asked, we delivered. Now, you can:
keep track of your productivity, add important documents, create different profiles. You can always use our tables for all these tasks and more. We've totally reconsidered the logic of our tables and optimized them, together with adding the international currency format.
find desired projects and pages in a couple of clicks. No need to scroll through all workspaces. Just type the key phrase and you'll see the result thanks to faster search indexation.
What goals has Nimbus set for the future?
We are very ambitious about 2022! We've laid the ground for future achievements in the previous year and don't plan to give up. 2021 was just the beginning. The further we go, the more we develop.
Collaboration and information management are our focus. With backup from our investors, we have more capacity and power to implement new ideas and enhance the Nimbus ecosystem. We are going to add more use cases to our solutions. You'll see new task lists, folder permissions and much more for better communication with your teams & clients.
Meanwhile, our main asset will always be you—our community! Finding the best solutions for you is our top priority.
The Nimbus Team would like to thank you all. Your interest in our products and constant feedback make our solutions only better. You motivate us to keep enhancing Nimbus and delight you with new updates.
Stay tuned not to miss anything!
Previous post
How to Work with Clients Better: Templates from Selle Evans
Next post
How to record internal audio and screen on Windows