Starting 2023 Strong: Nimbus Platform Progress So Far
Learn from our experts how Nimbus can boost your work!
Book a demo
After a brief hiatus, we're back to tell you about the newest and coolest updates you can use from 2023. Discover how you can skyrocket your client satisfaction and understand them better, manage your projects with ease, and more.
Are you ready to check out all your latest superpowers and find out about the upcoming Nimbus AI? Do you wait AI in Nimbus Platform? Let's dive in for more details!
Boost Your Client Experience Even More with Nimbus Portals
There is always room for growth, and our portals are no exception. We constantly enhance them so you can increase your client satisfaction and retention rates. From now on, store your project information and collaborate even better on portals.
You can start simply by adding pages from Nimbus workspaces. Rename the pages according to the project requirements and make it even easier to collaborate with your clients. Find out what else you can do with portals below ?
Send one magic link to access the portal
Give your clients quick access to both private and public portals. Now only one magic link can simplify the process. Your clients don't need to enter any complex login information. Just send them invitations from your Organization Console, and the job is done.
? Read more about the magic link
here
.
Analyze your clients' behavior
You can understand your client's needs better. Access detailed analytics on the portal. See how many people visited the portal and what pages they interacted with. Find the Analytics option in the portal top bar.
Get feedback from clients right on the pages
Want to hear clients' opinions on a particular portal page? No problem! Add a customizable button to the desired page and let your clients comment, change information and add important project docs. Your team will get first-hand feedback and react faster to the changes.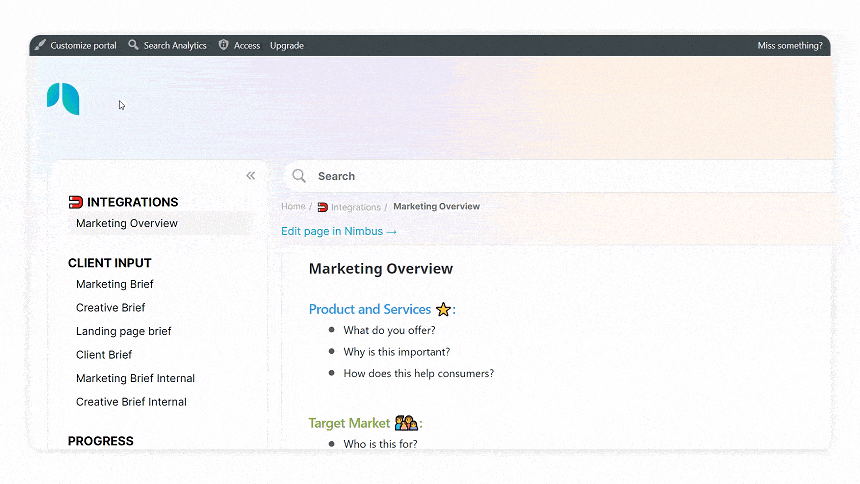 ? Learn more about editing portal pages
here
.
Jumpstart Your Task and Project Management
We are paving our way to make Nimbus your go-to platform for achieving goals. Since the beginning of 2023, you have more options for managing your tasks and projects more productively. Check out more info ?
Work on Tasks with Clients and Teams
Add your task lists as widgets to Nimbus Portals and let your clients view and edit them. With such widgets, you can easily set deadlines, gather necessary project information from your clients and keep everyone on the same page.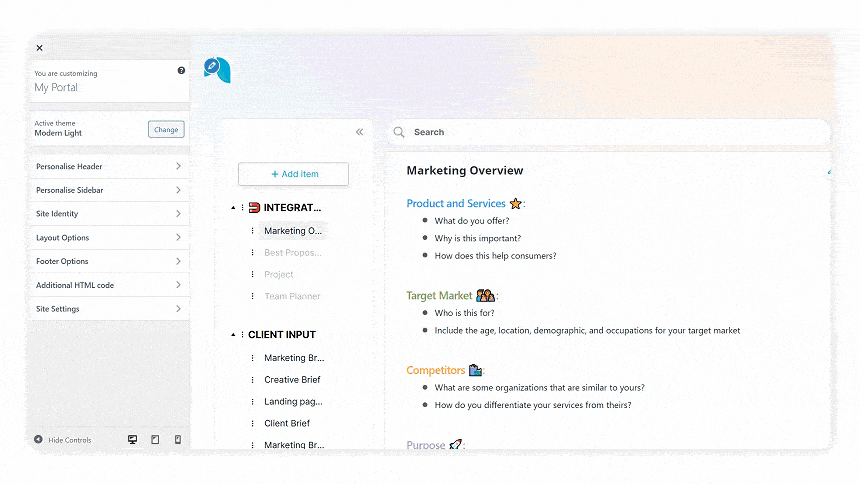 ? Learn more about editing tasks on portals
here
.
Attach More Details to Your Tasks
Give your team a bigger image of what needs to be done. Attach references to your tasks before work on their starts. You can also ask your team to add files with the final results to keep all information in one place and make it easily to come back to it.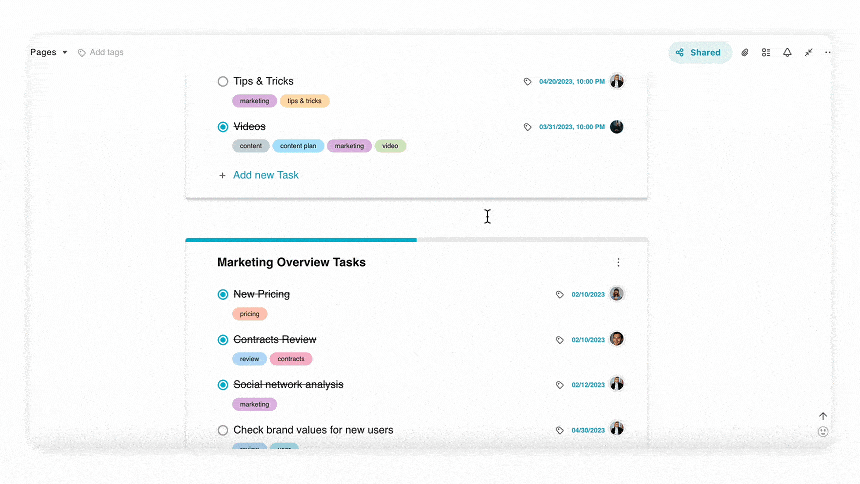 ? Find out more details about task attachments in
our guide
.
Time-track your work
Estimate how long the task will take. Once it's finished, record the time it took to complete it. Describe what was done and add the work type. Service businesses will find it helpful to mark billable and non-billable times.
Take control of your task notifications
Manage email notifications for tasks more efficiently. You can choose whether to receive notifications for tasks based on your role — either as the task author or the task assignee. Receive only relevant notifications and avoid clutter in your inbox.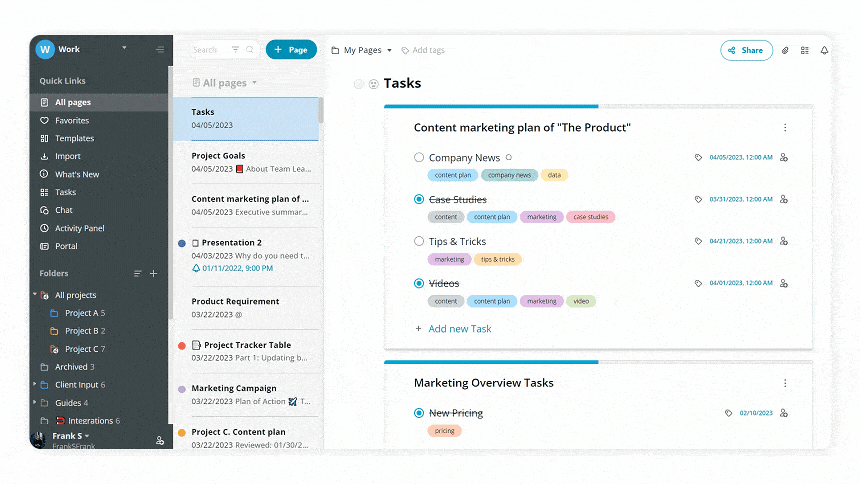 Filter your tasks by projects with one click
Filter tasks from all or selected workspaces in one dashboard. You can monitor what needs to be done in your entire organization. See which tasks are the most urgent and prioritize your and your team's work accordingly.
? Find out more about tasks and how to filter them
here
.
Read more posts on this topic:
Automate Your Workflow with Nimbus and Zapier
You waited, we delivered! Create your workflows — Zaps with Nimbus. Zaps are fully automated with no code required. Just choose your triggers in one service and get an event in another.
You can connect Nimbus with Gmail, Twitter, Facebook, OpenAI, and HubSpot to:
Save emails and tweets to Nimbus pages;
Create folders with content for posting on Facebook;
Store client information on Nimbus pages for future analysis.
Say goodbye to tedious manual tasks and focus on what really matters with Nimbus and Zapier.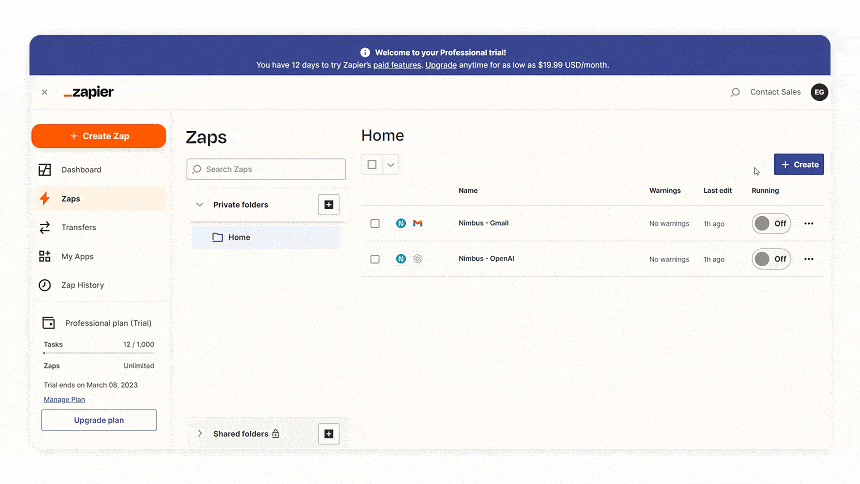 ? Read more about Zapier integrations
here
.
Decide Who to Give Access to Pages
Manage your access and permissions for folders and… PAGES. Track which of your teammates or clients can view & edit particular pages and restrict accesses if needed. This way, you can focus your workspace members on just their responsibilities areas and avoid information overload.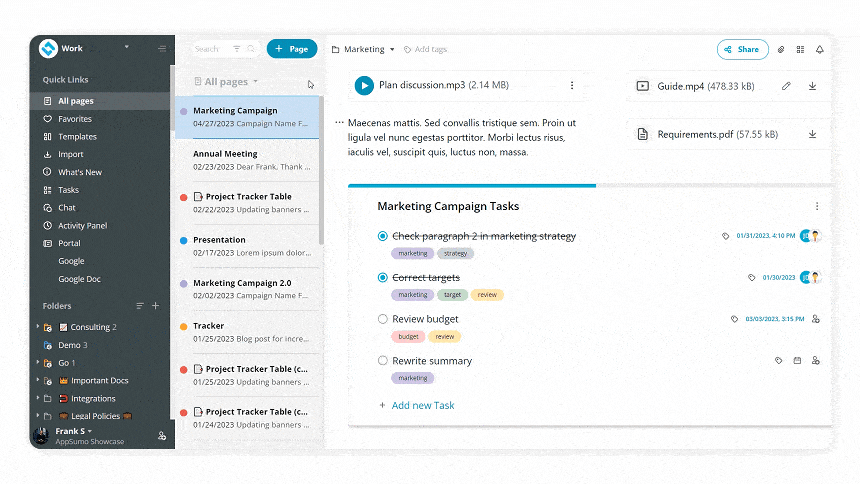 ? Check out more info about page permissions
here
.
Comment Here, Comment There, Comment Everywhere
Share your ideas and give feedback with enhanced comments! You can access all your comments from the page in one sidebar. Just click the comment icon in the top right corner of your page and view & sort all the discussions. Impressive, isn't it? Here are more marvelous comments options for you:
Comment on table cells. You can provide contextual information and make collaborating easier within tables and databases.
Comment on pictures faster. Add your images and hover over them to see the Comment icon. Click it, and the entire picture gallery will open in commenting mode.
Differentiate comments by colors. If unread comments are in a thread, the icon will appear brighter, drawing your attention to pending comments.
Collect Data with the File Uploader
Turn your pages into forms for gathering and organizing information from your team and clients. With the file uploader, you can describe what you want to receive from others and store clients' and teams' data in one place.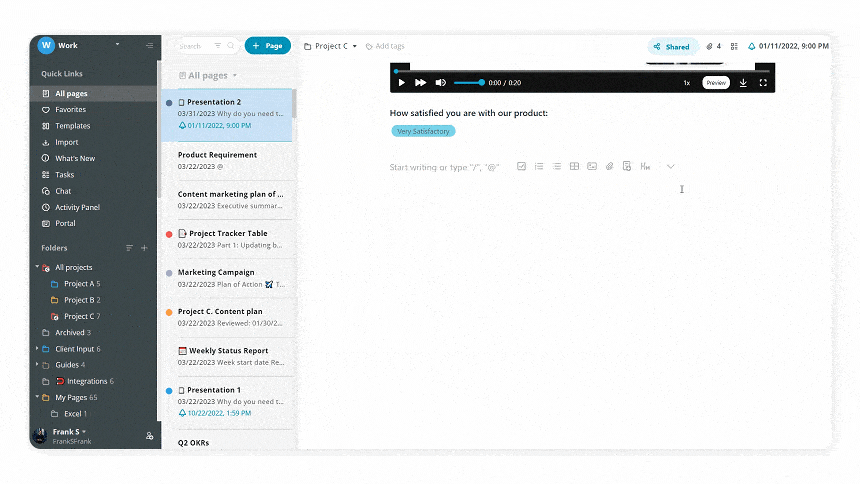 ? Check out more details on the File Uploader in
our guide
.
Collect client information, process it and store in one place with Nimbus Platform™!
Show How Far You've Advanced with Progress Bars
If you're looking to demonstrate your project's progress, you can easily add a progress bar to your pages. Provide a visual representation of it and keep all stakeholders in the loop about your project's status.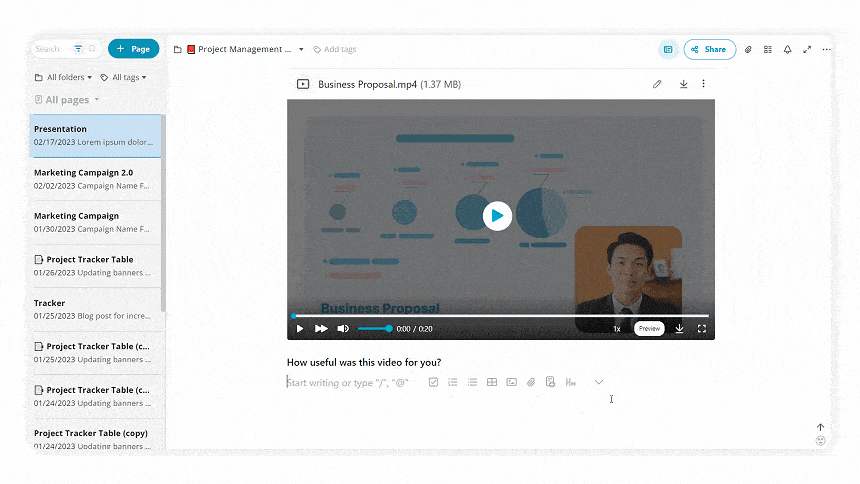 ? Learn more details about the progress bar object
here
.
Streamline Your Writing with Grammarly
Focus on what you want to say, we'll do the rest! Now you can check your grammar and spelling without installing any extensions. Just enable Grammarly in the top right menu of the page, and we will take care of everything else. Creating a professional image more easily!
Add Stunning Images from Unsplash
Whenever you want to explain your ideas or add references, you can choose images from Unsplash. Browse thousands of great photos on various topics and add them to your pages. You can save time searching for images on other services and diversify your page content!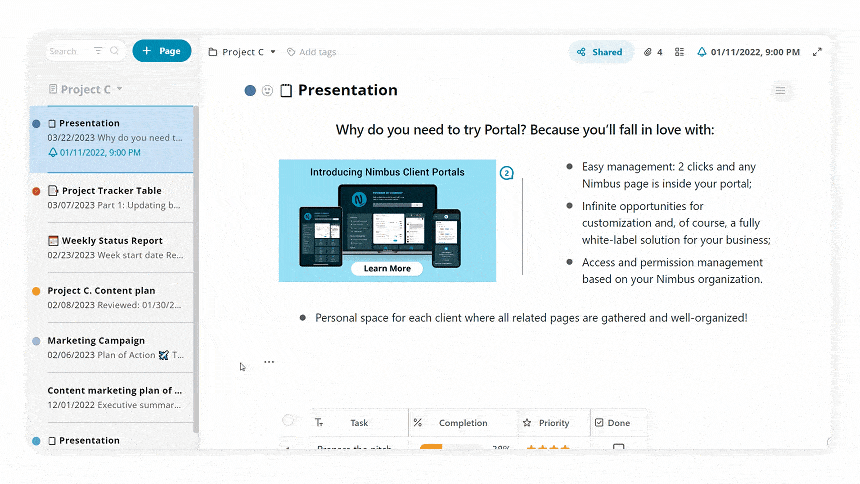 Record Specific Screen Fragments
Focus your team and clients on the desired screen parts with Nimbus Capture. Whether you want to record data tables or show only the best of your visuals, capturing video fragments makes it all possible.
Make your screenshots and video recordings a part of something bigger!
What's Next in Nimbus Platform?
Here we should end our article and let you explore all the top-notch updates above. However, it doesn't mean you won't get new Nimbus powers anymore. On the contrary, we are planning and implementing something HUGE! Check out your upcoming updates:
✅ Get your Nimbus AI assistant. Write your queries and receive answers right on the Nimbus pages.
✅ Chat with your clients on Nimbus portals. Communicate and collaborate with your team without leaving the portal.
✅ Attach files to comments. Discuss ideas and add file examples to your comments.
✅ Upload files via shared pages. Send shared pages with people outside your company and give them an opportunity to add their files.
Keep up with our updates via social media. See you in the AI future!
Next post
How to Win Clients and Cut Costs with External Knowledge Bases