With Nimbus Note, you can easily create pages with different data and styles. You can also customize the appearance of pages with the help of our built-in tools and sidebar.
Every page in Nimbus is a unique area where you can add or embed almost anything. You can also share created pages as Public Pages for the outside world to view.
Open your workspace in Nimbus Note and create pages. You can write down your ideas and add different information such as documents, links, audio and video recordings and so on.
Create different folders and subfolders. Easily store all important information and access it any time you want.
A quick way to create a page #
There are several ways to quickly create a page:
Click on + or use keyboard combination ctrl + opt/alt + n to create a page
Click on create your page
Select a folder and in right-click menu choose Create new page
Lifehack #
In Nimbus Note, you can create a page in a new tab:
Right-click on + button.
Select Create page in new tab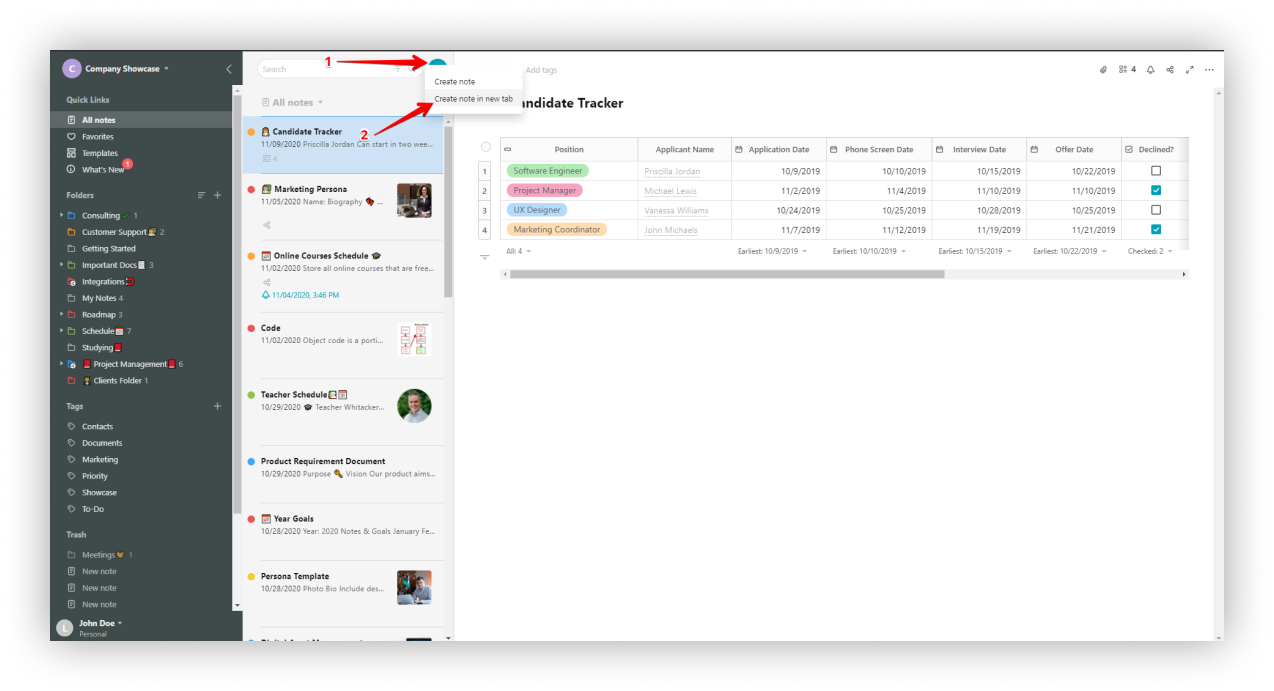 You can also open an existing page in a new tab:
Right-click on the page.
Select Open in new tab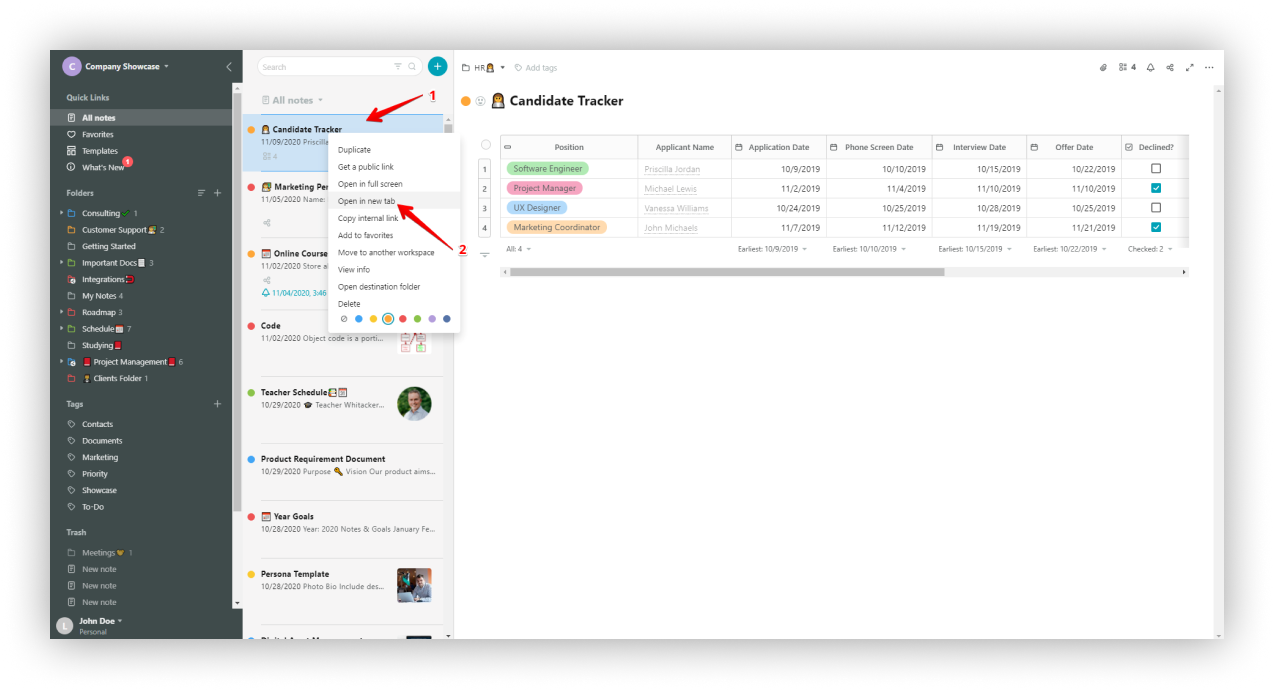 Search through the template gallery to get inspired #
We have ready-made templates for different categories. Use them and see for yourself how easy and convenient they are!
Create a new page.
Click on Templates.
Select the template you need and click Use template.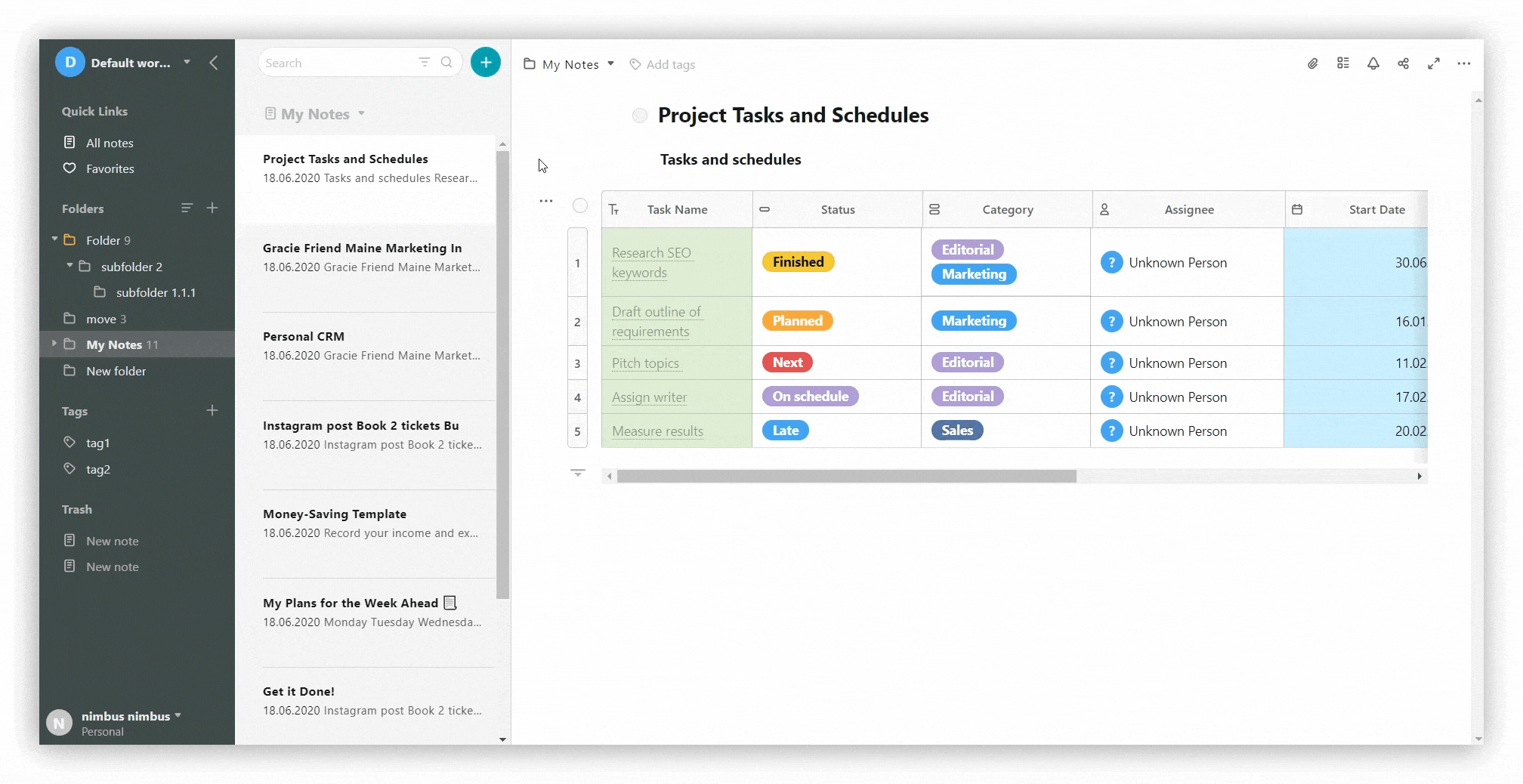 Drop files, resize and move blocks #
drag and drop files into the editor
move files to columns using drag and drop
click and drag the block to the right/left, or up/down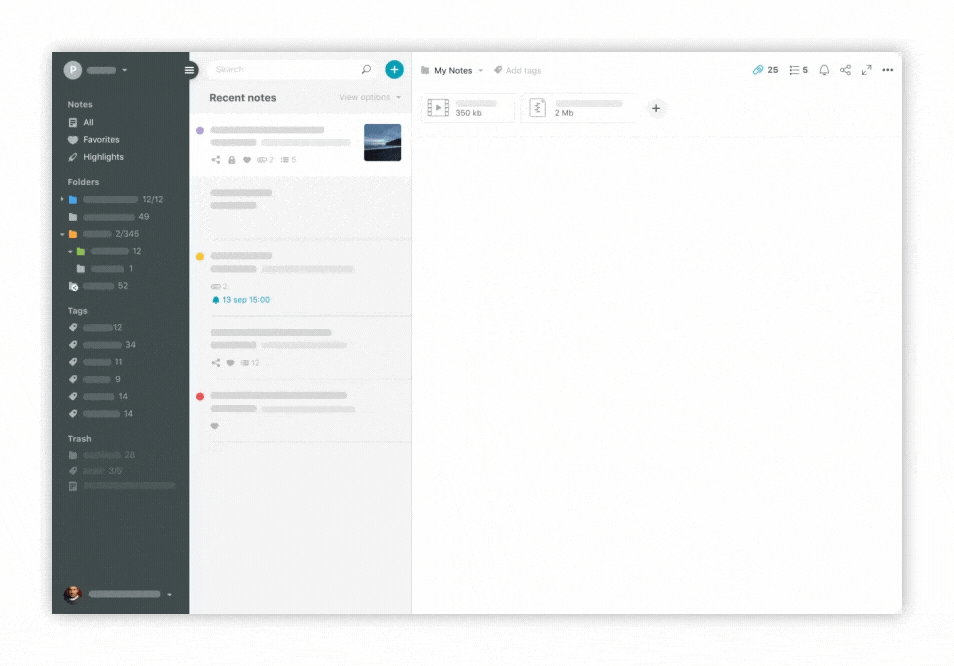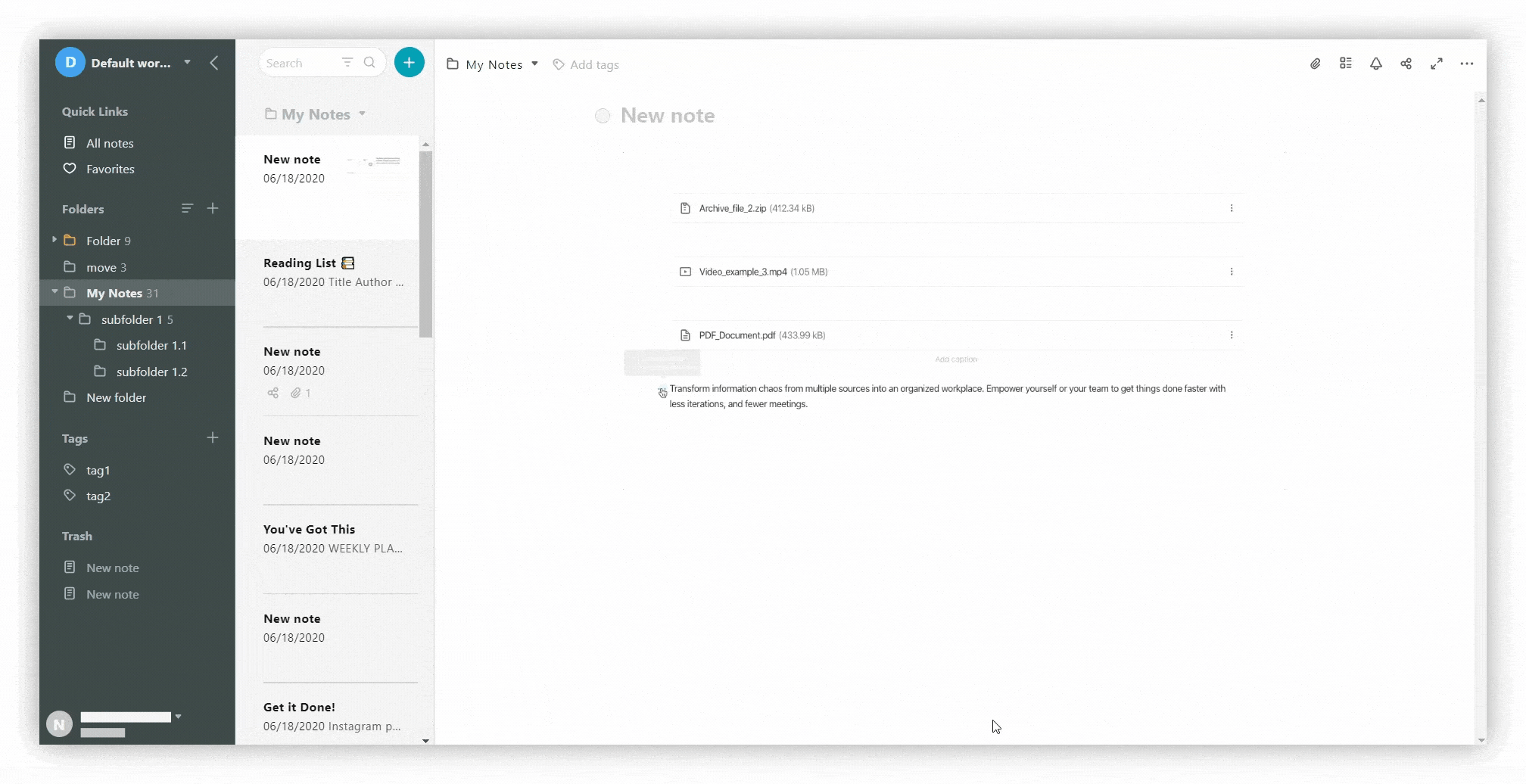 Access block options #
It's very easy and convenient to work with blocks. Just select the menu, and a list with many options will appear.
click on the three dots menu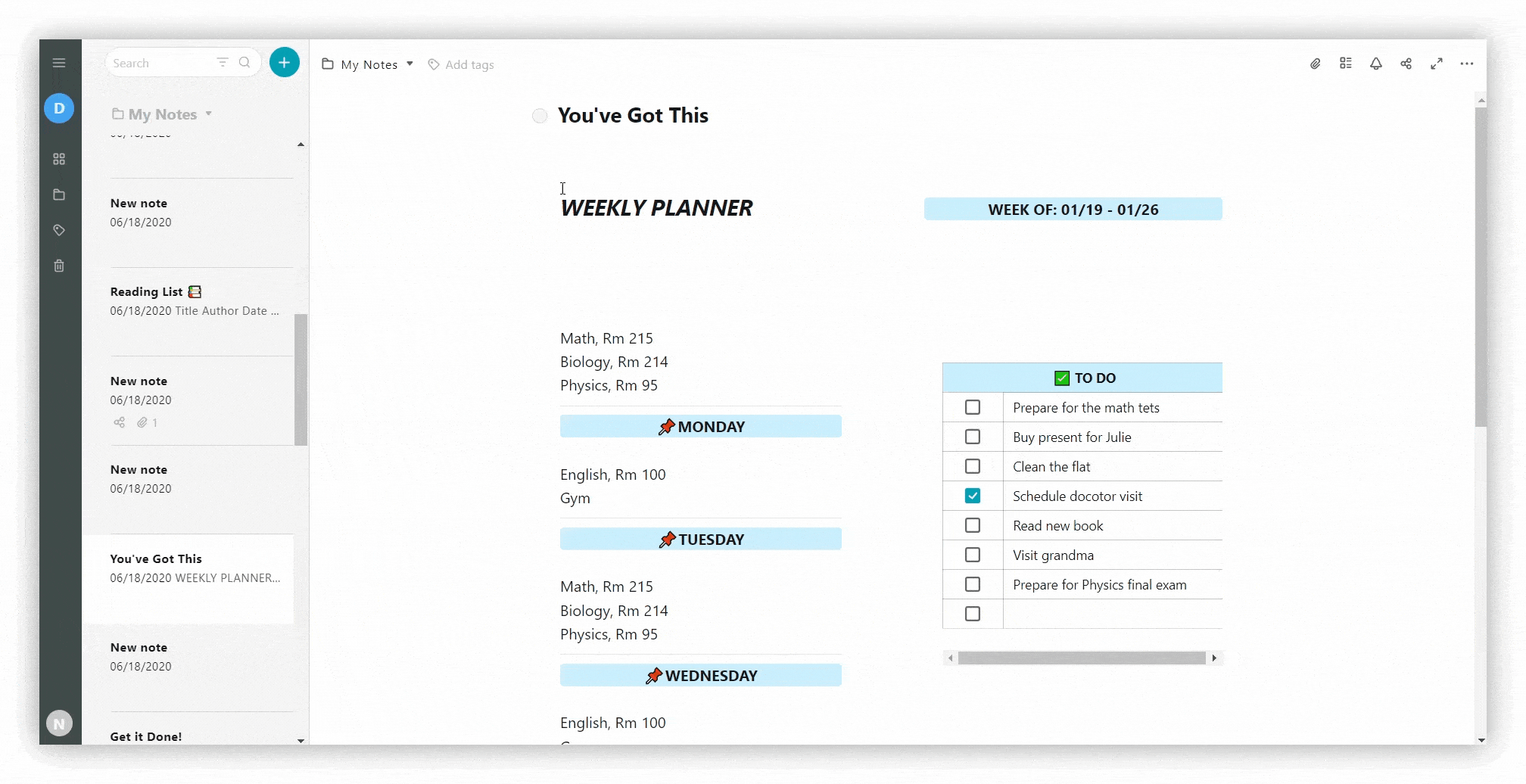 Convert Blocks #
Convert blocks to code / embed / task / quote etc.
For this:
Click on the three dots menu
Choose Convert to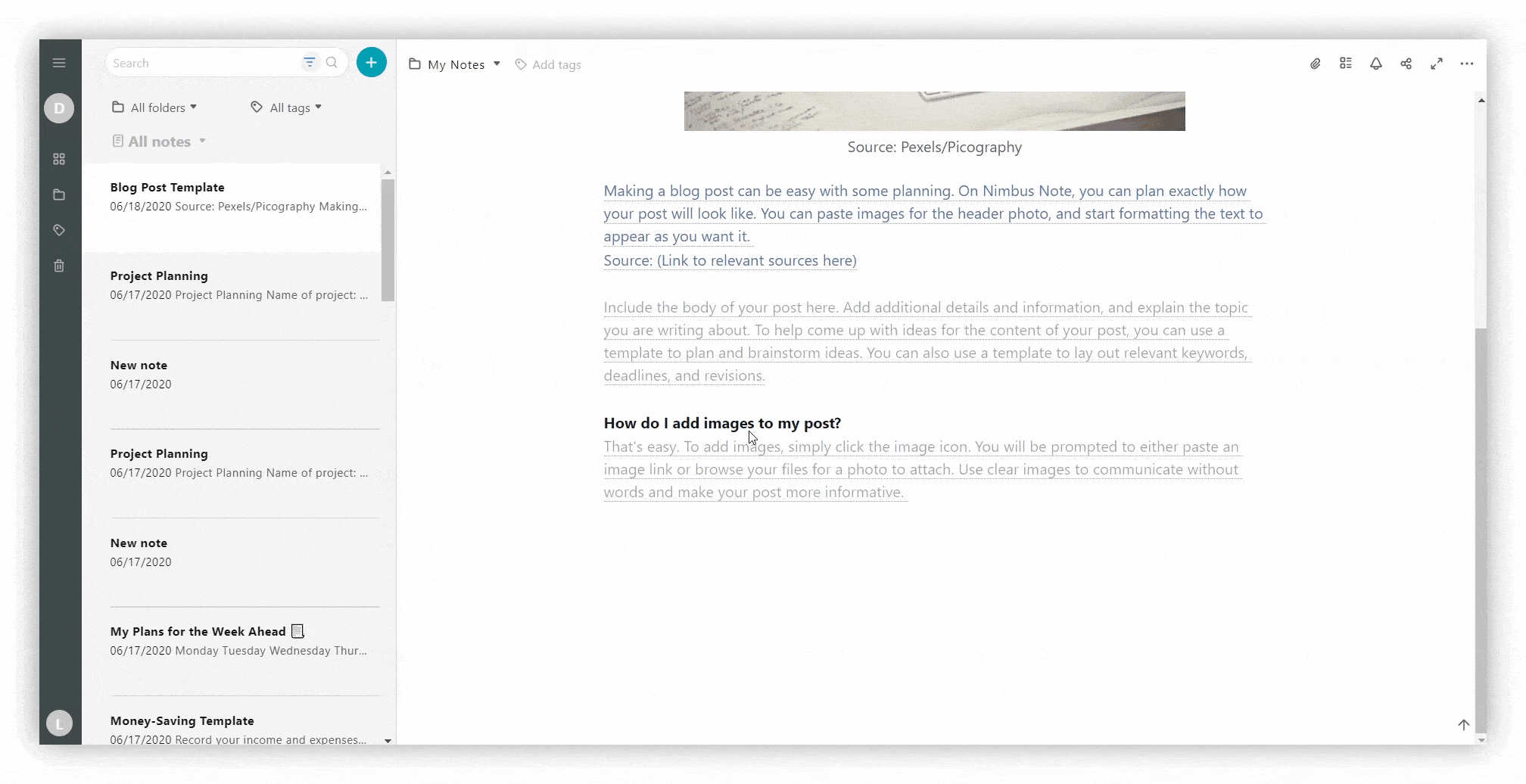 More items #
click on the arrow in the editor to display More items

outline cmd/ctrl + ⌥/alt + o
section break cmd/ctrl + h
quote cmd/ctrl + ⌥/alt + q
link cmd/ctrl + k
code cmd/ctrl + ⌥/alt + c
embed cmd/ctrl + ⌥/alt + m
bookmark cmd/ctrl + ⌥/alt + b
mention @
Google Drive cmd/ctrl + ⌥/alt + g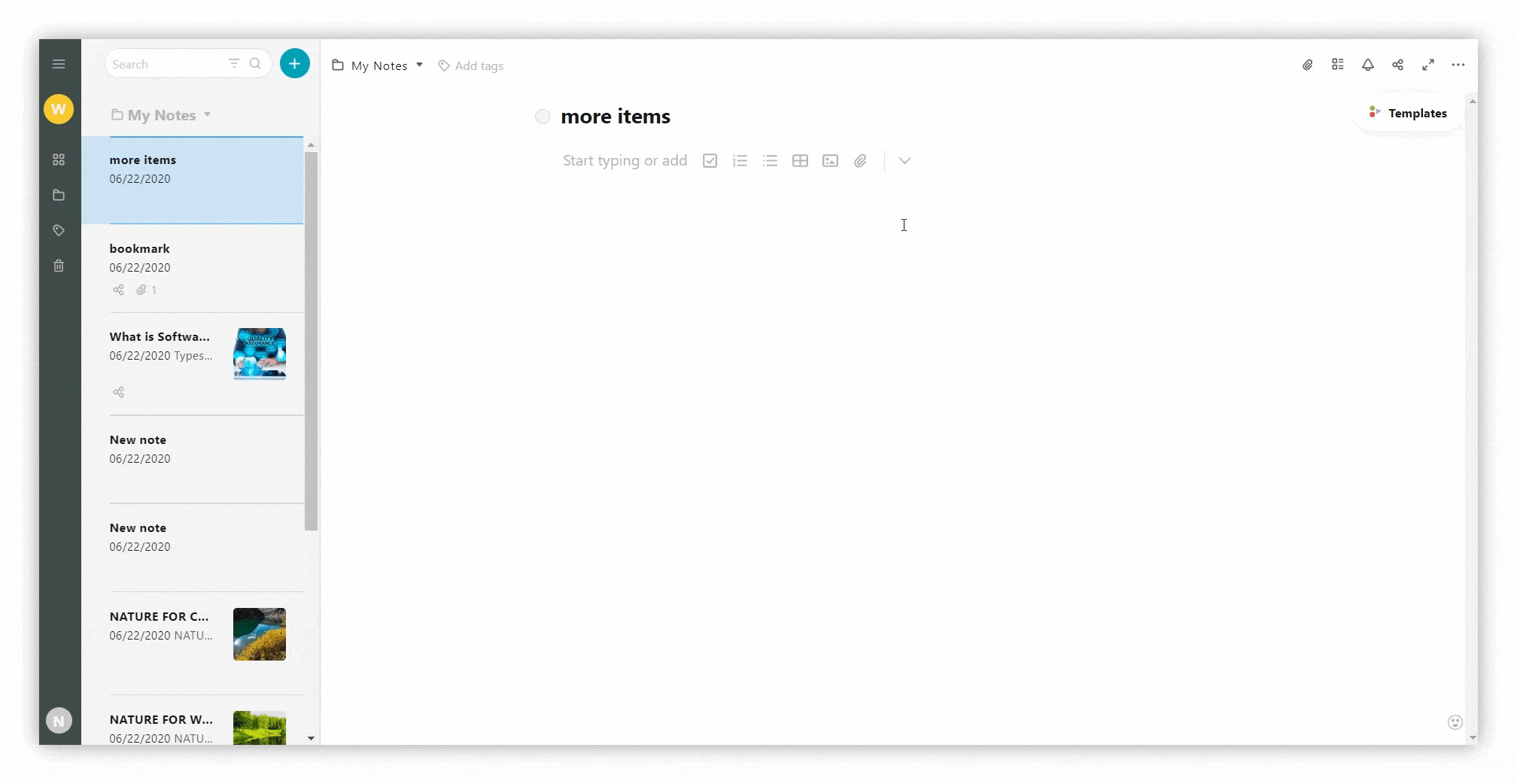 Embed a popular website like YouTube, Google Maps, Google Docs #
You can easily add embeds from popular sites. You can also use Google Sheets to work with spreadsheets.
click the arrow and select Embed or use cmd/ctrl + ⌥/alt + m
insert or print the URL
Create Table #
select the table icon or use cmd/ctrl + ⌥/alt + t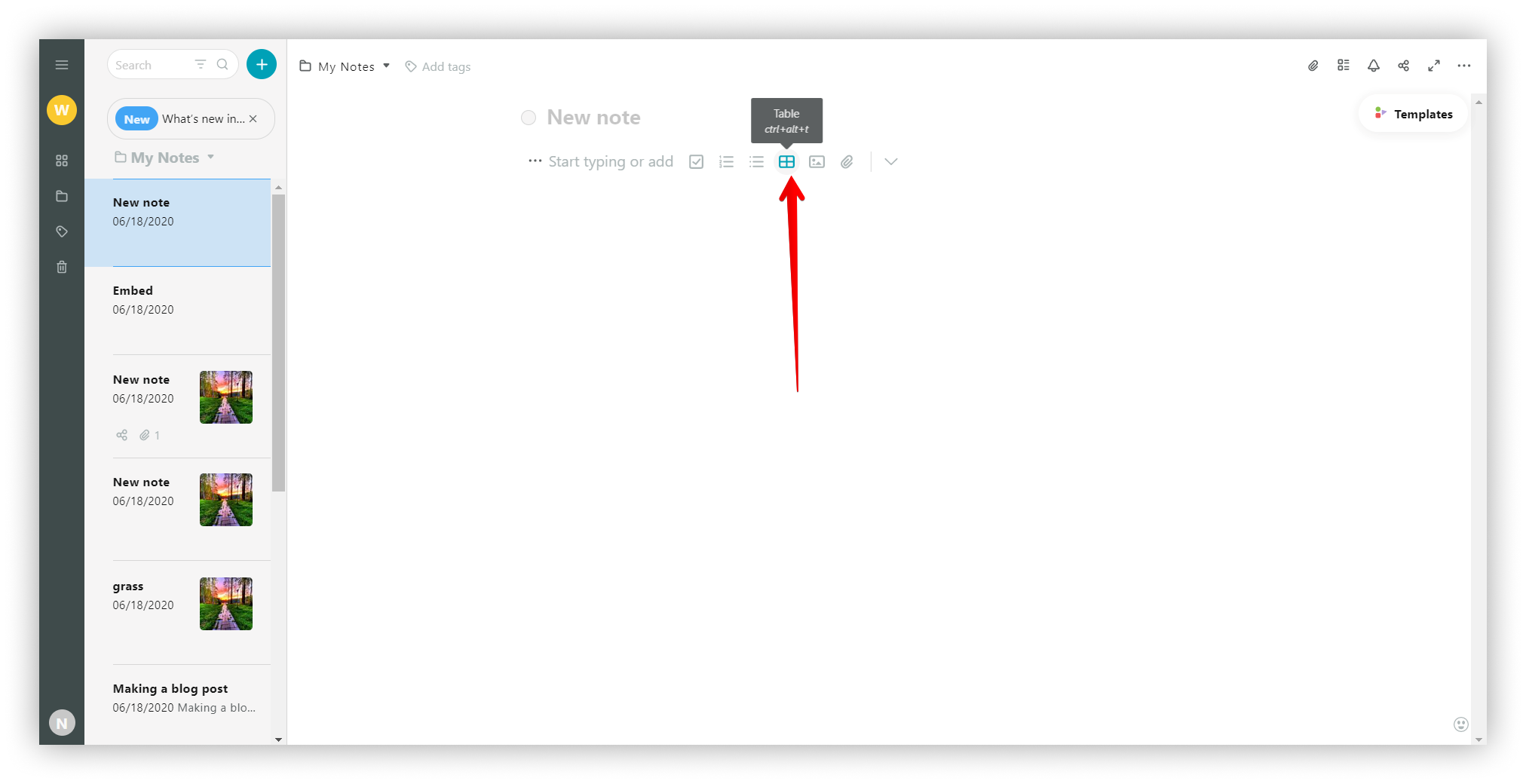 pull the corner to resize the table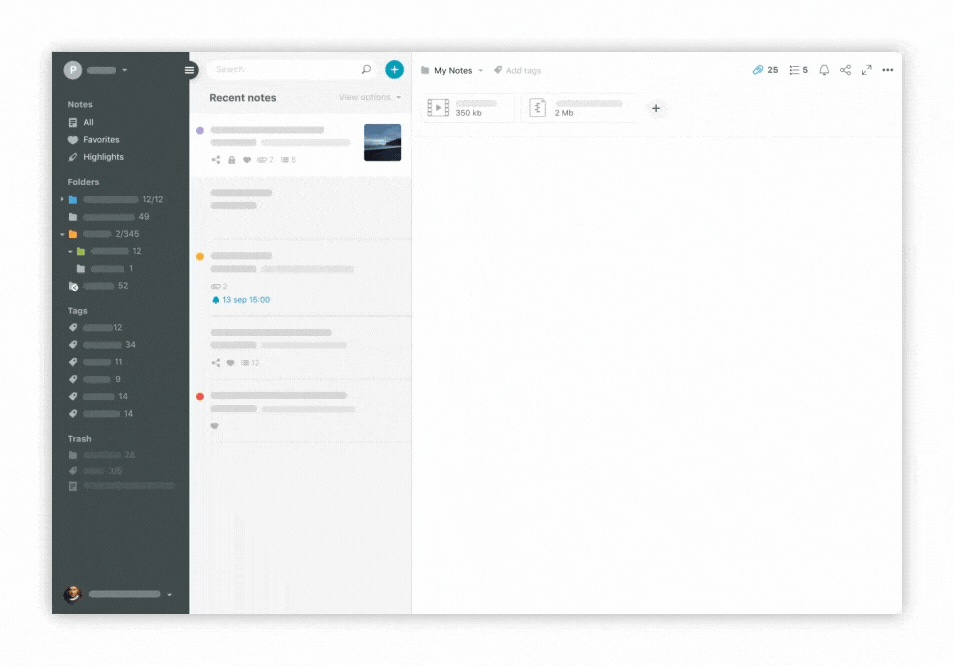 Insert objects into your table #
click on the column menu and select Column type
select a cell and use the Cell type menu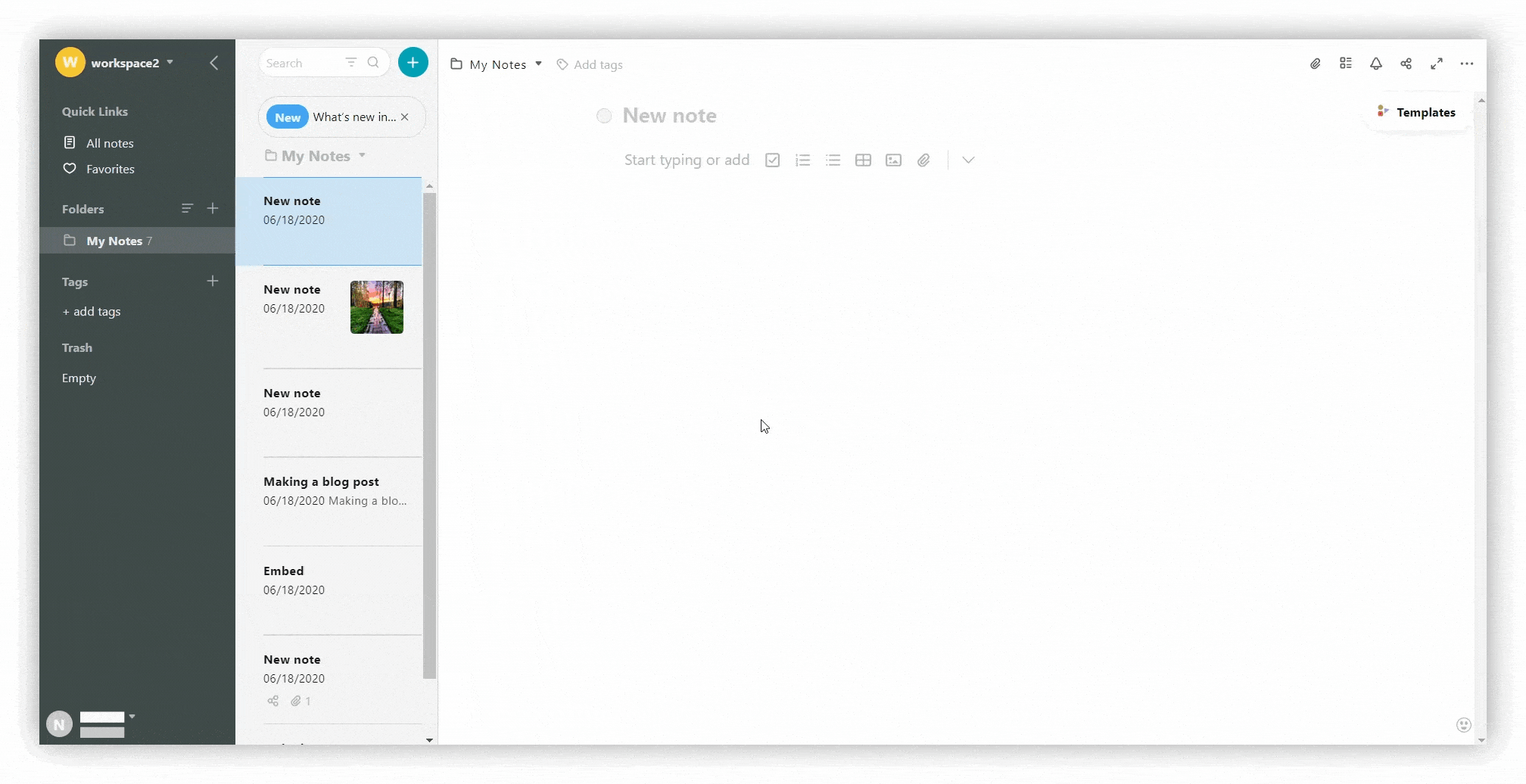 Set styles to your text #
Use different styles to format and change the appearance of your text.
select text
select bold/italic/highlight
Lifehack #
Use the cmd/ctrl + v hotkey to add text into a page.
If you want to insert text without formatting (e.g., without text color or bold font) use cmd/ctrl + shift + v.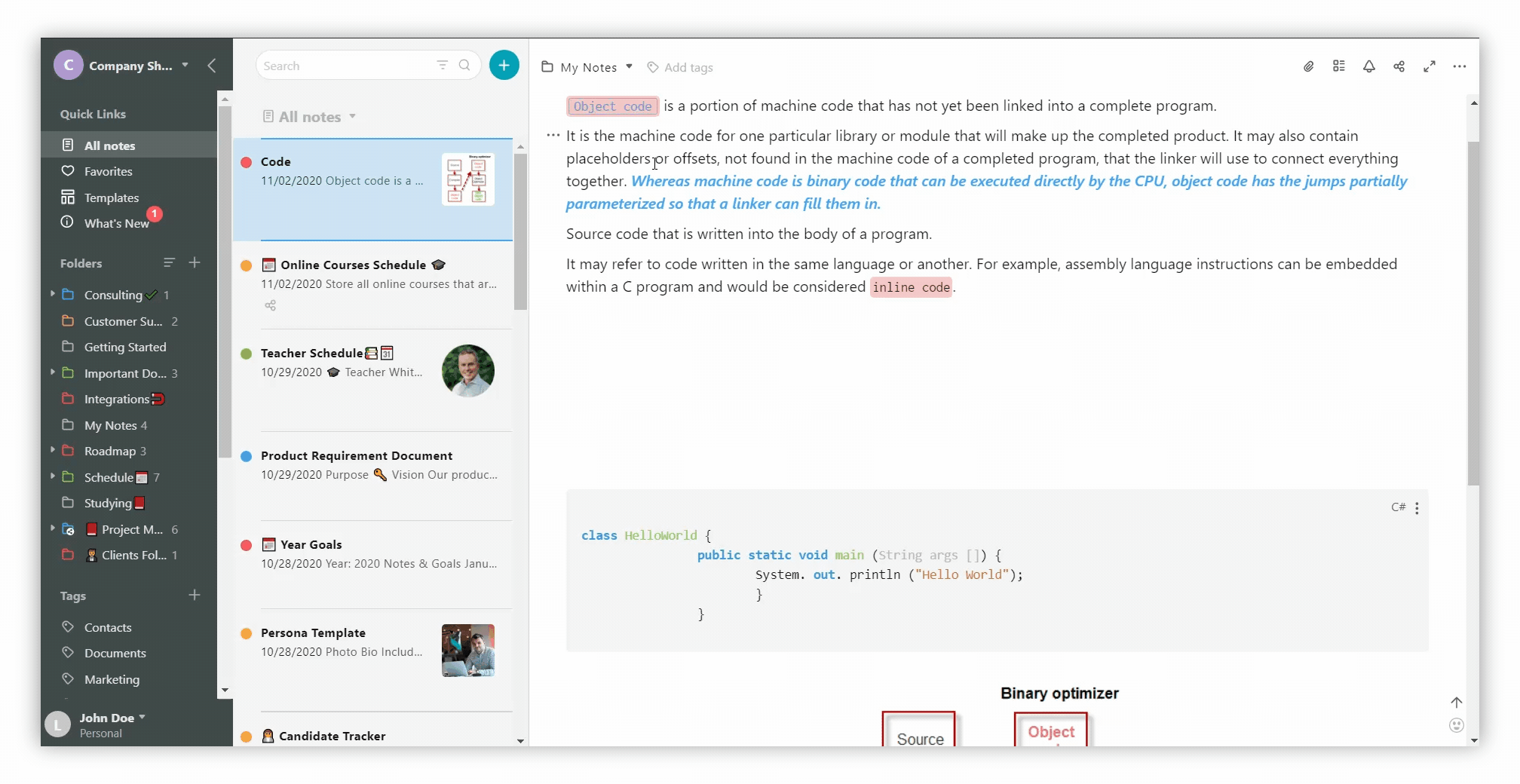 Expand pages to full width #
click on the three dots menu
select Appearance
Toggle the Full width setting on or off, or use cmd/ctrl + alt + w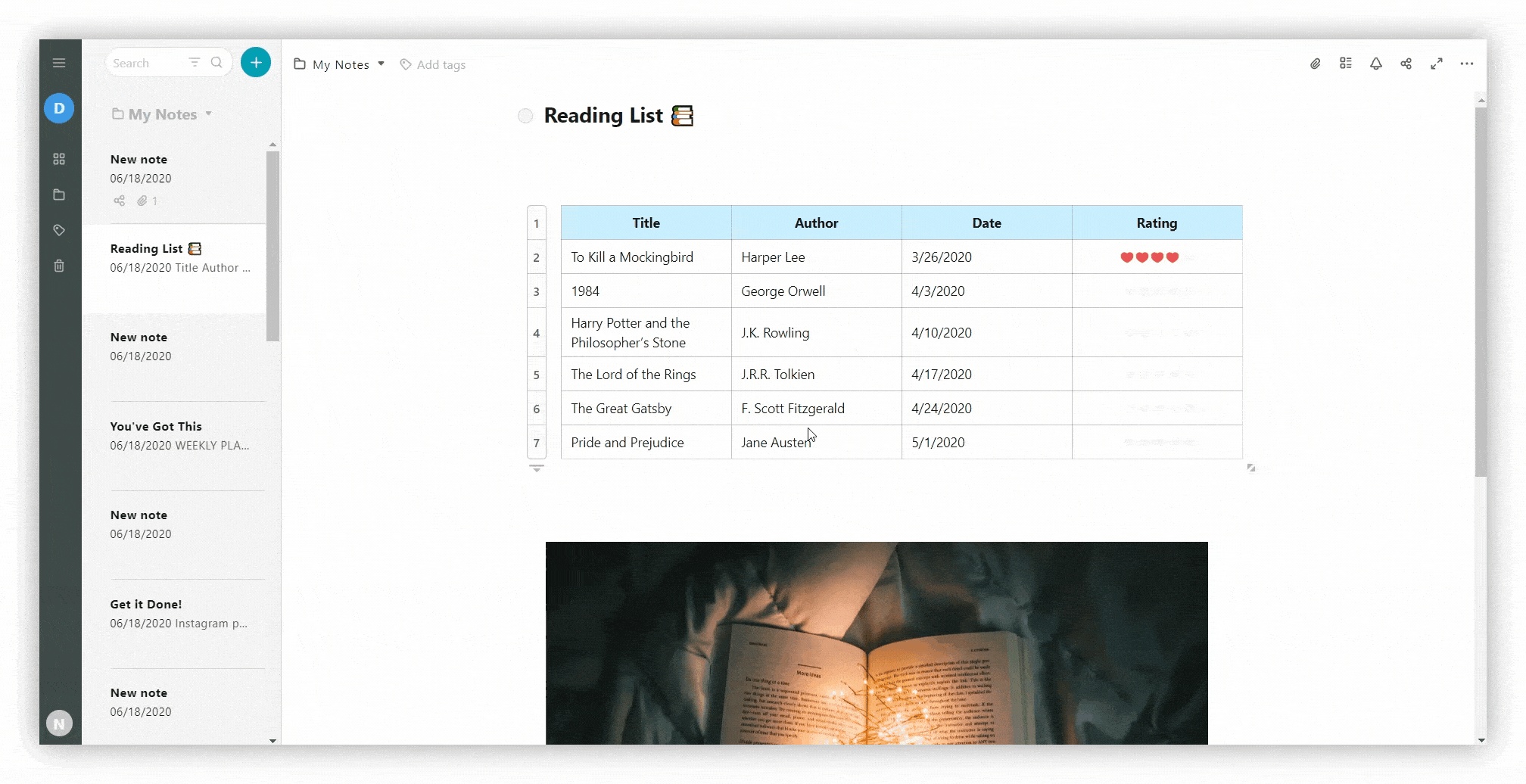 Additional options for your pages #
Use additional options to export pages, copy to clipboard or change the page's appearance.
click on three dots menu on the panel
select Export Page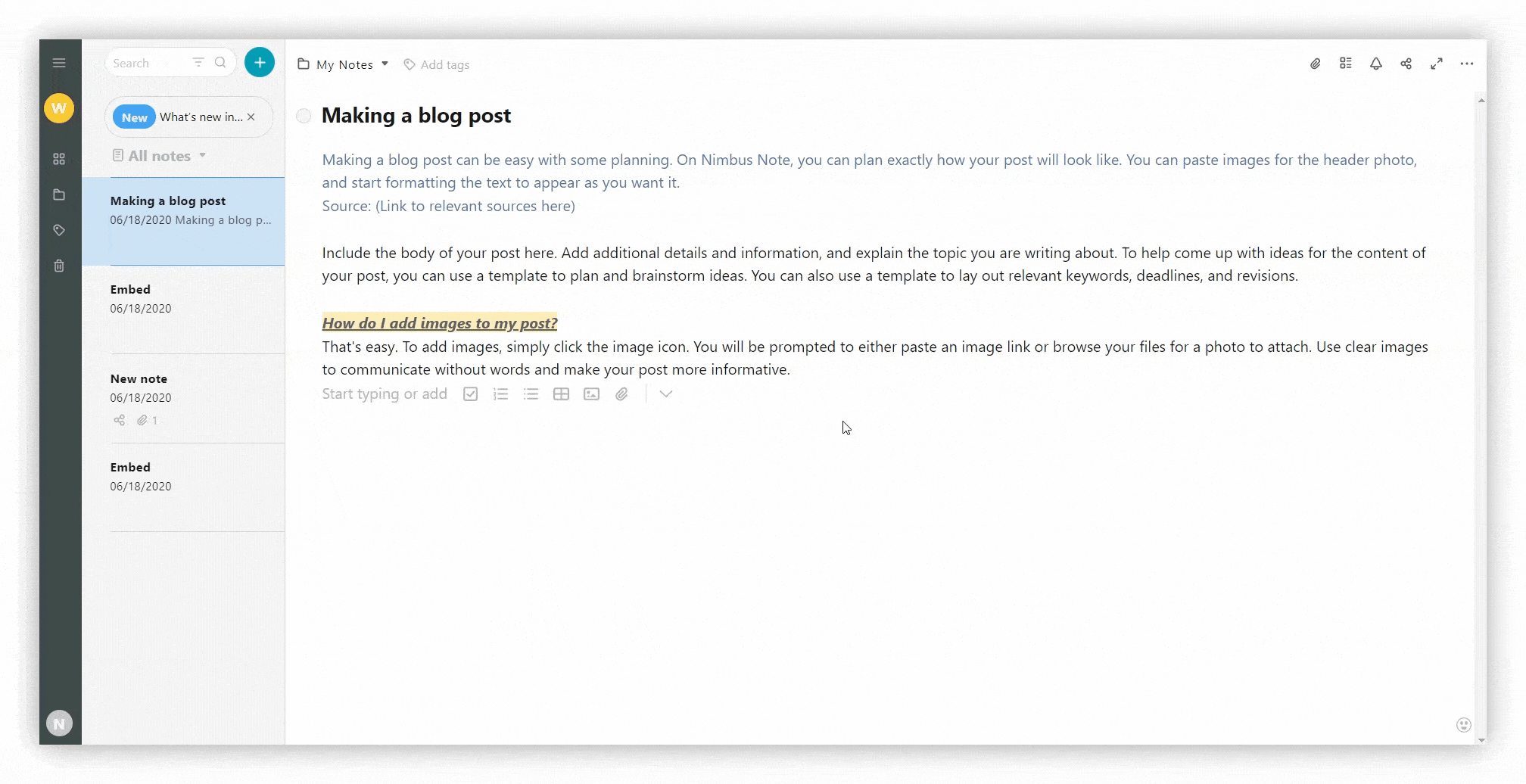 Hide/show sidebar #
Hide the sidebar to expand your work area!
click on the arrow or use ctrl + opt/alt + s to hide the sidebar
hover the cursor over pages / folders / tags / trash icons to show content
click on the menu or use ctrl + opt/alt + s to open the sidebar