Before you create any pages, it's worthwhile to think about how you want to structure your team, organization, personal goals, documents or ideas. Nimbus Note provides a highly flexible, organized environment for ideas, collaboration & knowledge sharing. The hierarchy in Nimbus Note is the following:
Organization – workspaces – folders – subfolders – pages.
Organizations #
Personal organization #
Work under your projects, create different pages and save everything in your Personal organization. Choose the name of your organization according to your needs and start your work.
Only you have access to your Personal organization.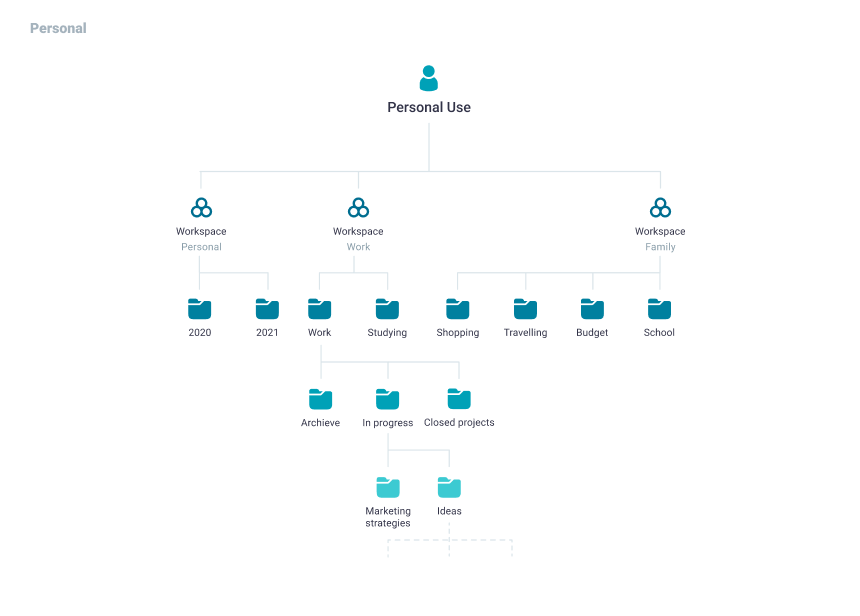 Business organization #
To collaborate with your clients & teams in one organization, create a Business organization.
We recommend using it if you need more workspaces & team members. Going over your project is always easier when you work with your team in one space. Add members to your workspaces and discuss all important aspects of projects. Have better collaboration with your team, keeping all information in one place.
If you work as a solopreneur, add your clients to workspaces or share public pages with your ideas under your brand. Use a White-Label solution that is a part of our Business plan and build stronger relationships with your customers.
With a trial, you'll have 14 days to make up your mind. It is free, no credit card info required!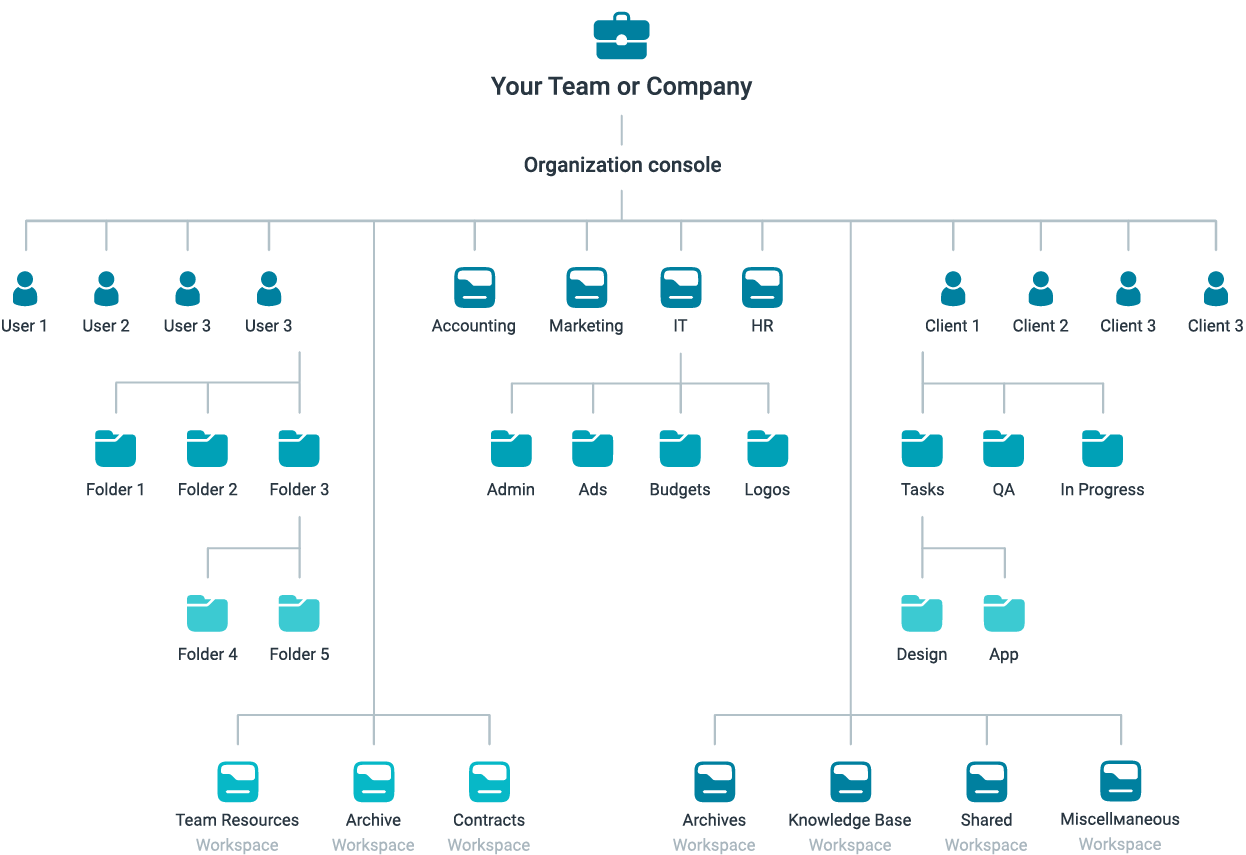 Nimbus Business organizations, unlike Personal ones, have a higher level of management, which can be accessed in the Organization Console. It allows you to:
✔ Work on your branding:
choose the name of your Organization;
set your logo;
get your custom domain (CNAME);
✔ Track figures:
statistics of your Organization (number of users, useful links, folders, pages, use of traffic);
billing history;
✔ Manage workspaces, members, and information:
create an unlimited number of workspaces and add settings for each of them;
give different types of access and permissions for members.
Read more about Business console functions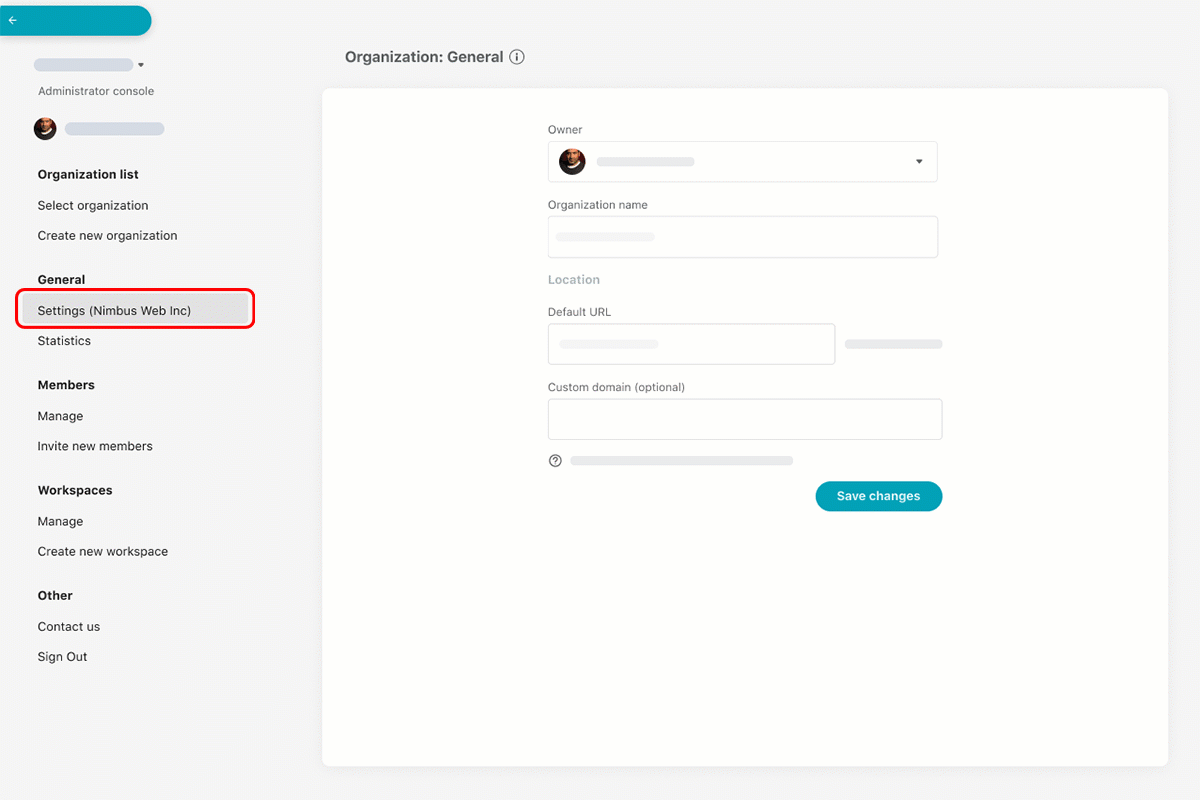 When you create your Business organization, you still have a personal one, to which you can easily switch any time. Please note that nobody but you can access your Personal organization.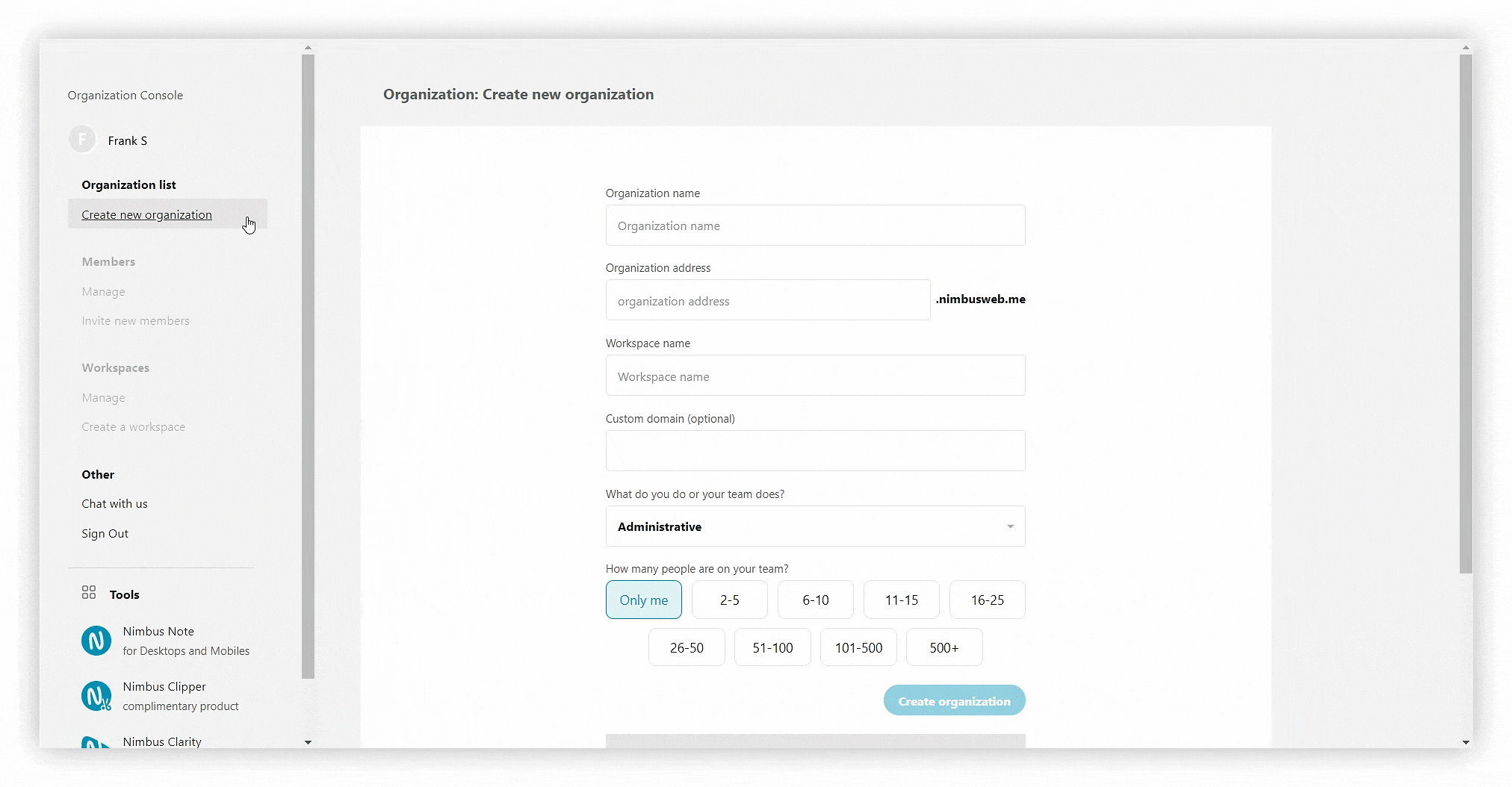 Workspaces #
After setting up and naming your Personal and Business organizations, you can create workspaces where all your information will be stored. Nimbus Note is built around workspaces to help organize your life or work categories.
Create dedicated workspaces—one for each project, team & client or for your personal use. This way, you can separate your personal life from work. You can use your personal workspace for saving only your private information and creating folders & subfolders to track your achievements, family activities, personal goals and so on.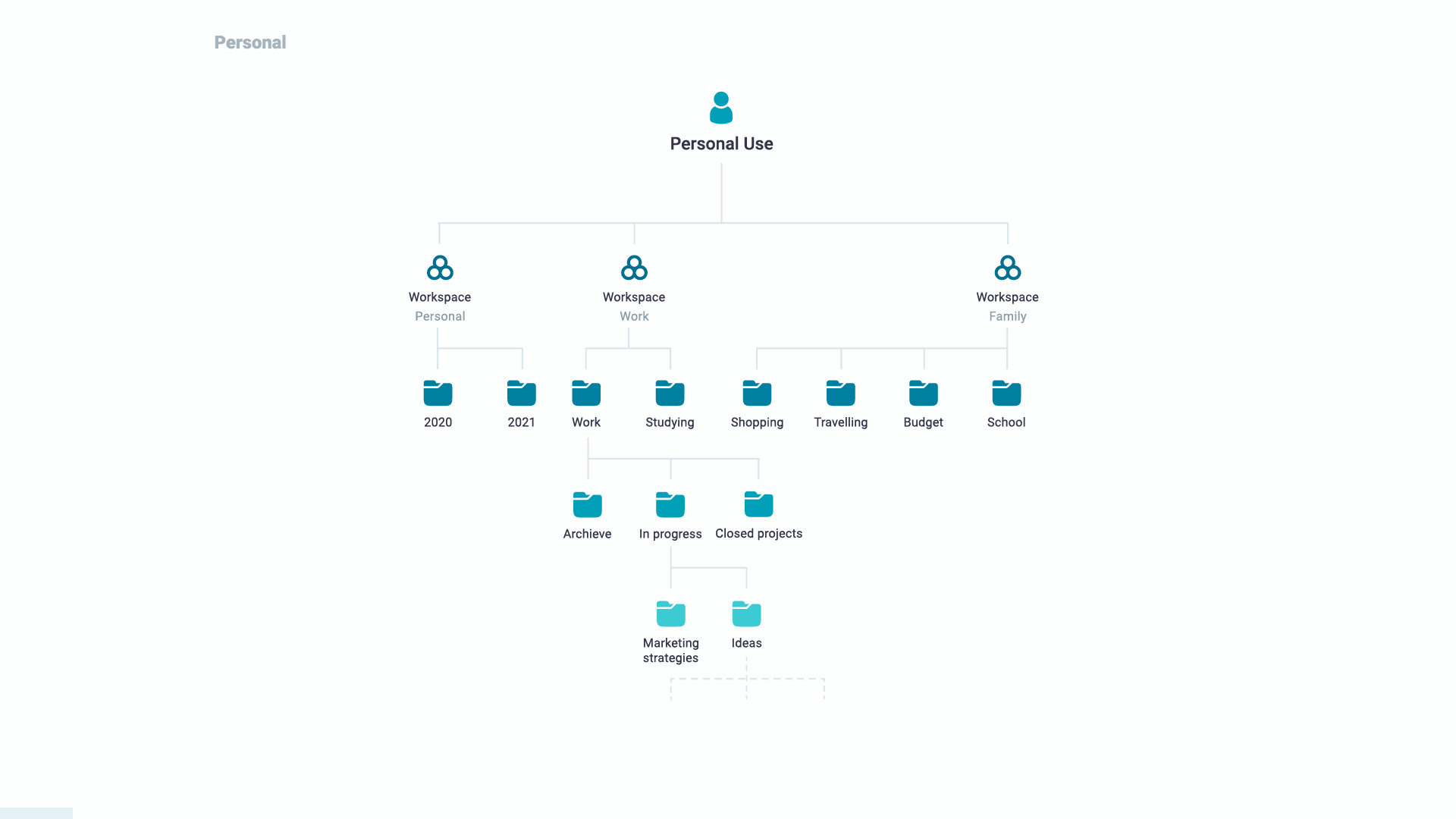 It's a good idea to divide your Business organization by departments, clients or projects for your working goals.
If each of your departments tend to lead its own projects, then it may be best to structure by department. The Marketing workspace could contain folders such as Admin, Ads, Budget, and Logos. An Information Technology workspace might contain folders such as Applications, Hardware, Providers Network, and Inventory.
Client-based businesses such as consultancies, real estate brokers, and law firms would have a different structure. One workspace could contain all general purpose files for the team, and each of the other workspaces would correspond to each client.
Your business may have several revenue streams such as sales, support, and consulting. It may be sensible to create workspaces to represent revenue components.
Nimbus gives you flexibility: you can create a structure that best suits your purposes and business.
With a Free plan, you can create only one workspace in your Personal organization with one user.
With a Pro plan, you can create three workspaces in your Personal organization with one user.
A Business plan gives you an opportunity to create an unlimited number of workspaces for your Business organization with an unlimited number of users and three workspaces for your Personal organization with one user.
To create a workspace, click on the workplace drop-down menu and select New workspace.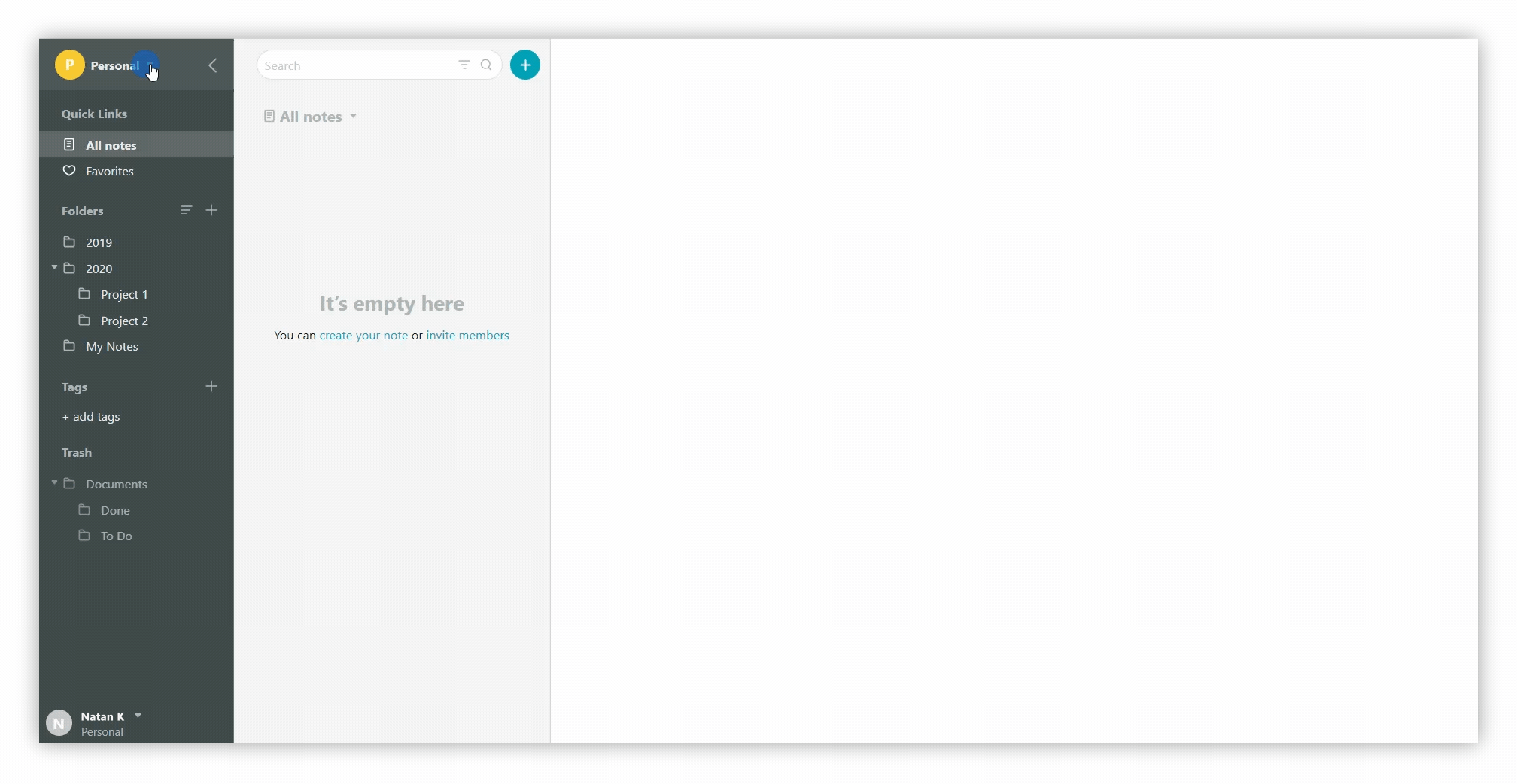 While working with one project, you can add members to the workspace where this project is held. Members will only see the information that is in the workspace, not in the whole organization.

So let's say you create your Business organization for ten clients. You can create ten workspaces for each of them while keeping their information confidential from each other.
Read more about how to invite members
Folders and subfolders #
Nimbus Note allows you to organize your notes into folders and subfolders. Add as many nested subfolder levels as you need. Watch the video and see how everything works.
In Nimbus, you can:
Create folders & subfolders;
Keep some notes from your workspace on your computer only;
Collaborate with your clients & teams even if they are not a part of your workspaces via public pages and folders;
Collapse, sort and move folders;
Read more about folders and subfolders
Starting to order your notes can be hard at first. To find a simple but effective path to digital zen, check out our user's article. He shares some useful tips on working with the folders & subfolders system in Nimbus. Read the article and find out how not to get lost in your large mountain of notes.
Pages #
Open your workspace and create pages. Here's how you can do it:
Write down your ideas and add different content types, including files, links, audio and video recordings, embeds and so on. Easily store all important information in your pages and access it any time.
Read more about pages in Nimbus
Categorize your pages: tags & mentions #
In addition to workspaces and folders, tags help you organize your pages. Just give a name to a tag and then apply it to pages anywhere in Nimbus Web. To create a tag you need to click on +.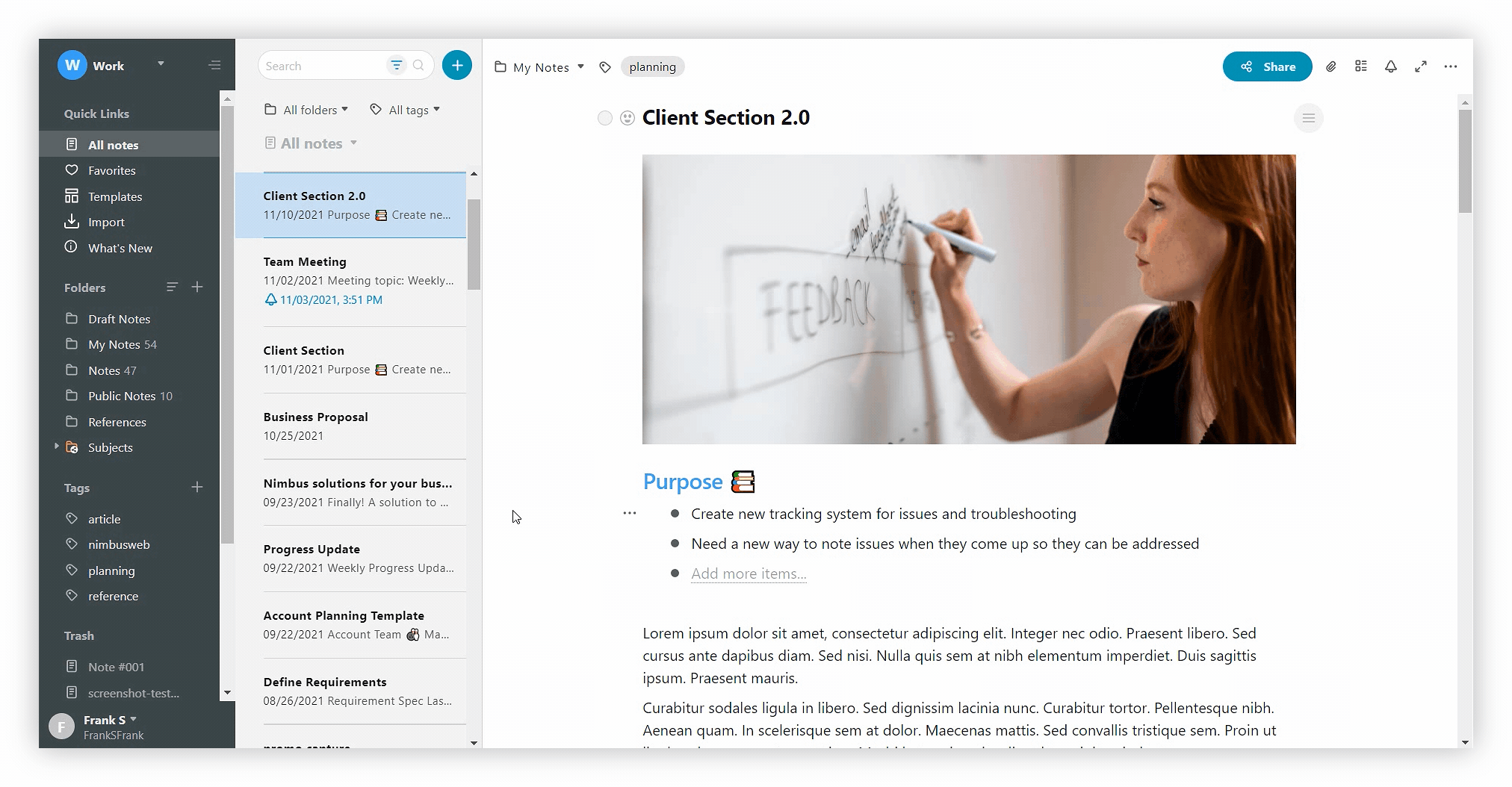 To create links between pages and folders, just mention them with the @ symbol. Your teams & clients will be able to click on the mention and see another page or folder.
Type @ and select a page/folder you're referring to. Here's how:
Trash #
Pages and folders that you delete will be moved to Trash.
Deleted pages and folders will be kept in the trash until you empty it. You can always restore deleted pages or folders from the trash. Simply right-click on the page/folder and choose Restore.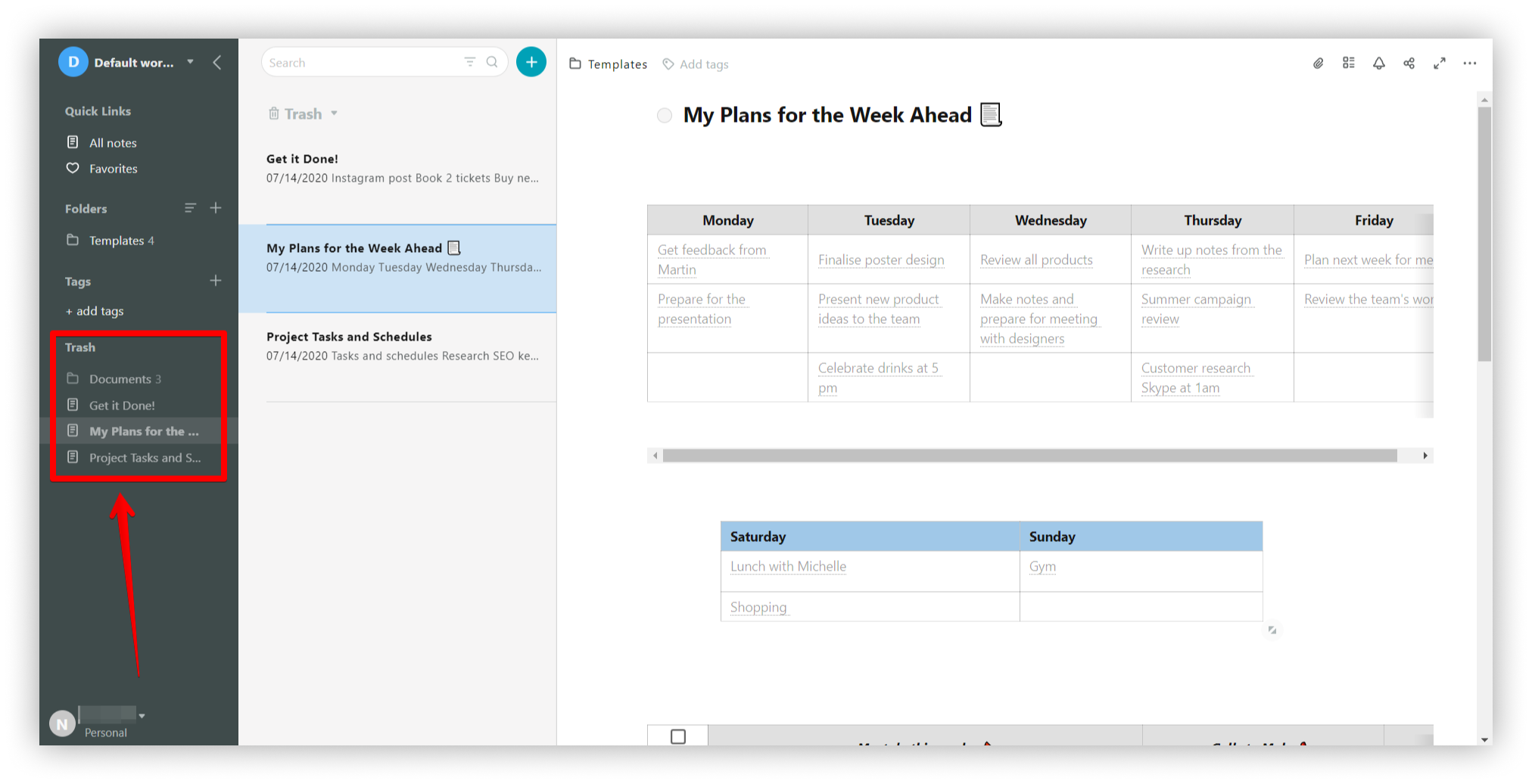 This is all great.. But how do I start with building my structure? #
Think about goals that you want to fulfill with Nimbus — your personal ones or ones with your teams & clients.
Personal use #
If you just want goals for yourself, start with a Personal organization and make a structure for it depending on your area of ​​interest, projects and clients.
Distribute all your information in one workspace within the Free plan or three workspaces within the Pro plan, You can then create folders and subfolders in them.
Create to-do lists & tables;
Share public pages with your clients;
Save video recordings and screenshots.
Professional use & Collaboration with clients and teams #
If you want to collaborate with your teams & clients and use Nimbus for professional purposes, add a Business organization that is included inthe Business plan.
In addition to all Personal organization features, you'll get:
an unlimited number of workspaces & members (access by workspace);
a White-Label solution: add your custom domain, logo and branding;
control over your information (granular permissions, block editing or file downloading restrictions);
HTML / JS injections for integrations and more;
Try these and other features of the Business plan! Create your Business organization and you'll have 14 days to make up your mind. It is free, no credit card info required!
The business organization does not cancel your Personal Organization, where you can still store your personal information (your Personal Organization acquires Pro plan functions).
Personalize your Nimbus Note Business Organization, so your team members & clients can have a better connection with you and your brand. Here are some useful links for your managing your Business organization: