I accidentally closed the video window and did not save it. Now is my video lost? #
Firstly it's important to remember that if you lose a video, you should not start recording a new one, otherwise the old video will be lost permanently.
To begin, open the link – chrome-extension://bpconcjcammlapcogcnnelfmaeghhagj/edit.html?video
If you see your video, then you can wait in the typical way.
If the video is not there (for example, Loading is constantly spinning), then try using the following link – filesystem:chrome-extension://bpconcjcammlapcogcnnelfmaeghhagj/persistent/video.webm
If a video opens, then try to save it by clicking on the right mouse button and then select Save video as…
Why can't I see the extension icon? #
1) Click on the Extensions icon.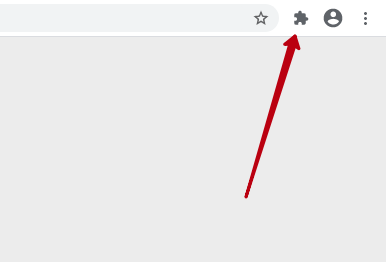 2) Find Nimbus Screenshot on the list.
3) Click on the pin.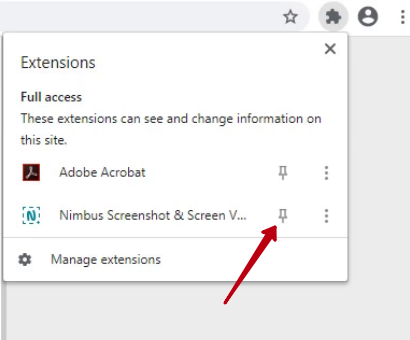 What do I do if the screenshots turn out blurry and of inferior quality? #
– Check if you've changed screenshot quality in settings.
-Try creating a new Chrome profile. The old one may have been compromised – https://support.google.com/chrome/answer/3296214?hl=en
I can't hear sound from the mic in recorded videos. #
– Check if the mic feature is active in settings;
– Open chrome://settings/content/microphone and check to make sure Nimbus Screenshot & Screen Video Recorder are allowed access
If not, try reinstalling the app and allowing the use of the mic when making your first recording.
In case Nimbus Screenshot is on the list, try deleting it by pressing on the wastebasket icon and then once again allowing it access for video recording.
I recorded sound from a different app but I can't hear anything… #
– Check if the mic feature is activated in settings.
– You may not be able to record straight from the app because of browser restrictions.
Why don't I hear sound after converting into MP4? #
You can read more info here – https://nimbusweb.me/guides/screenshot/why-dont-i-hear-sound-after-converting-into-mp4/
Google Docs (or other app) uses the exact hotkeys as Nimbus Capture. How to avoid conflicts? #
In Nimbus Capture you can change hotkeys. To do this, you need to open the settings and change the hotkey in the Hotkeys menu.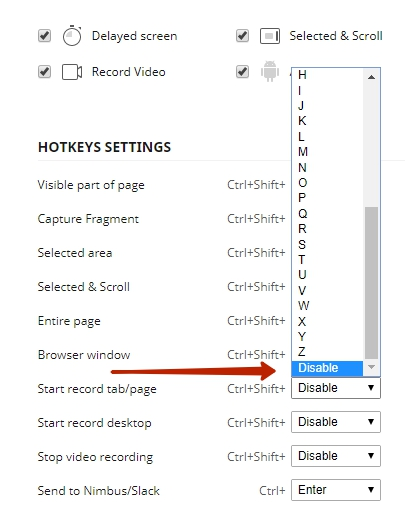 Trim doesn't work correctly – it doesn't delete selected fragments. What can I do? #
Perhaps in the recorded media only contains a couple of frames, and they are not enough for the correct trim. Try to convert the video to MP4 first (it has a slightly different structure) and then trim again.
I want to record several pages — not just one — switching in between them. How do I do this? #
You need to use Desktop record. Select the Entire screen and you can record numerous pages at the same time. If you want to learn more about how to benefit from entire page screenshots, click here.
I am recording a video from the desktop and I have extraneous noise in the final video… #
Try disabling the Share audio option.